How to Wear Gingham
One Gingham Top 3 Ways!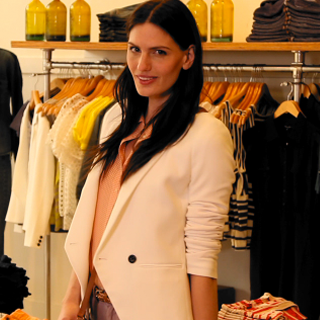 We love the look of a crisp white button-up, but this season, we're going for something a bit brighter with this gingham version. We saw these picnic-inspired prints on the runways at Jil Sander and Marc Jacobs, inspiring us to try out this trend ourselves! So we headed over to Madewell in Century City and styled one peach gingham top three totally different ways. Watch today's episode to see how.
View Transcript »
Transcript
Hi, it's Allison McNamara and today on Ways To Wear, I'm going to show you how to rock one colorful gingham button up three totally different ways. we've spotted gingham on the spring runaways at Jill Sander and Marc Jacobs. So we just had to try out this picnic inspired print ourselves. made well in century city and the canvas that you're going to see today peach and brown complement each other so well. So for our first outfit we took our gingham into a cognac leather circle skirt which is a great used to have in your closet. Now for spring and summer we love eyelet. So we layered on this cream, open weave knit top to let the gingham print playfully peek out from underneath. On bottom, we contrasted our top other print snake skin ballet flats. Then we finished off the outfit with a stack of bangles, a black wristlet clutch, and a little necklace peeking out from underneath her collar. For our next look we pair our piece with another spring pastel don't be afraid to pair color with color, it's a really easy way to lighten up your look our accessories relatively minimal and neutral, so a pair of strappy sandals on the bottom a two tone belt and a cross body bag finish off this breezy outfit. for our last look we wanted to young feel that we love. We selected this easy, light weight dress that's really versatile and we cinch in her waist with a snake skin belt that injects a pop of print and shows off her shape. We livened up the whole outfit with some color via the spray red tote and some friendship bracelets. We then finished out the outfit with some taupe ankle booties and a fun llama pendent necklace. So freshen up your button up blouse this season with a gingham version. Thanks for tuning in to Fabsugar TV. I'm Allison McNamara and I'll see you next time.