How to Wear the Surf Trend Summer 2012
3 Perfect Beach Outfits!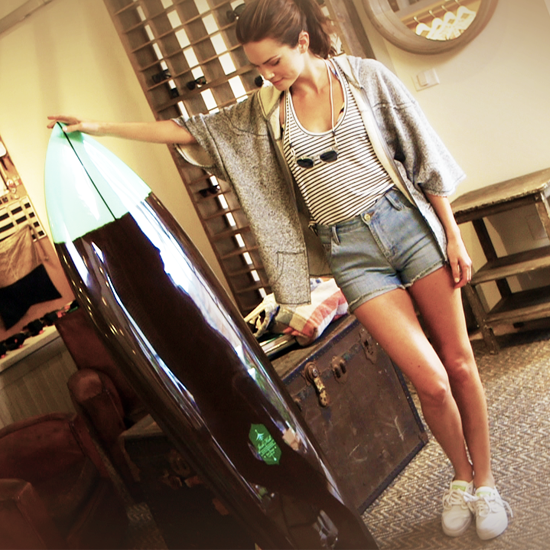 We're taking a cue from our inner surfer girl and showing you how to wear surf-inspired pieces at the Quiksilver Women's store in Malibu. Whether you want to slip into some sporty separates, channel a little Navajo-cool, or style up your surfwear for a night out, we've got three standout outfits for inspiration. On Allison McNamara: Quiksilver Women
View Transcript »
Transcript
Hi, it's Allison McNamara. Welcome back to FabSugar TV. For today's episode of Currently Trending I'm here at the Quicksilver women's store in Malibu and I'm gonna show you how to wear surf-inspired clothes right now. Let's go. Celebrities like Lauren Conrad and Nicky Hilton are known for their beachy style. And we saw 70s-inspired surfer looks on Rag & Bone's spring 2012 runway. So, I'm going to show you three outfits that capture that beachy vibe. Perk yourself, we went for a super sporty look which is one of the biggest trends of the season. We started off with this gray oversized cardigan kind of like your boyfriend's sweater. Gotta zip up and a little hoodie right here in back, perfect for at the beach when it gets windy and just throw it on. Then underneath, we went for a very casual base, so a striped tank. You should all have one of those in your wardrobe - closet essential and a pair of high waist denim cut-off shorts. We also have a little fray right here, which kind of amps up that cool factor. On bottom, we kept that sporty vibe with a pair of white sneakers by Movement, and then to finish off the outfit, a towel tote that adds in a little pop of pattern and some sunglasses around her neck. I love this next look. We put Cassidy in this amazing vest. It really has that gypset boho feel. It's got this really cool Aztec print. Sleeveless too, which is good for the summertime. It's not too hot. And a fringe on bottom, but also a little bit longer so we kinda played with proportions and went with a really easy base. So just a white tank and a pair of coral shorts to kind of bring out the color in the printed vest. And then just lots of brown accessories different shades of brown so I bought him a pair of really strappy saddles, a structured handbag which is kind of unexpected and then a watch and some layered necklaces. Who said you can't wear your surf ware for a night out. What we did is we chose this strapless dress that has a really boho feel. Obviously you want to be comfortable and casual, so this dress is perfect. It's strapless, cinched at the waist to give her some shape and the bottom has this really large ruffle kind of at the hem. Kind of gives it that whole boho feel. It also has this really kind of cute, kitschy print with the birds. They're blue and red. We played off that motif and went with an anchor necklace long pendant could add something to the top and then on bottom, we wanted to give her a little bit of lift 'cause she is going out for the night. So this taupe strappy wedge gives her a perfect amount of height and then to finish it off, a mod moon figment bracelet. Hopefully these outfits have inspired you to channel your inner surfer right now. I'm Allison McNamara and I'll see you next time on Currently Trending.