Every week, we bring you the best shoppable fashion and lifestyle stories from the editors at InStyle.com, including these secrets to Spring style success [1].
When the first hint of warm weather strikes (if it ever does . . . ), your first instinct might be to bid adieu to any and all pieces that remotely suggest at Winter, but don't store them just yet. Key cold-weather staples aren't exclusive to one season — they can serve as the perfect antidote to tricky in-between season dressing. That's why we took style cues from the stars and rounded up six essentials that work now and beyond. From chunky knits, like those seen on Jamie Chung, to flannel shirts, breathe life back into last season's clothes by repurposing and restyling them for a new, fresh (and Spring-ready!) spin.
Source: Billy Farrell Agency [2]
The Chunky Sweater
While a cozy knit is a Winter must, it's also an essential transition piece. When temps start to rise, copy Jamie Chung and partner it with a floral mini. Roll up the sleeves to ace that effortlessly stylish look.
Knitted Sweater + Floral Mini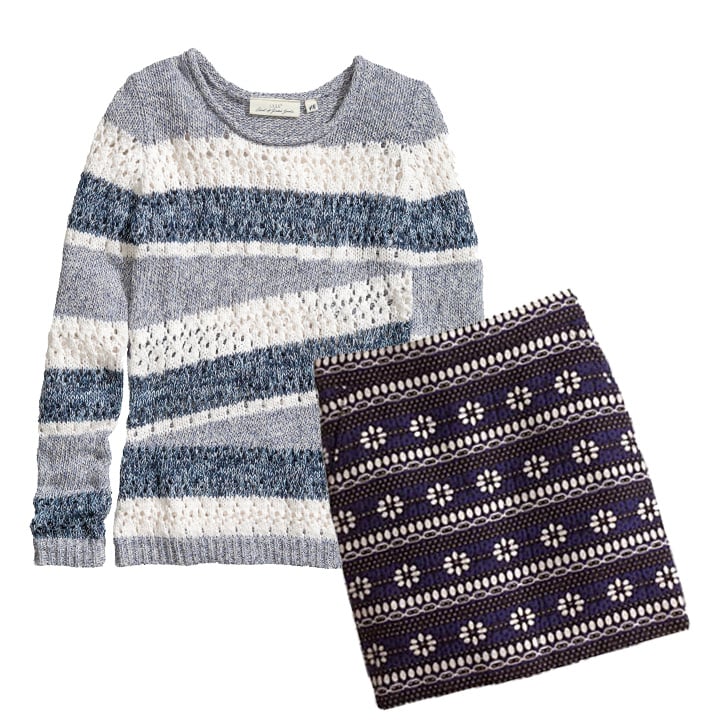 To master print mixology, pair oversize prints, like this chunky-stripe H&M sweater [3] ($35) with minute details like the florals on this J.Crew skirt [4] ($98; jcrew.com).
See the other five looks here [5], or check out one of InStyle's other stories:
10 Spring Trends You Can Wear Now [6]
The Best Products For a Makeup-Free Look [7]
Found It! Kendall Jenner's Cobalt Ankle Boots [8]