With the French Open kicking off, we're pulling up a front-row seat to take in all the action — and the style. The looks go way beyond your classic tennis whites, thanks to fashion-friendly pros like Venus and Serena Williams and Maria Sharapova. In fact, the tennis world takes its on-court ensembles almost as seriously as they take the game. Scroll through to see the memorable looks that have stood the test of time throughout pro tennis history — and a few seriously hilarious ones that haven't.
— Additional reporting by Aemilia Madden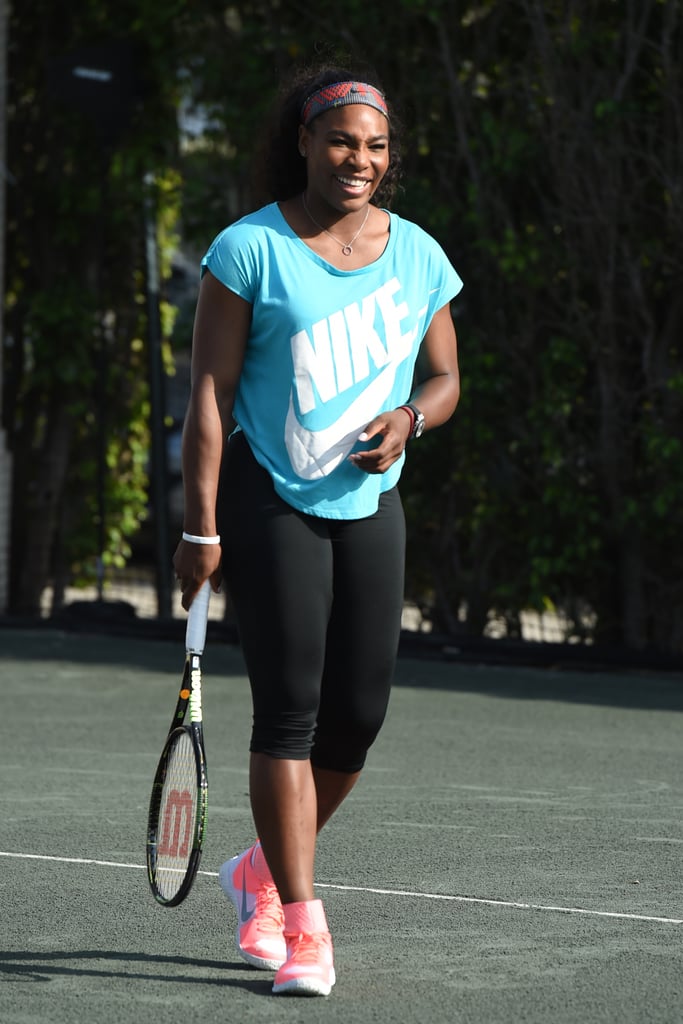 Serena Williams channeled a classic sportif look on the court in 2015.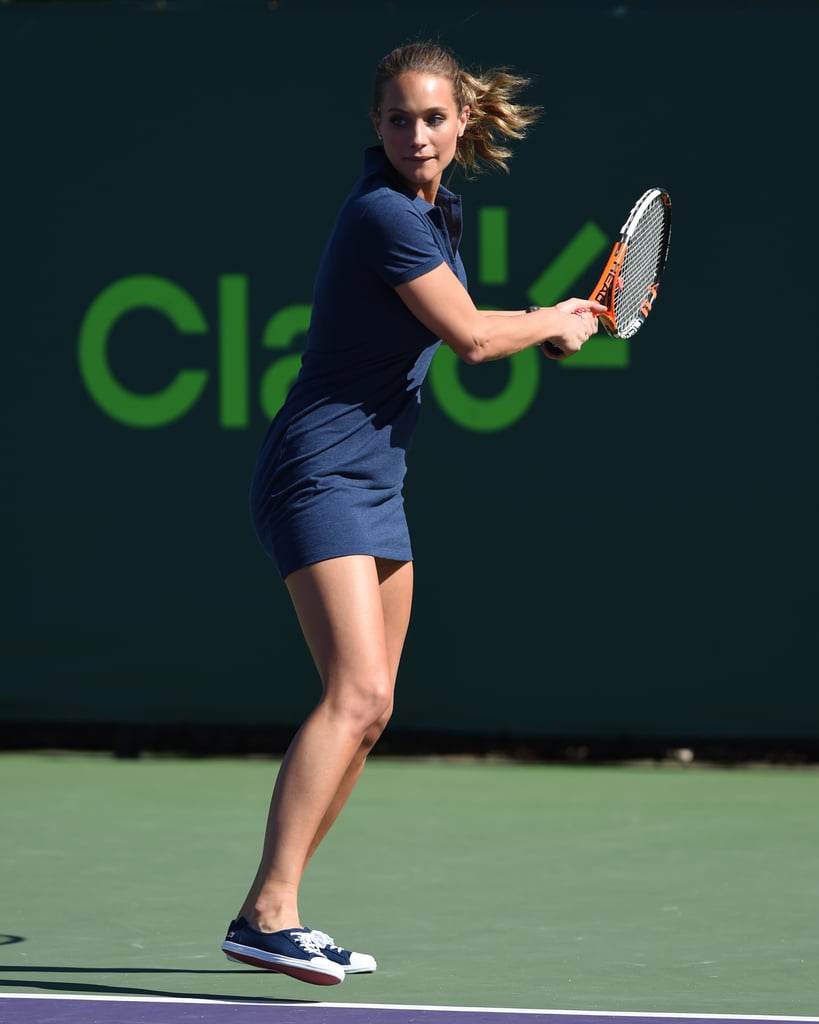 She may not be a tennis all-star, but Hannah Davis had the look down at the Miami Open in 2015.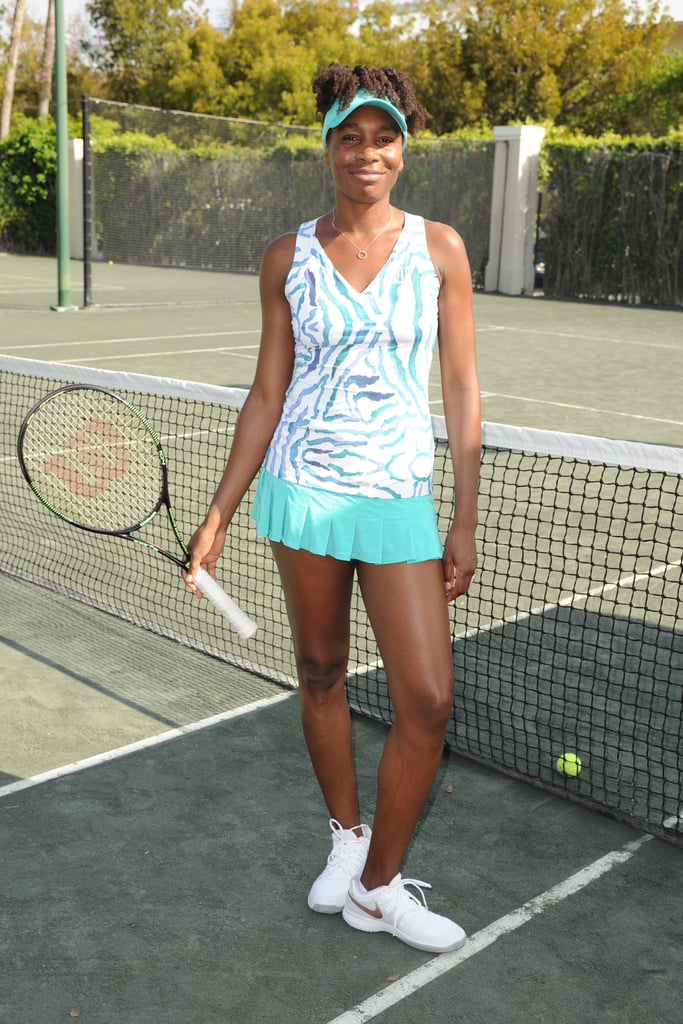 Even when she's not in action, there's plenty of winning going on for Venus Williams — especially when it comes to her on-point ensemble at an All Star Tennis Charity Event in 2015.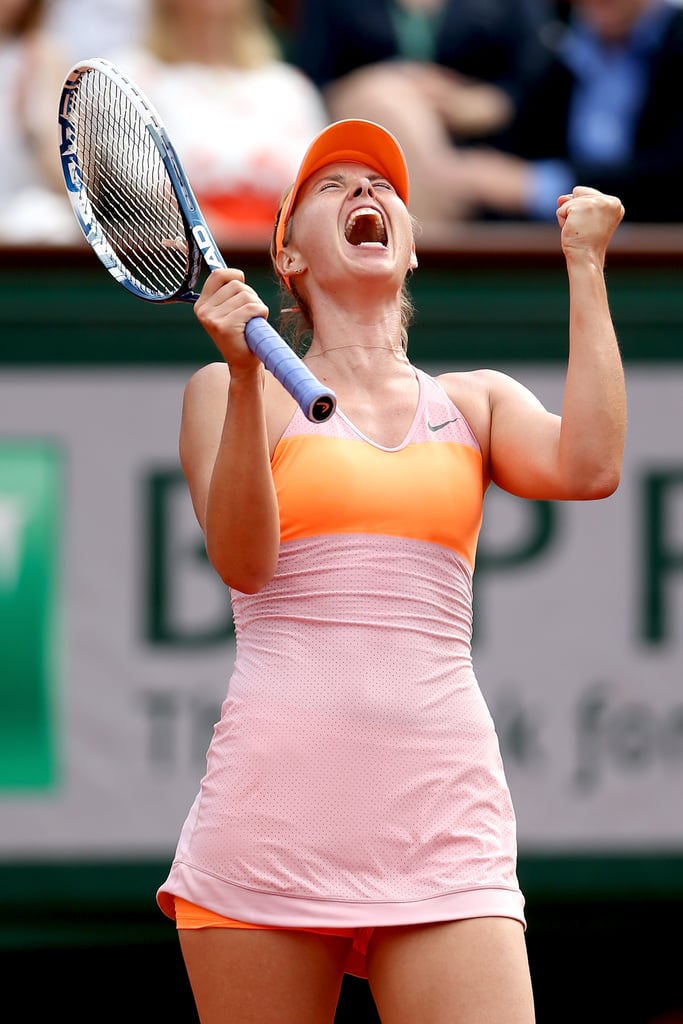 Maria Sharapova had something to celebrate: her colorful orange and pink ensemble was a smashing success at the 2014 French Open.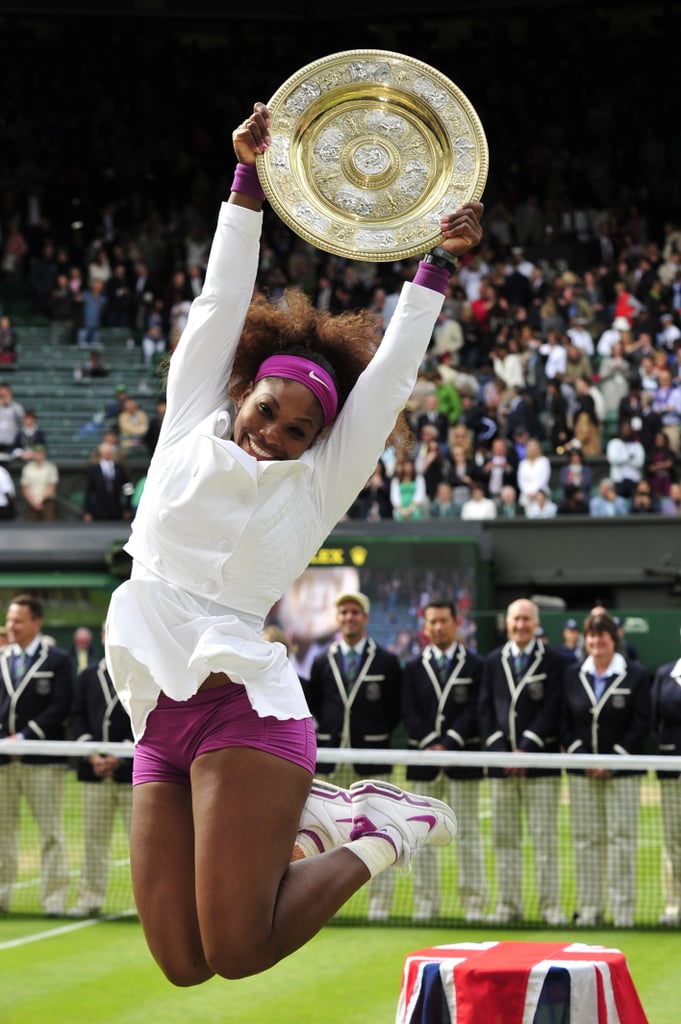 Serena Williams jumped for joy in a cute white and purple tennis ensemble as she celebrated her women's singles final victory at the 2012 Wimbledon championship tournament.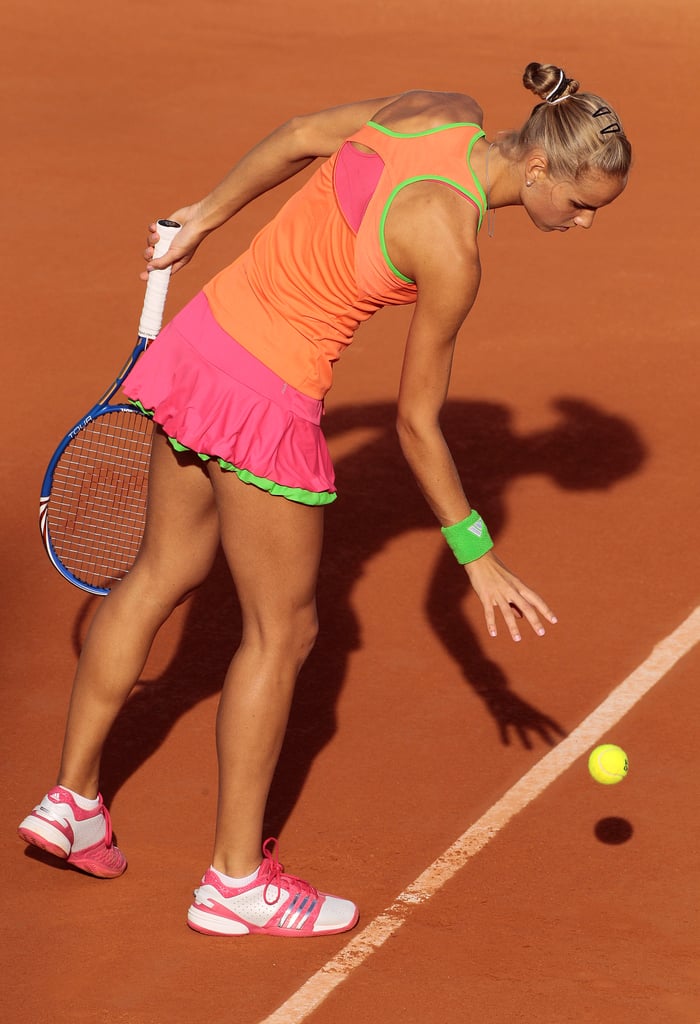 Arantxa Rus donned bright colors at the French Open tennis championship at the Roland Garros stadium in May 2011.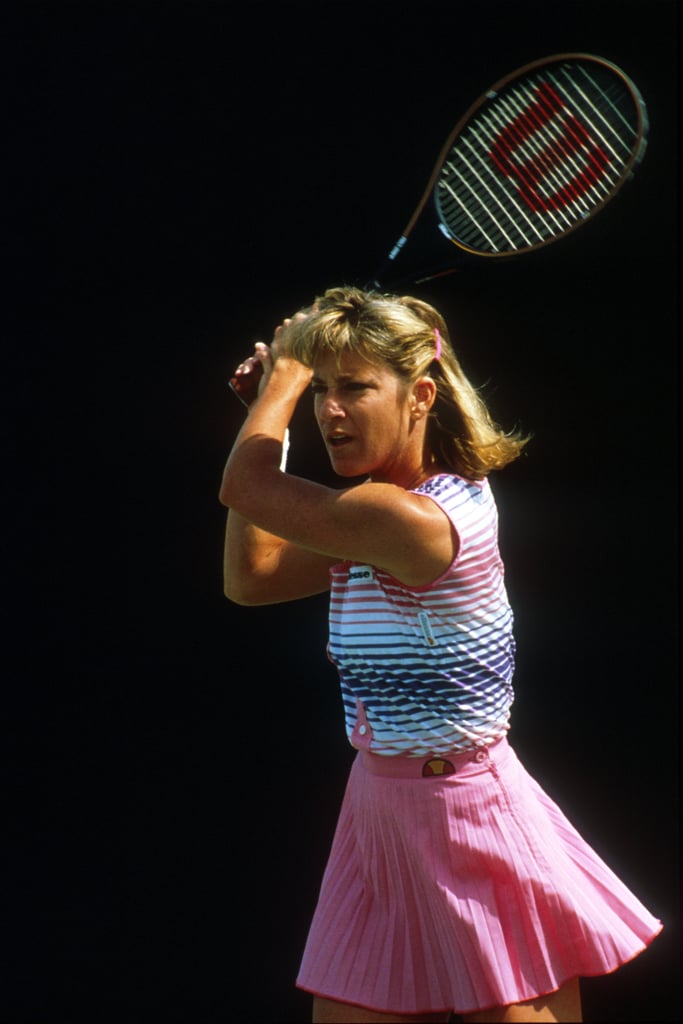 Christine "Chris" Evert, the former World No. 1 professional tennis player, displayed her colorful tennis style at the Lipton competition in 1988.
Jelena Jankovic wore a yellow tutu-inspired tennis dress in 2009.
This multicolor dress was a standout look for Venus WIlliams, who was all smiles after winning her opening match at the 2014 French Open.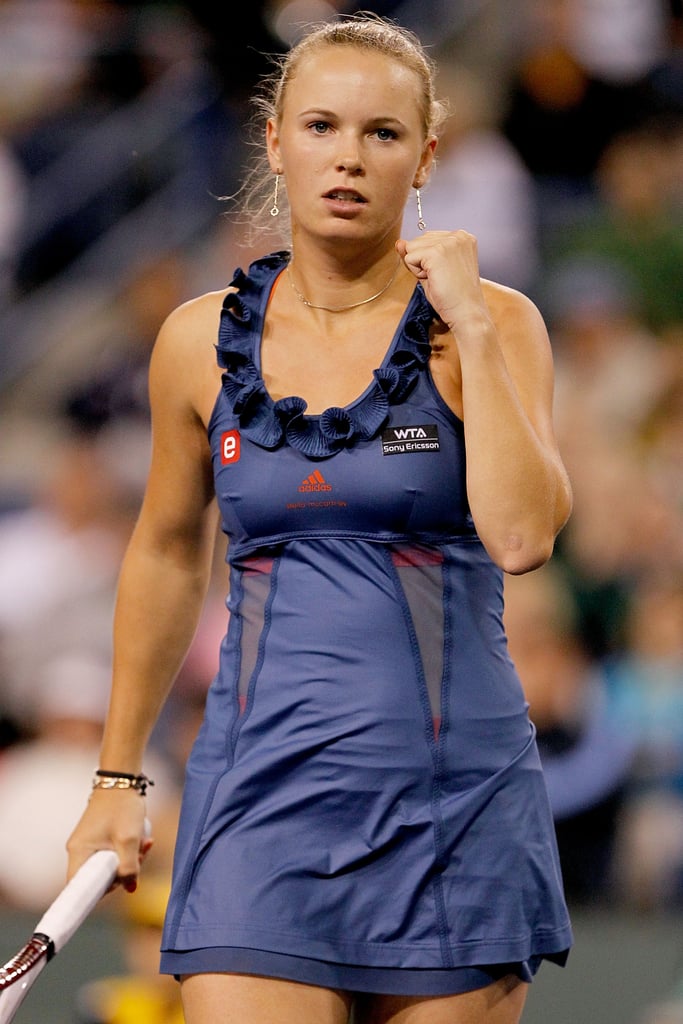 Caroline Wozniacki debuted Adidas by Stella McCartney Tennis Ruffle Dress in blue for the opening match at Indian Wells in 2011.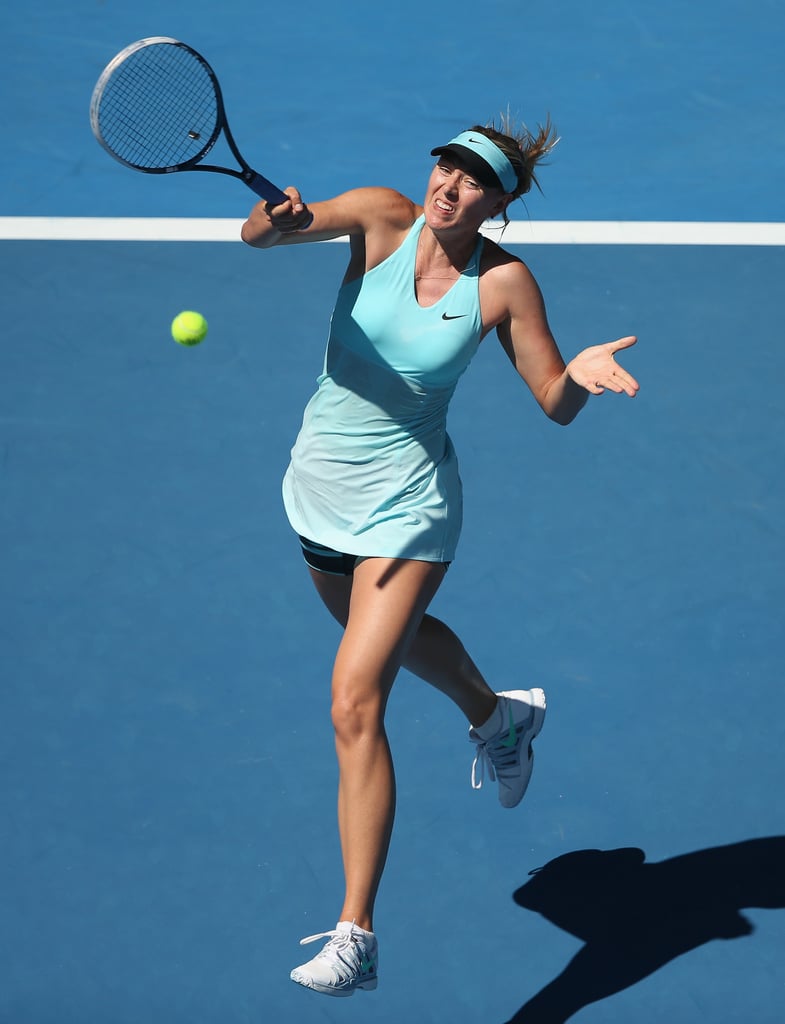 Maria Sharapova took a swing in a layered blue outfit at the 2014 Australian Open.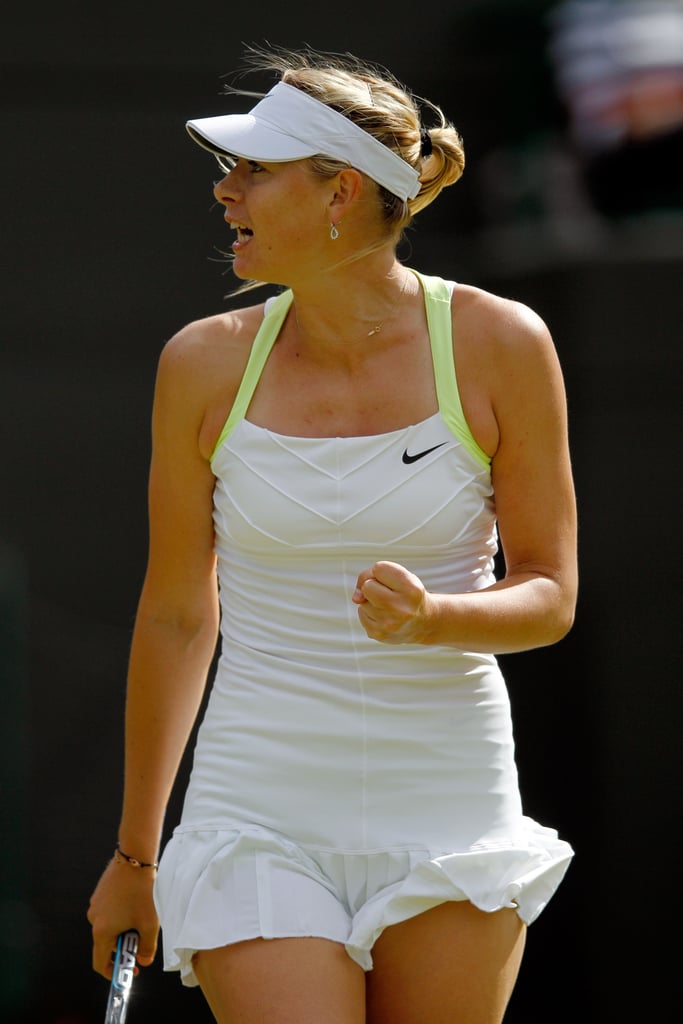 Neon yellow straps and a ruffled hemline showed off Maria Sharapova's fashion sense at the 2012 Wimbledon championships tournament.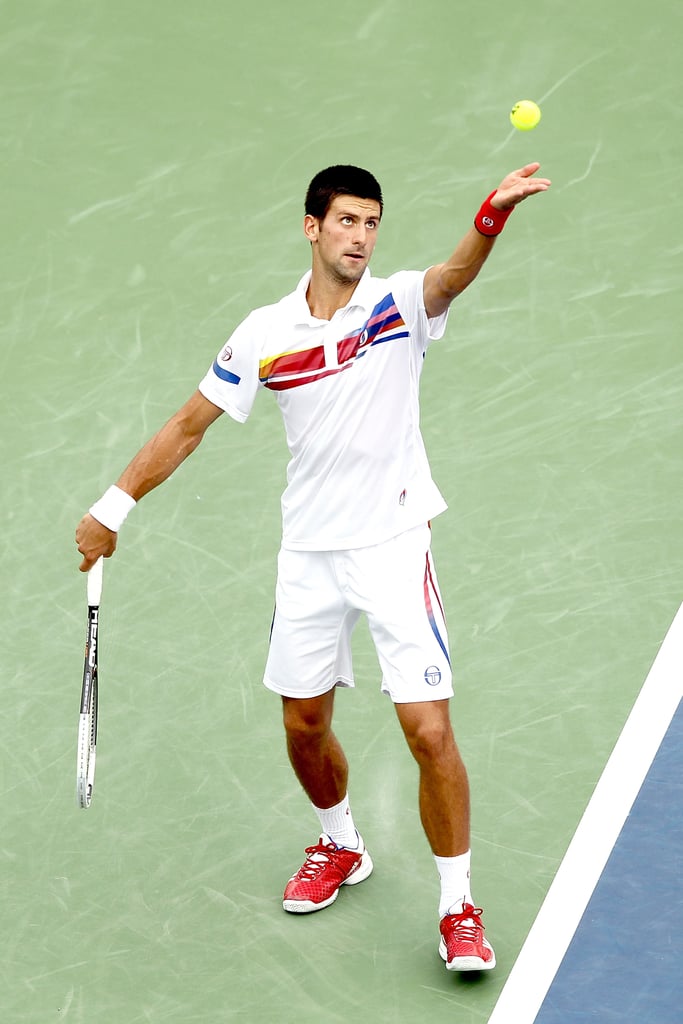 Novak Djokovic paired red tennis shoes with a cool striped shorts and polo shirt combo at the Western & Southern Open in Ohio in August 2011.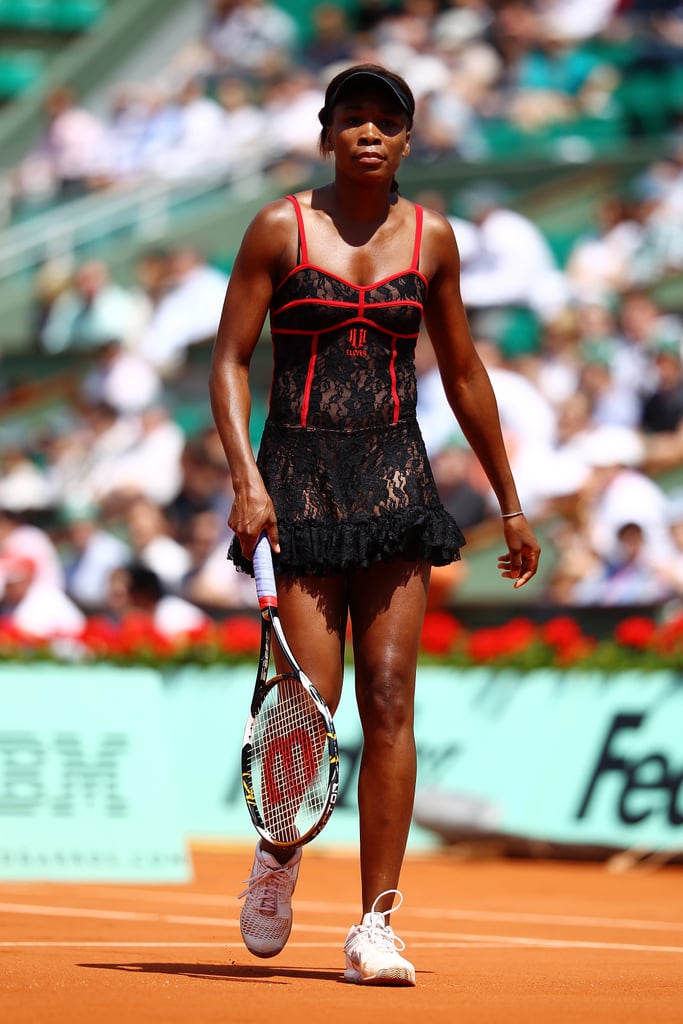 At the French US Open 2010, Venus Williams wore a racy red and black corset inspired outfit.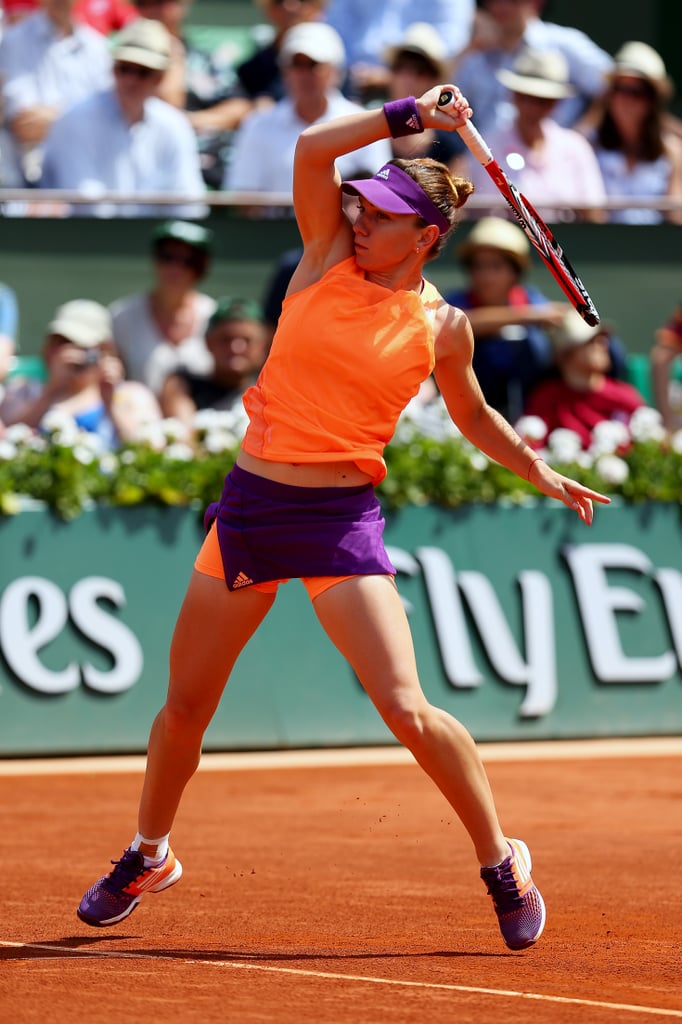 Simona Halep of Romania proved that orange and purple can be complementary colors at the French Open in 2014.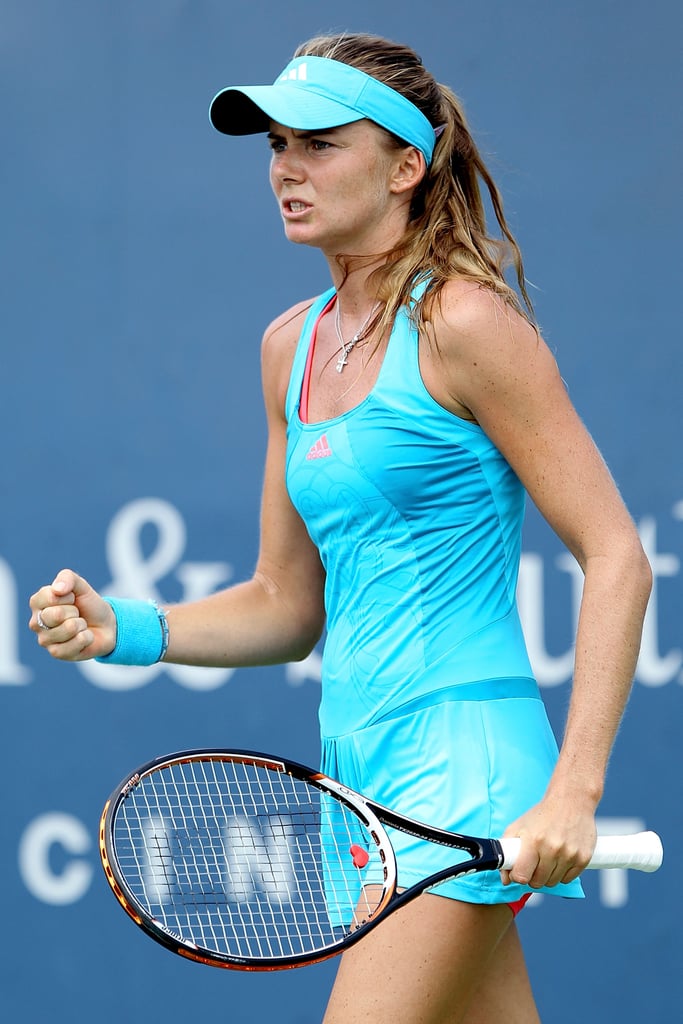 Daniela Hantuchova celebrates match point during the Western & Southern Open in Ohio, August 2011, in head-to-toe turquoise.
Andy Murray sported monochromatic hues while warming up with a soccer ball before the Great Britain v Luxembourg Davis Cup tie in Scotland in July 2011.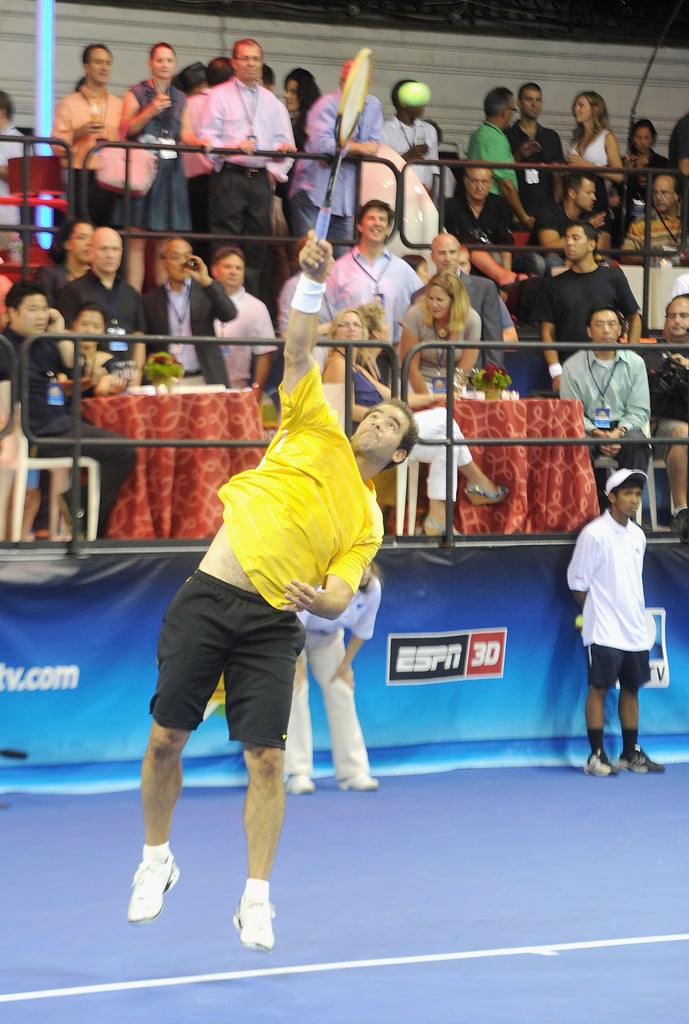 Pete Sampras wore bold black and yellow at the DIRECTV Old School Challenge in New York City, August 2011.
Anna Kournikova [1] displayed her favorite designer brand and colors in an all Adidas tennis attire.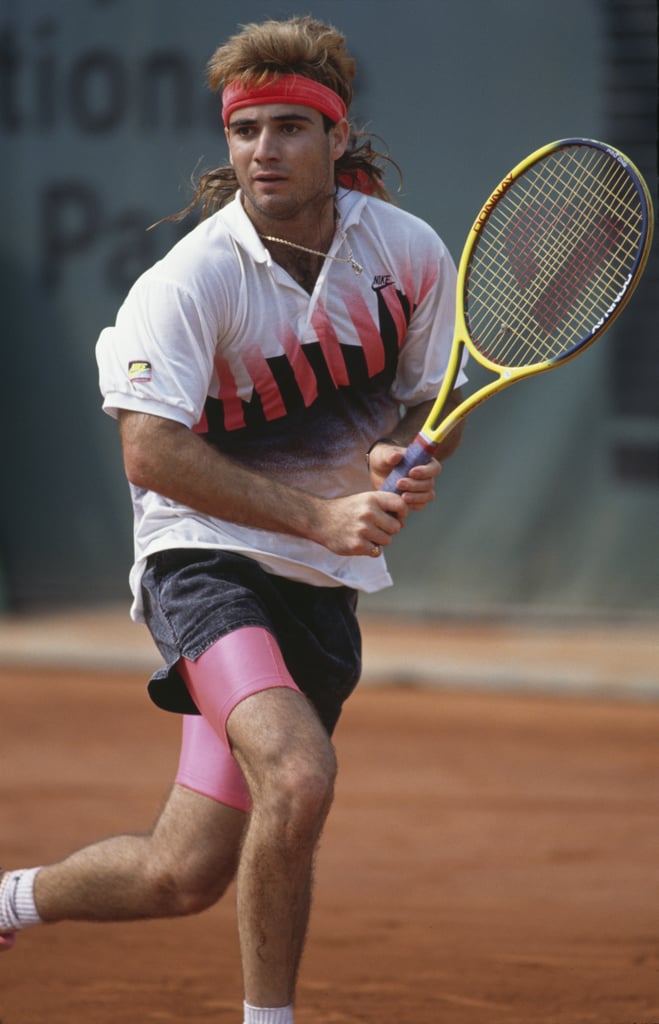 Andre Agassi was in style with a red sweat band tied at the back of his neck to keep his long, flowy locks out of his face. He finally traded in his head piece for . . .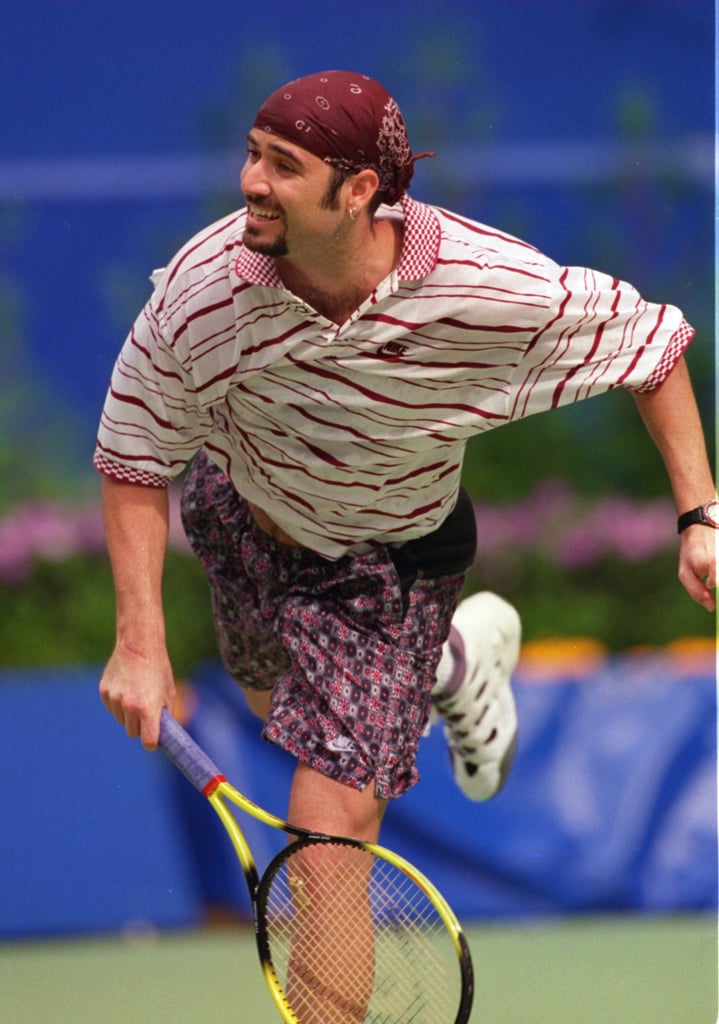 . . . his signature burgundy bandanna.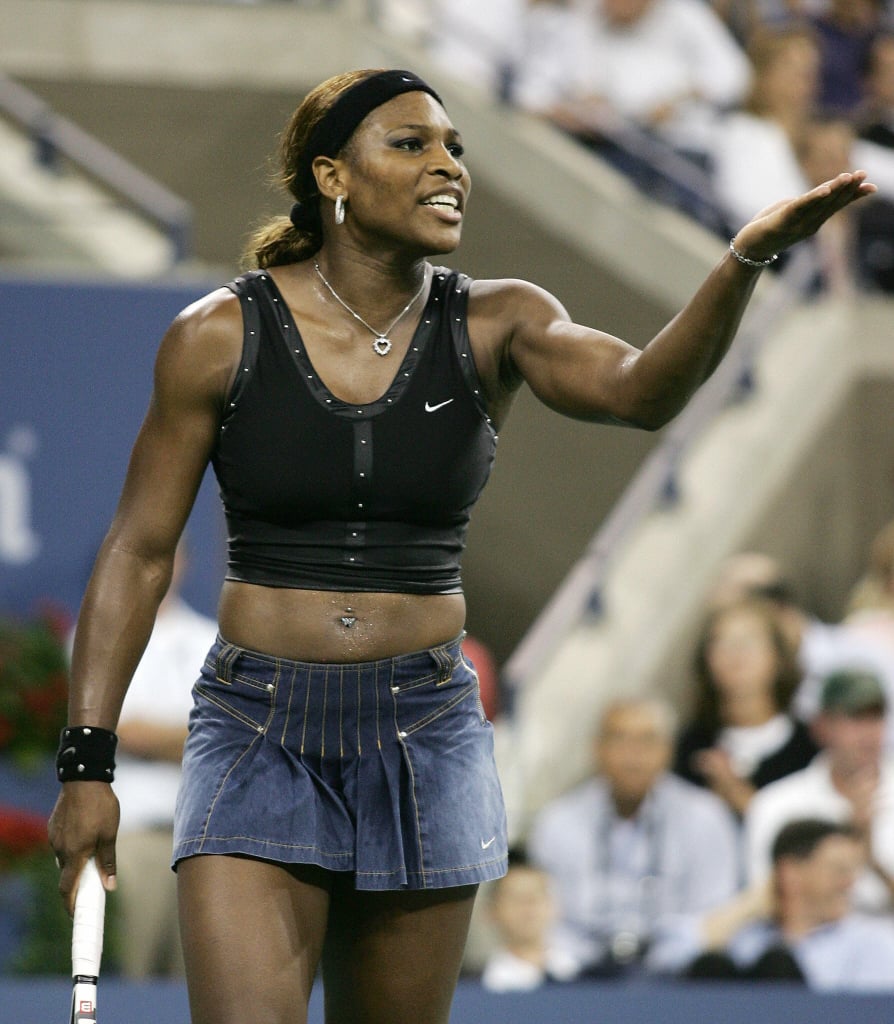 Only Serena Williams could pull off a black Nike top outlined in studs to the end of the shirt to reveal a stomach-baring midriff (check out those rockin' abs) and a denim skirt for the 2004 US Open.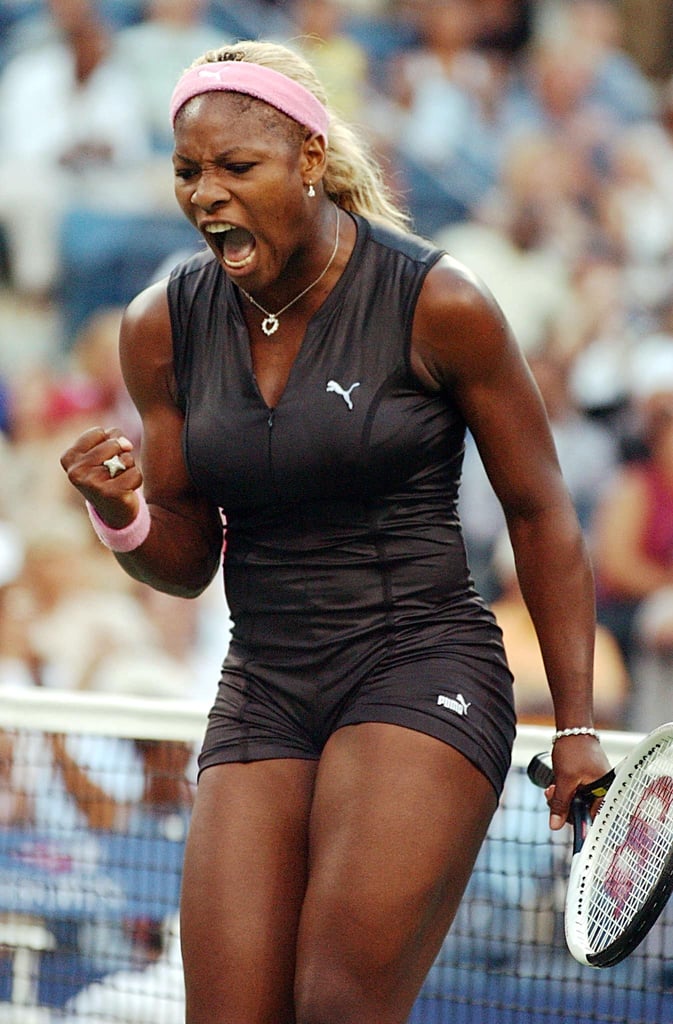 Serena Williams donned a leather catsuit by Puma at the 2002 US Open.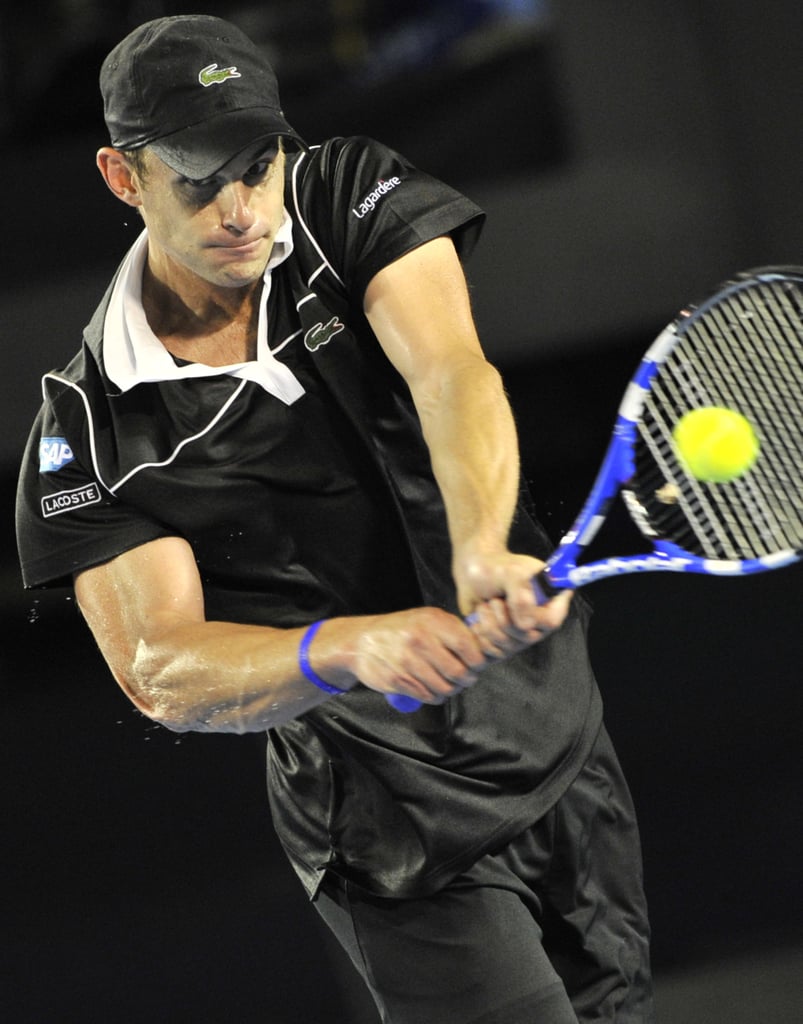 Andy Roddick is one of the most beloved tennis players. Fans all over the world tried to capture his look by wearing his signature Lacoste hat.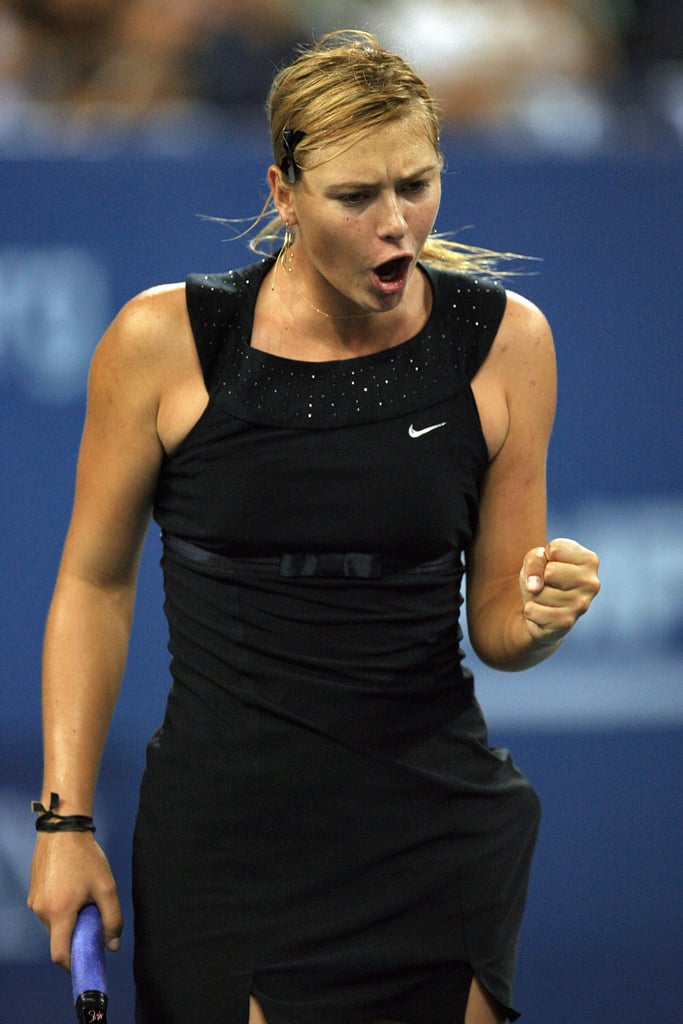 Maria Sharapova takes tennis fashion to a whole new level with this "Audrey Hepburn" inspired little black dress by Nike.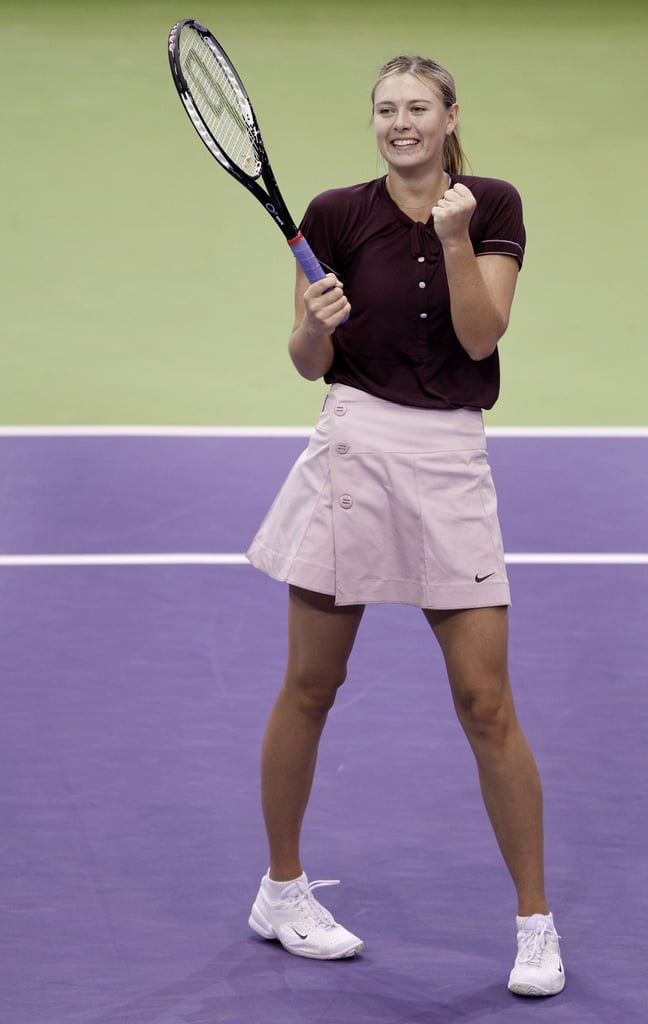 Tennis icon Maria Sharapova did it again with her school uniform inspired tennis outfit for the 2007 WTA Tour Championships.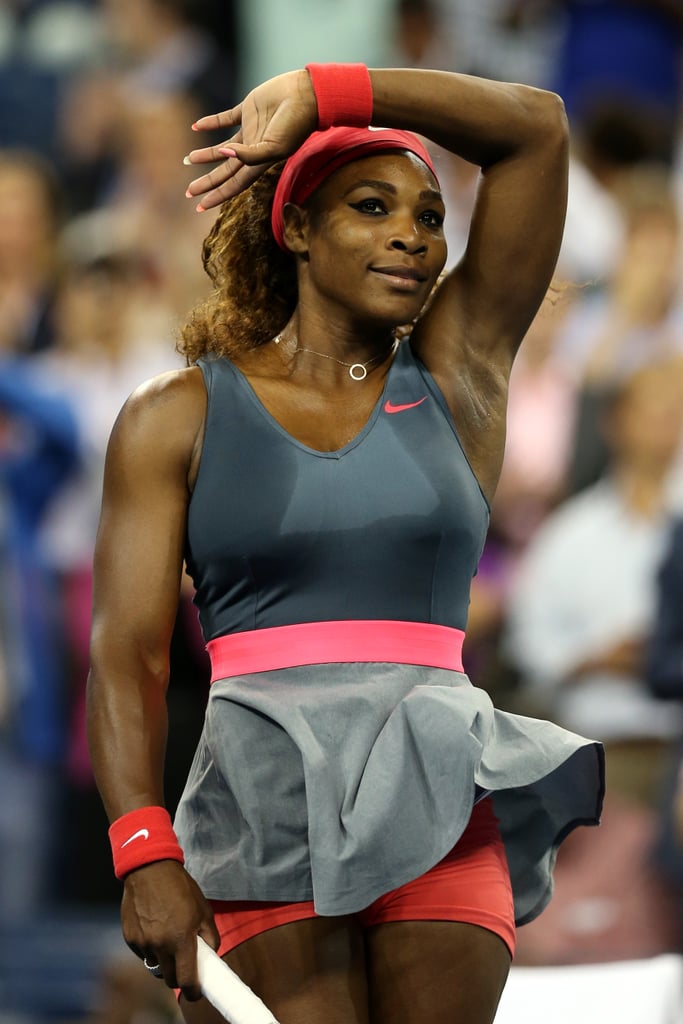 Serena Williams paired dark gray with pops of pink and red at the 2013 US Open.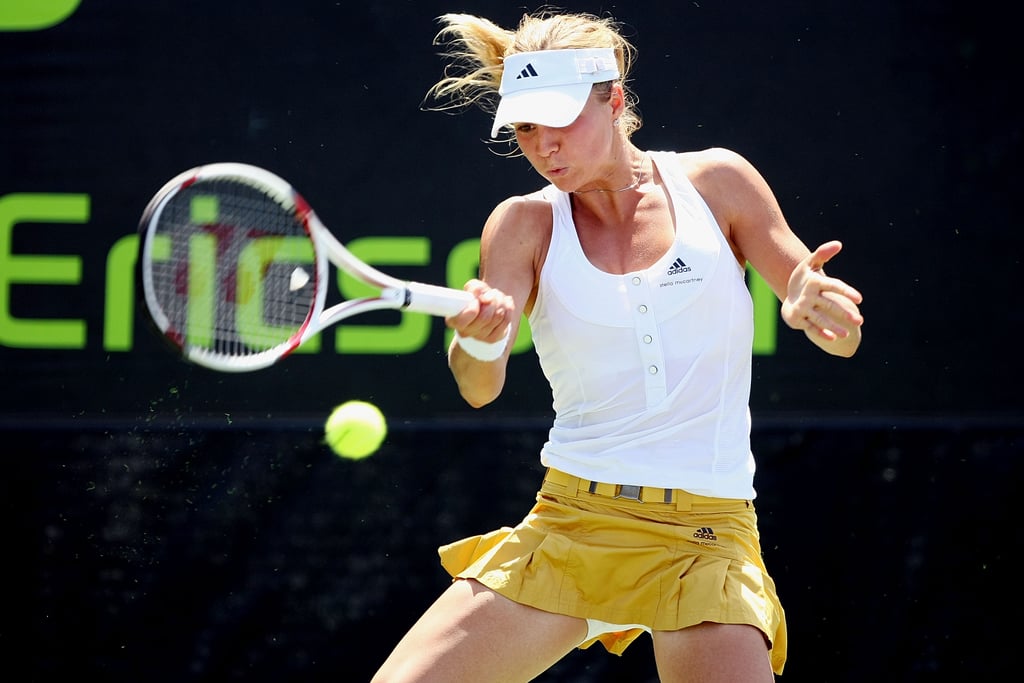 Maria Kirilenko looked sporty yet chic in Adidas by Stella McCartney in her white button down, sleeveless shirt tucked neatly into her belted yellow leather skirt.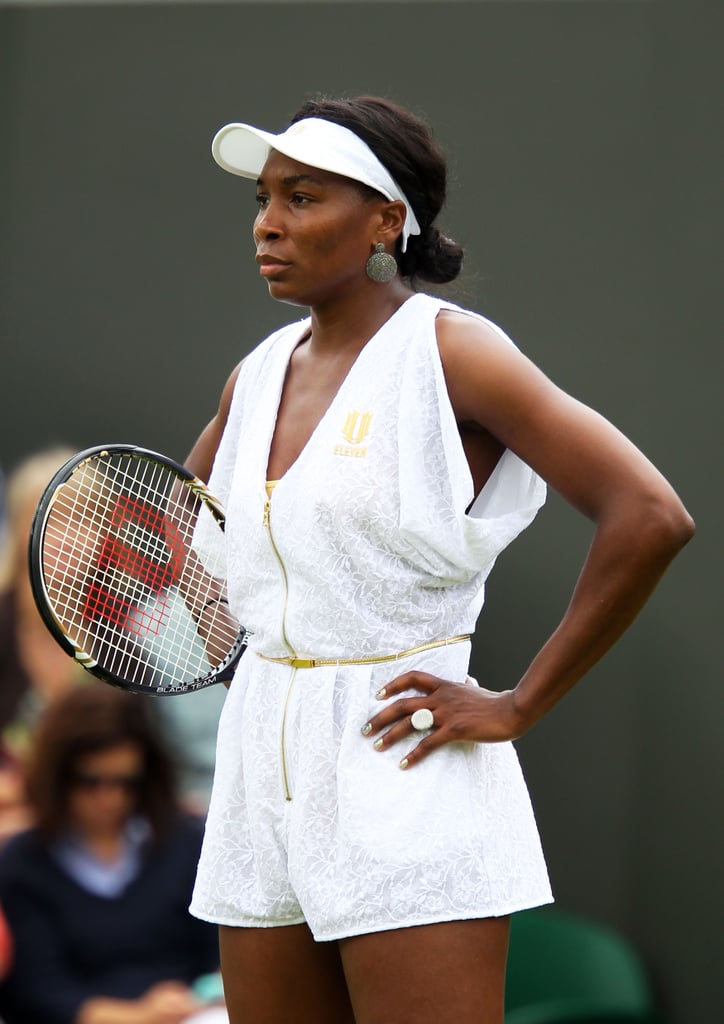 Redeeming herself in 2011 at the Wimbledon Open, Venus wore a classy white and gold flecked romper with a gold zipper and thin gold belt with loose sleeves and a diamond cut out in the back.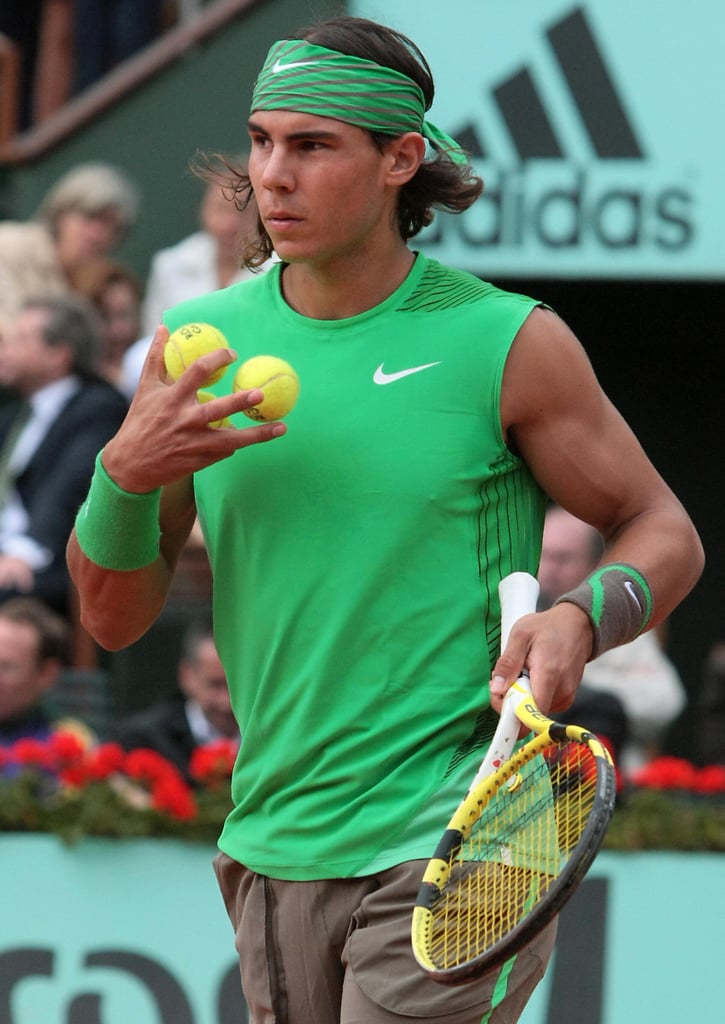 Rafael Nadal sported his signature head and wrist band in his favorite color green at the French Open in 2008.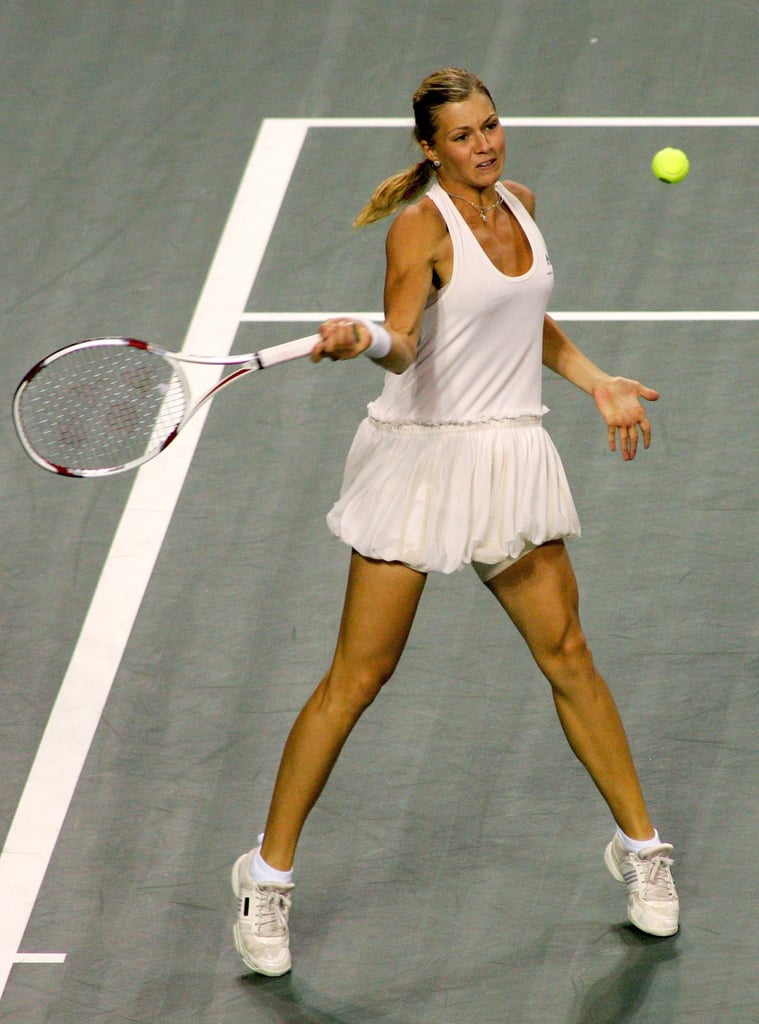 Tennis babe Maria Kirilenko brought fashion to the tennis court in her tutu-inspired dress.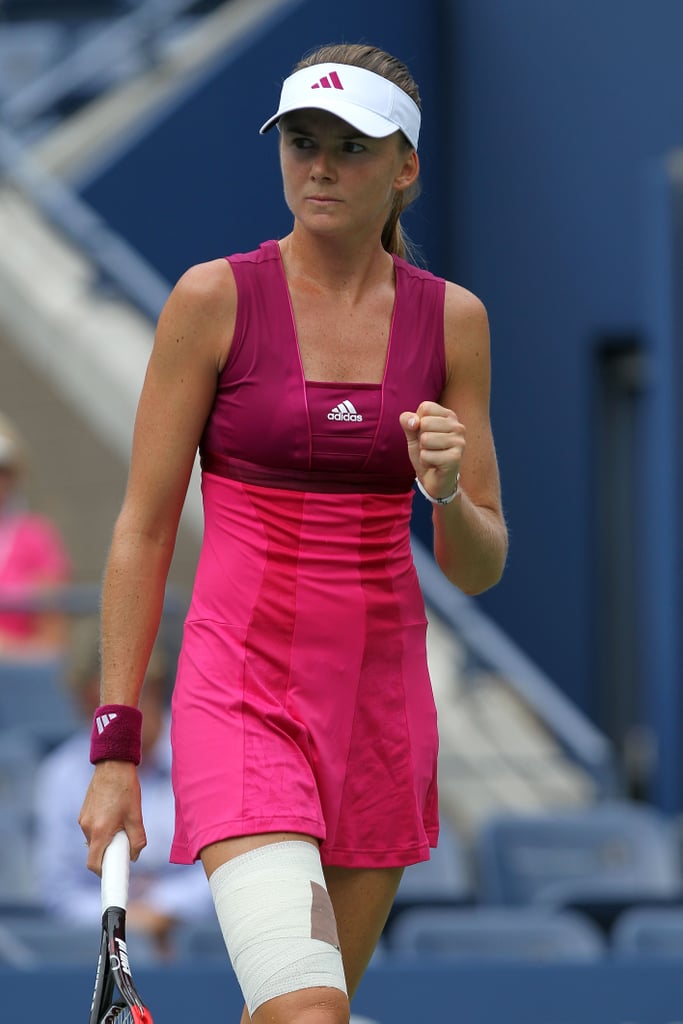 Daniela Hantuchova styled herself in a feminine two-shaded pink Adidas dress for the US Open in 2010.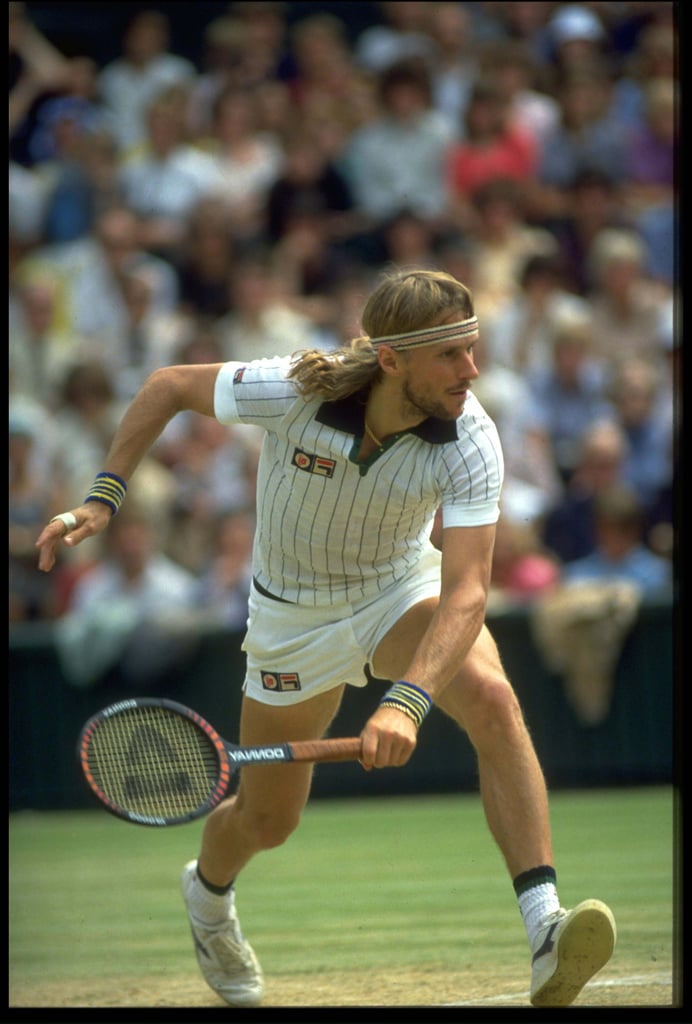 Who could ever forget the iconic tennis player Bjorn Borg in his short shorts and striped collared tee by Fila.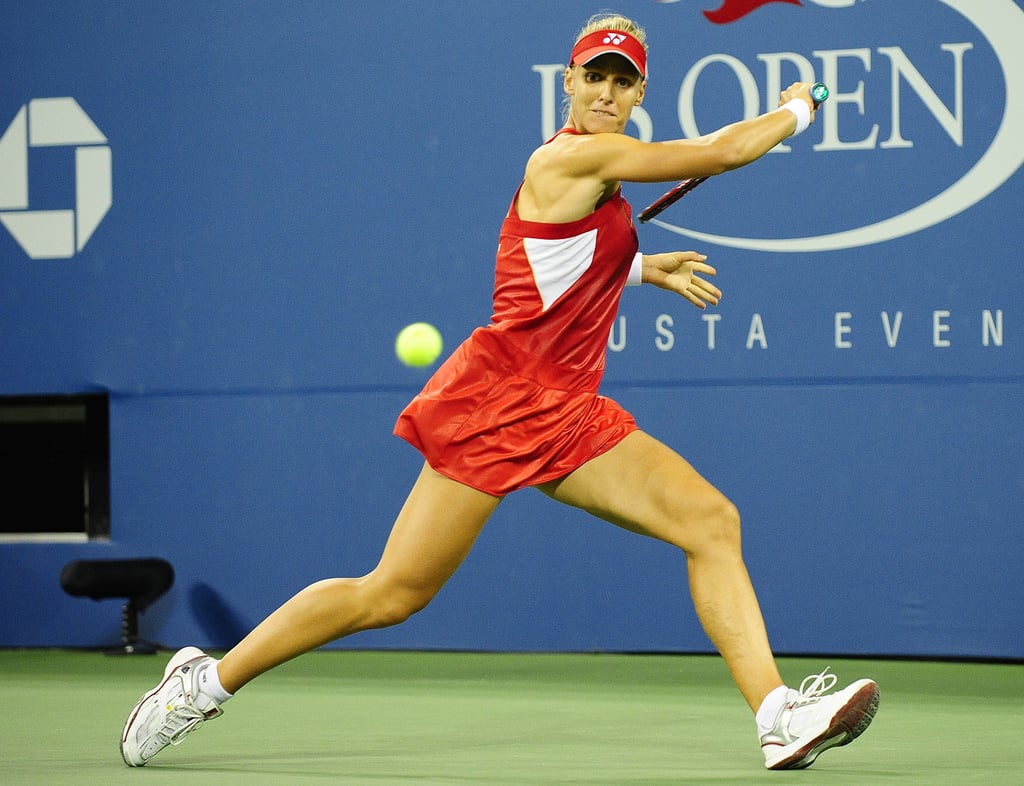 Elena Dementieva wore a loose red and white tennis dress with a matching visor to the 2010 US Open.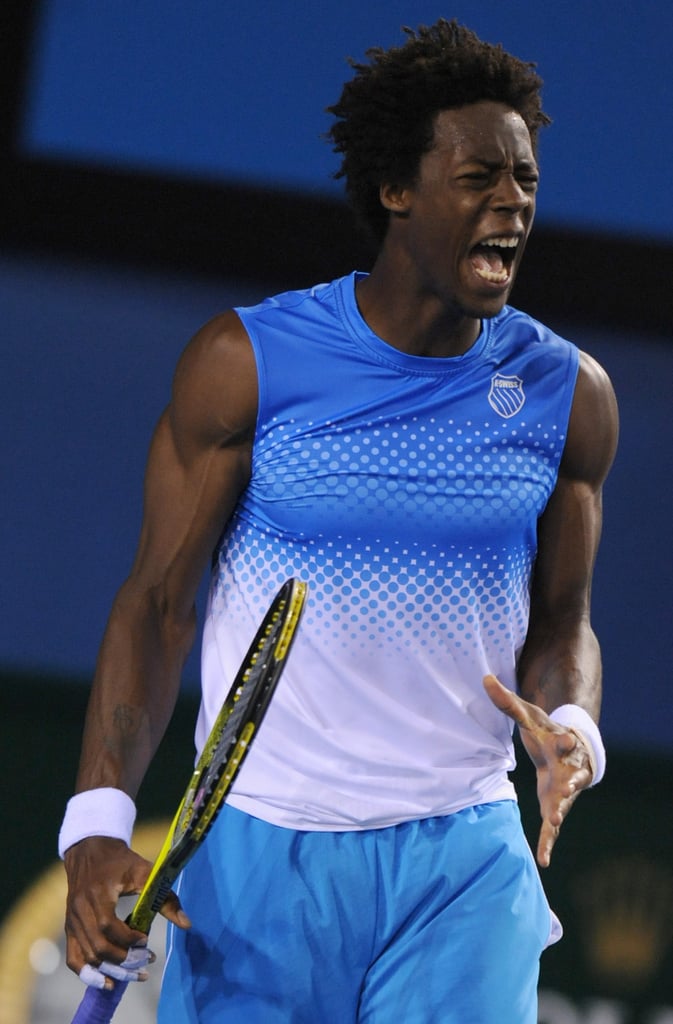 Gael Monfils is one of the best dressed male tennis players as seen here in his white and blue shirts and shorts.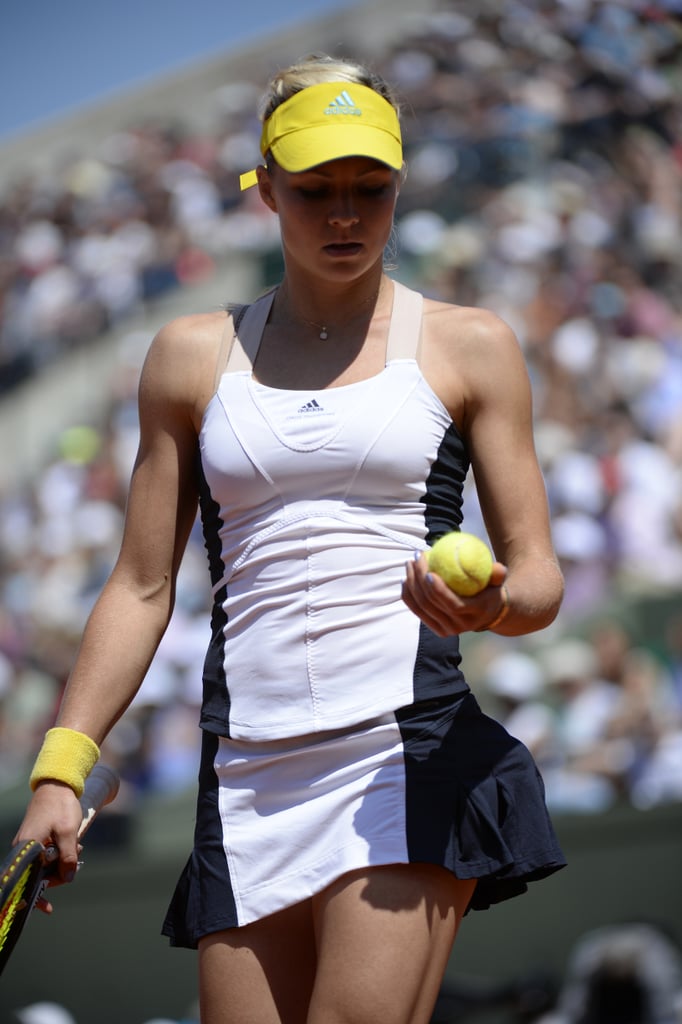 White and navy separates paired with bright yellow accessories made for a flattering look on Russia's Maria Kirilenko at the 2013 French Open.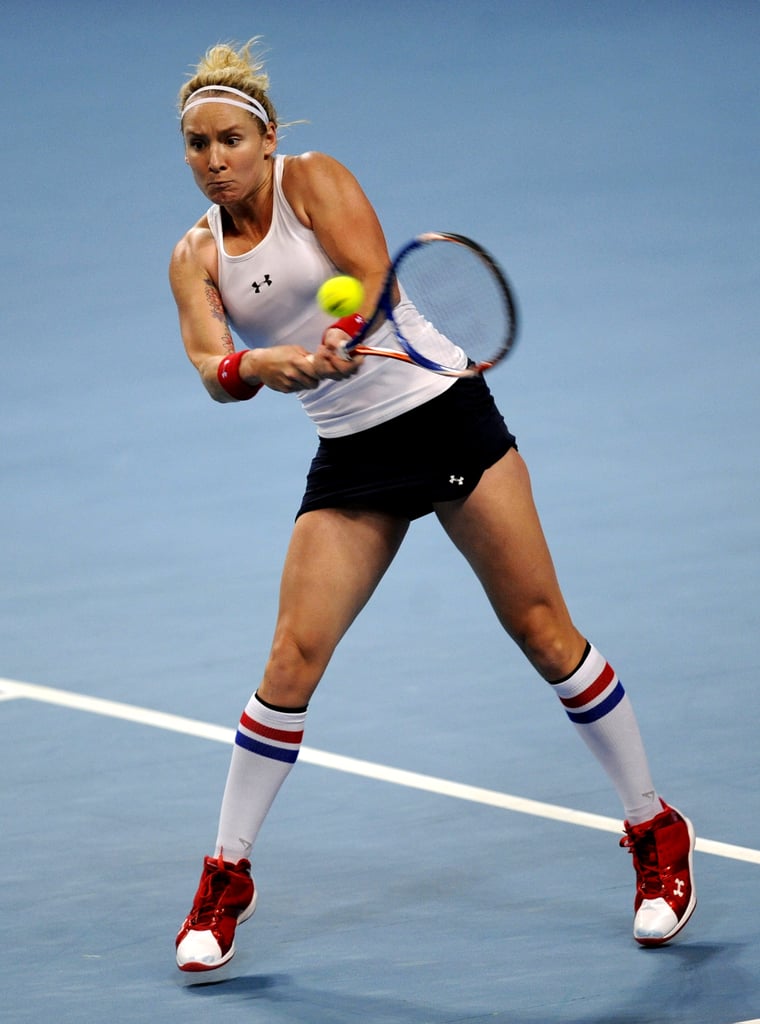 Bethanie Mattek-Sands' style is best known for wearing knee-high socks with her tennis outfits.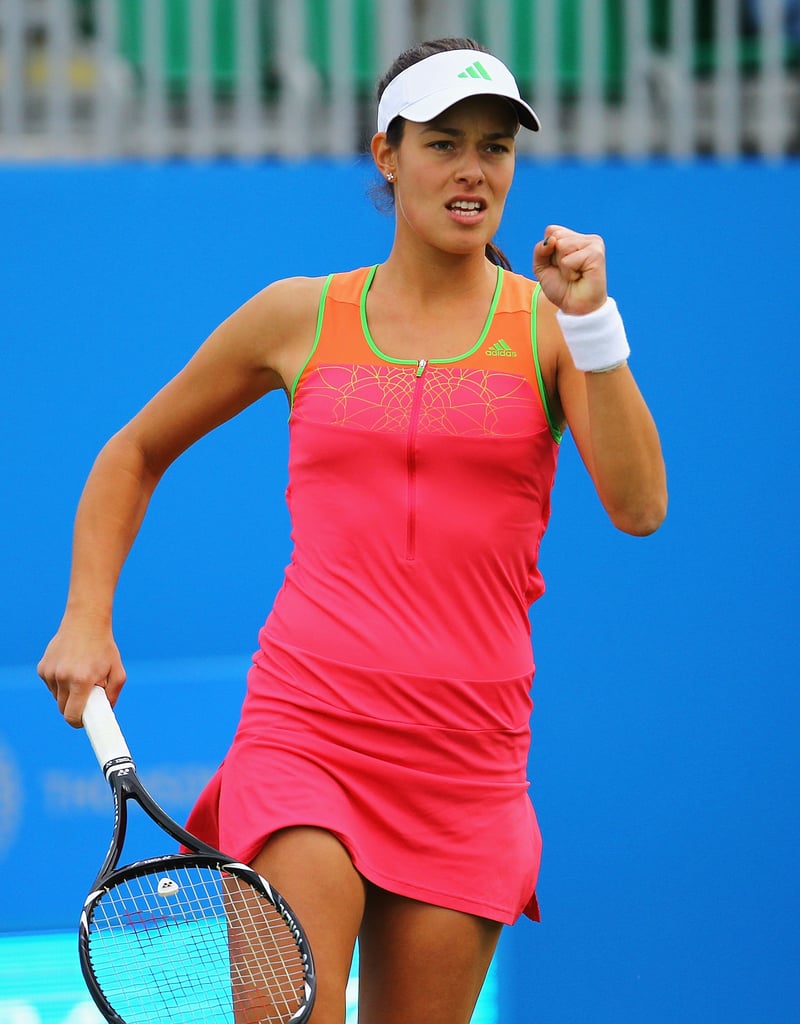 Ana Ivanovic kept up with this seasons neon color trend in a hot pink, orange, and green dress.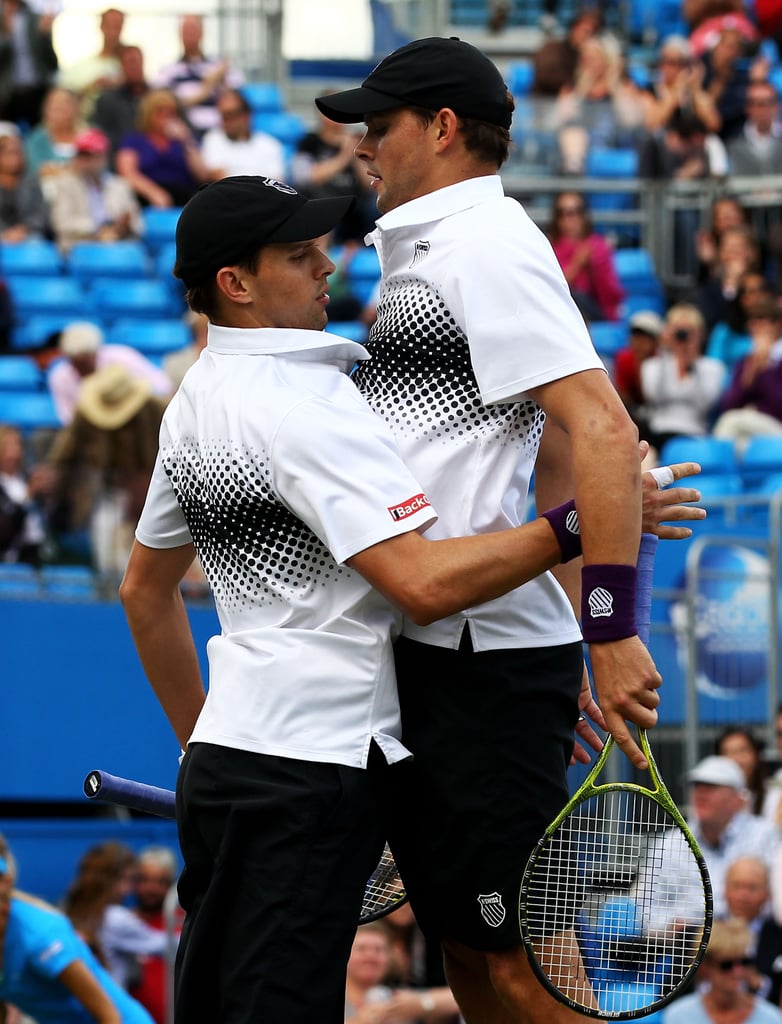 Who could resist these unbeatable twins! Bob and Mike Bryan are always stylin' on and off the court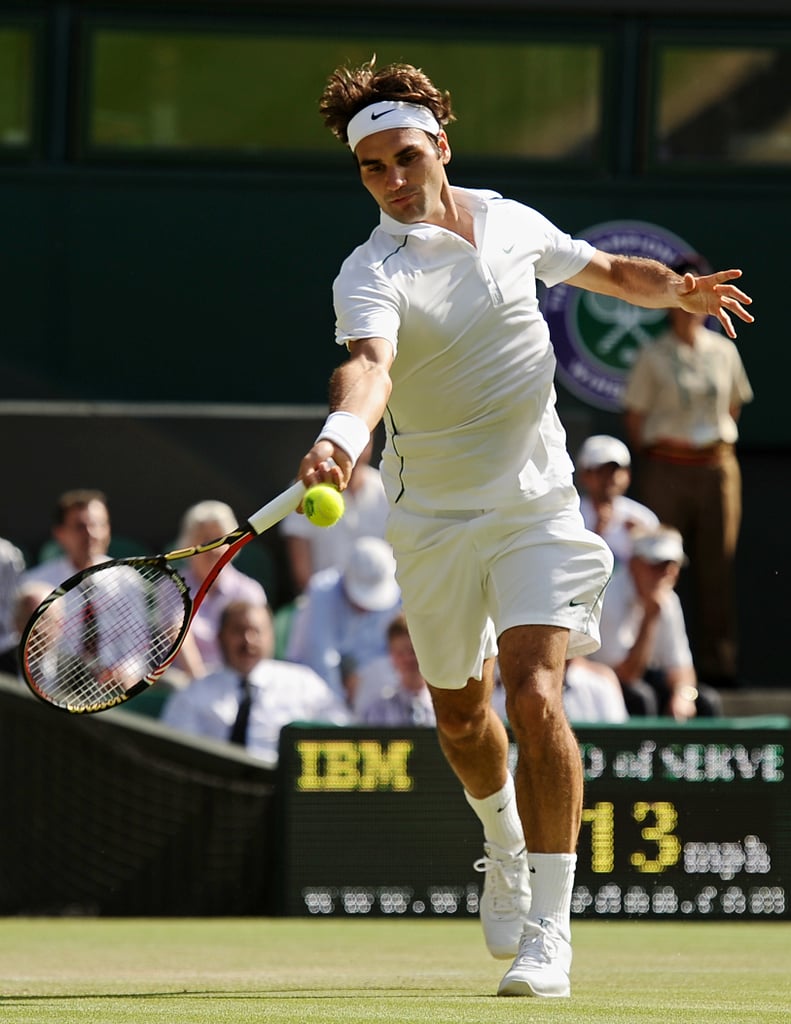 Roger Federer sported his signature Nike head band at the 2011 Wimbledon Tennis Championship.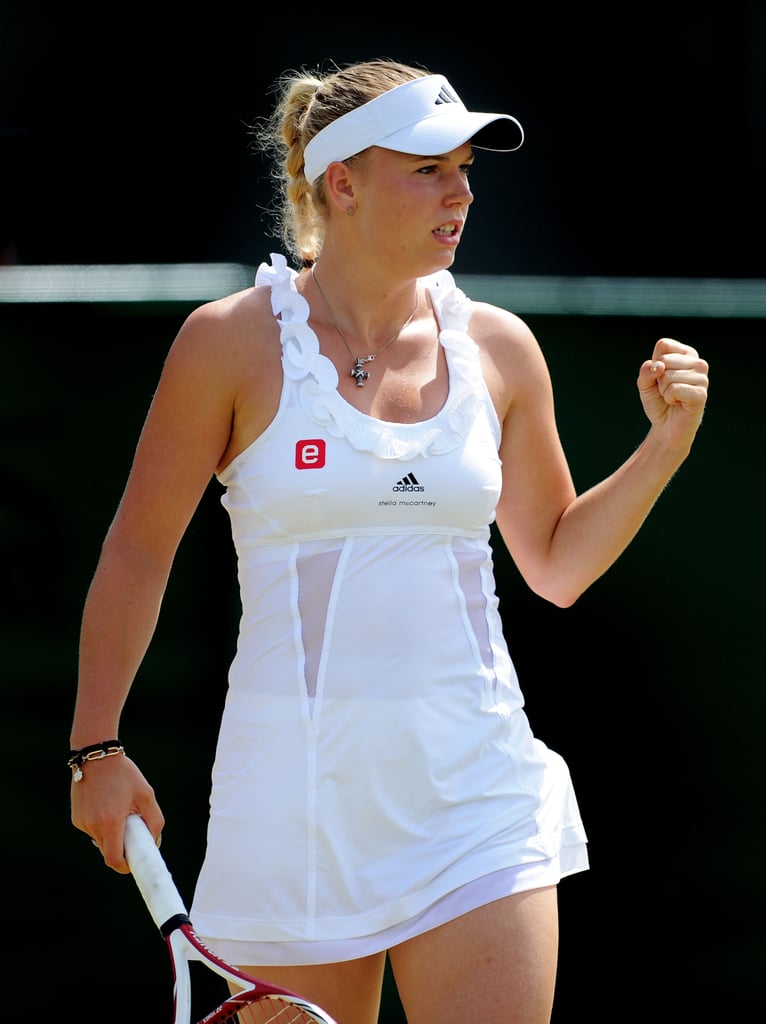 Caroline Wozniacki again showed off Stella McCartney's dress designs, but this time in white. Which one do you prefer?