If Jenna Lyons was the best thing to happen to once-sleepy J.Crew, she's surely the best thing to happen to our personal-styling skills. As creative director, Lyons has upped the ante at the brand, helping it set trends, deliver a monthly catalog that's included in every stylish girl's must-reads, and offer up a highly coveted Fashion Week ticket [1].
She's plenty skilled in the workplace, but it's her ability to rock a perfect outfit that really claimed our attention. Get ready to pin away [2], scribble notes, whatever it takes. We guarantee you're going to take some getting-dressed inspiration from nearly every picture here.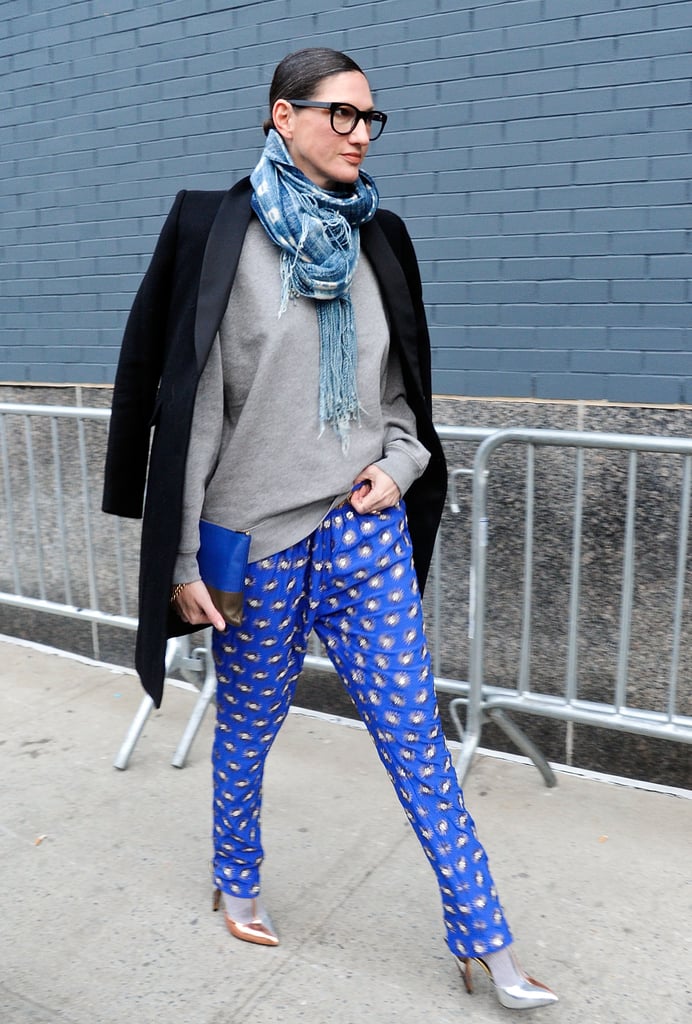 To catch the Altuzarra Fall 2014 show [3], she looked like she could've stepped straight off the pages of a J.Crew catalog thanks to the printed pajama-style pants, cozy sweater, and pumps layered with warm socks.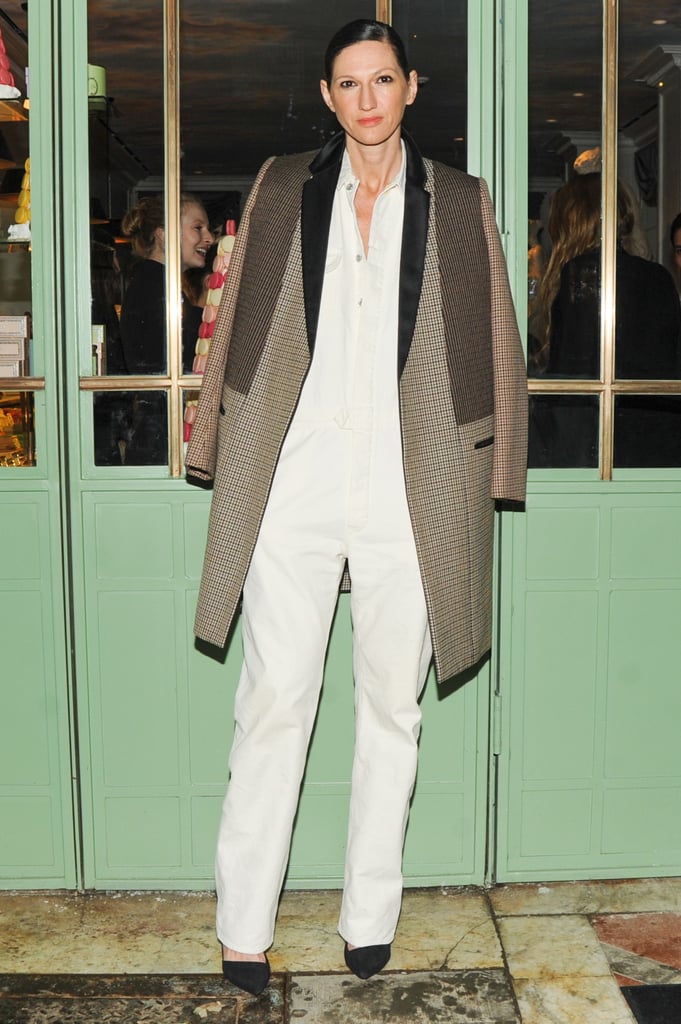 A simple white jumpsuit might be the painter's go-to uniform, but it's automatically ready for a downtown sophisticate thanks to the addition of a tailored overcoat.
Another Lyons favorite came out to play: metallic gold pants! She dressed them down with a leather jacket, the ultimate cool-girl styling trick.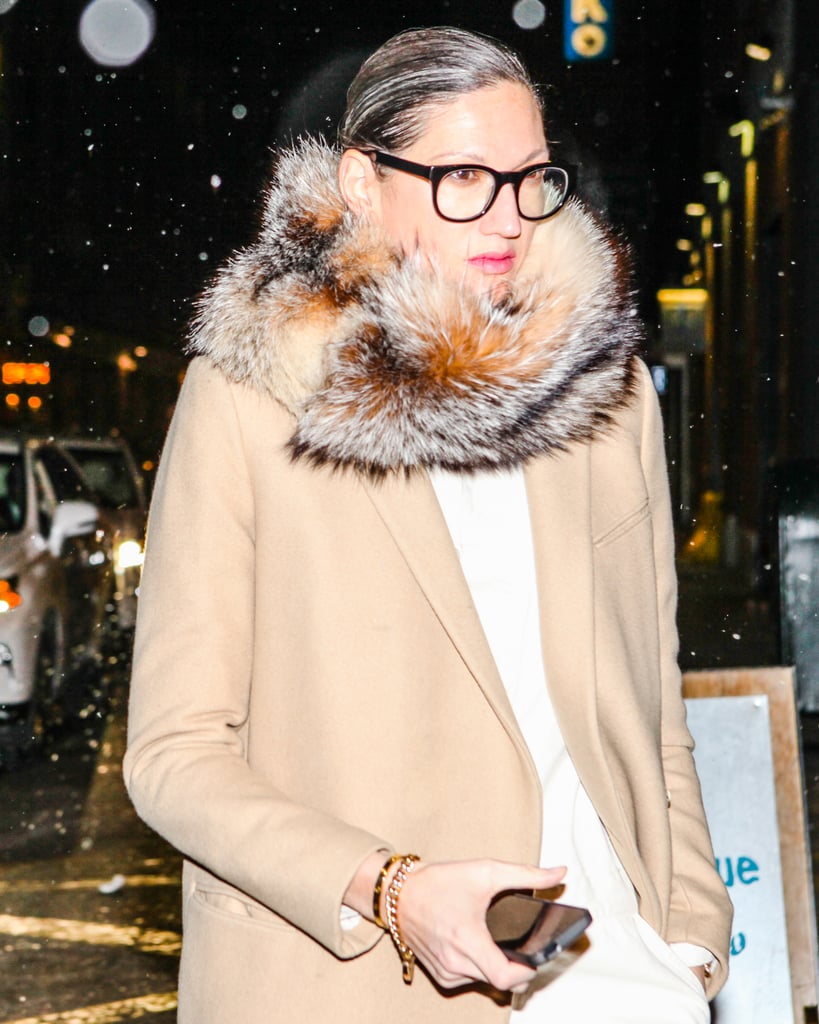 A simple coat got sophisticated in a hurry thanks to a fur snood.
We love that she routinely skips the cocktail dress in favor of an outfit like this combo of black slacks, cobalt pumps, and a geometric print top worn over a button-up shirt.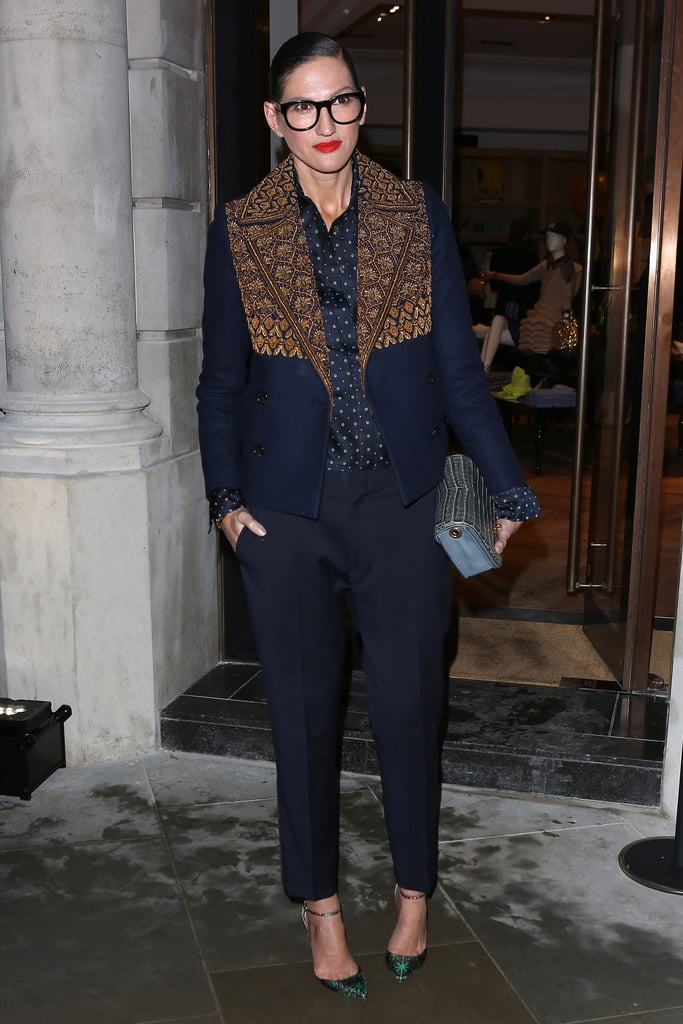 There's no such thing as too many prints for her, clearly, as she mixed a bold blouse with an even bolder jacket.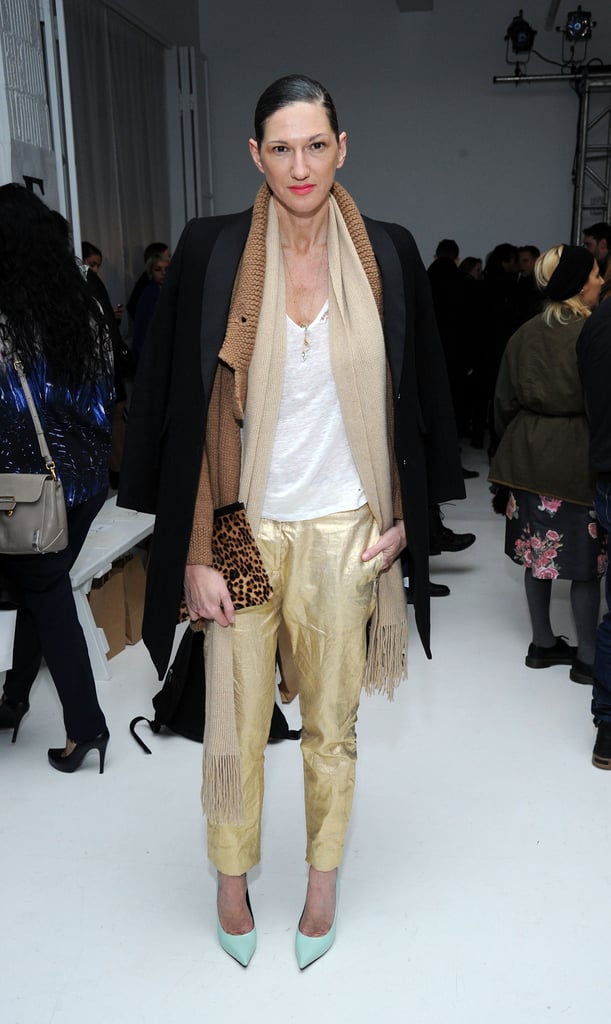 When you have a favorite, stick with it. Jenna picked another pair of gold pants for a Fall 2014 fashion show in NYC.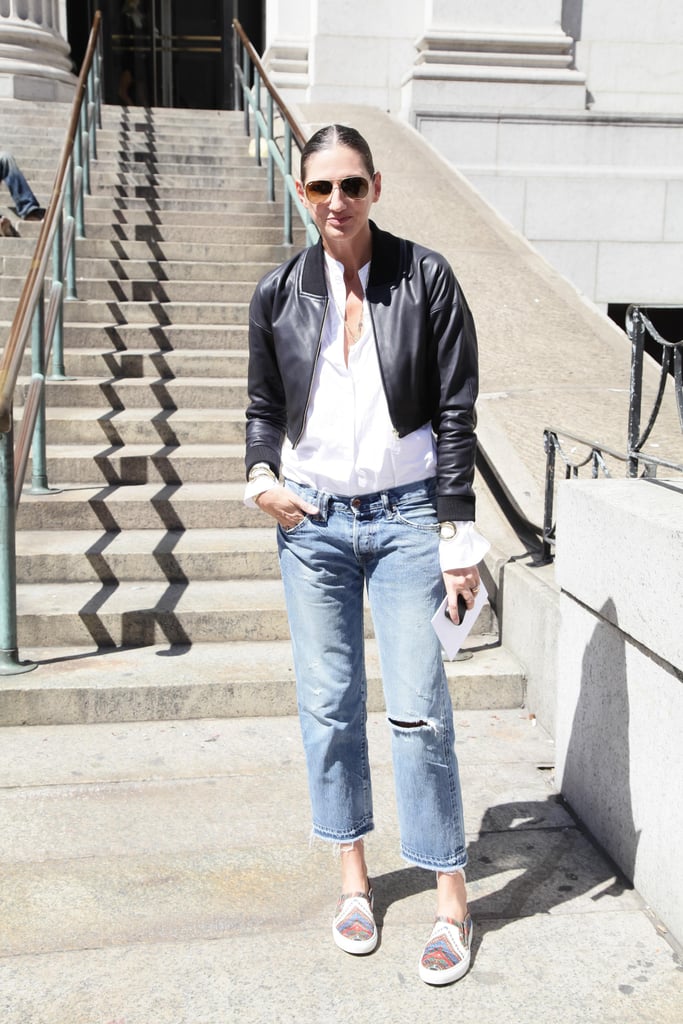 Casual Jenna mixed basics you likely have at home — relaxed boyfriend jeans [4], a leather jacket, and comfy kicks.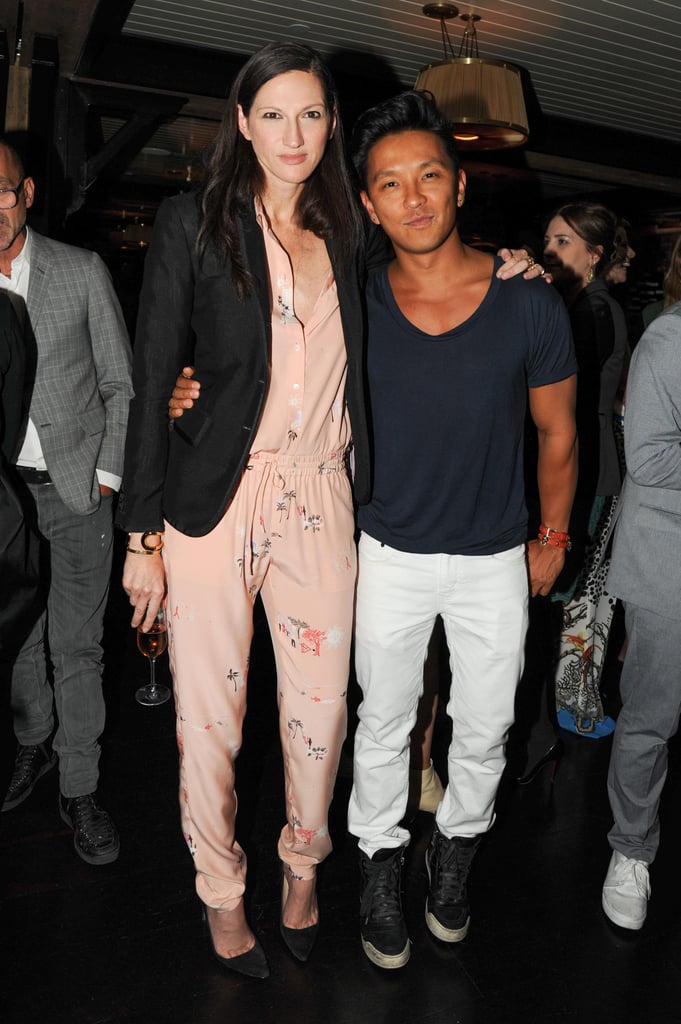 A silky peach jumpsuit got nighttime appropriate for a J.Crew party with designer Prabal Gurung thanks to the addition of a tailored blazer.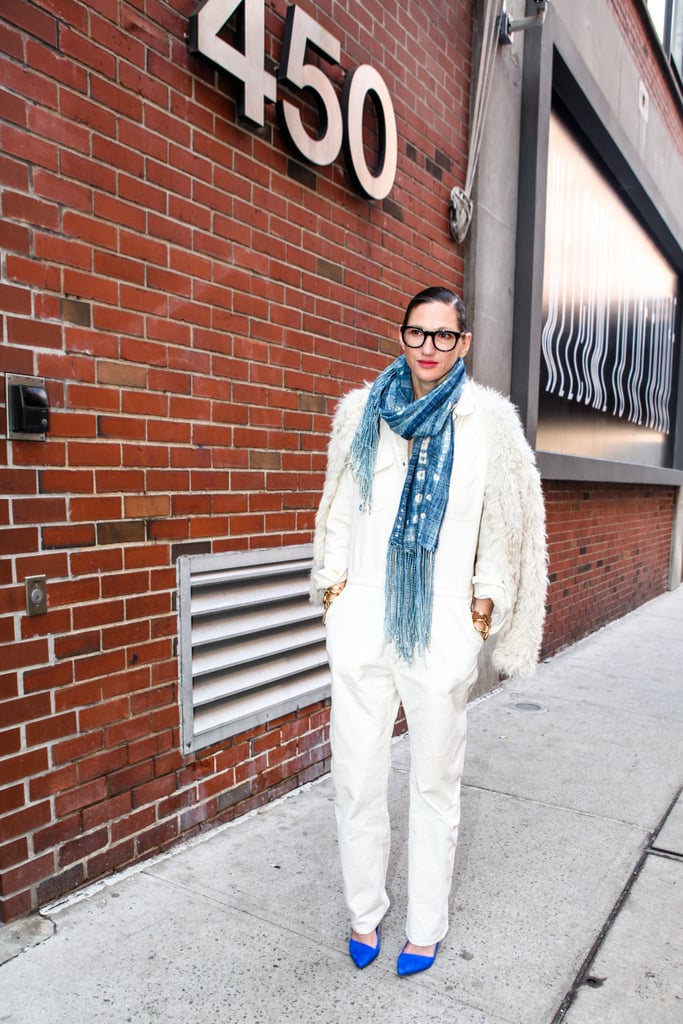 It was white-on-white for the Winter, broken up by just a touch (or two) of bright blue.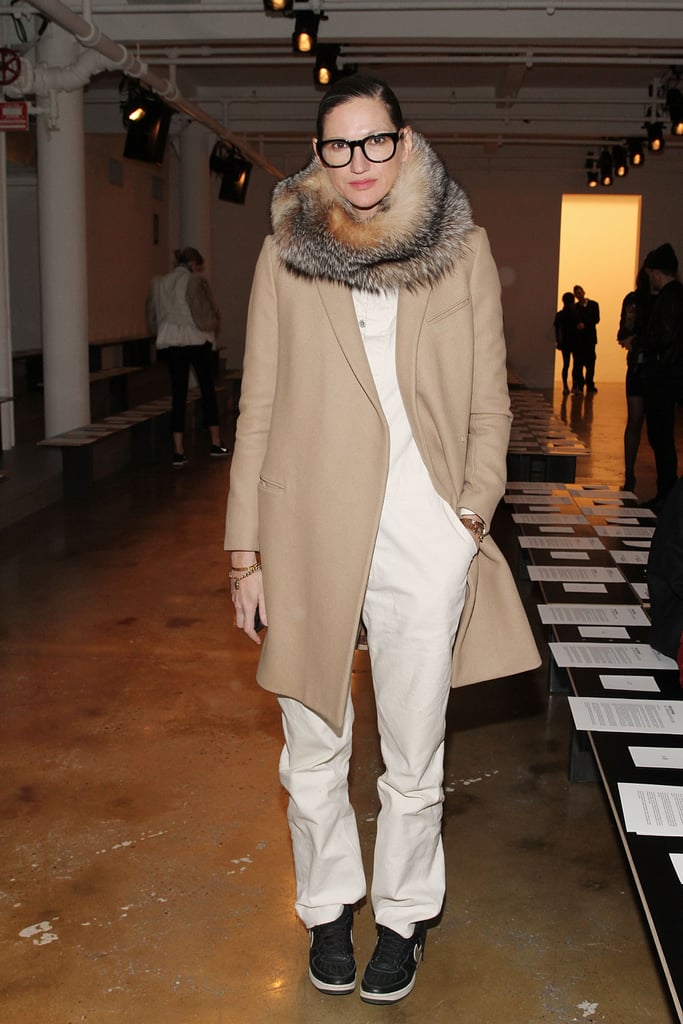 Even as a queen of mixing pattern and color, Jenna can still retreat to the simplicity of a good mix of white and tan.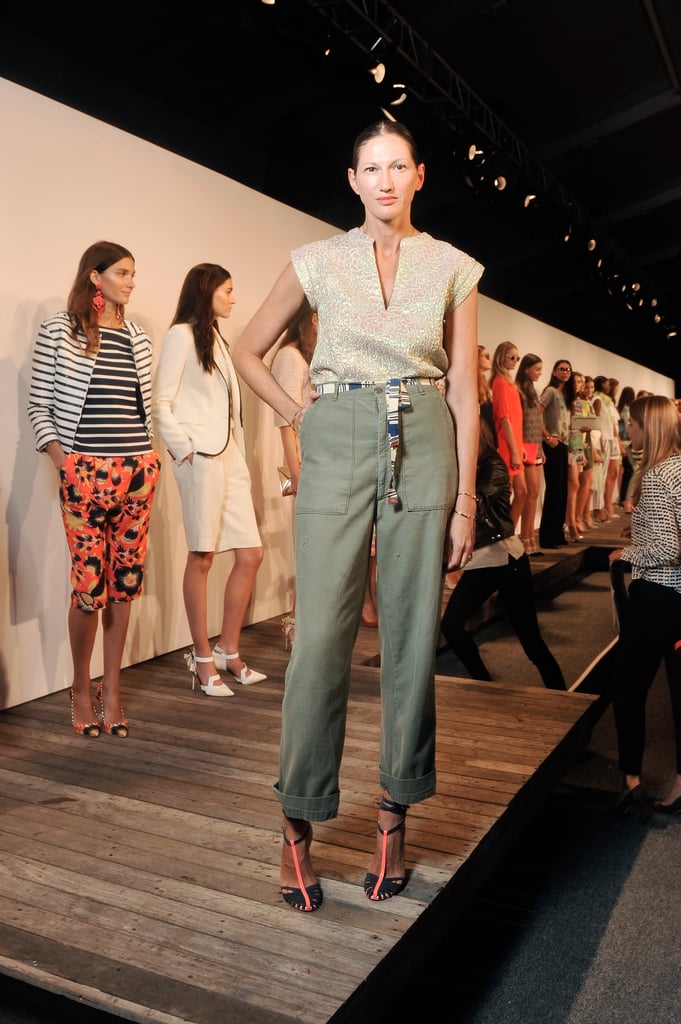 To show off J.Crew's Spring 2014 lineup [5], Lyons tucked a sparkly gold top into high-waisted pants and accessorized with t-strap heels and a casual belt.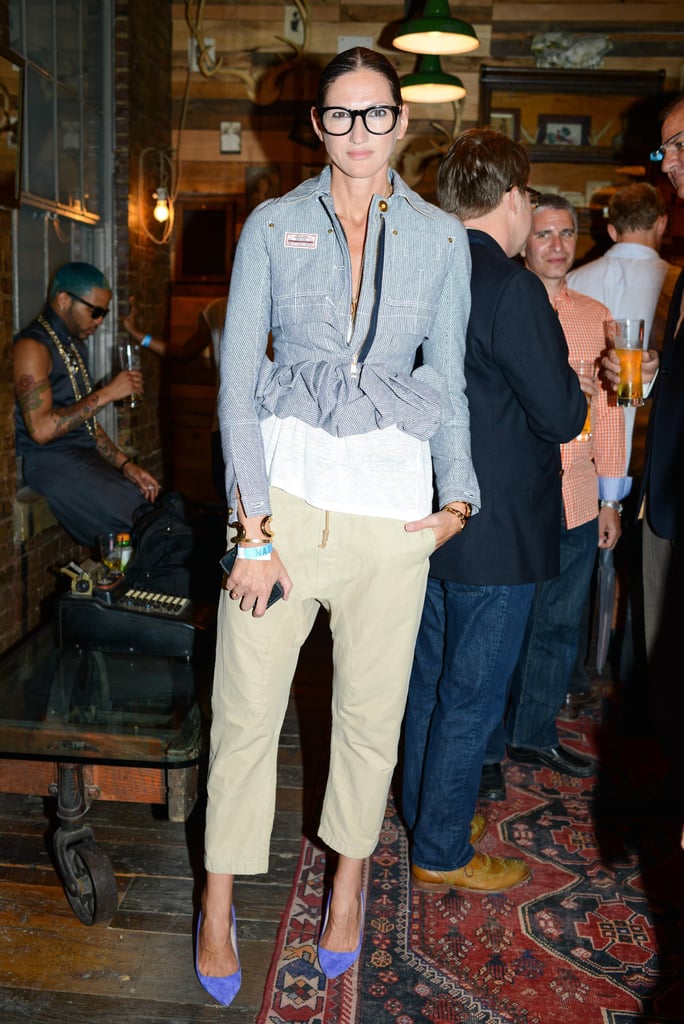 We'd never laid eyes on drop-waist khakis before uncovering this shot, but we're starting to want a pair (a regular occurrence with this street style star). Railroad stripes and colorful pumps combine for an all-around great look.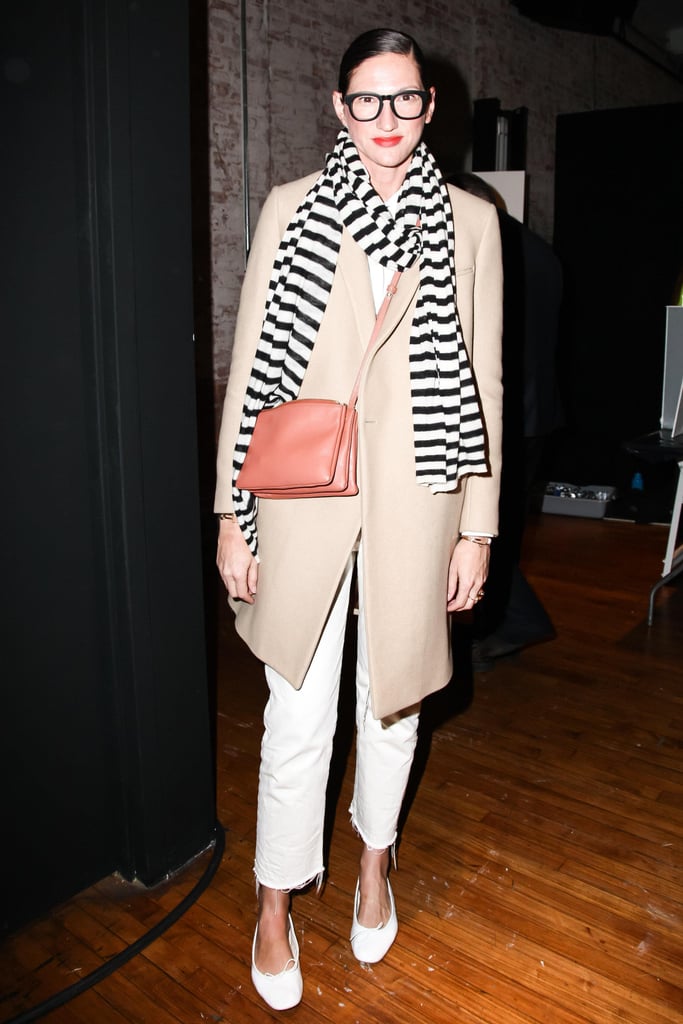 A Fall ensemble of coat and scarf includes a little bit of Summer thanks to cropped jeans and ballet flats, both in pristine white.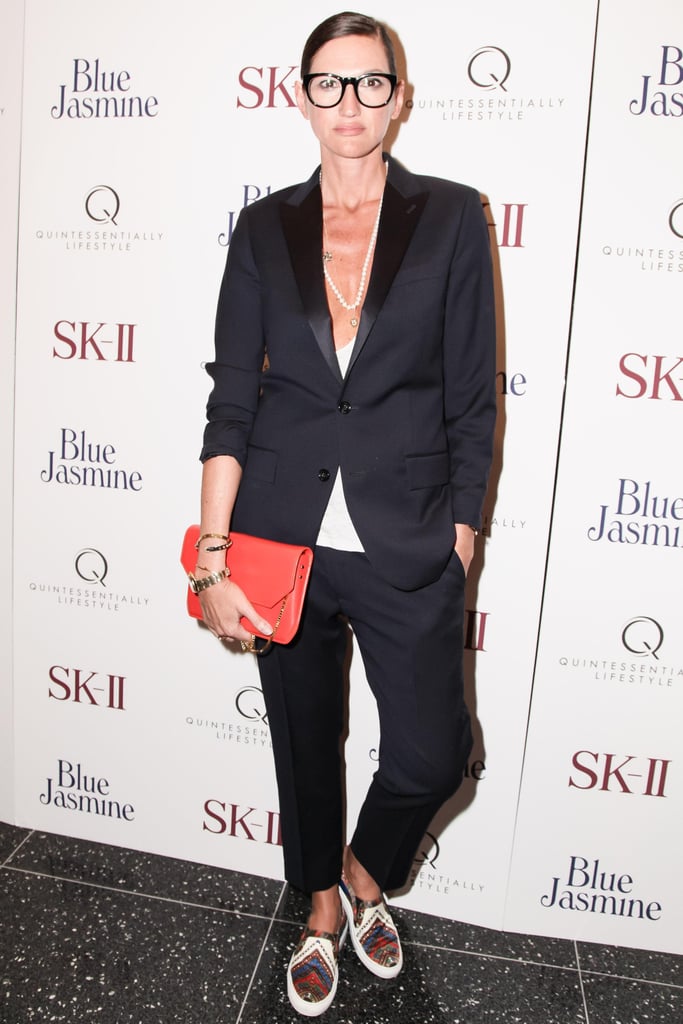 A slouchy menswear-inspired suit was both casual (those sneakers!) and sexy (that neckline!).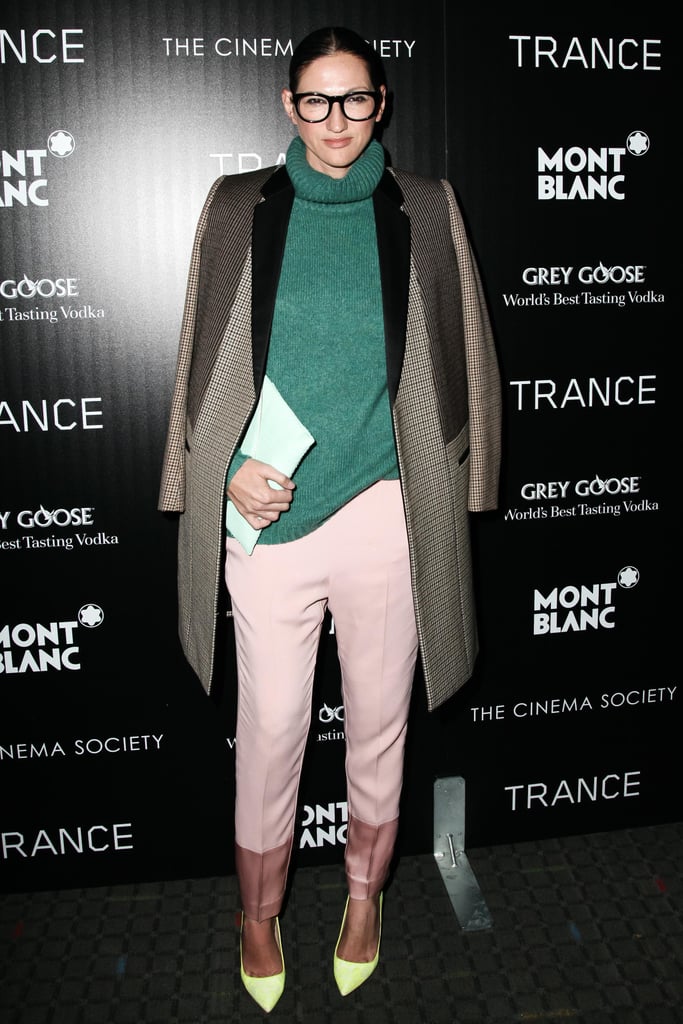 The old-school turtleneck feels chic, not musty, with a jacket thrown nonchalantly over the shoulders.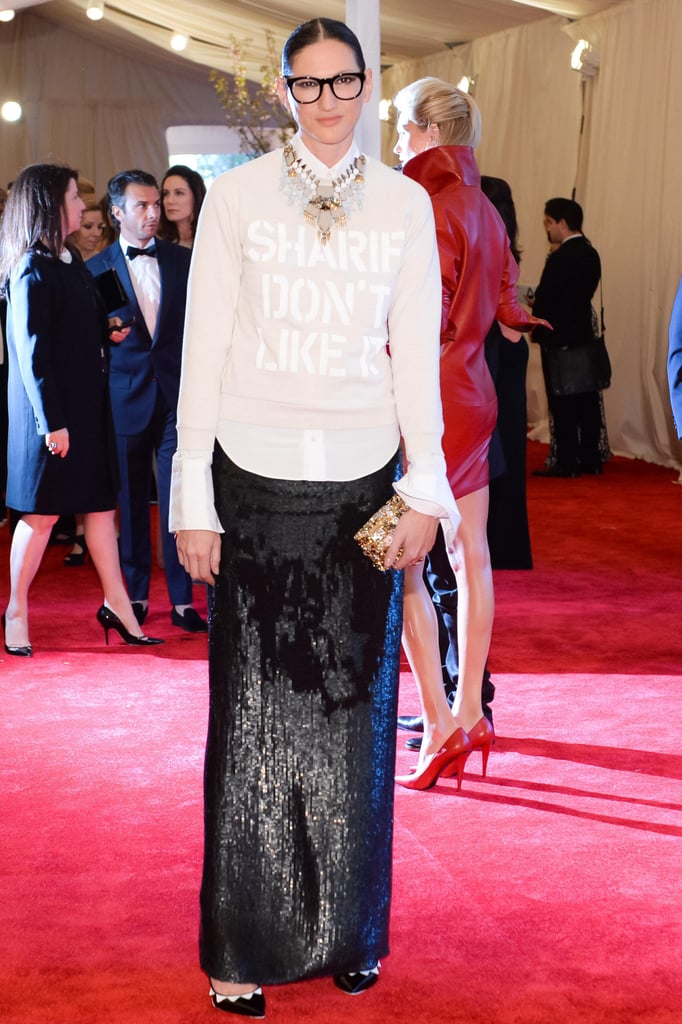 Lyons's brilliance comes through with her brave mix and matching. Sequin maxi skirt with button-down and layered tee at the Met Gala? No problem.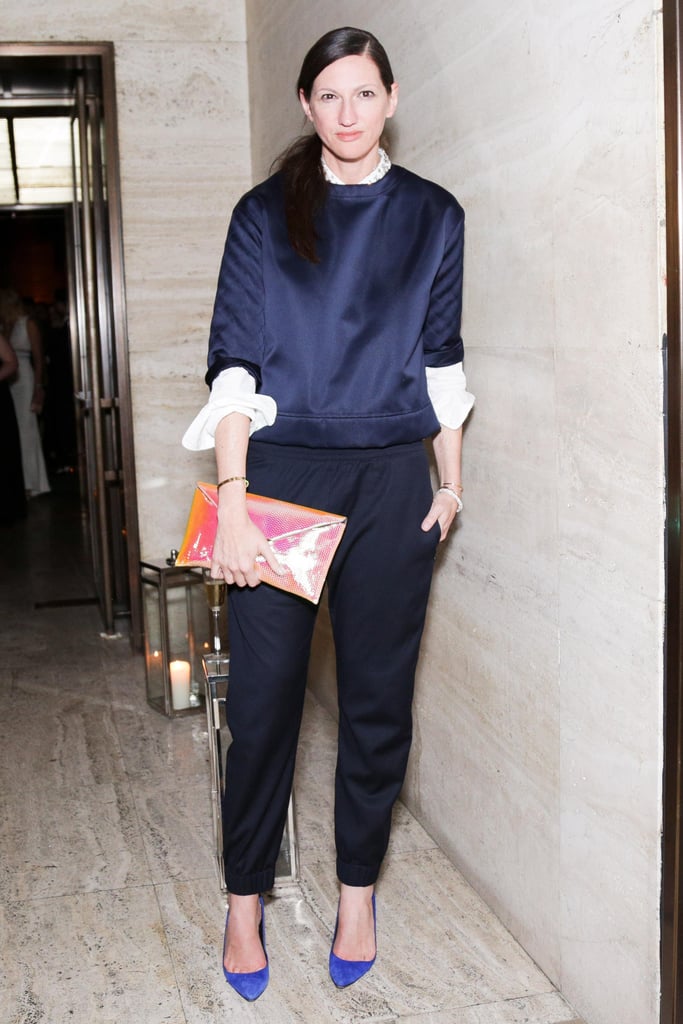 To watch Vera Wang accept her lifetime achievement award [6], Lyons chose blue on blue on blue.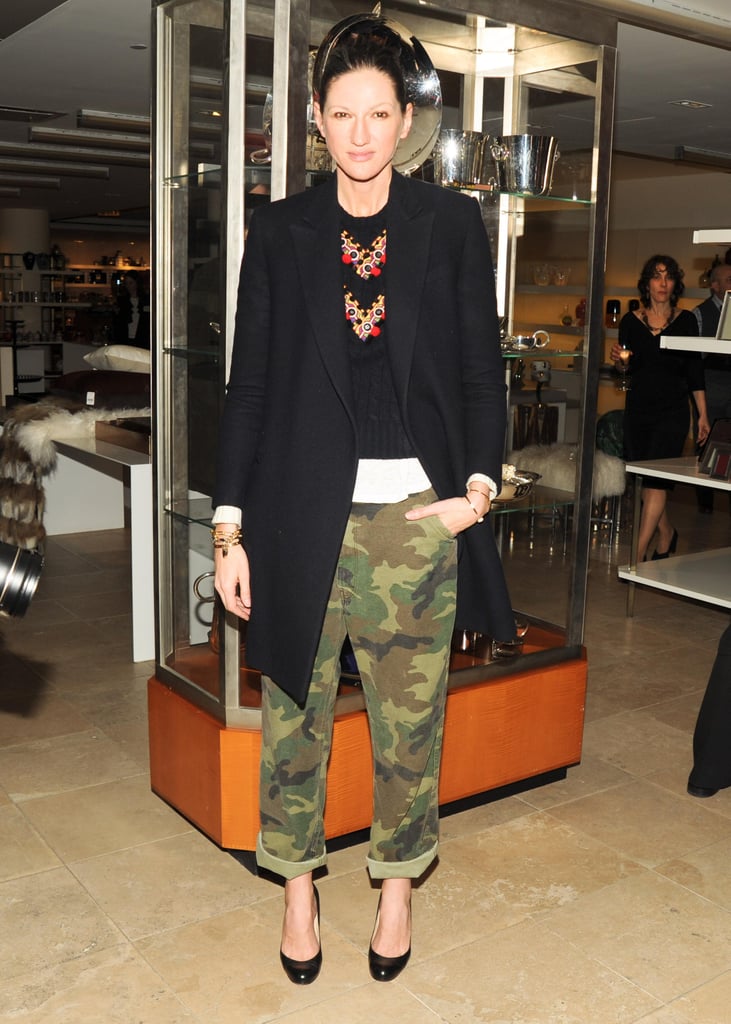 Before most of us even knew we liked camo [7], she was rocking the print in baggy, rolled pants.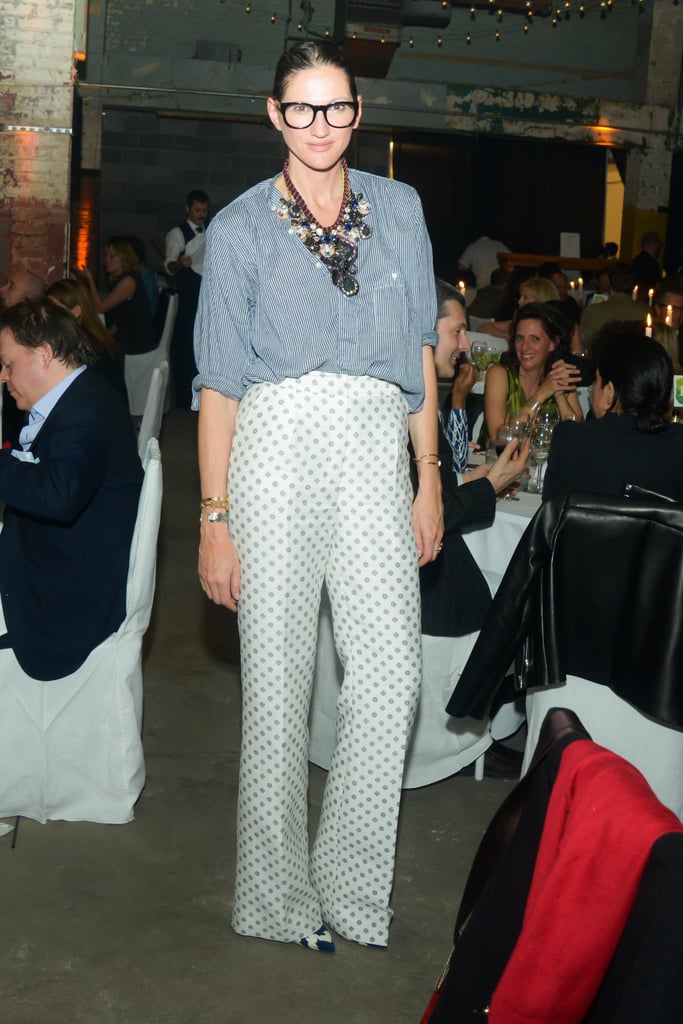 Our favorite Lyons lesson from this one? Pants can be just as formal as a cocktail dress.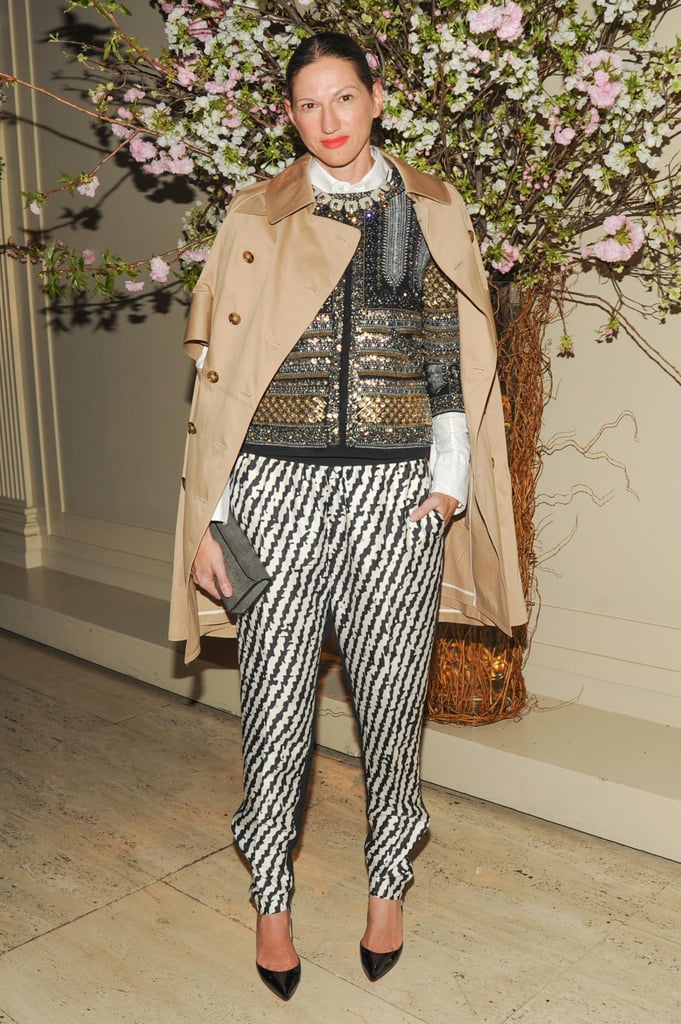 Bold prints and shine are topped off by a classic trench coat.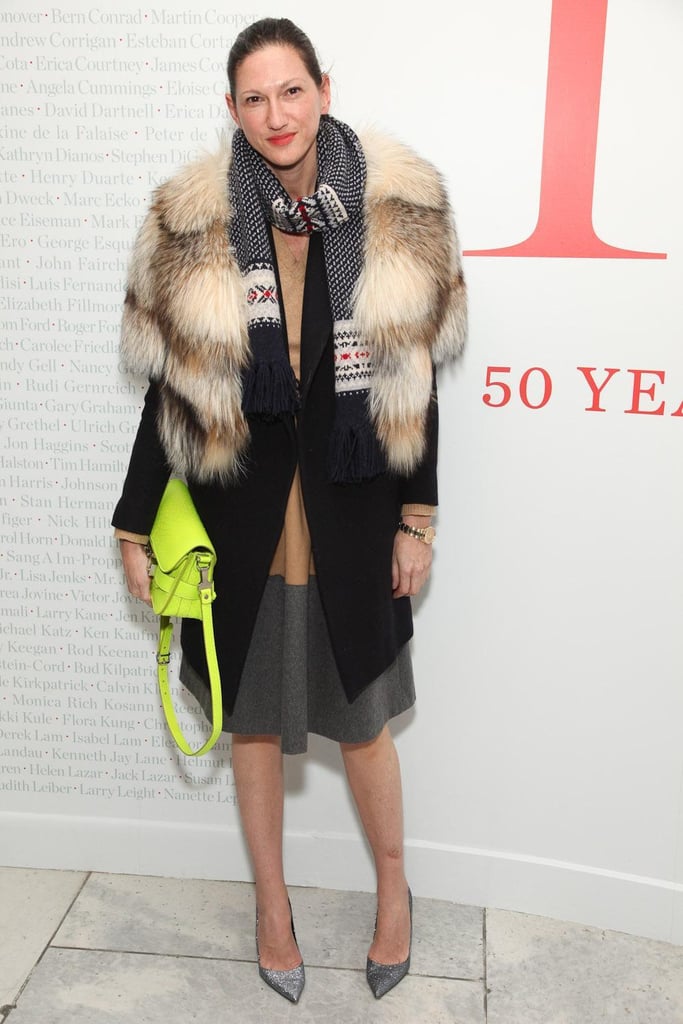 Fur and heels juxtaposed against a neon schoolboy satchel and knit scarf adds up to the sort of intrigue we've come to expect from the J.Crew chief.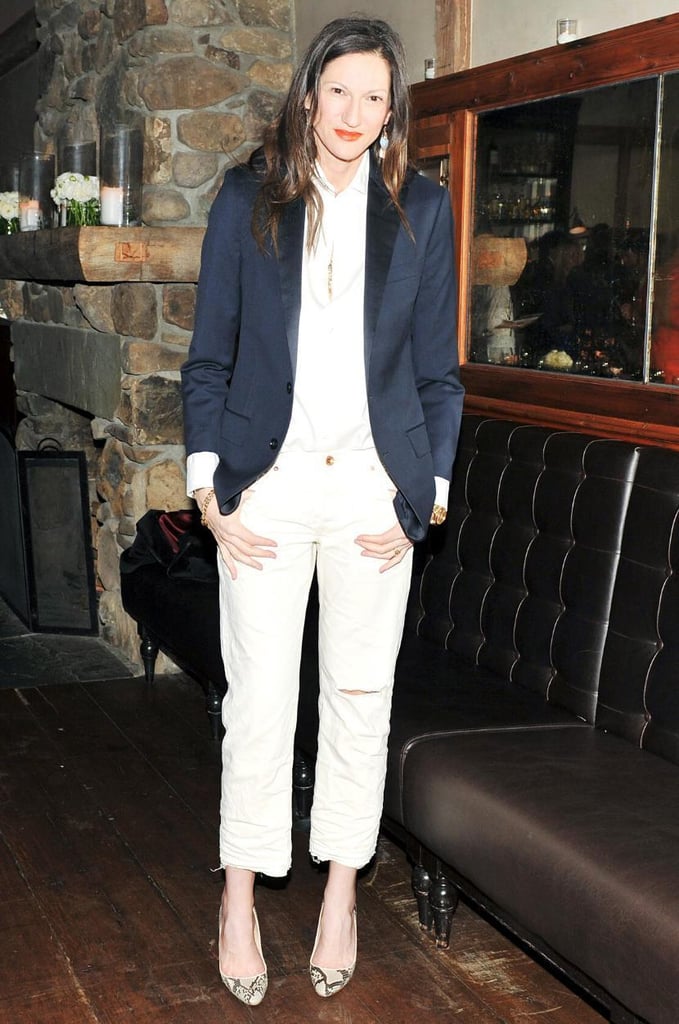 Not surprisingly, Lyons has mastered the art of dressing up J.Crew. We love this preppy blazer with boyfriend jeans and pumps.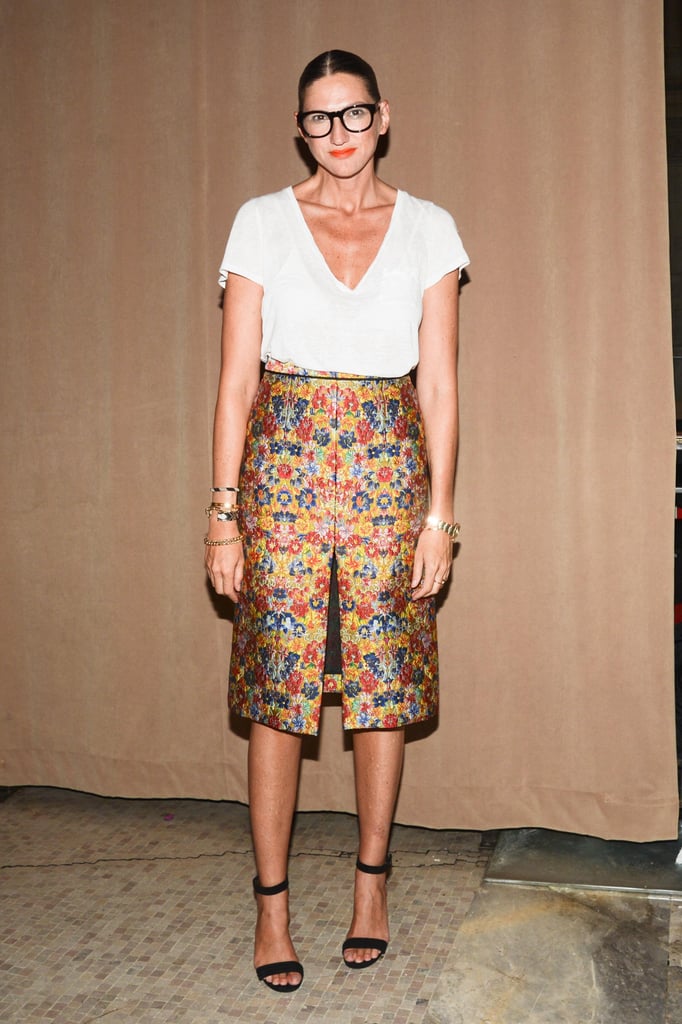 Never fussy, she's artful at mixing a bold piece with a simple white T-shirt.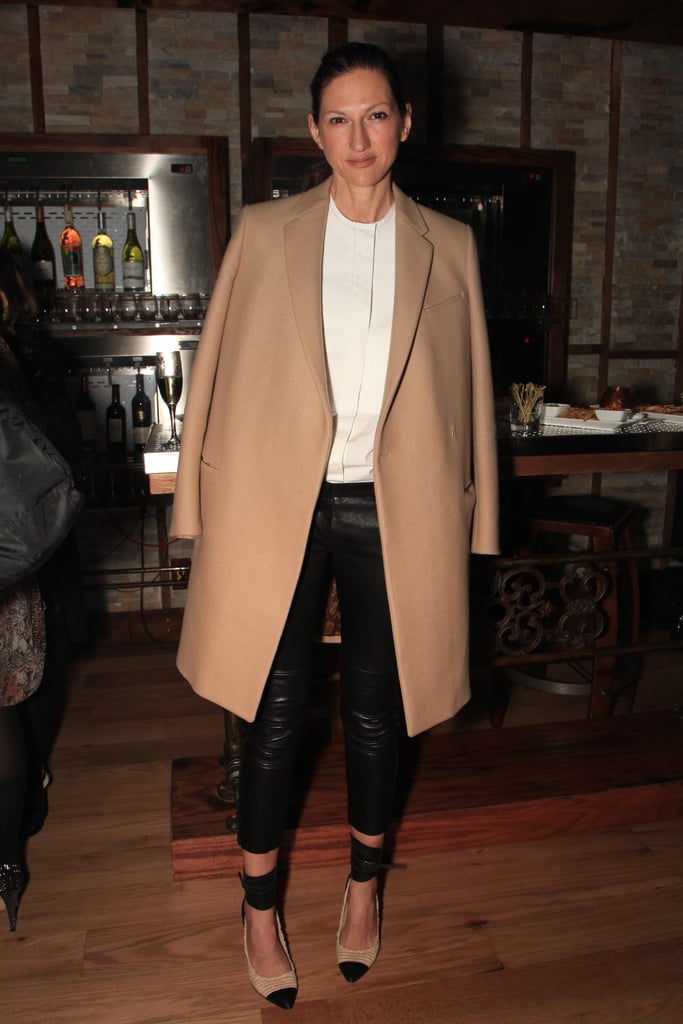 Sharp lines are always a smart investment, like this camel coat.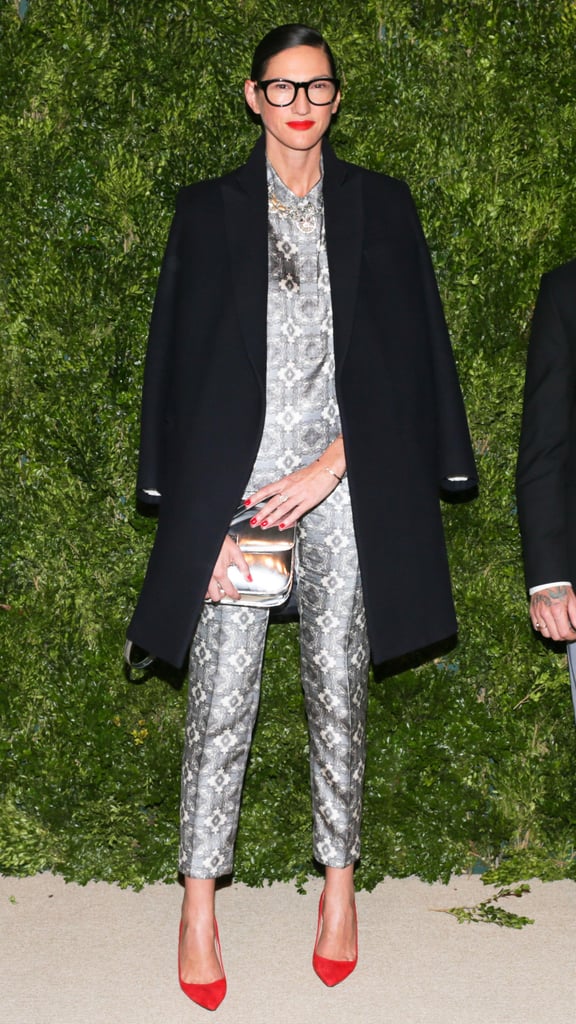 Another Lyons takeaway? Avoid falling into the pitfall of thinking the suit is boring. A metallic matched set is a great option for a formal event.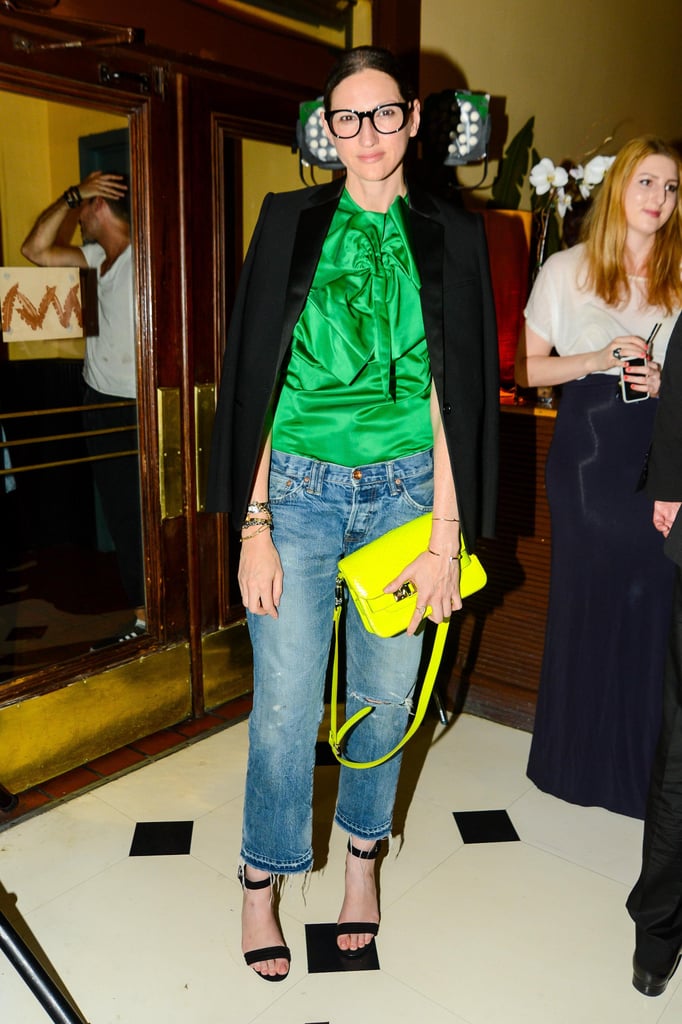 There's no firm proof, but we're fairly certain Lyons was one of the first to take up the torch for boyfriend jeans. (Thank you, Jenna!).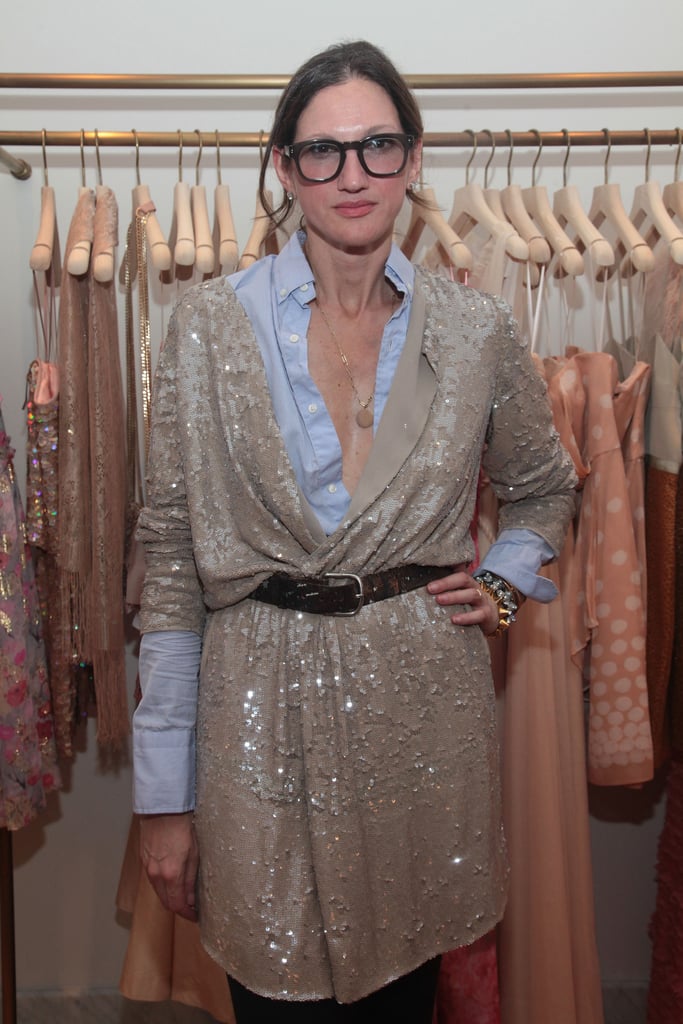 The idea of draping and belting a sequin cardigan over a preppy button-down feels novel but totally works.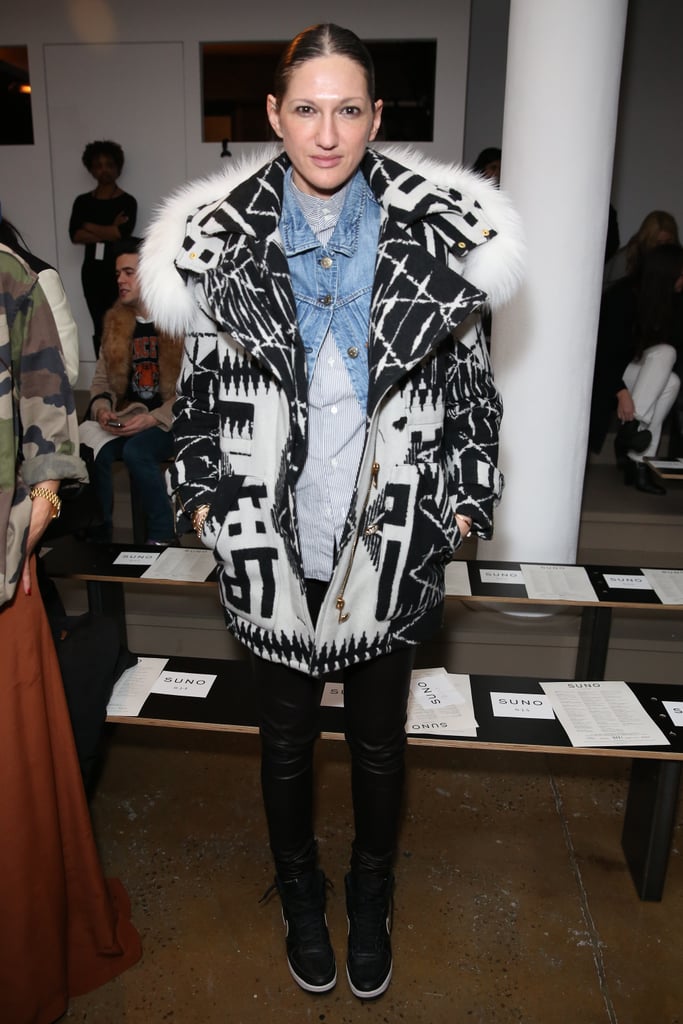 Our favorite part of this fashion week look? The way she's thrown a denim jacket, buttoned just at the top, into this layered mix.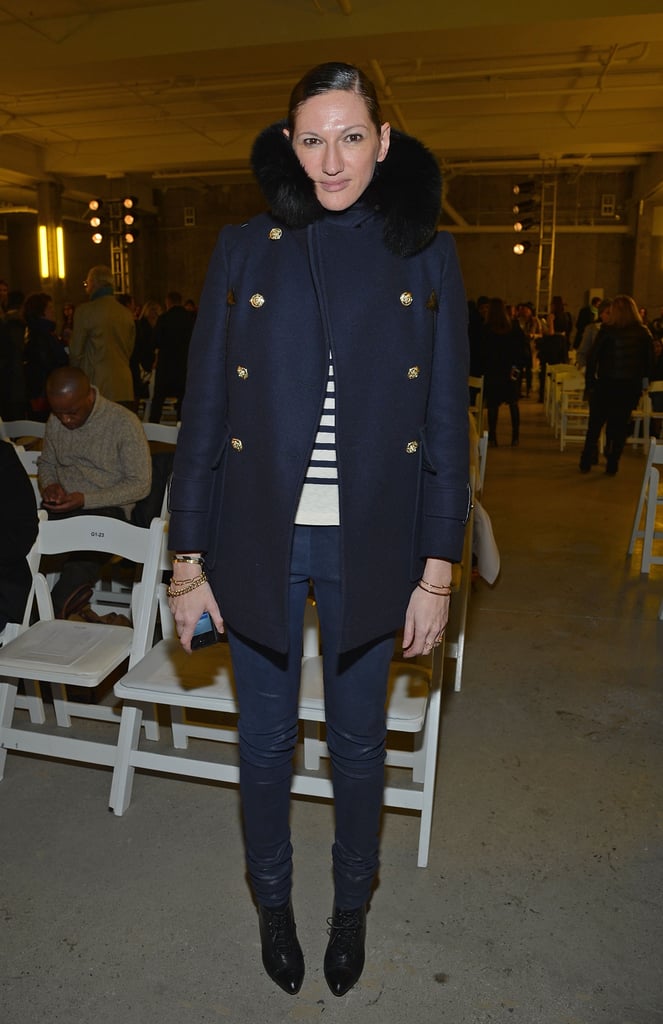 Straight-up preppy works, too, like this navy coat (and striped tee!).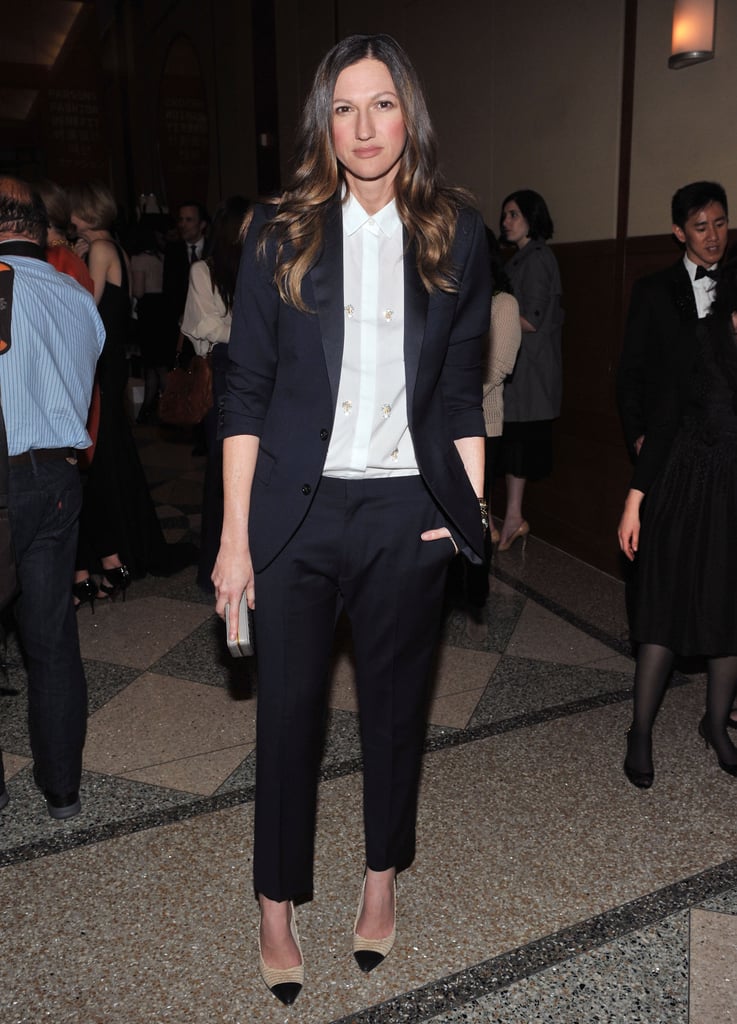 When it comes to simple pieces, the fit really counts. It helps elevate a basic look like this pants and jacket combo to another level.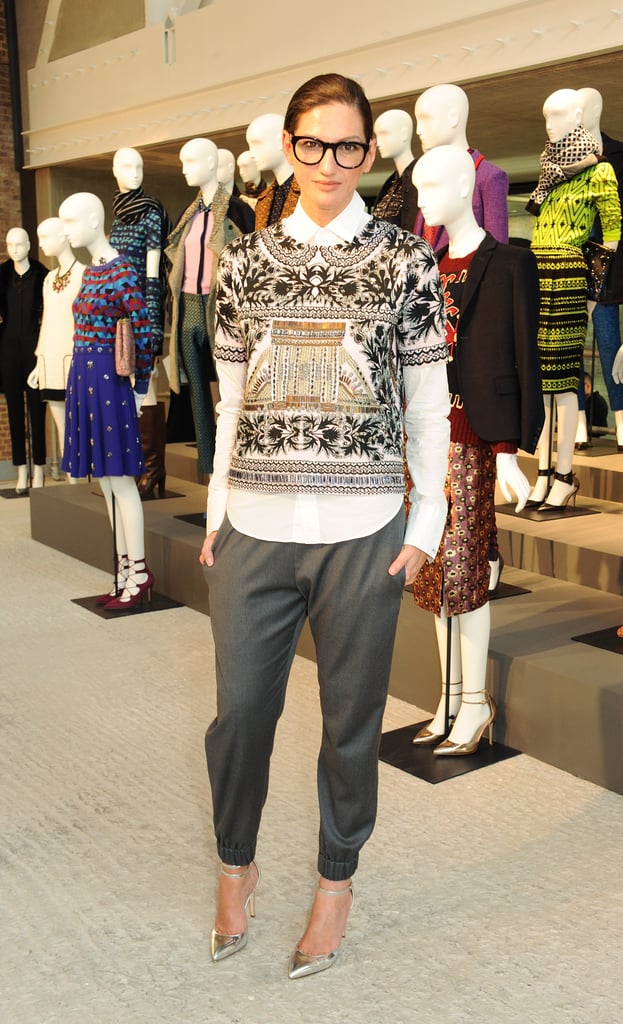 Proving her style translates worldwide, she picked a professional layered look for a London event.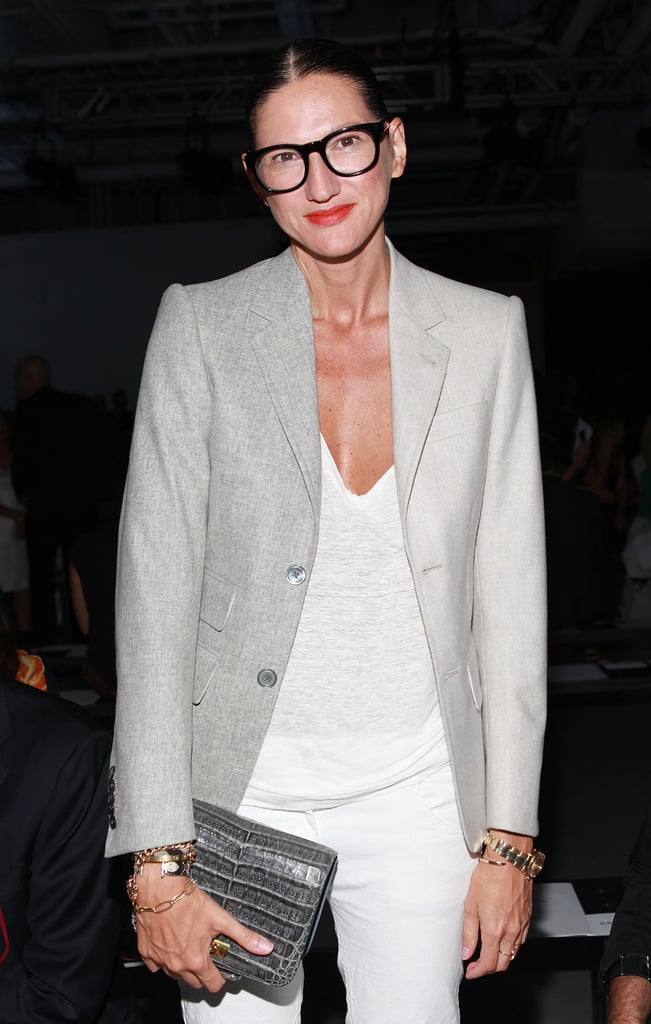 Forget extra flash! We loved this light gray blazer and white tee combo.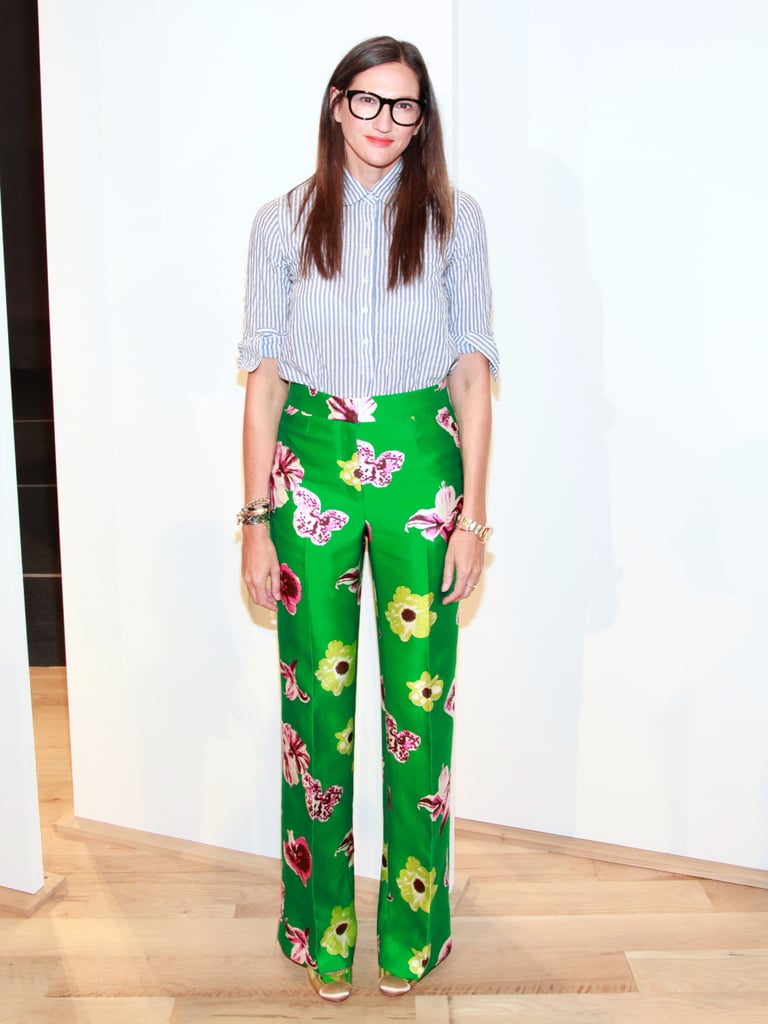 It takes major might to wear such bold pants, but her effortless pairing emboldens even the faintest-of-fashion-heart.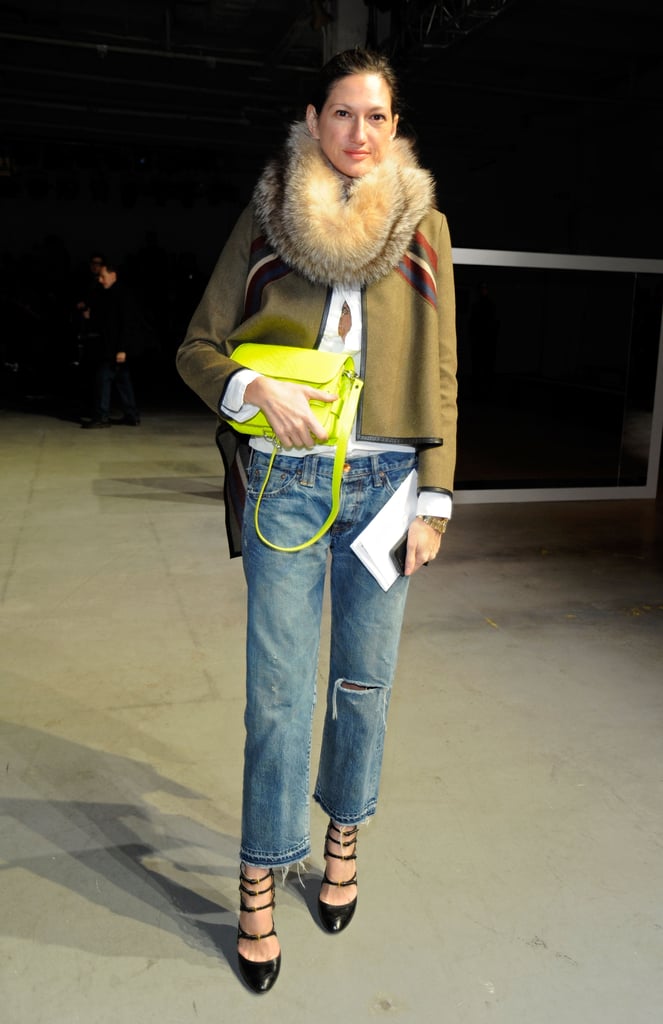 Fancy accessories dress up her trusty oversized jeans.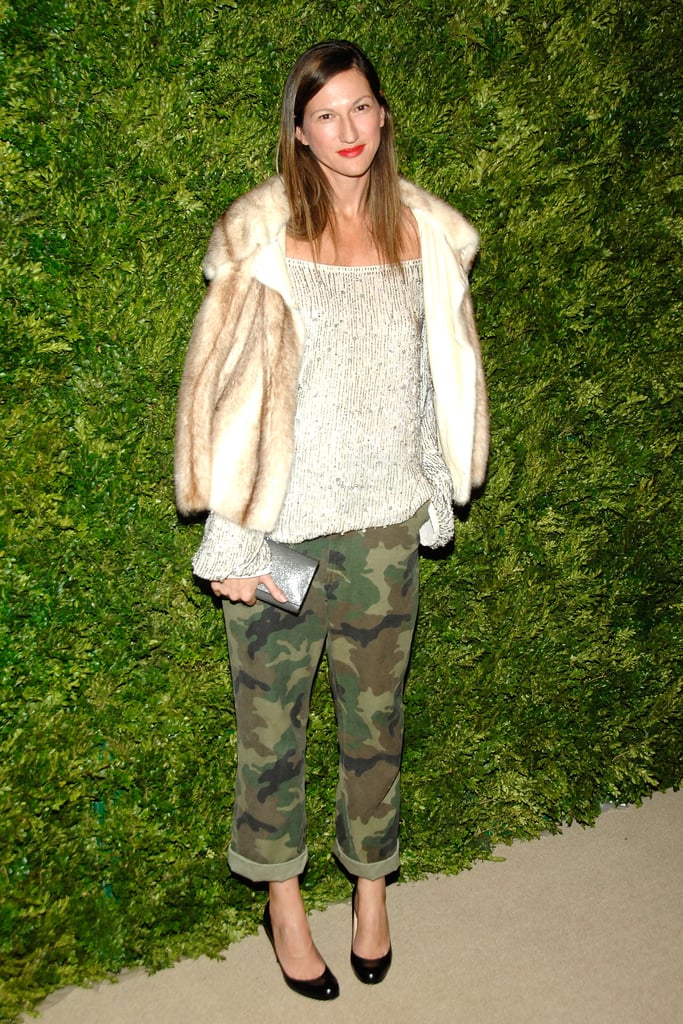 And those camo pants make another appearance!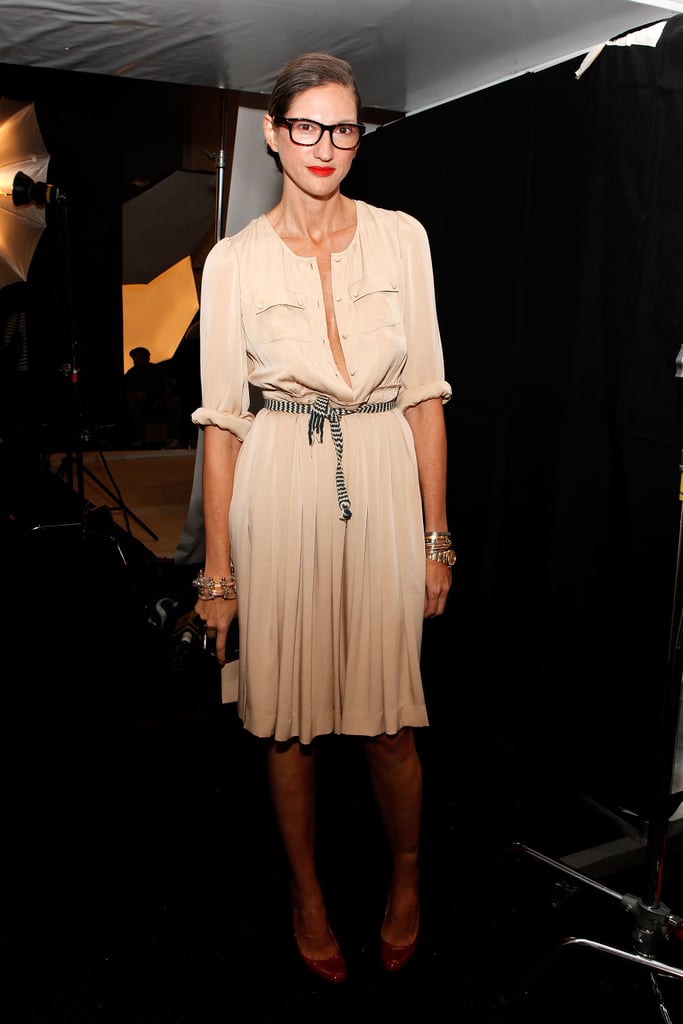 At J.Crew's Spring 2012 show, she went feminine in a peach-hued, pleated dress.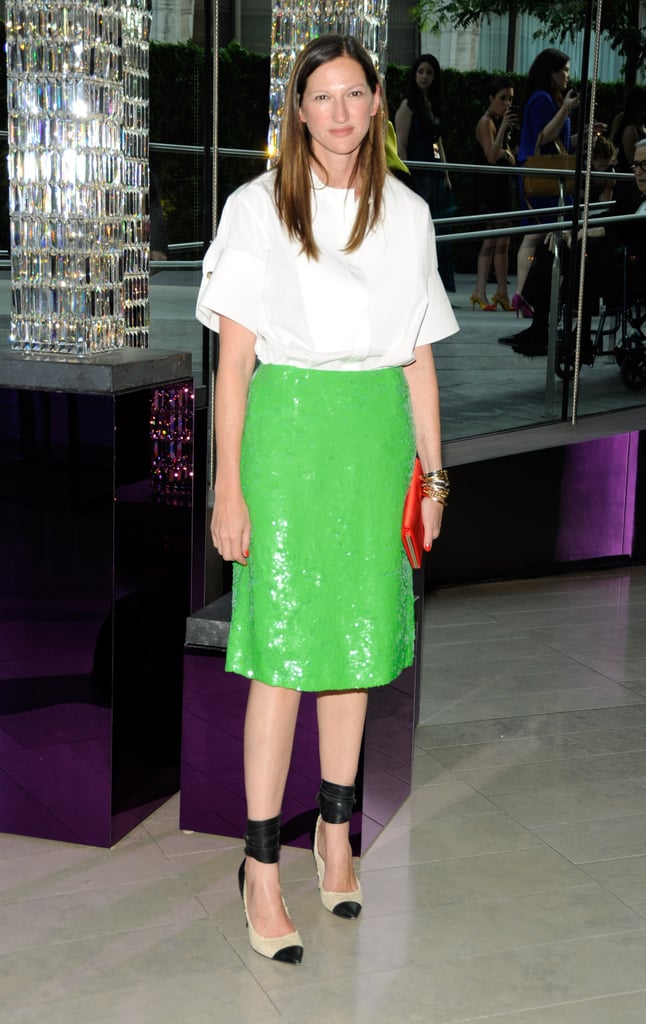 Lyons often picks a single bold piece, like this lime-green sequin skirt from the 2011 CFDA Awards.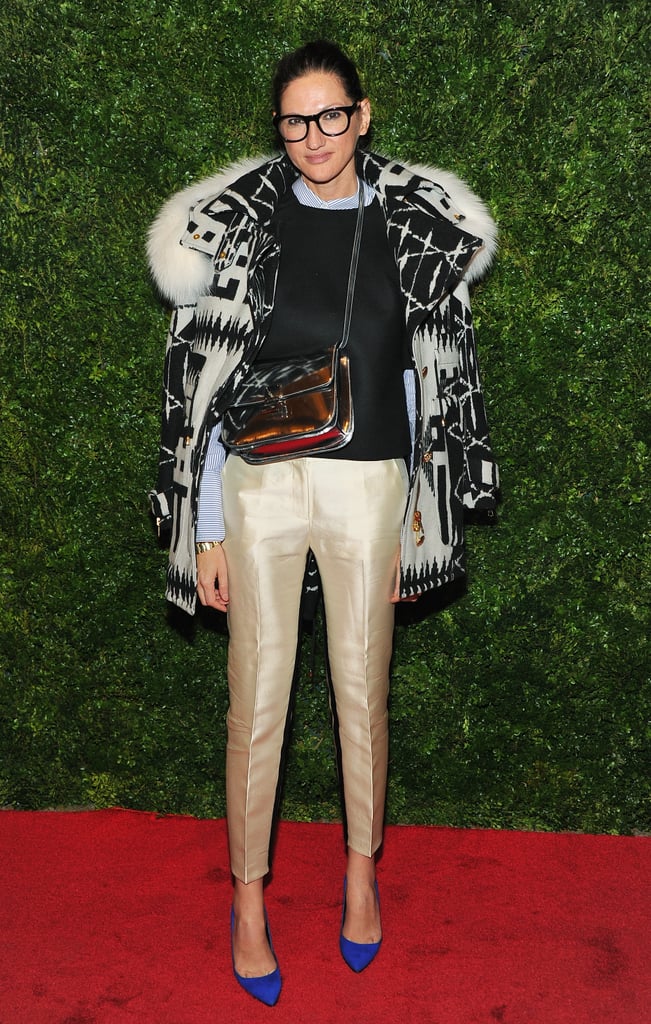 For a movie screening, Lyons paired all kinds of statement pieces together and made it work. Gold pants plus cobalt heels and a fur-trimmed parka? Yes!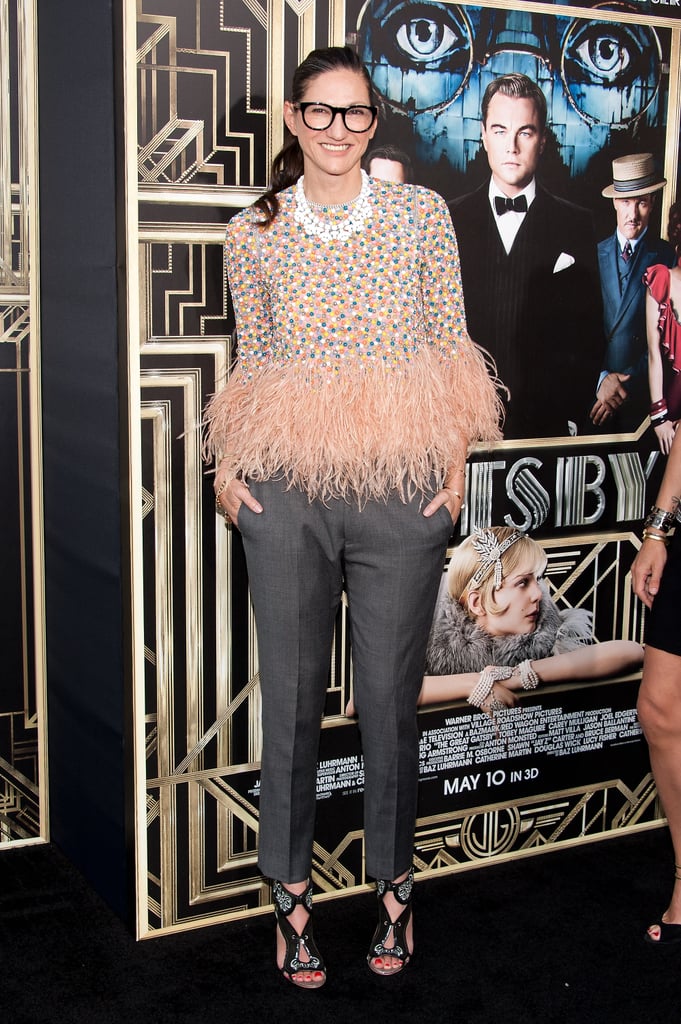 All of a sudden, the statement sweater makes sense!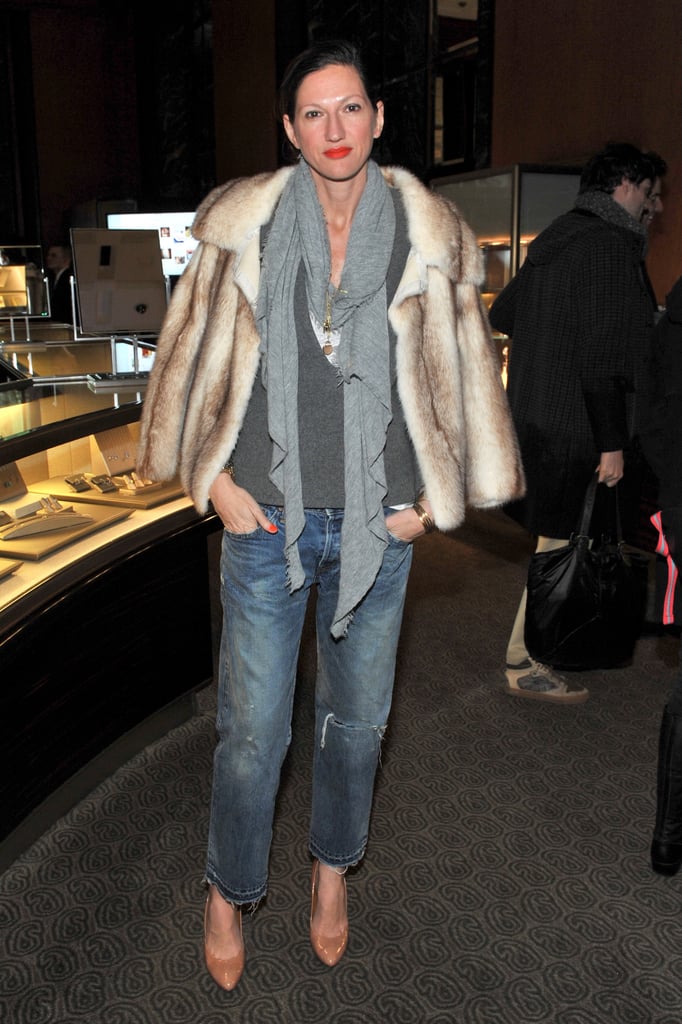 Again, her baggy jeans get capped off with a touch of luxury thanks to a fur jacket.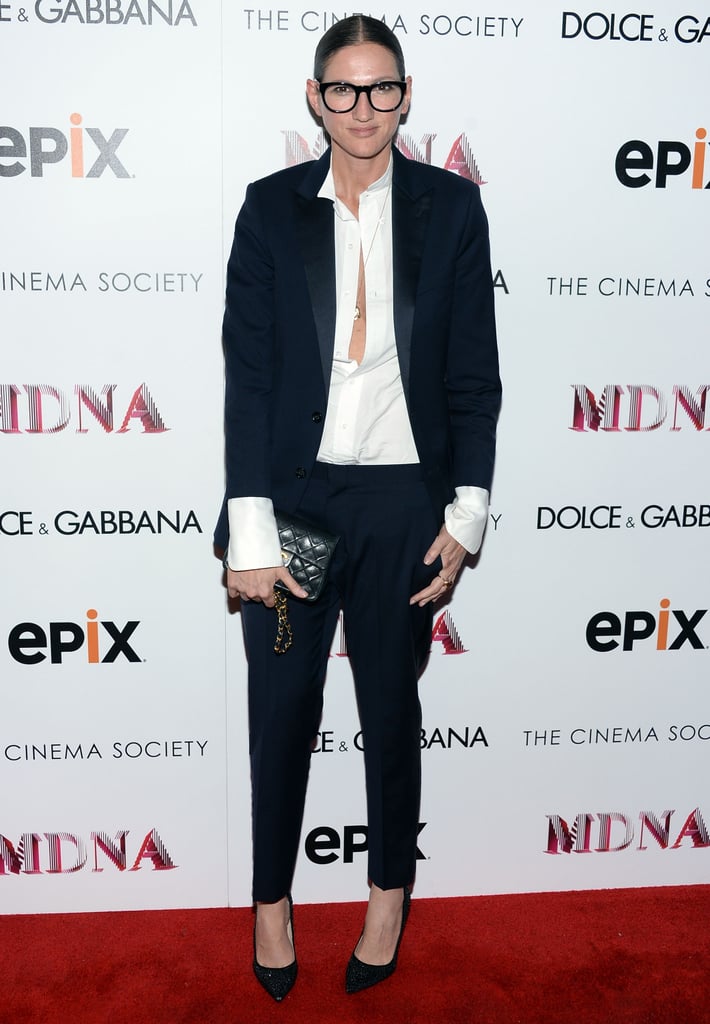 Do like Lyons and include a classic men's suiting look in your closet. She looks pretty fabulous, right?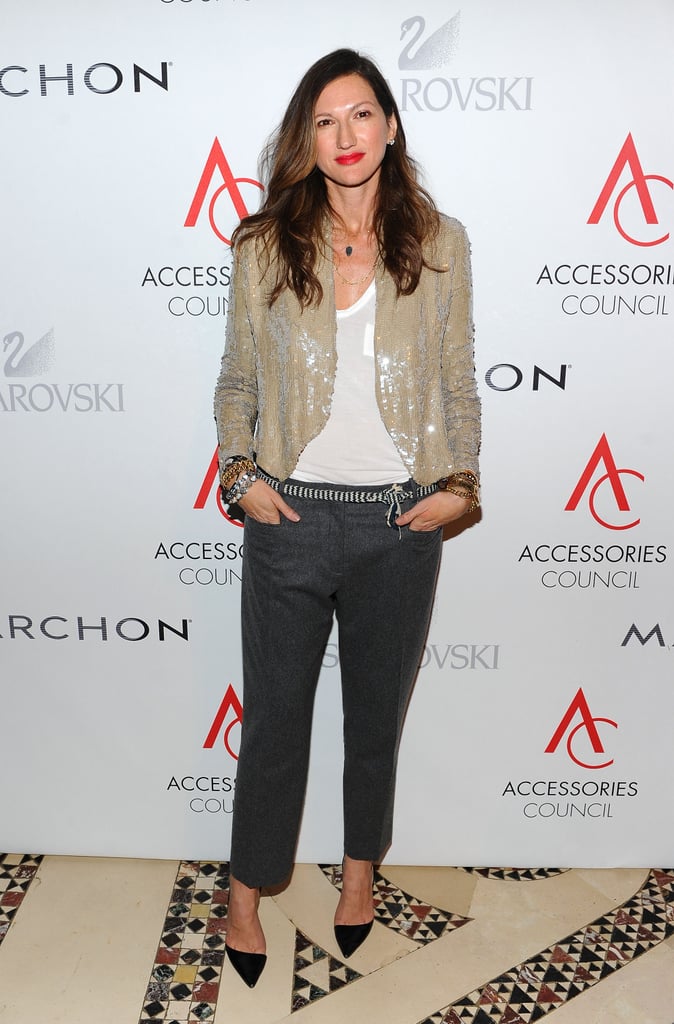 Along with boyfriend jeans, Lyons and J.Crew were at the cutting edge of bringing sequins into daytime.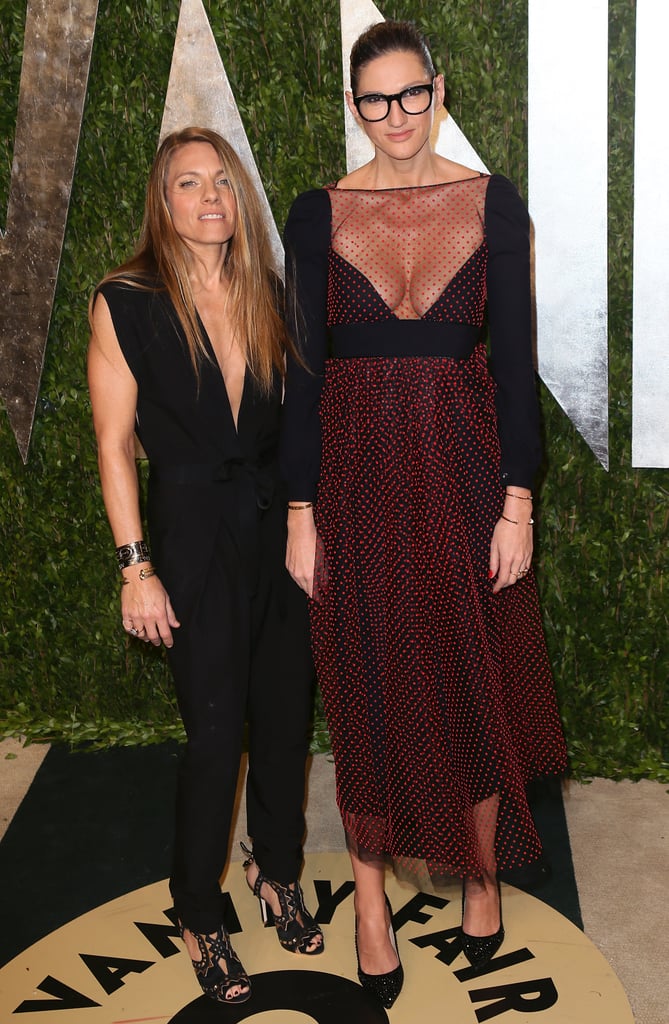 She's not afraid of showing her sexy side either, like this wine-hued dress with some serious sheer action.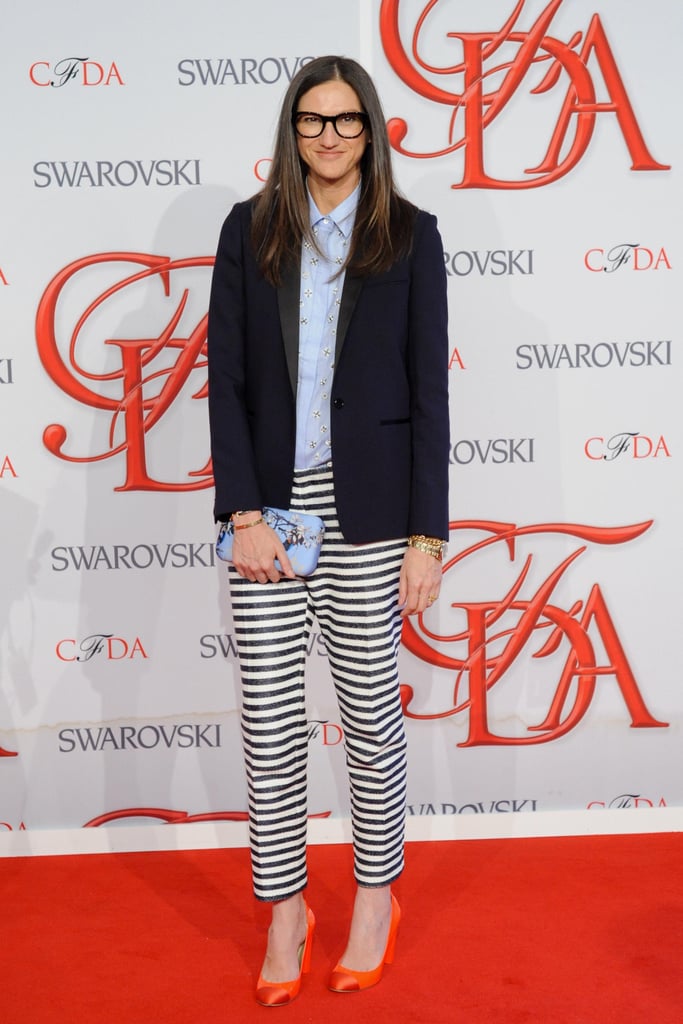 The trusty boyfriend jeans get subbed out for something more tailored, like these horizontally striped pants.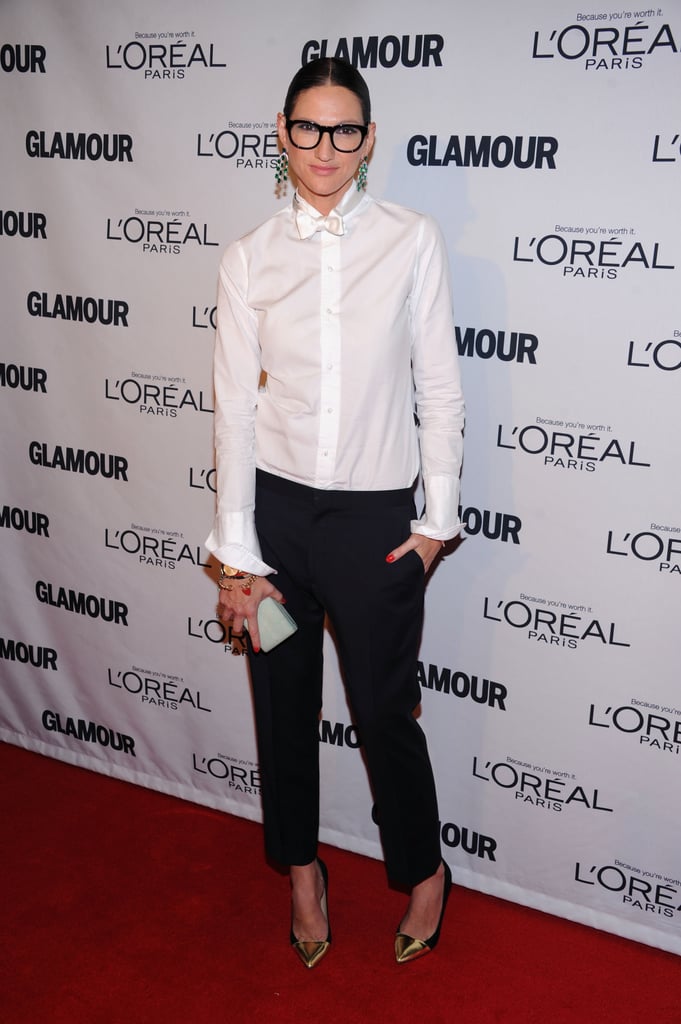 Do like Lyons and button your white blouse all the way up. So chic!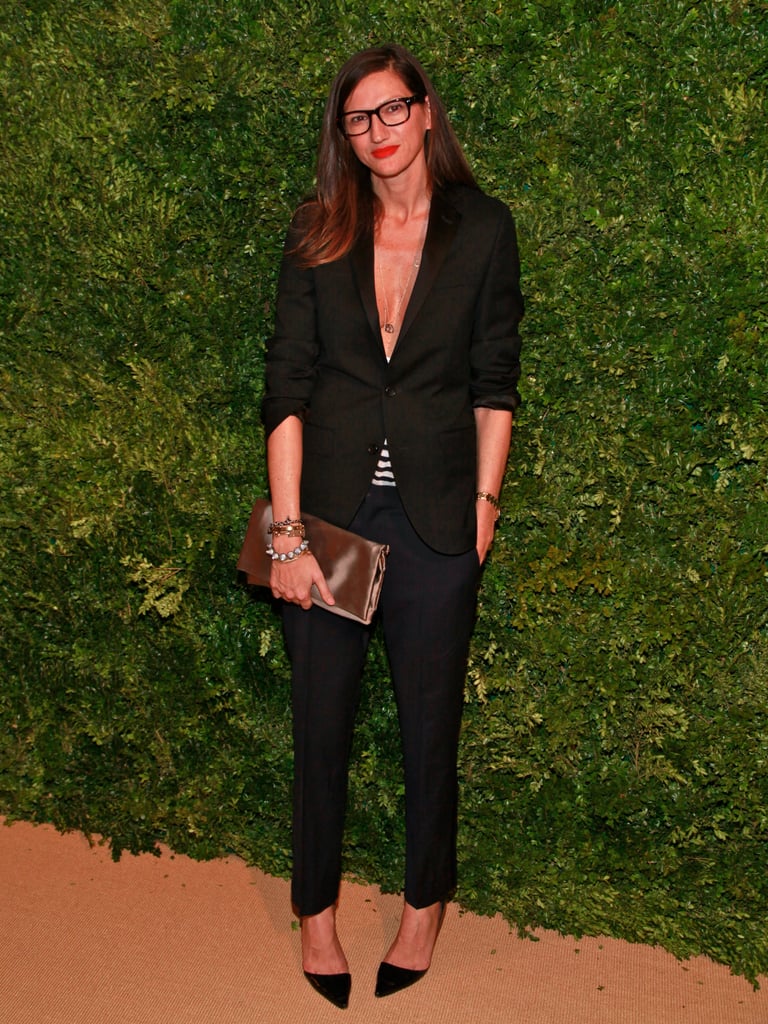 Another shot proves that she loves the look of a masculine suit made sexy with a deep V-neck top.