We can hardly believe that Jennifer Lawrence [1] is only 25 — and not just because she's taken home almost every acting award there is, most notably for her roles in American Hustle and Silver Linings Playbook. The role she plays on the red carpet, the goofball who seamlessly fits into some of the most intricate and elegant designs, is quite impressive too.
So, because it's her 25th birthday, we're taking a look back at the star's most memorable looks on her way to becoming a true style icon — despite her claim that she's a bit of a fashion-world outsider. How did she do it? Simple: this is one woman who totally wears her clothes, instead of the other way around. On that note, here's to another year of making bold statements on the red carpet.
— Additional reporting by Robert Khederian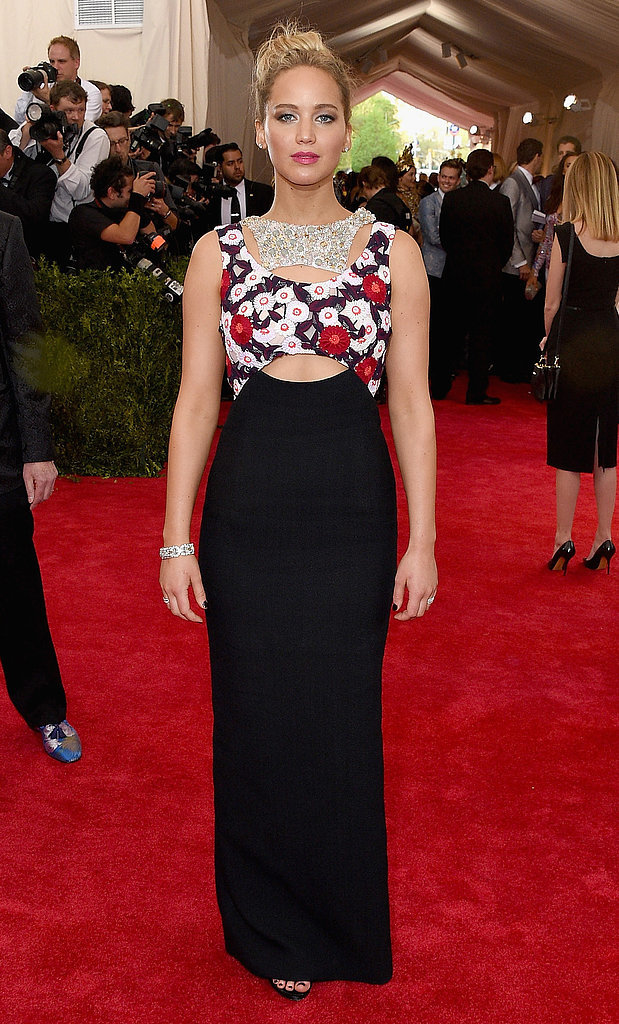 At the 2015 Met Gala, Jennifer was dressed to impress in a curve-hugging Dior dress that featured a floral upper and skin-baring cutouts.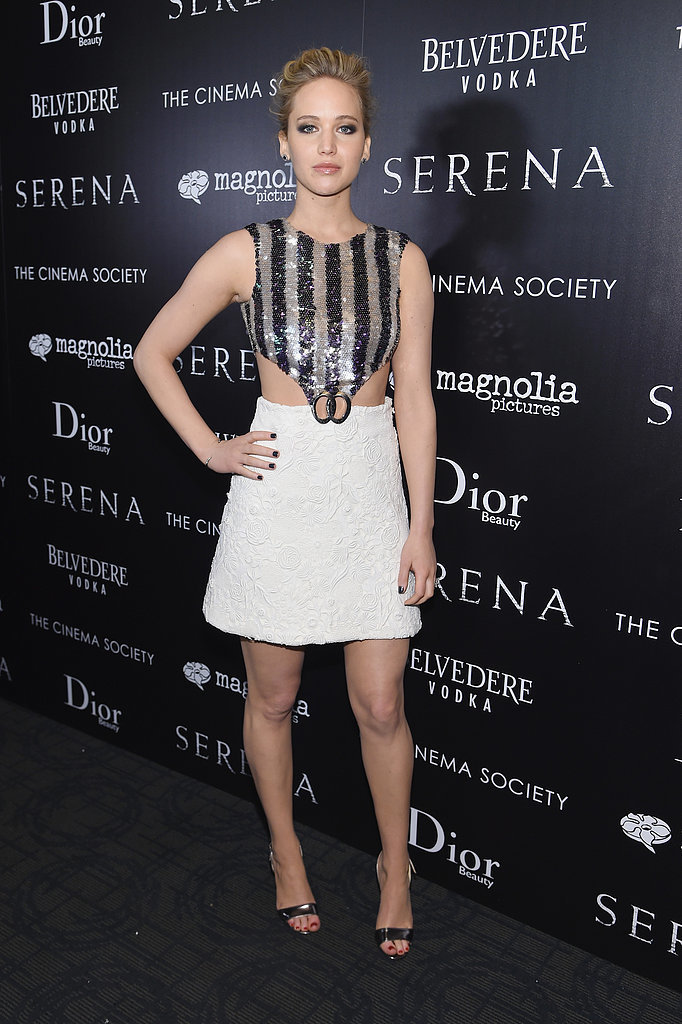 In a daring play, Jennifer sparkled in a striped-meets-floral Dior dress with sexy cutouts while attending a screening of Serena.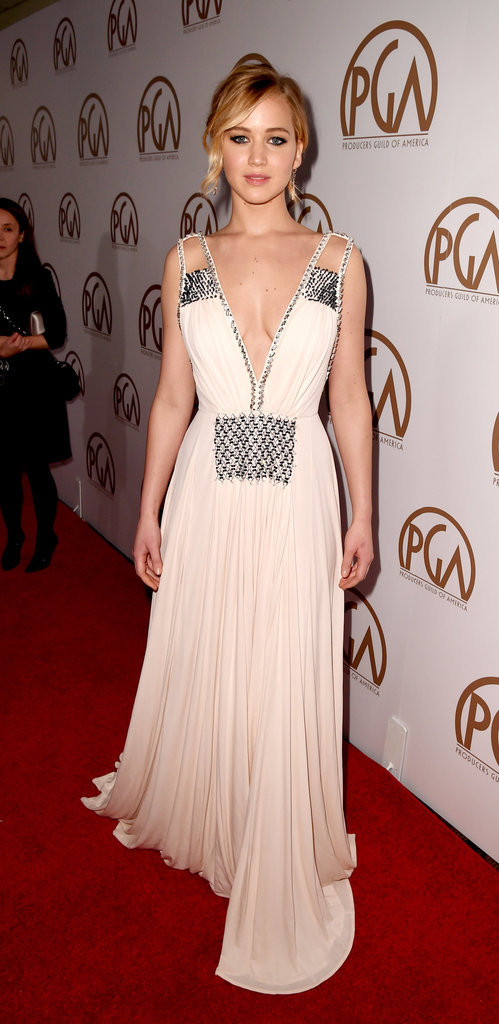 The actress dazzled in a plunging Prada [2] gown with shimmering embellishments while at the 2015 Producers Guild Awards.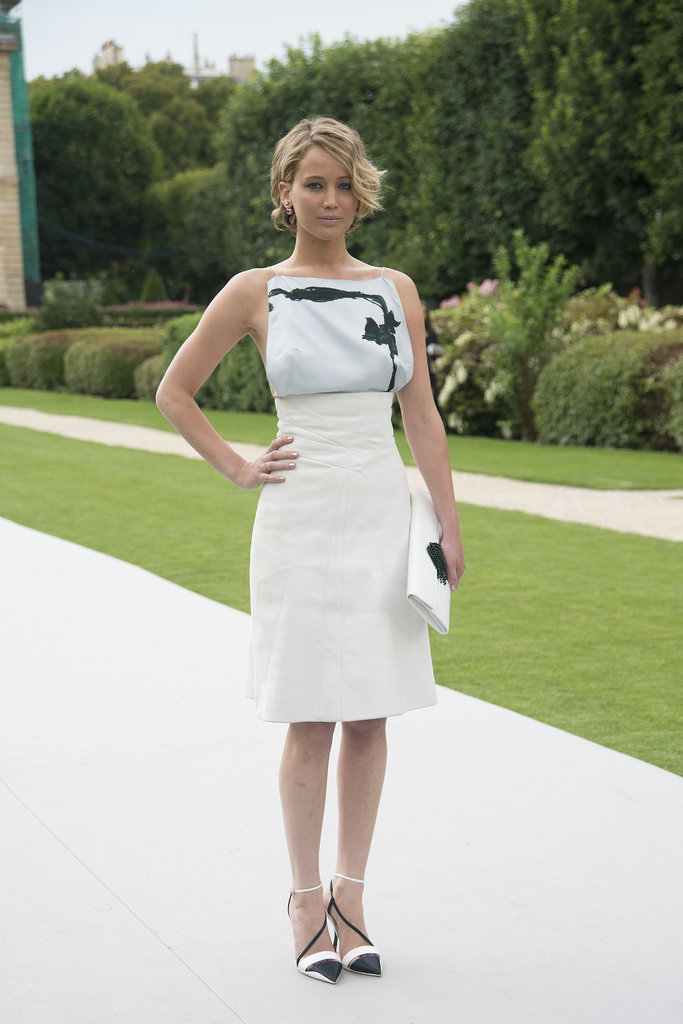 Of course, Jennifer wore Christian Dior [3] to the designer's haute couture runway show during Paris Fashion Week, playing up the black-and-white appeal with strappy, pointed-toe heels.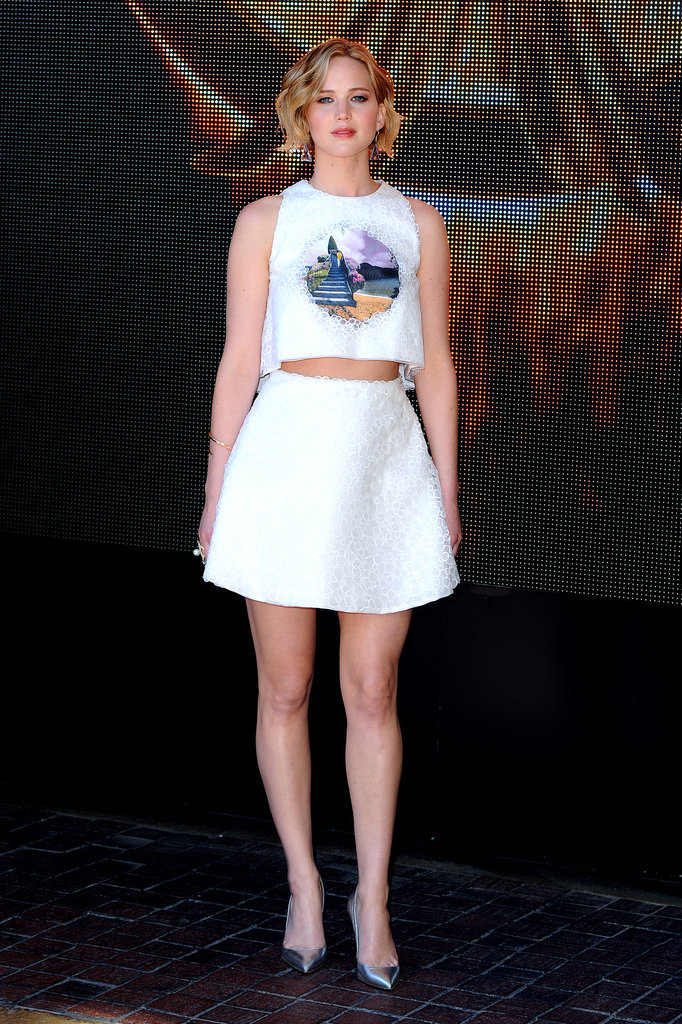 Another win was Jennifer's laid-back matching Dior set that she sported to the 67th annual Cannes Film Festival.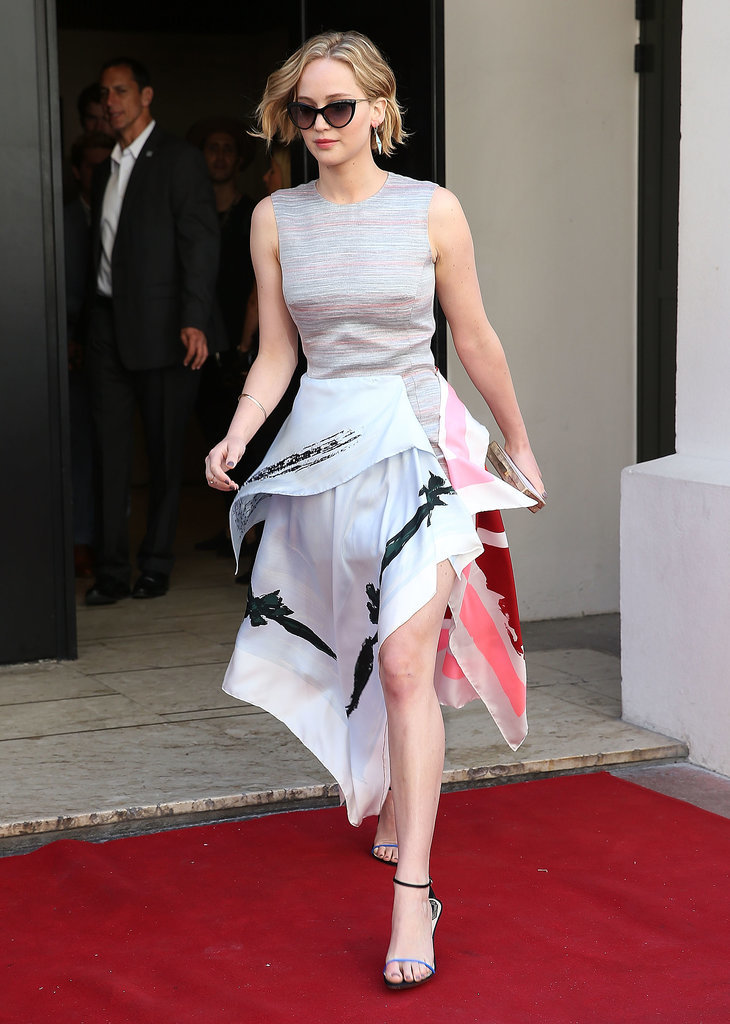 This has to be one of the most flattering silhouettes we've seen on Jennifer. The Christian Dior [4] Resort 2015 number is wispy in all the right places, summery, and bold — just like the star's personality.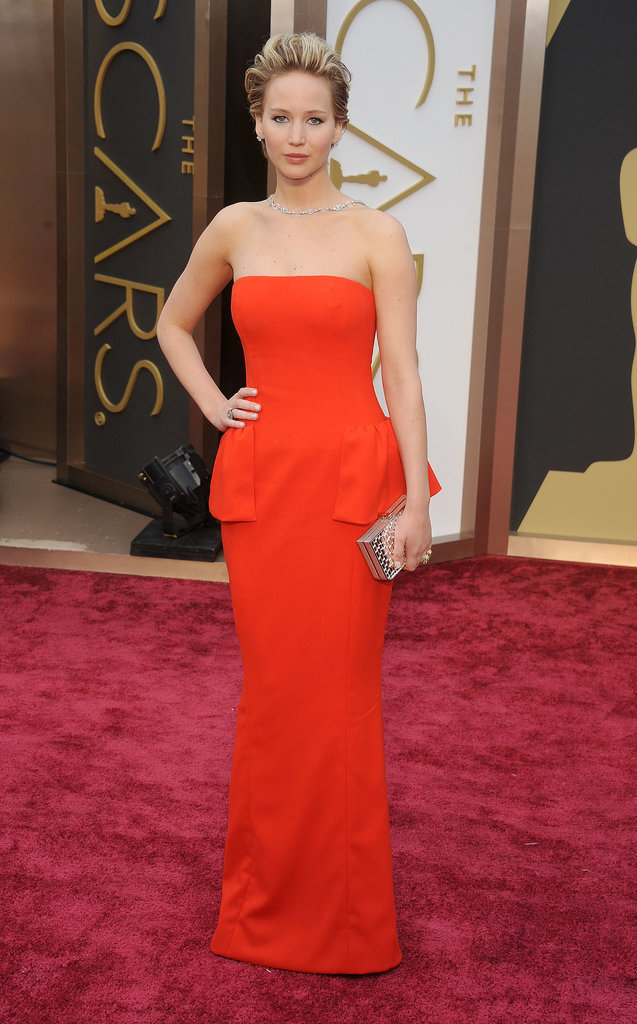 While we love how polished Jennifer looked in this peplum Dior gown at the 2014 Oscars, our favorite element was her diamond Neil Lane "backlace."
Jennifer always smolders in formfitting looks, like this strapless, sequined Dior gown that she wore to the 20th annual SAG Awards.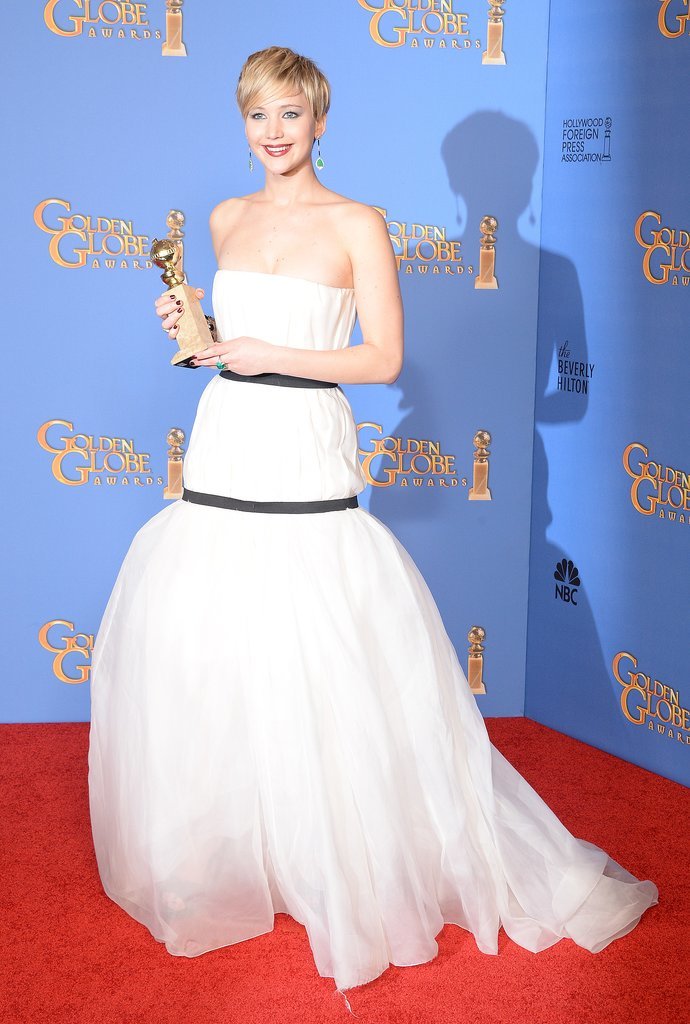 When Jennifer won best supporting actress for her role in American Hustle at the 71st annual Golden Globes, she wore this double-banded Dior gown, which stirred up the Internet and resulted in yet another meme for the star.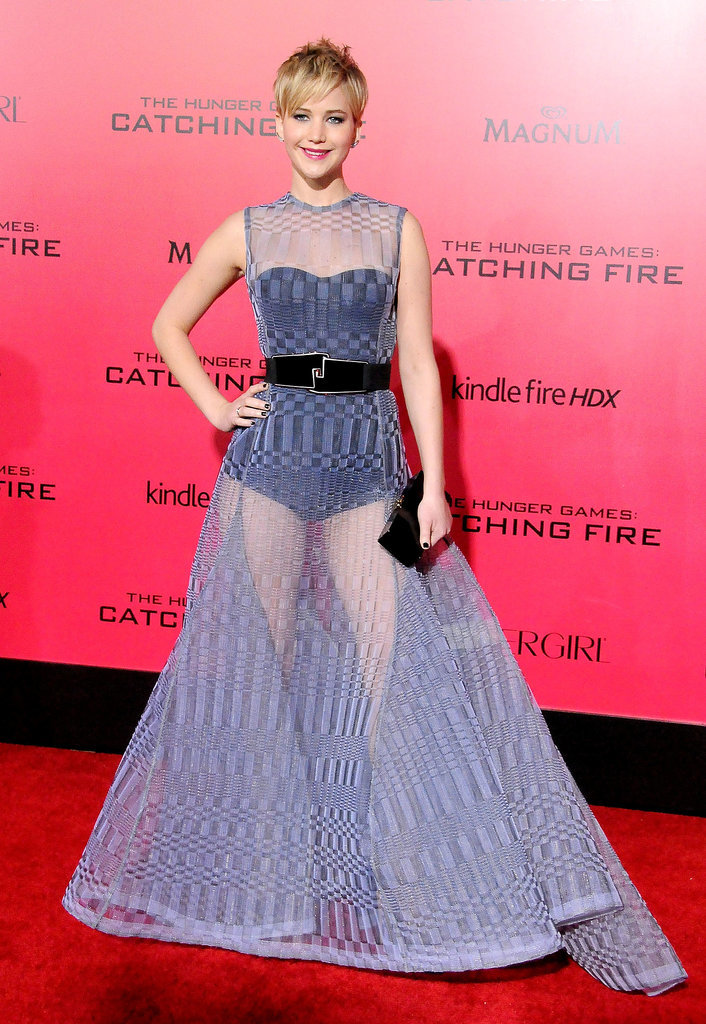 At the LA premiere of The Hunger Games: Catching Fire, Jennifer sported Christian Dior [5]'s mesh gown atop a black bodysuit. And while the dress was completely stunning, it definitely made a statement, cementing itself as one of the star's most iconic looks.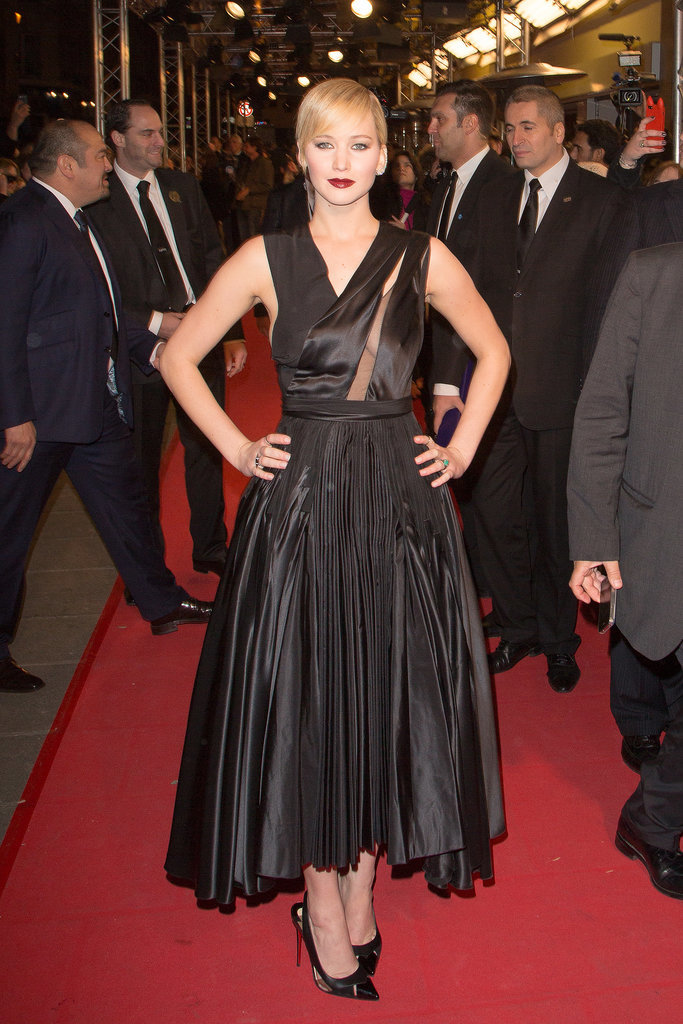 We're all about this dark, striking look on Jennifer. Her vampy makeup played to the avant-garde silhouette of Dior's asymmetric number.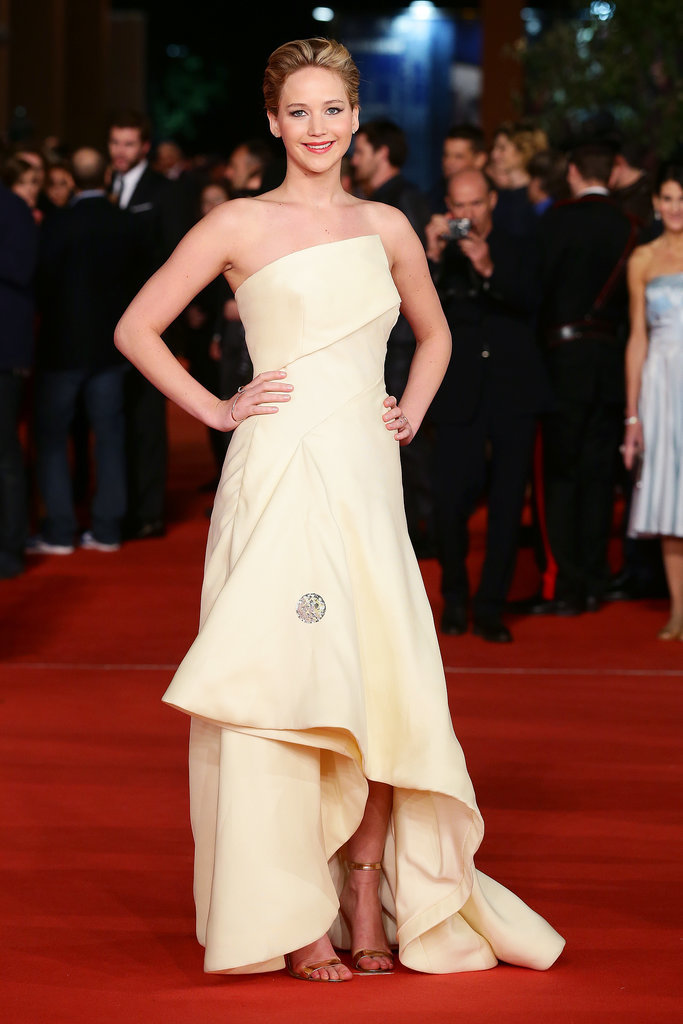 This pale yellow Dior gown was elegant and ladylike on Jennifer, but she amped up the look with a few metallic accessories.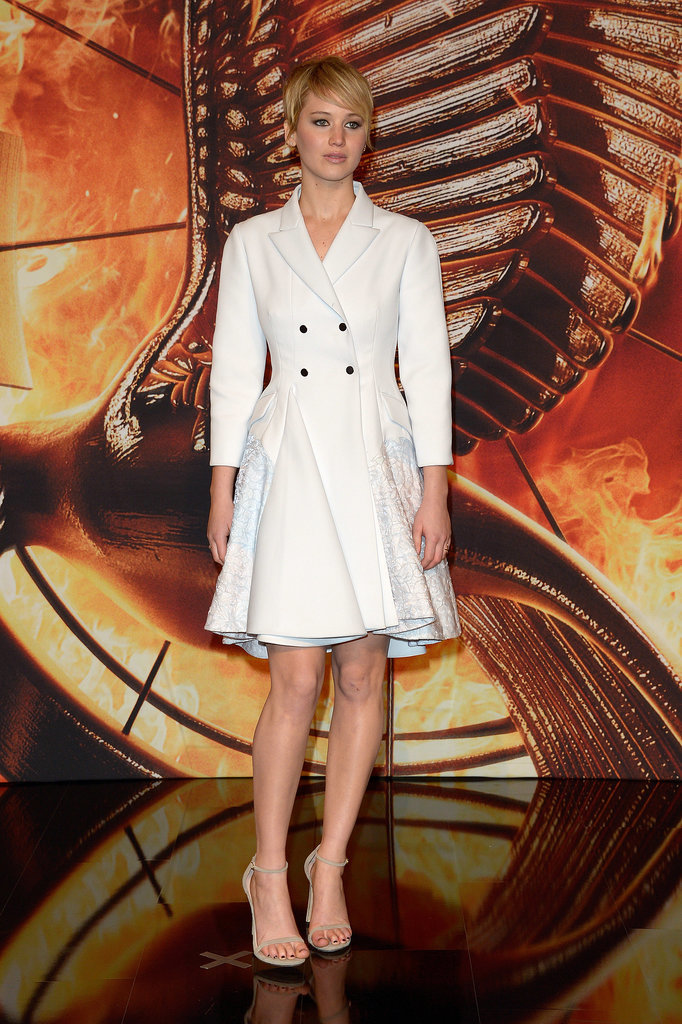 Jennifer's cropped cut amped up her sophistication, and this Christian Dior [6] coat dress complemented the look for the German premiere of The Hunger Games: Catching Fire.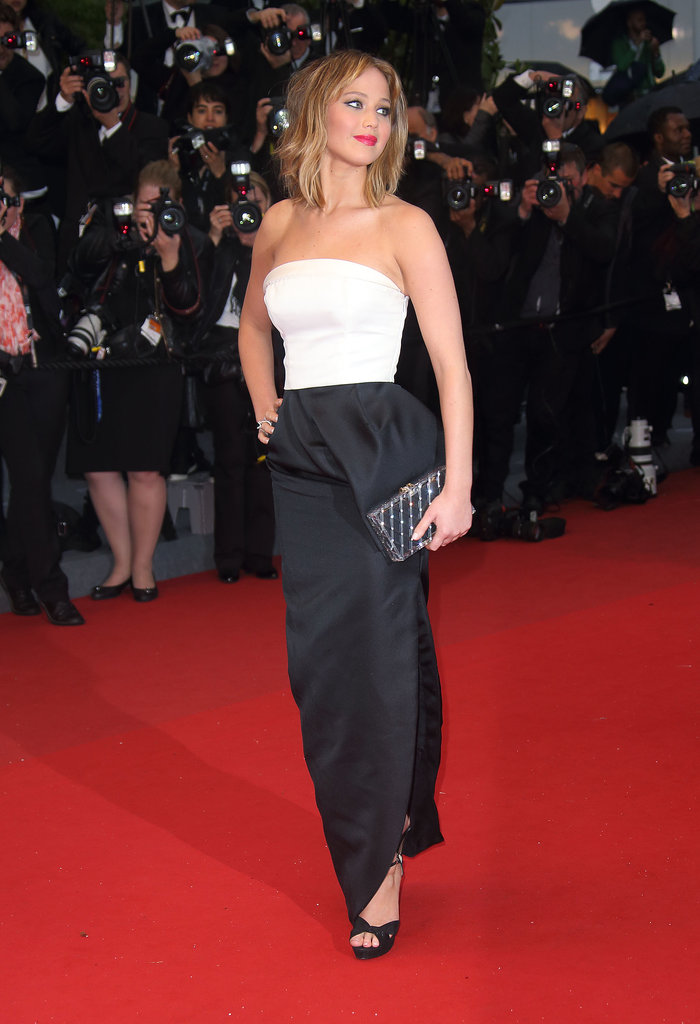 What better way to step out at the Cannes Film Festival than in a sleek black-and-white outfit by Christian Dior [7] — accessorized with a sparkling box clutch, of course.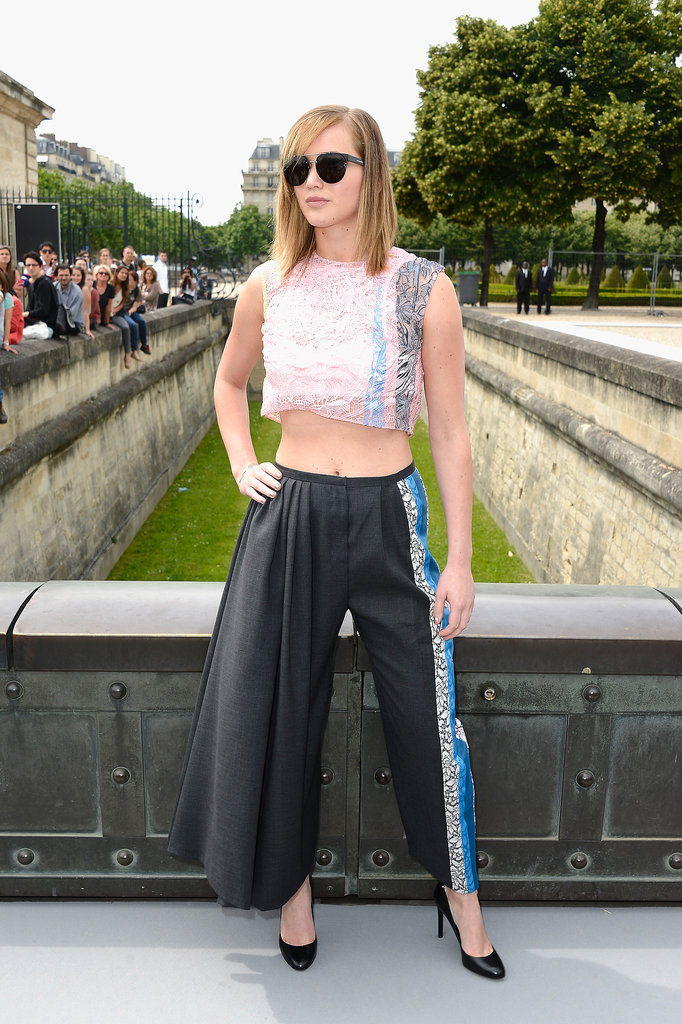 We loved how she brought back the crop top — and rocked that asymmetric pair of pants (all by Christian Dior [8], of course) — when she arrived for the Dior Couture Fall 2013 runway show in Paris.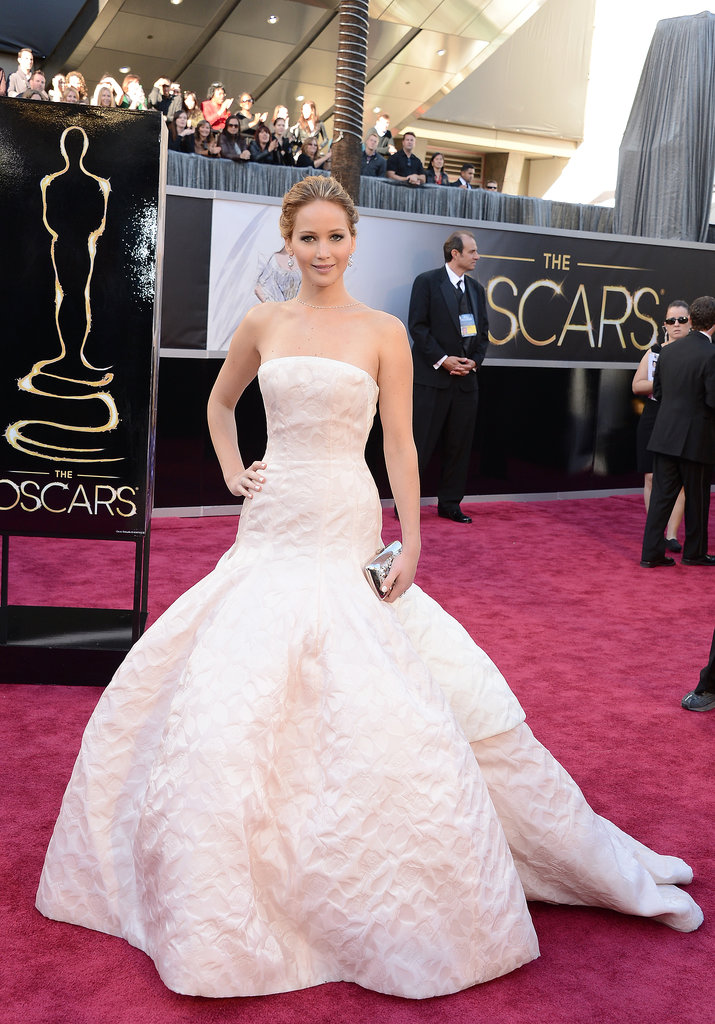 Who could forget this showstopper of an Oscars dress? Jennifer Lawrence [9] stunned us all [10] in Christian Dior [11] Couture.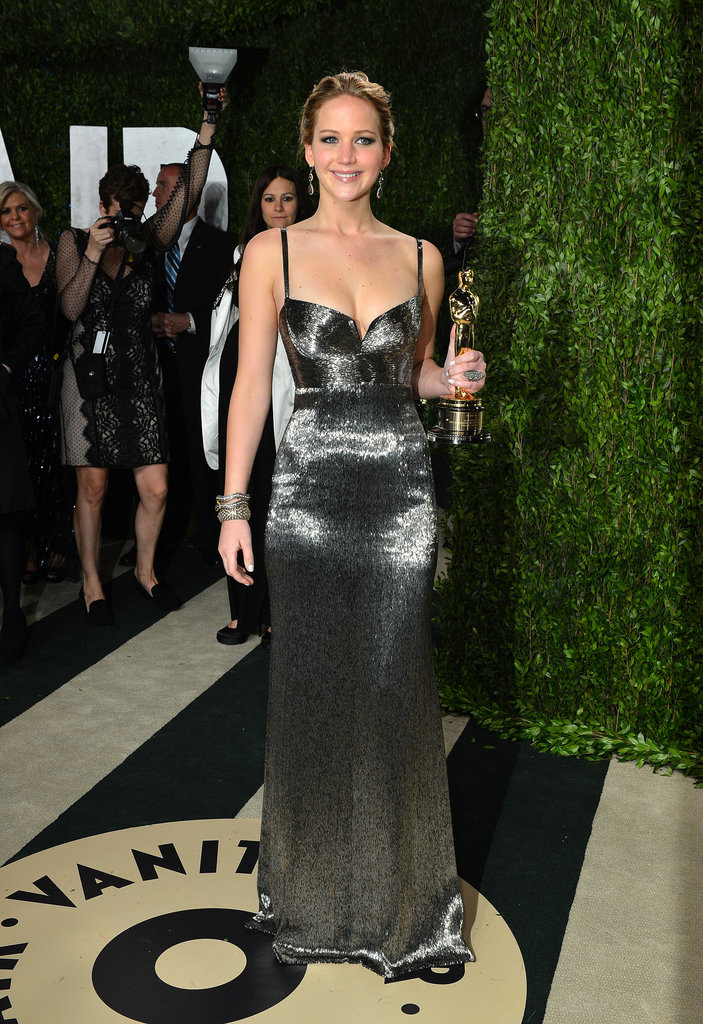 After the party (OK, award show), it's the afterparty, right? Jennifer glimmered just as much as her award [12] at the Vanity Fair afterparty in her Calvin Klein [13] gown.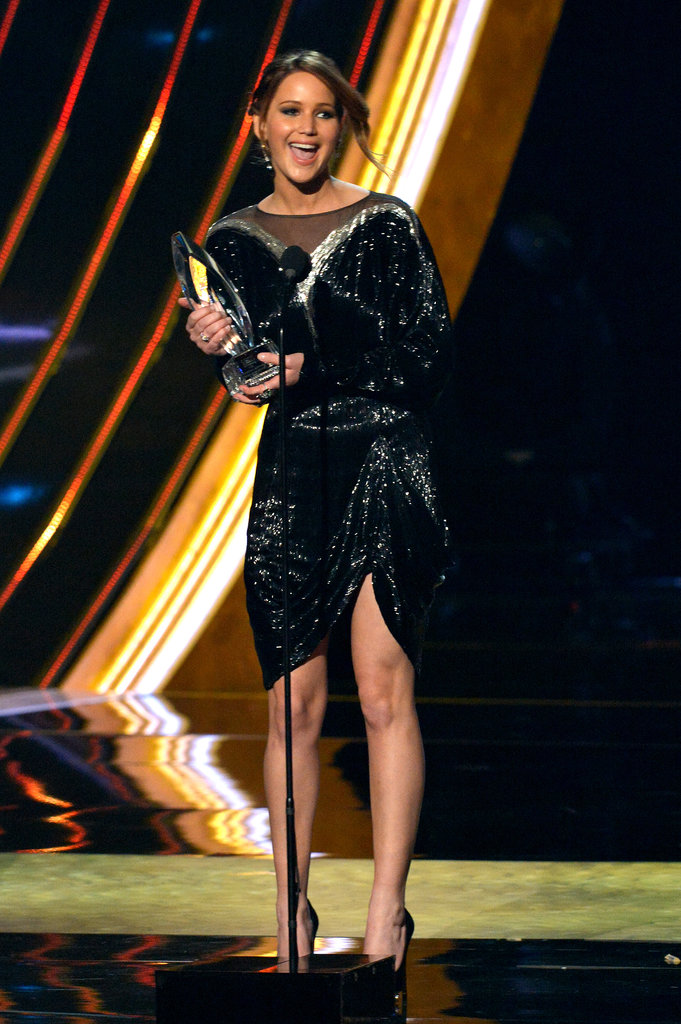 The '80s were back and in full sparkle when Jennifer Lawrence [14] arrived to the 2013 People's Choice Awards in this sexy black Valentino Couture number [15].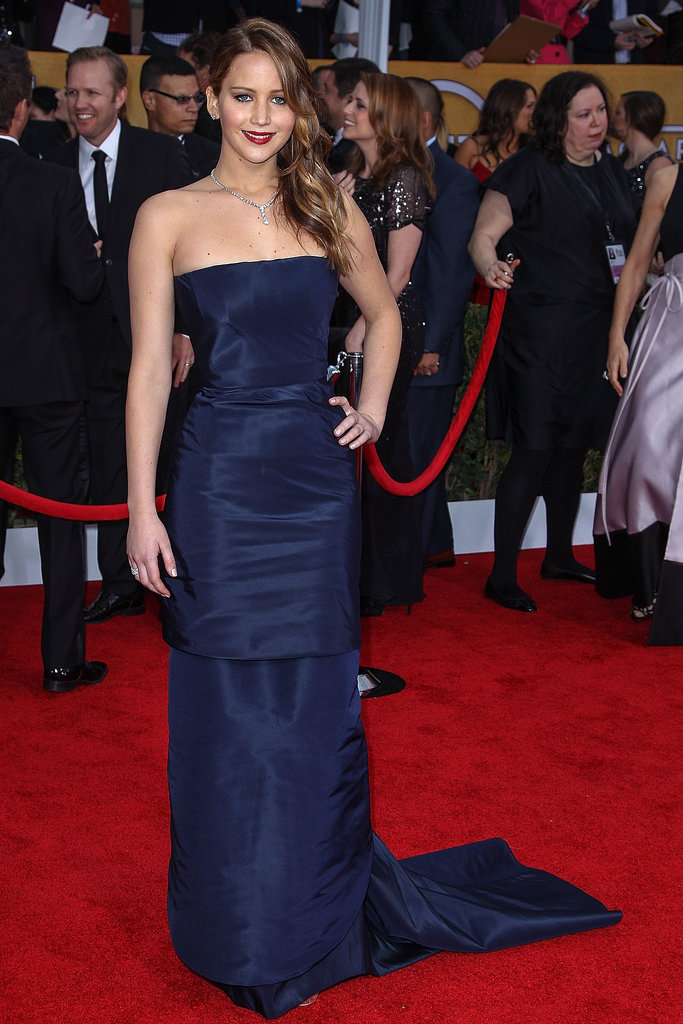 She opted for a midnight-blue Christian Dior [16] Couture fishtail gown at the Screen Actors Guild Awards [17].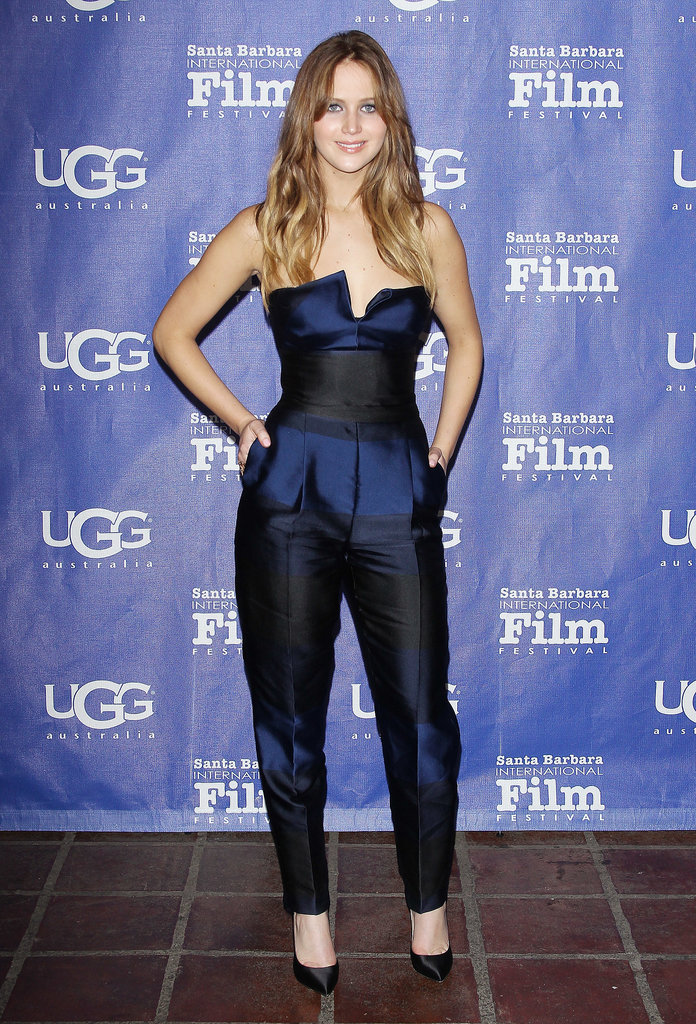 How fabulous does Jennifer Lawrence [18] look in blue? We love how she edged things up a bit in this blue-and-black jumpsuit — extra points for the pleats.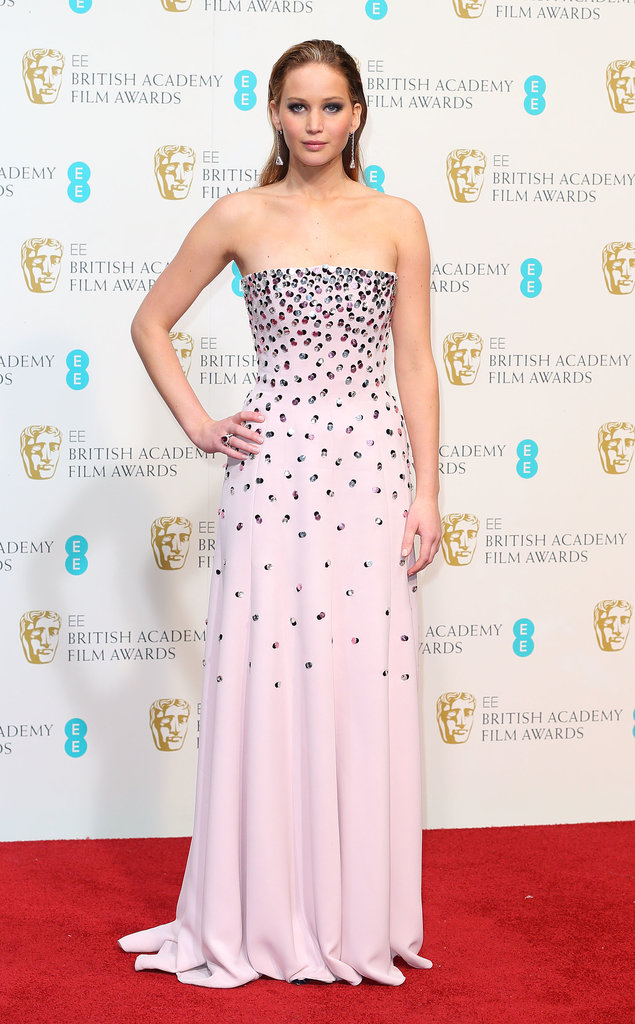 We loved the cascading embellishment on Jennifer Lawrence [19]'s soft-pink Dior gown [20] at the BAFTAs.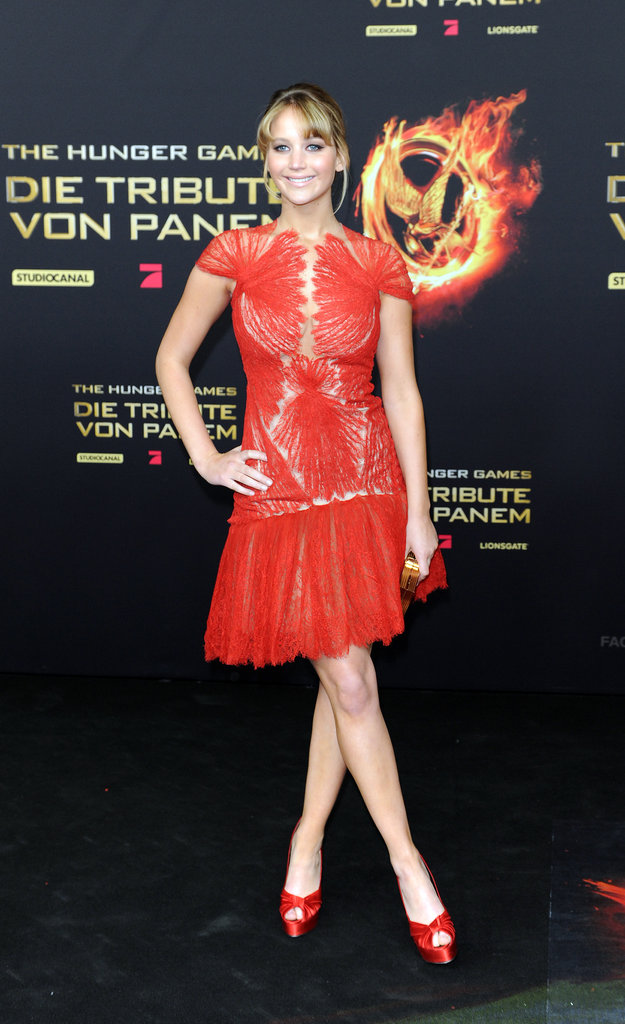 Jennifer Lawrence [21] stepped out for the Berlin premiere of The Hunger Games in a flirty Marchesa [22] dress, red Giuseppe Zanotti [23] heels to match, and a gold Ferragamo clutch in hand — the perfect balance of femininity and sex appeal.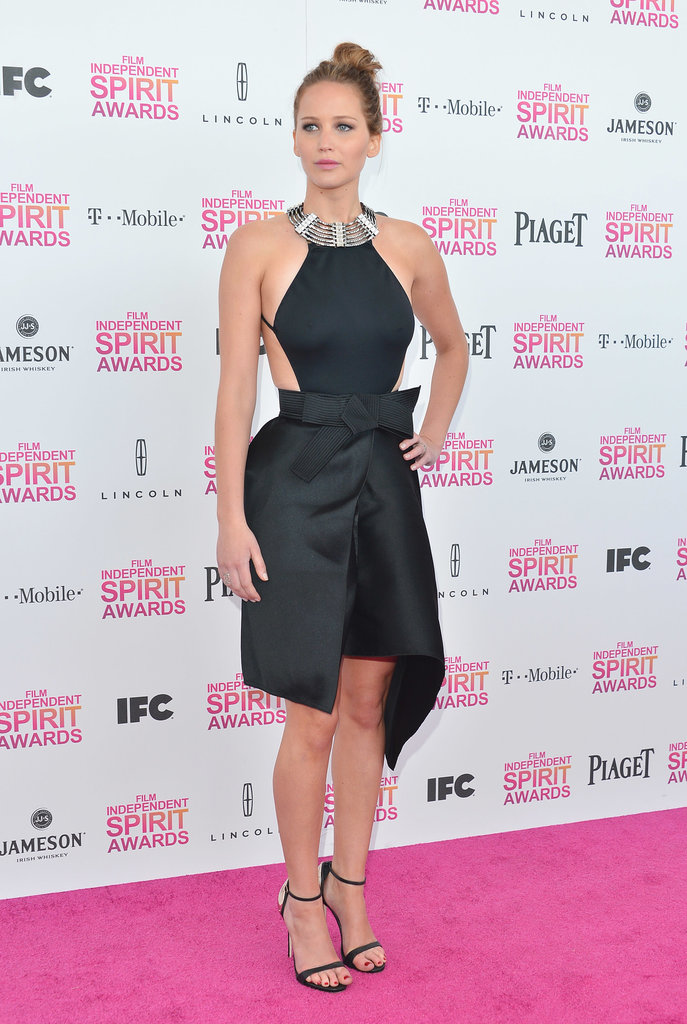 For the Independent Spirit Awards, Jennifer Lawrence [24] wasn't afraid to increase the sex appeal by showing some skin in a black dress with a highly embellished collar.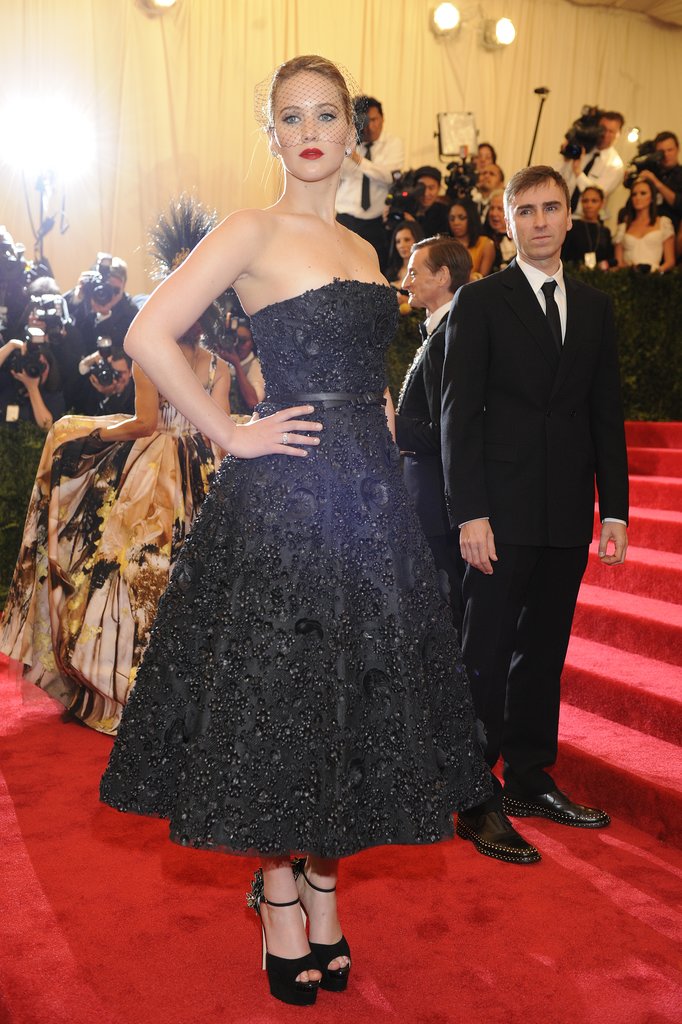 The face of Miss Dior [25] went for a tea-length dress by the brand for the most recent Met Gala red carpet [26].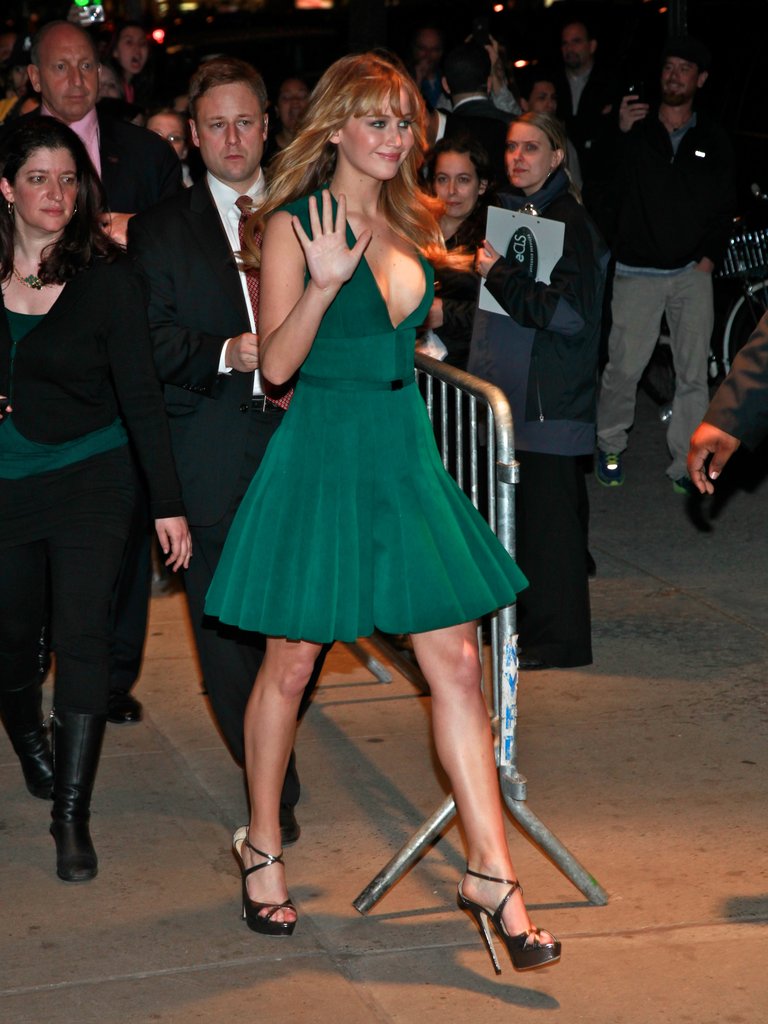 There's no doubt about it — Jennifer Lawrence [27] can wear color beautifully. We especially love the deep emerald hue of this dress (and how softly the pleats moved).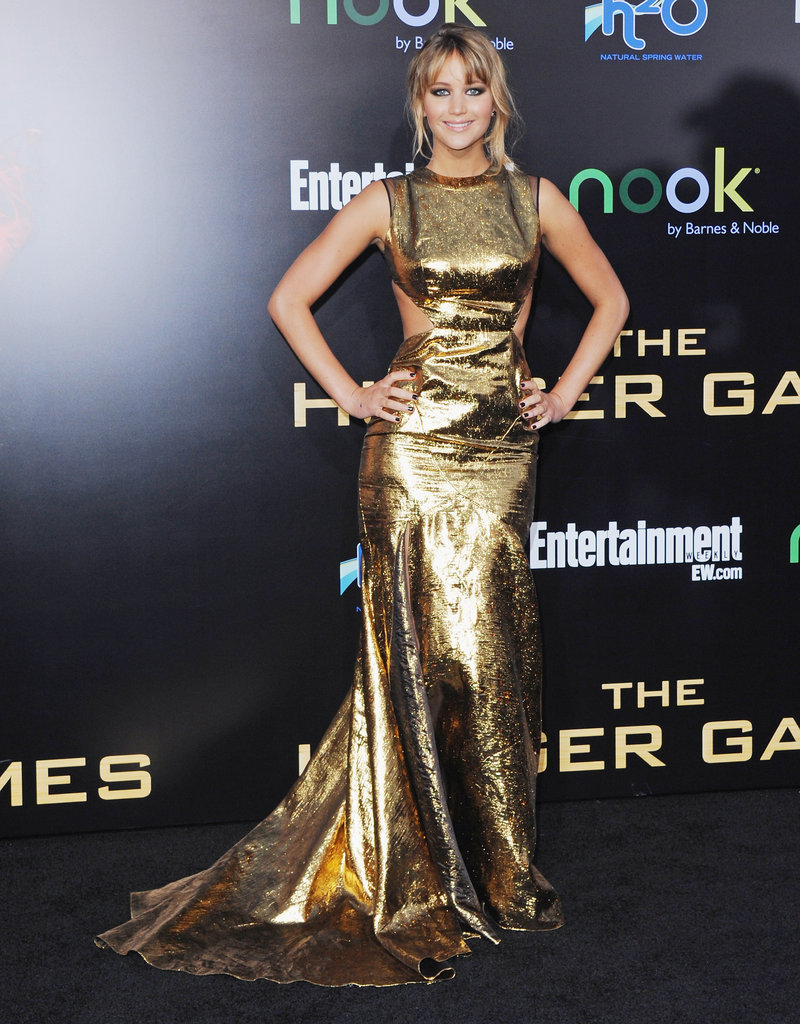 At the LA premiere of The Hunger Games, Jennifer Lawrence [28] made an appearance in knockout gold lamé cutout gown from Prabal Gurung [29]'s Fall 2012 collection.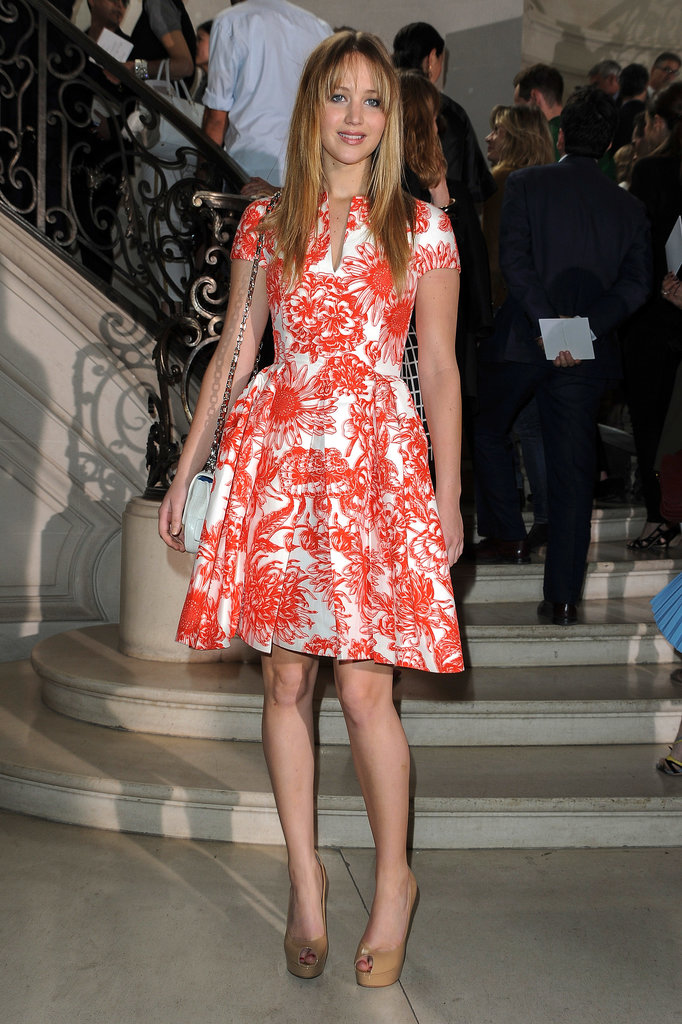 This is what happens when ladylike meets cool-girl chic. How fabulous is the red pattern on this cocktail dress she wore to the Dior Couture Fall 2012 show?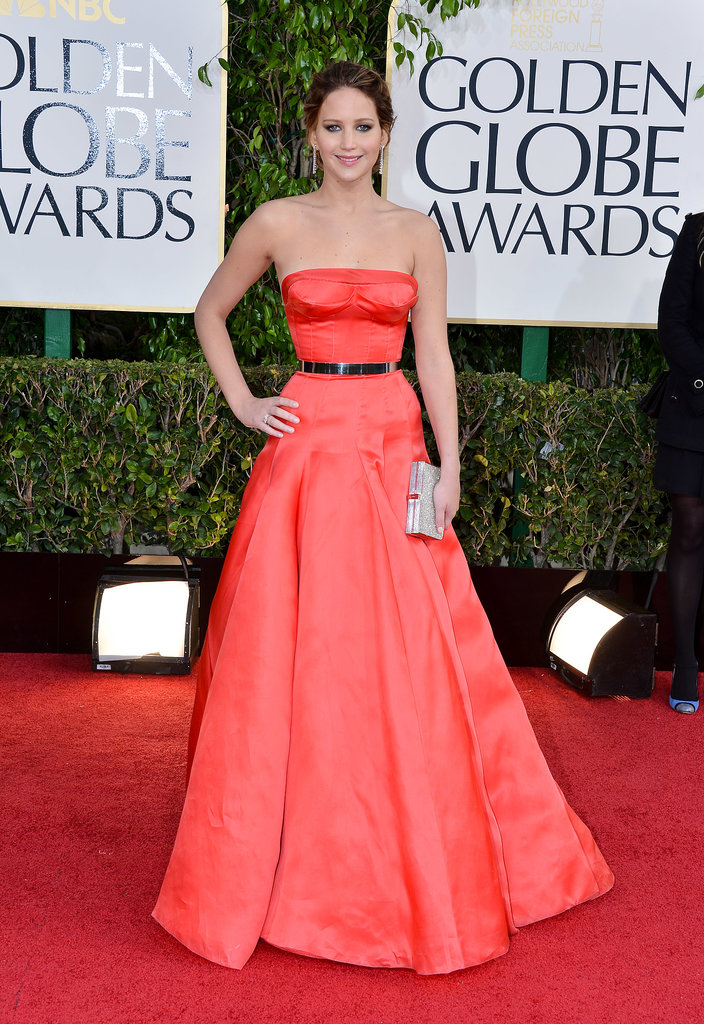 This Christian Dior [30] Couture gown is one of those looks that we're sure will go down in Golden Globes history as one of its most timeless red carpet dresses [31].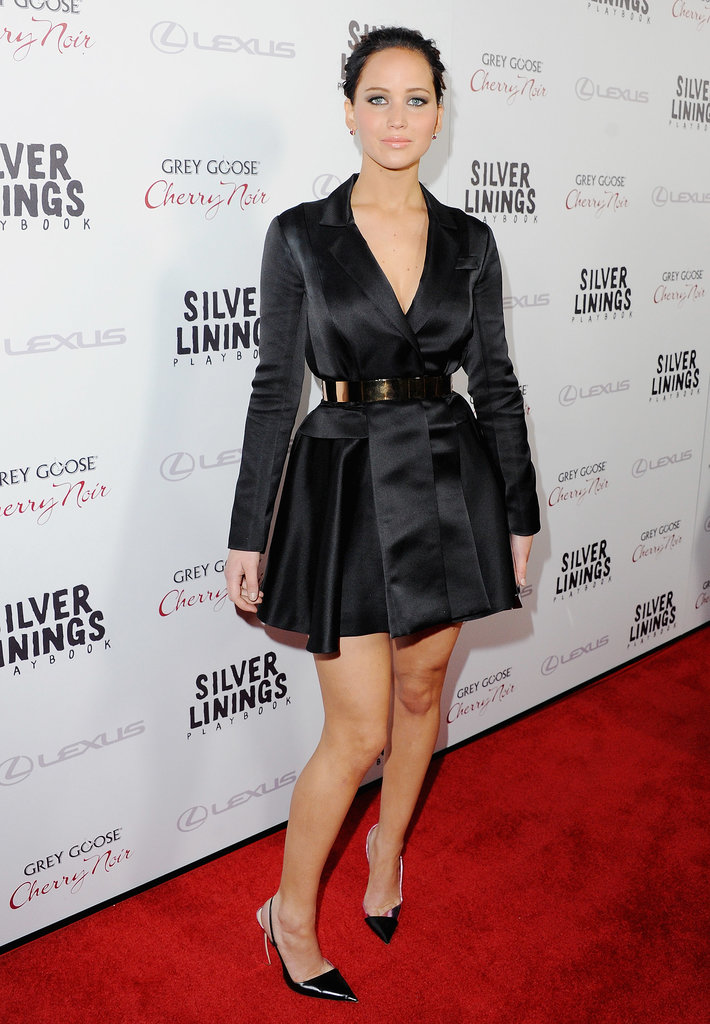 At the LA premiere of Silver Linings Playbook, Jennifer Lawrence [32] showed us that yes, she can pull off a dress that looks like a coat — especially if it's accessorized with a metallic belt.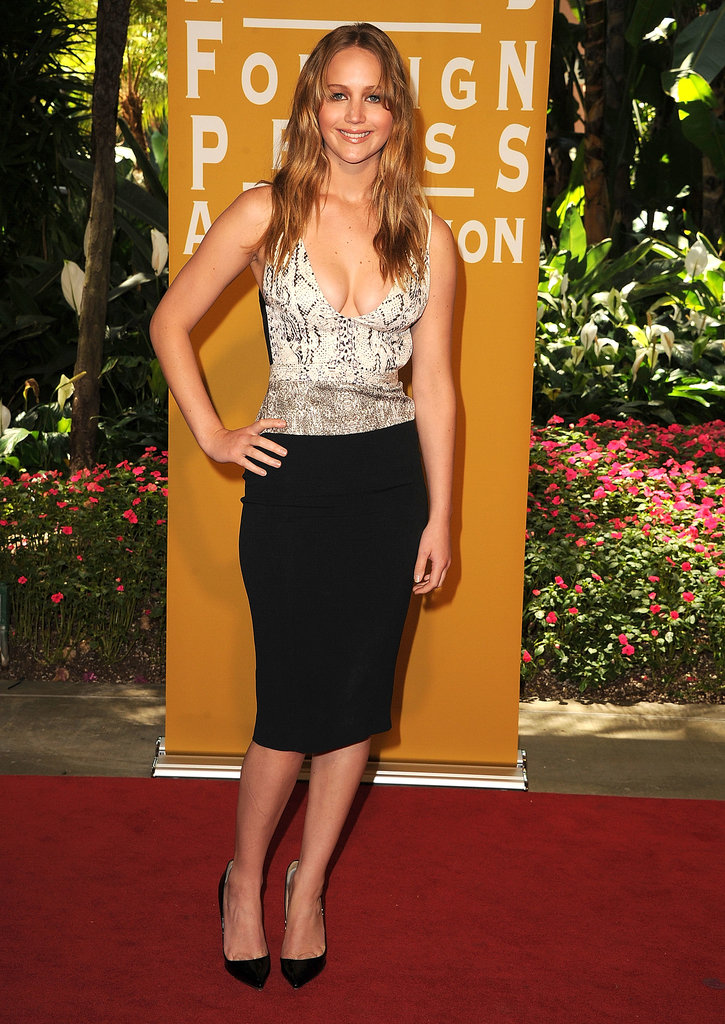 She commits when she wants to nail a sexy look — we're in love with this ultrasleek dress with plunging neckline.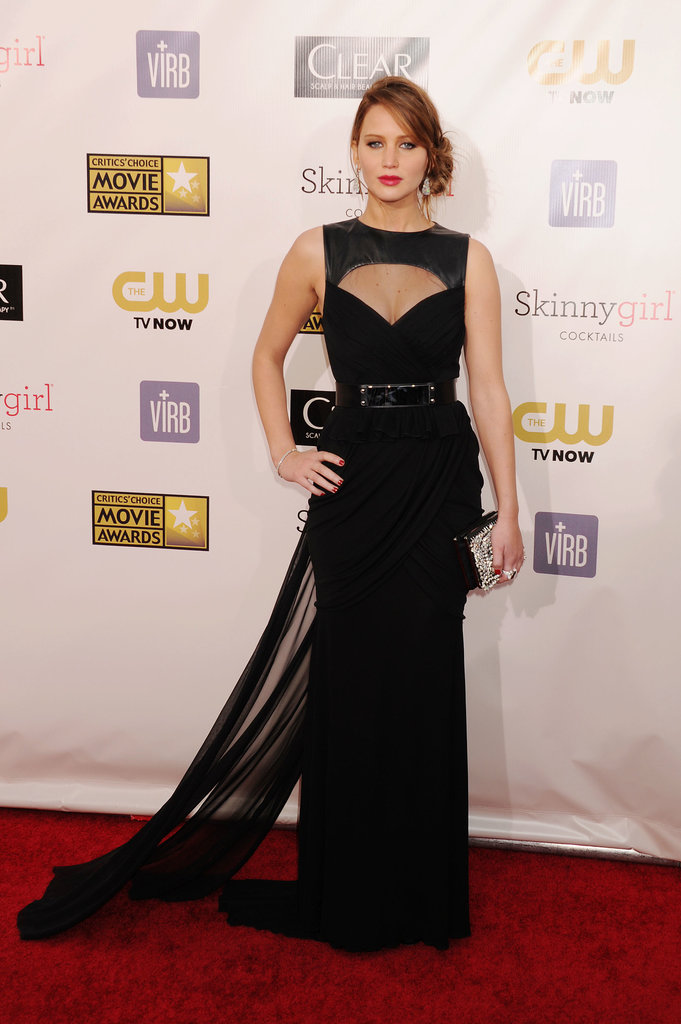 Leather, cut-outs, and sheer trains — it doesn't get much sexier than than the Prabal Gurung gown [33] Jennifer Lawrence [34] wore to the Critics Choice Awards this year.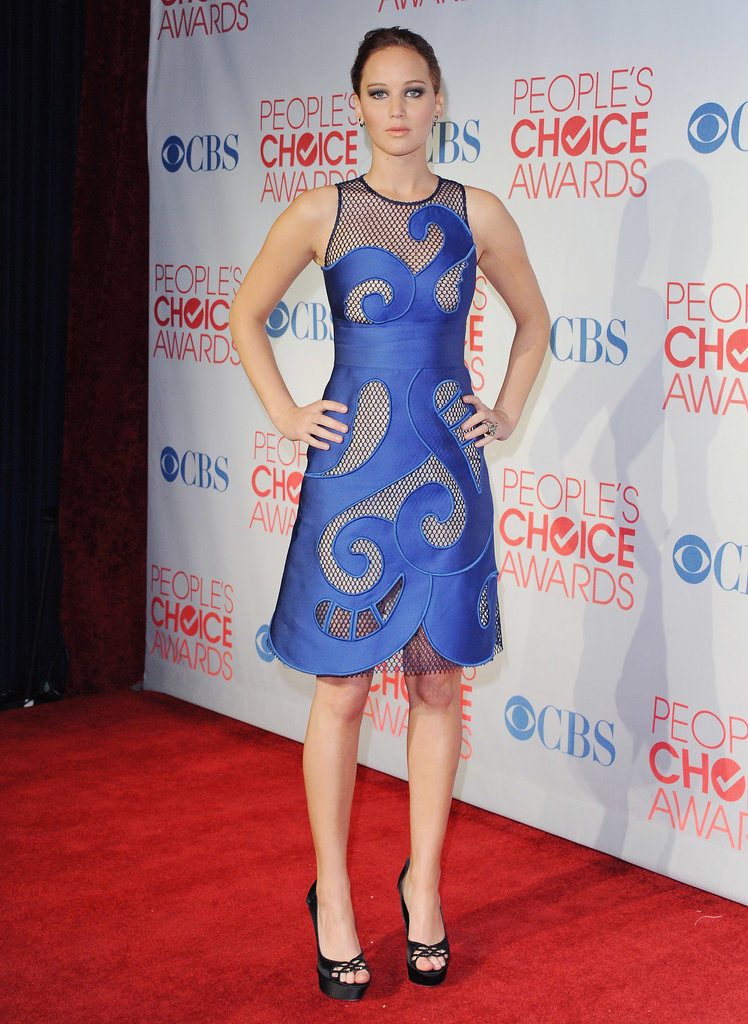 We don't know if it's the swirling sapphire hue or the fishnet detailing of her Viktor & Rolf dress [35], but we're loving every (slightly) aquatic reference in her 2012 People's Choice Awards outfit.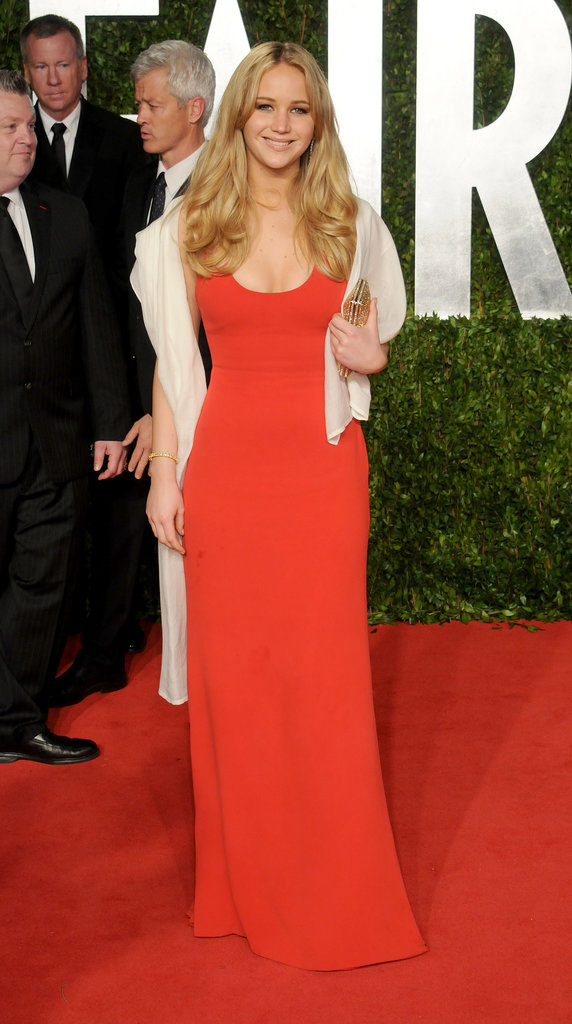 Sometimes the simplest gown can be the chicest, as shown by the red dress Jennifer Lawrence [36] wore to the Vanity Fair Oscars afterparty in 2011.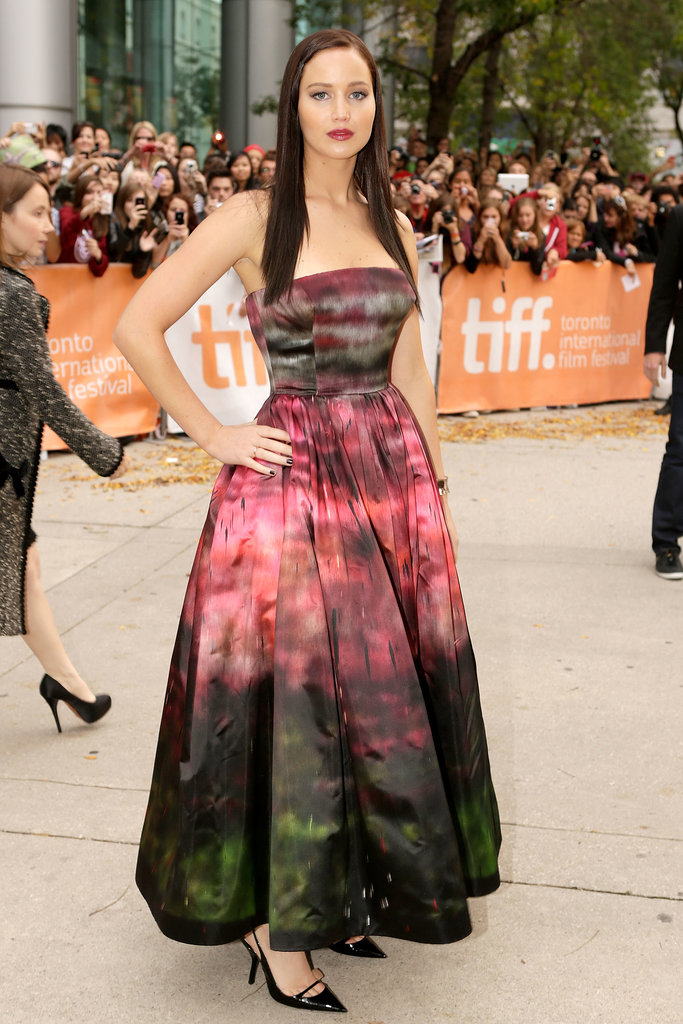 How stunning is the ombré effect on the dress she wore to the Toronto Film Festival premiere of Silver Linings Playbook?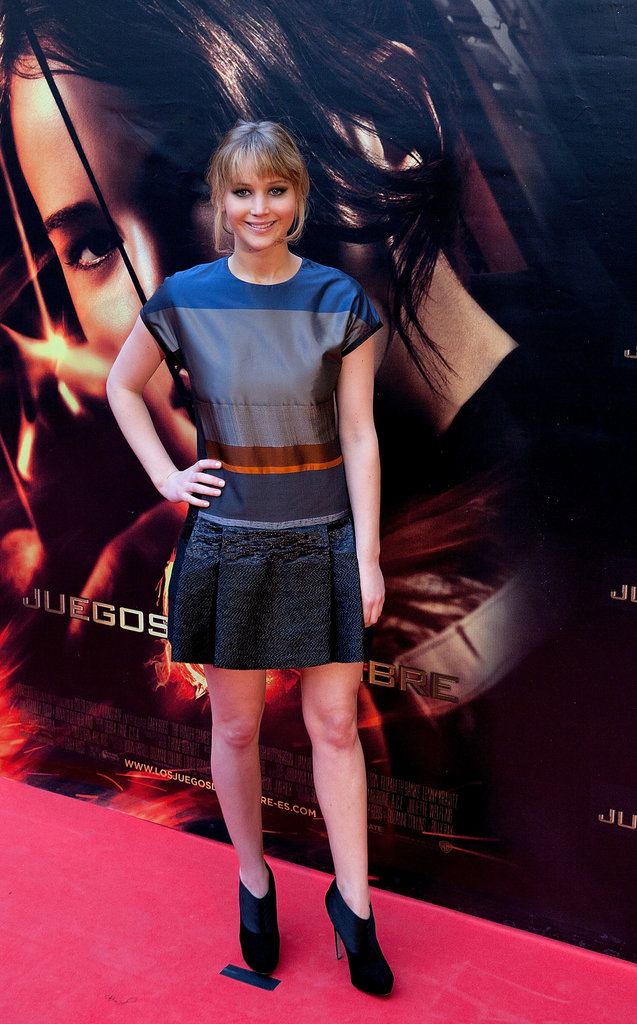 We love the bright jacquard striping and drop waist of this Victoria Beckham [37] shift she wore to the Madrid premiere of The Hunger Games.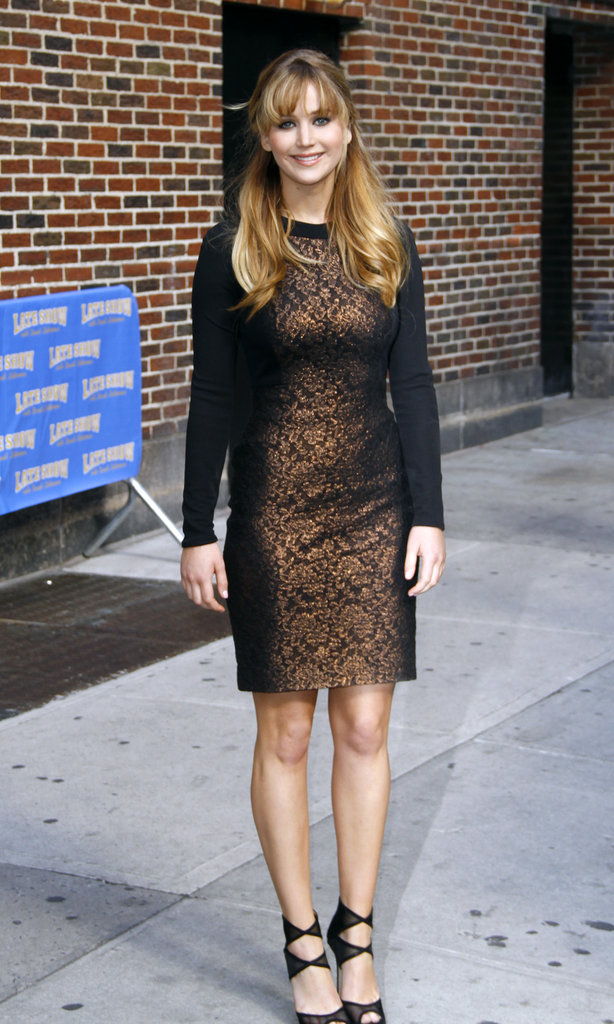 On her way out of The Late Show with David Letterman [38], Jennifer slipped into this bronzed Prabal Gurung [39] sheath.