As an entrepreneur, mother, actress, musician, and red carpet glamazon, Jennifer Lopez [1] is a force to be reckoned with. Her risk-taking style has served her well in her ever-growing career and business endeavors, but we can't overlook her bold, no-holds-barred choices on the red carpet [2], either. Who could forget the belly-button-baring Versace number she wore to the Grammys in 2000? The gorgeous actress — who highlights her enviable assets in labels like Roberto Cavalli, Versace, and Zuhair Murad — is continually surprising us in bright colors, allover sequins, and body-conscious cuts. Today, the singer/actress/businesswoman extraordinaire is turning 46, and we're celebrating the fearless, sexy style of Jennifer Lopez with a look back at some of her memorable moments on and off the red carpet.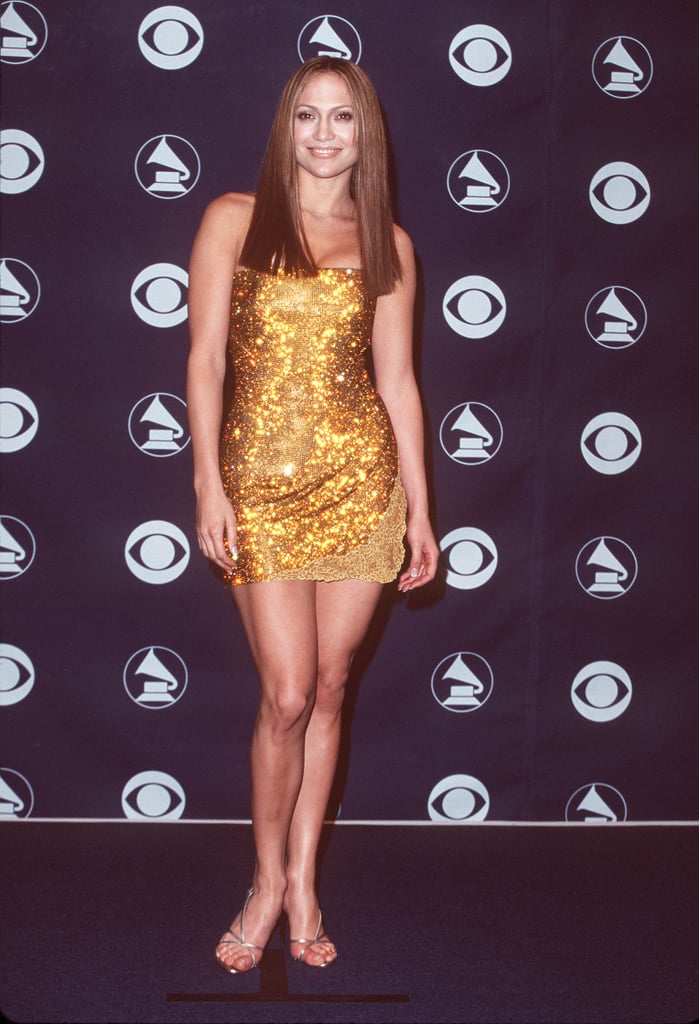 Stepping out in sequins at the '99 Grammy Awards.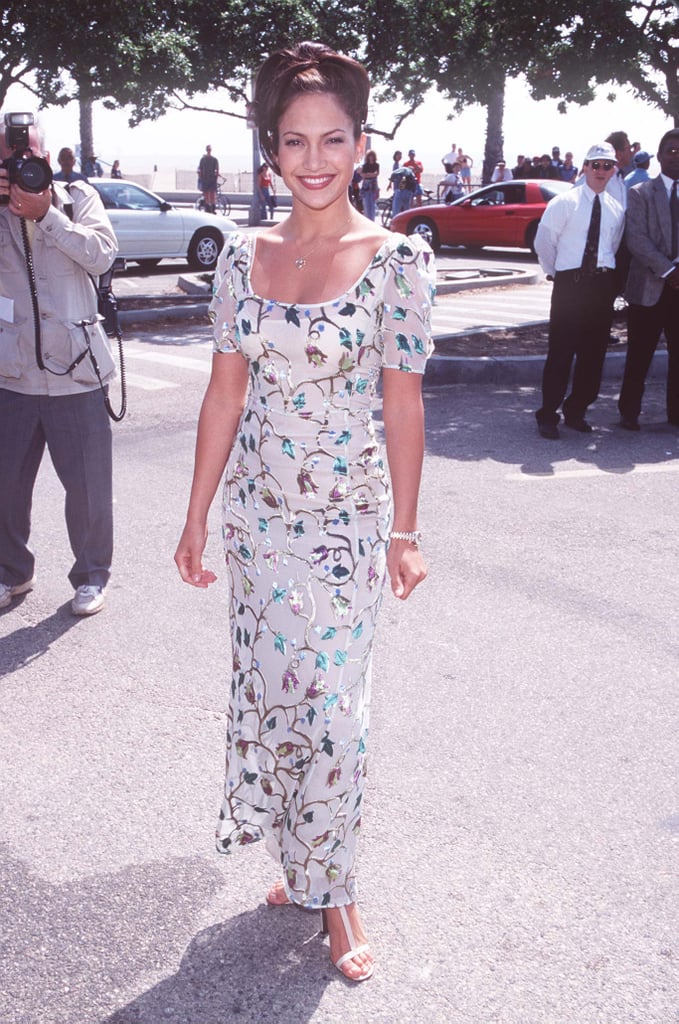 A floral frock for the Independent Spirit Awards in '97.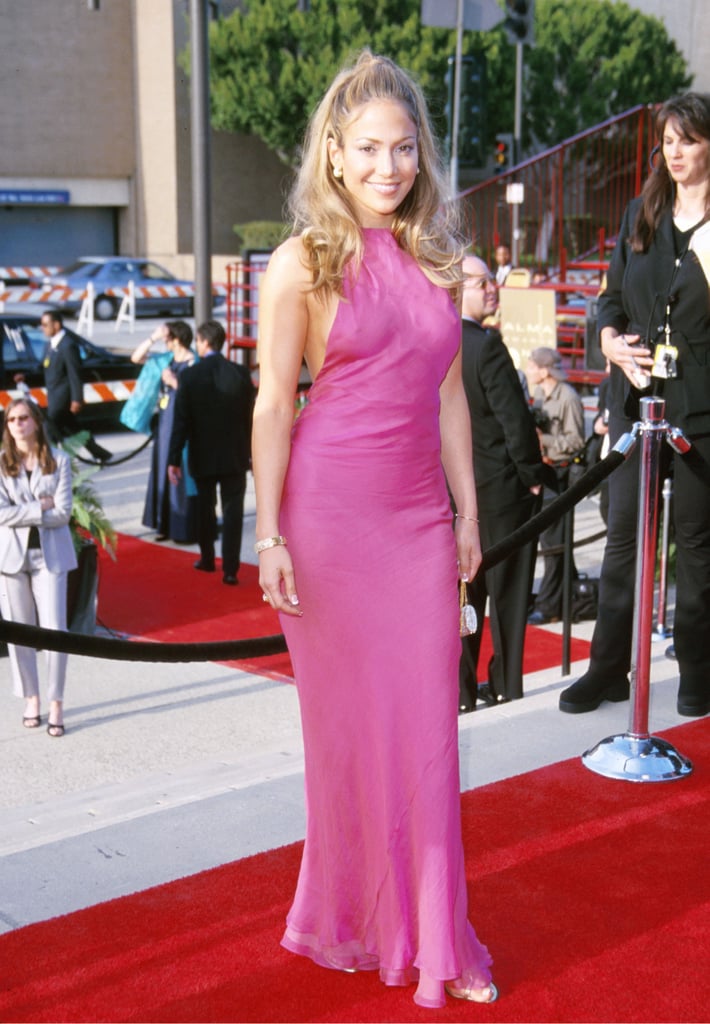 Channeling a '60s siren with Bardot-esque hair and a halter-style gown at the 2000 Alma Awards.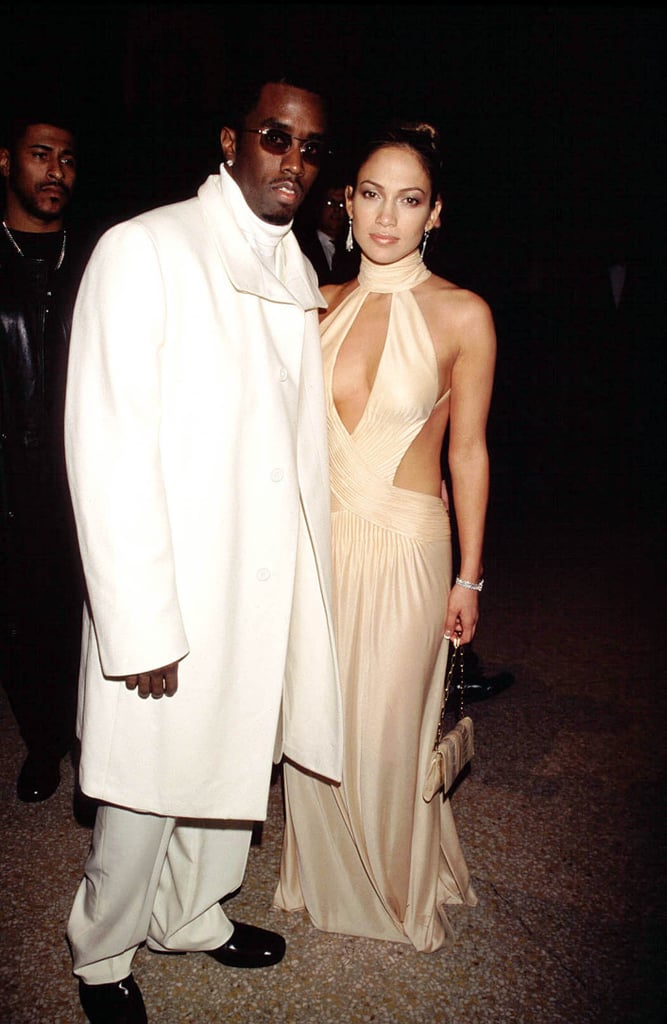 Stepping out with Diddy [3] in a revealing cutout gown at the Met in '99.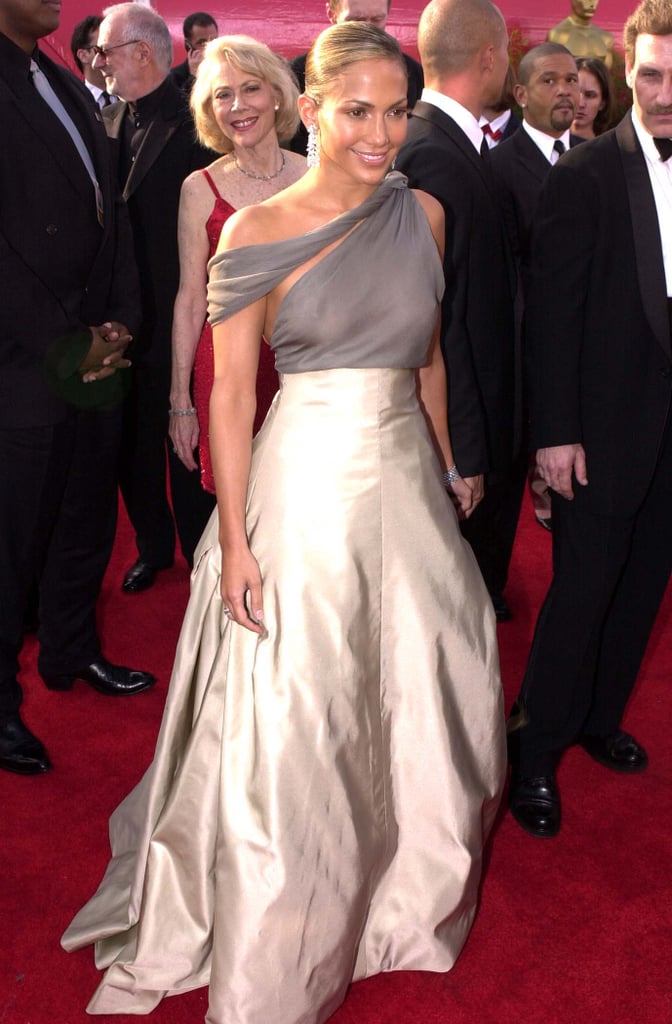 At the 2001 Oscars in a gorgeous, metallic and sheer Chanel.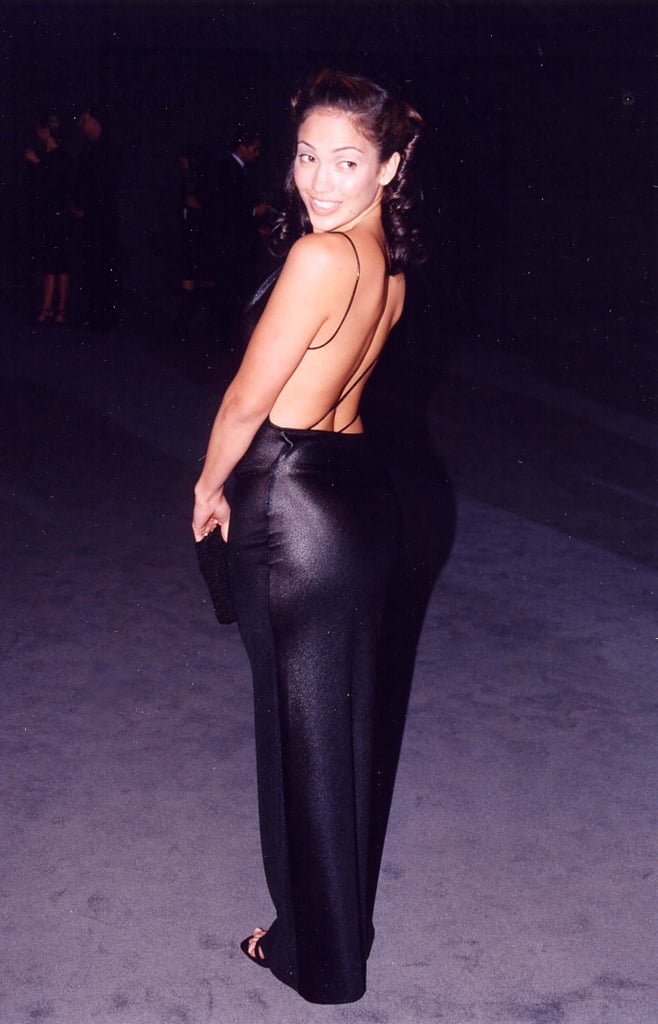 Showing off her assets in black at a '97 event.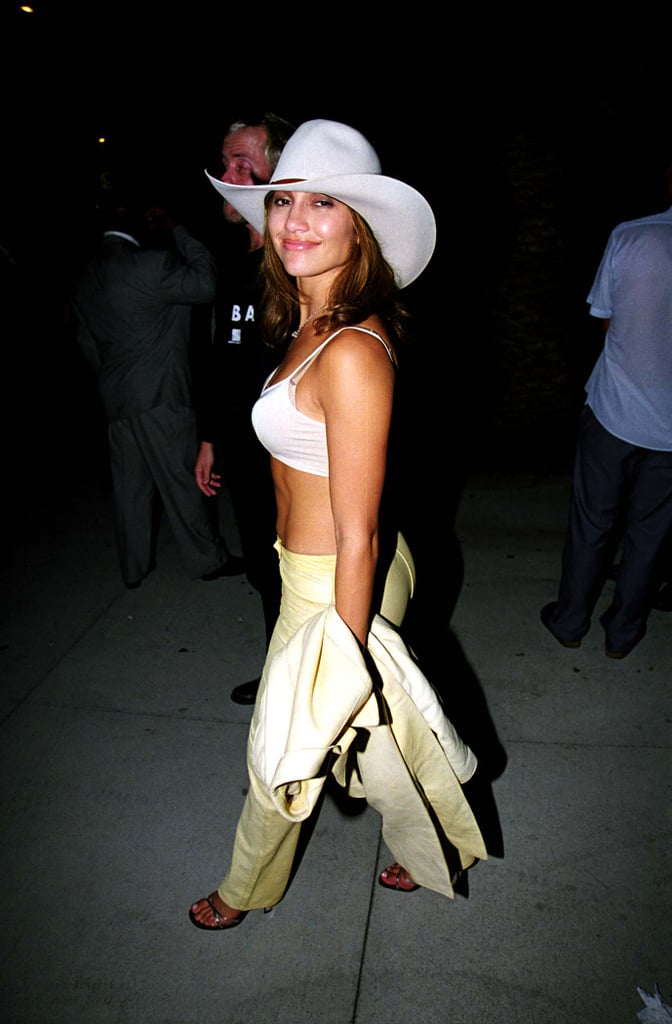 Rocking a cowboy hat and bared midriff at the 1998 MTV VMA Maverick party.
Opting for a simpler silhouette and neutral hue on the red carpet for the Teen Choice Awards in 1999.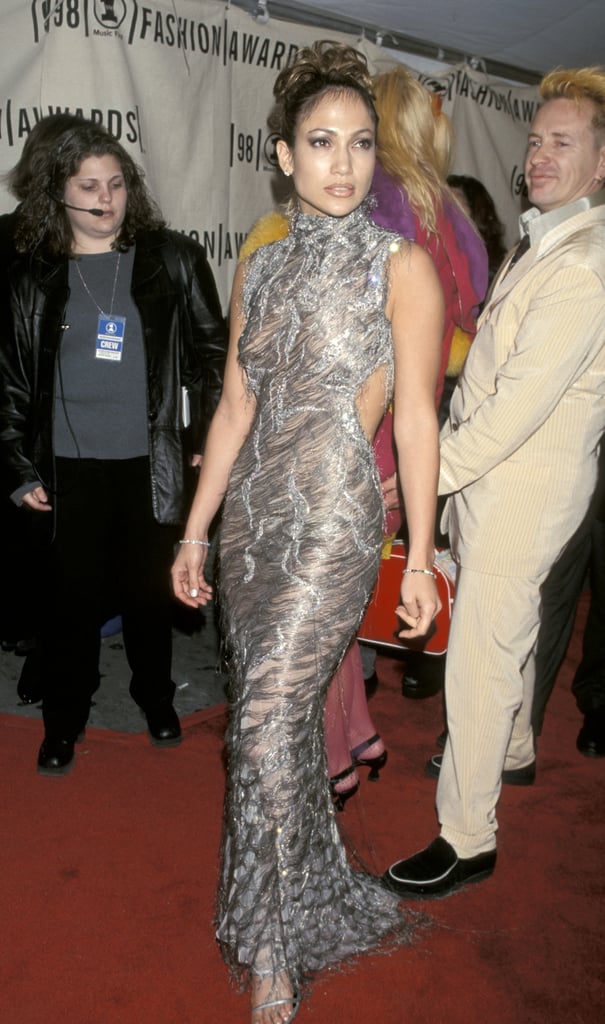 Baring some skin in a sexy, textured gown at the 1998 VH1 Fashion Awards.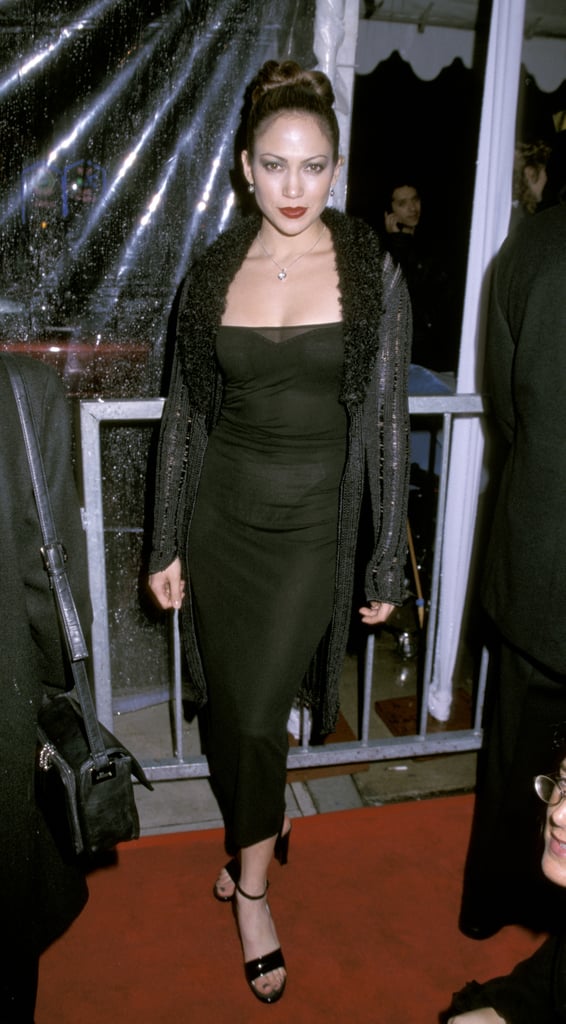 Rocking all black and a bold lip at the grand opening of the Conga Room in '98.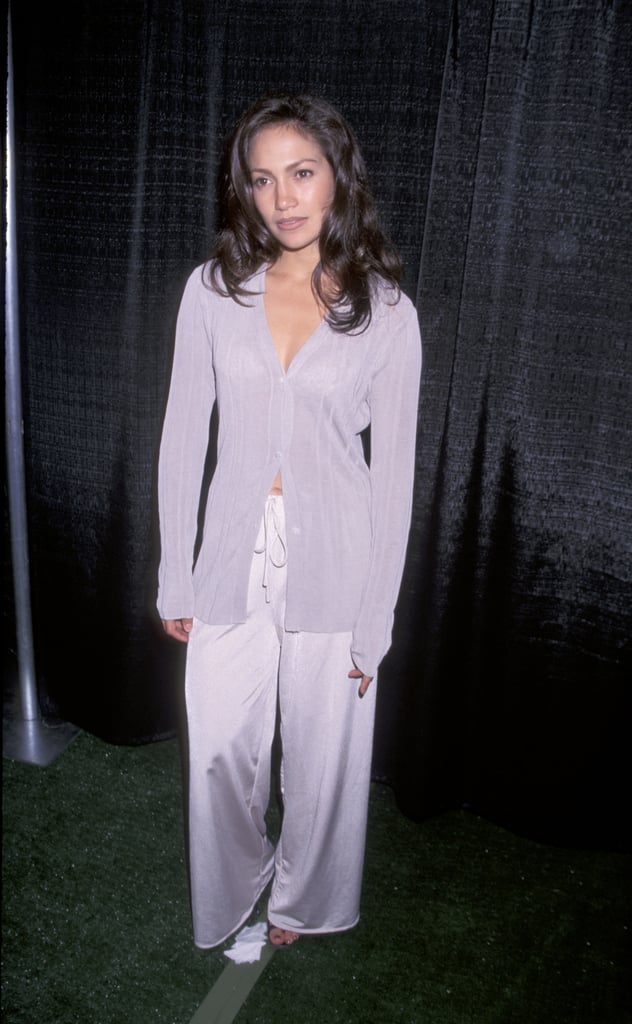 A softer side of Jen back in 1996.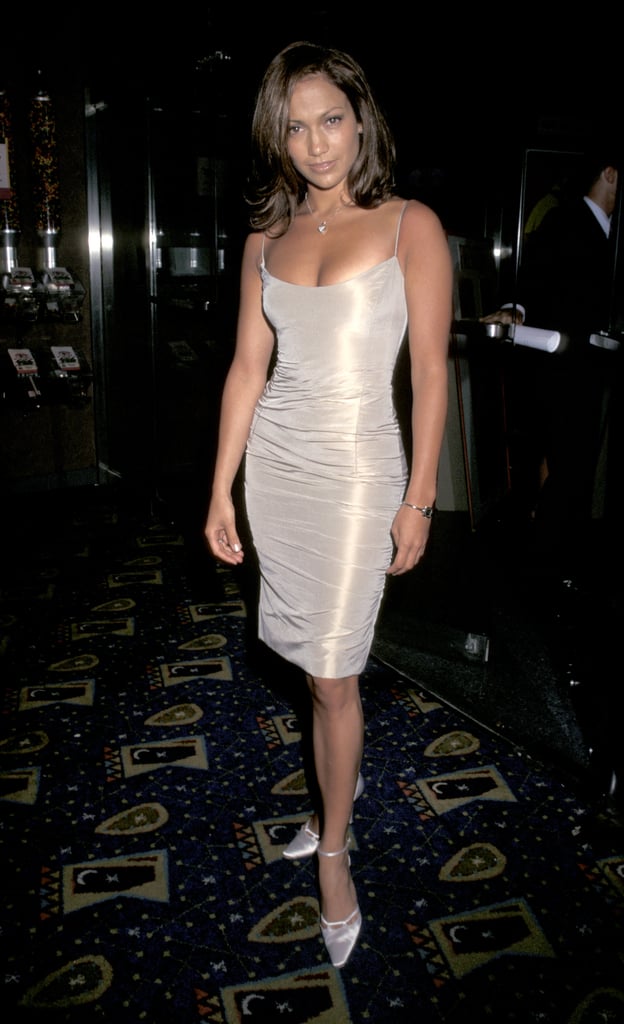 A body-conscious, pearly sheath at the 1998 Out of Sight premiere.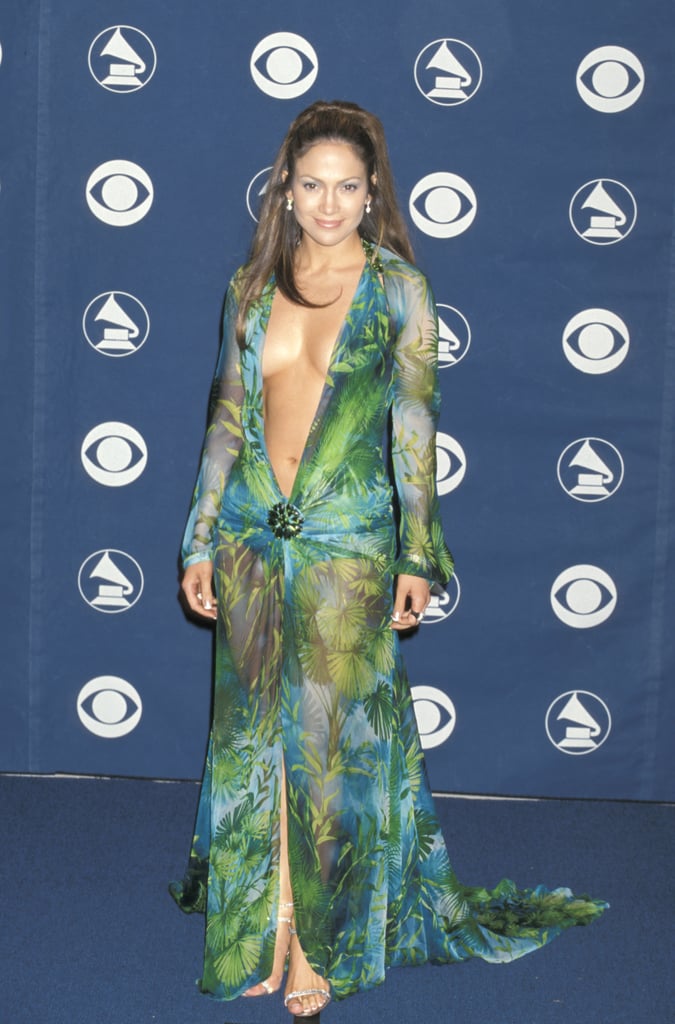 Jennifer turned heads with her memorable, cleavage-baring Versace at the 2000 Grammy Awards.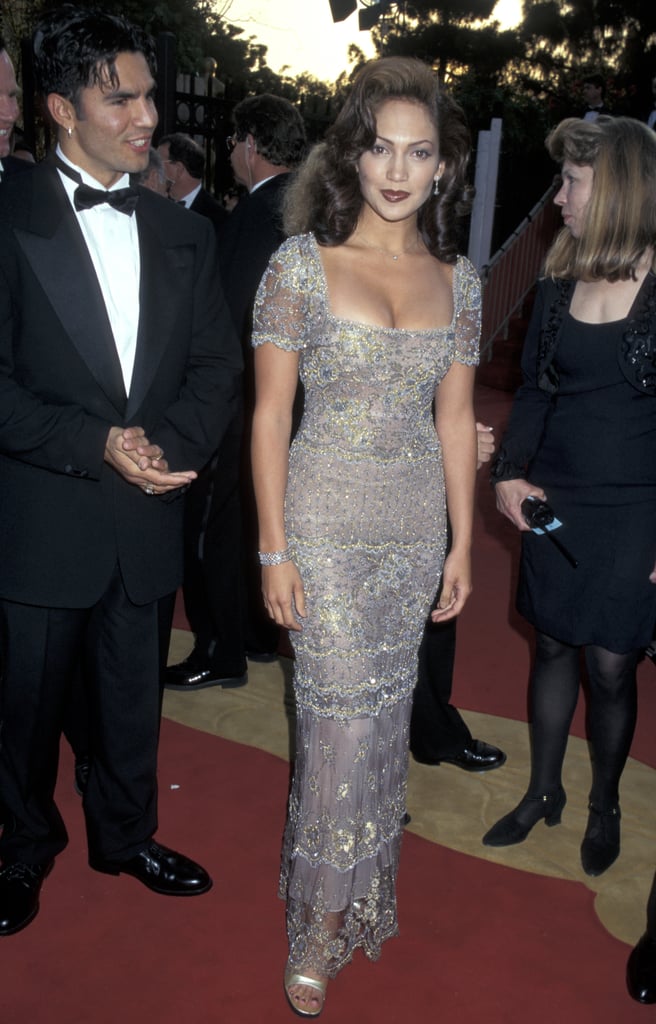 A retro-inspired coif and a bead and embellished gown at the '97 Oscars.
Curls and a breezy maxi for the Desperado premiere in J Lo's early days in '95.
Mixing a body-con strapless and bold accessories on the red carpet for the 2004 MTV Movie Awards.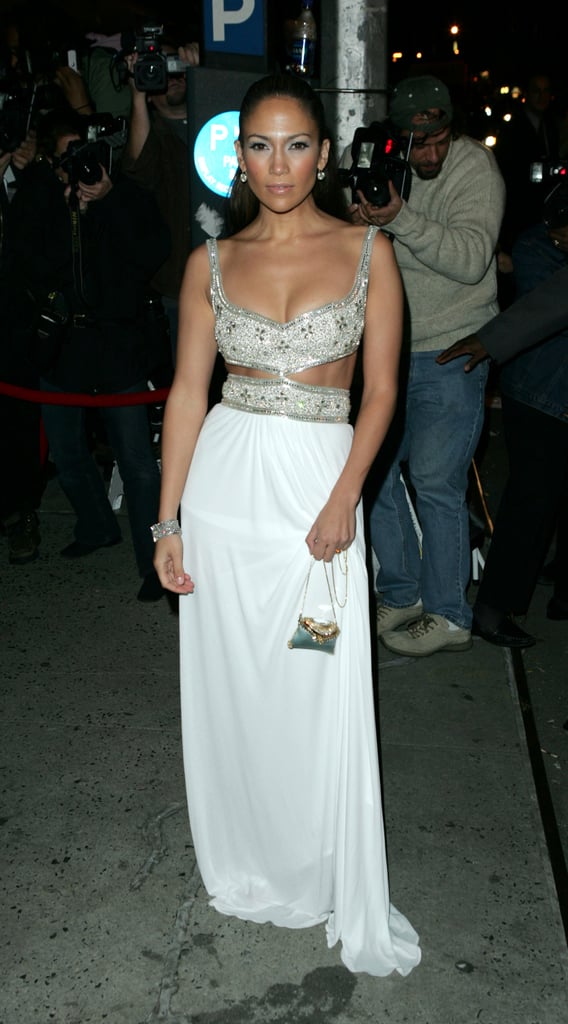 Delicate beading and cutouts adorned this white gown for the Shall We Dance premiere in '04.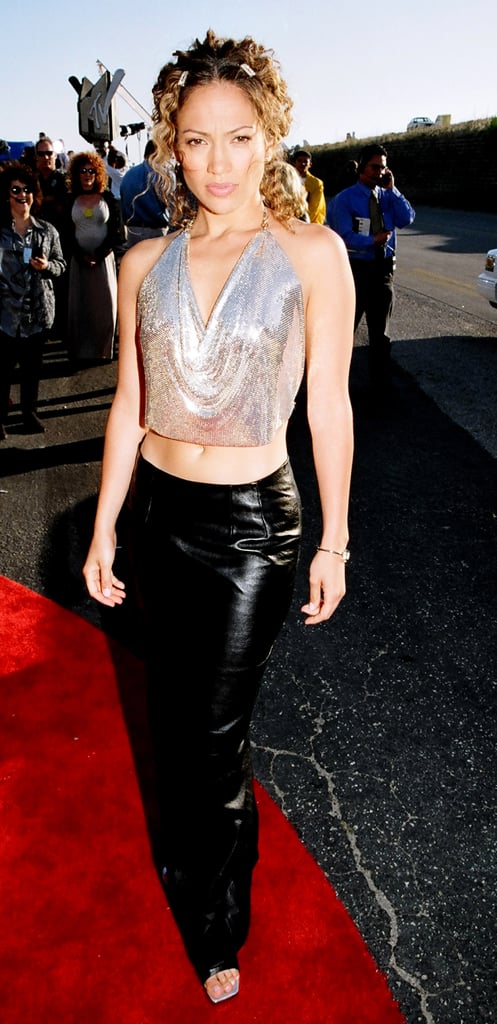 Showing off her toned abs in a draped, metallic halter at the '98 MTV Movie Awards.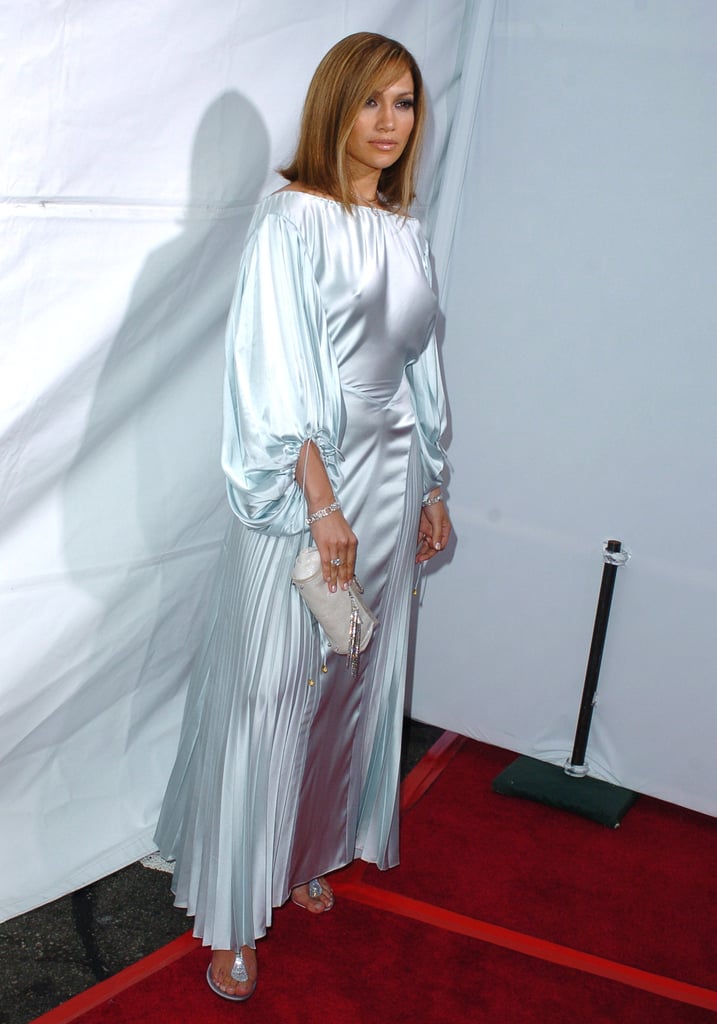 A billowy, white gown for a film premiere in 2005.
Sheer and super-sexy at the CFDA Awards in '98.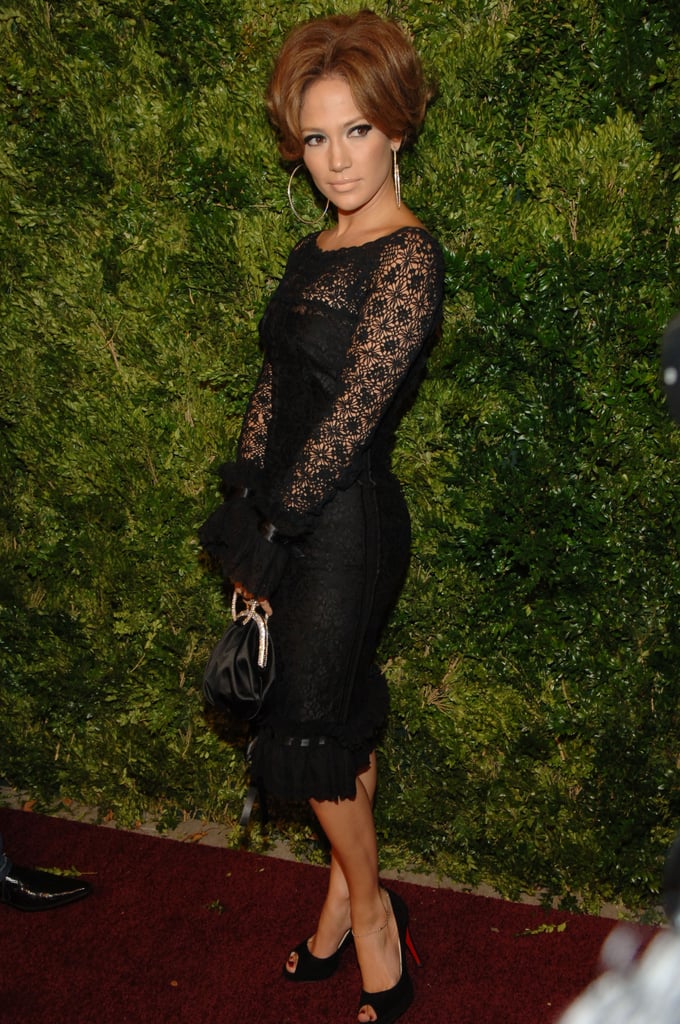 Channeling a sex-kitten vibe with a bouffant and a body-hugging lace dress for an event in NYC in 2005.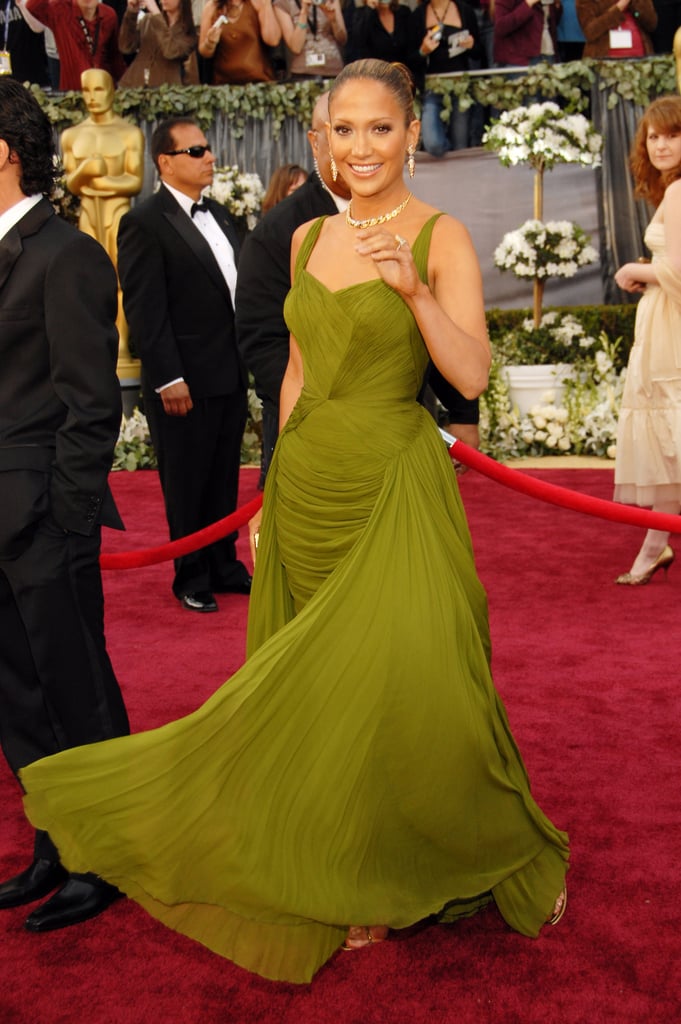 A memorable moment in an olive-hued chiffon gown at the Academy Awards in 2006.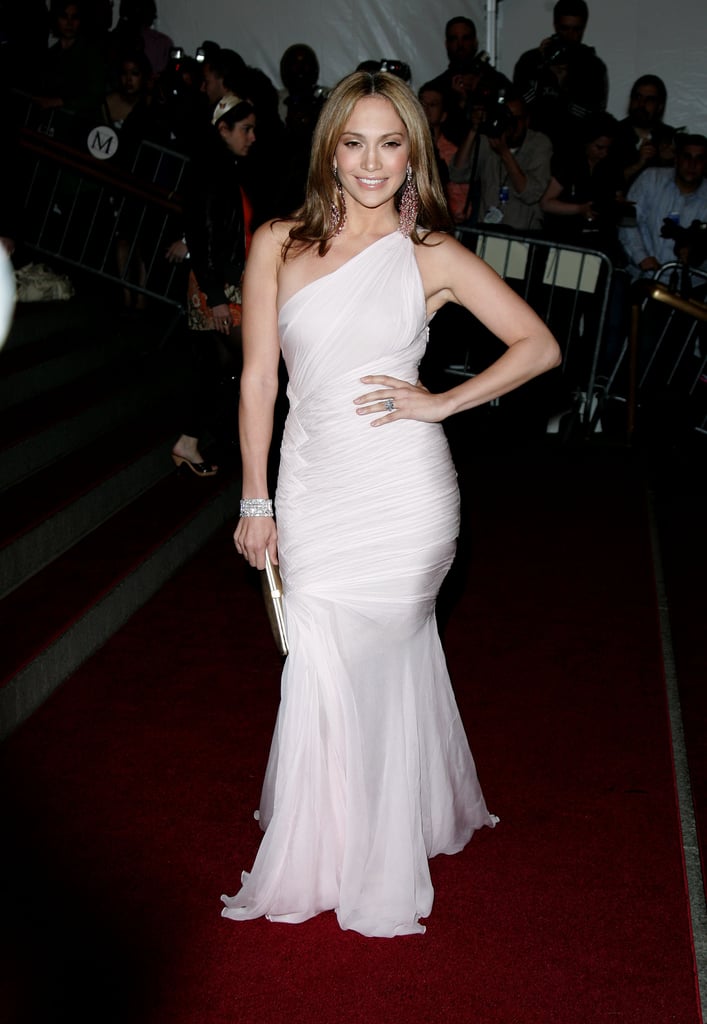 Goddess-like in a one-shouldered white gown at the Costume Institute Gala in '06.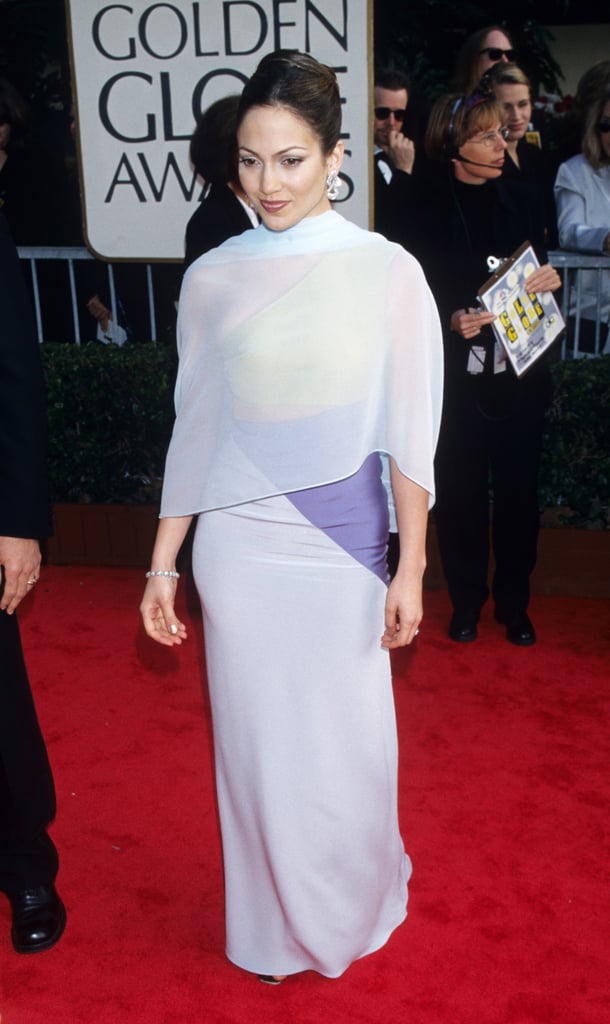 Trying out a sheer cape at the Golden Globes in '98.
Going vamp on the Oscars red carpet in '98.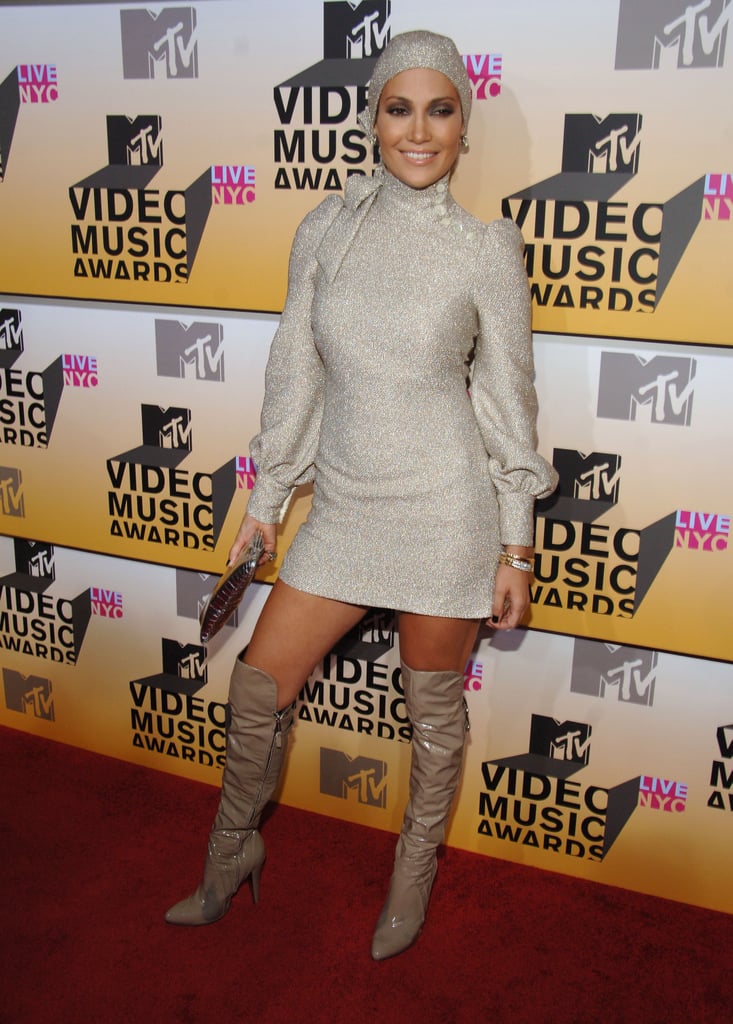 Rocking a turban and over the knee boots at the MTV Video Music Awards in '06.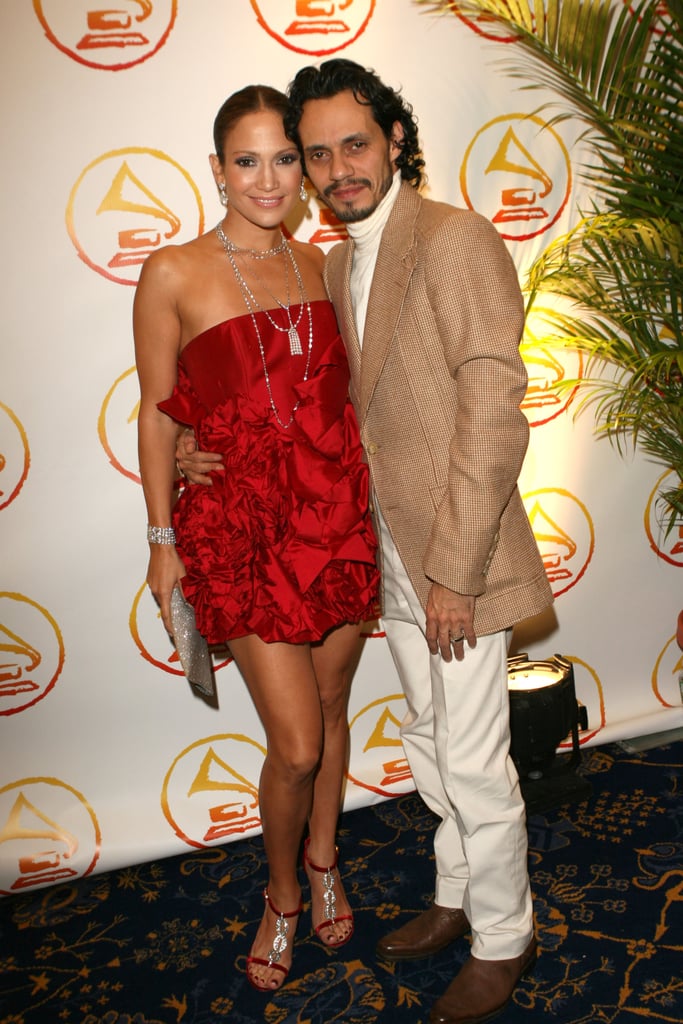 With Marc Anthony [4] in a flirty red strapless at an event in '06.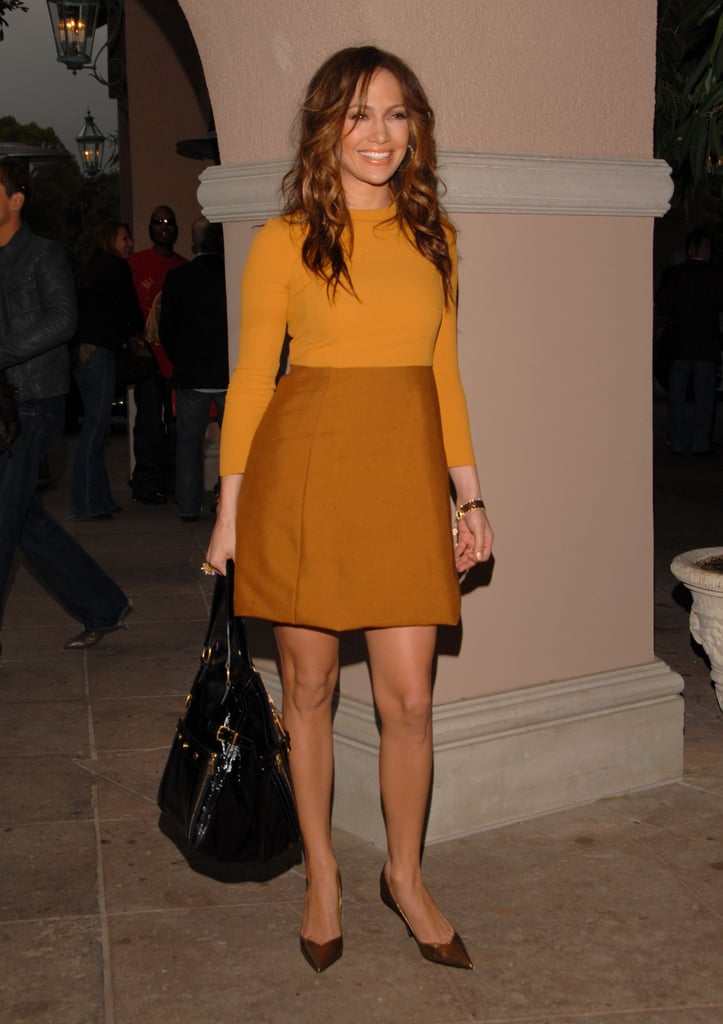 Channeling '60s sophistication in a colorblocked mini at an event in '07.
Glam for the 2007 Oscars in a standout Marchesa gown.
Jennifer Lopez Style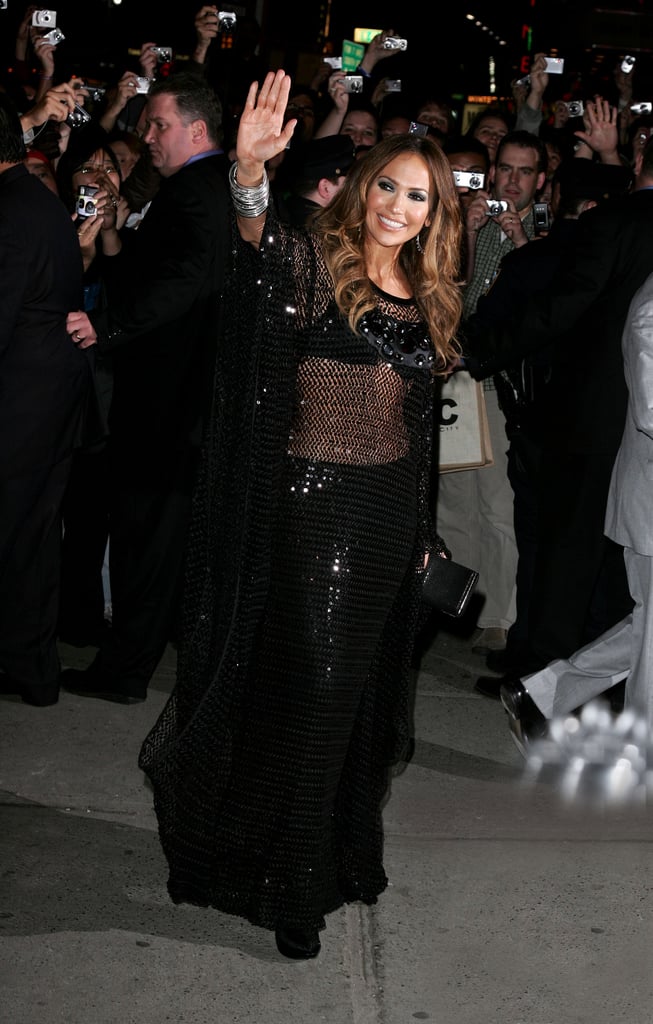 A sheer and sparkly black look for a record release party in 2007.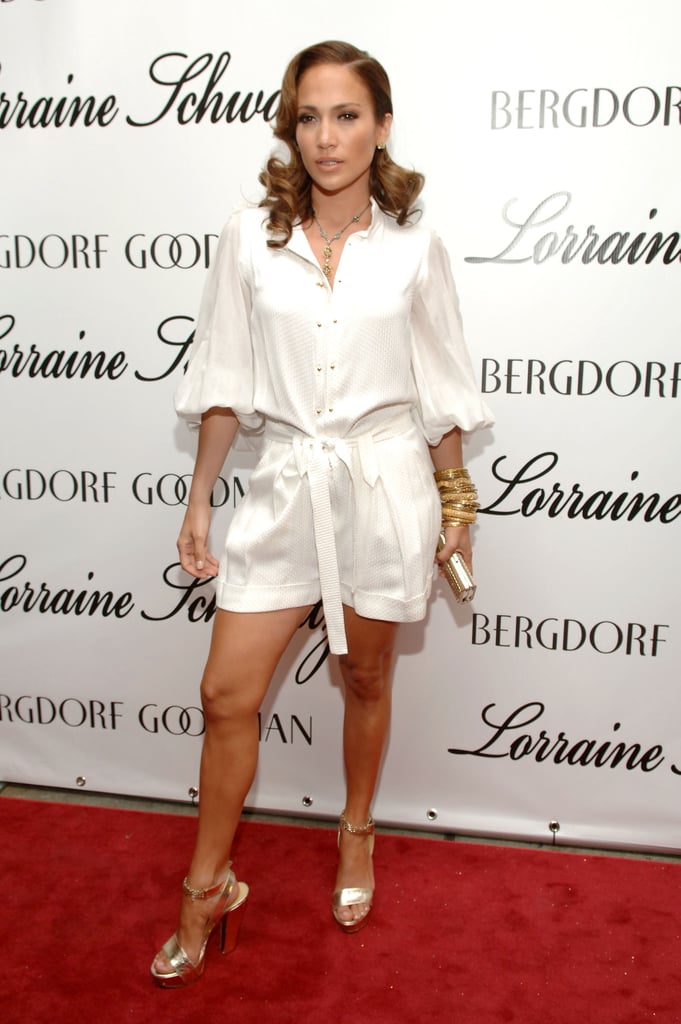 Chic in white separates for an event in 2007.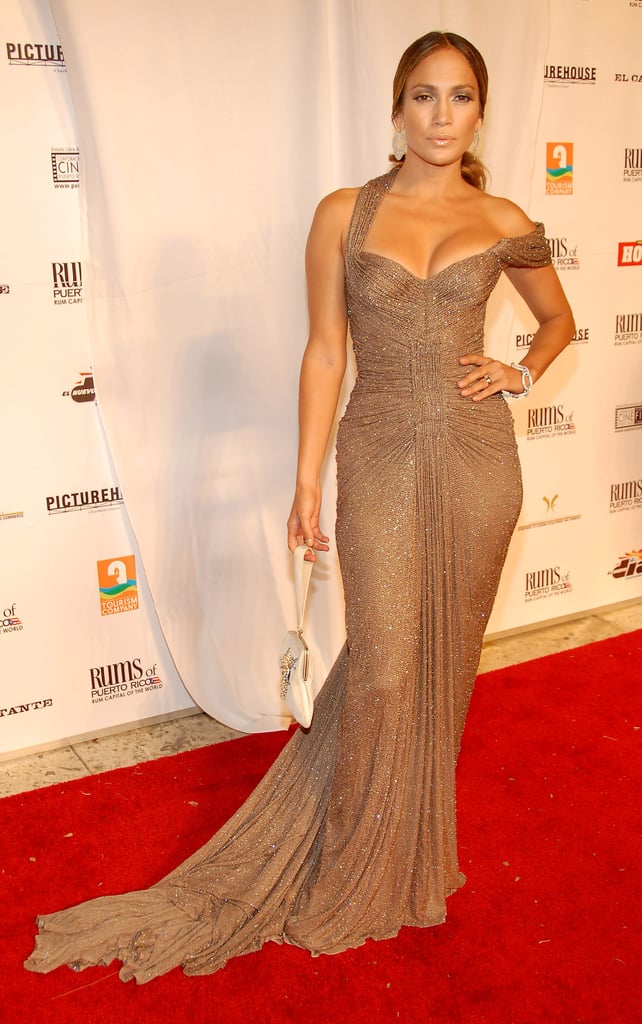 A glamazon moment at the 2007 El Cantante premiere.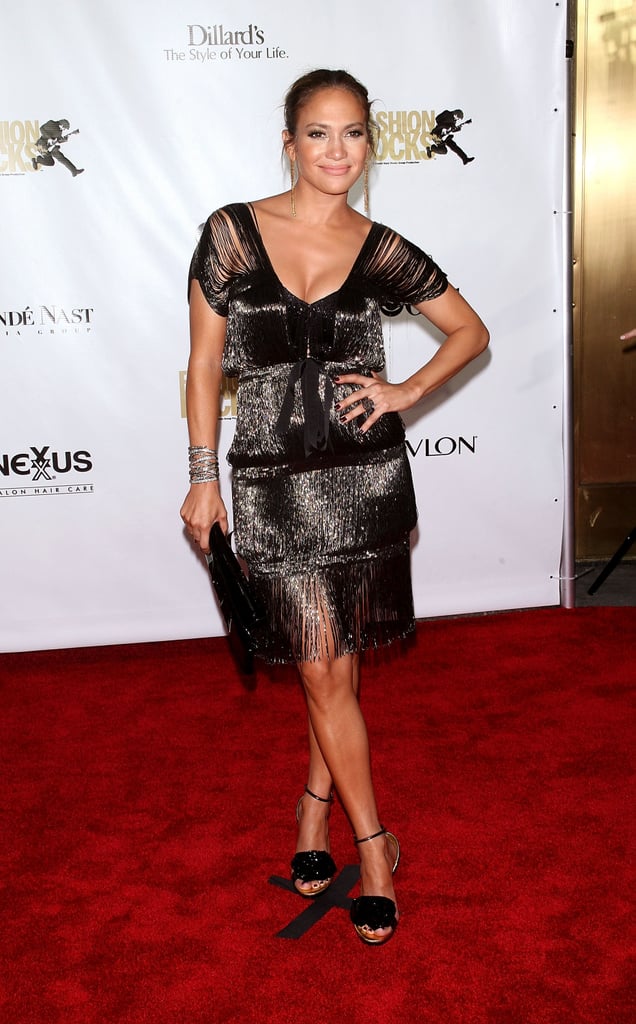 Opting for a looser silhouette in this shimmery, black sheath in 2007.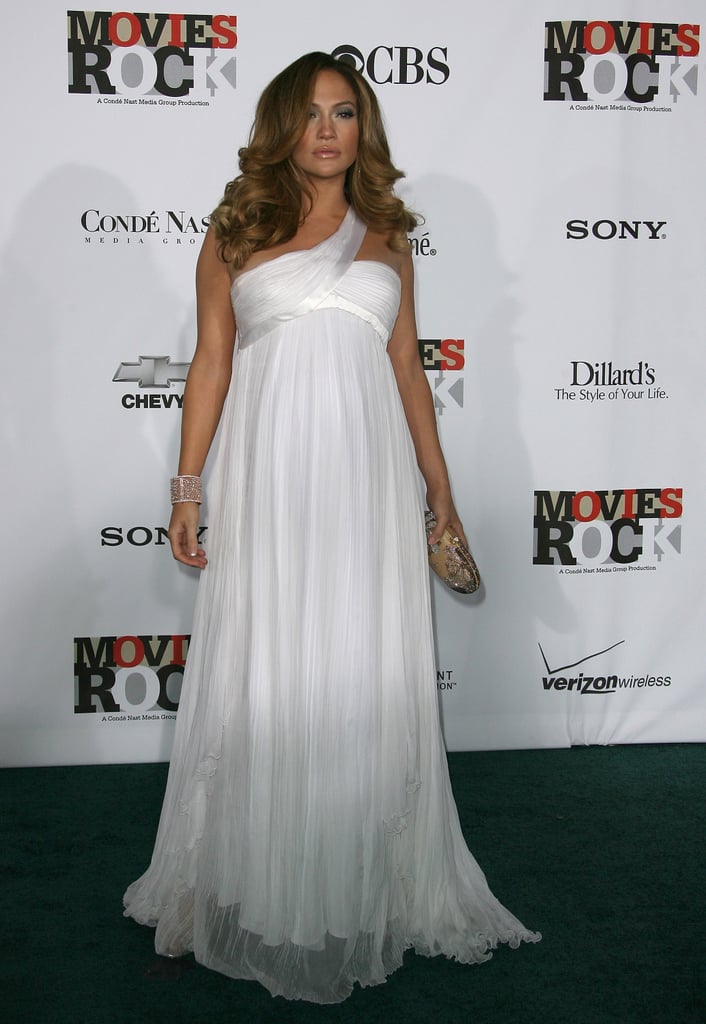 Glowing and pregnant at a 2007 Conde Nast event.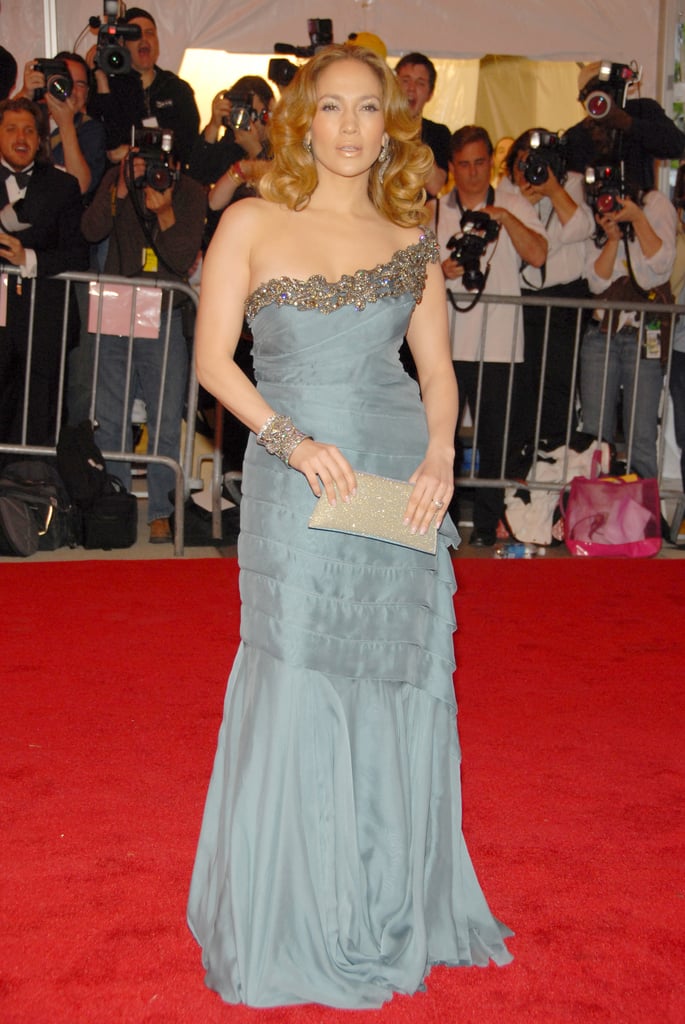 Gorgeous in Alberta Ferretti for the 2008 Met Gala.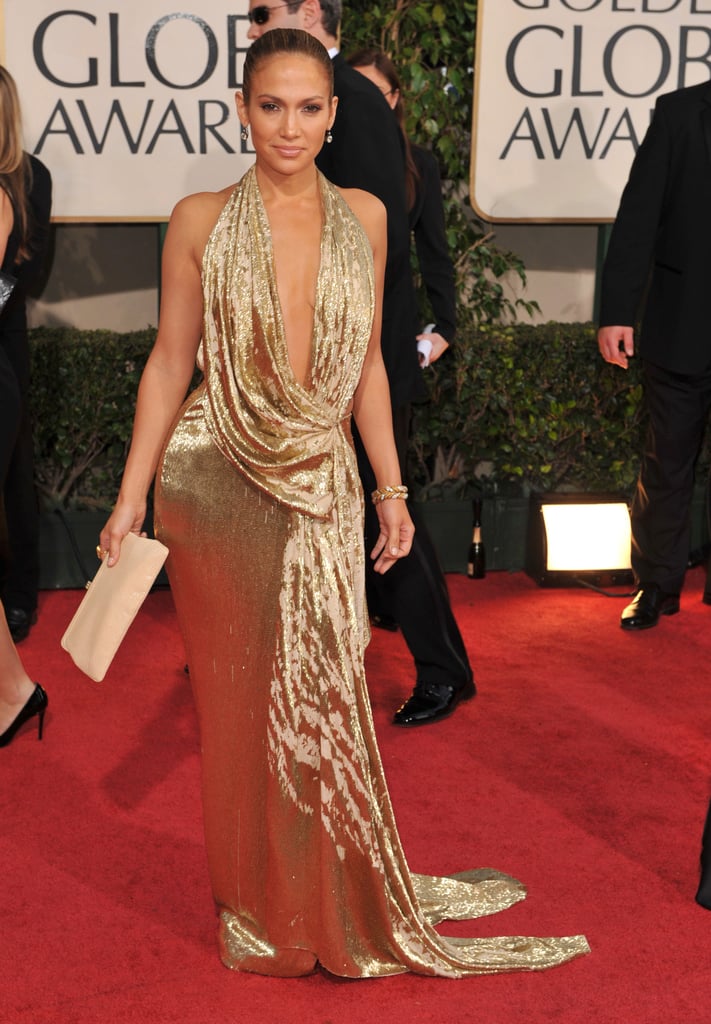 Going glam in a gold Marchesa on the Golden Globes red carpet in '09.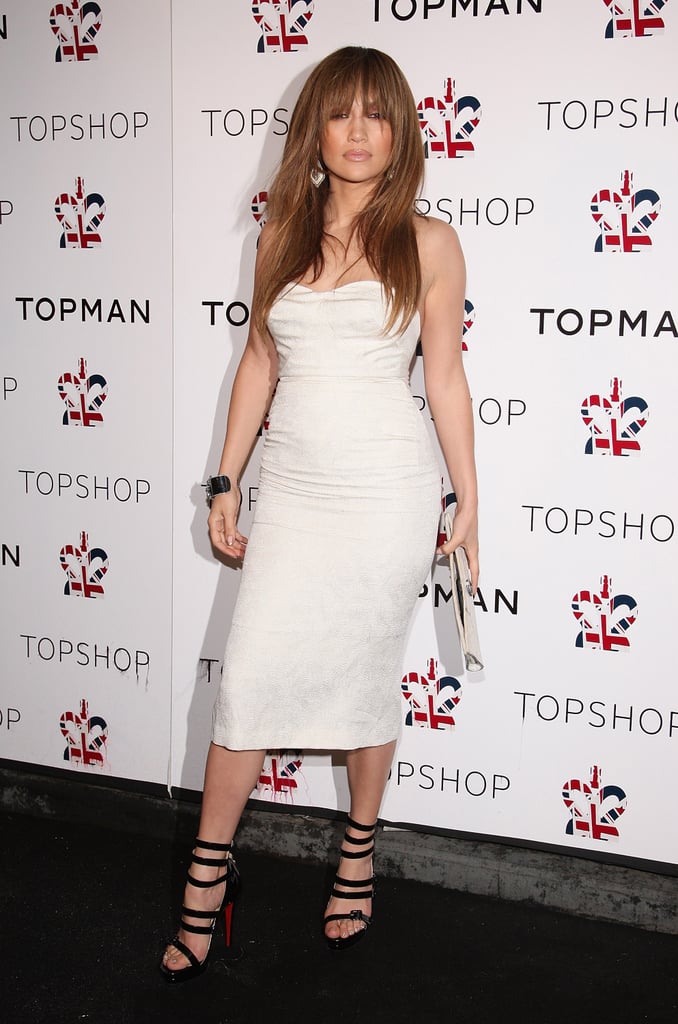 Stepping out for a Topshop event in a white strapless and statement footwear in 2009.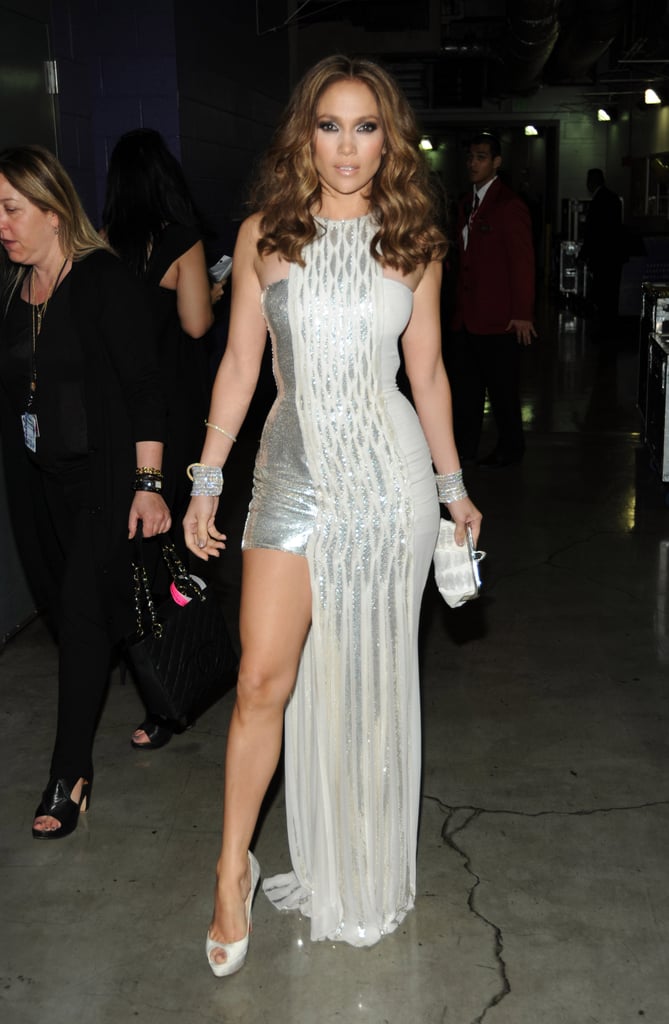 Showing off her toned gams in a metallic Versace at the 2010 Grammy Awards.
Lighting up the room at the Apollo Theater in 2010.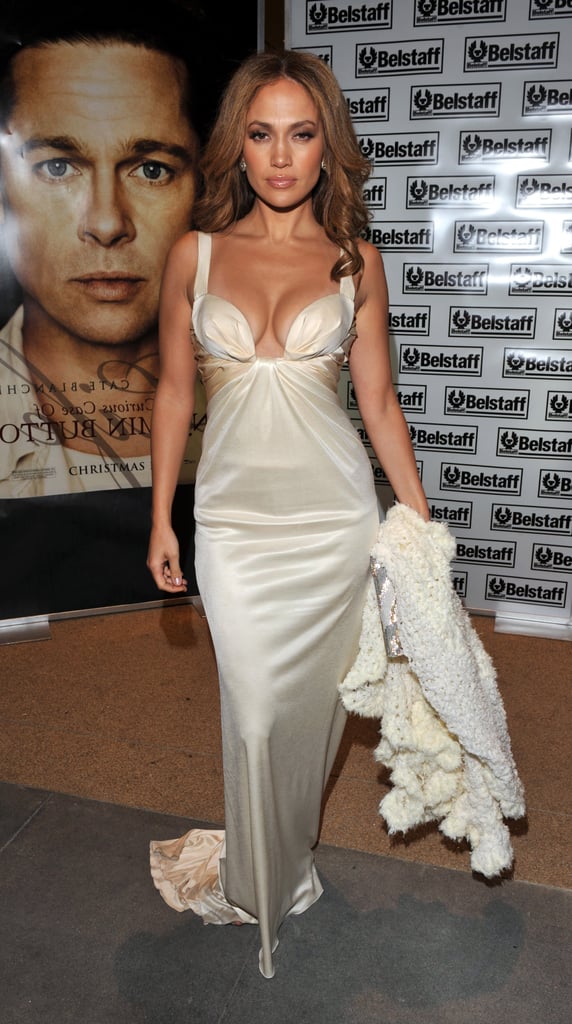 A total bombshell moment for a film premiere in '08.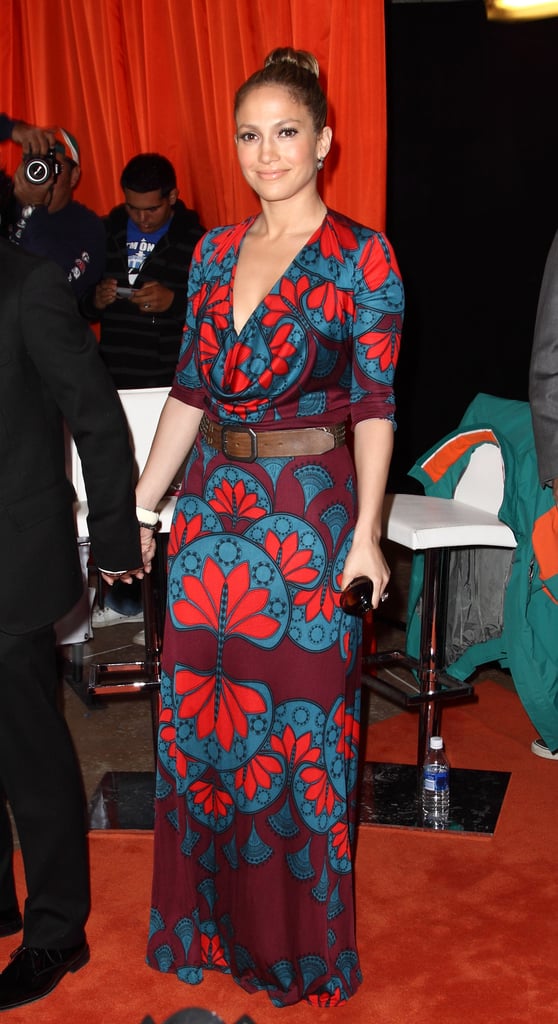 A bright print for an event in Miami in 2010.
Short and super sexy in a black strapless at a book launch party in 2010.
Rocking a one-shouldered, curve-hugging Gianfranco Ferré at The Back-Up Plan premiere in 2010.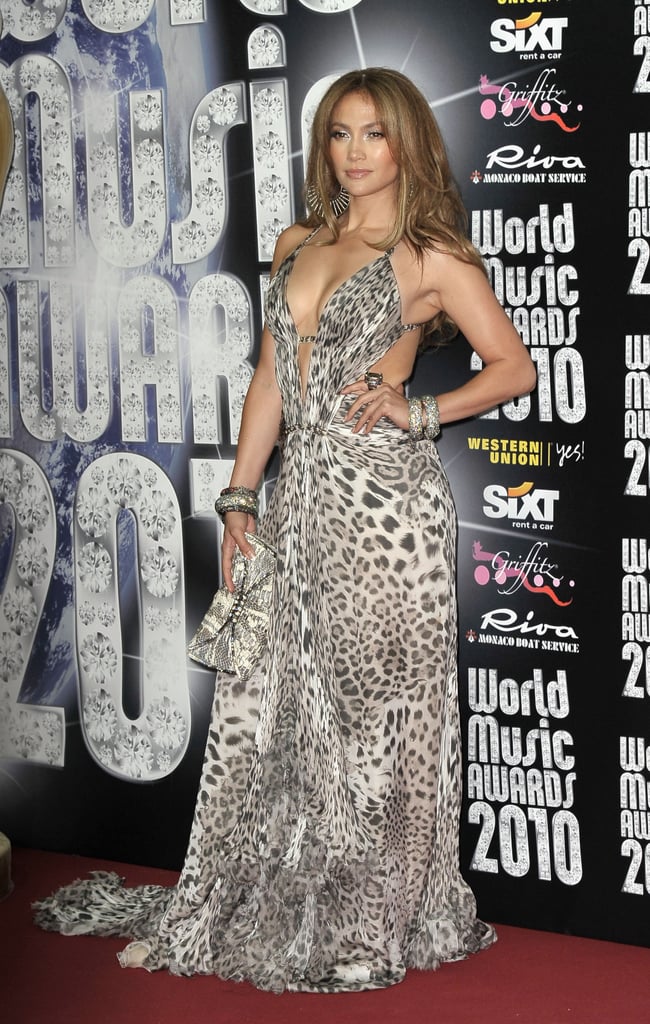 Bold animal print and cutouts in Roberto Cavalli at the 2010 World Music Awards.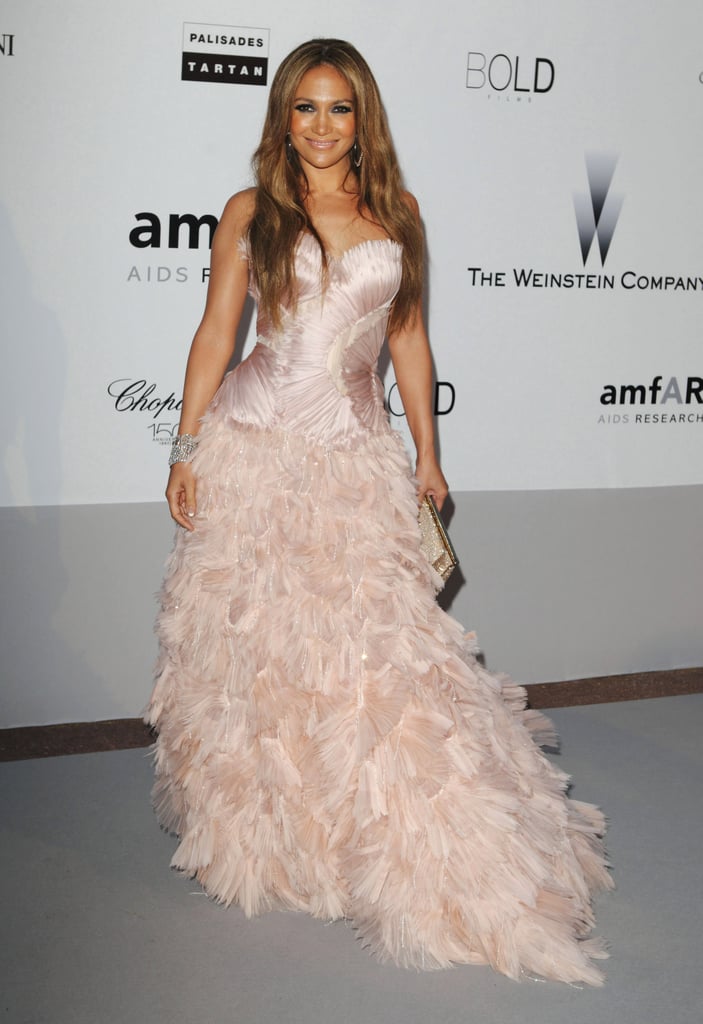 A princess-inspired moment in a pinky-hued Roberto Cavalli Couture confection at the 2010 amfAR's Cinema Against AIDS Gala.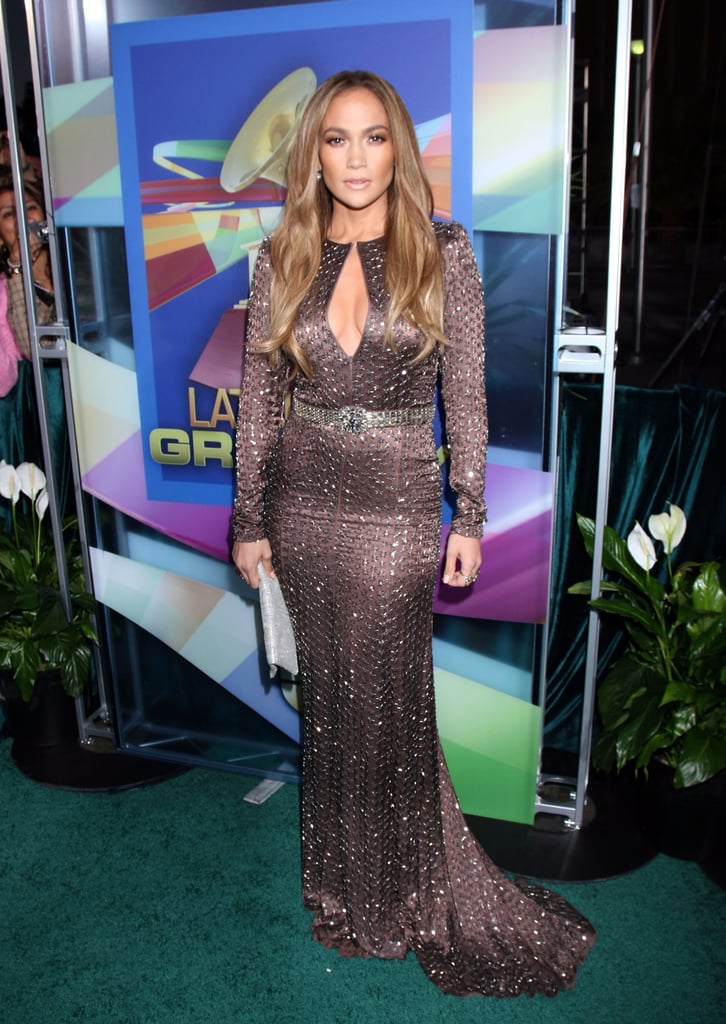 A diva moment in a key-hole cutout Andrew Gn gown at the 2010 Latin Grammy Awards.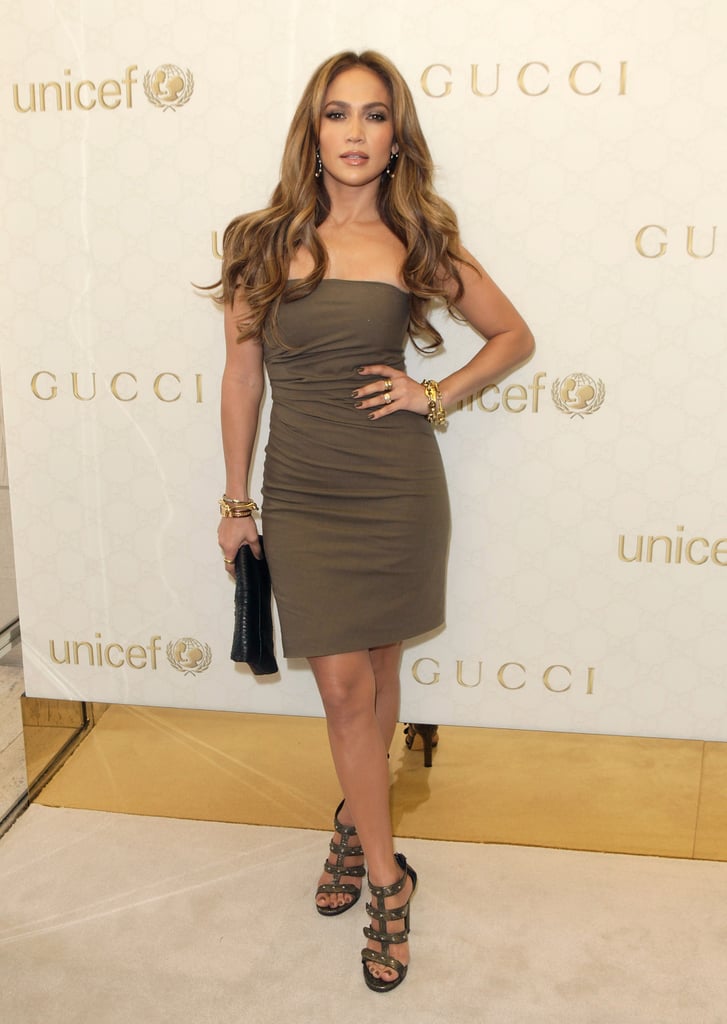 Proving less is more at the Gucci children's collection launch party in 2010.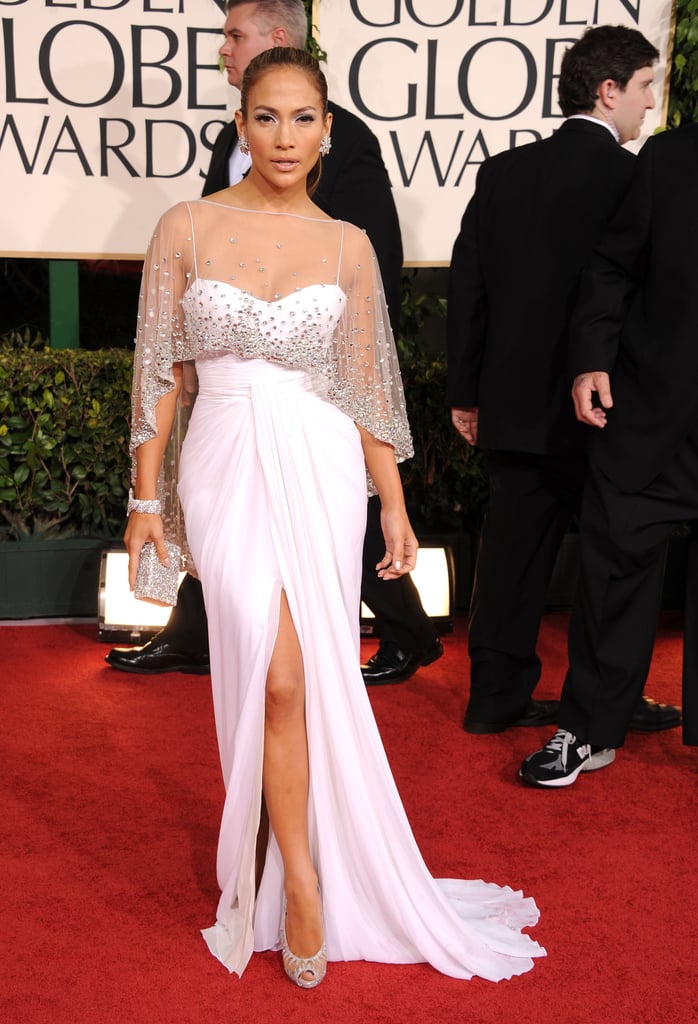 Opting for an elegant Zuhair Murad at the 2011 Golden Globe Awards.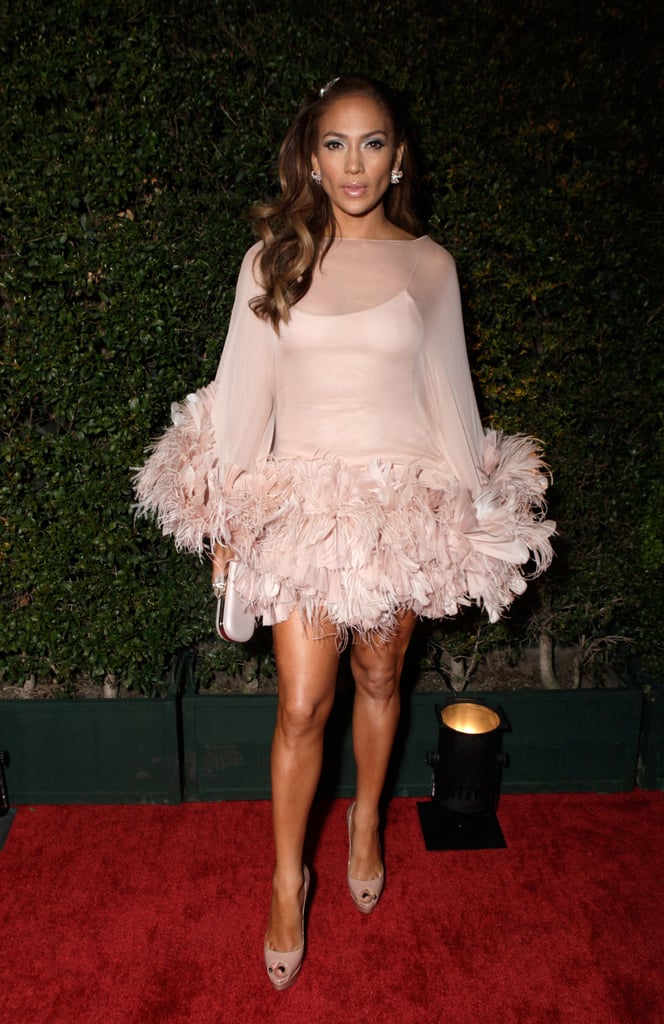 Jennifer slipped into this feather-trimmed Marchesa for the 2011 Golden Globes afterparty.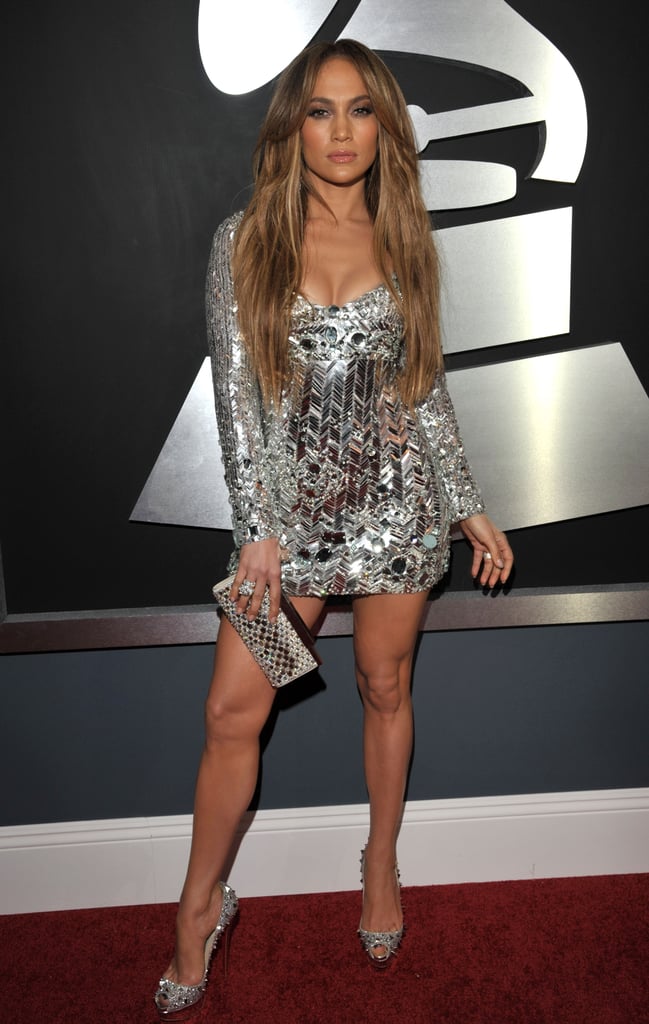 A glittery Pucci minidress at the 2011 Grammy Awards.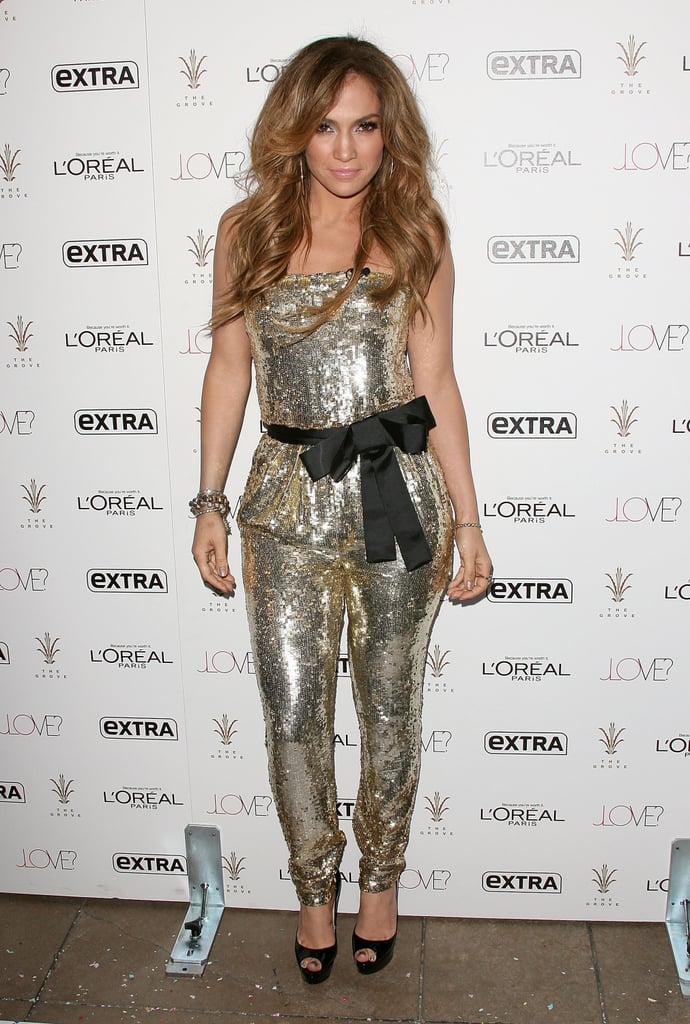 Glittering in a gold jumpsuit for an event in 2011.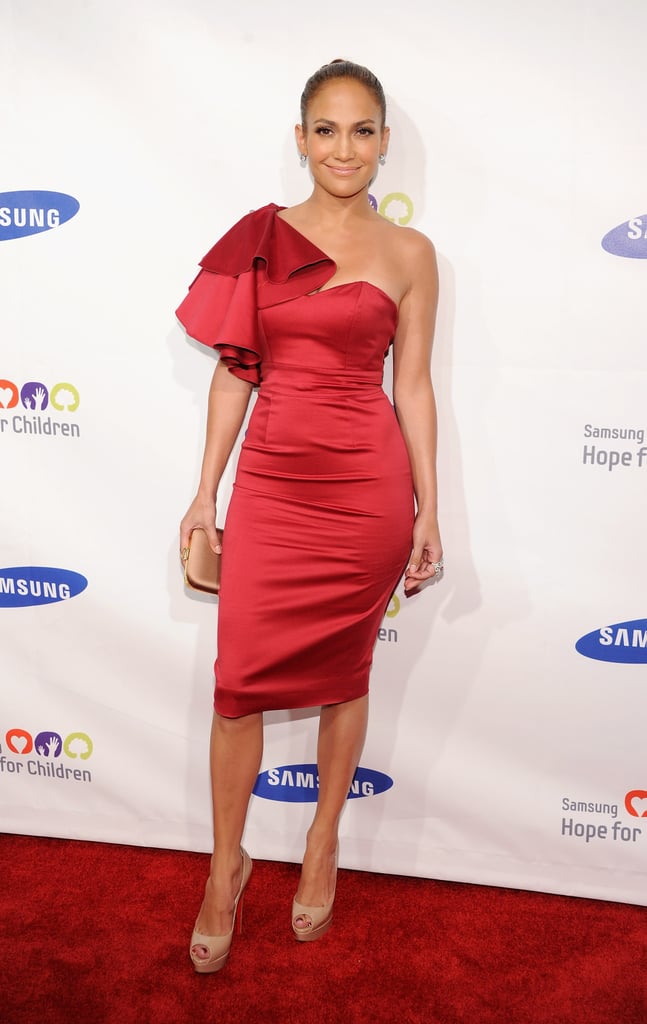 Fiery red and curve-hugging for an event in 2011.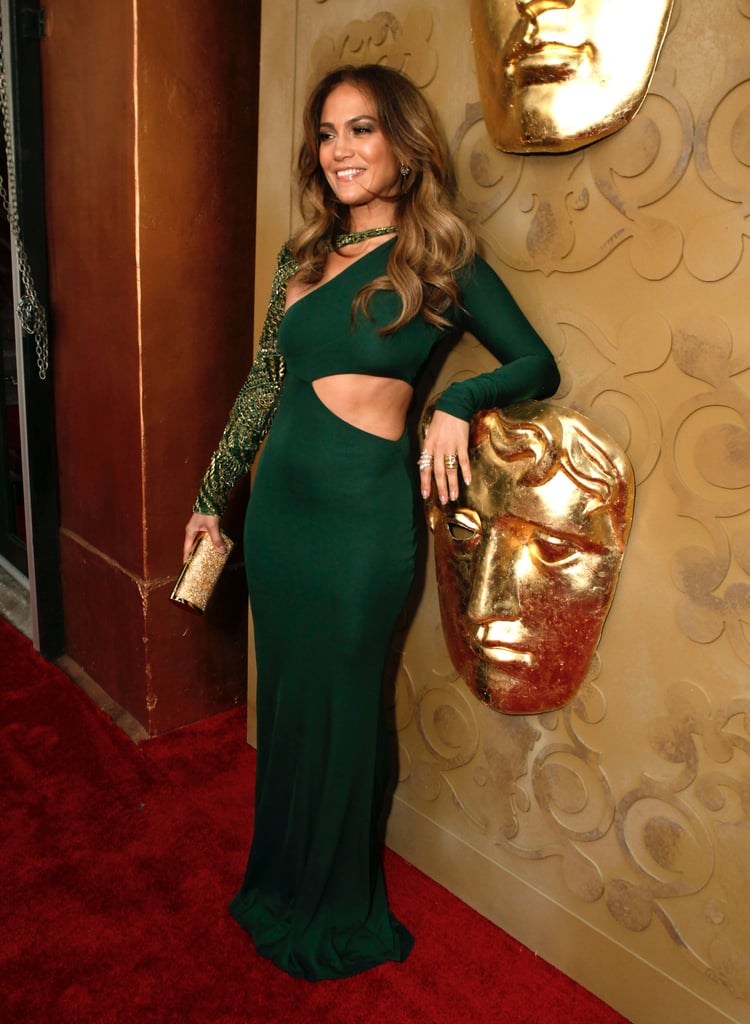 A revealing Pucci gown for the 2011 BAFTA Brits to Watch Event.
She left us speechless in a Zuhair Murad diamond-embellished strapless stunner at the 2010 Met Gala.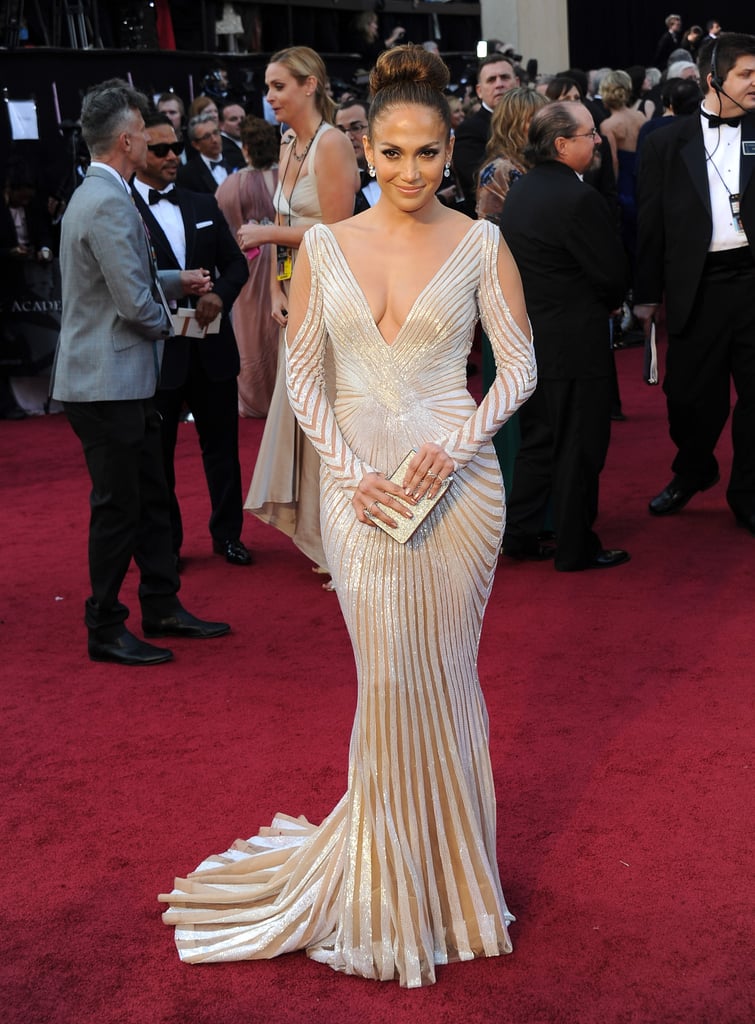 A seriously sexy sequined and sheer illusion Zuhair Murad gown for the 2012 Academy Awards.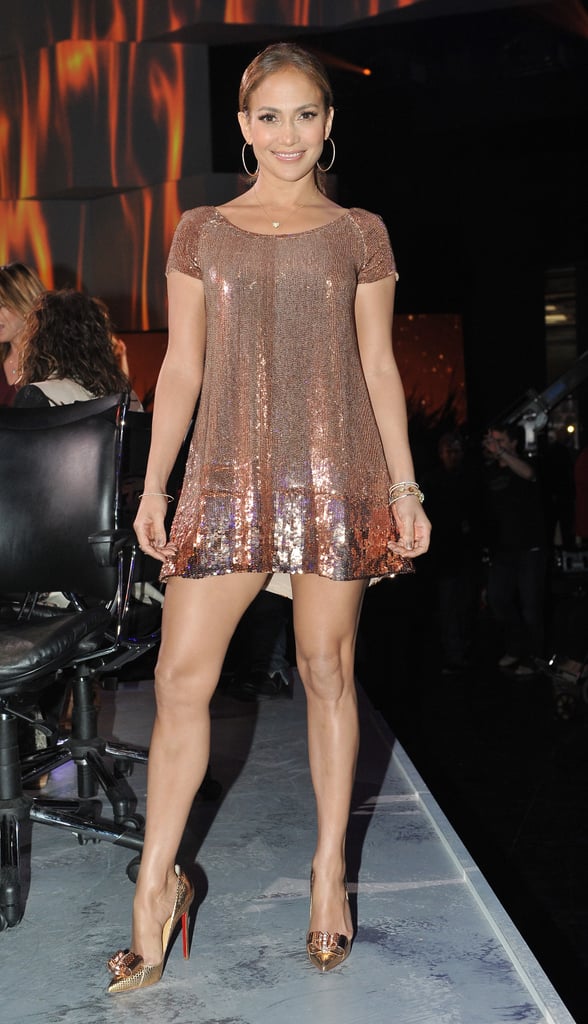 Jennifer Lopez [5] showed off her stems in a sequined Randi Rahm mini and coordinating golden Louboutins.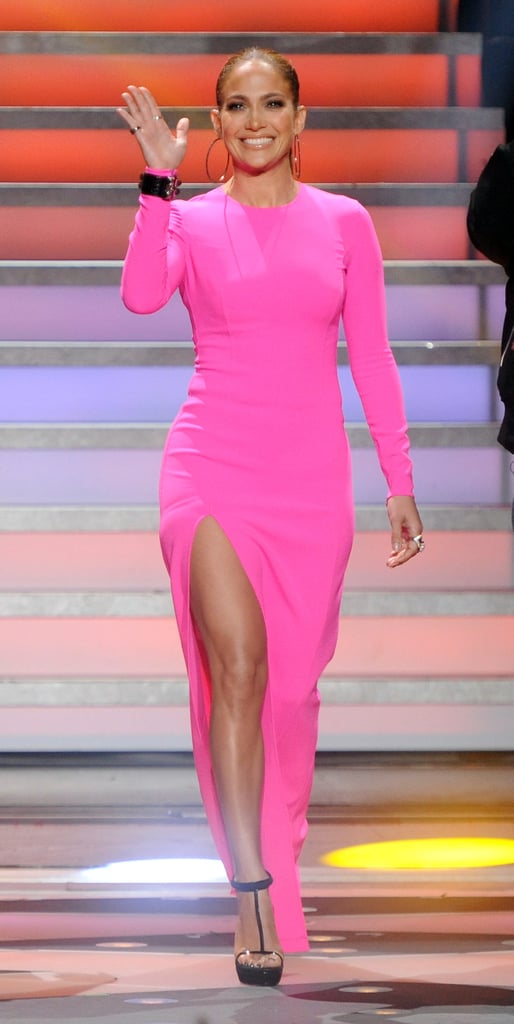 A glowing Jennifer Lopez [6] hit the Idol stage in a hot pink Michael Kors — with a thigh-high slit.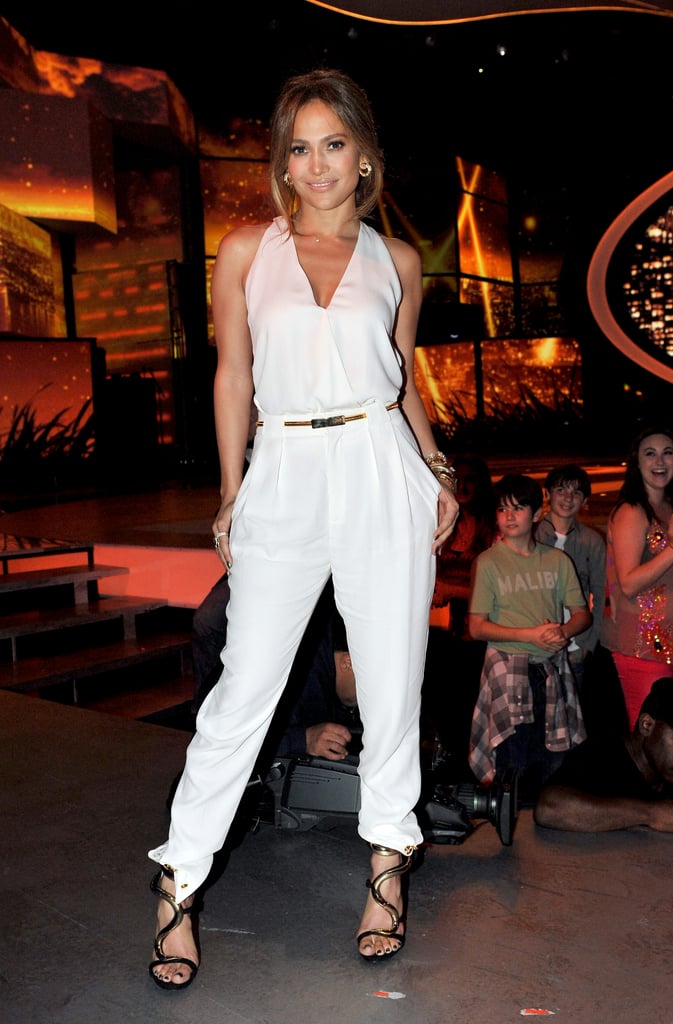 J. Lo showed off a chic white Gucci jumpsuit while on the American Idol set.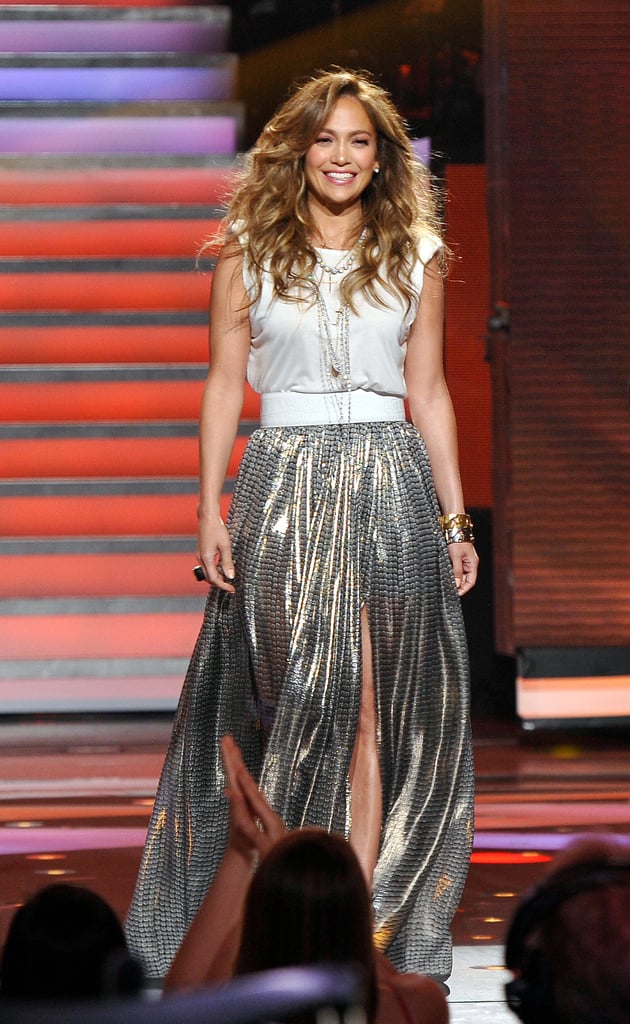 Jennifer took to the Idol stage in a Lanvin lamé maxi and coordinating top.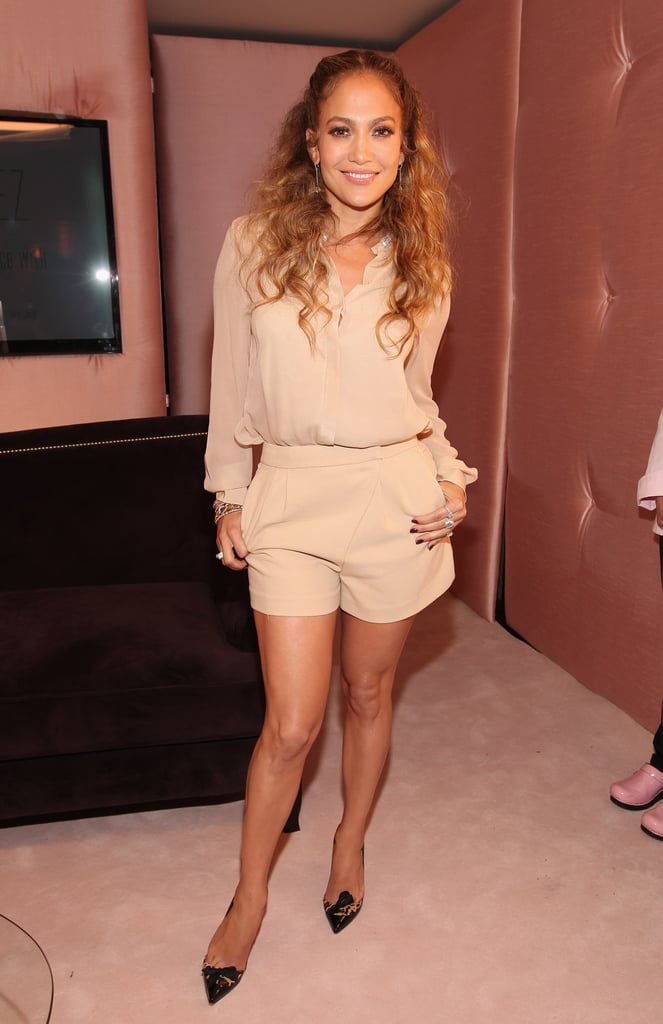 Even dressed down, Jennifer Lopez [7] brought her sultry side in a pair of short shorts.
The performer opted for an elegant Maria Lucia Hohan gown at the What to Expect When You're Expecting Premiere.
Miss Lopez donned a gilded Zuhair Murad minidress for the launch of her single "Goin' In" in Las Vegas in May 2012.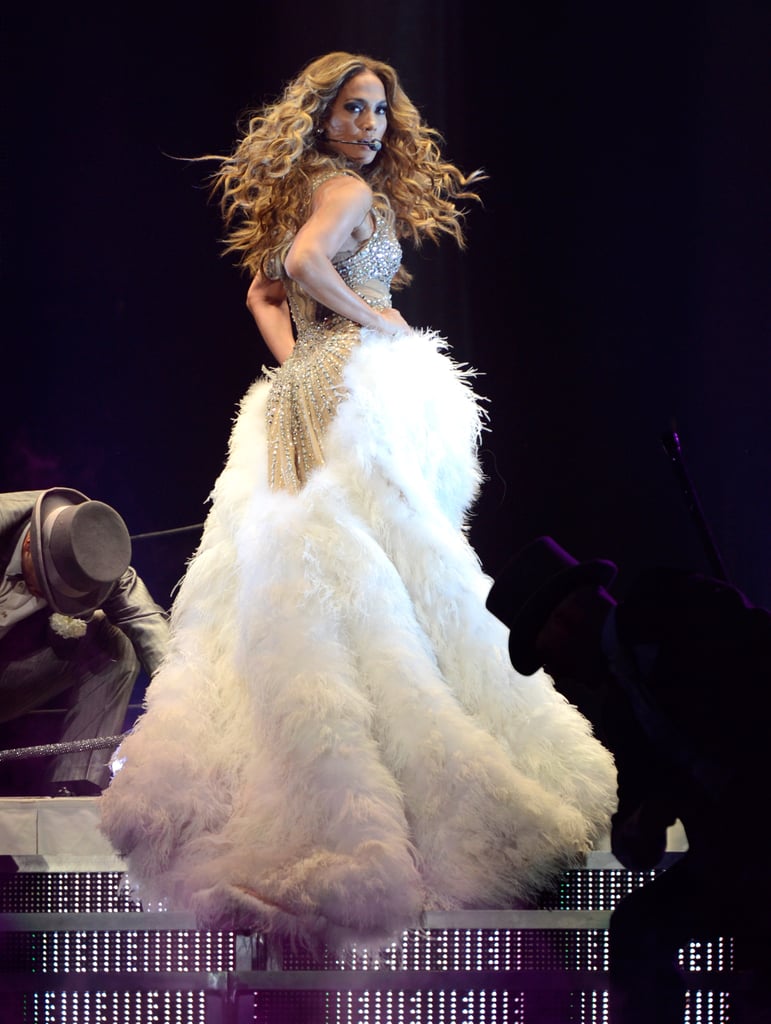 On stage for her latest world tour, Jennifer opted for an all-out glam confection with maximum statement power.
Even her LBD is sexier than most — Miss Lopez made a showstopping arrival in this little black mini at an event in Vegas in April 2013.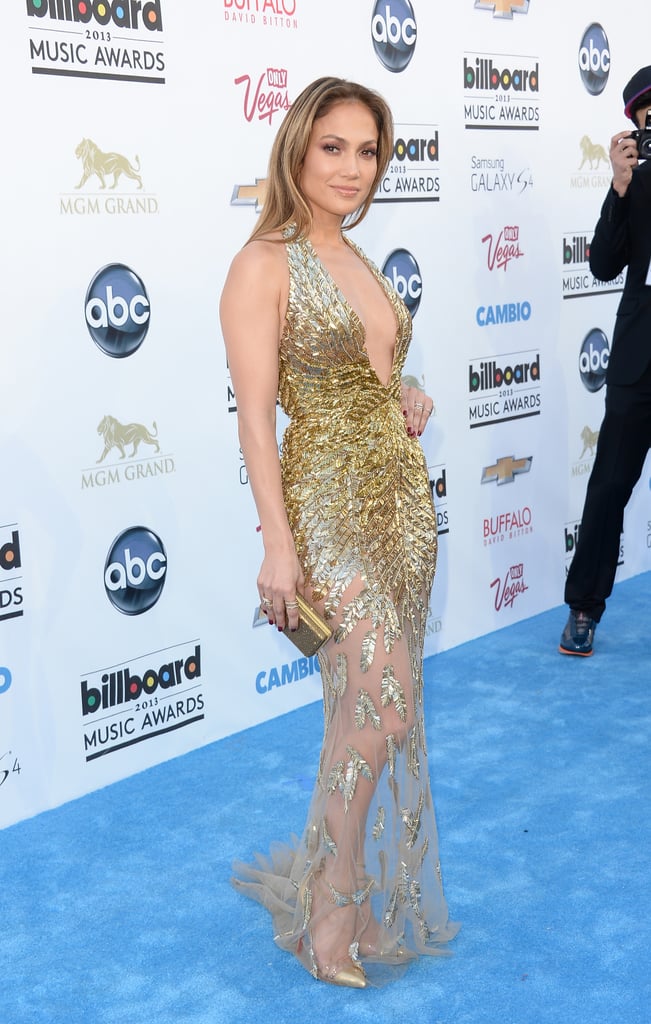 At the 2013 Billboard Music Awards, Jennifer shimmered in a gilded Zuhair Murad Couture confection.
Jennifer stunned in a body-conscious Tom Ford gown at the amfAR Inspiration Gala in June 2013.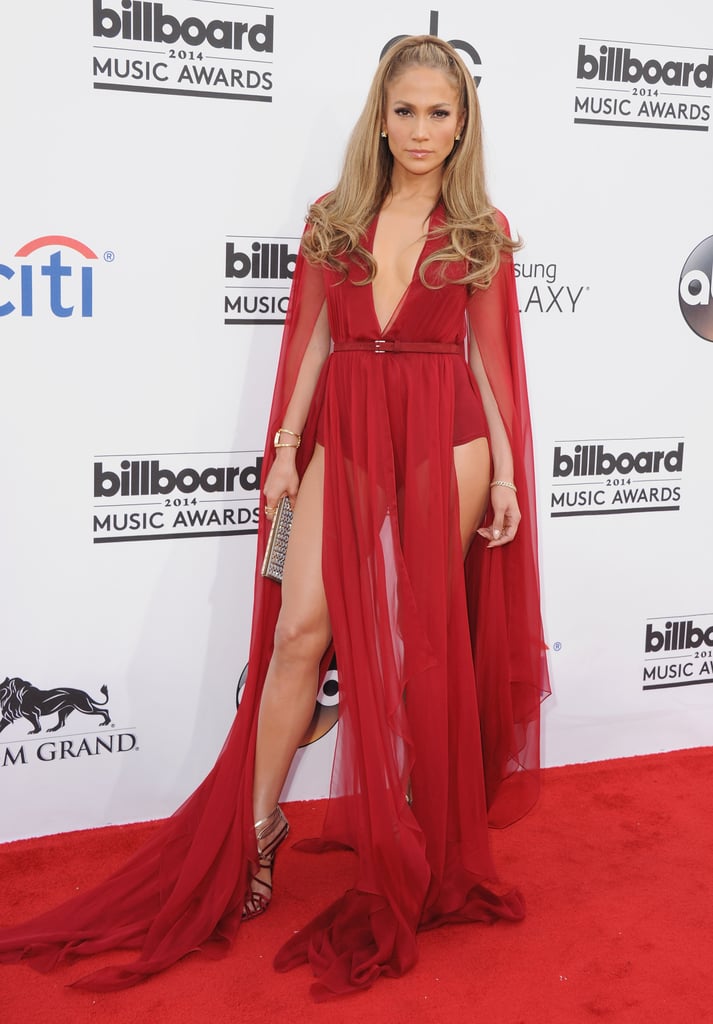 At the 2014 Billboard Music Awards, Lopez turned up the heat in a skin-hugging bodysuit and sheer-paneled Donna Karan creation.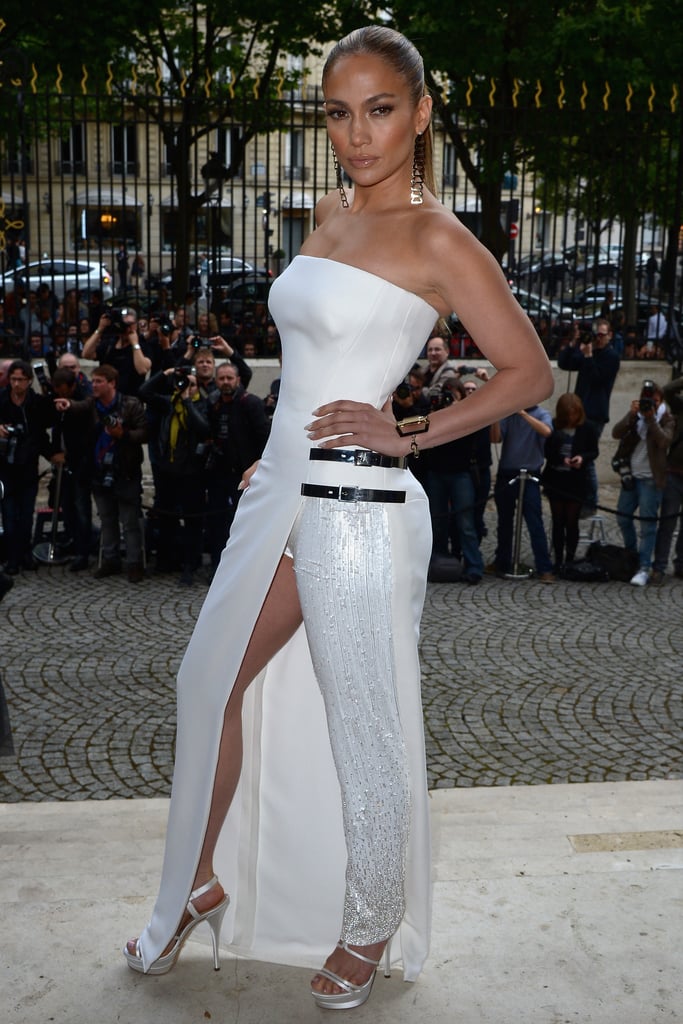 During Paris Haute Couture Fashion Week 2014, Jennifer struck a pose in a dress/pants Versace hybrid.
The star showed off her stems in Versus Versace at the MTV Movie Awards in April 2015.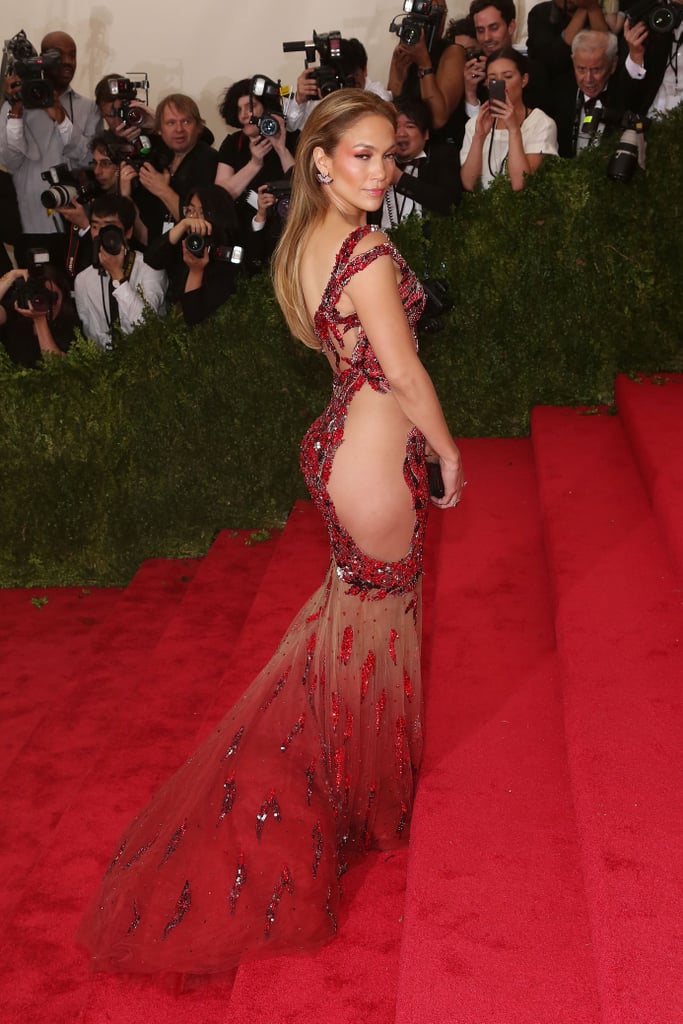 On the Met Gala red carpet in 2015, Jennifer gave us quite an eye-full in a fiery, embellished Versace gown we quickly dubbed "the naked dress [8]."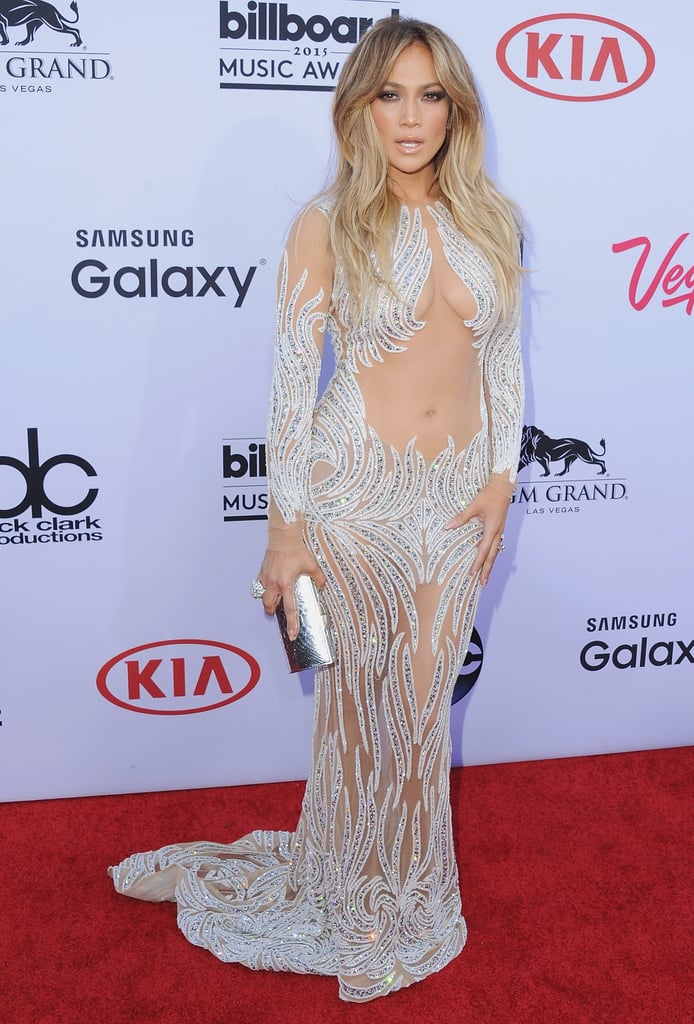 On the 2015 Billboard Music Awards red carpet, Jennifer revealed her bellybutton in a sheer Charbel Zoe Couture gown.