Kate Beckinsale [1] is gorgeous, sure, and she makes a red carpet gown look good [2], but when you really think about it, it's her consistently laid-back, comfortable off-duty style that really makes the biggest impression on us. But once a bombshell, always a bombshell: she gives baggy boyfriend jeans [3] and sweatpants the same sultry vibe that a body-con cocktail dress would elicit.
In honor of Kate's 42nd birthday — we're currently trying to locate her personal fountain of youth, because she has to have one, right? — cruise through to gather day-to-day dressing inspiration from the street style ace.
— Additional reporting by Marina Liao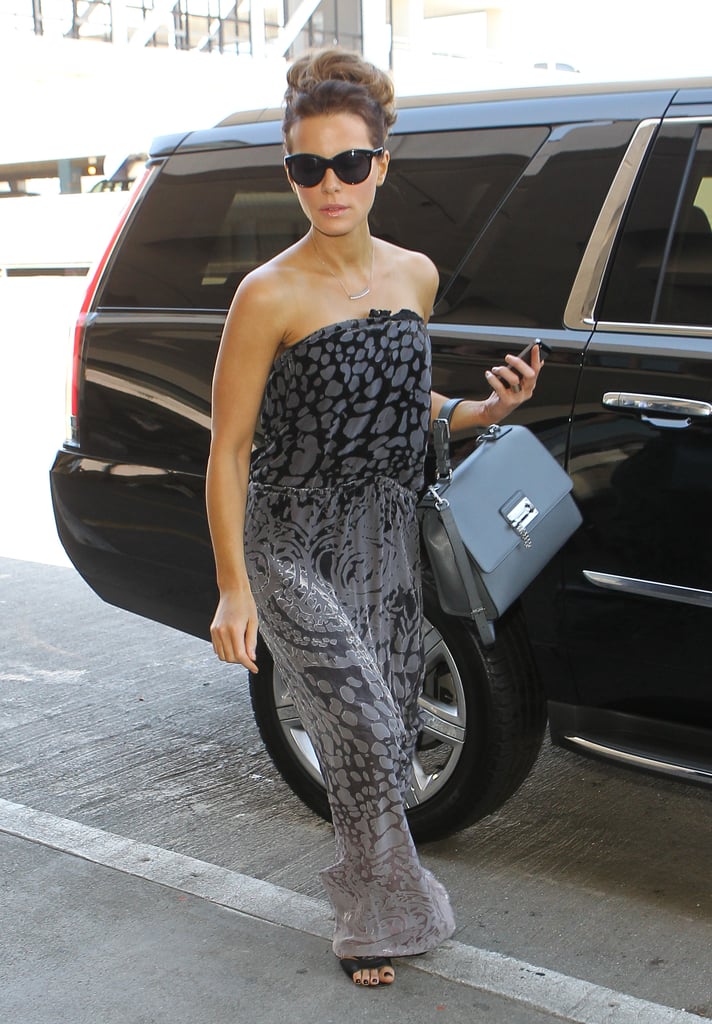 To escape the Summer heat, Kate threw on a breezy maxi.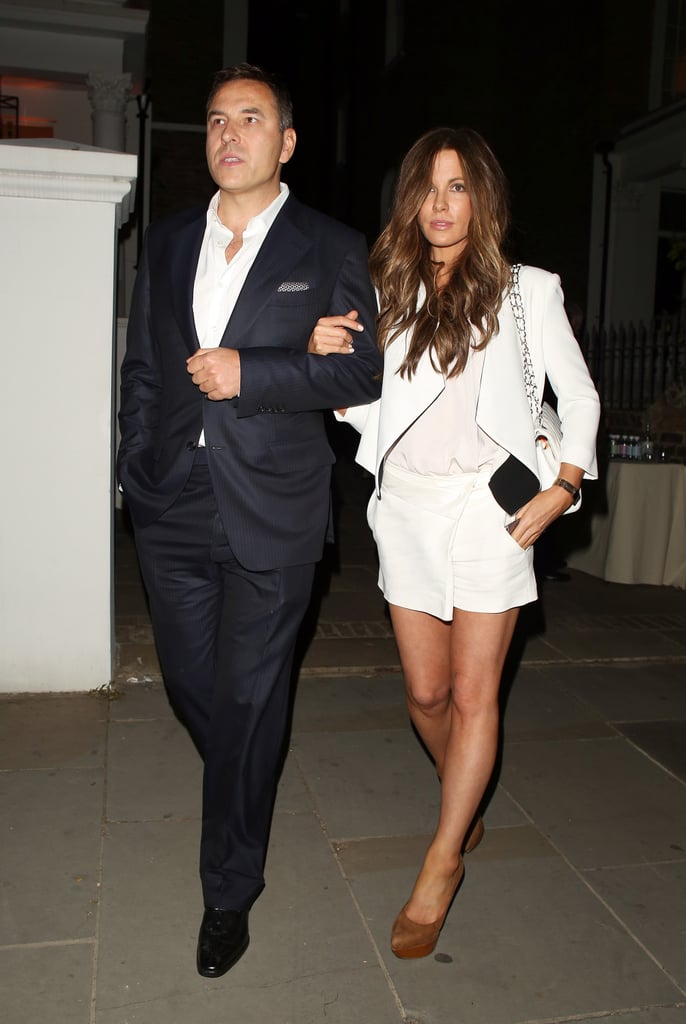 A crisp, all-white outfit is always a smart choice.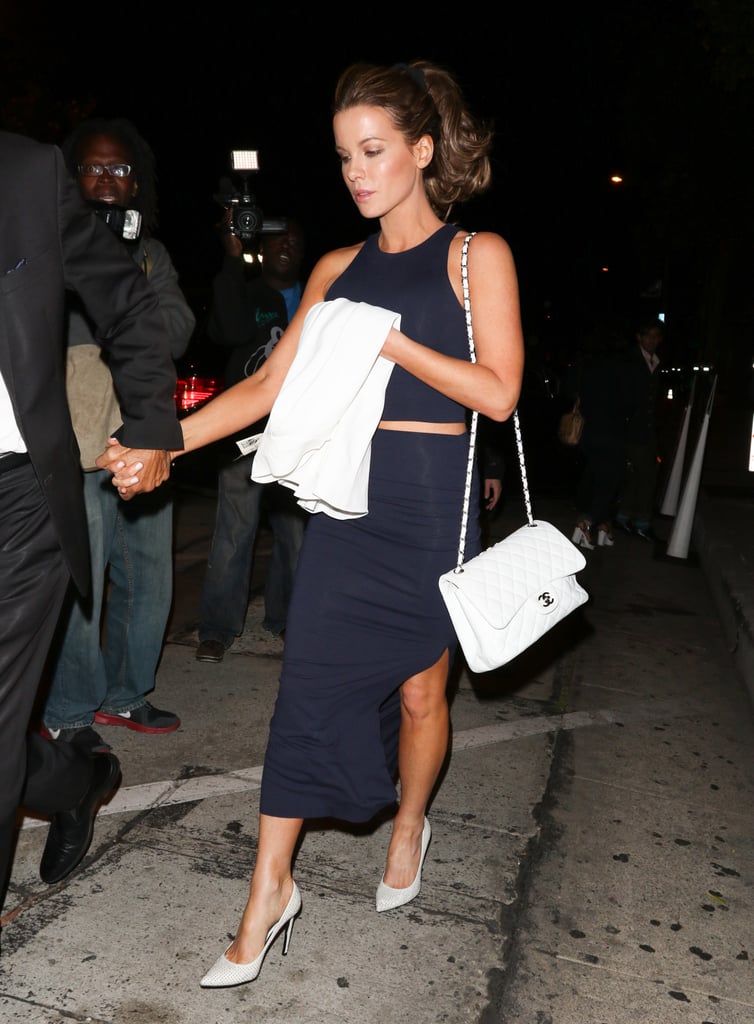 For the perfect date-night look, Kate wore a matching two-piece set that looked classy and polished.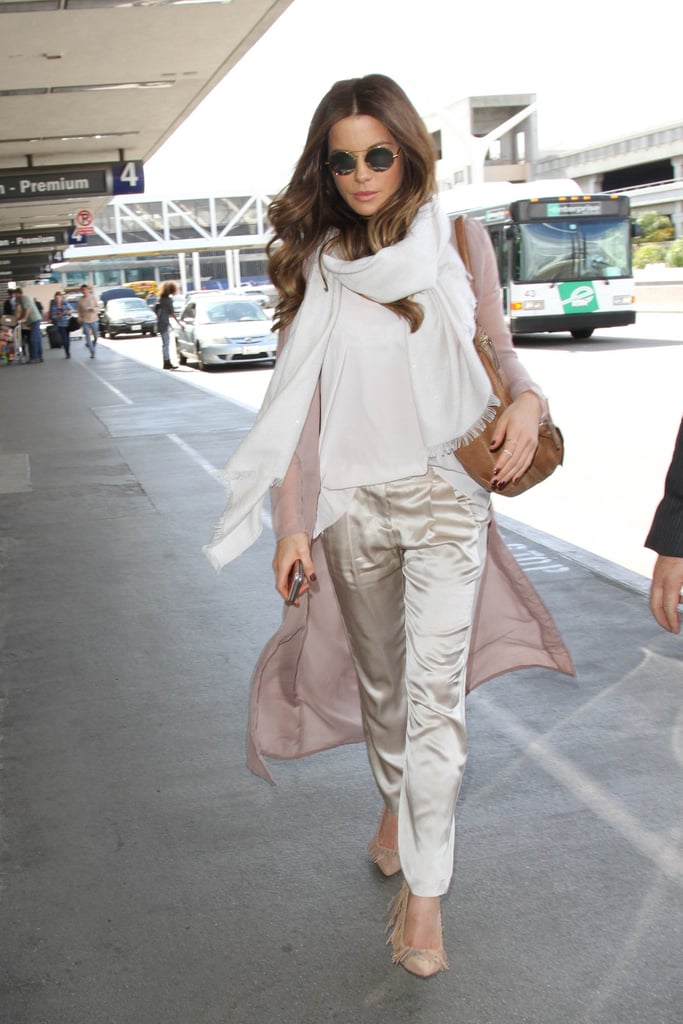 Kate is a big fan of scarves and she even made it work for this silky ensemble.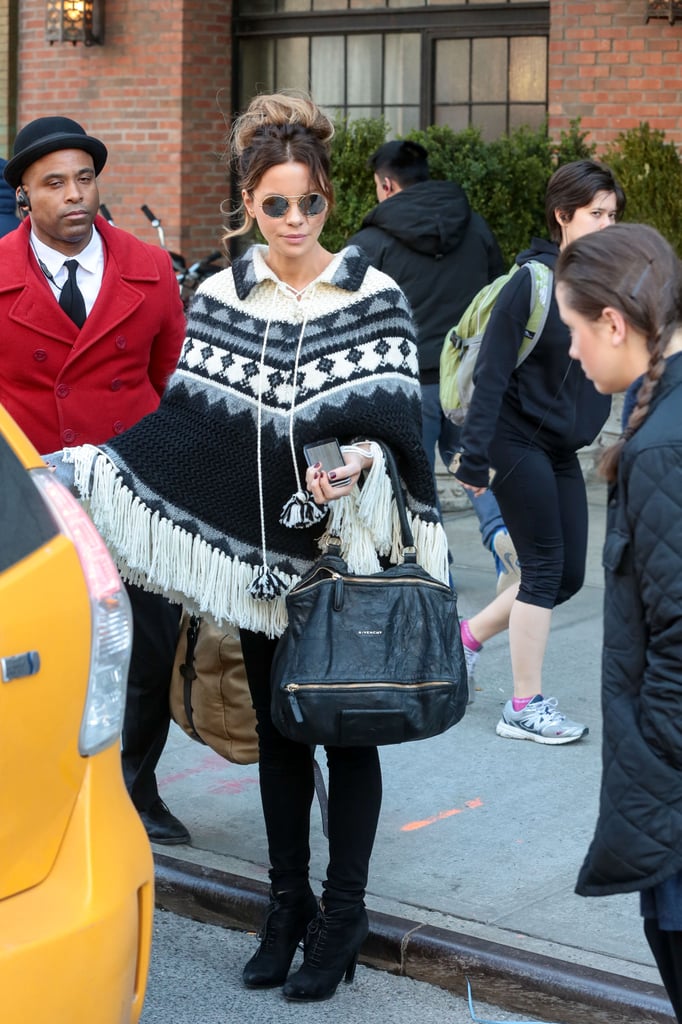 She kept warm in a printed poncho and accessorized with the Givenchy Pandora bag.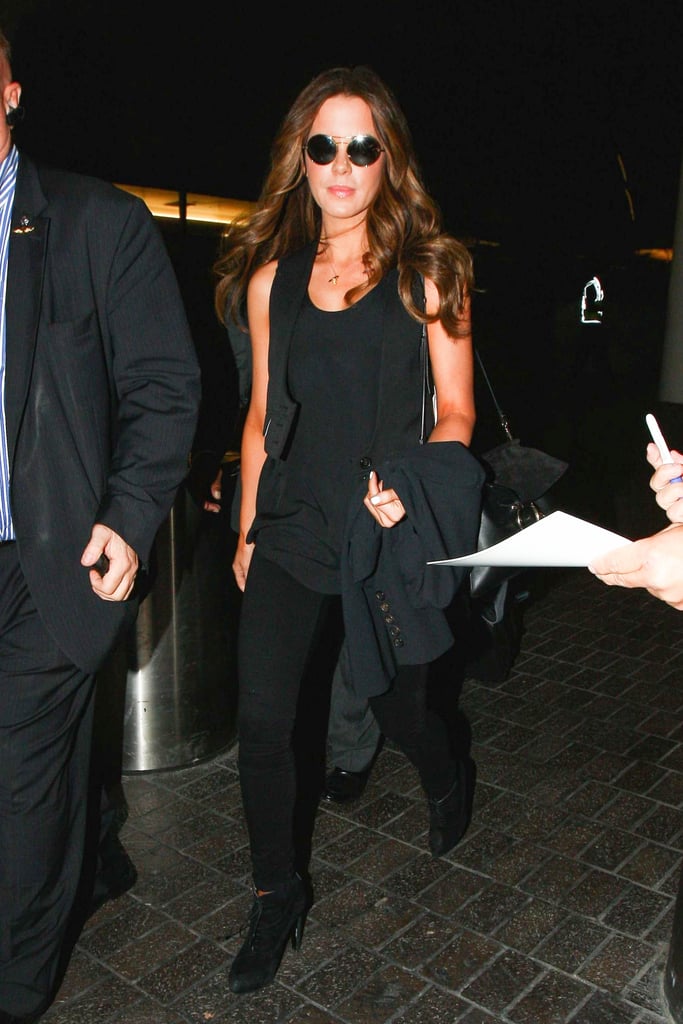 When in doubt, wear all black like Kate does.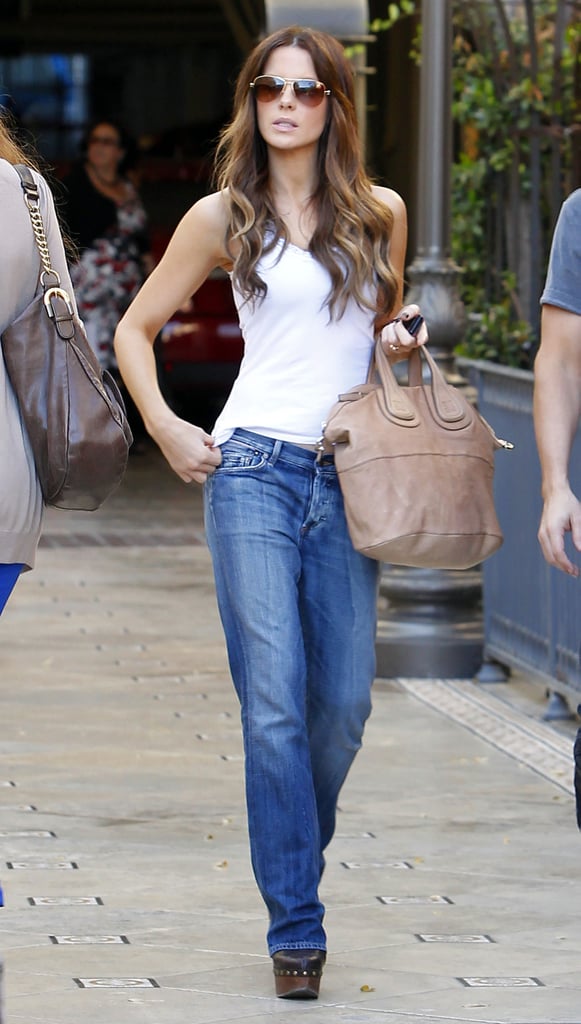 She makes easy work of the sort of outfit red-blooded males are always claiming to prefer: easy jeans and a plain white top. She's not scared of the boyfriend jean [4], either, wearing an oversize pair that nearly swallowed her frame (and still looked amazing!).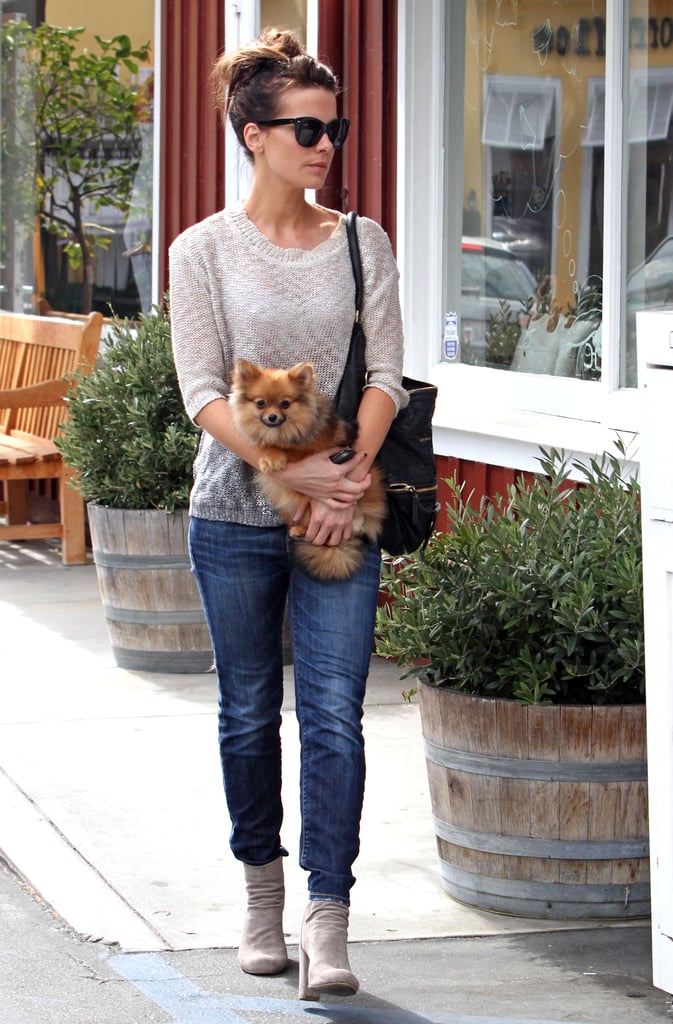 Jeans and ankle boots are staples of her weekend style. A thin sweater up top avoided extra bulk, and the pup was just plain cute.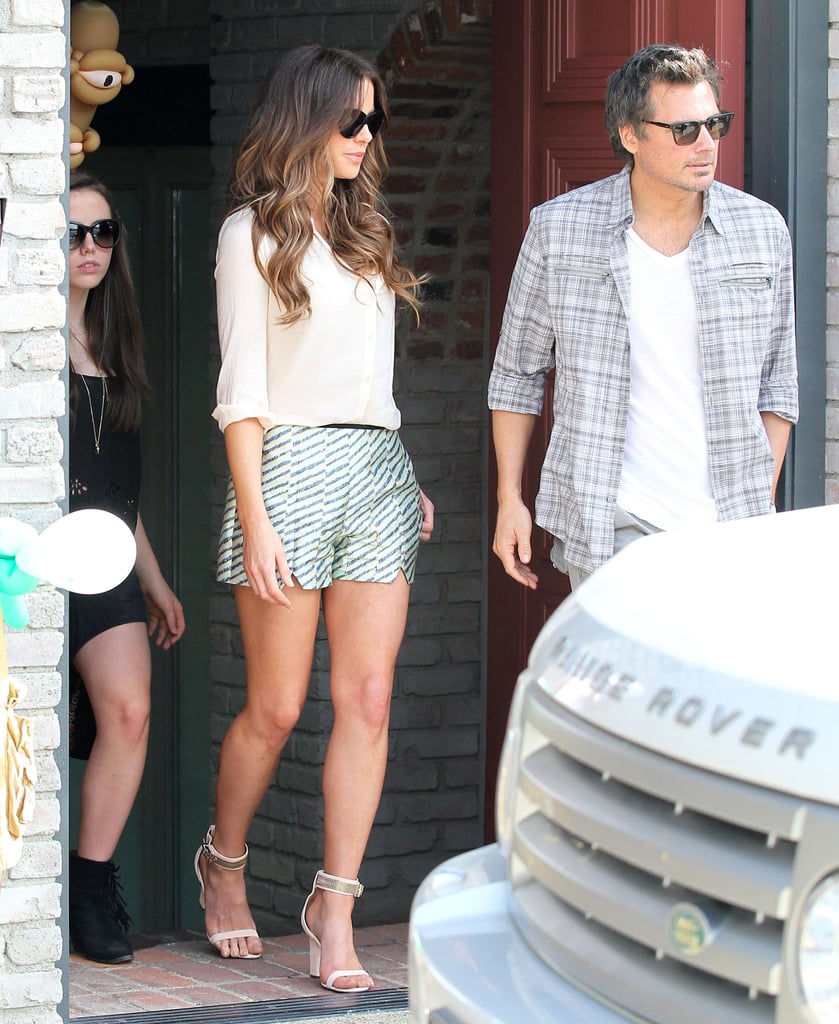 For a slightly dressier affair, Kate switched out jeans for tailored shorts and a tucked-in top. The summery look was finished off perfectly with ankle-strap heels.
And while she can rock loose denim with the best of them, it's her girlie style that often is so winning. For a Winter look, she skipped a big puffer coat or classic camel in favor of bubblegum pink.
Beckinsale was the picture of Memorial Day perfection donning a white romper and metallic pumps on her way to Joel Silver's annual Malibu bash in 2014.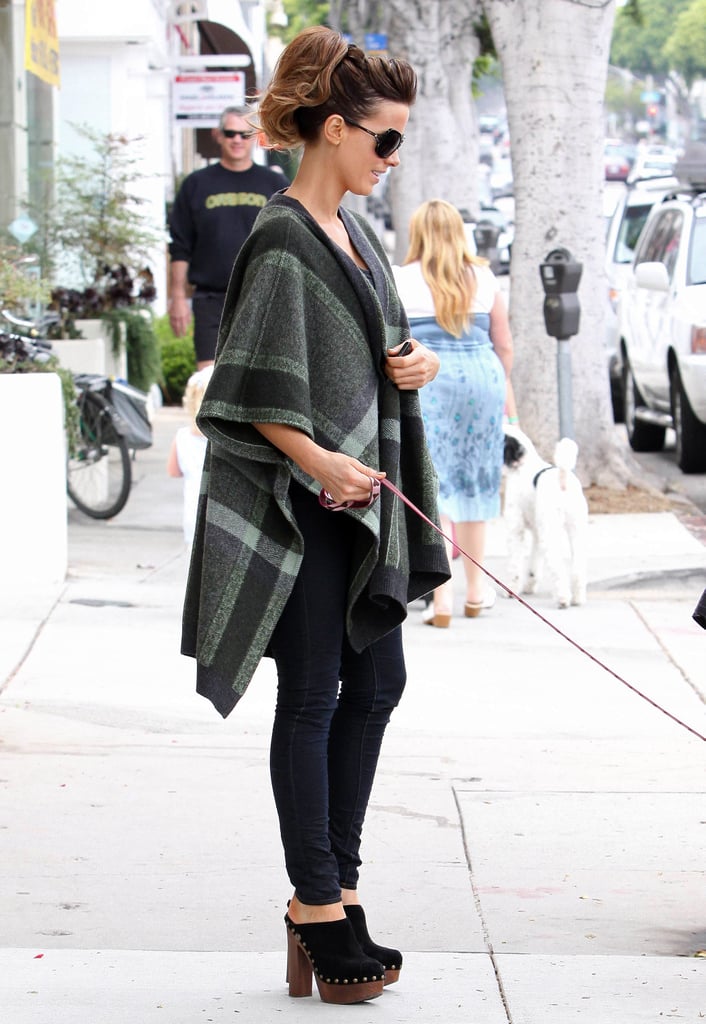 Needed even more proof that Kate can make anything look sexy? She was out in a wool poncho and clogs and still managed to look stunning.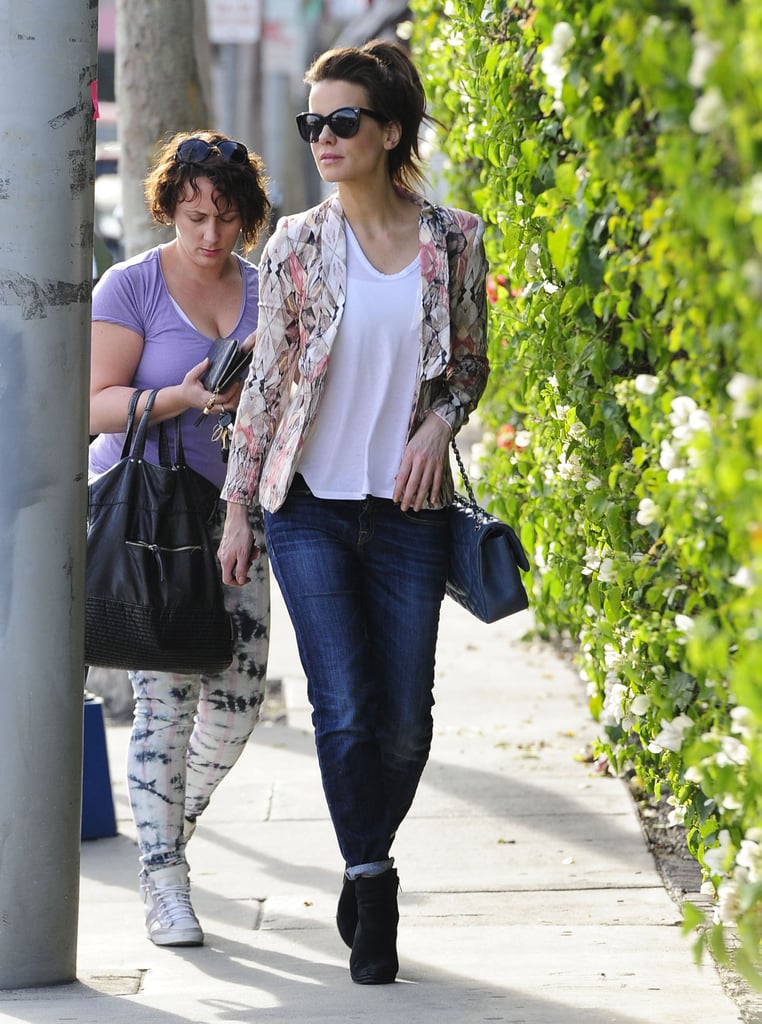 A dose of print never hurts, and Kate knows to pick hers in unexpected places. A mini or blouse might be more common, but this style star opted for an open-front blazer.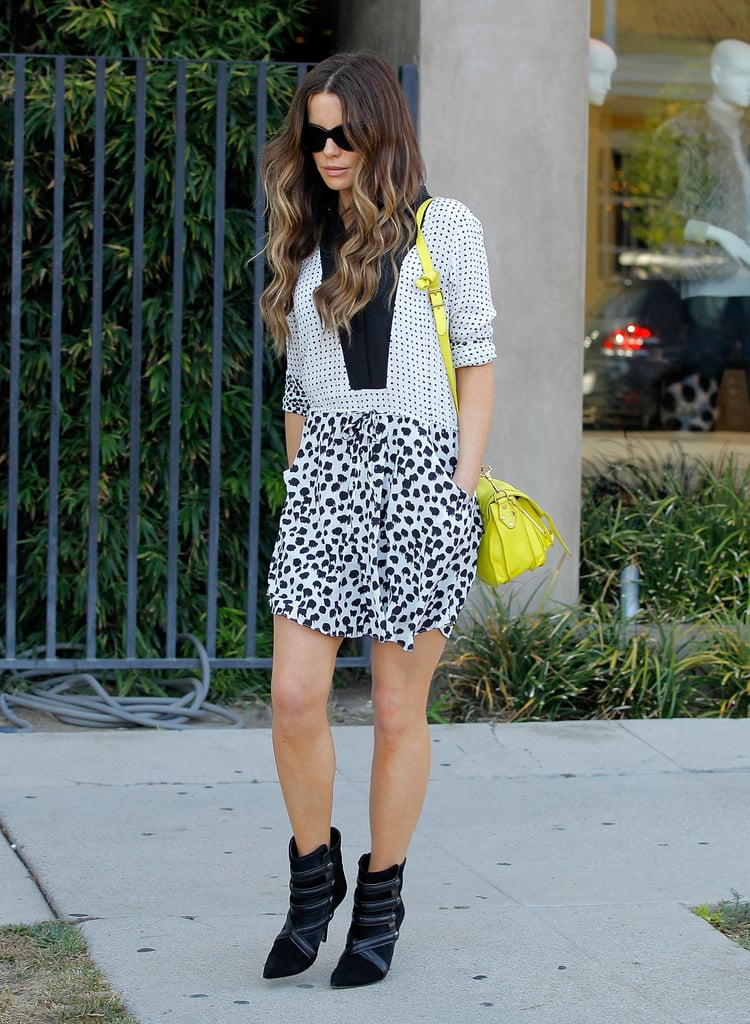 The colorblocking and print of this number were intriguing, but it's her accessories that really stole the show! She was a girl after most girls' hearts, rocking black Isabel Marant boots and a bold statement bag.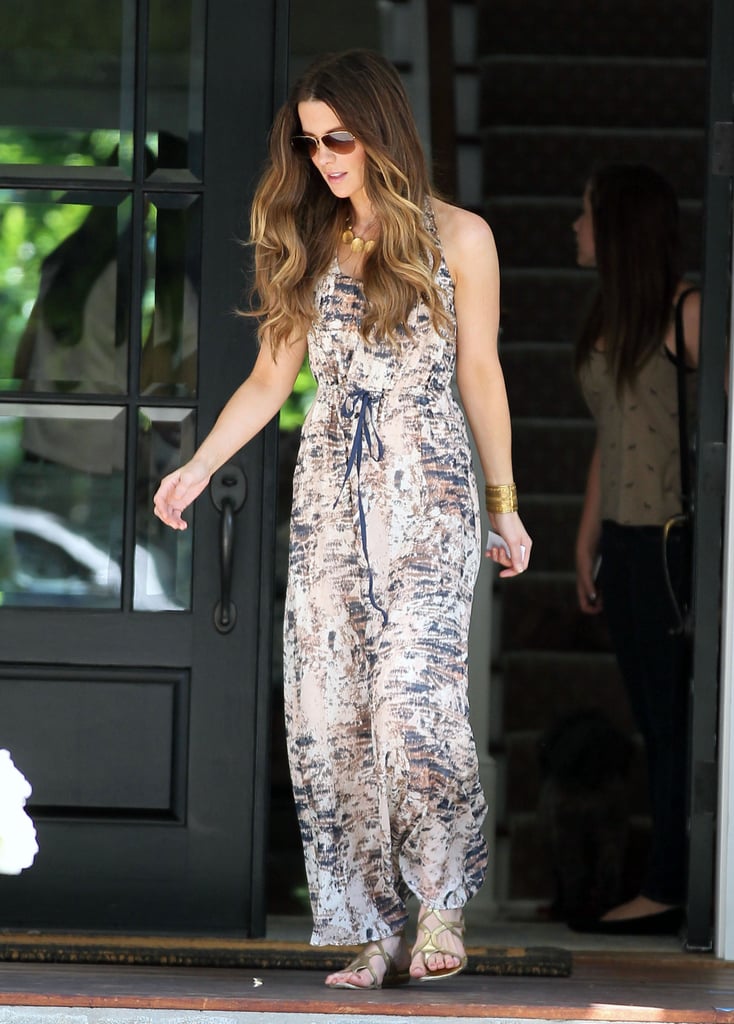 For an easy cover-up look, she skipped sporty shorts or a tee in favor of a glam dress that'd easily make the transition to cocktails on the beach.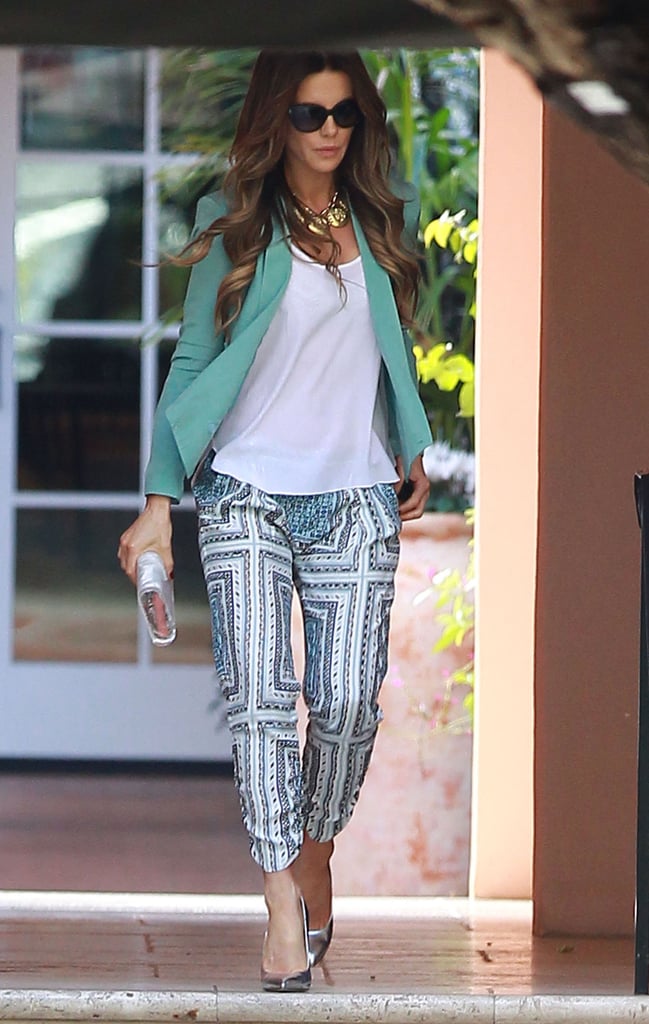 While Kate's not always in color, she never shies away from it, either. Printed pants were bright on their own, but the boldest touch came from the complementary green blazer she added.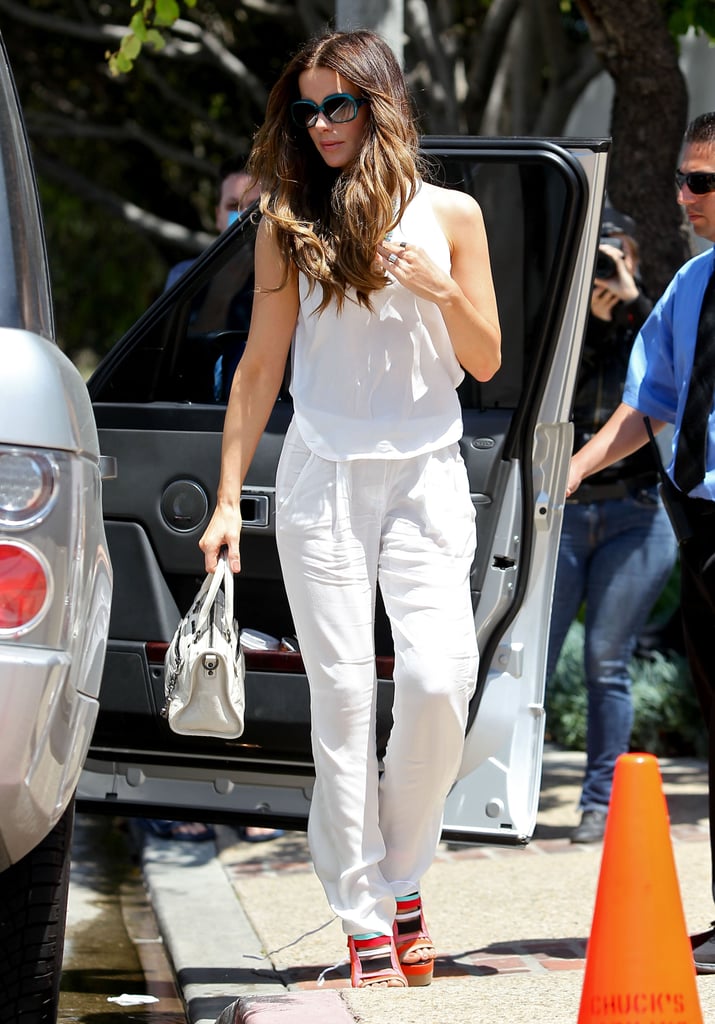 When in doubt, reach for all white. Looking through some of her best outfits, it's clear that Kate favors this monochromatic look and tends to reach for flowy basics that'd be comfortable on.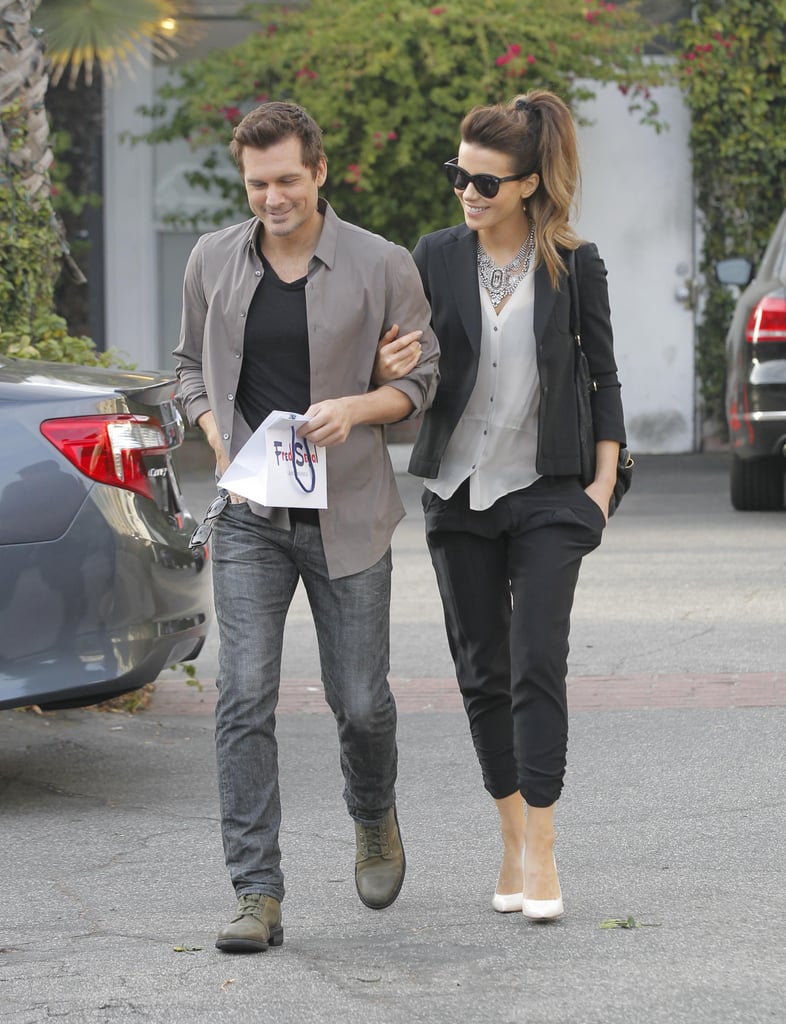 There's a sexy vibe to this silky suiting look she pulled off in Los Angeles (alongside then husband Len Wiseman [5]). The cropped length showed off her white heels, while the lightweight top was easy to layer.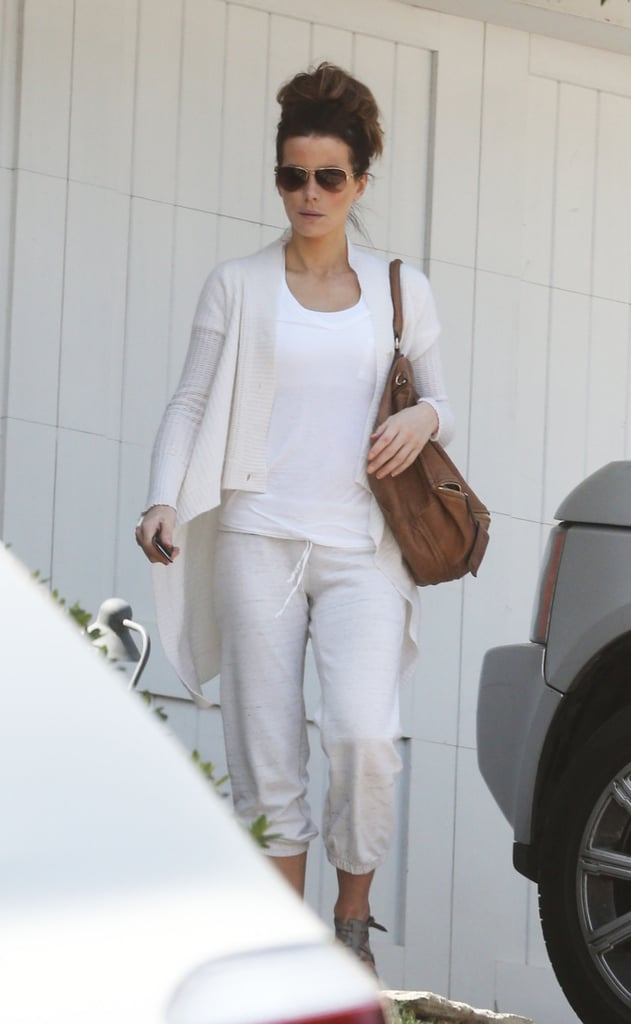 And her most dressed-down white look? This combo of t-shirt, sweatpants, and open-front cardigan. The only color breaking things up was the warm brown of her bag.
You loved this look when we first re-created it [6], and we think it's sure to be a favorite for seasons to come. The Joie sweatpants could work at the gym, but she made them sexpot-appropriate with heels and a sheer tank worn over a lacy underpinning.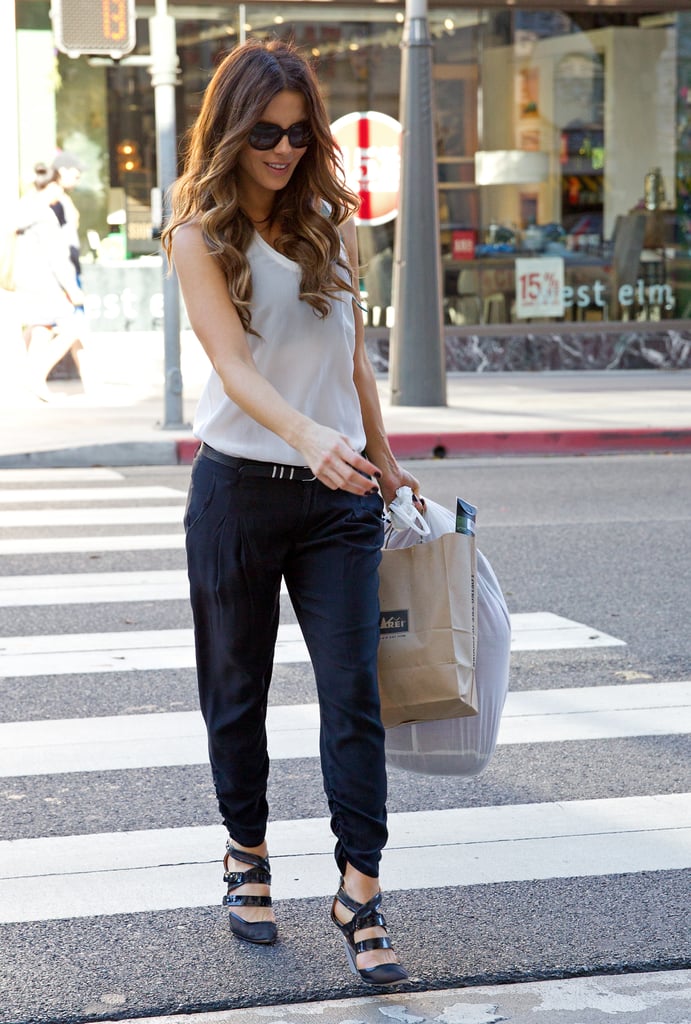 Throw a blazer over this getup, and Kate could be headed to the office! Belted navy pants showed off strappy heels, and a simple white tank finished it off without stealing any attention.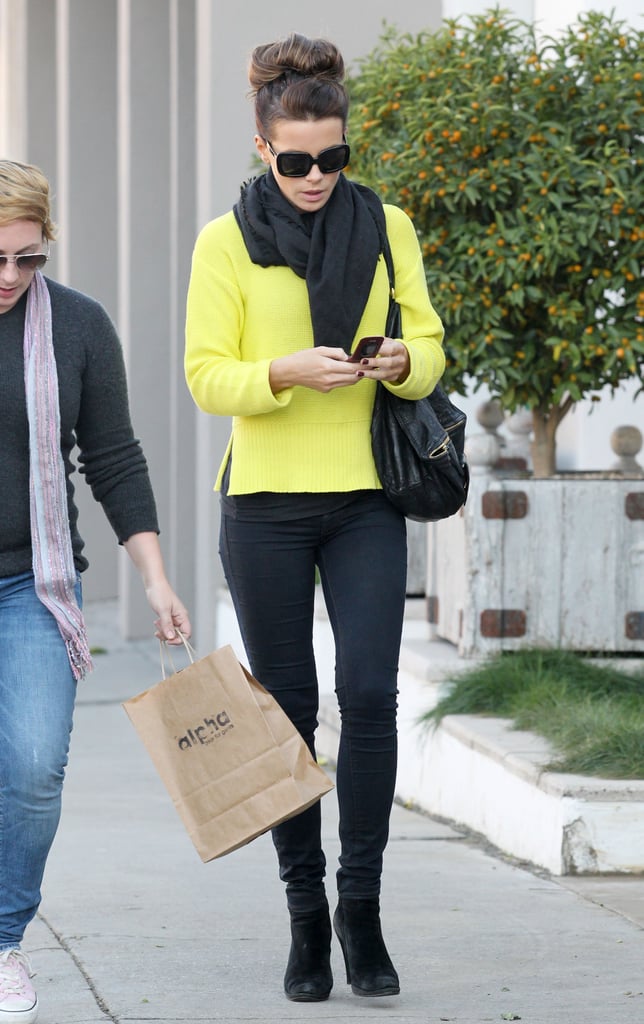 The bright hue of her knit made the stark black of everything else really stand out. It looks chic but is amazingly easy to re-create. All you need are favorite pairs of jeans and boots, and you're done.