When browsing for cute quick gifts for the favorite bride-to-be in your life (or yourself!), it becomes clear pretty quickly that Kate Spade might've just cornered the market. The brand can always be counted on to have the perfect little something for a friend that just got engaged or is prepping for her big day. You'll have to go elsewhere to find your something borrowed or old, but new and blue? Scroll on!
Kate Spade Blue Izzie Bow Ankle-Strap Heels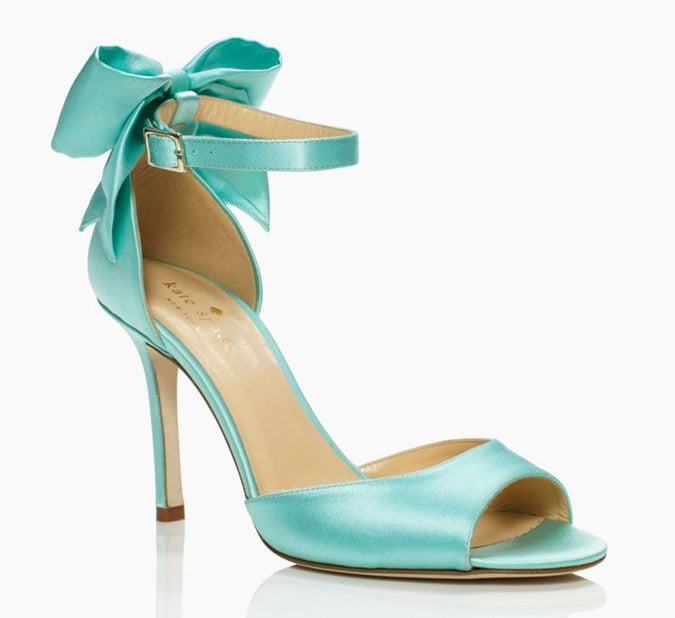 Still searching for the perfect shoes for your or your maids? These Tiffany blue heels [1] ($358) would add the perfect pop of color to any big day.
Kate Spade Gold Bride Idiom Bracelet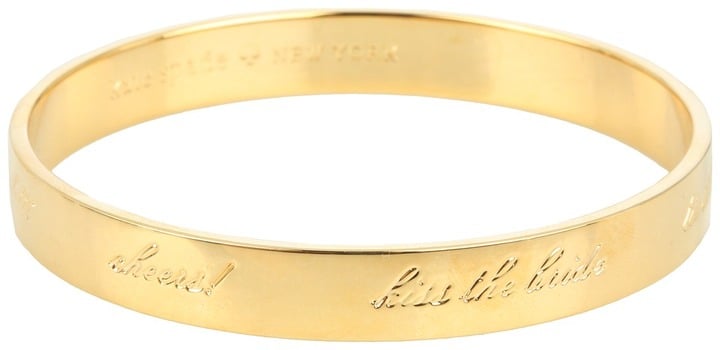 For those who prefer their jewelry subtle, this script-printed bangle [2] ($58) is covered in sweet wishes.
Kate Spade Mrs. Clear Plastic Airline Cosmetic Bag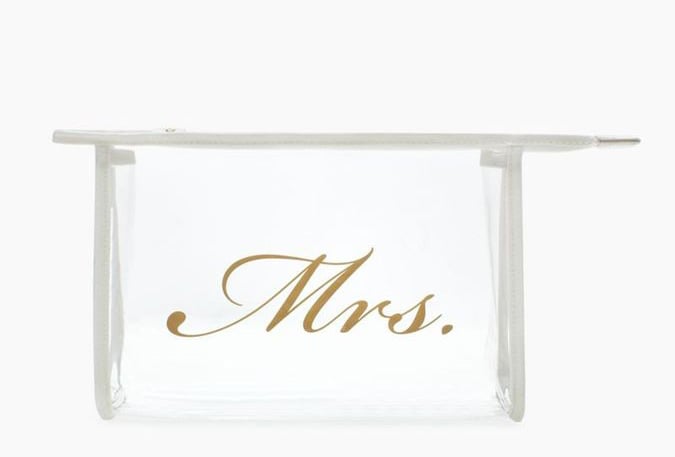 And the perfect honeymoon accessory? A clear cosmetic bag [3] ($60) that's begging to be sent through airport security.
Kate Spade "Something Blue" Idiom Necklace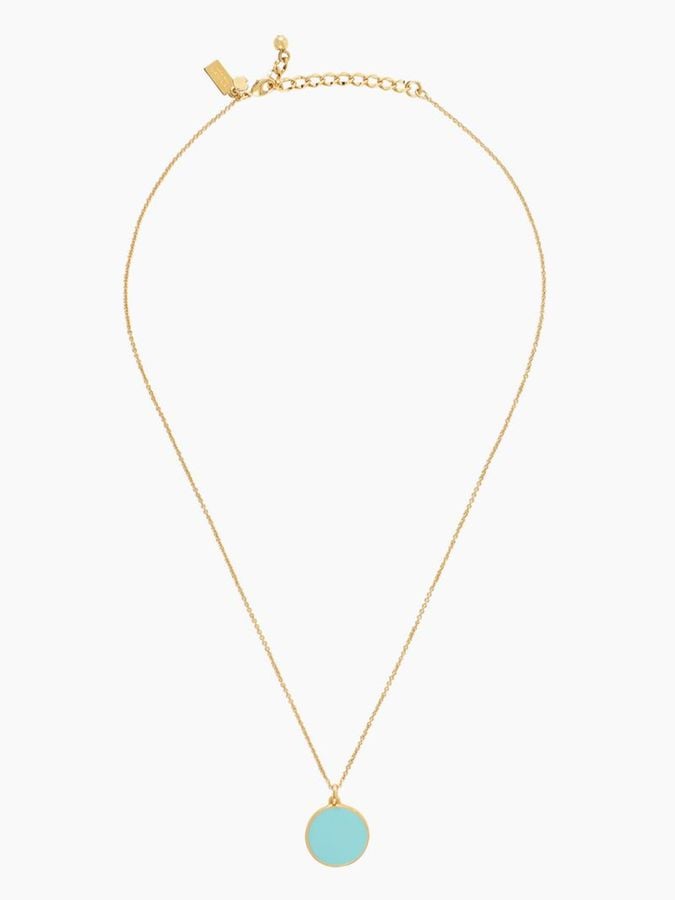 For just a spot of something blue, consider sporting this pendant necklace [4] ($58) for your ceremony.
Kate Spade Gold Cake Topper Stud Earrings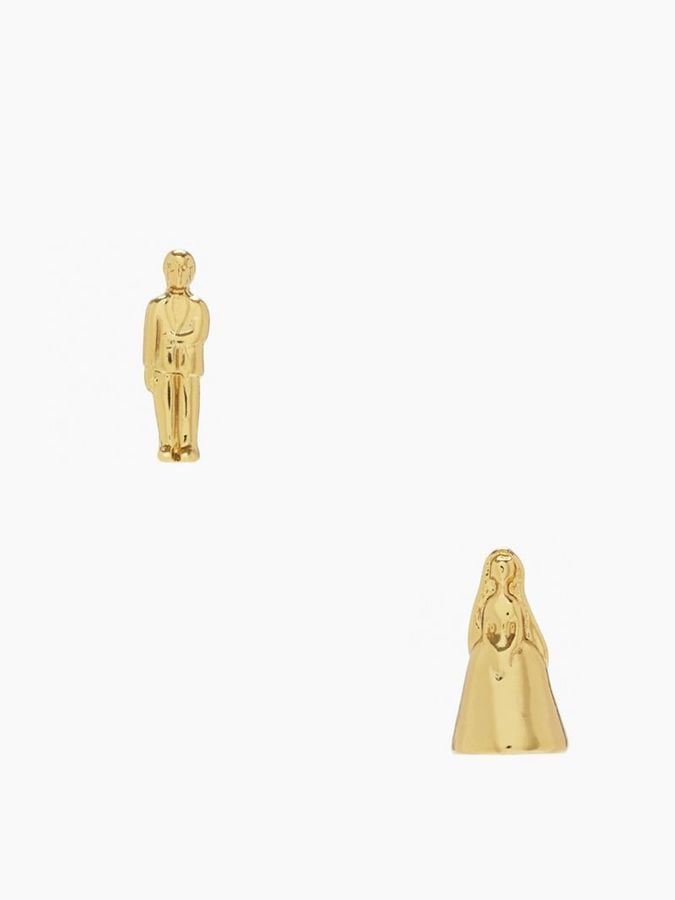 The cheeky bride will appreciate the laugh that comes courtesy of these cake topper earrings [5] ($32).
Kate Spade Wedding Belle Sunglasses, Passport, Pearls Tote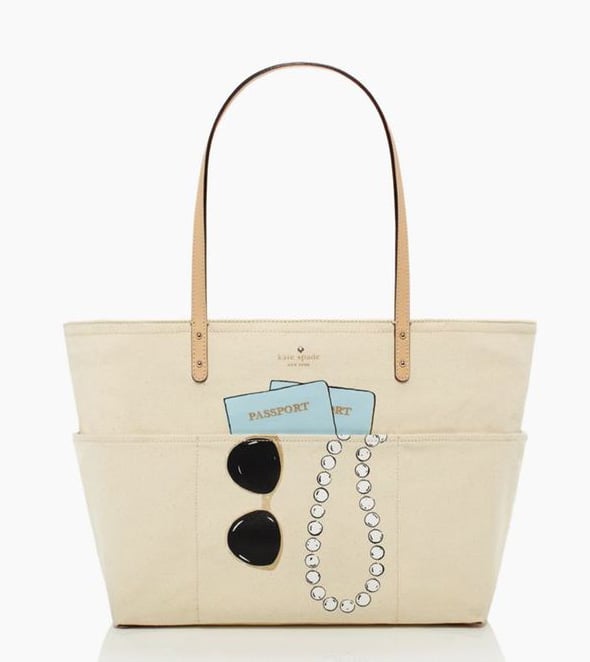 Printed with the chic honeymooner's essentials, this practical tote [6] ($248) will have a spot in your closet even after your newlywed days are over.
Kate Spade White Happily Ever After Tights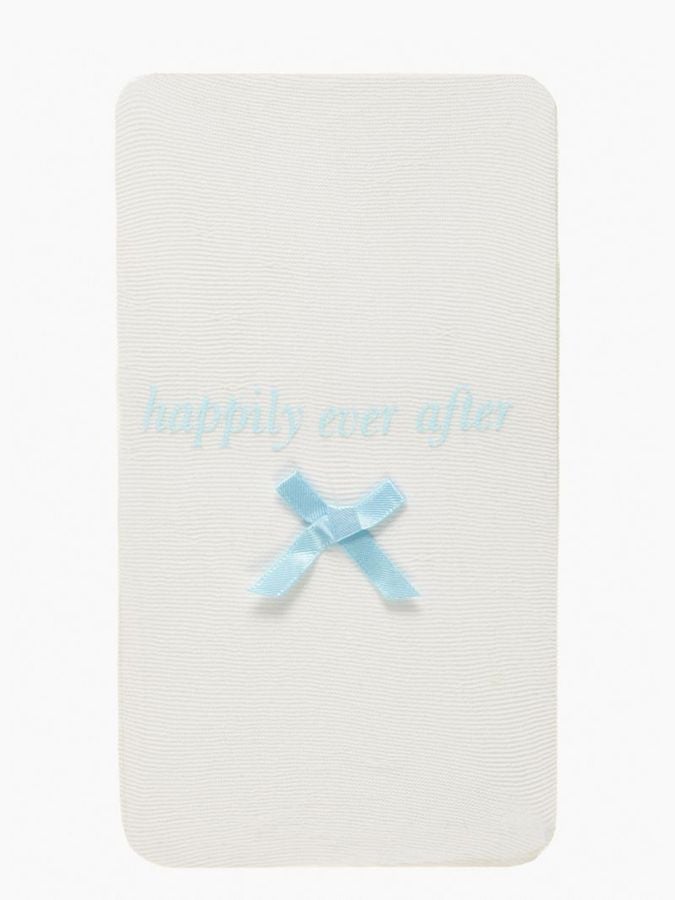 Instead of a garter, consider encasing your stems in sheer white tights [7] ($36) that have a sweet blue bow and warm wish.
Kate Spade Gold "I Do" Necklace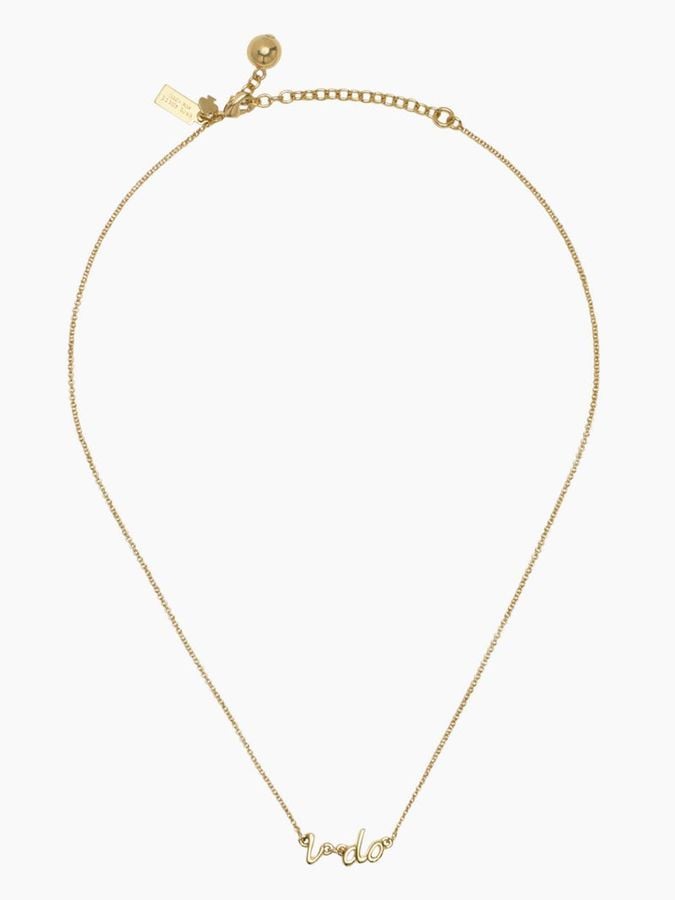 Say it and wear it — this necklace [8] ($78) reiterates the most important message of the day.
Kate Spade Mr. and Mrs. iPhone 5 Case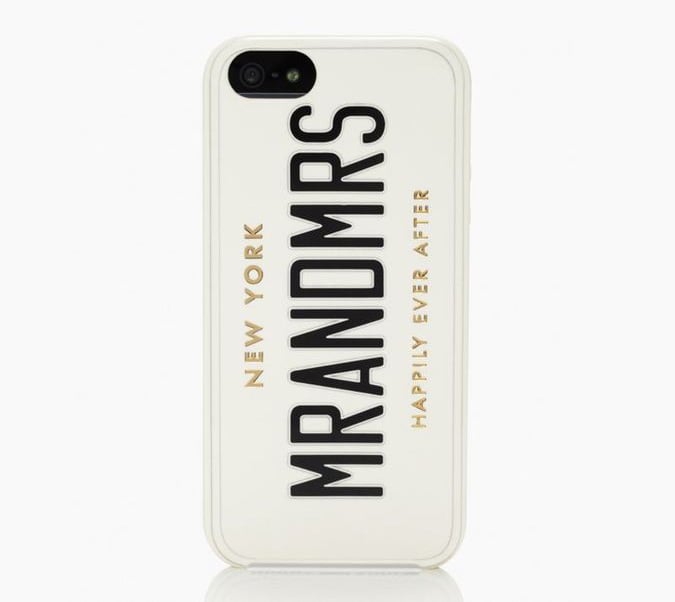 Postwedding, it's all about the status update. After your social networks have been changed, make it official with a new phone case [9] ($40).
Kate Spade Gold Mrs. Bracelet
This delicate bracelet [10] ($48) is one of the easiest ways to embrace your bridal joy without being too over the top about it.
Kate Spade Mrs. Gold Stud Earrings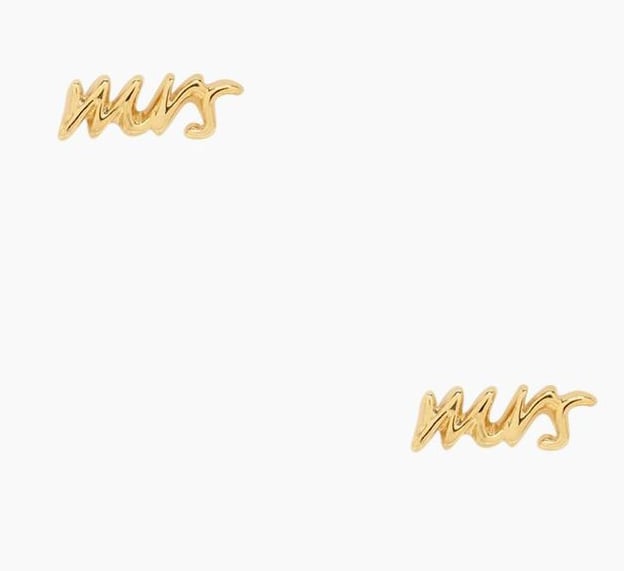 Leave the single life behind you fully with a pair of earrings [11] ($48) made for the married woman.
Kate Spade Mrs. White Watch
The crisp white and gold color combo of this round-face watch [12] ($195) is refreshing, but our favorite touch? The second hand in bridal blue!
Kate Spade Henrietta Bridal Cosmetic Case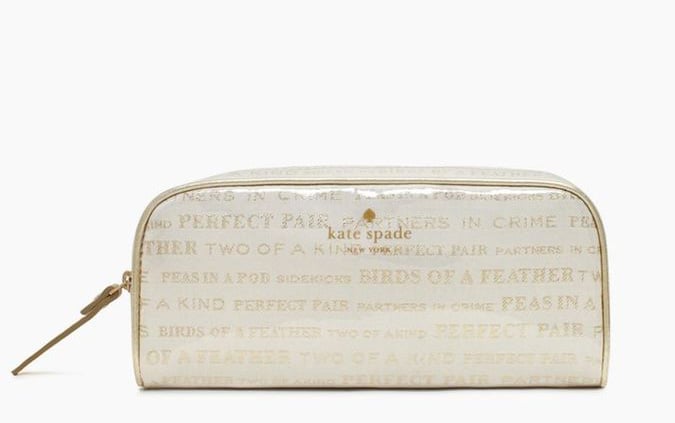 To feel extraspecial when you prep for your wedding [13], consider packing your essentials in a brand new zip-up [14] ($70).
Kate Spade Gold Cake Topper Necklace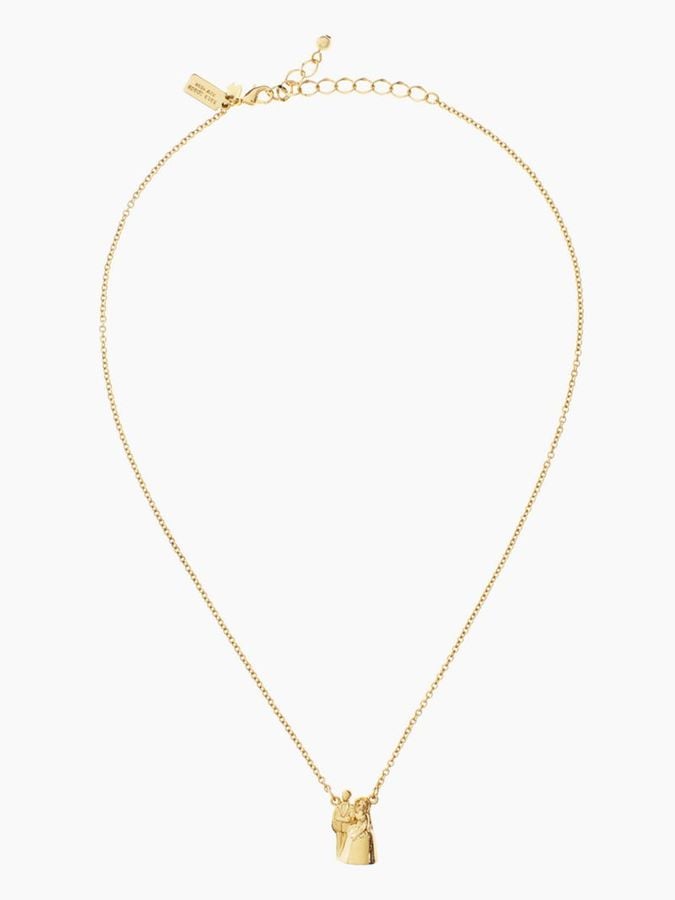 If you like the idea of a special necklace for your walk up the altar, our vote is for this dainty charmer [15] ($78).