After making her fashion month debut at Marc Jacobs for Fall 2014 and then walking the shopping aisles of Chanel, it's safe to say that Kendall Jenner was the unexpected runway star of last season. But, from the confident way she struts her stuff at the Spring 2015 shows — including DVF [1], Marc Jacobs, Fendi, Dolce & Gabbana, Balmain, and Givenchy — it's plain to see her spot on top is going nowhere.
After all, she's proved herself quite the serious statement-maker [2] in the past few months. Plus, she's the model that creates the most buzz [3] the very second she emerges from backstage. The fact is, Kendall has both the look [4] and the tenacity to pull it all off. So we're tracking her road to runway success, because, to put it plainly, no matter what designer she's wearing, girl looks good.
— Additional reporting by Robert Khederian
Chanel Spring 2015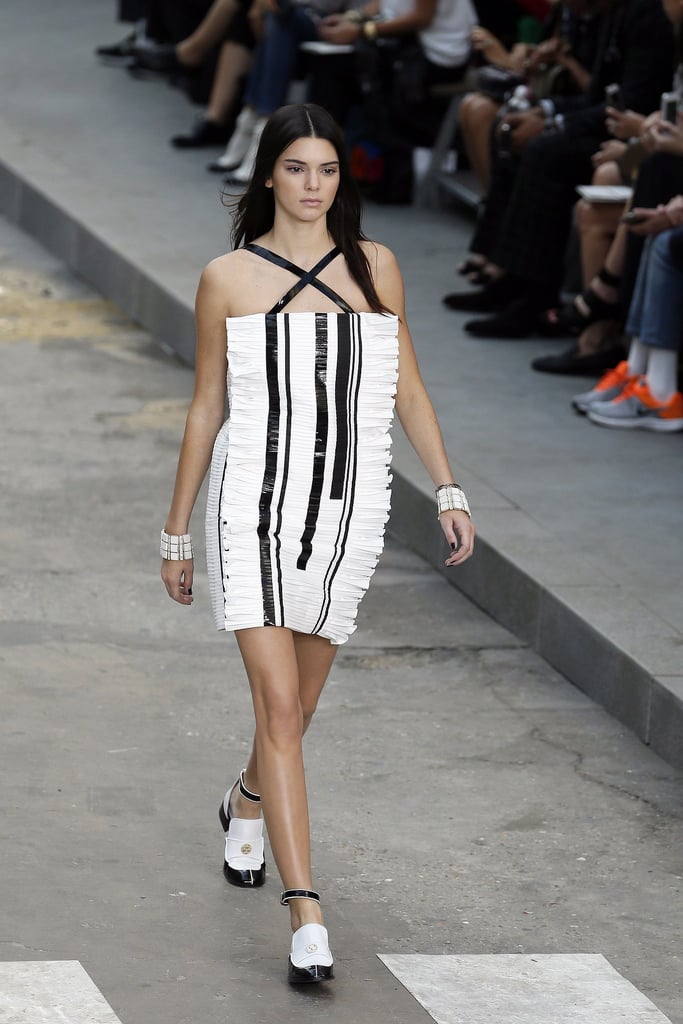 Kendall marched in Chanel's politically-charged runway show in a black and white ruffled minidress with a handmade feel.
Sonia Rykiel Spring 2015
Kendall took the Sonia Rykiel runway in a utilitarian jumpsuit and striped t-shirt, complete with decidedly daintier shoes.
Sonia Rykiel Spring 2015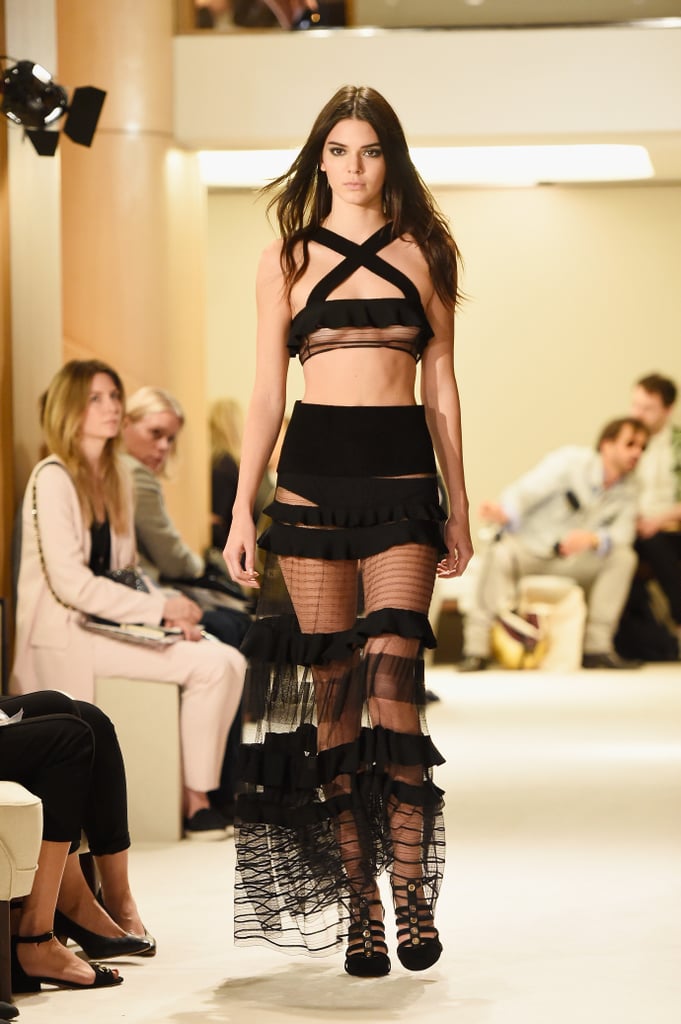 Kendall was totally transformed for her second runway look — a two-piece, barely there set adorned with sheer panels and strips of ruffles.
Givenchy Spring 2015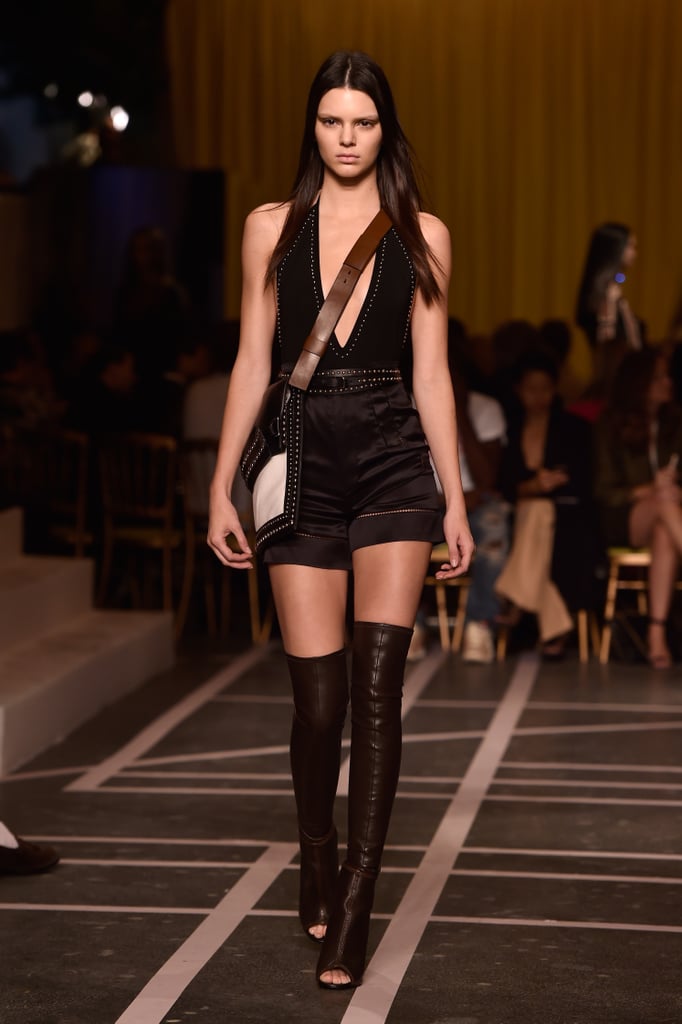 Kendall returned to the Givenchy runway in a deep-V bodysuit, satin shorts, and leather, over-the-knee boots.
Balmain Spring 2015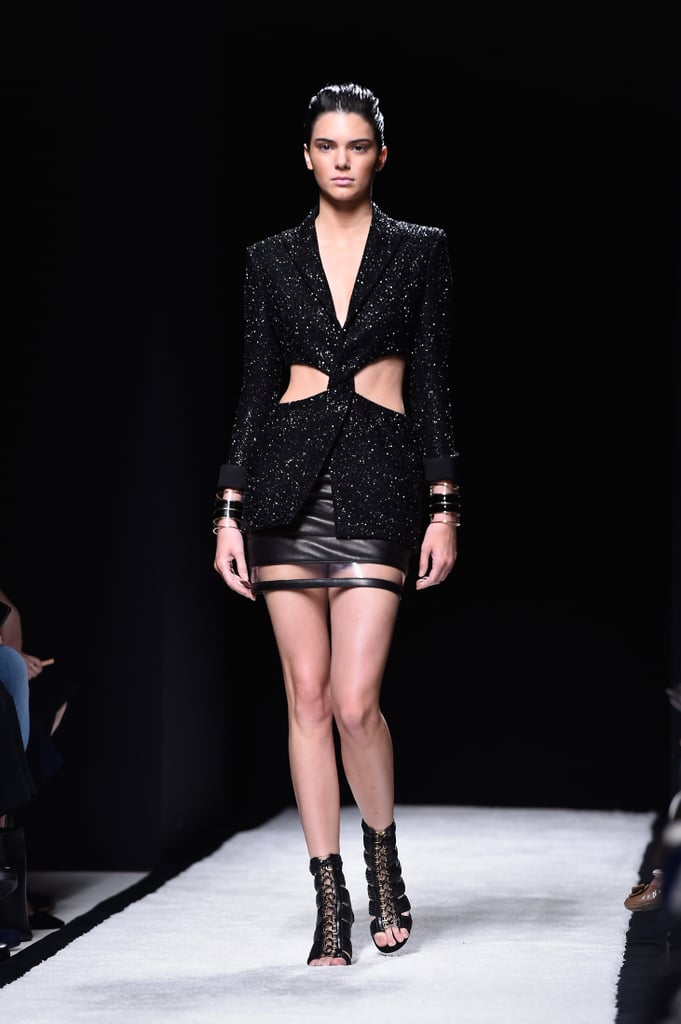 Kendall's first look at Balmain's Spring '15 show was a sexy, glitzy take on the blazer, featuring cutout details and a leather miniskirt, complete with a peekaboo panel.
Balmain Spring 2015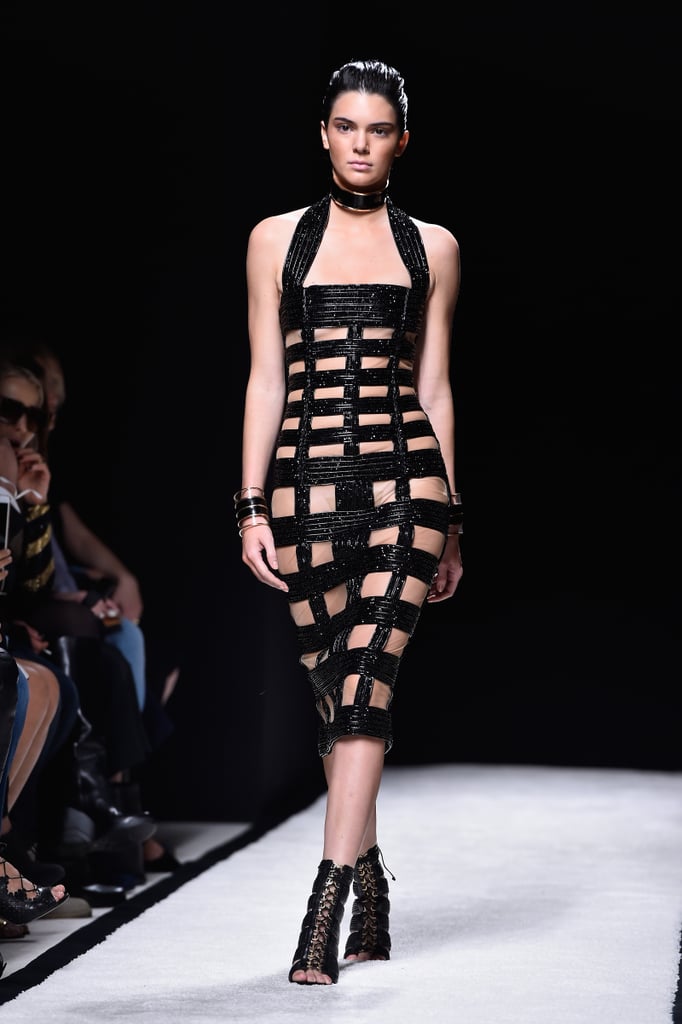 Next, Kendall stormed the runway in a very sexy [5], halter-style cutout dress, accompanied by chunky double cuffs and a choker.
Dolce & Gabbana Spring 2015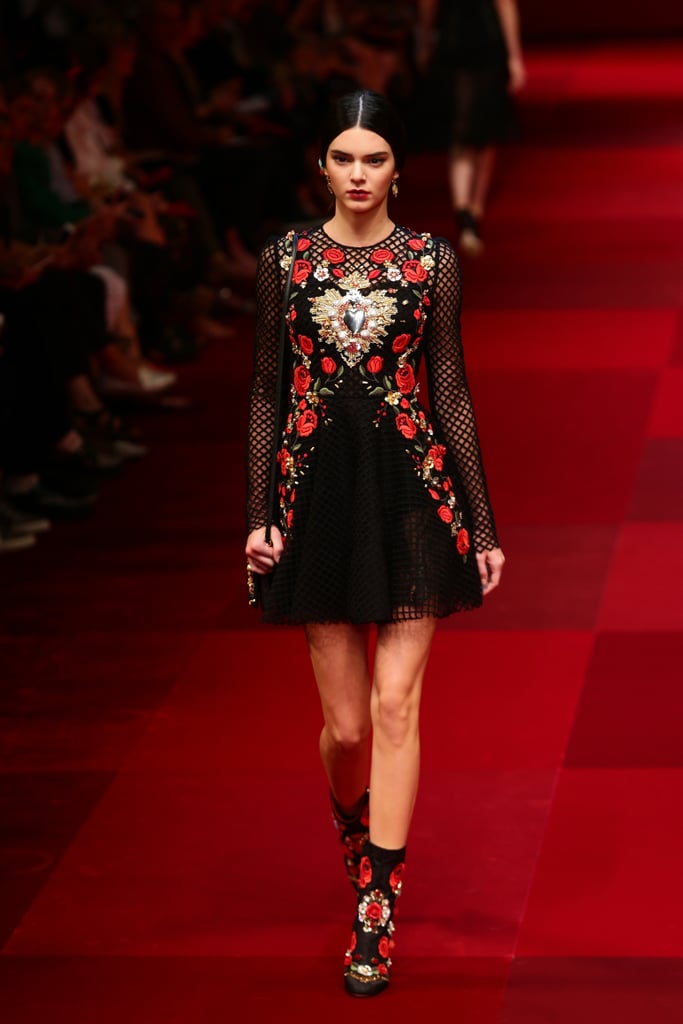 Kendall took to Dolce & Gabbana's bullring in an embroidered mesh skater dress and complementing booties.
Dolce & Gabbana Spring 2015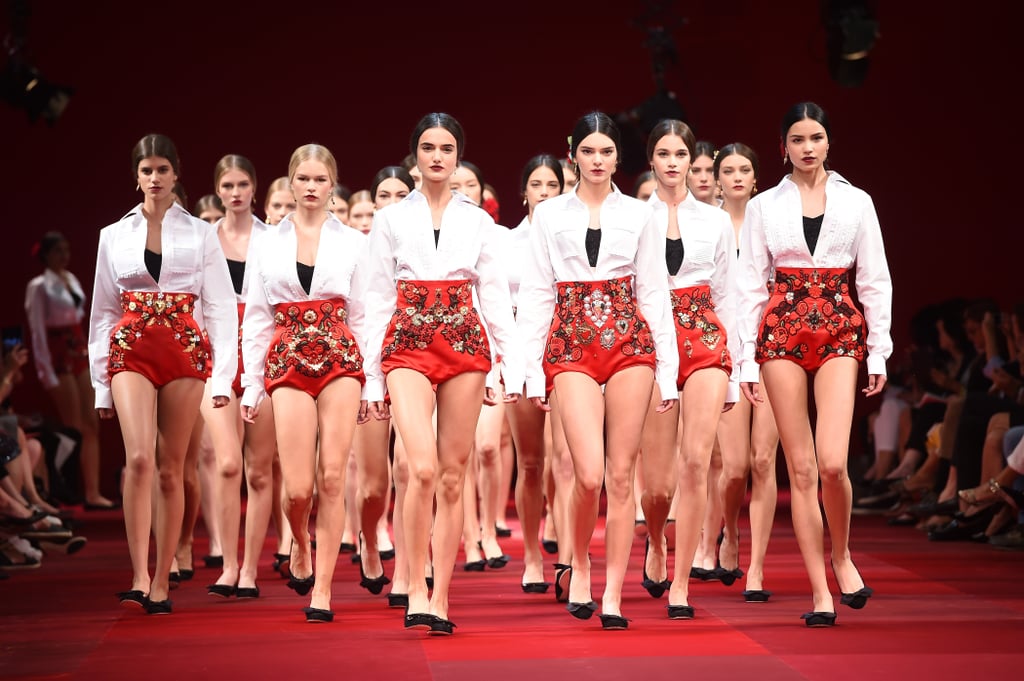 Kendall stormed the runway for Dolce & Gabbana's finale at the head of the pack.
Emilio Pucci Spring 2015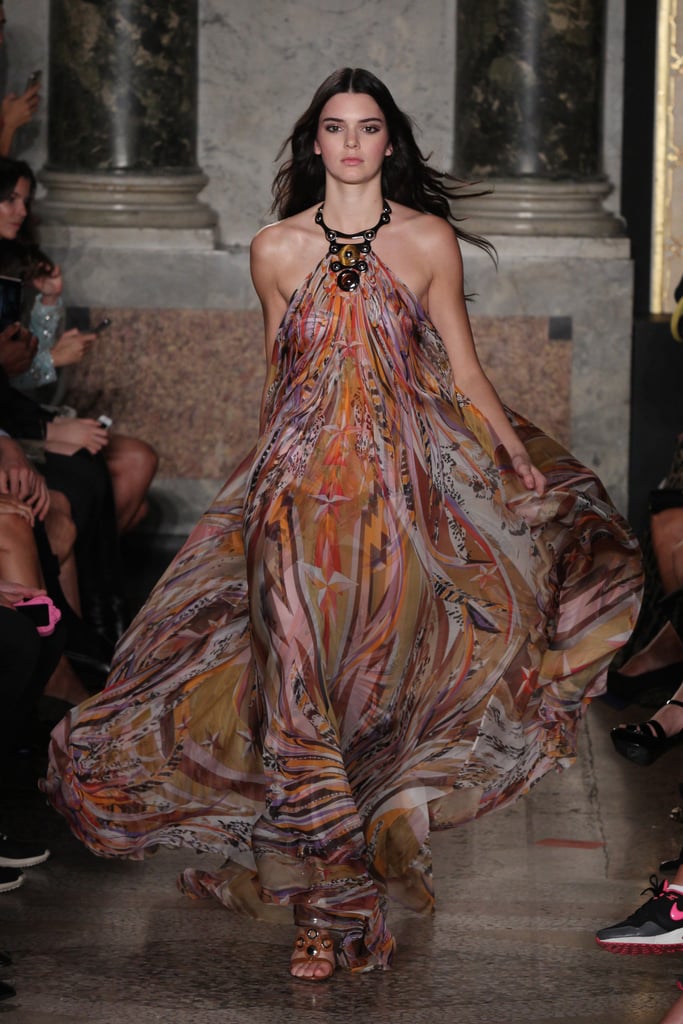 Kendall channeled bohemian vibes for the Emilio Pucci runway in a printed, halter-style bohemian maxidress.
Bottega Veneta Spring 2015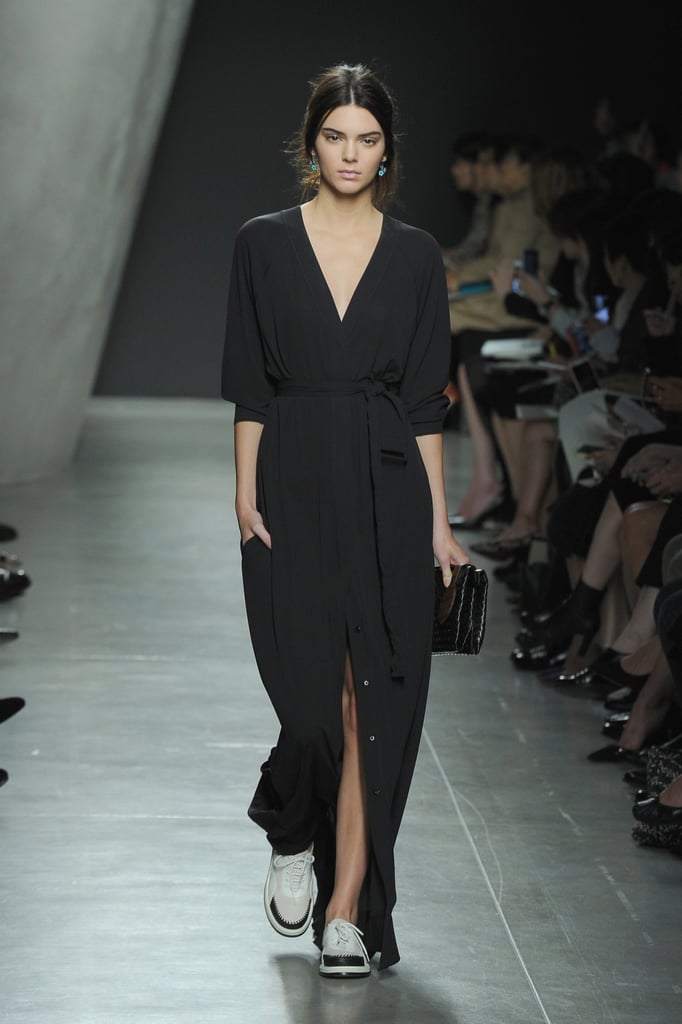 Kendall sported a black V-neck maxi dress and lace-up oxfords when she took Bottega Veneta's runway in Milan.
Ports1961 Spring 2015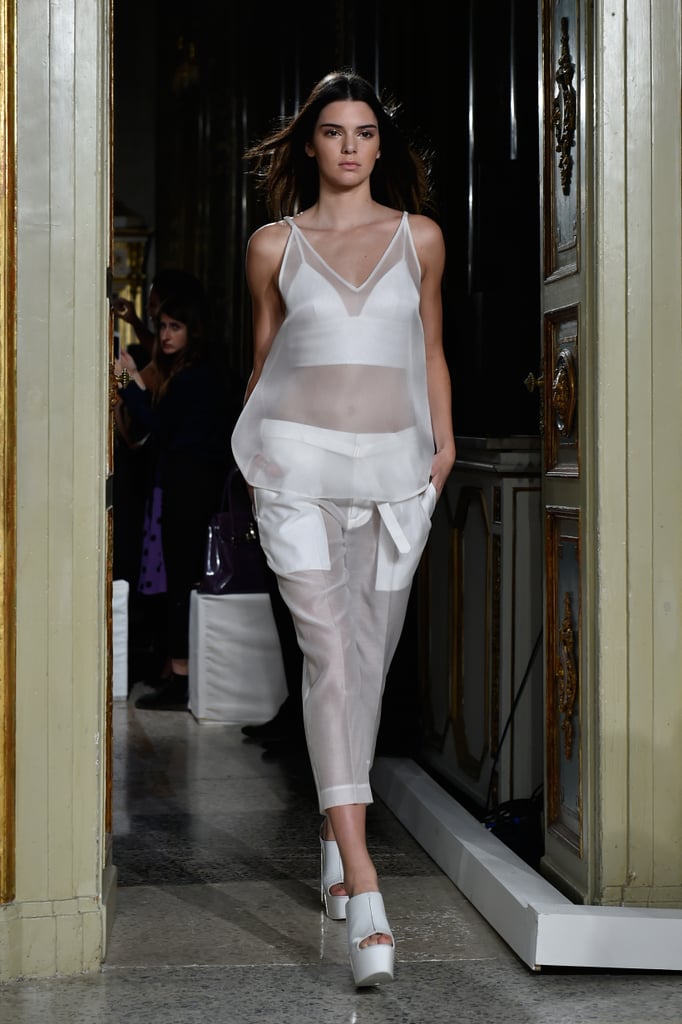 Kendall looked fresh in an all-white, superluxe sheer ensemble for the Ports1961 Spring '15 show.
Fendi Spring 2015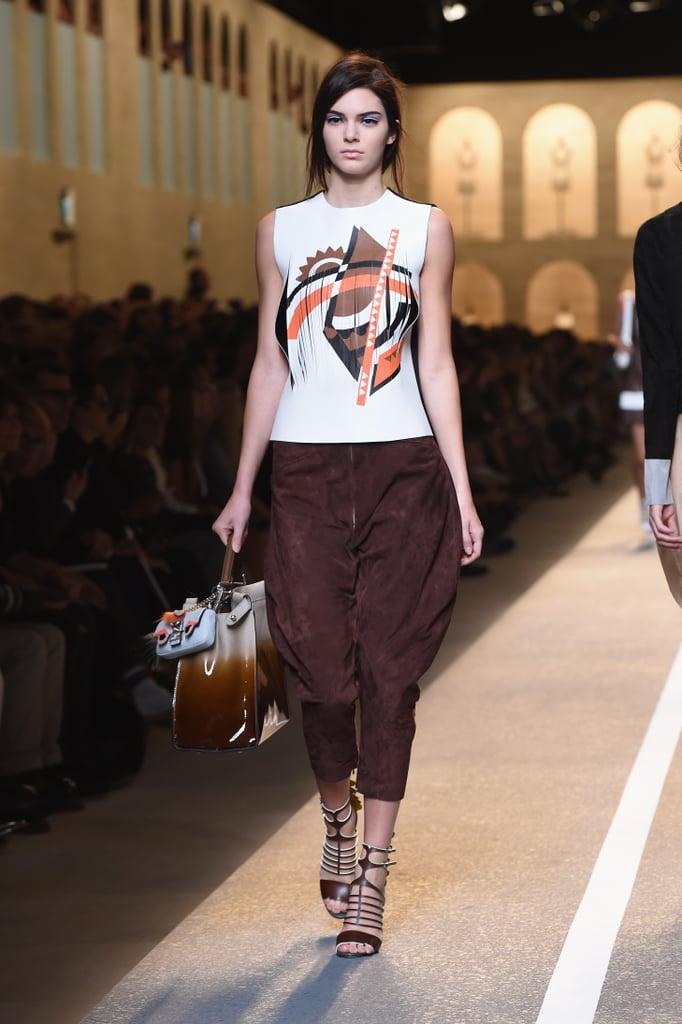 Kendall walked the runway in one of Fendi's more casual looks from this season's lineup — a spliced graphic tank and luxe, suede [6] harem pants.
Marc Jacobs Spring 2015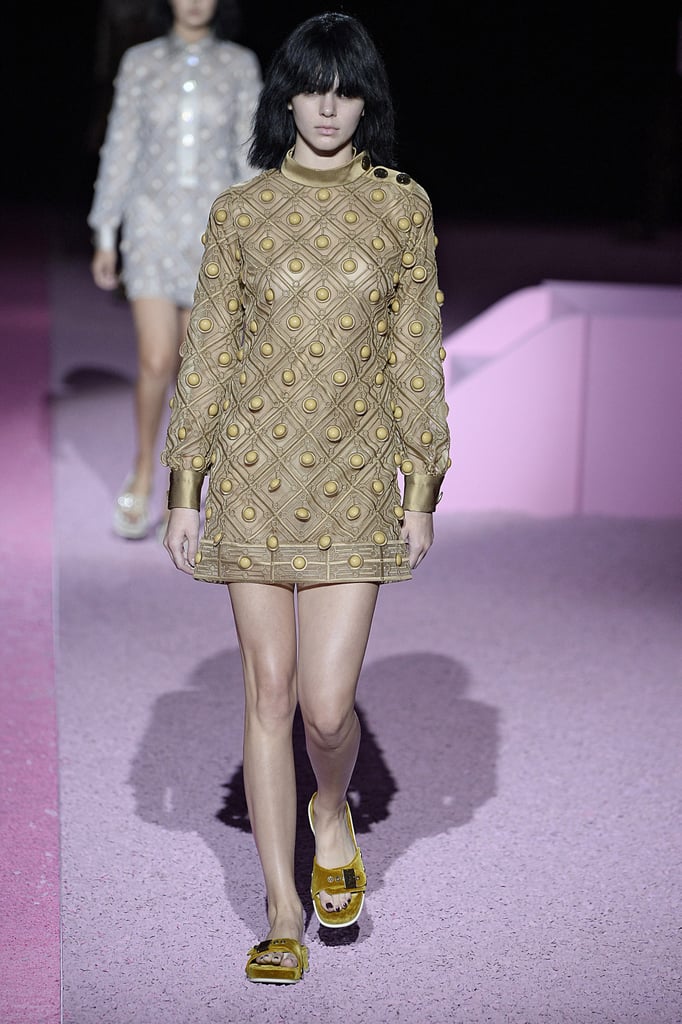 Kendall walked down the runway that surrounded Marc Jacobs's house [7] in an embellished sheath dress and mustard sliders.
Donna Karan New York Spring 2015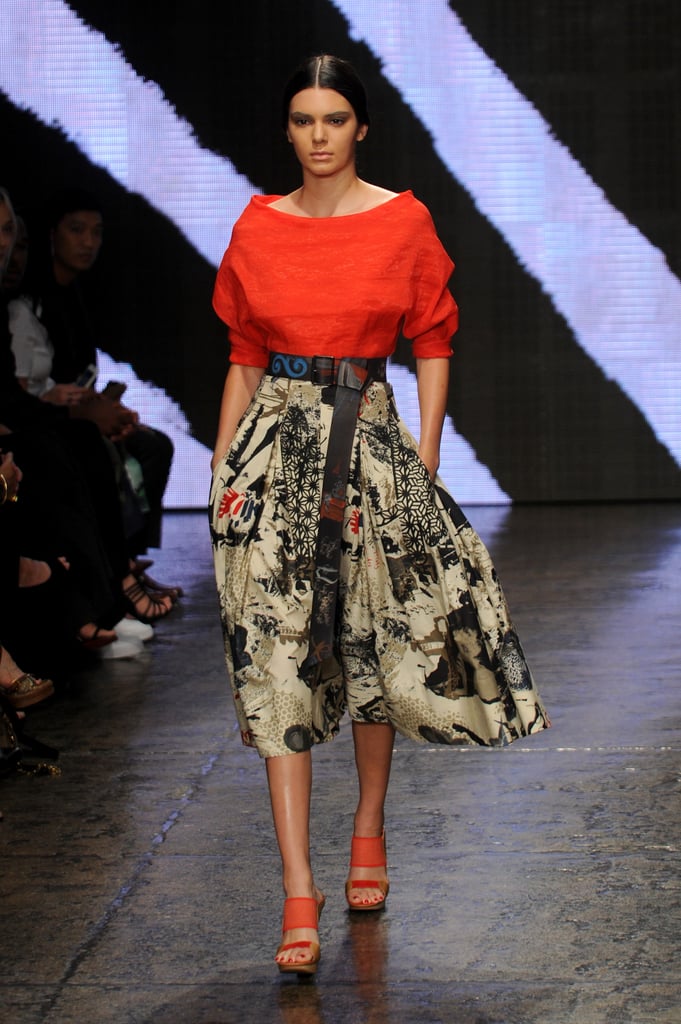 Kendall turned up the volume in an ultrasophisticated look at Donna Karan's Spring 2015 runway show.
Tommy Hilfiger Spring 2015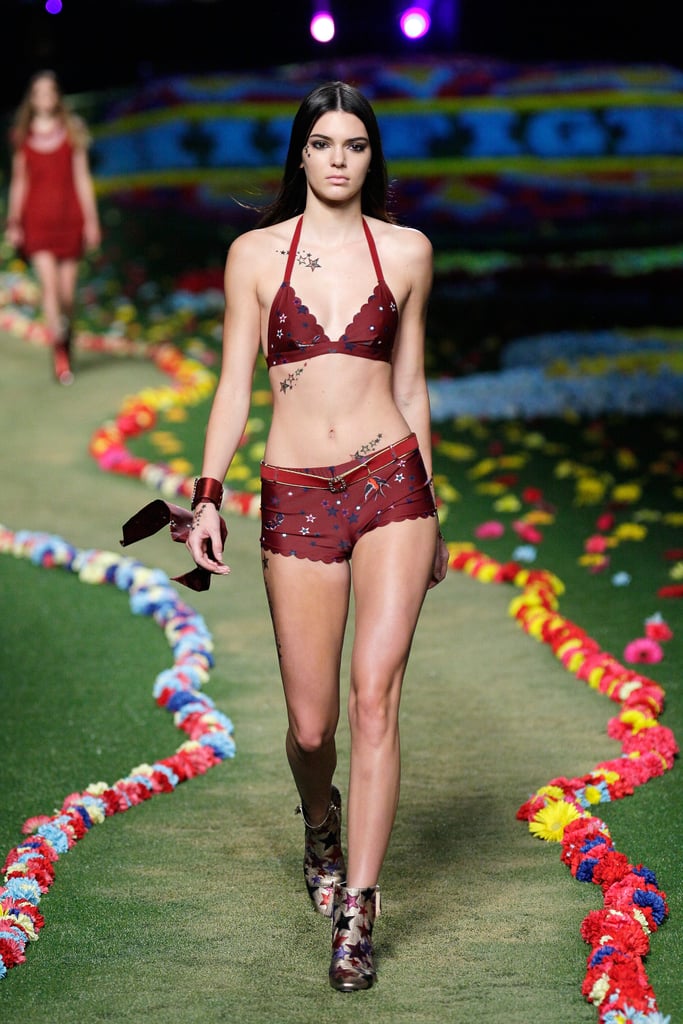 Tommy Hilfiger's Spring 2015 show was a fun, Woodstock-inspired tribute to America, where Kendall pulled off star tattoos and a cranberry two-piece with ease.
Tommy Hilfiger Spring 2015
Kendall's second ensemble at Tommy Hilfiger's Spring 2015 show — a sheer maxidress and cape set — perhaps offered even less coverage than the first, depending on how you look at it.
Diane von Furstenberg Spring 2015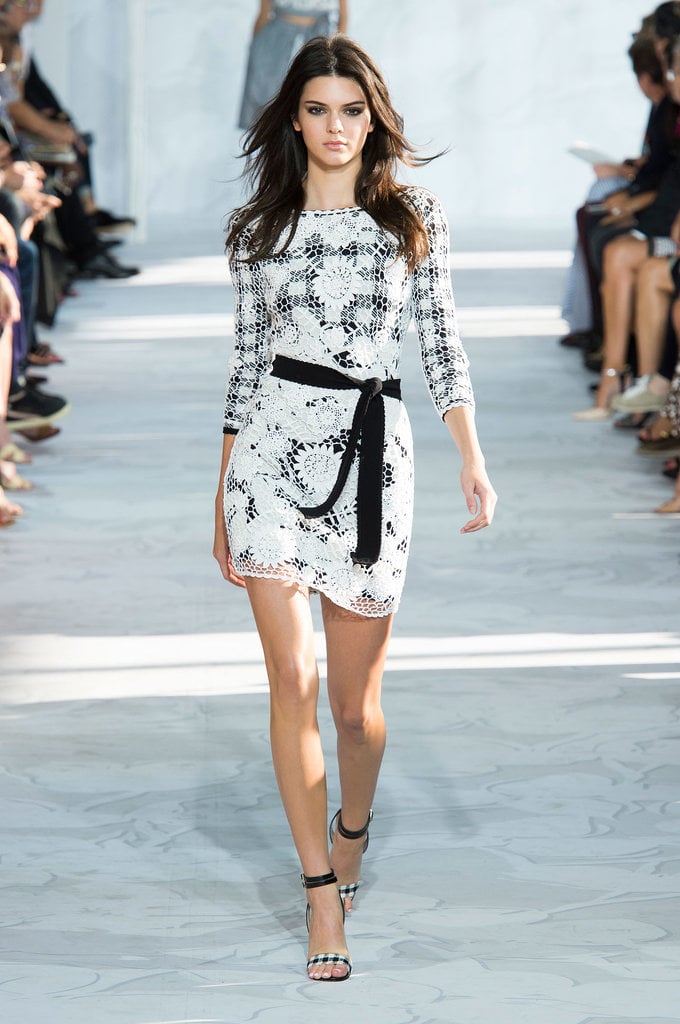 Kendall called to DVF's future [8] in a fresh, black and white lace minidress.
Chanel Fall 2014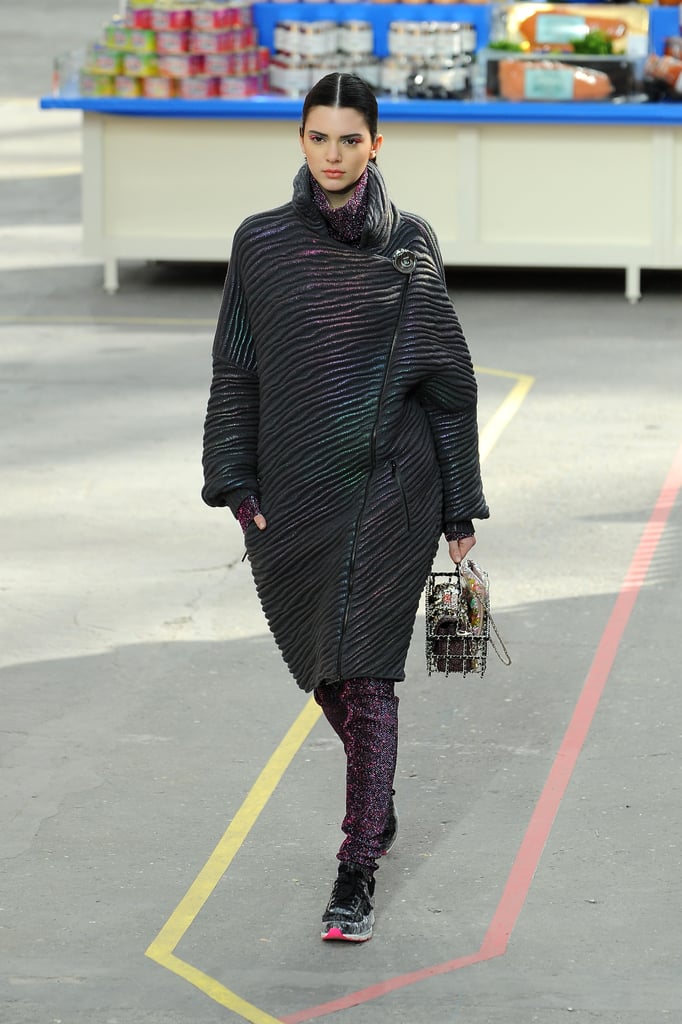 Kendall shopped the aisles of Chanel [9] at the label's supermarket-inspired Fall 2014 show [10].
Givenchy Fall 2014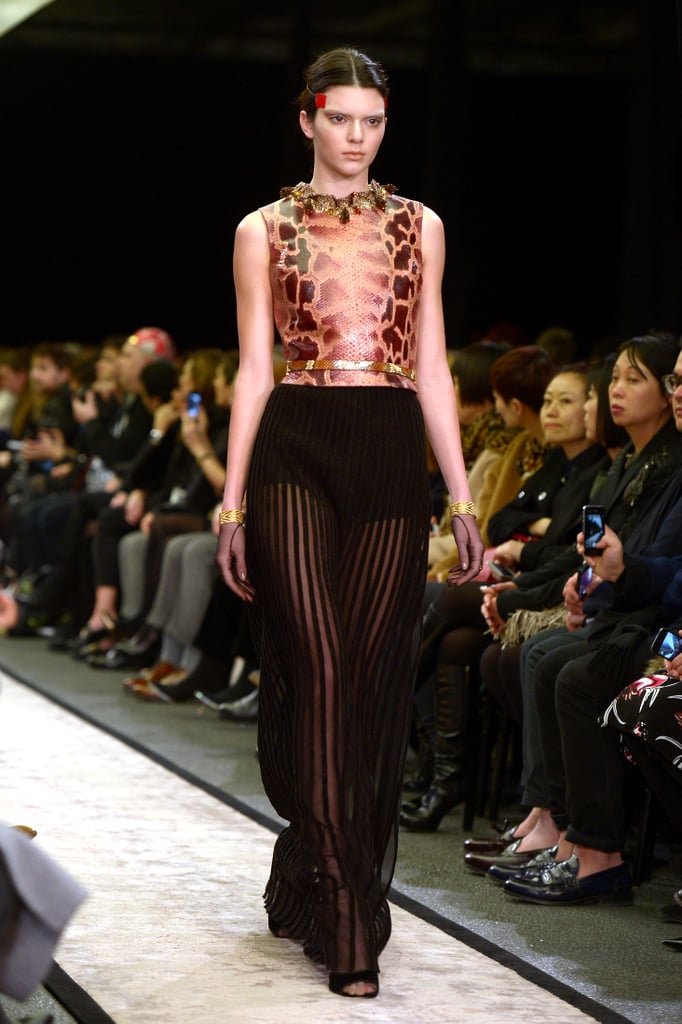 The runway star in the making was then spotted walking in Givenchy [11] — one of her sister Kim's favorite labels.
Giles Fall 2014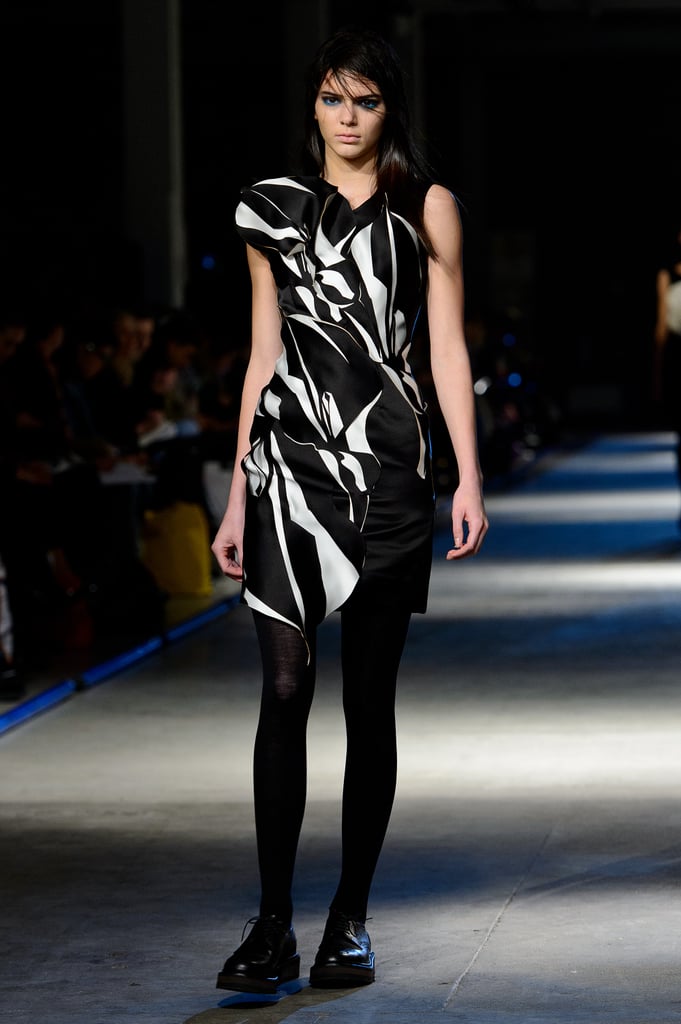 Kendall proved her international appeal when she was spotted across the pond in the Giles show during London Fashion Week.
Marc Jacobs Fall 2014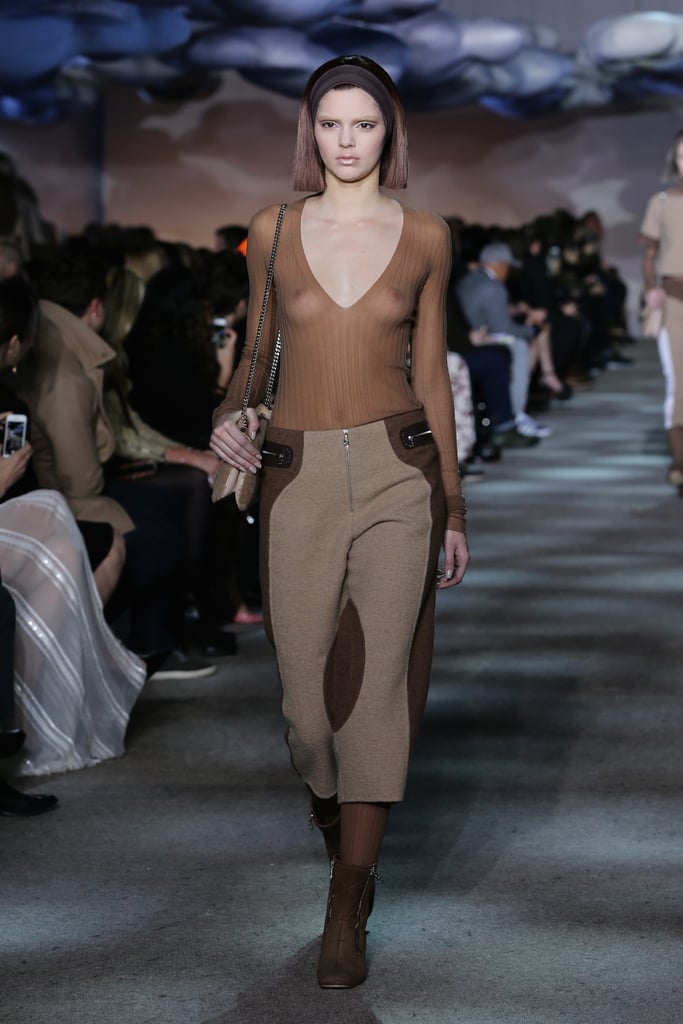 Kendall surprised everybody when she made her Fall 2014 Fashion Week debut [12] at Marc Jacobs.