We've got NYFW's on-the-go panache [1] on lock — and now, another batch of seriously inspired street-style LFW sightings has come to a close. As the style set head to Milan, it's time to take one last look at London's cool mix of covet-worthy ensembles. These are the kind of outfits that you can easily draw a healthy dose of Fall styling inspiration from — thanks to cooler temps across the pond. Think cool-girl layers (a statement short suit with sexy lace-up boots), sporty accents (there's no shortage of pumped-up kicks here), to-die-for outerwear (two words: fur collars), and one electric pink Phillip Lim Pashli, as your jumping off point. Don't miss any of the action — click on for all the best LFW looks right here, and stay tuned for Milan's street-style antics.
Source: Film Magic [2]
All this denim-on-denim look needed was a polished scarf to finish it off.
We're loving this fringed skirt-meets-tough loafers combo.
Never underestimate the power of a bold citron hue. You won't need much in the way of accessories, although this styler's stud earrings certainly caught our eye, too.
A monochromatic palette gets its slicked-up factor via leather finishes and one cool wide-brimmed hat.
Zippered details and a pair of tougher ankle boots gave this jumper an edgy twist.
A whimsical, ruffled skirt and lace-up heels were tempered with a leather jacket.
An all-over floral print made a midi-length dress even more lovely.
This plaid topper gave denim a quirky-cool finish.
A silky printed shell emboldened a ladylike, full-length skirt.
A mint green knit gave statement pants a serene-feeling counterpoint.
A high-wattage little dress made for a slick statement around the tents.
Plaid, a denim jacket, and flat boots all added up to a look with a little '90s nostalgia.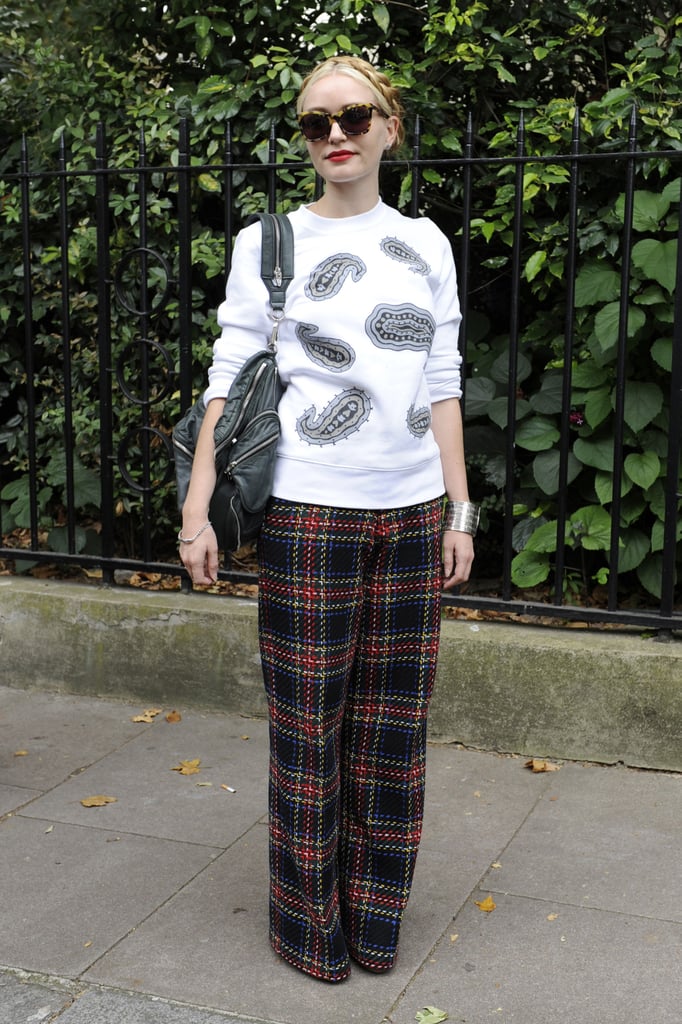 This street-cool mix got its statement power via a paisley print sweatshirt and wide-leg plaid pants.
Hanneli Mustaparta toughened up a breezy, white chiffon dress with a military-style jacket and black, athletic-style booties.
We love this eclectic mix, thanks to a sporty colorblocked jacket and a luxe, metallic mini.
Cool white contrasts livened up this all-black look.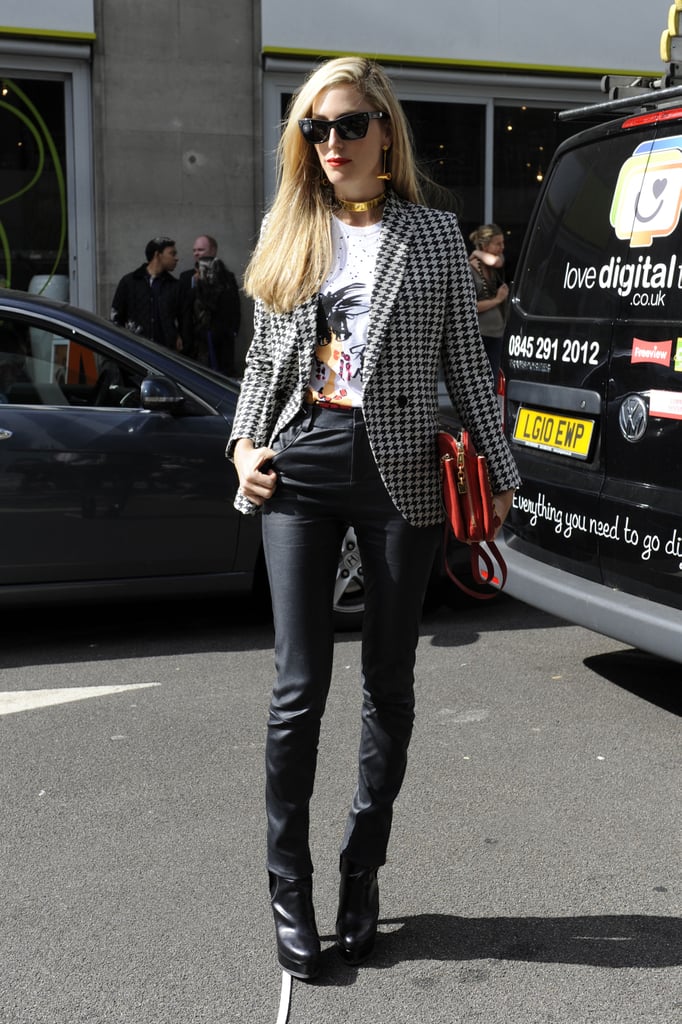 Joanna Hillman played it slick with a pair of slim trousers, then styled them up with a classic houndstooth blazer.
This styler juxtaposed a striped midi with fringed, flat sandals.
Rugby stripes got a girlie, whimsical counter in a sheer-trimmed skirt and pumps styled up with socks.
A wide-brimmed hat meets leather and layers for a bohemian-inspired mix-up.
Tiger stripes and pinstripes made for bold print play.
Hanneli Mustaparta donned a sweet ivory-hued short suit ensemble with killer lace-up boots and a navy blue The Row bag.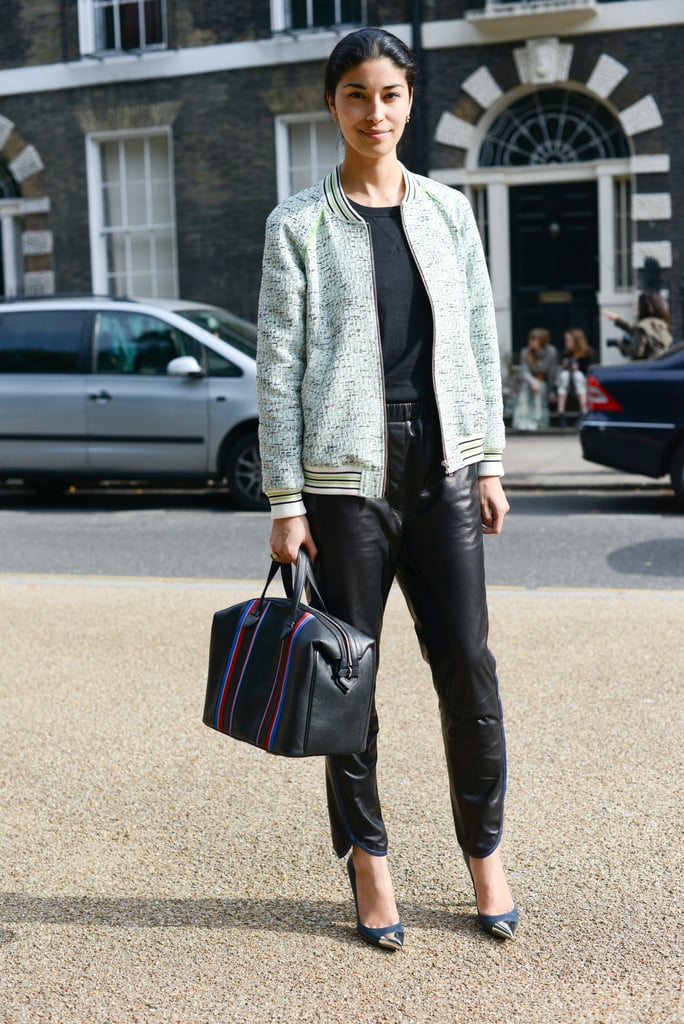 Proving even the sportiest of wares can take on a more formal role, Caroline Issa donned a tweedy varsity jacket with silky track pants and cap-toe pumps.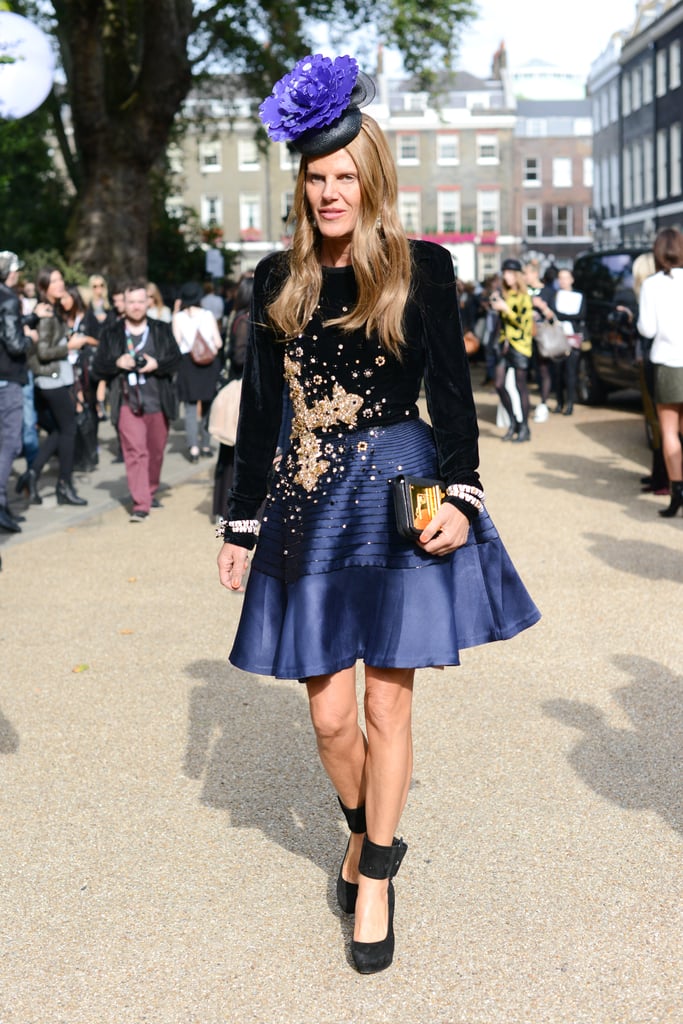 Anna Dello Russo stepped out in full regalia — with thick ankle-strap pumps and a purple fascinator completing her dramatic look.
Play with colorblocking proportions with two-toned layering and mirrored sunglasses à la Westward Leaning.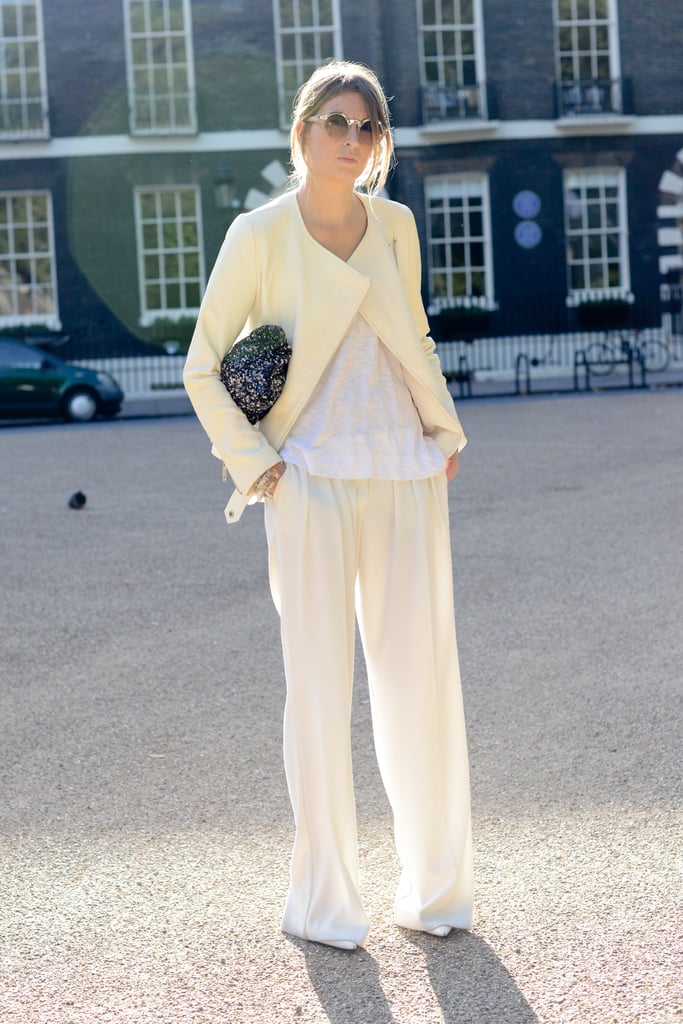 Just because it's cooler outside doesn't mean you have to adhere to a darker dress palette — we're loving the use of flirty pastels against a relaxed silhouette.
Pile on the outerwear via high-low lengths.
Make your sweater pop in a standout neon hue.
Ankle-cut boots, slouchy ripped jeans, and a long relaxed trench coat injected this outfit with a healthy dose of downtown edge.
To pare down her look, she juxtaposed printed trousers against a low-key gray sweatshirt.
A metallic-sheened poncho can add a more athletic vibe to your trouser combo.
Denim on denim never looked more rocker-chic.
Joanna Hillman topped off her LBD with a Stella McCartney jacket.
Blogger Hedvig Opshaug juxtaposed a luxe white topper with a tweed miniskirt.
The half-tuck was in full effort here — but what we're really loving here are her oxblood-red smoking slippers.
Wear your sexy leather pieces two ways: Givenchy boots and a black pleated skirt definitely added a fierce vibe.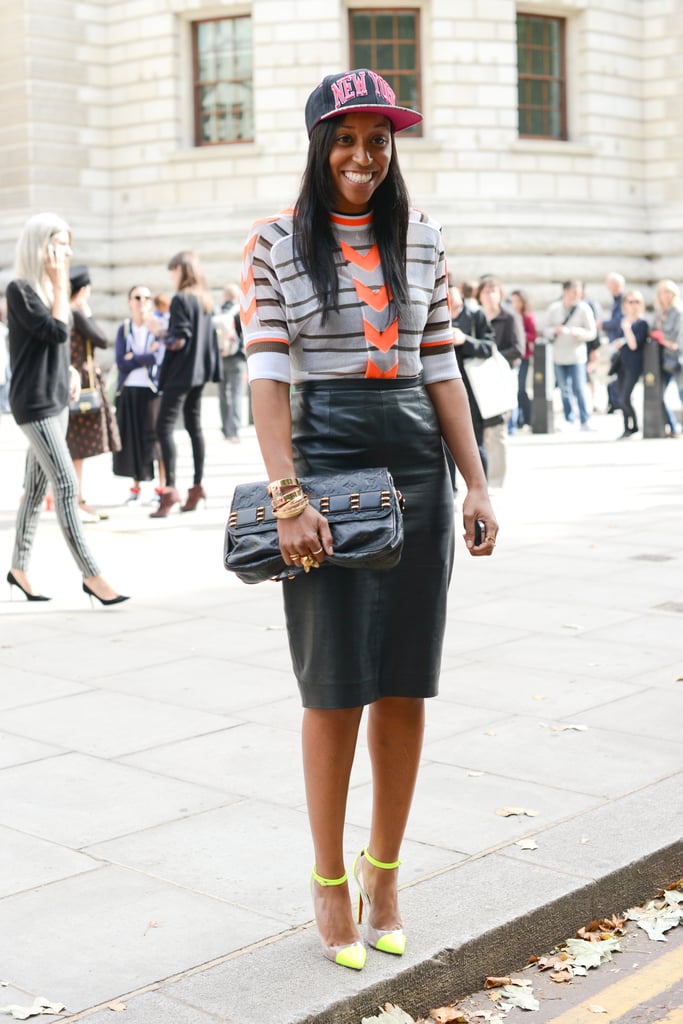 We're feeling the athletic spirit, courtesy of her New York baseball cap, Alexander Wang knit sweater, and neon yellow pumps.
Fashionologie editor Christina Perez paired bold colors and exotic prints — with a Phillip Lim Pashli, no less — on her way to another round of shows.
You can play up your eclectic side, even in the most ladylike of pieces. Case in point: a cat-faced sweater set paired with a prim eggshell-yellow pencil skirt.
A quirky t-shirt got a dramatic skirt complement thanks to her white wrap iteration on bottom.
Blogger Denni Elias styled a 3.1 Phillip Lim sweater with a fur-lined parka and metallic gold pumps.
Elle style director Kate Lanphear dressed in her signature all-black uniform, with a tuxedo-style edge this time around.
Kick your tailored quotient up a notch with menswear pieces — a boxy blazer will certainly do the trick.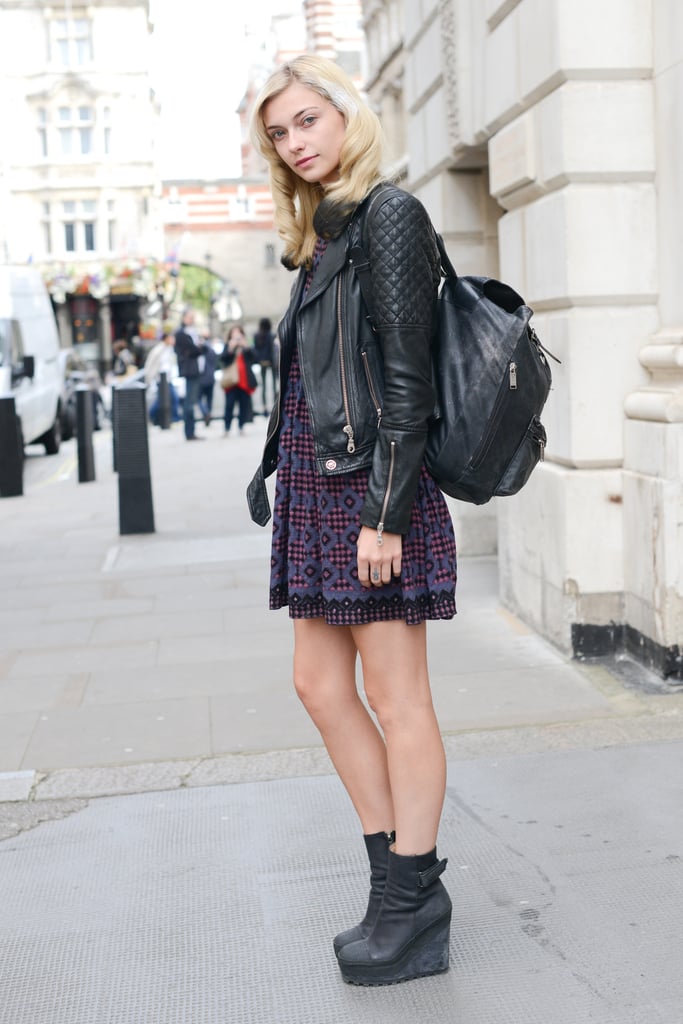 Her wool-embroidered babydoll dress and leather backpack provided a retro '90s feel.
A girlie ankle-strap pump, in a shiny patent leather finish no less, can dress up a monochromatic palette.
All you need is a brightly hued statement bag to make an outfit.
Punch up sportier shorts with a slick leather jacket.
Embody your orange side by complementing your outfit with bright accents.
Silky mixed prints got the punched-up color treatment with the help of one cool orange shoulder bag.
This look was Fall-perfect based on cool autumnal hues alone. Add to the mix a cheeky brick-patterned top and statement necklace, and you can't go wrong.
Ladylike in a floral top, full skirt, and sweet ankle-strap sandals.
She paired her voluminous minidress — an optical illusion by itself — with a long-sleeved orange-printed blouse to double up on eye-catching fun.
We love how she added her own borrowed-from-the-boys touch with her old-school loafers.
This pleated asymmetrically striped dress needed little in the way of accessories — its interesting cut and pattern did all the work.
This style setter's dramatic flared silhouette met its match in printed vibrancy on top.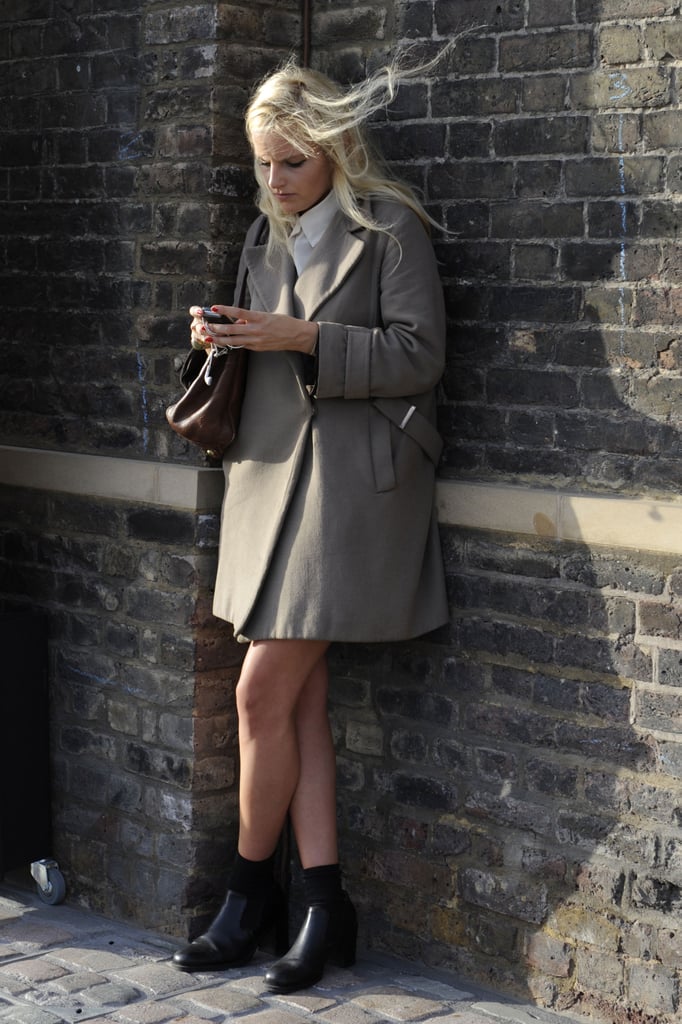 A polished trench-inspired coat can tie an entire outfit together.
We never met a print-on-print look we didn't like.
Long layers made for a dynamic Fall ensemble.
Her book-inspired clutch provided the statement piece in this low-key look.
Schoolgirl charm got a cool-girl makeover by way of two-toned smoking slippers.
A structural gray sweatshirt worn with a trumpet-hem denim skirt? We're in.
Just one more way to dress up Kenzo's beloved printed t-shirt; this time, style it up with leather track shorts and a tweedy jacket.
We're feeling this easy approach to denim dress styling: just add socks and loafers.
What catches your eye more — her oversize printed Longchamp tote or electric-blue tasseled ankle boots?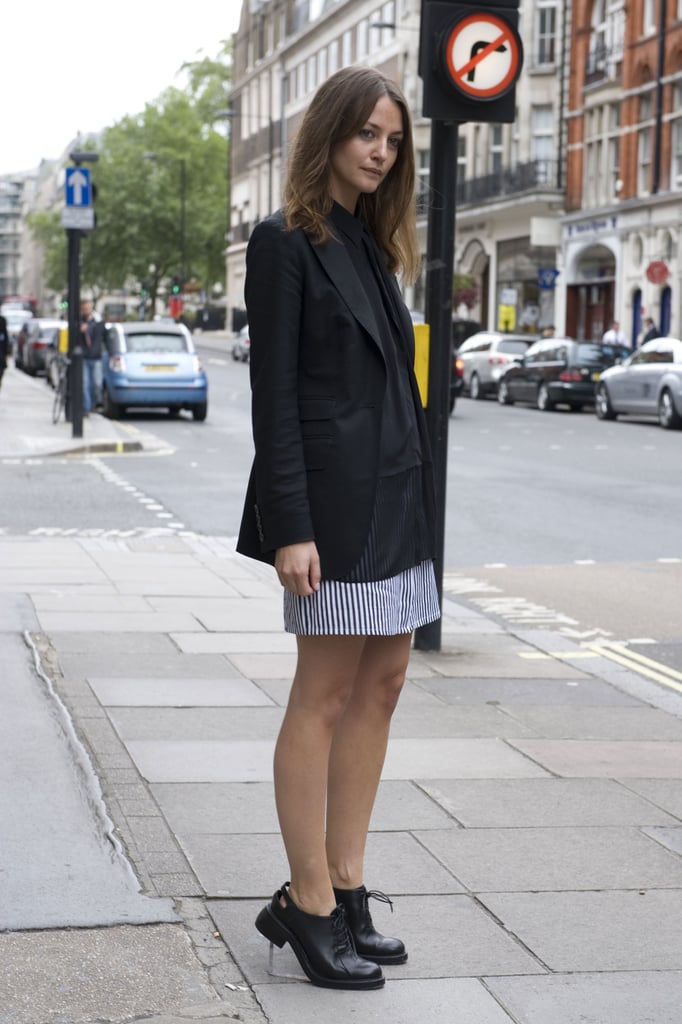 It's all about the cutout oxford flats here.
Double the textural fun with her cummerbund-adorned coat and fur-laden clutch.
Paisley print has never looked quirkier than when infused with cutout additions.
We love the dressed-up feel of this laid-back Kenzo sweatshirt outfit — her gold clutch, tapered blue trousers, and patent leather loafers punched up the low-key vibe tenfold.
A denim work shirt put a classic spin on her brightly striped maxi skirt.
We're having a '90s flashback via her denim jacket, multicolored printed skirt, and silver metallic wedges.
Add floral-printed intrigue to your downtown-cool outfit.
The studded bag and subtle zipper-front dress put an edgier twist on all-black wares.
Her red statement trench coat and slick black Phillip Lim Pashli put the final refined touches on this Fall-ready ensemble.
A plush scarf, hopefully in a rich Fall color, will add that cozy touch to any outfit.
Red statement pieces go a long way, as proven by Daily Mail deputy editor Pandora Sykes. Her siren-hued pleated skirt and PVC-infused bag made quite the fiery street-style impression.
While the black pumps and sweet black skirt certainly give this styler her sophisticated edge, we're totally in love with the tucked-in blue and white Gap gingham blouse on top.
We're more than just a little impressed by this style setter's take on high-low dressing. Case in point: she styled up an H&M sweater-and-pants combo with a neon H&M necklace, Christopher Kane clutch, Prada sunglasses, and white Alexander Wang heels.
The collared blouse and sweater set never gets old, especially when you've got pretty floral prints to boast, too.
An easy way to warm up a low-key ensemble? One seriously textured (and oversized) vest.
We haven't seen the last of the pretty maxi skirt silhouette — and this street styler wore hers with chic metallic silver oxford flats and a wide-brimmed hat.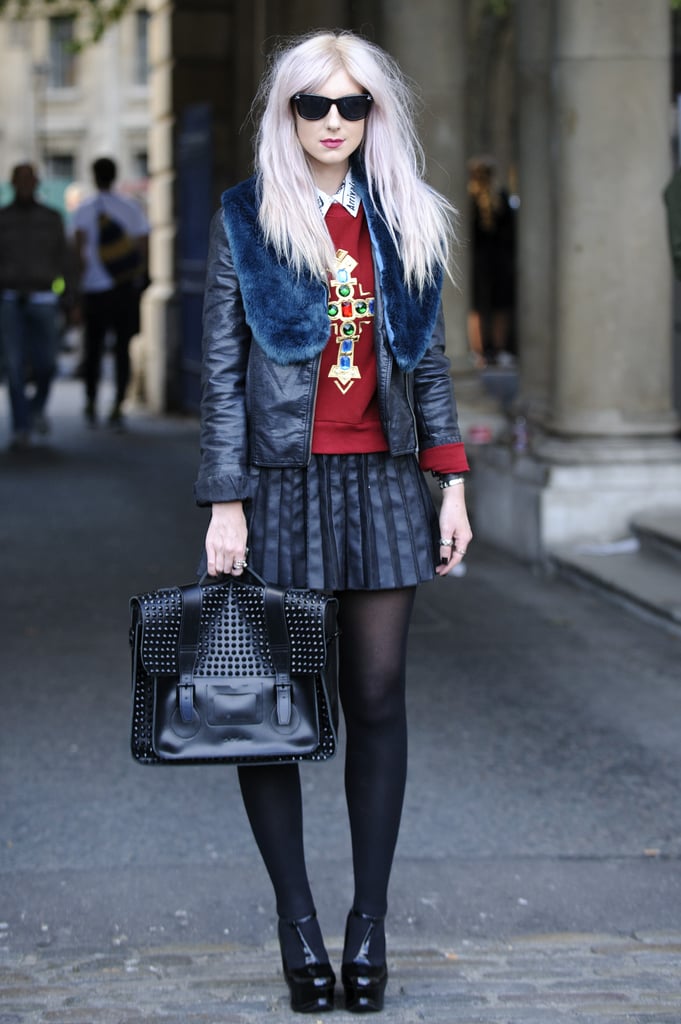 We're loving this updated take on the slick pleated skirt. Her blue fur collar jacket, cross-embellished sweater, and patent leather PPQ platforms added a slightly rebellious feel to the traditionally classic skirt silhouette.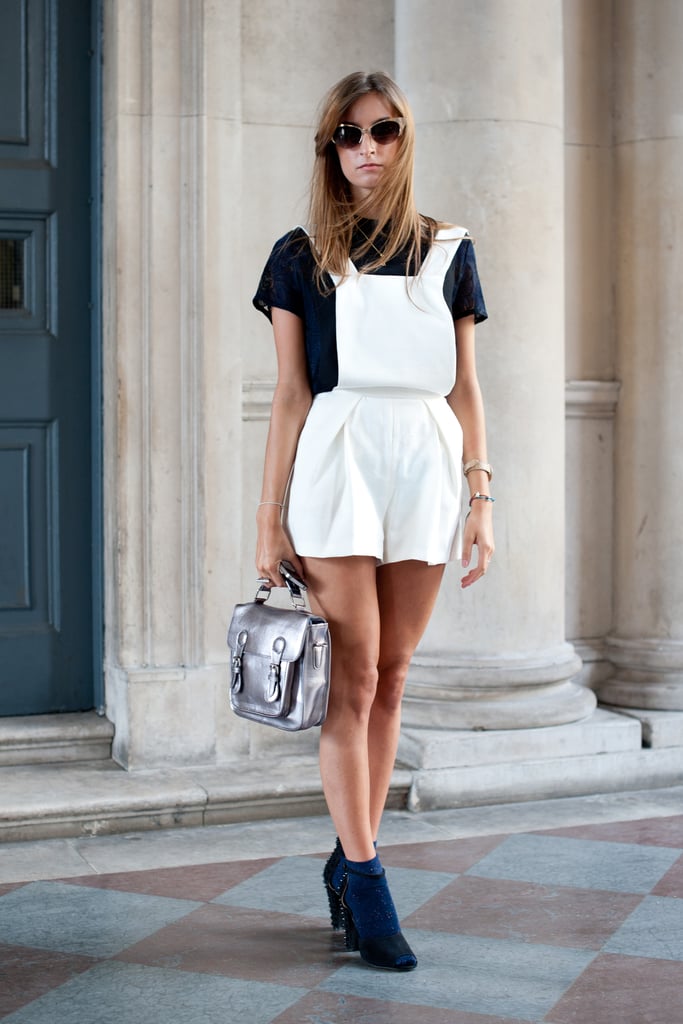 We're digging the funky throwback mashup of white Topshop overalls and a metallic silver Urban Outfitters bag here — it's '90s retro but totally accessible.
Her green Topshop shiftdress is certainly cute, but let's be honest: we've only got eyes for that amazing electric pink Phillip Lim Pashli bag.
This outfit got the cool-girl treatment courtesy of her Rag & Bone trousers and Zadig & Voltaire lace-up boots.
The play on textures — soft knits vs. slick leather — shows off her expertise in off-duty styling.
A summery nautical-striped dress gets its polished finish via a Céline bag and sexy strappy heels.
We love the fun pop of color via her seafoam green Michael Kors platform sandals.
We're feeling the "friends who go to shows together, look chic together" vibe here — but the bright Erdem floral pencil skirt definitely takes first prize.
Spotted: Alexander Wang's black pumps punching up an already-cool uniform.
We caught this model sporting one very cool striped sweater with Levi's shorts and old-school kicks.
Wearing head-to-toe New Look (a British high street retailer), we're obsessed with her youthful mix of floral trousers, wedge sneakers, and statement jewelry.
Tweedy plaid separates made an appearance, along with a pair of sweet ballet flats. Despite what you may think about dressier tweed looks, the poncho-inspired top provided a less-formal feel.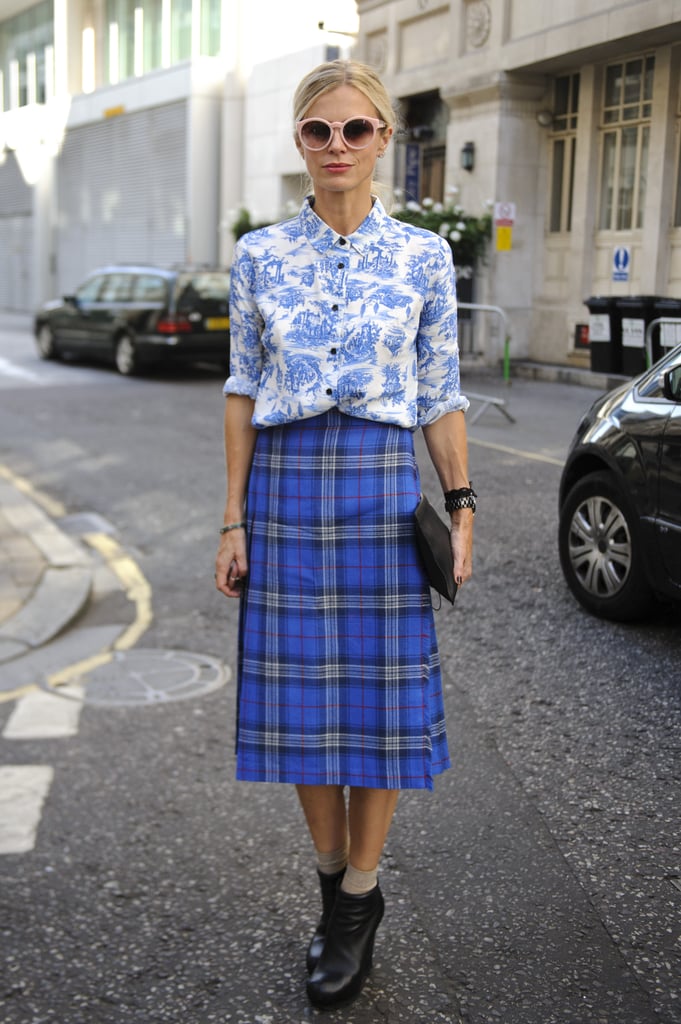 Laura Bailey is a master of mixed prints — her floral button-up and tartan plaid midi skirt look like a match made in fashion heaven.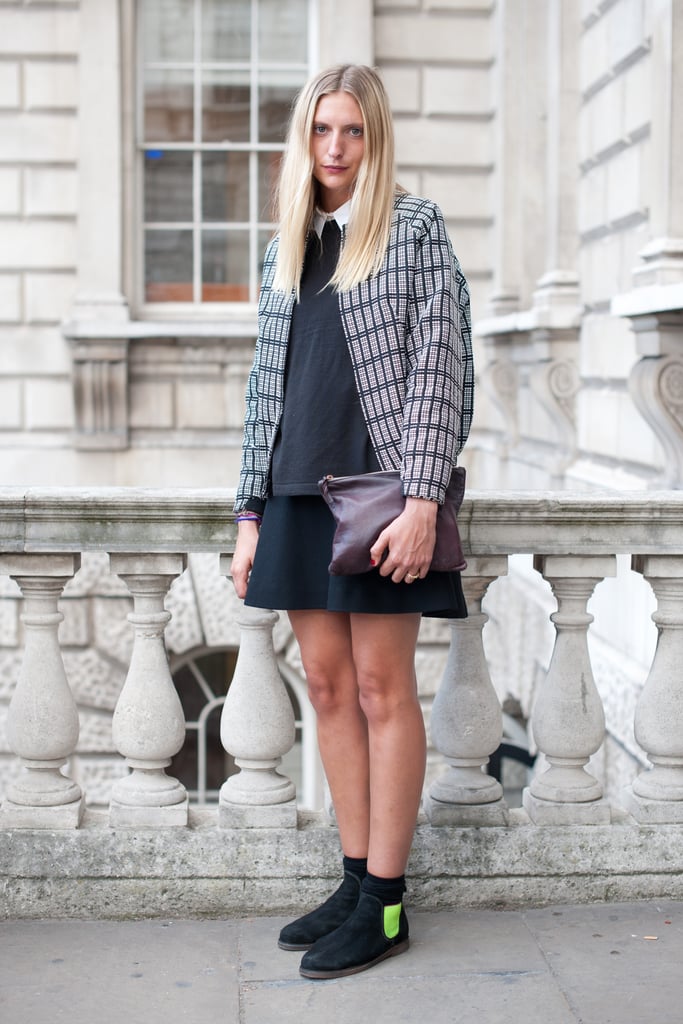 How cool is the lime green tab on her Penelope Chilvers Chelsea flat boots?
We call this the ultimate downtown-cool ensemble — it has all the components of that effortless styling we love, right down to the heeled ankle booties.
Double the intrigue with a big helping of dynamic prints and enviable texture.
We're loving this shimmery mermaid-like blazer — it's the coolest topper we've seen partnered up with leather shorts in recent memory.
Unexpected (and refined) details like a veiled beanie and tasseled loafers can provide a jeans ensemble with just the right amount of off-duty polish.
We can attribute the overt schoolgirl charm to her pastel blue hat, printed Orla Kiely dress, and sock-sandal wedge combo.
Set off shorter proportions with a bold-hued — and chunky — scarf.
One thing's for sure: there's enough print to go around here. We love how she paired a darker paisley iteration with polka dots on bottom — not to mention, a snakeskin clutch for the grand finale!
Lady Victoria Hervey pulled out all the luxe stops on her outfit: an edged-up Year Zero jacket, Jimmy Choo knee-high boots, and a pink-striped Louis Vuitton tote all made the cut.
This style setter knows how to balance out an embellished-collar sweater and leather shorts with its laid-back complement. One word: sneakers.
When in doubt, an olive green parka will solve your chilly-day style problems. Promise.
We spy a pair of Zara's buckled flat boots on this street styler — and you can follow suit right here [3].
Proof that a sultry oxblood red accessory can make a dark ensemble pop.
Add metallic sheen — like this wide belt — to an outfit and reap the benefits of its eye-catching appeal.
This printed ombré jacket tops off a chic LBD with a bold flourish.
Nothing says "statement" like an eye-embroidered topper, yellow clutch, and electric blue pumps.
A fedora and pair of round sunglasses put the cool-girl touch on this ultra low-key jeans attire.
This leather pencil skirt got the exotic print one-two punch.
We can't decide what we love more: her printed jumpsuit or that insanely cool fur coat. Do you have a preference?
Make sure a bold print takes center stage by keeping the accessories minimal and classic.
The slick orange collar injects a quirkier vibe to this styler's prim and proper getup.
Windy day aside, we can't help but adore the sweet mix of Fall colors here. Saffron yellow, crisp white, and navy blue make a perfect palette trio.
We love the sweet camel-hued shoulder bag addition to this otherwise blue-themed ensemble.
Just one more reason to try out the "reinvented" pencil skirt — aka it doesn't have to go hand in hand with a stuffy 9-to-5 look.
A classic Peter Pan collar set looks just a bit edgier when slick sunglasses and rocker-chic ankle boots are involved.
On the go, but so effortlessly cool at the same time — she's got a tough Burberry jacket and Bershka shoes to thank for that.
Now this outfit provides us with a serious '70s flashback — yes, we want her high-waisted blue trousers right about now.
How awesome is her scallop-edged clutch?
Dress up your monochromatic wardrobe with pops of bright, can't-miss-it color.
Punchy brights looked especially cool against a crisp, white asymmetrical skirt.
Monochromatic color play in shades of perky yellow livened up these preppy pieces.
A laid-back denim look got extra personality via pleated jeans and a pair of oxblood brogues.
Elevated with the classics, this pair of jeans got the ladylike treatment with a pair of plum pumps and a cropped camel jacket.
This print got a tomboy twist with a pair of Vans.
A sexier mini hemline got a sweet counterpart with socks and pumps.
All the charming details at work — a floral coat, collared dress, and metallic brogues — added up to a very sweet ensemble.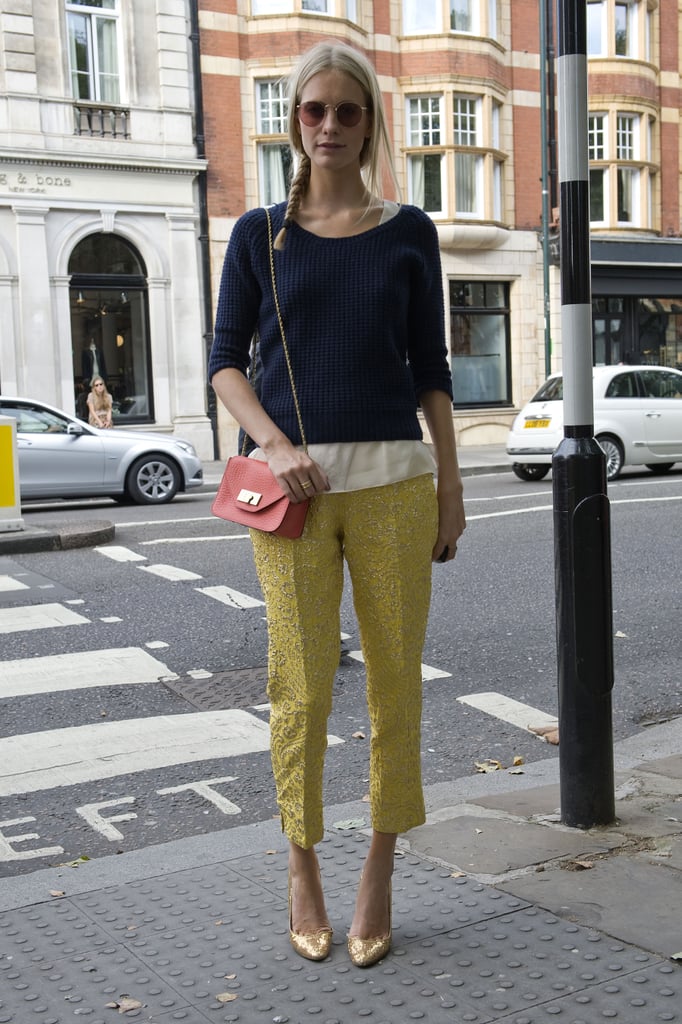 Poppy Delevingne styled up an understated play on embroidered trousers and metallic heels, adding in a classic knit topper.
All it took here was a playful blue beret to offset an all-black ensemble.
Bold styling was at work here; between the printed jumpsuit and neoprene satchel, this look was made to stand out.
A statement coat gave this classic nautical striped tee new life.
A gorgeous jewel-toned topper, leather skirt, and leopard-print pumps made for one cool, ladylike-with-a-twist look.
A touch of brilliant neon color injected street-styled edge to a chunky knit.
The varsity jacket gave a maxi dress sporty-chic appeal.
Rich blues, bold stripes, and a cool bust of metallics were at work in this statement-making skirt style.
A whimsical skirt was tempered with a burgundy blouse and menswear-style loafers.
This styler kept it sleek, but went for high-impact color.
A boho hat and burgundy hues took the limelight in this ladylike look.
We love the way a military coat tempered a bold colorblocked blouse and mini.
Smart short suiting got a touch of high-impact red from this classic YSL satchel.