The Grammy Awards red carpet is one you don't want to miss. You just know that when the fashion and music industries come together, some very interesting things are bound to happen. We went back into the photo archives to bring you some of the most iconic fashion moments from the big show.
Get ready for the gowns that stunned, shocked, and completely surprised us. And when you're done scrolling through these blasts from the past, be sure to check out POPSUGAR Beauty's best Grammys makeup mishaps [1] for some hilarious looks.
Related:
The Most Stylish Music Couples of All Time [2]
30 Iconic Oscars Dresses Worthy of Their Own Award [3]
10 Outfits Beyoncé Wore That the World Will Never Forget [4]

— Additional reporting by Robert Khederian
Rihanna
Rihanna [5] worked a bold and beautiful, fiery-red Alaïa gown at the 2013 awards.
Britney Spears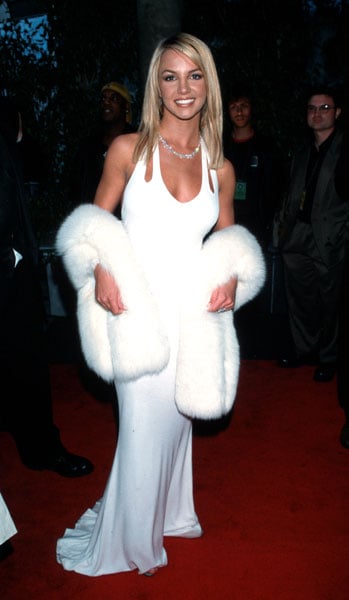 Britney Spears [6] went for a glamorous all-white look in 2000.
Taylor Swift
Taylor Swift [7] went with a gorgeous J. Mendel gown in 2013.
Jennifer Lopez
Jennifer Lopez [8] wore that iconic Versace dress to the 2000 show.
Gwyneth Paltrow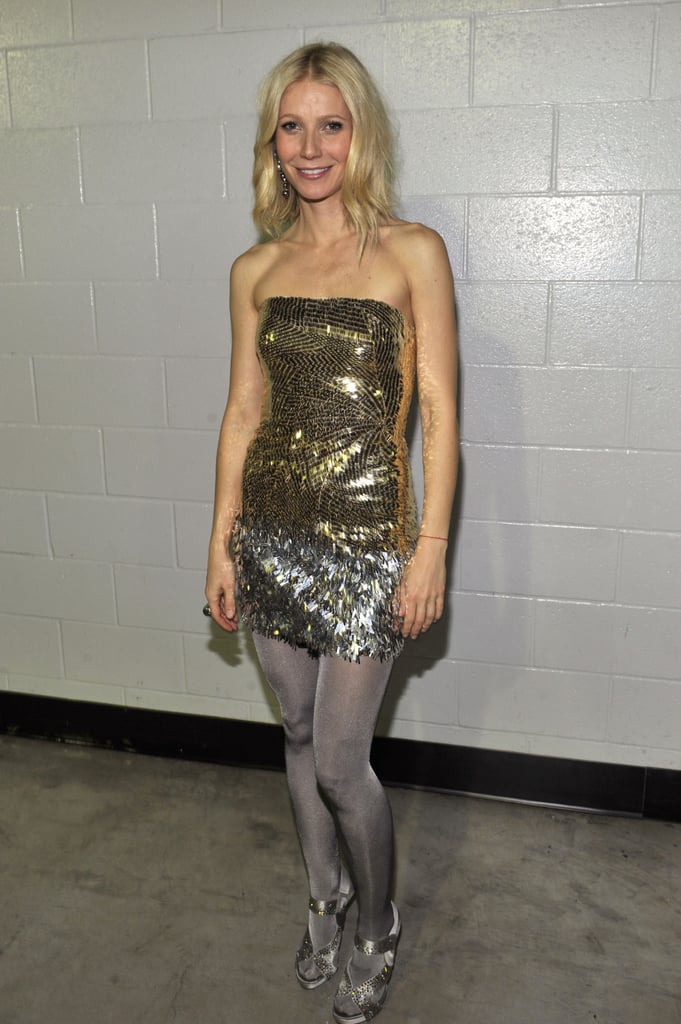 Gwyneth Paltrow [9] sparkled in Versace in 2009.
Kim Kardashian
Kim Kardashian [10] wore Jean Paul Gaultier Couture to the 2015 awards.
Mariah Carey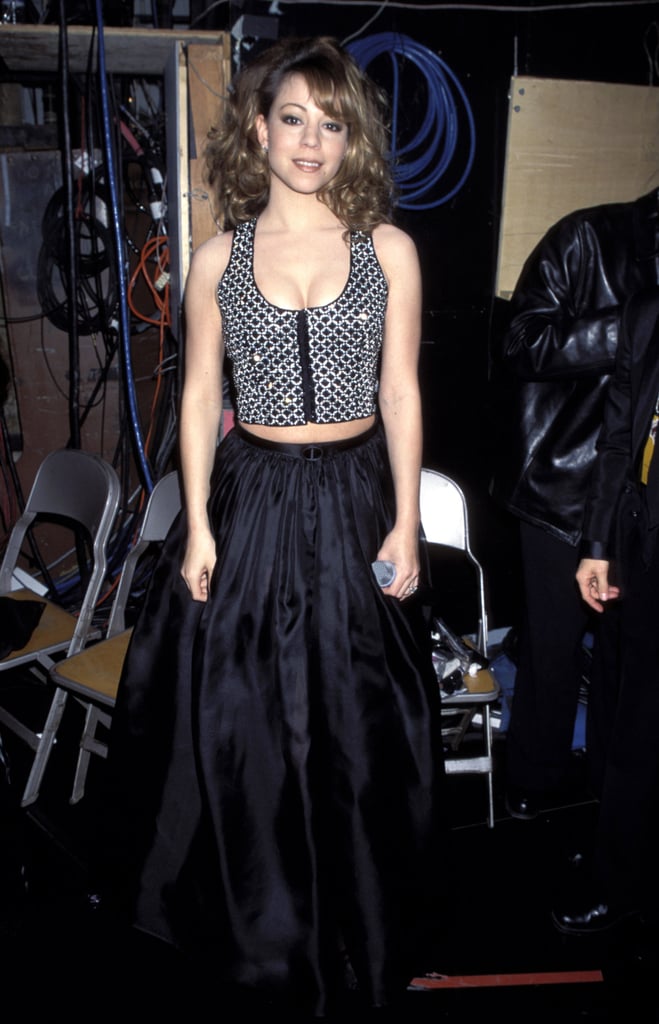 Mariah Carey [11] went for a two-piece ensemble in 1996.
Katy Perry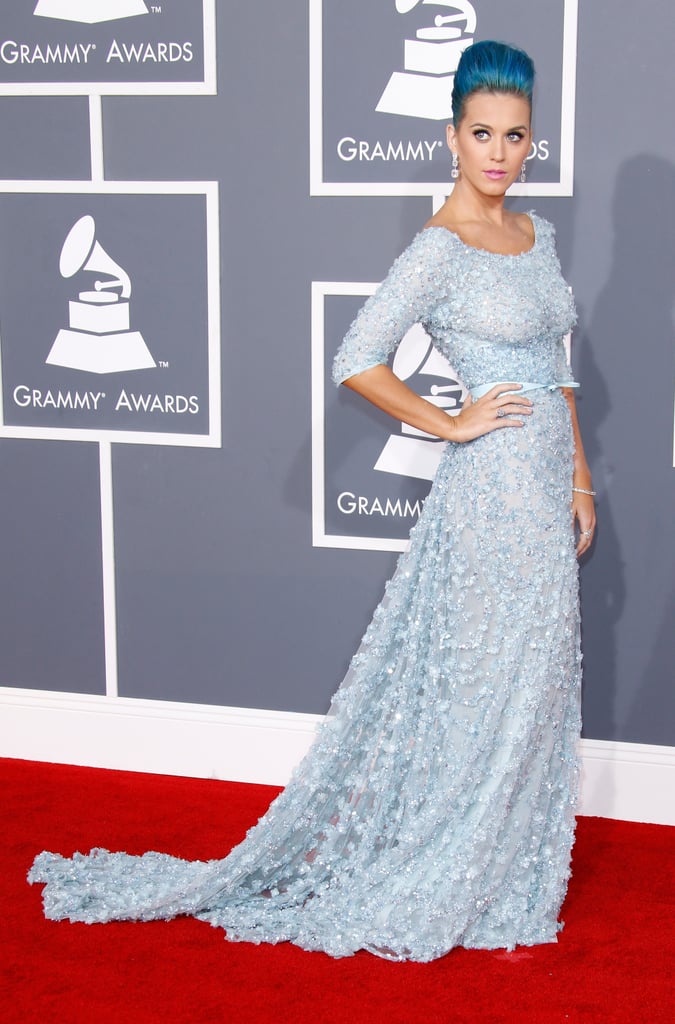 Katy Perry [12] surprised us all at the 2012 show, hitting the red carpet in a demure baby-blue Elie Saab gown, which matched her aqua-colored hair to perfection.
Adele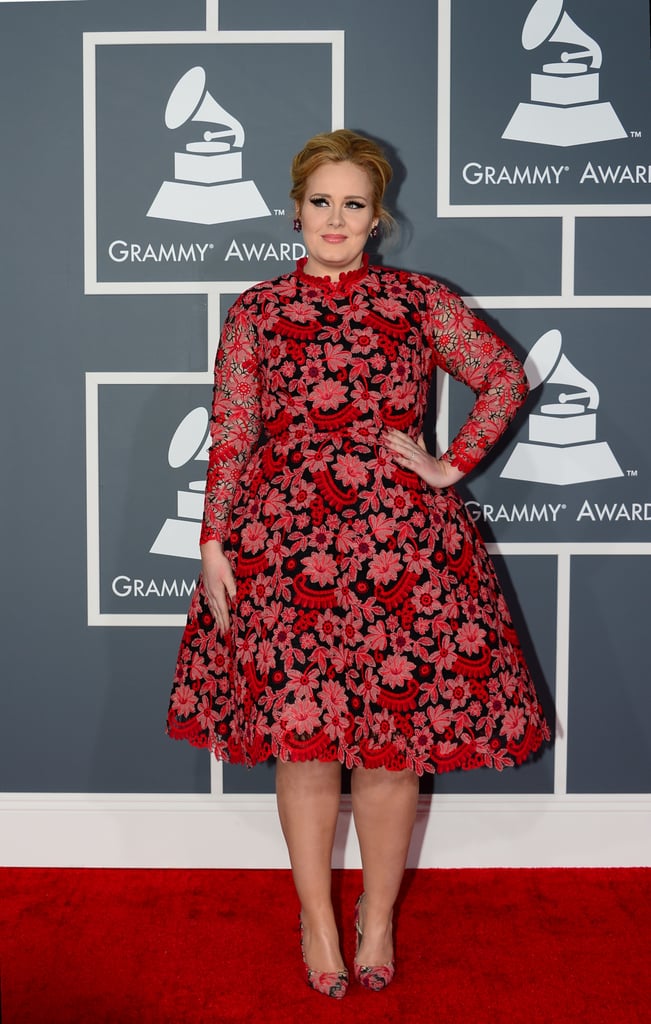 Who didn't adore Adele's Valentino dress in 2015?
Beyoncé Knowles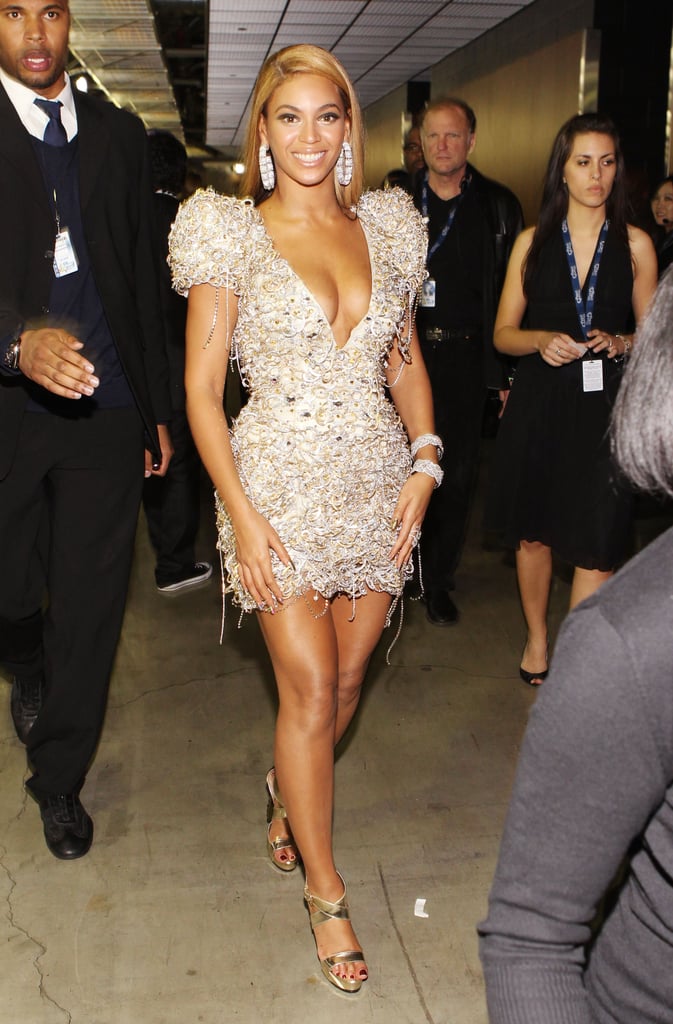 Beyoncé's short and sexy sequined number dazzled us in 2010.
Carrie Underwood
Carrie Underwood [13] went with long-sleeves back in 2012 wearing Gomez-Gracia.
Gwen Stefani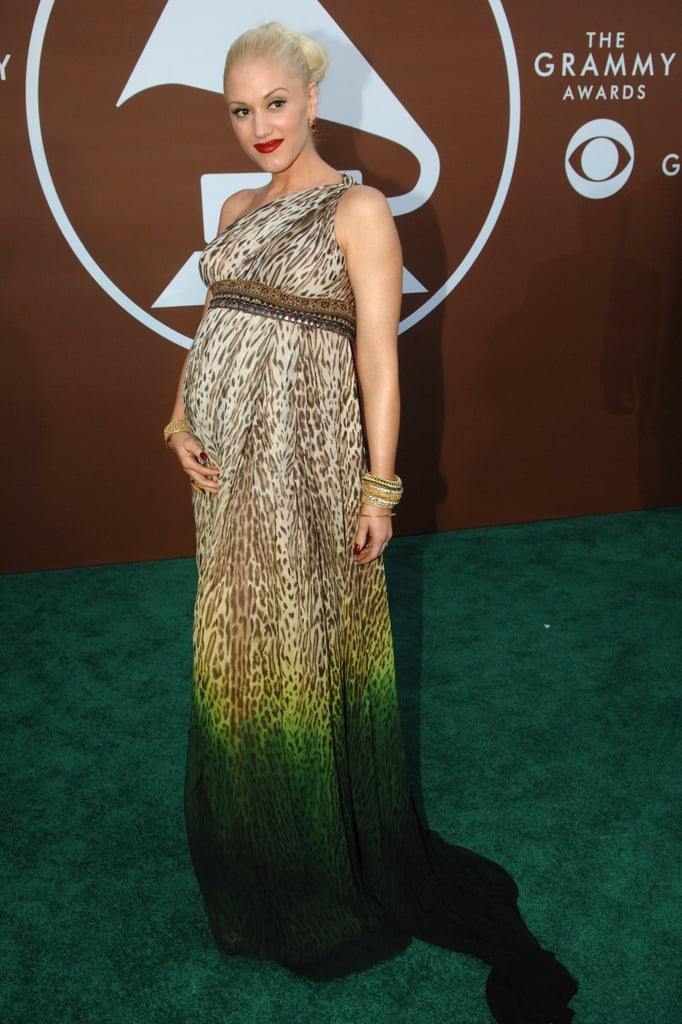 In 2006, a pregnant Gwen Stefani [14] wore L.A.M.B. to the Grammy Awards.
Rihanna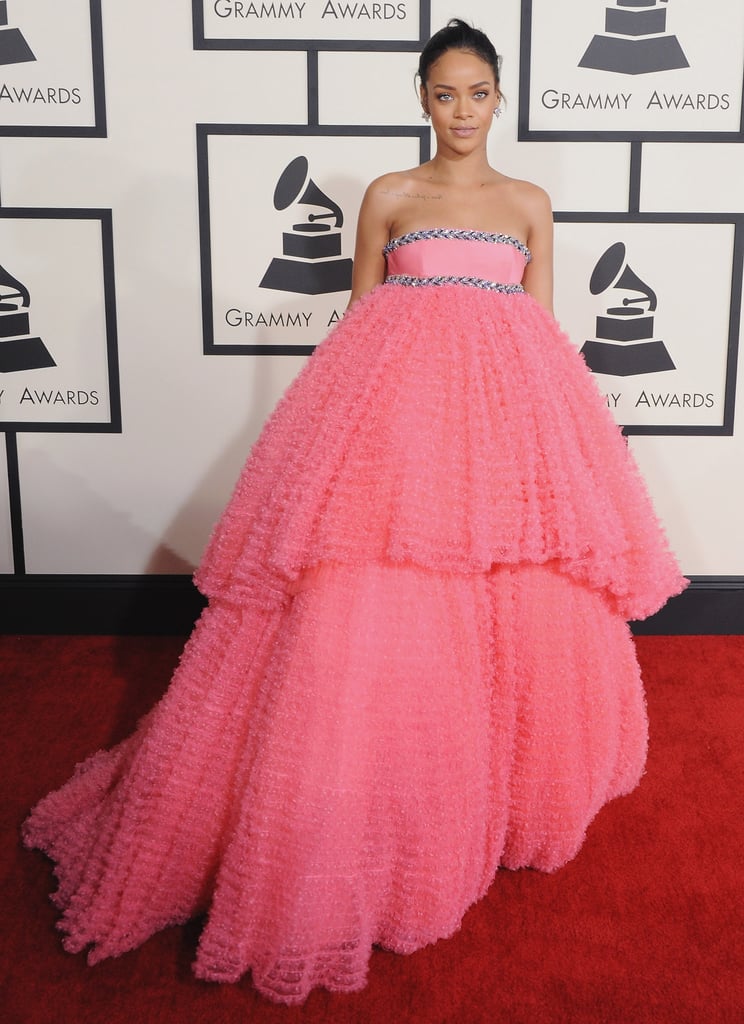 Rihanna [15]'s Giambattista Valli gown stole the show in 2015.
Rihanna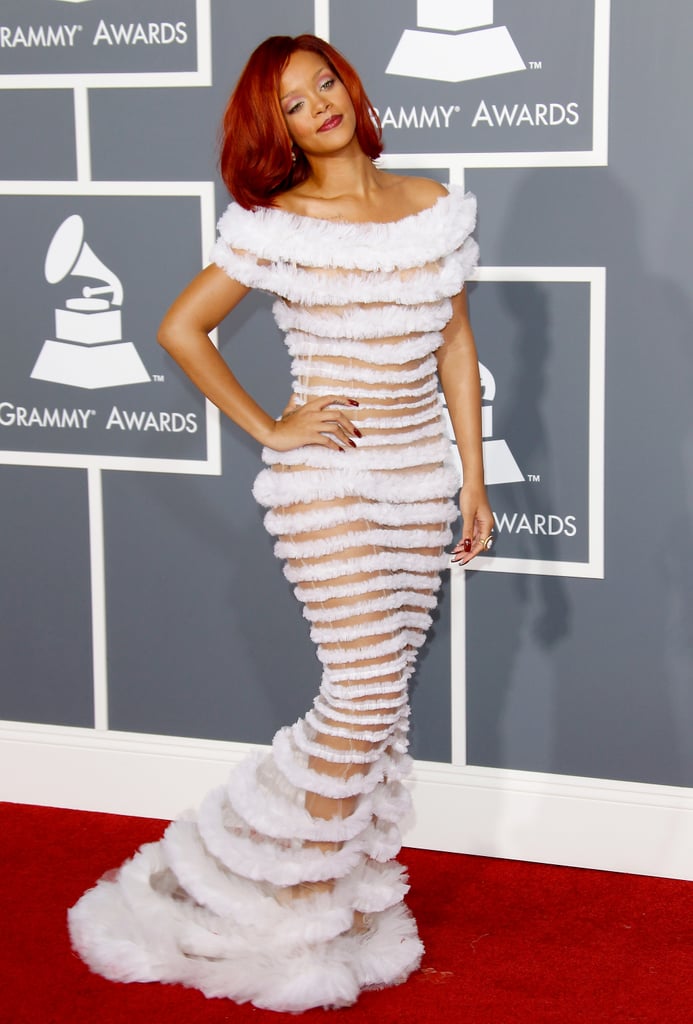 Rihanna [16]'s barely there Jean Paul Gaultier gown garnered a ton of attention in 2011.
Ciara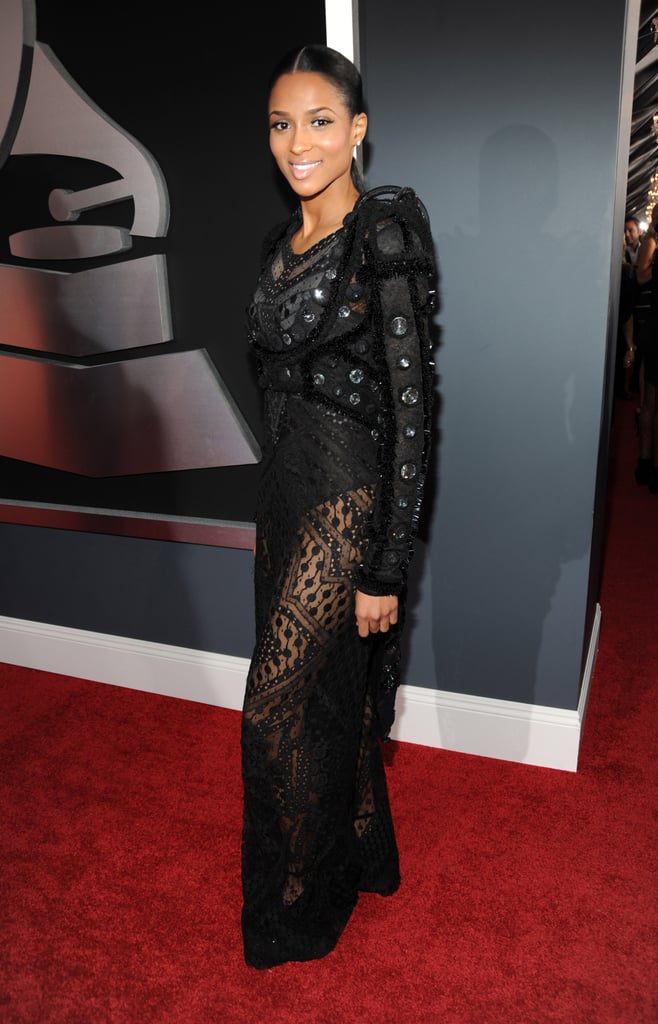 In 2010, Ciara stunned in Givenchy.
Beyoncé Knowles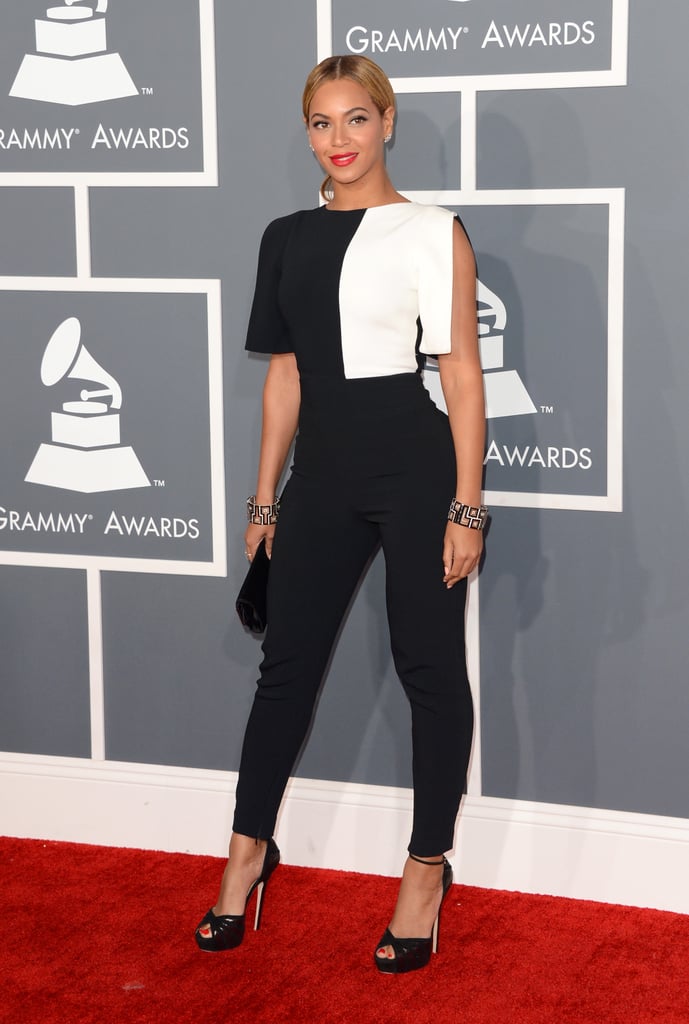 Beyoncé was a standout in a chic black and white jumpsuit by Osman Yousefzada in 2013.
Fergie
Fergie [17] hit the red carpet in a bright orange lace Roberto Cavalli gown at the 2012 show.
Faith Hill
Faith Hill [18] wore J. Mendel in 2013.
Jennifer Lopez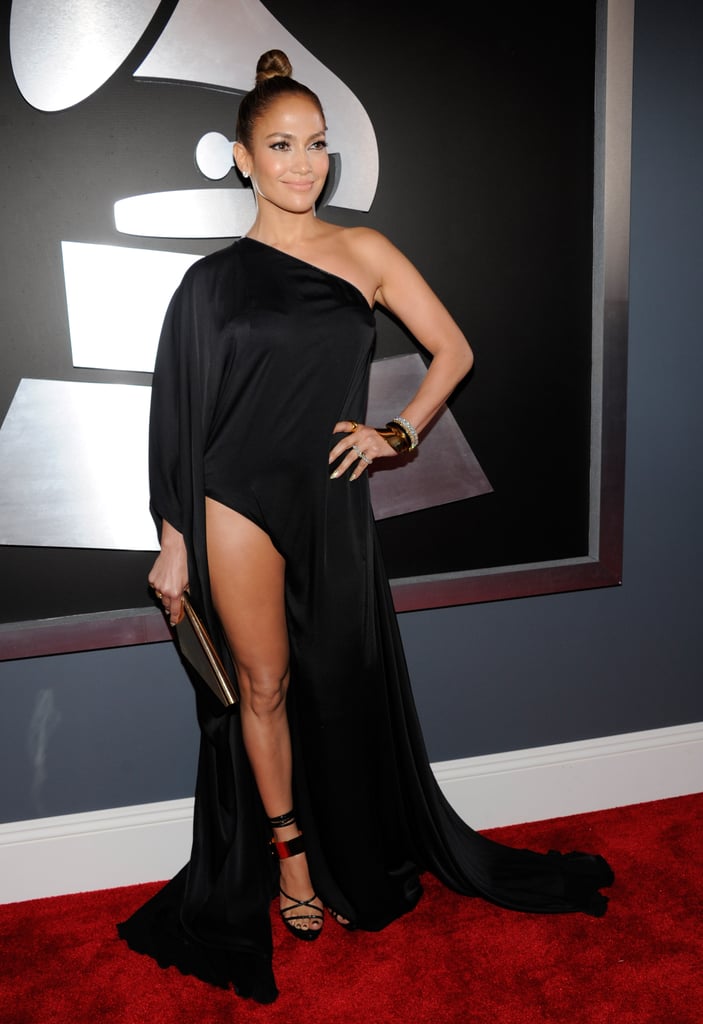 Jennifer Lopez [19] flaunted a lot of leg and bared some shoulder in an asymmetrical Anthony Vaccarello gown in 2013.
Kelly Rowland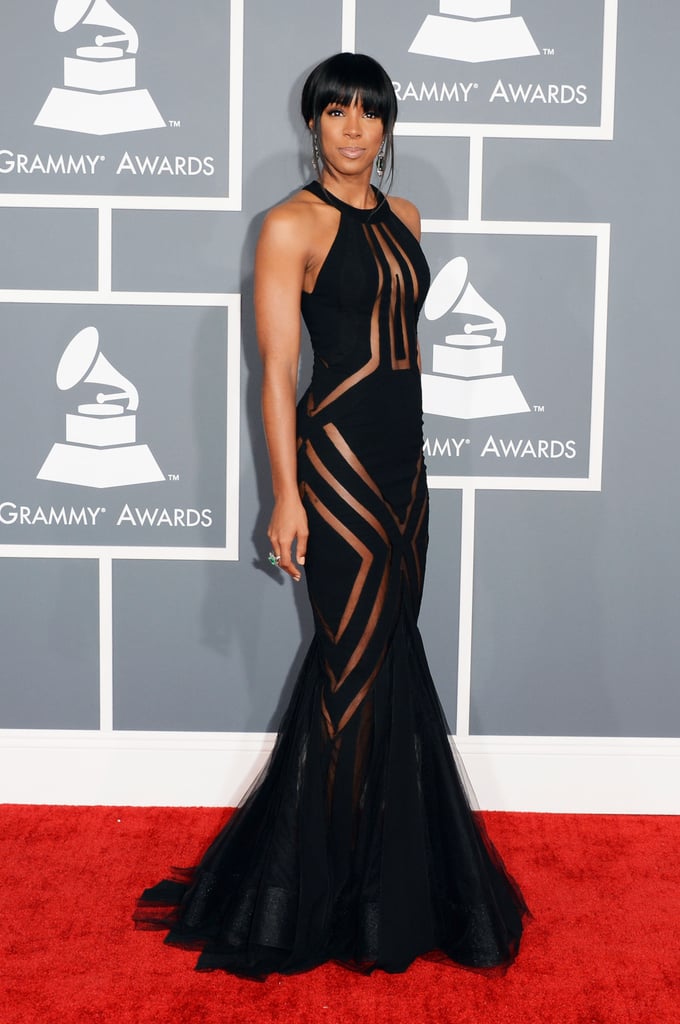 Kelly Rowland attended in a Georges Chakra Couture back in 2013.
Miley Cyrus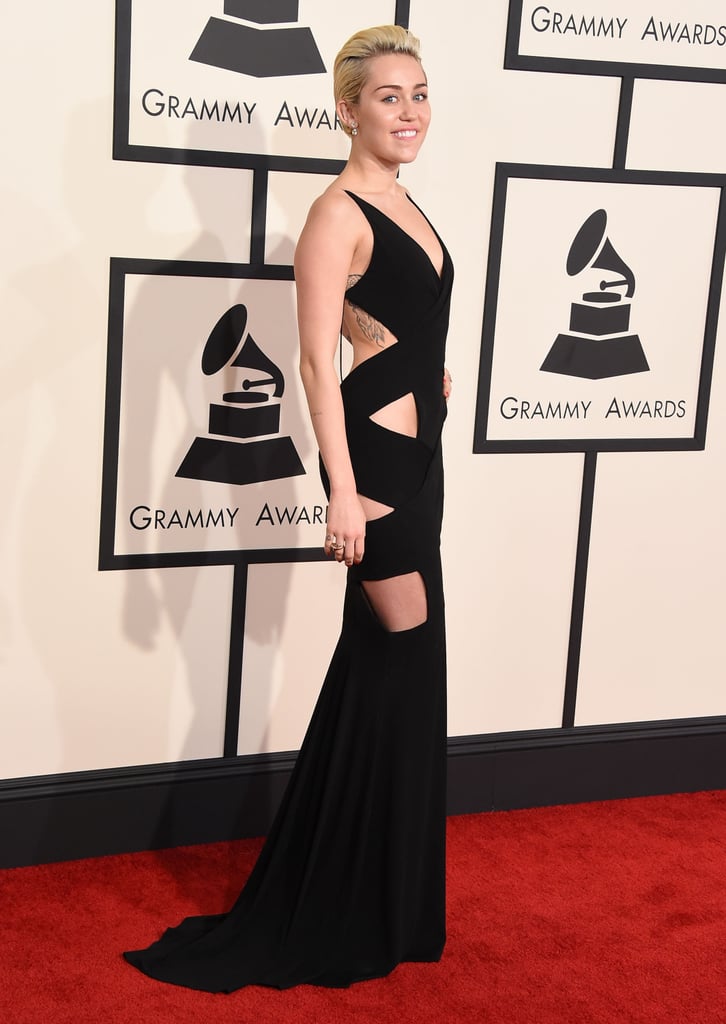 Miley Cyrus [20] wore Alexandre Vauthier in 2015.
Jennifer Hudson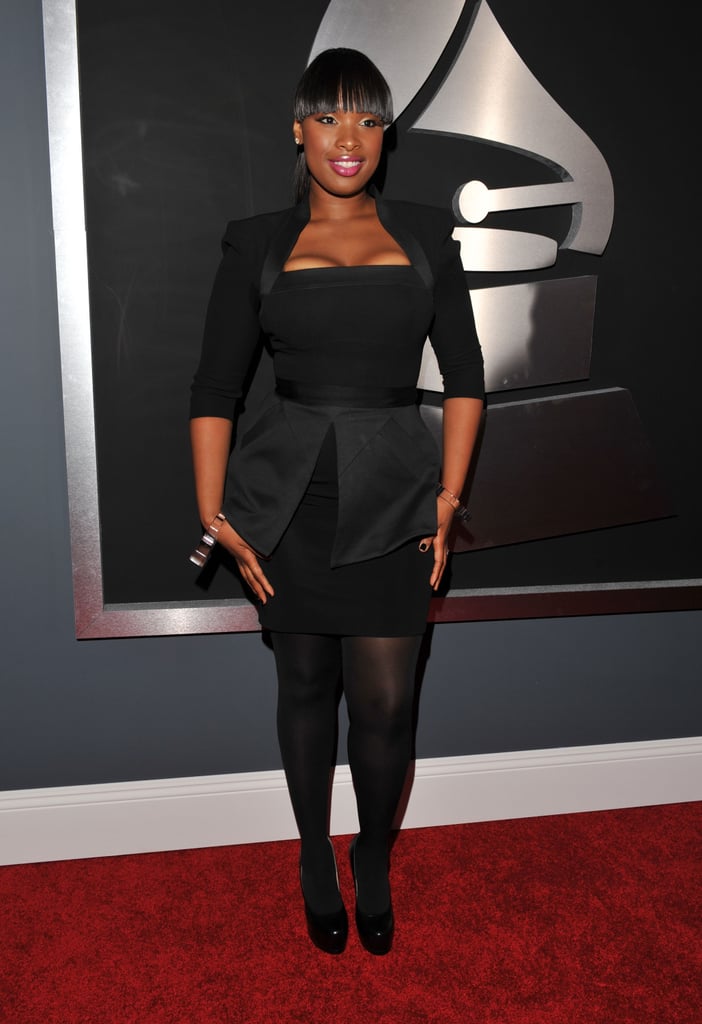 Jennifer Hudson [21] wore a black peplum Victoria Beckham [22] number in 2010.
Alicia Keys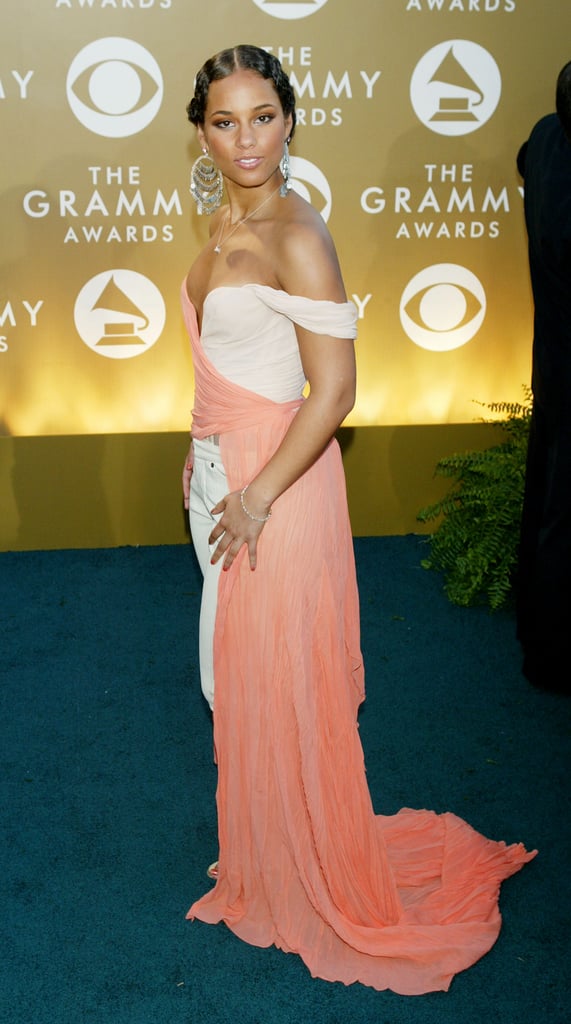 Alicia Keys [23] looked like a princess at the 2004 show.
Jack Nicholson and Diana Ross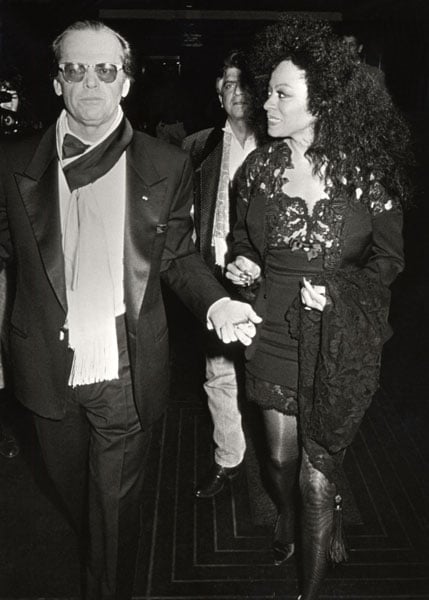 Jack Nicholson [24] and Diana Ross attended in 1991.
Gwen Stefani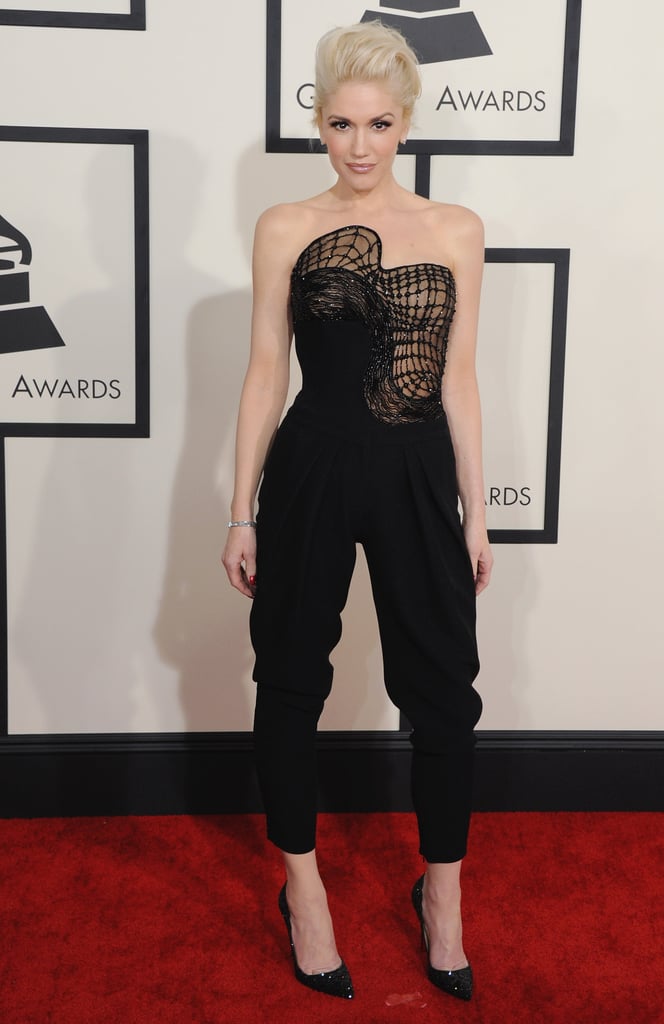 Gwen Stefani [25] wore a Versace jumpsuit to the Grammy Awards in 2015.
Fiona Apple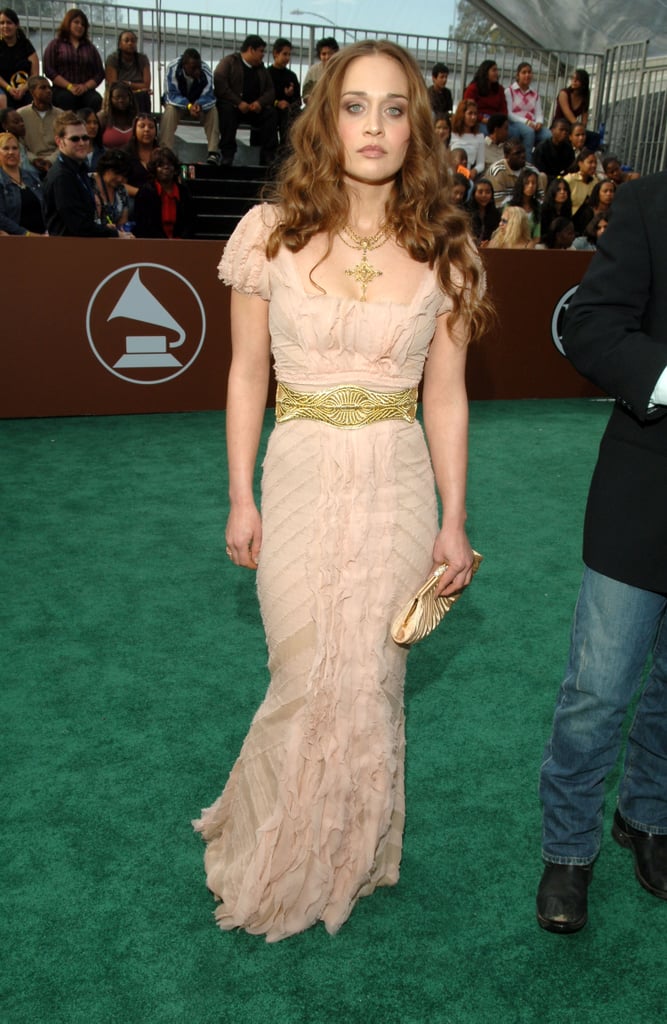 Singer Fiona Apple wore J. Mendel to the 2006 show.
Kim Kardashian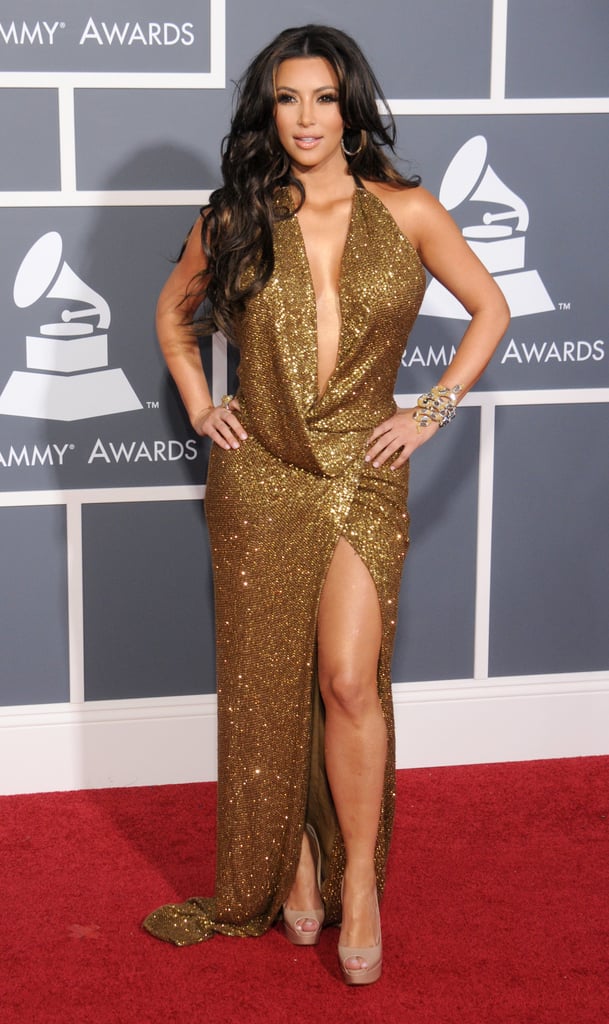 Kim Kardashian [26] looked like a Grammy statue herself in a low-cut gold Basil Soda gown in 2011.
Adam Levine and Anne V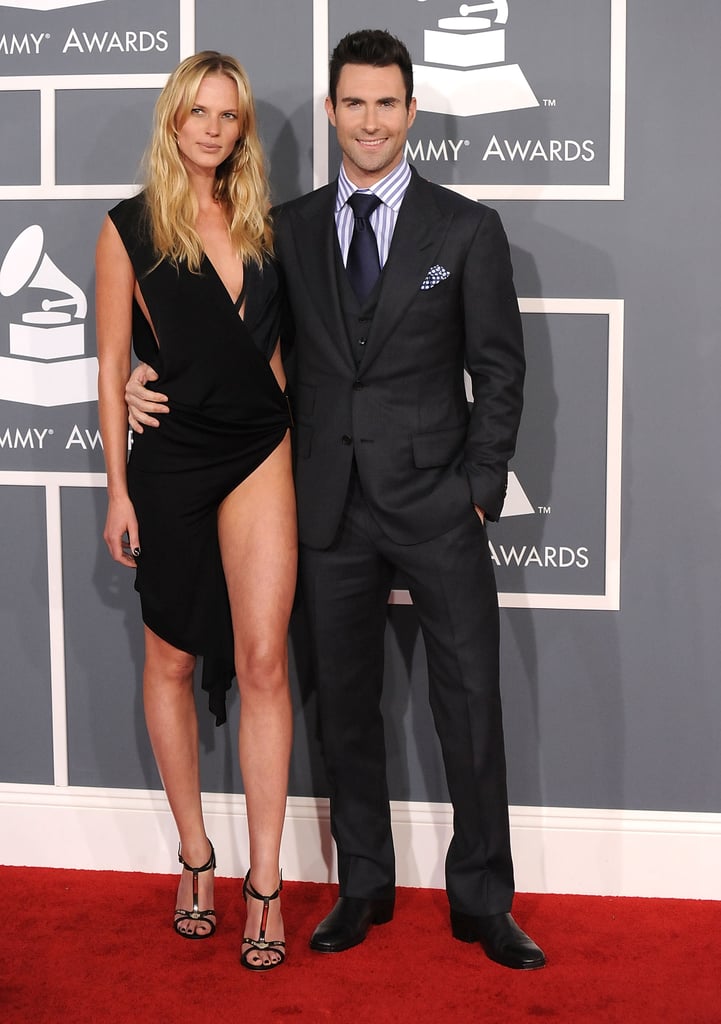 Adam Levine and Anne V upped the ante for sexiest red carpet couple in 2012.
Naomi Campbell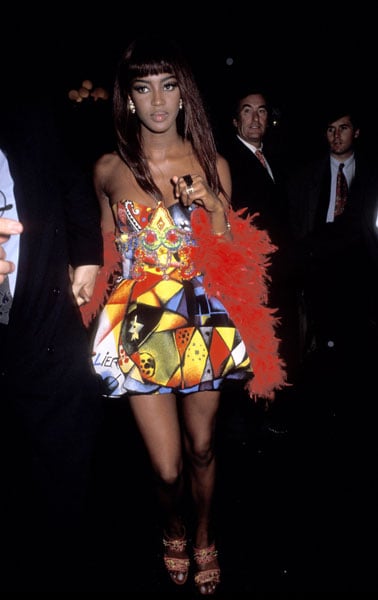 Naomi Campbell [27] wore a whimsical party-girl ensemble for the 1991 show.
Lady Gaga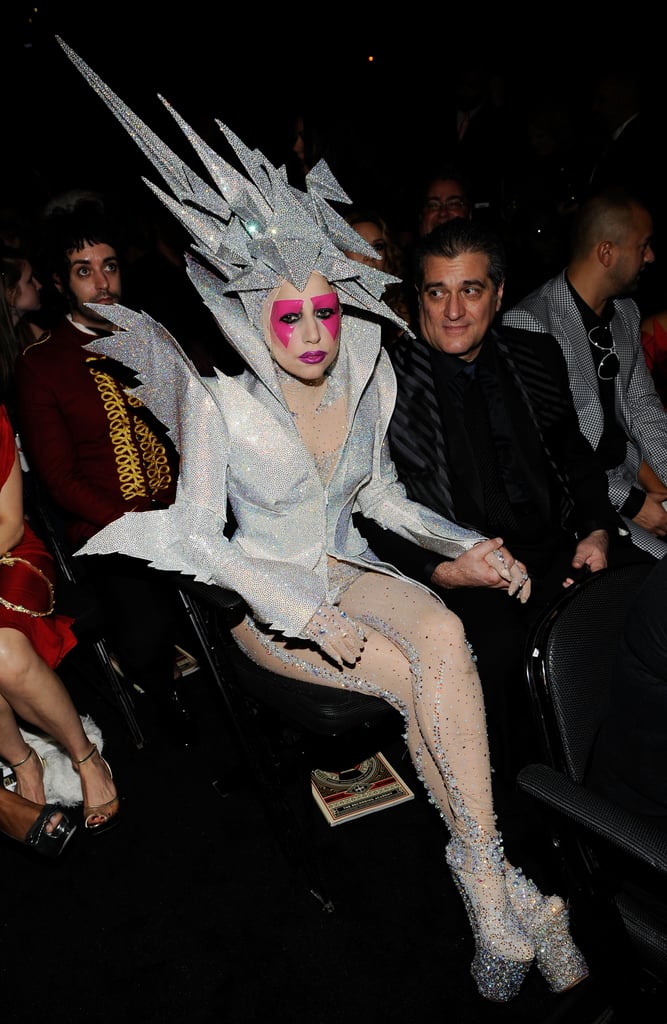 It couldn't have been easy to sit behind Lady Gaga [28] at the 2010 show — this futuristic costume was just one of several that evening.
Diana Ross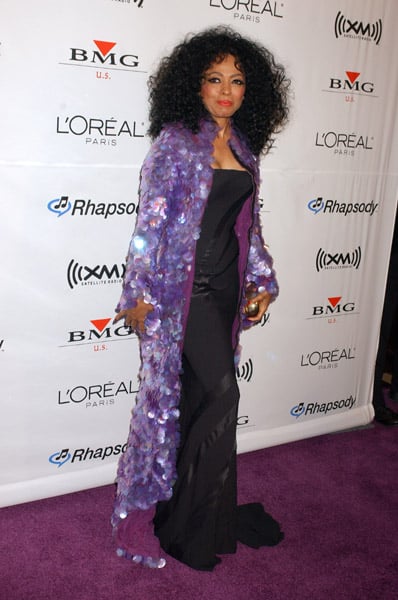 Singing legend Diana Ross wore an eye-catching purple coat in 2006.
Michael and Janet Jackson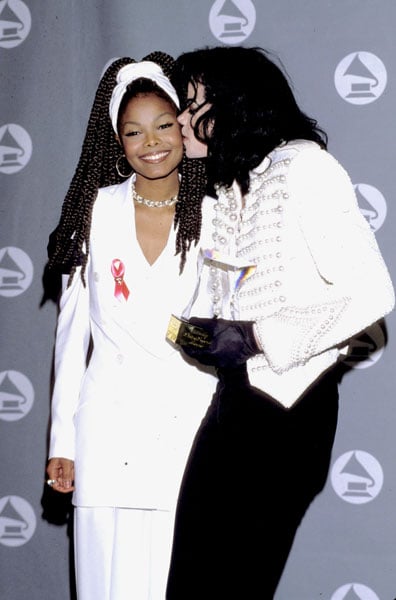 Michael and Janet Jackson [29] shared a sweet family moment (in matching black and white looks) in the Grammys press room in 1993.
Rod Stewart and Rachel Hunter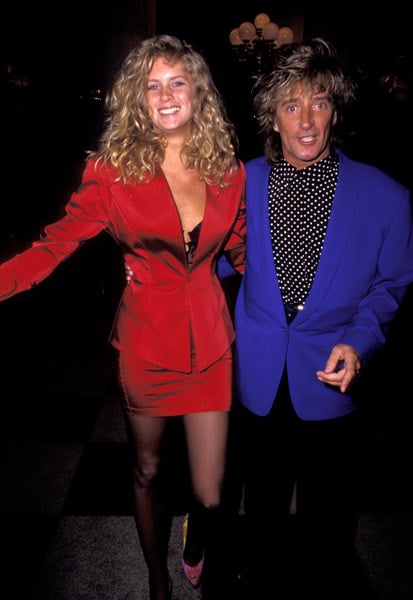 The hair! The blazers! Supermodel Rachel Hunter attended the 1991 show with then-husband Rod Stewart.
Beyoncé Knowles and Prince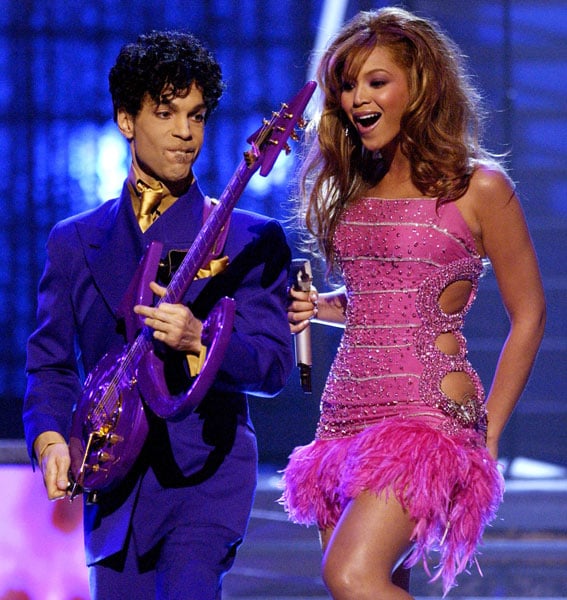 Beyoncé and Prince coordinated in shades of purple and pink for their Grammys performance in 2004.
Katy Perry and Russell Brand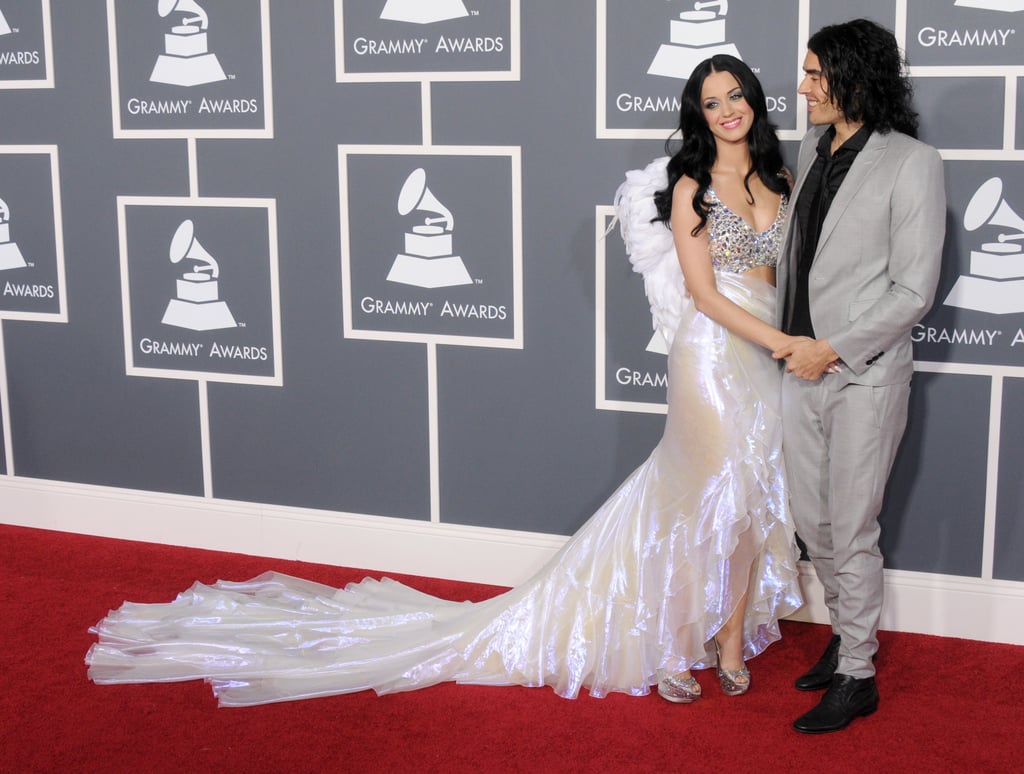 Katy Perry [30] (in a pair of angel wings, no less) hit the red carpet with then-husband Russell Brand [31] in 2011.
Lil' Kim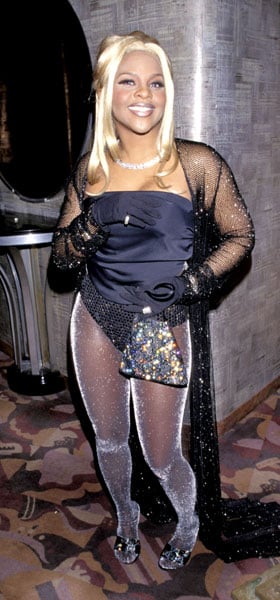 Lil' Kim styled up sheer layers in 1998.
Lady Gaga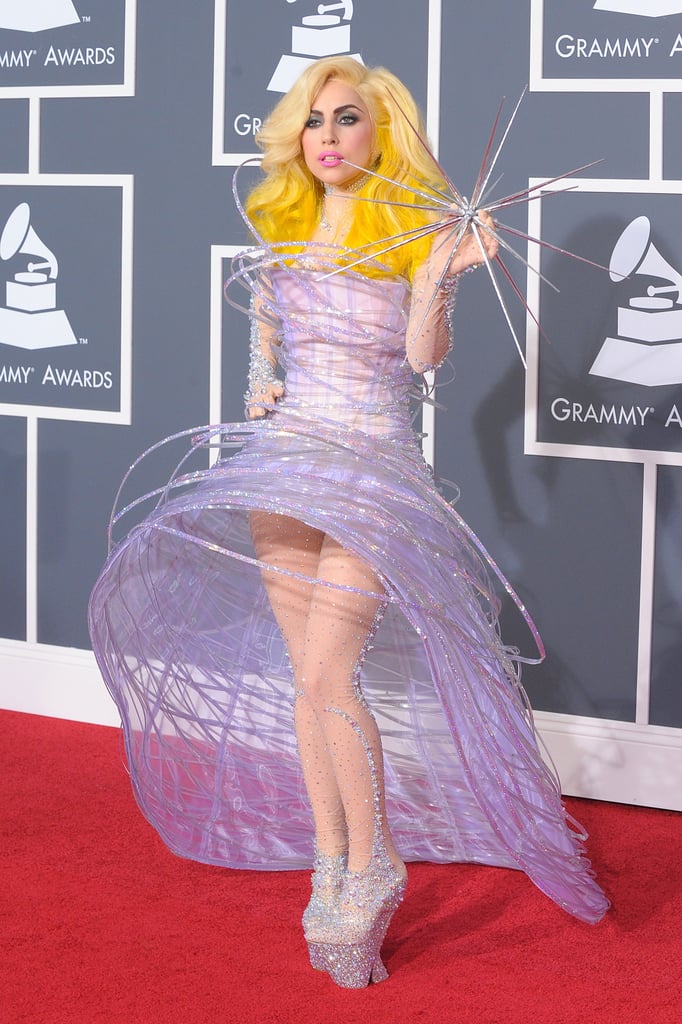 Lady Gaga [32]'s showstopping 2010 red carpet look was nothing short of fascinating.
Nicki Minaj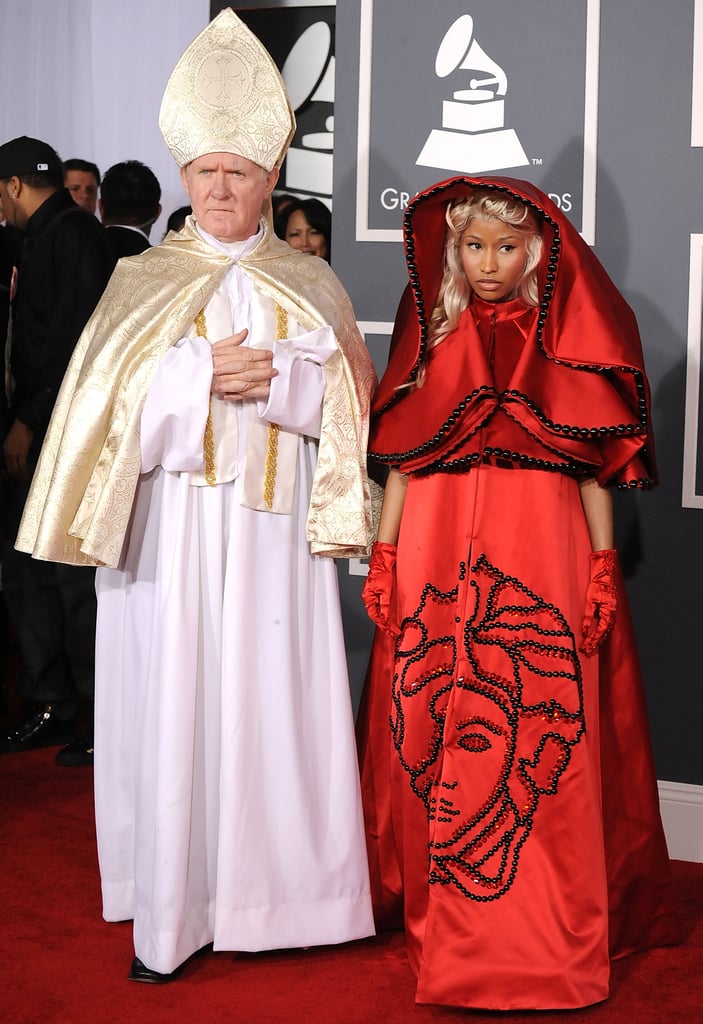 Nicki Minaj arrived in a statement-making red robe on the arm of a pope-like figure in 2012.
Lady Gaga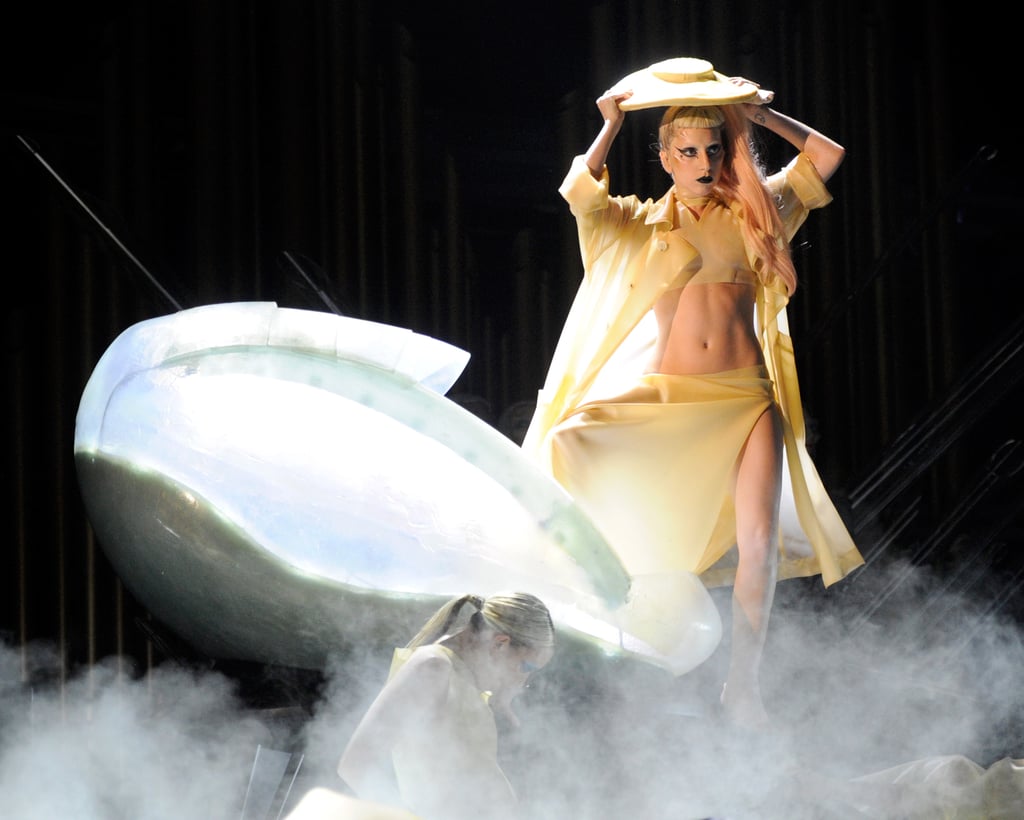 Lady Gaga [33] hatched out of her incubating egg while opening the show in 2011.
Estelle
Estelle upped the ante on the red carpet in 2013 with a bold print on her cropped top and full-length skirt — a look she designed.
Tina Turner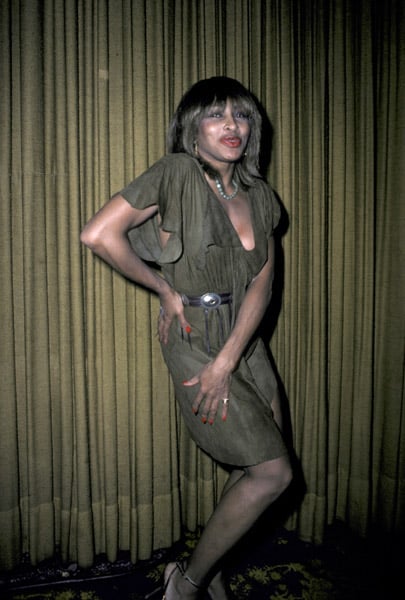 We love Tina Turner's savage-chic look from 1982.
Cyndi Lauper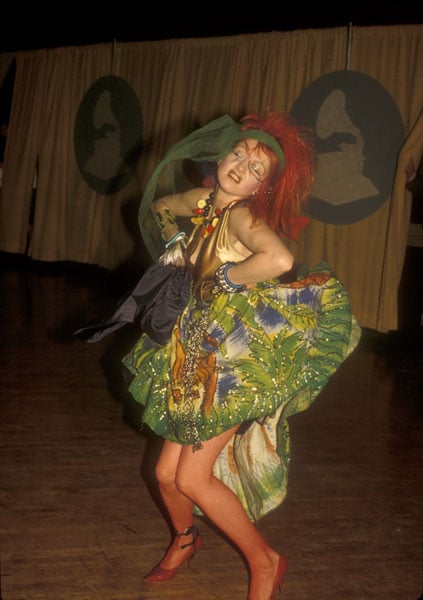 Here's Cyndi Lauper doing her wild thing in 1984.
Avril Lavigne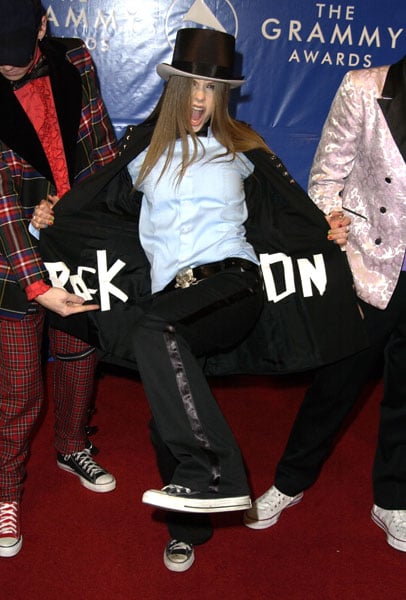 Avril Lavigne [34] was feeling rebellious on the red carpet in 2003.
Lil' Kim
Just one of Lil' Kim's many over-the-top red carpet getups; the year was 2002.
Nicki Minaj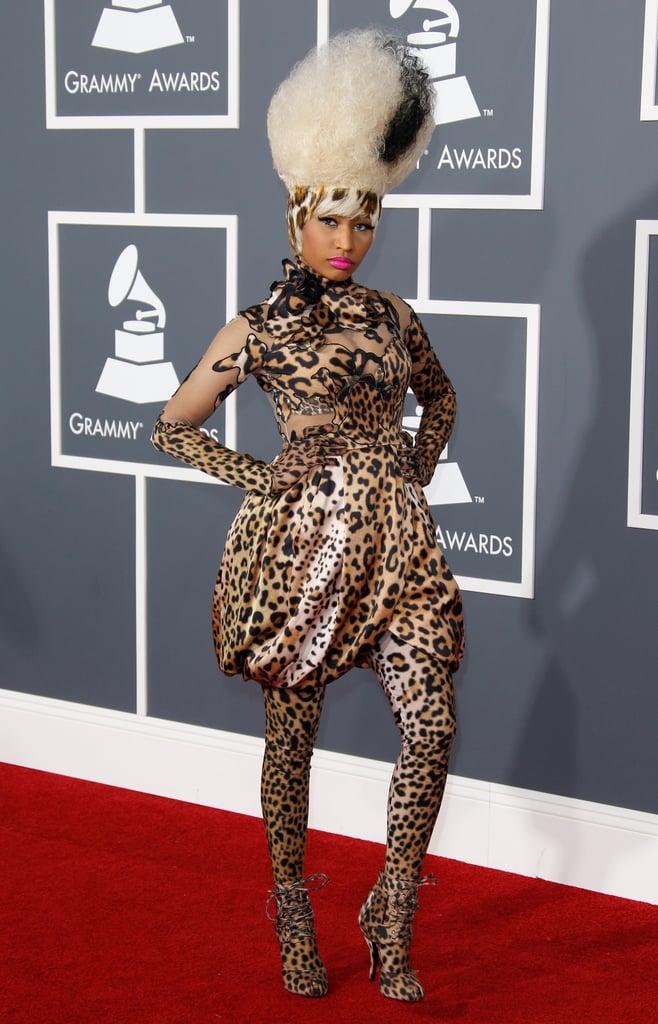 Nicki Minaj was covered in spots on the 2011 red carpet.
Grace Jones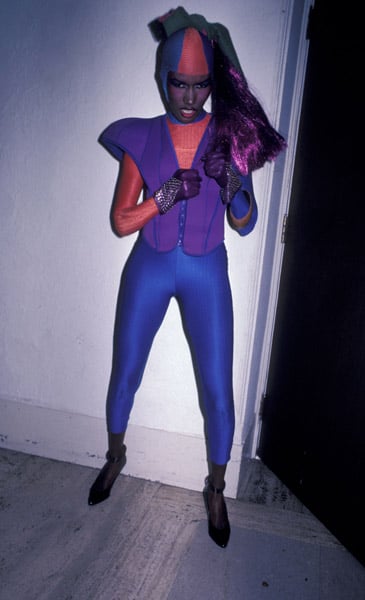 Grace Jones gave us a strong-shouldered spandex look in 1987.
Kanye West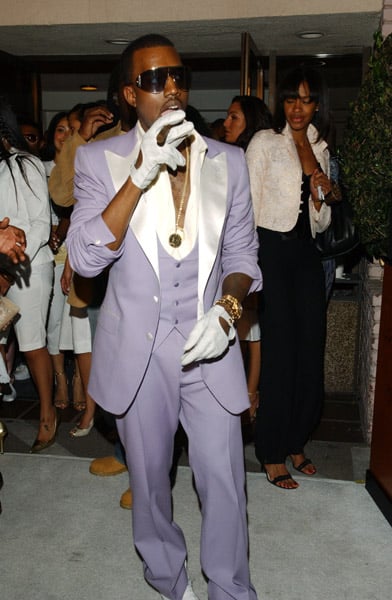 Kanye West [35] channeled Prince's "Purple Rain" days for the 2006 show.
Britney Spears and Alicia Keys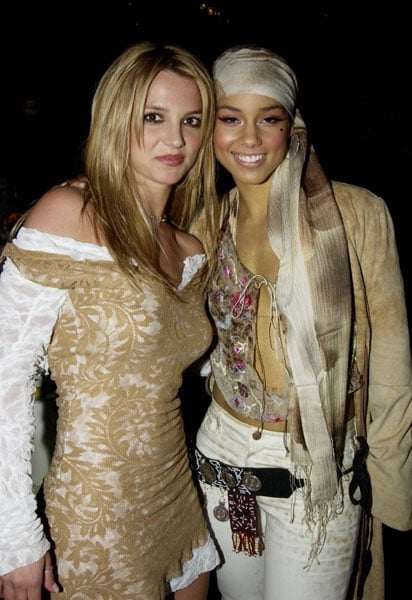 Britney Spears [36] and Alicia Keys [37] both got the pirate memo in 2002.
Imogen Heap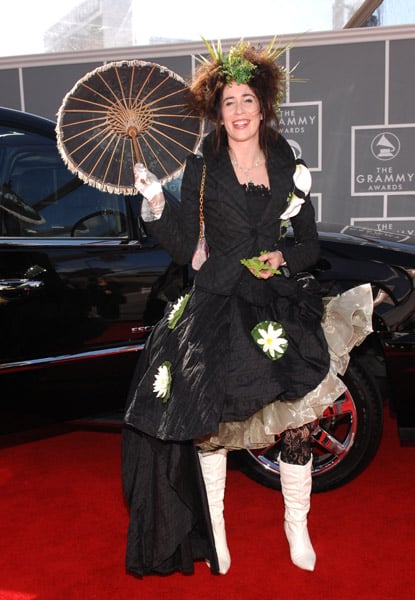 Imogen Heap looked like a modern-day Mary Poppins in 2007.
Faith Hill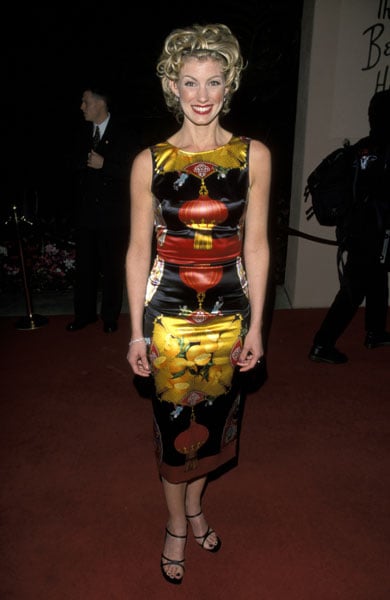 iFaith Hill wore a floral gown and curly hairstyle at the 1999 show.