Michelle Obama's Official White House Picture 2013
The FLOTUS Wears Reed Krakoff For Second Official White House Portrait
Like us on Facebook
Michelle Obama's second official White House portrait has been released, and rest assured, the FLOTUS is looking as chic as ever in custom navy blue Reed Krakoff. Unlike the sleeveless black Michael Kors sheath she chose in 2009, Michelle opted for three-quarter-length sleeves here, a move that takes the focus away from her famously sculpted arms. The other subtle differences worth noting? She wore a single strand of pearls instead of a double strand, and unlike the previous portrait, Michelle's "midlife crisis" bangs are front and center.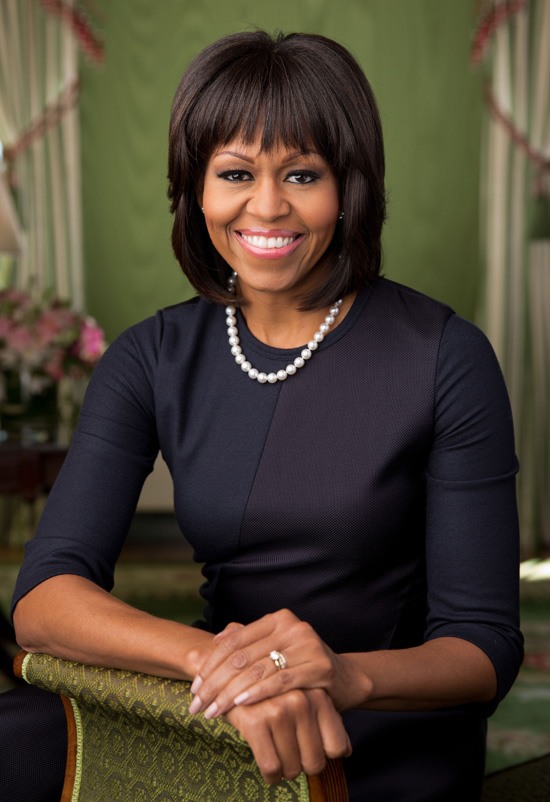 This isn't the first time Michelle has reached for one of Reed Krakoff's designs. In fact, she wore one of his sheaths and cropped cardigans to President Obama's official swearing-in ceremony, and styled the latter again with a

Thom Browne

dress at the inaugural lunch. Lest we forget, she also wore a pair of customized boots to walk in the inaugural parade. While neither Krakoff nor the first lady's office have commented on their fashionable partnership, it's safe to say we can (most likely) expect more Krakoff pieces to make their way into the presidential spotlight.