Wish you could wear a wedding [1] dress by famed bridal designer Monique Lhuillier? If you don't have tens of thousands of dollars lying around, your chances are pretty slim. That is, unless you are willing to make a minor compromise. Although brides need not read any further, if you're attending a wedding this year, Rent the Runway [2] is offering a much more affordable way to check "wearing Lhuillier" off your bridal bucket list.
The designer has created a limited-edition collection of dresses for wedding guests available exclusively on the rental site. Launching today in time for Spring wedding season, the six-piece capsule features her most iconic shapes and fabrics in a palette of corals, mints, and royal blues. And aside from two dresses that cost $325 for a 4-day rental, the price comes in at $300 or less.
Derek Guillemette, Rent the Runway's ready-to-wear director who has coordinated exclusives with such names as Carolina Herrera and Donna Karan, talked to us about how the collection came to life and walked us through each dress in the sure-to-rent-out collection.
"Guest-of-wedding dressing is our biggest occasion people dress for," he said of the brand's renters. "So this is great because all these guests are going to have amazing experiences, and when they go to get their wedding dress, they're going to think of Monique."
Monique Lhuillier Sharpen the Edge Dress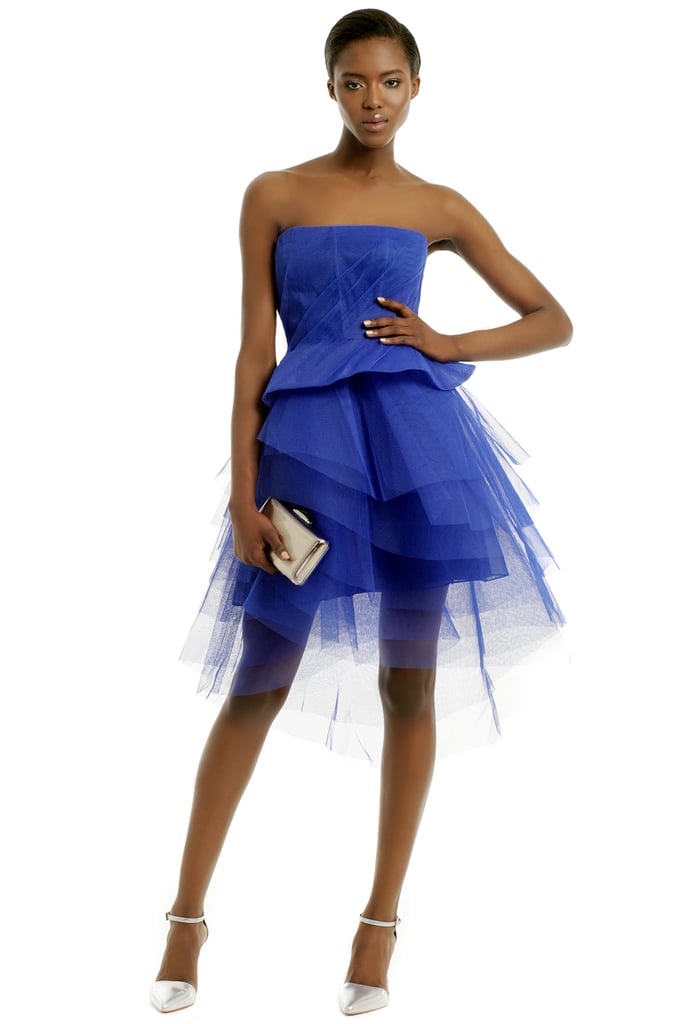 Blue strapless dress with full tulle skirt ($325, retails for $2,995)
"This is everyone's favorite," Guillemette said. "It's so sculptural and couture feeling. The color is so rich and saturated, and it has the peplum detail that's still so popular. It's as exciting from the back as it is from the front."
Monique Lhuillier Winter Mint Mist Dress
Mint green asymmetrical tulle sheath ($325, retails for $2,995)
"We created another tulle in this season's must-have color," he said. "It's all about mint this season. This dress, too, has a deconstructed romantic feeling with the draping and ruching."
Monique Lhuillier Peach Kiss Dress
Coral square neck dress with lace sleeves ($275, retails for $2,195)
"Monique is very much known for lace, and this is one of her top-performing shapes," he said. "With the A-line skirt, it's an easy fit. You can dance in it, which is great. Everything we designed was designed with dancing in mind. Our customers like to get down. And the color — as these are for Summer weddings, all of the colors we picked look really good with a tan."
Monique Lhuillier Corsican Mint Dress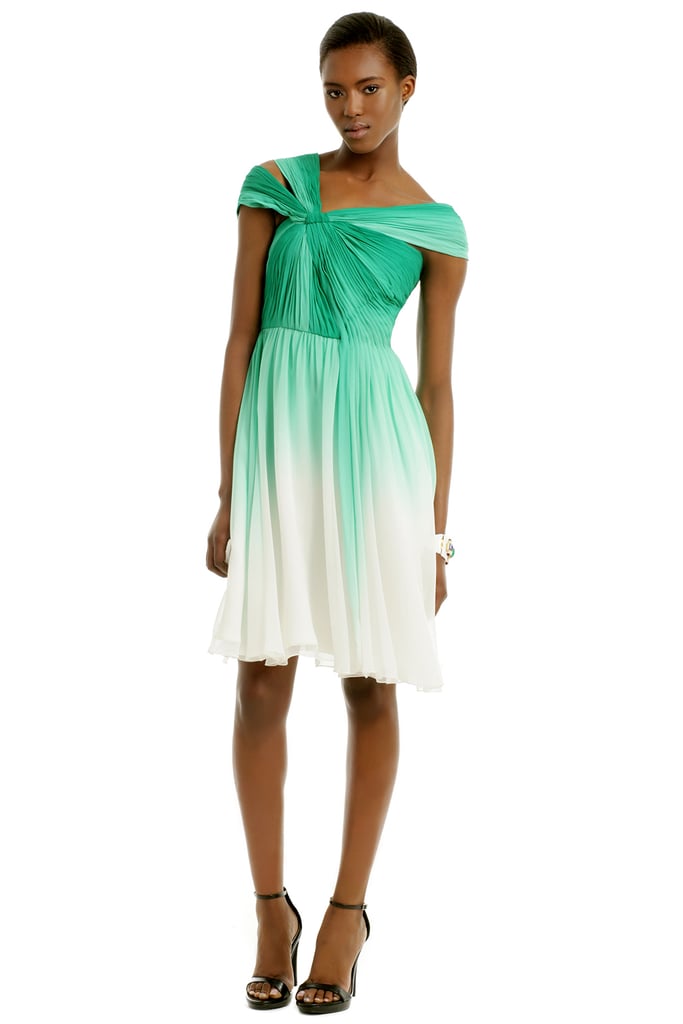 Green-to-white ombré chiffon dress with cap-sleeve neckline ($300, retails for $2,595)
"We tried to register all the techniques Monique's known for, and one of them is ombré . . . she's the queen of ombré," Guillemette said. "We tried a few different options, but we felt the green was the most Spring feeling. Everybody looks good in this. When you wear it, it just flows. It's a dream."
Monique Lhuillier Mona Dress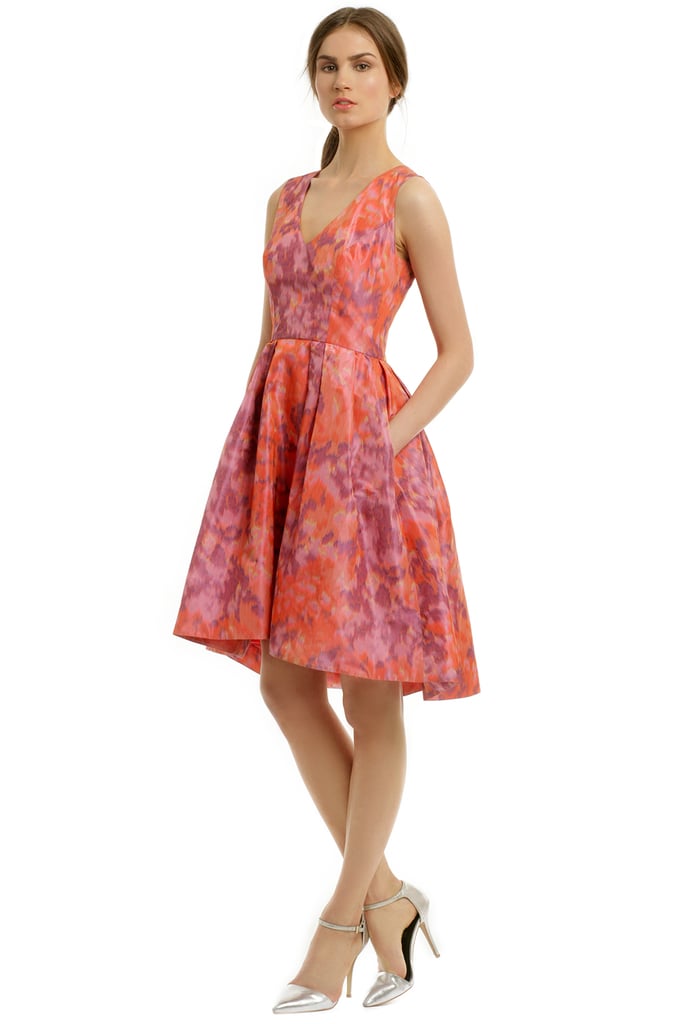 Floral-printed taffeta sleeveless faille dress ($275, retails for $2,495)
"And we wanted to feature a print," he said. "Prints can be very personal and specific, but this is the perfect print — it appeals to everyone. The shape is really flattering. It has pockets and is easy to wear but still dramatic."
Monique Lhuillier Spin in the Skirt Dress
Deep pink v-neck dress with elongated sash ($300, retails for $2,595)
"This one we actually saw in a gown version — and there's this whole asymmetry trend that's going on with hemlines, so I thought it'd be really pretty if we turned it into a cocktail dress," Guillemette said. "And Monique loved the vibrant color. There's always the woman who wants to wear red."
Monique Lhuillier Sharpen the Edge Dress Sketch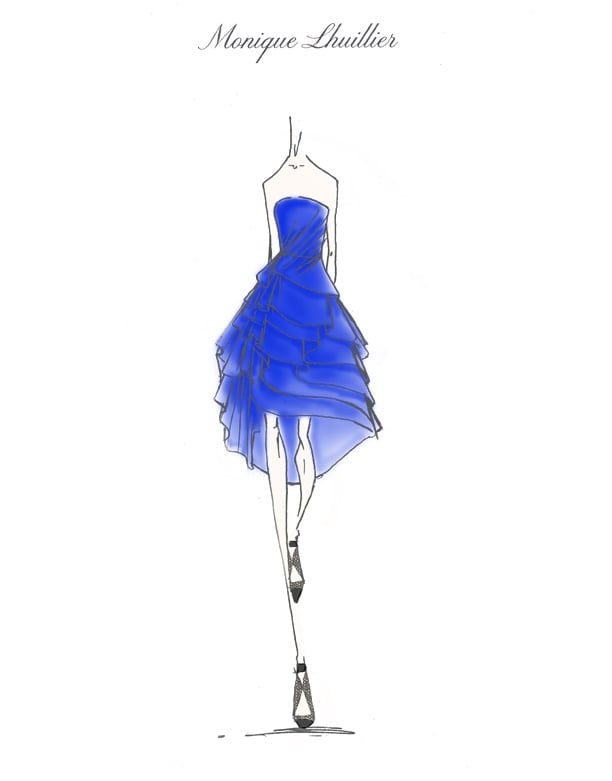 Monique Lhuillier Winter Mint Mist Dress Sketch