Consider this your one-stop shop for all the top runways at New York Fashion Week! See all your favorite designers and their gorgeous offerings for Spring right now.
Source: Getty [1]
BCBG Perfects Effortless, Feminine Dressing
Watercolor prints, sleeveless trench coats, and easy, boxy silhouettes — the BCBG Max Azria Spring '14 runway was all about effortless, feminine dressing. See just what Max and Lubov Azria had in store for the new season right here.
Short Models Rule the Runway at Marc Jacobs
We're used to seeing tall models on the runway, but leave it to Marc Jacobs to send a slew of shorter models, including Cara Delevingne, Charlotte Free, Sky Ferreira, and Georgia May Jagger, down the catwalk. And by catwalk, we mean a dark, sandy beach filled with Big Gulp cups and cigarette butts that resembled the aftermath of an oceanside music festival. The collection, filled with heavily embellished Victorian jackets paired with slouchy, hip-slung shorts and Birkenstocks, had a decidedly irreverent attitude that we can't wait to emulate come next Spring.
DKNY Will Knock Your Sporty Socks Off!
For DKNY's 25th anniversary collection, the brand looked fresher than ever. Models like Karlie Kloss hit the runway in overalls, baseball caps, anoraks, and sneakers — a nod to the brand's more urban look in its genesis era. A sports influence continued into neoprene skater dresses with sexy cutout backs, while evening offered up a new version of the "naked dress": bias gowns. Watch on for the full scoop!
Metallics Rule at Marc by Marc Jacobs
Marc by Marc Jacobs had a major metallic moment for Spring 2014 with iridescent jackets, sequin-laden dresses, and David Bowie-worthy stars scattered onto satin jumpsuits. Watch on to see the entire collection.
Michael Kors Does Luxe Vacation Wear
With a mellow soundtrack — including Bette Midler and Fleetwood Mac — the Michael Kors Spring 2014 runway featured floaty printed tea dresses, belted cardigans, and slit maxi skirts that wafted down the runway in a '40s-meets-'70s mashup. There was a heavy emphasis on luxe vacation wear with '40s-style two-pieces and even a pair of denim shorts. Watch the entire collection in action now!
We're Going to Zac Posen's Garden Party; You're Invited!
Coco Rocha kicked off Zac Posen's Spring 2014 runway in an immaculate hand-plisséd silk chiffon dress. With pale florals and ethereal fabrics, Posen — who, according to show notes, sought to evoke a modern-day Sarah Bernhardt — provided the requisite romanticism we've come to expect from him. Get the full scoop by watching the entire show now!
What Happens When Sporty Meets Tribal? Rebecca Minkoff's Spring Collection
If you're not having fun at Rebecca Minkoff, you're not paying attention. For Spring 2014, Janelle Monáe provided live runway-side entertainment, and Minkoff sent out clothes ready for the chicest Spring break ever. Get ready for the show — you've got a front-row ticket right here.
Naomi Campbell Shuts It Down at the DVF Show
The motto at Diane von Furstenberg Spring '14 was "be your own oasis." Naomi Campbell [2]'s fierce walk said it all — it was all about empowerment. Not surprisingly, that's the takeaway from von Furstenberg's latest, where the clothes were modern, a little flirty, and all about the woman. Get the full scoop here!
Meet ICB by Prabal Gurung's '90s Raver Girl
The ICB by Prabal Gurung Spring 2014 collection was decidedly more relaxed than his high-drama runway show for his eponymous line. From slouchy-yet-sculpted crop tops to boxy jackets and tent dresses, basic staples and wardrobe-maximizing separates were aplenty. Vinyl paillettes stitched onto organza dresses were as done-up as it got. Watch on to see the entire collection in action.
Come on a Chic '70s Safari With Rachel Zoe
It's not a Rachel Zoe [3] collection without sequins or a little animal print, but while those elements remained a constant for Spring '14, they weren't the standouts. There were heavy '70s references, but the designer covered new ground with a lineup of denim separates and sharper cuts in all white that were pretty major. See the entire collection in action now!
Calling All Cool Girls: Watch Sass & Bide
Sass & Bide's Spring 2014 collection went a little something like this: polka dots took a sexy turn, modern suiting ruled, metallics shone bright, high-low hemlines were right on trend, thigh-high double slits were sultry, and plush prints kept things regal. Watch on to see these pieces and more in action!
Alice + Olivia Does Sparkle, Crop Tops, and '50s All at Once
Alice + Olivia Spring '14 delivered charm but not without whimsy. Stacey Bendet struck that perfect balance between the totally wearable and the statement-making — a balance that's won celebrity fans like Jamie Chung and countless fashion bloggers, and they all showed their support at the presentation. Watch for the full scoop.
Get Your Glitz On With Dannijo Jewels
Dannijo's Spring 2014 presentation was a lesson in sparkle and glamour — any piece will ensure you're easily fully dressed. Models oozed sophistication in little more than silk nightgowns and layers of the brand's signature standout jewels. Catch the full presentation now!
Theyskens' Theory: Every Basic You Ever Needed
Olivier Theyskens had the '90s on his mind when he designed Theyskens' Theory's Spring 2014 collection. A formfitting black camisole over a navy t-shirt and sheer pants created a sort of modern facsimile of the baby-doll dress, and there was more than one shirtdress and generous sweater here. Watch on to see the entire collection in action!
Charlotte Ronson Goes Sweet For Spring (Cherries Included)
Charlotte Ronson's Spring 2014 presentation was filled with lots of warm-weather pieces: blue-and-green floral prints on dresses, skirts, and a spirited crop top and, to counterbalance those pieces, a print featuring white cherries on a black background. Get the full scoop now!
Tibi Does Tropical . . . With Birkenstocks
Turning to laid-back, boxy proportions, bared midriffs, flatforms, and tropical prints, Tibi's Amy Smilovic crafted wares that remind us to take it easy. Watch on to see the entire Spring 2014 collection in action.
We're Road-Tripping to Mexico With Christian Siriano!
Christian Siriano took guests at his Spring 2014 runway show on a journey to Isla Mujeres for a collection of vibrant prints, sand tones, and raffia textiles. Pieces included a green patchwork sheath dress, handiwork with embellishments, and a pink organza gown with fluttering petal appliqués. Watch on for the full show!
Hervé Léger Delivers Spring's Sex Appeal
Once the spectacle of Nicki Minaj taking her seat at the Hervé Léger Spring 2014 show was over, it was time to really turn your attention to the clothes. Grays and blacks, plus the full spectrum of denim hues and a splash of warm pink, were all over the place. Leather corsets kept the brand's ever-present sex appeal going, though there was a softer side as well: the first look was a figure-hugging dress styled over a t-shirt. Watch the entire thing here and see for yourself!
Rebecca Taylor Provides the Perfect Amount of Spring Sparkle
Modern, feminine, and totally fresh — you won't want to miss Rebecca Taylor's Spring 2014 runway. See every look come down the catwalk right here.
What's Black and White and Superhero All Over? Marissa Webb's Spring Runway!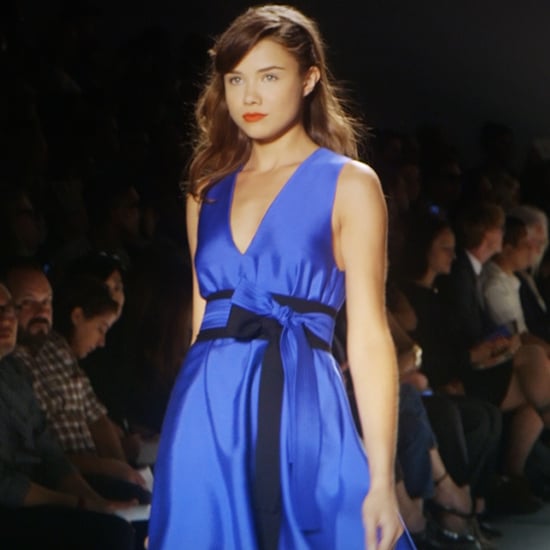 Marissa Webb's latest show was filled with styling tips to be had. Knotted obi belts gave tops a peplum feel while defining the silhouette, and moto jackets kept voluminous blouses in check. Menswear made an appearance, too. Want to know more? Watch to see just what the designer has in store for Spring 2014.