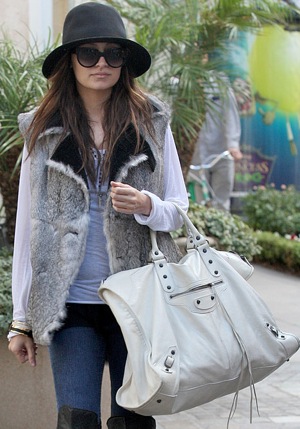 Vests continue to serve as favorite layering tools. And it's time to get furry.
Leather
[1],
denim
[2], and
studded
[3] vests are too weak right now — it's high time fashion meets function. I recently scored a cheap blond fur vest from
American Eagle
[4] Outfitters, it even has a cute plaid lining. I've pretty much been throwing it over everything, and I'm trying to find a chichi enough event to wear it with a long gown
a la Elizabeth Hurley
[5]. But
Nicole Richie models it for everyday
[6], if you can stop staring at her mammoth white
Balenciaga
[7] and focus on her foxy furry.