You can always count on Nina Dobrev [1] to be in the running for best dressed at any event. The birthday girl isn't afraid to give daring trends a try or switch up dress lengths for special occasions. Take the 2017 Golden Globes afterparty [2], where she rocked a red Zac Posen gown. The bold color not only made her stand out on the red carpet, but she also wore the power-woman hue with confidence. When it comes to her red carpet style, there's no telling what she'll wear because she'll go big when it comes to her outfits. Scroll on to see 98 of her best looks, and you'll see why she's one of our style crushes for life.
— Additional reporting by Mandi Villa and Marisa Tom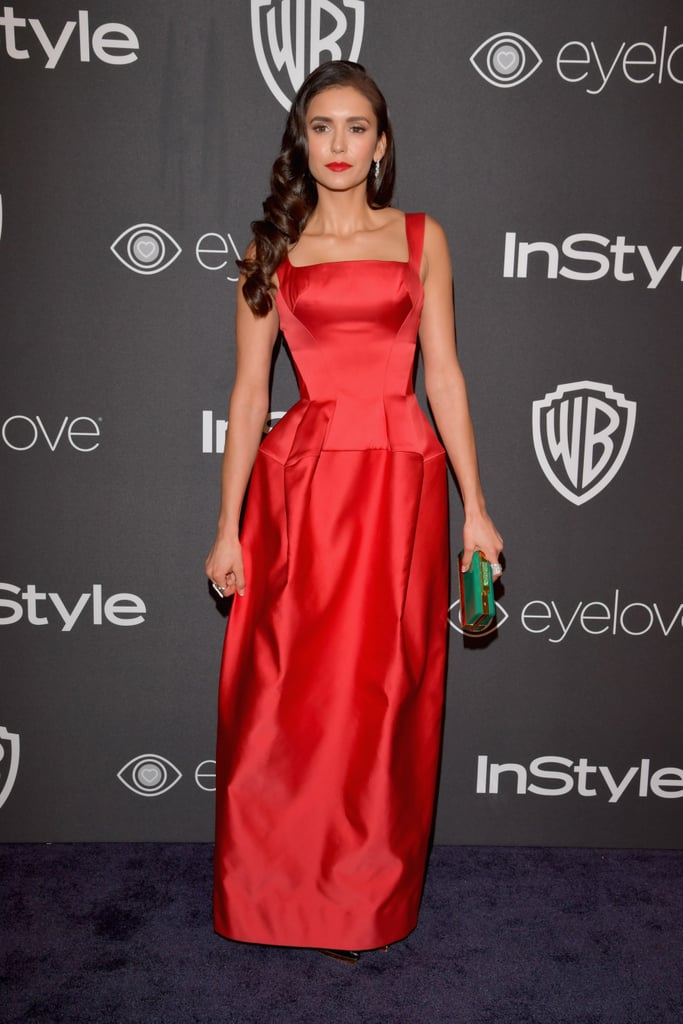 Nina attended an afterparty for the 2017 Golden Globes in a Zac Posen dress.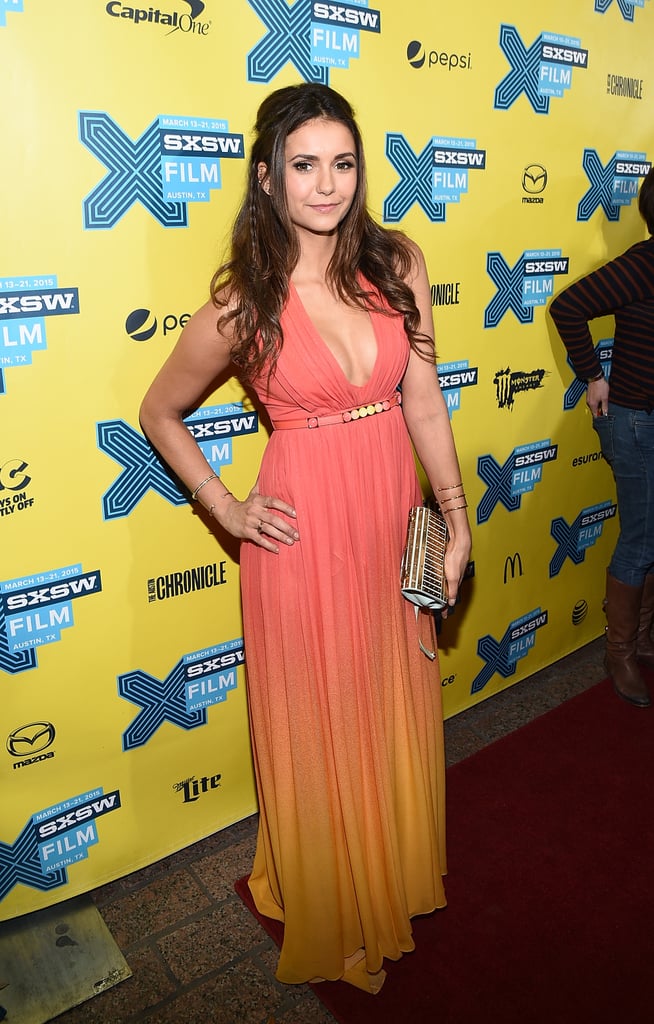 Nina promoted her film The Final Girls at SXSW in an ombré Elie Saab gown.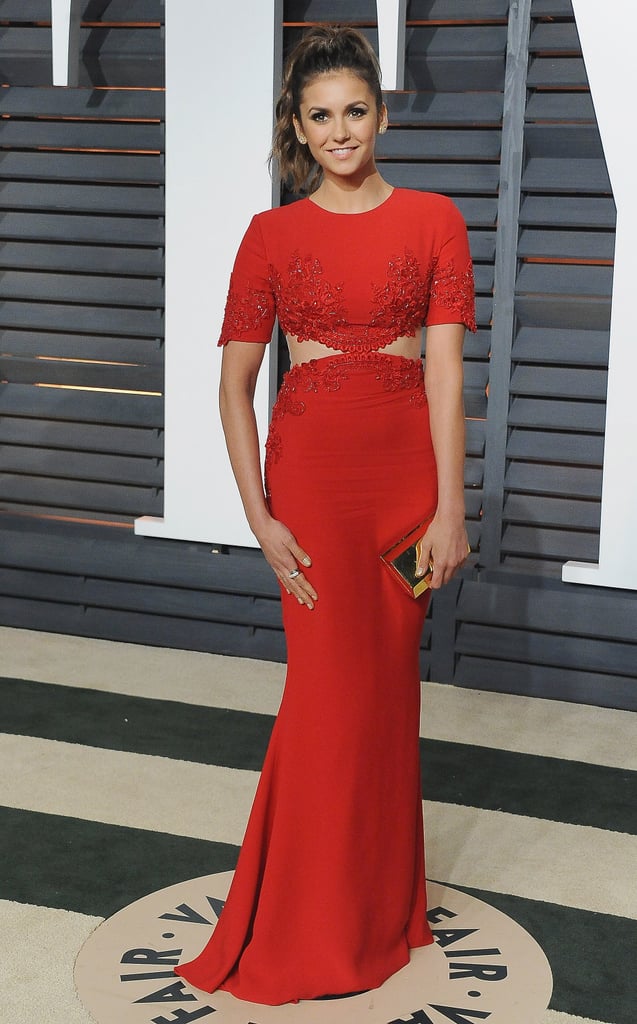 The star looked lovely in a cutout red Reem Acra gown at Elton John's 2015 Oscars viewing party.
A free spirit by nature, it doesn't surprise us that Nina went with a flowy Jenny Packham maxi skirt for the Weinstein Company's Academy Awards 2015 nominees dinner.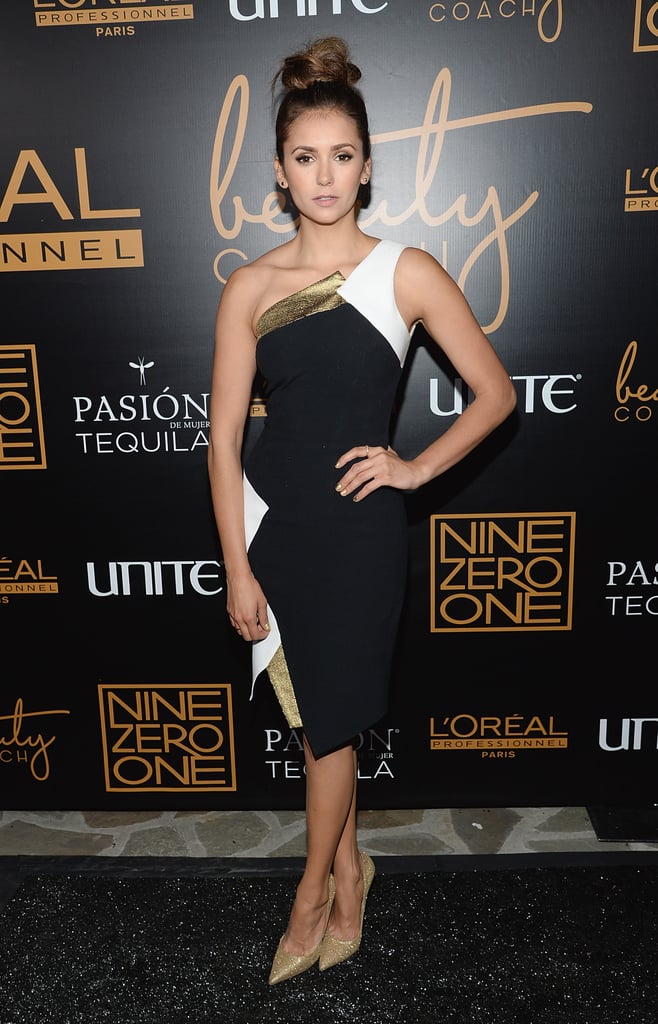 It was black, white, and gold for Nina at the Nine Zero One salon launch party, where she stepped out in an Andrew Gn dress and Jimmy Choo heels.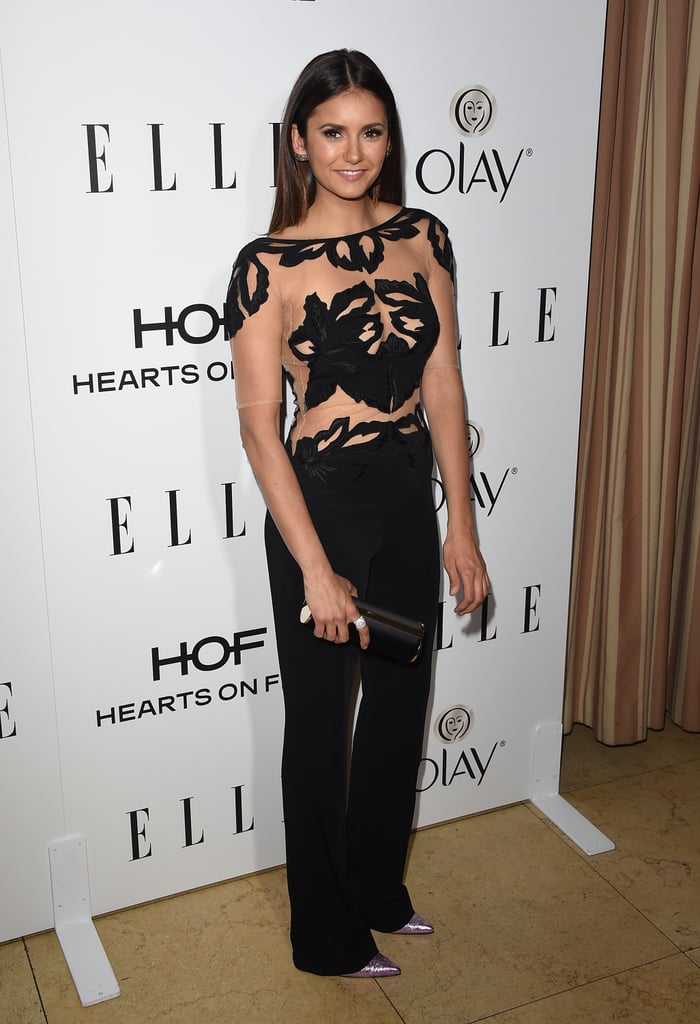 We loved this sexy, sheer Zuhair Murad jumpsuit that Nina rocked at Elle's Annual Women in Television celebration.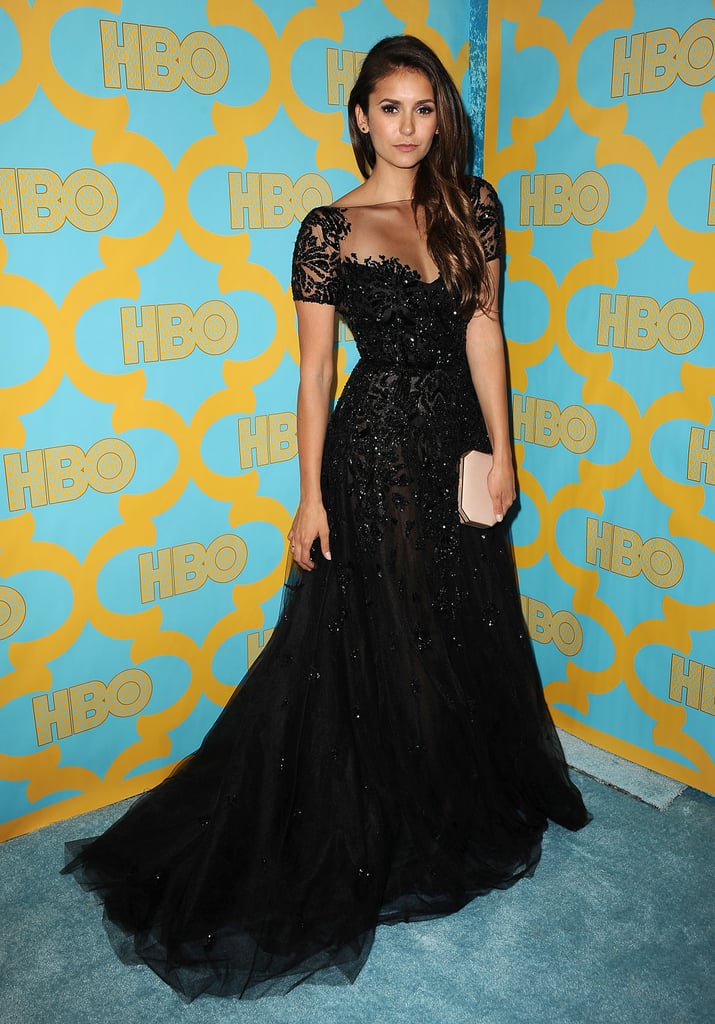 She also wore another Zuhair Murad number — this time, a black gown — at HBO's Post-Golden Globes party.
The star showed off her long, toned legs at a Michael Kors event, celebrating the launch of Claiborne Swanson Frank's book Young Hollywood.
Nina went for the deep-V and leg slit at the 2014 MTV Video Music Awards, rocking a black and red Zuhair Murad gown and bright red lip.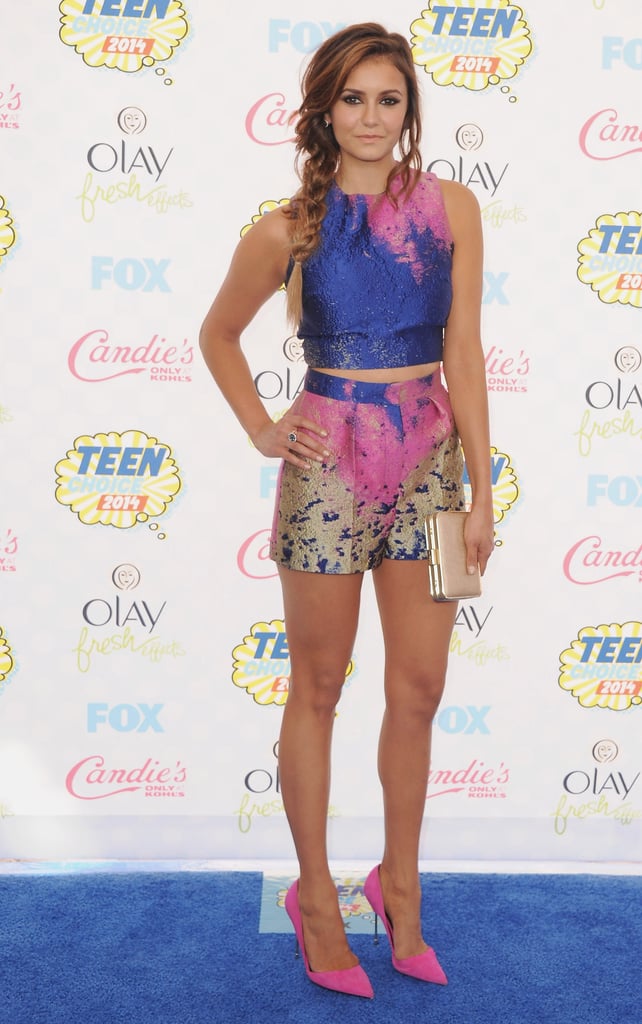 We sure do love a matching set! This one is by Vionnet, which the actress wore to the 2014 Teen Choice Awards.
She's definitely a Zuhair Murad girl. The star wore another dress by the designer — a beaded, printed fit-and-flare — at the Los Angeles premiere of Let's Be Cops.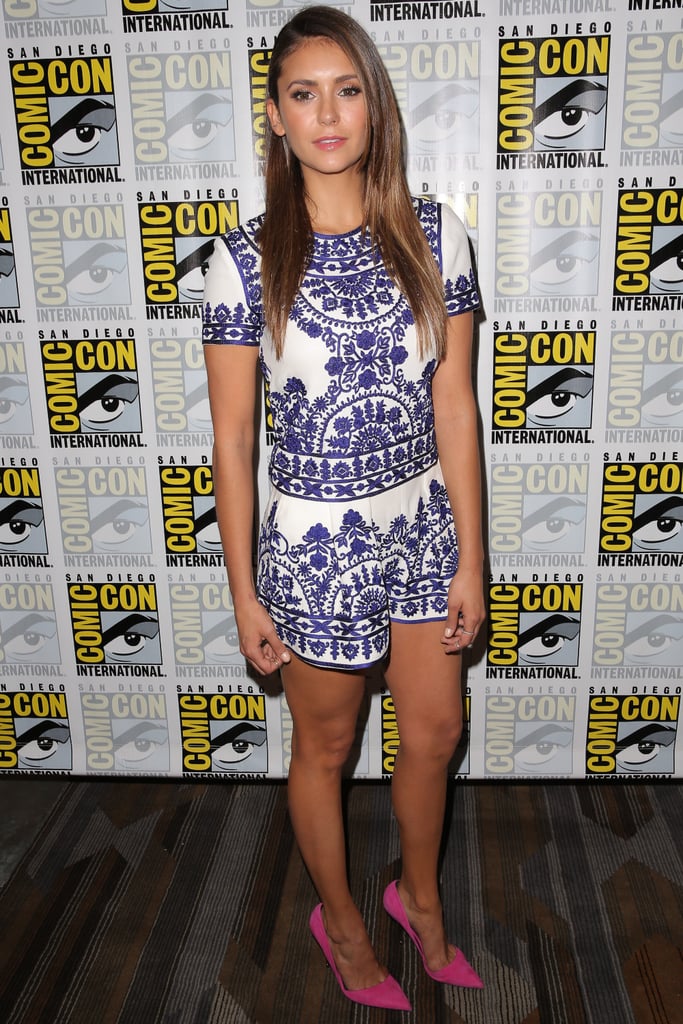 Nina stunned in a Naeem Khan set at the 2014 San Diego Comic-Con.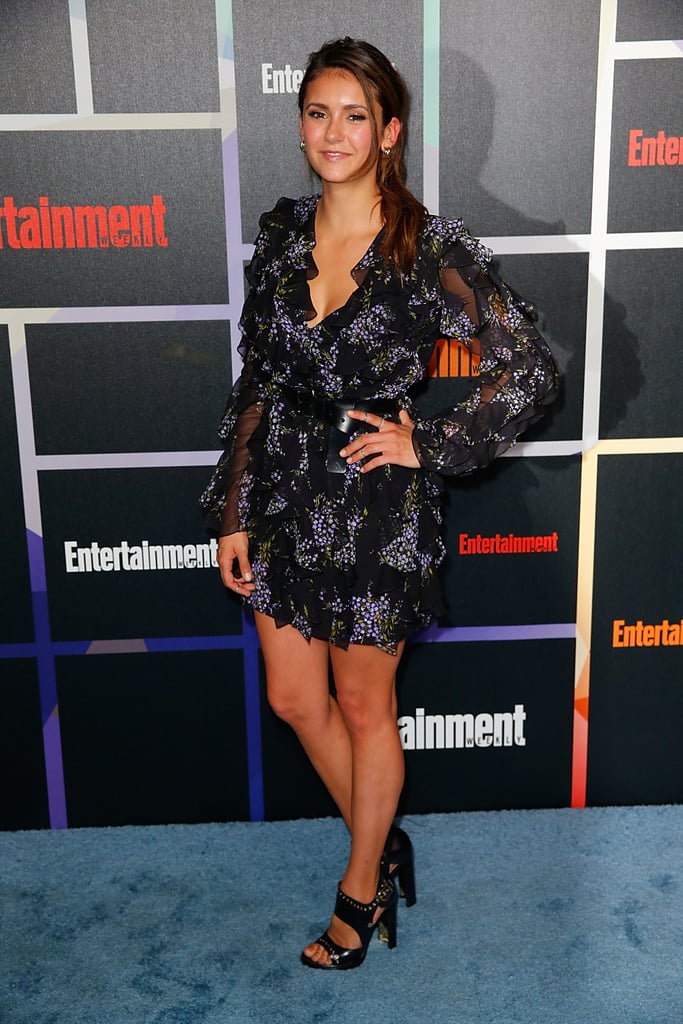 Nina was pretty in a printed Michael Kors dress and Salvatore Ferragamo black shoes at Entertainment Weekly's annual Comic-Con celebration in 2014.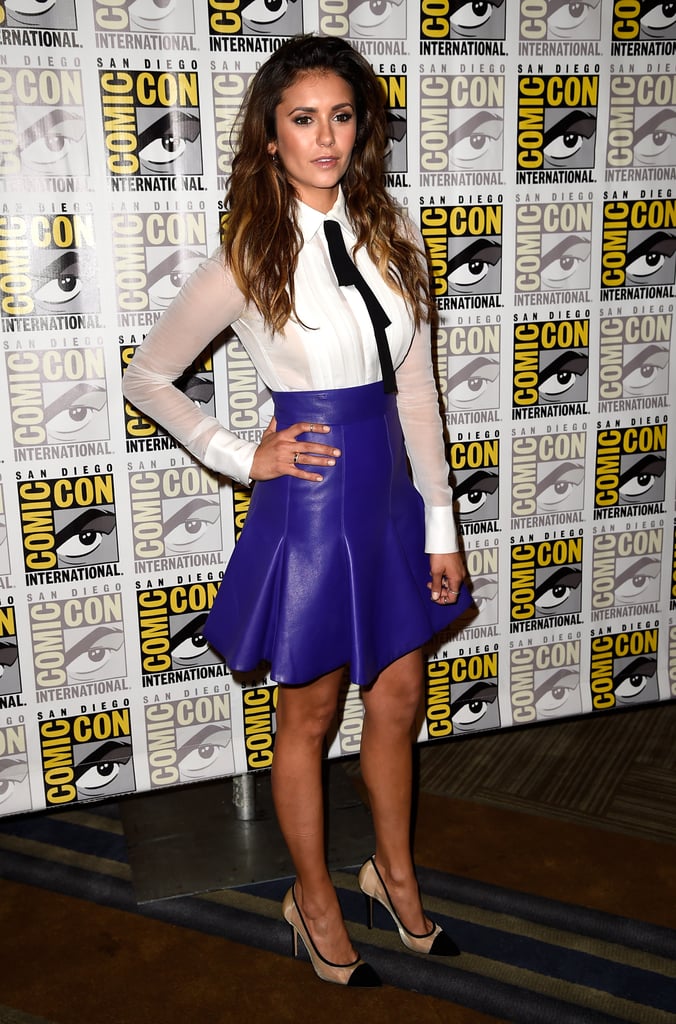 A fun take on the menswear trend, the star went with a bold and bright J. Mendel ensemble, which included a fit-and-flare leather skirt, at the 2014 Comic-Con in San Diego.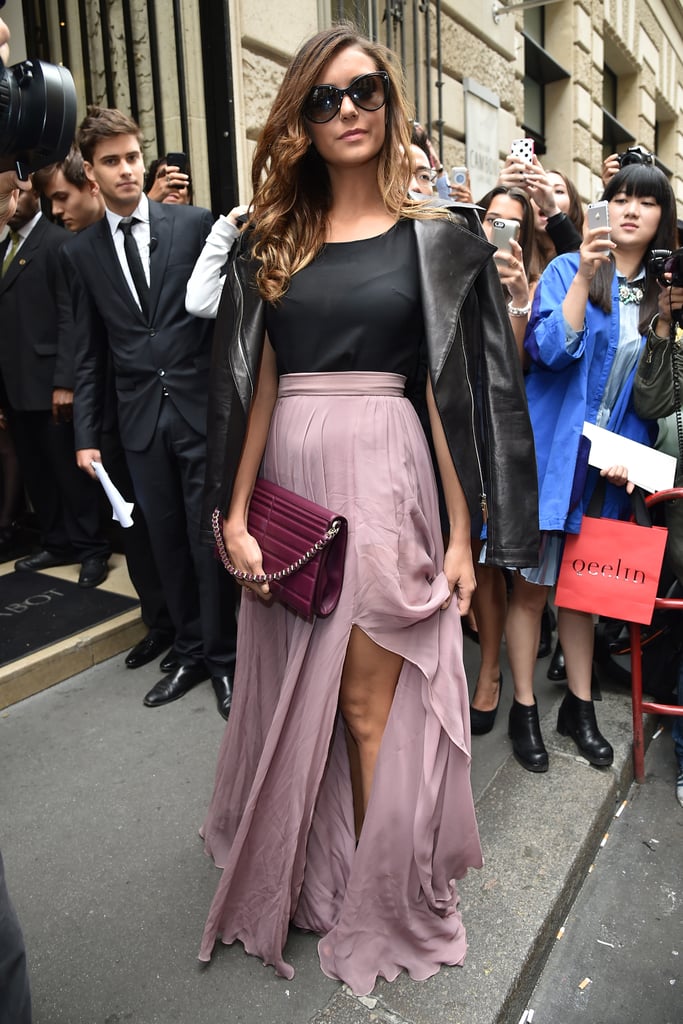 Nina amped up her purple Elie Saab maxi skirt with a cool leather jacket during Paris Haute Couture Fashion Week in July 2014.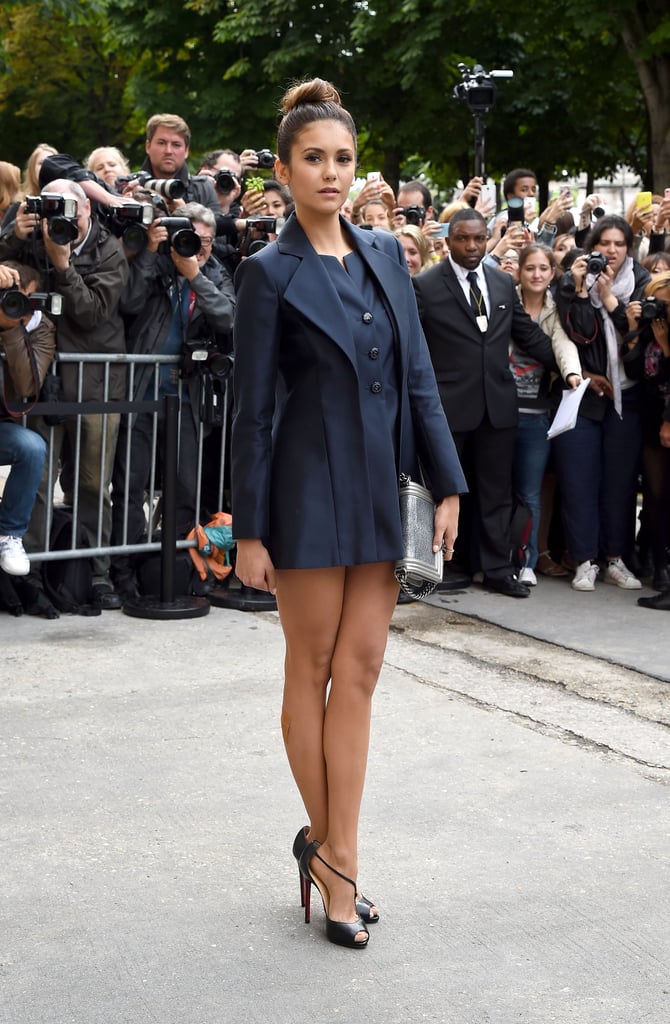 Nina stepped out in a structured navy look the the Chanel show during Paris Haute Couture Fashion Week for Fall 2014.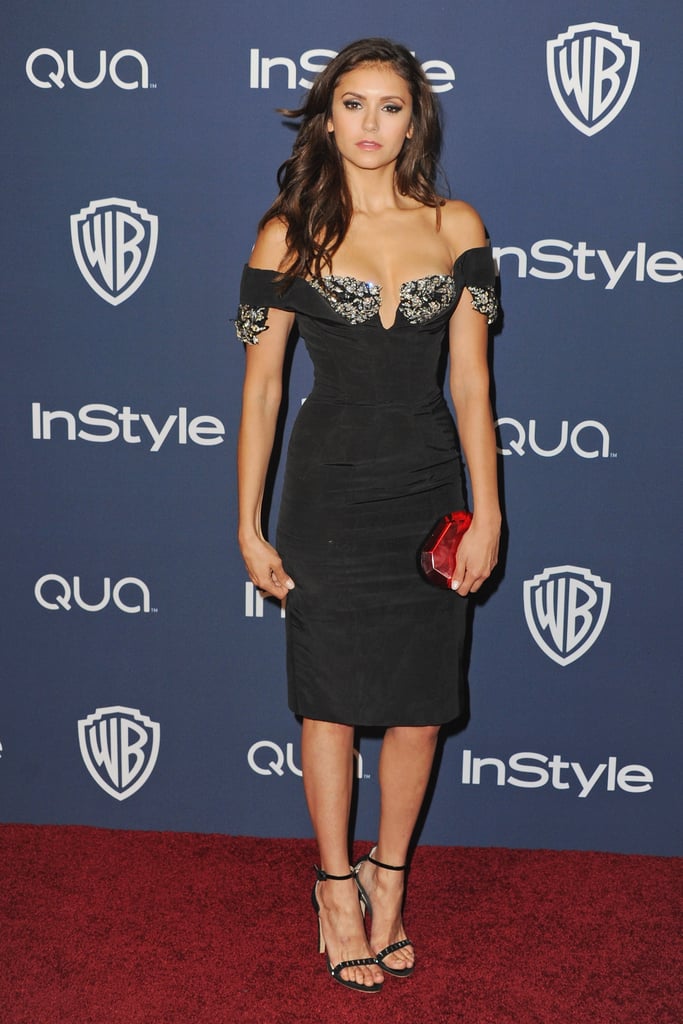 Nina went with a sexy Giorgio Armani LBD for the InStyle and Warner Bros.' 71st Annual Golden Globe Awards afterparty.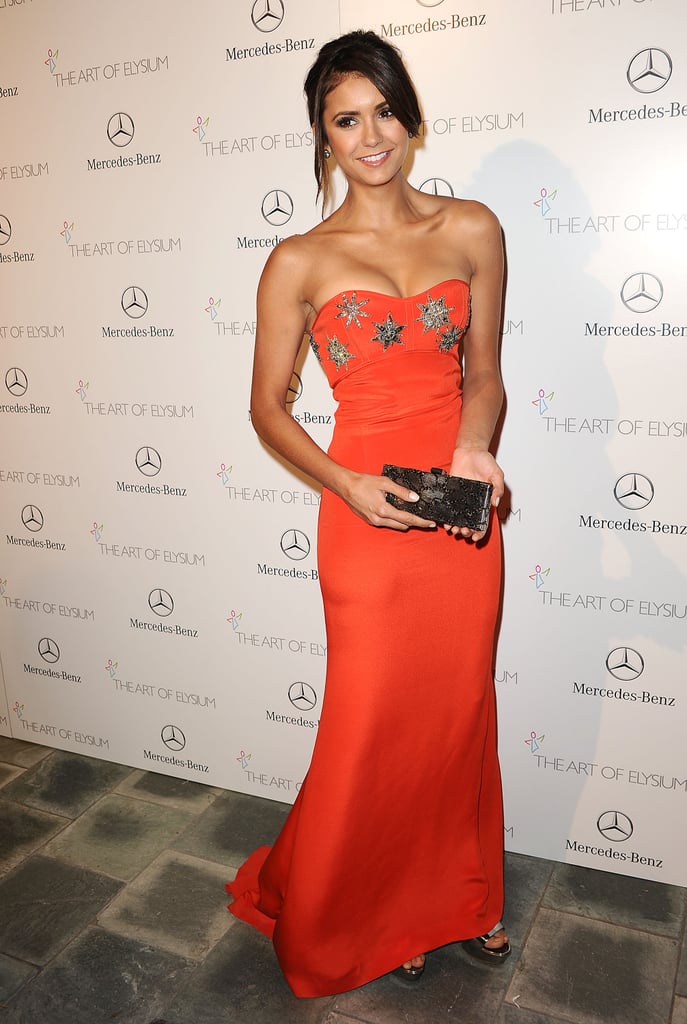 Whoa! We were plesantly surprised when Nina rocked this bright orange Emilio Pucci dress to the Art of Elysium's 7th Annual Heaven Gala, which she paired with a Rodo clutch.
The star sparkled in a curve-hugging Jenny Packham number at the the 40th Annual People's Choice Awards.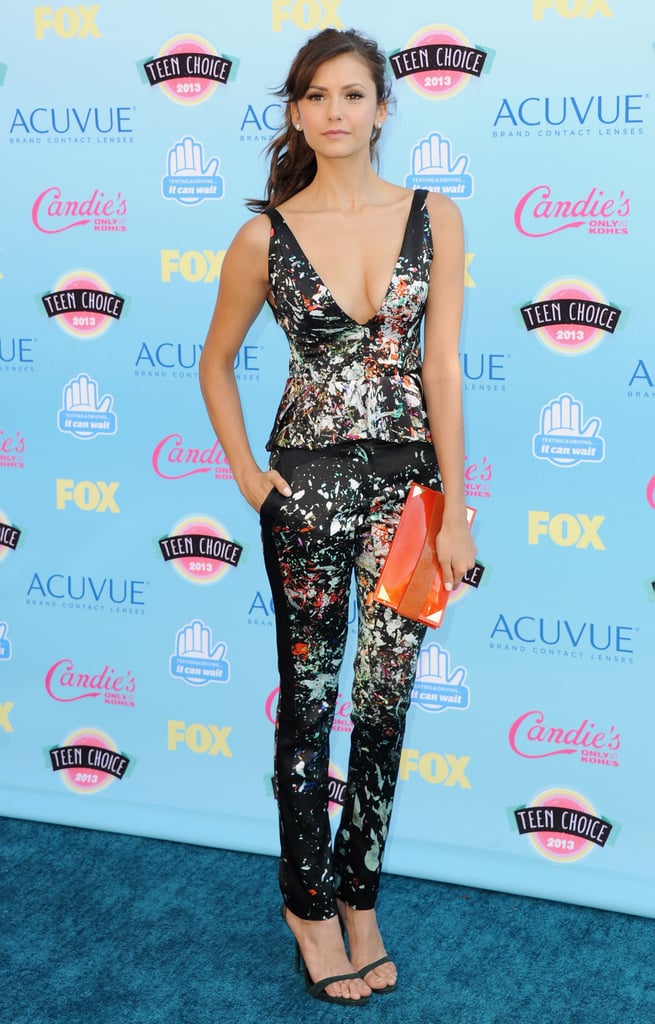 This girl knows how to rock a fun print. She wore a low-cut J. Mendel floral set to the 2013 Teen Choice Awards.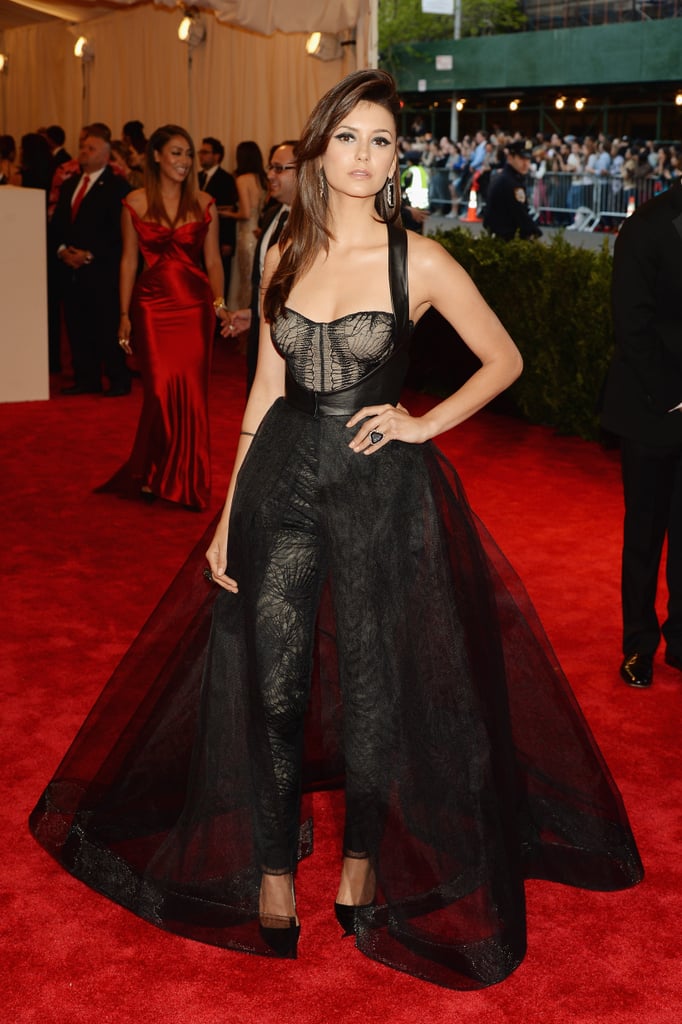 For the 2013 Met Gala, Nina Dobrev [3] swapped her signature body-hugging creations for a custom black Monique Lhuillier jumpsuit-meets-dress. Her punk-chic ensemble composed of a corset bodice, leather harness-detail, and voluminous gauzy skirt brought attitude and intrigue to red carpet.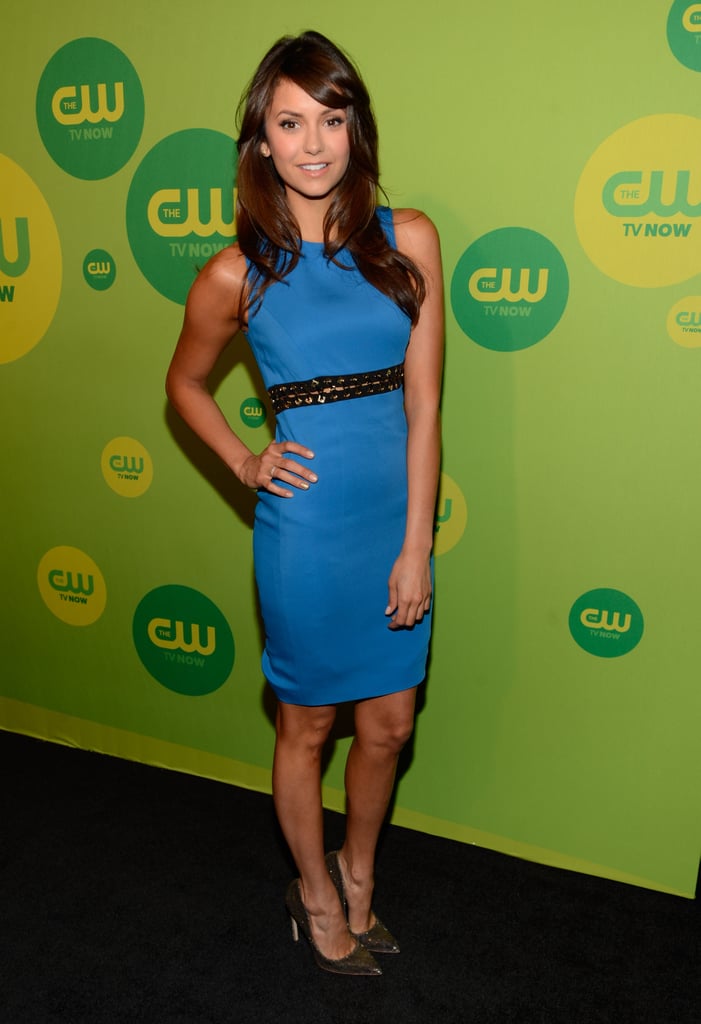 For the 2013 Upfronts, Dobrev struck a pose in a fitted cobalt Versace sheath, featuring tough chain detailing, and metallic Rupert Sanderson pumps.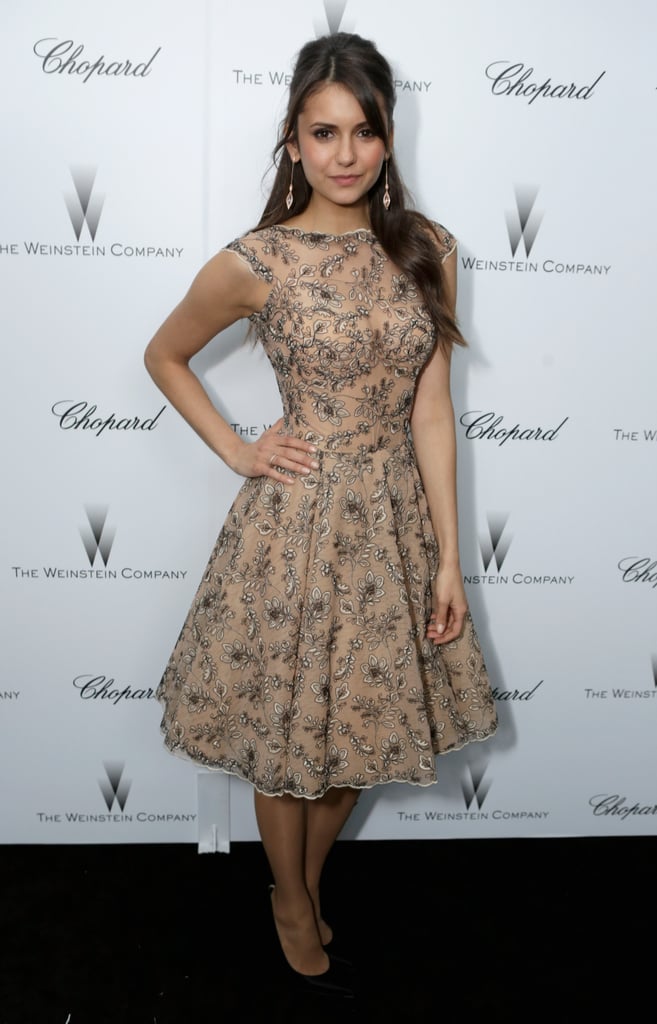 The Vampire Diaries star was perfectly proper in a beautiful embellished Zuhair Murad fit-and-flare at the Weinstein Company's pre-Oscars event earlier this year.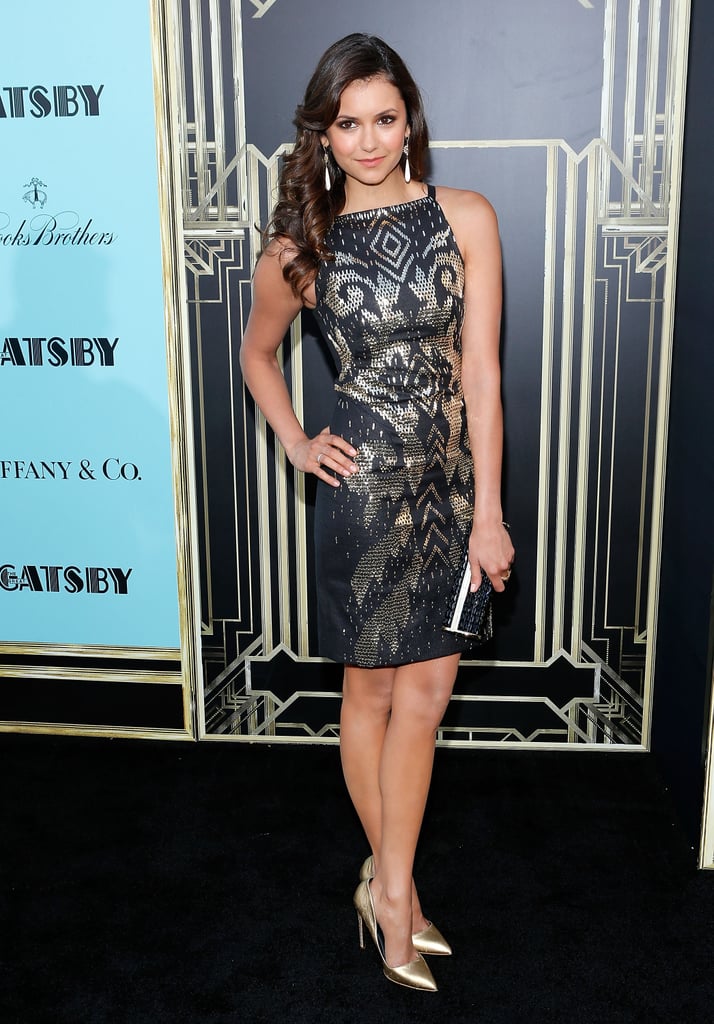 Glistening in an embellished Versace dress and metallic gold Rupert Sanderson pumps, it's clear Nina Dobrev [4] is embracing her celebrity star power one dazzling creation at a time.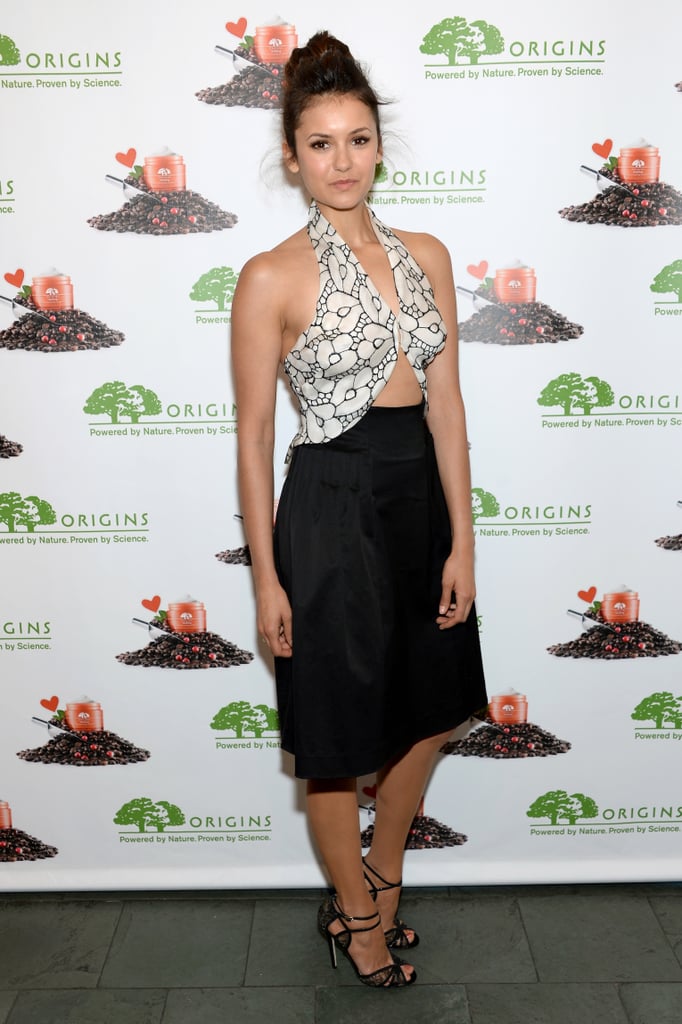 Dobrev showed off her petite frame in a printed Thakoon cut-out dress and lacy Jimmy Choo sandals during an Origins launch in May 2013.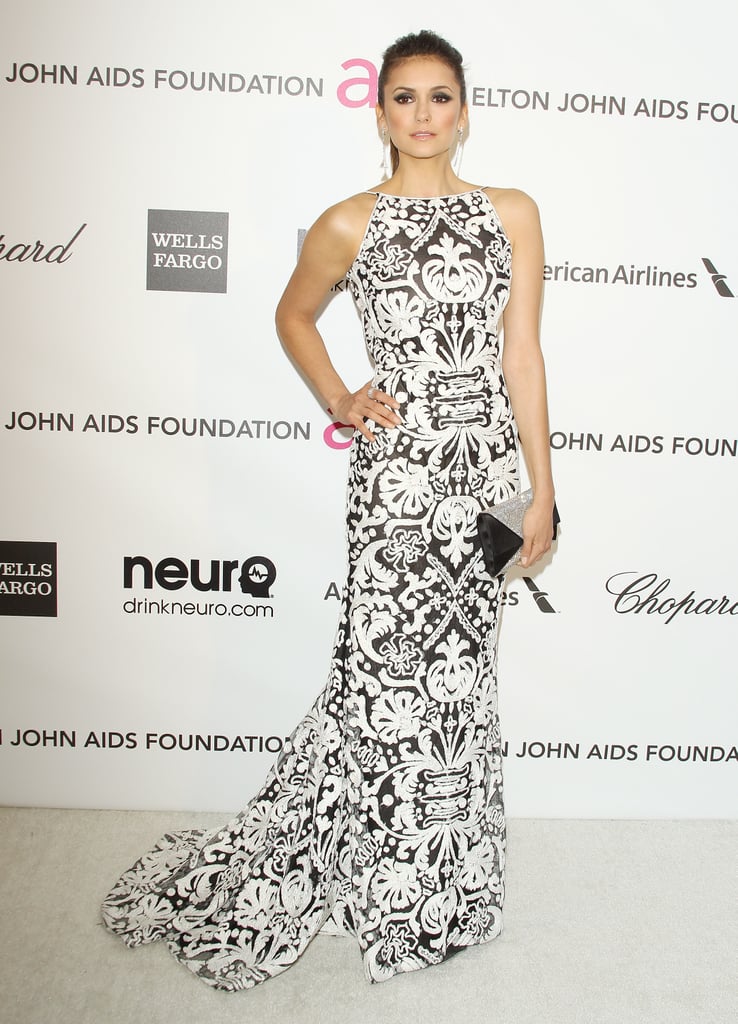 Nina took the black-and-white trend to new heights working a bold printed Naeem Khan gown with sexy open-back detail for Elton John's Academy Awards viewing party in January 2013.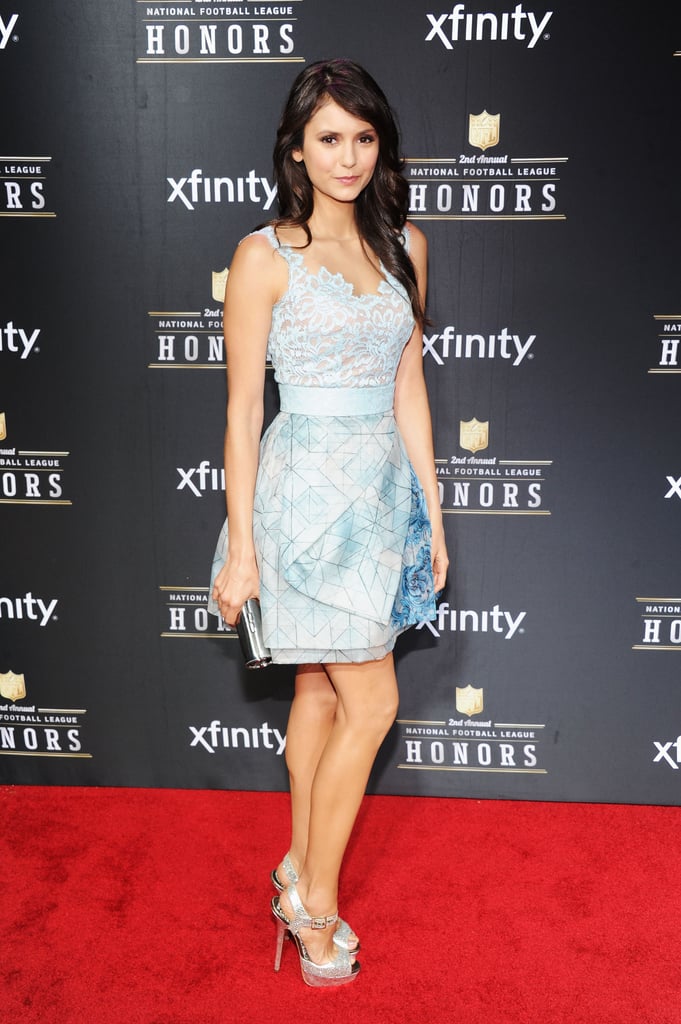 At a first glance Dobrev's light-blue Zuhair Murad mini might look sweet, but upon closer inspection the sexy lace top detail and geometric floral print skirt packed a major fashion punch.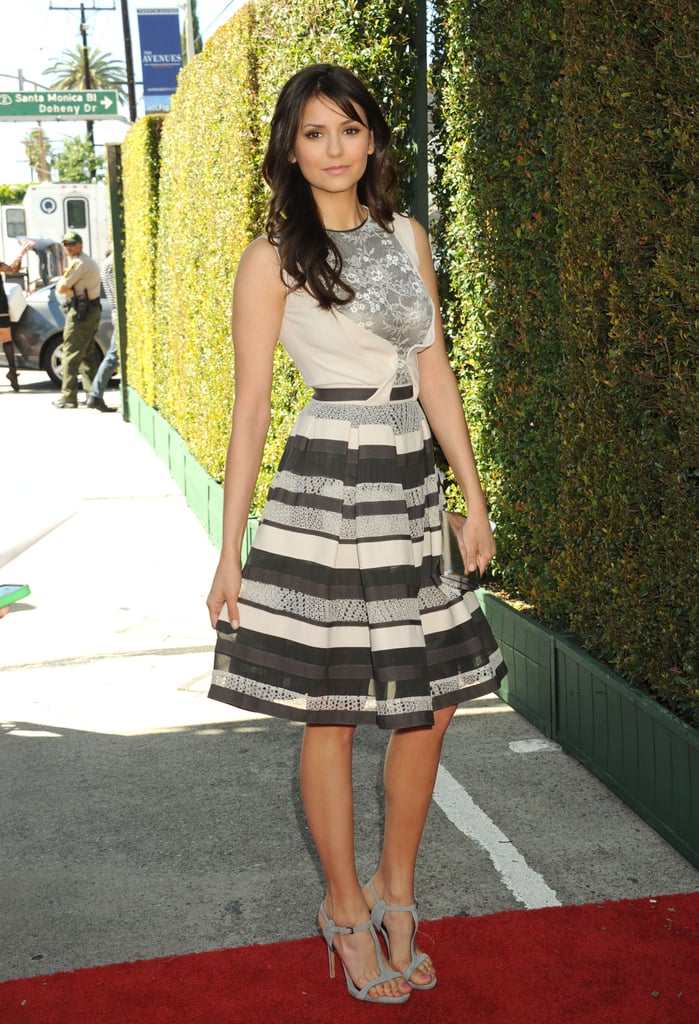 For the 10th Annual John Varvatos Stuart House Benefit, Nina Dobrev [5] wore a lace-and-striped Elie Saab fit-and-flare with gray suede t-strap sandals and a silver metallic clutch.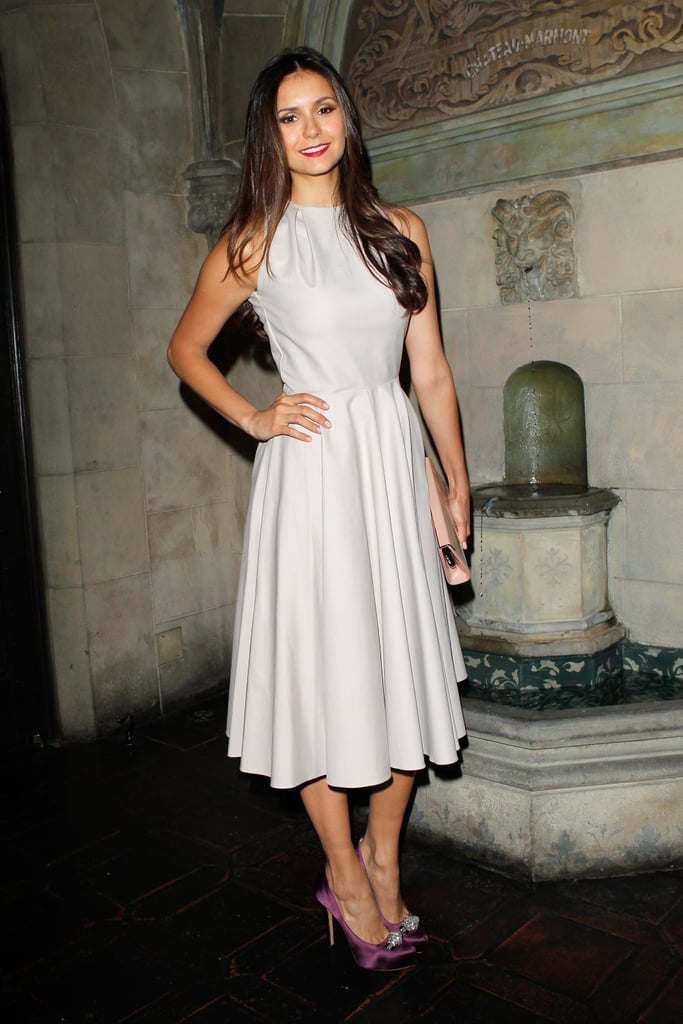 Nina jazzed up her subtle gray midi dress with purple satin embellished pumps and a red-hot lipstick at the Dior Beauty Pre-Golden Globe Dinner in LA.
Donning a real jewel-toned Monique Lhuillier mini — zoom in to see the array of strategically placed gems — Nina Dobrev [6] was not to be missed on the Critics' Choice Awards red carpet in January 2013.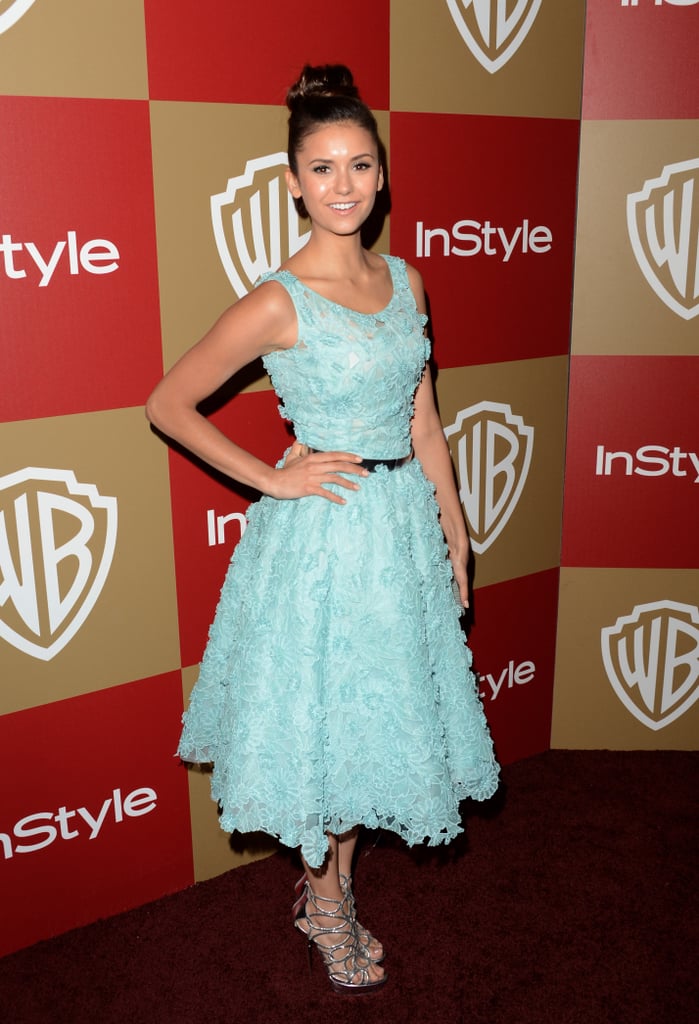 Dobrev channeled her inner prima-ballerina in an floral-embroidered Oscar de la Renta tea dress, metallic Jimmy Choo platforms, and a sweet bun for the Warner Bros. and InStyle Golden Globes after party in January 2013.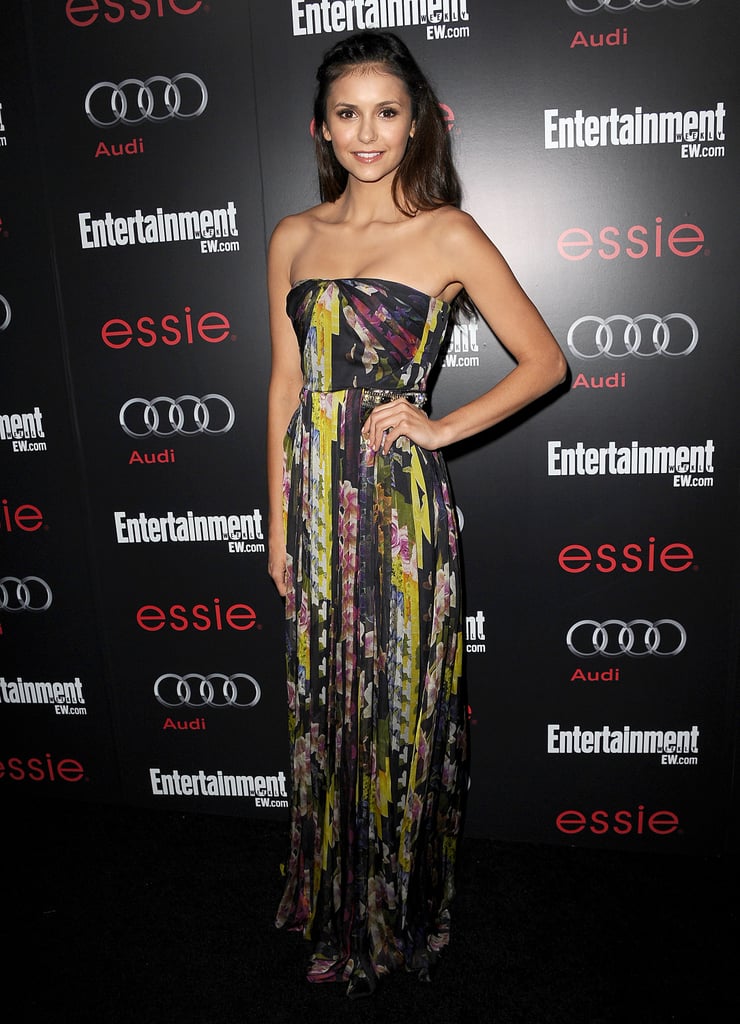 Nina channeled a Summer vibe in a watercolor-printed Matthew Williamson strapless maxi and breezy beach waves for Entertainment Weekly's SAG Awards pre-party in January 2013.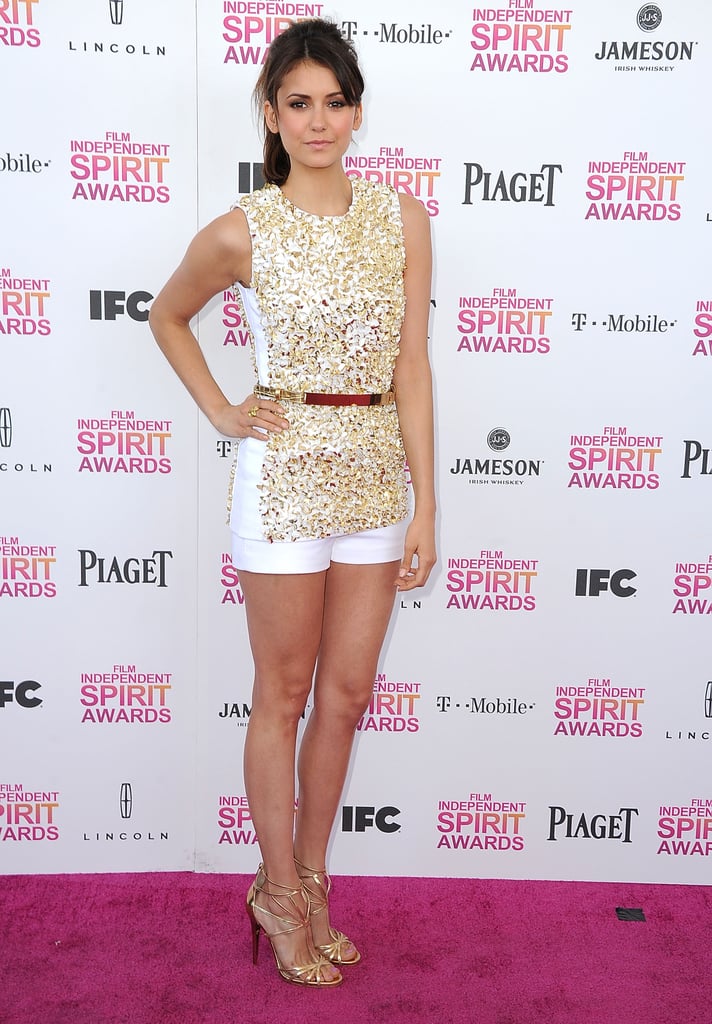 Nina Dobrev [7] chose a short and sweet guilded Michael Kors duo for the 2013 Independent Spirit Awards in Santa Monica.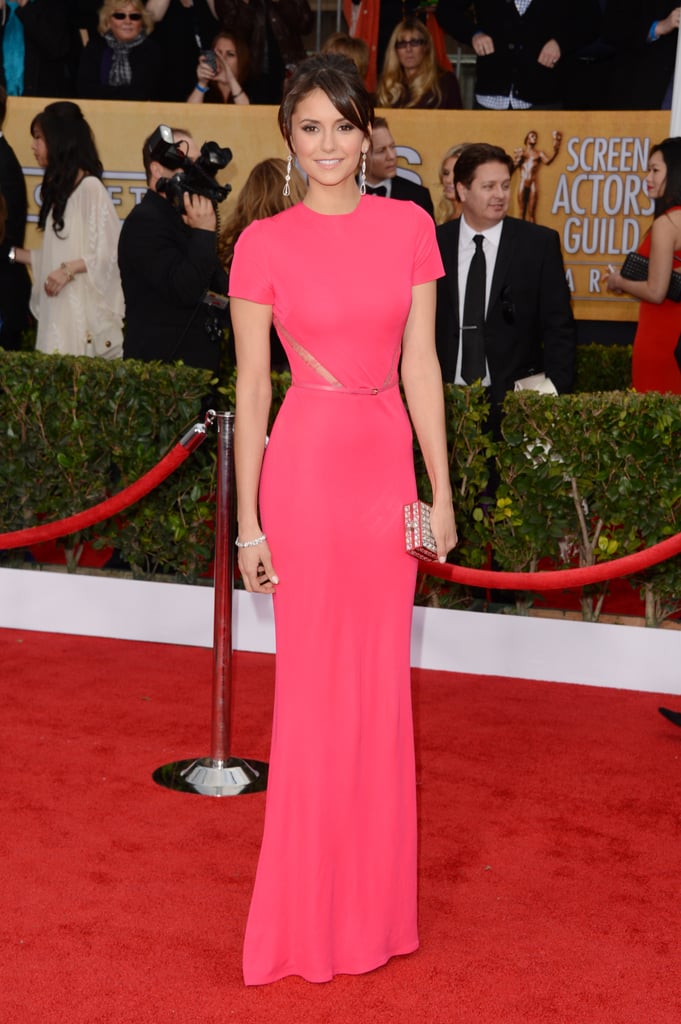 Nina Dobrev [8] punched up the 2013 SAG Awards red carpet in a pink short-sleeved Elie Saab crepe creation with subtle lace cutouts and a matching belt. A diamond drop earrings, a coordinating bracelet, and a jeweled box clutch rounded out her party style.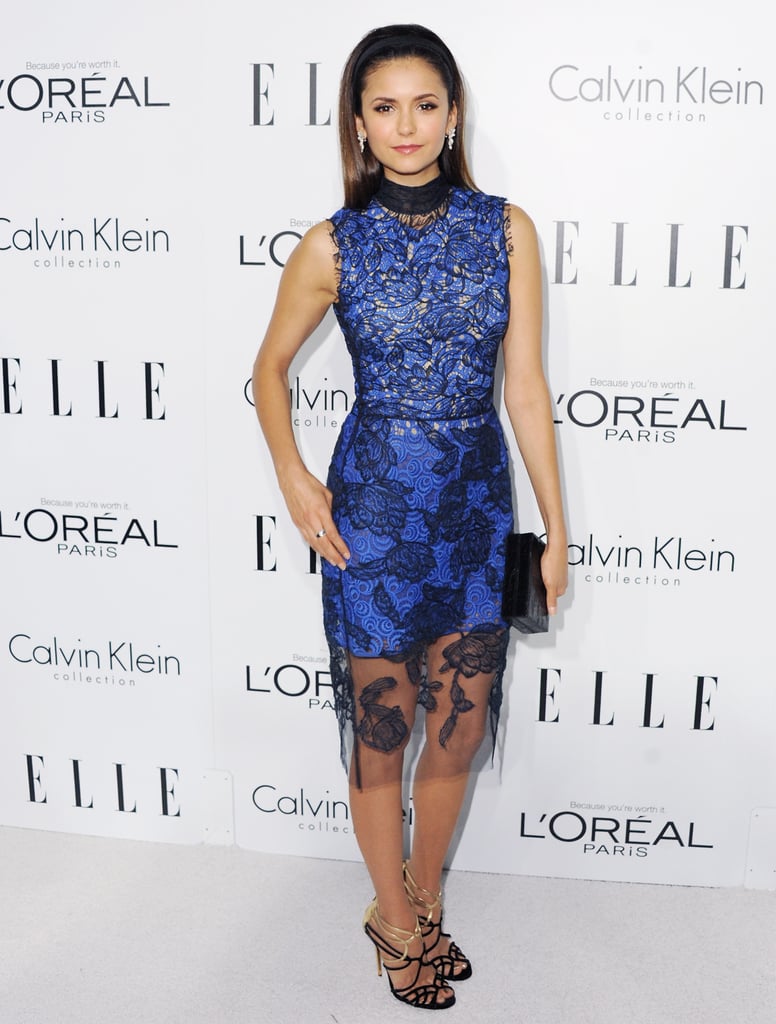 Nina went for something overtly feminine — not to mention ultraelegant — with this blue lace-covered Vera Wang number at the 19th annual Elle Women in Hollywood celebration.
High-necked but so, so sexy — that's what Nina is giving us with her Zuhair Murad Couture mini at the 2012 iHeartRadio Music Festival.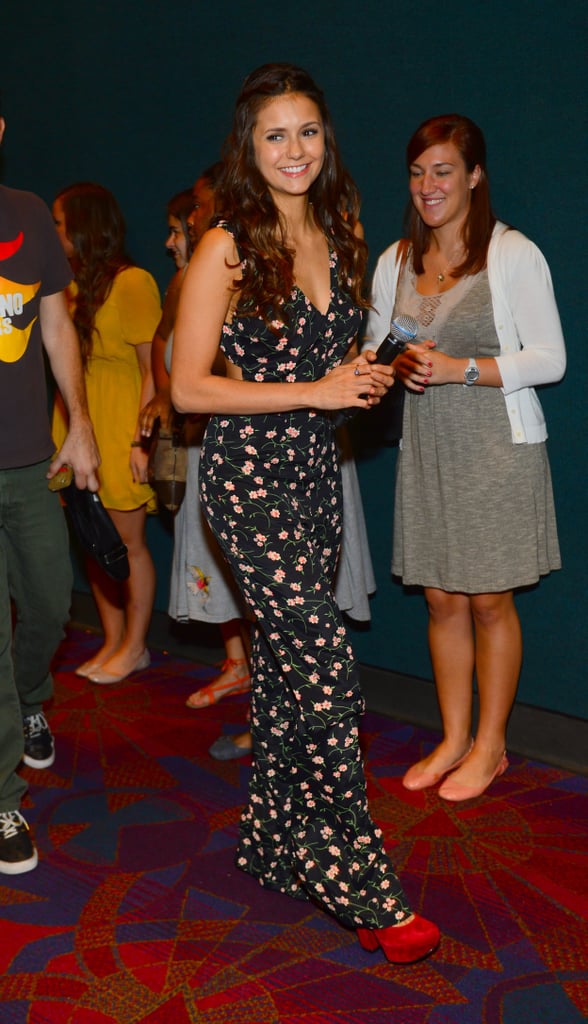 She chose a sweet floral-print jumpsuit — with just a hint of a chunky red platform peeking out — for the Atlanta screening of The Perks of Being a Wallflower.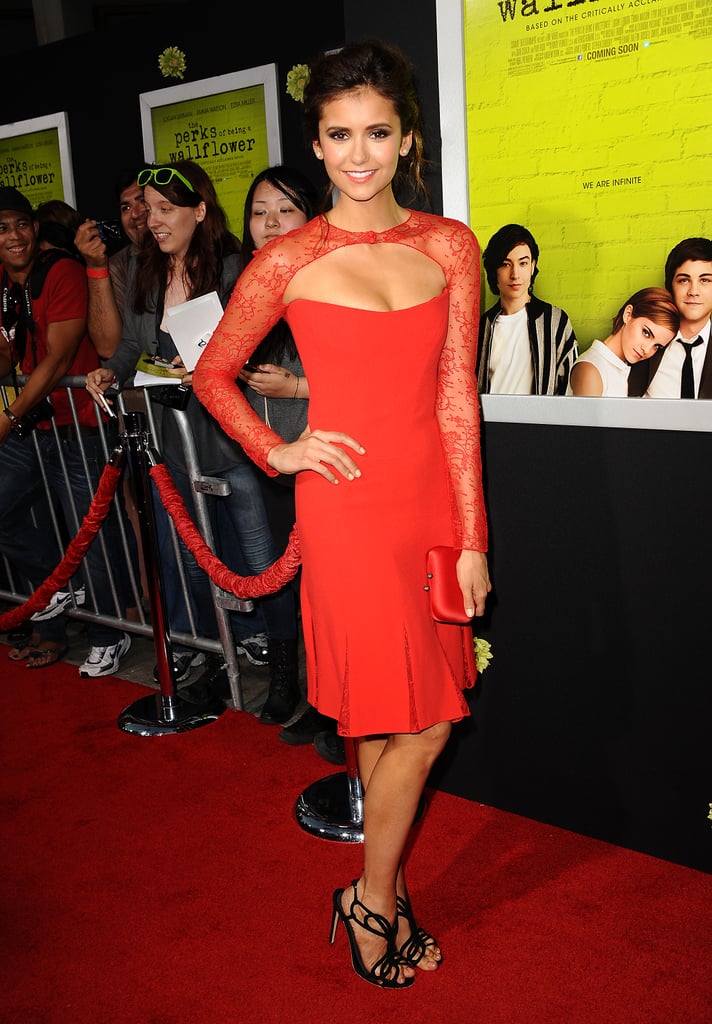 Her lacy, long-sleeved Reem Acra LRD struck a striking note at The Perks of Being a Wallflower LA premiere in September 2012.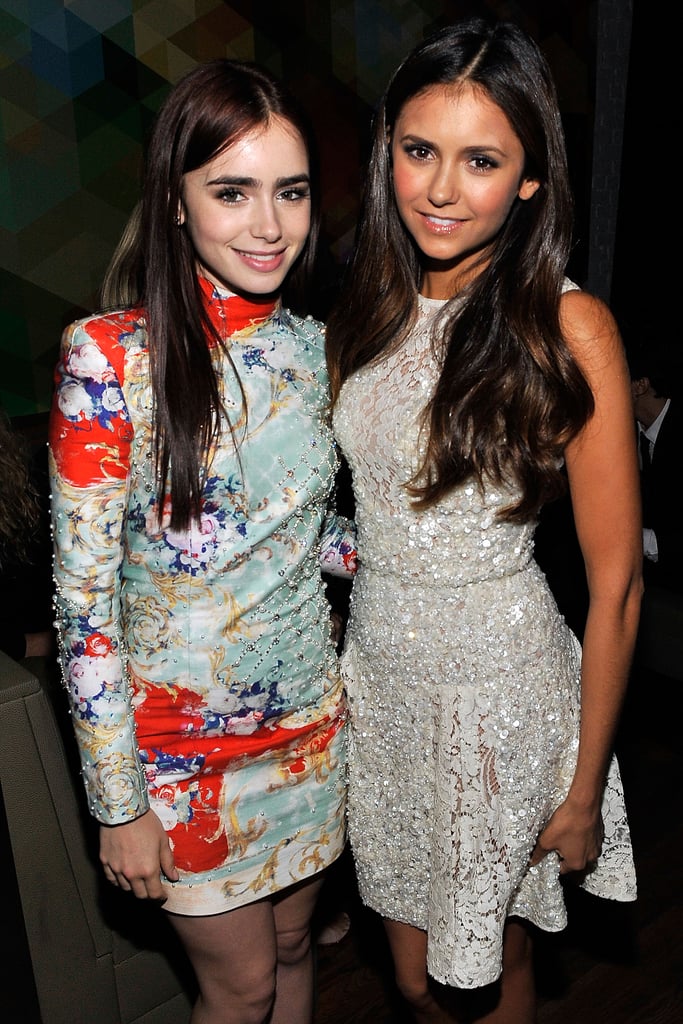 While this LWD maintains its sweet skater-skirt silhouette, the sequin embellishments covering its entirety give Nina a party-ready edge at a TIFF fete.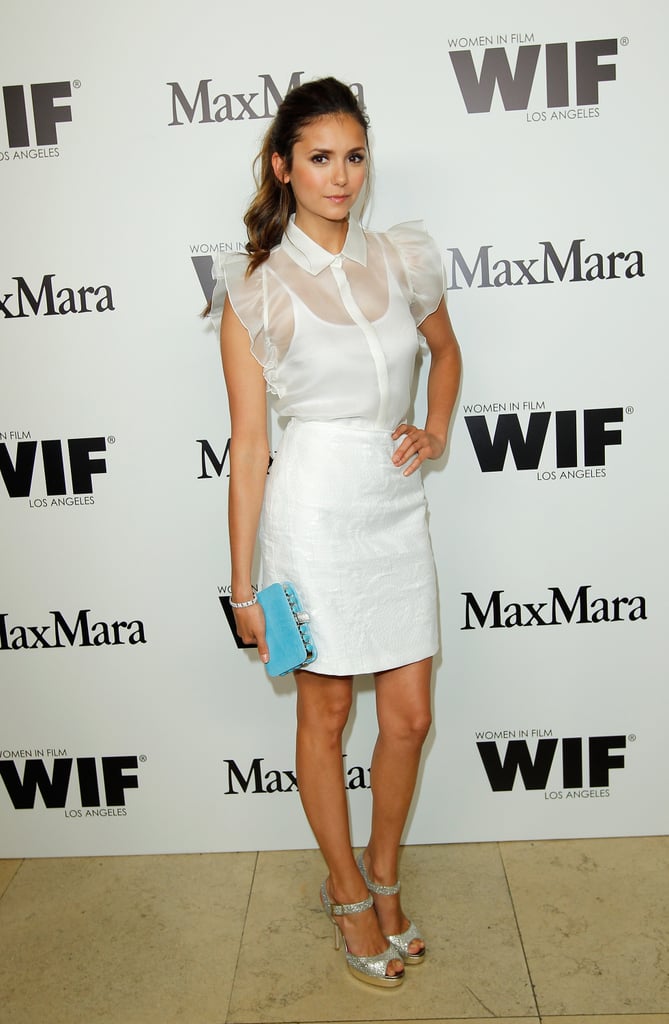 The sheer ruffled sleeves of this white cocktail dress are just the beginning of Nina's penchant for girlie flair. We also love her silver sandals and blue clutch.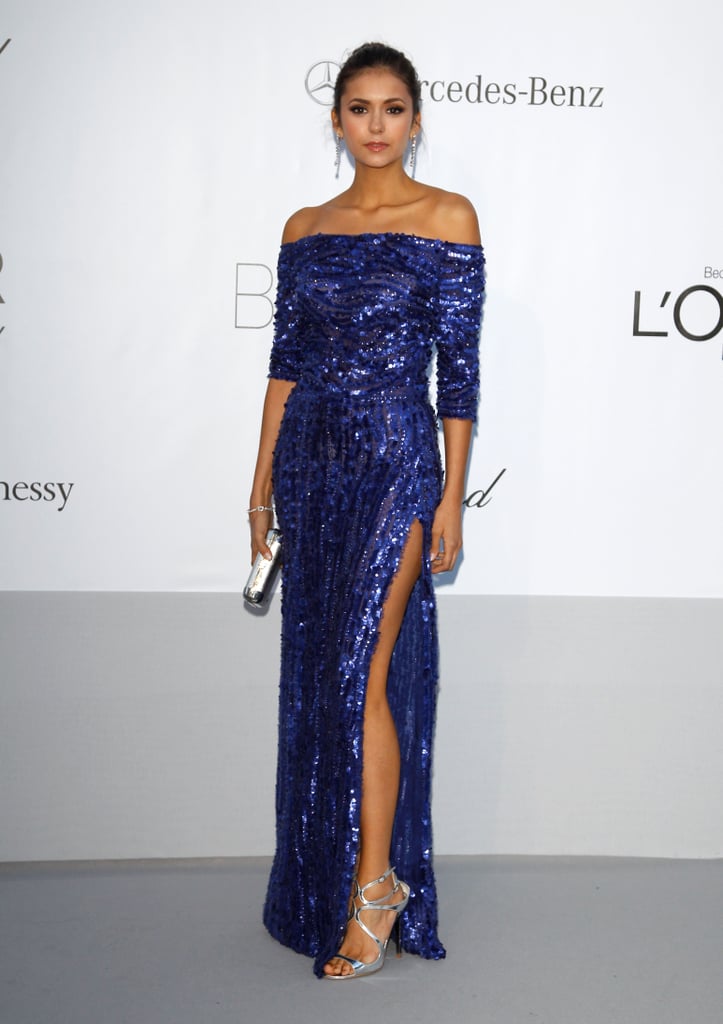 A standout moment in glittering Elie Saab at the 2012 amfAR gala in Cannes.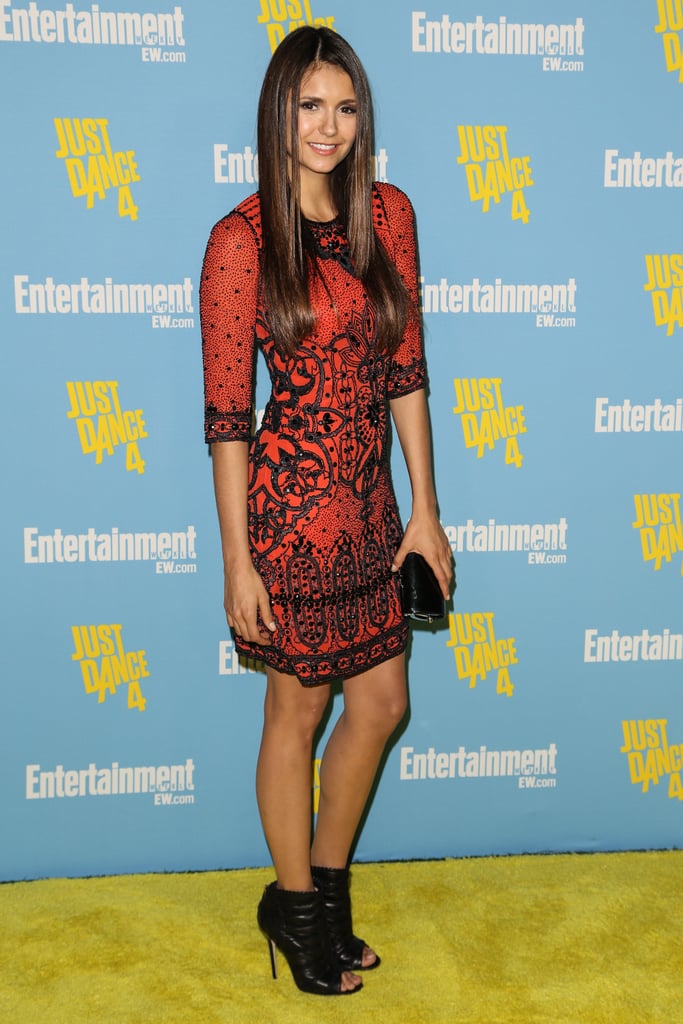 Nina added interest to an already intricately adorned Jenny Packham mini with a pair of open-toe Jimmy Choo booties at a 2012 Comic-Con party.
Nina flashed her stems in a gilded Farah Khan mini at 2012 Comic-Con.
Nina opted for an architectural, strapless J. Mendel dress at the 2012 Teen Choice Awards.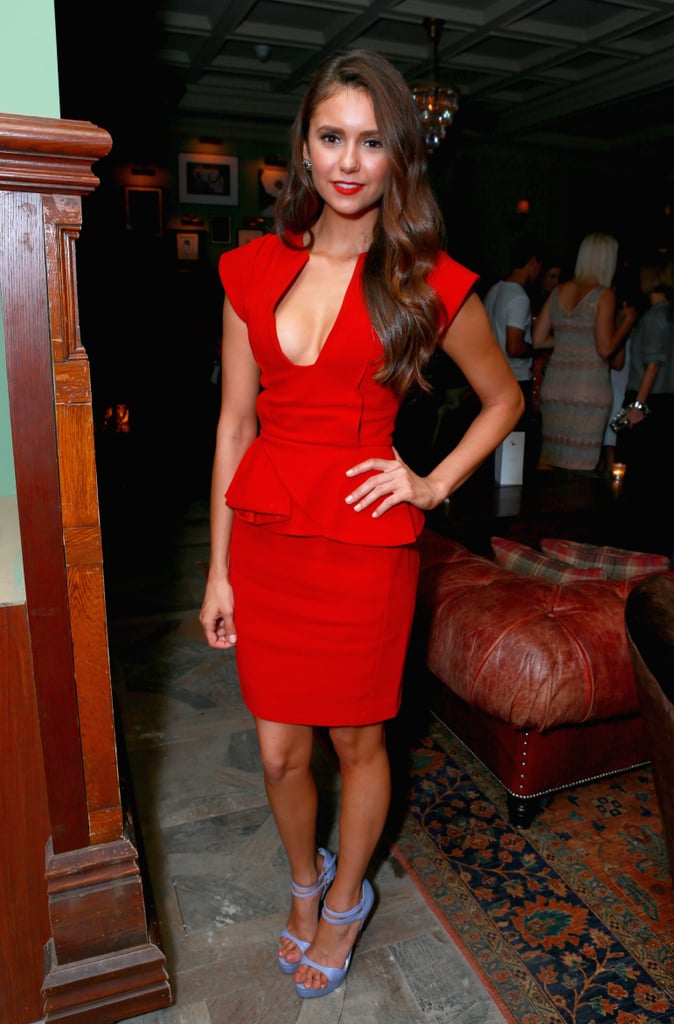 A sexier take for Nina in a red-hot Elie Saab number for the Argo premiere last year.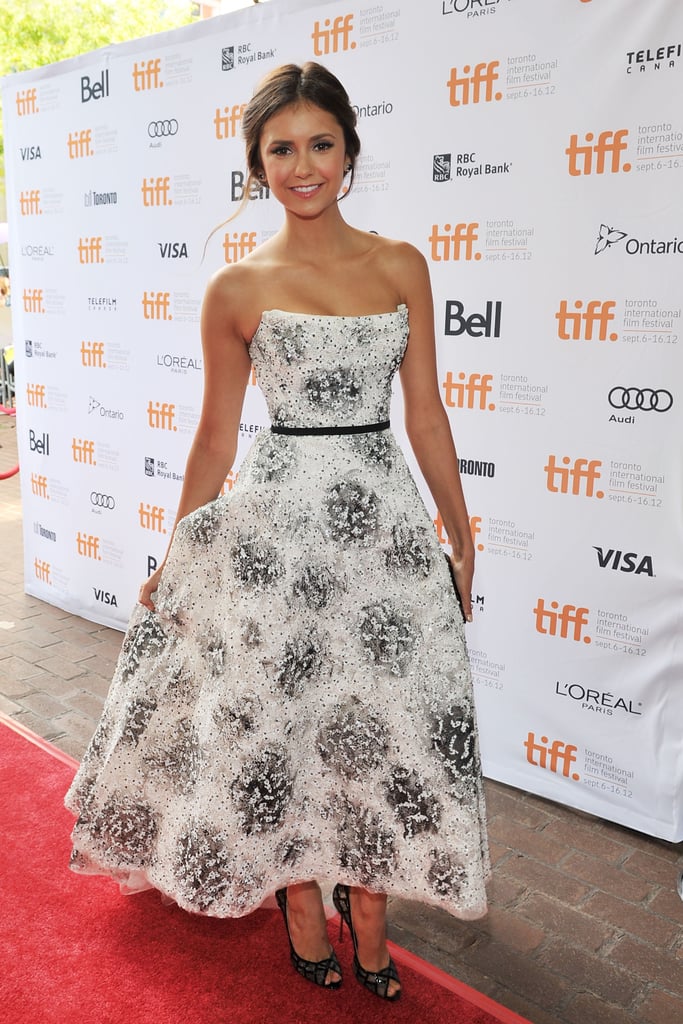 The style star showed off her ultrafeminine side in this strapless Monique Lhuillier dress at the 2012 Toronto International Film Festival.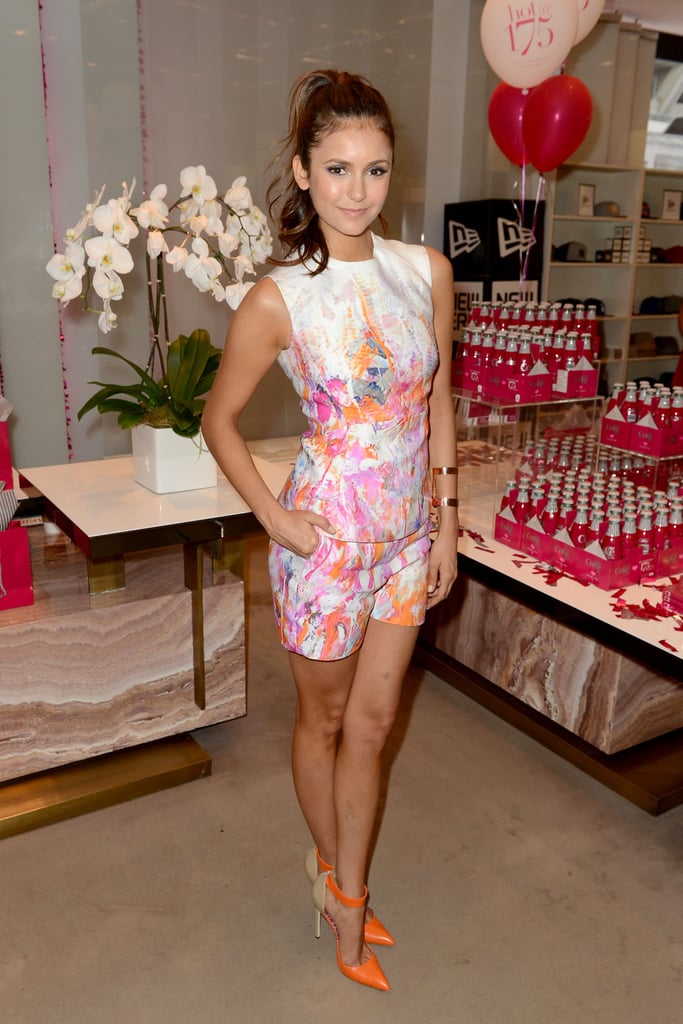 What better way to accentuate a fresh neon print than with a flash of neon on your footwear? Nina showed us how in this Monique Lhuillier look in 2012.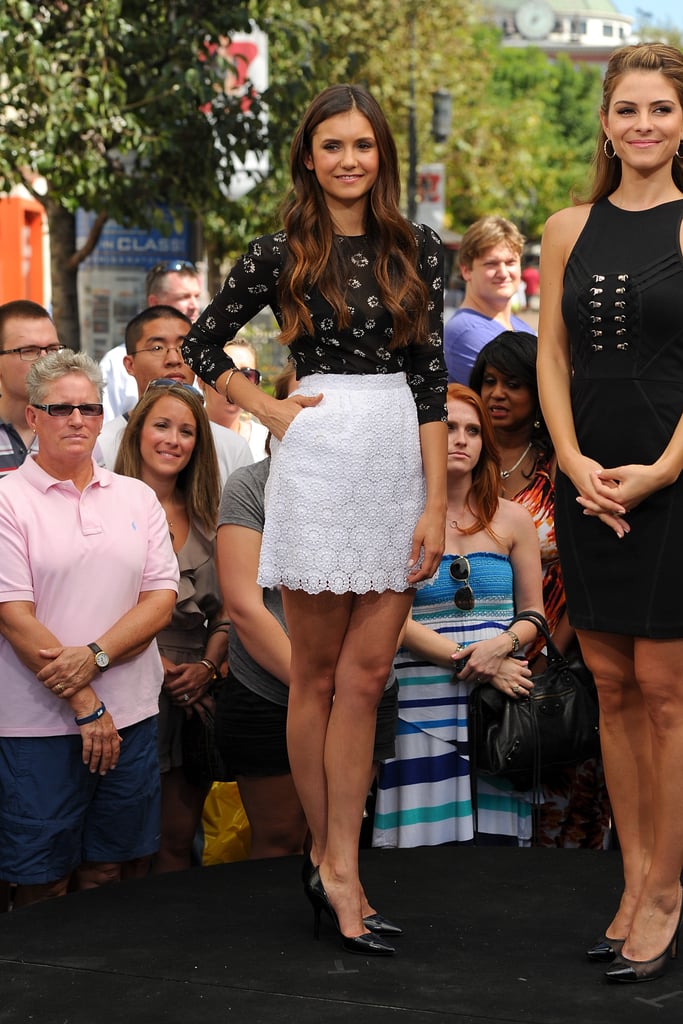 Nina showed off her stems in this pretty Dolce & Gabbana set for an appearance on Extra in September 2012.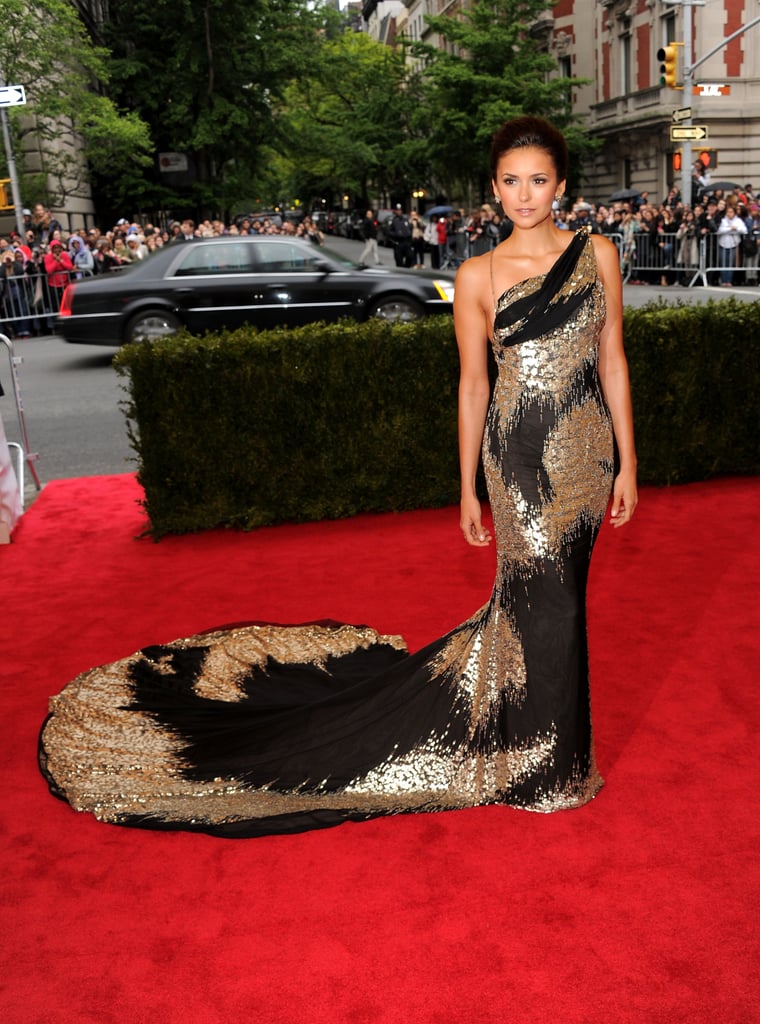 She attended the 2012 Met Gala in an eye-catching liquid black-and-gold Donna Karan Atelier gown — just look at that train!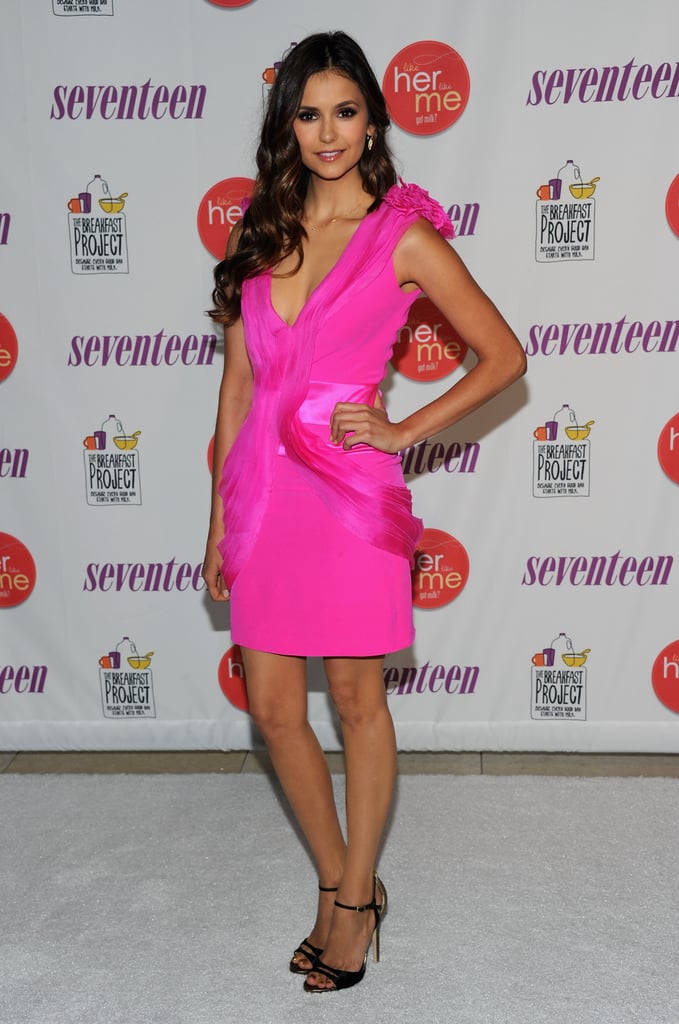 Nina wore a cool pink minidress by Gabriela Cadena, along with Jimmy Choo black sandals, to promote her new Got Milk? campaign just last week.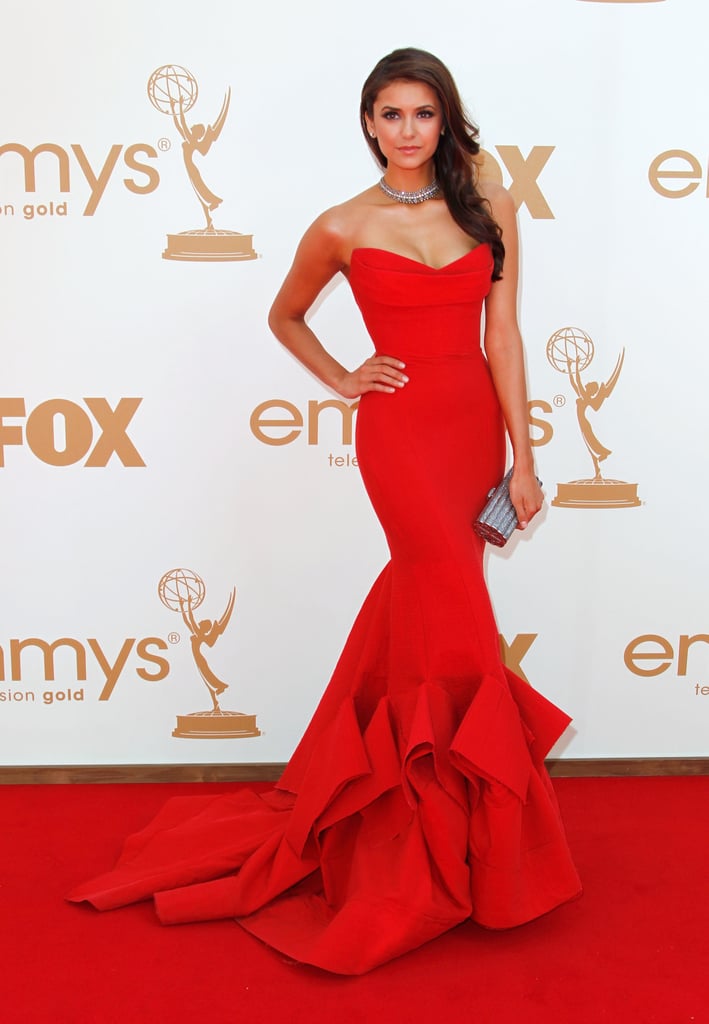 She turned more than a few heads in this utterly jaw-dropping Donna Karan siren-red strapless gown at the 2011 Emmys.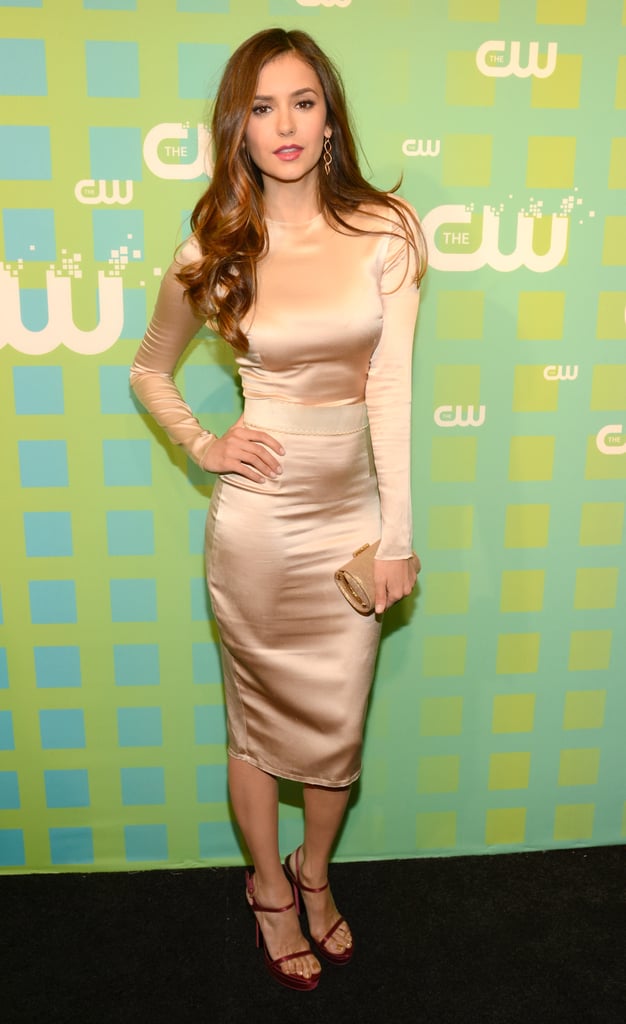 At The CW's 2012 upfronts, Nina glimmered in a long-sleeved Dolce & Gabbana frock and red sandals.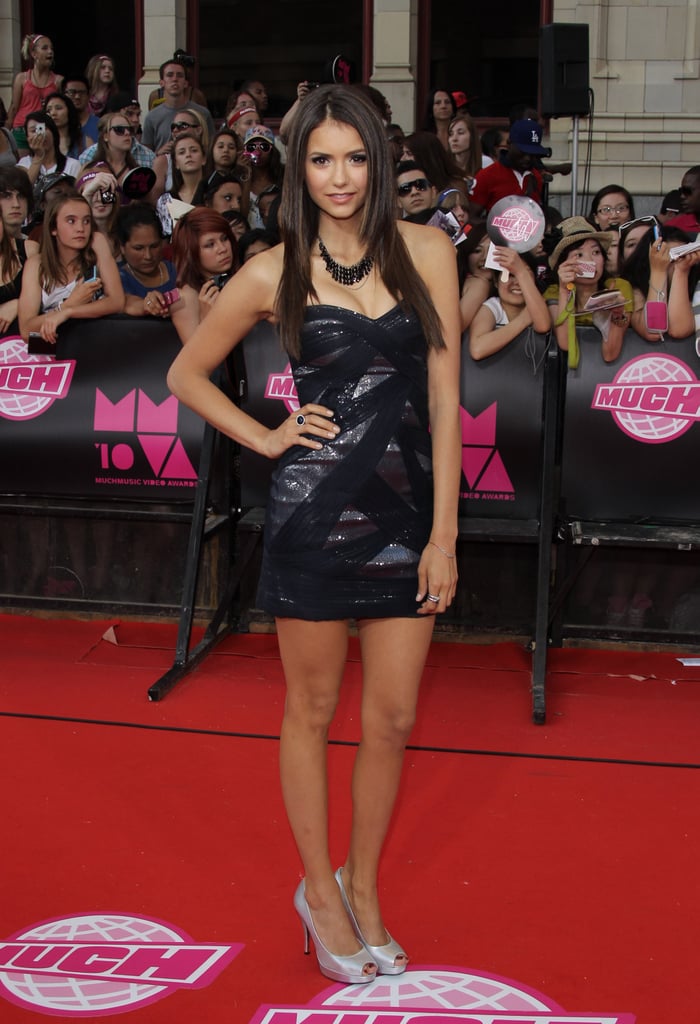 Nina looked great in this shiny black Tadashi Shoji minidress at the 2010 MuchMusic Video Awards.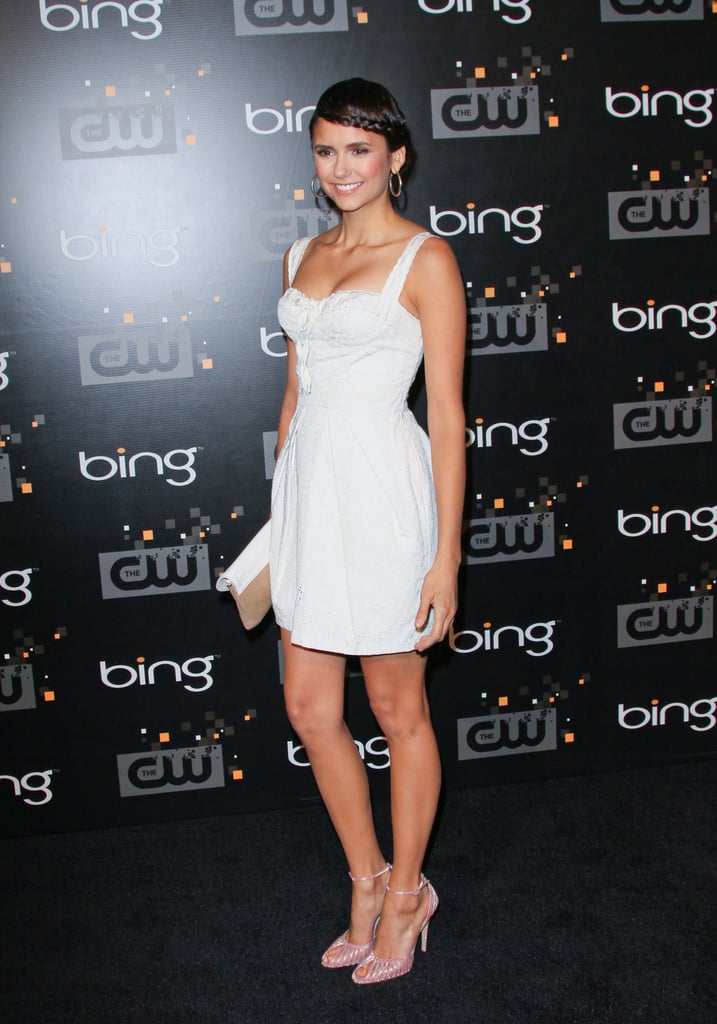 She kept her LWD sweet by adding light pink heels and a front braid to the mix at the Vampire Diaries premiere party in 2011.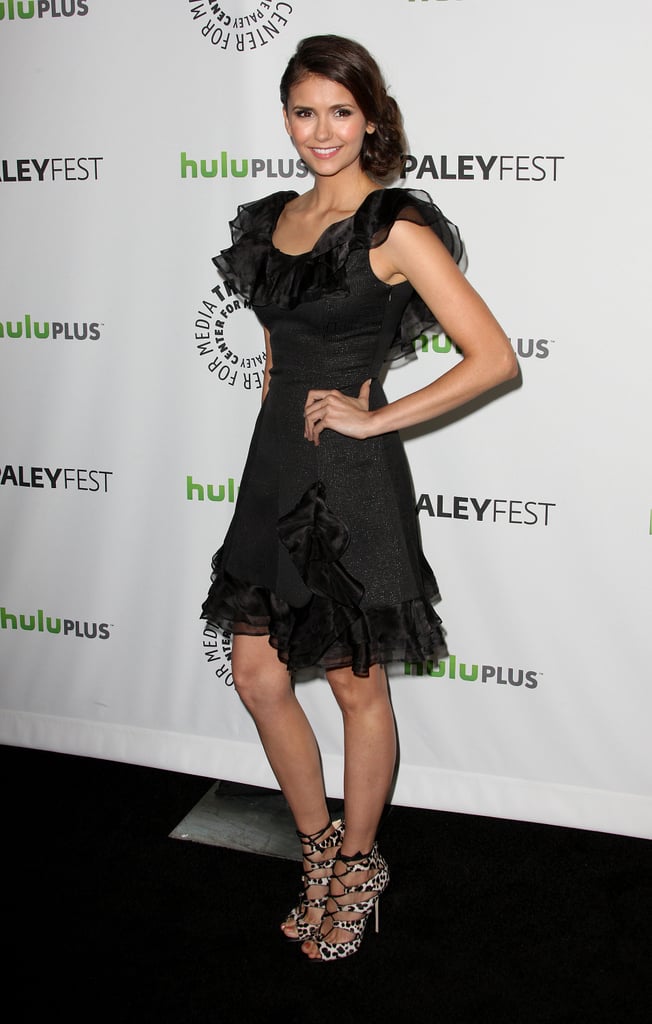 For her appearance at the 2012 Paley Fest, Nina stunned in a ruffle-lined Rachel Zoe [9] number and exotic printed Jimmy Choo sandals.
Nina channeled her sultry sensibility in a slick purple dress and black sandals in July 2008.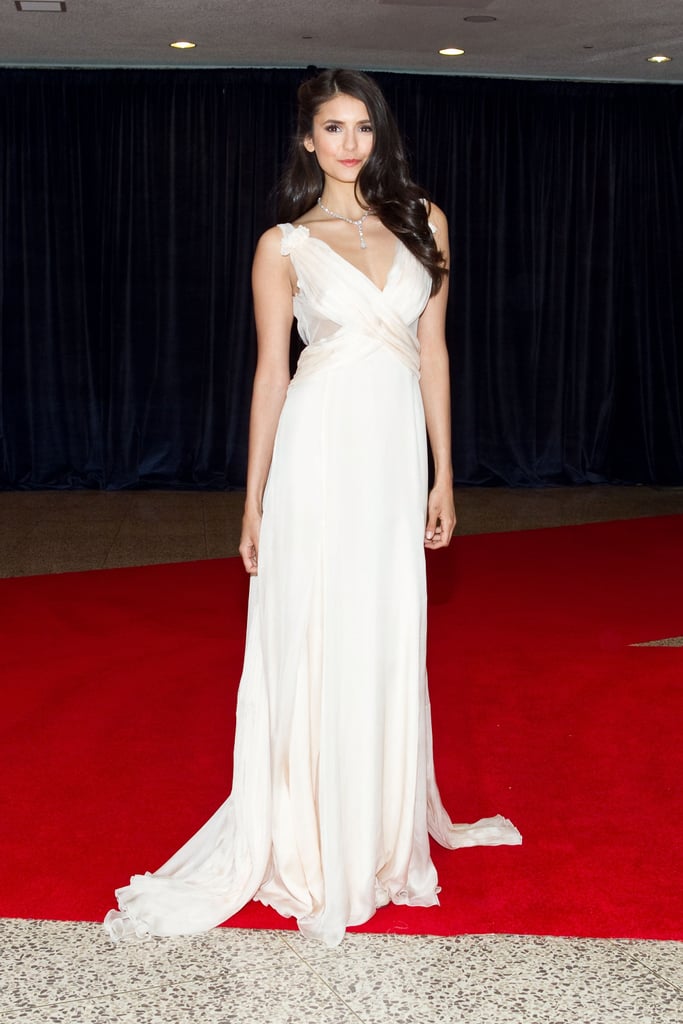 She wowed in a gorgeous white gown at the 2011 White House Correspondents' Association dinner.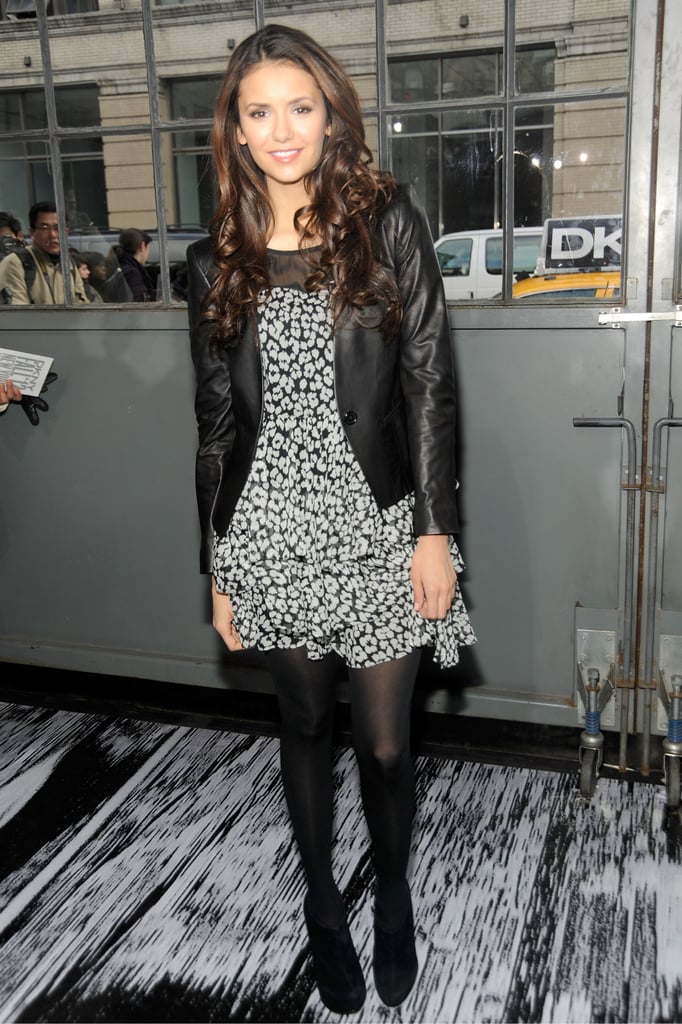 She nailed the cool-girl look in a floral DKNY frock and tougher leather jacket at the brand's Fall 2012 runway show.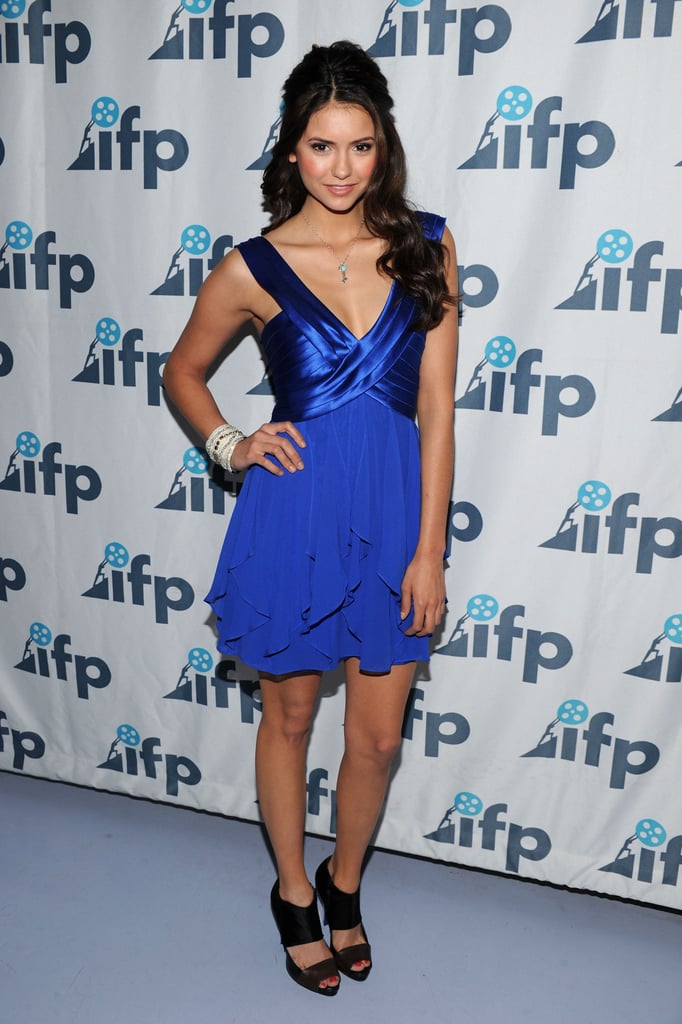 She was a vision in blue in May 2010.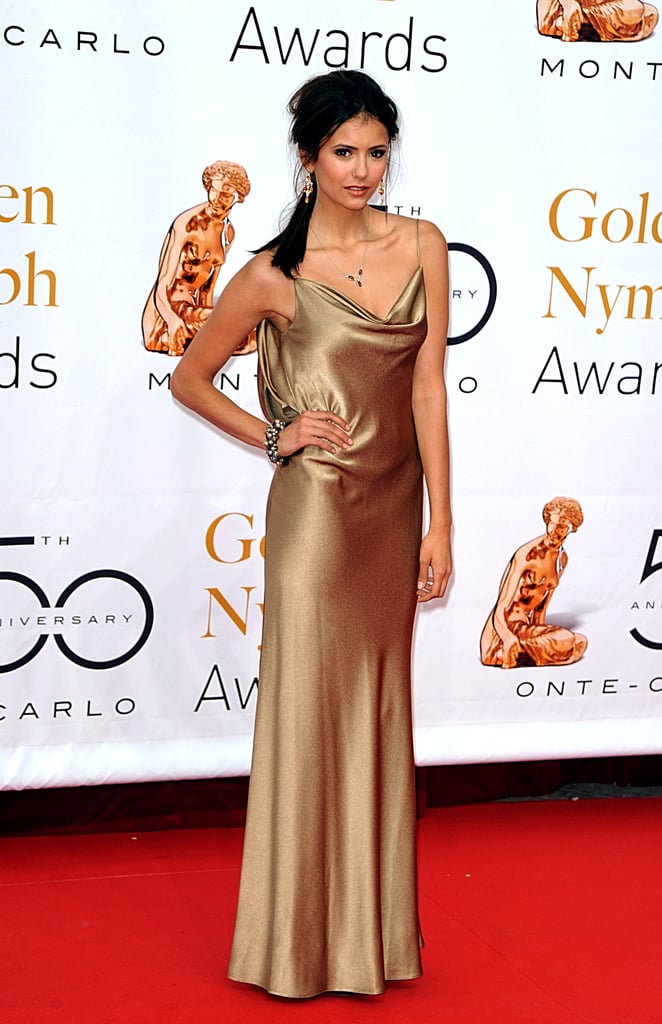 She stunned in a liquid gold gown at the 2010 closing ceremony of the Monte Carlo television festival.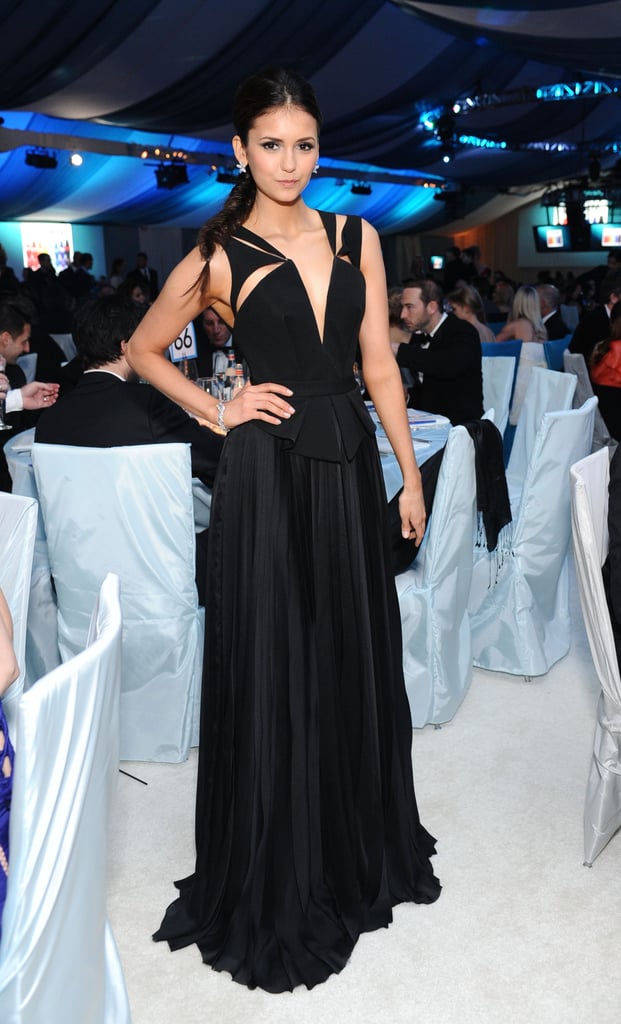 Nina Dobrev [10] looked superchic in a black cutout-infused J. Mendel gown at Elton John's 2012 Oscars party.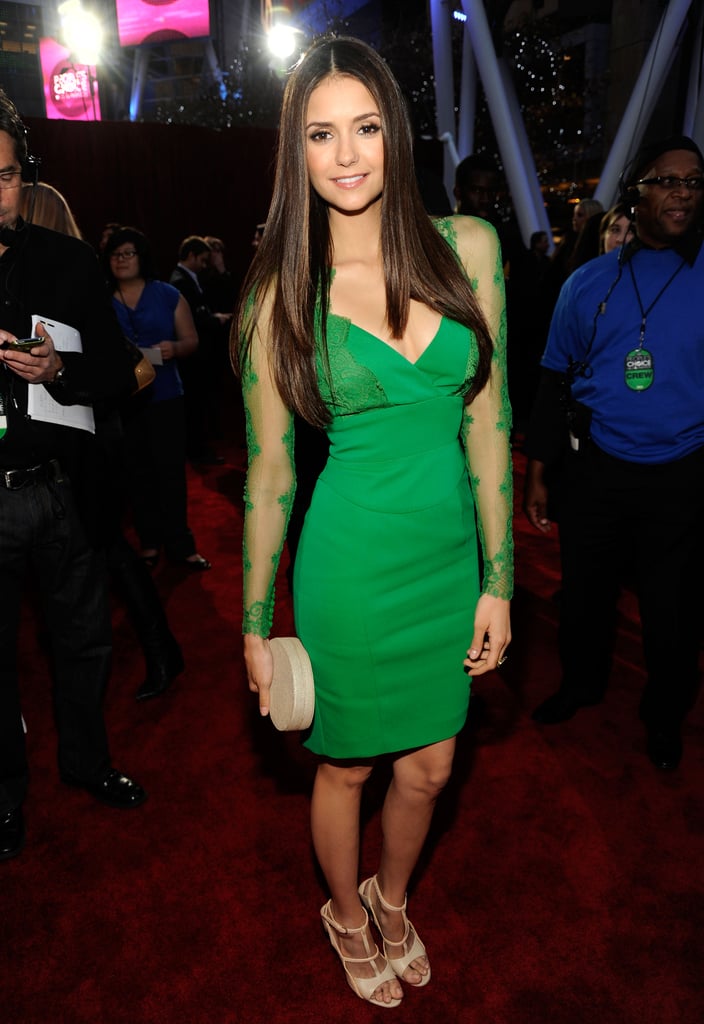 For the 2012 People's Choice Awards, Nina made us green with envy in her lace-sleeved Elie Saab cocktail dress.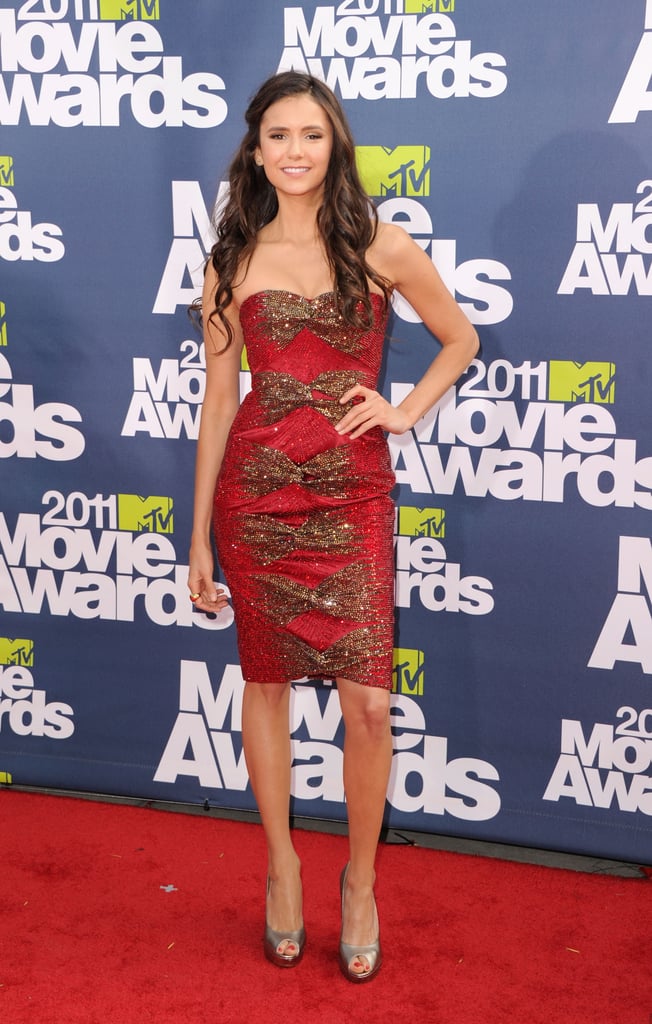 Nina donned one of her go-to red-carpet designers, Georges Chakra Couture, at the 2011 MTV Movie Awards — this time in a ruby and bronze bow-embroidered strapless dress iteration.
This strapless frock is decidedly more youthful, and we love that Nina can pull off a wide spectrum of stylish looks.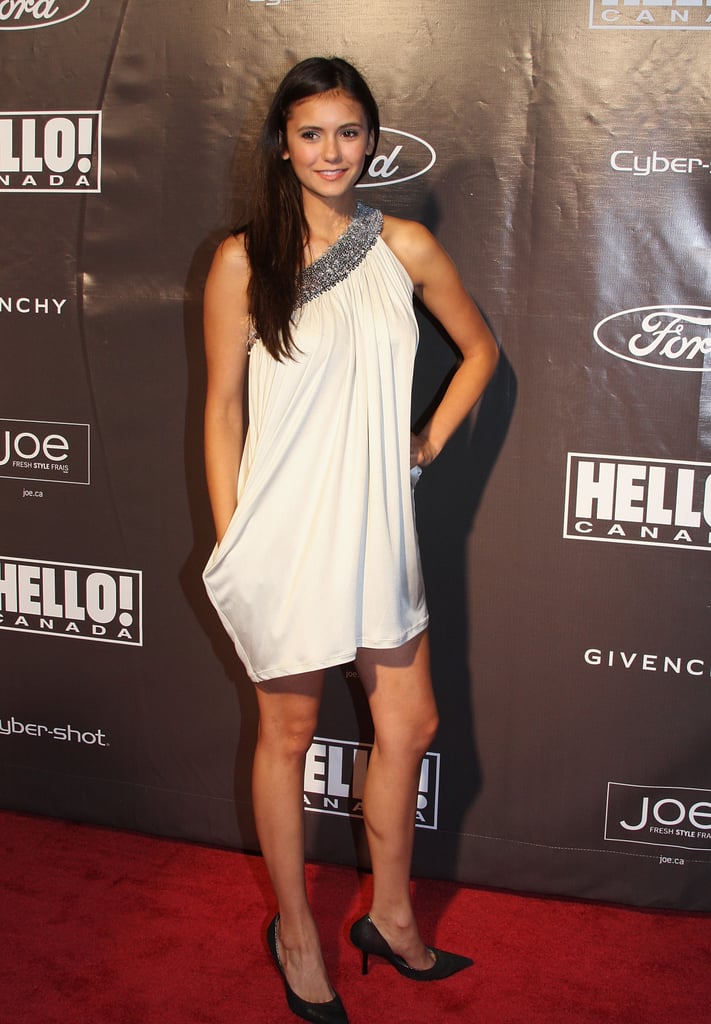 Channeling a gorgeous Grecian feel, she wore a white and sparkly toga-style minidress in 2008.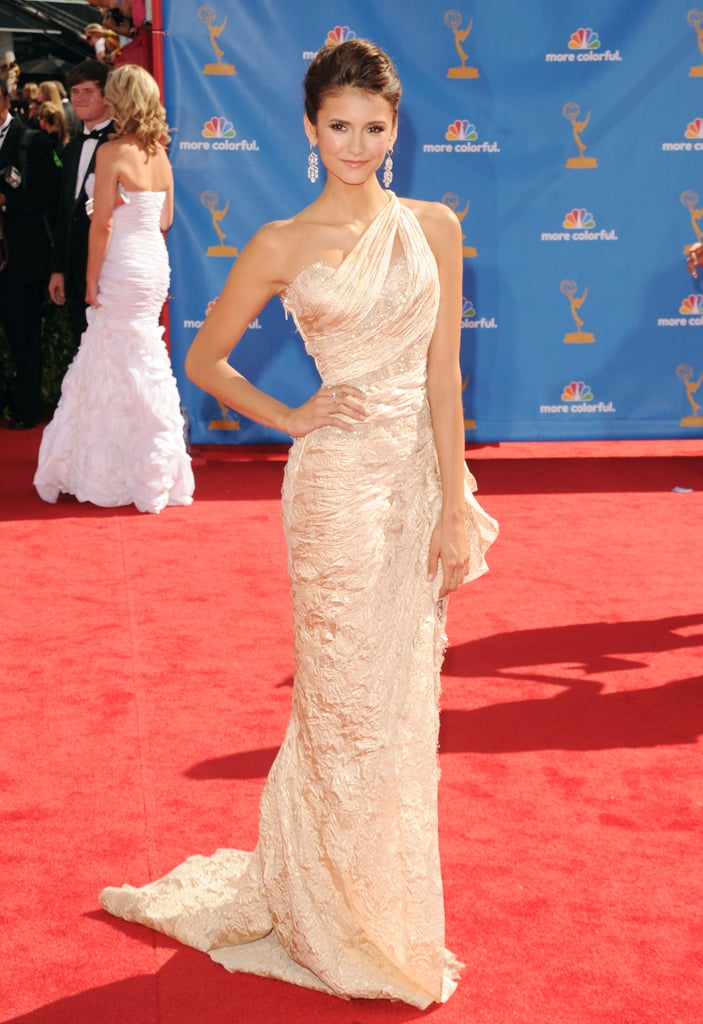 Proving her status as a serious red-carpet stunner, Nina glowed in a one-shouldered Zuhair Murad gown at the 2010 Emmys.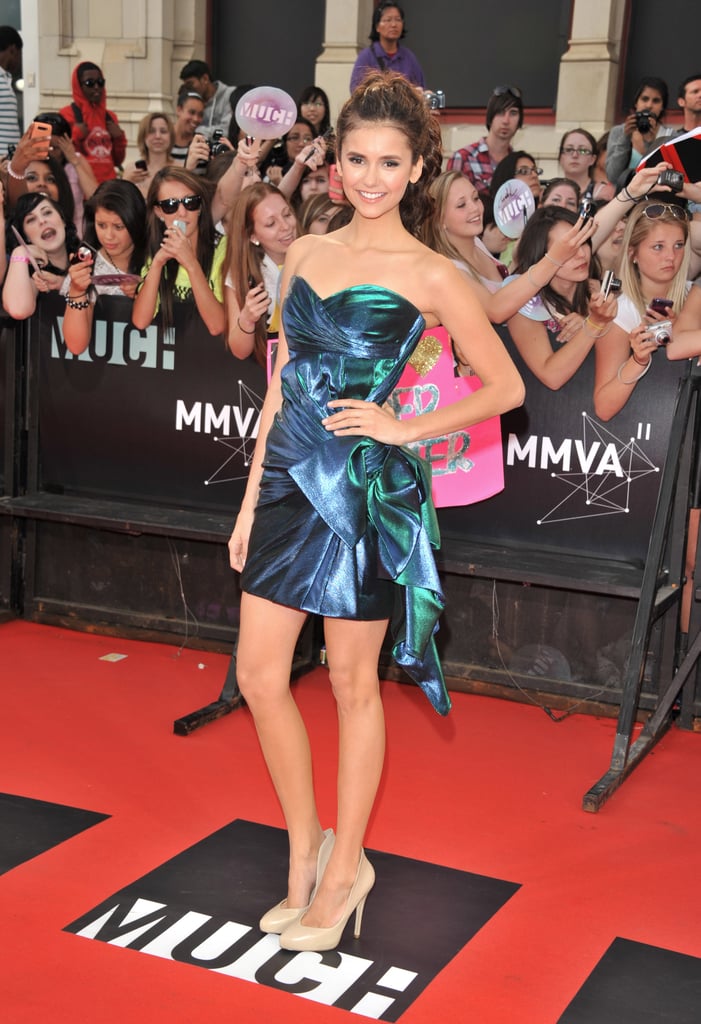 We're loving Nina's iridescent emerald-green strapless dress — with an asymmetric bow, no less — by Georges Chakra Couture at the 2011 MuchMusic Video Awards.
She attended Hollywood Life's Young Hollywood awards in a lace-infused, one-sleeved cocktail number in June 2009.
For a quirkier feel, Nina added a pretty blue feather to her hair at The CW's 2010 upfronts.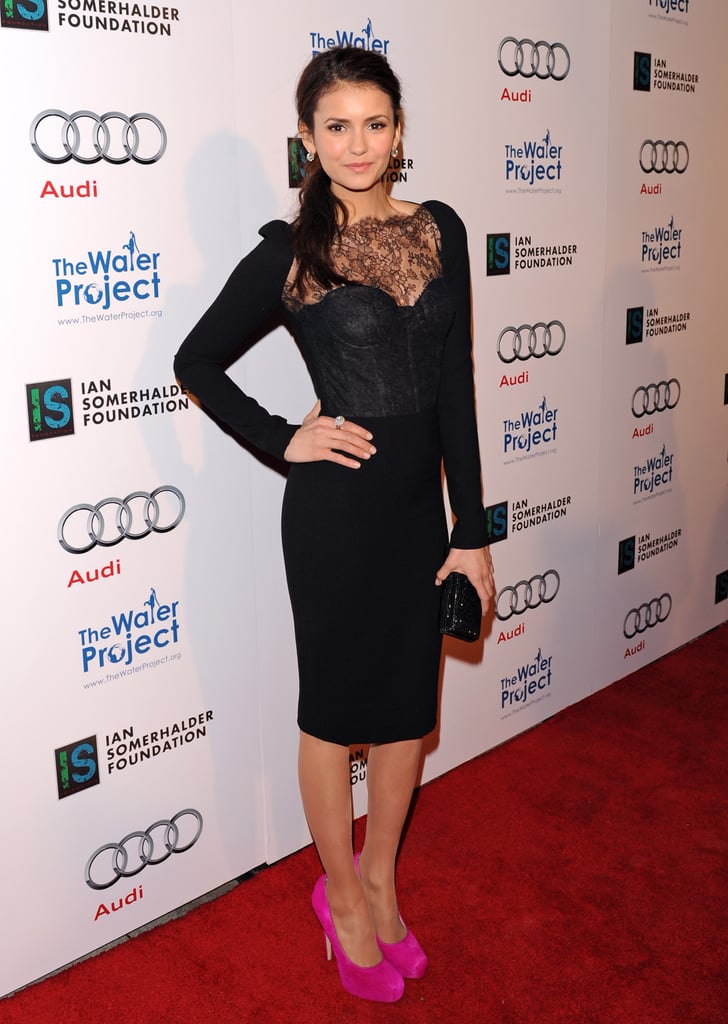 Once again, Nina accented her lace-infused black Monique Lhuillier sheath at The Ripple Effect charity event in 2012 with a bold pair of pink pumps.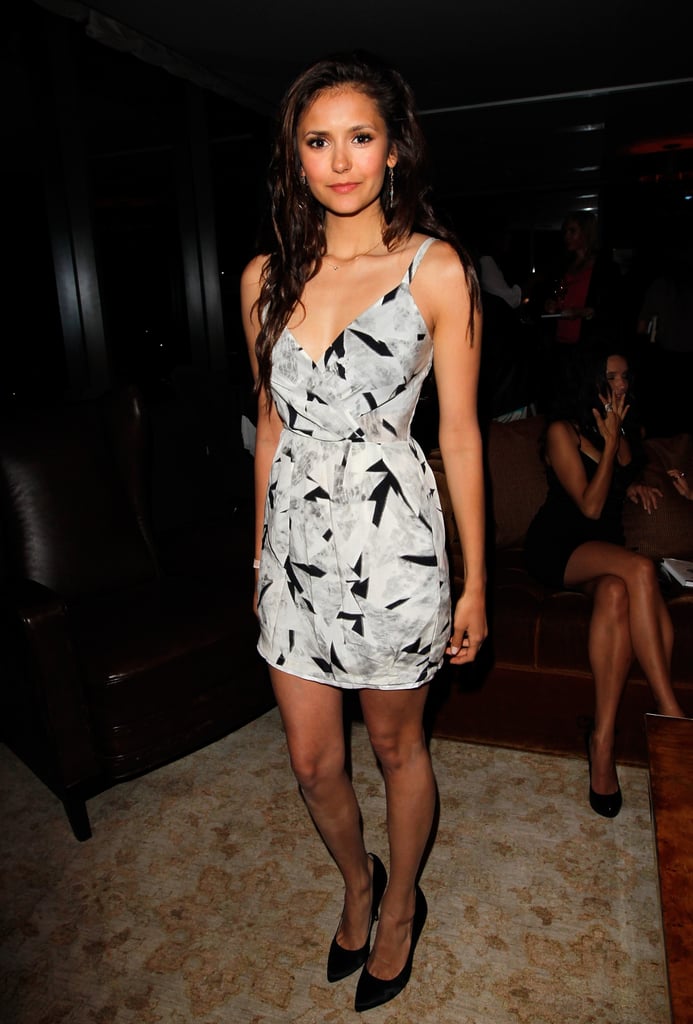 She wore a graphic-printed minidress and black pointy-toe pumps for a Glamour party in April 2012.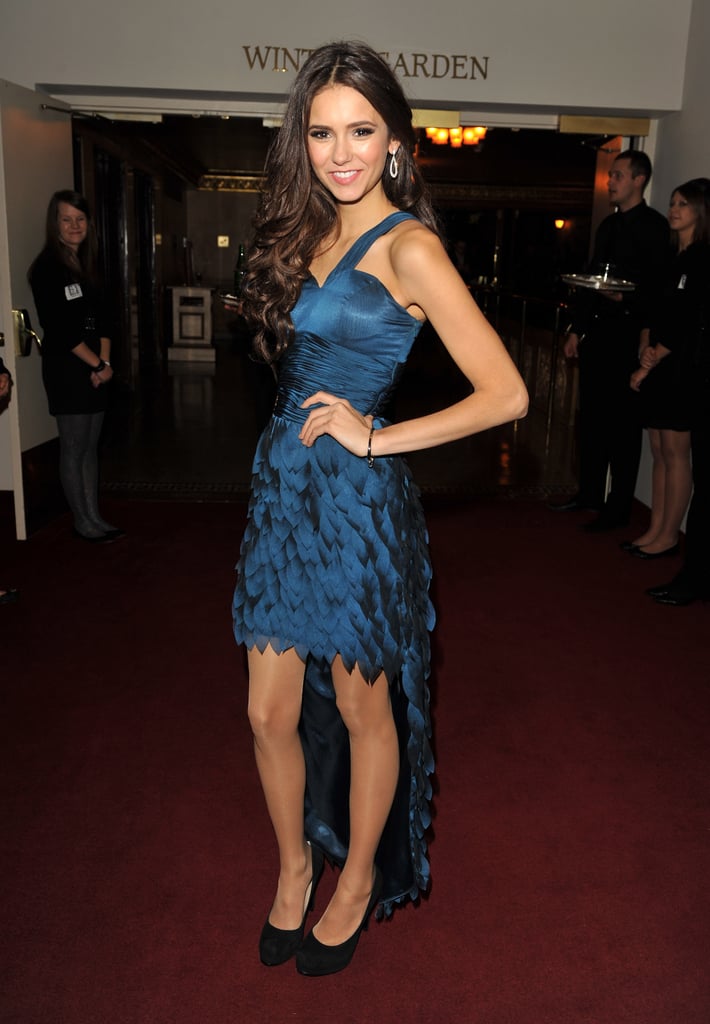 Rocking a serious high-low hem, Nina hit up the annual Gemini Awards in Toronto in 2010.
For The CW's 2009 upfronts, the actress wore a strapless LWD with matching white sandals.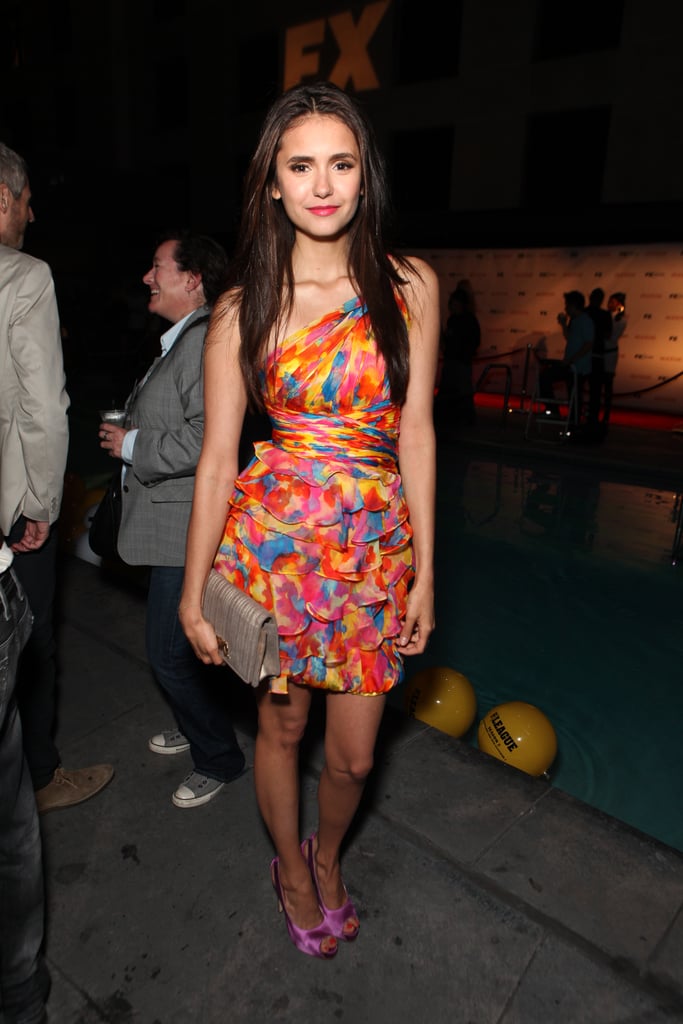 She paired a multicolored cocktail dress with fun lilac-hued pumps and a neutral-toned clutch at a 2011 Comic-Con party.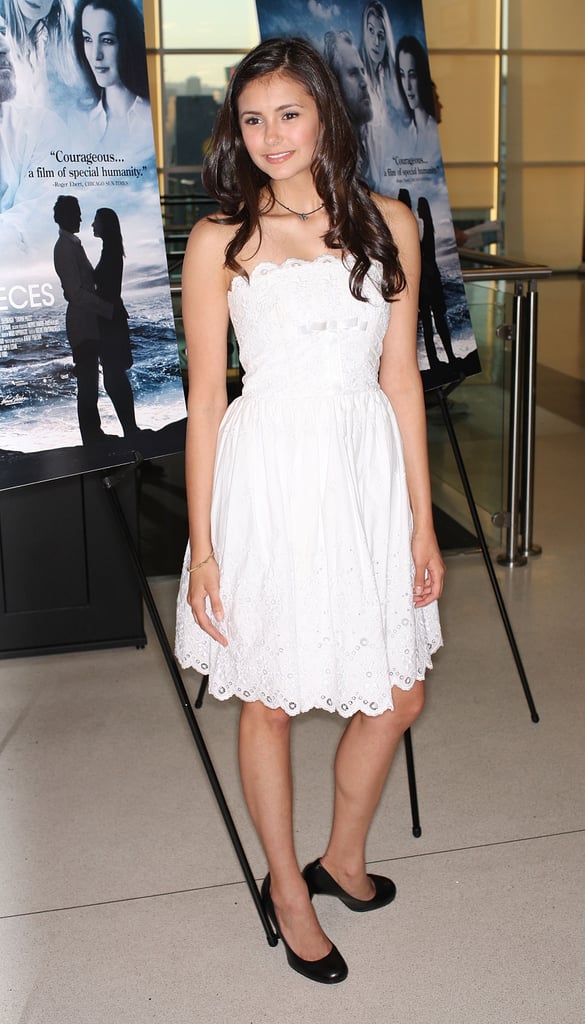 She played up her sweet side in a Spring-perfect LWD at the Fugitive Pieces premiere in April 2008.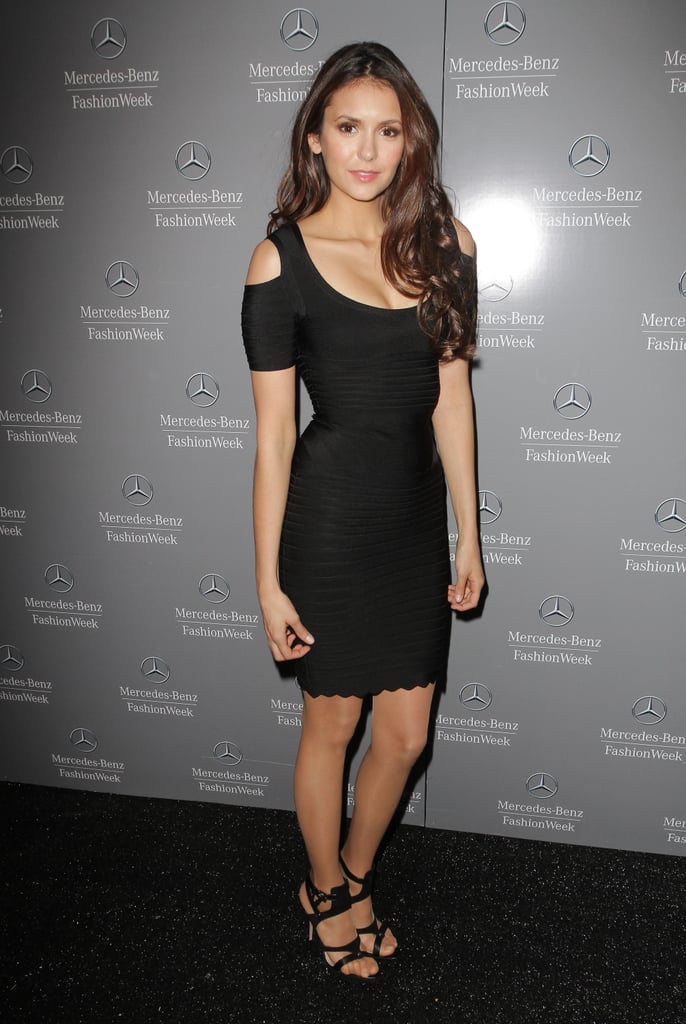 The starlet showed a bit of skin via shoulder cutouts in this LBD at Fall 2012 New York Fashion Week.
We love this flirty floral Lisa Ho dress she wore on the set of Extra in LA earlier in May 2012.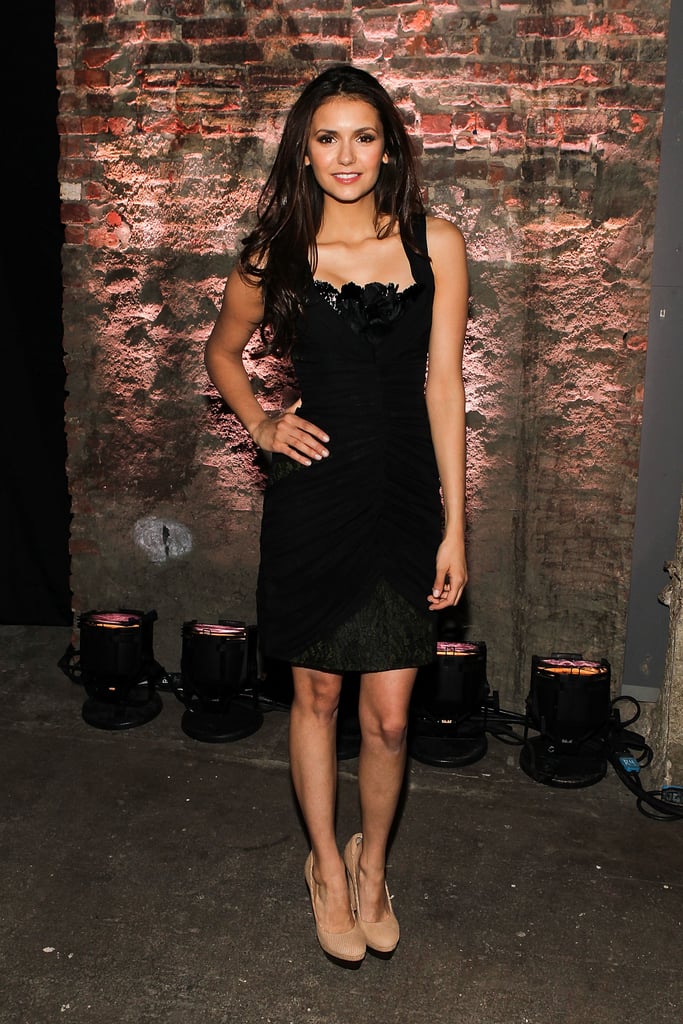 Spotted front row at Christian Siriano's Fall 2012 show? Nina in a classic LBD and nude pump combo.
We love this cool-girl look Nina rocked in July 2009 — a bold hue paired with a playful cocktail frock.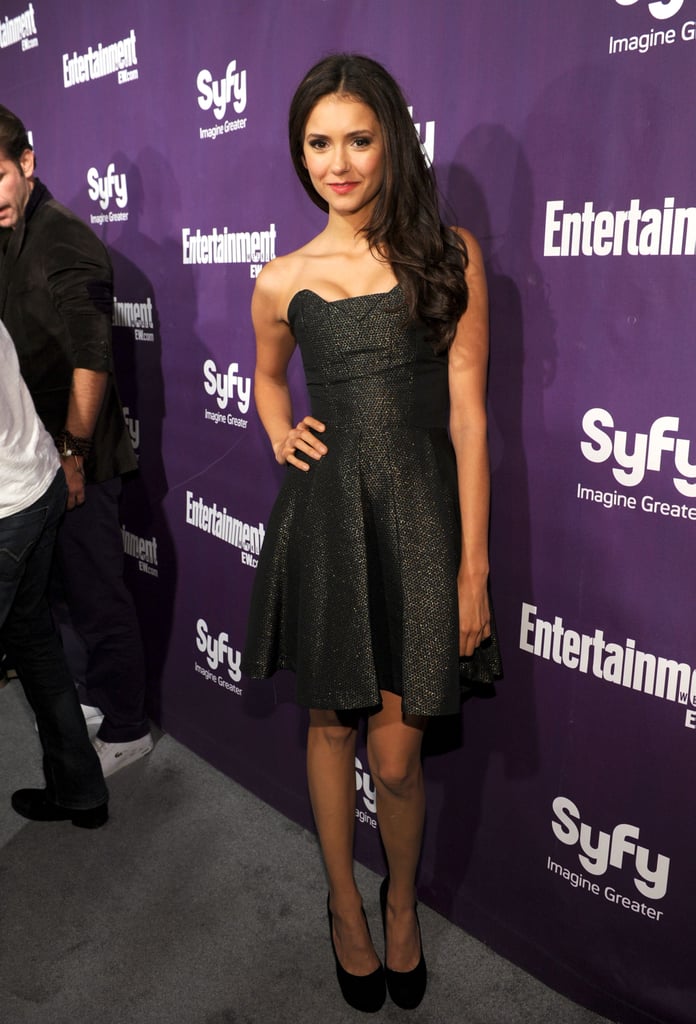 Sticking to her go-to strapless party frock MO, Nina stunned in a monochromatic palette at a 2010 Comic-Con party.
The actress chose a tea-party-perfect dress with red satin pumps for the Young Hollywood awards in 2010.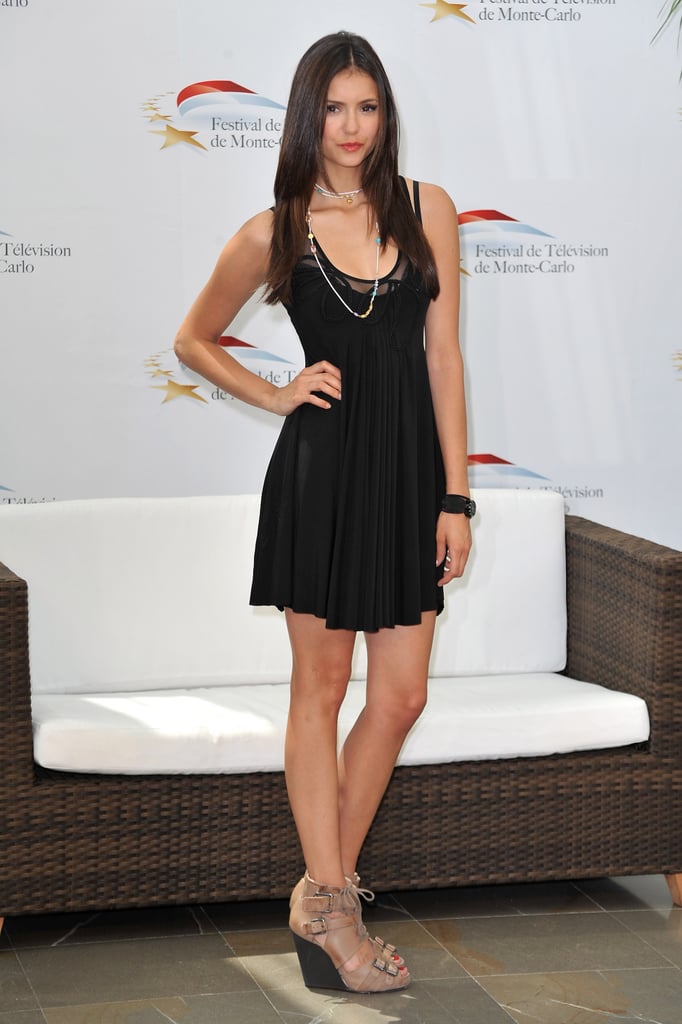 You could easily wear Nina's LBD-and-wedge-sandal look here — as seen at her Monte Carlo TV festival appearance in 2010.
Nina is able to easily transition into supersophisticated looks. Case in point: this chic gray sheath styled with peep-toe pumps she wore to Paley Fest in 2010.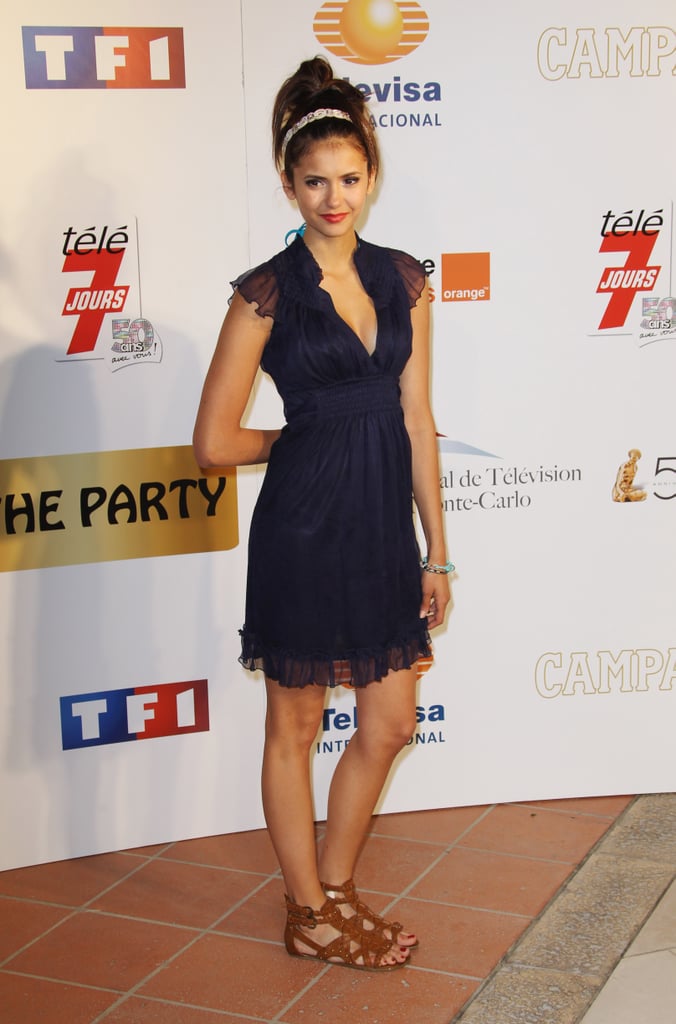 She dressed down a pretty navy number with a cute headband and light brown gladiator sandals in 2010.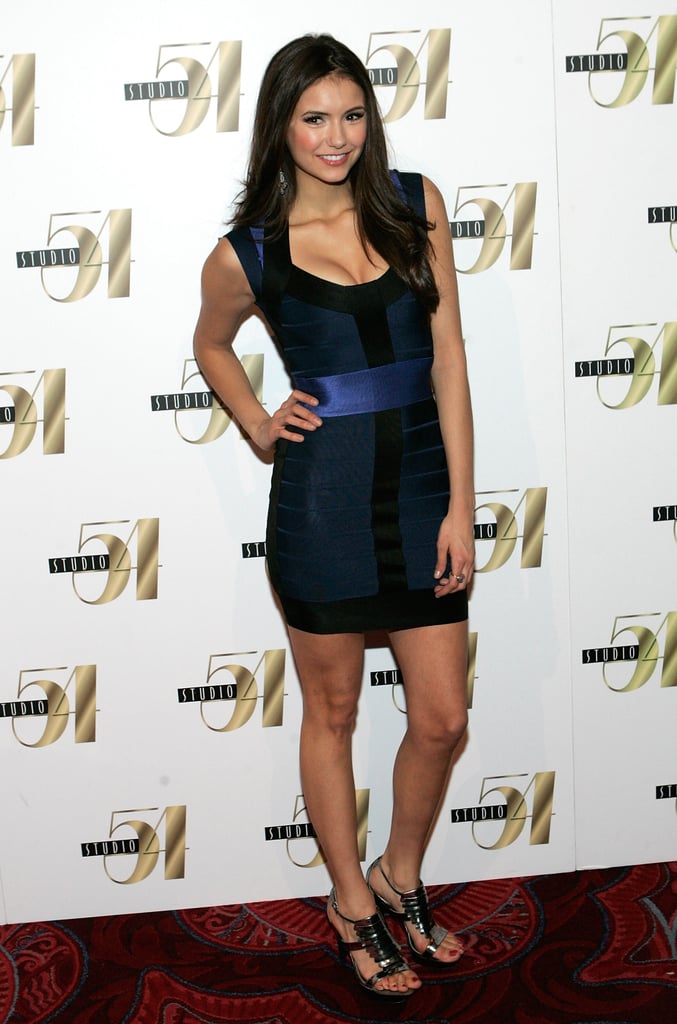 She slipped into one of Hervé Léger's formfitting dresses for her 21st birthday party in 2010.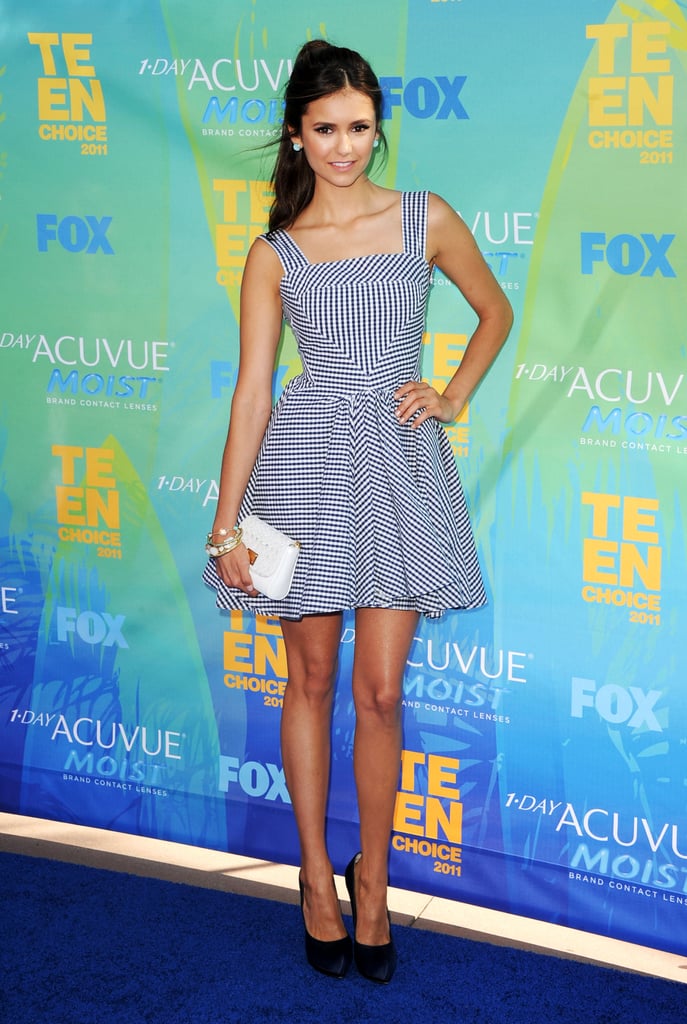 We absolutely love everything about Nina's blue gingham Dolce & Gabbana dress and white clutch at the 2011 Teen Choice Awards — it's the perfect Summer cocktail attire.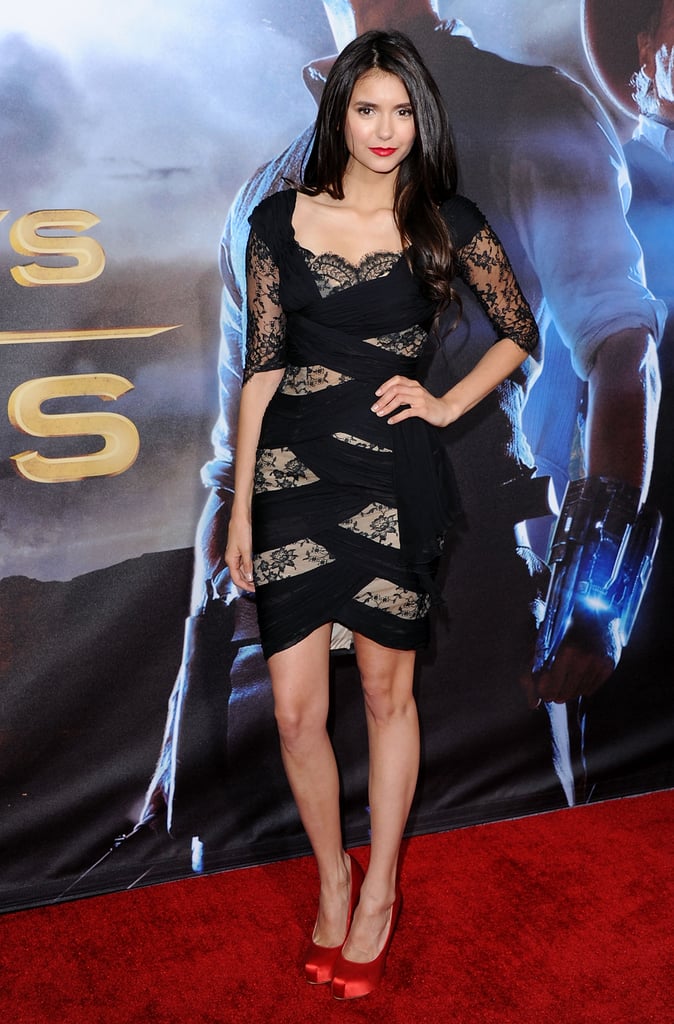 We love that she paired a bright red satin pump — and equally bright red lip — with her sexy black lace frock at the Cowboy & Aliens premiere in 2011.
Not one to shy away from color, Nina showed off her neon side in Jay Godfrey at The CW's 2011 upfronts.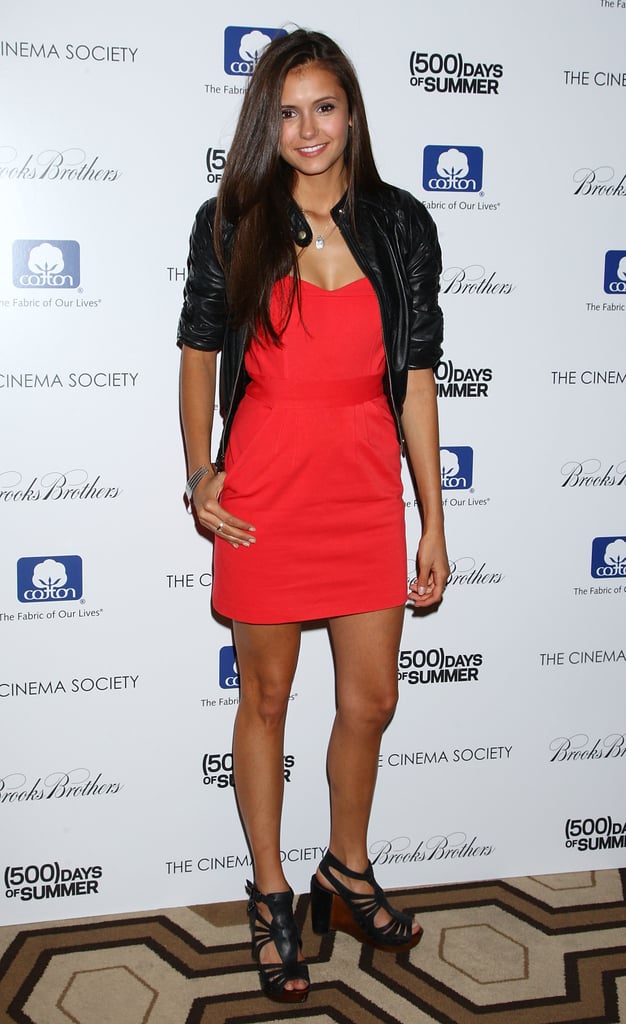 By topping this red number with a cropped leather jacket and edgier black sandals, she injected a cool vibe into her evening attire in July 2009.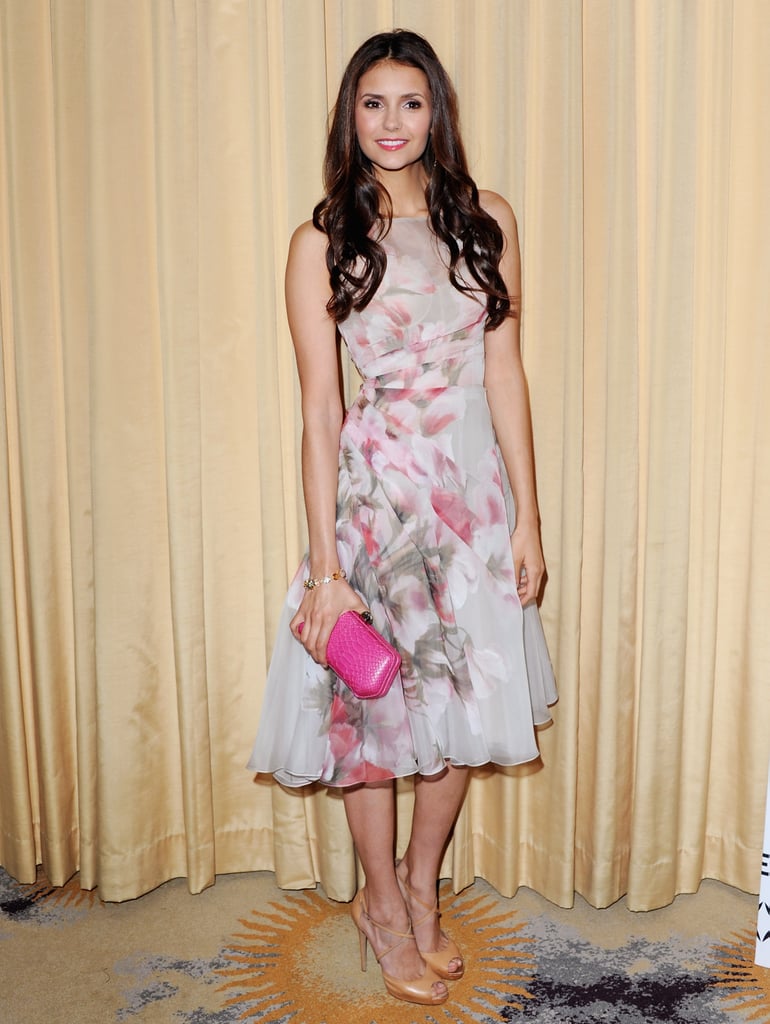 How gorgeous does Nina look in this tea-length floral Monique Lhuillier dress at a 2012 Golden Globes preparty? She styled the look with slick nude pumps and a bright pink clutch.
She sparkled in a Georges Chakra Couture strapless frock with nude pumps at the 2011 InStyle/Warner Bros. Golden Globes party.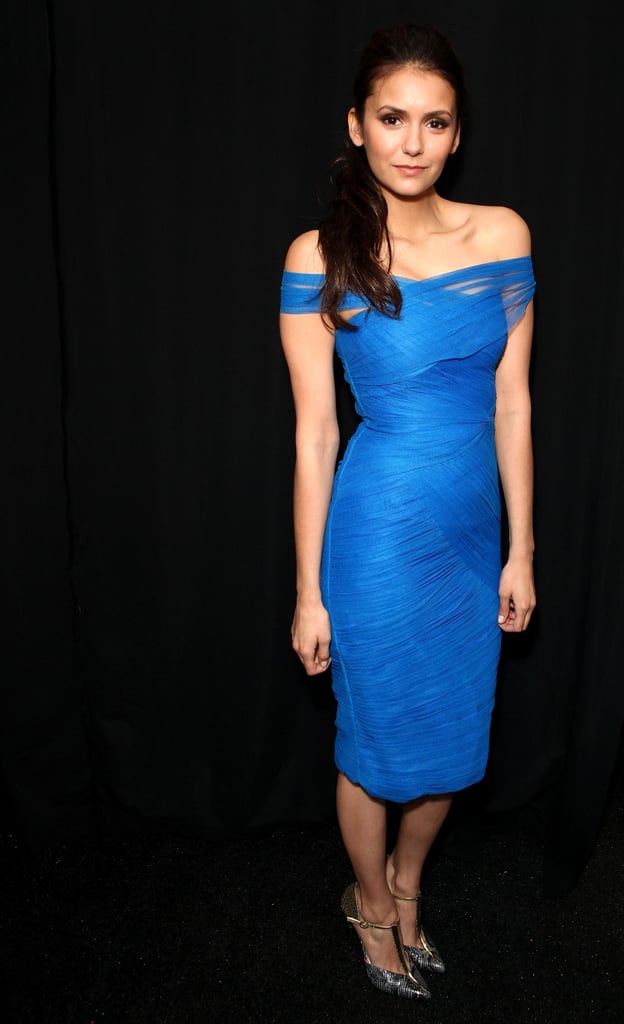 The actress donned a beautiful blue Monique Lhuillier creation at the designer's Fall '12 runway show.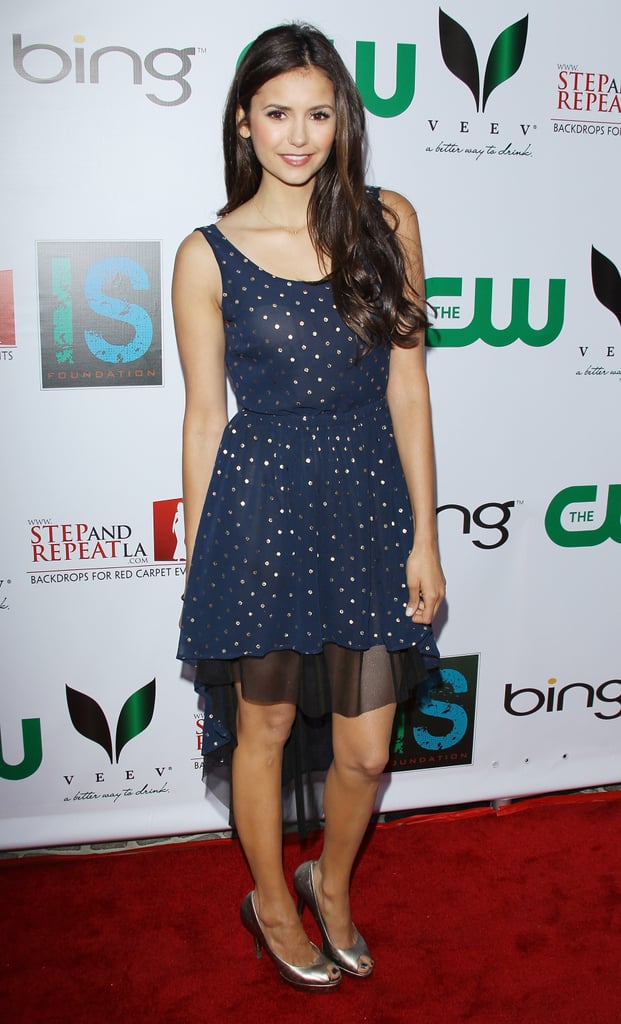 She paired pretty polka dots with metallic peep-toe sandals at The Influence Affair party in April 2012.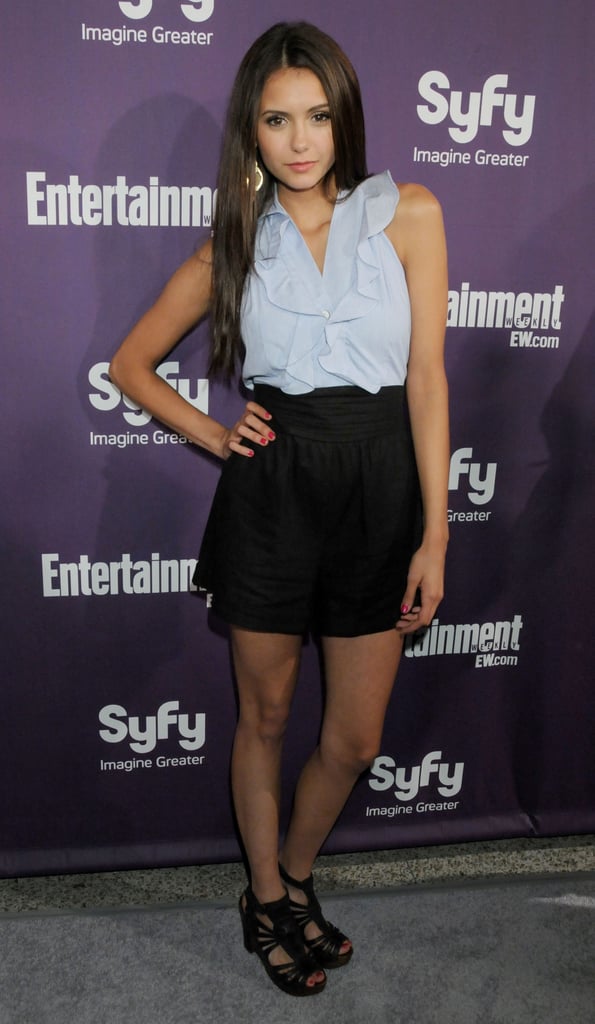 She rocked a totally cute ruffle-front dress at a Comic-Con party in 2009.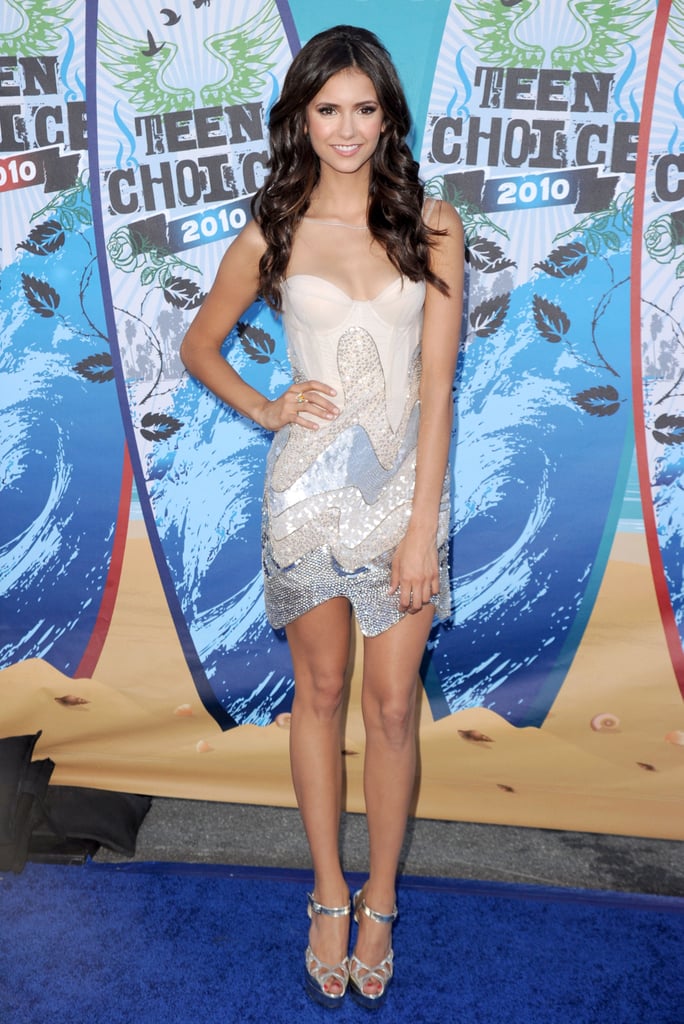 At the 2010 Teen Choice Awards, Nina wowed in a sparkly corset-style Alex Perry dress.
She showed off a green graphic print at Nylon's Young Hollywood party in 2009.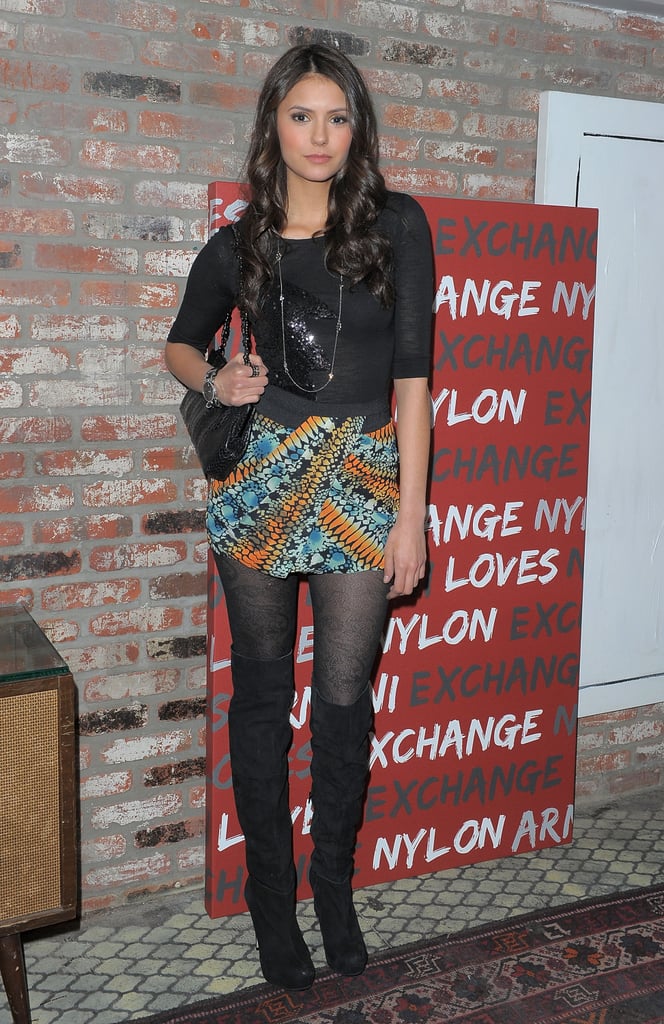 To provide her darker ensemble with a burst of color, she donned a vibrant printed skirt at a Nylon party in 2010.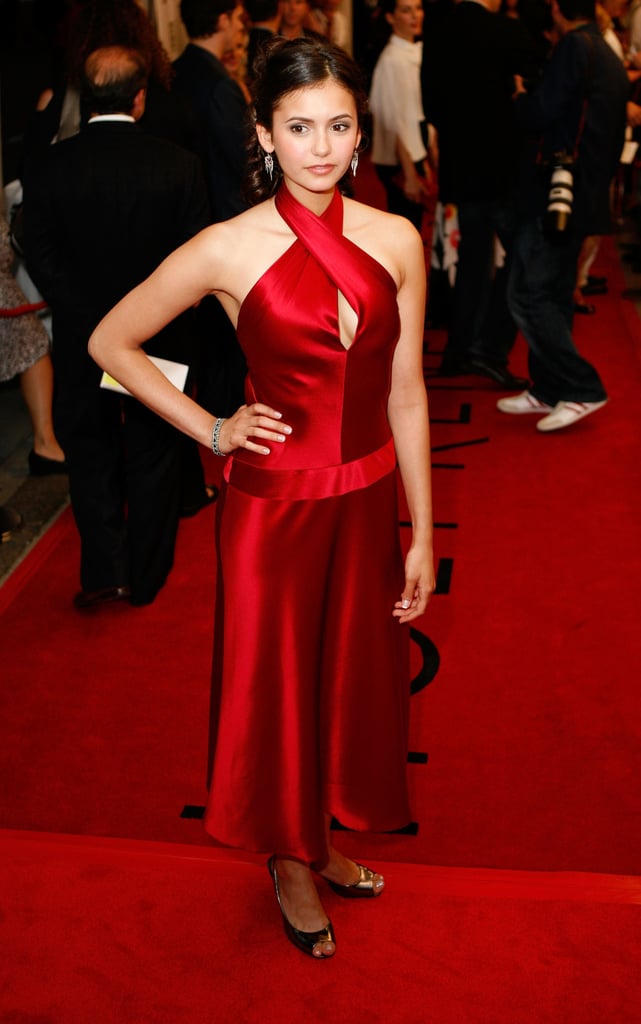 Nina chose a silky red halter dress for a gala in September 2007.