Prom season is a thing of the past for most of us, but as this month sees students around the nation getting decked out in their formalwear finest for high school's take on the red carpet, we can't help but reminisce.
We convinced a few real women to share their literal old-school prom pictures from yesteryear. What we found after all the hairspray settled were more than a few ball gowns (remember when Jessica McClintock dresses were all the rage?) and some seriously bizarre tuxes. Prepare to laugh, but a fair warning: even the most dated fashion choices — and tightest french twists — might make you wish you could go back in time and do it all over again.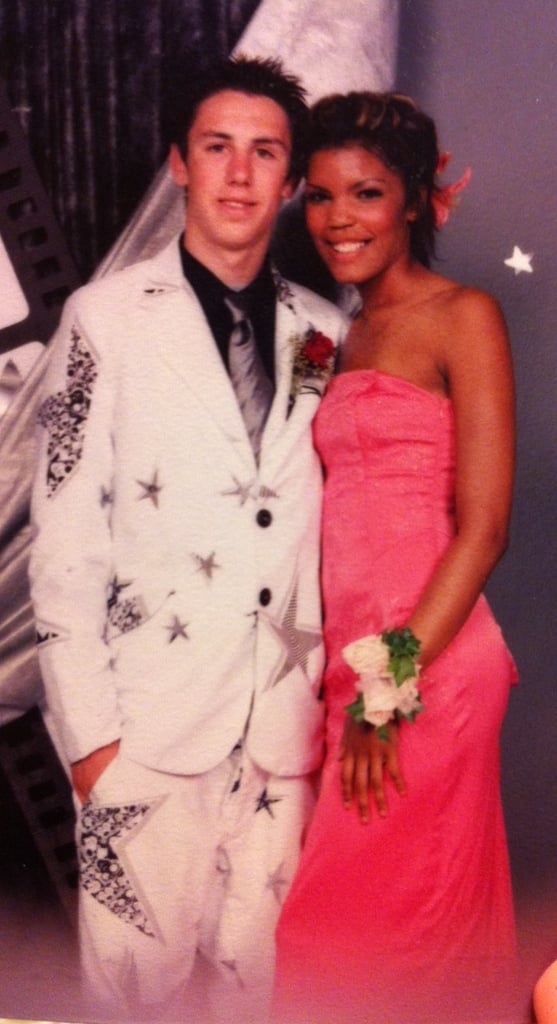 "All I wanted in life was a coral-pink prom dress and a tiger lily in my hair, so I did everything I could to make that happen. My dress was from Windsor and had — what I thought was — very glamorous beading and a chiffon train. I got my makeup done professionally, but did my hair myself — and although I'm pretty happy with my prom look overall, I can't say the same about my date's."
— Brittney Stephens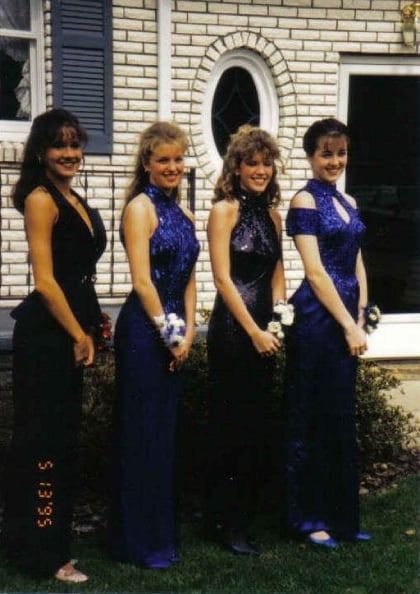 "Blue halter gowns with sparkles and matching shoes were all the rage. LOL!"
— Jaime Richards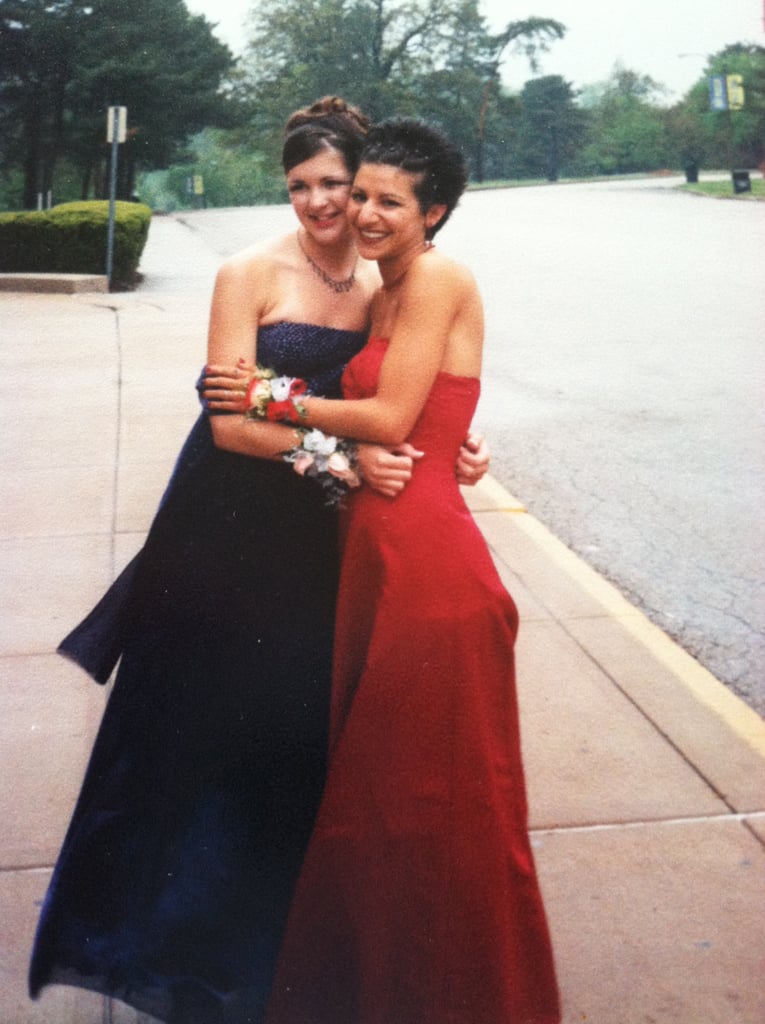 "By high school, the one sure-fire thing I knew about style was that red was my color. The other? Match everything. I had red shoes, a red purse, red jewelry custom-made by my mom, red nails – even my date had a matching red vest. I got this strapless number at David's Bridal and actually remember talking seriously about how I could dye it and wear it on my wedding [1] day."
— Kate Schweitzer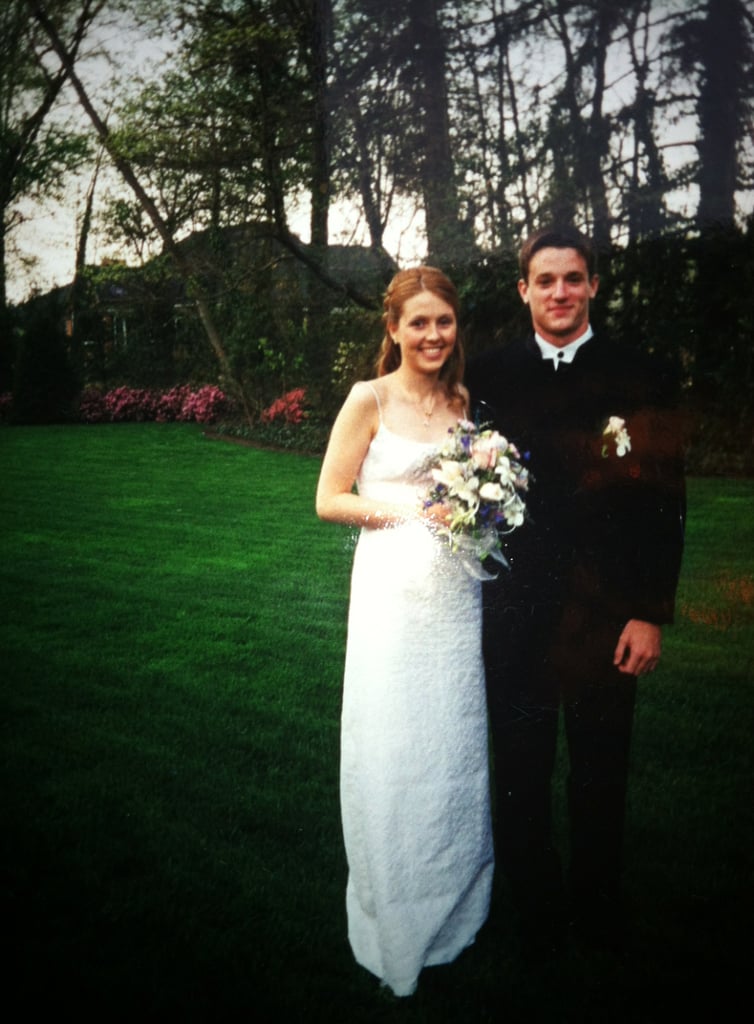 "I actually started working at Loehmann's in 2001 after I found this relatively simple Nicole Miller dress there. It worked out pretty well that my prom date — who's now on soap operas! — coordinated."
— Allie Merriam 
"It's ironic that I wore black to both my junior and senior proms, given that I'm such a colorful dresser! But my mom wisely steered me away from anything that could seem dated when looking back, so we took a trip into the SoHo Betsey Johnson where I found a pretty LBD that I knew then, and appreciate now, was a timeless choice. Proof: I wore it to a wedding [2] last Summer, and my fellow guests were none the wiser."
— Randy Miller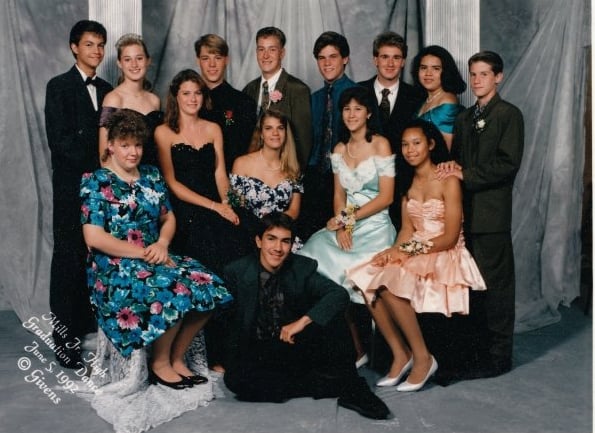 "Oh, the '90s! Floral prints and satin ruffles. You can't tell because of the girl in front of me, but my dress is covered in teal sequins [pictured back row, right]. I still own the dress and plan on wearing it when I turn 40. I'm pretty sure it's going to be back in by then."
— Sabrina Eldredge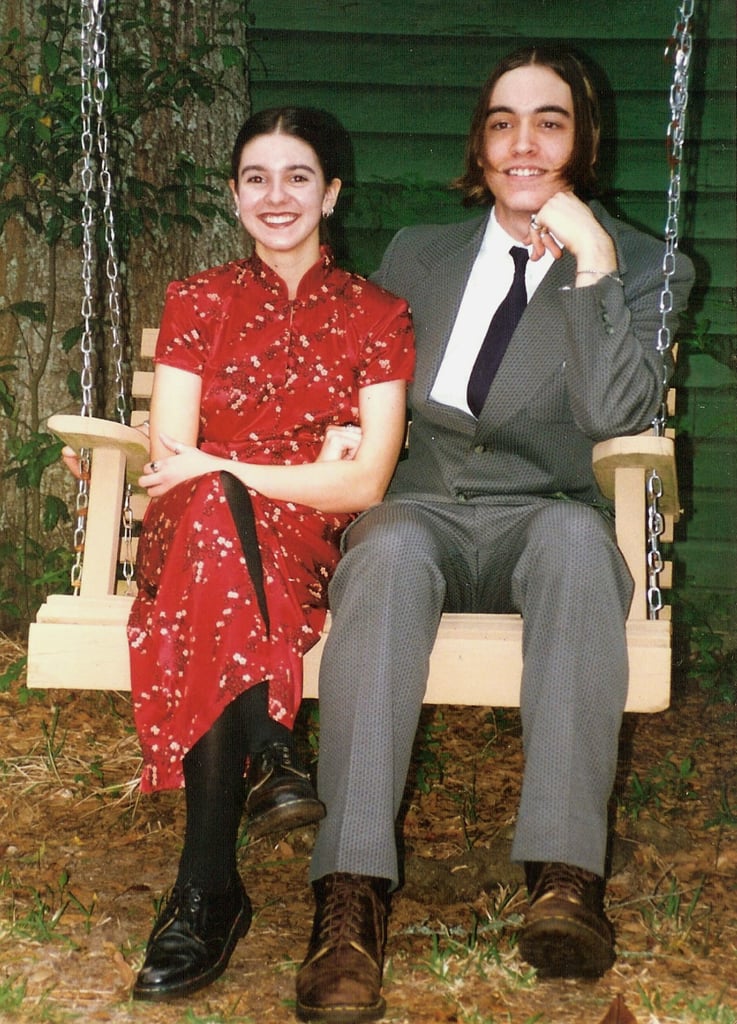 "My date and I both wore Doc Martens (hey, it was the '90s!). We didn't get our photo taken at the prom, just beforehand in my friend's backyard. I bought the dress the day before at the mall, and I called my date the day of the prom to ask him out. Luckily, he had a vintage suit to wear. We ended up dating for the rest of high school. My mom fixed my hair with fresh red flowers in a bun."
— Nancy Einhart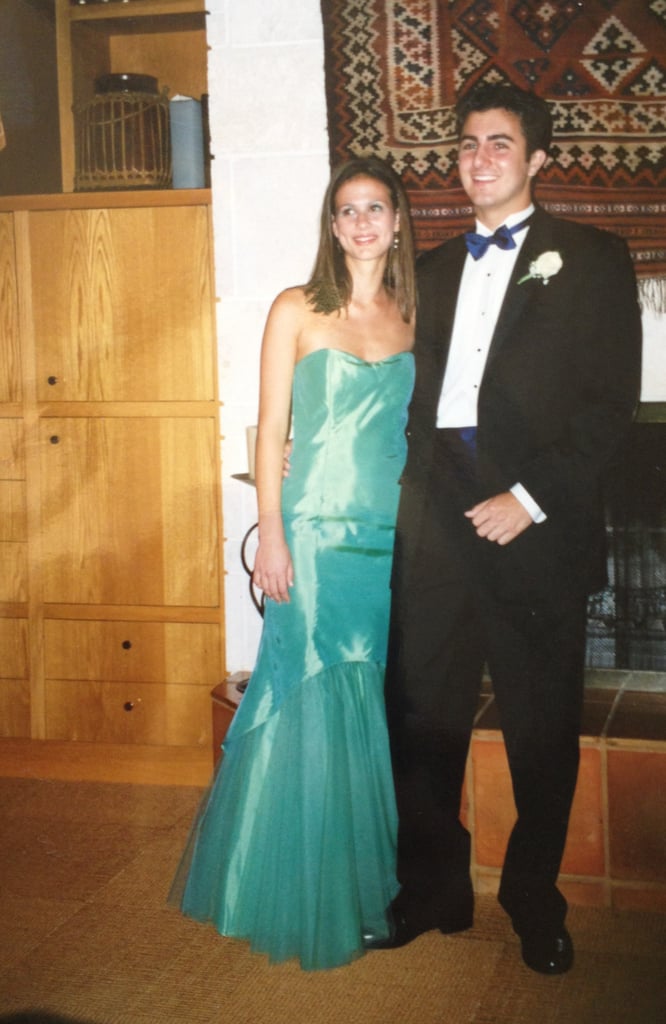 "I was so in love with the shape of this Jessica McClintock dress. I thought the mermaid silhouette was so glamorous, and I loved the bit of tulle on the bottom. It was my first time at prom (going as a sophomore with my boyfriend at the time, who was a senior), and I wanted to totally do it up. I remember stepping out to show off the dress to my date and my parents — it was such a huge moment . . . the big reveal. I loved it."
— Hannah Weil McKinley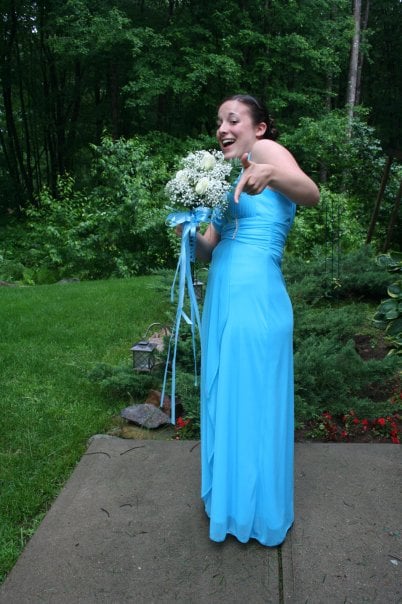 "Blue always has and always will be my favorite color, so I knew I had to wear a blue gown for my last big dance. This dress was one of the first I tried on — it was a perfect fit. The Grecian-style top really worked on my smaller bust, and the bottom flowed out just enough that I could comfortably bust a move on the dance floor. If I ever get married, I would love to wear a white version of this gown."
— Leah Rocketto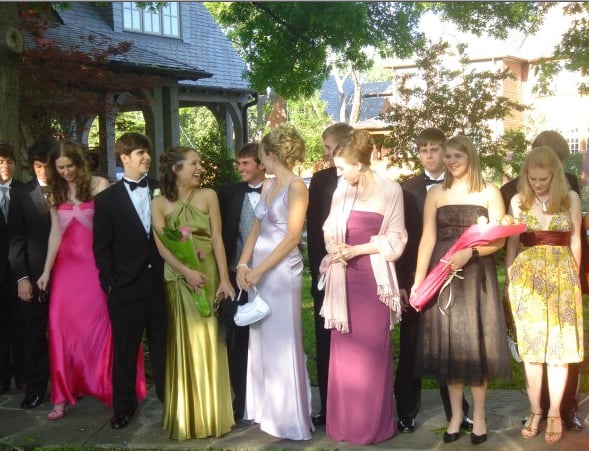 "I wore a purple Nicole Miller dress to prom — little did I know that a dozen other girls would show up wearing the same style in different colors! I was horrified at the time."
— Anna Roberts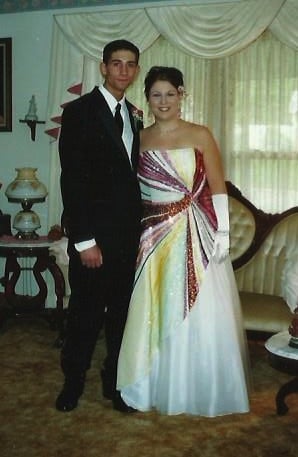 "I've never been one to be very traditional, so when I spotted this Cassandra Stone dress in the Seventeen prom issue, I knew I had to have it because no one else at my school would even think to do something so funky. Mind you, I grew up in a small town in the Midwest, so bright, multicolored sequins were definitely something new and different. I made my parents drive all over the state to find it, and I have never been more in love with an article of clothing in my life."
— Hedy Phillips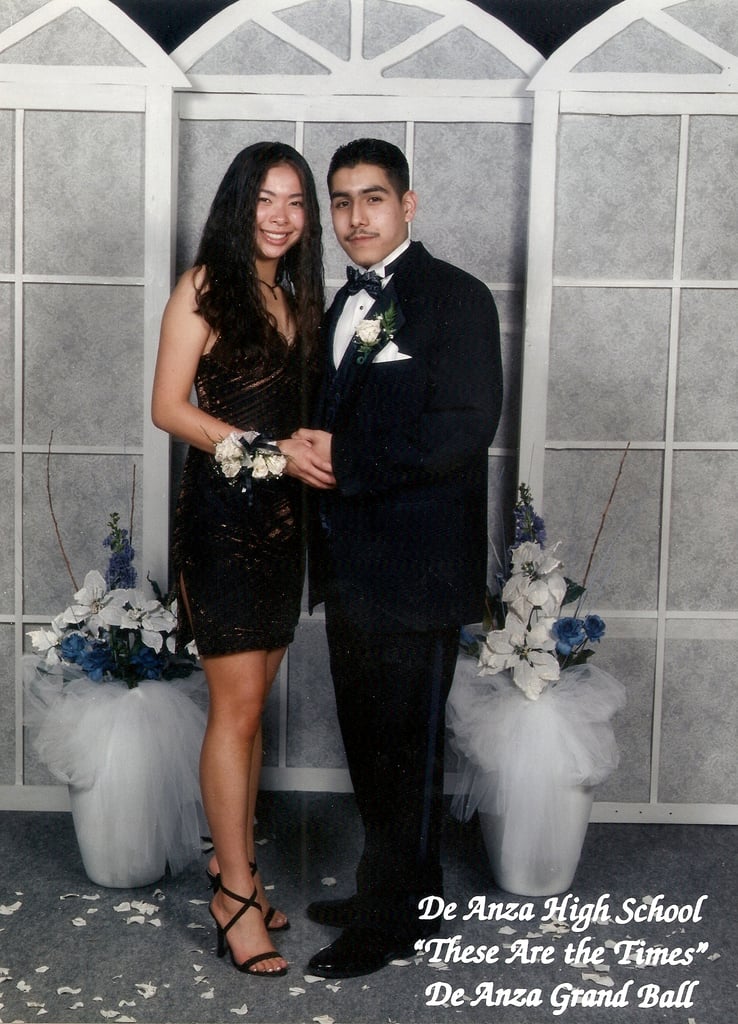 "Since I wasn't into wearing a big ball gown to prom, I opted for this shimmery black and bronze number from Rampage, which I got on sale for $13. The shoes (I wish I still had them) were ordered rush delivery from the Victoria's Secret's catalog. Sadly, I still cringe when I look at my hair and overfilled eyebrows, but you live and learn. I went with my good friend, who also happened to be prom king."
— Chi Diem Chau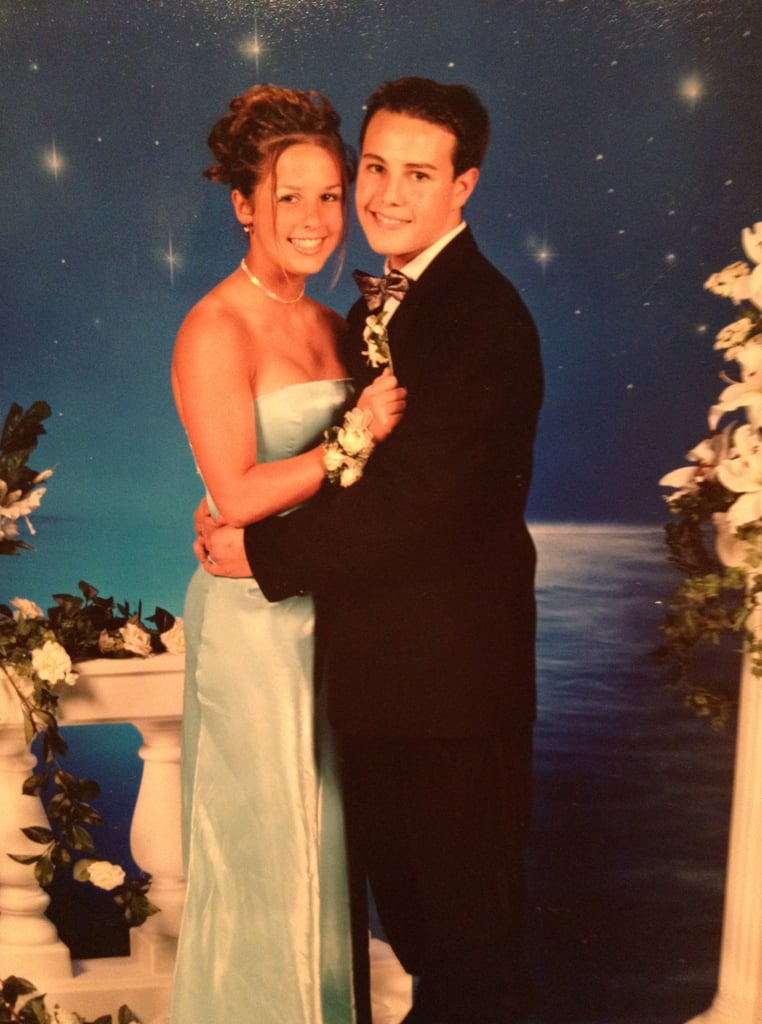 "I believe this was my freshman year with my high school sweetheart — he was a junior, which is how I scored the invite. I was in a big Cache phase for all dance dresses. This one caught my eye because it had a supercool back — the type that ties up like a corset — and I loved the pretty teal color. I definitely went all out for this dance, getting both my hair and makeup done."
— Stacy Hersher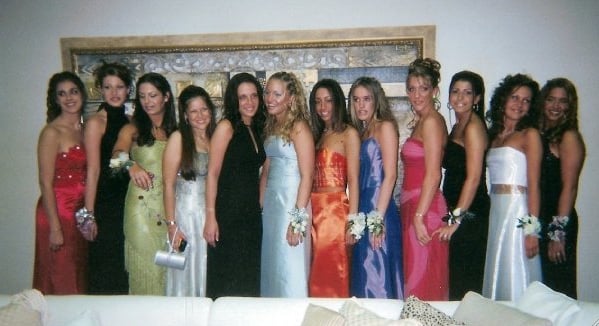 "I'm in the green crochet dress from Cache with multicolored embroidered flowers down the front and fringe on the bottom. I definitely wouldn't wear it again, but it's still pretty true to the way I dress. My eyes are still drawn to bright colors and flowers — so much so that my friends say if it looks like a curtain, Steph will buy it."
— Stephanie Brown 
"I was wearing a black Nicole Miller dress, and I went with one of my good friends from elementary school. He and all of his closest friends dressed up in Dumb & Dumber suits as a surprise. I wish I would have gotten the memo so we didn't make a Halloween [3] statement in all the pictures."
— Lizzie Fuhr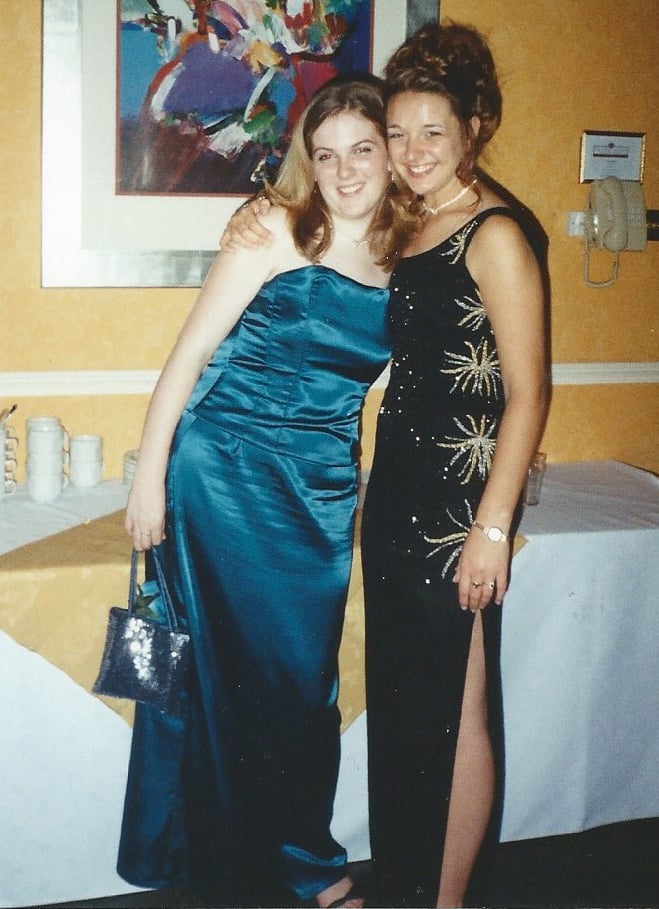 "I left my UK high school when proms were still an exotic American tradition we only knew from Sweet Valley High books and Freddie Prinze Jr. films, so we had a Leaver's Meal instead, which was basically the same without the limos, corsages, and dates. I made my own outfit using a wedding [4] dress pattern from one of my mom's magazines. Everything was teal, right down to my eye makeup. While I'm still proud of being able to sew in 15 individual pieces of boning into a corset top at 17, I really wish I'd known how unflattering cheap satin is!"
— Gemma Cartwright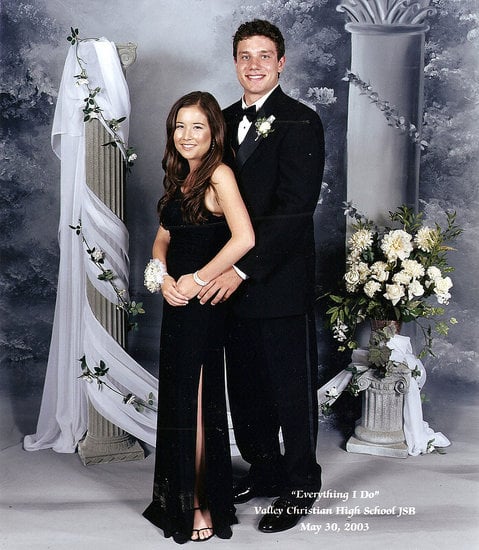 "In the in-between years, I always spent a lot on my dresses, but by senior year I was kind of over it. So this black dress was actually on super-sale at Nordstrom for, like, $50. It was totally different than anything I'd normally wear — jersey material, black, high slit, form-fitting, one-shoulder — but it was really comfortable and flattering, thanks to ruching in the midsection. I got more compliments on that cheap dress than all my other nicer ones!"
— Tara Block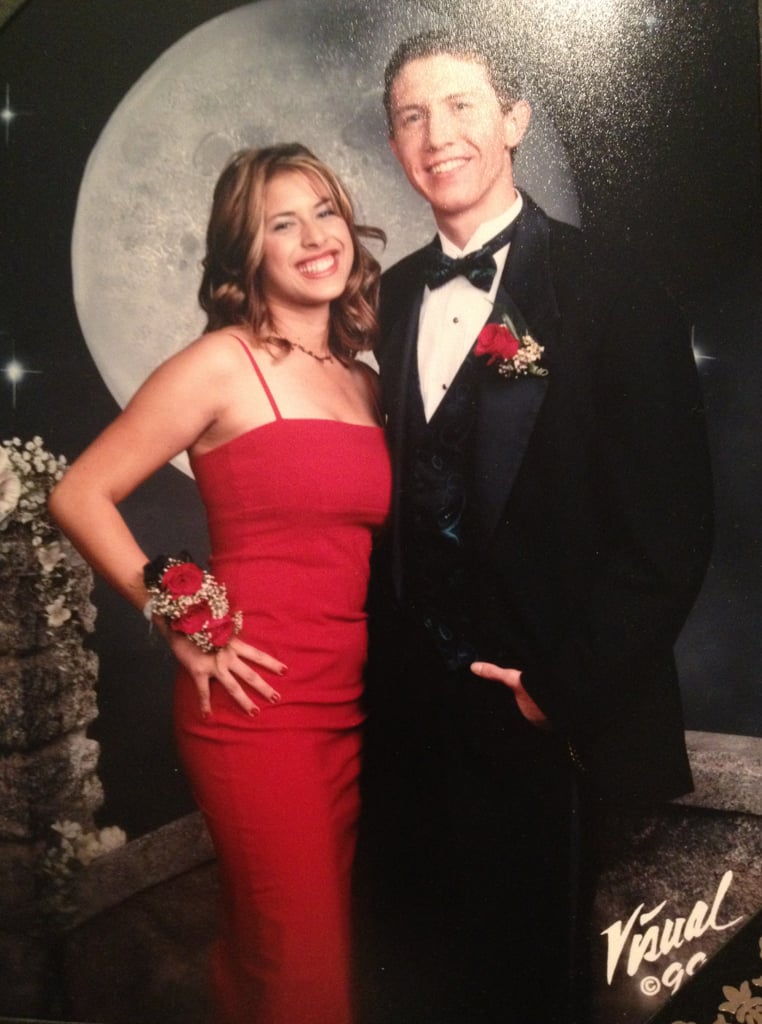 "Princess-style dresses with full skirts were big during that time, and I was totally rebelling against that."
— Shannon Vestal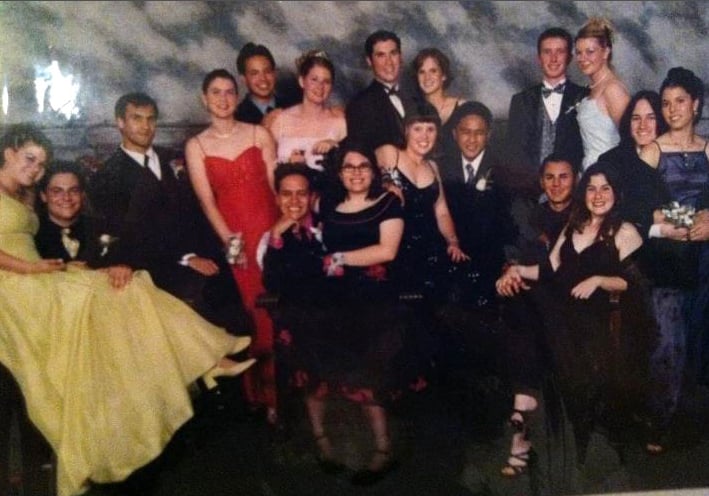 "I'm the one in the back row wearing a navy dress. I kept it pretty neutral."
— Kelly Schwarze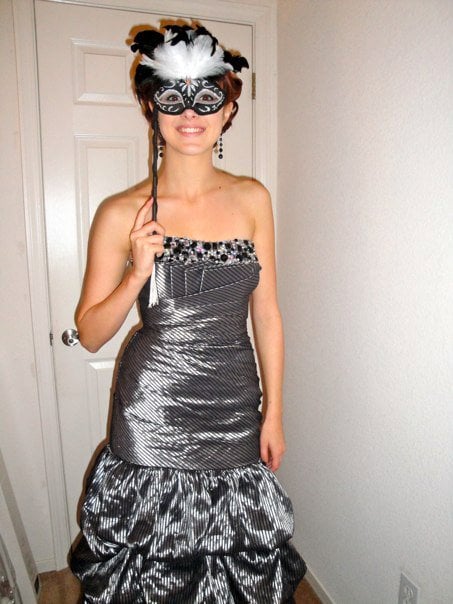 "I went stag to my senior prom, so I didn't want to drop a bunch of money on a gown. Luckily, my best friend – who lives in another state and has the same measurements as me – was in the same boat, so we decided to share a dress! I flew up to Portland to visit her and we found a fun, pinstriped bedazzled dress in a little boutique. We split the cost — I brought the dress home with me, wore it to my masquerade-themed prom, and then shipped it back for hers. It was way cheaper that way, and we both really liked the dress!"
— Brinton Parker