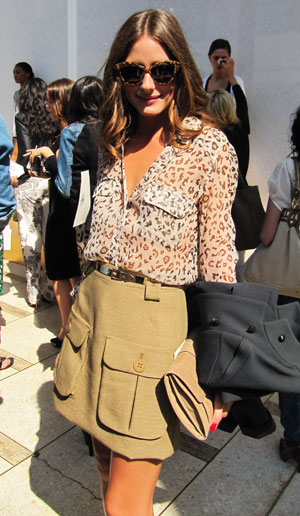 Just when we thought Olivia was nowhere to be sighted at New York
Fashion Week
, we spotted our girl crush at
Rachel Roy
's Spring presentation. As expected, Palermo culled together a fantastic ensemble wearing a sheer leopard print top and clutch by
Reiss
, Mulberry pocket skirt, and although you can't see it, a hot pair of purple platform sandals by
Charlotte Olympia
. After creating a photographers frenzy with her arrival, Palermo took time out to chat with us. Fun fact: her favorite Karaoke songs are from Stevie Wonder and Frank Sinatra. Listen up for more Olivia tidbits:
On Spring '12 collections: I'm looking forward to seeing some really nice evening gowns. I really need to focus on building my evening wear collection.
On Rachel Roy: I love everything Rachel does. I haven't seen the full collection yet, but there was one black look with an amazing print on it. I love it.
On other shows she plans on attending at NYFW: I'll be at Tibi, Marchesa, and I think that's it!
On what she can't live without during Fashion Week: My Blackberry and iPad charger because it always seems like I'm on empty battery.
Photo courtesy of Chi Diem Chau