Photo of Kate Hudson, Natalie Portman, and Model Caroline Winberg
CelebStyle Smarts
This week, we spotted celebs in all parts of the world in an abundance of super slick outfits. I adored Kate Hudson's Winter white look, and Caroline Winberg's styling skills also left me smitten. However, it was Natalie Portman's shine that stole my heart. Were you paying attention to everyone's looks?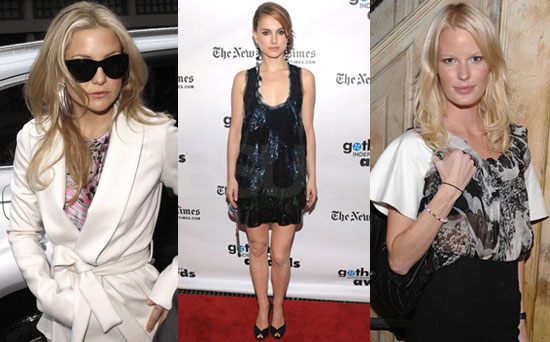 CelebStyle Smarts
Kate Hudson's ivory coat had what kind of detail on the bottom?
Natalie Portman wore a sequined dress by which designer?
How did Caroline Winberg add a playful touch to her ensemble?
Jennifer Aniston wore a fancy black gown in which exotic country?
Sienna Miller carried a red tote by which designer?
Link Love