Photos of Keri Russell, Zoe Saldana, and Reese Witherspoon
CelebStyle Smarts
This week sprouted snazzy looks from both sides of the country. Keri Russell held down the fort on the East Coast in crisp classics, while Zoe, Reese, Katie, and Gwyneth enjoyed LA in a mix of casually cool wear. Were you paying attention to the fashion details? Take my quiz to find out!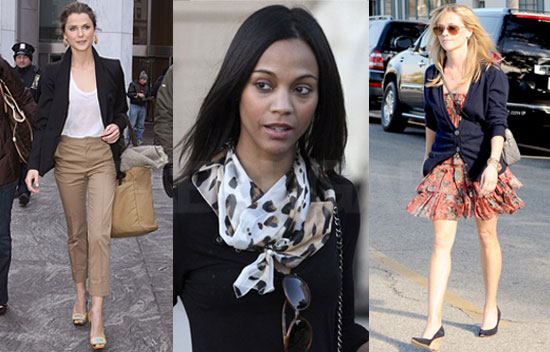 CelebStyle Smarts
Keri Russell wore vibrant pumps by which designer?
What kind of jacket did Gwyneth Paltrow wear at LAX?
Reese wore what kind of bag with her floral print Isabel Marant dress?
What kind of shoes did Zoe wear while shopping in Beverly Hills?
Katie Cassidy wore a flowy top by which brand?
Link Love