Photos of Kristin Cavallari, Zoe Saldana, and Jessica Alba
CelebStyle Smarts
Spring is near — can you smell it? Zoe Saldana, Reese Witherspoon, Whitney Port, and Rihanna did. This week, they showed off their sexy gams in an array of flirty dresses and skirts. On the flip side, Kristin emoted cute Cali style in skinny jeans and a flowy top. Were you taking fashion notes? Take my quiz to find out!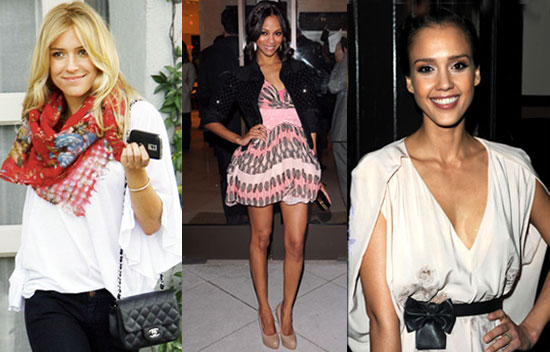 CelebStyle Smarts
Rihanna wore a spiked denim jacket and LBD in which country?
Kristin Cavallari wore a flowy top by which brand?
What kind of tights did Whitney Port wear with her LBD?
Reese Withspoon wore a black satchel by which designer?
How did I describe the print on Zoe Saldana's pouf dress?
Jessica Alba attended a pre-Oscars party in LA wearing a dress by which designer?
Link Love