Though it started as a leather goods shop in 1913 by brothers Martino and Mario Prada, Mario's great-granddaughter Miuccia Prada would transform the company into the design powerhouse it is today. First would be her line of waterproof backpacks and totes in 1979 that would go on to inspire the release of Prada's definitive nylon handbags in 1984. In 1989, Miuccia and her partner Patrizio Bertelli launched Prada's first ready-to-wear line, which instantly gained recognition for its clean lines and luxe fabrics.
Now with Miuccia at the helm for more than 30 years, Prada has been shaped by artful, whimsical talent that takes us from ladylike, curve-conscious dressing one season to dramatic textures and boxy shapes the next. Its fan base and influence know no bounds — and it's not hard to see why the label has remained a fashion mainstay and a design-house heavy hitter. Look back at some of the brand's most memorable runway looks.
— Additional reporting by Robert Khederian
Prada Fall 2014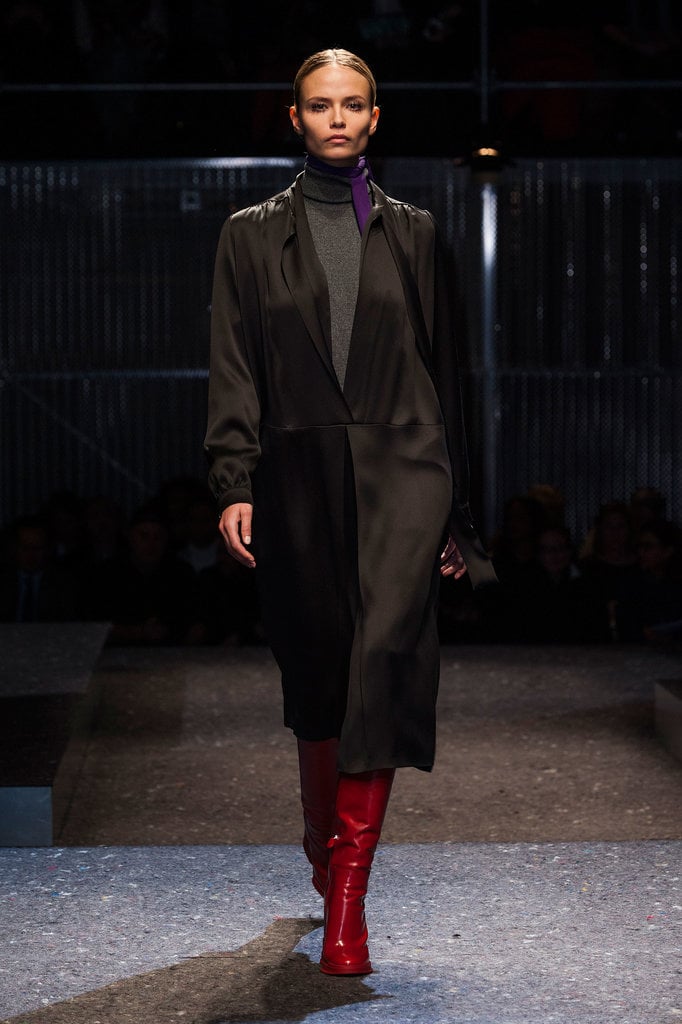 Supermodel Natasha Poly opened the show in a chic black dress layered over a gray turtleneck, which was followed by some double-breasted coats piped in metallic leather or dark fur.
Prada Fall 2014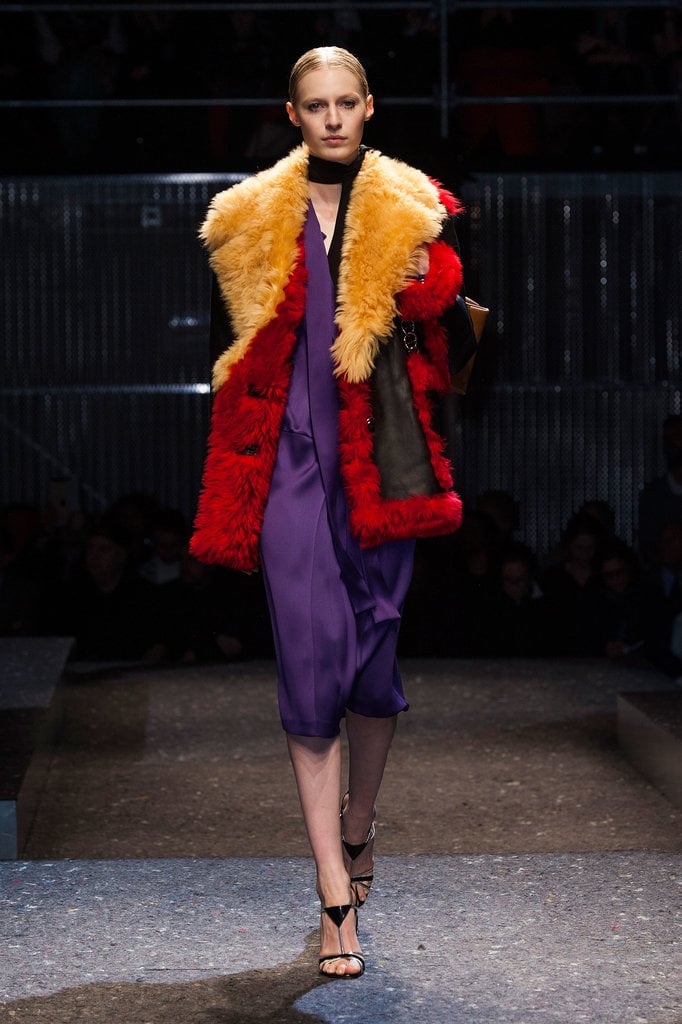 When the black coat lined with thick strips of bright red and yellow fur came down the runway, it was a refreshing shock — and a bit of foreshadowing that the rest of the collection would be bright, too.
Prada Fall 2014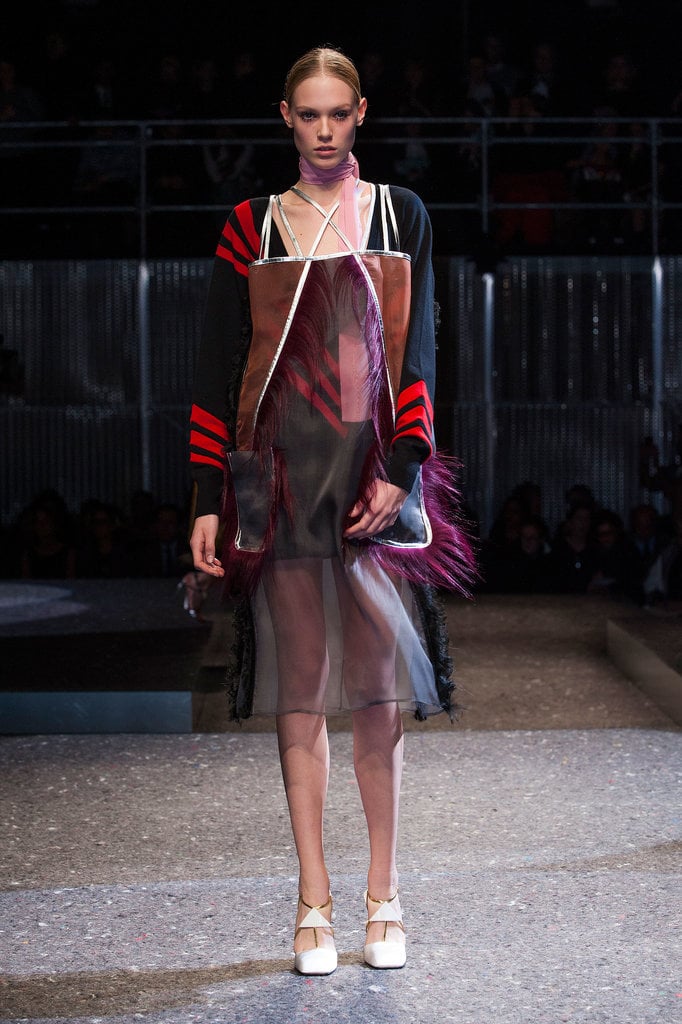 In fact, the rest of the collection was filled with bold color and patterns that seemed, in a way, more optimistic than the house's recent collections.
Prada Spring 2014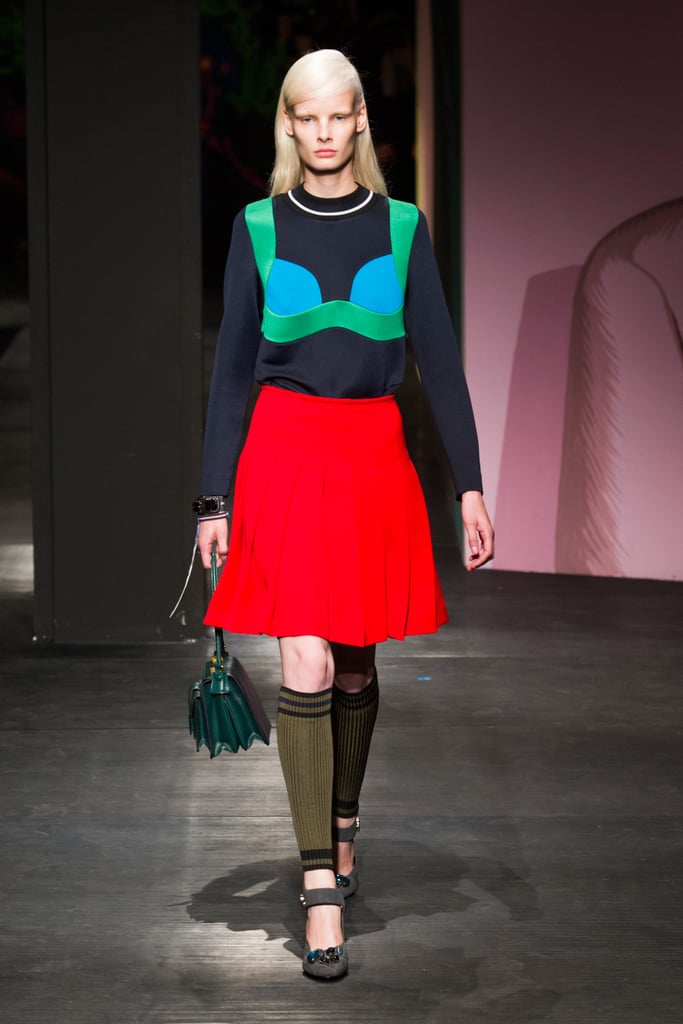 If you're a fan of colorblock, we have a feeling you'll fall for the Spring 2014 lineup.
Prada Spring 2014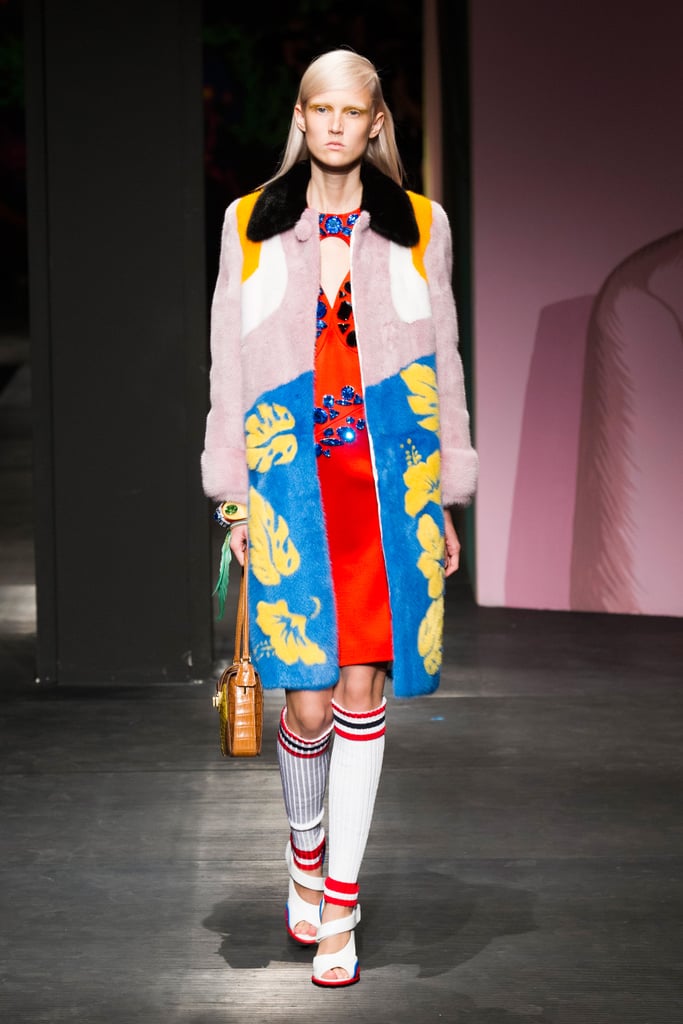 Fur for Spring? That is groundbreaking.
Spring 2014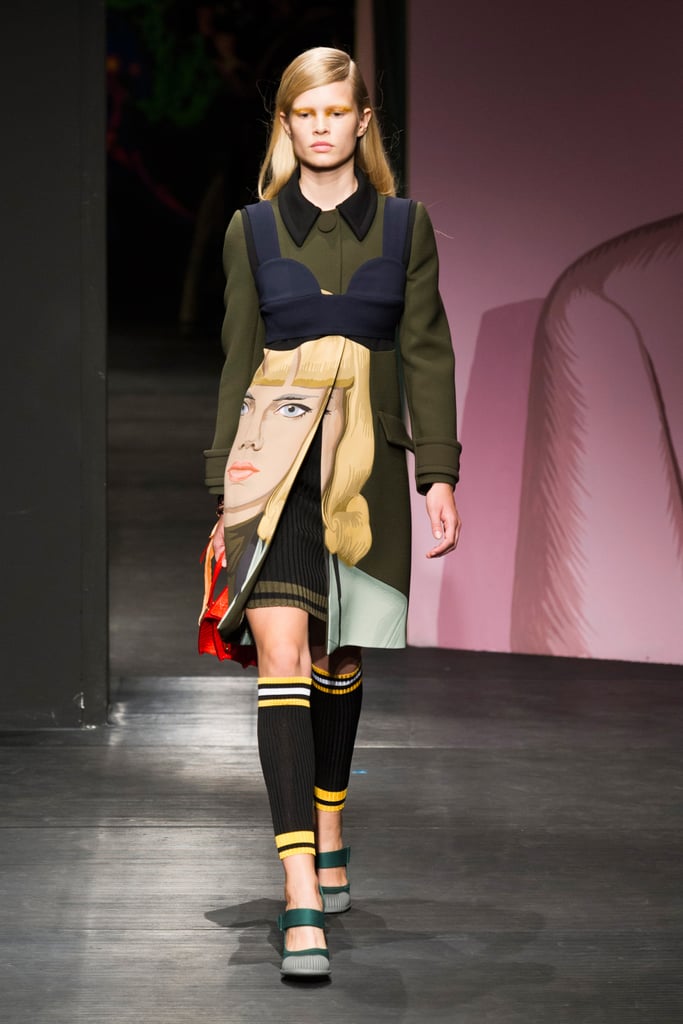 Prada took inspiration from pop artists for its sporty Spring collection, which featured pictures of women on some garments.
Fall 2013
For evening, off-the-shoulder dresses were layered to perfection unexpectedly over wool cardigans. The result epitomized laid-back elegance.
Fall 2013
The brilliance of this collection was the obvious dichotomies on display. Think oil-slicked locks paired with the most opulent of furs.
Spring 2013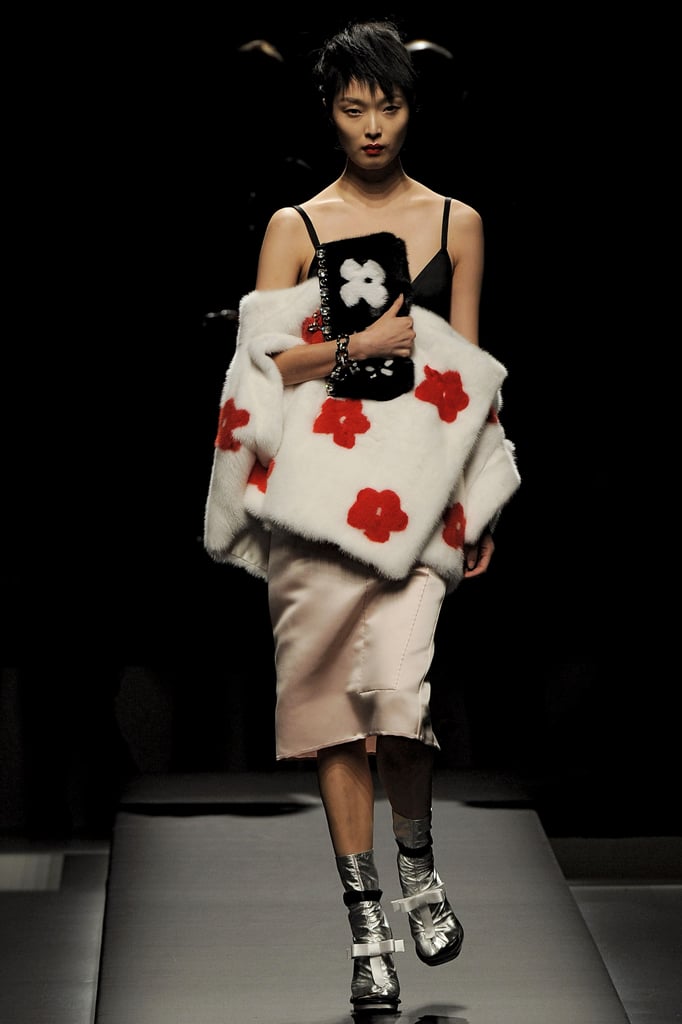 Three of the collection's signatures were on display in this look: silk, origami folds, and a bold Warhol-inspired poppy print.
Spring 2013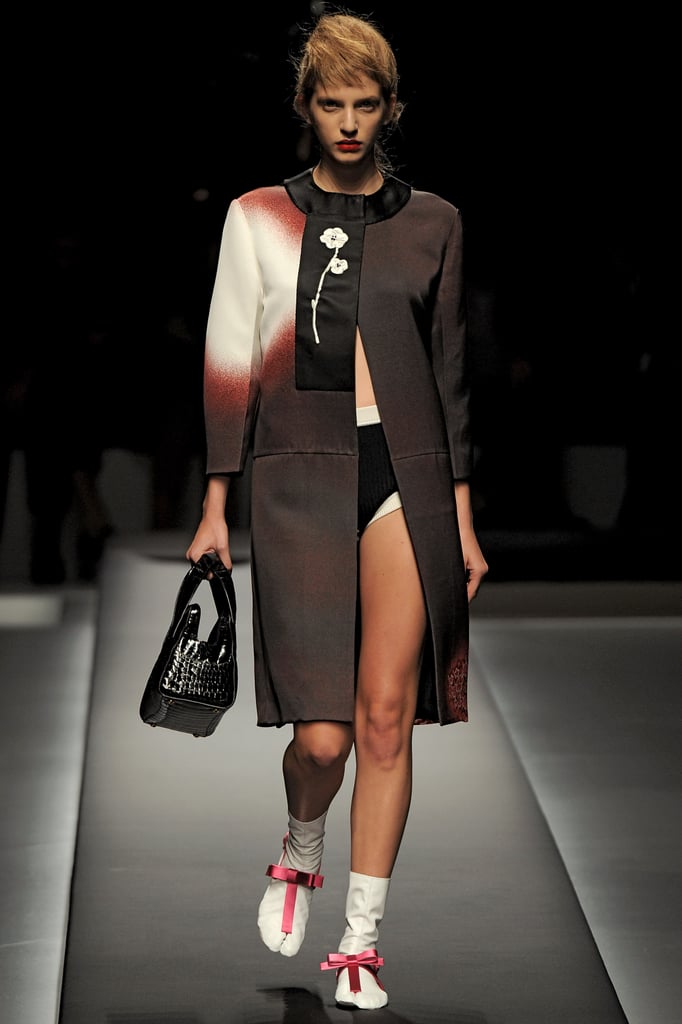 For Spring, Miuccia looked east for inspiration. The prints, shapes, and accessories (most notably the leather judo socks!) brought Asian flair to the runway.
Fall 2012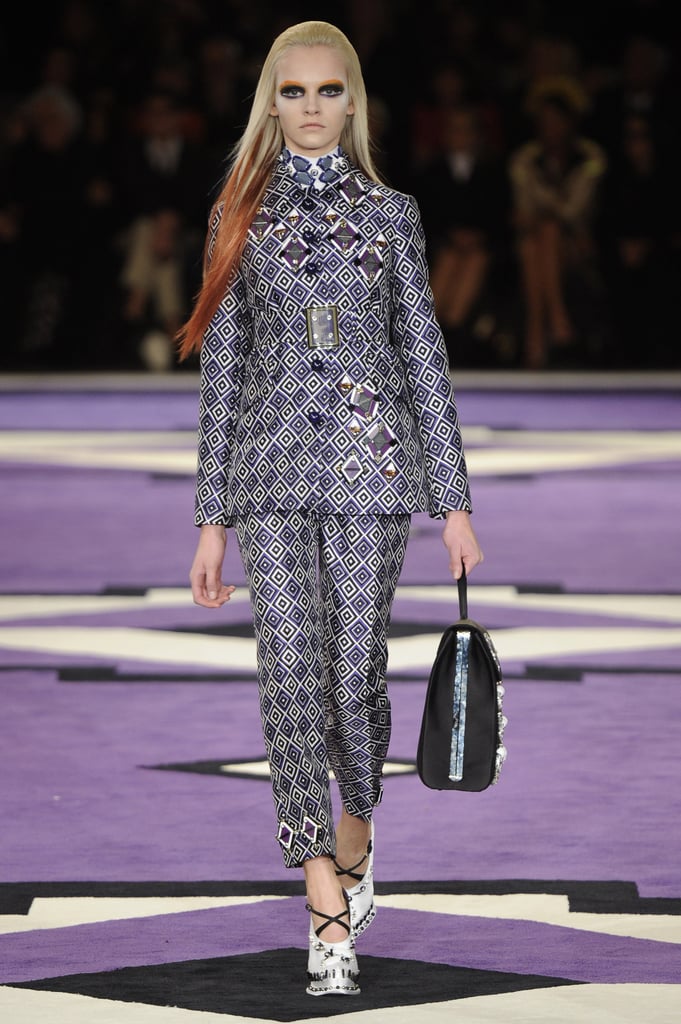 Bold printed pantsuits took over the Fall '12 runway in an array of vibrant hues.
Fall 2012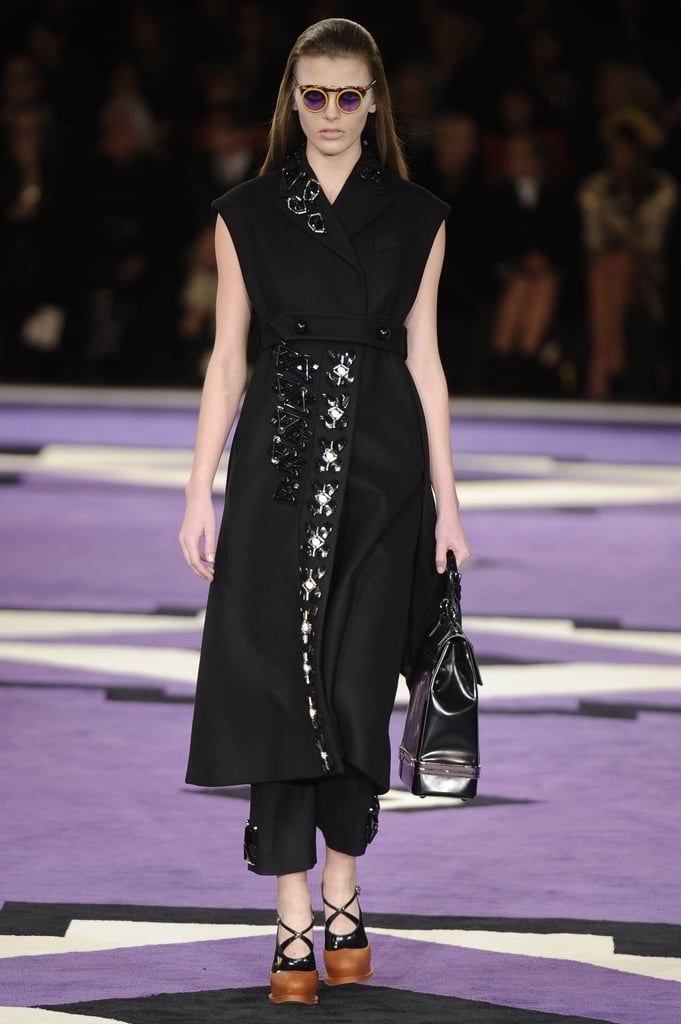 Bejeweled sleeveless coats over pants created a chic silhouette.
Spring 2012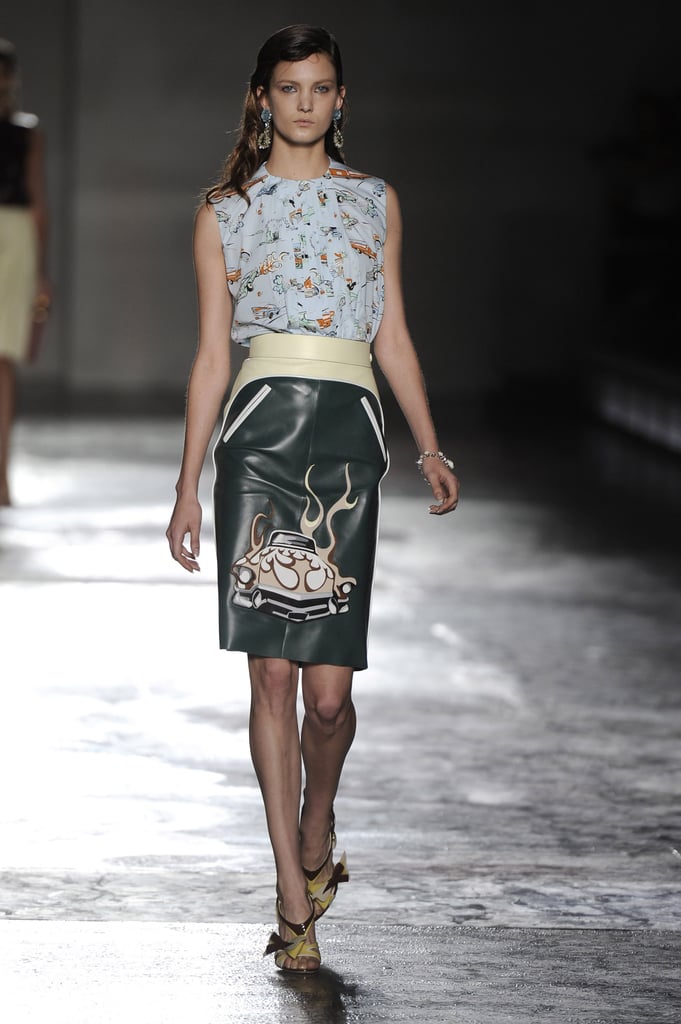 A car-themed leather pencil was a standout piece in the '50s-inspired collection.
Spring 2012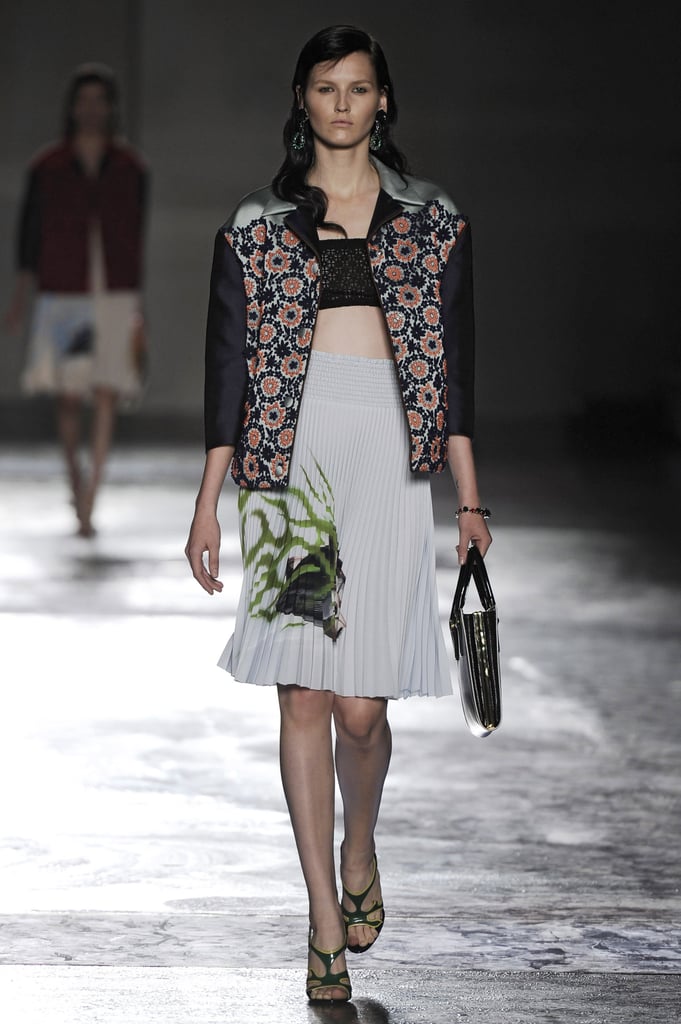 Prada's Spring '12 show featured bandeau tops paired with jackets and high-waisted skirts.
Fall 2011
Bold textures and prints added to the whimsical, dramatic effect of the Fall '11 line.
Fall 2011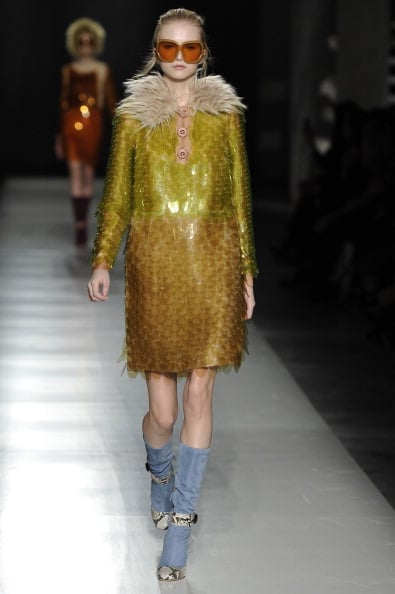 For Fall 2011, Prada mixed childlike whimsy with adult glamour — like gorgeous paillettes, adorning jackets and skirts.
Spring 2011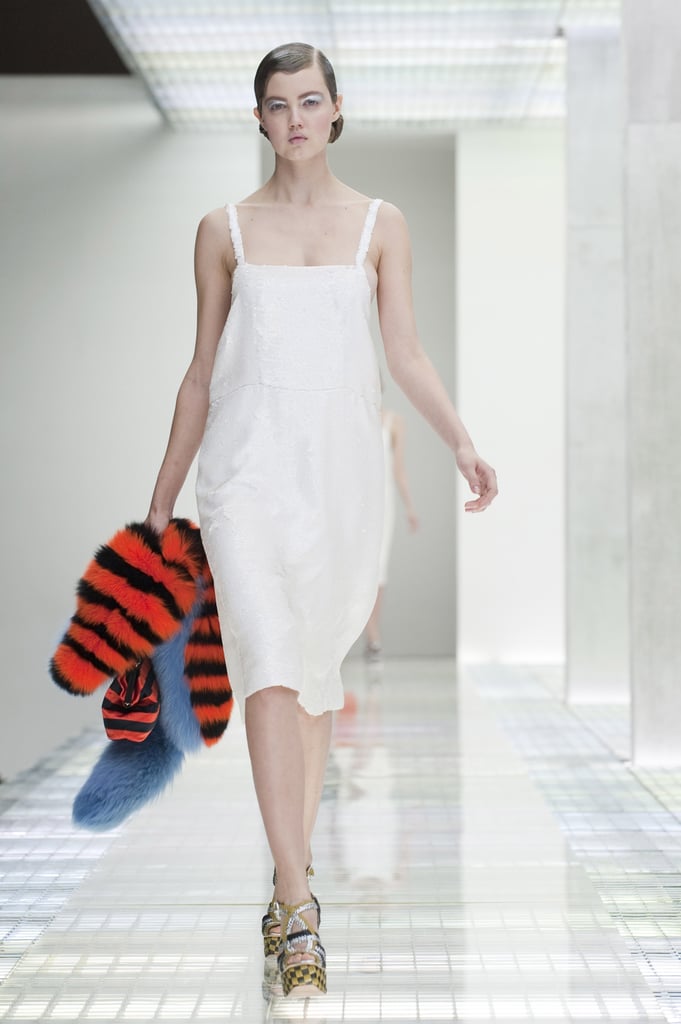 A stark white shift made a perfect contrast against the line's high-impact accessories.
Spring 2011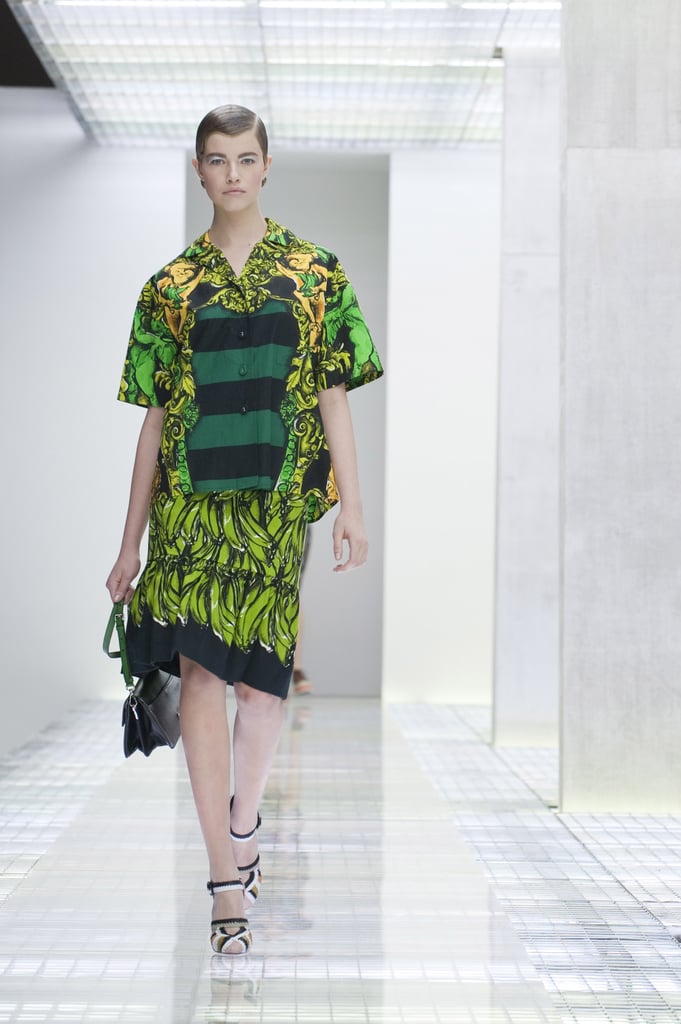 Prada's Spring '11 collection showcased a memorable splash of color and stripes.
Fall 2010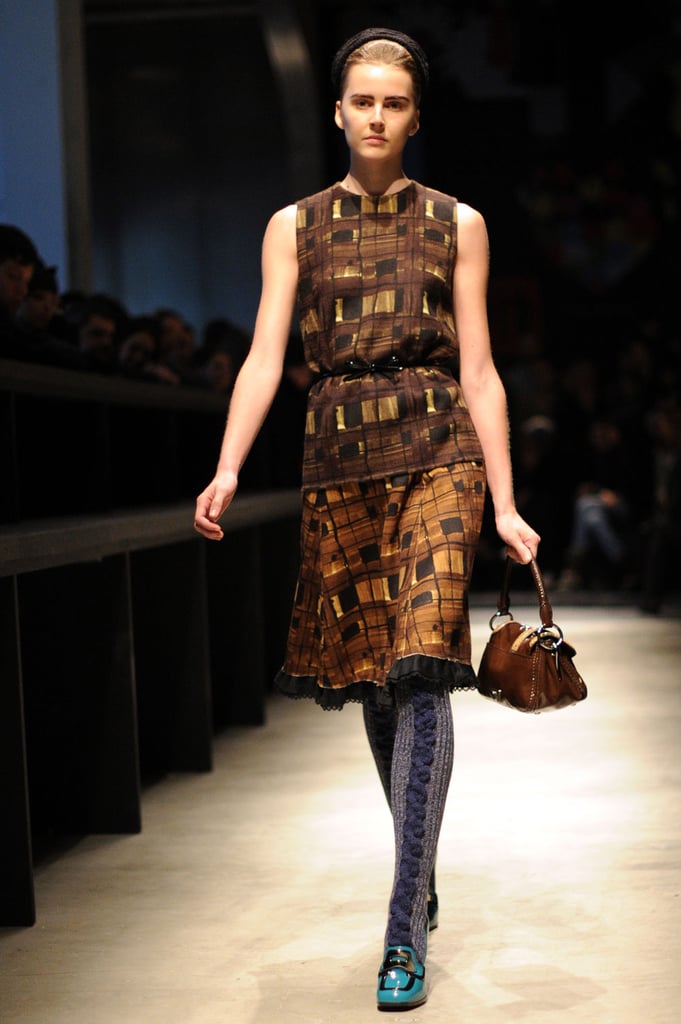 Dresses, like this, injected that ladylike sense into the collection.
Fall 2010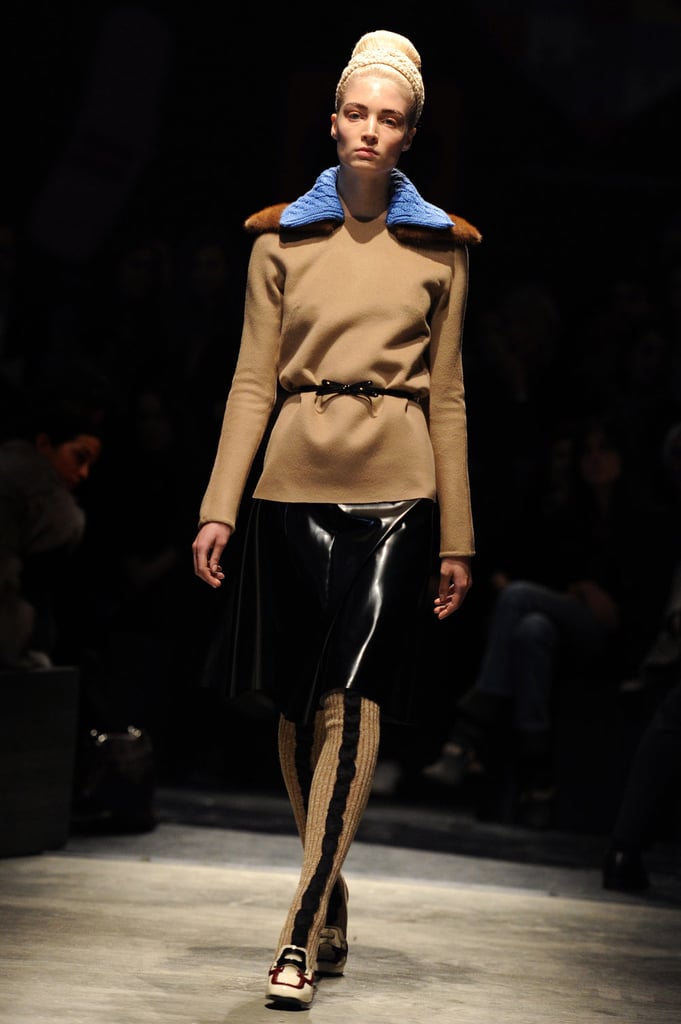 Fall 2010 showcased a retro-infused collection with modern edge in the form of a patent pencil.
Fall 2009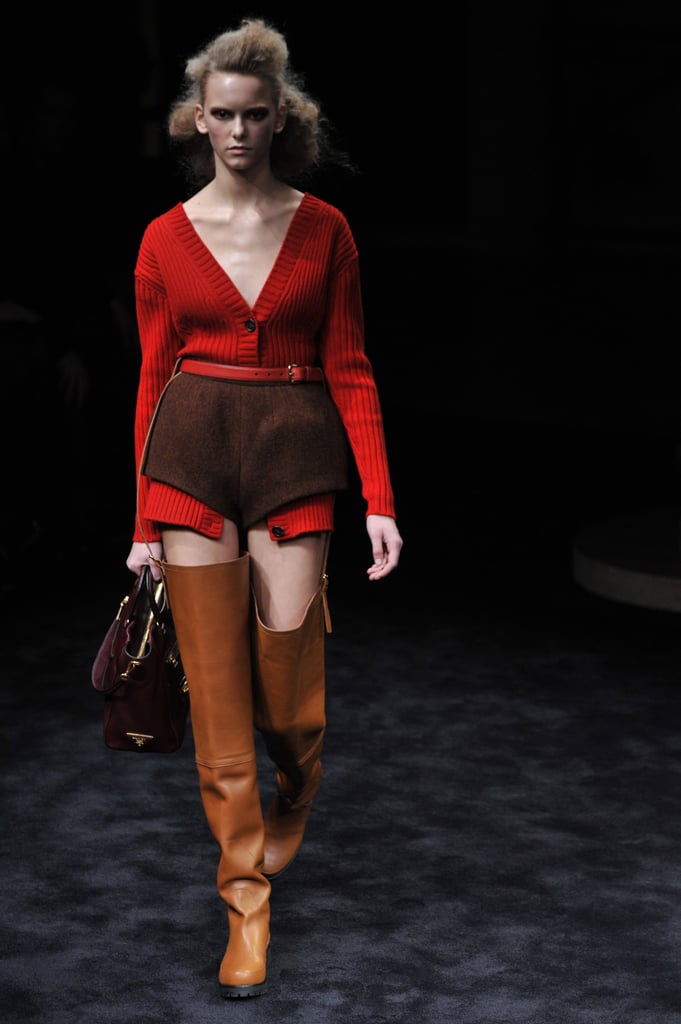 Thigh-high boots completed Fall '09 looks.
Fall 2009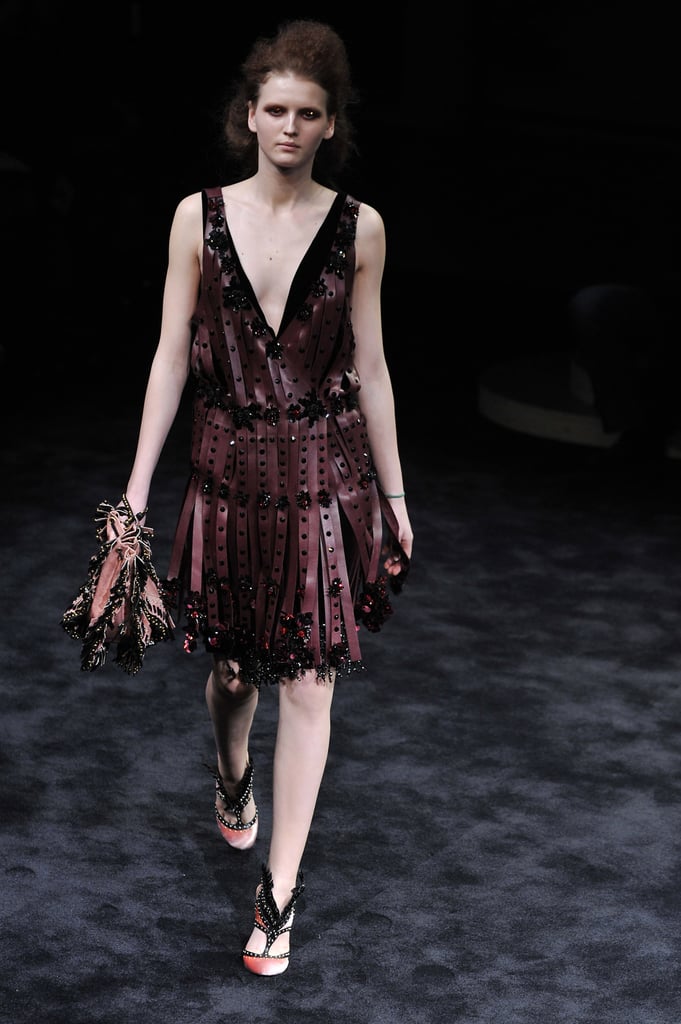 Fall '09 showcased a moody palette and heavy textural embellishments.
Spring 2009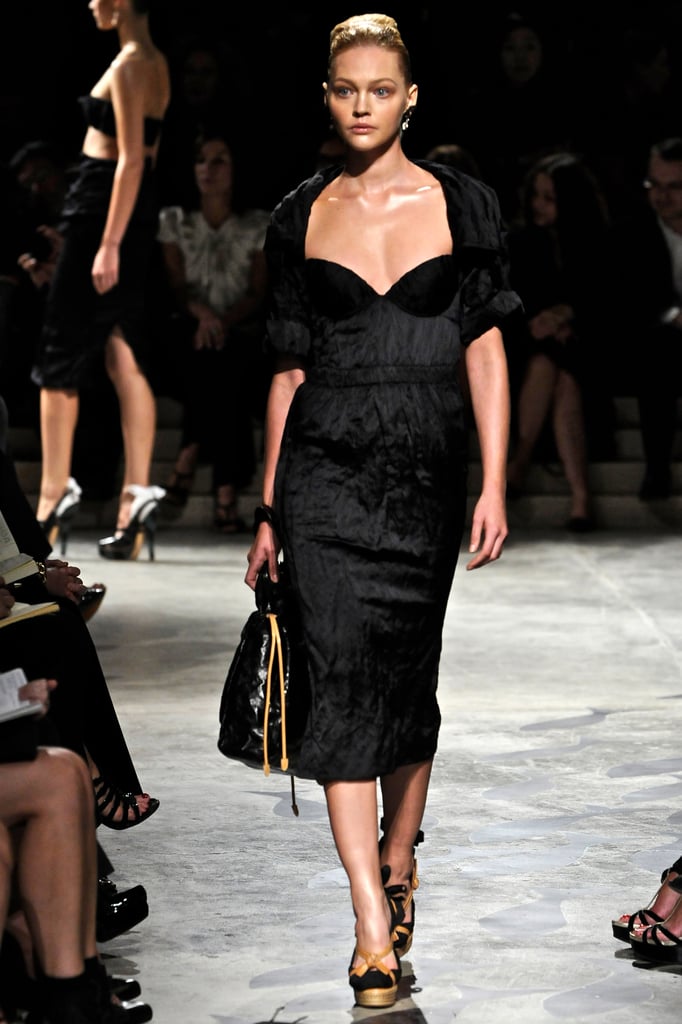 This bustier-topped dress continued the call to feminine dressing throughout the Spring '09 collection.
Spring 2009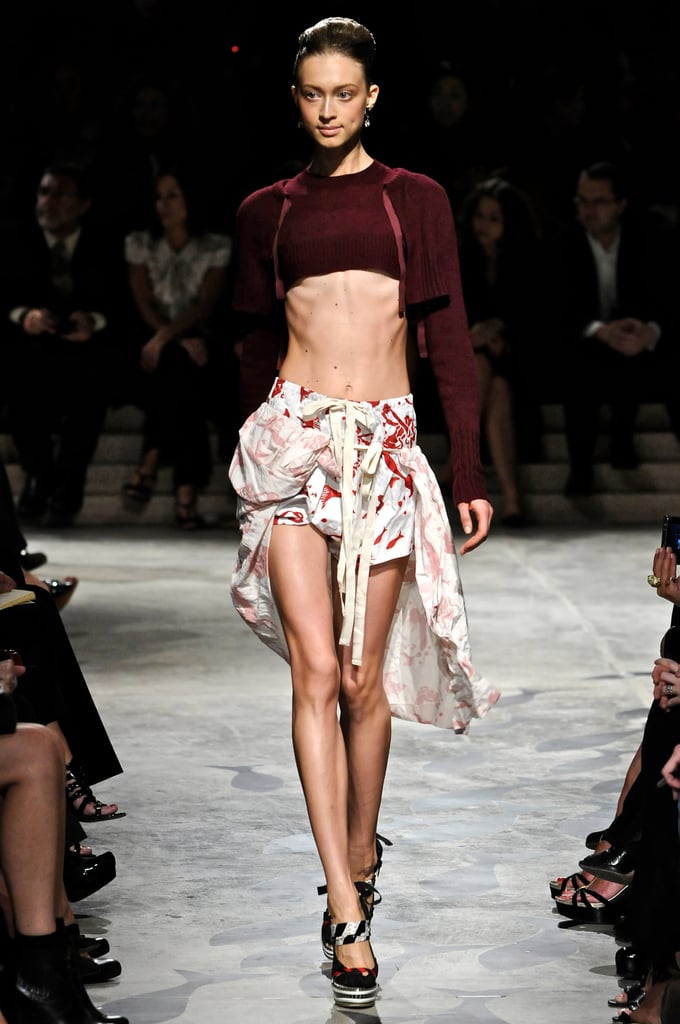 For Spring '09, Prada offered feminine cuts and body-baring silhouettes.
Fall 2007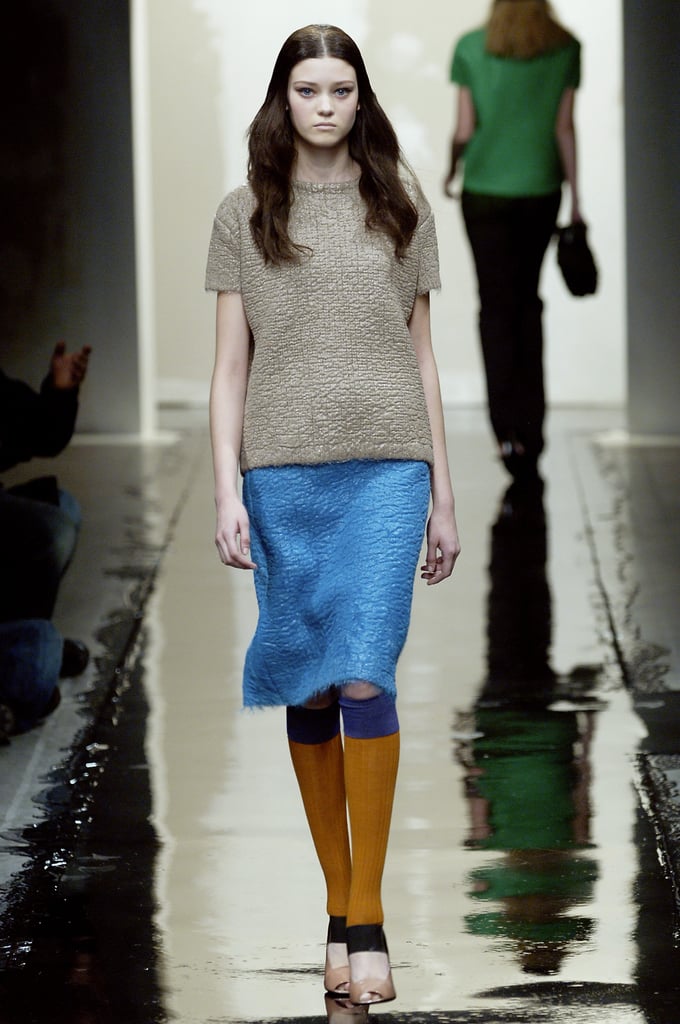 Separates tempered some of the bolder looks, but texture remained a constant — even on this simply stated sweater and pencil skirt.
Fall 2007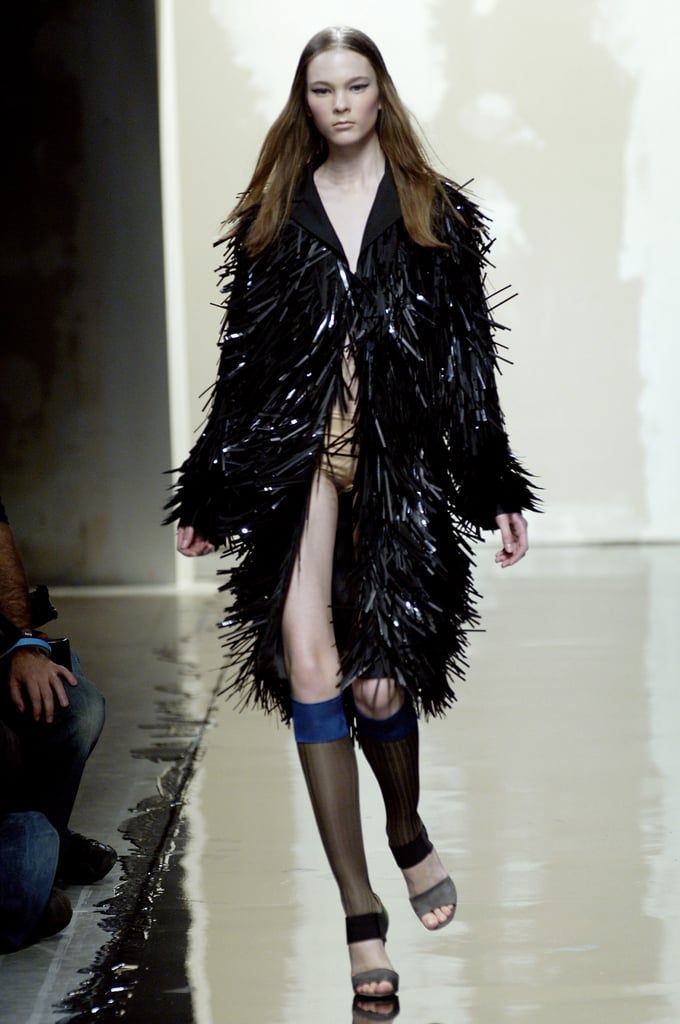 Fall '07 fused an edgier aesthetic with fringed statement coats, focusing on more dramatic cuts and textures.
Spring 2007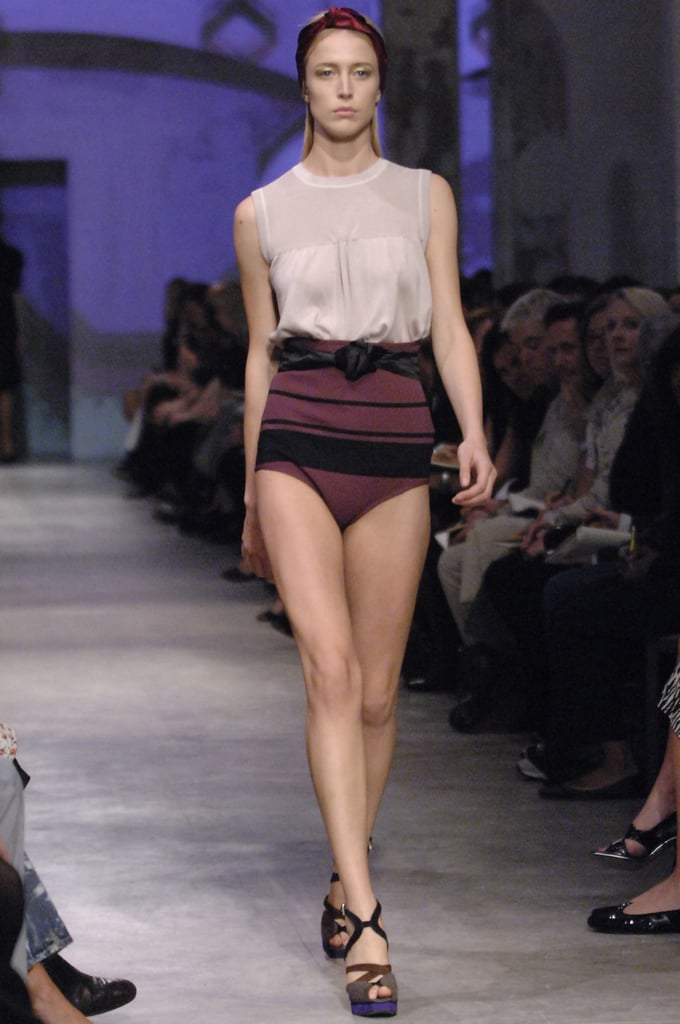 For swimwear, Spring '07 brought retro-inspired details and stripes.
Spring 2007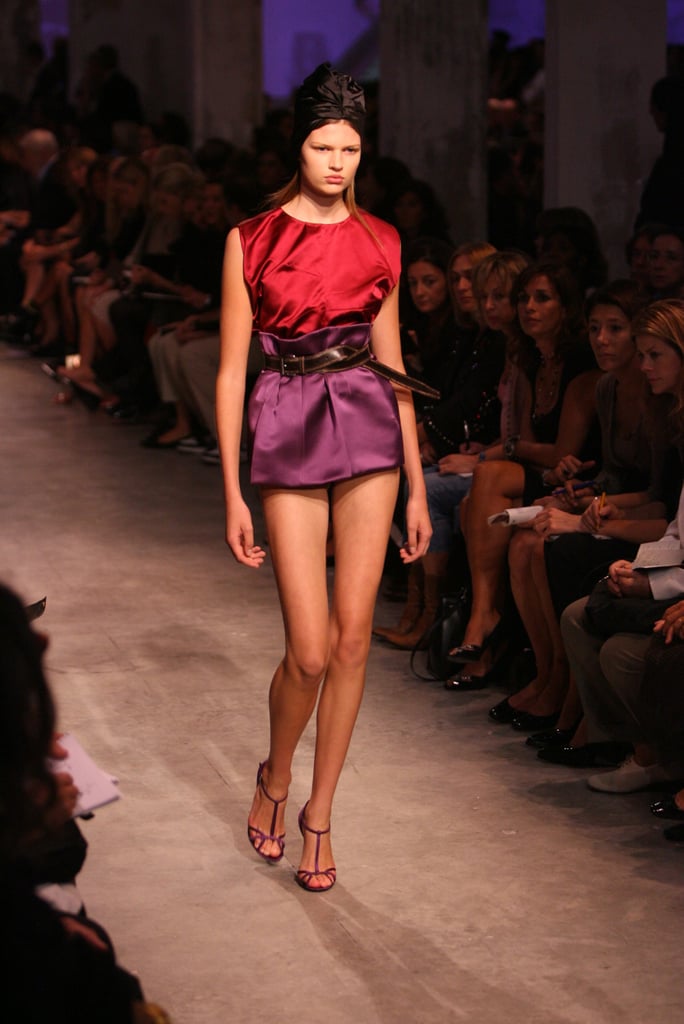 Spring '07 showcased a mix of rich colors and sophisticated cuts.
Spring 2006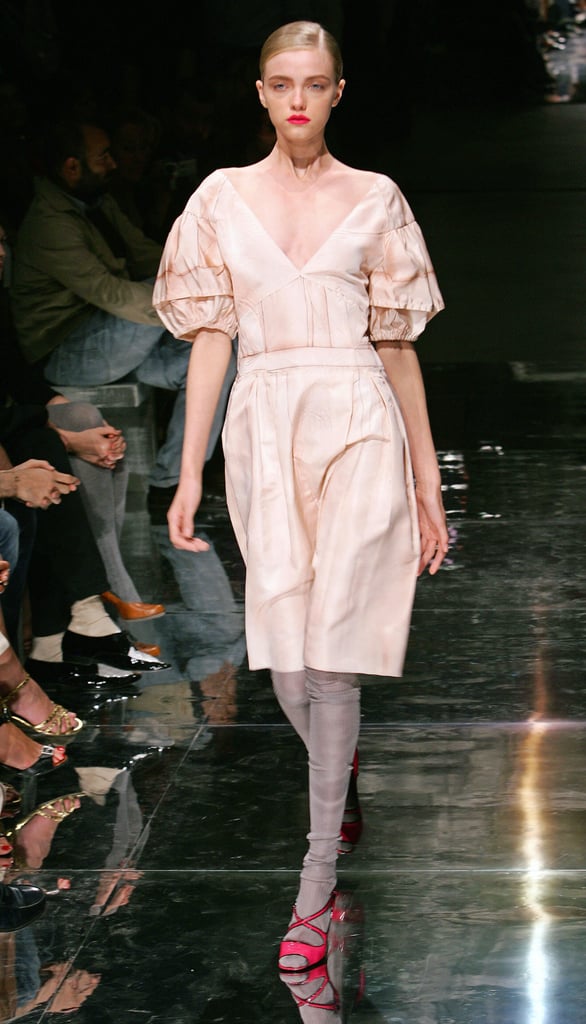 Spring '06 brought ladylike dressing and a softer palette.
Fall 2005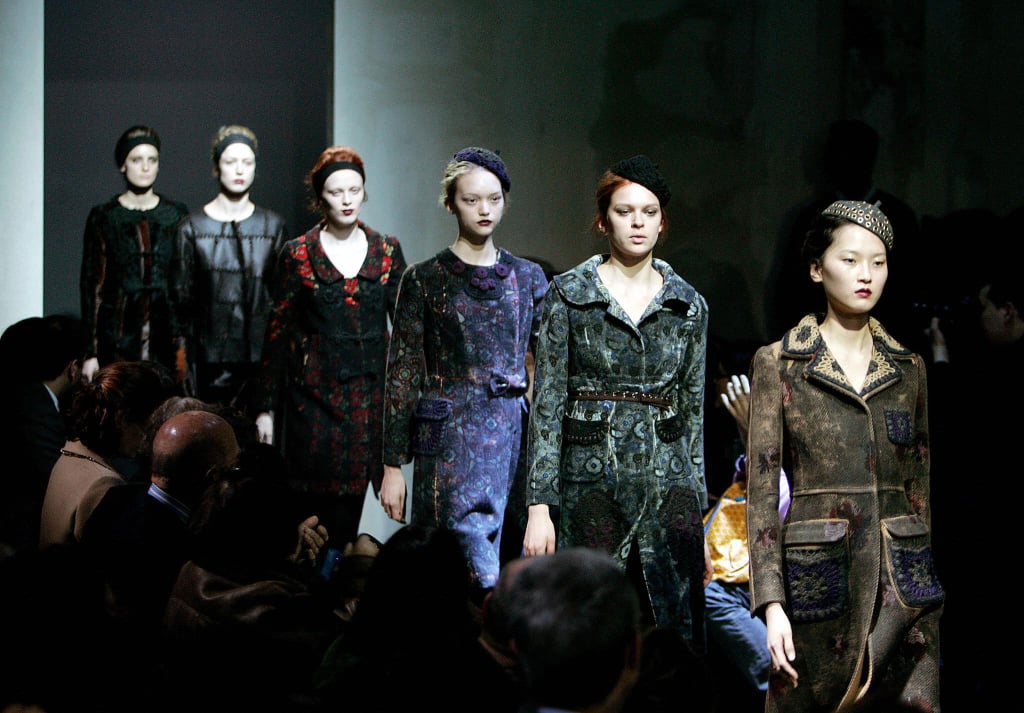 Fall '05 brought ladylike, retro dressing complete with rich fabrics and hats.
Spring 2005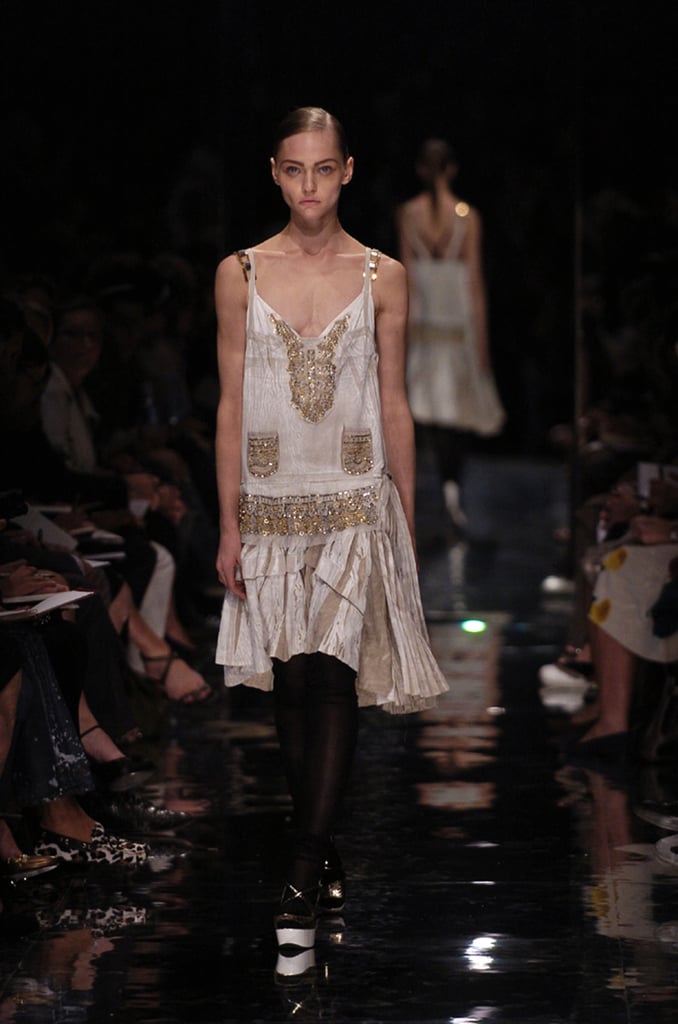 Gold details and shimmer made their way onto the looser silhouettes.
Spring 2005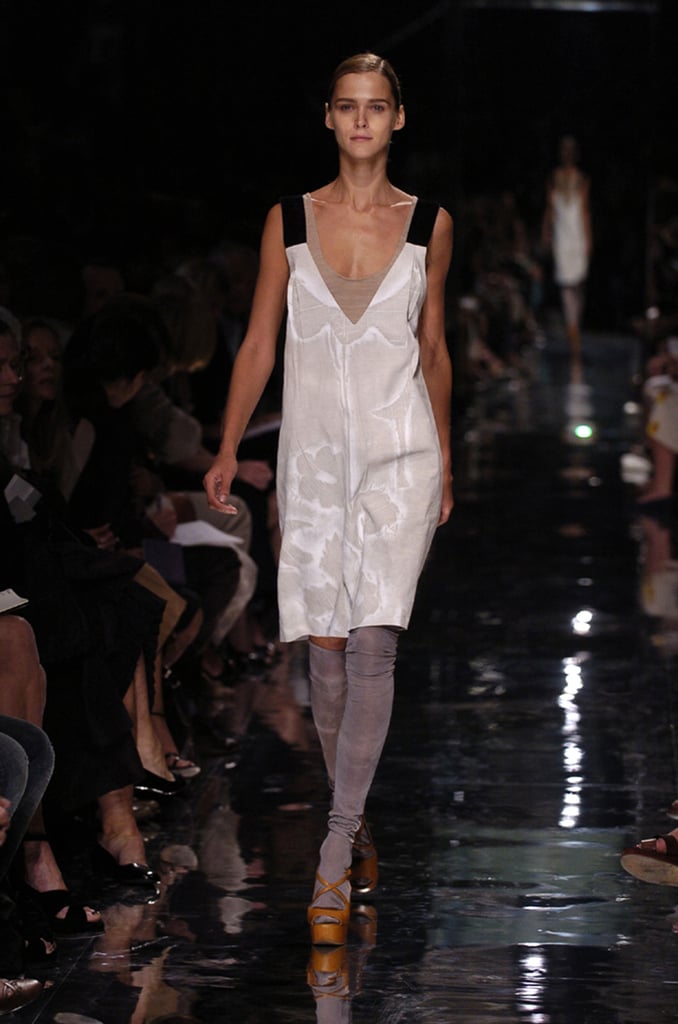 Prada delivered feminine shifts for Spring '05.
Spring 2003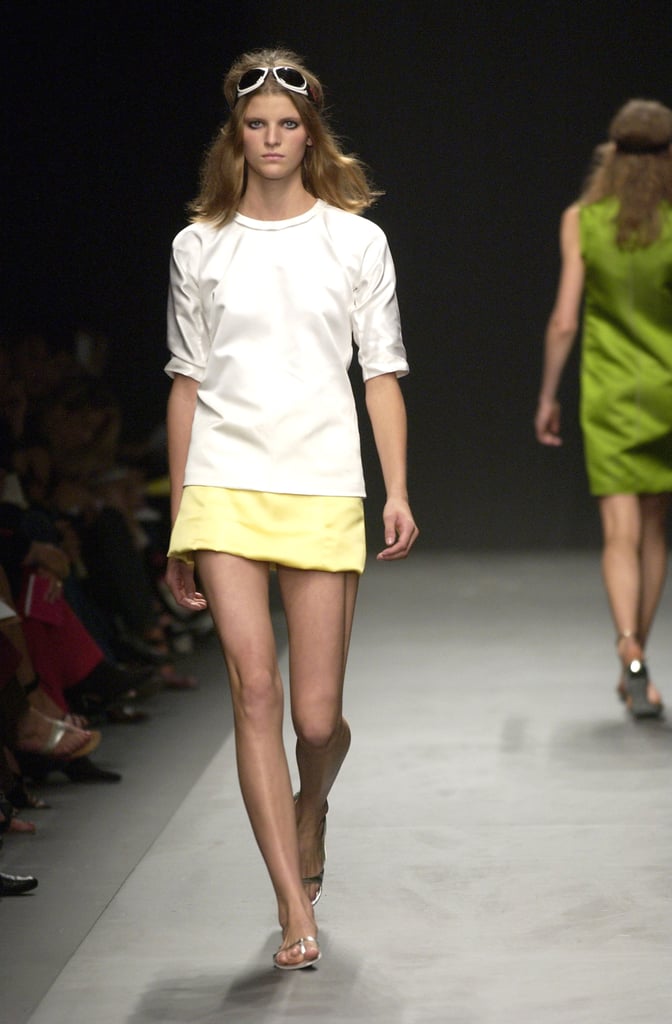 Minimalist separates made their way down the Spring '03 runways.
Spring 2003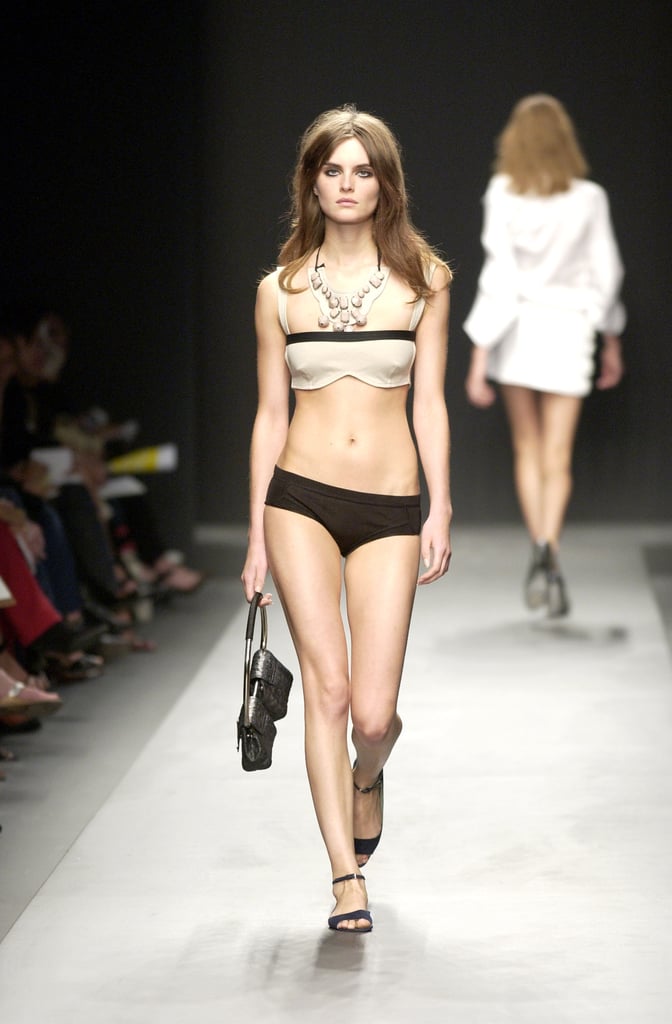 Prada's Spring '03 showcased monochromatic swimwear in understated silhouettes.