Rachel Zoe to Design Jewelry
Rachel Zoe Adds Jewelry and Cozy Accessories to Her Growing Brand
ADVERTISEMENT ( more slides)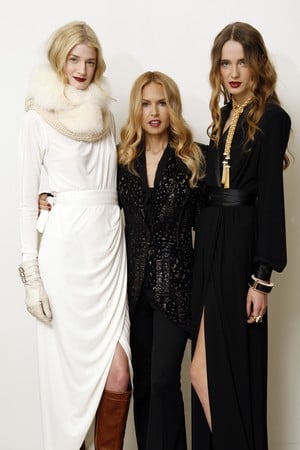 1
Rachel Zoe Adds Jewelry and Cozy Accessories to Her Growing Brand
Rachel Zoe is a busy woman, juggling
The Rachel Zoe Project
(which has not yet been renewed for season five), her signature Rachel Zoe collection, a line for QVC, 10-month-old baby Skyler, and a new television production company called Rachel Zoe Productions — but that's not stopping her from doing more.
Zoe has plans to launch two new categories to her signature line
: costume jewelry and cold-weather accessories. Highlighting her love for vintage baubles, Zoe's jewelry line is art-deco inspired, highlighting tassel necklaces and earrings along with a "Love Me Knots" category, with knot-embellished hoop earrings, cuff bracelets, and necklaces priced between $195 and $695. Zoe's cold-weather accessories are set to include real and faux fur hats, hoods, scarves, gloves, and statement-making stoles. "I have this obsession with what women wear in Russia," said Zoe. "The funny thing is that I don't know because I've never been there. But it's what I dream about." The jewelry collection will be exclusively available at Neiman Marcus and Bergdorf Goodman in stores and online; availability on the cold-weather accessories is still not determined. Check out the slideshow to see the collection, plus some of our favorite pieces from her latest Spring collection for QVC.