Whether she's ravishing on the red carpet [1] or running errands in LA's Brentwood neighborhood, Reese Witherspoon [2] is always true to her classic, all-American style — and we can't get enough of it. She has knack for creating chic, effortless ensembles that are both inspirational and attainable. From her signature Rag & Bone ankle boots to her own Draper James collection [3], Witherspoon's everyday style is envied by just about everyone.
Get ready to gather major inspiration from Reese — today, especially on her 40th birthday — in an ode we like to call "Reese Witherspoon: The Street Style Sweetheart."
— Additional reporting by Hannah McKinley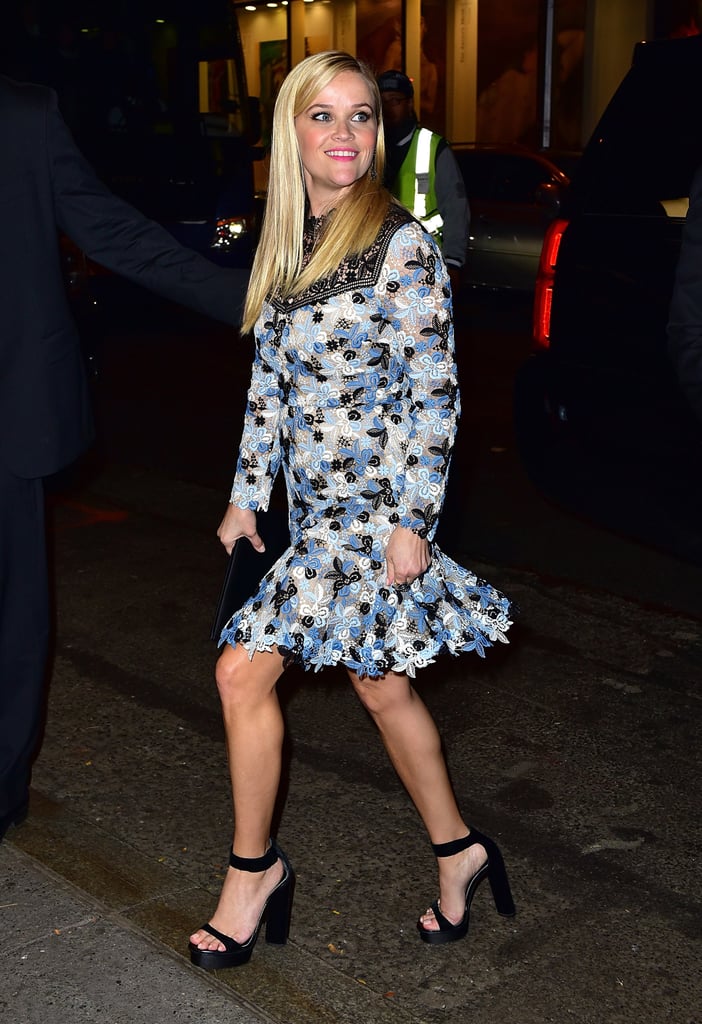 Balancing a pretty floral Erdem dress with ankle-strap heels at the 2015 Glamour Women of the Year Awards.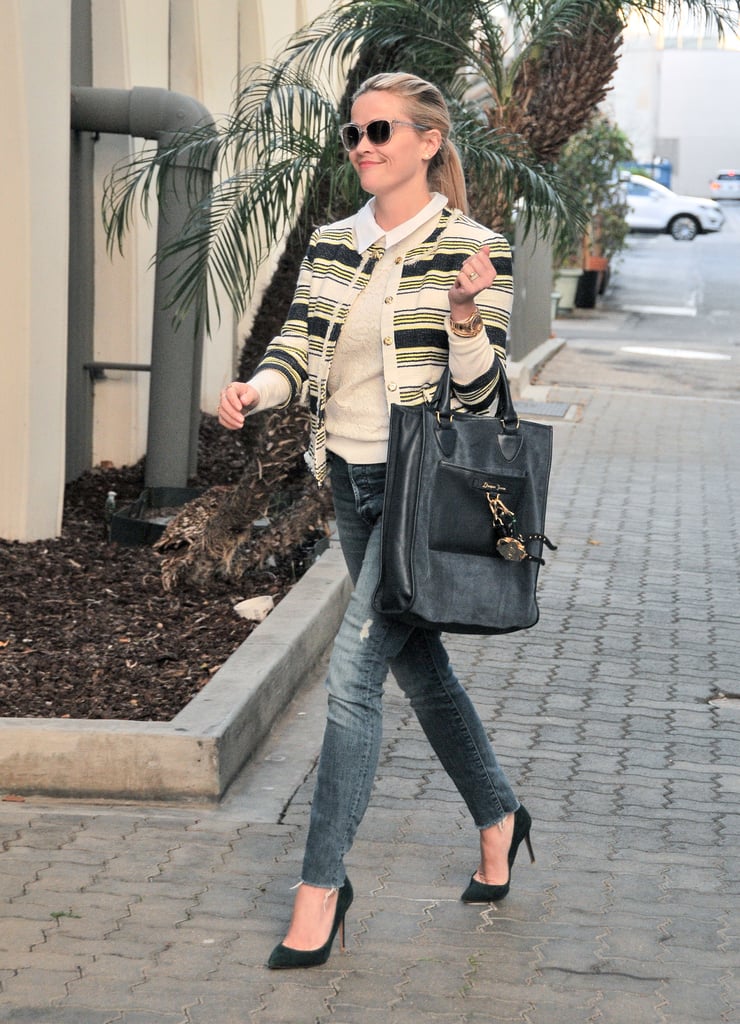 It was a striped blazer and skinnies for a day of errands in February 2016.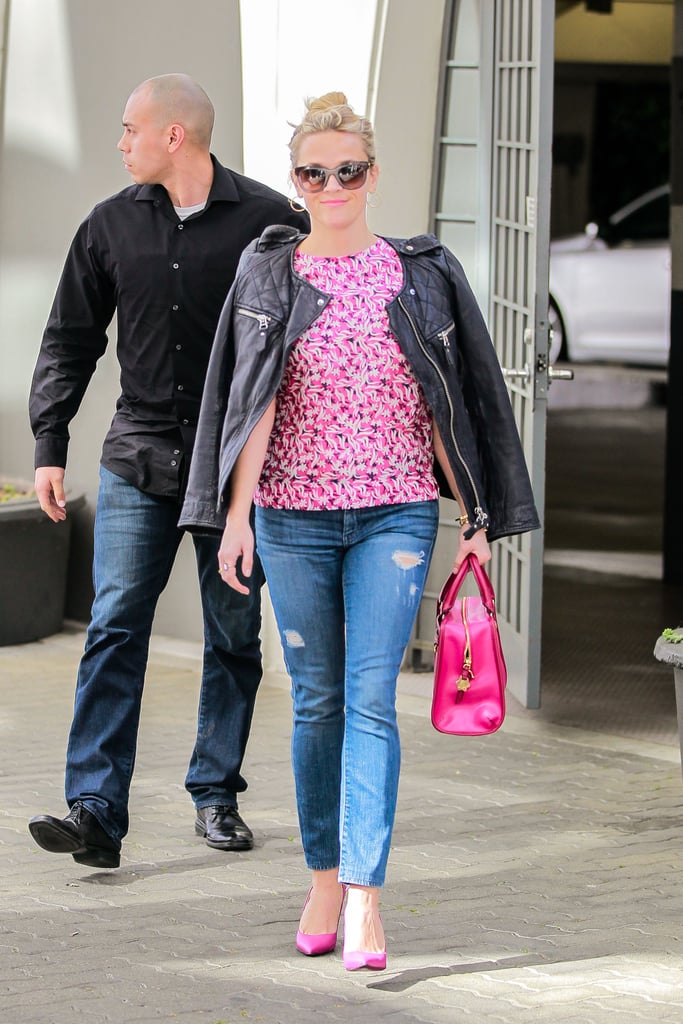 Reese coordinated her pink bag, shoes, and top, but added edge with a leather jacket for a day out in LA.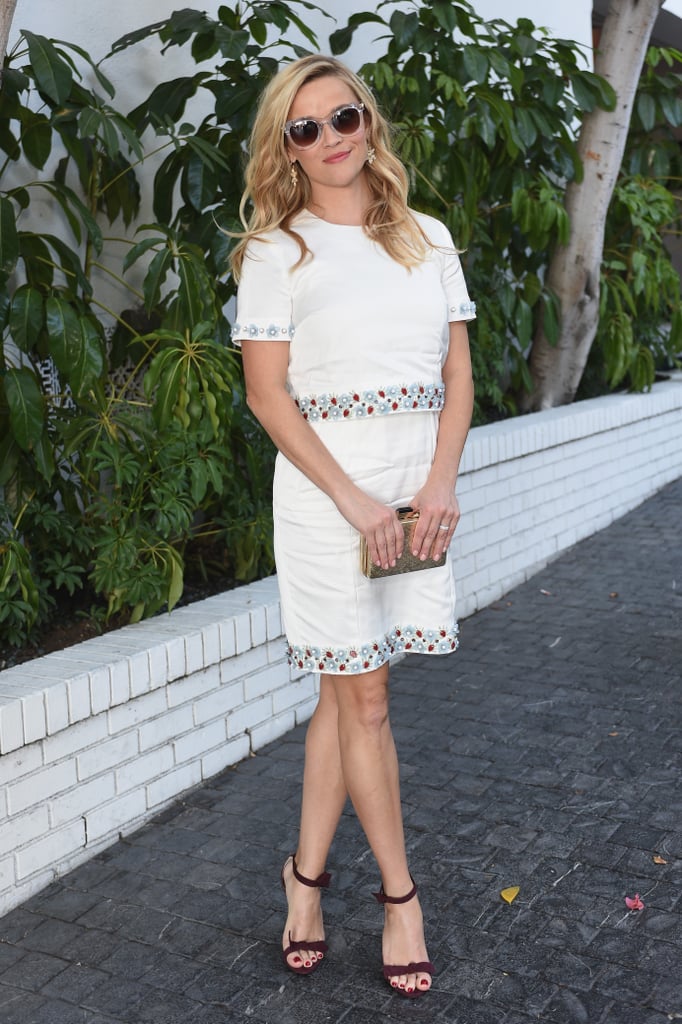 Showing off sweet embroidery with a little attitude for an event in the CFDA/Vogue Fashion Fund Show in LA.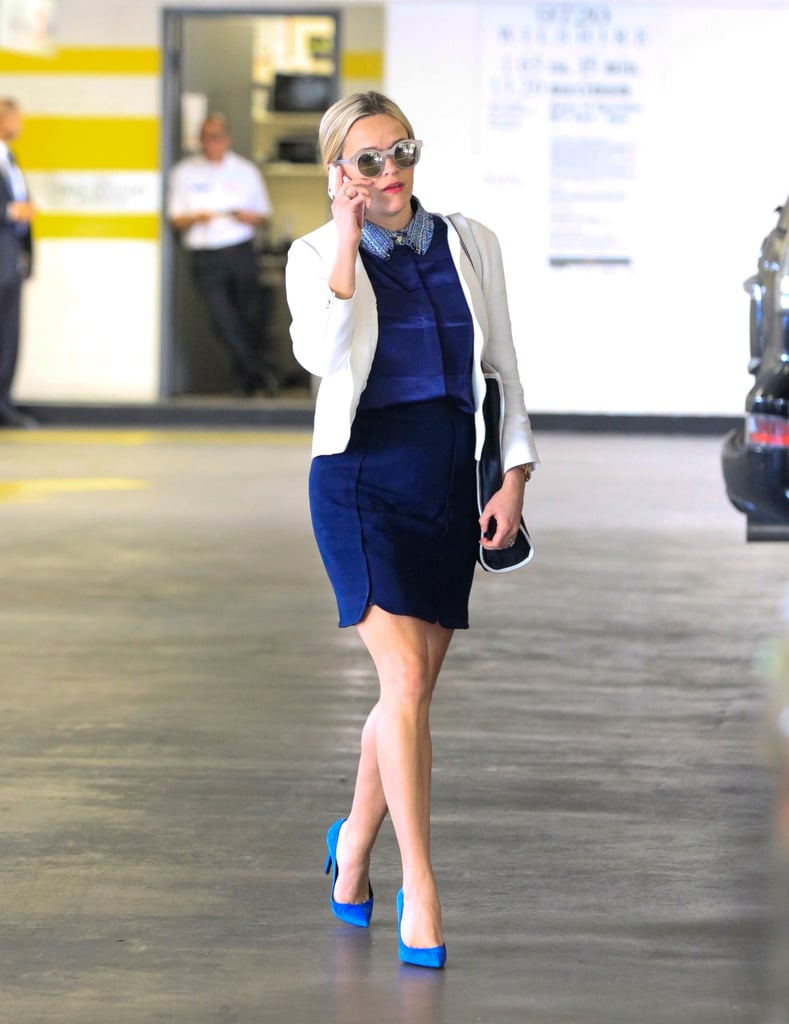 Keeping it polished on the go in pumps and a collared dress.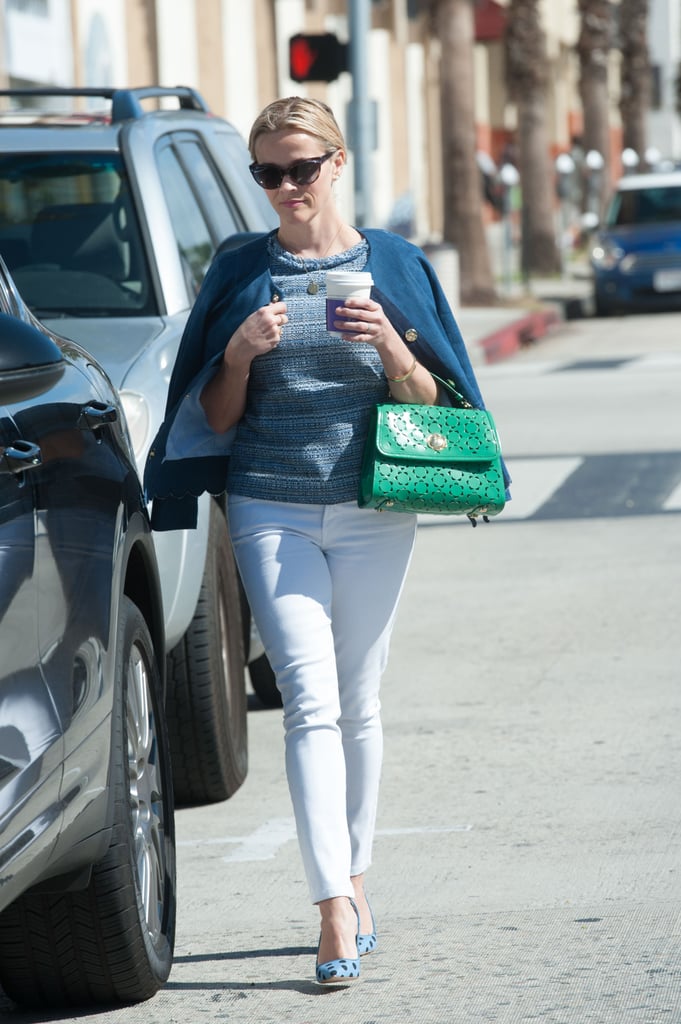 She added intrigue with a pop of green on her bag and polka dots on her heels.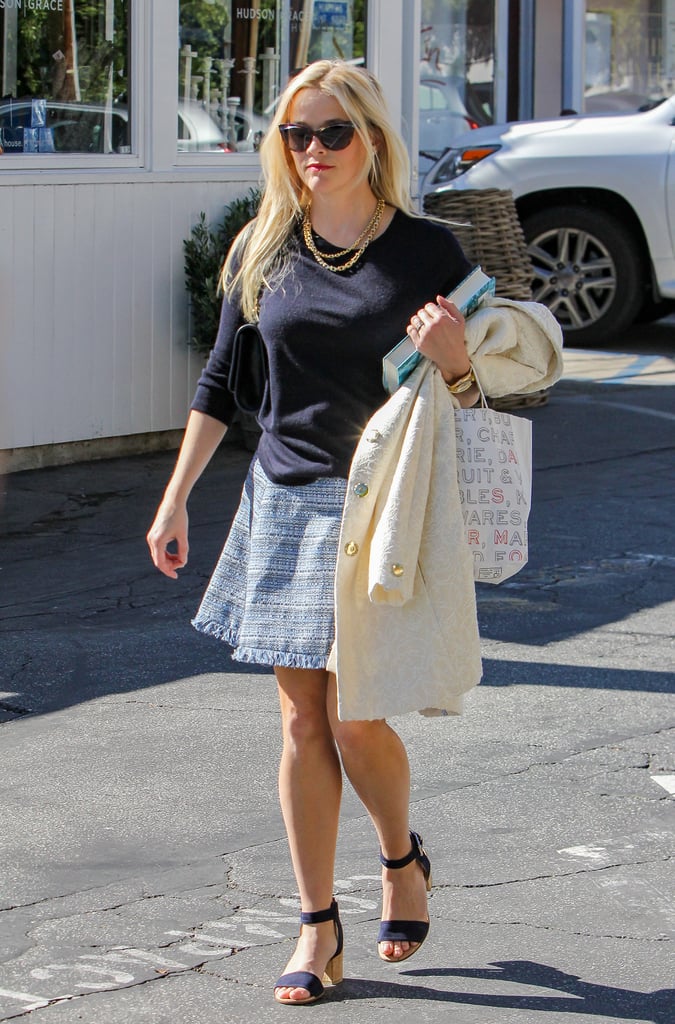 Daytime chic in a tweed skirt and block heels.
A sweet day dress and sandals while out in LA.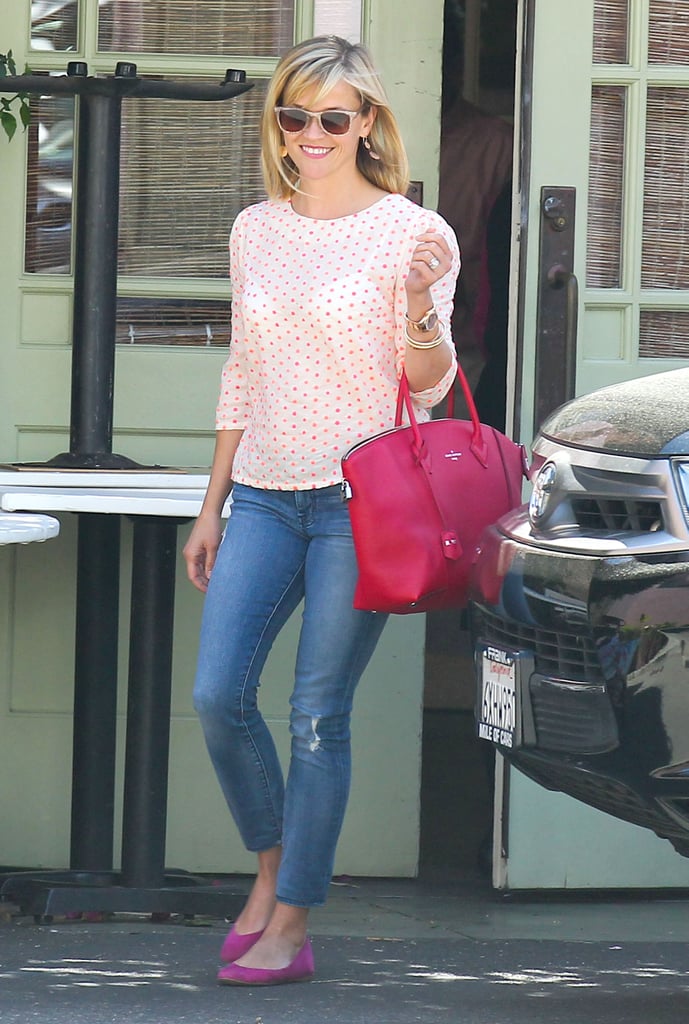 Witherspoon was a vision in pink donning a polka-dot Anthropologie blouse, suede flats, and a brilliant Louis Vuitton tote in Santa Monica.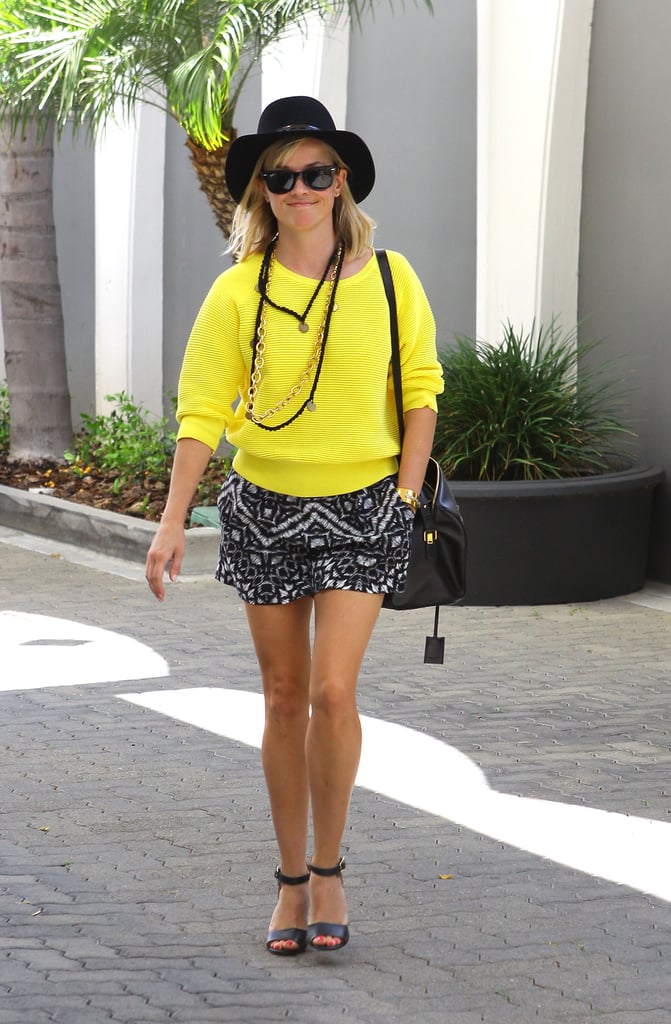 We love how Reese brightened her moody separates with a sunny knit and a few dazzling necklaces.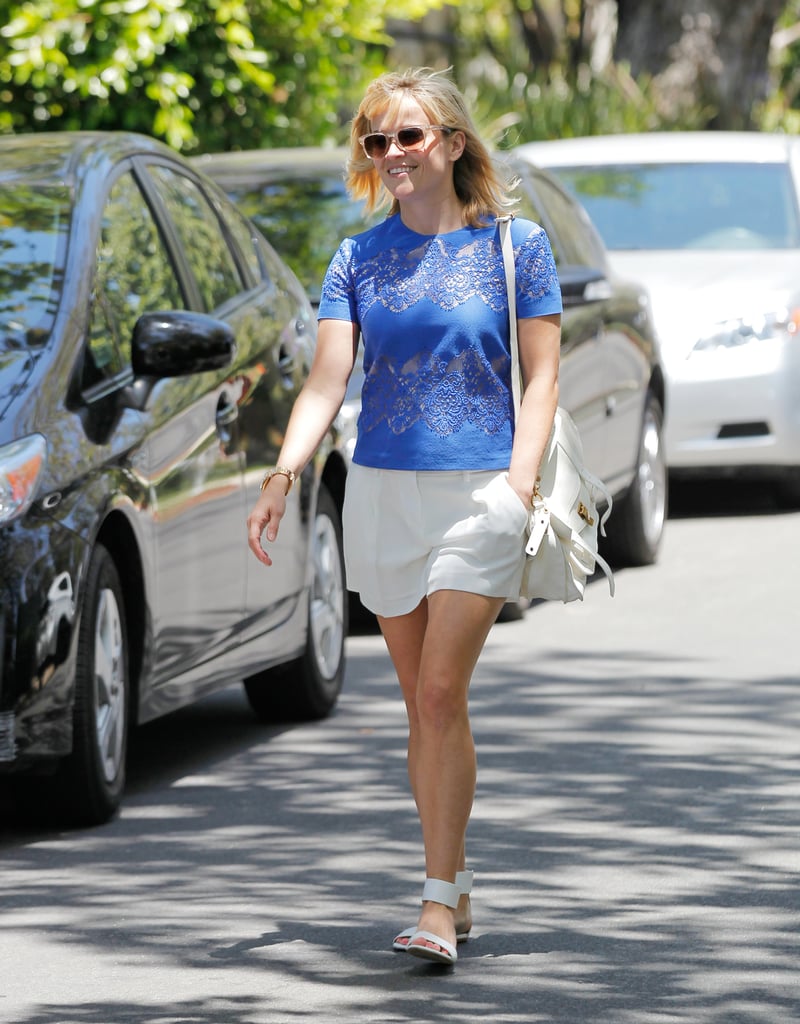 Witherspoon injected a splash of color and flair to her crisp LA look via a cobalt Lover top and glitter Carrera by Jimmy Choo shades.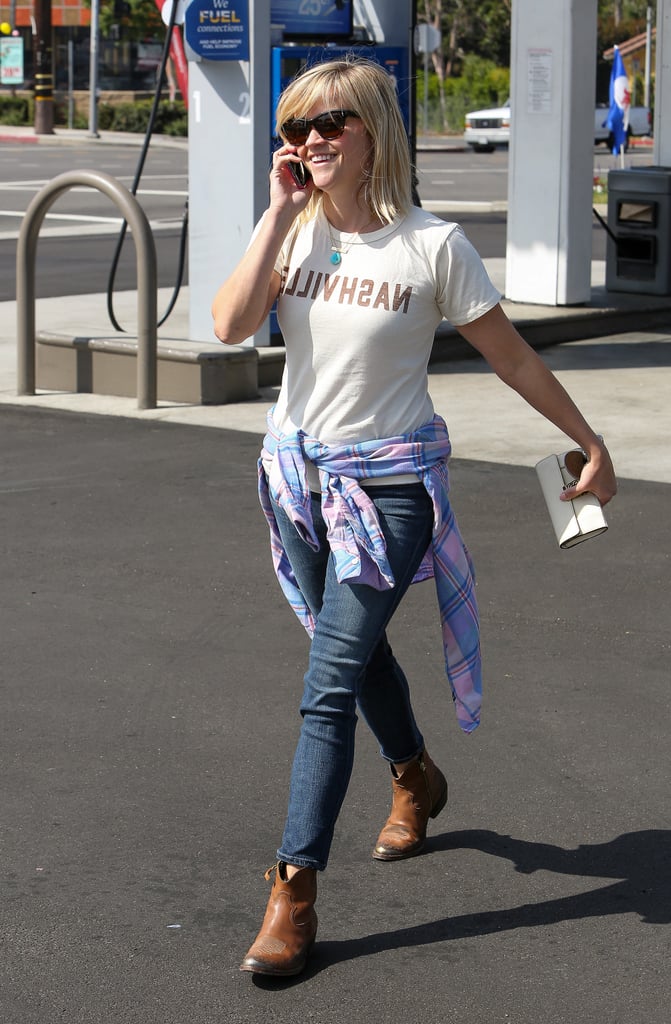 Witherspoon flaunted her Southern roots with a Nashville tee, Gold Sign denim, and rustic ankle boots — all wrapped up with a plaid Rails shirt.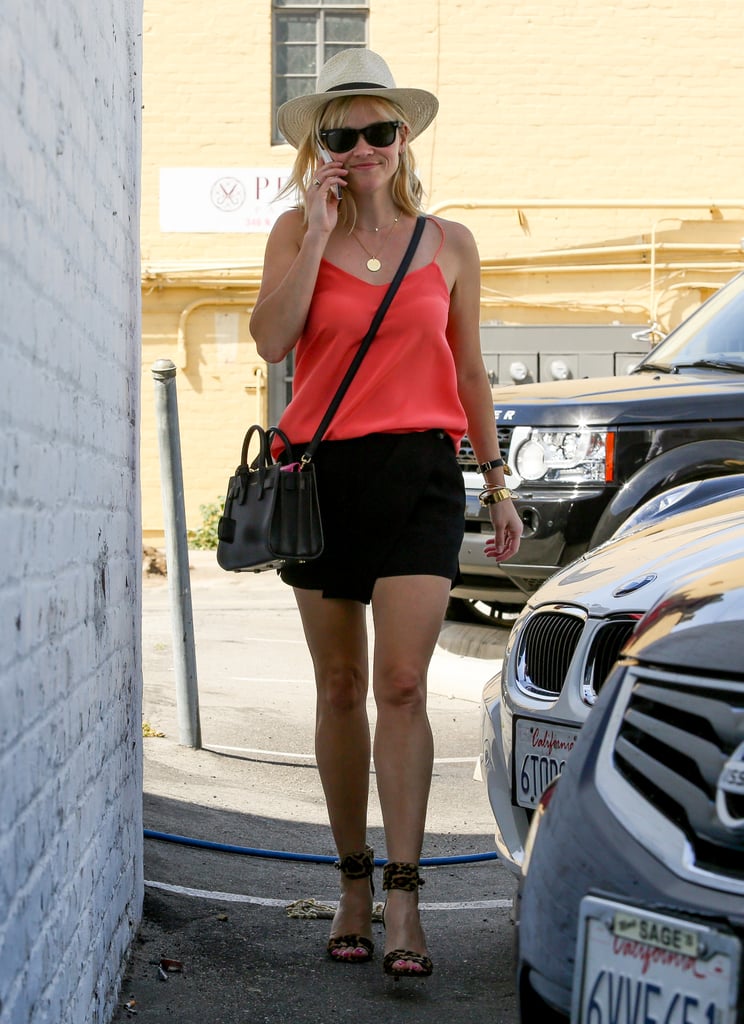 For a day of errands, Reese chose a black skort, leopard Gianvito Rossi sandals, and her trusty fedora.
Say hello to the perfect weekend ensemble. Reese topped her printed Spring dress with a Current/Elliott snap jacket, Rag & Bone booties, and a moody leather Chloé bag in LA.
The left her salon looking fresh in a chambray shirt, coral skirt, and colorblock Pierre Hardy sandals.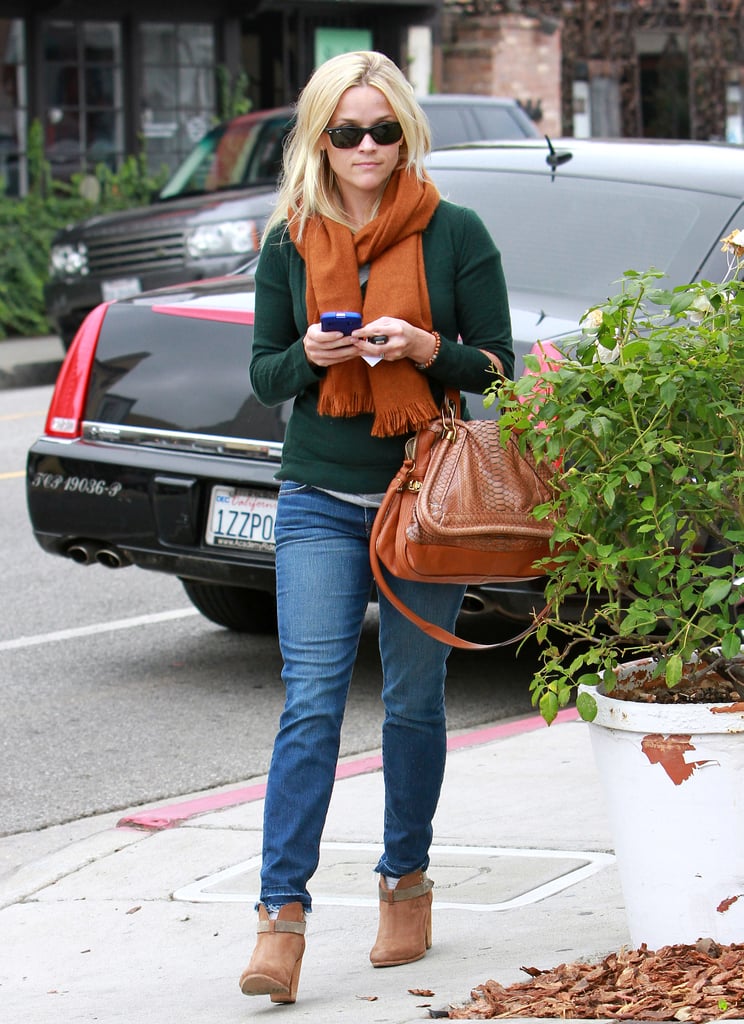 Reese showed off her Fall layering skills with jeans and ankle boots in 2011.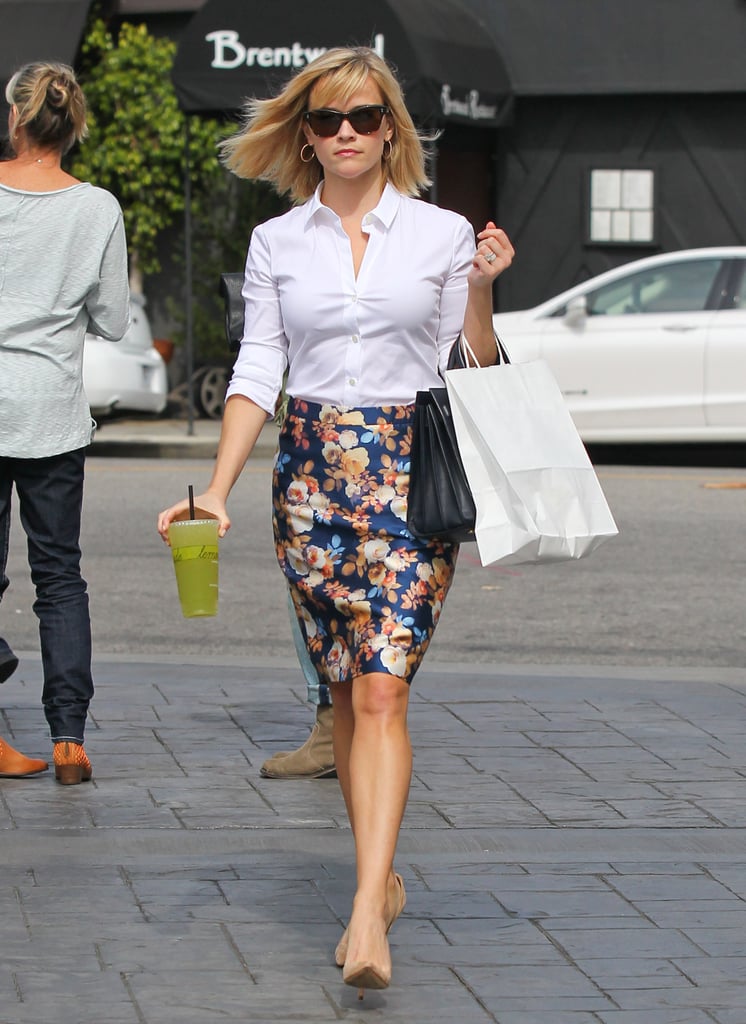 Witherspoon was all business in a crisp white blouse and blossoming J.Crew pencil skirt in LA's Brentwood neighborhood.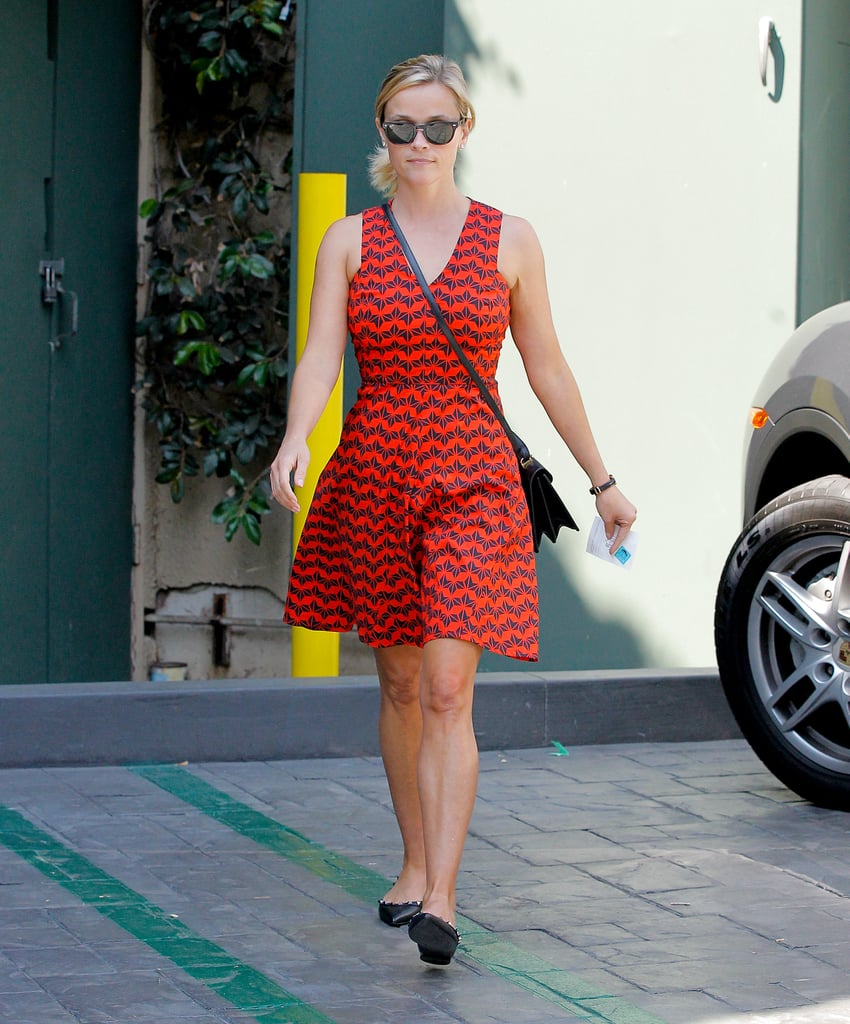 She edged up her printed 10 Crosby Derek Lam sundress with rocker Valentino flats and her signature Ray-Bans.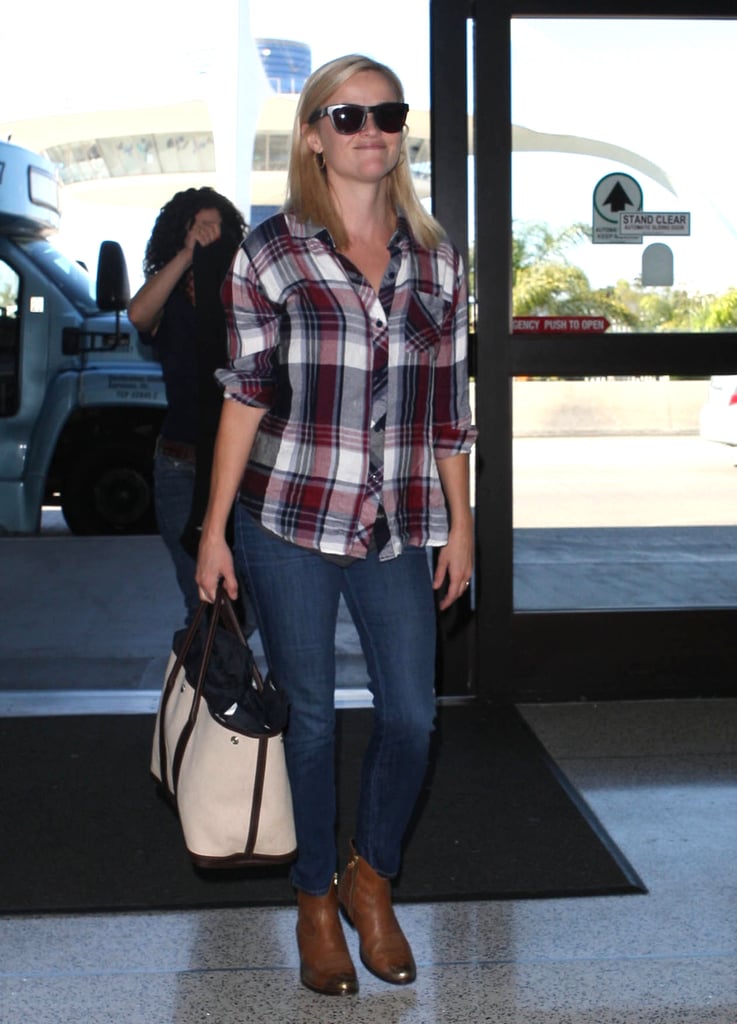 Channeling her Sweet Home Alabama roots in a plaid Rails button-down and cool-girl Golden Goose while catching a flight at LAX.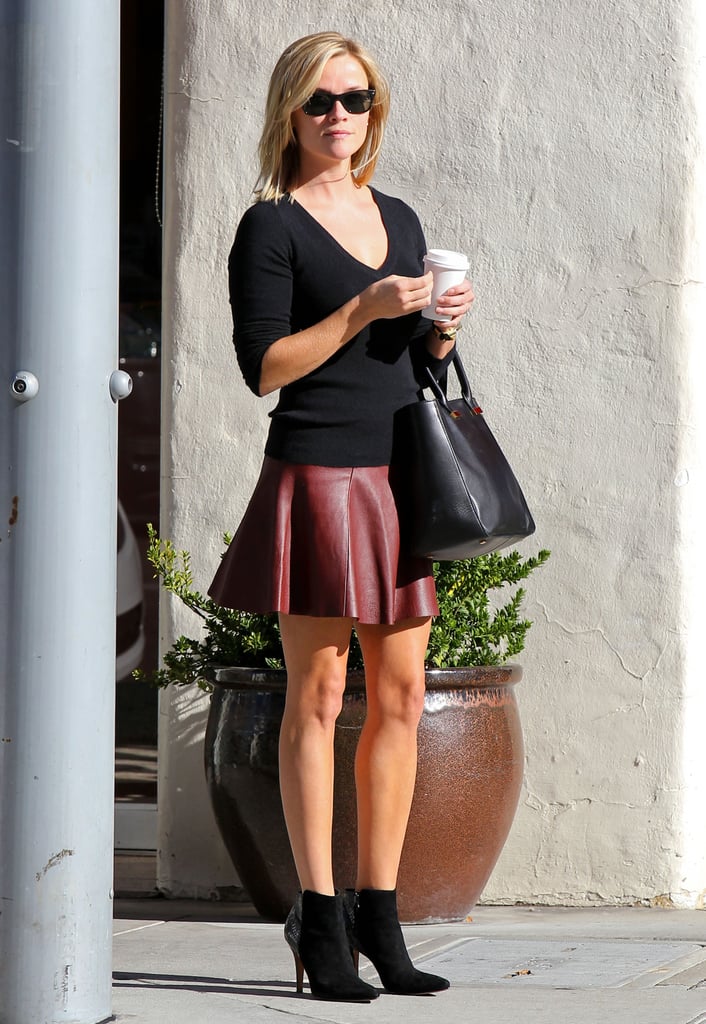 Mimic Reese's sophisticated take on the leather (A.L.C.) mini by pairing it with a black v-neck sweater, texturized booties, and a leather tote by The Row.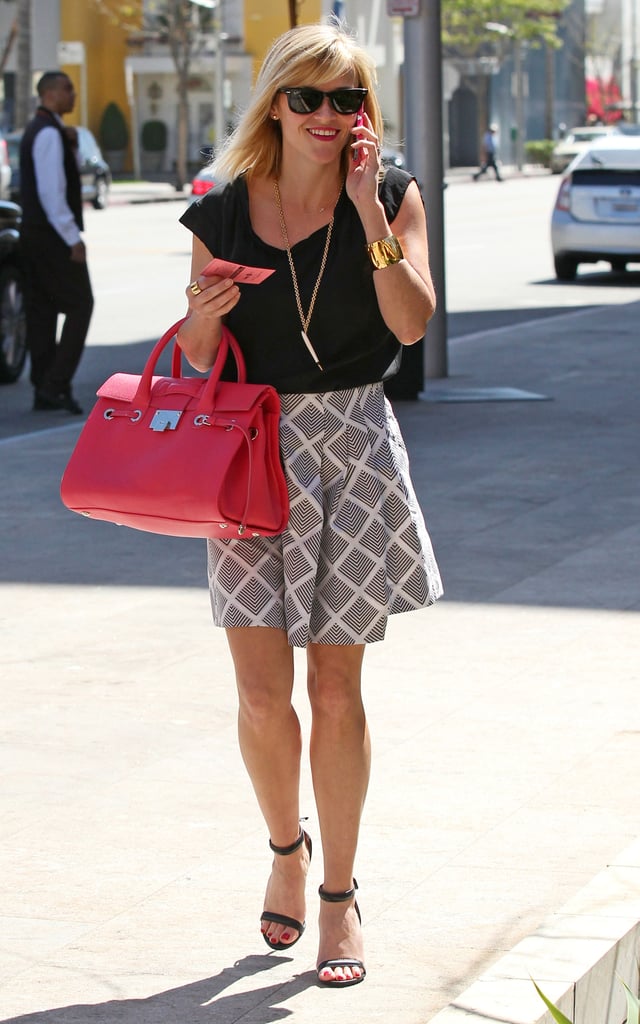 Refresh your tee-and-skirt combos with a graphic print and bold bag, à la Reese.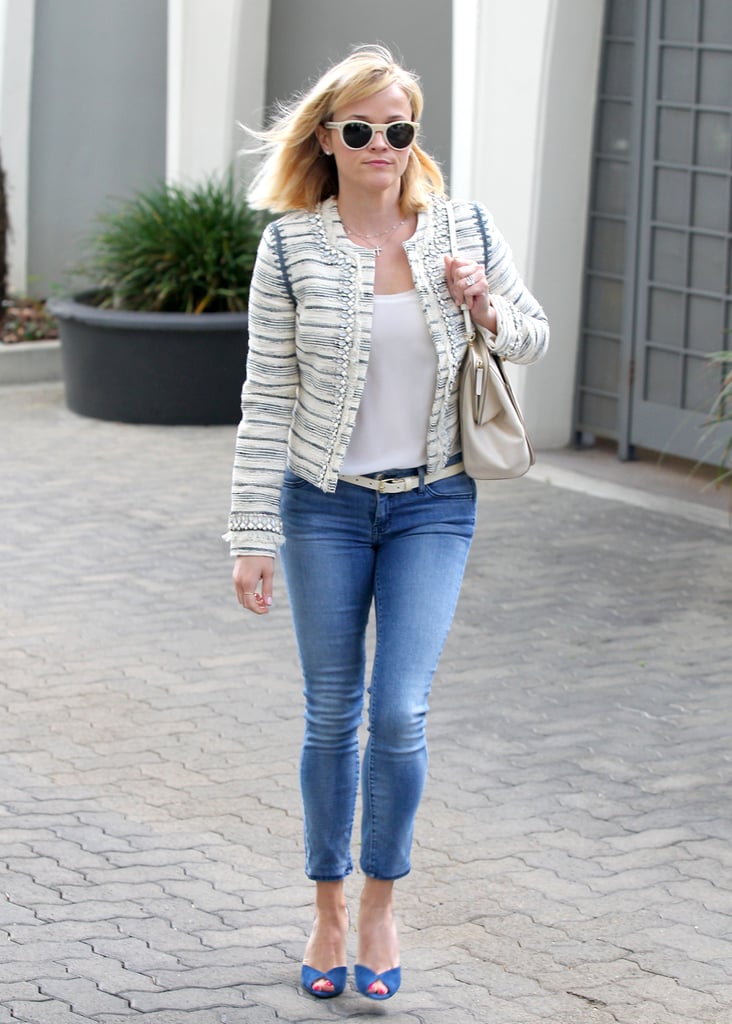 I'd like us all to take a moment to admire Reese's très-chic embellished Tory Burch jacket.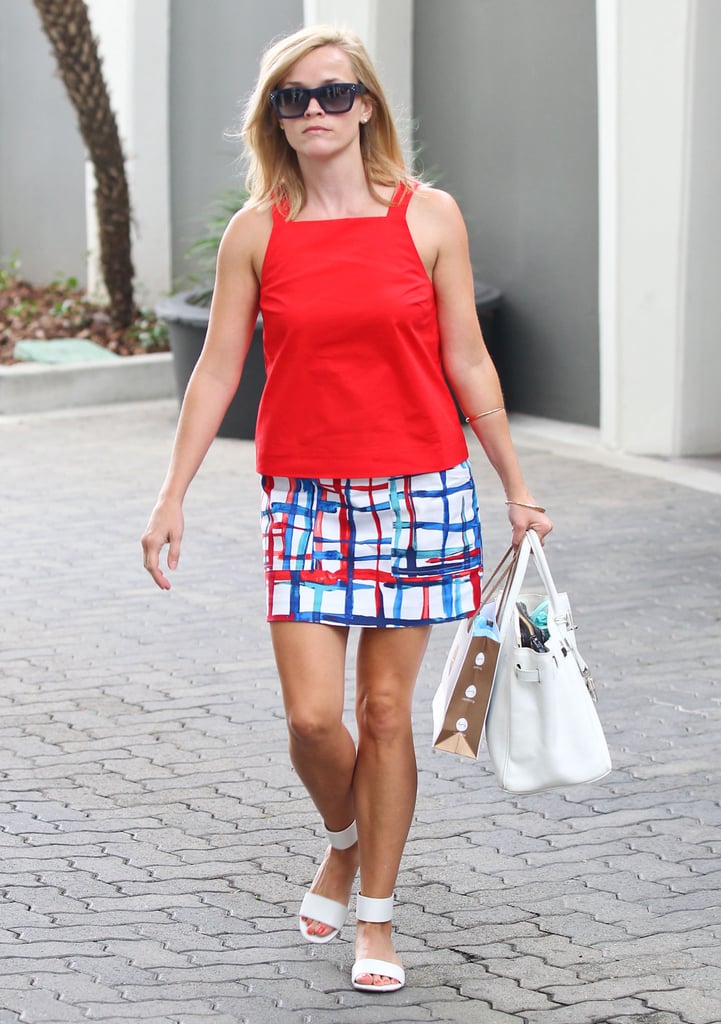 Reese Witherspoon [4] matched a red tank with a printed skirt, both by Kate Spade Saturday, then finished with white sandals and a matching bag.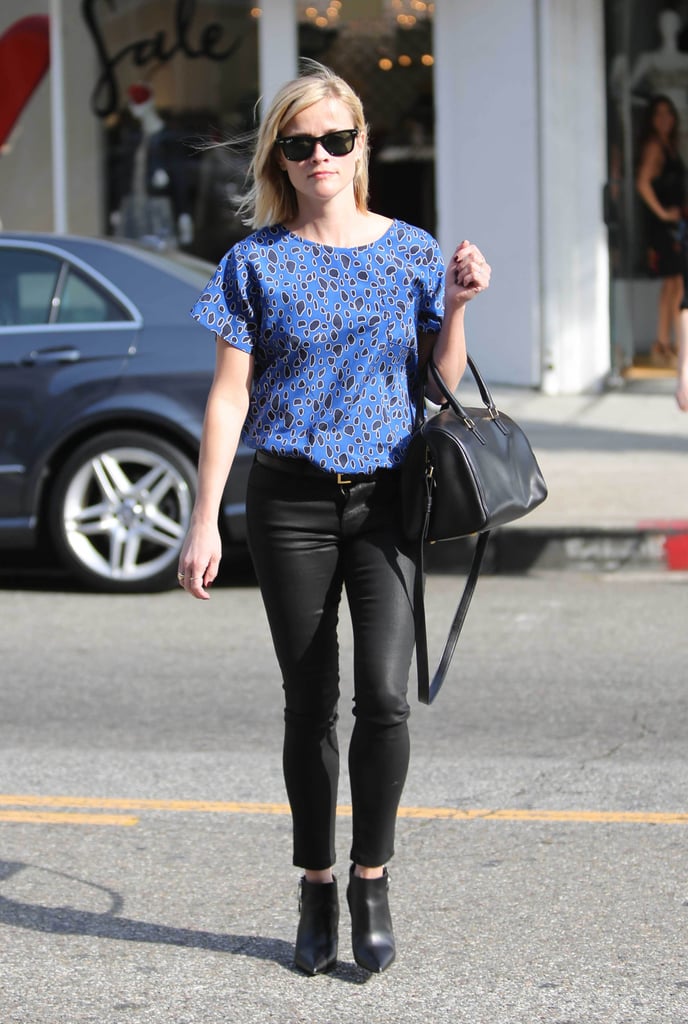 Reese edged up her usually preppy style with a cobalt leopard Sea top, leather pants, and pointed ankle boots. She completed her look with Ray-Ban wayfarers and a Saint Laurent duffle.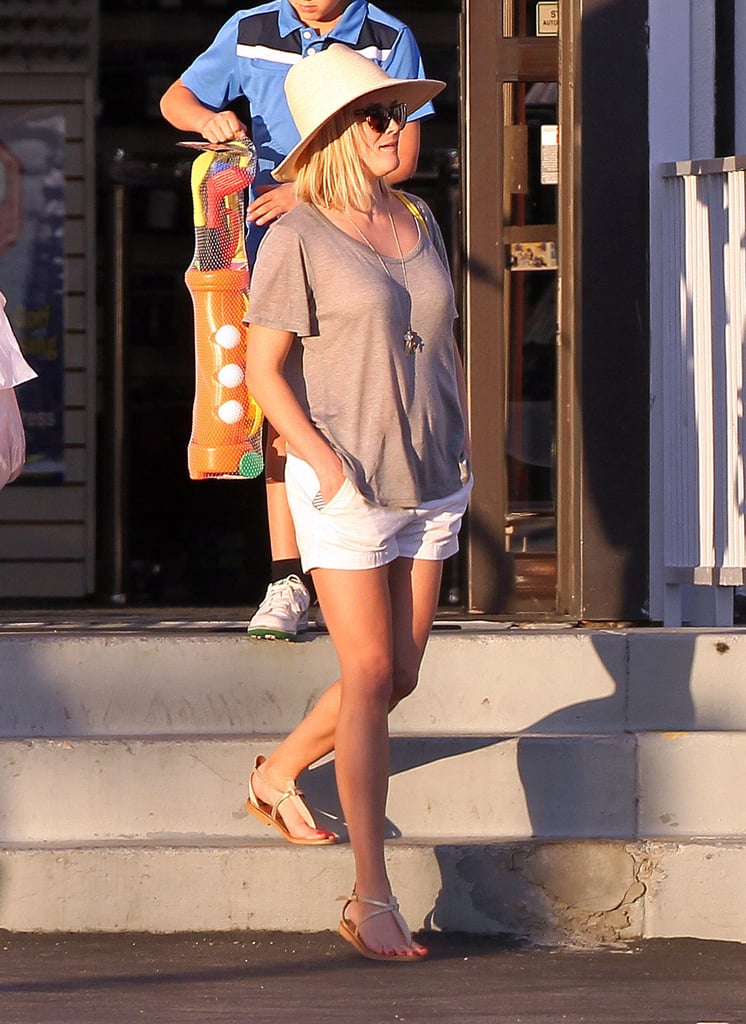 Don't mind Reese looking island chic in an oversize oatmeal tee, white shorts, and strappy sandals.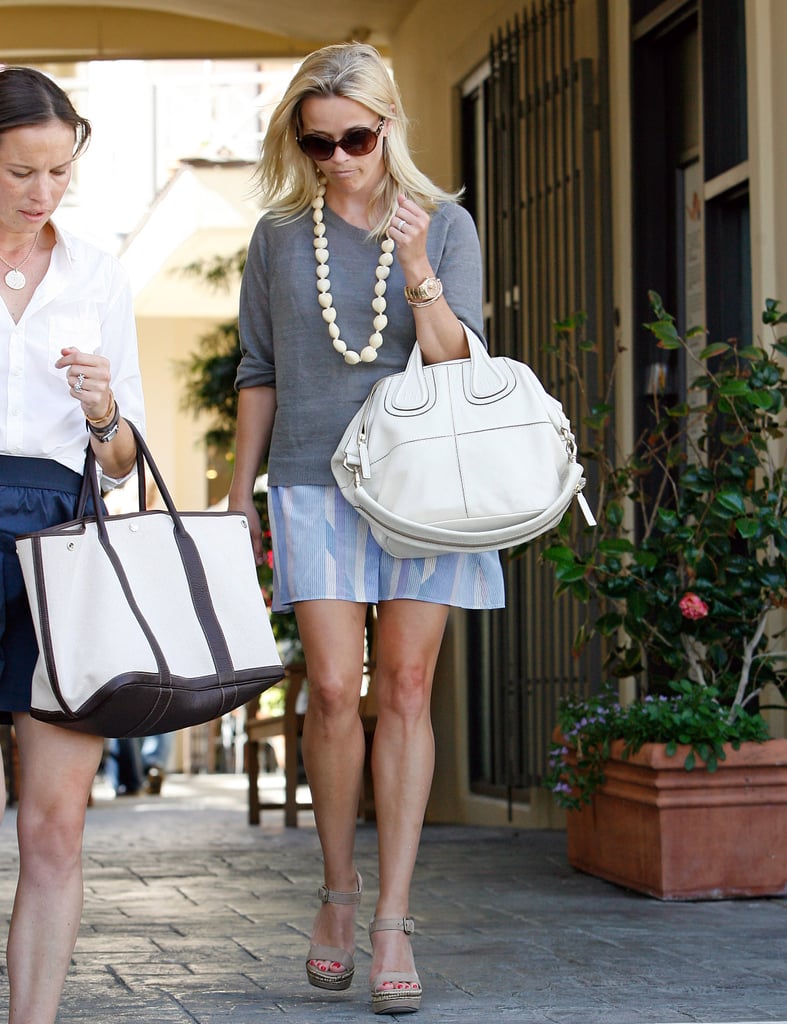 Reese kept it cool and casual in a slouchy sweatshirt and printed skirt while on a shopping trip in 2011.
Witherspoon's studded Chloé boots lent a dash of edge to her LA style earlier this year.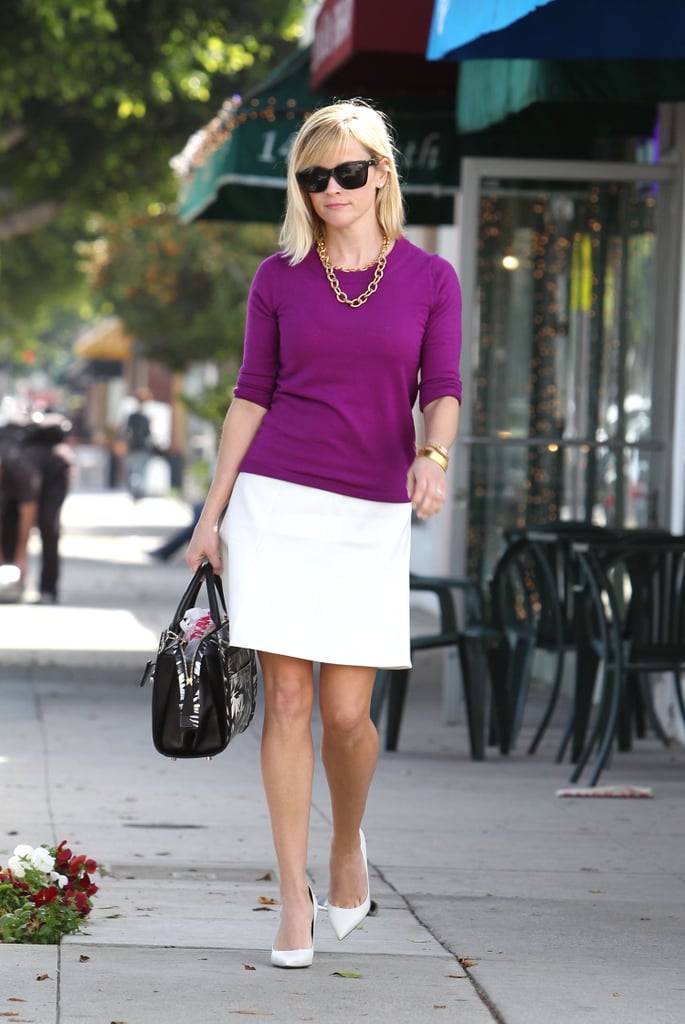 Reese was ready for Spring in a regal sweater, white mini, and coordinating pumps in LA.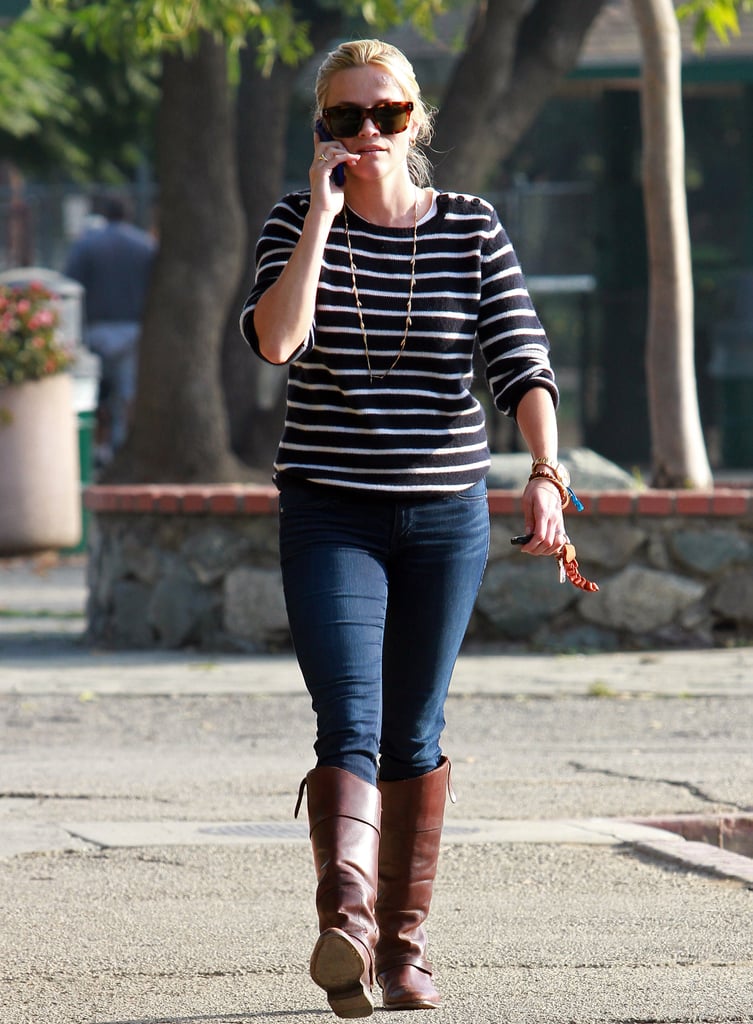 For a day of errands, Reese tucked her skinny jeans into cognac-colored boots and paired them with a chic striped top.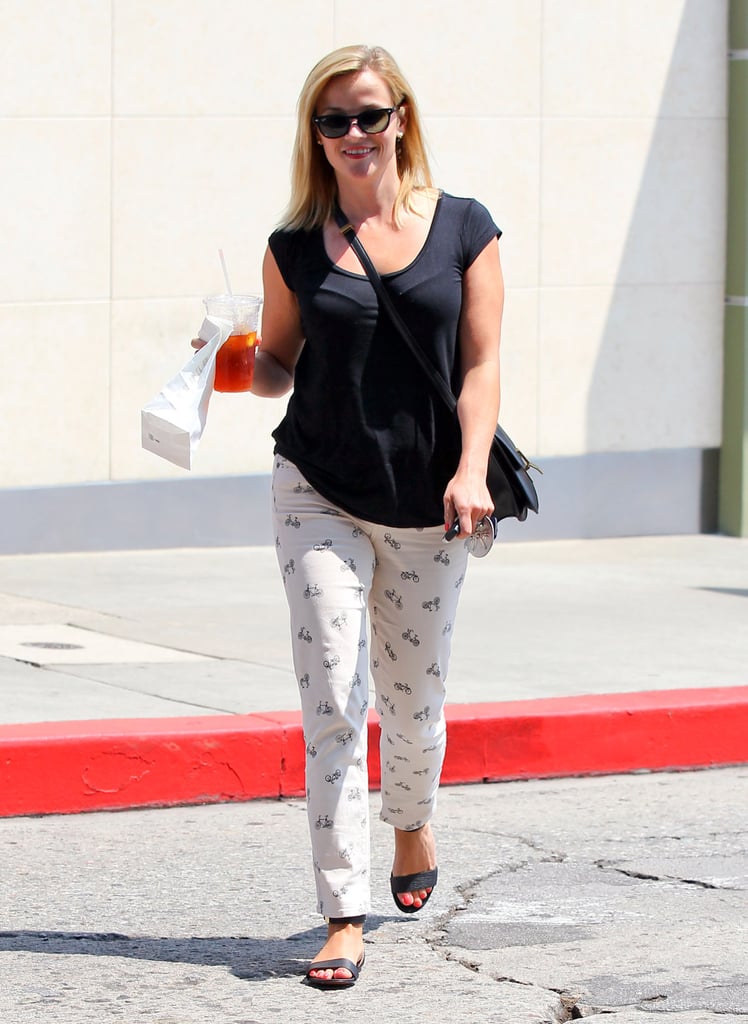 Witherspoon strolled around Brentwood in quirky bicycle-print denim by Paige.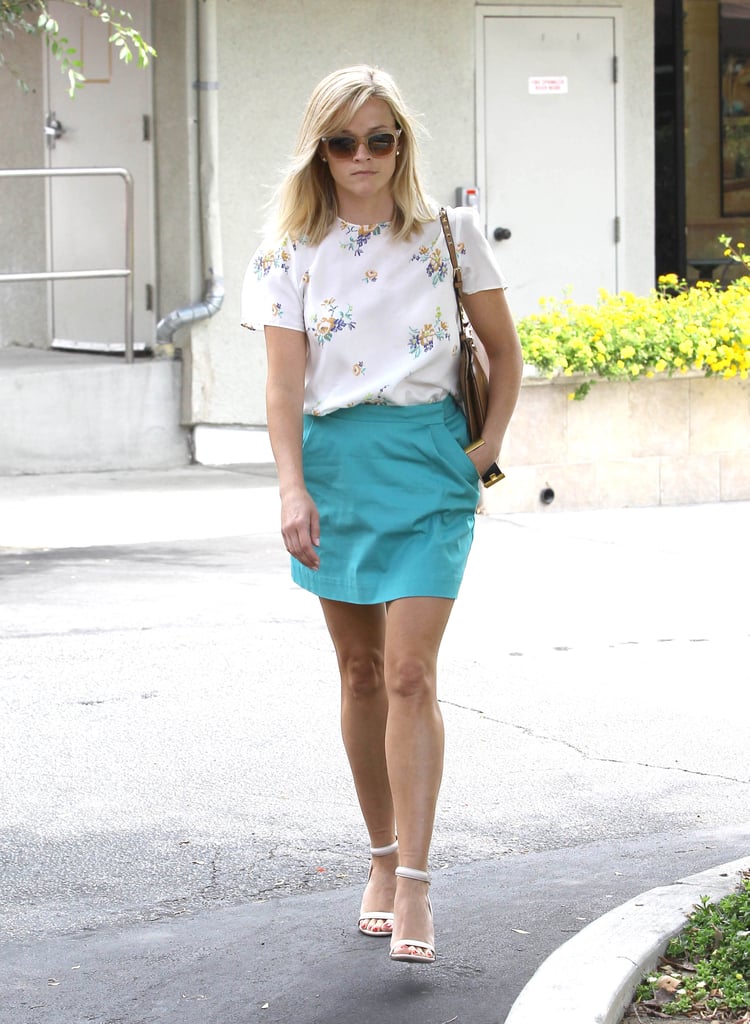 Reese styled the perfect Spring ensemble tucking a floral Band of Outsiders top into a vibrant turquoise skirt then completing the look with nude ankle-strap sandals, coordinating shades, and a tan Valentino bag.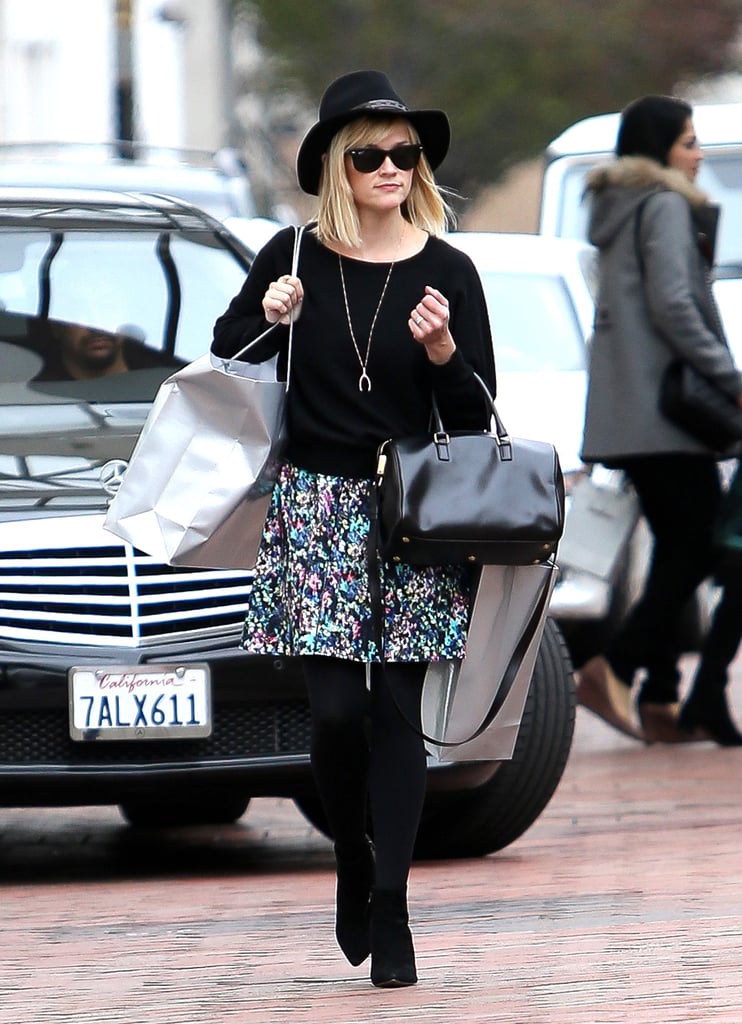 Reese broke up her all-black palette with a floral skirt while shopping in LA.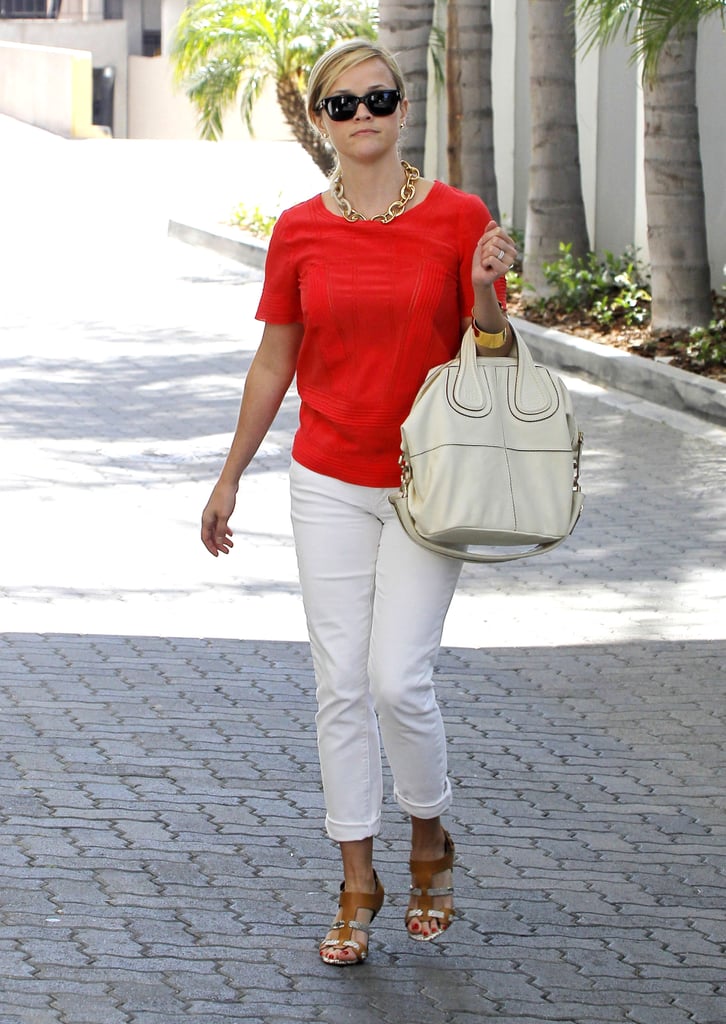 Just another Summer hit from Ms. Witherspoon: a vibrant top, white denim, and Pedro García sandals — not to forget her luxe Givenchy tote.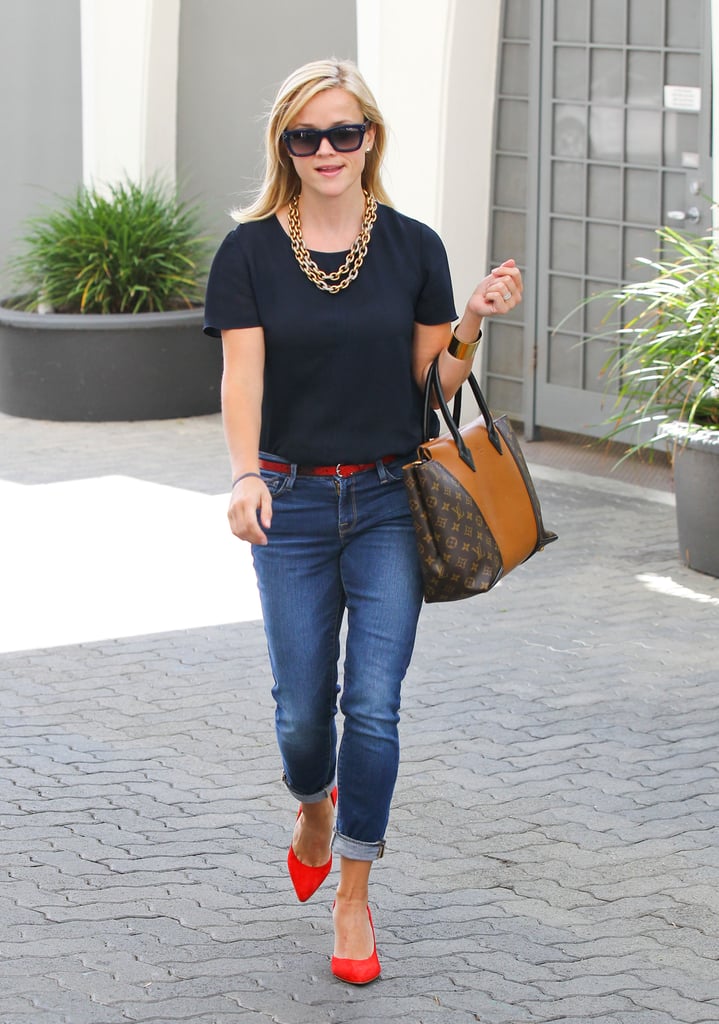 Brighten your blues with red pumps, a statement necklace, and a Louis Vuitton It bag à la Reese.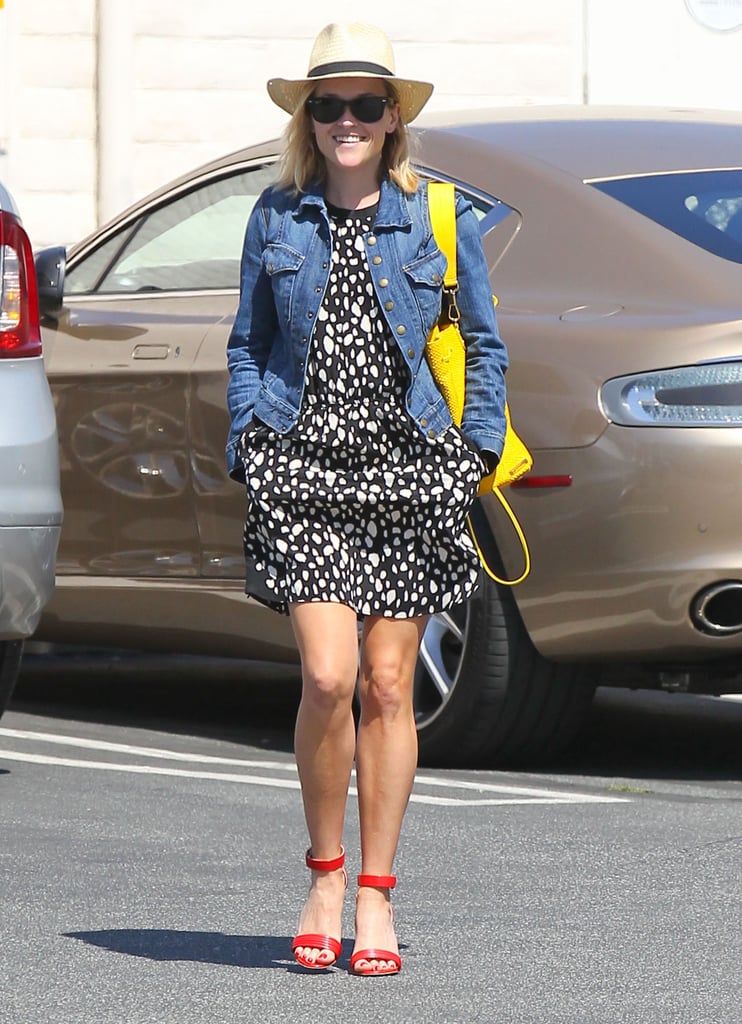 Reese stepped up her denim game with a Current/Elliott snap jacket, fiery ankle-strap sandals, and a sunny Elizabeth and James python backpack.
While visiting NYC, Reese bundled up in a tweed coat and black shearling boots.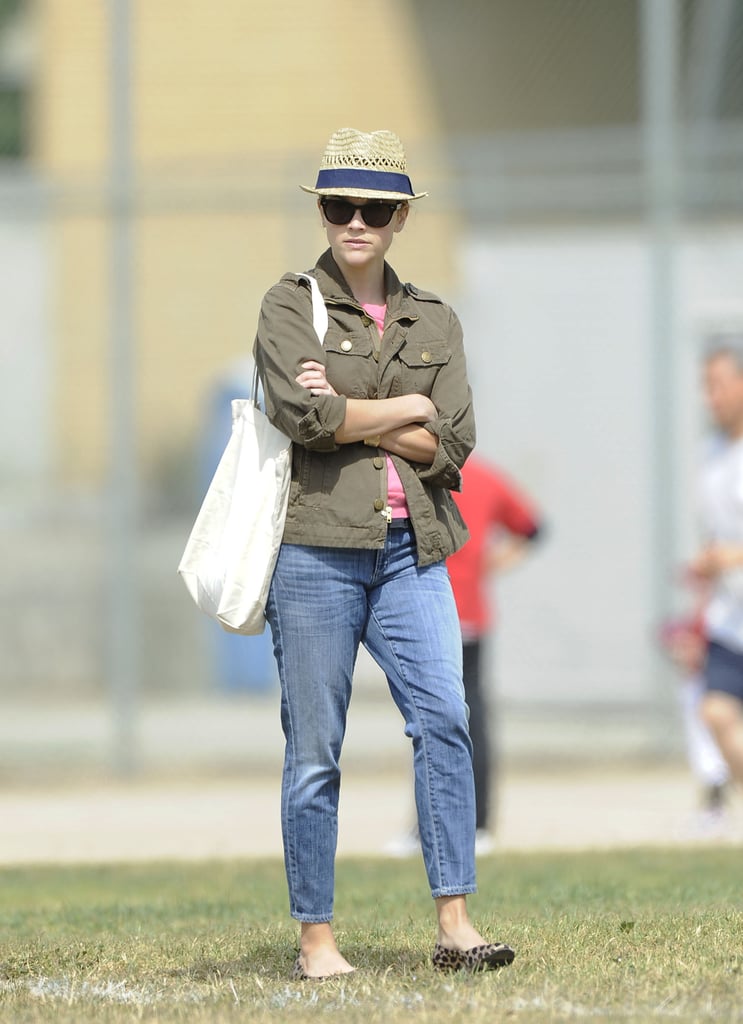 Sideline style: fedora, anorak, boyfriend jeans, and leopard flats.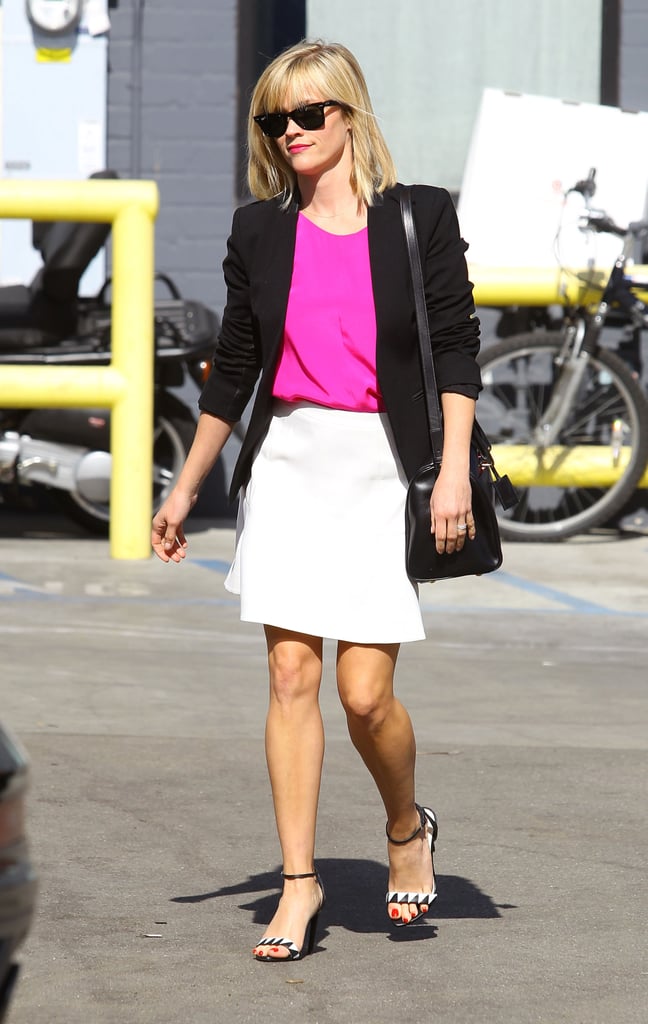 This hot-pink, black, and white look — finished with statement Proenza Schouler sandals — is easy to re-create for your next afternoon out with friends or a regular day at work.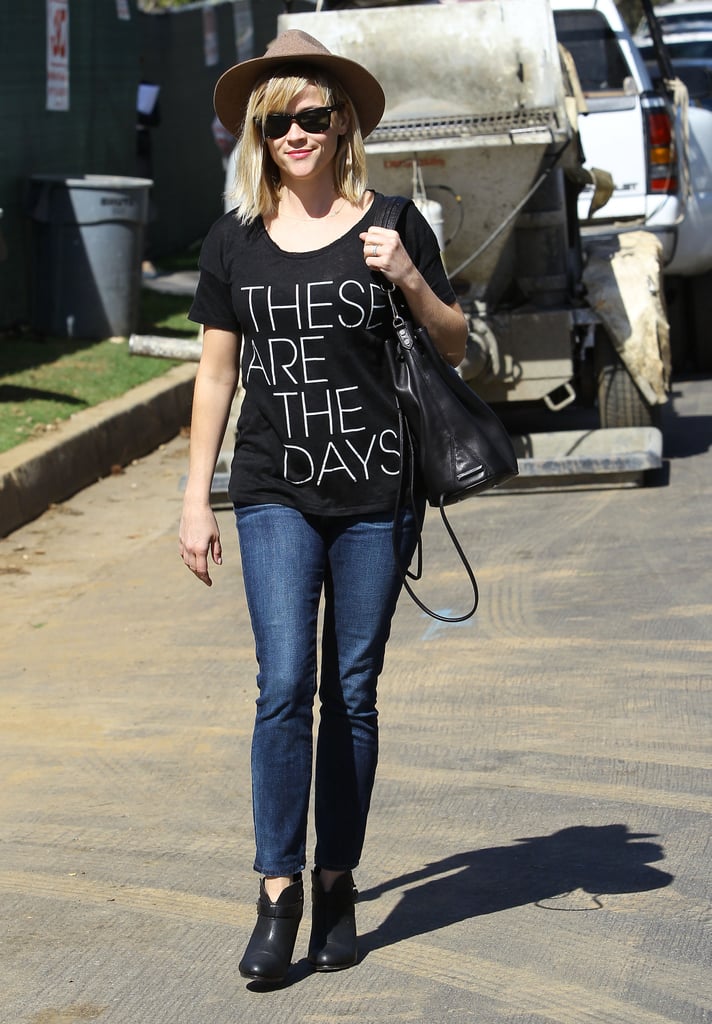 We couldn't agree more, Reese.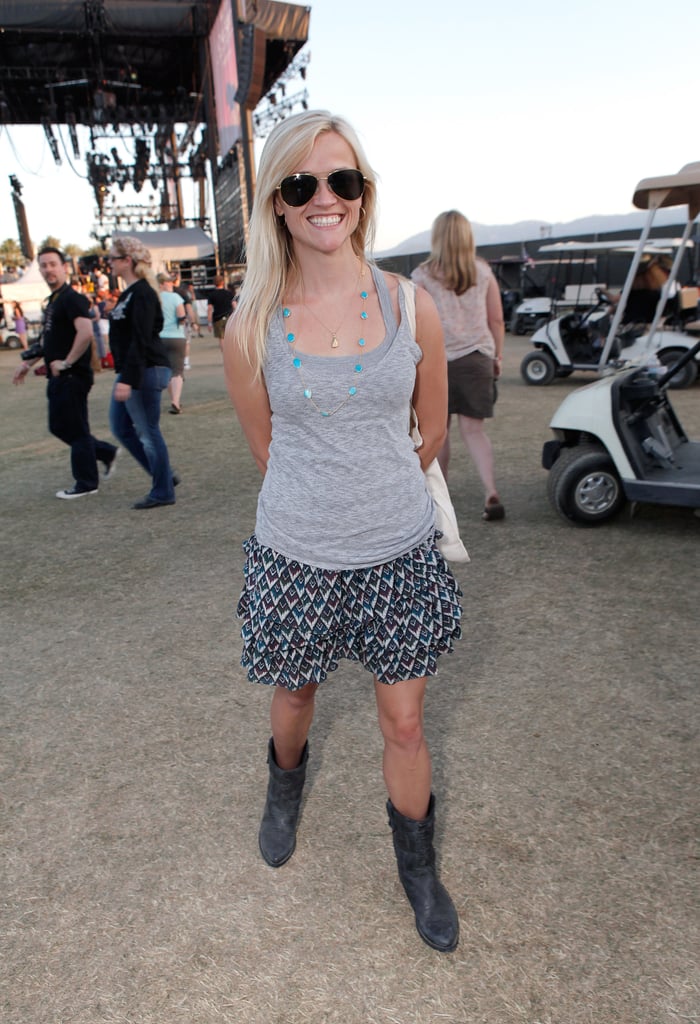 Reese went cowgirl chic at the Stagecoach Country Music Festival in April 2010.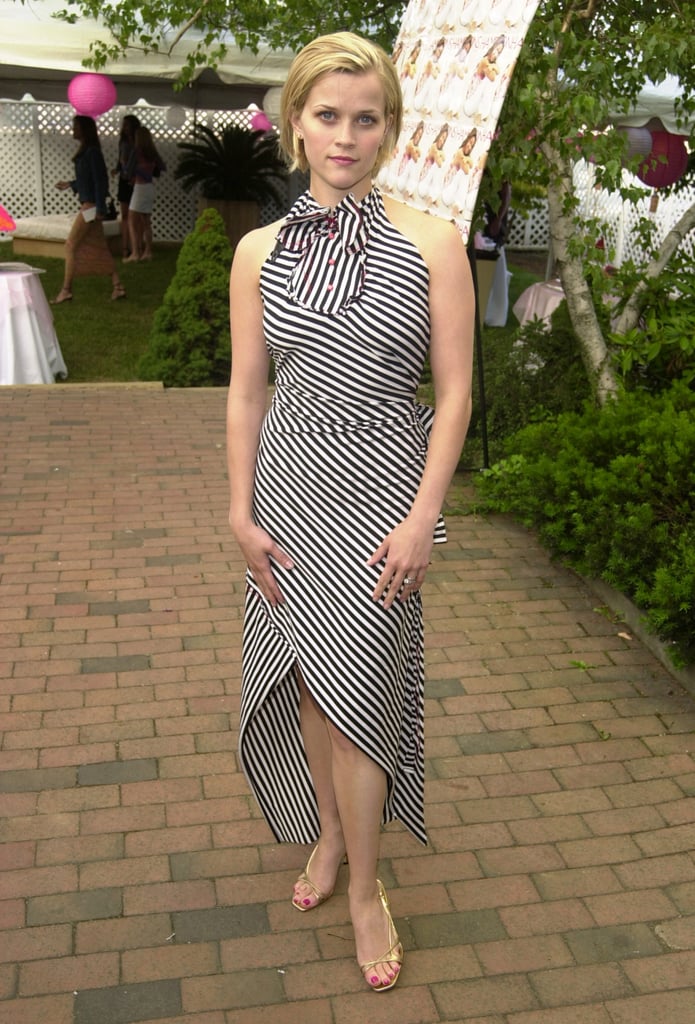 Reese set sail with a nautical-themed dress for a Southampton screening of Legally Blonde in 2001.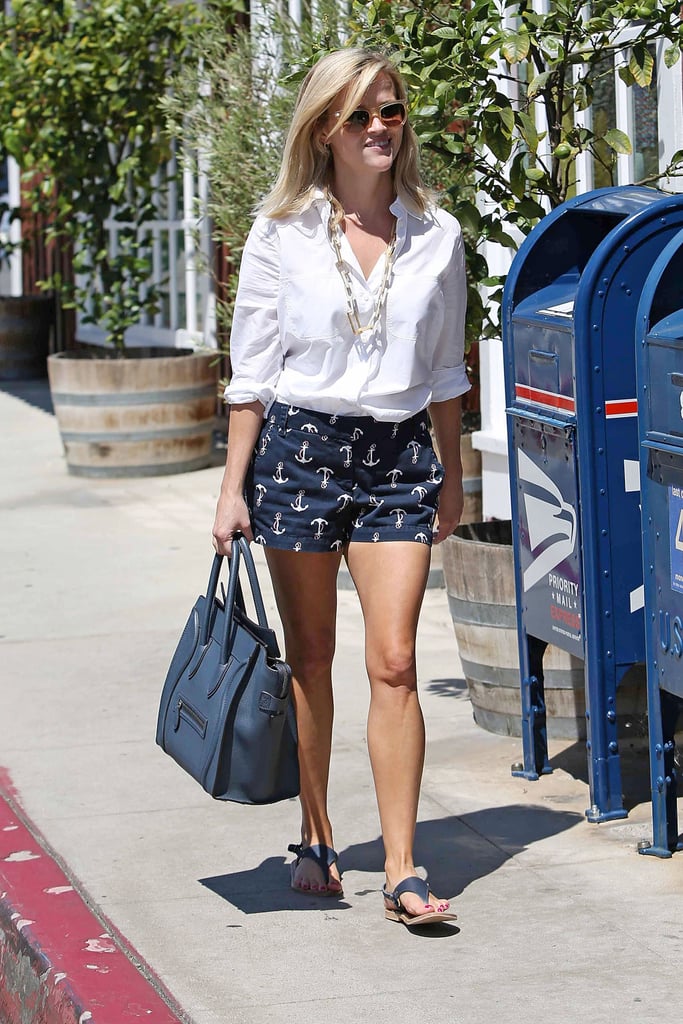 Ahoy, Reese! The petite blonde topped her sailor-chic J.Crew chinos with a white boyfriend blouse, navy sandals, and a blue Birkin while cruising around LA.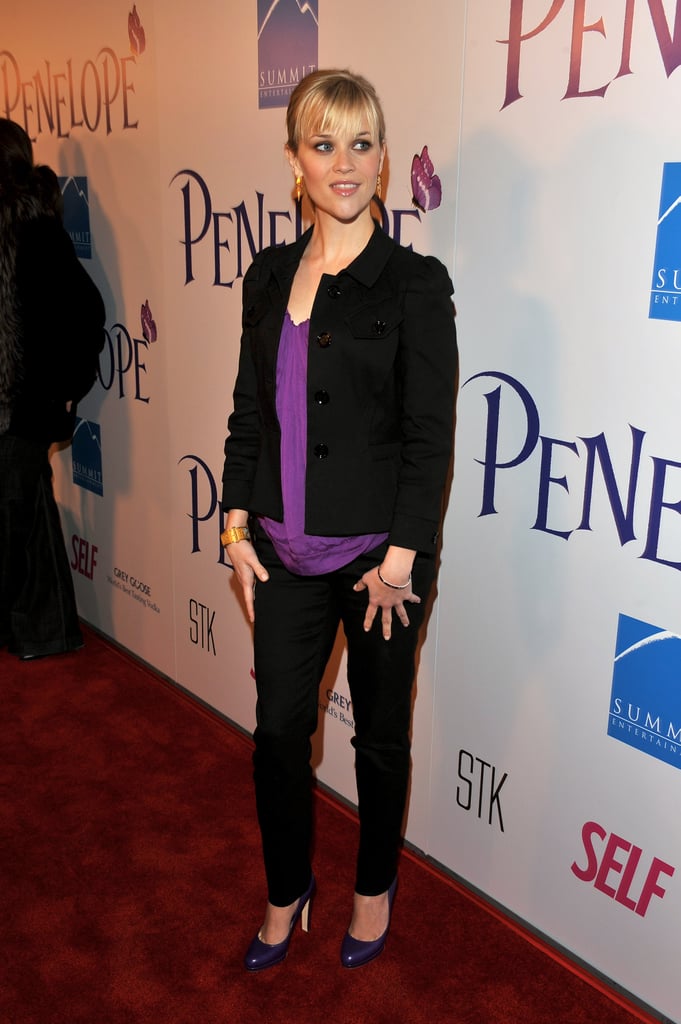 For the premiere of her production debut, Penelope, Reese went dressy casual in a purple tee, black pants, and a blazer.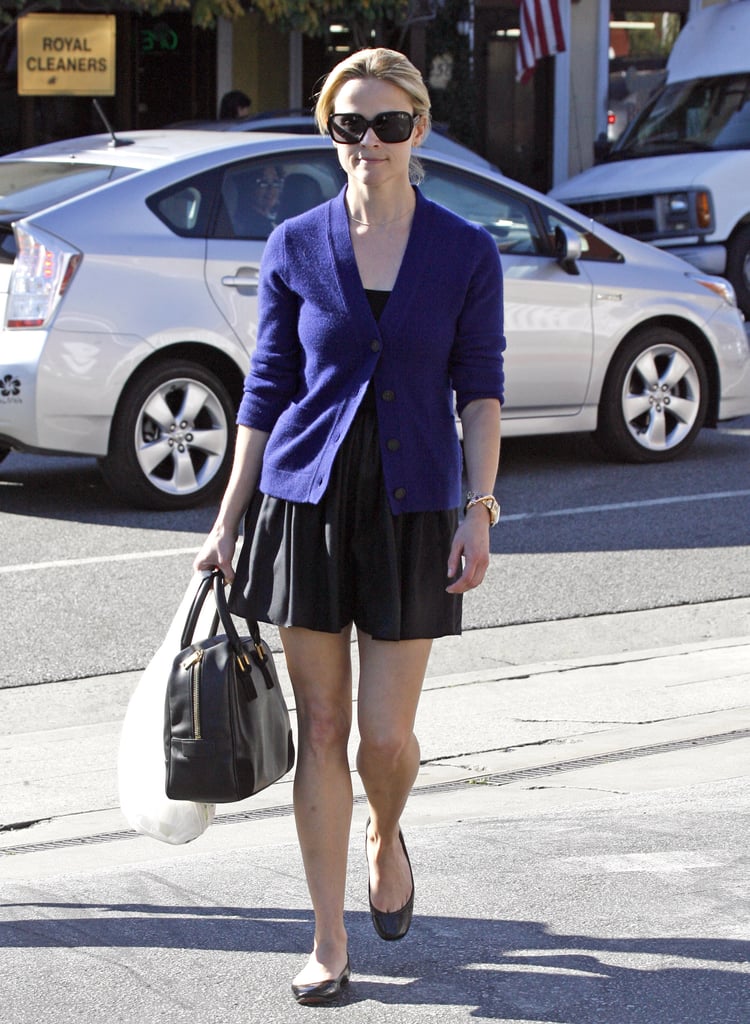 Reese was snapped taking a stroll in a simple black dress, a cardigan, and comfy flats.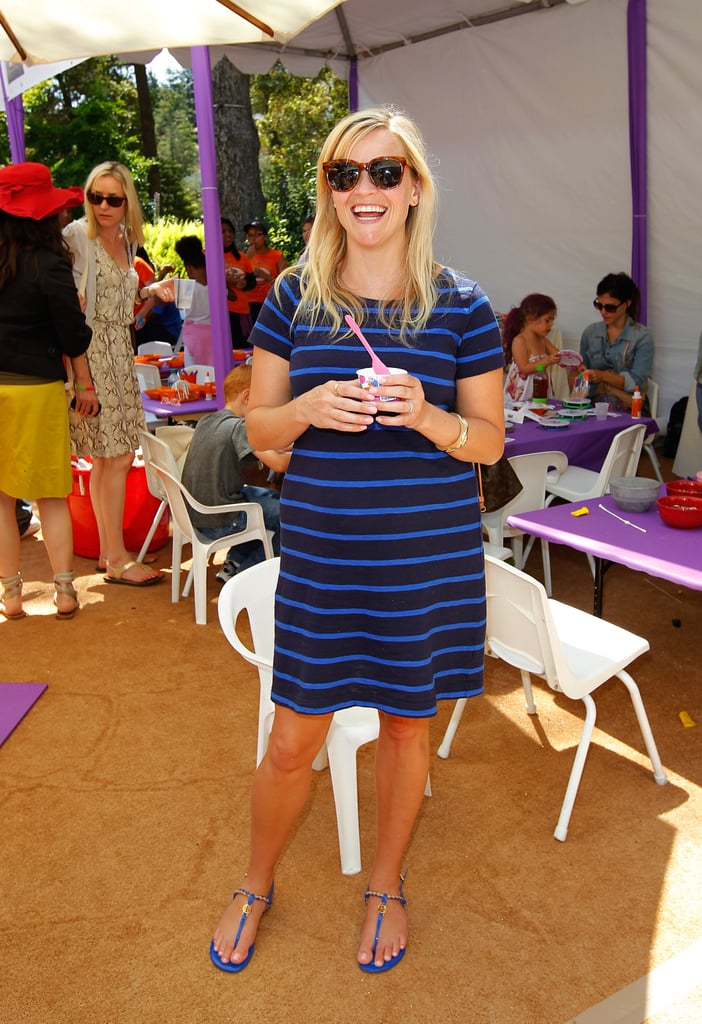 Donning a striped Gap shift and cobalt Tory Burch sandals, Reese proved she's not all about labels with her Summer look.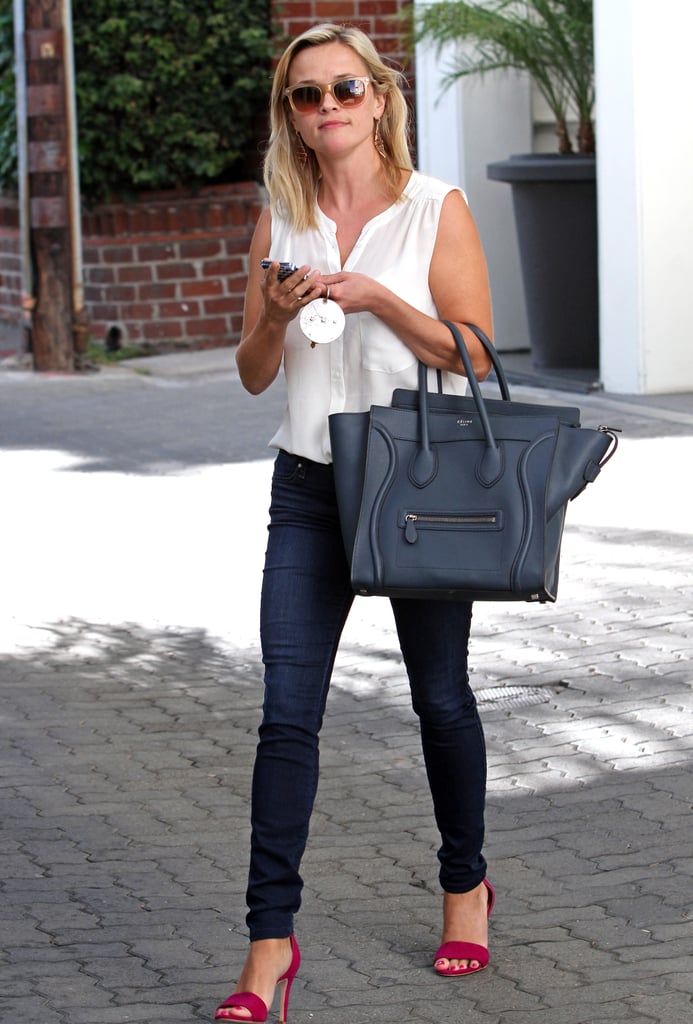 Fuchsia suede Joie sandals and a moody Cèline tote completed Reese's LA look last August.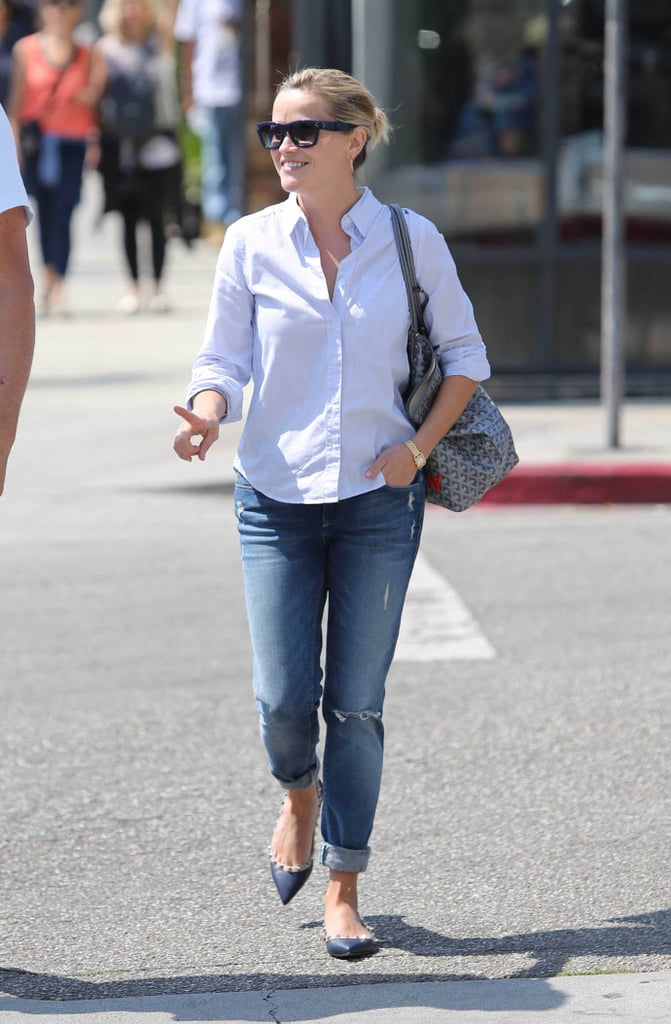 Reese jazzed up her smart style with navy Valentino flats and a monogrammed Goyard tote in West Hollywood.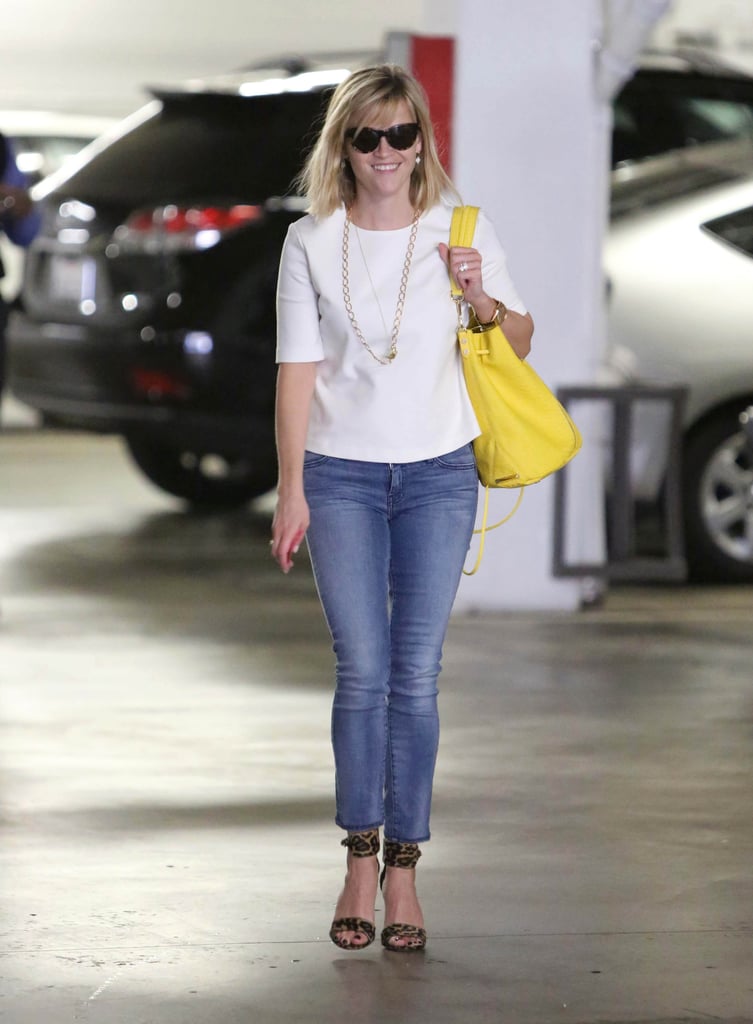 Reese's classic canvas — a white tee and skinny jeans — let her leopard ankle-strap sandals really shine.
For an LA afternoon, Reese topped a black swing skirt with a snakeskin Jason Wu sweatshirt and studded Valentino flats, then added a splash of color via a crimson Jason Wu tote.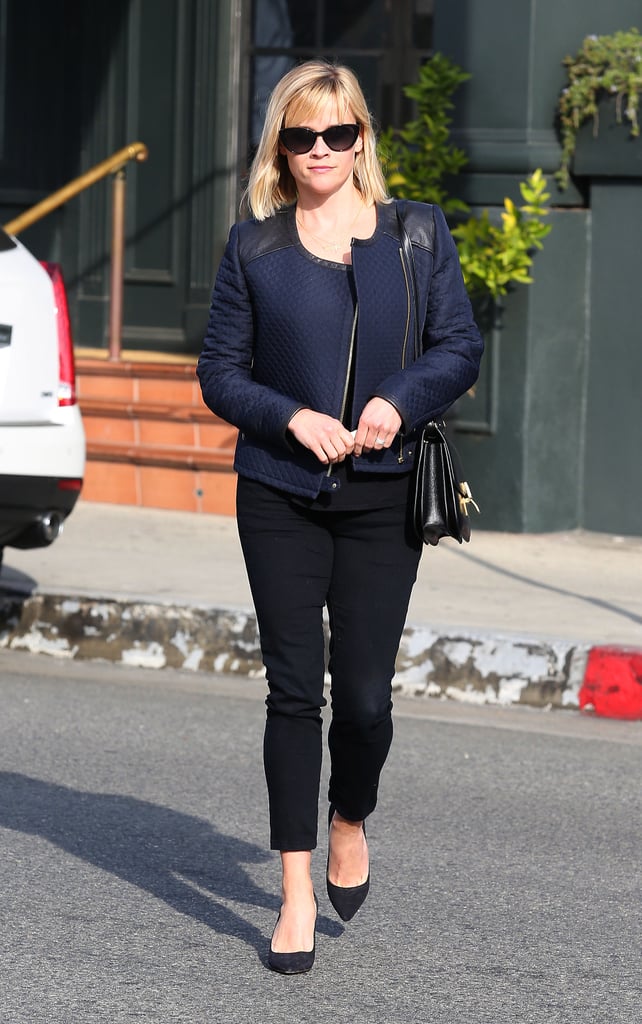 Witherspoon melded navy and black with a quilted leather-detail Club Monaco jacket, black denim, and classic pumps in LA.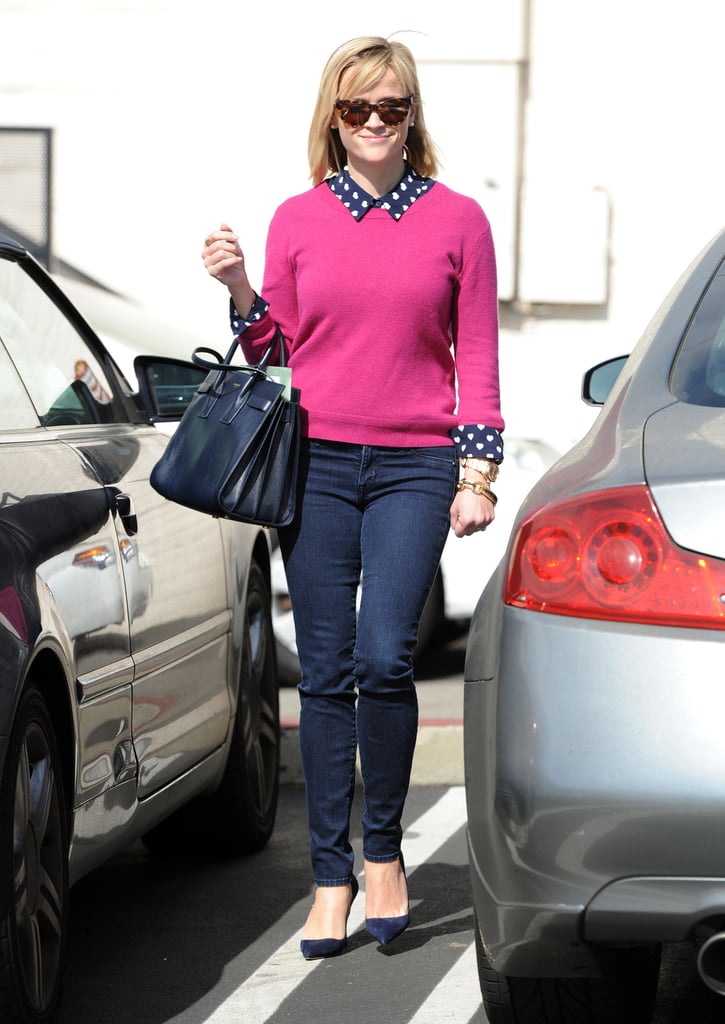 We'll be channeling Reese's about-town look next Valentine's Day. From her heart-print Topshop blouse and lovely pink sweater to her navy suede pumps and coordinating tote, Witherspoon has once again delivered a street style ace.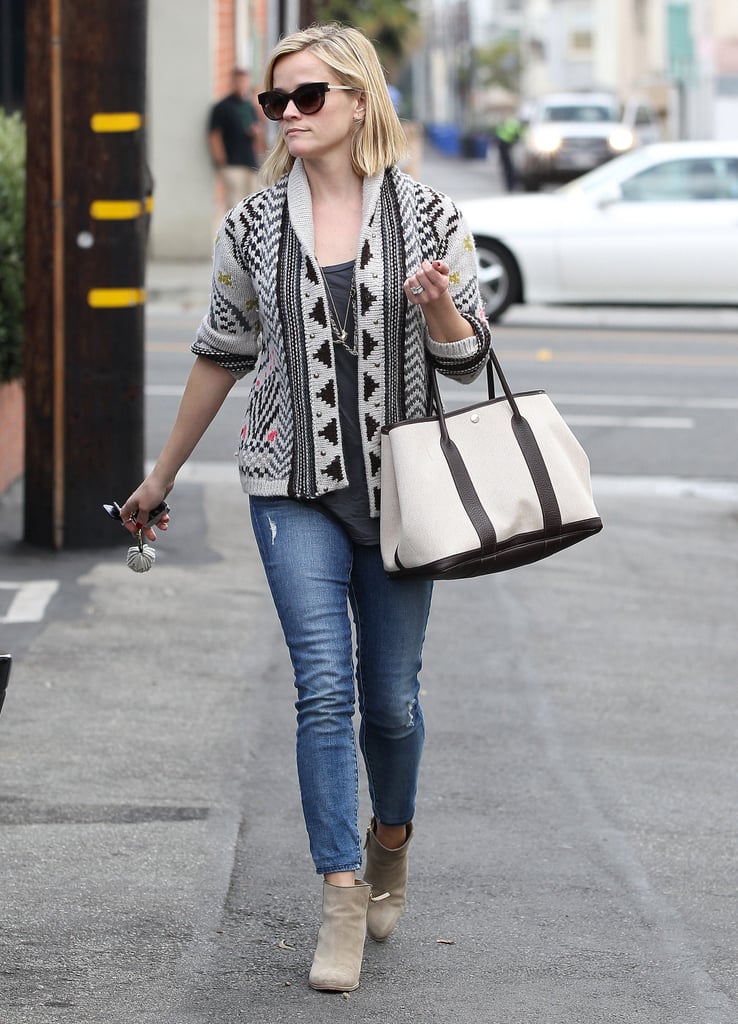 Channeling her inner boho in an aztec-print cardigan, light-wash skimmers, and nude ankle boots.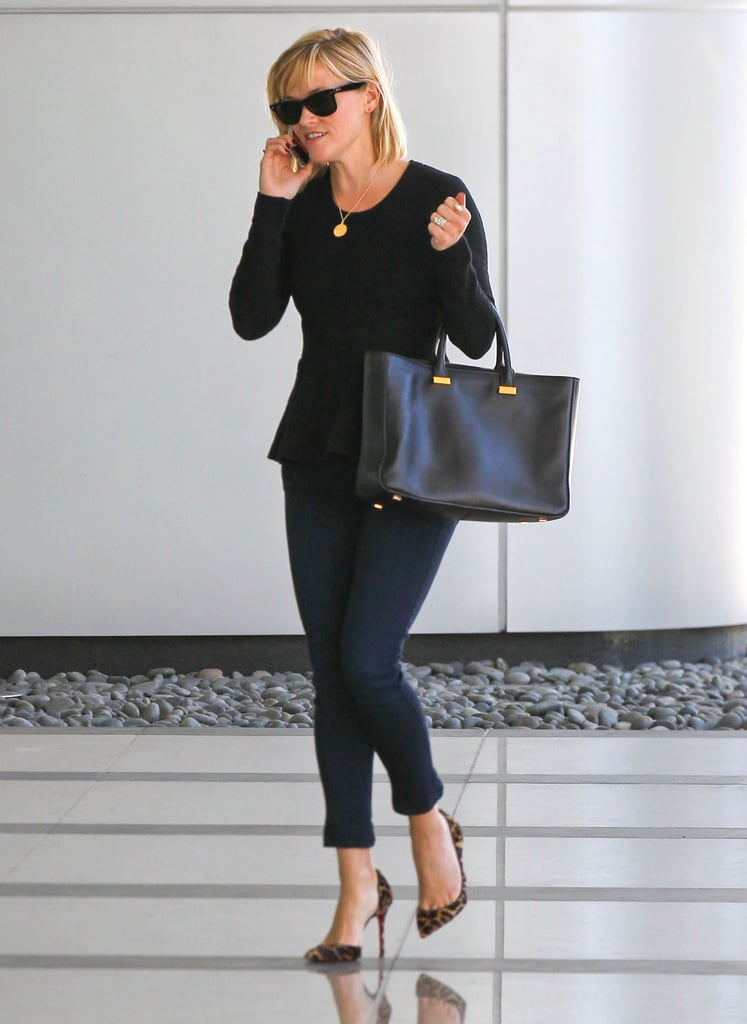 For a meeting in Beverly Hills, the star looked sweet in a black peplum top, leopard Christian Louboutins, and a polished leather tote by The Row.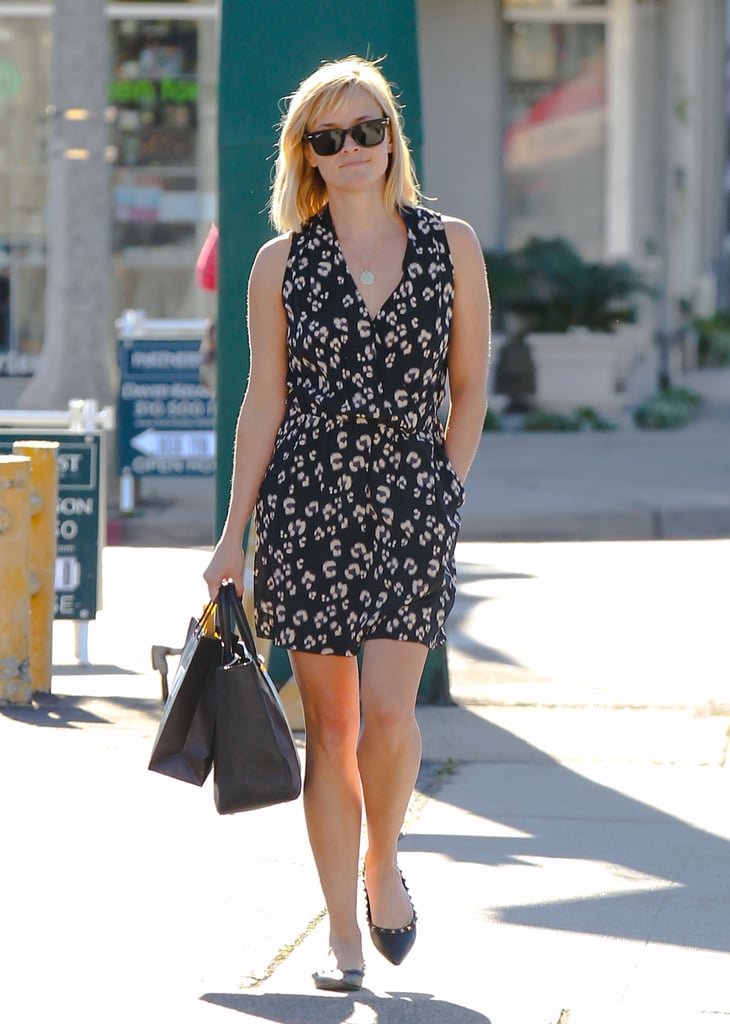 Reese was the epitome of casual chic in a printed wrap dress and studded Valentinos while shopping around LA's Brentwood neighborhood.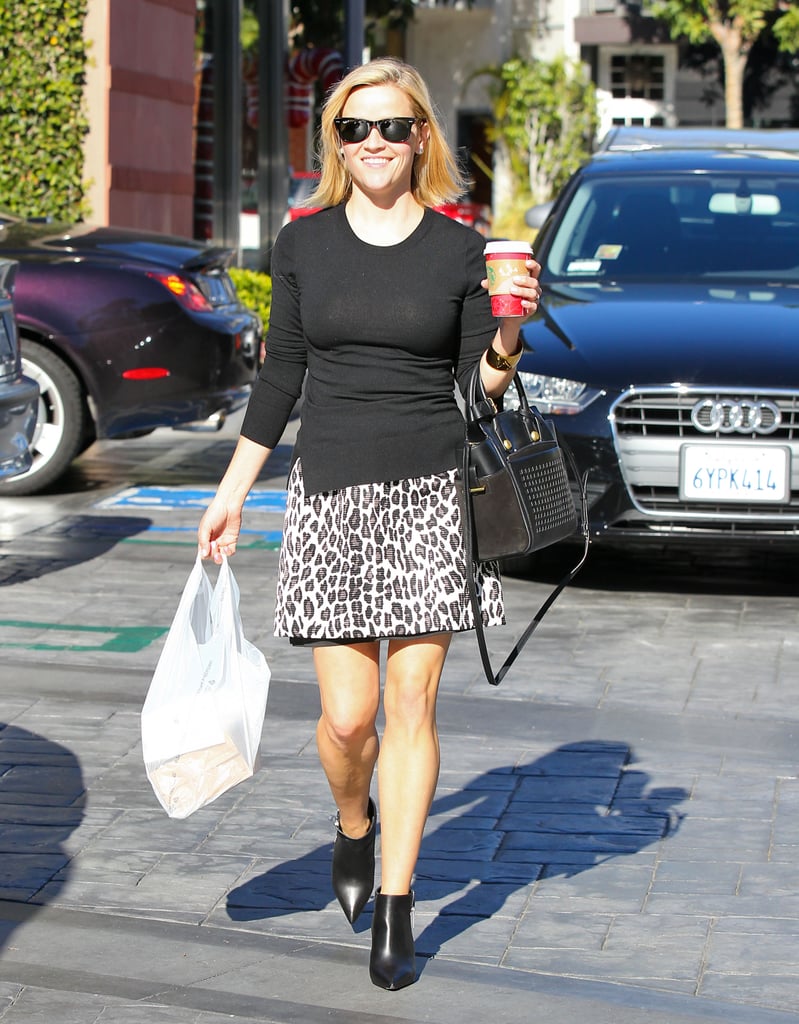 Witherspoon tempered her leopard skirt and patent leather booties with a simple sweater and perforated Reed Krakoff bag.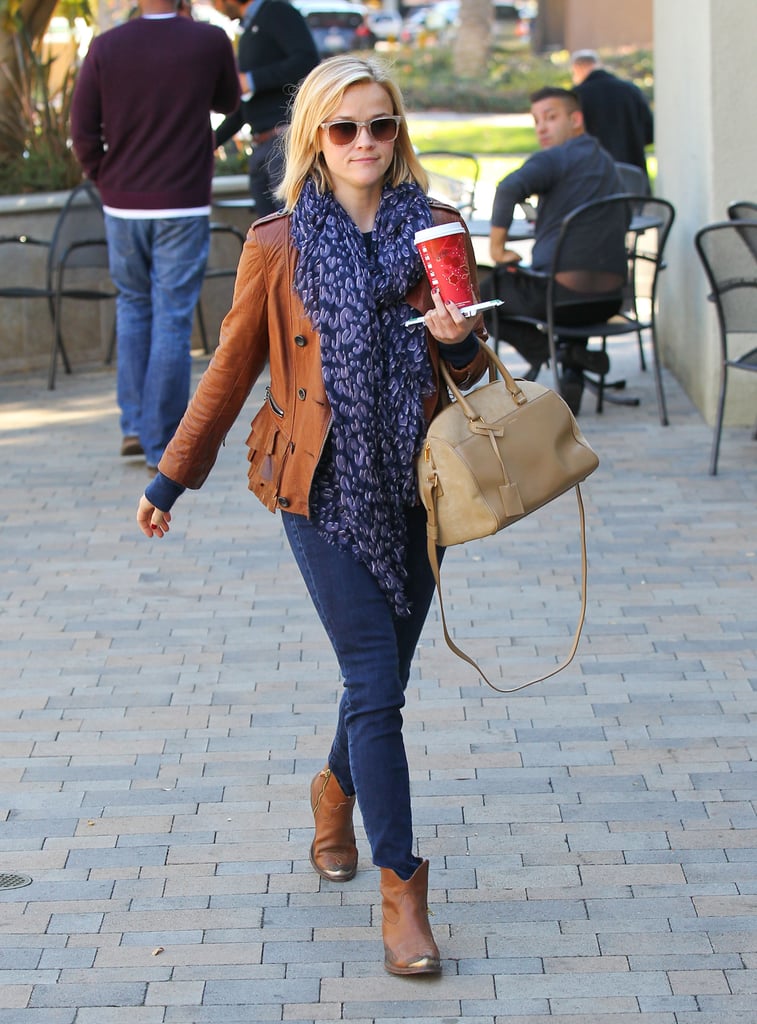 The This Means War star mixed textures to keep her tan-and-navy palette from looking boring. She topped her denim with a ruffled 3.1 Phillip Lim leather jacket, gold-toe Golden Goose boots, and a versatile Saint Laurent bag.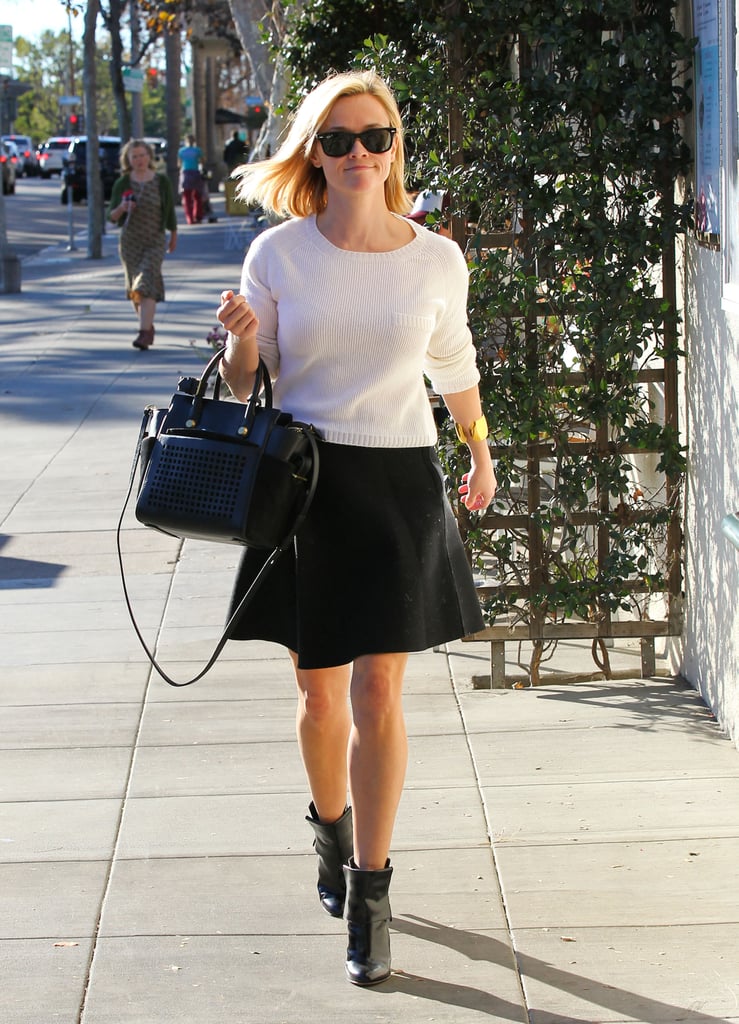 Witherspoon updated her black-and-white duo with patent Gianvito Rossi booties and a perforated Reed Krakoff tote.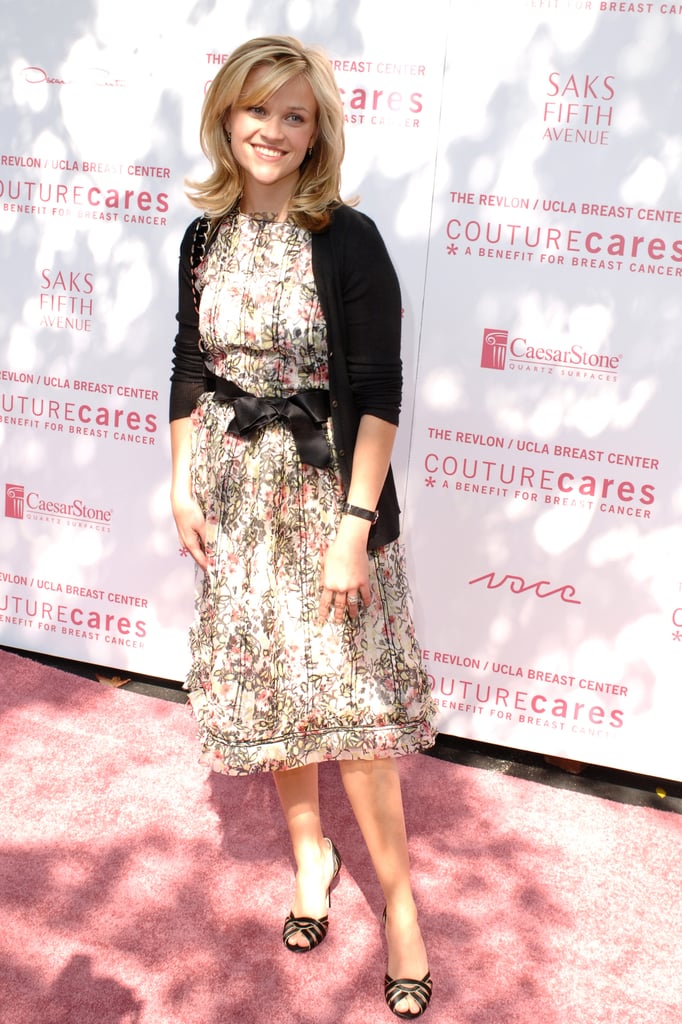 For a 2005 Revlon/UCLA Breast Cancer Center event, Reese rocked a sweet, floral day dress.