Rihanna [1]'s always a big experimenter with fashion, and her latest turn on the red carpet in London was no different. The singer made an appearance at Westfield in London to switch on the inaugural Christmas lights, donning a structured oversize blue coat from Raf Simons and a striped top and pants straight off Acne's Spring '13 menswear runway collection. Not many women can pull off wearing actual men's clothing, but we think the performer pretty much nailed the cool menswear vibe. To temper her oversize proportions, Rihanna kept her look clean with a sharp collared Simons button-down layered underneath her striped top and finished off her look with suede point-toe pumps, gorgeous gold statement rings, a cool coif, and her signature red lips. Take a closer look at her outfit in the slideshow and tell us what you think about her statement stripes in the comment section below.
Rihanna [2] donned a blue Raf Simons coat with a striped top and pants from Acne's Spring '12 menswear collection.
Rihanna [3] kept her look sharp with a white collared Raf Simons top and sleek coif.
Gold rings and red nails added a cool-girl touch to her outfit.
Rihanna [4] accessorized her look with blue oversize cat-eye sunglasses.
Rihanna [5] tempered her menswear look with gray suede peep-toe pumps.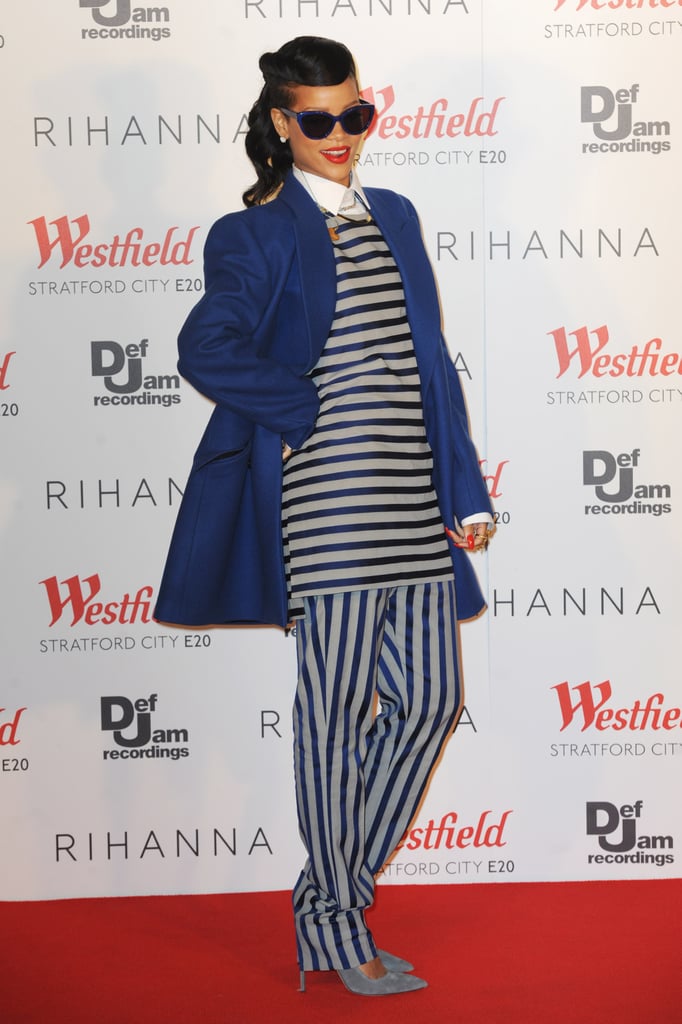 One last look at Rihanna [6]'s striped ensemble — now tell us, what do you think of her daring outfit?