Kim Cattrall [1] is 56 today, and in our opinion, she's as sexy as ever. We're still convinced that she is Samantha Jones (not a bad thing), so it wouldn't be a true birthday celebration without a closer look at her iconic Sex and the City character's wardrobe. Sure, we've salivated over Carrie's city-girl outfits [2] and were smitten with Charlotte's posh Upper East Sider wares [3], but a lot of the time, it was Samantha Jones's unforgettably sassy style that left a lasting impression. This was one woman who lived for color, statement jewels, oversize hats, and anything else that was particularly eye-catching. We have to admit: Kim knows how to fully commit to a character. She was never afraid to bare more than a little skin and go the distance as Samantha, which is why we're still inspired by her power suits, slinky cocktail dresses, bold costume jewelry, and vixenish heels. In honor of Kim Cattrall's birthday, here are our favorite scene-stealing style moments courtesy of Samantha Jones.
Source: IMDb [4] and HBO [5]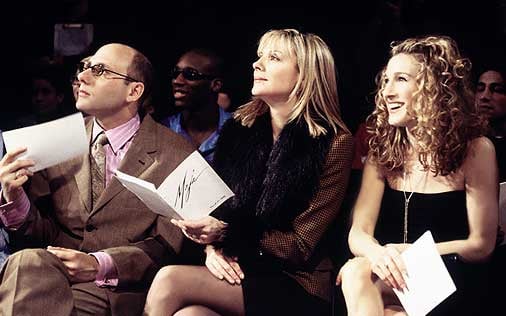 Stanford, Samantha, and Carrie watch a fashion show. Of course, Samantha goes all out in a fur coat.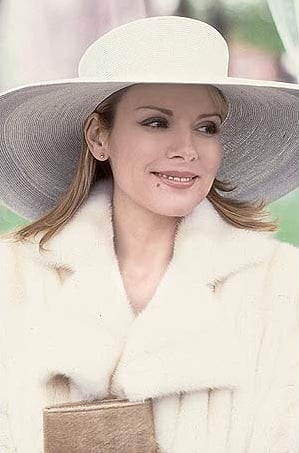 Samantha in her luxe all-white funeral attire.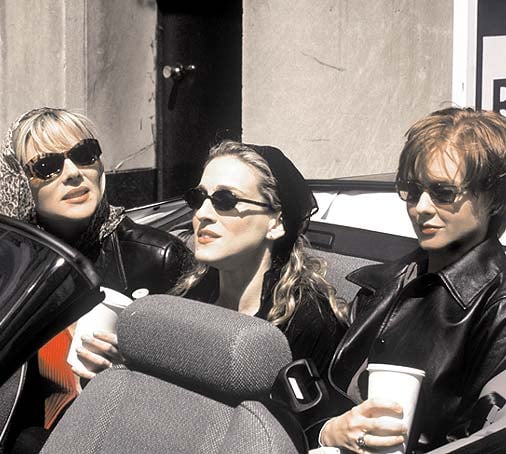 The city girls head to Connecticut for a bridal shower, Samantha looking the most dressed up in a leopard head scarf.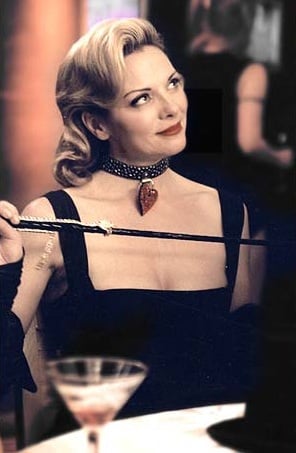 A bit of dominatrix couture — par for the course if you're Samantha Jones.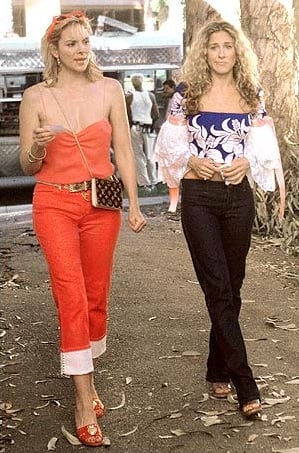 This is Samantha's version of laid-back in LA.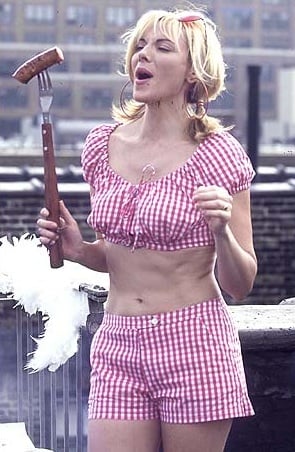 Showing off her tummy in gingham.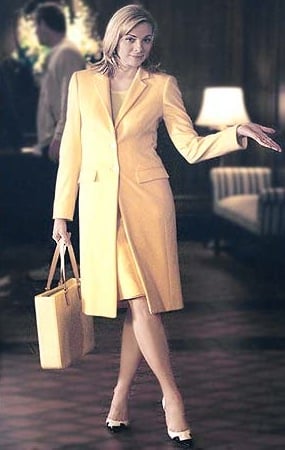 An all-yellow dress and jacket combo proved a bold color choice.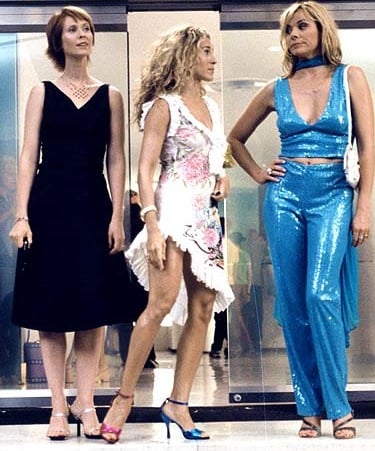 We can't think of anyone else that could pull off a sequined aqua blue getup.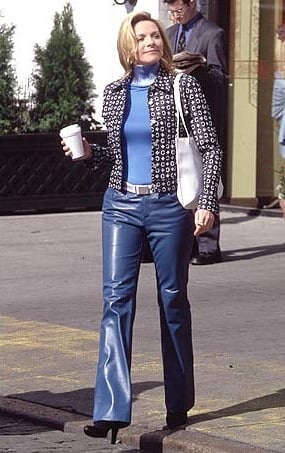 Nothing says power PR girl like blue leather pants.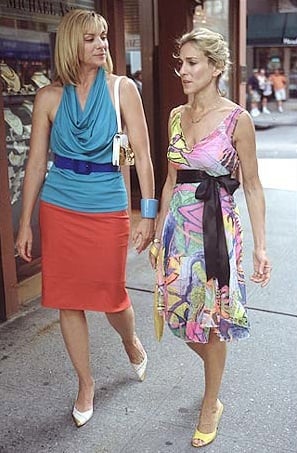 Wearing two of her favorite colors — red and blue.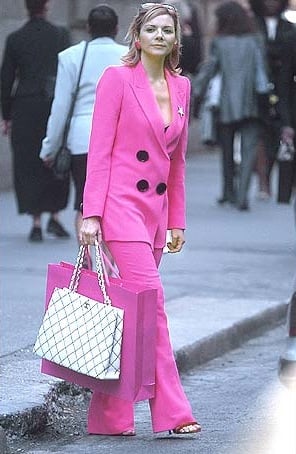 Samantha in a shocking pink Emanuel Ungaro pantsuit.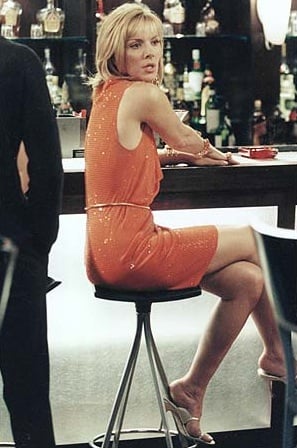 In one of her signature sexy LRDs, we love Samantha in this cocktail-perfect attire.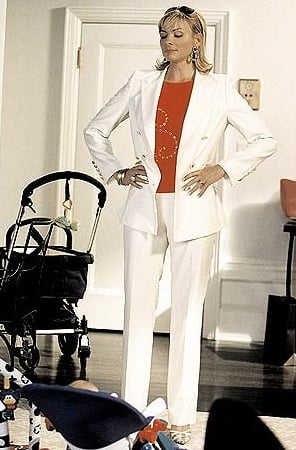 Who babysits in a white pantsuit?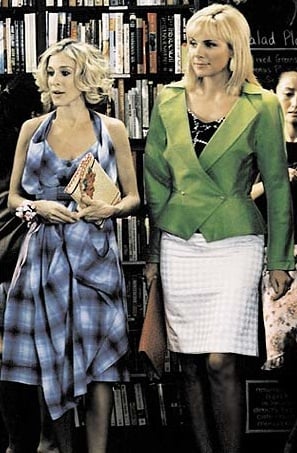 The two blondes of the show looking divine after a cross-country train ride.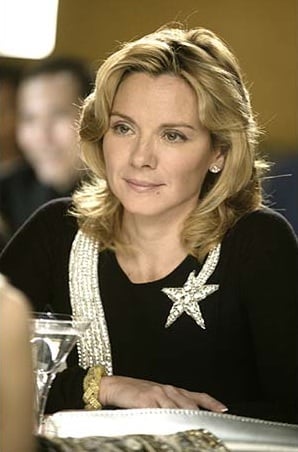 A serious look for Samantha, and a seriously cute star-motif sweater that just happens to be vintage Chanel.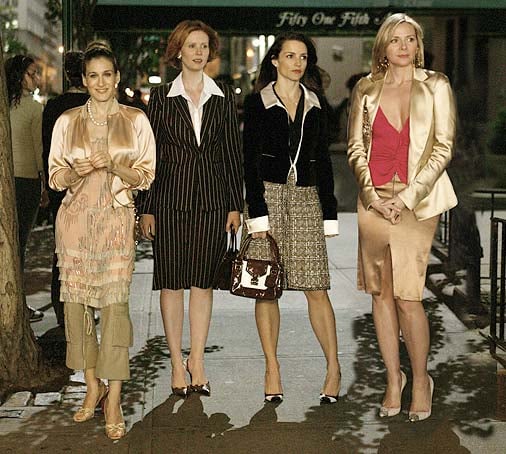 A spot-on representation of their four unique styles.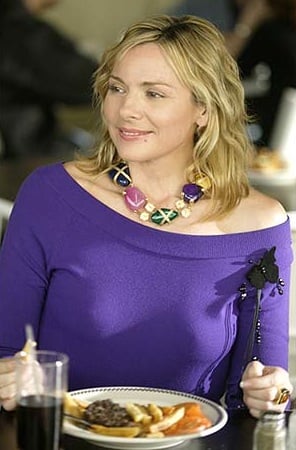 A classic Samantha look: a formfitting, bold-colored sweater and statement jewelry.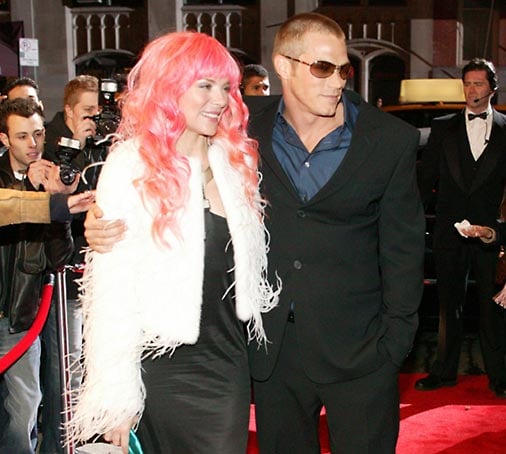 This is one of Samantha's wilder looks — composed of a feathered white jacket, pink hair, and a slinky black dress.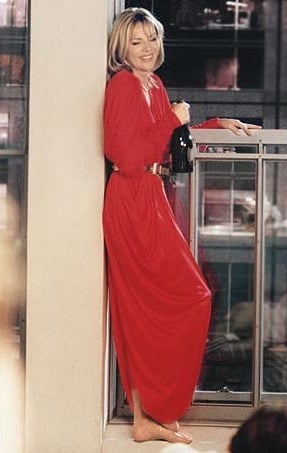 Quite the lady in red while entertaining.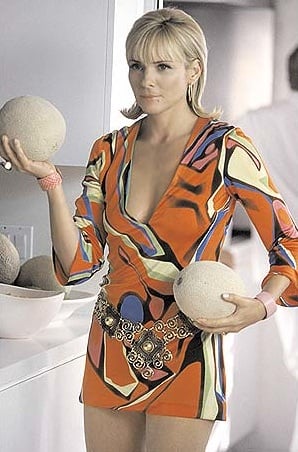 An itsy-bitsy printed minidress with one serious deep-V plunge — that's one way to host a pool party.
Samantha chose a stunning floor-length canary yellow gown and dramatic drop earrings for a night out with her girls.
She layered herself in a plush white fur overcoat and black driving gloves for a Fashion Week appearance.
Backless, sequined, and a glass of Champagne nearby — it's quintessential Samantha Jones.
We love this summery tie-front striped blouse and white denim combo.
Even when donning knee-high boots with pants, Samantha knows how to dress up her look with embellished pizazz.
It isn't unusual to spot Samantha Jones in a structured red power suit.
Or a crisp white power suit, either. She put a metallic finish on the outfit via a slick gold belt and shiny gold handbag.
Poolside for Samantha means lounging in heels, a shiny bathing suit, and a luxurious purple silk robe.
En route to Carrie's disastrous would-be wedding [6], Samantha is quite the head-turner in a ruffled red confection. Just look at her train!
Travel-chic pieces include gold embellished harem pants and a nude blazer.
A sexy cutout LBD and white peep-toe pumps have never looked better than on Samantha.
We're crushing on her gray snakeskin-printed hobo bag here.
Because Samantha wore menswear-inspired pieces to work often, it was common to see her don bolder takes on the trend. Case in point: an asymmetrical-cut blazer in bright yellow.
Talk about an edgy detail — those chain-linked studded and spiked shoulder caps are something else.
Her halter-style dress is colorfully printed and in the prettiest shades of purple, yellow, and pink.
She accented a cobalt blue dress with seriously dramatic multistoned costume earrings.
Between the oversize star earrings, cutout sleeve details, and leopard-print pants, we can't decide which piece we love best.
Leave it to Samantha to rock flashy gold Chanel earrings to a daytime lunch.
Even her dog matches her yellow outfit — surprised?
Proving even a giraffe-inspired print is sexy, Samantha poses in a corseted Dolce & Gabbana dress.
It's all about colorblocking and volume here — from her off-the-shoulder blouse to her formfitting pencil skirt, this ensemble screams Samantha Jones.
How amazing is that gold bustier dress?
To play up her cool crystal-encrusted dress, Samantha also wore hoop earrings and metallic sandals.
A loud printed pant and an even louder hued top, but Samantha pulls it off so well.
Her daring sequin cocktail dress leaves little to the imagination.
Her tongue-in-cheek blouse featured an Andy Warhol-esque banana print along the neckline — a not-so-subtle nod to Samantha's sex-kitten personality.