If the runways and front rows [1] are any indication, only the big guns come out for couture week. The same goes for the street style sightings. Paris is already a prime location for romance, high fashion, and style experimentation, which means at Fashion Week — and Haute Couture Fashion Week, no less — that's doubly true. For inspiration that runs the gamut from modern minimalist to outright whimsical, get a glimpse of 99 of the best snaps right here.
Source:
Le 21ème | Adam Katz Sinding
[2]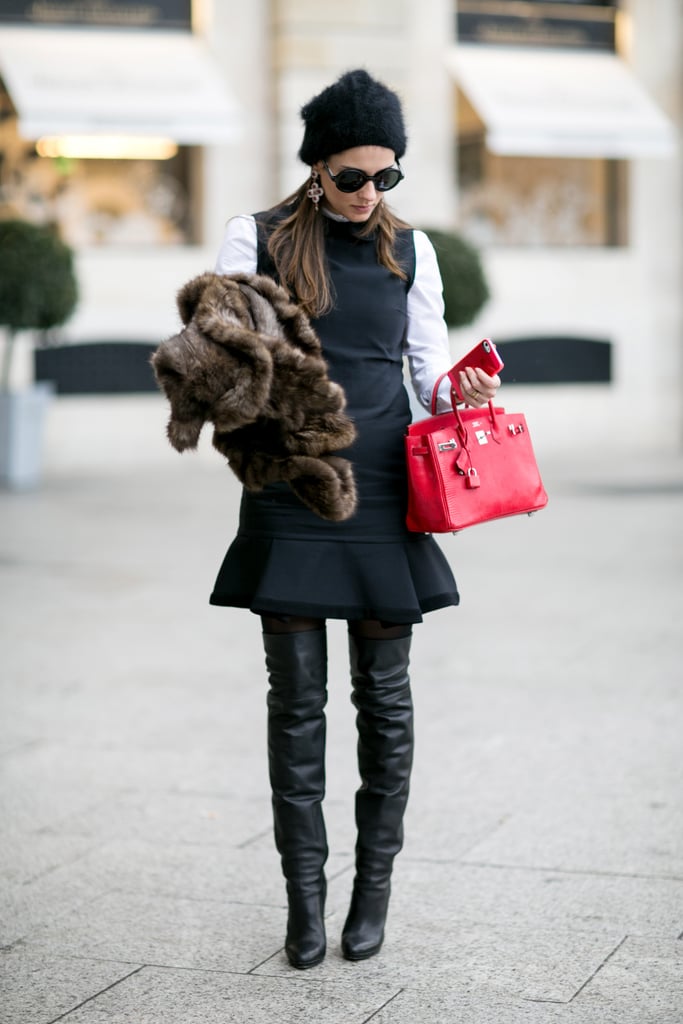 A flared hemline was made for showing off thigh-high boots.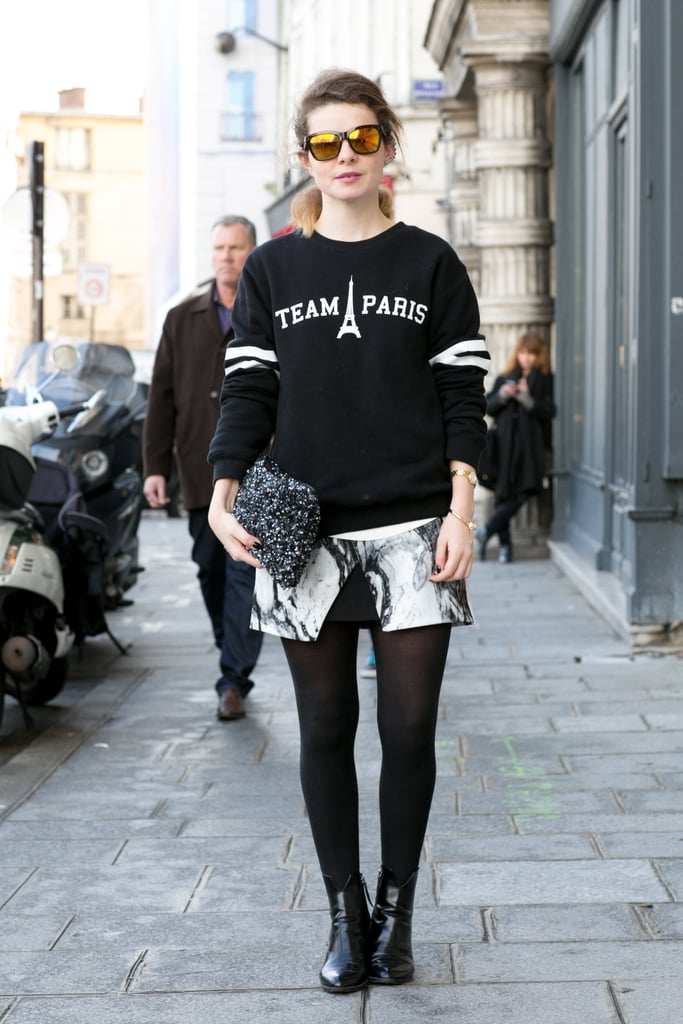 When in Paris . . .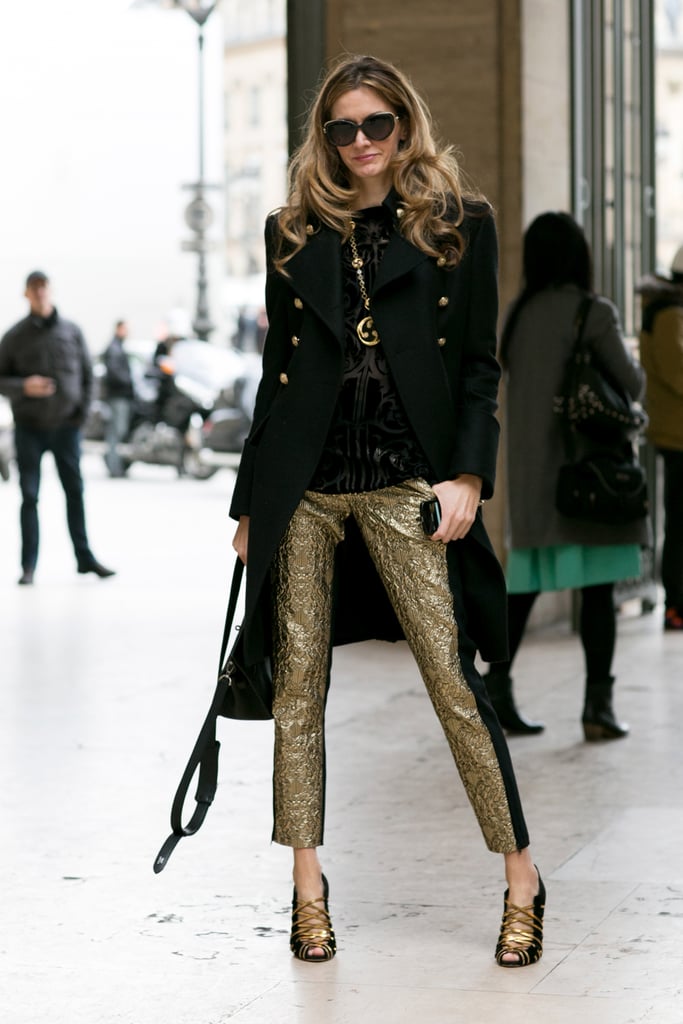 Glamour doesn't always come in the form of dresses; sometimes it's about gold pants.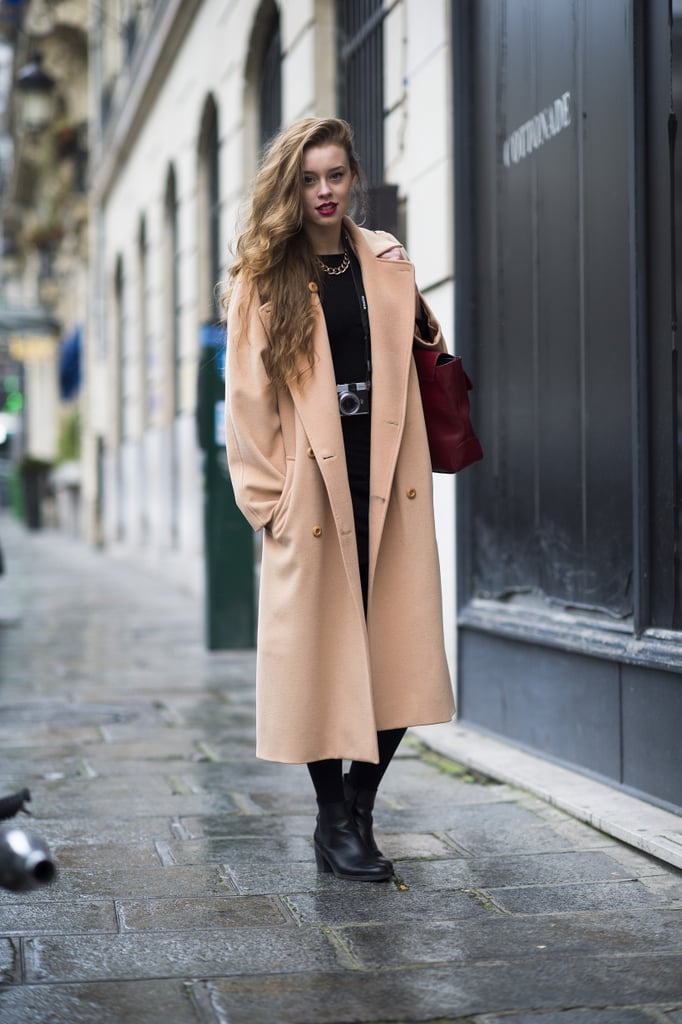 There's nothing that can tie together a look quite like a coat.
Source: Le 21ème | Adam Katz Sinding [3]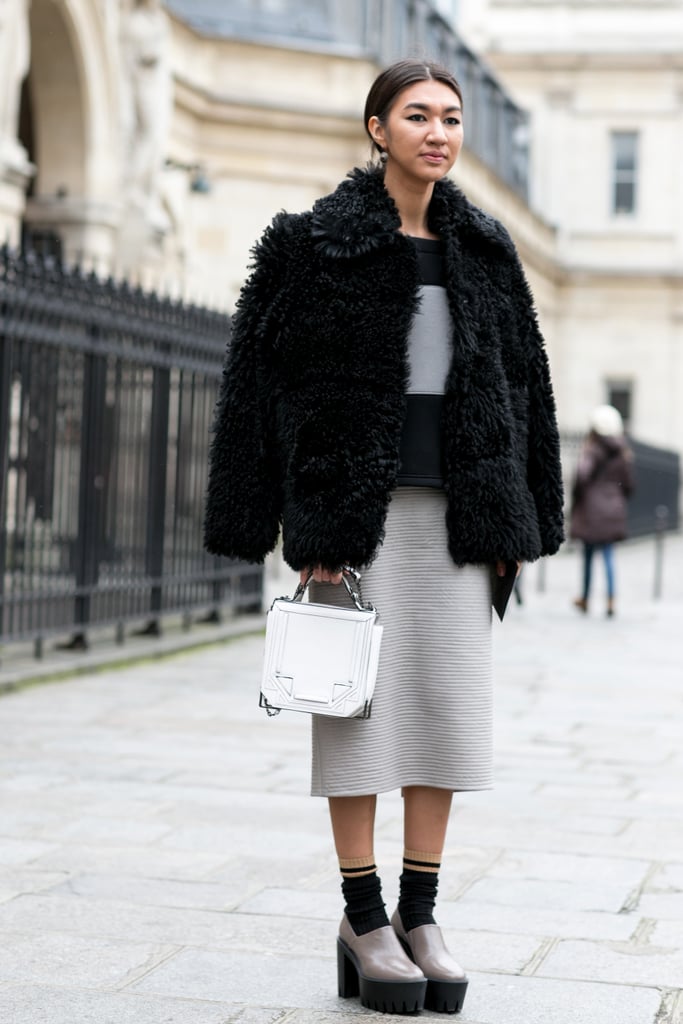 Clean, crisp proportions to contrast a furry chubby.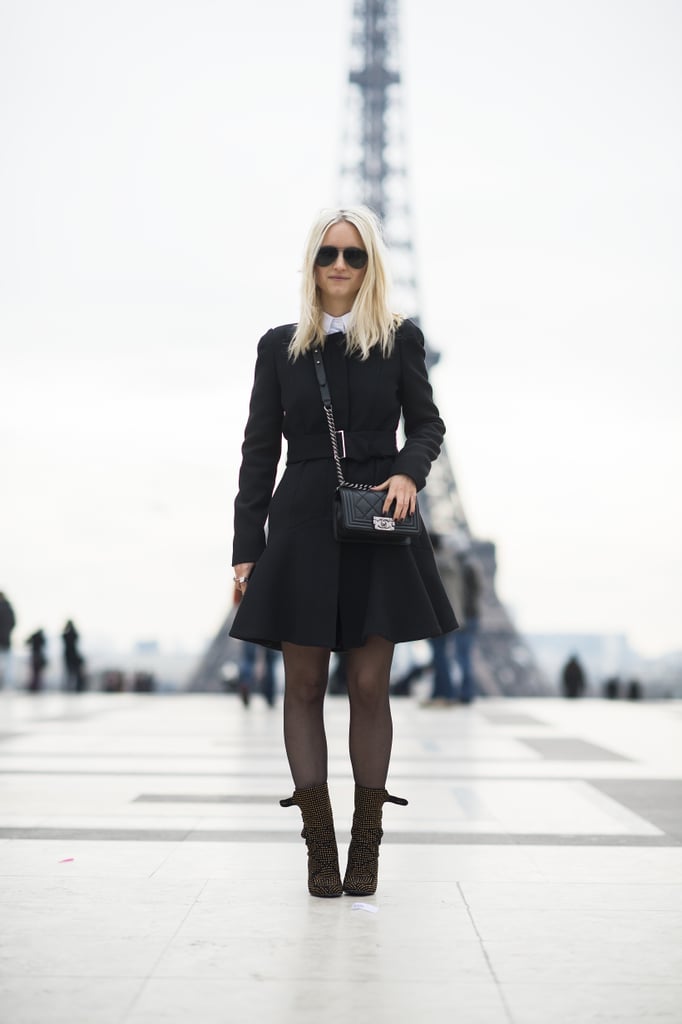 The fashion girl's version of all the right stuff — a classic coat, slick shades, statement boots, and a Chanel bag.
Source: Le 21ème | Adam Katz Sinding [4]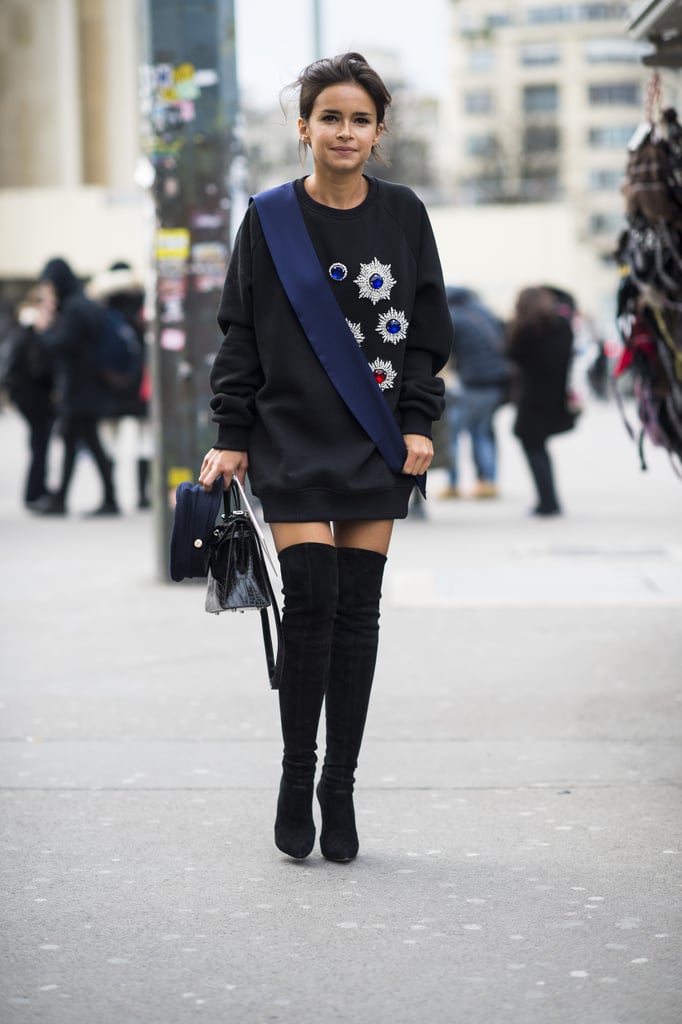 Another style win for Miroslava Duma in an oversize, jeweled sweatshirt and over-the-knee boots.
Source: Le 21ème | Adam Katz Sinding [5]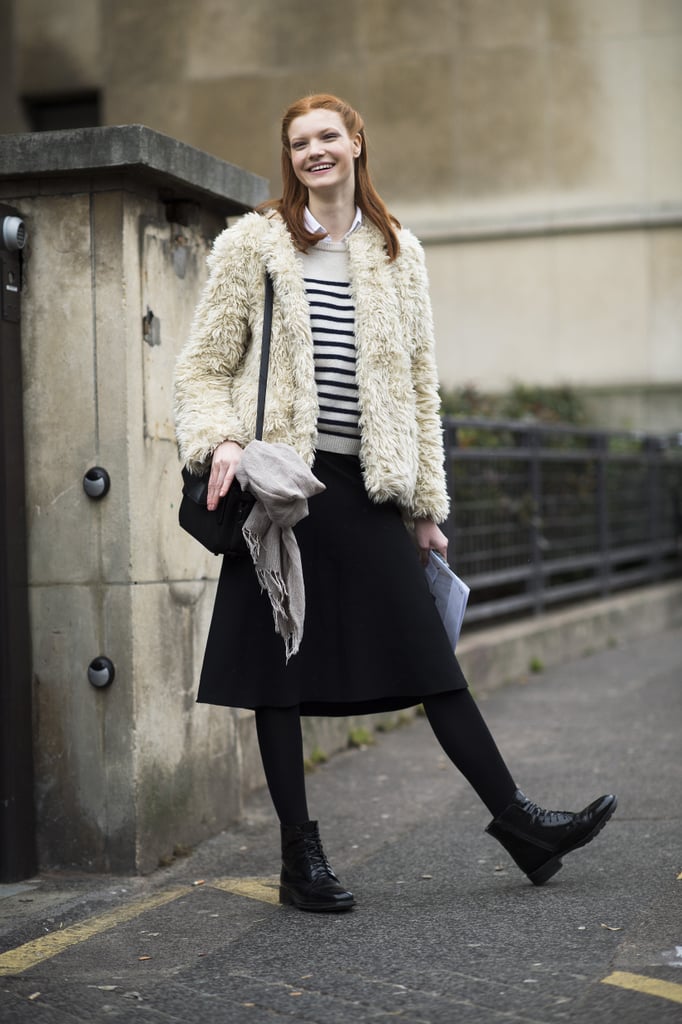 She mastered the chic Parisian vibe in her stripes and furry topper.
Source: Le 21ème | Adam Katz Sinding [6]
Masculine-meets-femme in the form of an overcoat and midi skirt.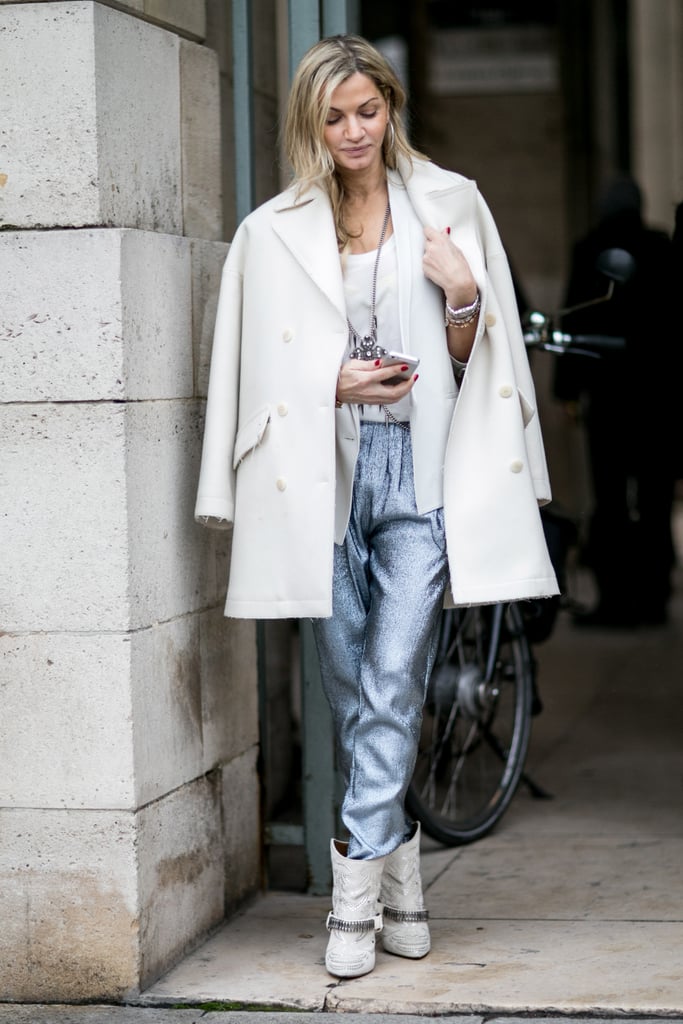 Sparkly, silky trousers are like pajama pants — only better.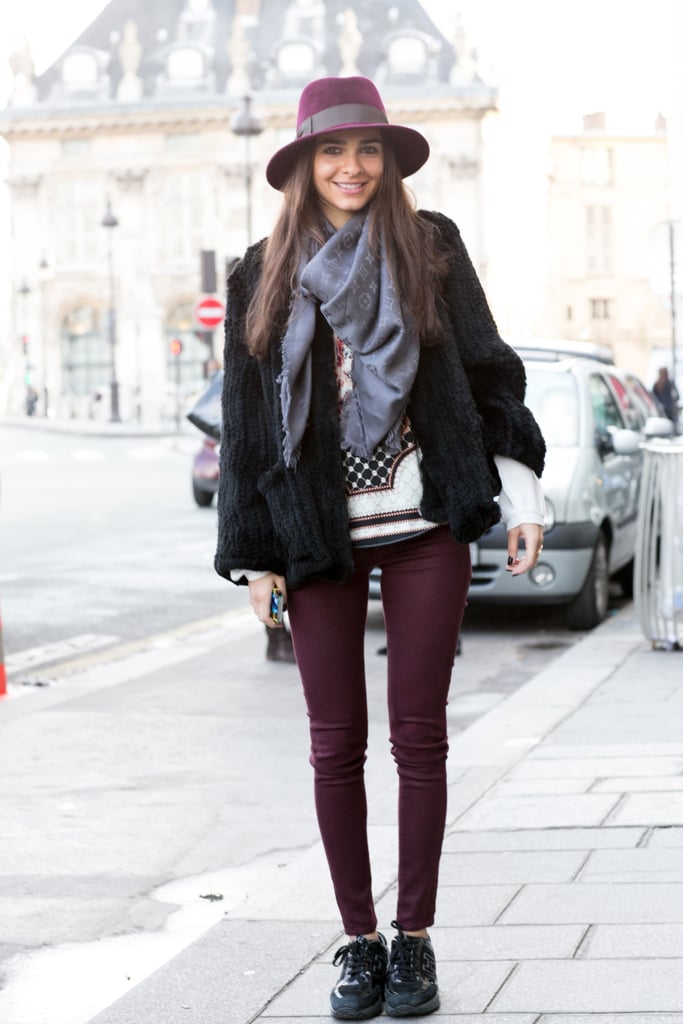 Who doesn't love a little oxblood?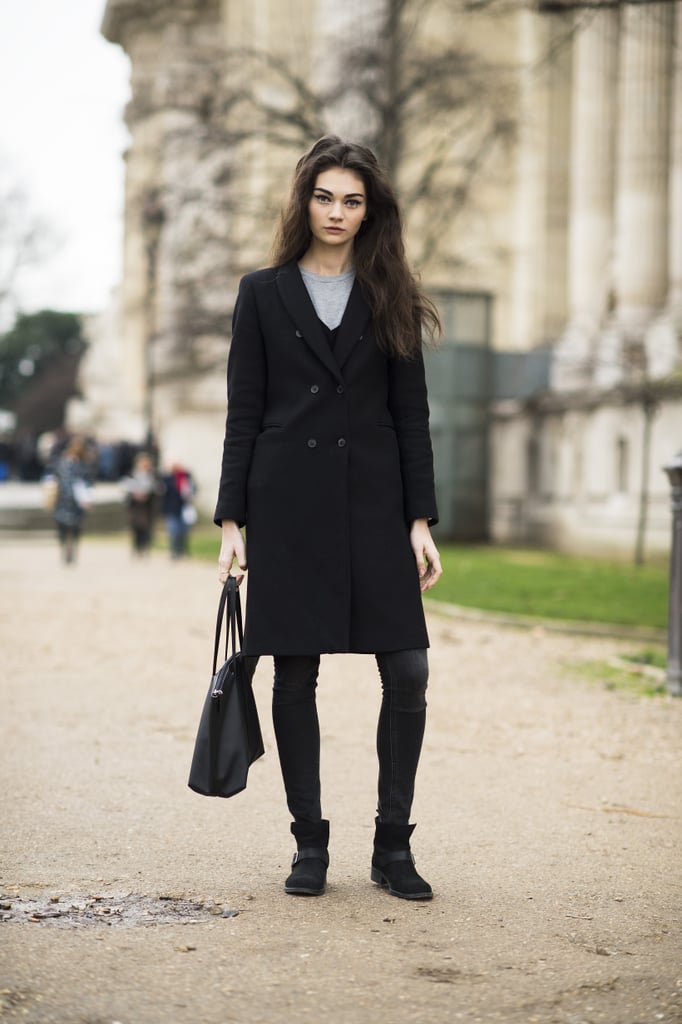 After the runway, this model ditched the high-fashion look for something a little more pared down.
Source: Le 21ème | Adam Katz Sinding [7]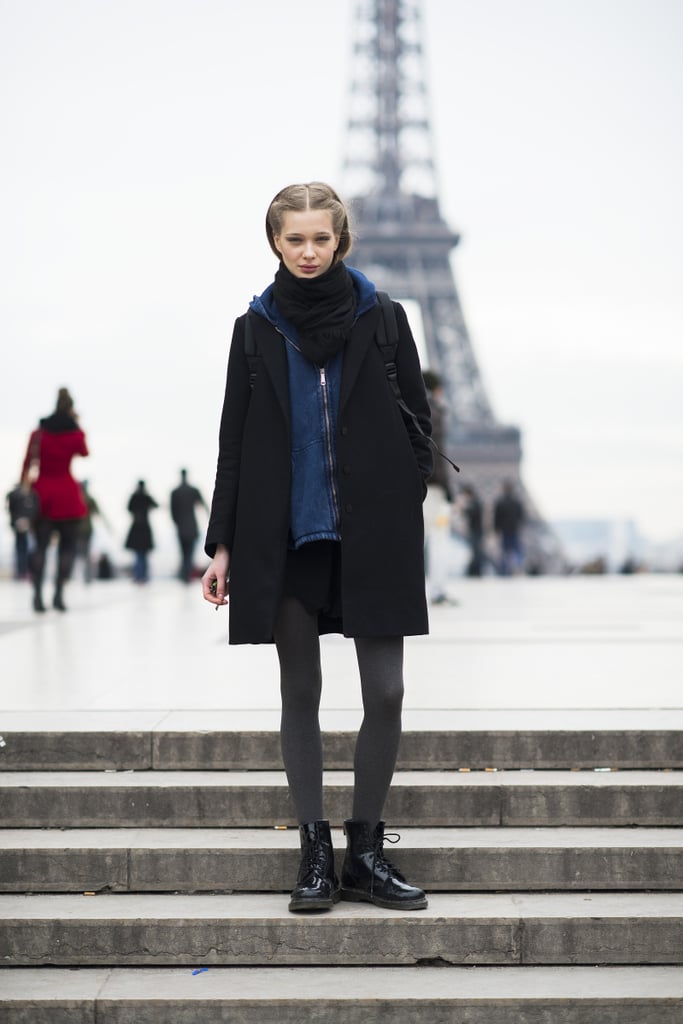 What's more Parisian chic than having the Eiffel Tower in the background of your portrait?
Source: Le 21ème | Adam Katz Sinding [8]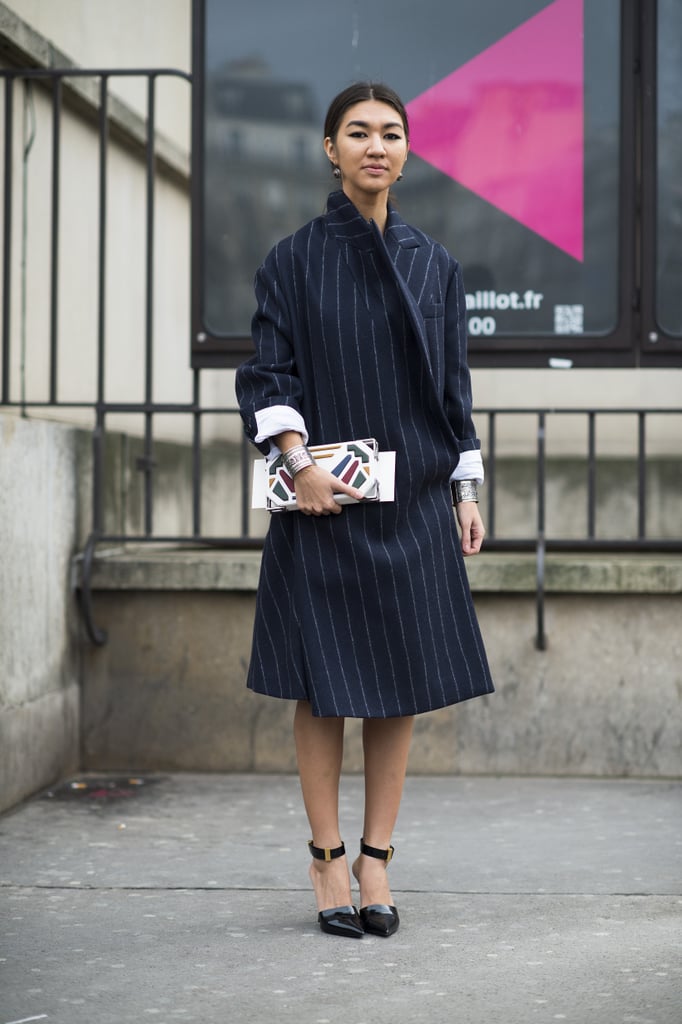 A pinstriped coat and eclectic wares — it's like The Wolf of Wall Street went to Fashion Week.
Source: Le 21ème | Adam Katz Sinding [9]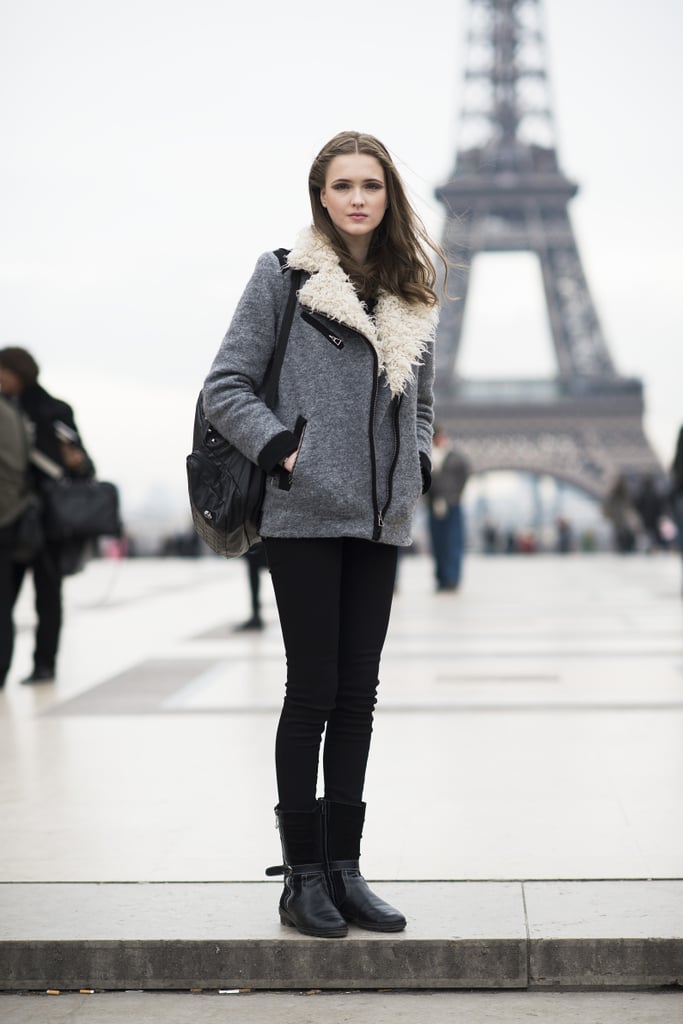 The model-off-duty vibe perfected with the moto jacket and black skinny jeans.
Source: Le 21ème | Adam Katz Sinding [10]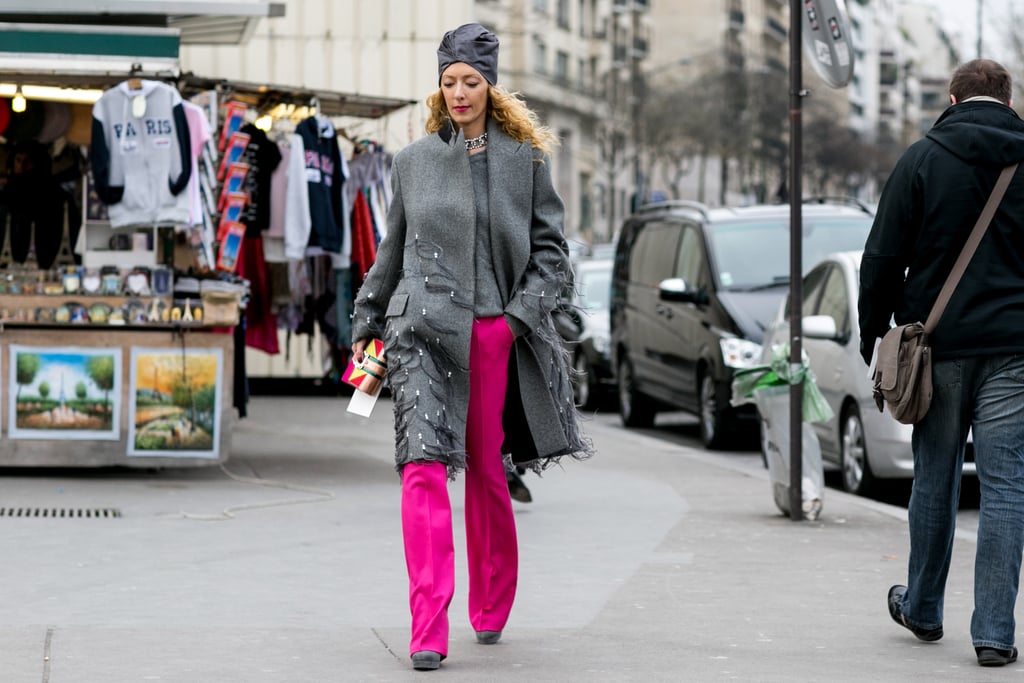 One part gypsy, one part city chick.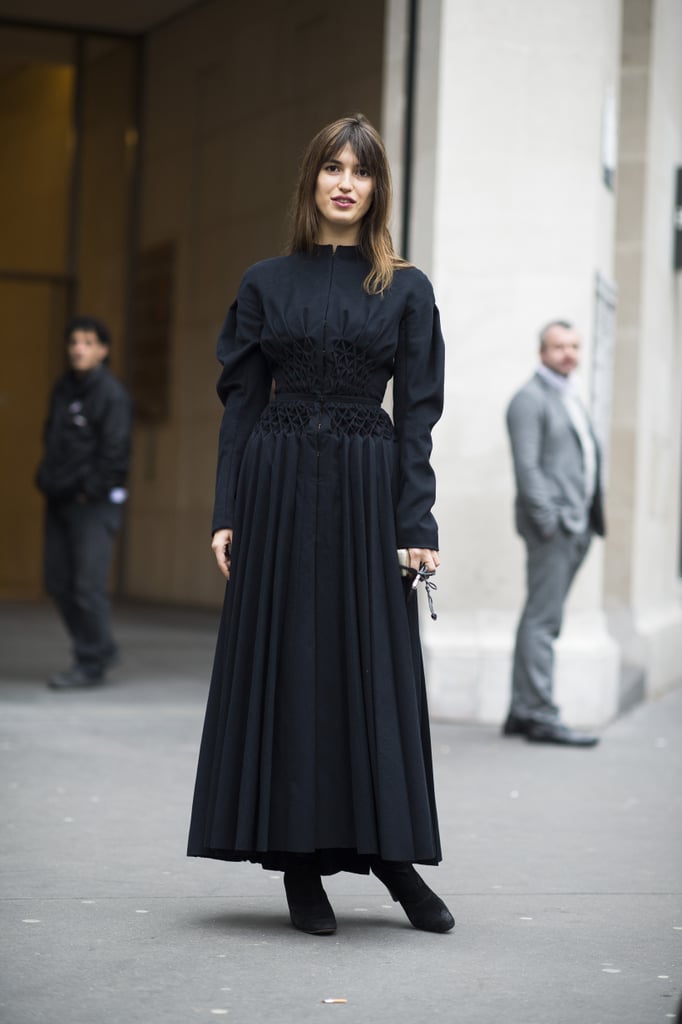 Don't call it matronly, call it romantic.
Source: Le 21ème | Adam Katz Sinding [11]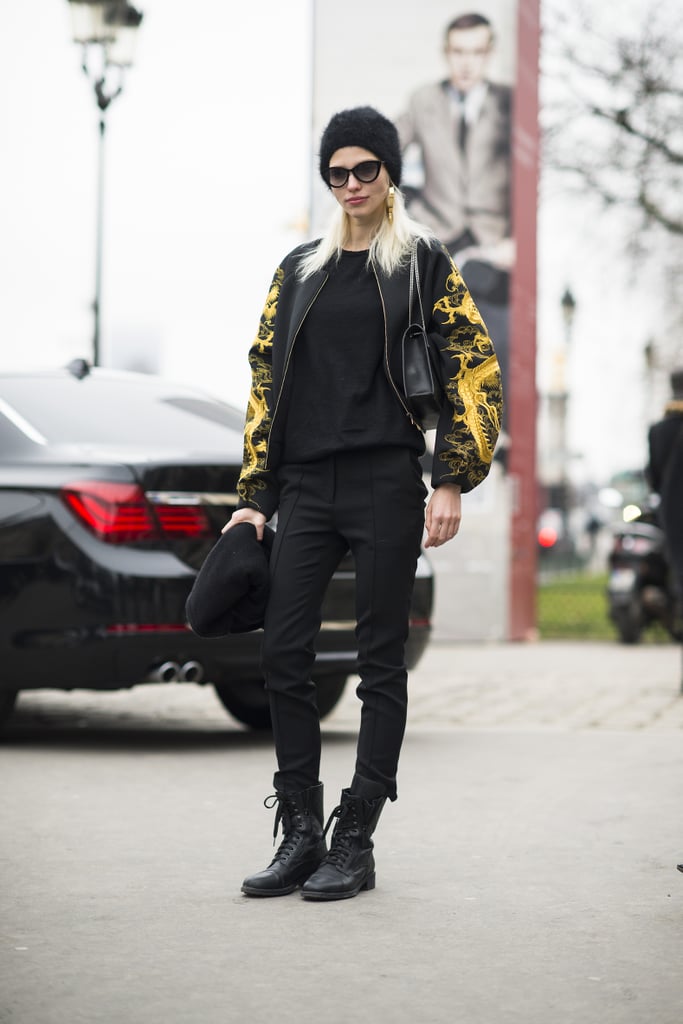 Tough-girl with a Versace-inspired twist.
Source: Le 21ème | Adam Katz Sinding [12]
The softest shade of yellow and the perfect shade of navy made this all about the beautiful color combination.
Source: Le 21ème | Adam Katz Sinding [13]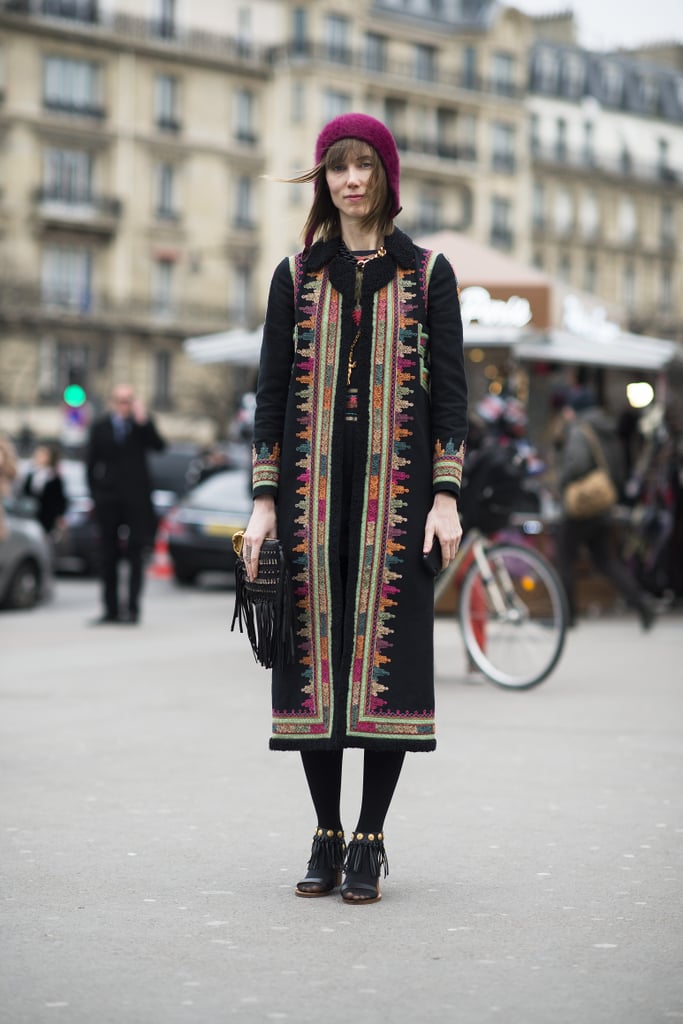 The much-photographed Anya Ziourova gave us a Winter gypset look.
Source: Le 21ème | Adam Katz Sinding [14]
Easy does it in skinny denim and fresh white kicks.
Source: Le 21ème | Adam Katz Sinding [15]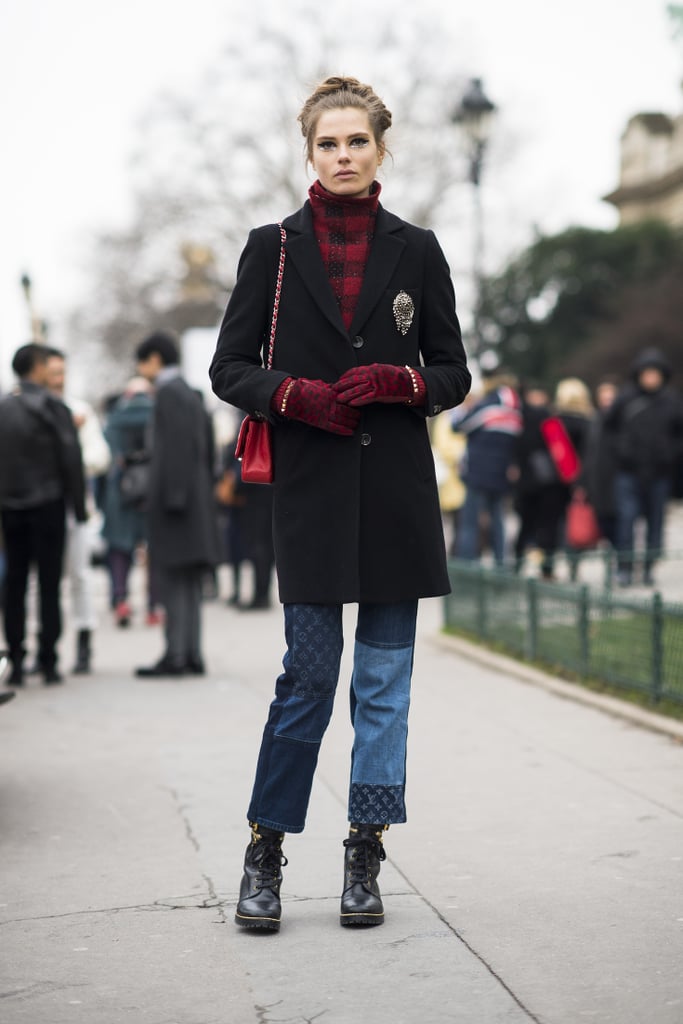 Buffalo plaid meets Louis Vuitton patchwork denim.
Source: Le 21ème | Adam Katz Sinding [16]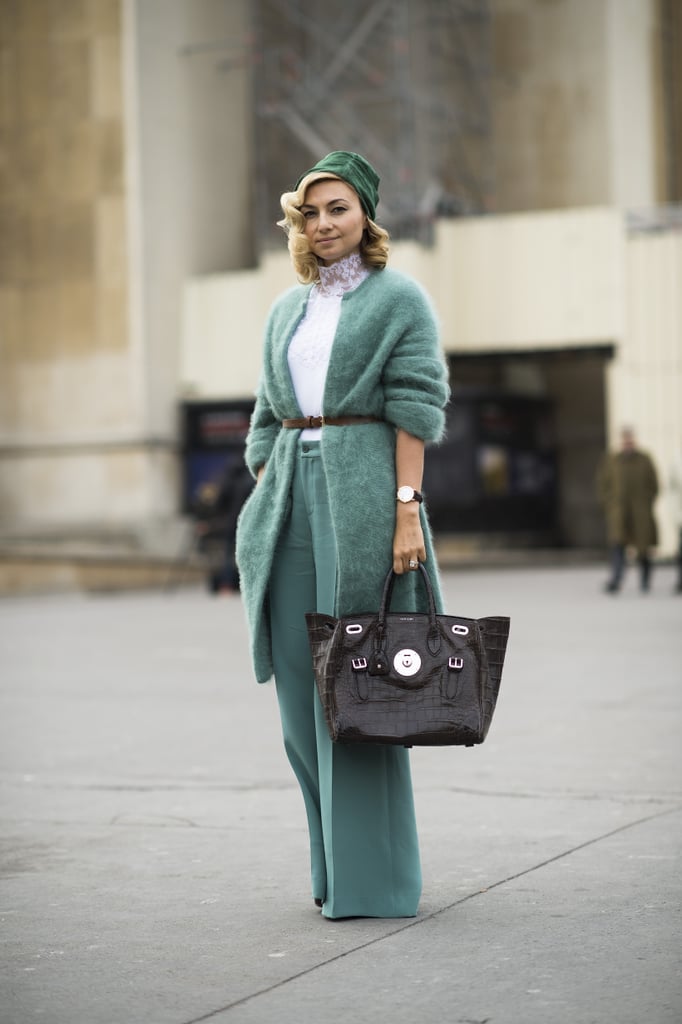 This is what we call color-coordinated.
Source: Le 21ème | Adam Katz Sinding [17]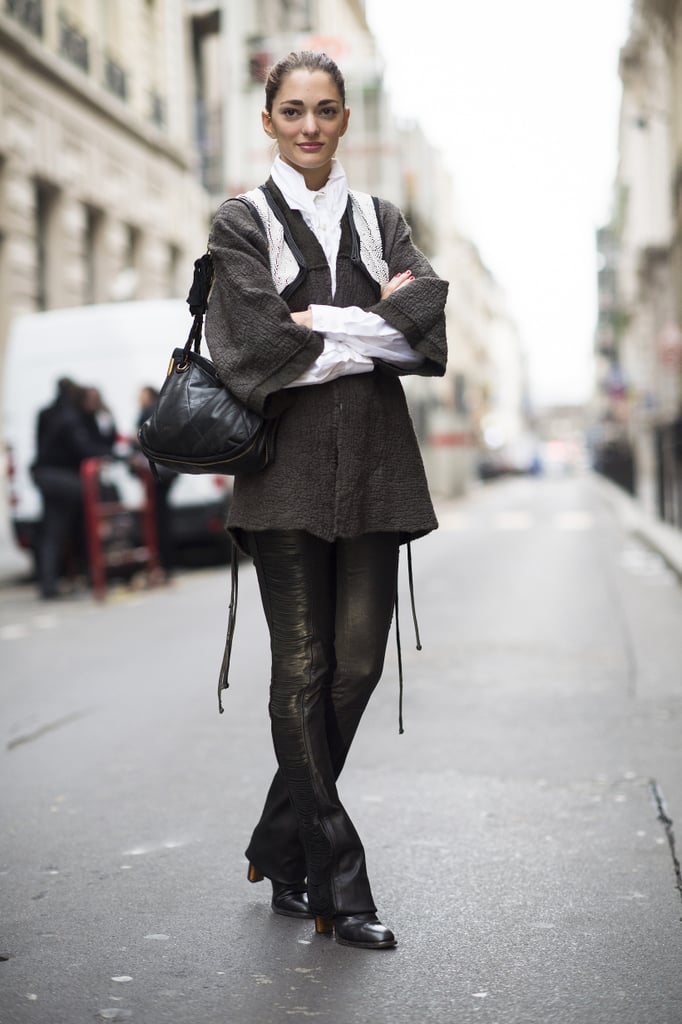 Leather flares are downright rock-and-roll.
Source: Le 21ème | Adam Katz Sinding [18]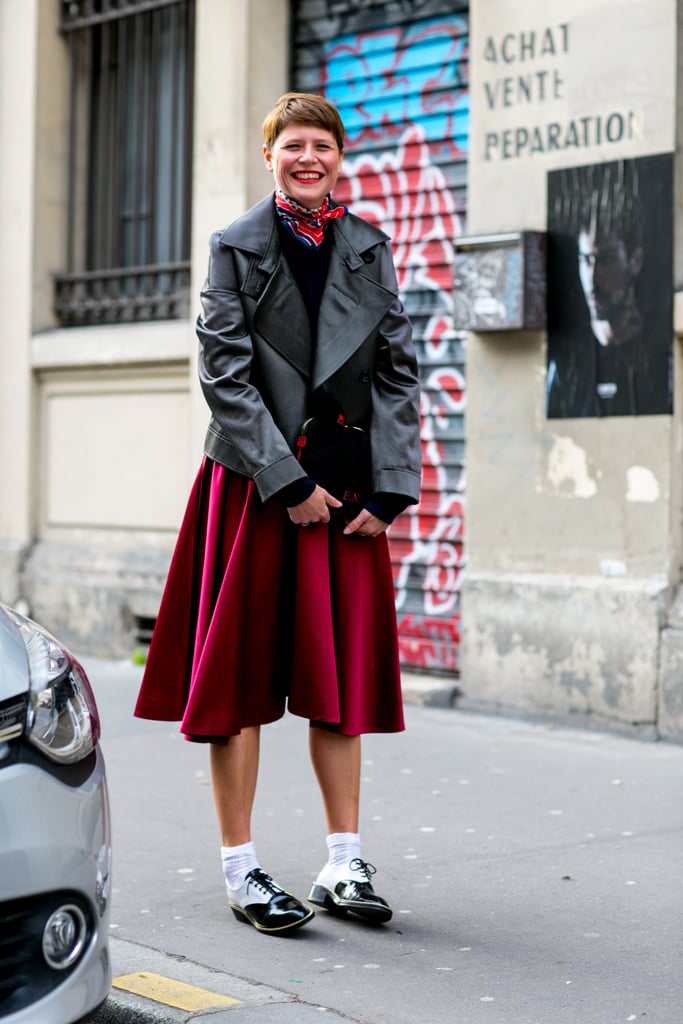 Elisa Nalin did schoolgirl cool in leather and a full skirt.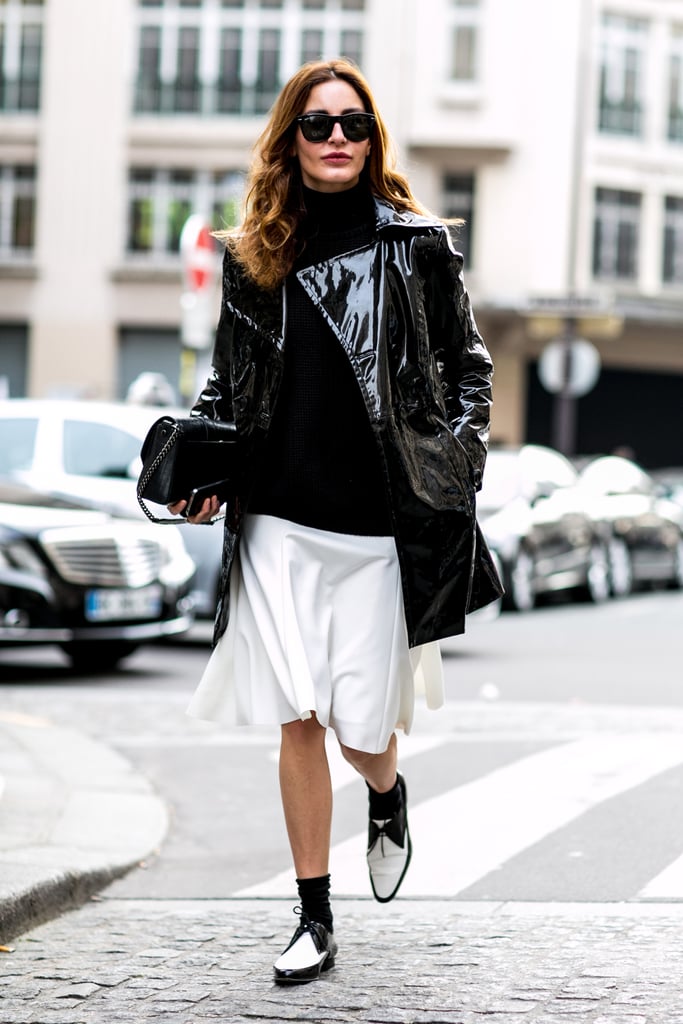 Black and white and cool all over.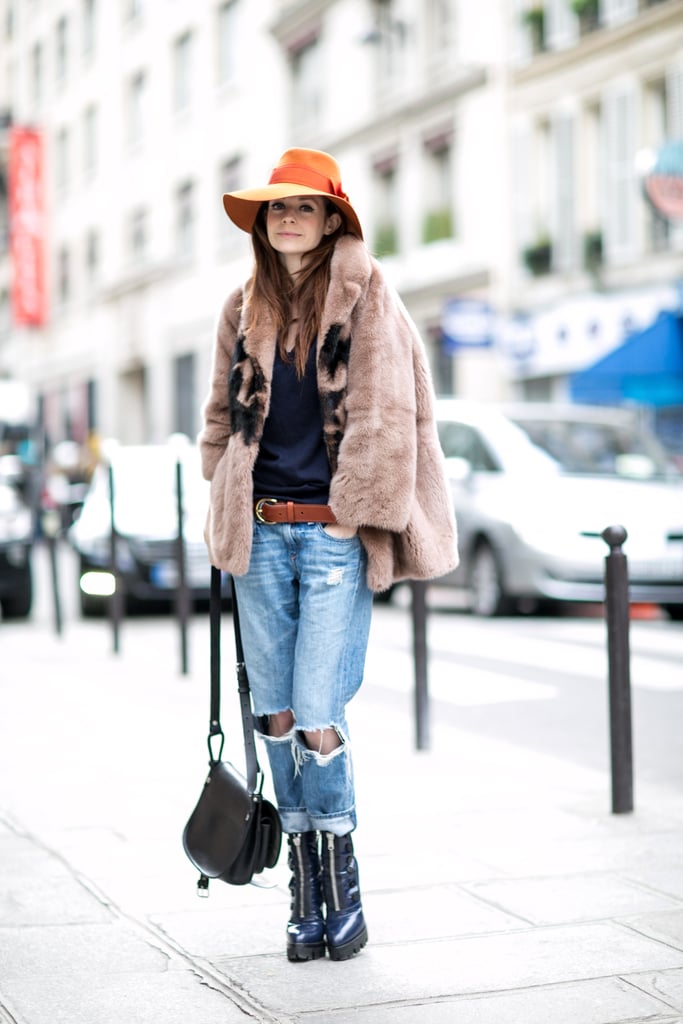 We're all about some distressed denim and high-impact boots.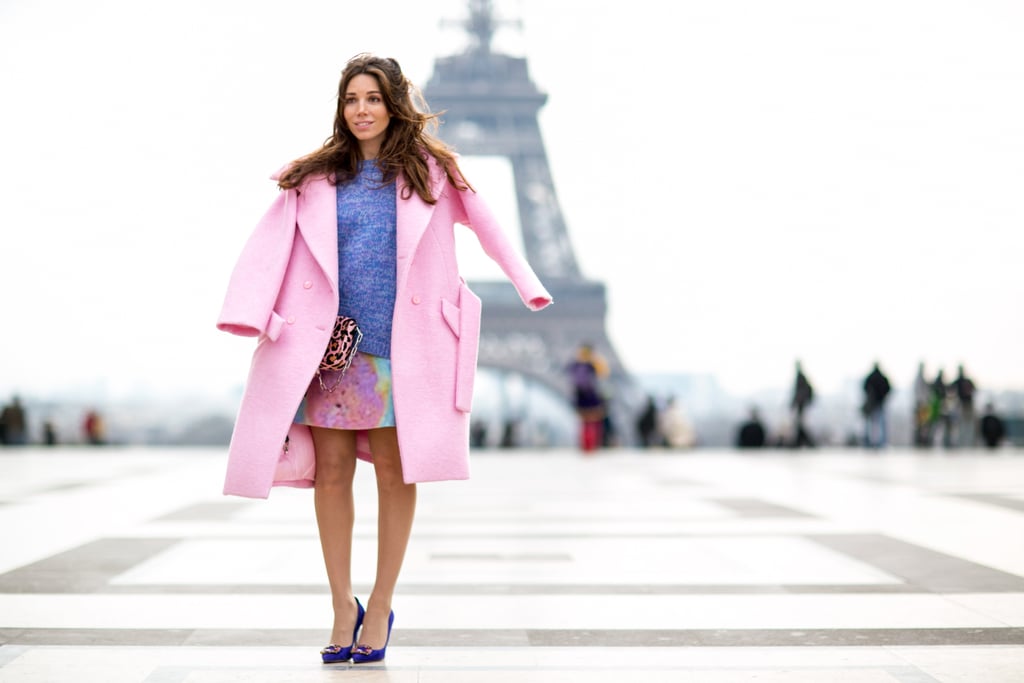 Pretty in shades of pink and purple.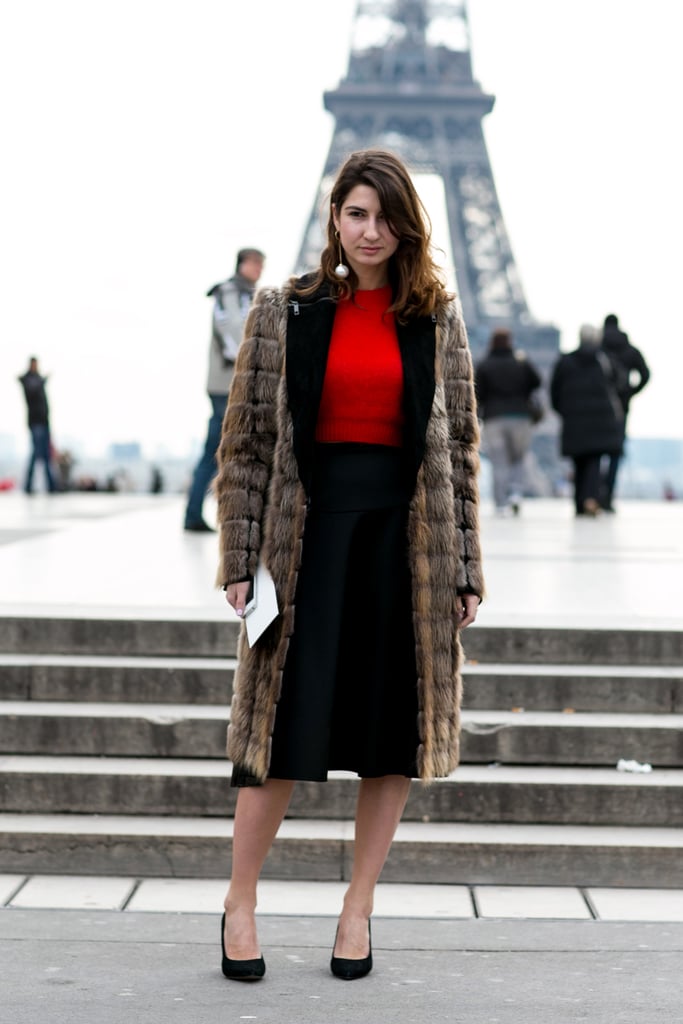 The fiercest kind of pose to complement a pretty fierce fur.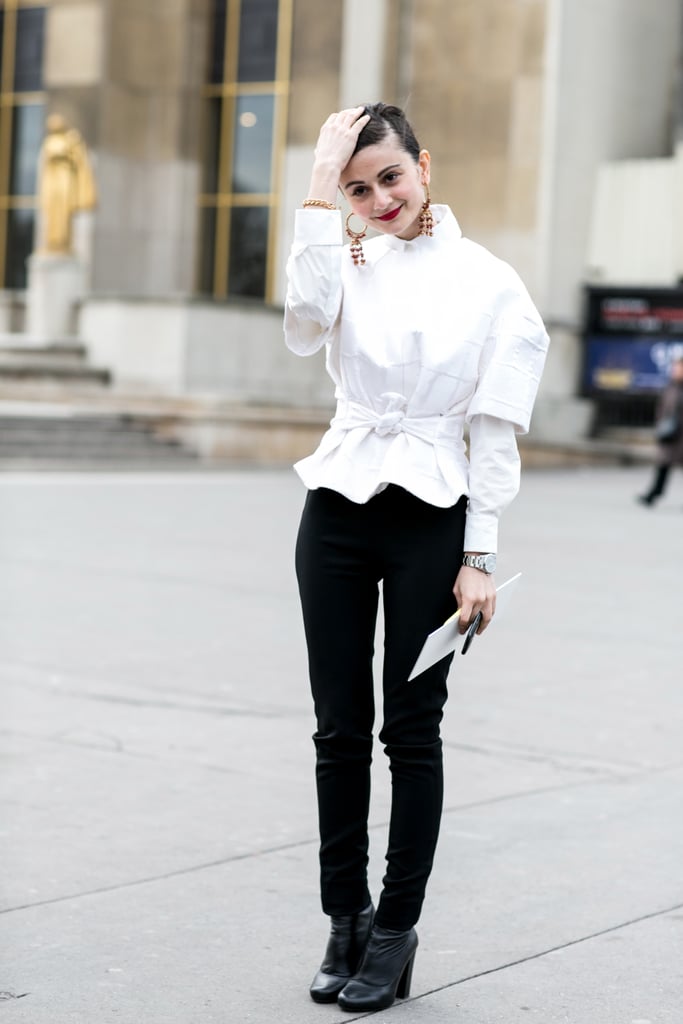 A modern update on the white button-down.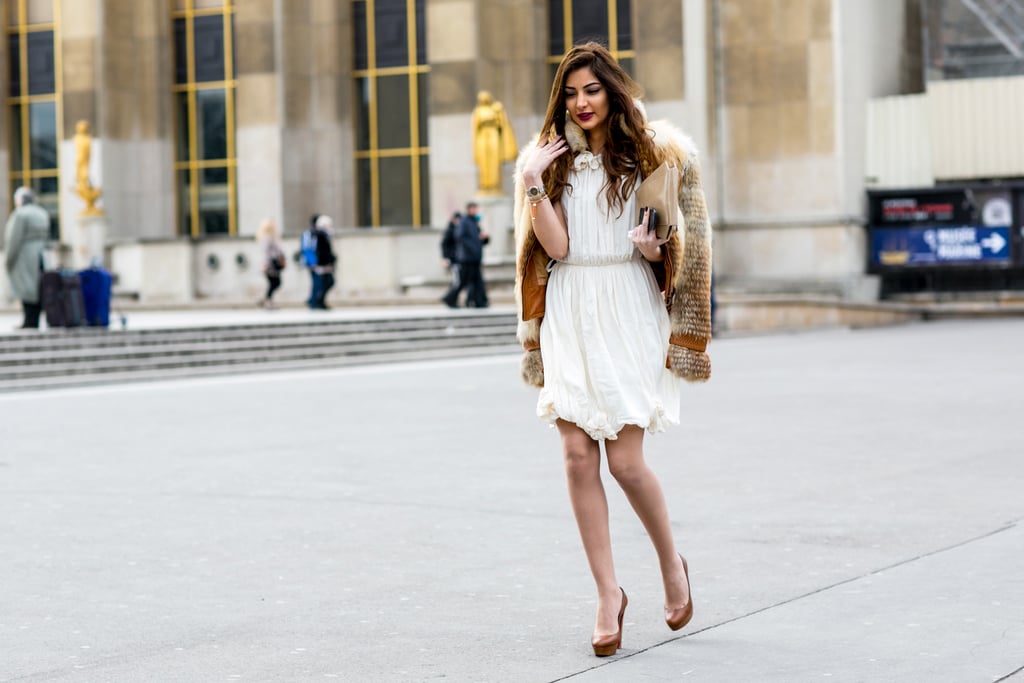 Frills and fur.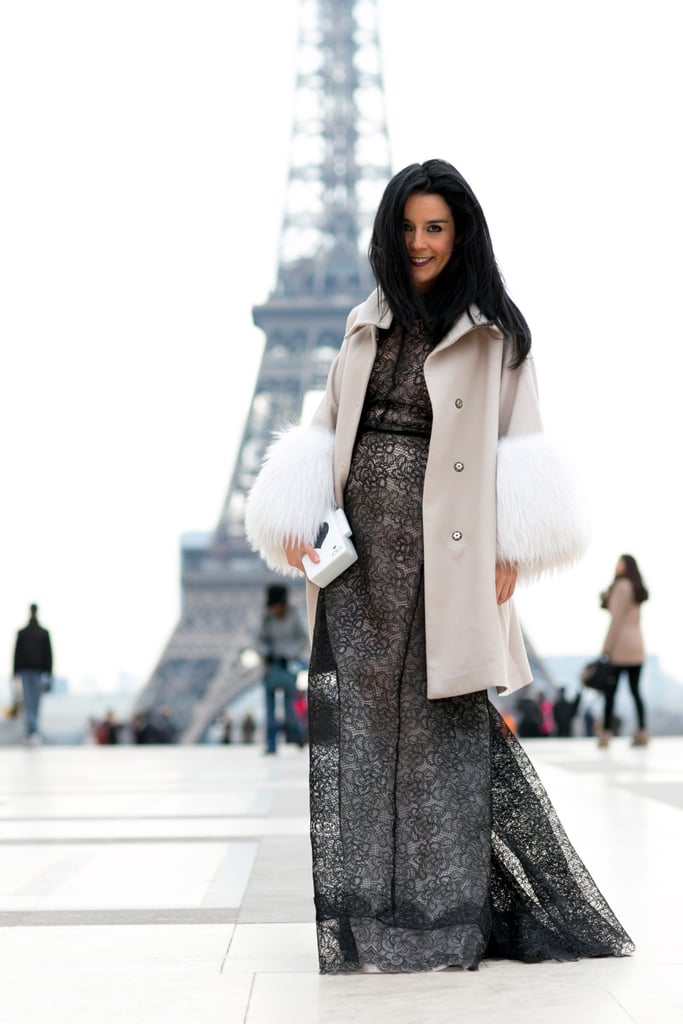 If you needed an occasion to dress up, it doesn't get more glamorous than Couture Week in Paris.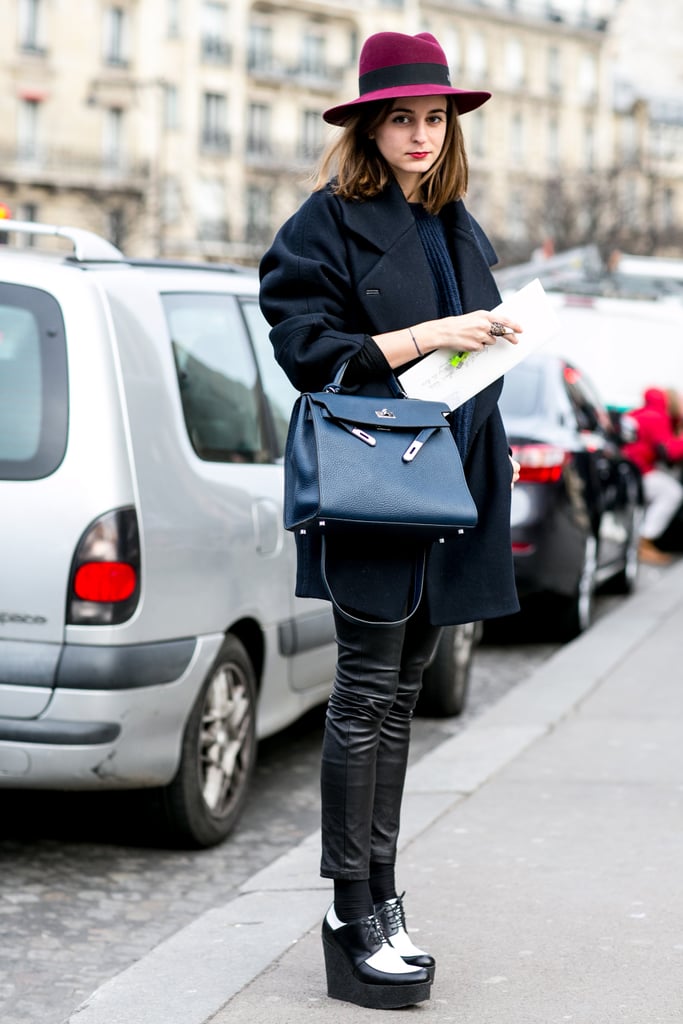 All about the accessories, from the platforms to the cranberry-hued hat.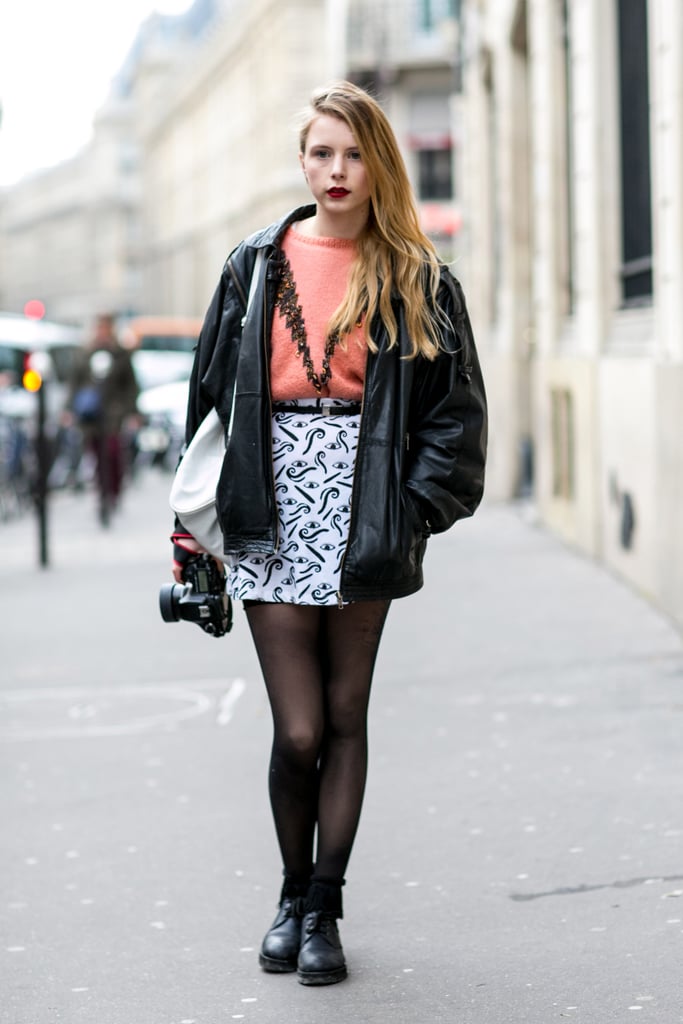 One part punk, one part print.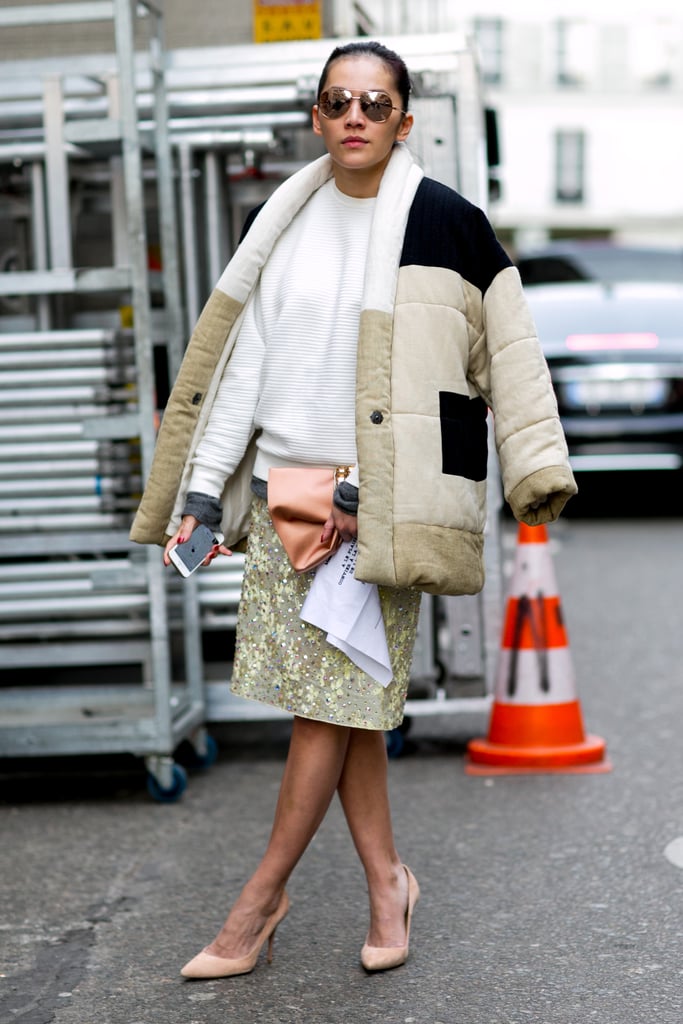 Don't reserve your puffy jackets for sportswear only; just look how well it pairs with a pretty skirt.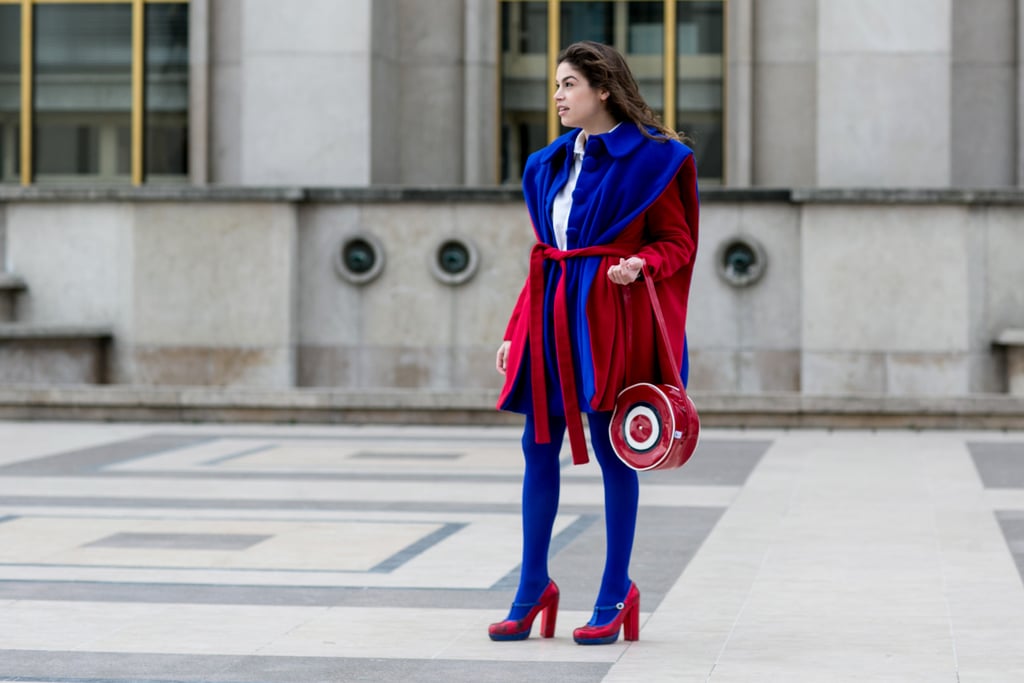 That's some commitment to color.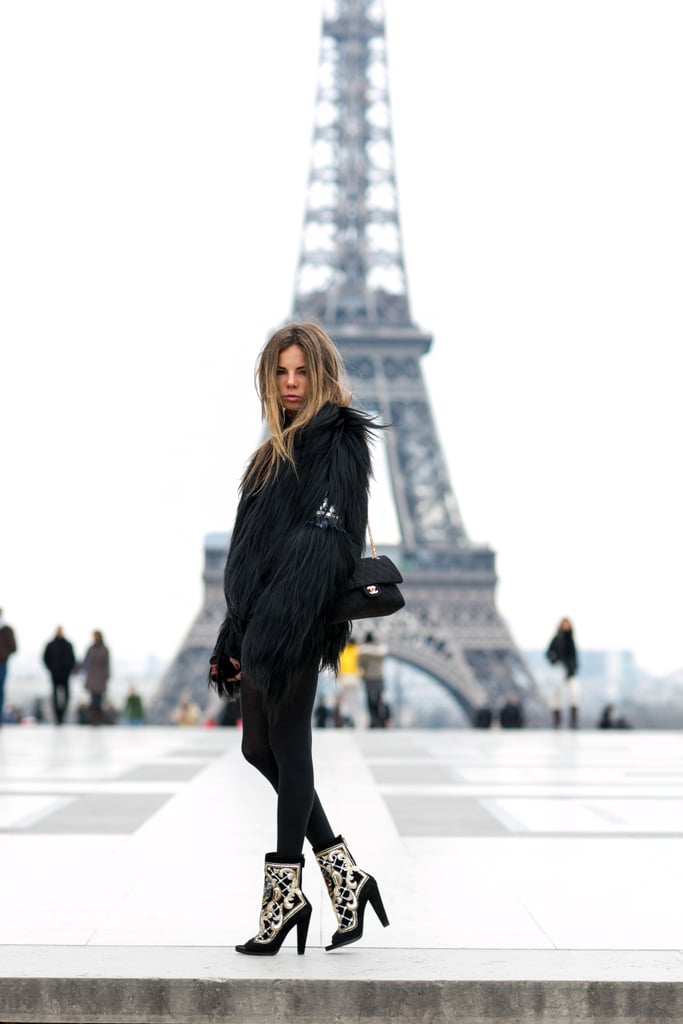 Taking a page out of Balmain's playbook.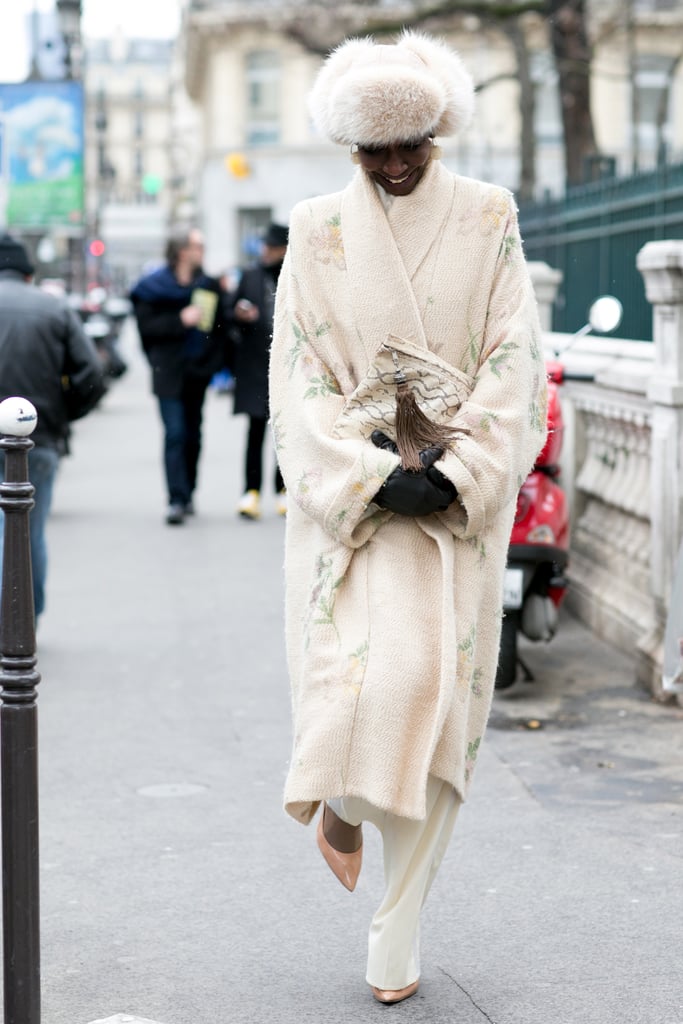 This is what ladylike looks like.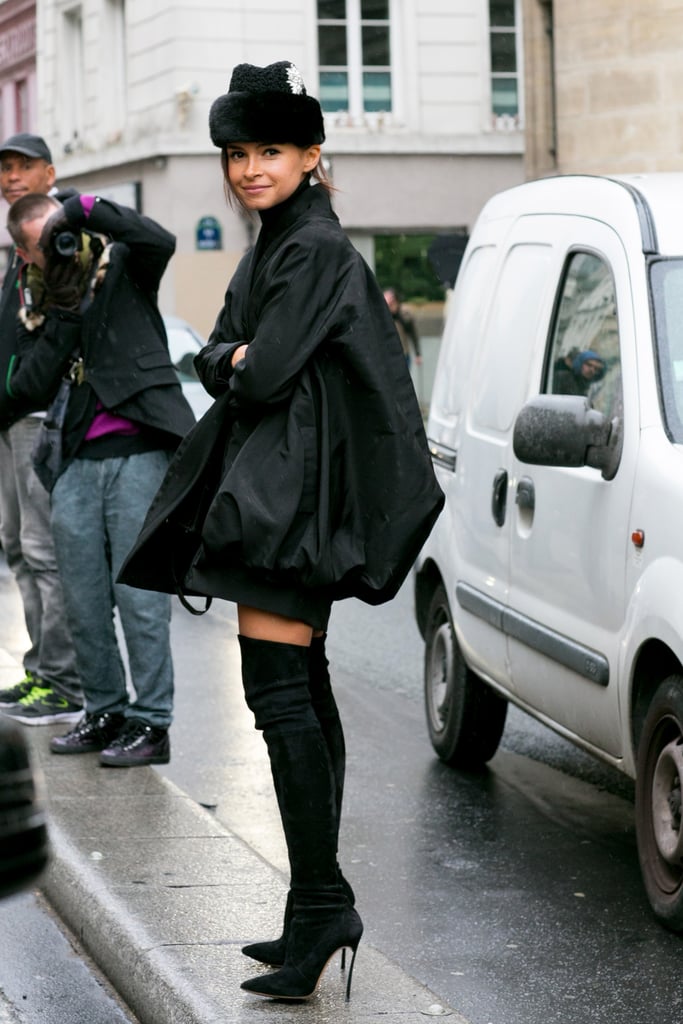 Miroslava Duma revealed a strategic bit of skin.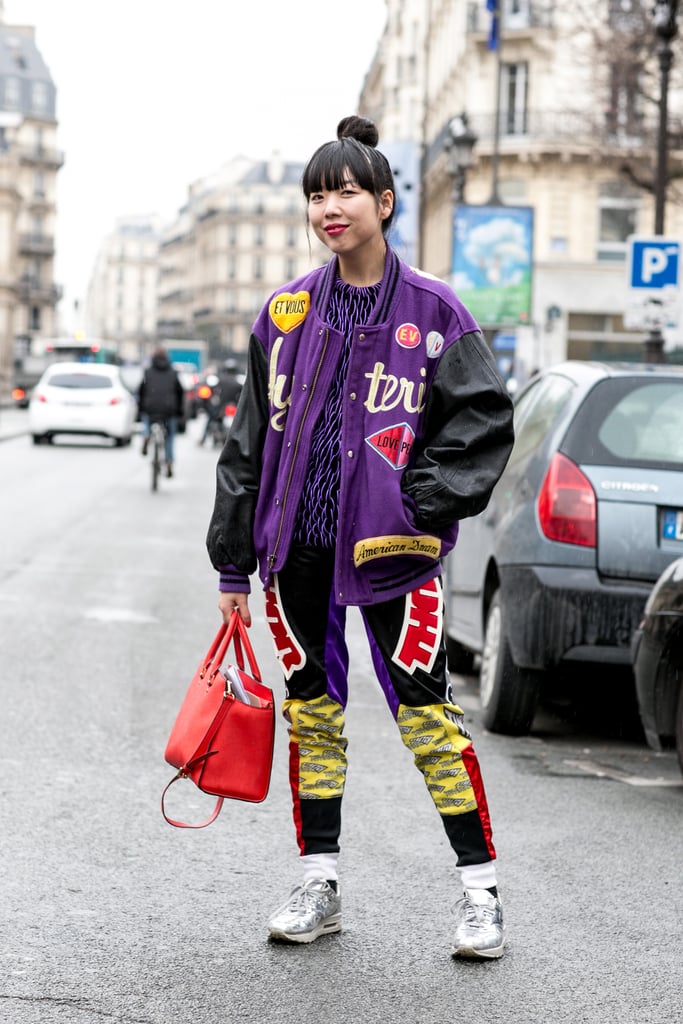 Susie Bubble played for the fashion team.
The loveliest kind of fashion companions.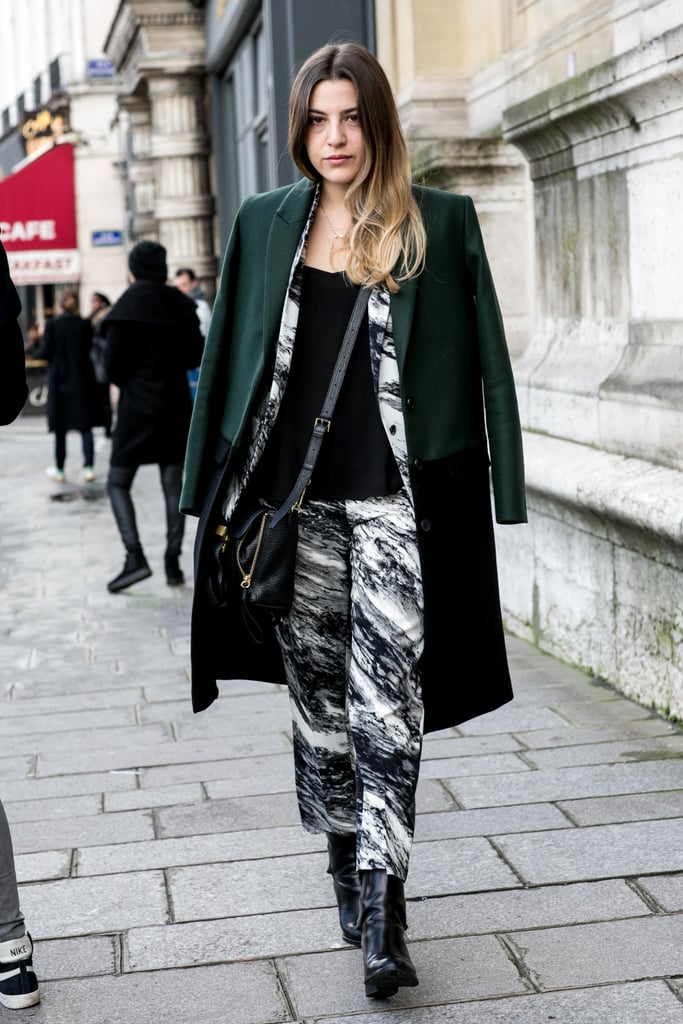 Break up a head-to-toe print with a black tee and great outerwear.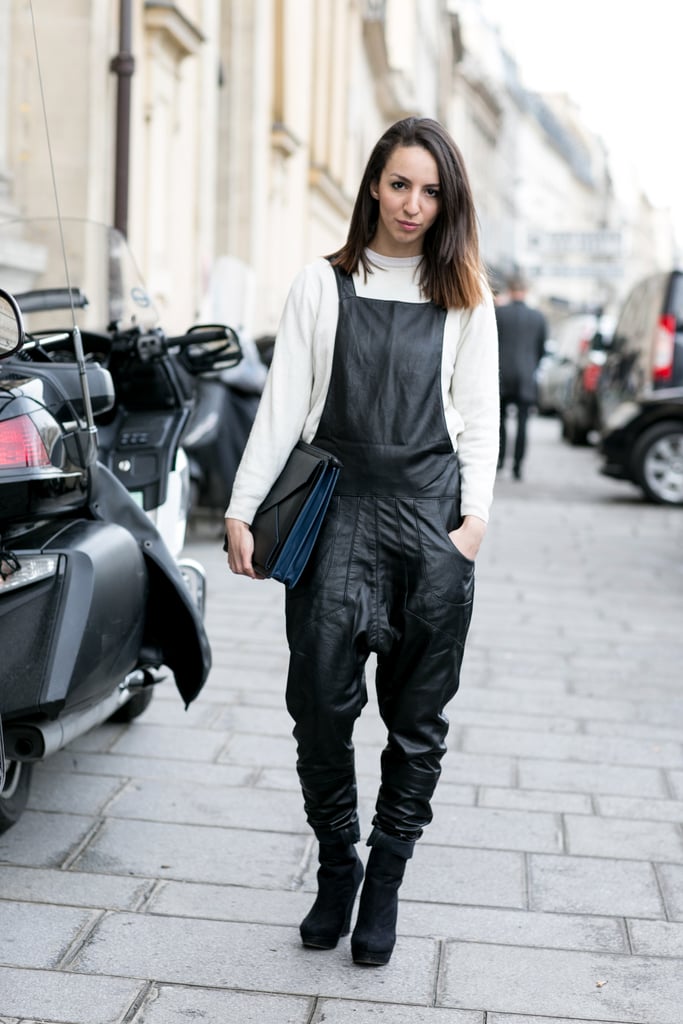 The city girl's overalls were crafted in leather, not denim.
Lindsey Wixson's bright green Proenza bag was a testament to the power of details — it played off of her lipstick beautifully.
Source: Le 21ème | Adam Katz Sinding [19]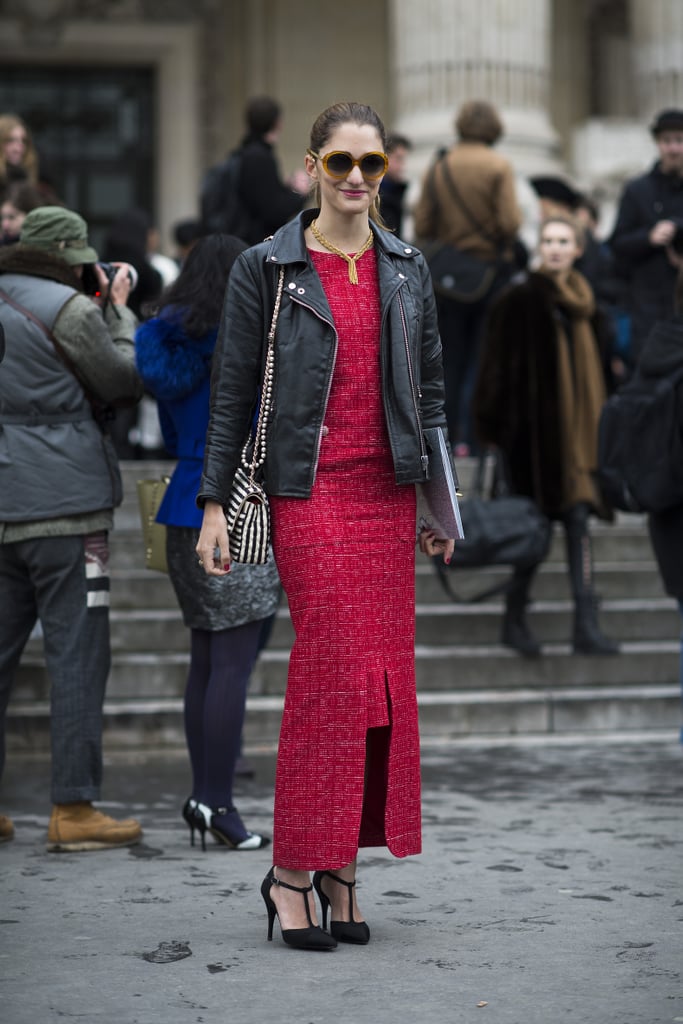 If the hemline ever seems matronly, a leather jacket is a quick way to counter.
Source: Le 21ème | Adam Katz Sinding [20]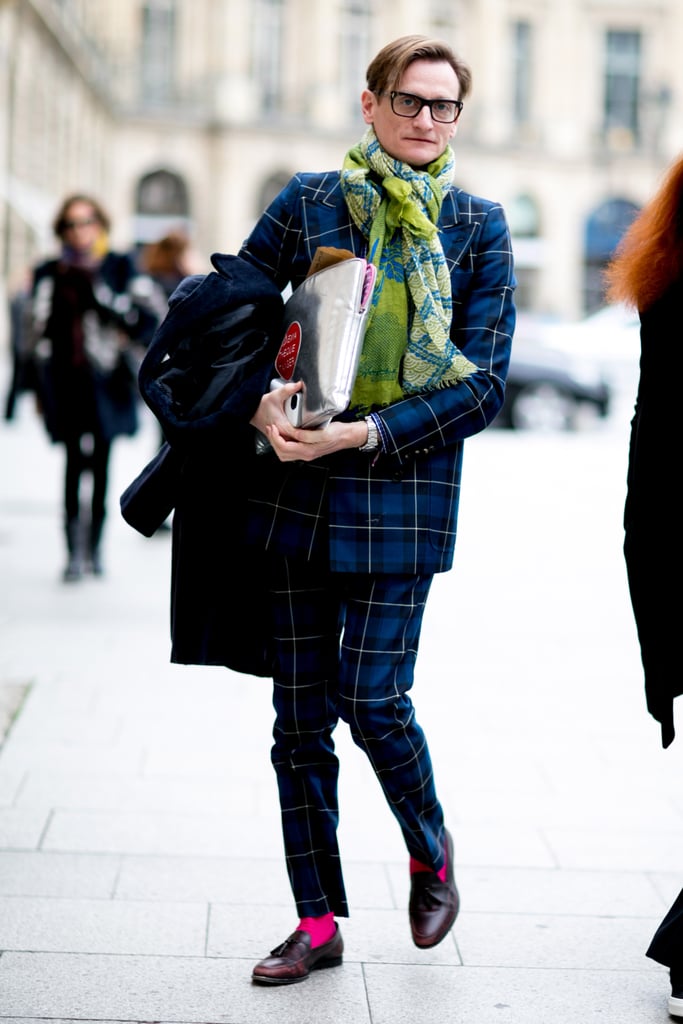 Hamish Bowles brought the menswear to rival any woman's in a blue plaid suit.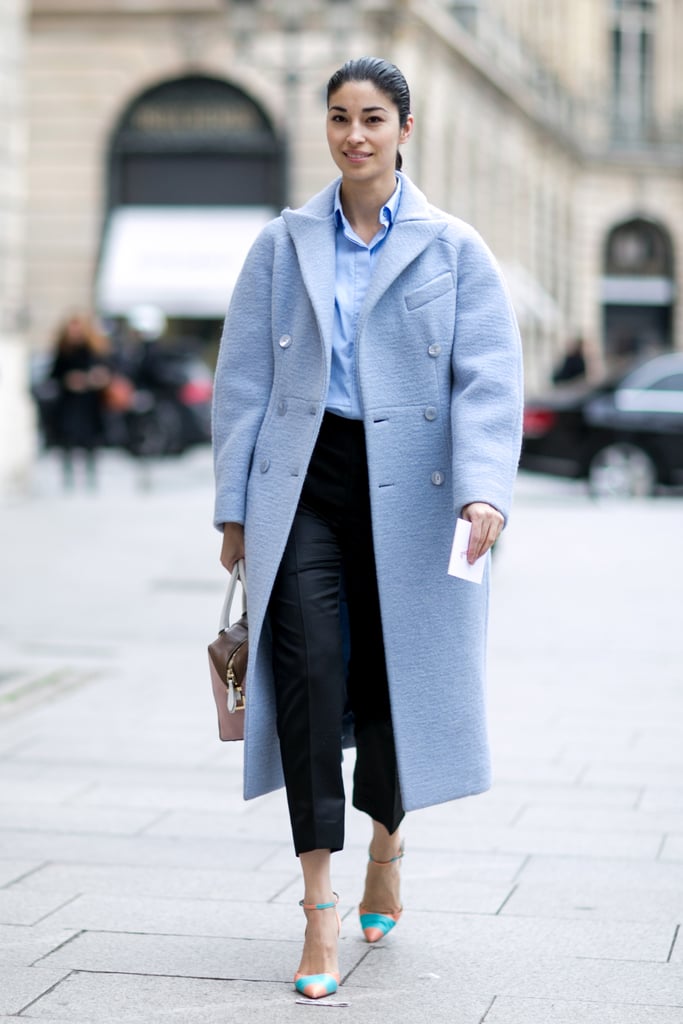 Caroline Issa captivated us with one great piece of outerwear.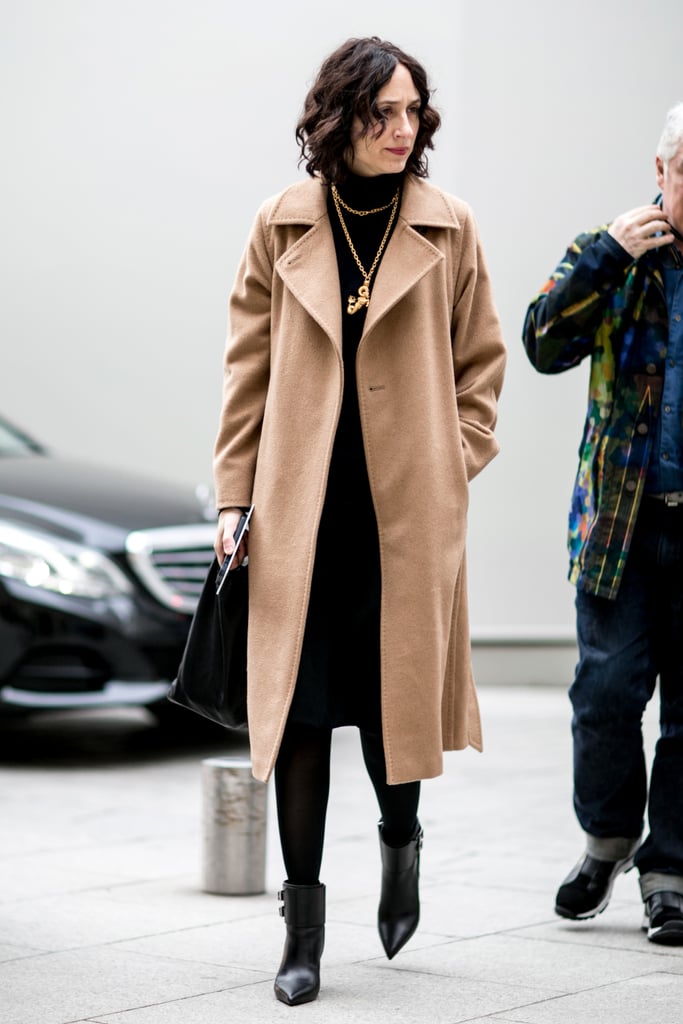 A clean black and camel look made us want to subscribe to the classics.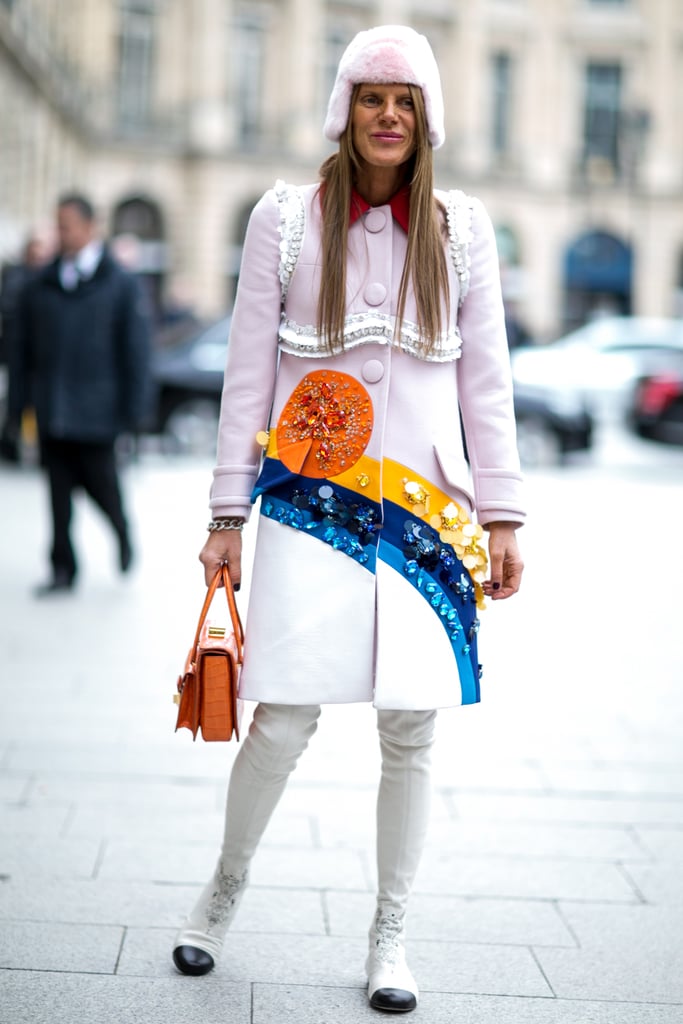 It wouldn't be Anna Dello Russo without some whimsy, this time in the form of a bright coat and Chanel boots.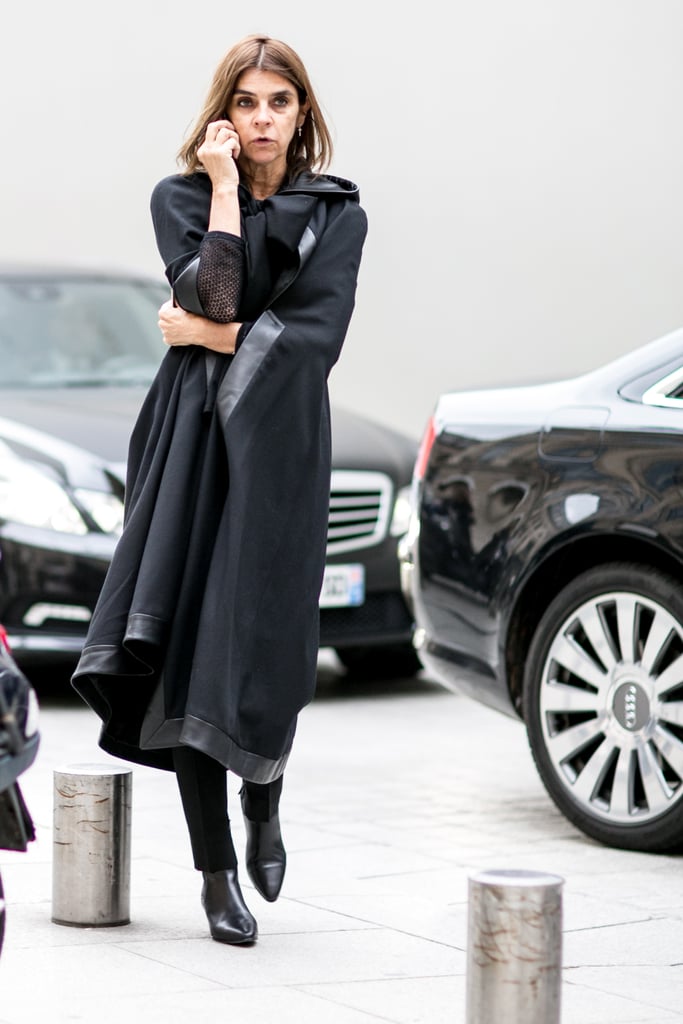 The master of moody-chic, Carine Roitfeld worked black head to toe.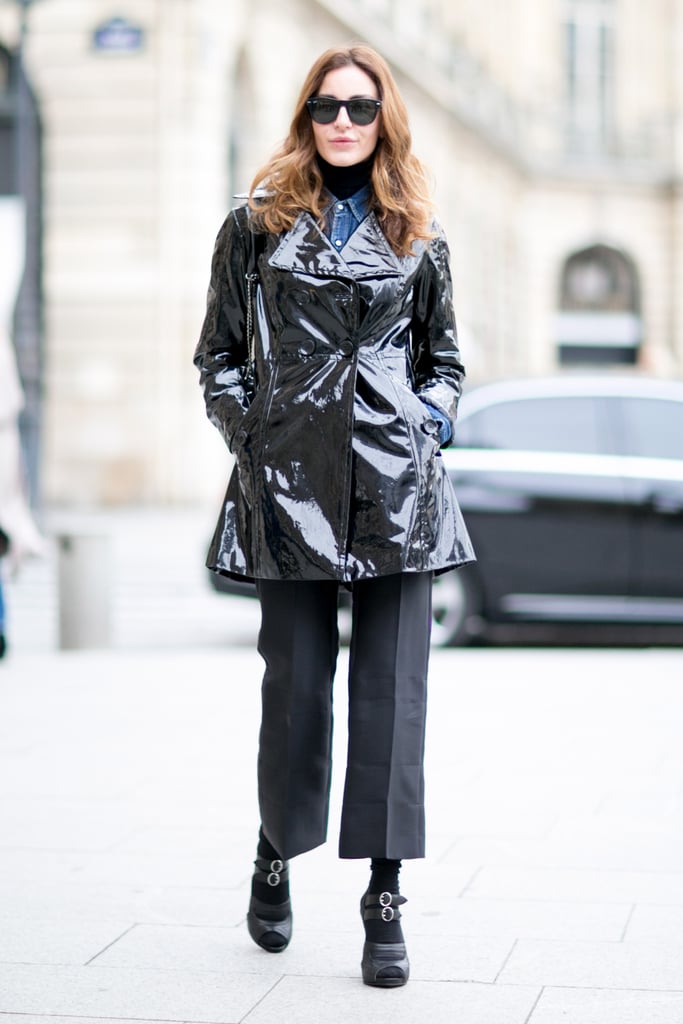 One way to safeguard against the cold and stay this chic? Add a sleek peacoat.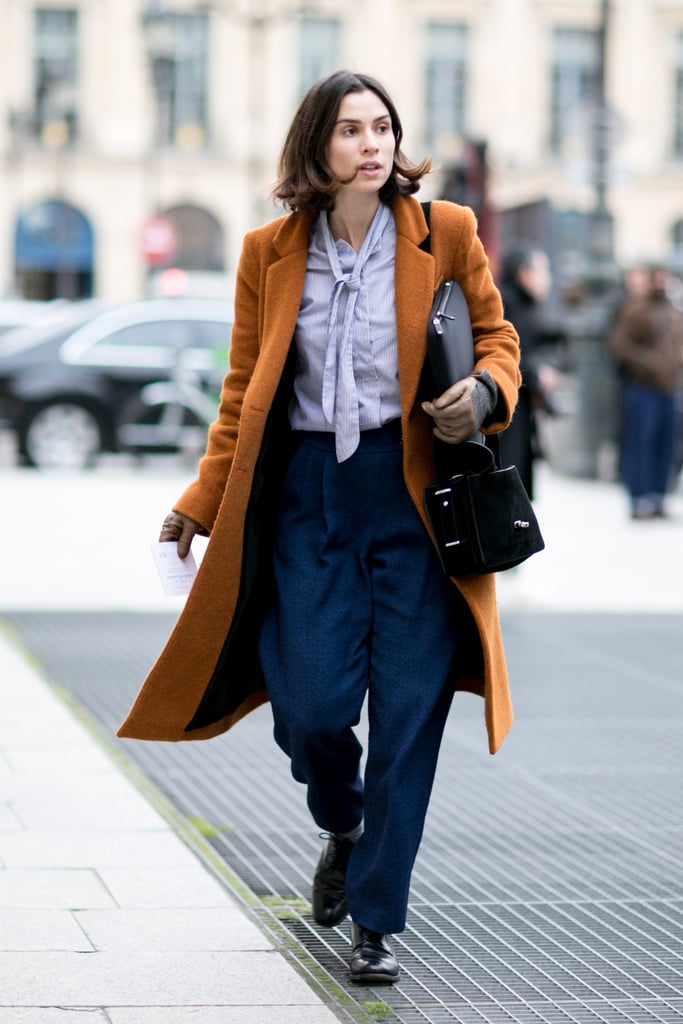 Bringing '70s chic to 2014 with a tie-neck blouse and trousers.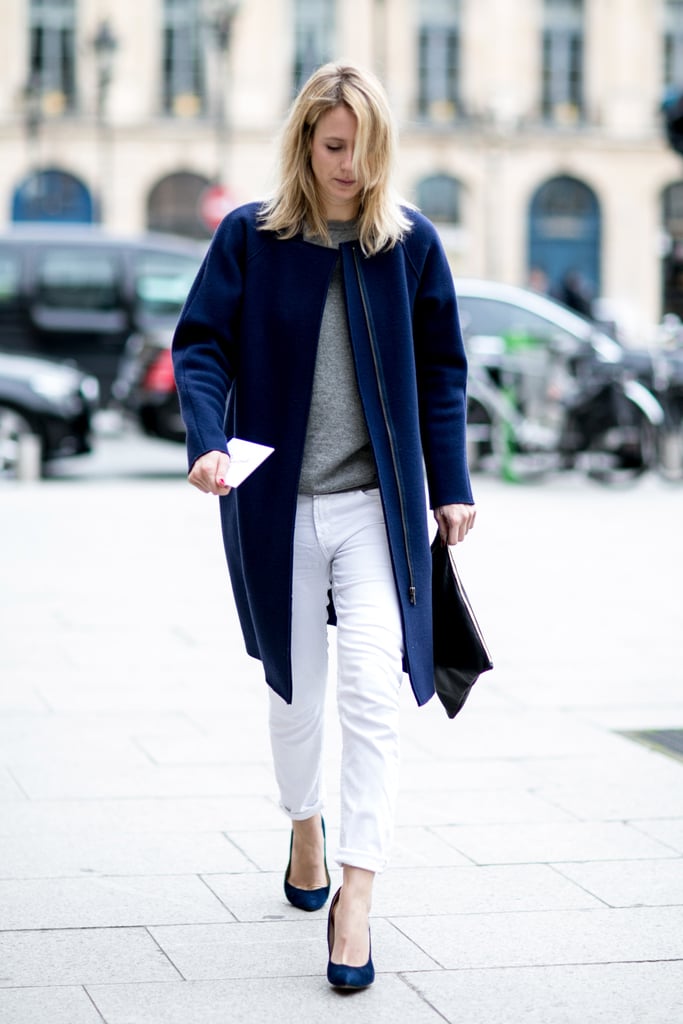 Keep it simple and look forward to compliments when you outfit something this cool.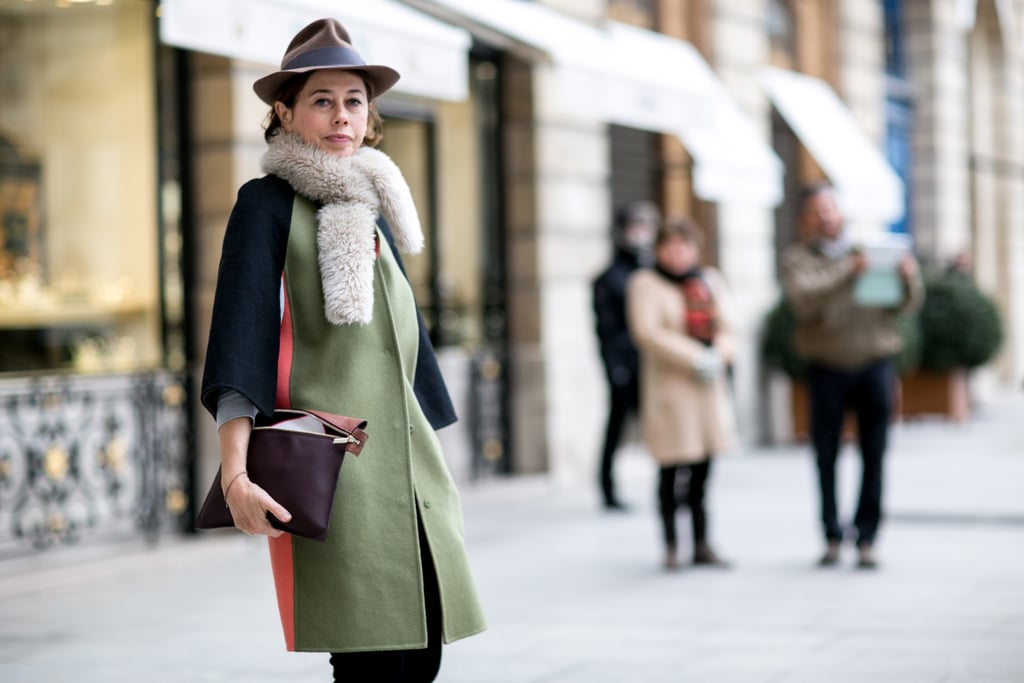 Luxe doesn't have to be complicated; sometimes it's just the addition of one beautiful accessory.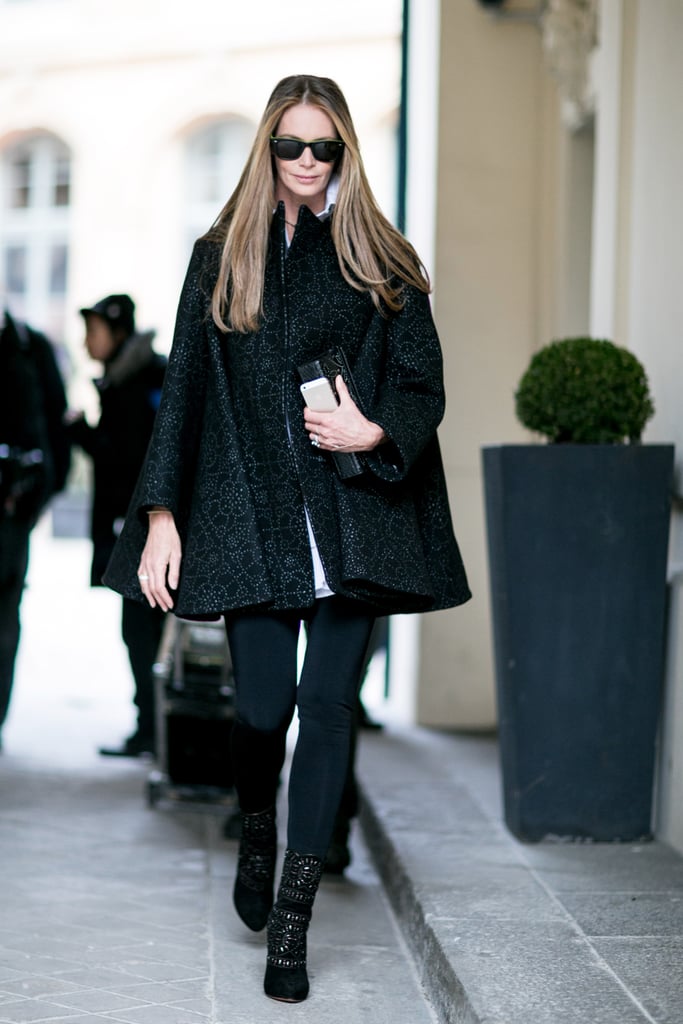 For Elle Macpherson, the sidewalk might as well have been a runway.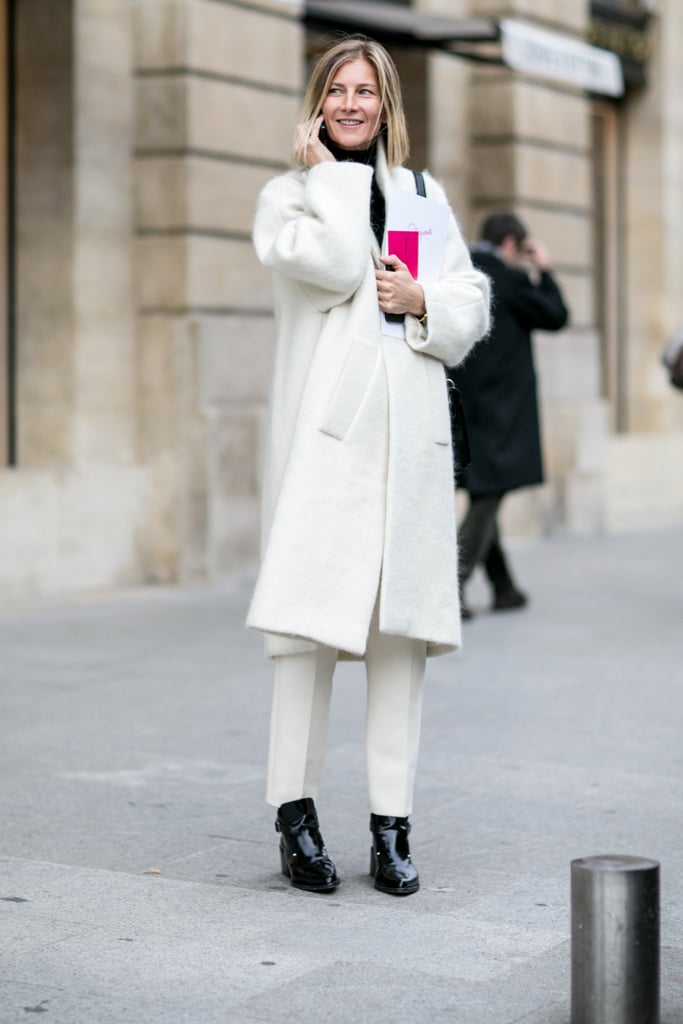 Remind us again why some people won't do Winter white.
As comfortable as it is luxurious.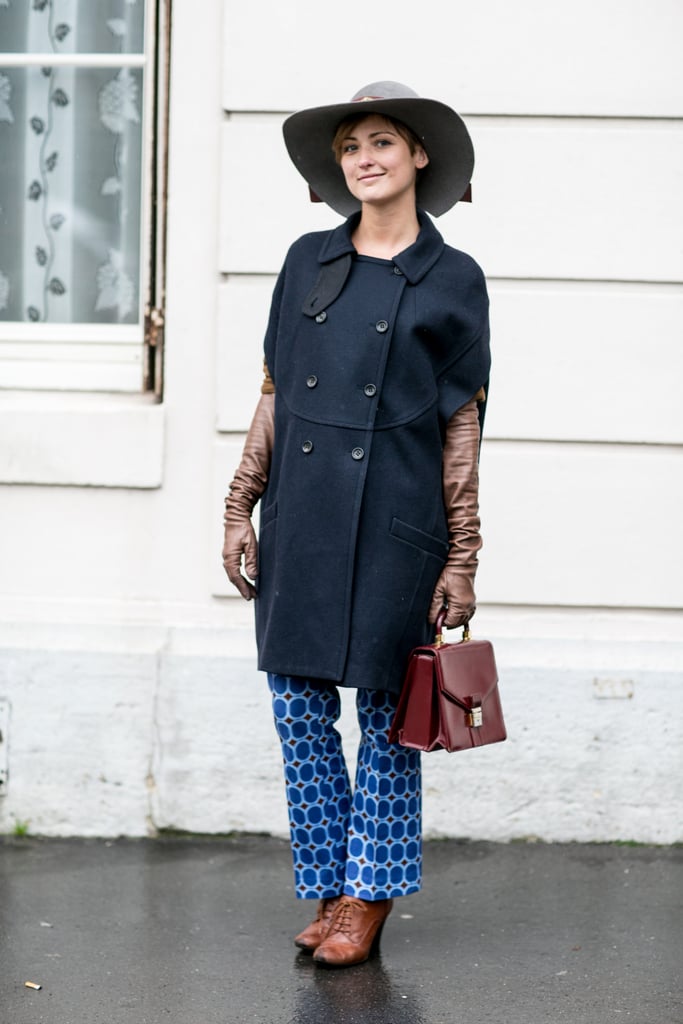 Mixing mod pants and a boho hat like a pro.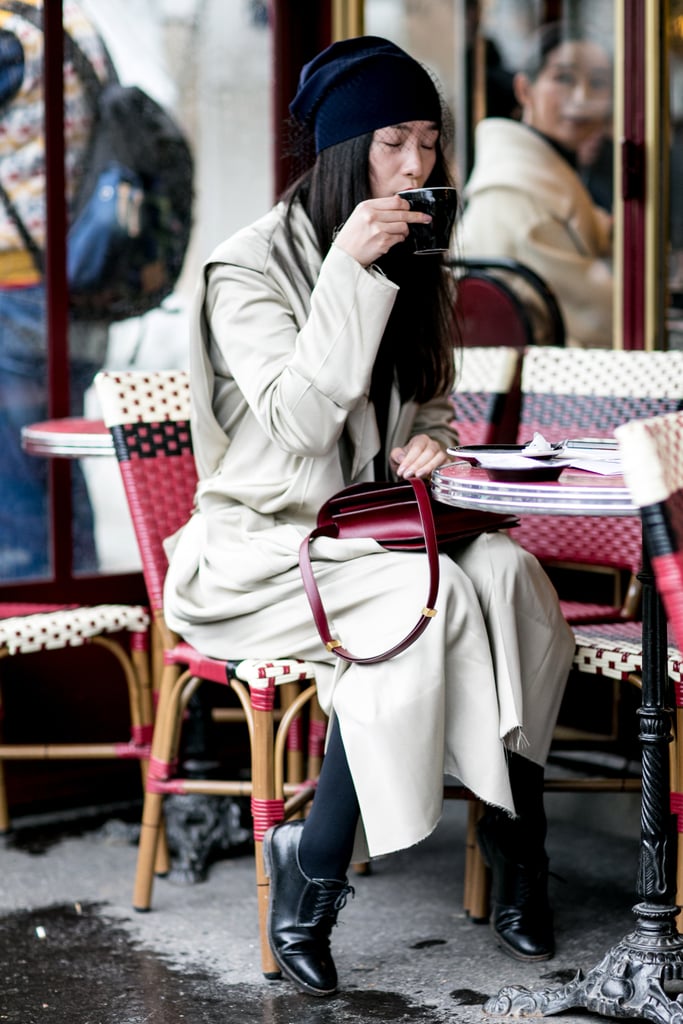 How to beat the boredom with new layers.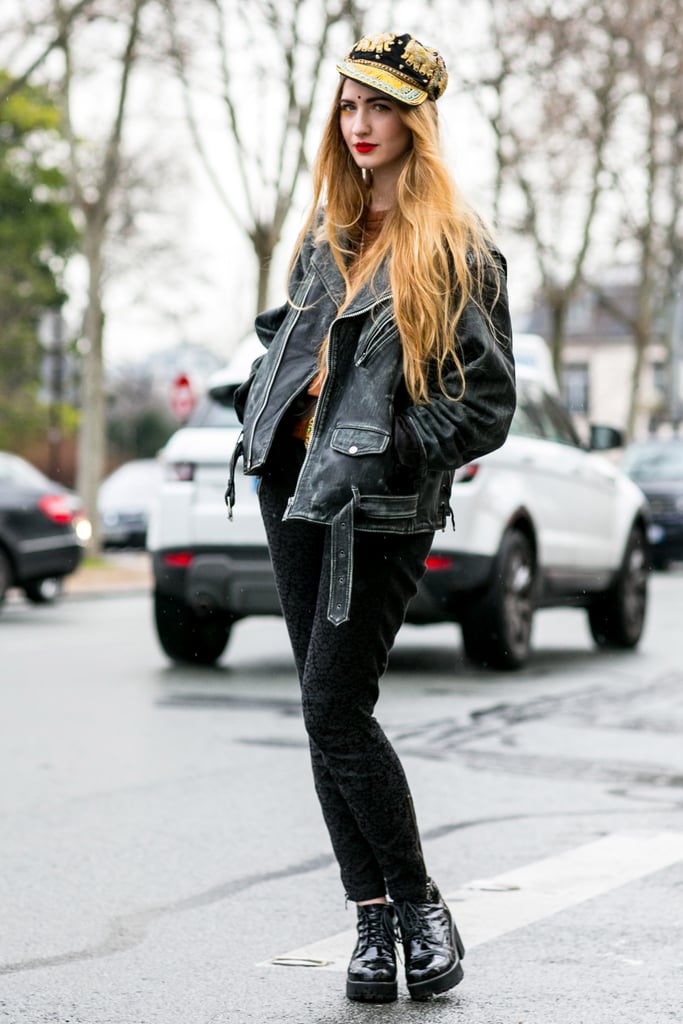 This tough girl's cool styling trick? A printed cap.
Black and white executed beautifully on top and with just a little edge on bottom with those buckled booties.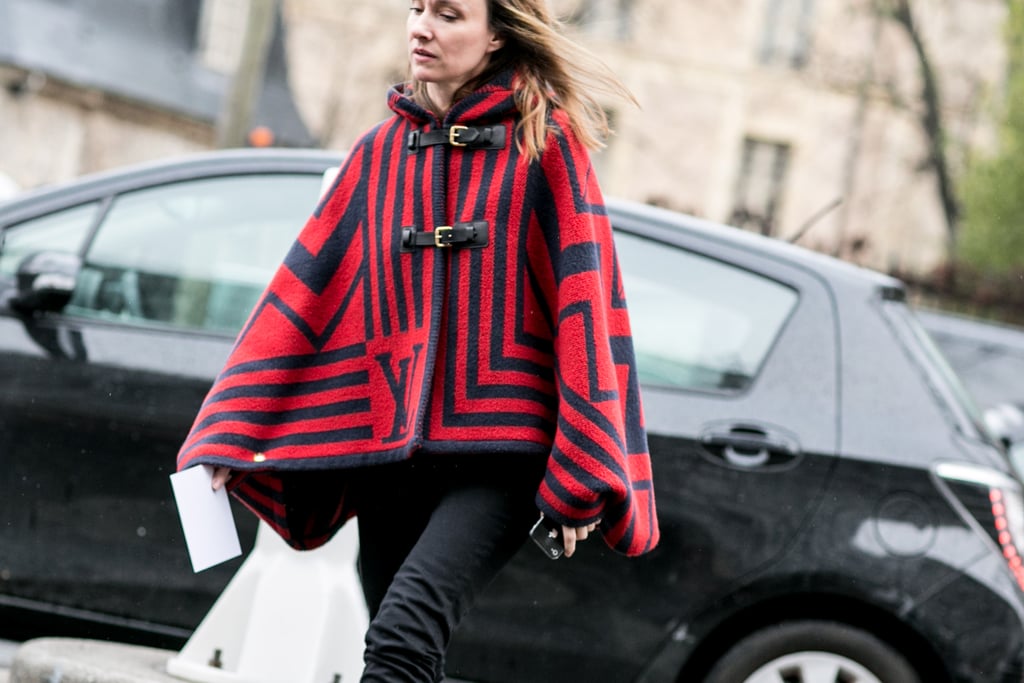 If you ever doubted how you'd wear a statement coat, this just might convince you that you need not worry: it makes the outfit.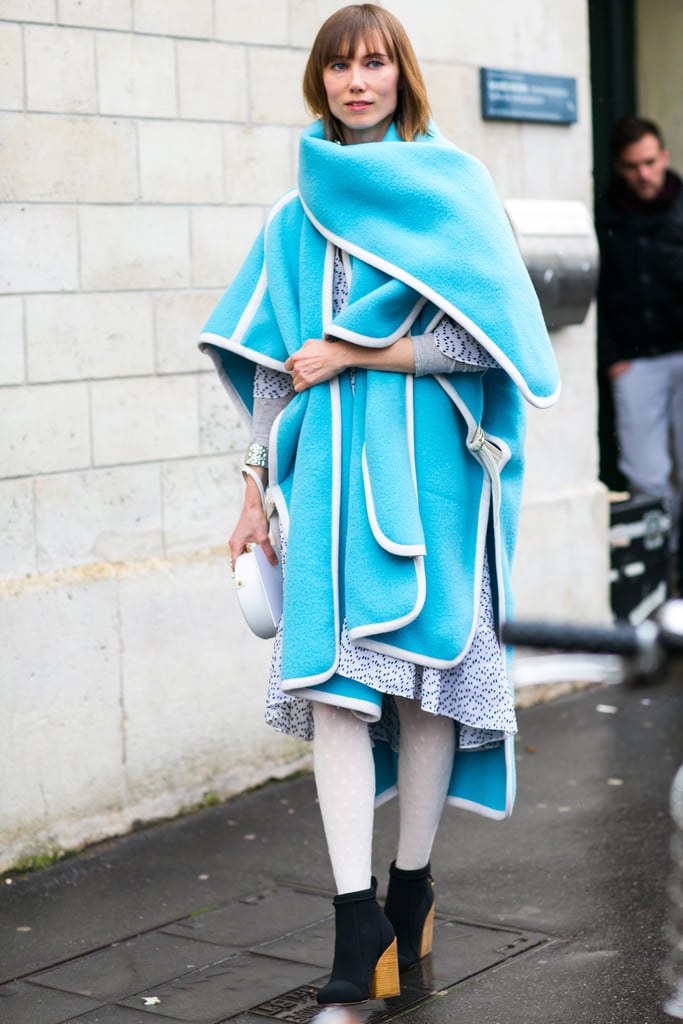 It doesn't get brighter than Anya Ziourova's electric-blue wrap.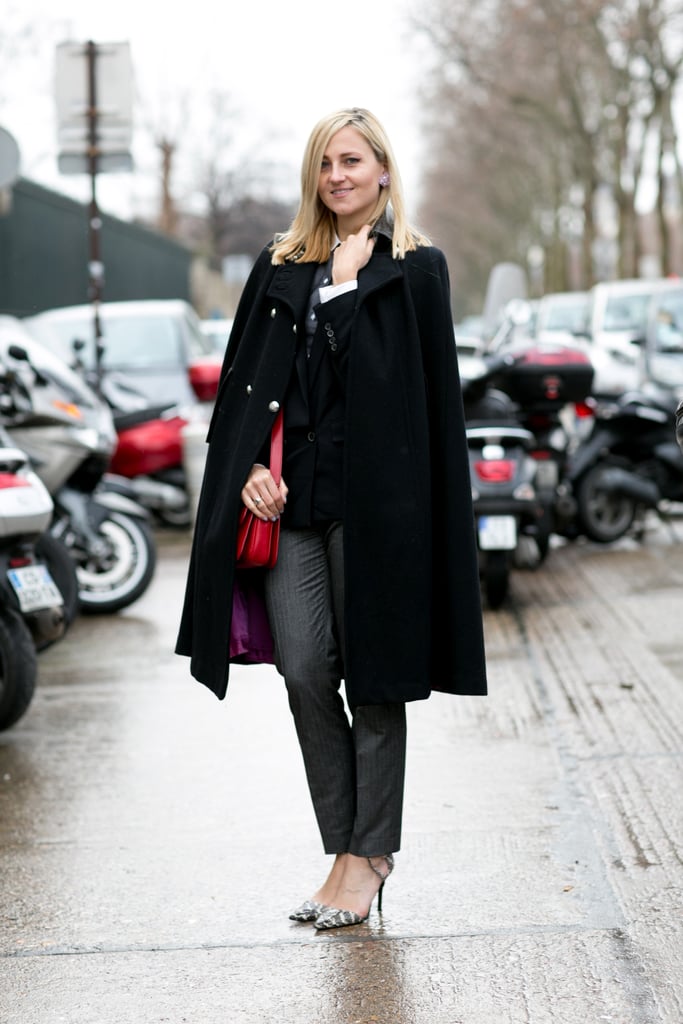 You probably already have the necessary elements in your closet — here's how to put your pumps, trousers, and elegantly draped coat all together.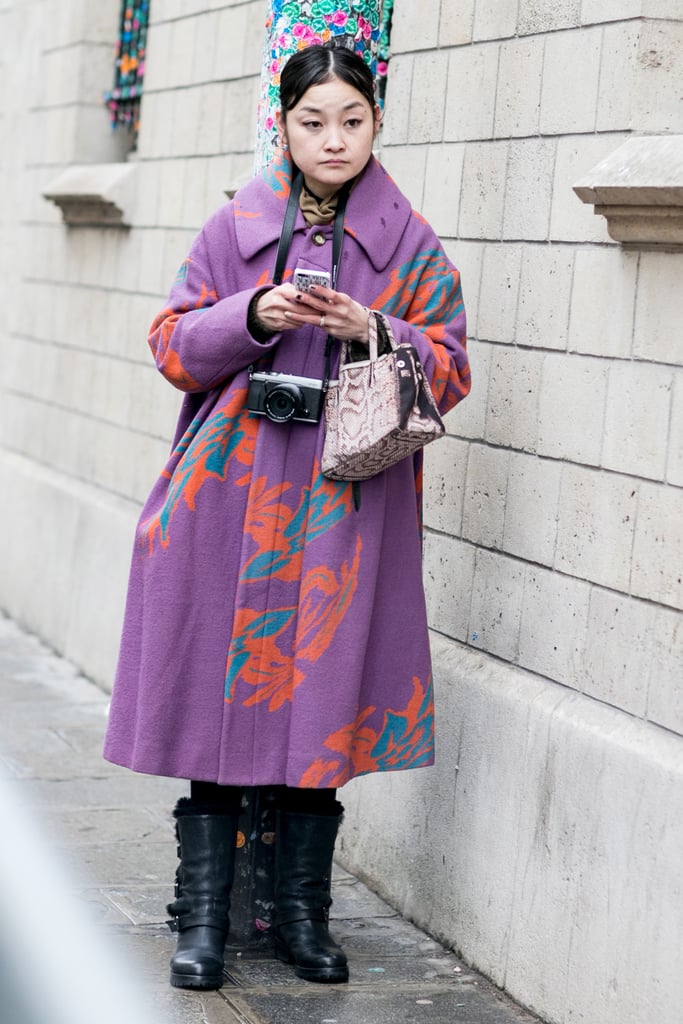 The most beautiful patterned coat requires no other accoutrements.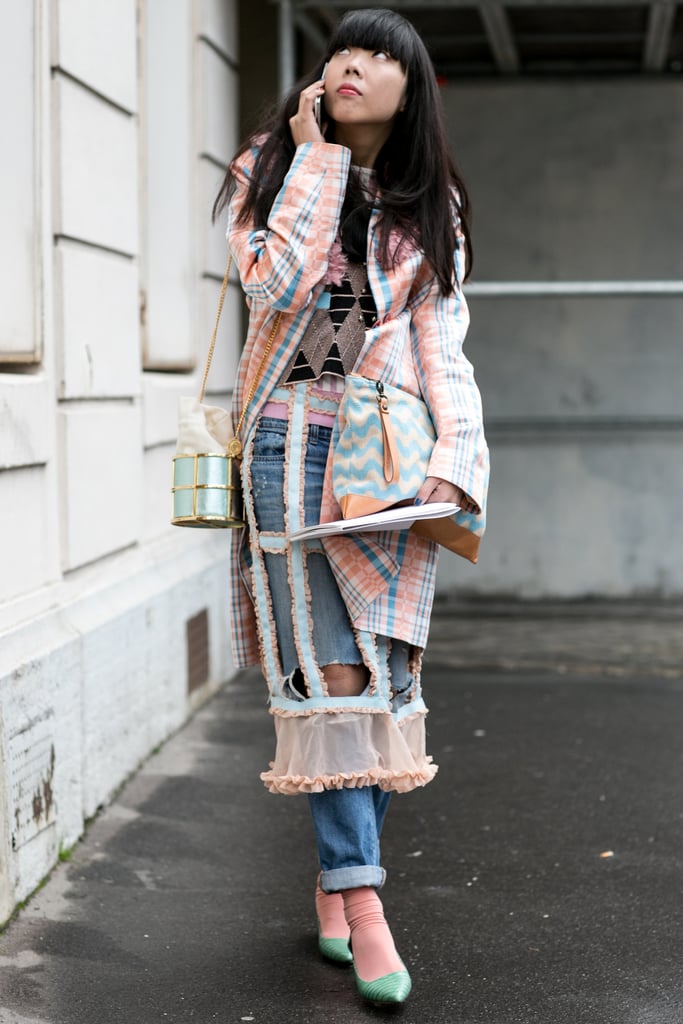 Susie Bubble's cutout plaid layers would be better suited for the runway than the street.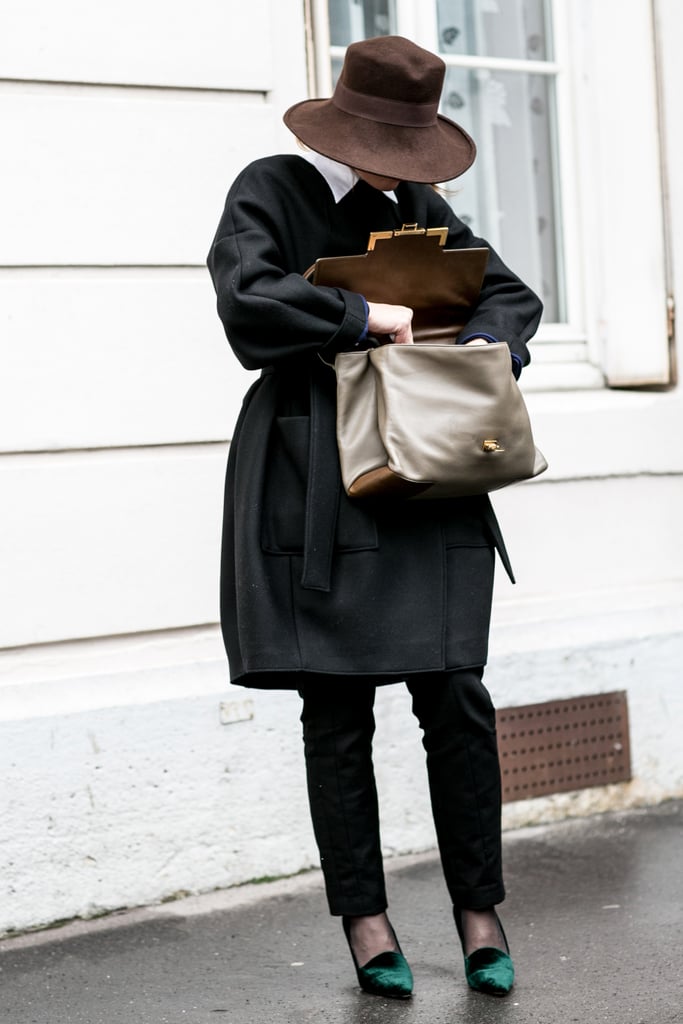 Even without seeing her face, this woman's captivated us with one of the chicest ensembles.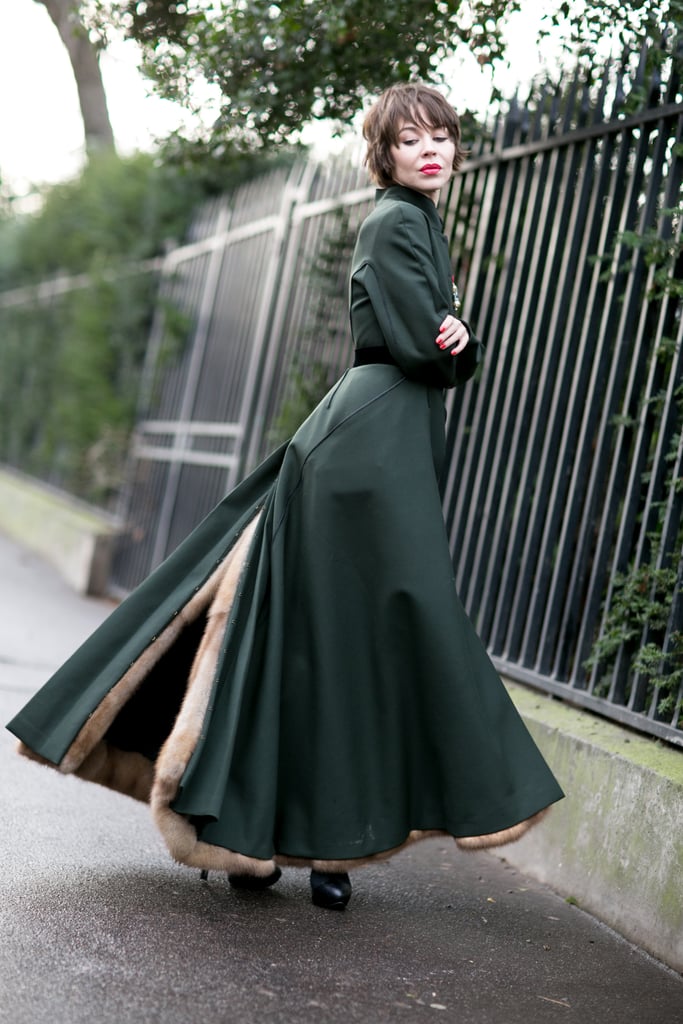 Ulyana Sergeenko showed off her street style couture with a romantic twirl.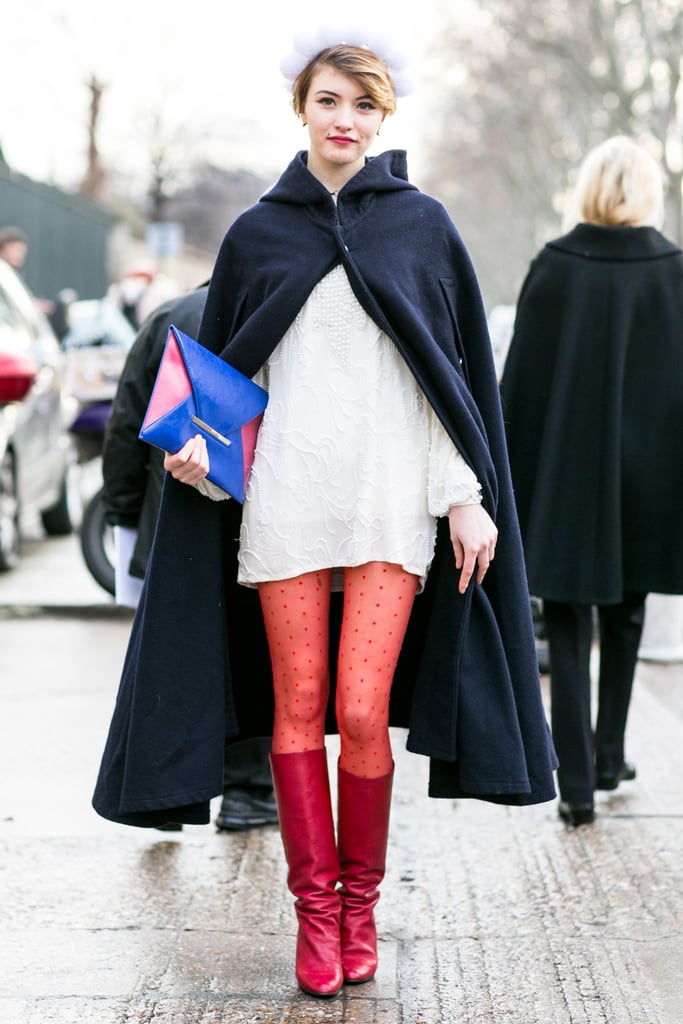 Like the modern Little Red Riding Hood — but, well, with red tights and a navy cape.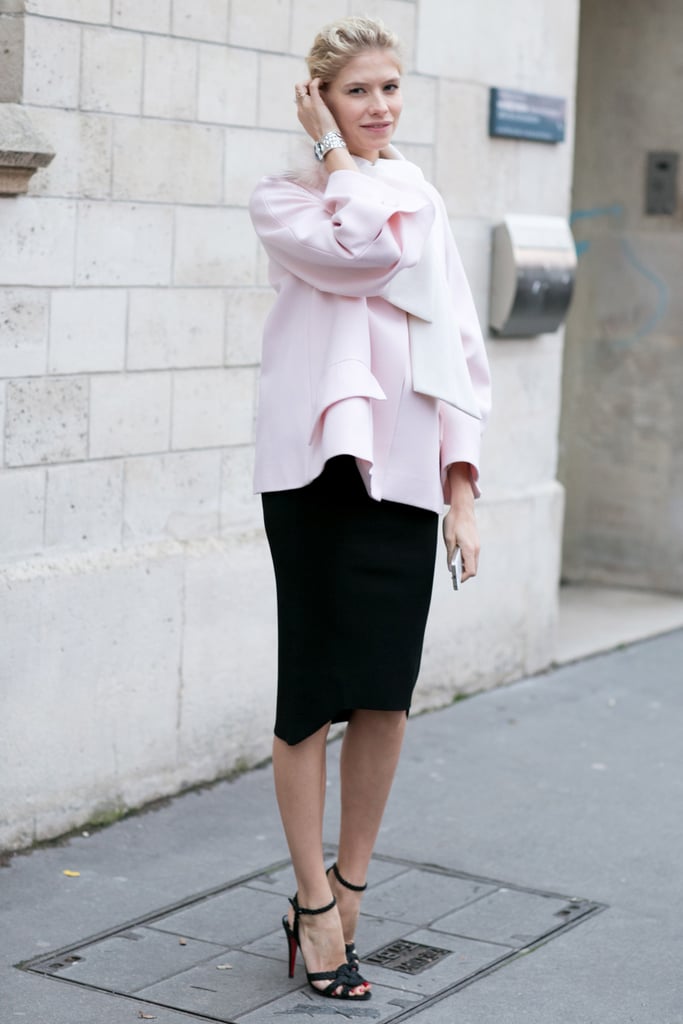 Elena Perminova showed off the softest petal pink with the perfect feminine flourishes.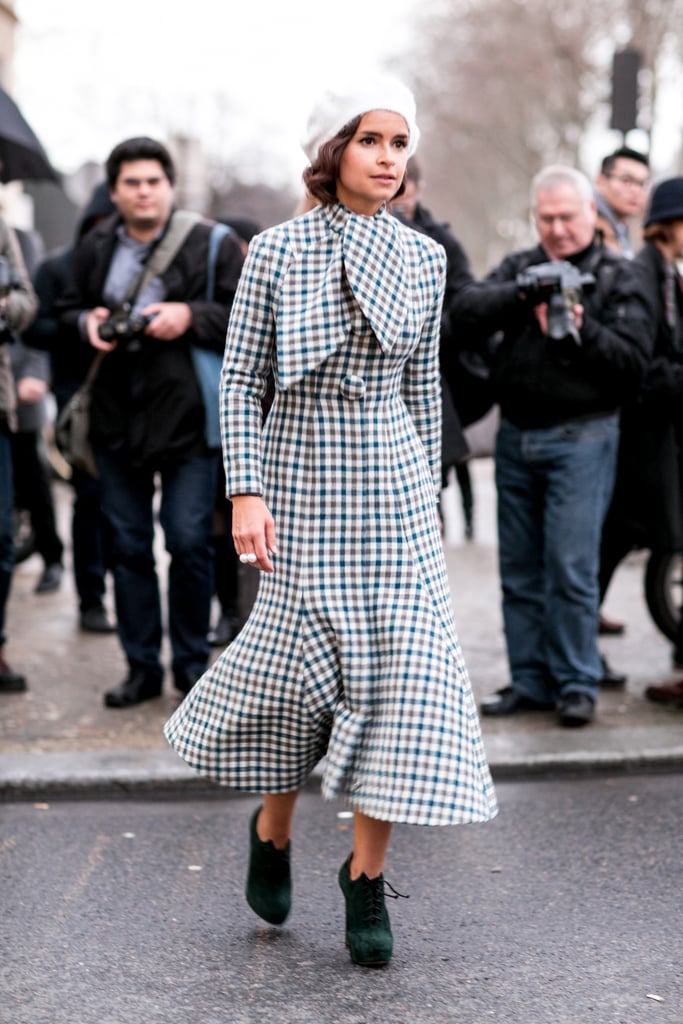 Miroslava Duma was like a vision from a vintage '40s film in her ladylike checks.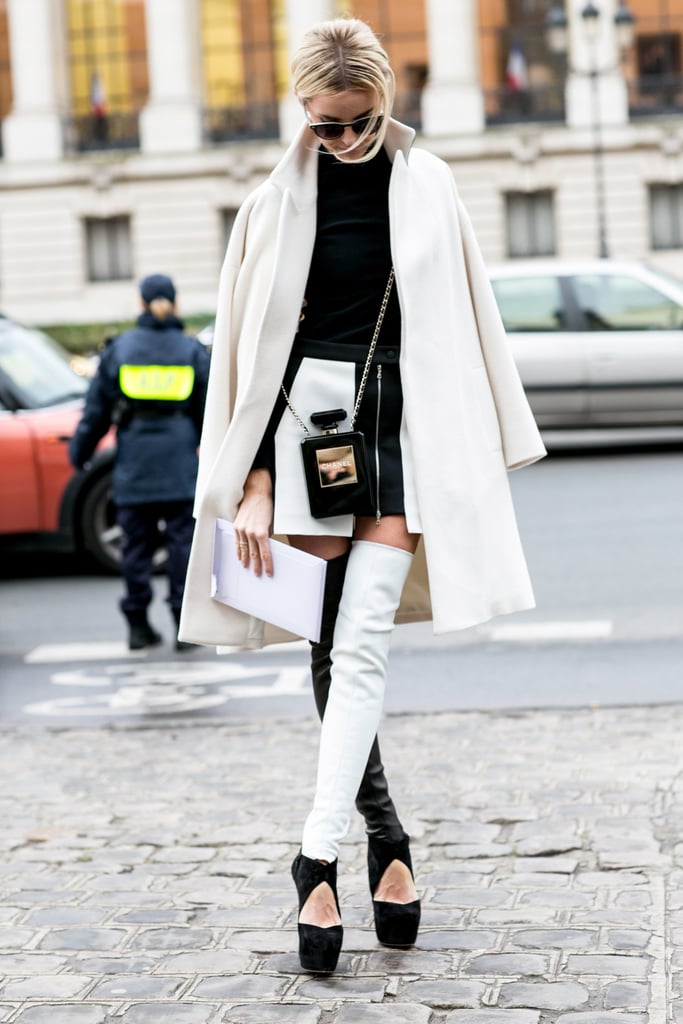 You don't have to cover up your stems with pants — take the sexier route with over-the-knee boots.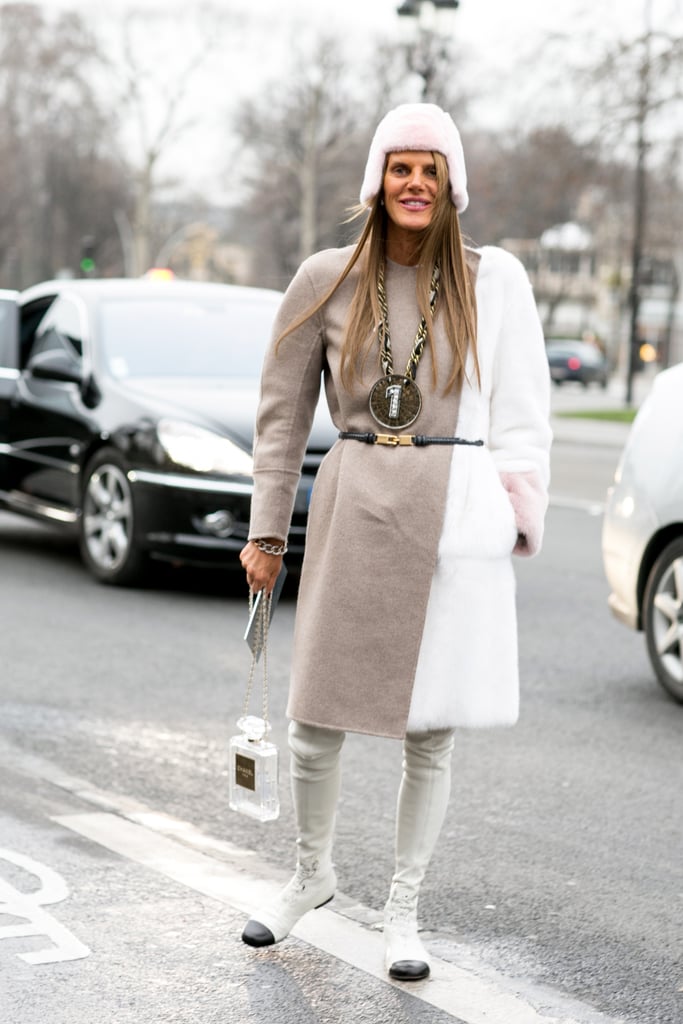 Anna Dello Russo kept it relatively simple, but she couldn't resist a few over-the-top accessories.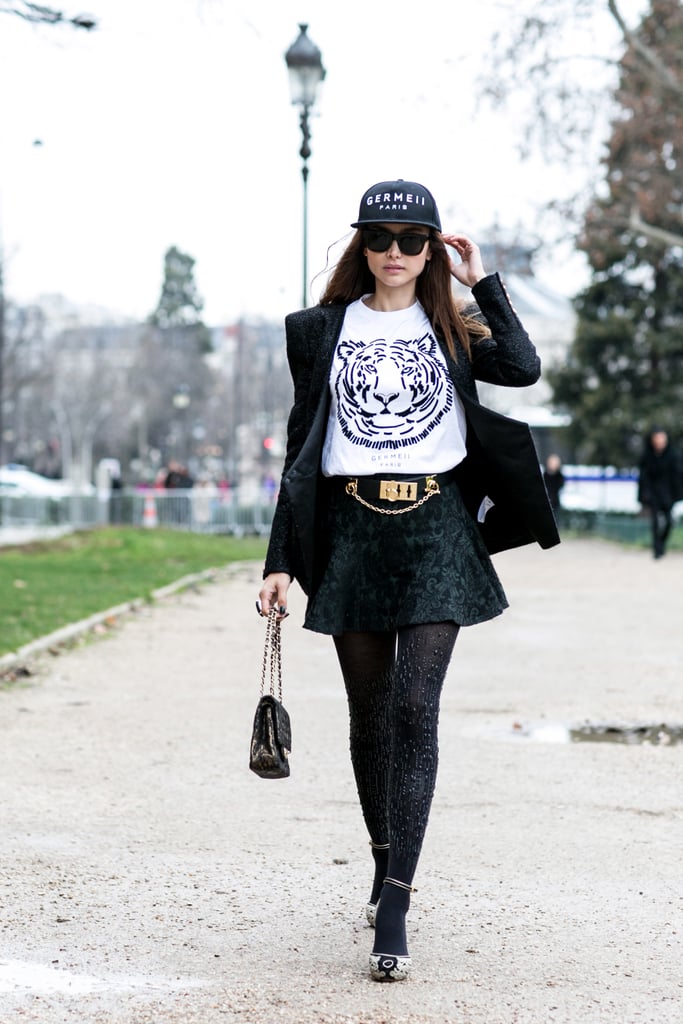 A posh-girl-meets-cool-girl mix-up.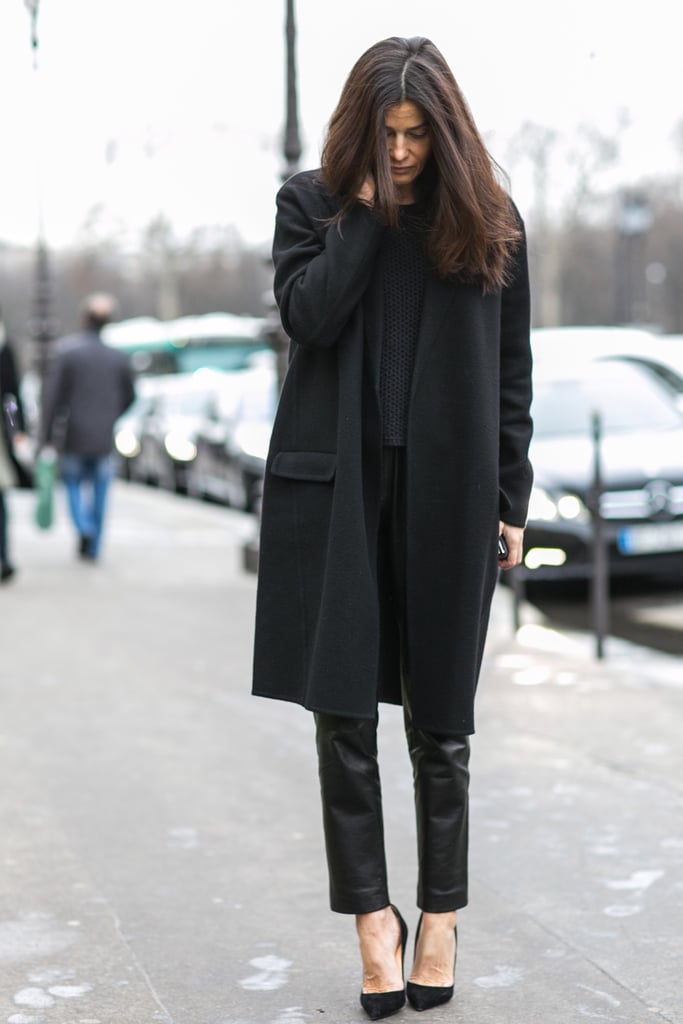 Fight all-black boredom with leather pants.
Taking cues from Annie Hall?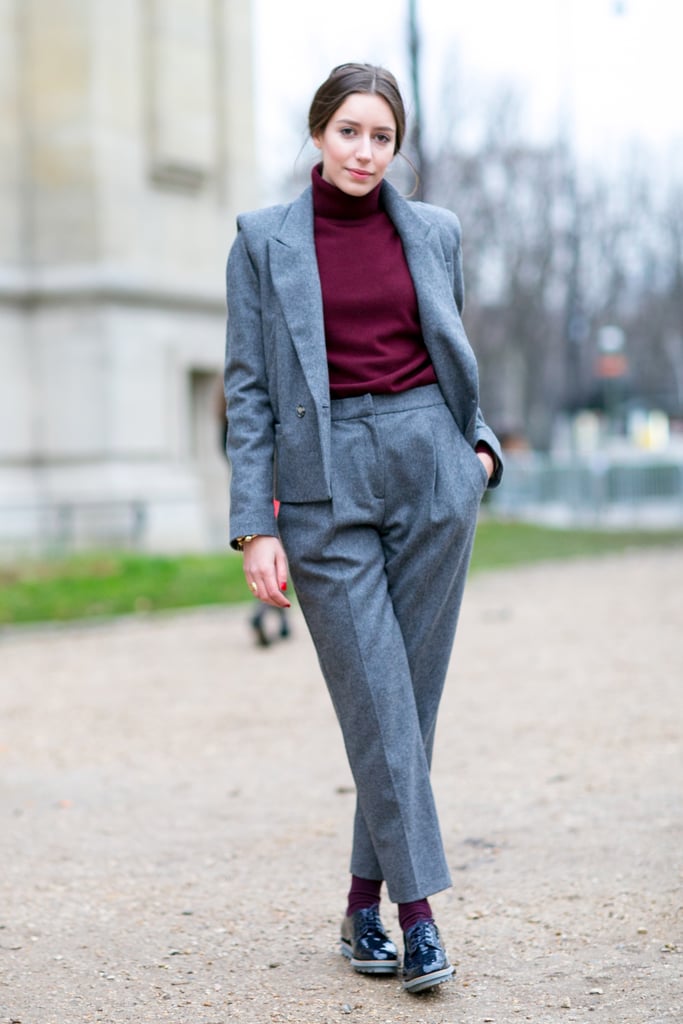 Borrowing from the guys, but keeping it simple.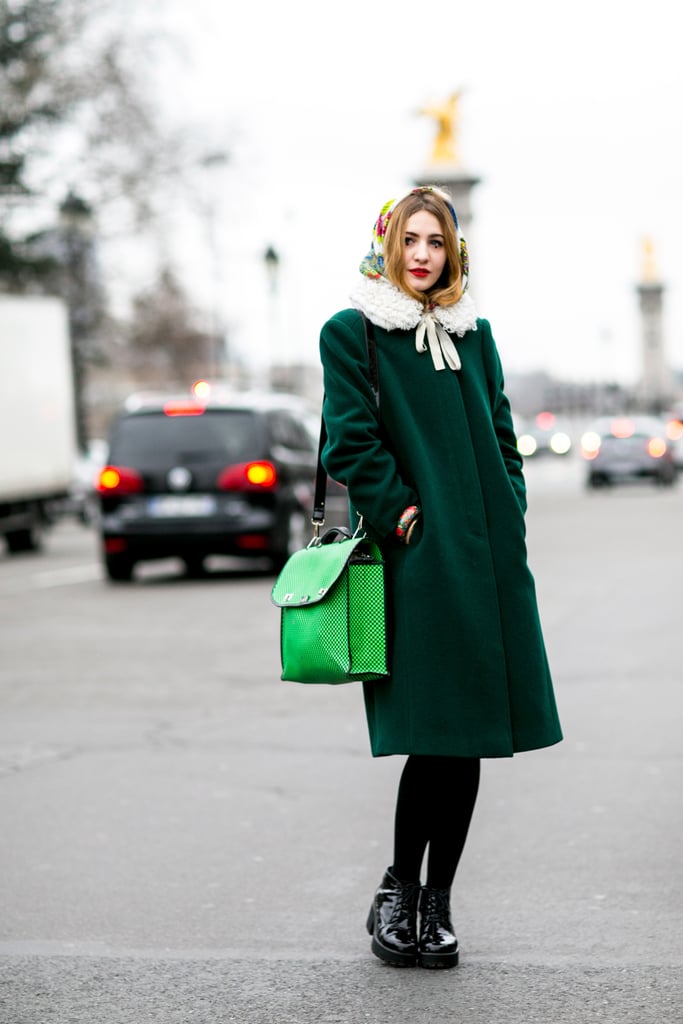 Varying shades of green didn't compete, they complemented in this ultrafeminine snap.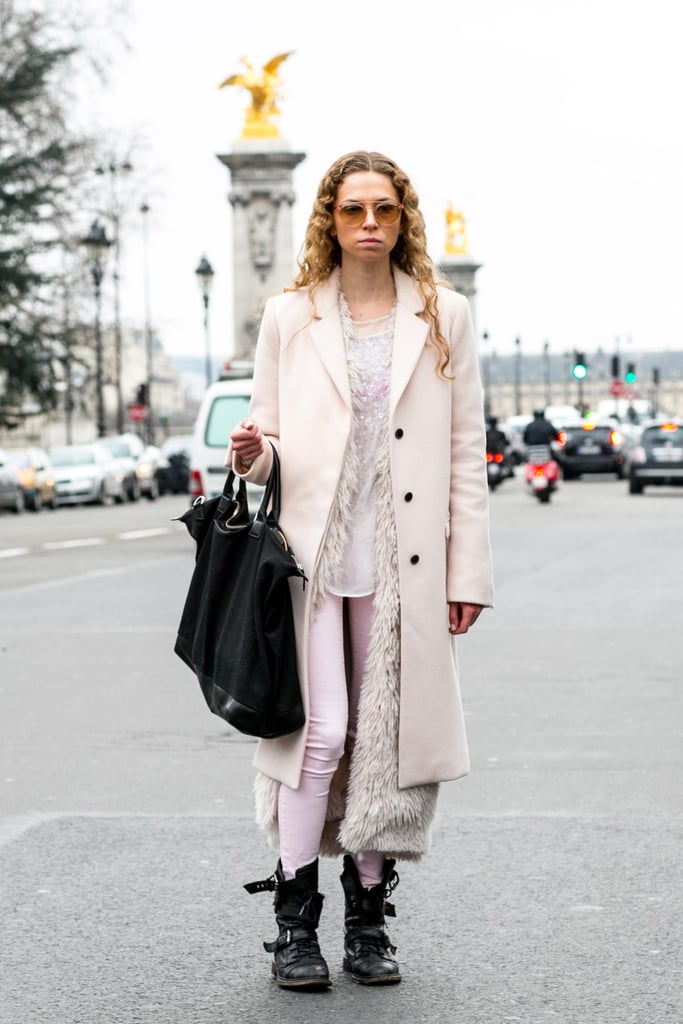 A textural vest added interest to monochromatic layers.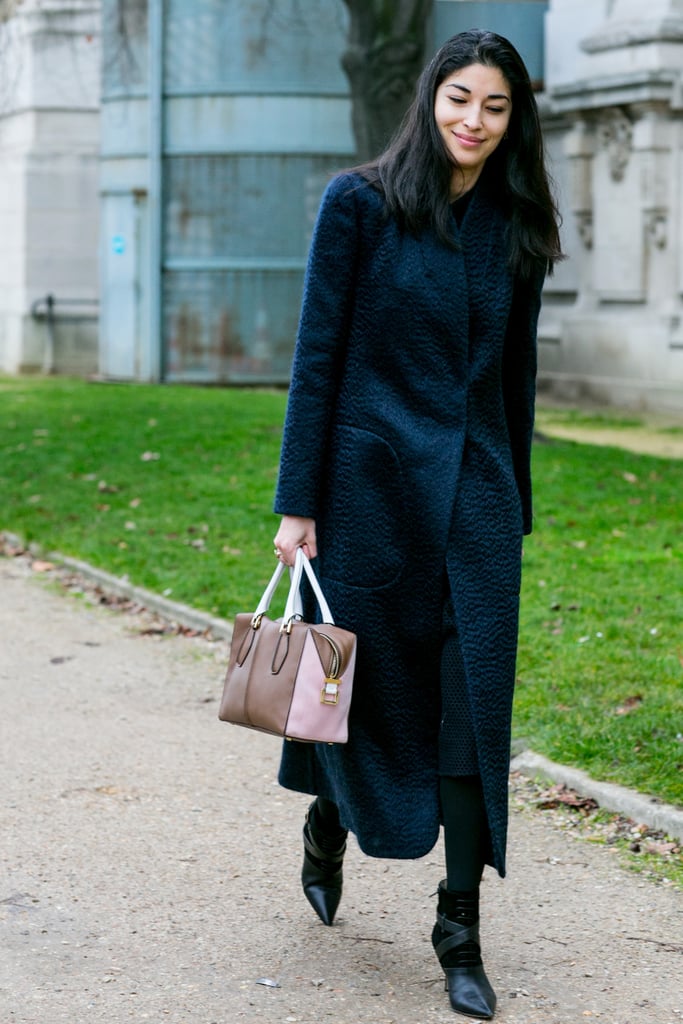 Caroline Issa carried her ladylike sensibility to an all-black outfit.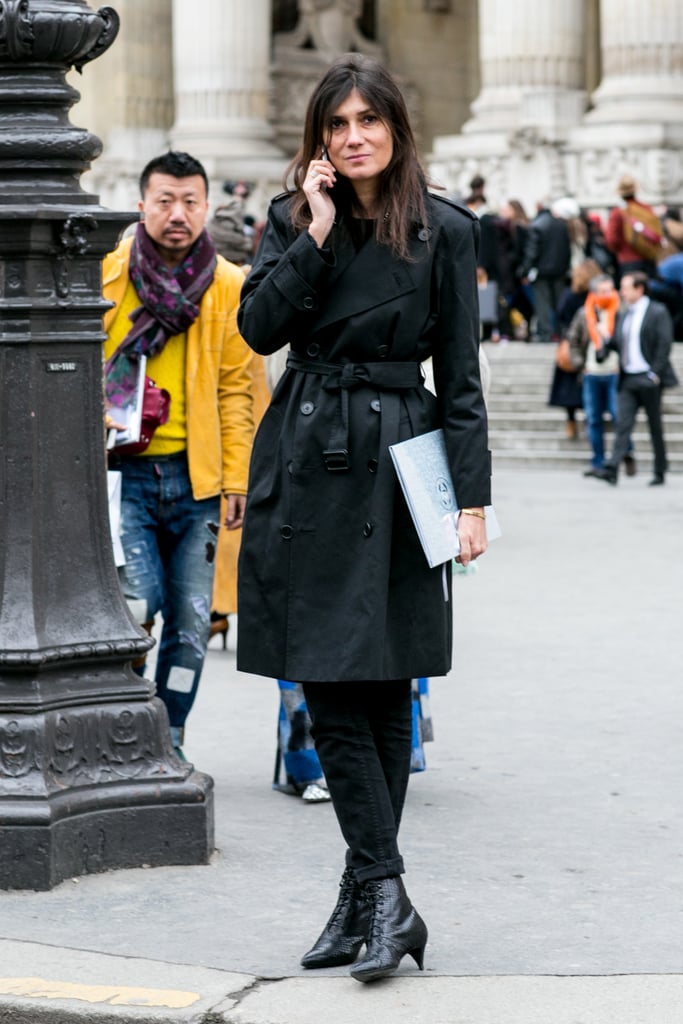 Emmanuelle Alt didn't overcomplicate chic.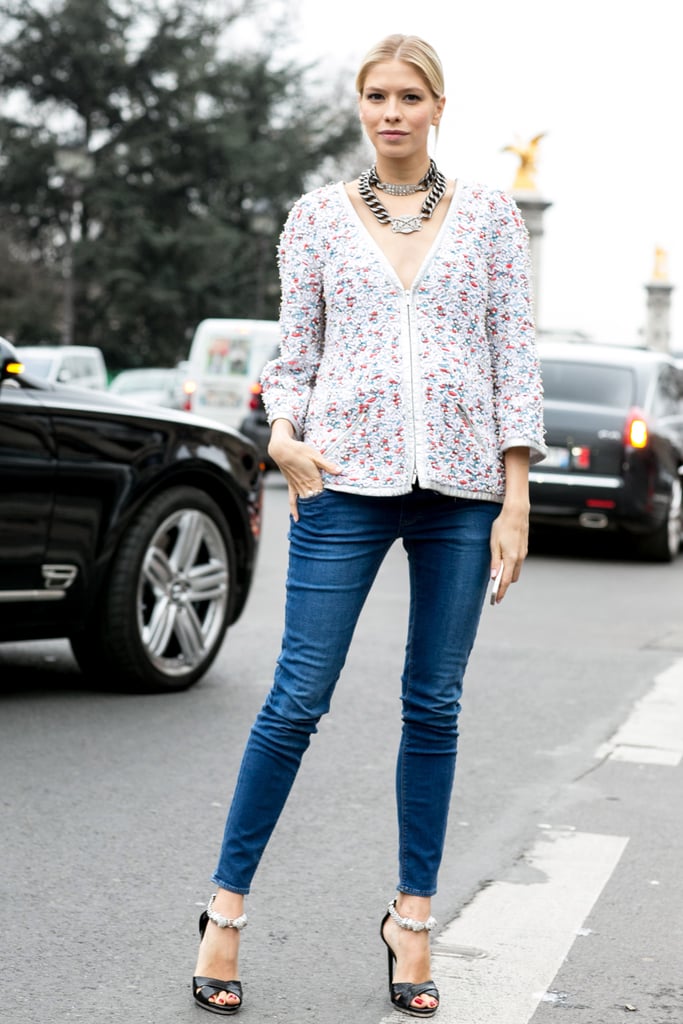 Elena Perminova's modern formula for updating the cardigan? Add skinny jeans and statement jewels.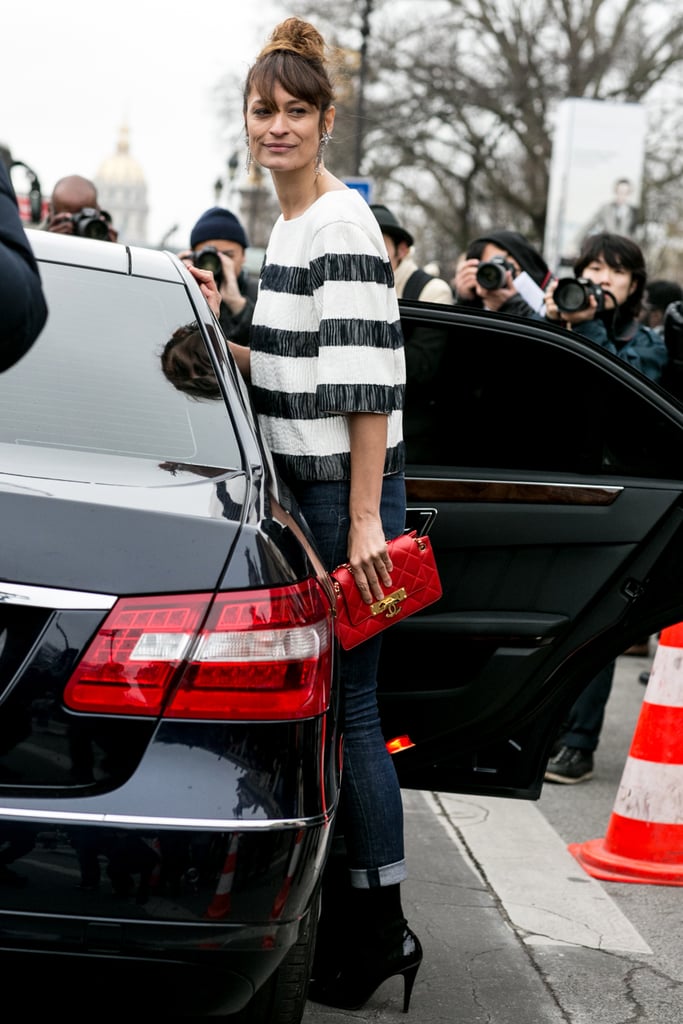 The definition of Parisian chic in stripes and a pop of red.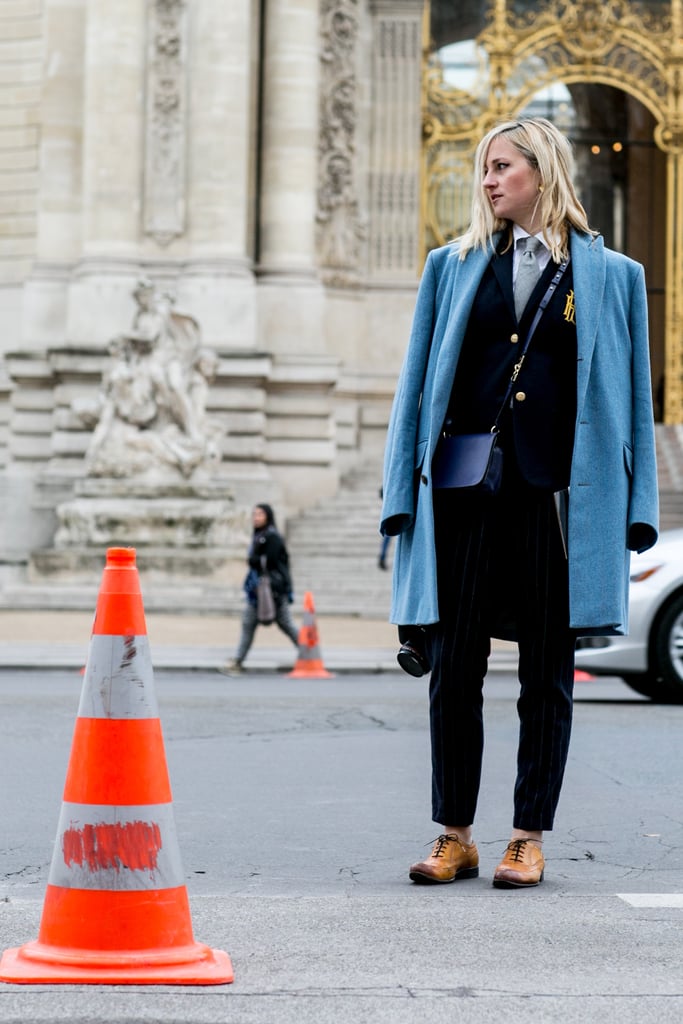 Outfitted, tomboy style, for the cold.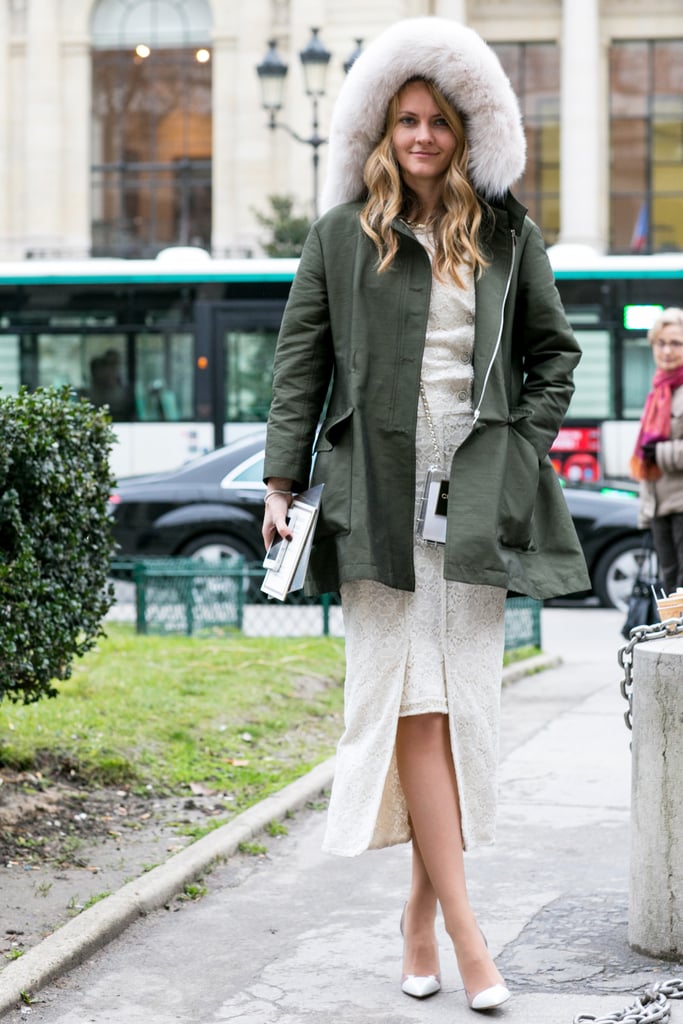 There's nothing we love more than a tough-meets-feminine mix-up like an anorak to warm up a pretty white dress.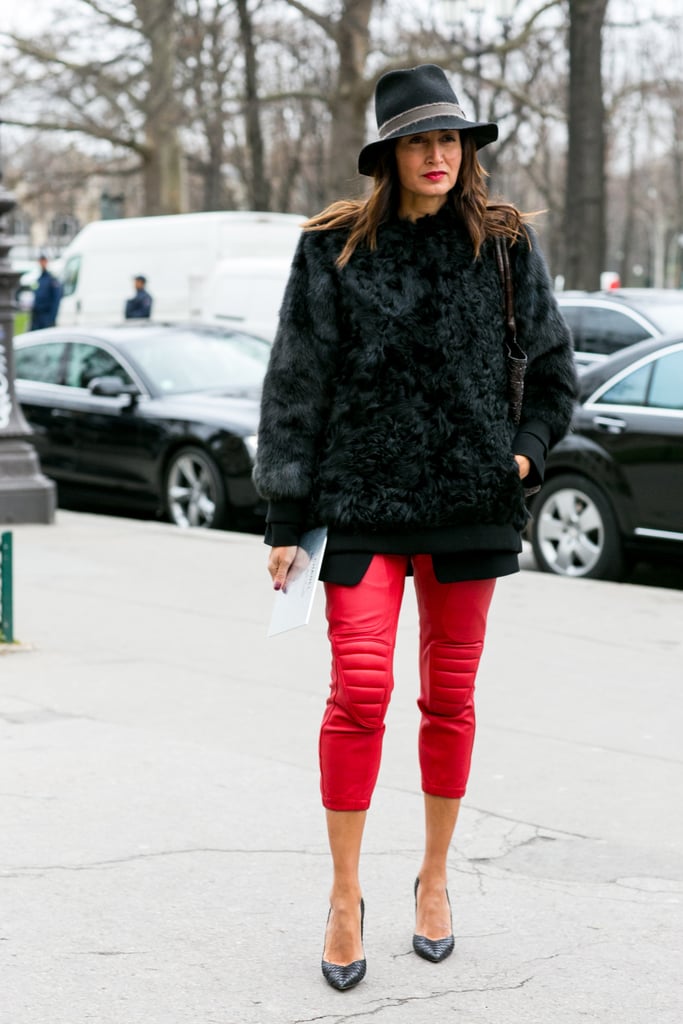 It would be hard not to notice those bright red pants, but with a furry black topper, she created an easy balance.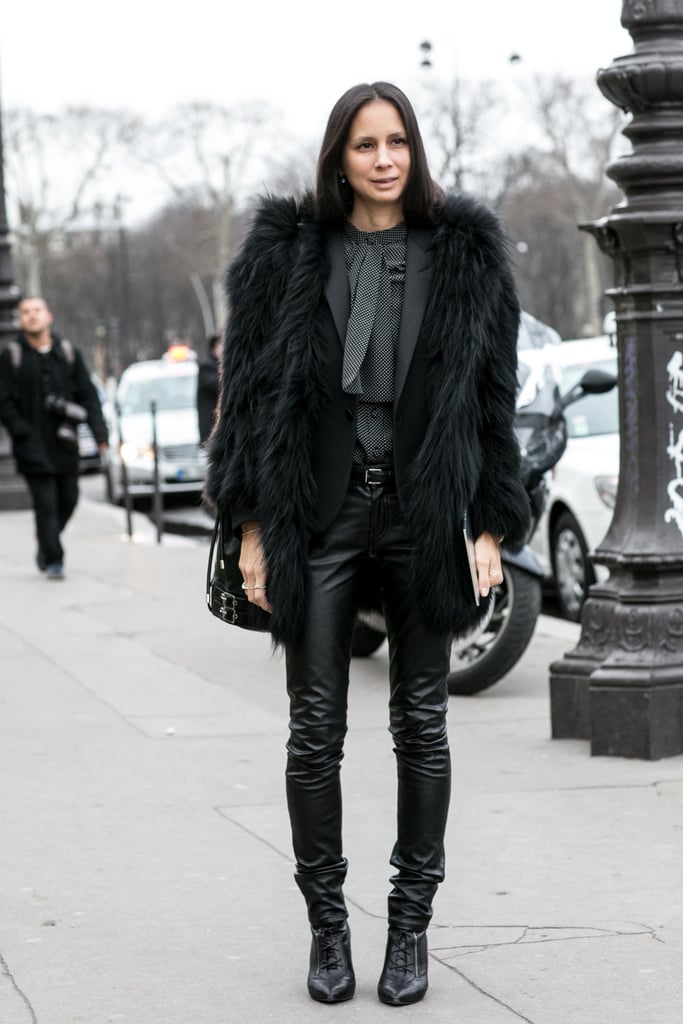 Rocker-inspired luxe.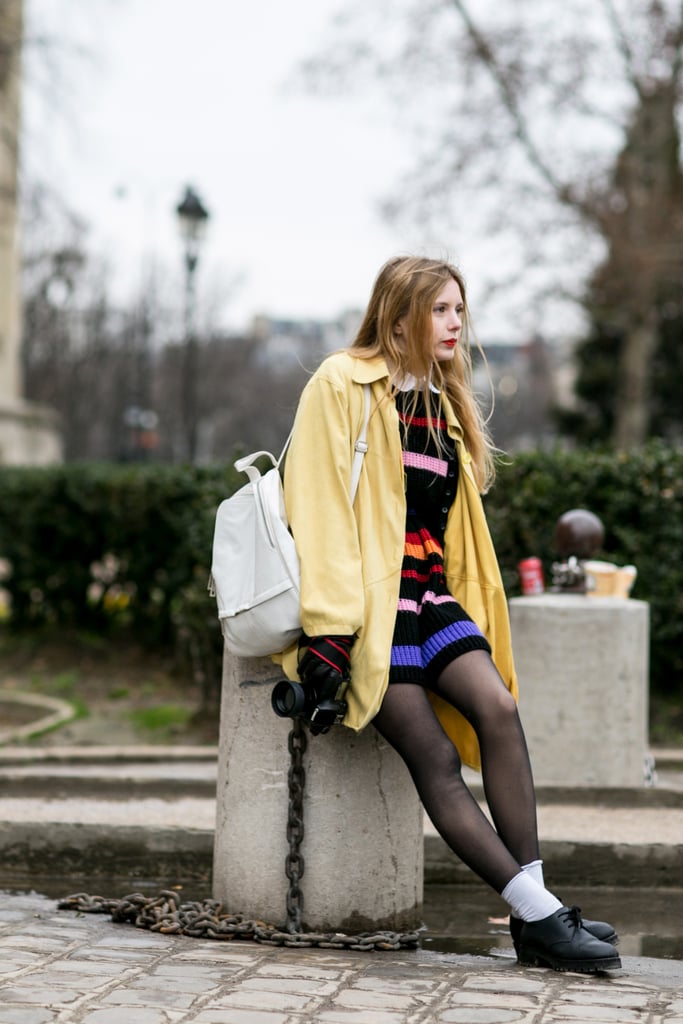 Schoolgirl goes high-fashion.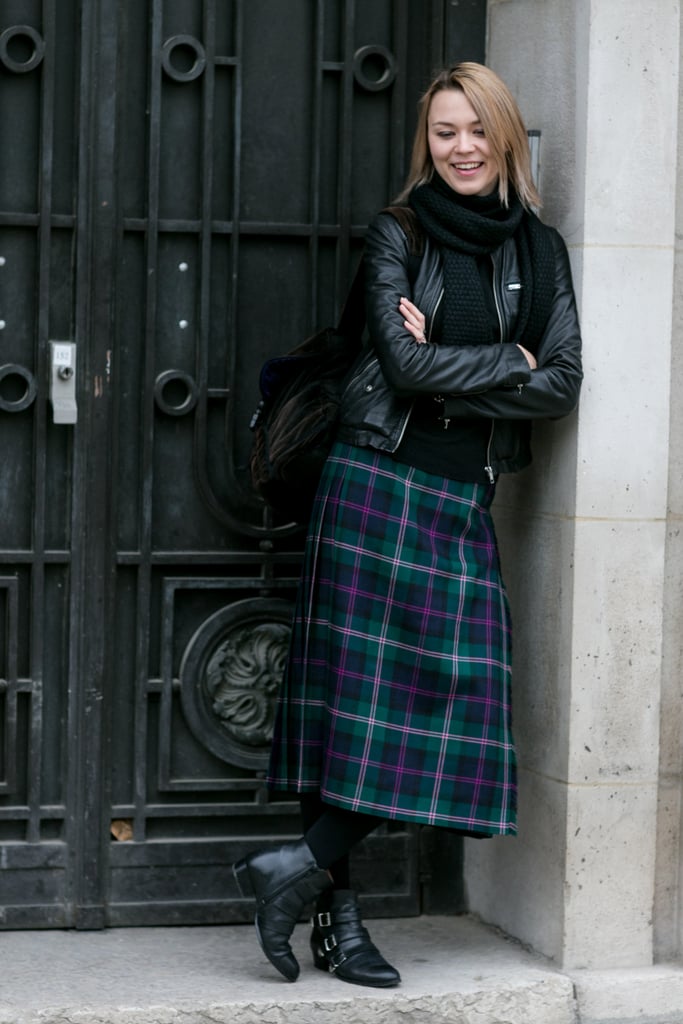 The anti-prep-school girl in calf-length plaid.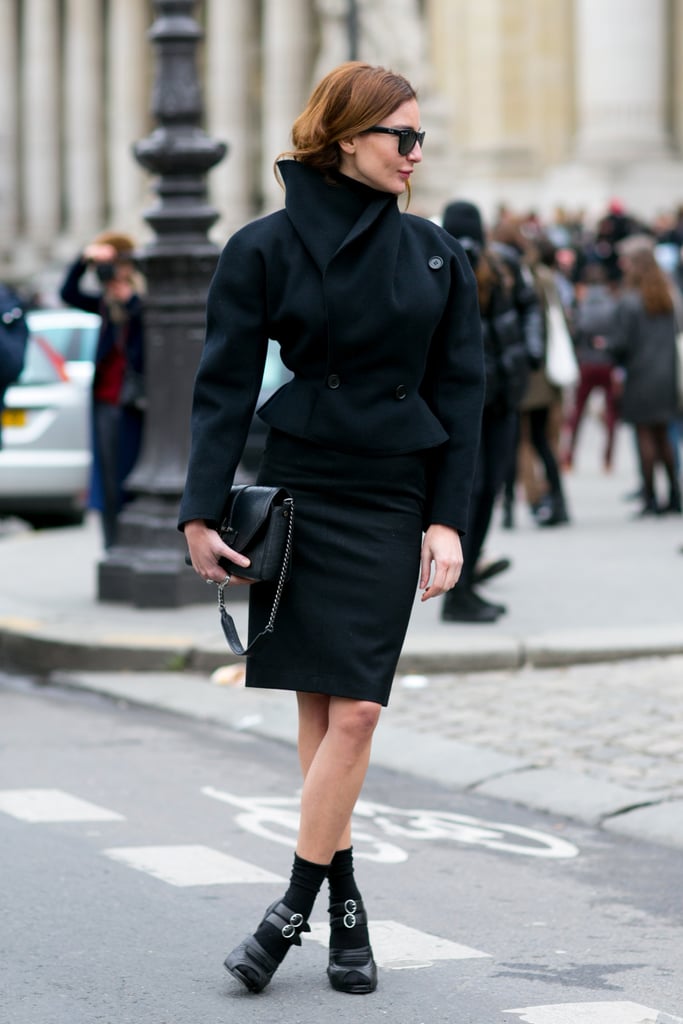 Everything about this says "fashion."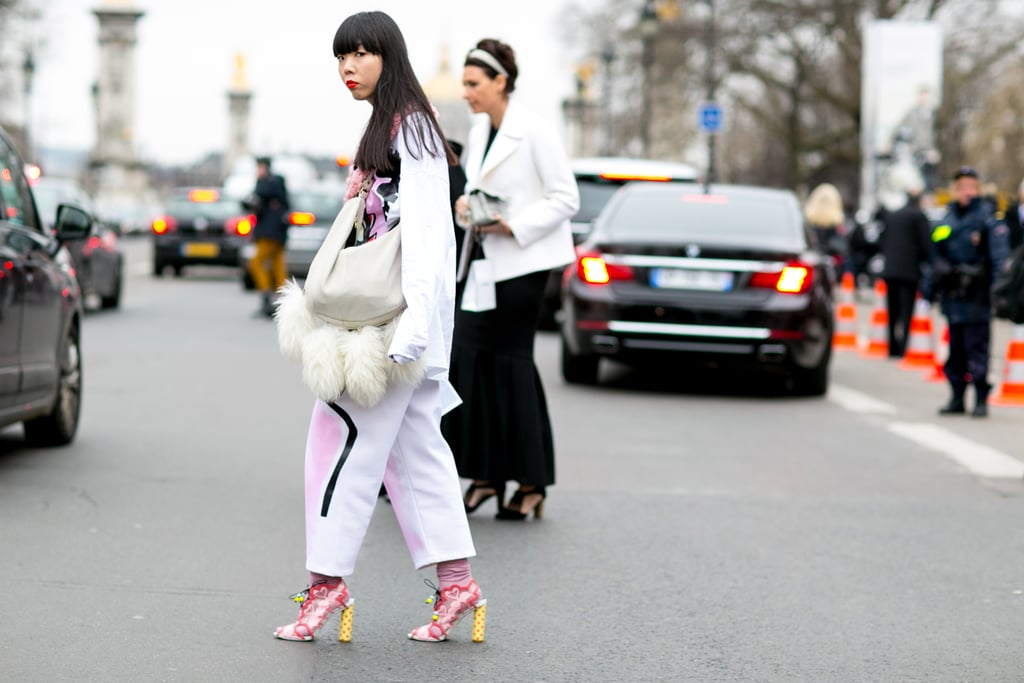 We can't decide what we love more — Susie Bubble's heels or her bag. She knows her way around some all-star accessories.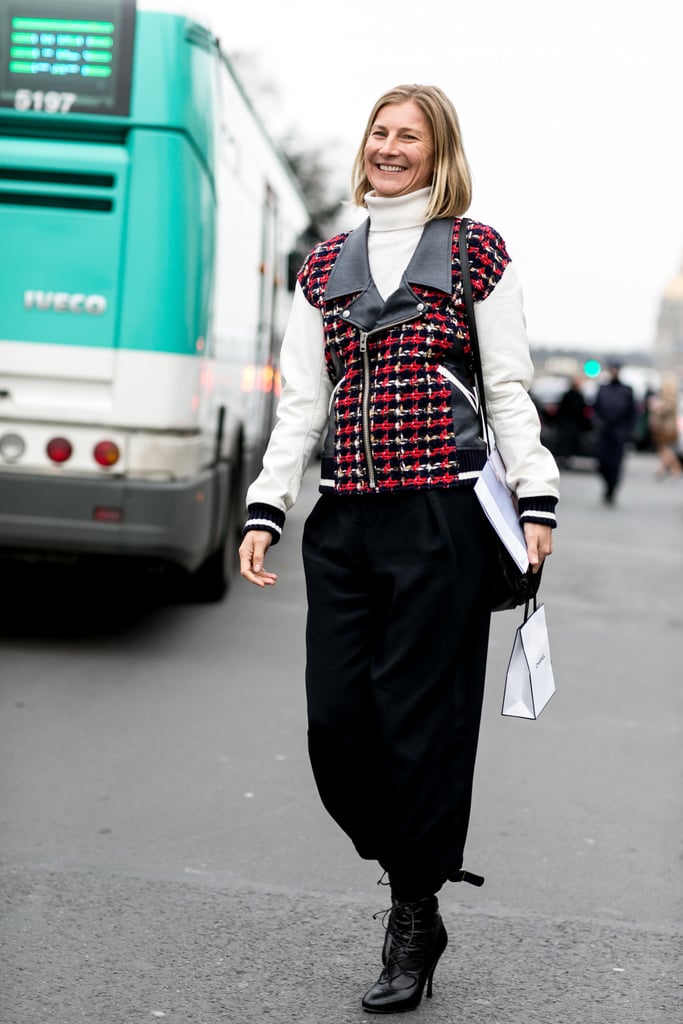 When boucle meets leather, the classic gets a little tough-girl appeal.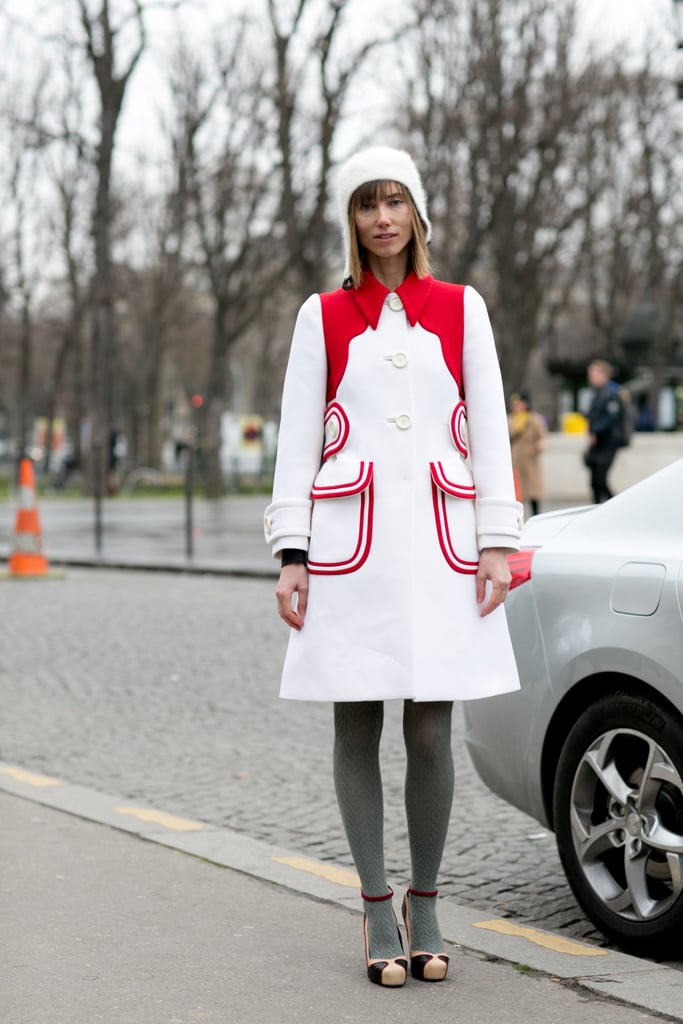 Anya Ziourova charmed us with her red and white coat.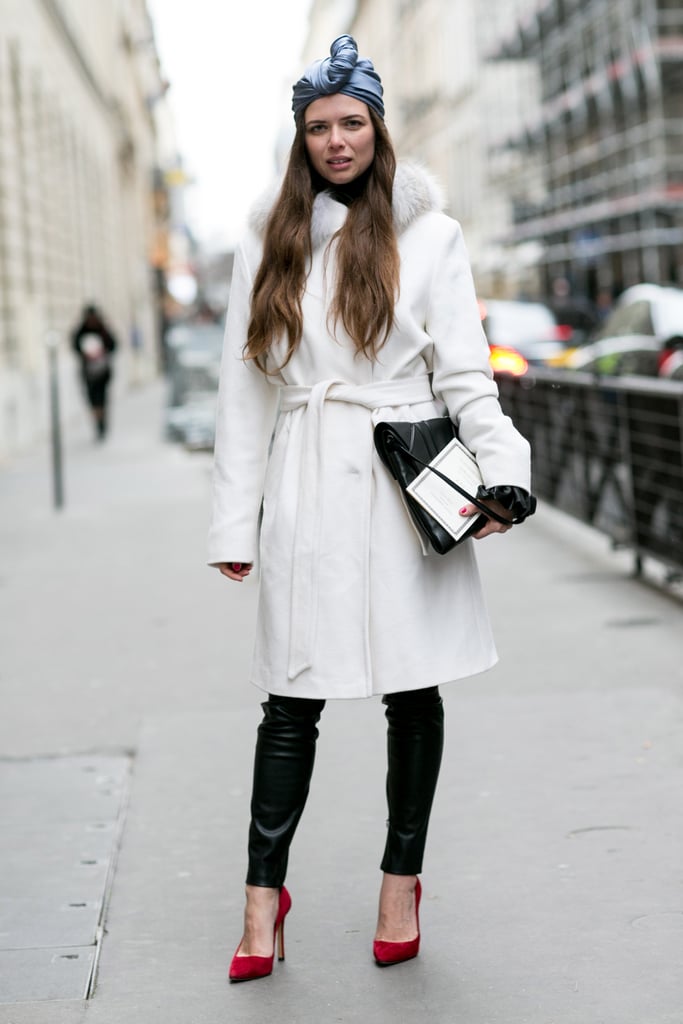 Topping your look with a turban might just inspire an entirely bohemian sensibility.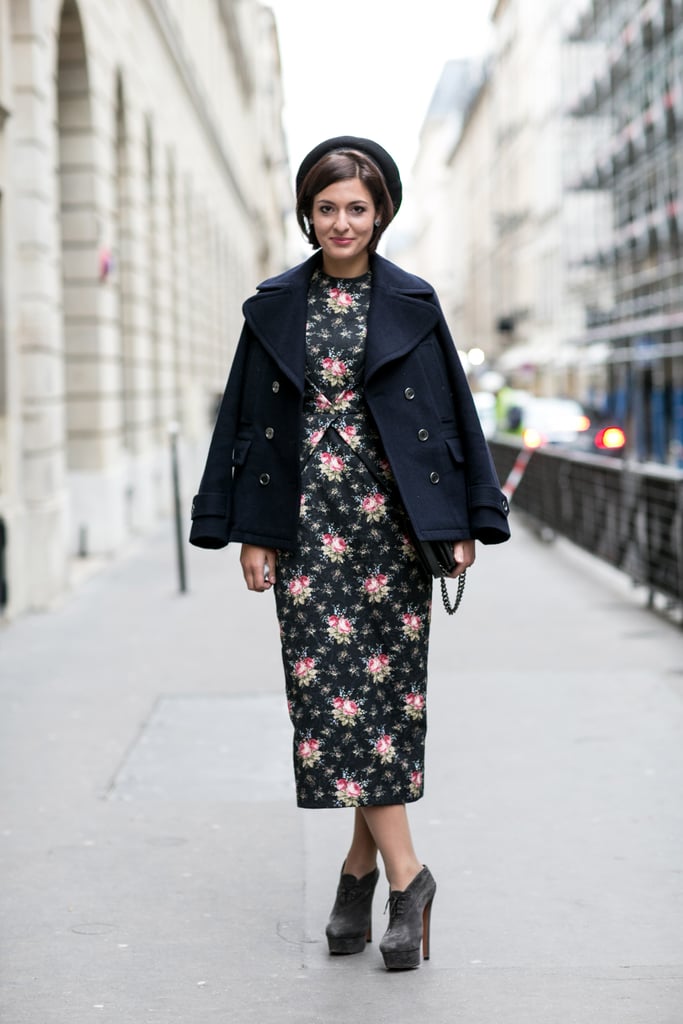 Ladylike got a lift from lace-up platforms.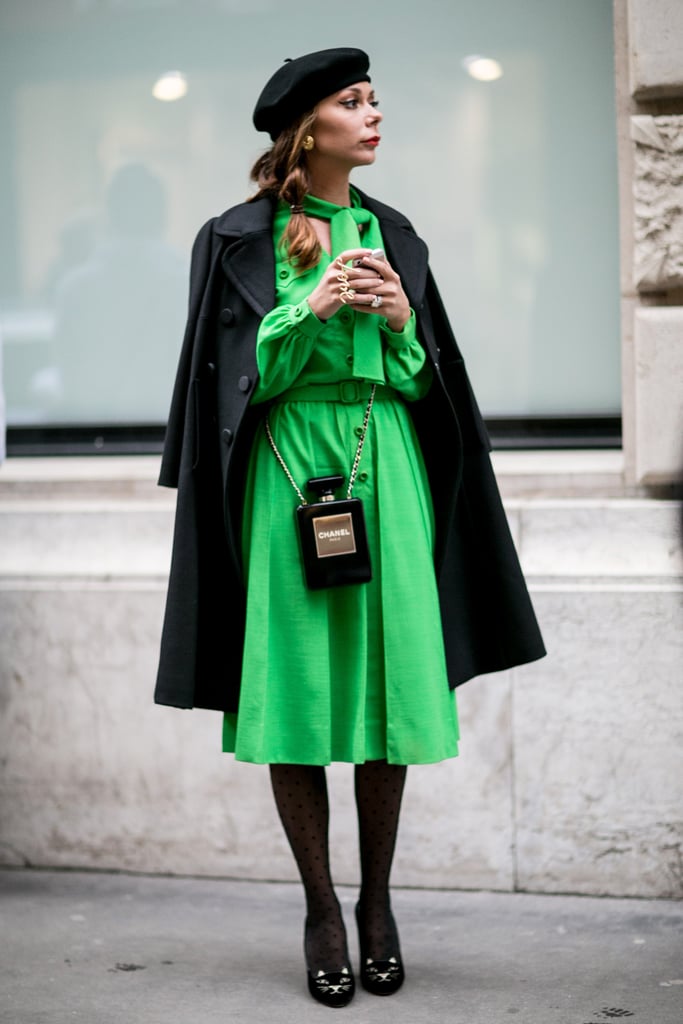 Emerald color so pretty, it almost looked painted on.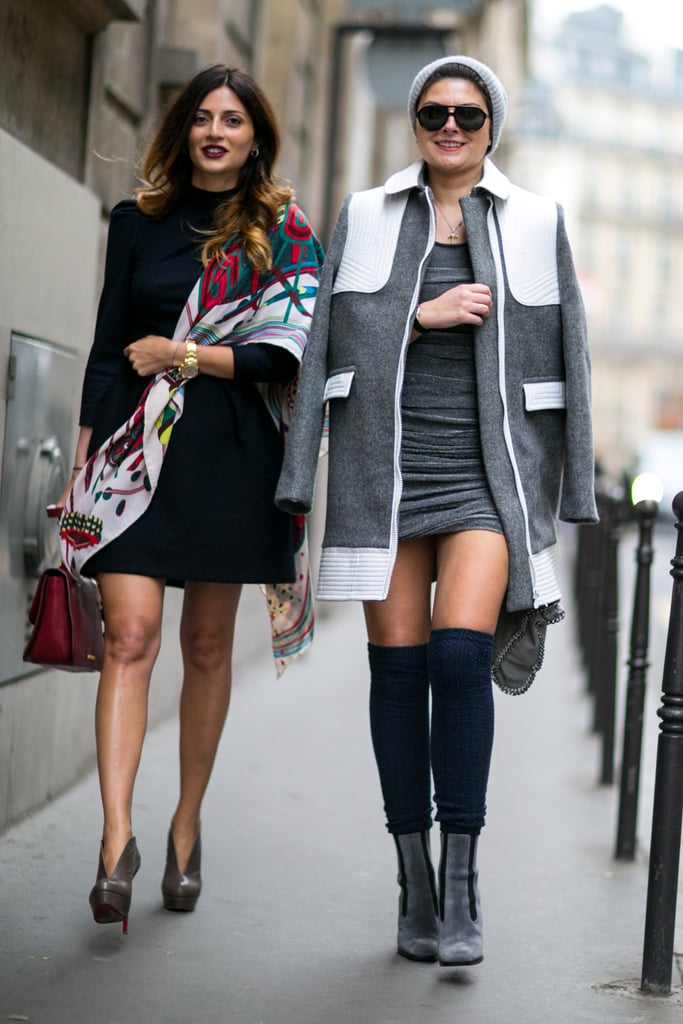 Double the minis, double the fierceness.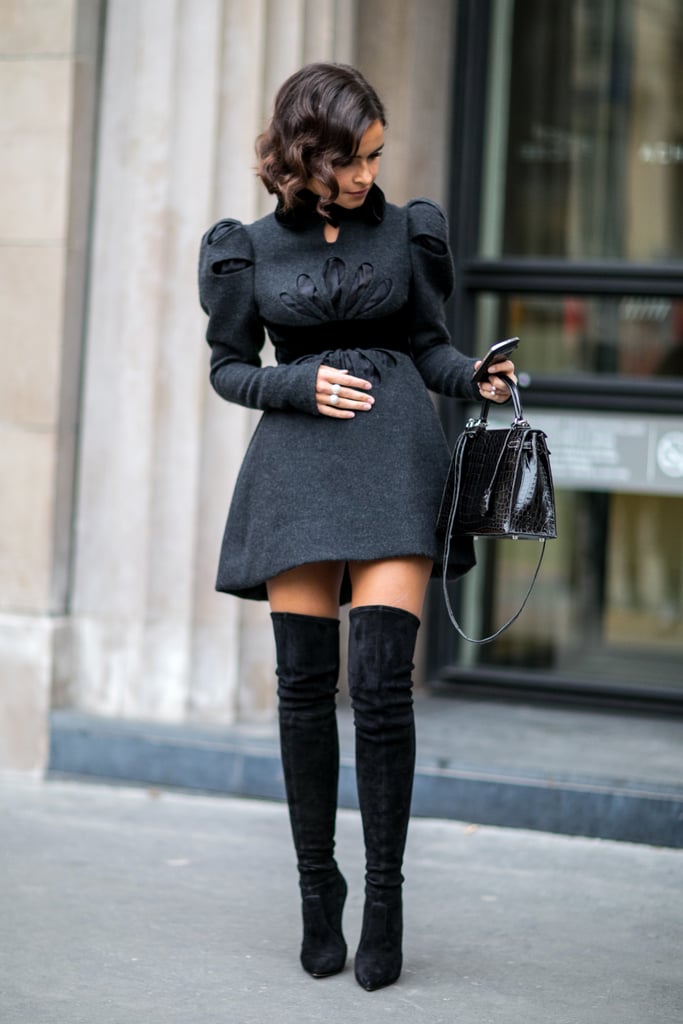 Miroslava Duma knows the trick to making a sweet dress a little sexier is over-the-knee boots.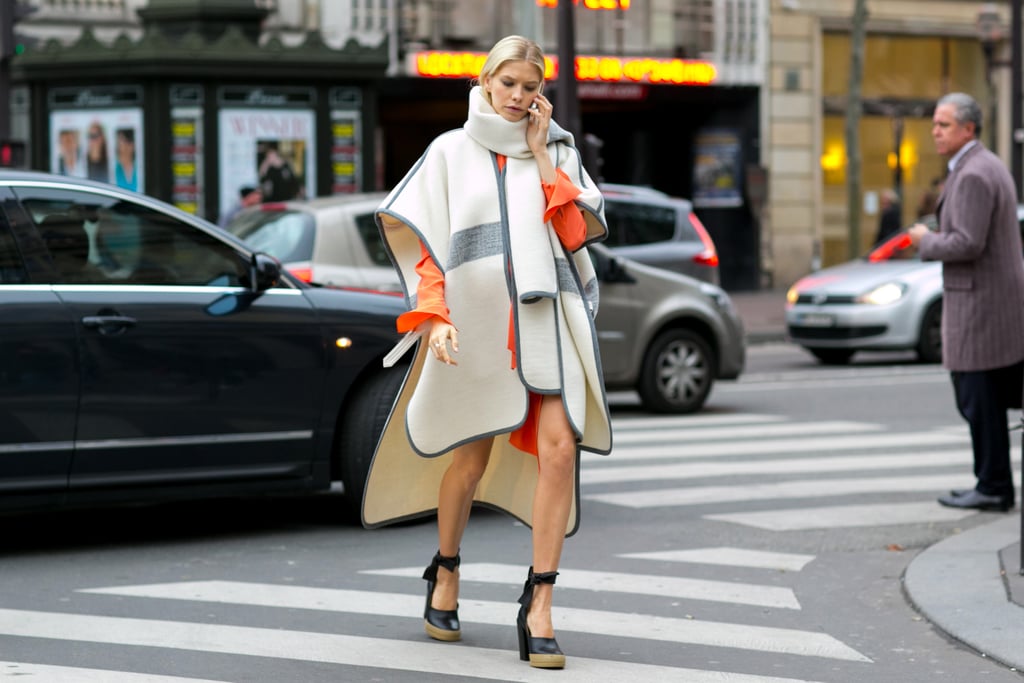 Elena Perminova's layering magic.
---
Links:
[1] http://www.fabsugar.com/Celebrities-Paris-Haute-Couture-Fashion-Week-Spring-2014-33622350
[2] http://Le-21eme.com/
[3] http://Le-21eme.com/
[4] http://Le-21eme.com/
[5] http://Le-21eme.com/
[6] http://Le-21eme.com/
[7] http://Le-21eme.com/
[8] http://Le-21eme.com/
[9] http://Le-21eme.com/
[10] http://Le-21eme.com/
[11] http://Le-21eme.com/
[12] http://Le-21eme.com/
[13] http://Le-21eme.com/
[14] http://Le-21eme.com/
[15] http://Le-21eme.com/
[16] http://Le-21eme.com/
[17] http://Le-21eme.com/
[18] http://Le-21eme.com/
[19] http://Le-21eme.com/
[20] http://Le-21eme.com/

---