You probably don't need us to tell you that the fashion crowd travels with some serious eye candy. Their Fashion Week appearances are marked by statement heels, cool-girl sneakers, sleek zip clutches, and covet-worthy totes (and backpacks!). At Paris Fashion Week [1], it's another round of luxe labels and unique details — and we'll be shoe, bag, and jewelry stalking all week — starting now.
Source: IMAXTREE [2]
What better to counter a modern little Chanel Lego clutch than dreamy florals?
When shoes are the stars of the show.
The prettiest baby blue hue on this YSL bag.
She may just have one of the best accessorized wrists we've ever seen.
Eva Chen's fringed hemline showed off a pair of sporty slip-ons.
She piled on the texture with a furry finish on her bag and an exotic finish on that jacket.
Clearly, this is PFW's best accessory.
This Lego clutch is the literal bright spot in any outfit.
Anna Dello Russo's dark add-ons practically blend with her showstopping dress.
All the cool kids carry Chanel backpacks.
All hail a perfectly polished little Chanel.
Got milk?
The star of this show is a great tee and an even better necklace.
This little Fendi is delightfully whimsical.
This showgoer was armed with Chanel.
Nothing gets you noticed quite like a pair of red heels.
This black YSL bag and soft, camel suede team up for a perfectly polished look.
One part tough girl, all parts fashionista.
The perfect pop of color.
We love that her jewels mimic the pattern of her coat.
This little Chanel practically blends with her LBD.
Talk about turning heads.
This Dolce & Gabbana belt would be beloved by any fashion fan.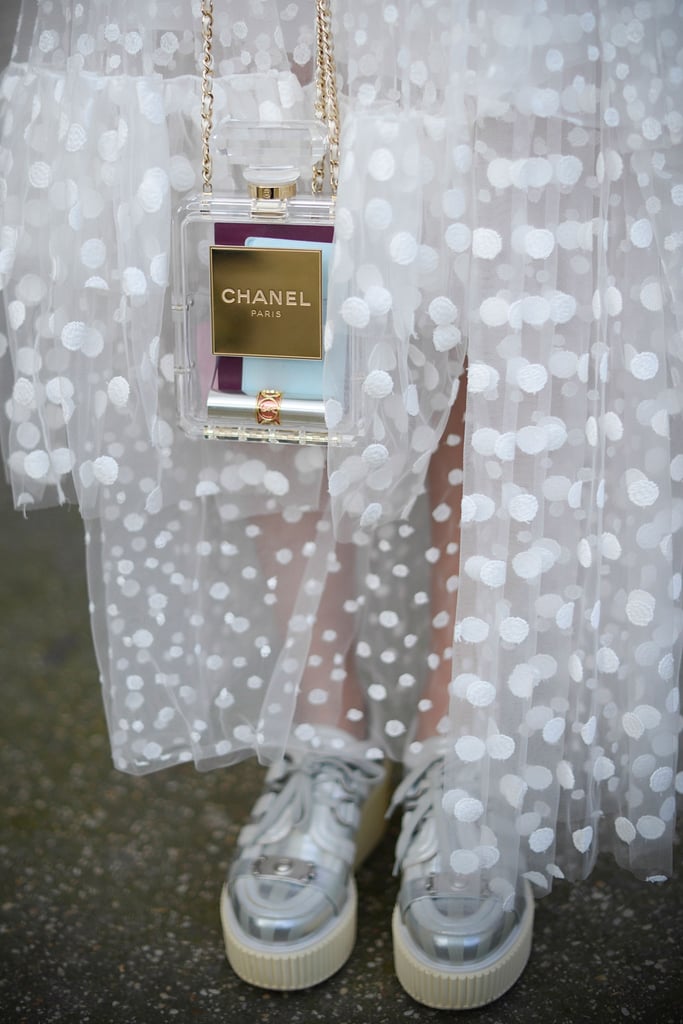 We love the fantasy-inspired element and the functional footwear.
We can't get enough of her baubles — or her nail art.
A perfect balance of delicate and statement-making jewels.
She totally pulled off a fanny-pack.
The sweetest way to sport your socks has got to be in pink.
A clutch that wows us with color and texture.
A Pashli is a street style staple at this point.
Can't beat a cool-girl cap.
How cool would it have been to tote one of these backpacks in middle school?
Gold jewels and a see-through crossbody bag make this a notice-me look.
The prettiest kind of footwear can't be easy to walk in, but gosh, does it look good?!
She added even more drama to a Prada face coat with her high-impact fringed bag.
The Little Mermaid is a total good luck charm.
We love everything about this — the color, the fringe, the jewelry!
These crystal-heeled pumps would surely give you a leg up.
Twinning, from their pastels to their circular carry-alls.
This little fur ball is ultraglam.
We can't resist her red accents — or that fringe.
A clutch so cute we could eat it up.
This Céline bag packs quite the color punch.
This Prada bag is totally making faces at us.
We're just admiring this sweet color combination — oh, and that bag.
Chiara Ferragni toted the Moschino accessories straight off the Fall '14 runways.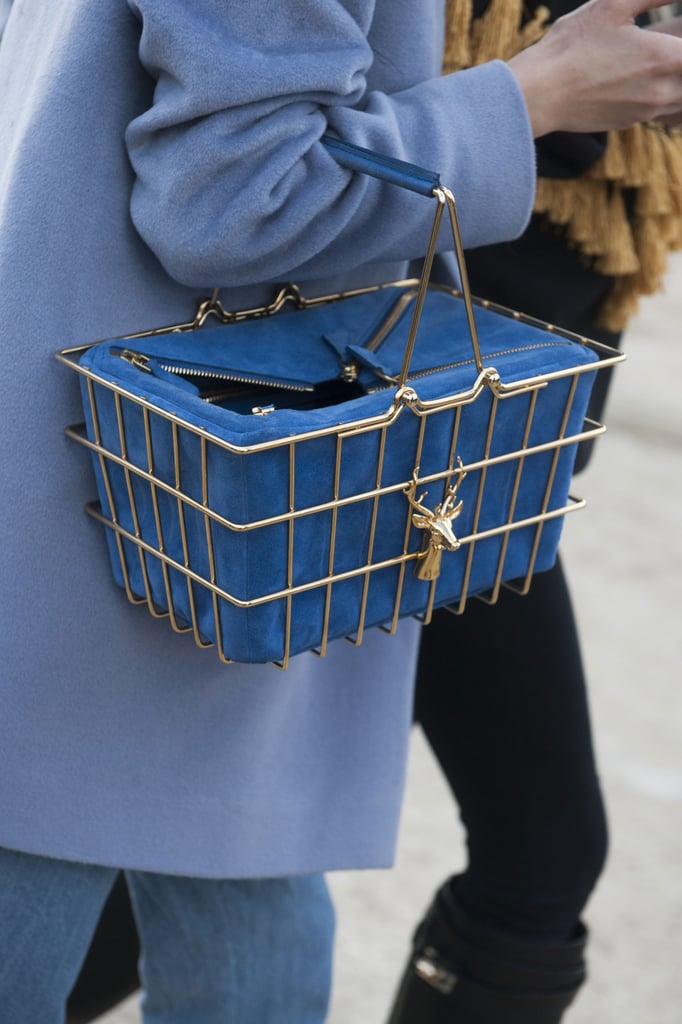 The most luxurious way to shop.
At Fashion Week, invites double as accessories.
A classic Alexander Wang bag is a downtown girl's best friend.
Two bags are always better than one.
This shot pretty much sums up how amazing the accessory game is in Paris.
The poshest of accessories.
Count it — another fringed bag.
We're obsessed with Shiona Turini's metallic Dior bag.
Jessica Hart's hat isn't just a fashion statement, it's a cute way to stay warm.
This bedazzled Fendi is a major outfit perk.
Talk about arm candy — this showgoer flashed a covet-worthy Dior bag.
This Chanel comes with extra luxe, thanks to a few charms.
She finished off her bold Kenzo prints with a pastel Chanel.
The heels on these mules deserve all the attention.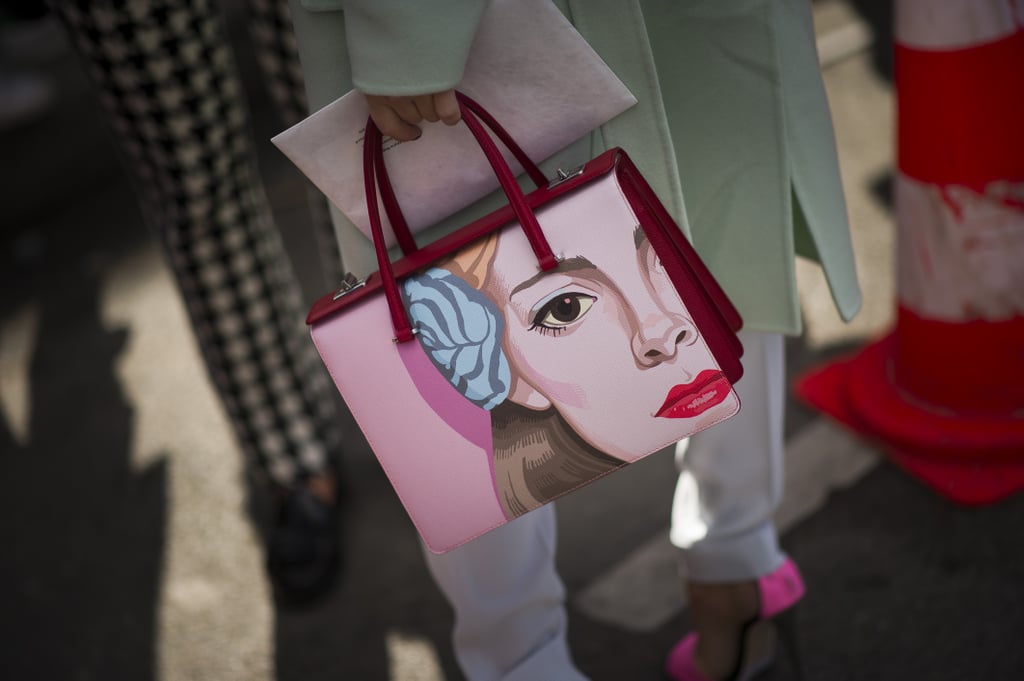 How do you really make a statement with your accessories? With a face-painted Prada bag.
Strappy heels are an edgy contrast to a floor-length pink skirt.
Aviators give this look just the right cool finish.
We don't even need to see the rest of the outfit, this hat and clutch get our vote.
Not exactly your typical Winter footwear, but she's certainly on trend.
She finished a monotone look with a navy Valentino bag.
Not your typical crossbody bag, this one is tiny but made for turning heads.
It doesn't get any cooler than mirrored aviators.
A menswear-inspired suit got finished with a totally ladylike bag.
No accessory is too dramatic for Paris Fashion Week.
All you need is love — especially when it comes with a great bag.
A two-tone, structured crossbody bag nails three trends in one.
It's about the edgy details on these add-ons, like quilted leather and skeletal hand jewelry.
A clutch so cute we could eat it up.
This shoe delivers just the right dose of whimsy to complement pink pants.
These heels were made for stomping the streets at Fashion Week.
A novel accent adds just the right outfit intrigue.
Source: Tim Regas
Orange you glad she added these bright accents?
Source: Gorunway.com/Matteo Catena [3]
Anna Dello Russo's athletic-inspired boots aren't exactly for playing sports.
Source: Gorunway.com/Matteo Catena [4]
Brilliant shades of blue make these heeled loafers far from conservative.
Source: Gorunway.com/Matteo Catena [5]
These metallic oxfords are total statement makers.
Source: Gorunway.com/Matteo Catena [6]
She made bright florals, rainbow-colored kicks, and a black and white Céline bag all work in one look.
Source: Gorunway.com/Matteo Catena [7]
How pretty does pastel pink look against baby blue?
Source: Gorunway.com/Matteo Catena [8]
This little bag packs a serious color punch.
Source: Gorunway.com/Matteo Catena [9]
These colorblock platforms command attention.
Source: Gorunway.com/Matteo Catena [10]
Did we mention how much we love minibags?
We love the pattern play between her plaid coat and striped bag.
Even the guys come equipped with some serious arm candy.
She stayed color coordinated with a black and white Chanel Lego clutch.
A pair of leopard print Tabitha Simmons heels are just the kind we'd want to be stomping around in come Fashion Week.
We spy a metallic-tinged Fendi.
A rainbow-hued Chanel might just be the most jaw-dropping kind of carry-all.
Olivia Palermo added Westward Leaning shades and a spotted clutch to her black and white look.
Source: Tim Regas
Miroslava Duma outfitted her bright blue coat with another helping of bold color on her Pierre Hardy bag.
Source: Tim Regas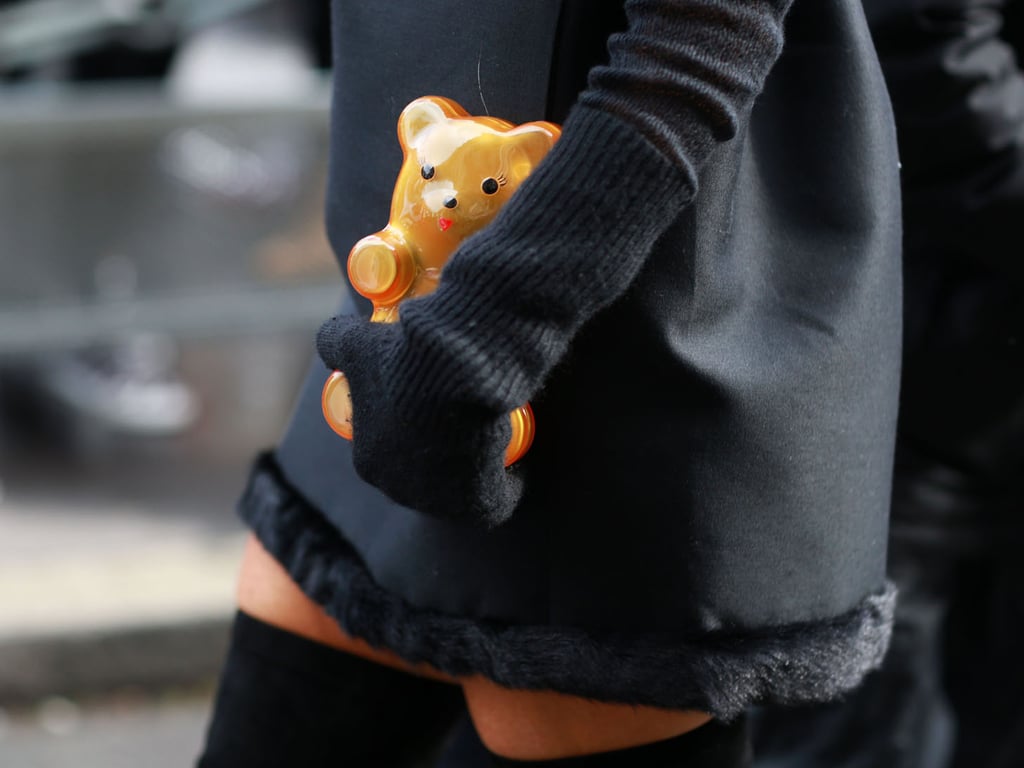 Is there a cuter accessory than a teddy bear?
Source: Tim Regas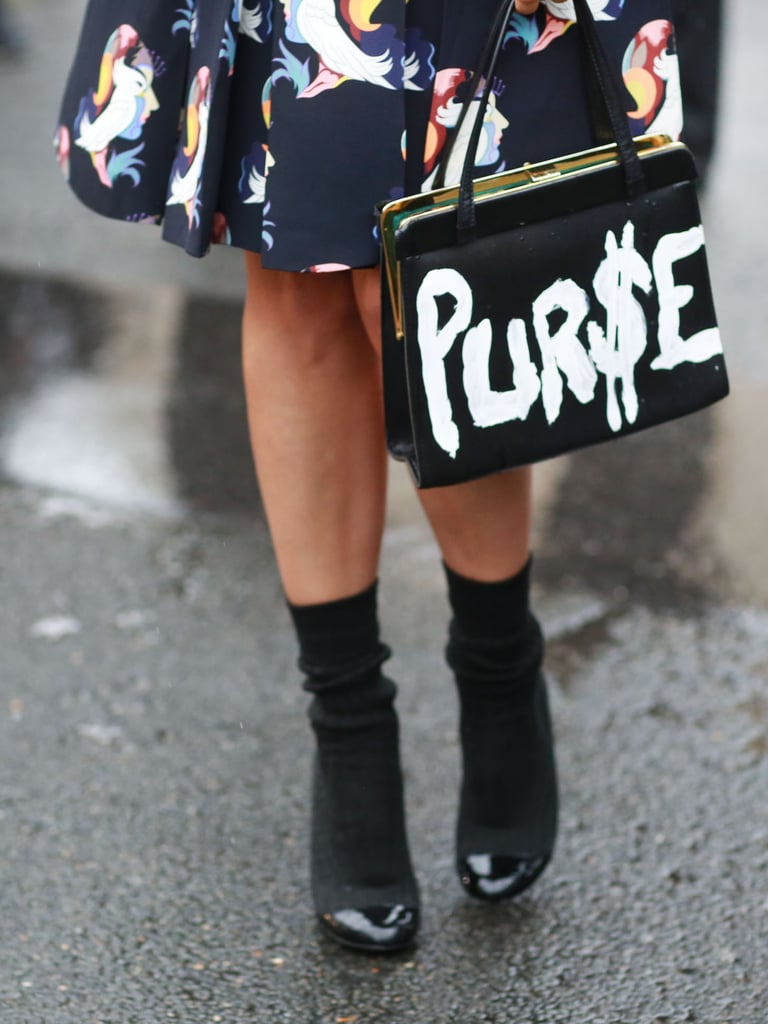 This purse is so money.
Source: Tim Regas
We love the high-shine black patent Louis Vuitton bag against the bold, high-impact print.
When you go white on white, make sure your handbag gets the memo.
Chunky sandals look even more adorable with tights.
Another Celine to gush over, this time colorblock in black and moss green.
We're all about the backpack, especially in this sleek iteration.
Old-school kicks with a tough edge.
This clutch is an outfit superstar.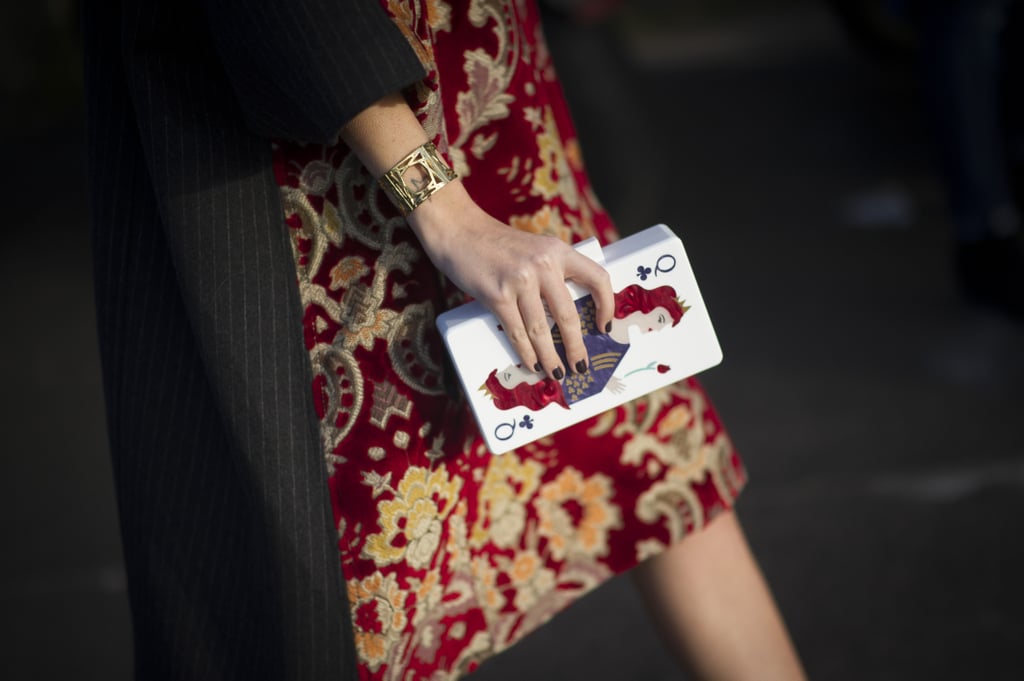 She's the queen of accessories, clearly.
These aren't your mom's pumps — multicolored pastel straps feel distinctly new.
We've never met a Reed Krakoff bag we didn't love.
Anna Dello Russo came armed with Fendi fur.
The embellished detail is almost too pretty to walk in.
Backless boots but a modern spin on a tough-girl shoe.
Shiona Turini capitalized on her red and black palette with a coordinating Chanel bag.
The eyes have it on these boots.
When you wear a ladylike skirt, like this one from Tibi, it's always wise to add ladylike accoutrements, like her top-handle Prada bag and Valentino heels.
How sweet are these smart flats?
We already love a wedge sneaker; add a leopard print, and we're swooning.
Combining the statement powers of two beautiful hues.
These perforated booties are on the fast track to Spring.
Fringed and fabulous.
The heels on these babies are a study in amazing yet subtle details.
Platforms like these will give you a leg up in the fashion crowd.
We don't blame her for holding that pretty purse so tight.
We love that her clutch pairs perfectly with more print.
We're all about the earcuff.
Chunky heels are a surefire way to turn heads.
It may be understated, but this clutch comes with ample texture.
An artsy rainbow-colored chain-link necklace lit up a navy and black ensemble.
These white booties pack even more of a punch, thanks to tortoiseshell detailing.
Even the guys bring out the enviable footwear at Paris Fashion Week.
She came armed and ready with ample cool-girl styling accoutrements, as one does in Paris.
Talk about a sexy shoe — this one boasts a sky-high heel and leopard print.
Style pros will appreciate the fact that her shades echo the hues in her top.
Nobody makes a statement bootie quite like Balmain.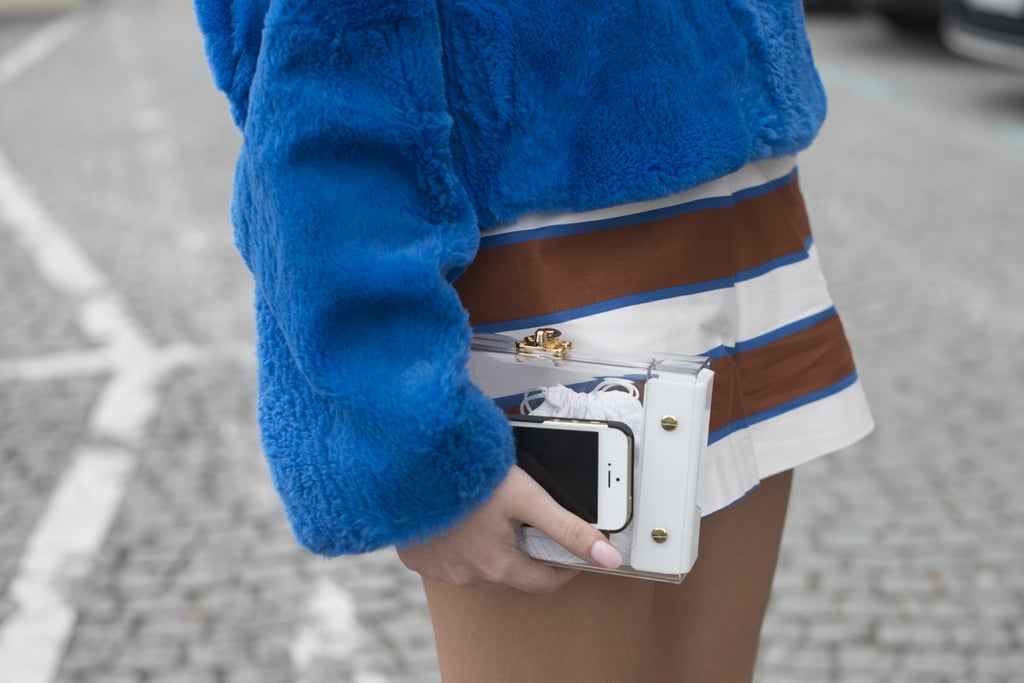 You'll never wonder where you've put your phone with a see-through clutch like this in hand.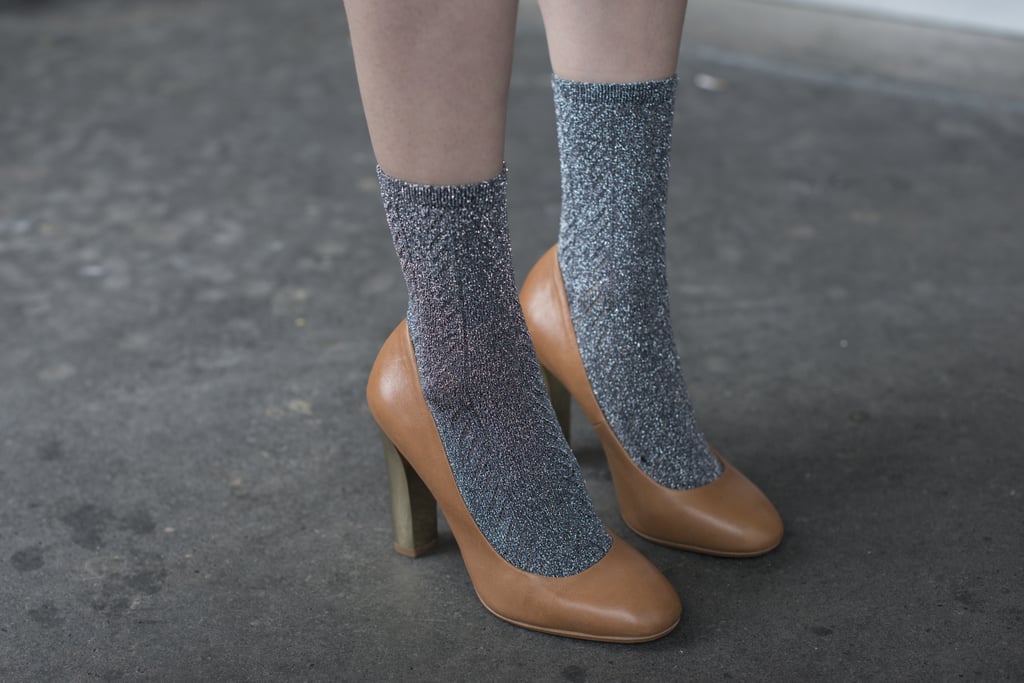 Socks sweeten up these pumps.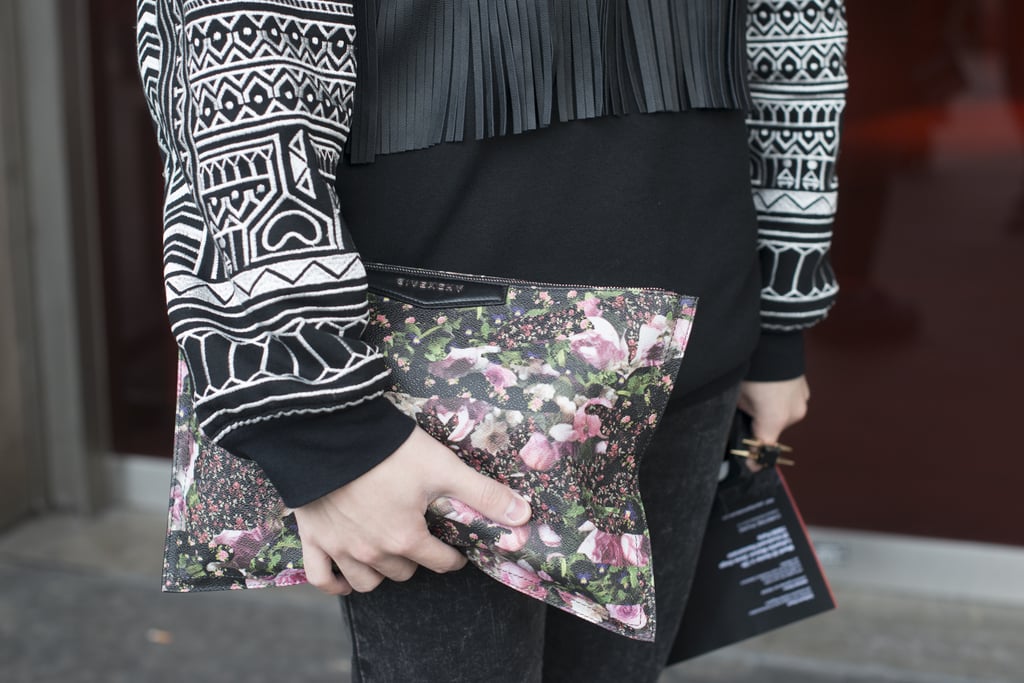 We adore the florals on this Spring-ready Givenchy clutch.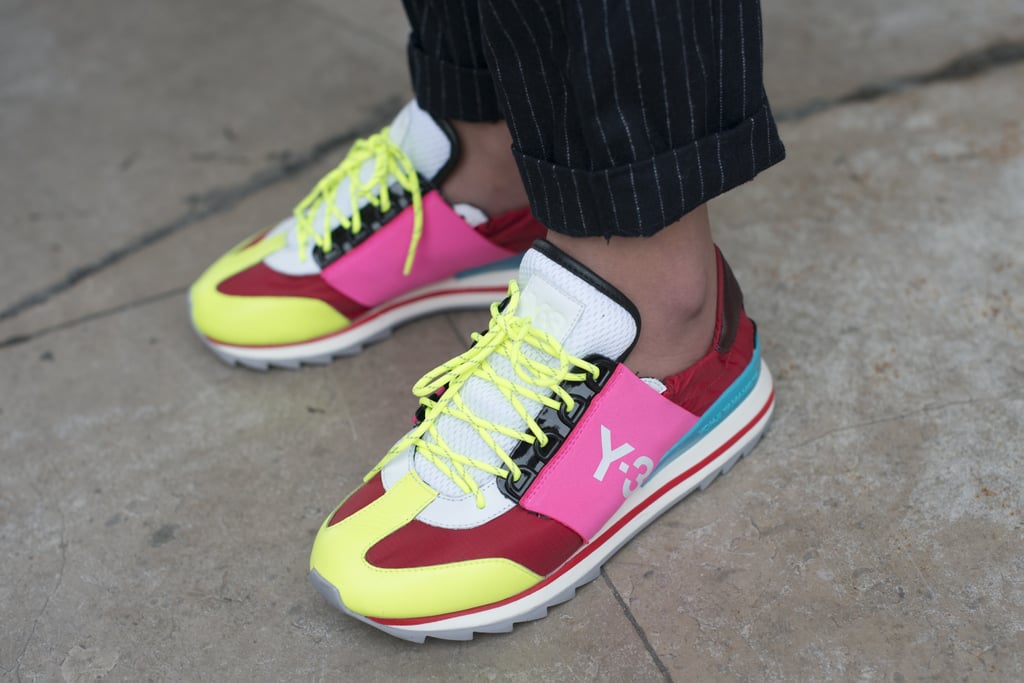 Rainbow-colored kicks up the cool factor on any outfit.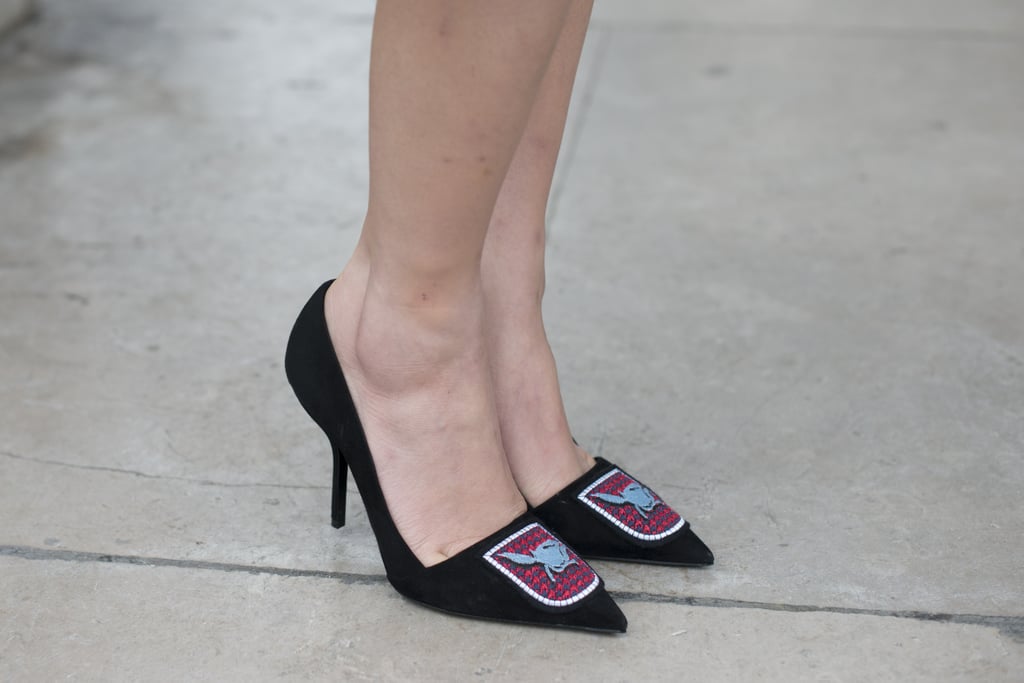 A very posh pump.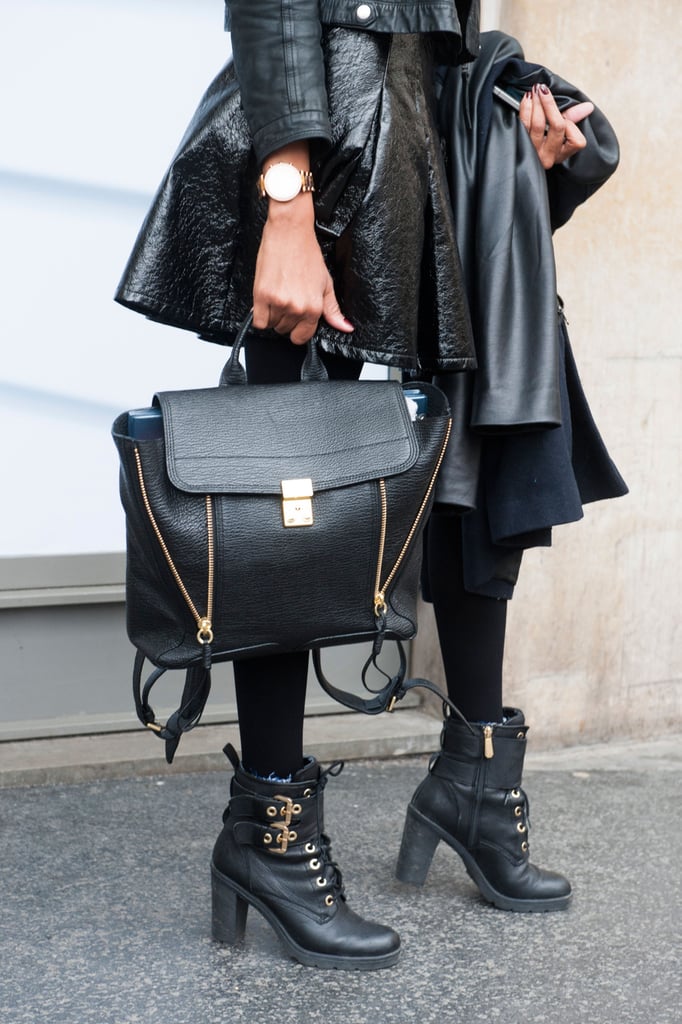 The old-school backpack gets a sleek upgrade, 3.1 Phillip Lim style.
High-fashion sneakers look like this.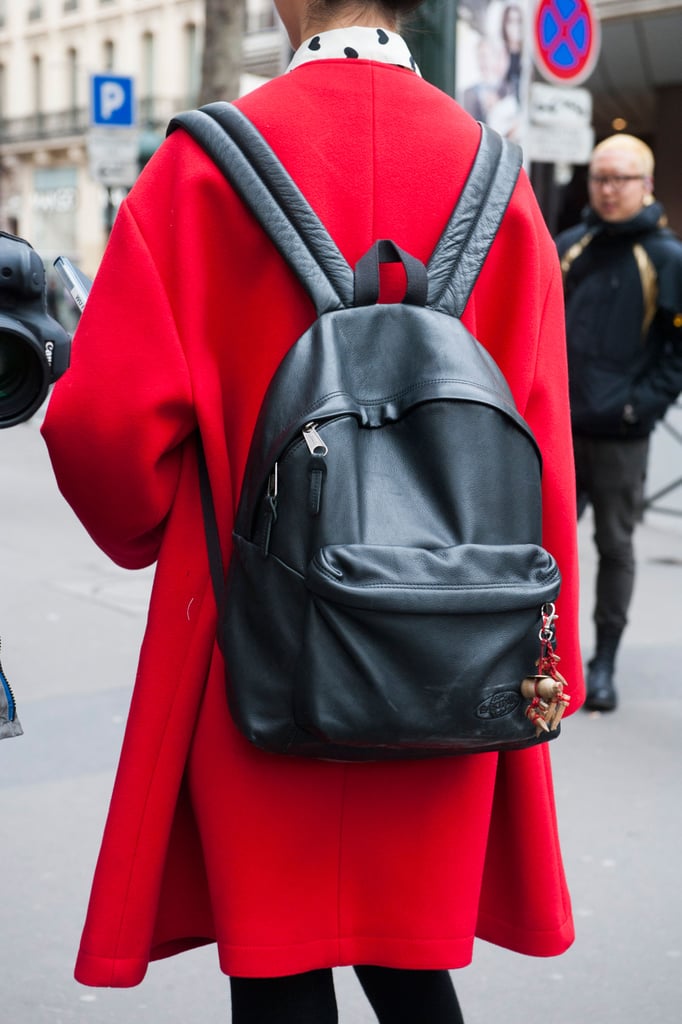 The backpack is still a fashion-crowd staple.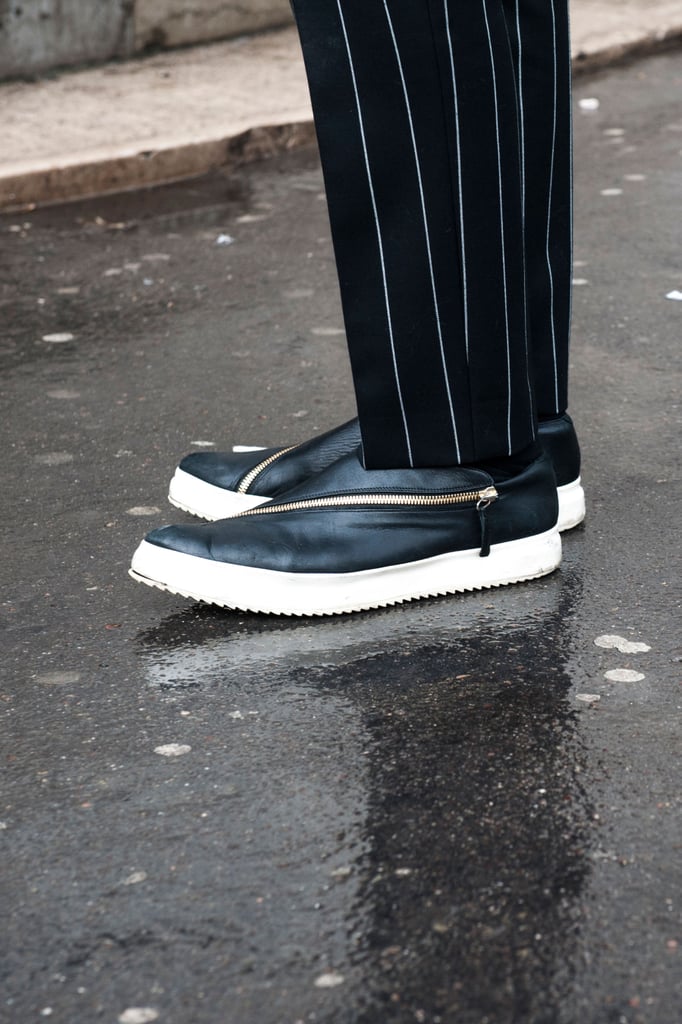 Skater shoes with attitude.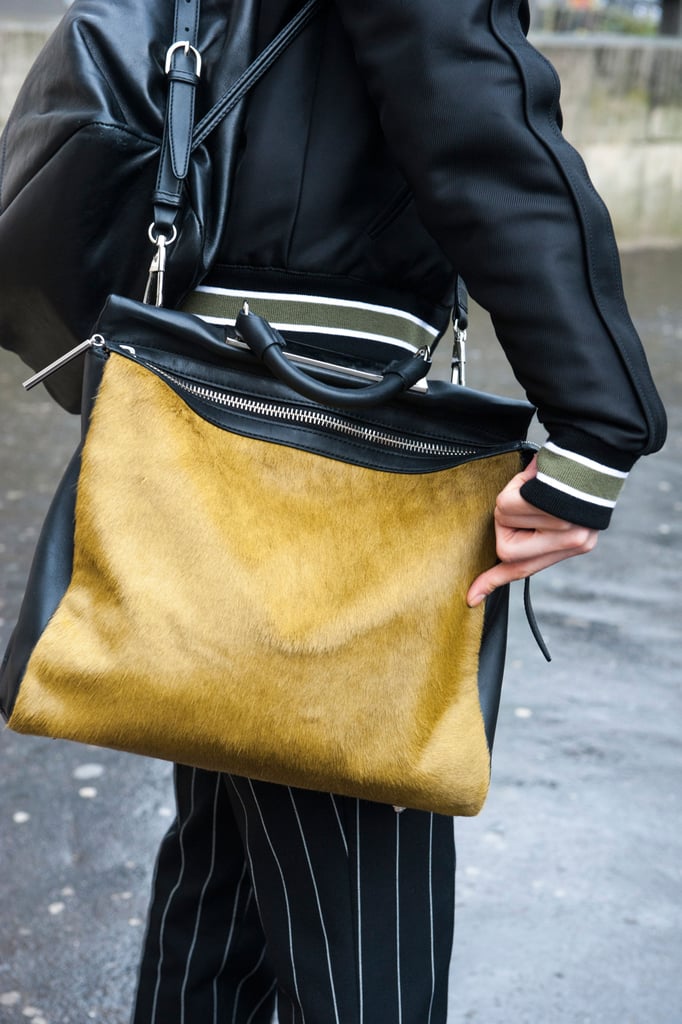 We spy a textured 3.1 Phillip Lim Ryder bag — and we'd like to get our hands on it.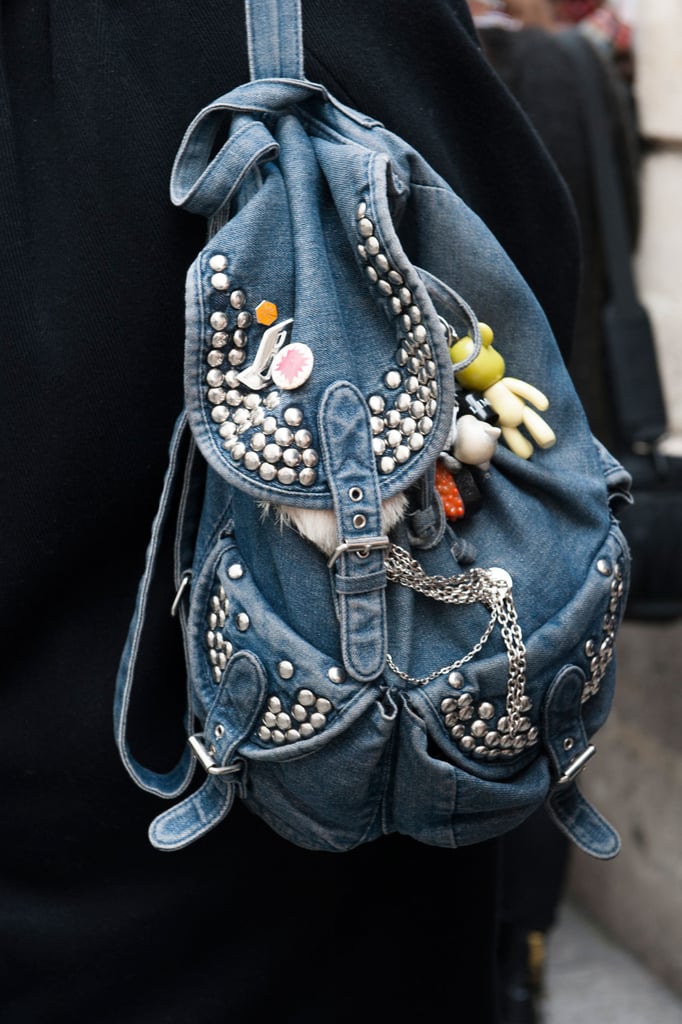 Channeling our middle school days.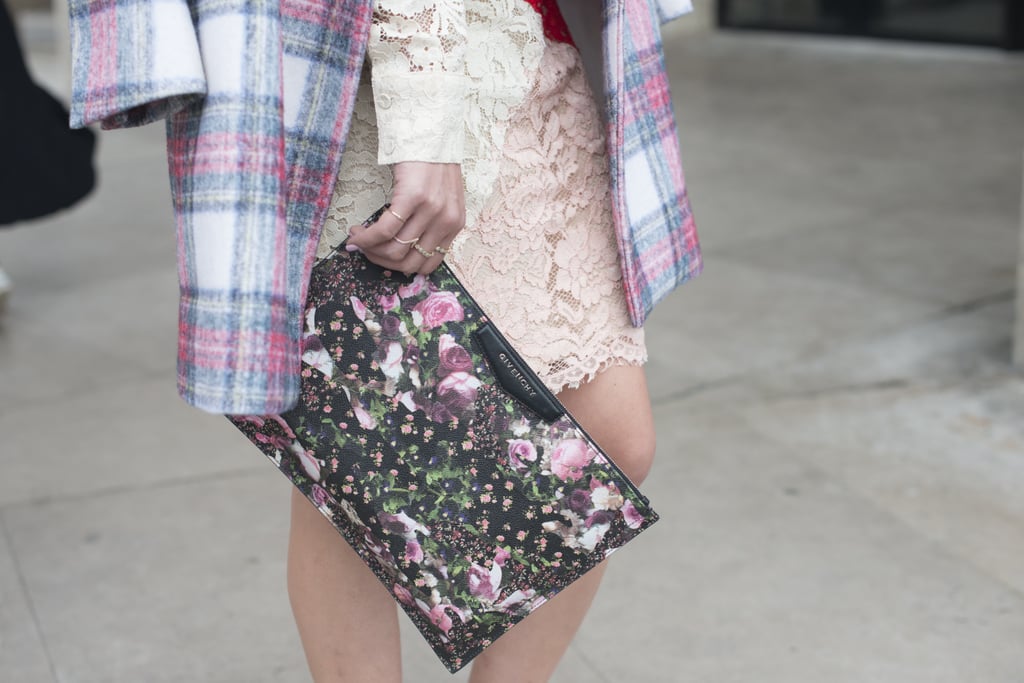 Another covet-worthy Givenchy sighting.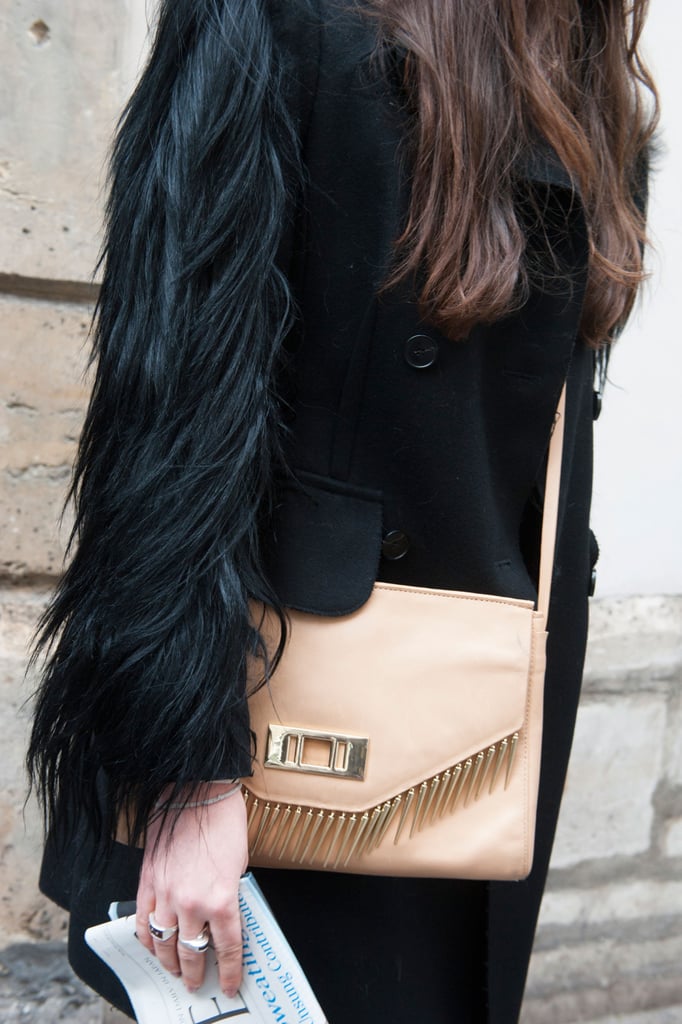 This classic bag got an edgy update with high-impact fringe.
---
Links:
[1] http://www.fabsugar.com/Best-Street-Style-Paris-Fashion-Week-Fall-2014-34177492
[2] http://www.imaxtree.com/
[3] http://www.gorunway.com/
[4] http://www.gorunway.com/
[5] http://www.gorunway.com/
[6] http://www.gorunway.com/
[7] http://www.gorunway.com/
[8] http://www.gorunway.com/
[9] http://www.gorunway.com/
[10] http://www.gorunway.com/

---