We couldn't possibly think about getting dressed for Fashion Week without drawing inspiration from our favorite street style stars [1]. Each season they have us completely transfixed, rivaling the runway with their own brand of cool.
But among the many iterations of street style and the countless cool girls, industry insiders, and dapper gents to follow, we each have one that speaks perfectly to our personal style (or our styling aspirations!). For our team, those standouts run the gamut from Emmanuelle Alt to Yasmin Sewell — and each editor has a special reason why. See who they are, check out the styling fodder, and shop the looks we fell in love with right here.
Source: Getty [2]
Yasmin Sewell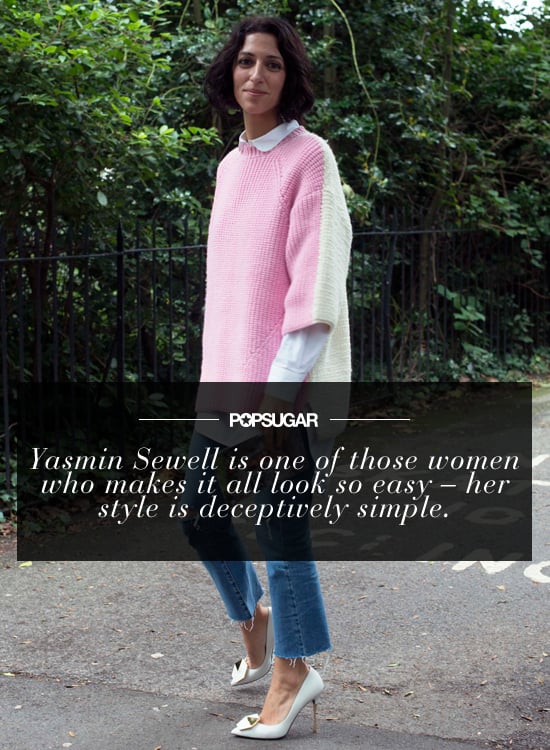 Yasmin Sewell is one of those women who makes it all look so easy — her style is deceptively simple. But if you look closer, she's a lesson in layering and proportions with a look that blends ladylike and cool in an unexpected way. Her long white shirttail has haunted me since last Fashion Week and forced me (and my poor husband) out of the apartment on a frigid, snowy day so I could get one. That is how you know you covet someone's outfit!
— Melissa Liebling-Goldberg, fashion and beauty director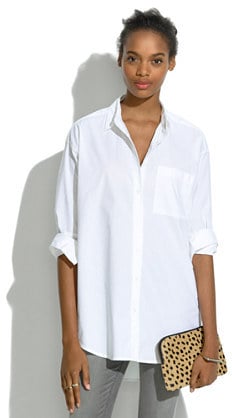 Madewell Oversized Button-Down Shirt [3] ($75)

Mother The Looker Ankle Fray Jean [4] ($220)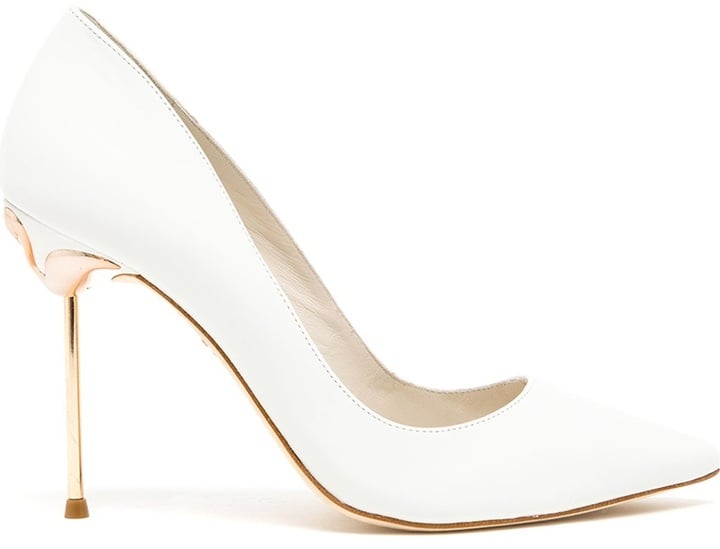 Sophia Webster Coco Pointed Leather Pumps [5] ($481)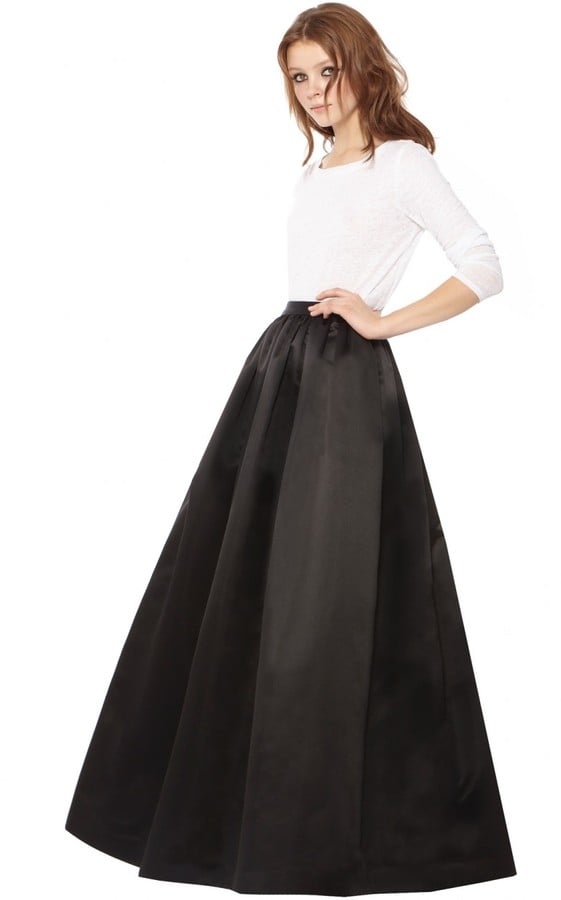 Alice + Olivia Tina Solid Long Ball Gown Skirt [6] ($484)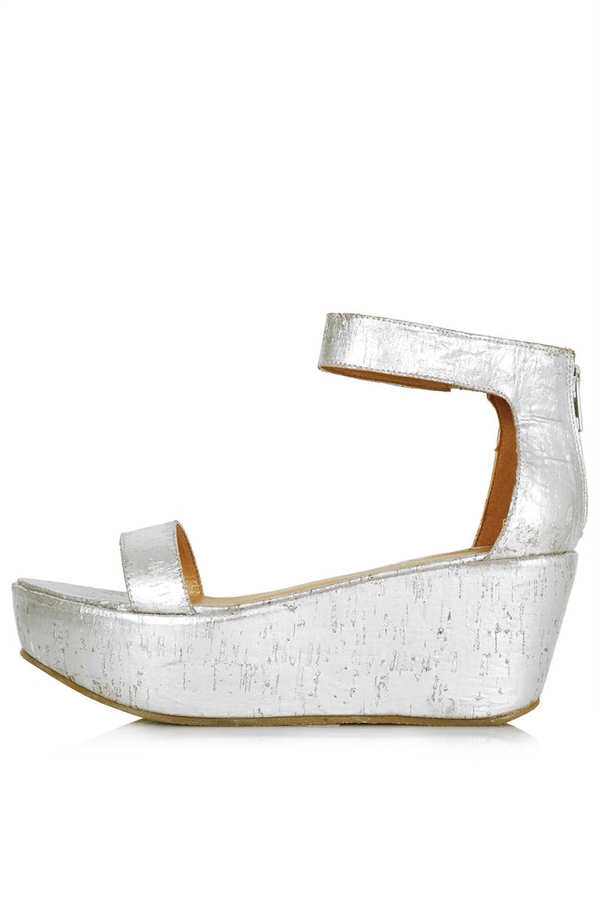 Topshop WARE Two-Pant Flatforms [7] ($70)
Jenna Lyons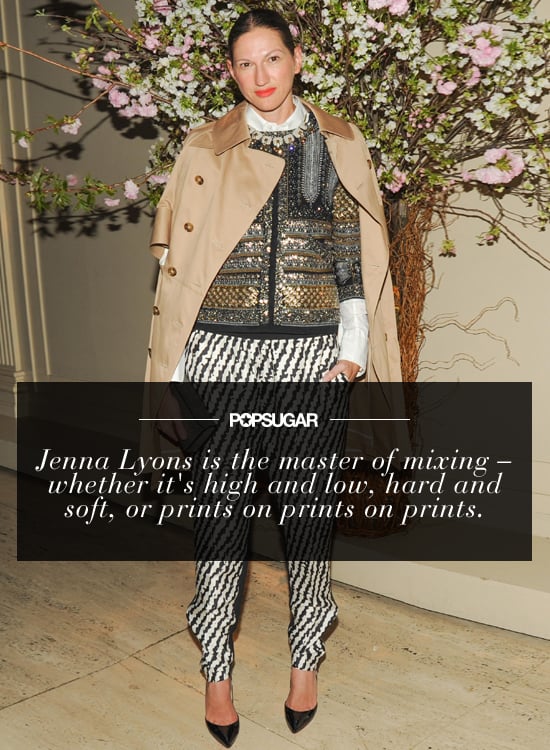 If Jenna Lyons [8] has proved one thing as the creative director of J.Crew, it's that she is the master of mixing — whether it's high and low, hard and soft, or prints on prints on prints. She has such fun with fashion, and it shows. Plus, she's not afraid to try new things or style old standbys in unique ways. Every time she steps onto the street, she gives me an education in how to wear what I already own.
— Kate Schweitzer, editor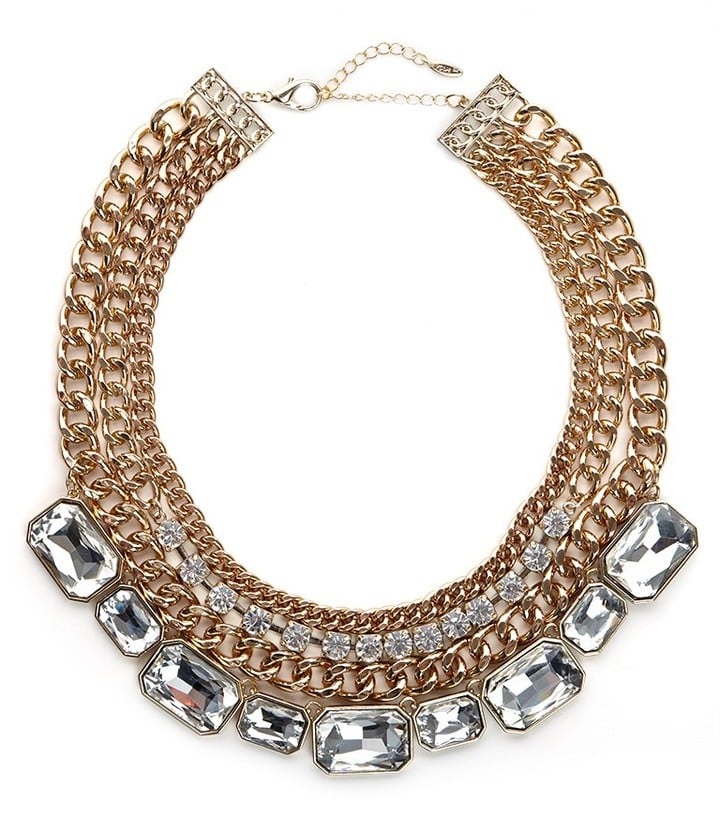 BaubleBar Tiered Gem Collar [9] ($46)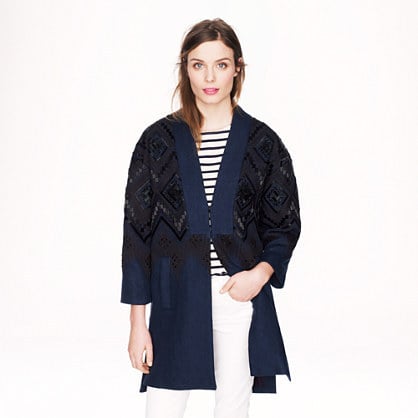 J.Crew Collection Beaded Topcoat [10] ($1,100)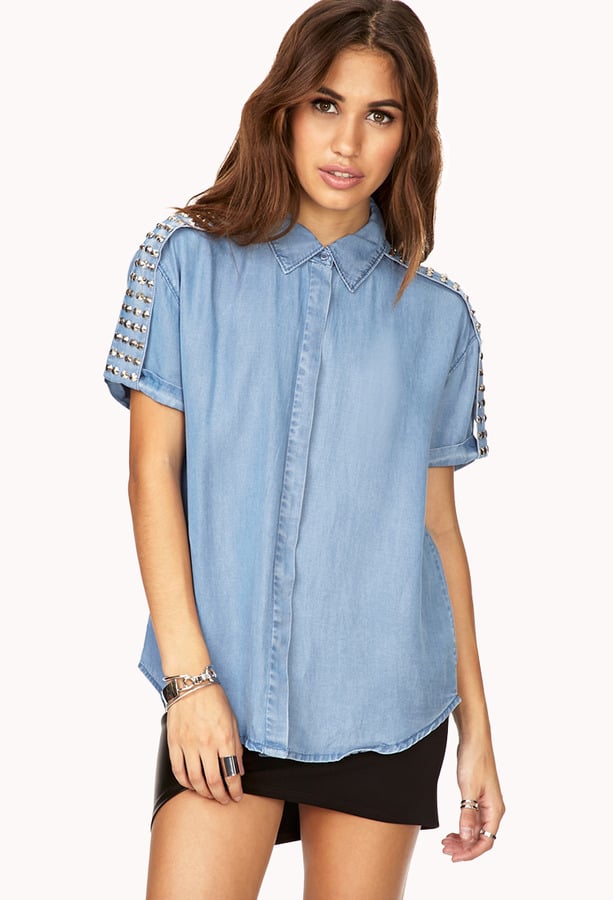 Forever 21 Spiked Chambray Shirt [11] ($35)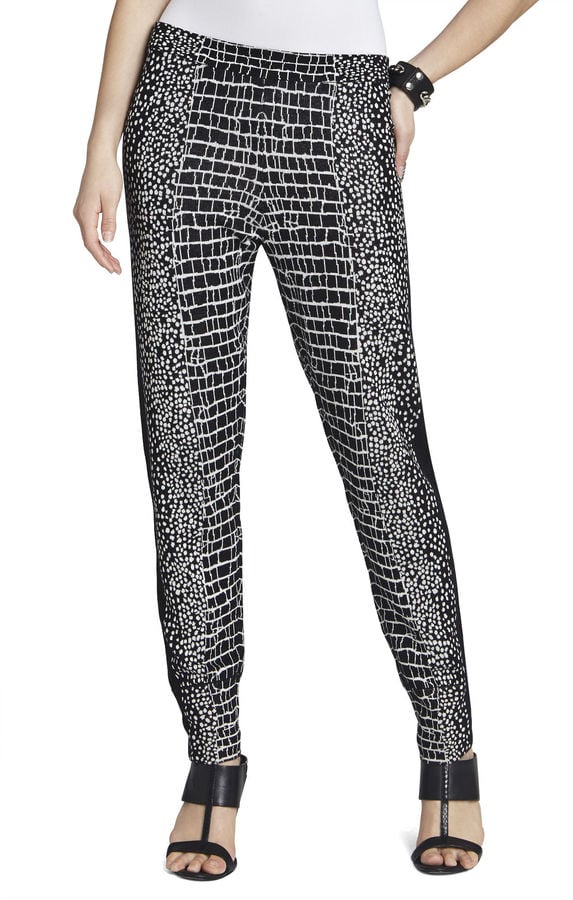 BCBG Max Azria Alder Mixed Jacquard Pant [12] ($198)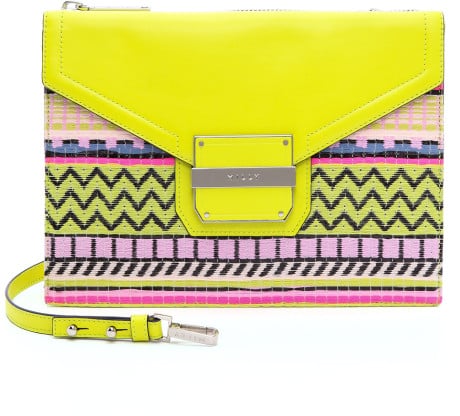 Milly Rich Neon Jacquard Crossbody Bag [13] ($325)
Oliver Cheshire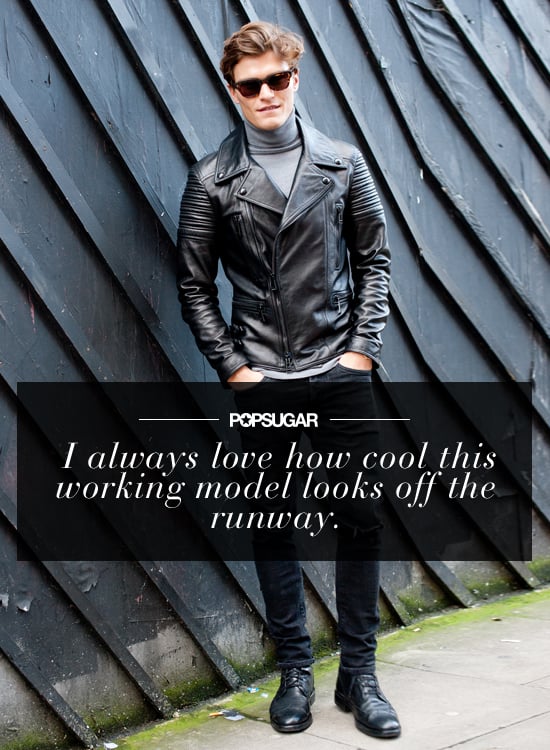 I always love how cool this working model looks off the runway, and I can't help but respect his penchant for combining things like this preppy turtleneck with a tough-as-nails biker jacket.
— Justin Fenner, assistant editor
Belstaff Leather Kettering Biker Jacket [14] ($2,485)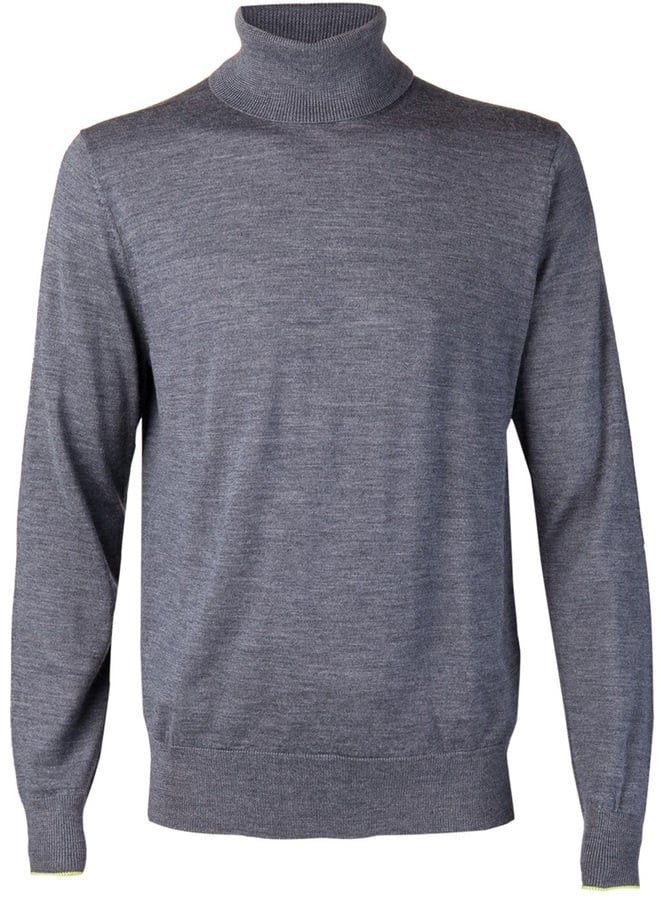 Paul Smith Turtleneck Sweater [15] ($156, originally $224)
Levi's 1960S Slim-Fit Garment-Dyed Jeans [16] ($225)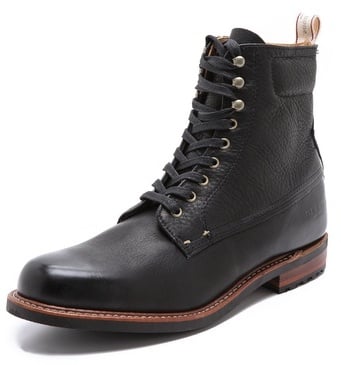 Rag & Bone Officer Lace Up Boots [17] ($395)
Tom Ford Black Campbell Sunglasses [18] ($380)
Elena Perminova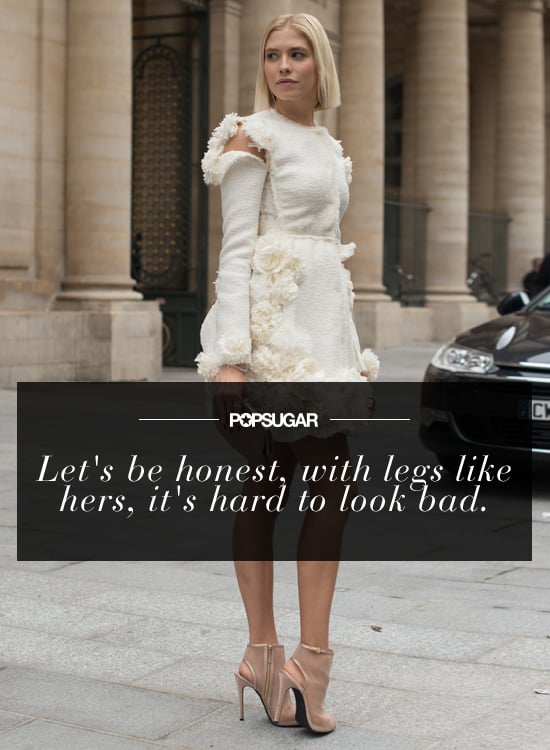 Let's be honest, with legs like hers, it's hard to look bad. But Elena Perminova more than works with what she has in an eclectic yet polished mix of everything from girlie to sexy designs — always with an eye on accessories, always looking like a million bucks.
— Randy Miller, associate editor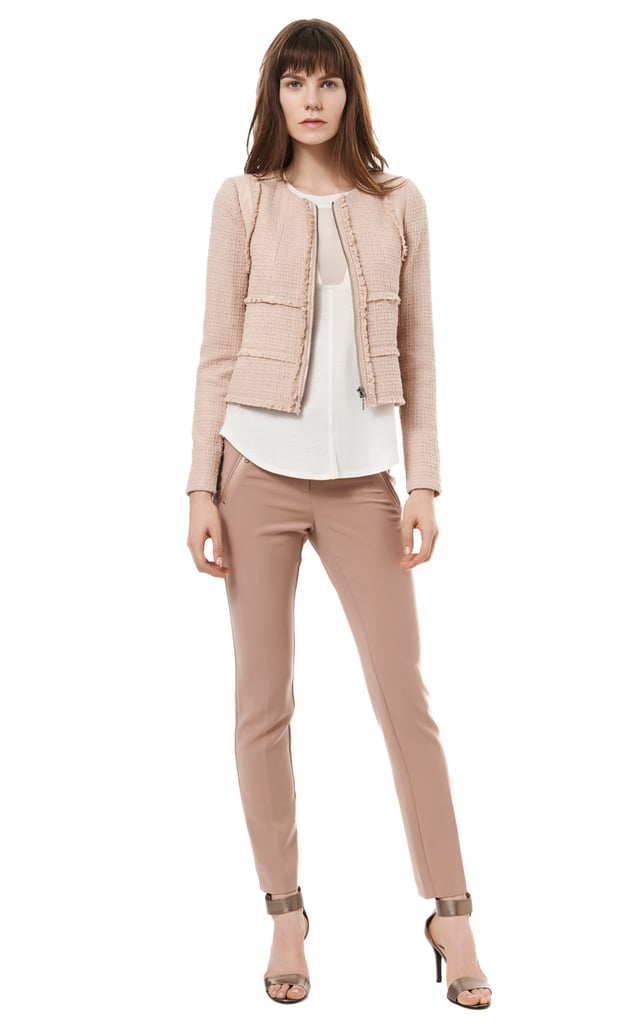 Rebecca Taylor Patched Tweed Jacket [19] ($495)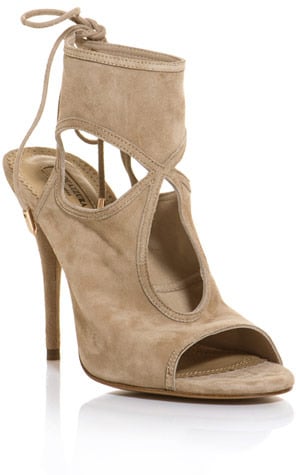 Aquazzura Sexy Thing Suede Cutout Sandal [20] ($565)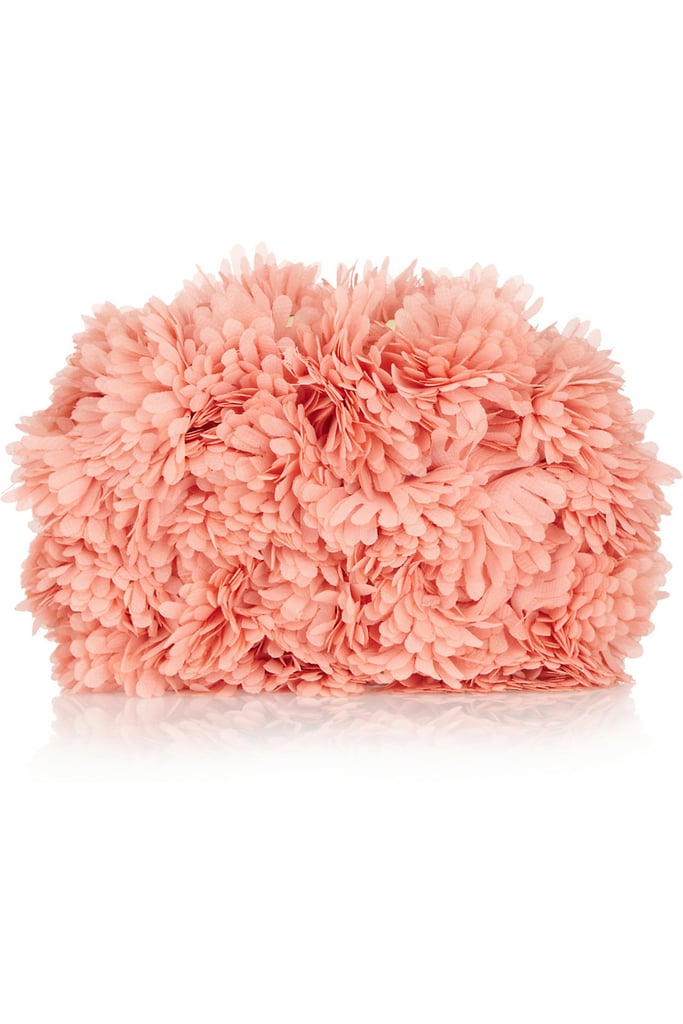 Kotur Margo Tulle Floral-Appliqué Clutch [21] ($495)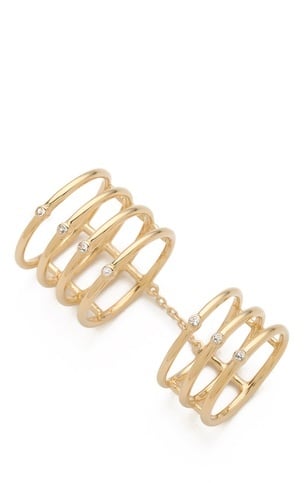 Elizabeth and James Berlin Topaz Knuckle Ring [22] ($195)
Emmanuelle Alt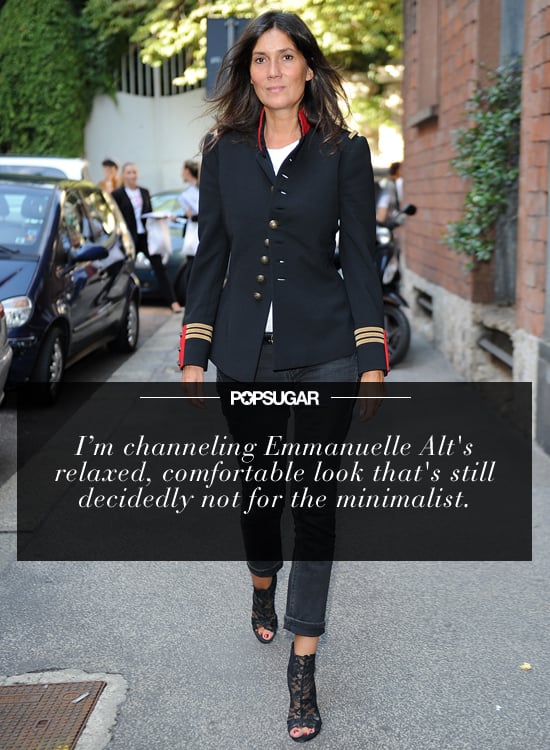 Fashion Week stress feels multiplied by about a million when you start stressing over what to wear. To avoid any of that angst, I'm going to be channeling Emmanuelle Alt's relaxed, comfortable look that's still decidedly not for the minimalist.
— Leah Melby, associate editor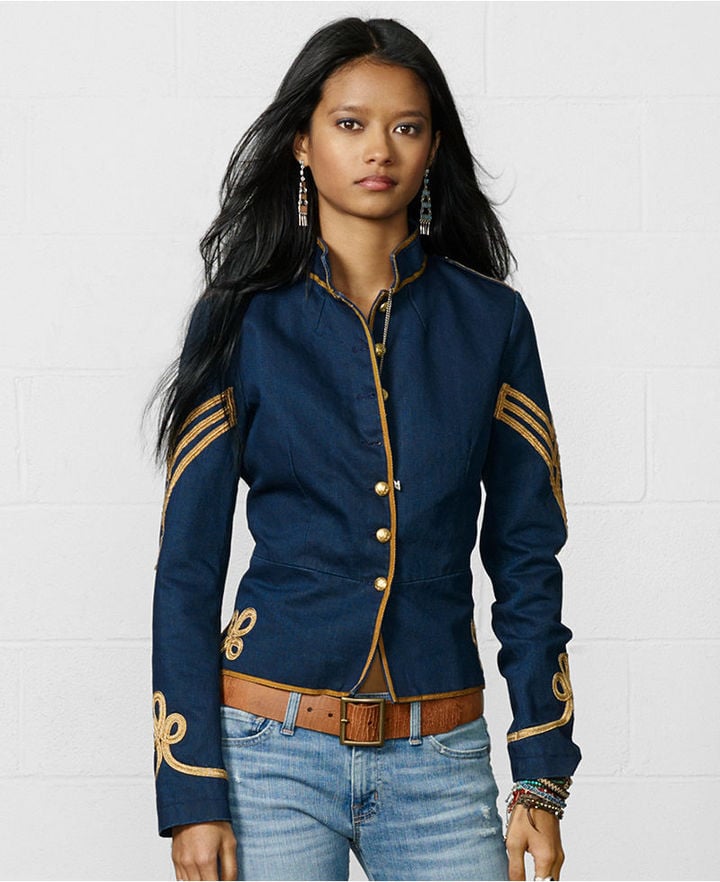 Denim & Supply Ralph Lauren Button-Front Braided Military Jacket [23] ($198)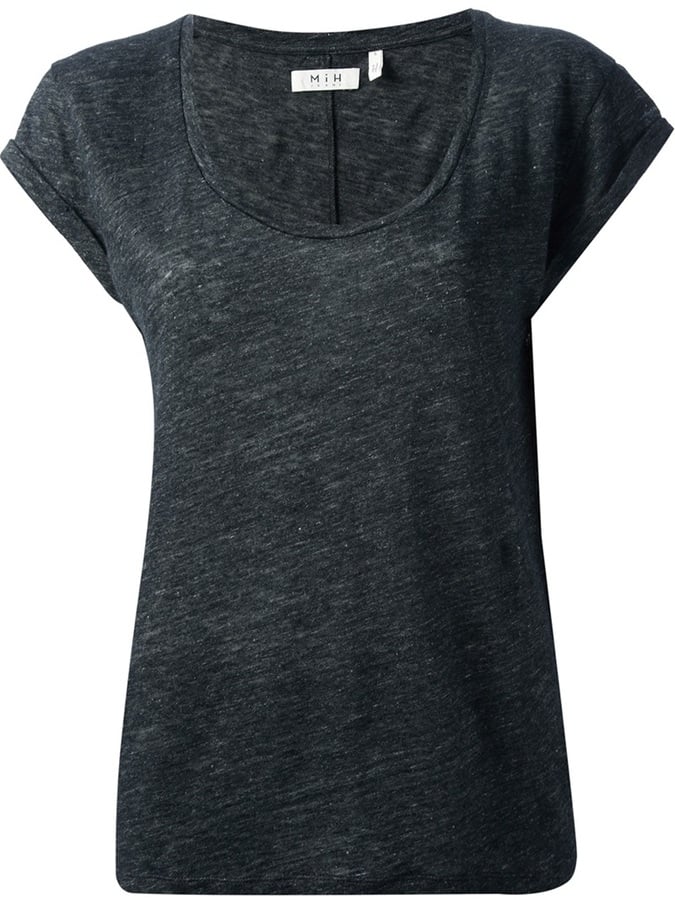 MIH Jeans Scoop Neck T-Shirt [24] ($119)

BCBG Max Azria Faux-Leather/Ponte Leggings [25] ($158)
Lino Ieluzzi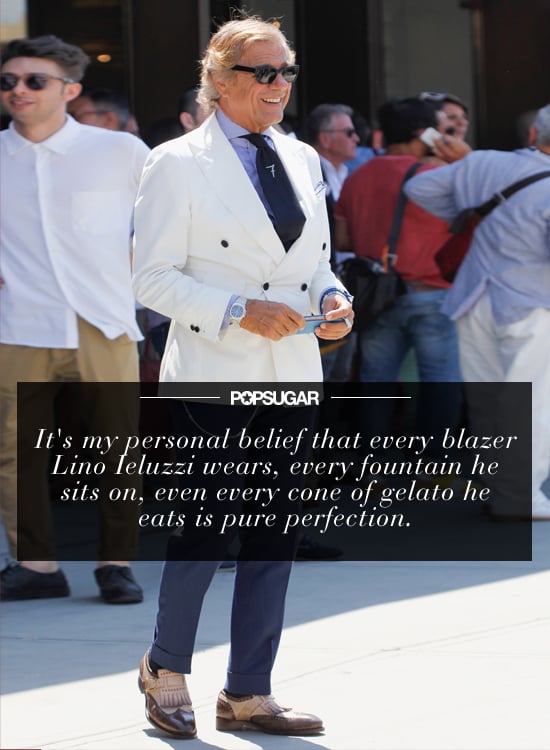 It's my personal belief that every blazer Lino Ieluzzi wears, every fountain he sits on, even every cone of gelato he eats is pure perfection. But above all, what I admire about his style is that it's elegant and timeless while never being stuffy. Lino is always having fun with fashion — and that's something I try to bring to every outfit I wear.
— Robert Khederian, editorial assistant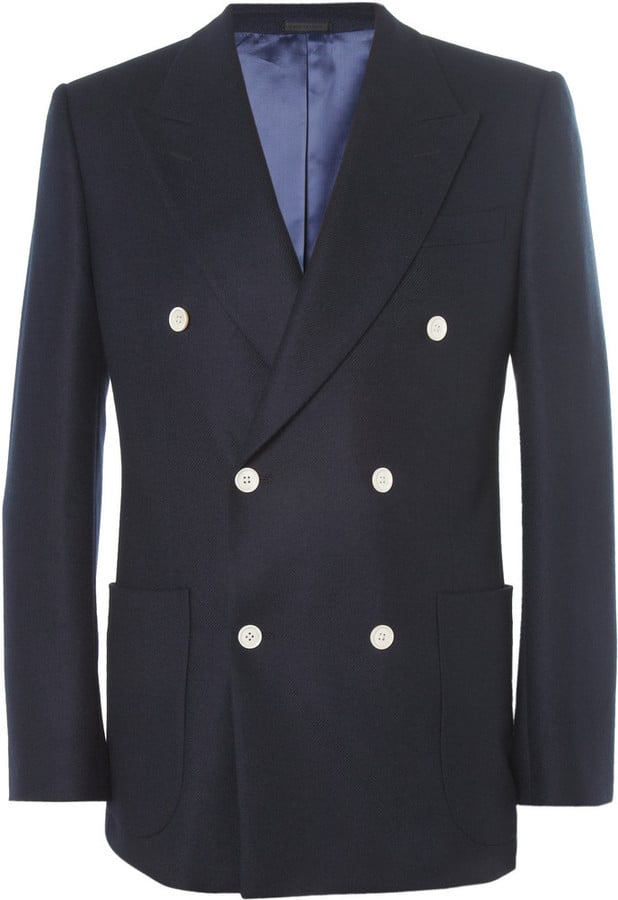 Alexander McQueen Double-Breasted Cashmere Blazer [26] ($2,680)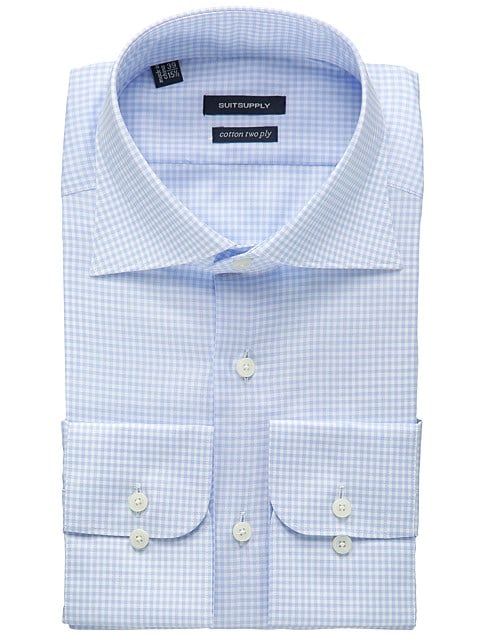 Suit Supply Light Blue Shirt [27] ($79)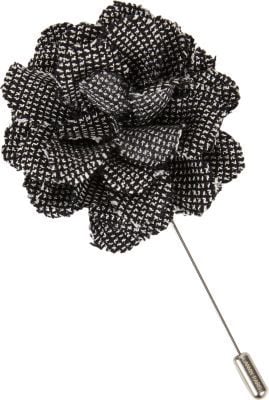 Lanvin Birdseye Floral Tie Pin [28] ($195)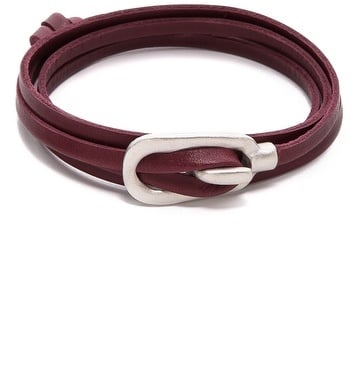 Miansai New Gamle Bracelet [29] ($125)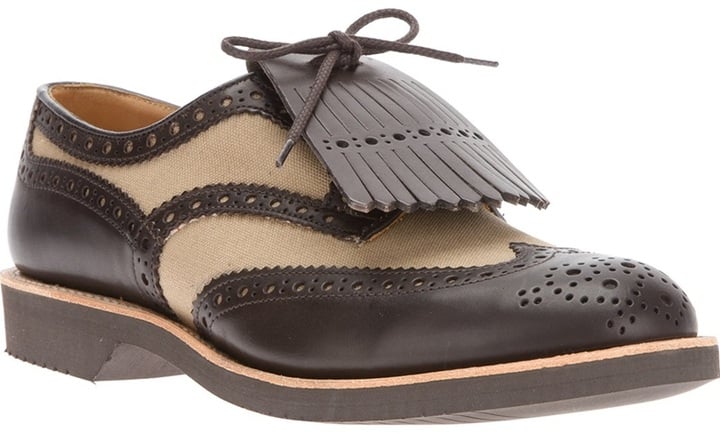 Tricker's Trickers Bowood Fringed Brogue [30] ($356, originally $594)
Pernille Teisbaek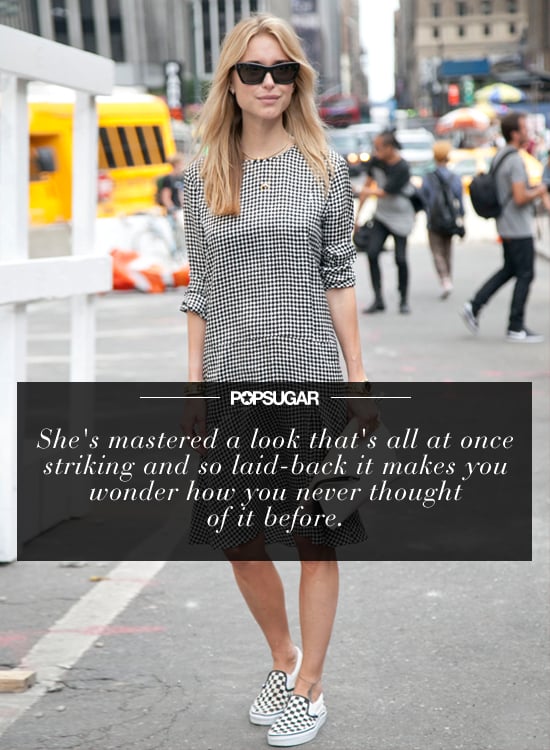 When you look like a model, it's not hard to make clothes look good. But Pernille also possesses a keen sense of styling that's both totally covetable and totally accessible — and hard to come by. She's mastered the girl-next-door version of impeccable street style, adding checked Vans to a houndstooth dress — a look that's all at once striking and so laid-back it makes you wonder how you never thought of it before.
— Hannah Weil, associate editor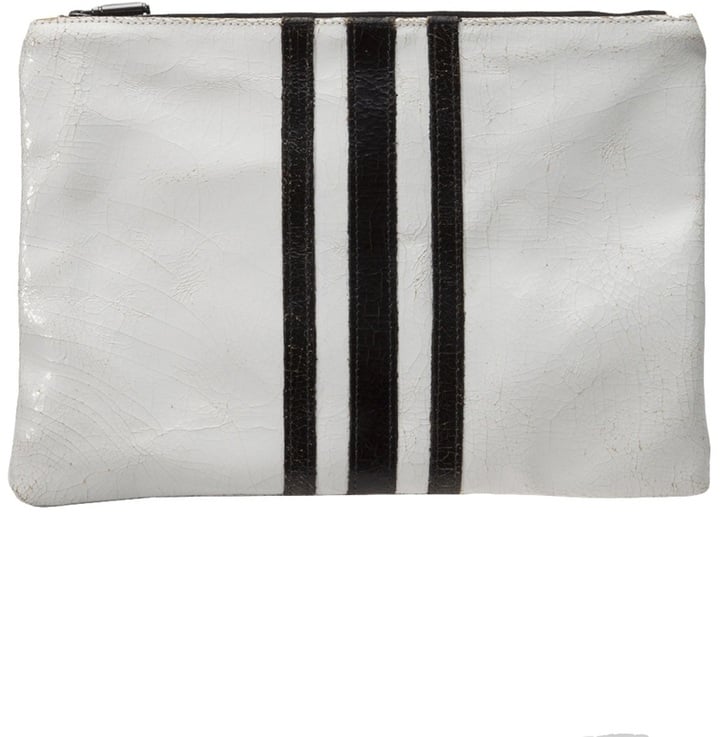 Marc Marmel Striped Zip Pouch [31] ($340)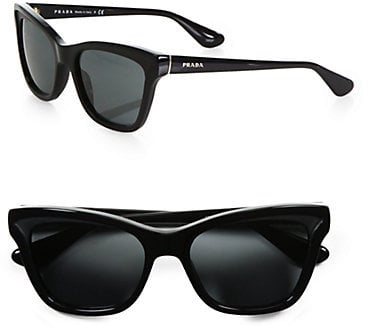 Prada Square Cat's-Eye Sunglasses [32] ($290)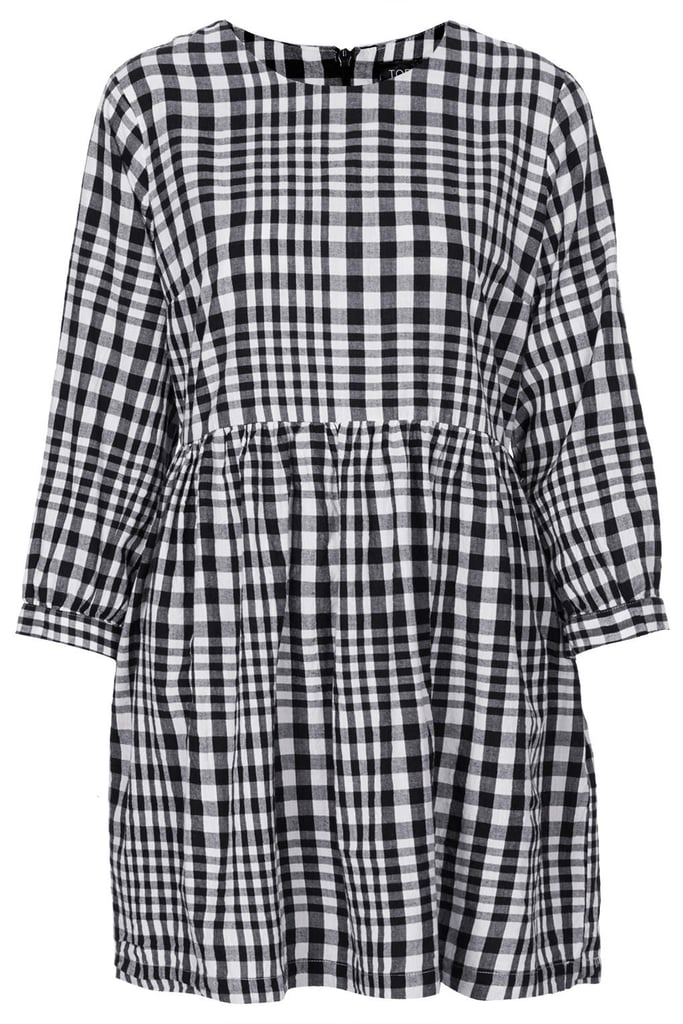 Topshop Gingham Check Smock Dress [33] ($76)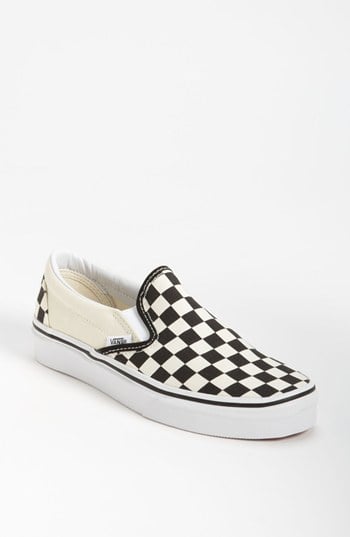 Vans Classic Sneaker [34] ($47)