We never thought we'd see the day: Summer is finally almost upon us. We've been looking forward to lazy days at the beach and garden parties since we had to pack away our swimsuits and sundresses last Fall, so we aren't wasting any time scouting the best finds for the upcoming season. And, this month, from sheer skirts to graphic tees, the whites are getting brighter, and from gingham dresses to strappy sandals, the prints are getting bolder. And that's just the beginning. We've rounded up all the key pieces to kick off our Summer style all the way to Memorial Day and beyond. Shop our editors' May must-have fashion picks right now, and may Summer last forever.
ASOS Sheer Check Midi Skirt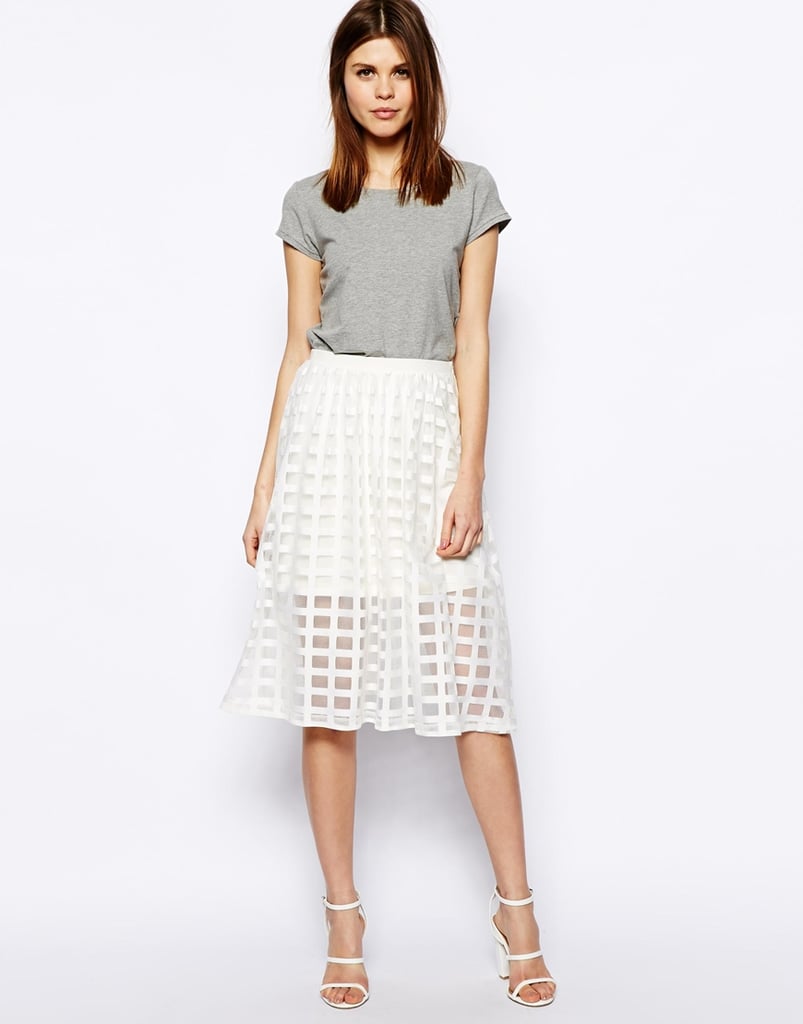 I'm a mini girl at heart, but this sheer overlay ASOS midi [1] ($72) is the perfect stepping stone to the full-skirt trend [2]. I'll throw caution to the wind and go full white-out — guess that means a strict Champagne diet, sorry sangria — with a crisp crop top and white leather mules.
— Mandi Villa, Contributing editor
To Tommy From Zoe Penny Purse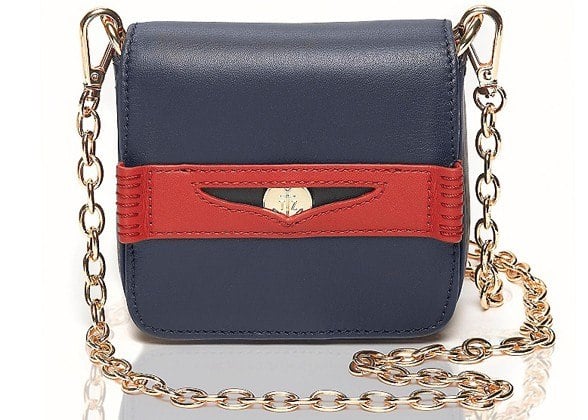 I'm often told I look like Zooey Deschanel [3]. I blame my blunt brunette bangs, but I'd happily take credit for her cute retro style. So, it's no surprise that I fell hard for her collaboration with Tommy Hilfiger [4] and this To Tommy from Zooey penny purse [5] ($99), in particular. It's vintage Americana at its finest.
— Kate Schweitzer, editor
Seafolly Pop Bikini
No one does bikinis like the Australians, making me a very happy girl when Aussie-beloved swimwear brand Seafolly announced that its website was now shoppable for us American girls. I'll be celebrating by purchasing this athletic-inspired suit [6] ($91).
—Leah Melby, associate editor
Red C Jewels No Matchy Matchy Studs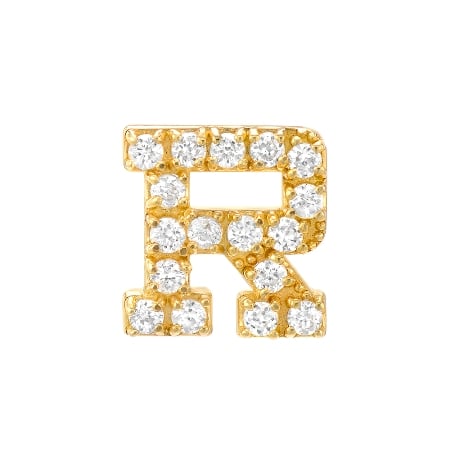 I've been stalking Emma Stone's style [7] throughout her Amazing Spider-Man tour, from her Chanel gowns to her Dolce & Gabbana separates. Fortunately for me, Red C Jewels' personalized studs [8] ($150 each) are one piece from her covetable wardrobe that I can afford to work into my own.
— Randy Miller, associate editor
Joe Fresh Textiled Pump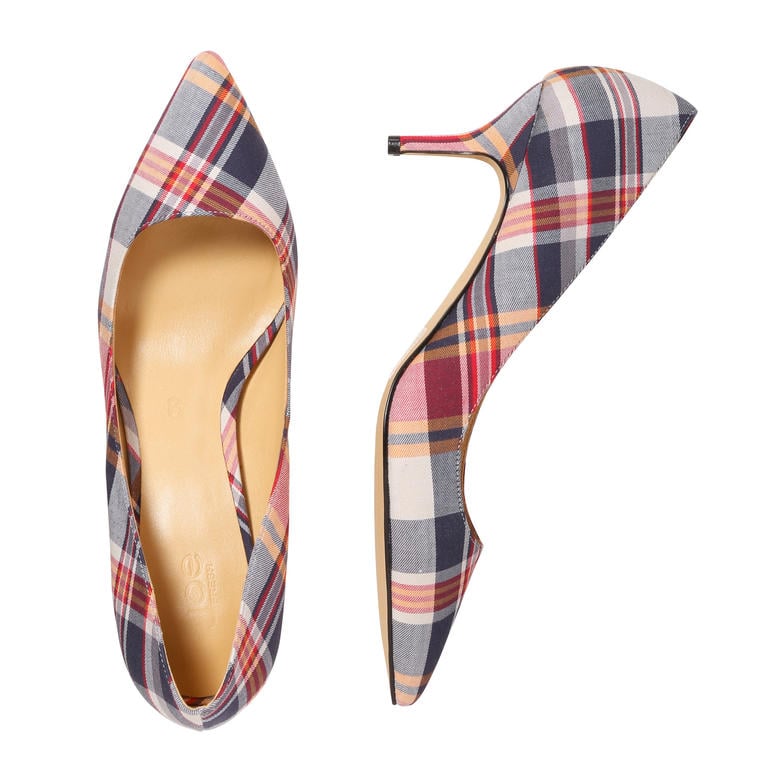 I've been on the hunt for a pair of printed pumps to re-create this perfect outfit [9]. I'm pleased to report, I landed on just about the cutest pair of heels you can find for under $100 [10] at Joe Fresh.
—Hannah Weil, associate editor
Stella Jean Celery Kimono-Style Gingham-Print Shirt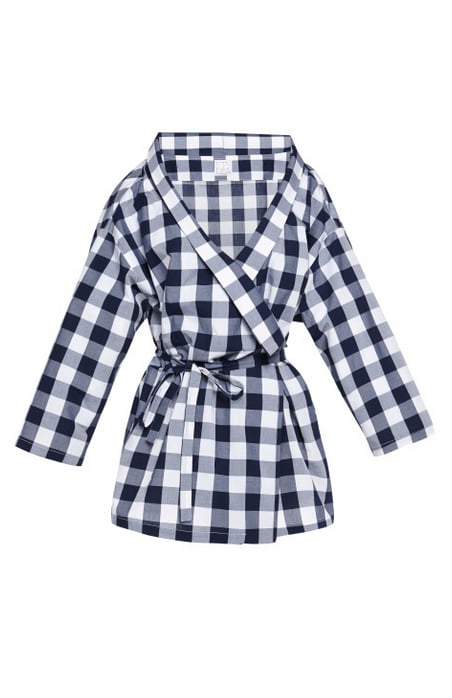 It's funny, but thanks to Leslie Mann's wardrobe in The Other Woman [11], I've become a little gingham obsessed, and I love that this Stella Jean Kimono top [12] ($440) is an unexpected way to wear it. It's also just enough of a statement-maker that all you'd need to finish is skinny jeans and pumps.
—HW
Loeffler Randall Gilda Sporty Sandal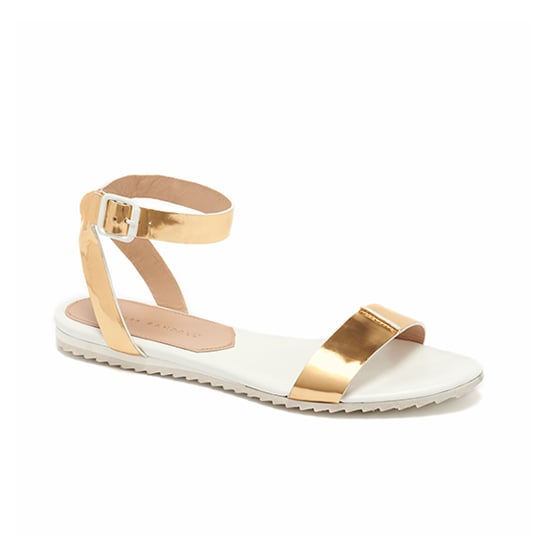 The term "basic" has gotten a bad rap [13] as of late, but nothing delights me more than a superminimalist, pared-down flat [13] ($225) for Summer.
— RM
Ayr Martin Davis Tee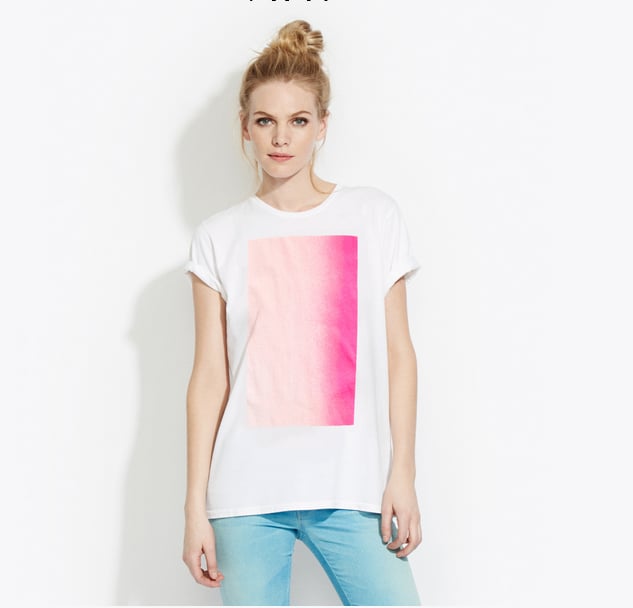 I love ombre, but I can't commit to dying my hair. Next best thing is this limited-edition tee from AYR [14] ($50) with exclusive artwork by Martin Davis. It's my new favorite t-shirt.
— KS
Marc by Marc Jacbos Olive Leather Coin Purse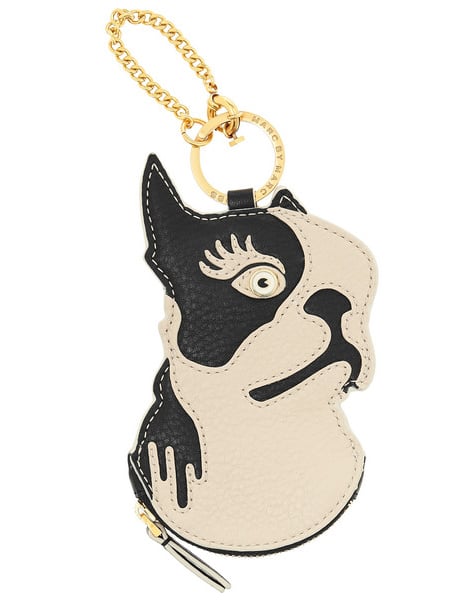 Now that I've downsized to my mini bag [15], the compact change purse [16] ($75) is a sleek alternative to a bulky wallet (while doubling as a keychain). Best of all, once the weather warms and I'm headed to the beach, I can just toss this pup into a canvas tote and hit the road.
— RM
Paige Sierra Overalls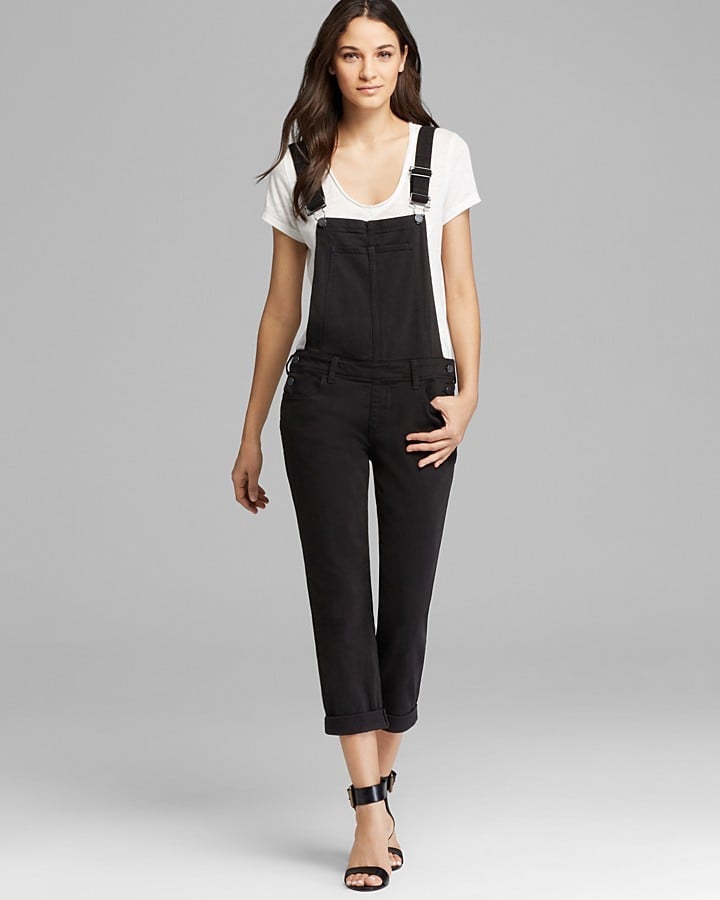 Olivia Palermo's overalls moment [17] was all the convincing I needed to get in on the trend — and if you're going to do it, I say do it right. So, I'm planning to scoop up the same pair of Paige Denim overalls [18] ($279) Miss Palermo is sporting.
—HW
Old Navy Floppy Straw Sun Hat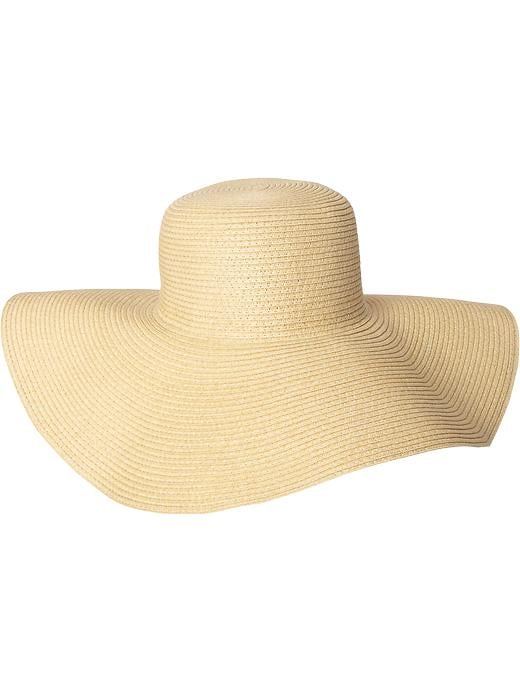 If you're heading to a Kentucky Derby-themed party, you can't not dress the part. But, still, I'd rather not spend my shopping budget on a kooky hat that I'll never wear again. This inexpensive Old Navy floppy straw hat [19] ($20) can be gussied up with ribbons and flower appliques, but on its own can totally sub in on a hot Summer beach day.
— KS
Luisaviaroma Techno Brocade Effect Top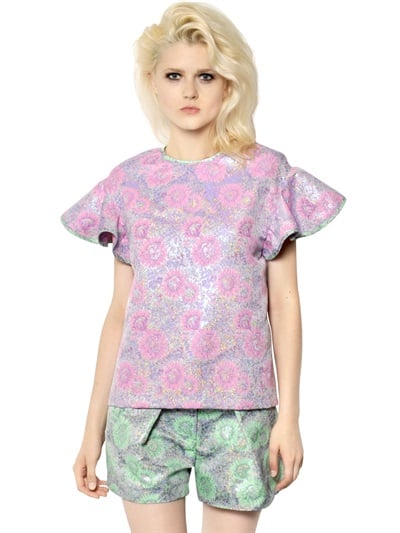 Give me a voluminous futuristic silhouette and ladylike blossoms, all wrapped up in an iridescent brocade finish, and I'll be yours forever. In other words, this MSGM Techno Top [20] ($310) is my personal kryptonite.
— MV
3.1 Phillip Lim Two-Piece Trench Coat
The most fashion-forward denim around at the moment comes by way of 3.1 Phillip Lim. The label has released 12 of its iconic pieces in dark, raw denim, including this perfect trench [21] ($895), and now it's totally acceptable to wear jeans five days a week.
—LM
Aquazzura Beverly Hills Lace-Up Sandal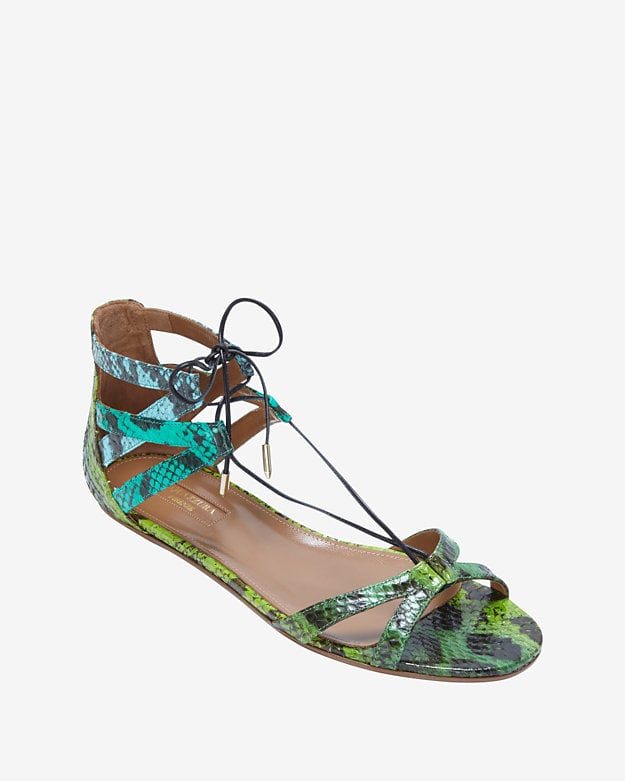 If you know me, you know I'm all about color, which is why I'm completely smitten with Aquazzura's kaleidoscope hues and luxe textures. I've been crushing on its lace-up heels for a while, but this flat, easy-to-wear pair [22] ($595) is ideal for long days at the office.
— MV
Intermix Perforated Leather Baseball Cap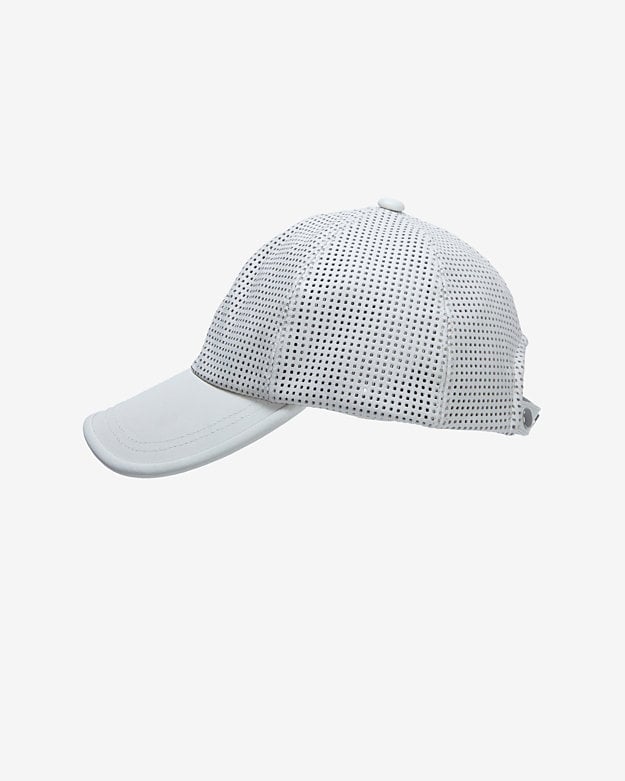 Every street styler, celebrity, and blogger was rocking a black leather ball cap this Fall, so why not take the trend into brighter days with Intermix's perforated white leather version [23] ($98)?
— MV
Gucci Swing Leather Tote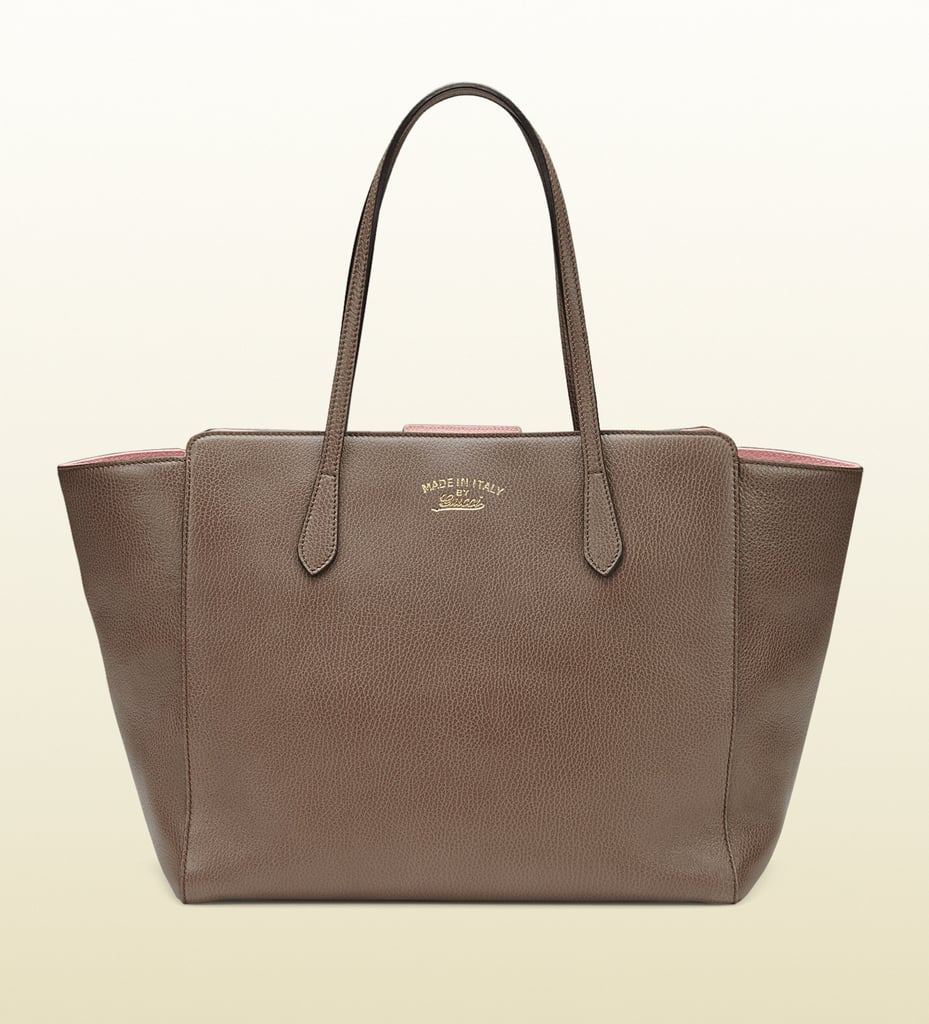 At some point, it seems like everyone's in the market for a versatile leather tote that can double as a work bag (must be able to carry a laptop!). For one that you'll want to use forever, Gucci's newest style [24] ($1,100) is a smart idea and priced competitively with the other luxe designer ones you've likely been coveting.
—LM
Lulu Frost St. Tropez Headwrap
I've loved Lulu Frost jewelry for a long time, but her headwraps [25] ($78) are news to me! Suddenly, the retro look of a scarf tied just so in your hair is a cinch to actually pull off.
—LM
Alice + Olivia Liv Pleat Front Blouse
I'm not one for supergirlie pieces, but this pleated pastel Alice + Olivia blouse [26] ($330) really speaks to me. The blush hue and Victorian silhouette would offer a much-needed dash of femininity to my edgy separates. It would look effortlessly chic styled with culottes, aka my next sartorial challenge.
— MV
Stuart Weitzman Minx Wedges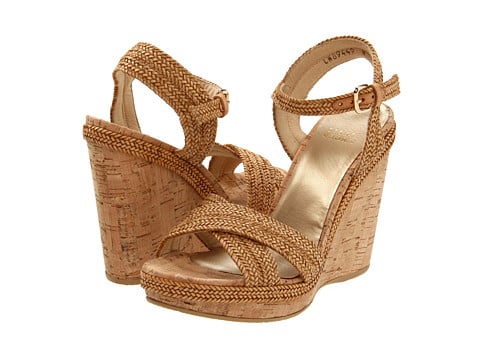 Usually when a celebrity is seen wearing something that's actually shoppable (and affordable), it's sold out before we've even stopped squealing with excitement. But, for once, we're in luck. The Stuart Weitzman braided cork wedges [27] ($395) that Kate Middleton wore on the beaches of Australia during her recent royal tour are still up for grabs . . . for now!
— KS
Gap 1969 Sexy Boyfriend Denim Shorts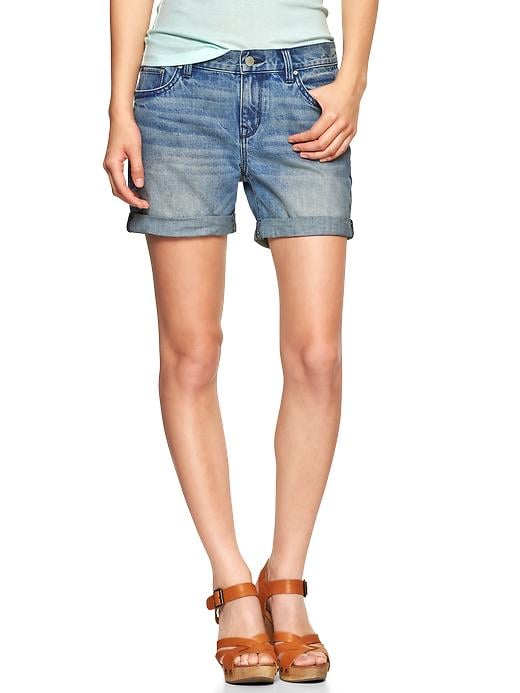 I love my Summer denim, but i'm not a cutoffs kind of girl. Once the weather's too warm for my boyfriend jeans, I'll slip into Gap's relaxed shorts [28] ($50).
— RM
C&C California Maxi Dress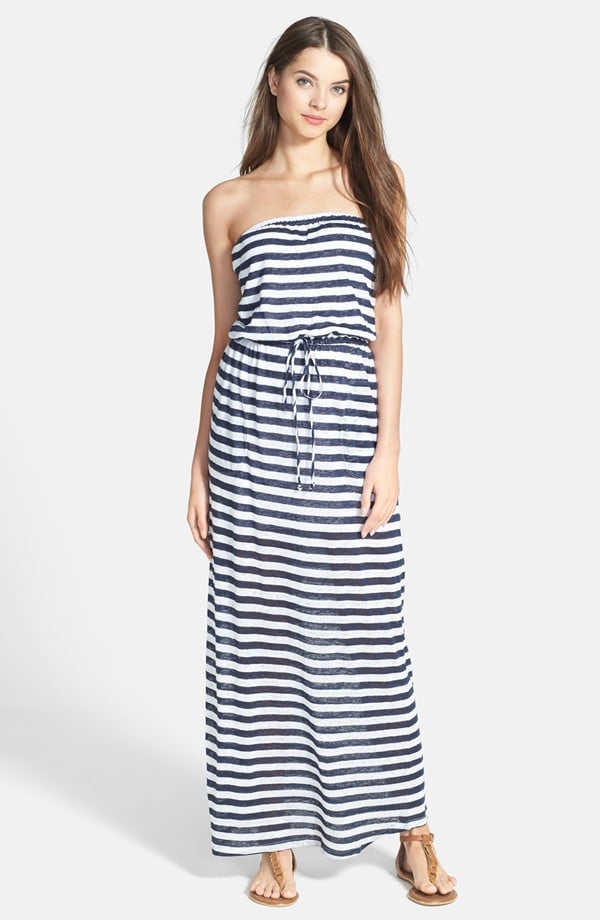 It doesn't get more comfortable than this nautical-inspired C&C California maxi dress [29] ($118). From the brand's ridiculously soft slubbed-linen jersey material to the effortless drawstring silhouette, I'll be living in this all month.
— KS
C. Wonder Talon Drop Earrings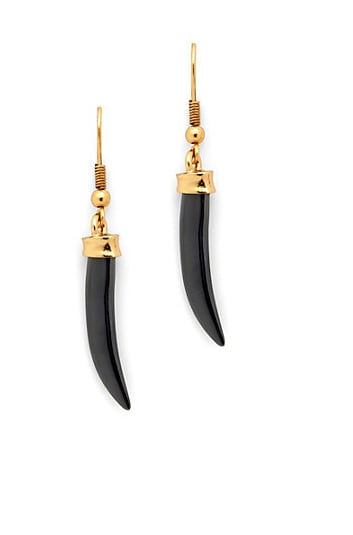 During Spring and Summer I crave cool jewels that help make my dresses feel new again throughout the season — even when I've worn them for the billionth time! Hard to believe these C. Wonder stunners [30] ($38) are under $50. They look so much more expensive and so cool-girl glam — I can't wait to wear them with my go-to black maxi.
—HW
Madewell Tanksuit in Beachday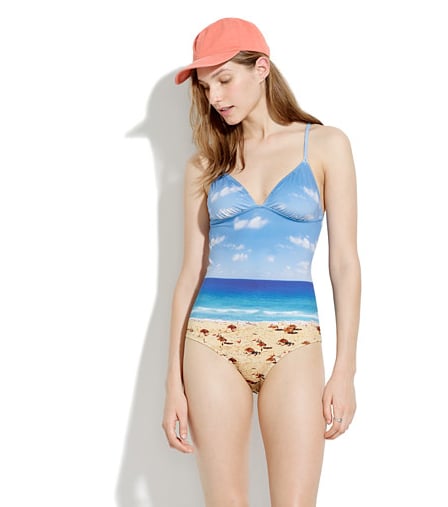 I met a friend for brunch this weekend who'd just come from Madewell with the most adorable swimsuit. Not to copy her style, this quirky beach print [31] ($110) is more in my wheelhouse than her adorable preppy motif.
— RM
Taylor and Tessier Black Bull Cuff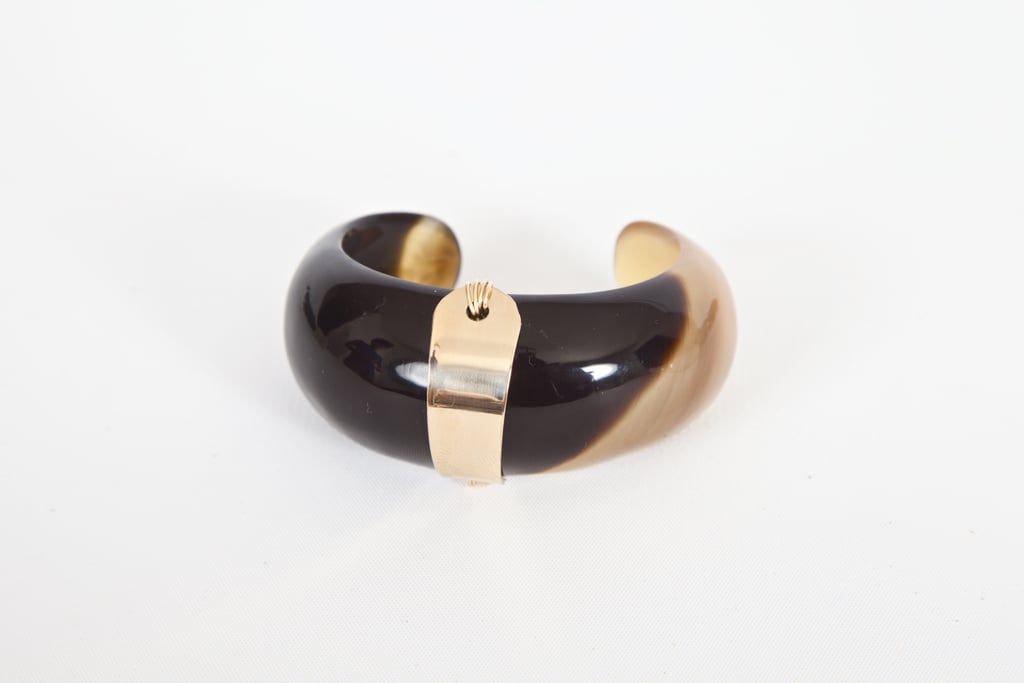 Spring weather means I'm not constantly pulling a jacket on and off which, consequently, means I can wear the big chunky cuffs I love without worrying that they'll get caught up in a sleeve. This year, I'm eyeing this Tayor and Tessier style [32] ($275) to add to my collection.
— LM