Taylor Swift [1]'s roster of friends is undeniably long, from Lorde to Haim and even Kanye West [2], despite that famous VMAs incident [3] back in 2009. And while the crew continues to grow there seems to be one requirement to join – a great sense of style. From models like Gigi Hadid and Karlie Kloss to A-listers like Lena Dunham, Taylor's gaggle of girlfriends is always dressed to impress — which makes us wonder if today, AKA Friends Day, someone in the group will share a pic of them all together, rocking impeccable outfits.
Scroll through for a look at Tay hanging out with her BAEs, whether on stage during her 1989 tour or at her house, proving that a well-dressed bestie is the ultimate high-fashion accessory.
— Additional reporting by Samantha Sutton
Andreja Pejić and Lily Donaldson
Taylor brought the models on stage during her 1989 tour stop in Chicago.
Gigi Haid and Martha Hunt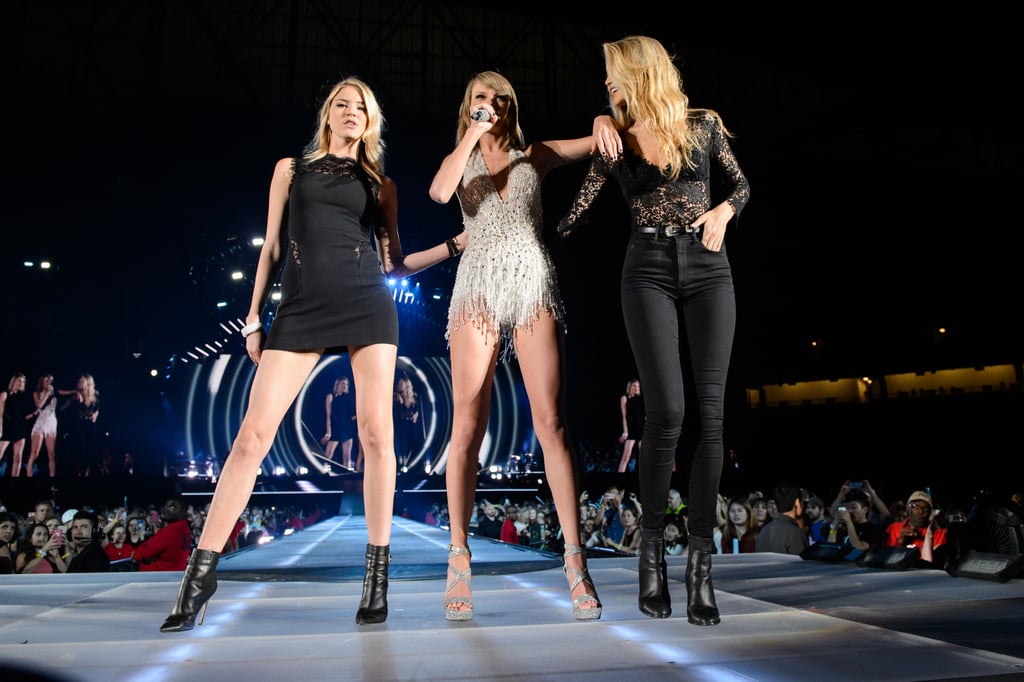 Taylor brought her model buds on stage during her concert in Detroit.
Calvin Harris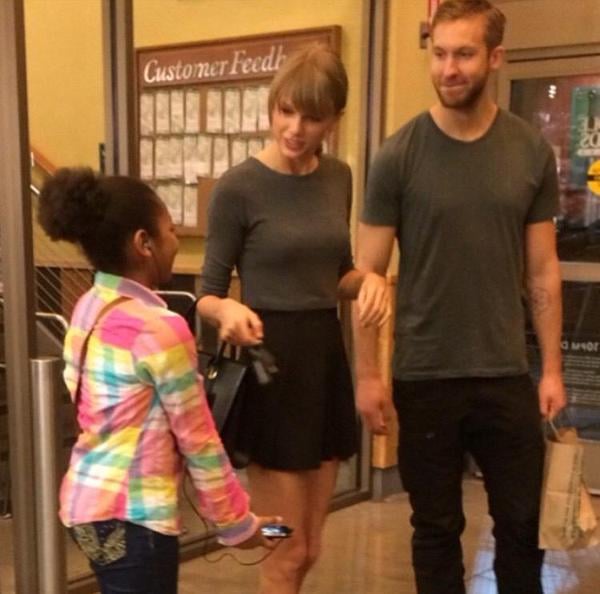 Taylor Swift [4] was spotted with her current flame Calvin Harris at Whole Foods in matching grey tops and black bottoms. This couple clearly takes coordinating style [5] seriously.
Camila Cabello
Taylor's group of friends — Hailee Steinfeld, Selena Gomez [6], Jaime King, Hayley Williams, and Sarah Hyland — threw a birthday party for Camila (one-fifth of Fifth Harmony) when she turned 18.
Jaime King and Her Baby
Jaime named Taylor godmother of her unborn baby. The two announced the news on Instagram.
Jay Z, Kanye West, and Kim Kardashian
Taylor hung out with Kanye and Kim at the Grammys and later met up to discuss a future collaboration. She also aggressively told Jay Z they needed to do brunch [7].
Ashley Avignone, Martha Hunt, and Tavi Gevinson
Taylor's crew isn't just fashion forward — they cook, too. Here she is in the kitchen with stylist Ashley Avignone, model Martha Hunt, and Rookie magazine's Tavi Gevinson.
Gracie Gold
Perhaps you recognize ice-skater Gracie Gold (far right) from a little event called the Olympics? She joined Taylor, Jaime, and Lorde for a Catalina trip and made sure to accessorize with a chic-looking scarf.
Beyoncé, Jay Z, Sam Smith, and Justin Timberlake
At what seems like the birthday party to end all birthday parties, Taylor Swift [8] snapped a pic with some of her A-list guests like Beyoncé, Jay Z, Justin Timberlake [9], Sam Smith, Karlie Kloss, and Haim.
Iggy Azalea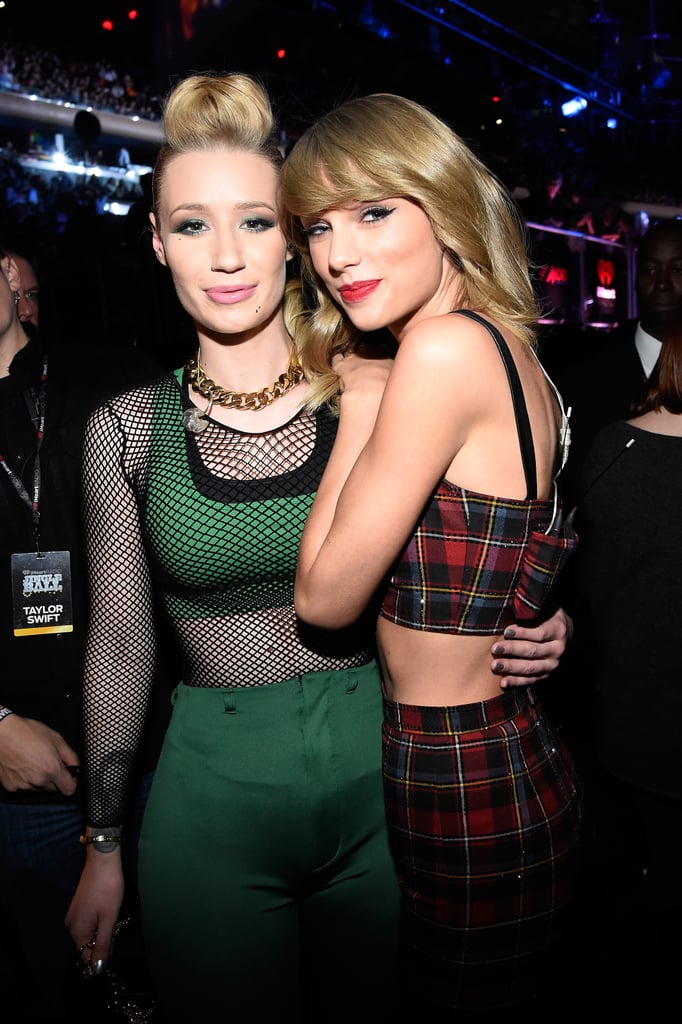 Who dat, who dat? It's none other than Iggy Azalea, hanging out with Taylor at Z100's Jingle Ball.
Behati Prinsloo
While in London for the Victoria's Secret Fashion Show, Taylor spent a night in with Angels Behati and Lily Aldridge.
Candice Swanepoel
Candice and Taylor kept things cozy and casual while hanging out in London.
Haim
Call this the ultimate fashion mashup: Taylor squeezed into a car filled with friends. Karlie Kloss and Lily were on hand, as was model Martha Hunt and chic girl band Haim.
Martha Hunt
Backstage during the Victoria's Secret show, Taylor posed with buddy Ed Sheeran and her Angel friends.
Alessandra Ambrosio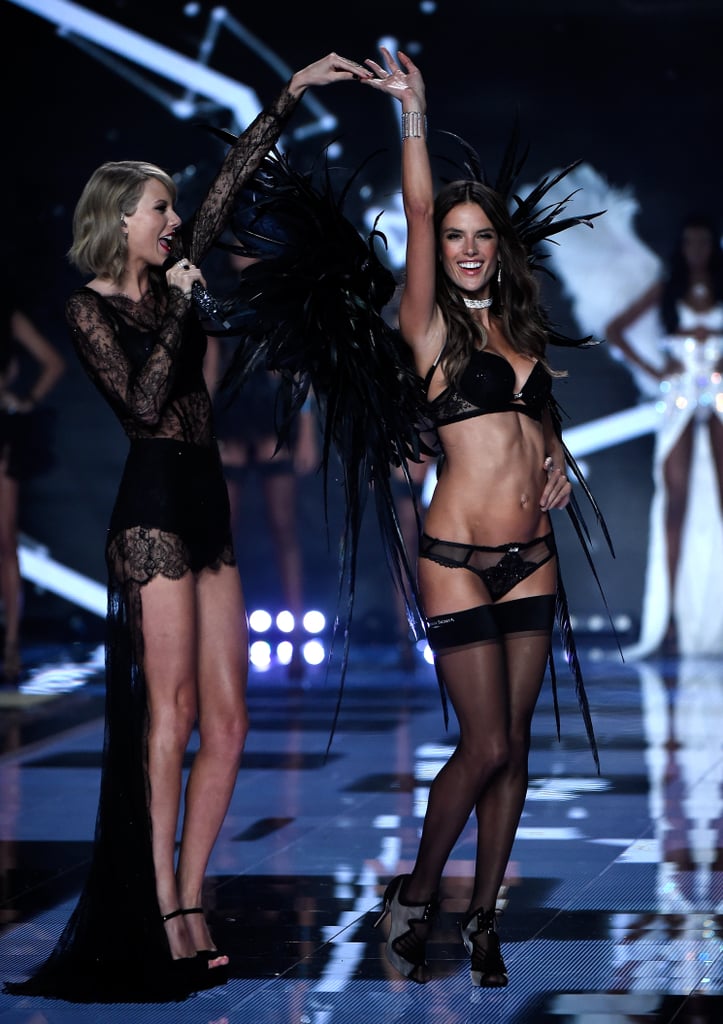 Taylor took the stage with veteran Victoria's Secret Angel Alessandra during the 2014 show in London.
Emma Stone
Taylor and Emma are both New Yorkers now that Emma is in town starring in the Broadway show Cabaret.
The Gang
She helped Modern Family star Sarah Hyland celebrate her 24th birthday, partying it up with other notable names like Jaime King, Hailee Steinfeld, and Lorde.
Sarah Hyland
The singer and the actress have been friends for a while, so it was only natural Taylor helped Sarah ring in her 24th birthday. Also in attendance? Hailee Steinfeld, Lorde, Jaime King, Ellie Goulding, Kelly Osbourne, and The Fault in Our Stars actor Ansel Elgort. Talk about a cool crowd!
Kate Upton, Amanda Seyfried, and Brittany Mack
It was the actress, model, and singer's love of basketball that brought them together, but something tells us this is not the last we'll see of this fashionable group. Along with Taylor's childhood friend Brittany, they make a case for blondes having more fun!
Selena Gomez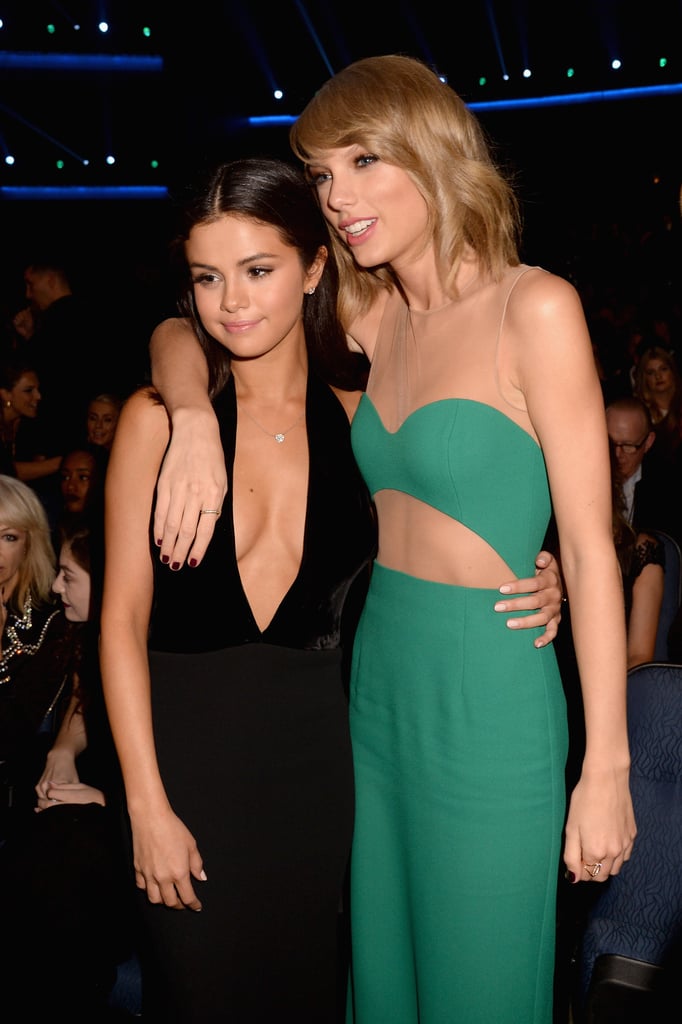 This friendship has had its ups and downs, but they seemed to have reconciled as of late. Plus Taylor cried — cried [10] — when Selena performed "The Heart Wants What It Wants" during the AMAs [11]. That's a true friend.
Karlie Kloss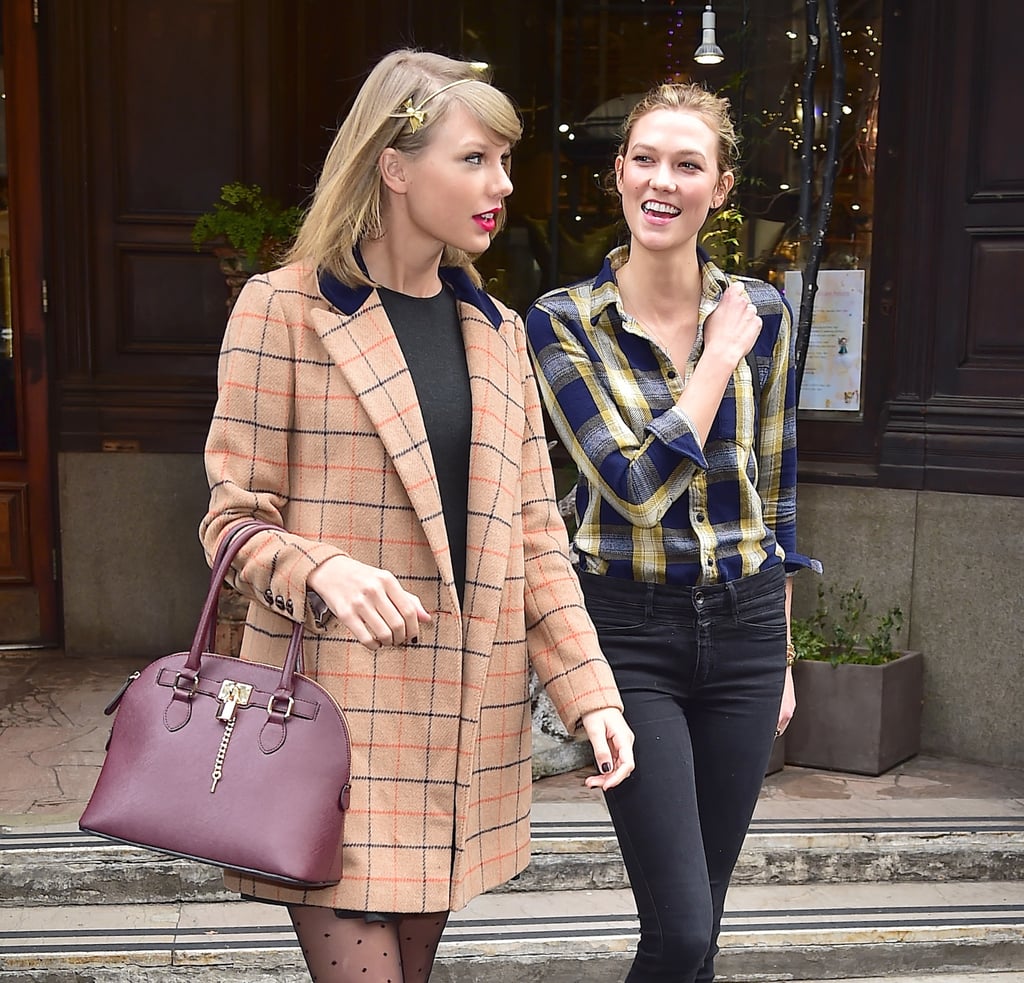 Between cross-country road trips and working out together in NYC, this tall twosome were practically made to be BFFs. And don't they kind of look alike too?
Lena Dunham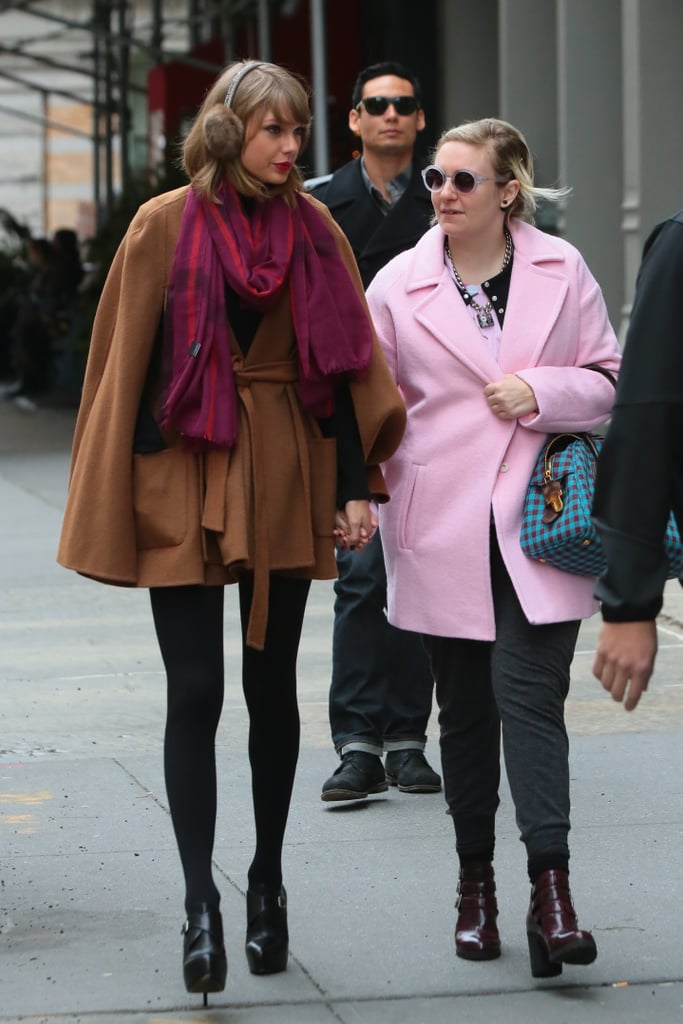 These two outspoken, smart young women also share one major fashion accomplishment: they both landed a Vogue cover.
The Crew
From Jessica Szohr [12] to Lena Dunham, Taylor knows how to get the fashion gang together for a good time.
Olivia
While Taylor's pretty kitty may not seem like the most obvious fashionista, she clearly makes one great accessory.
Cara Delevingne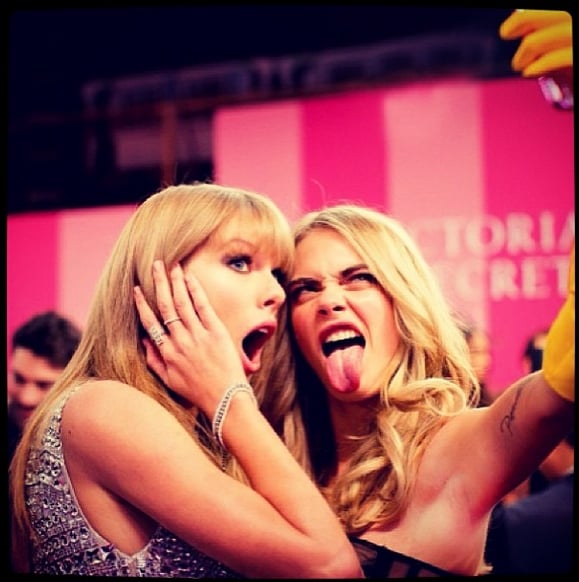 Cara's low-key kookiness may be the perfect balance to Taylor's girlie style.
Source: Instagram user caradelevingne [13]
Jaime King
Model, actress, and mom Jaime has Southern charm that perfectly matches Taylor's sweet style and disposition.
Lily Aldridge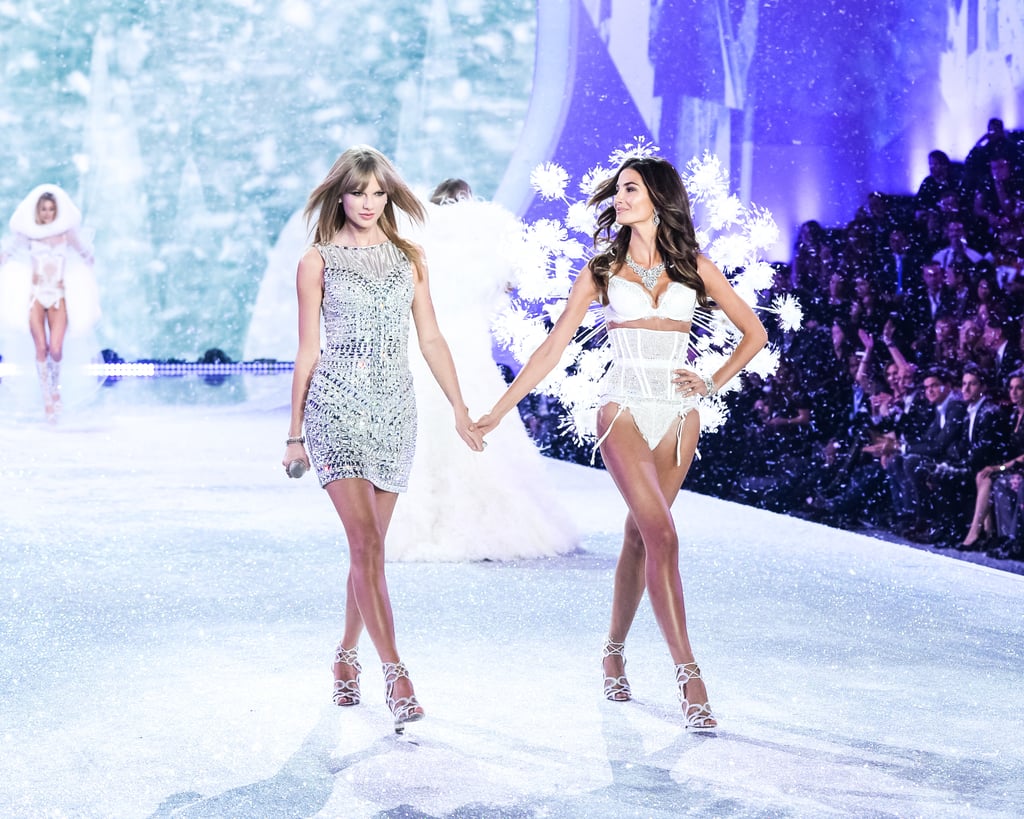 Taylor may not be a Victoria's Secret model, but she knows how to strut her stuff with confidence when Lily is by her side.
Lorde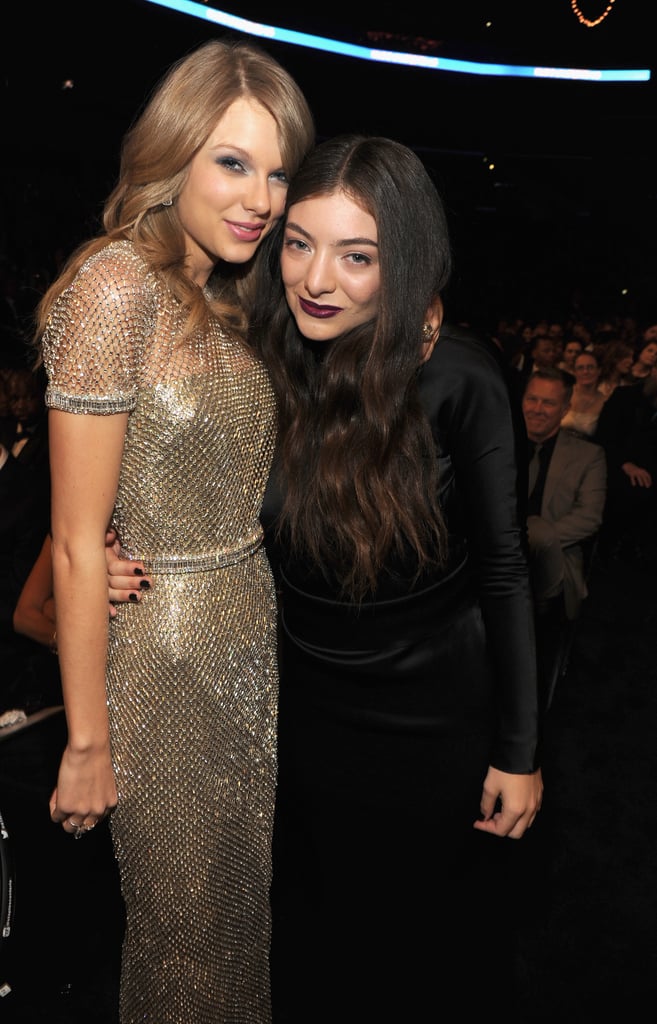 Though Lorde's signature style is moodier than Taylor's, the stylish songstresses have a lot in common.
Gilles Mendel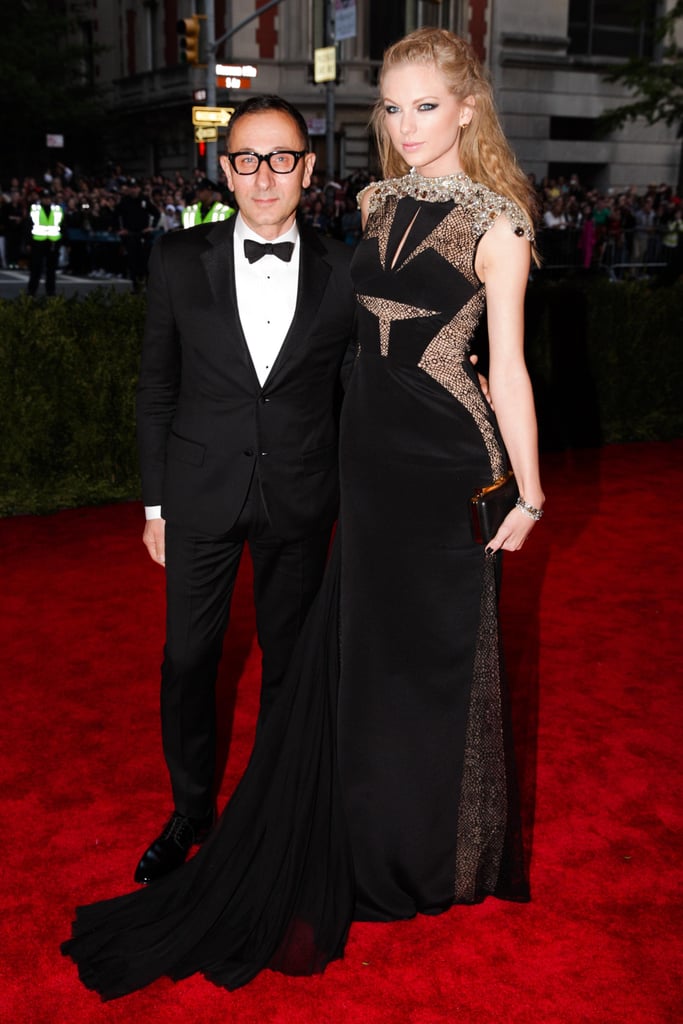 The man behind label J. Mendel has helped Taylor transform into a red carpet style icon.
Hailee Steinfeld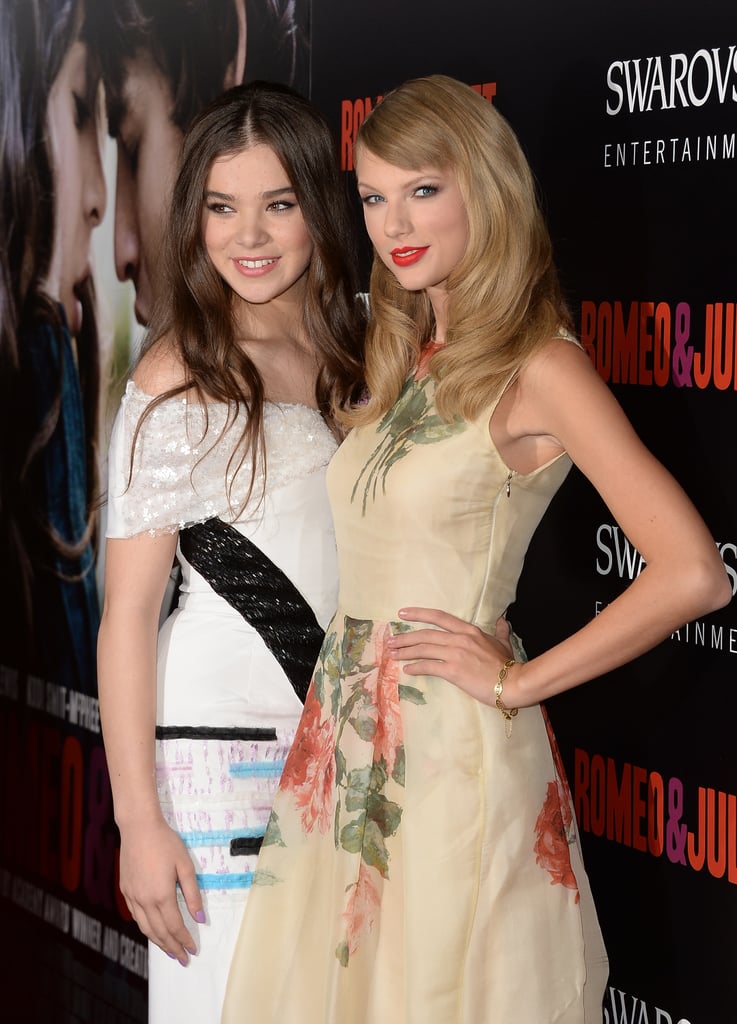 Hailee is following in Taylor's chic shoes, setting trends at just 17 [14] years old.
Chanel Iman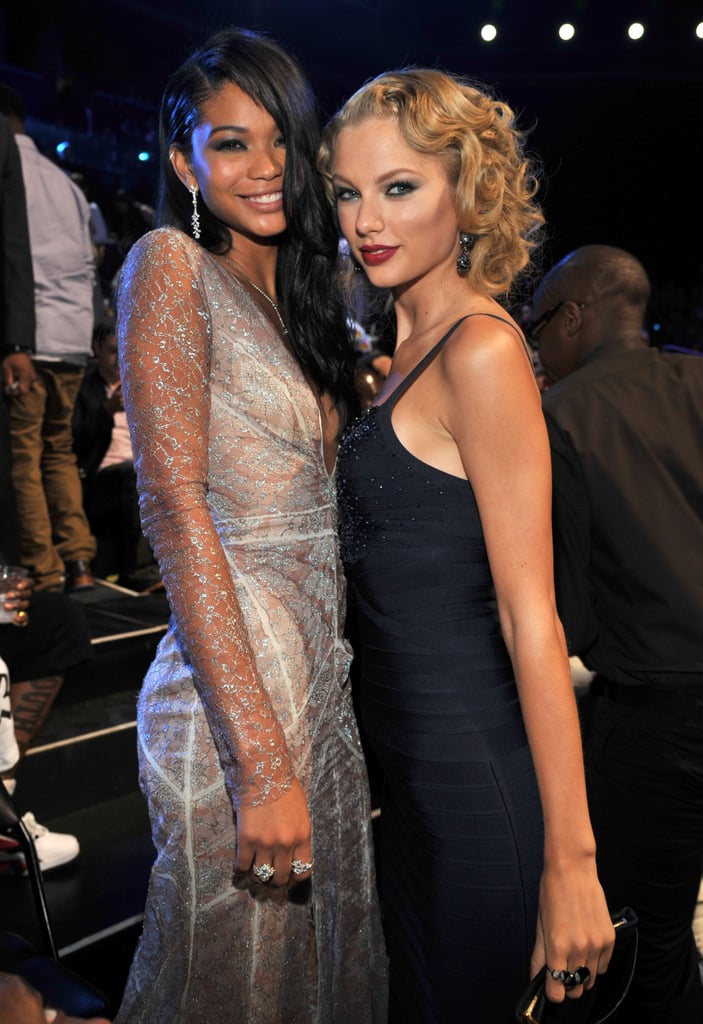 Taylor and Chanel turned up the sex appeal in body-hugging dresses at the 2013 MTV Video Music Awards.
Derek Blasberg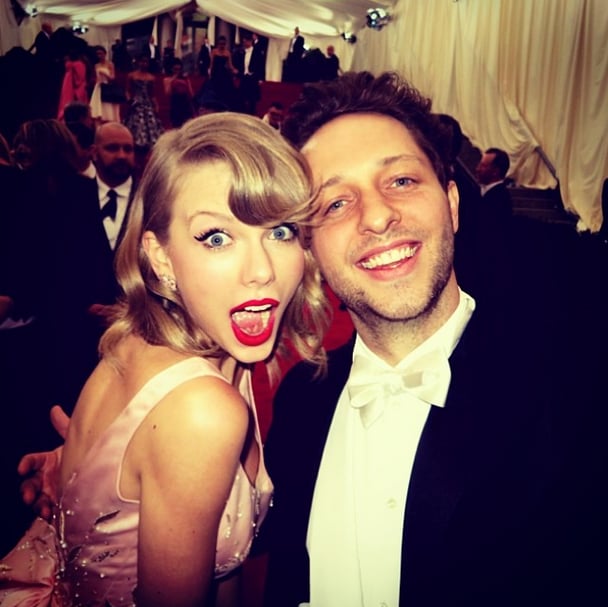 At this year's Met Gala, Taylor got silly with the fashion party fixture and editor at large at Harper's Bazaar.
Source: Instagram user derekblasberg [15]
The Angels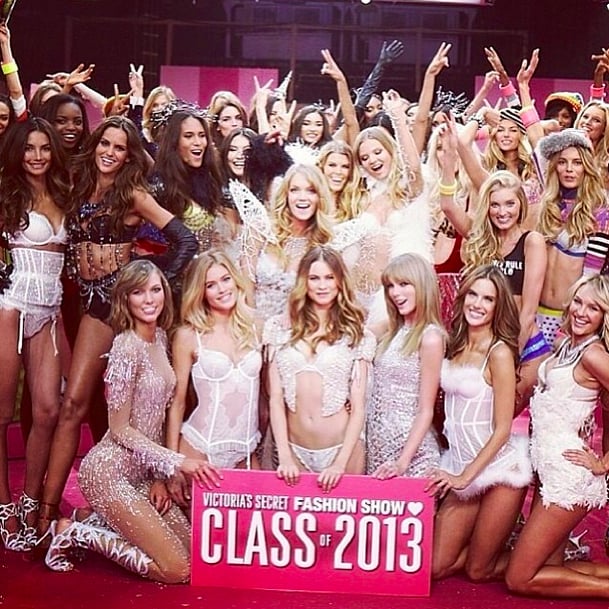 When Taylor took the stage at the 2013 Victoria's Secret Fashion Show, she proved that she can rock a catwalk with the best of them.
Source: Instagram user taylorswift [16]
Anna Wintour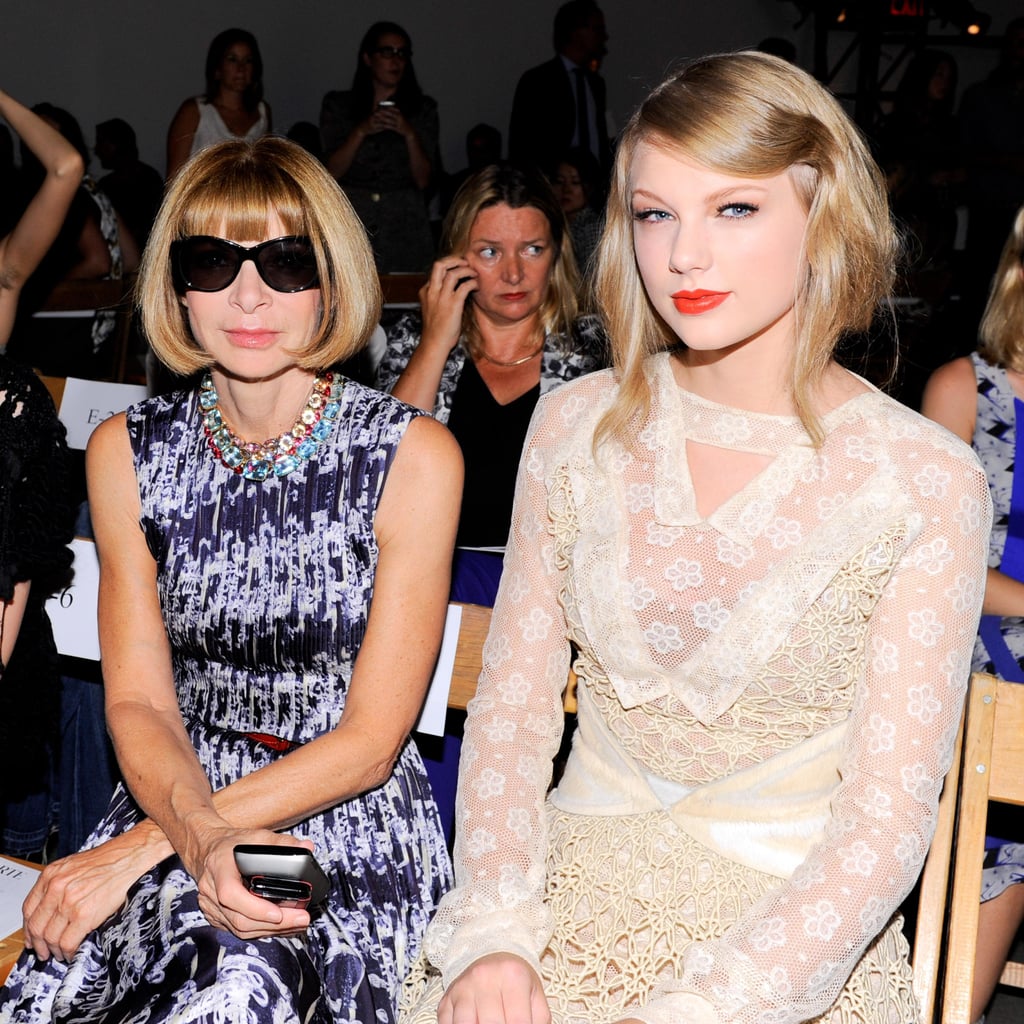 A sign that Taylor is officially part of the fashion In crowd? Sitting front row next to Anna.