You wear them on your feet every day — that is unless you're Shailene Woodley [1] — and whether they're classic or sexy, flat or sky-high, the shoes you choose say a lot about you. But what can you say for them?
Sure, you know you're wearing a lace-up menswear shoe, but would you be able to say if that shoe was a brogue, wingtip, or oxford? Trick question — it could be all three. Don't get stumped on the street the next time you're complimented on your footwear. Because much like the world of handbags [2], there's plenty to learn about these beloved accessories.
And while certain facts are hard-and-fast (we defy you to find a flat stiletto!) other rules are a bit trickier — ie: don't be alarmed if your Mary Jane's a flat rather than a heel; this pretty lady can be both! So, grab a pencil: you're about to get schooled on shoe shapes with our handy glossary.
Boot [3]
Sandal [4]
Flat [5]
Heel [6]
Category: Boot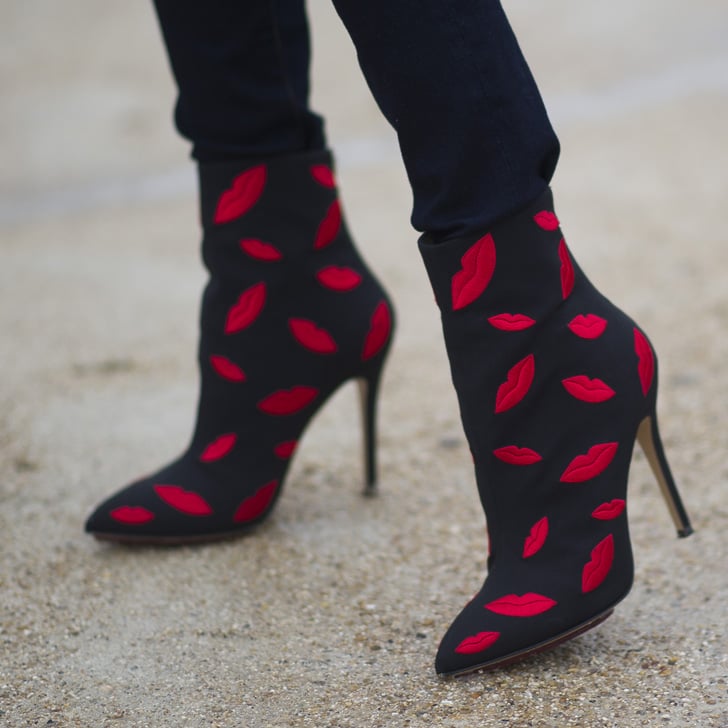 Footwear that covers the entirety of the foot and extends at least to the ankle.
Desert
Also called a "chukka boot," this lightweight, ankle-length style has two or three pairs of eyelets for lacing.
Stella McCartney Canvas Desert Boots [7] ($459)
Chelsea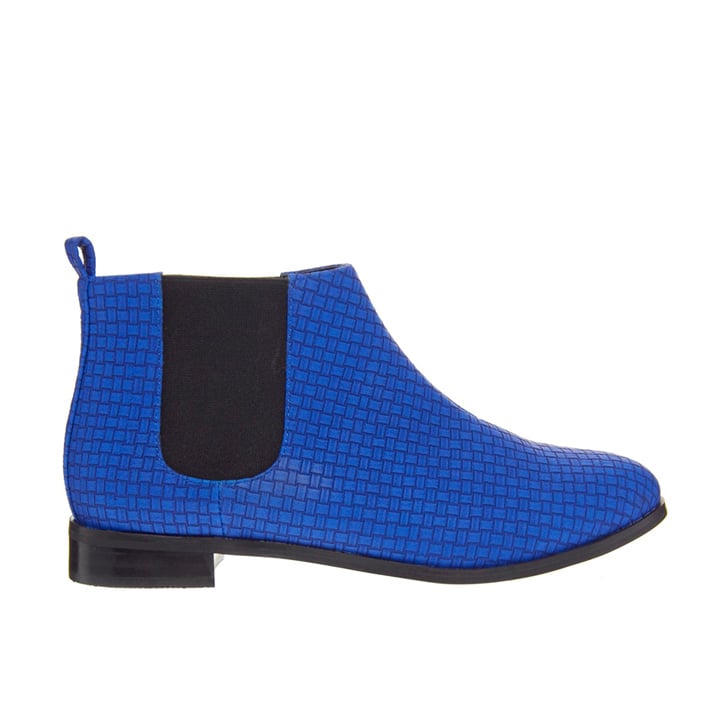 A short boot with a vertical elastic gore on each side of the ankle.
ASOS Arizona Woven Chelsea Boots [8] ($50, originally $67)
Bootie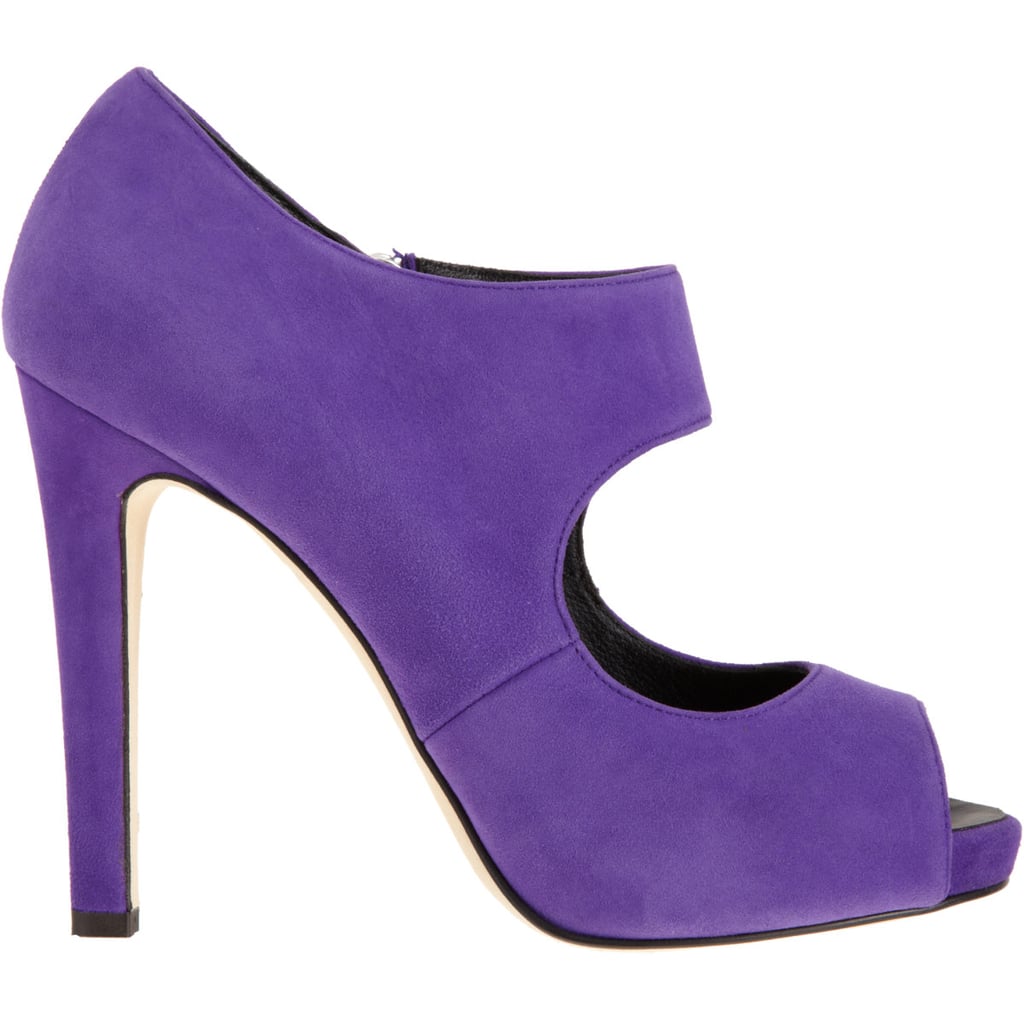 A boot without a shaft.
Barneys New York Cutout Peep-Toe Booties [9] ($269, originally $450)
Ankle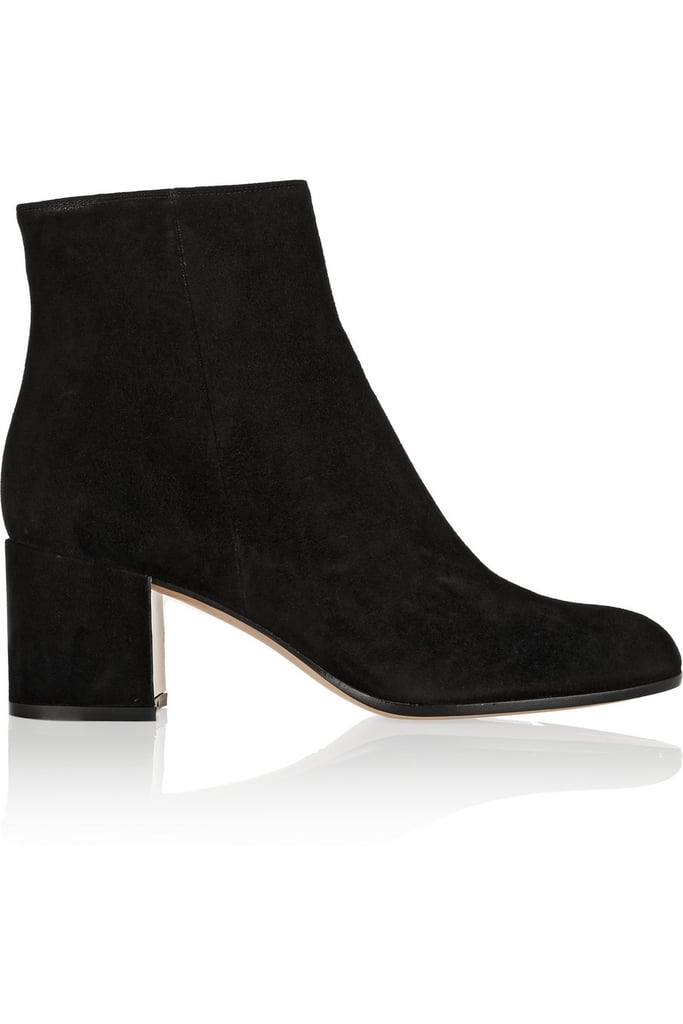 A boot that extends to the ankle and has a 3- to 8-inch high shaft.
Suede Ankle Boots [10] ($940)
Motorcycle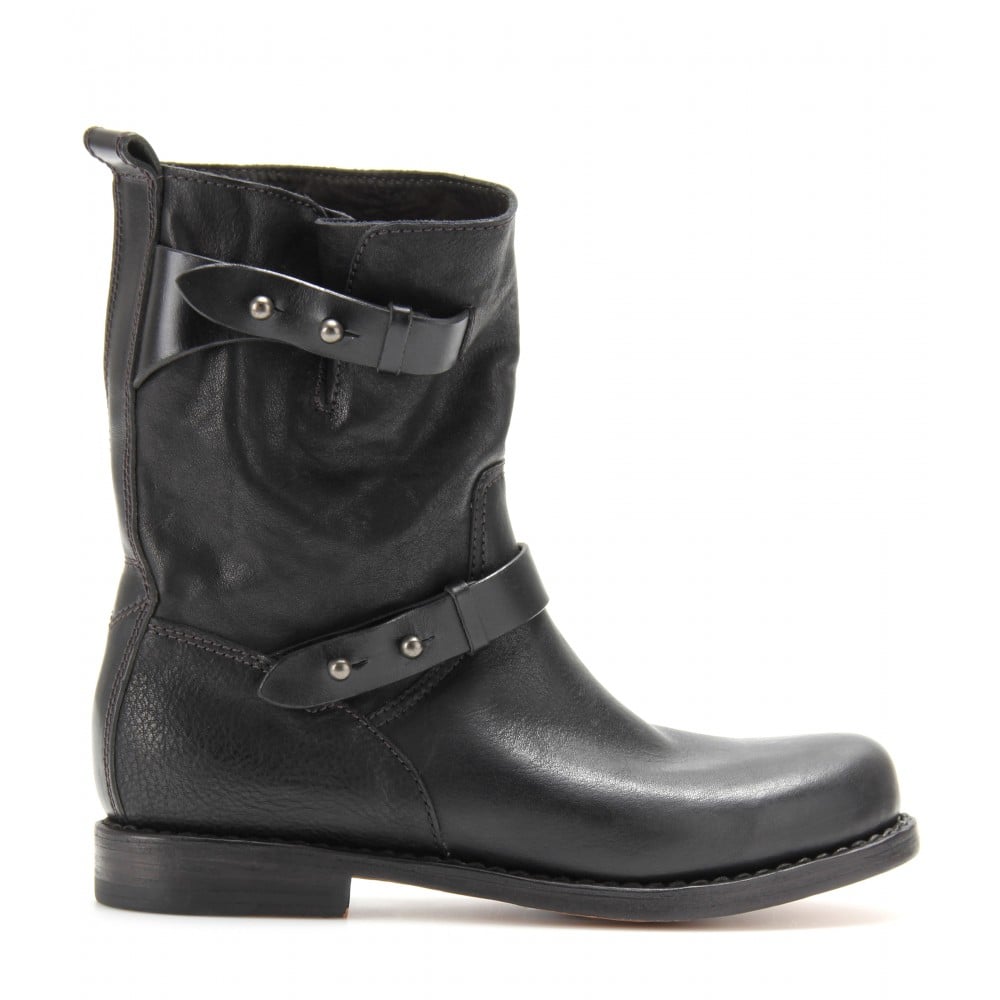 Also called a "biker boot," this is a weighty boot with a low heel, made from protective elements like heavy leather and metal.
Rag & Bone Moto Textured-Leather Boots [11] ($797)
Combat
A lace-­up boot originally designed for military use.
Dr. Martens Caden Combat Boots [12] ($190)
Cowboy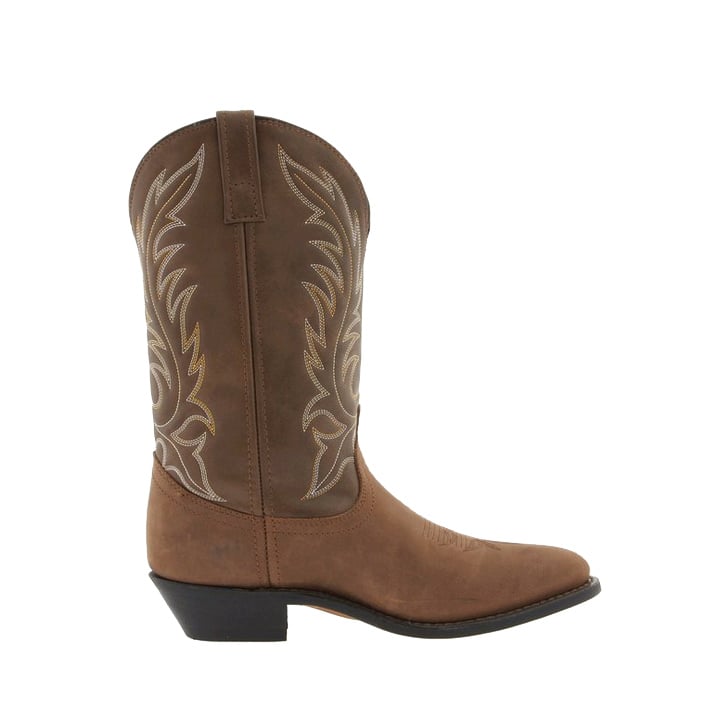 A midcalf boot with a moderate, slanted heel, decorative stitching, and typically a pointed toe.
Laredo Kadi Boots [13] ($100)
Equestrian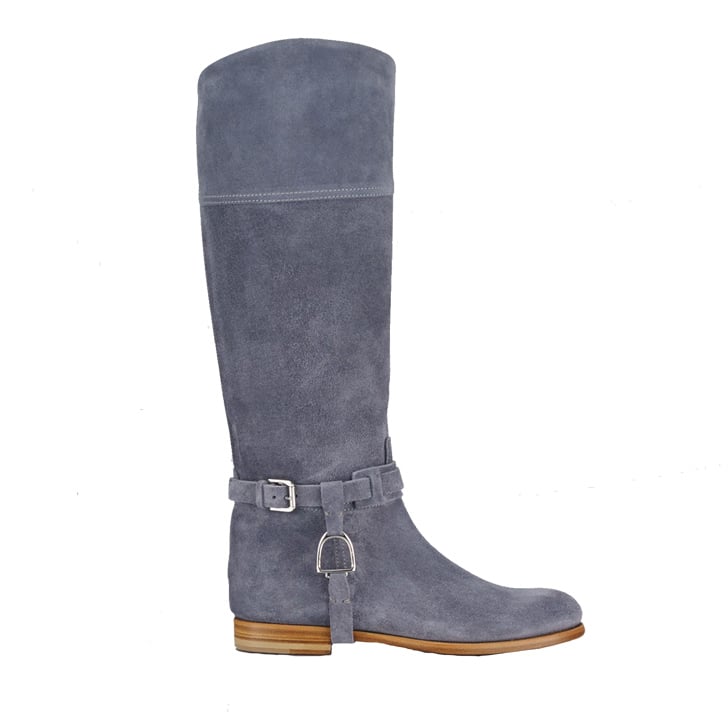 Also called a "riding boot," this sleek style includes a low heel and knee-high shaft.
Sage Calf Suede Riding Boots [14] ($399, originally $995)
Galoshes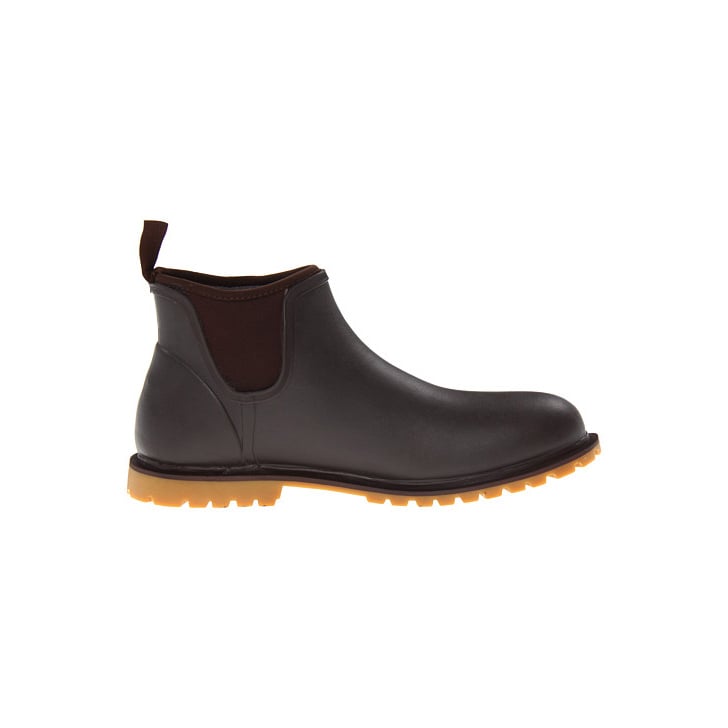 Traditionally, a boot or shoe designed to be worn over and protect other footwear (though today the term encompasses all rain boots).
Bogs Carson Boots [15] ($120)
Wellington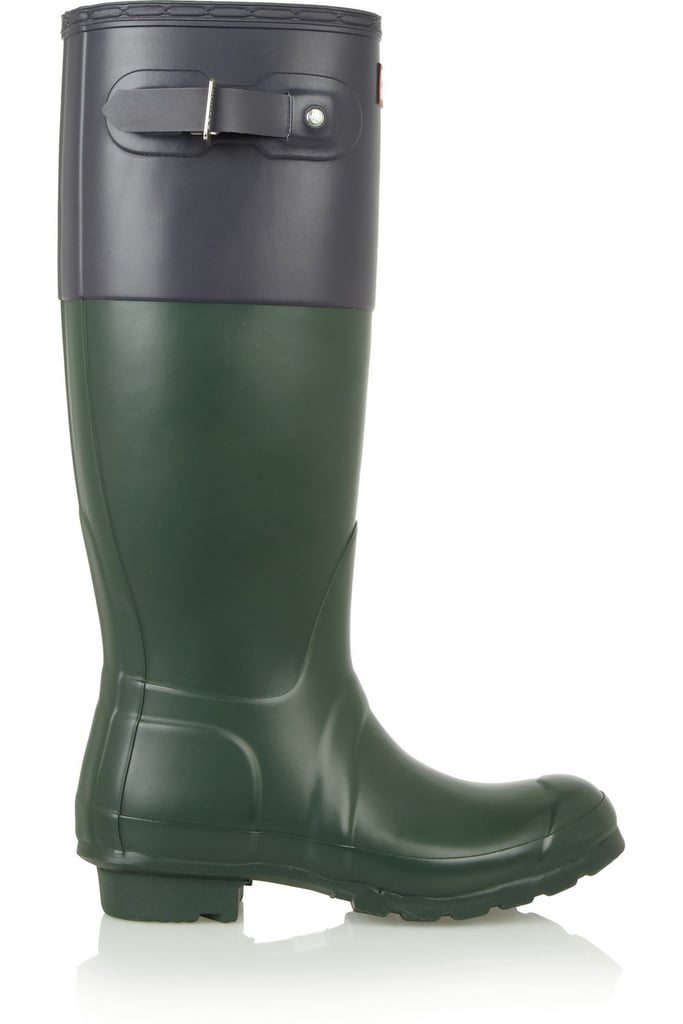 A tall, waterproof boot made from rubber or PVC.
Hunter Tall Wellington Boots [16] ($100)
Category: Sandal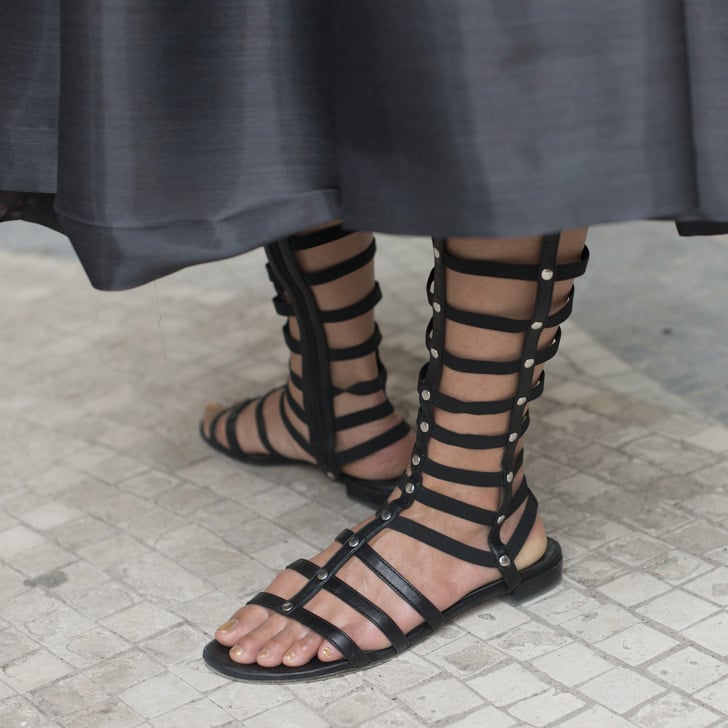 Exposed footwear that includes an open toe and back.
Slide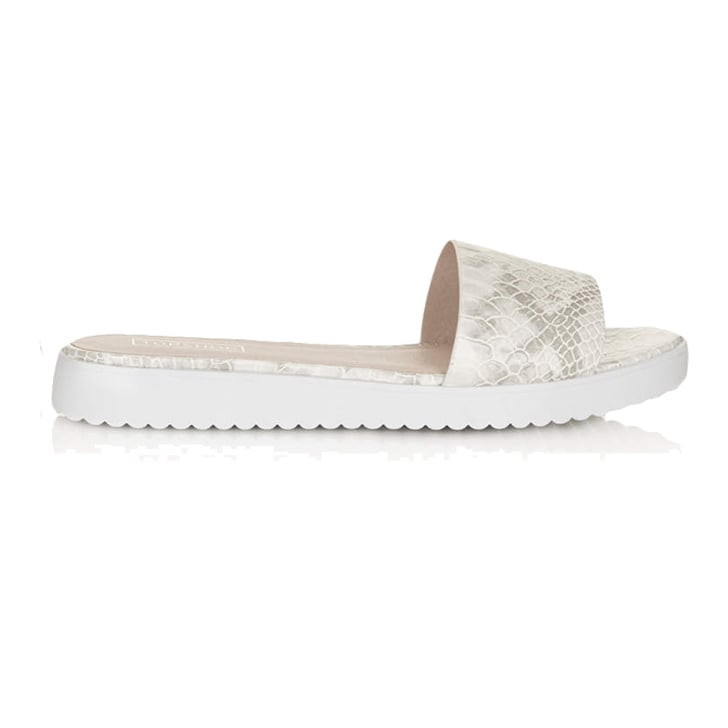 A backless sandal that is held on the foot by a large strap that runs across the instep.
Topshop Hi Pool Slide Sandals [17] ($35)
Gladiator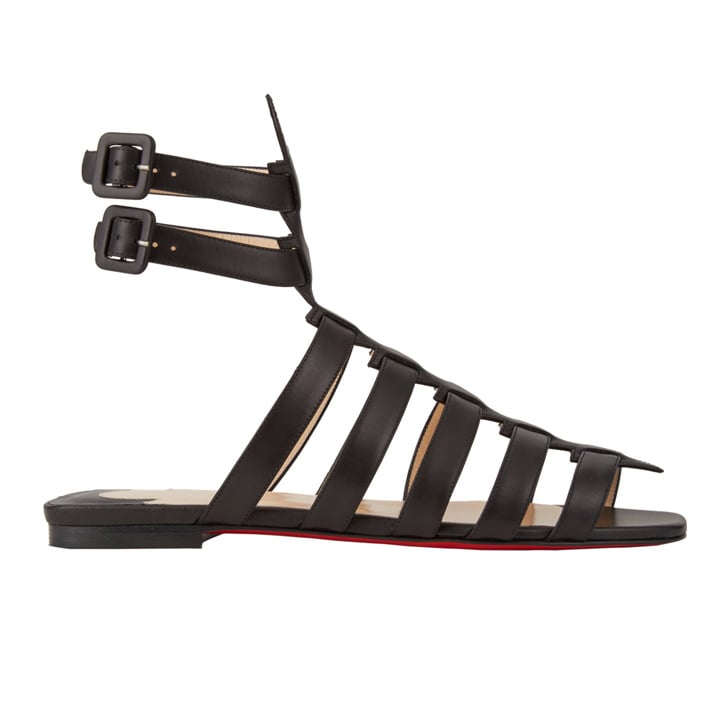 Inspired by the shape of Roman fighters' shoes, this sandal is marked by a single strap that runs down the foot and has several horizontal straps that run across it.
Christian Louboutin Neronna Flat Gladiator Sandals [18] ($845)
Flip-Flop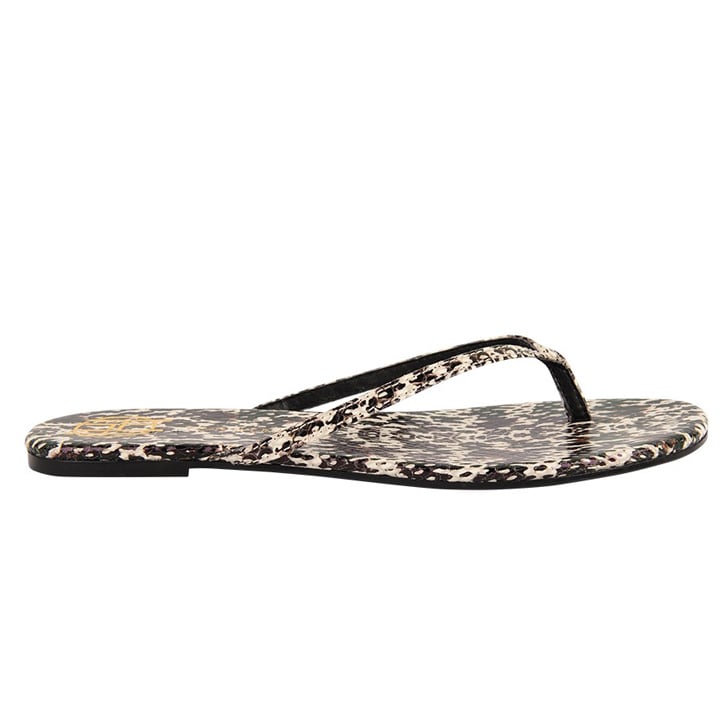 Also called a "thong," this flat sandal is held in place by a strap that passes between the big toe and the second toe with a v-strap.
House of Harlow Colton Flip-Flops [19] ($60)
Water Shoe
A sandal constructed of rubber or fabric and is designed to protect feet from shells and rocks. An enclosed version can be made of quick­drying mesh.
Teva Original Sandals [20] ($40)
Category: Flat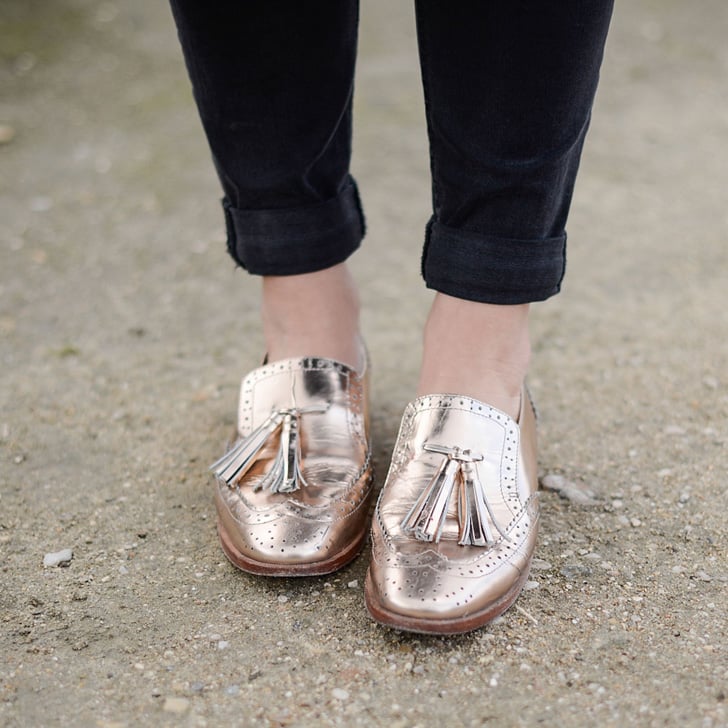 Footwear with no heel height.
D'orsay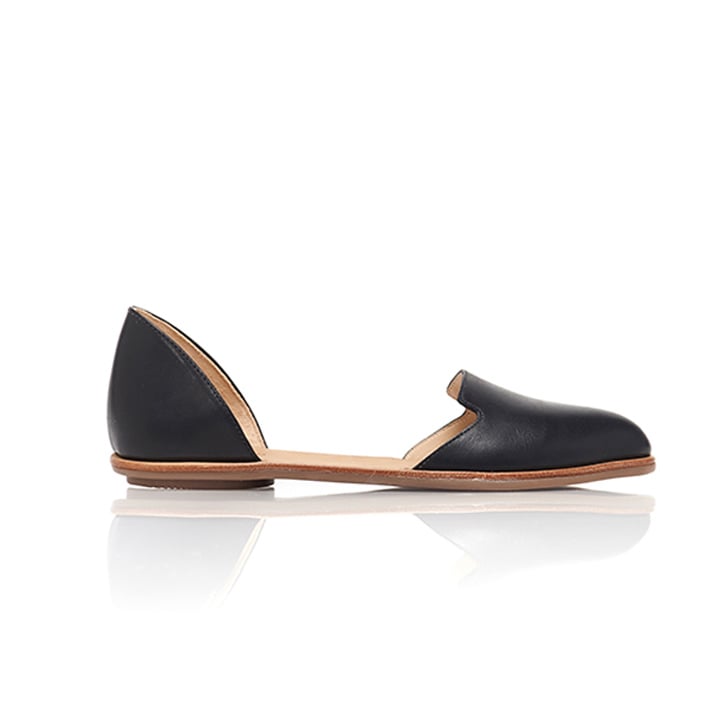 Named for the dandy Count d'Orsay, a shoe with a closed heel and toe but with cut-down sides.
Loeffler Randall Prue D'Orsay Flats [21] ($195)
Ballet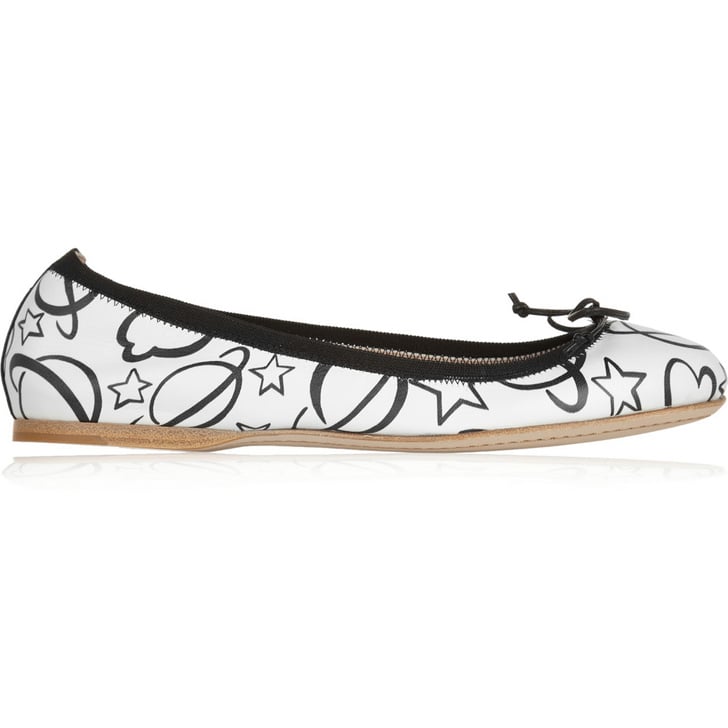 Inspired by ballet dancers' slippers, this is a soft, closed-toe shoe.
Miu Miu Printed Leather Ballet Flats [22] ($490)
Slipper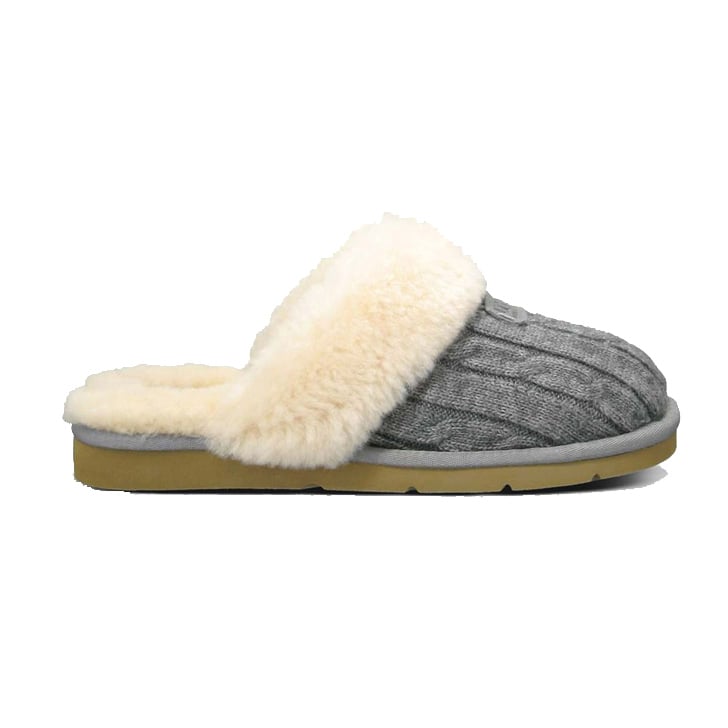 An indoor, flat slip-on.
Ugg Australia Cozy Knit slippers [23] ($130)
Smoking Slipper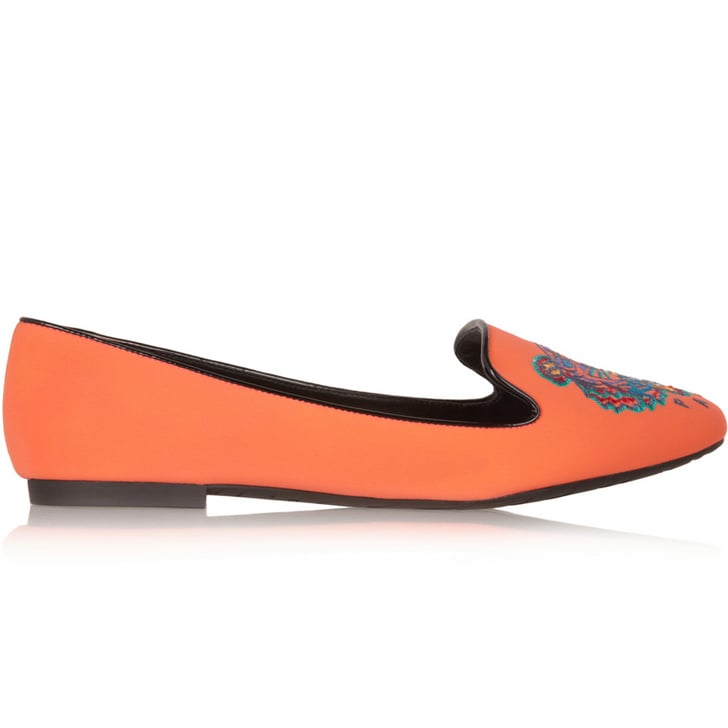 A slipper with a raised vamp (front part of the shoe) that has notches where it meets the side of the shoe.  
Kenzo Tiger Embroidered Neoprene Slippers [24] ($295)
Moccasin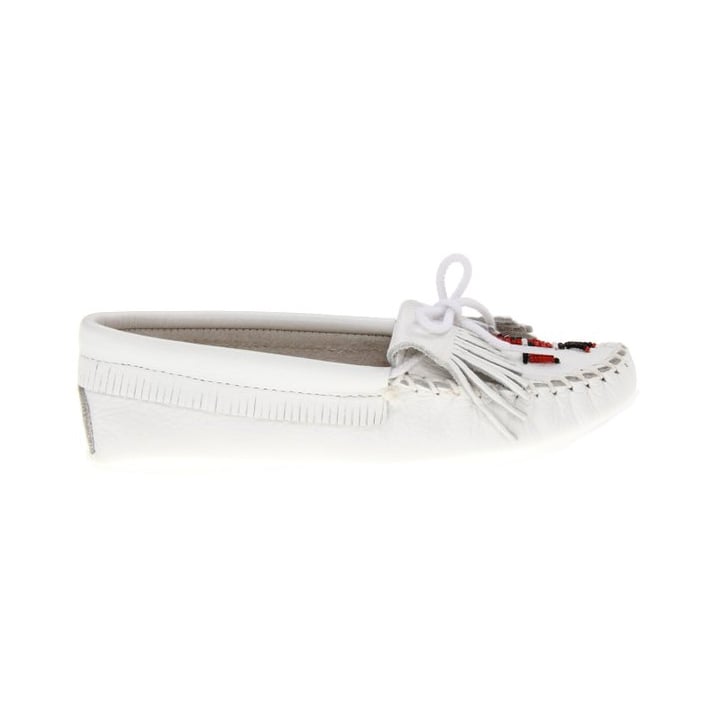 A slip-on with stitching around the toe box to create a gathered effect.
Minnetonka thunderbird moccasins [25] ($40)
Driving Shoe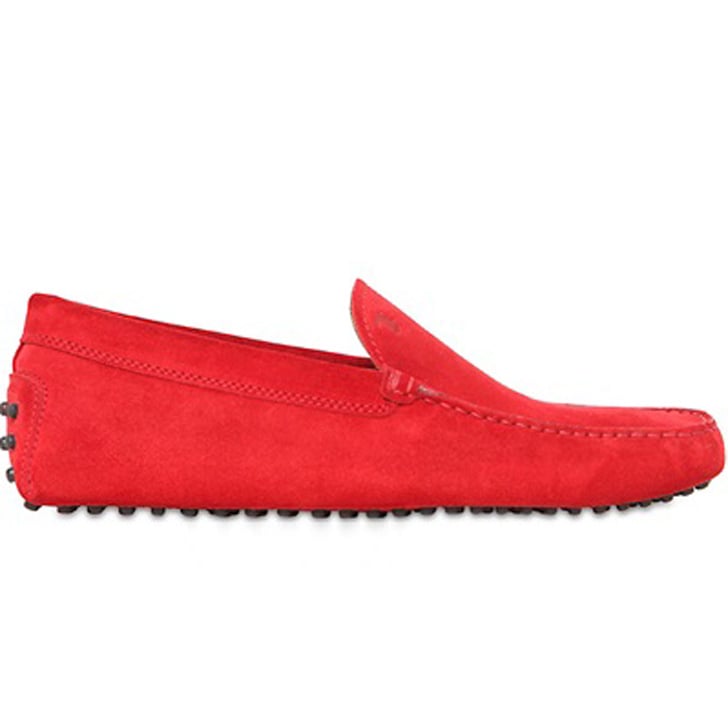 Designed to give drivers a better grip on the pedals, this is a moccasin with a thin sole that wraps around the entire shoe.
Gommino Suede Driving Shoes ($425)
Loafer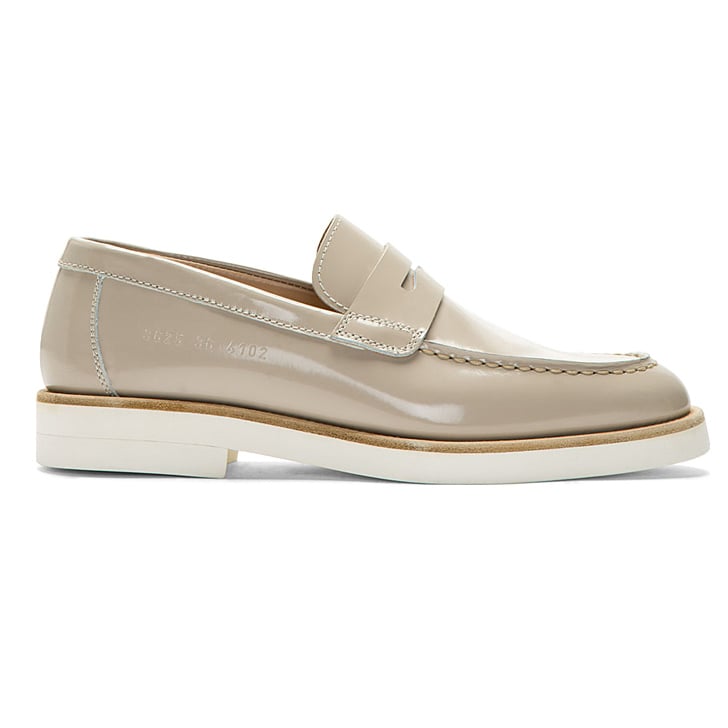 A moccasin-style slip-on with a slotted strap stitched to the vamp of the shoe, with an optional tassel or chain, and referred to as a penny loafer when a coin is inserted in the slot.
Boat Shoe
A moccasin-style shoe with an antislip rubber sole designed to be worn on a boat deck.
Sperry Top-Sider Authentic Original Woven Boat Shoes [27] ($63, originally $125)
Slip-On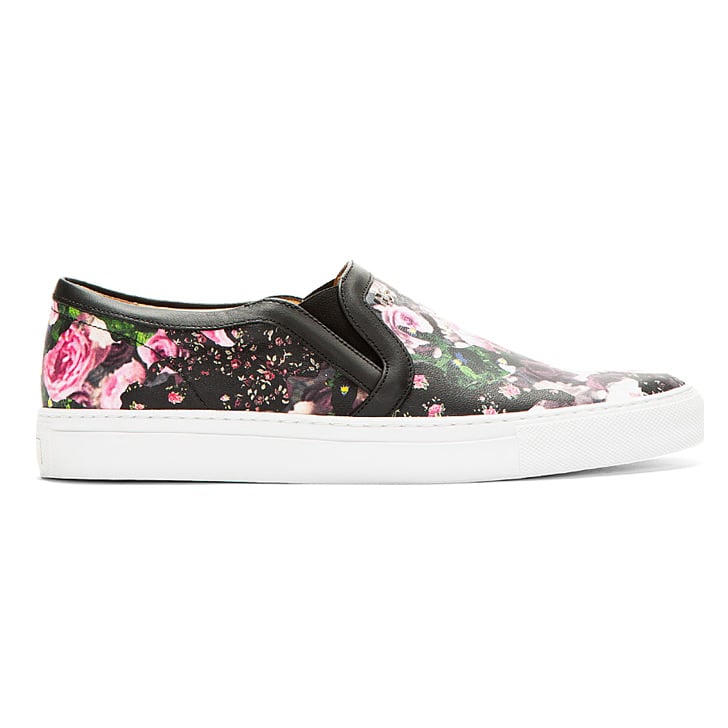 A shoe that can be put on or removed without a lace or strap.
Givenchy Black Floral Print Slip-On Shoes [28] ($630)
Sneaker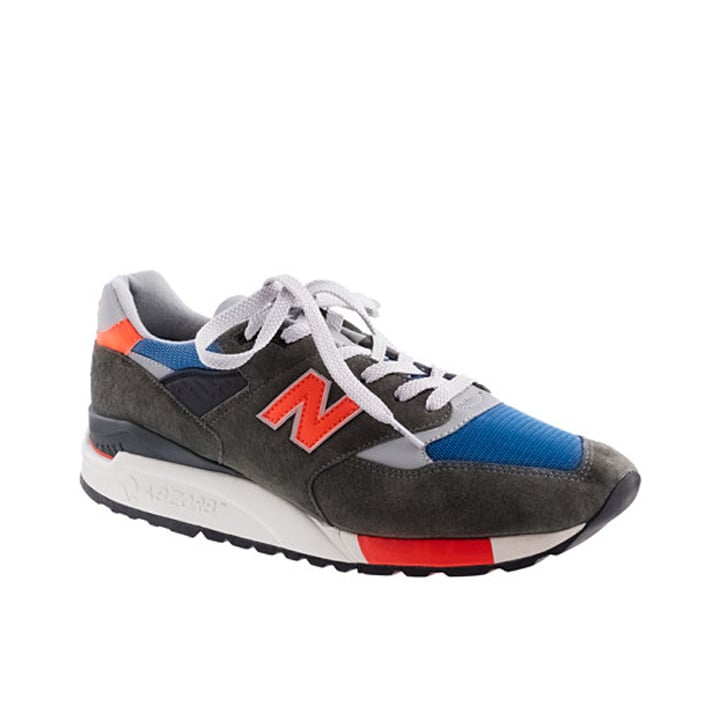 A casual, rubber-soled shoe made of soft materials. Variations include tennis shoes, skater shoes, wedge sneakers, and high-tops.
New Balance For J.Crew 998 Sneakers [29] ($160)
Oxford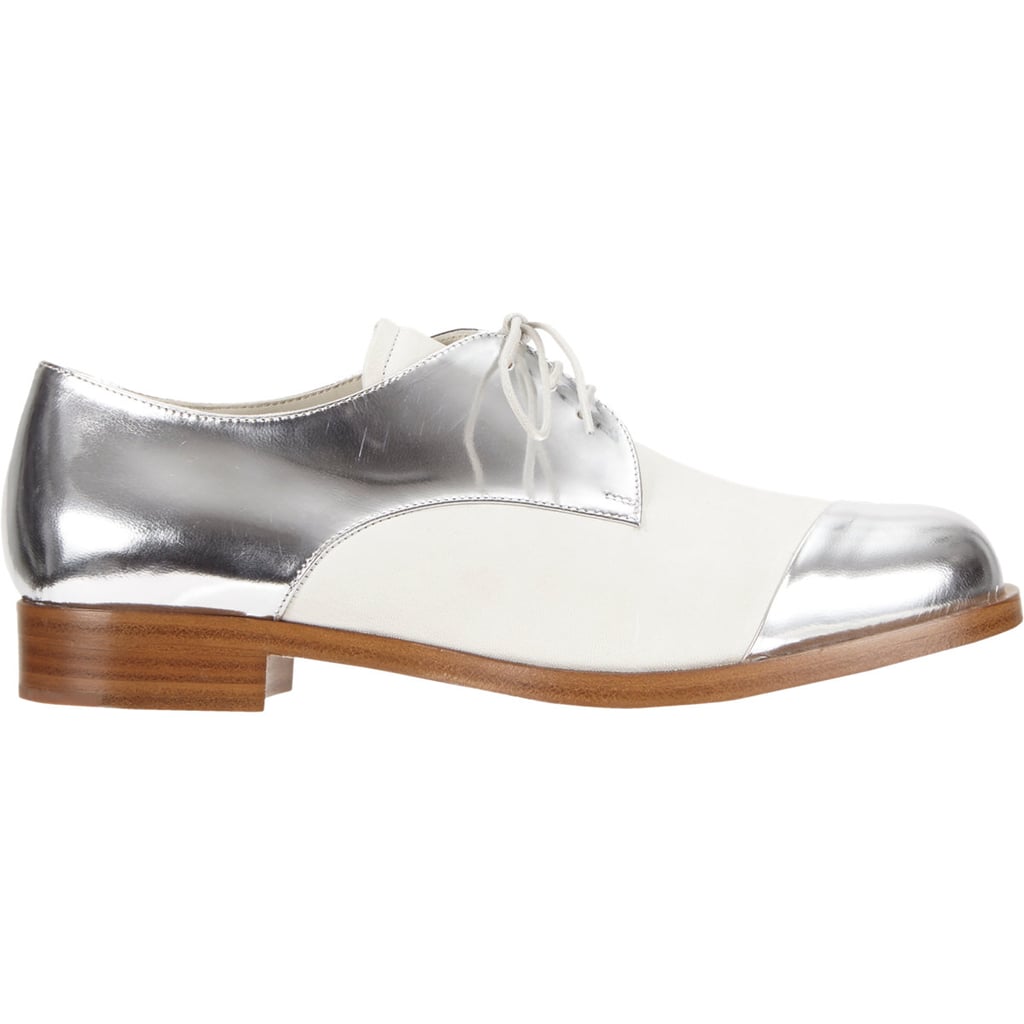 A low, leather shoe that is fastened with shoelace eyelets above its vamp.
Miu Miu leather oxfords [30] ($359)
Saddle Shoe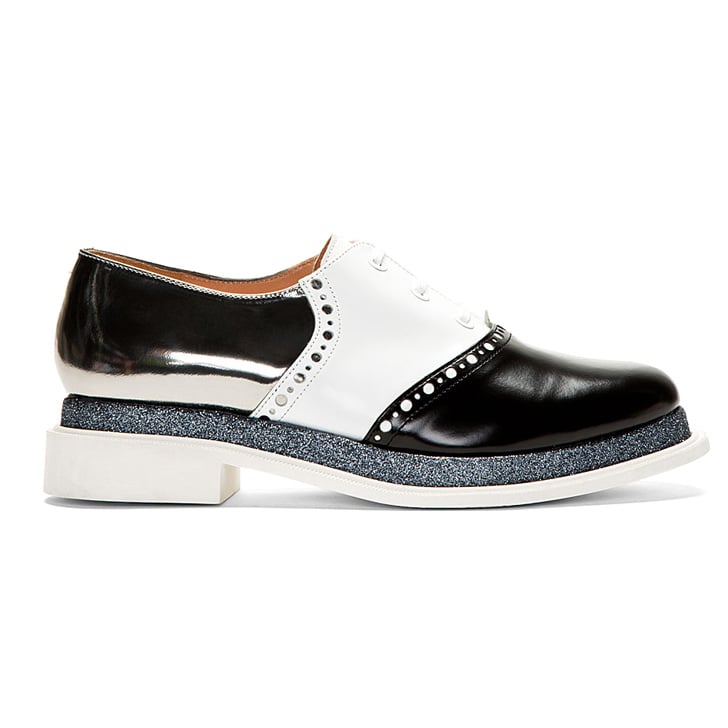 An oxford with a band (which is typically a contrasting color or texture) that runs from the lacing down to the sole.
Robert Clergerie Flash Saddle Shoes [31] ($298, originally $595)
Wingtip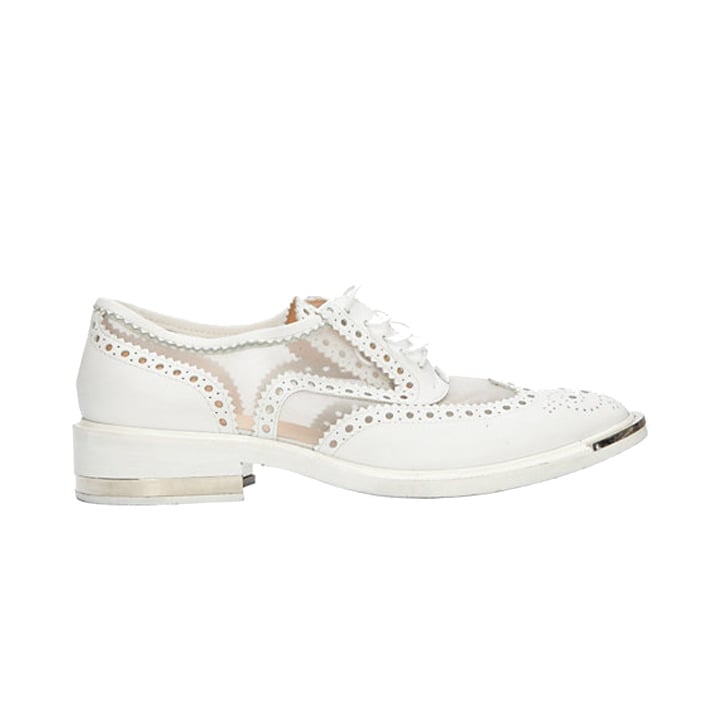 An oxford with w-shaped material stitched to its vamp.
Barbara Bui Mesh Wingtip Brogue Oxfords [32] ($590)
Spectator
A style marked by a distinctive contrasting color on its cap, this shoe is traditionally — though not exclusively — an oxford.
Prada Patent Leather Tooled Wingtip Flats [33] ($520)
Brogue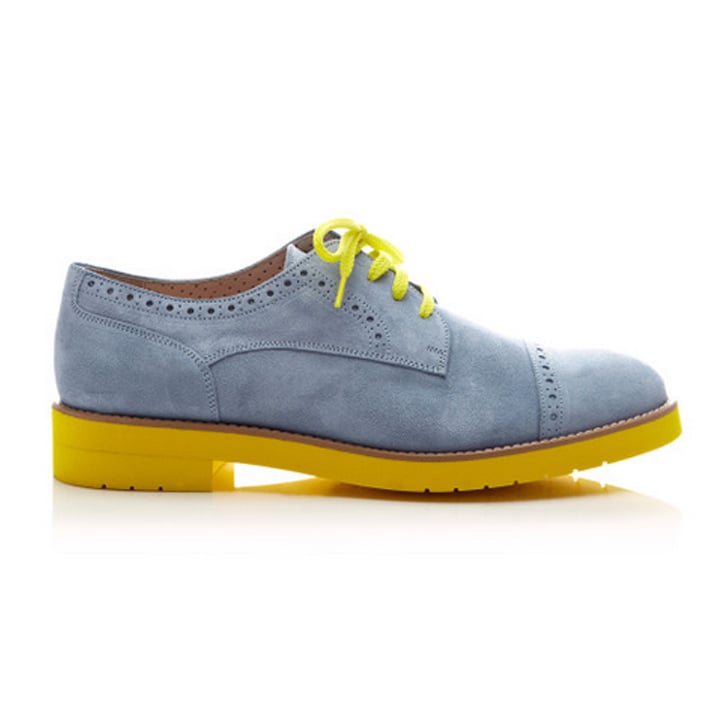 A shoe with holes punched around the edge of the vamp.
Pertini Contrast Sole Suede Brogues [34] ($130)
Espadrille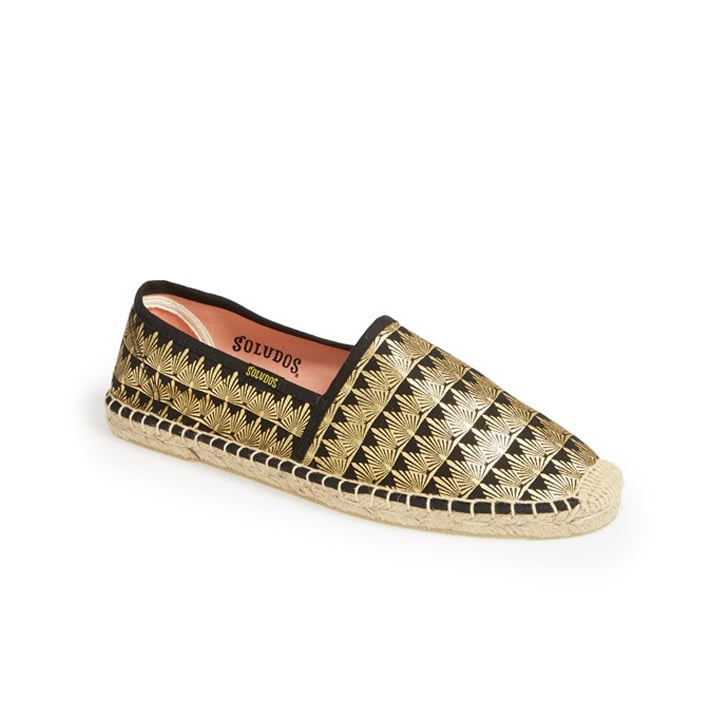 A shoe with a canvas upper and rope sole, which is typically flat but can have a wedge. Originally a slip-on when created in Spain, current varieties include sandals and lace-ups.
Soludos Gatsby espadrille [35] ($48)
Flatform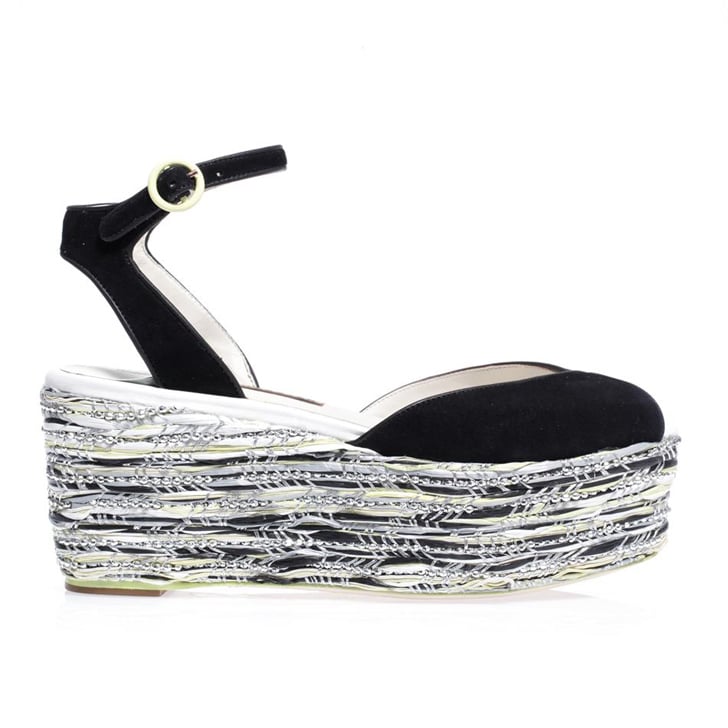 A flat shoe with a level platform.
Sophia Webster Suki Woven Flatform Sandals [36] ($293, originally $420)
Creeper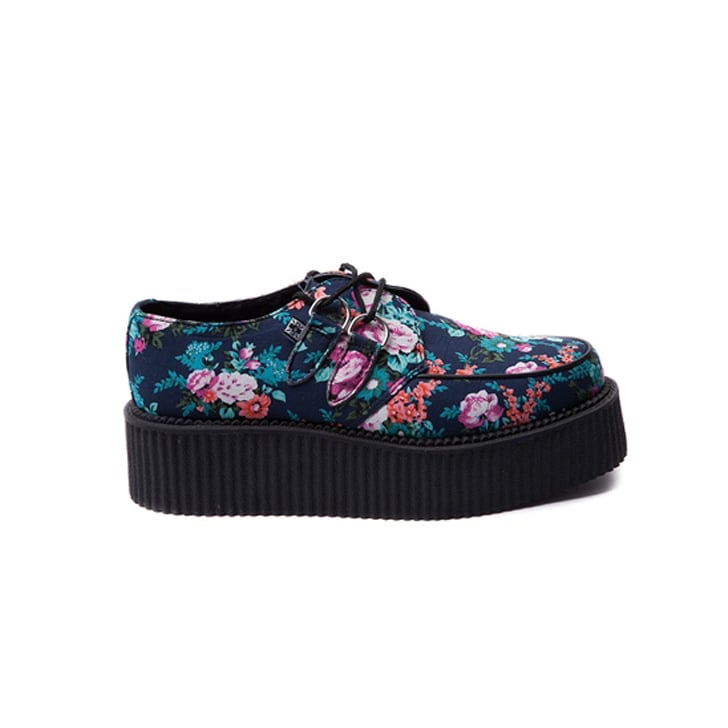 A flat shoe with a thick, crepe rubber sole.
T.U.K. Floral Creepers [37] ($75)
Category: Heel
Footwear that raises the wearer's heel height higher than the toes.
Mary Jane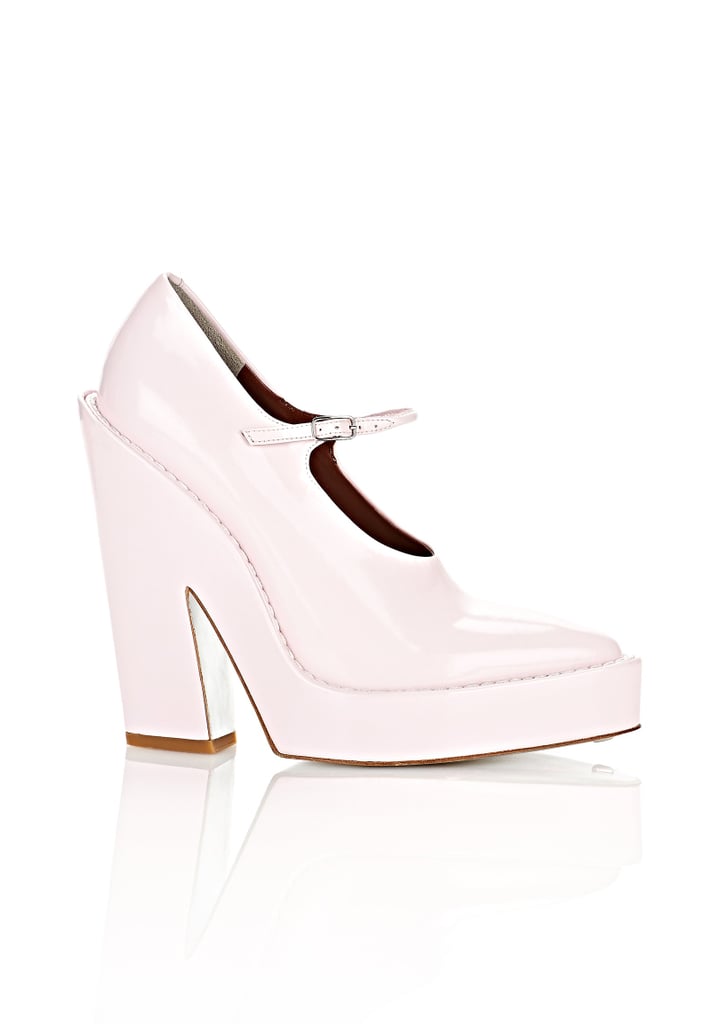 A shoe with an elastic, Velcro, or buckle strap across the instep.
Alexander Wang Manuel Mary Jane Pump [38] ($556, originally $795)
T-Strap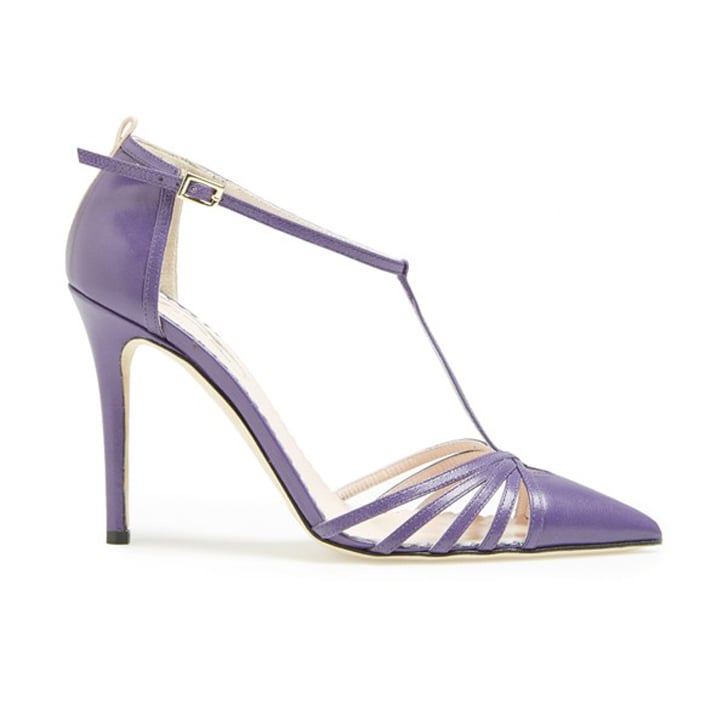 A shoe with a strap running vertically up the foot.
SJP Carrie T-Strap Pumps [39] ($355)
Ankle Strap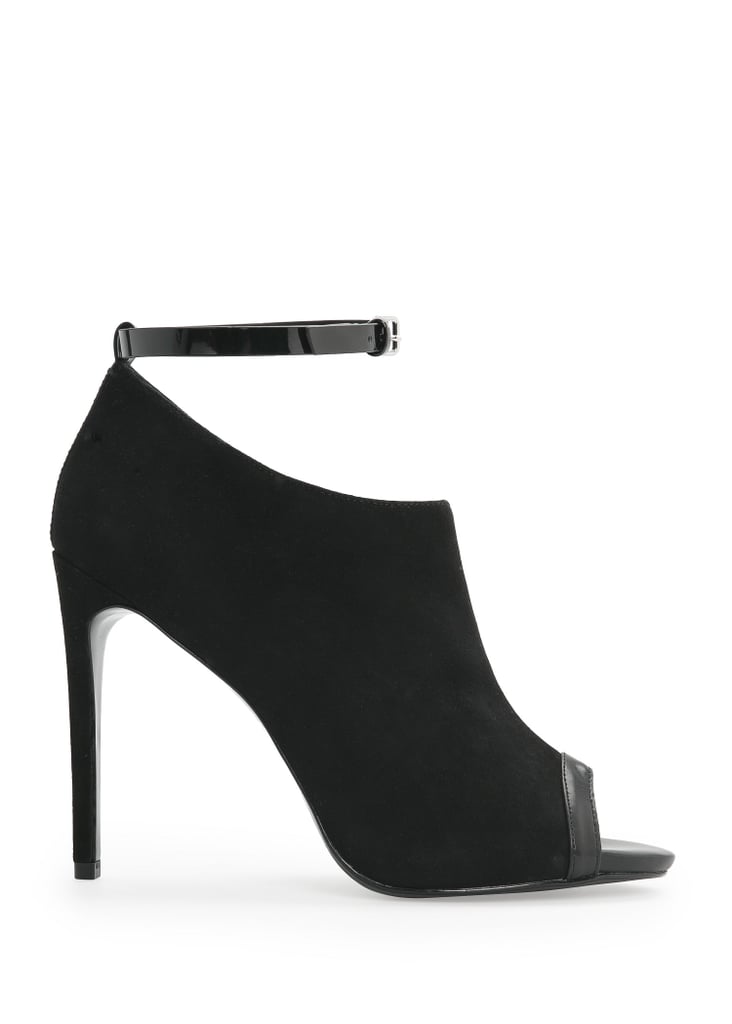 A shoe with a single or multiple straps that pass around the ankle.
Mango Suede Peep-Toe Ankle Boots [40] ($130)
Slingback
A shoe with an elastic or buckled strap around the back of the foot.
Oscar de la Renta Plaid Slingbacks [41] ($348, originally $695)
Cap-Toe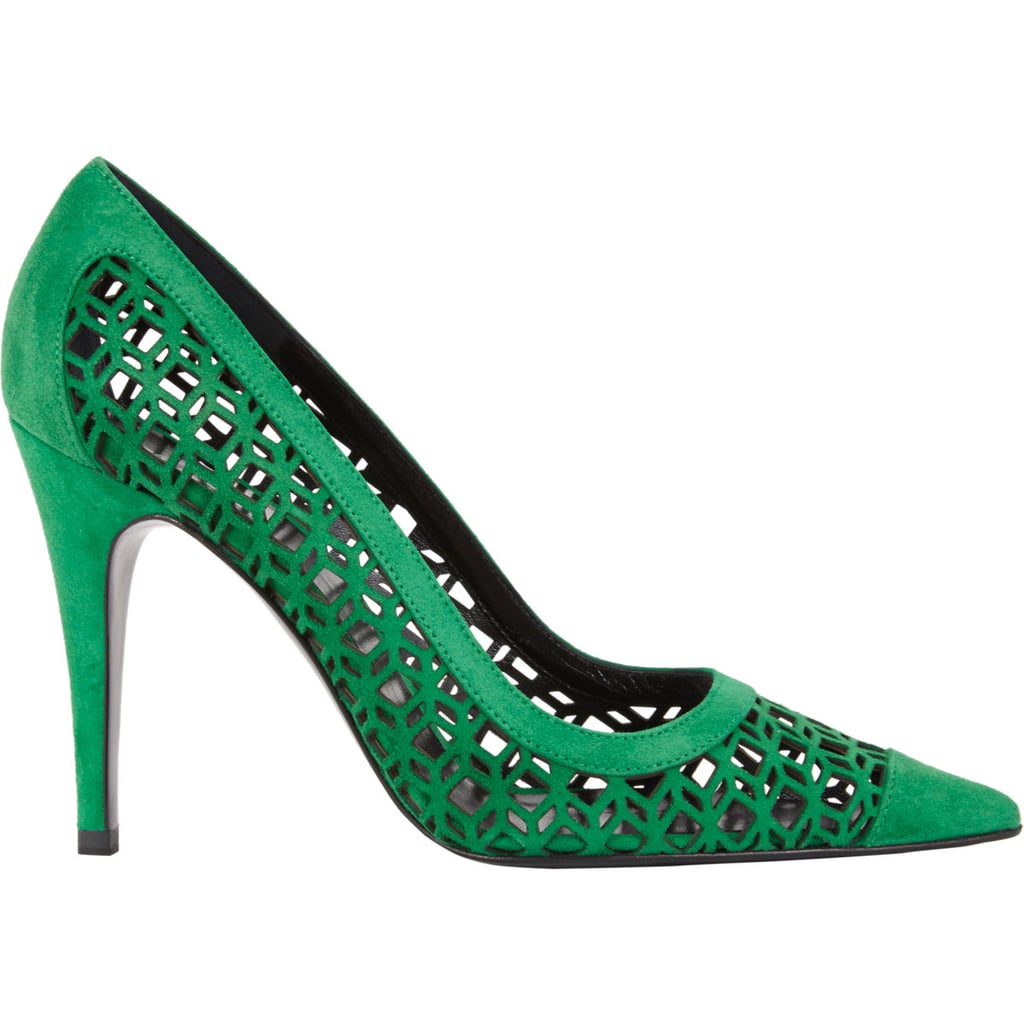 A shoe with a cap or reinforced leather on the toe.
Pierre Hardy Laser-Cut Cap-Toe Pumps [42] ($559, originally $925)
Peep-Toe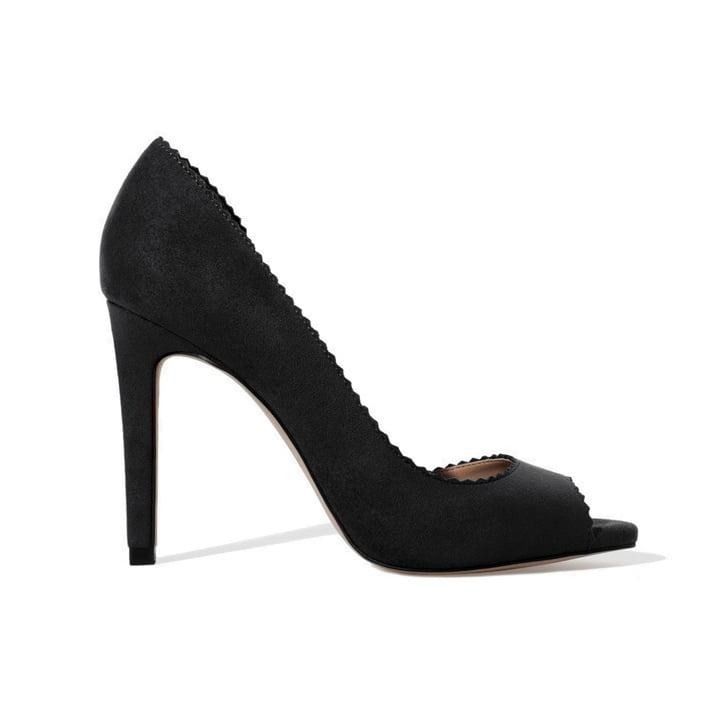 A shoe with an opening in front that exposes the toes.
Zara Peep-Toe Stilettos [43] ($36)
Mule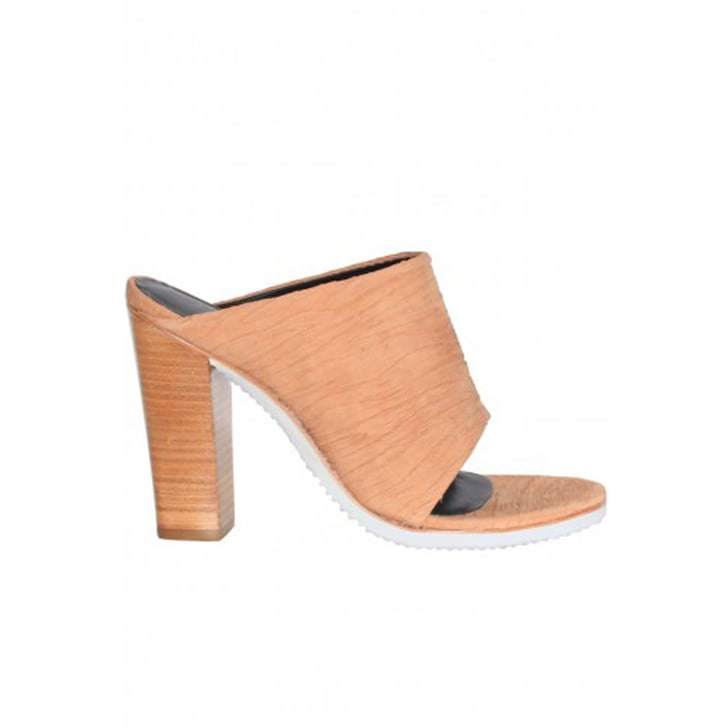 A backless shoe or slipper with a vamp that can be open- or closed-toed.
Tibi Bee Heels [44] ($385)
Clog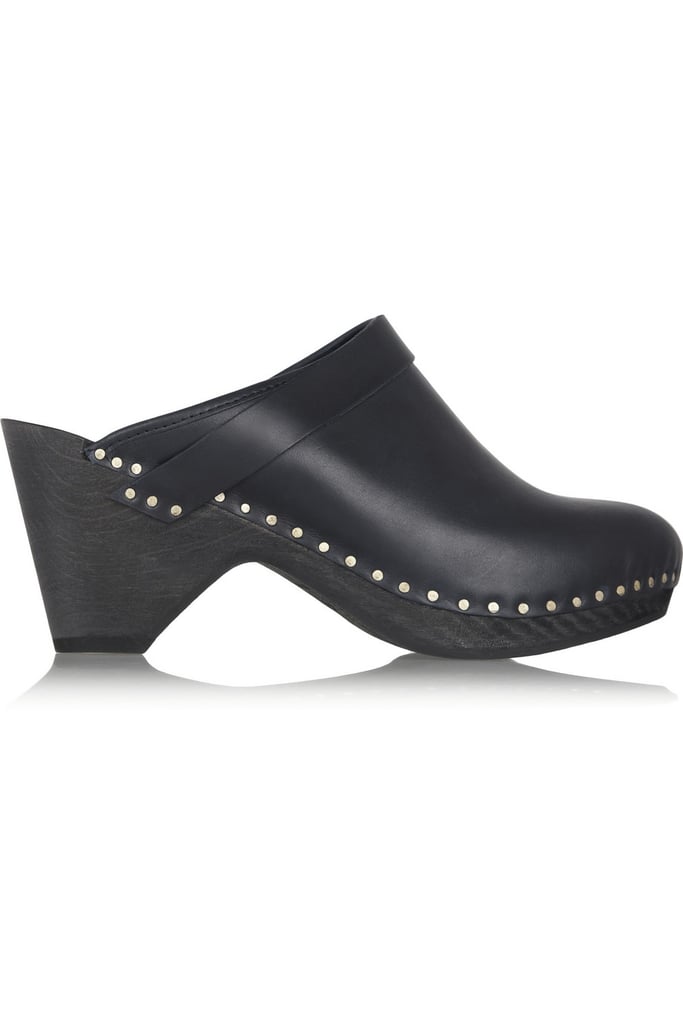 A closed-toe shoe with an open back and a platform sole, which is traditionally wood.
Isabel Marant Towson Leather and Wooden Clogs [45] ($308)
Pump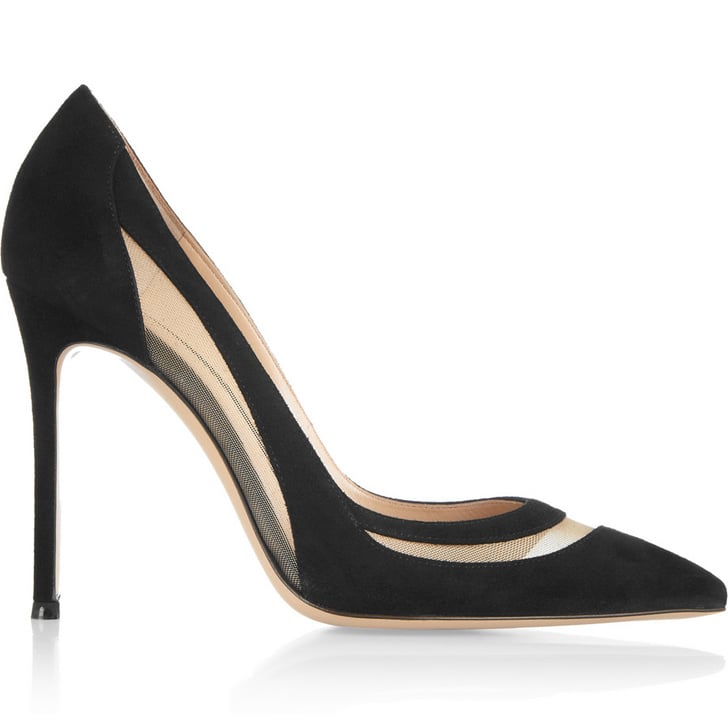 A shoe with a low-cut front that chiefly grips the foot at the toe and the heel and typically has no fastenings.
Gianvito Rossi Mesh-Paneled Suede Pumps [46] ($770)
Kitten Heel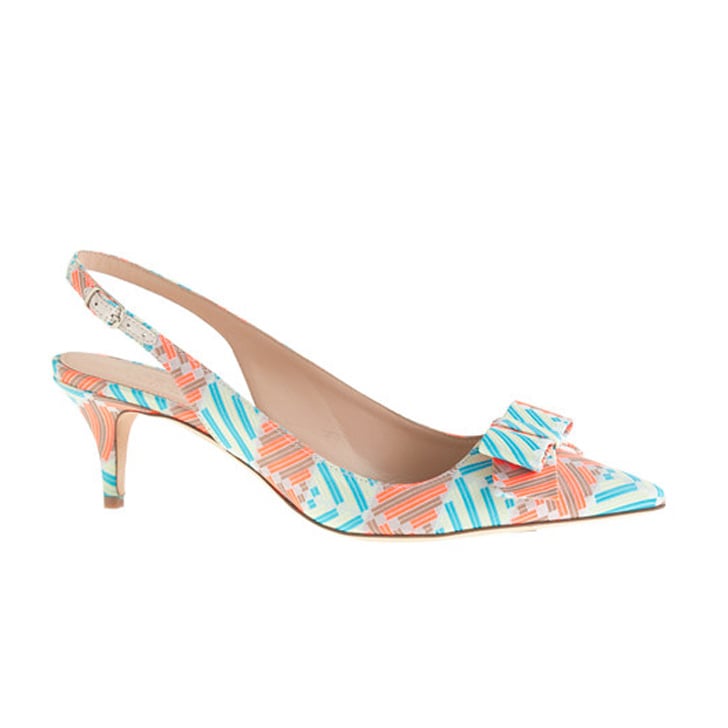 A shoe with a low heel that is usually 1 to 2 inches.
J.Crew Slingback Kitten Heels [47] ($278)
French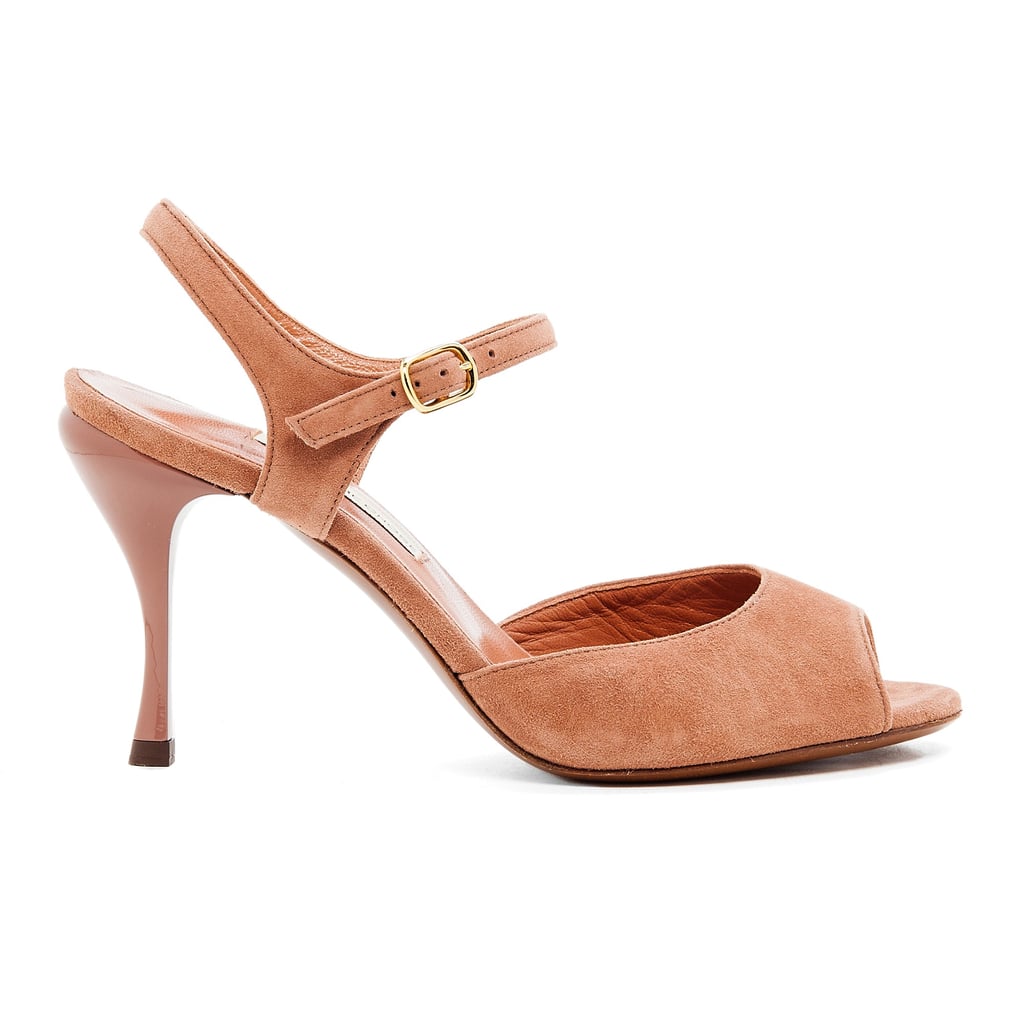 First worn by King Louis XIV of France to add height to his 5'3" stature, this shoe has a curved, medium-high heel.
L'autre Choes Suede Sandals [48] ($225, originally $375)
Stiletto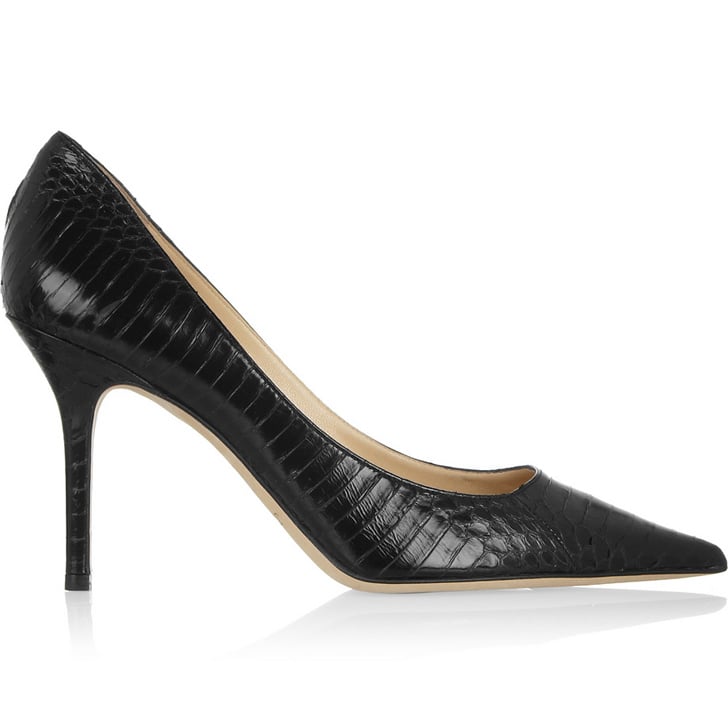 A shoe with a thin, tapering heel with a medium to tall height.
Jimmy Choo Agnes pumps [49] ($875)
Platform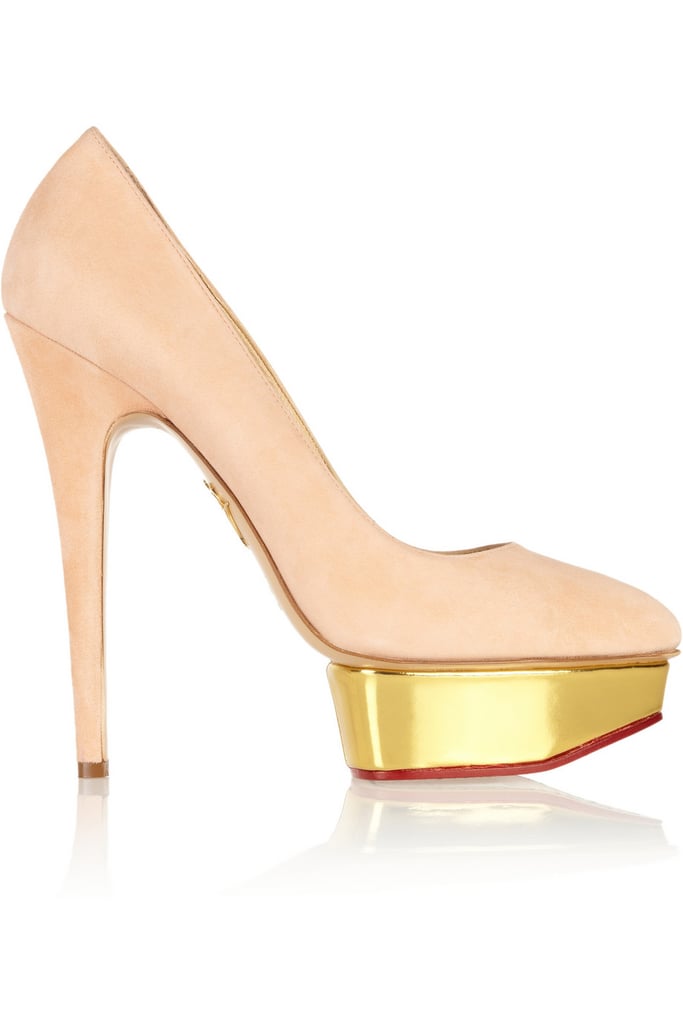 A high-heel shoe with a thick sole under the front of the foot.
Charlotte Olympia Cindy Suede Platform Pumps [50] ($795)
Wedge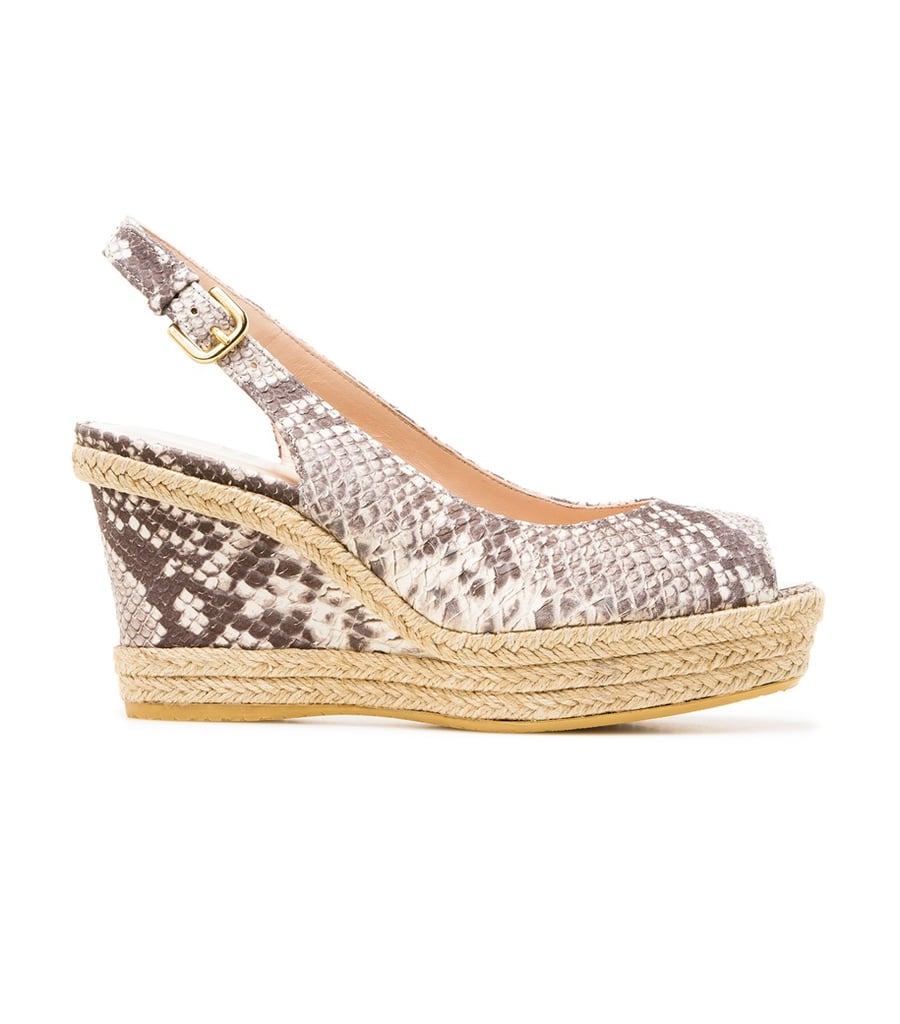 A shoe with a heel that extends from the ball to the back.
Stuart Weitzman Jean Wedges [51] ($385)