You have a date, your reservations are set, but there's one last piece of the Valentine's Day [1] puzzle — figuring out what to wear. Whether you're going out with your girlfriends or having a cozy night in with someone special, dressing the part can make all the difference. We've found the perfect outfit for every occasion, so you will feel flirty, fun, and sexy no matter where the night takes you. And, yes — there's definitely a little lingerie [2] involved. Read on for a little naughty (or nice!) Valentine's Day inspiration.
Valentine's Day Date Outfit With Your Girlfriends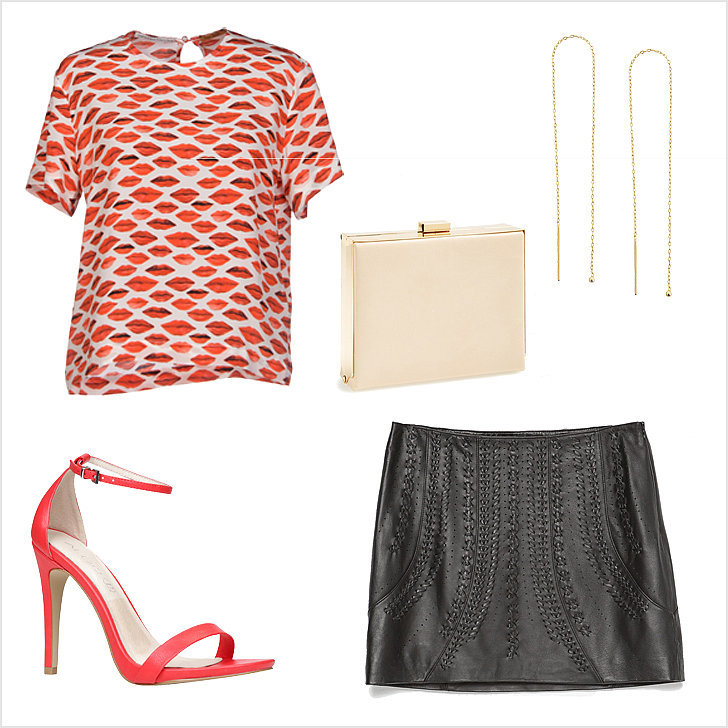 The punchy print of this top adds a bit of flair to your outfit; pair it with a leather skirt to add a sexier edge. Bold, red stilettos are sexy but also sure to win major points with your shoe-loving friend, and a hard square clutch adds a nice edge to everything. For earrings, we love the look of dangling chains; this cool pair is a guaranteed conversation starter with the cute guy at the end of the bar.
Shop the look:
Peter Jensen Blouse [3] ($165)
Zara Leather Miniskirt [4] ($129)
Aldo Daeng Heels [5] ($80)
Debra Shepard Gold Threaded String Earrings [6] ($15)
Natasha Couture Box Clutch [7] ($38)
Valentine's Day Night Outfit With Your Girlfriends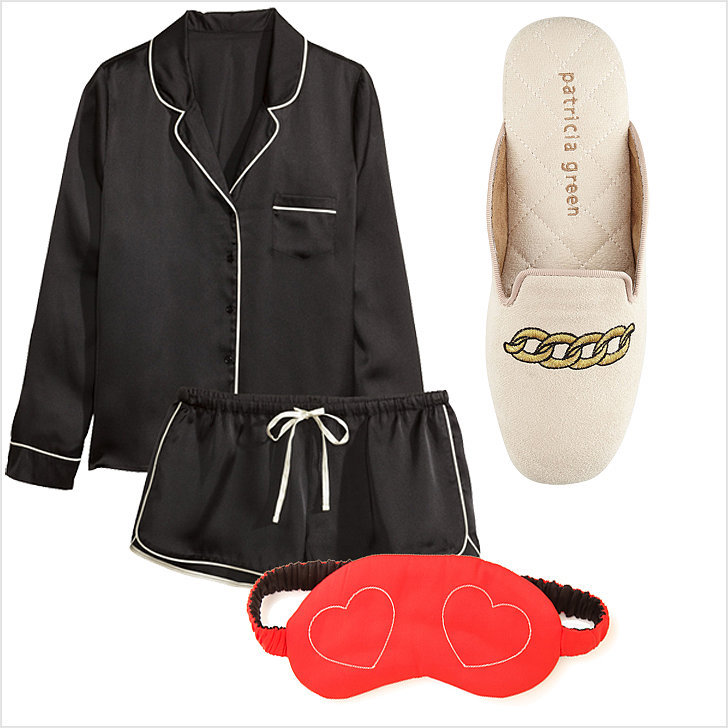 The best part about a silky pair of pj's is that you can wear them all night long. After a long night on the town, kick off your high heels and relax in a pair of cozy slippers that still manage to look stylish. The final touch? A cheeky heart eye mask to pull on when it's finally time for some shut-eye.
Shop the look:
H&M Satin Pajamas [8] ($30)
Patricia Green Velvet Chain Slippers [9] ($59)
Morgan Lane Eye Mask [10] ($98)
Valentine's Day Date Outfit With Your Boyfriend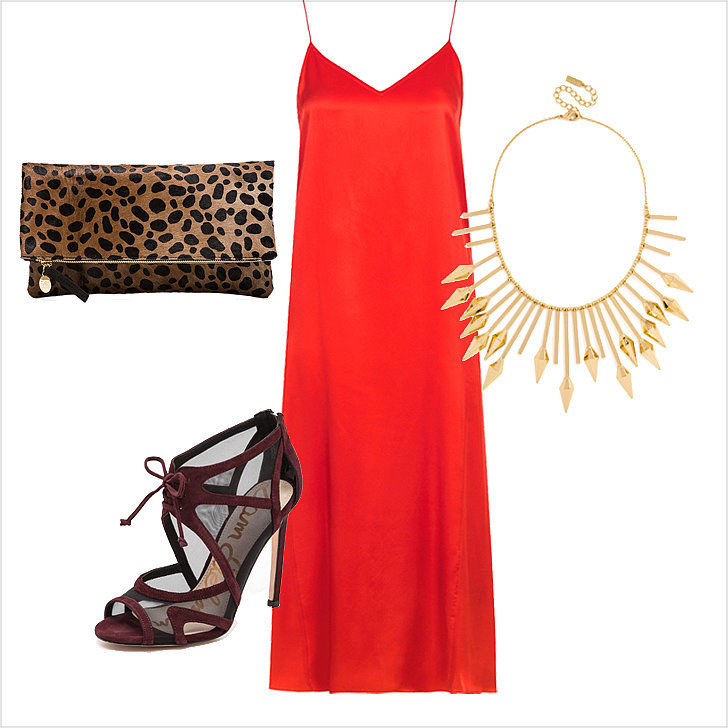 Pull out all the stops for date night with your guy — Valentine's Day calls for a sexy slip that will capture his attention. Punch it up with a pair of red slinky sandals and a cheeky leopard clutch. Then, add a little attitude with a bold necklace. It's a look he won't be quick to forget.
Shop the look:
Topshop Silk Slip Dress [11] ($160)
BaubleBar Gold Kocoum Bib [12] ($44)
Clare V. Clutch [13] ($260)
Sam Edelman Pompei Mesh Sandals [14] ($160)
Valentine's Day Night Outfit With Your Boyfriend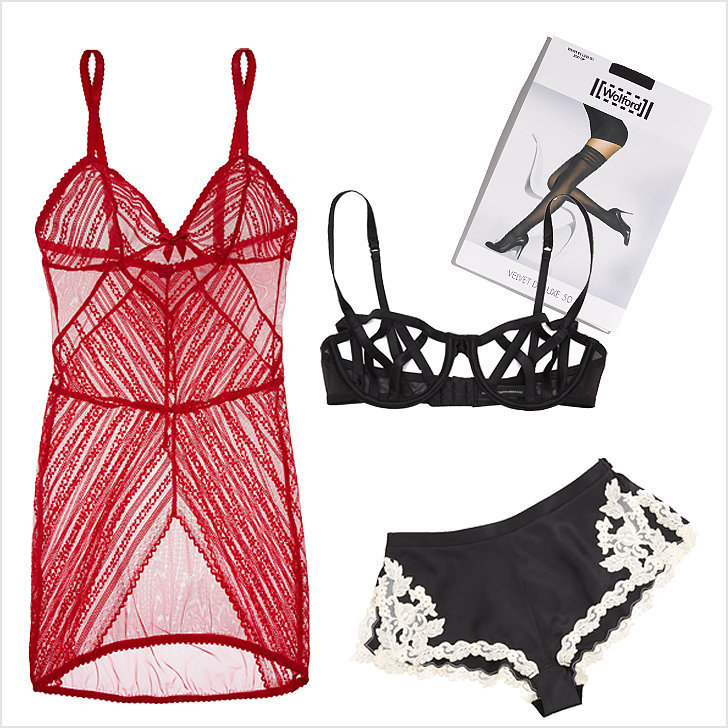 Keep the romance hot all night long with a sexy look for after dinner. Open up your lingerie drawer and go to town! Nothing is too sultry for a special night, so think thigh-high stockings, a barely there bra, or even flirty panties.
Shop the look:
Kiki De Montparnasse Cage Bra [15] ($395)
La Perla Lace-Trim Tap Pants [16] ($319)
L'Agent by Agent Provocateur Chemise [17] ($140)
Wolford Thigh-High Pantyhose [18] ($53)
Valentine's Day Date Outfit With Your Husband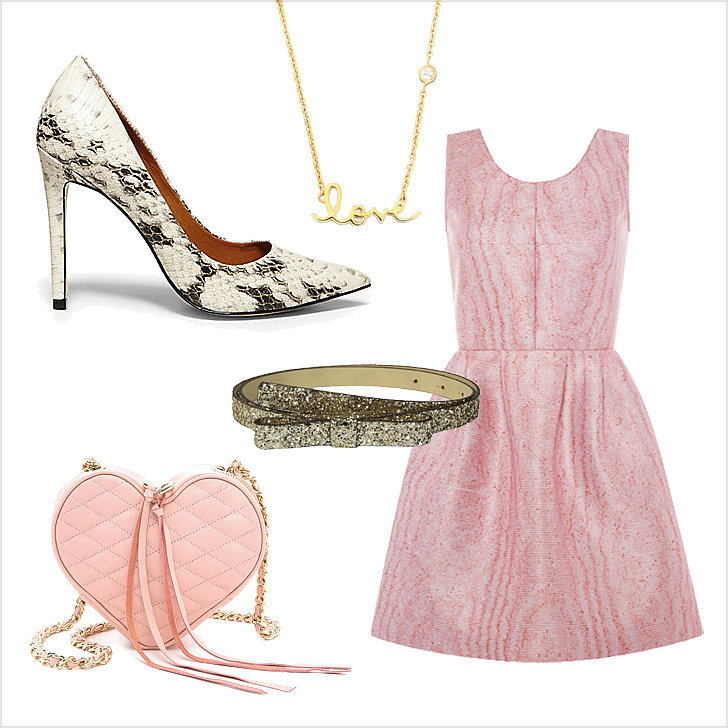 Surprise your special someone with an idea that's a little bit out of the box. If you're headed out for a romantic evening (or just staying in together), we're all for dressing up. Pair a sophisticated dress with fun accessories like sexy snakeskin pumps and a whimsical heart-shaped bag, and finish with a necklace that shows how you really feel.
Shop the look:
Vivetta Hollis Dress [19] ($325)
Kate Spade Glitter Bow Belt [20] ($98)
Rebecca Minkoff Heart Crossbody Bag [21] ($198)
Shy by Sydney Evan Love Pendant [22] ($125)
Steve Madden Proto Pumps [23] ($100)
Valentine's Day Night Outfit With Your Husband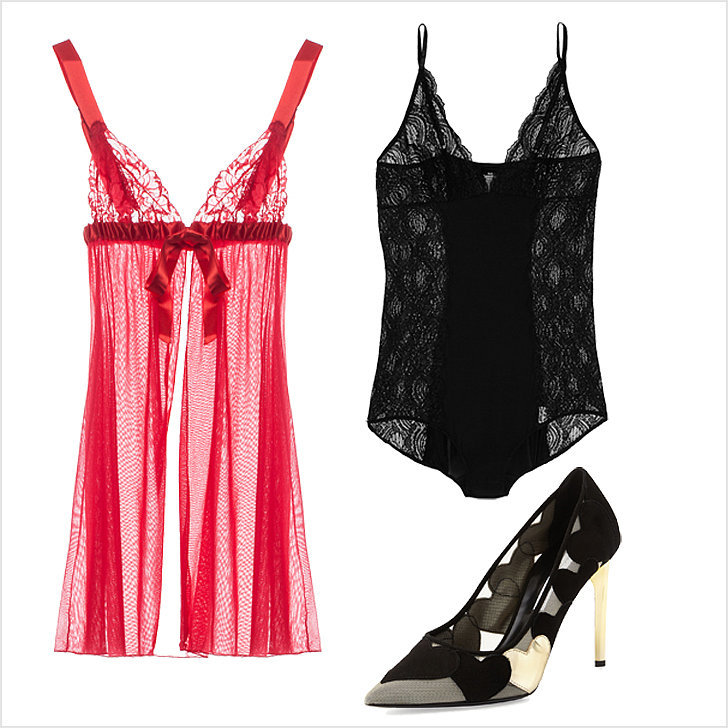 A racy bodysuit is just what you need to finish off a romantic evening. The slinky piece looks sexy but will actually keep you comfortable. Add a tantalizing sheer babydoll, and finish your look with a sexy pair of pumps that seem to mix business and pleasure in the best way possible. For an ultrasultry surprise, cover up your look with a long silk robe.
Shop the look:
Calvin Klein Bodysuit [24] ($125)
Cosabella Fetherston Babydoll [25] ($160)
Diane von Furstenberg Heart Pumps [26] ($398)