With a little quick thinking and strategic planning, the morning stroll home from his place will be more walk of fame than walk of shame. There's no more reason to panic when you wake up at your guy's apartment without a proper next-day wardrobe — just borrow from the boy.
Whether he's got a white button-down, a pair of jeans (the original boyfriend jeans), or a cozy pullover sweater, you can make use of just about any of his staples with your outfit from the night before. Here's how!
How to Style Boyfriend Jeans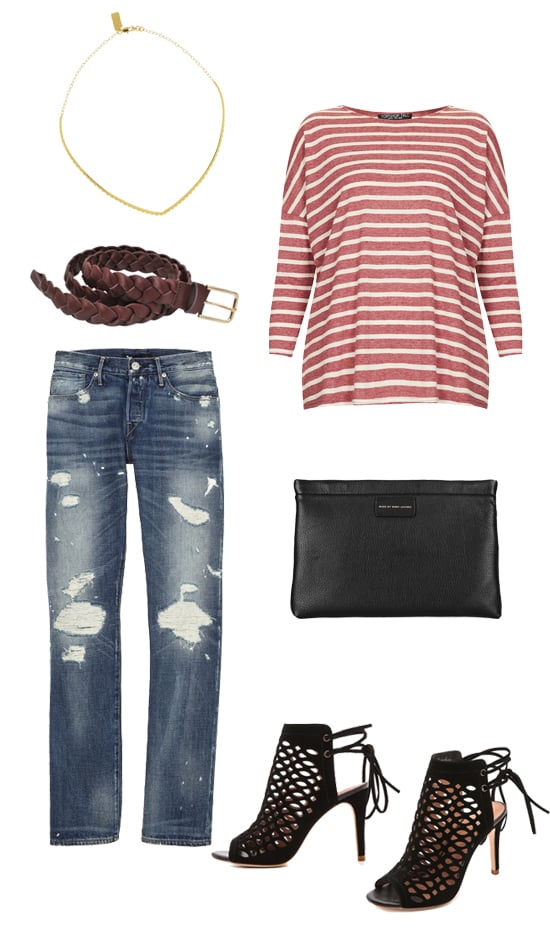 If you roll over the next morning only to realize your miniskirt is a bit aggressive for a morning stroll to brunch, make use of your guy's jeans. It's just like wearing boyfriend jeans, after all. Just make sure to belt them (to keep them from falling off!) — and when you add your heels from the night before, the look won't be too sexy for daytime.
Shop the look:
Eberjey Arme De L'Amour Gold-Plated Chevron Necklace [1] ($290)
Paul & Joe Henri Woven Belt [2] ($57)
3x1 M4 Selvedge Rip/Repair Jeans [3] ($119, originally $395)
Topshop Linen Mix Stripe Tee [4] ($40)
Marc by Marc Jacobs Can't Clutch This Textured-Leather Clutch [5] ($280)
Joie Clayton Cutout Booties [6] ($335)
How to Style a Boyfriend Sweater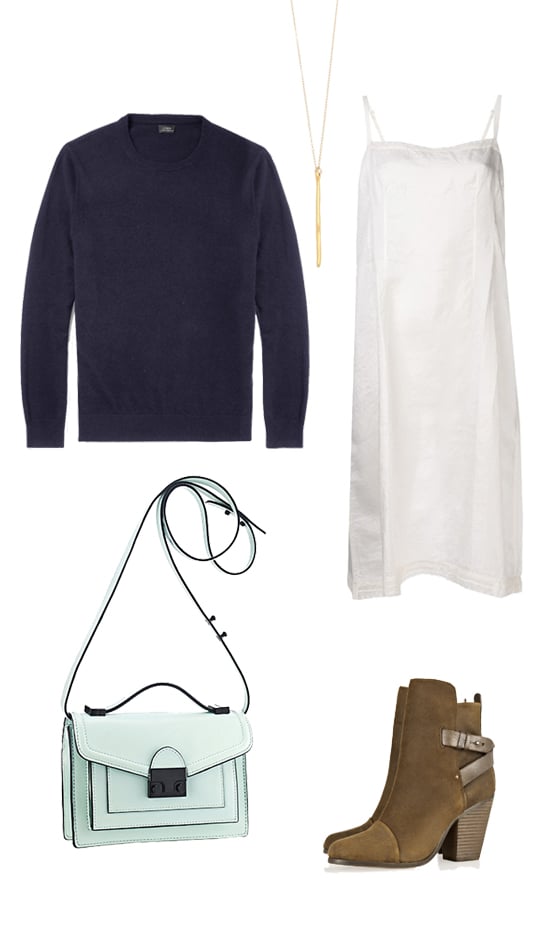 If you slept over but forgot to pack anything for the next day except your slip, you're in luck. All you really need is your guy's cozy sweater to make your pretty underthings a real outfit. Layer it up on top, and add your booties and bag from the night before — et voilà, a look you can head right out and hang in, without any embarrassment.
Shop the look:
J.Crew Cashmere Crew Neck Sweater [7] ($225)
Dosa Chemise Slip Dress [8] ($285)
Loeffler Randall Mini Rider [9] ($395)
Gorjana Pressed Taner Layer Necklace [10] ($115)
Rag & Bone Kinsey Leather-Trimmed Waxed-Suede Ankle Boots [11] ($595)
How to Style a Man's Shirt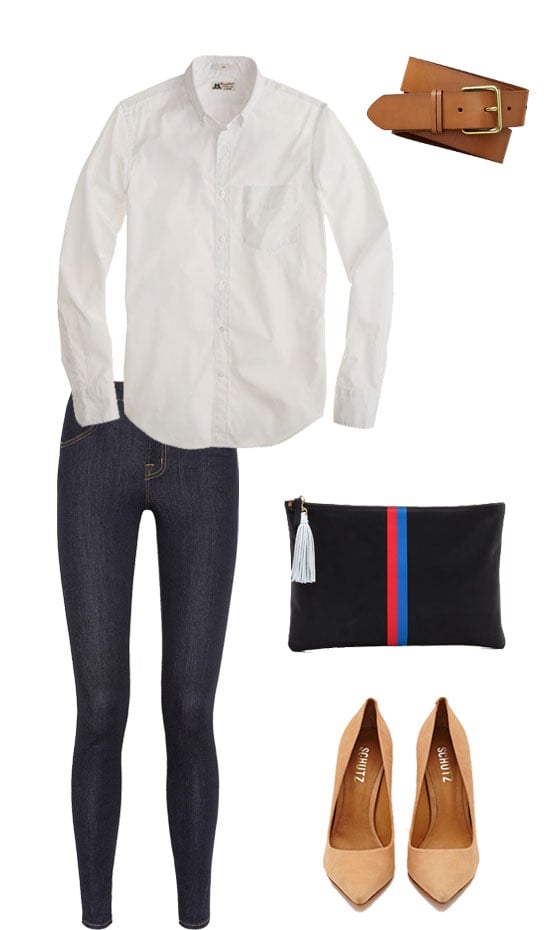 Let's say you headed out for your date the night before in a pair of skinny jeans and your sexiest going-out top. By the light of day, that look may feel a little more exposed. The solution? Swap out your evening top for your guy's white button-down. If it's a little oversize, all the better to steal a belt (or use your own) and cinch it over your jeans. When you add your clutch and heels, the effect won't be quite as attention-getting as the nighttime version.
Shop the look:
Thomas Mason Slim For J.Crew Button-Down Shirt [12] ($148)
J Brand Maria High-Rise Skinny Jeans [13] ($200)
Gap Wide Leather Belt [14] ($35)
Clare V. Stripe Oversized Clutch [15] ($275)
Schutz Libertine Pump [16] ($150)