I'm headed to Coachella for the first time ever in a few days, and you can forget itinerary and flight information — what I'm paying the most attention to is what's going in my suitcase [1]. With a personal style sense that rejoices in the relaxed and a childhood spent growing up in north Florida, my natural inclinations already have me reaching for things festival-approved (or so I think).
I'm expecting long hours on my feet, including plenty of walking around, which necessitates comfy shoes and carryalls that won't be abusively heavy. And while the relaxed vibe is projected in and around Indio for the entire duration of the fest, there's still an undeniable fashion component: everyone wants to look good and dresses to impress [2]! Scroll down for the tiny items that can make a festival look, including some items that might just surprise you.
Photo courtesy of Free People
Free People Embellished-Band Black Hat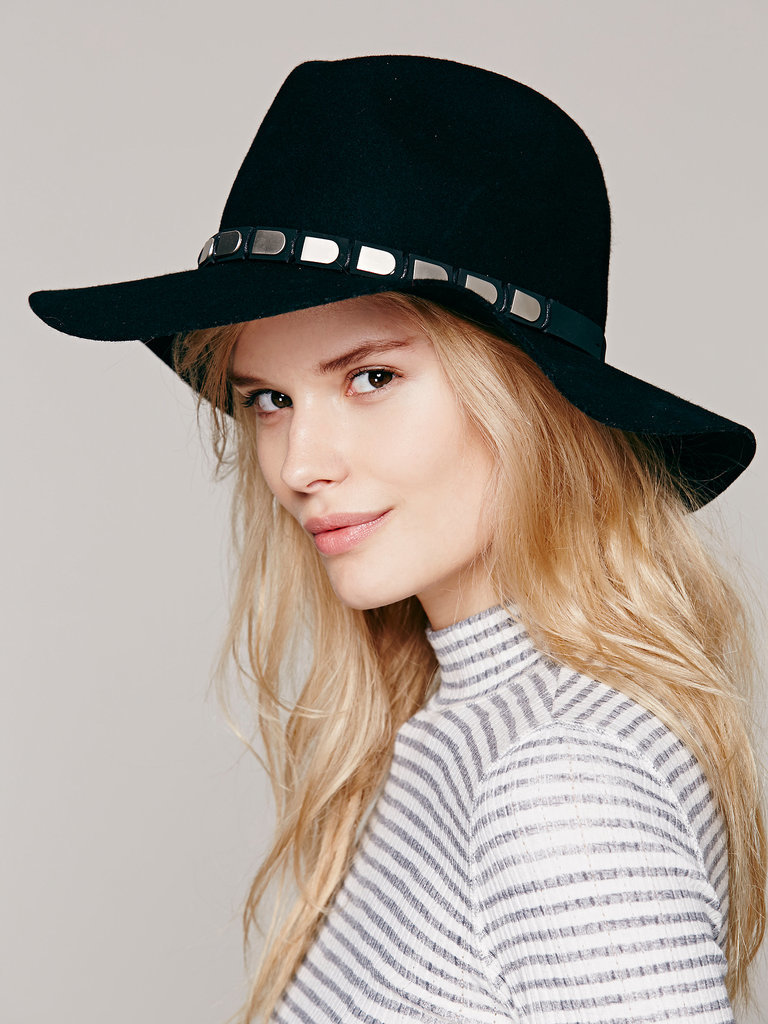 The ultimate chill accessory might just be the floppy hat [3] ($58). There's a bohemian vibe to it that adds a nice touch to any sundress-and-sandal combo, plus the bonus of keeping your face free from harmful sun.
H&M Black Fringed Shoulder Bag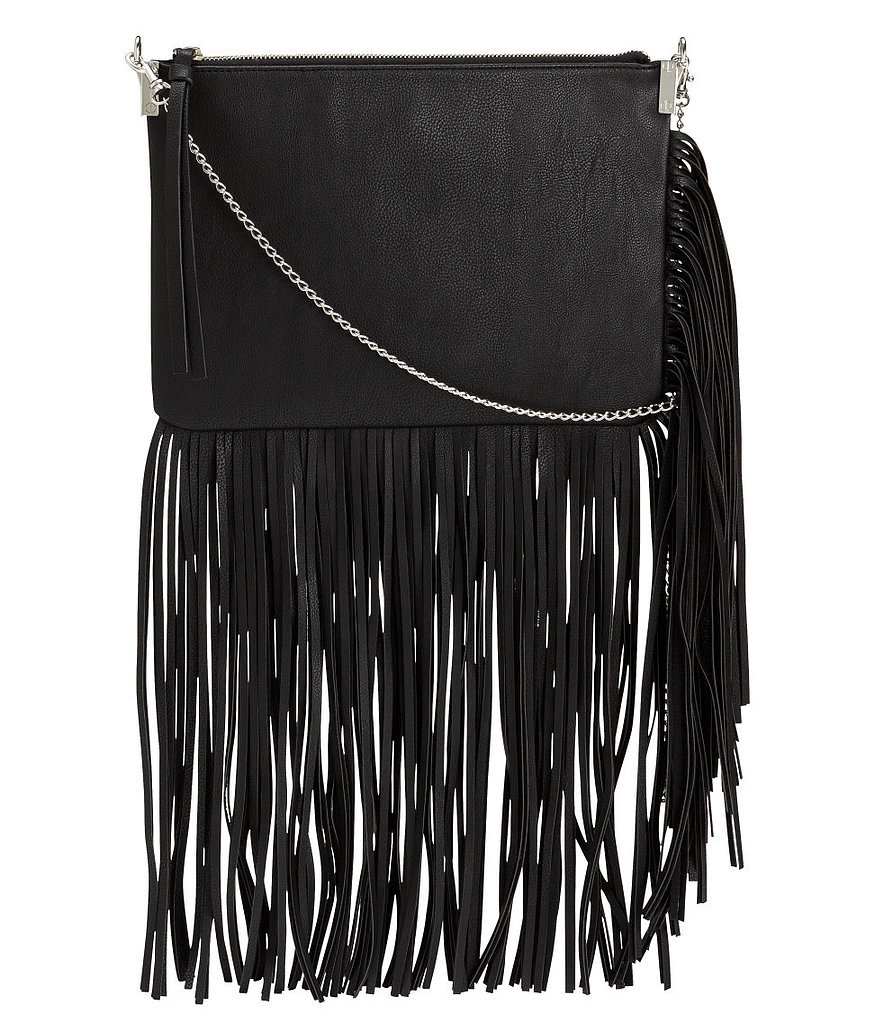 I love a good fringe bag [4] ($25) and the boho look was big on the Spring 2014 runways [5]. While the biggest designers in the world turned out gorgeous options, it's insanely easy to also snag one for a (tiny!) fraction of the price.
Jeffrey Campbell Blush Menorca Slides
Birkenstocks and their ilk are huge right now [6], and I've totally given into the trend [7]. The blush hue of this pair [8] ($130) feels less visually striking than dark black would and the easy-to-wipe-down patent leather means I won't be stressing over destroying them in dirt and sand.
Zara Embellished Black-and-Silver Sash Belt
I find myself drawn to billowy, loose dresses constantly, and while they're comfortable, no one's ever said they're flattering to the figure. I'll still wear my favorites but cinch them at the waist with a festival-approved wide belt [9] ($36).
Piece & Co. For Madewell Blue Printed Blanket
Being prepared is important to me anywhere, and vacation is no different. I'll be ready for whatever Coachella fun comes my way with a thin printed blanket [10] ($78) on hand.
Soludos x We Are Handsome Beach-Print Espadrilles
Flat espadrilles are a comfy shoe staple [11] ($65) whenever Winter winds up, and, thanks to a new collaboration with We Are Handsome [12] (maker of those wild-animal printed one-pieces you've seen stars like Rihanna [13] rocking), they just got a lot more graphic.
Nasty Gal Ava Head Piece
Heavy necklaces and cuffs can make me feel squeamish when it's hot outside. Avoid the claustrophobic feel without skimping on the style by opting for a head piece [14] ($18) fit for an exotic princess.
Urban Outfitters Ecote Marlow Black-and-Silver Embellished Fanny Pack
I'm not embarrassed that I kind of love fanny packs [15] ($49). They're quirky, funny, and — don't deny it — practical. Others have started feeling the same way, thankfully, which means a whole crop of styles to pick from.
Teva Original Universal Sandals
When I heard that old-school nylon Teva [16] sandals were the shoe choice du jour for fashion editors, I couldn't believe it . . . at first. There's a minimalist-approved simplicity to the style, and, obviously, they're comfortable. There's no time like Coachella to try out a pair [17] ($40)!
Isabel Marant Saul Pendant Necklace
If I could only pack one piece of jewelry, it'd be this crystal pendant necklace [18] ($255) from Isabel Marant [19]. It's bold but would just add to an outfit (rather than totally overwhelming it).
Gap Soft Stripe Scarf
Dry heat baking your shoulders, plus a climate where the temperature dips with the sun, makes a lightweight scarf invaluable. The sherbet hues of this style [20] ($19, originally $30) feel seasonally appropriate, and the size means I can drape it as a sun shield in the day and knot around my neck come evening.
Bobbi Brown The Holland Clear-Frame Sunglasses
Bobbi Brown [21], makeup artist with a personal affinity for glasses, just got into the eyewear game, and the results are pretty spectacular. Among other reasons, she's finally ended my quest for clear-frame sunglasses [22] ($159) that are chic, not silly.
Superga White Lace Sneakers
The Coachella veterans I know are begging me to remember I'll come back with beyond-dirty toes if I try to wear sandals the whole time. White lace sneakers [23] ($99) are a sweet closed-toe style I won't mind wearing (and would be easy to bleach if needed).
La Mer Durango White Watch With Turquoise Stones
Forget the cell phone clock: a chic watch [24] ($188) is the best way to keep yourself on track for hitting everything you need to see. The white color of this band and the dangling turquoise stones feel perfect for Spring.
Däv Sydney Weatherproof Fringe Bootie
Knee-high wellies might be more associated with Glastonbury than Coachella, but let's not forget the facts: It's still an outdoor festival exposed to the elements. This smart bootie [25] ($75) has the look of a moccasin but is totally weatherproof.