Even though, as editors, we see more pieces in a week than we could possibly ever buy, there are always a few that make us take the plunge. From a Dolce & Gabbana-inspired bodysuit that's our secret weapon for Spring (you'll see what we mean) to the cutest USB drive you might ever come across, these pieces made us pull out our credit cards this week.
Leah's been looking for a Spring styling strategy . . .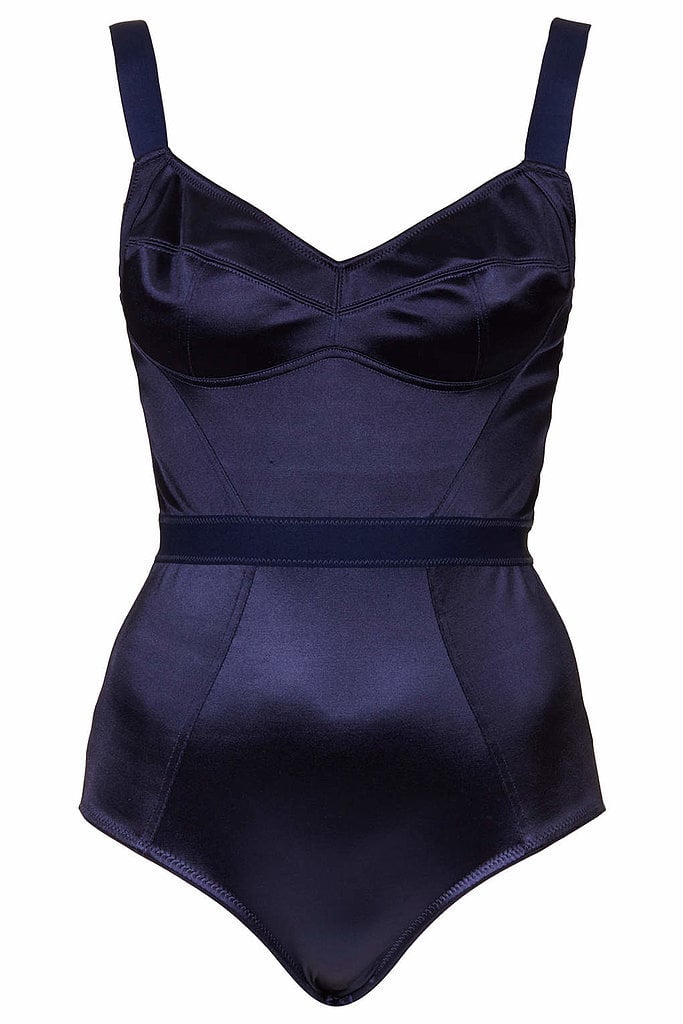 The piece: Topshop Satin Bodysuit [1]
The price: $60
Why we want it: When it comes to my personal style, I'm like anyone: there are certain pieces and styles I gravitate toward and obsess over. Such is the case for the sexy sheer dresses Dolce & Gabbana styles over black bodysuits or briefs and bras again and again on the runway. [2] Even Jennifer Lawrence [3] got into the action, wearing a sheer Dior dress over a strapless bustier [4] to one of her Catching Fire premieres. I've loved the look for awhile and thought the styling trick would make for a neat solution to the semisheer sundresses I love for Spring . . . but hate wearing a slip with. The actual Dolce & Gabbana ones simply feel too expensive for my budget, but when I found a similar satin style online at Topshop, I knew it was serendipity. Now I have my own bodysuit on its way in the mail and a whole new styling strategy once the weather warms up.
Robert wanted to glam up his tech accessories . . .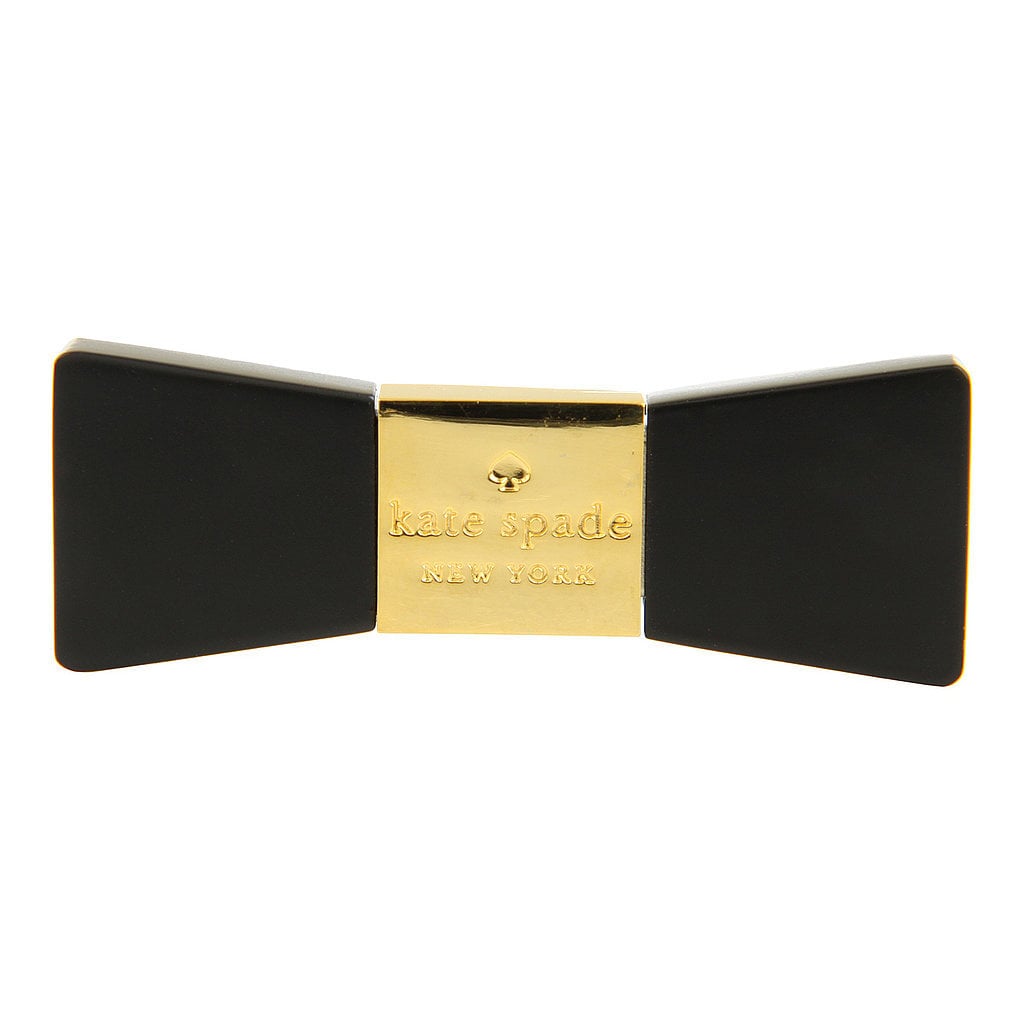 The piece: Kate Spade New York Bow USB [5]
The price: $50
Why we want it: If you're like me, you're dealing with more digital files than you can count — or fit on your computer — on a daily basis. That's when a trusty USB drive comes in handy. But why settle for a generic bit of technology when you can get one from Kate Spade New York that's in the shape of a bow? The next time you need to transfer a few files, we'd recommend reaching for this little guy to add style to even the geekiest area of your life. Just be prepared: we have a feeling that everybody in your office will soon be asking to borrow it!
Hannah was looking for a unique spin on a hot trend . . .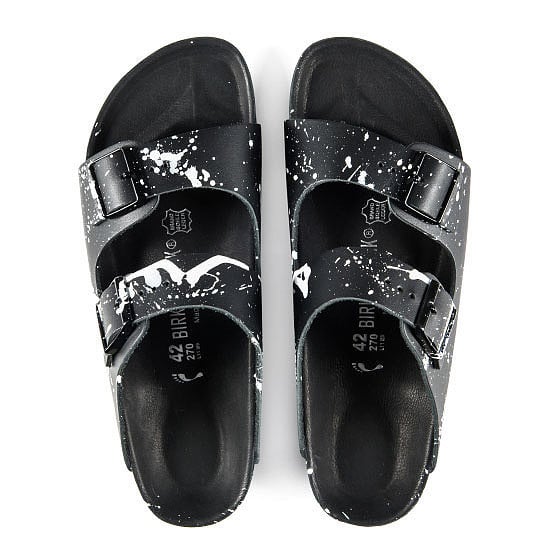 The piece: 55DSL x Birkenstock Monterey Sandal [6]
The price: $260
Why we want it: These sandals aren't just further proof of Birkenstock's major and fashion-conscious comeback. They're actually the product of a three-way collaboration of the iconic brand, LA art publisher Arkitip, and San Franciscan artist Aaron De La Cruz. True story: the sandals were lined up underneath the artist's mural, and the paint-splattered design is the product of intentionally directed flecks from the artist's paintbrush. Now buying a pair from this limited-edition collection is kind of like owning a piece of art, only better because you can wear it.
. . . And Melissa's been waiting for this skirt since September!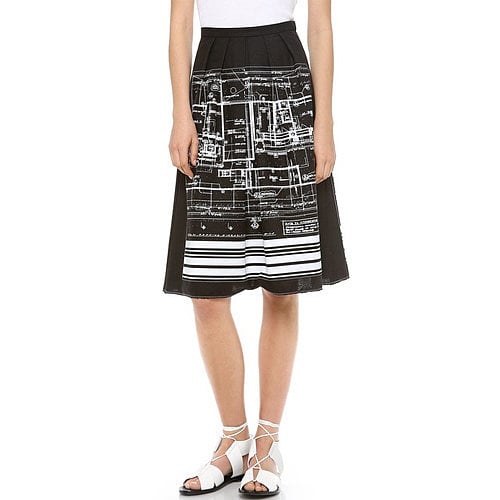 The piece: Clover Canyon Blueprint Skirt [7]
The price: $209
Why we want it: There are a few things I really love in life . . . black and white, full midi skirts, and my architect husband (not necessarily in that order). So when I saw this skirt [8] at the Clover Canyon Spring 2014 presentation [9] back in September, I kind of freaked out and texted him photos to show that I could have the fashion-girl equivalent of a concert t-shirt for his beloved profession. And now, after months of waiting, it can and will be mine, as soon as UPS brings that box to my apartment! Don't worry if you don't have an architect in your life — the shape and palette are perfectly on trend, and this will look as cute with tights and boots now as it will with little flats in the Spring.