We've seen the good, the bad, and the ugly when it comes to engagement shoots, but with so much riding on one set of pictures, we want them to be perfect — and to feel like us. The trick isn't just having the right photographer or great lighting — a lot of it is what you and your partner are wearing. That's because what you wear is likely going to dictate how comfortable you are moving around, or how you and your fiancé look together.
Like we said, there's a lot riding on these photos (just like your wedding photos [1]!) — you'll have them for a long time and may even use them for your wedding [2] invites or save the dates. So the necessary attention must be paid: we've come up with a set of tips to help you get the look just right. Scroll on to see — and pin away! — these engagement-shoot success stories.
Play Off Each Other
You don't have to match, but find commonalities in your outfits to give the photos the same color palette and feel.
Show Off Your Shoes
With a simple background and neutral colors, a bright pair of heels — and a pose like this to show them off — lets your personality come through.
Add Standout Jewelry
With close-ups like this, a beautiful necklace helps balance a lower-cut neckline and adds interest to the composition, without upstaging the ring.
Show Off Your Best Assets
If you have a part of your body you're intent on showing off, go for it! Have fun with a shorter hemline and keep your leg line even longer with nude pumps, then have your photographer capture the perfect shot to show off your stems — or whatever that feature may be.
Choose Clothes That Feel Like You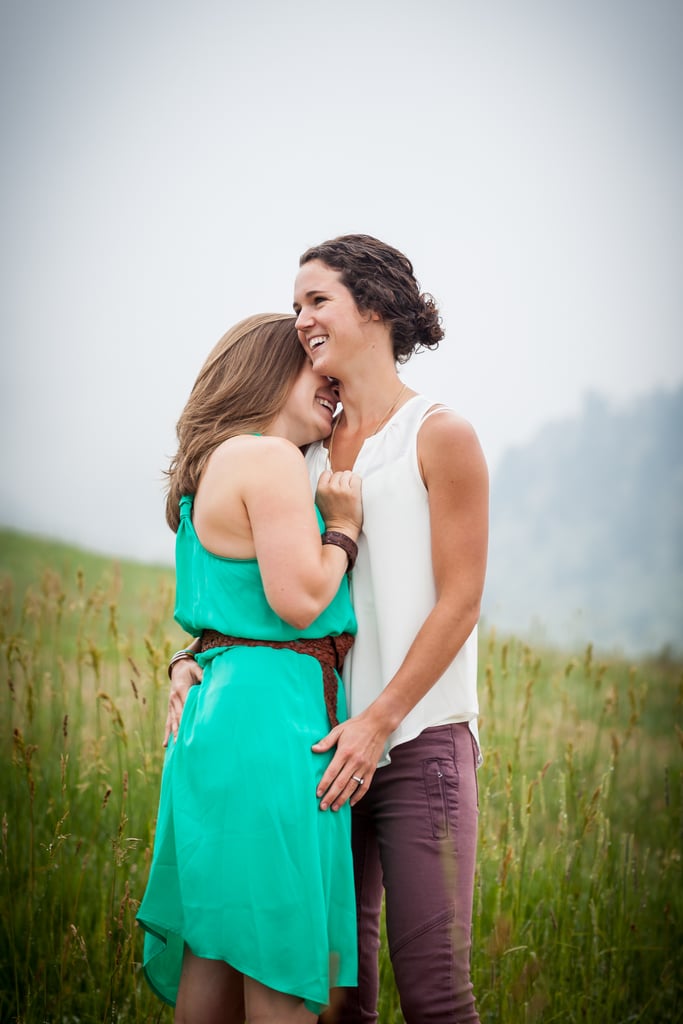 It's fun to dress up, but it's just as compelling to pick the pieces that feel authentically like you. If you have a favorite dress, top, or go-to color, incorporate it in your pictures. If you feel like yourself, you'll look more natural on camera, too.
Dress For Your Surroundings
If your shoot involves being active or playful outdoors, let your clothes speak to that same easy vibe.
Channel Your Wedding Day Look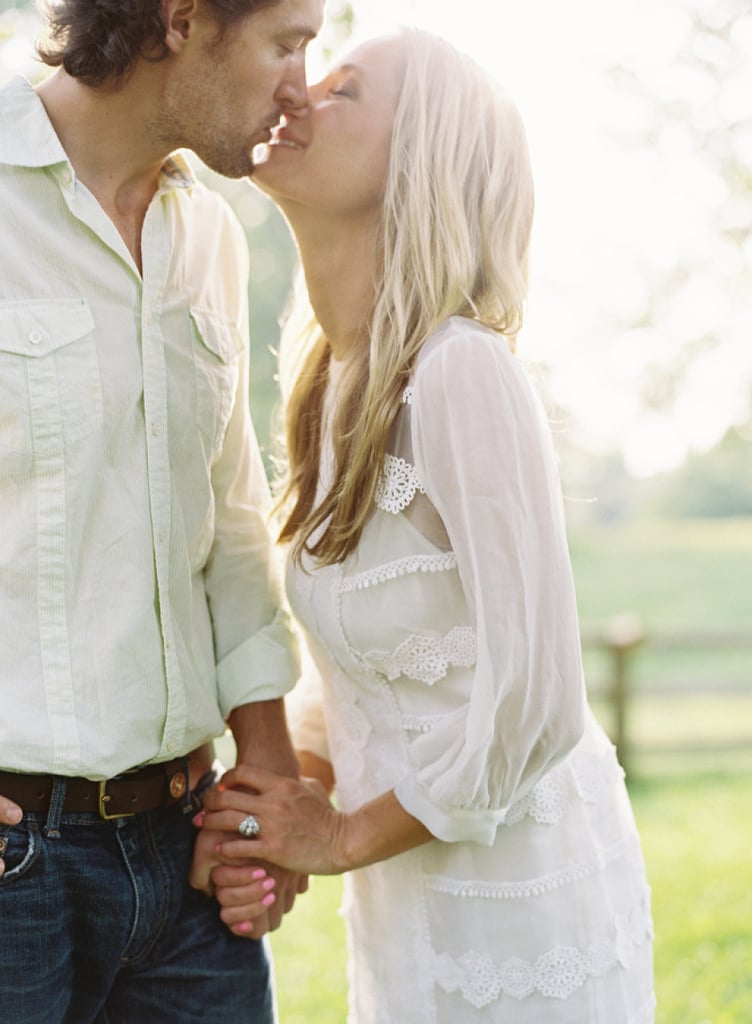 Save your wedding [3] dress for your big day, of course! But there's something so romantic about a pretty white dress. It's a bit bridal and foreshadows the joy to come.
Choose Compelling Fabrics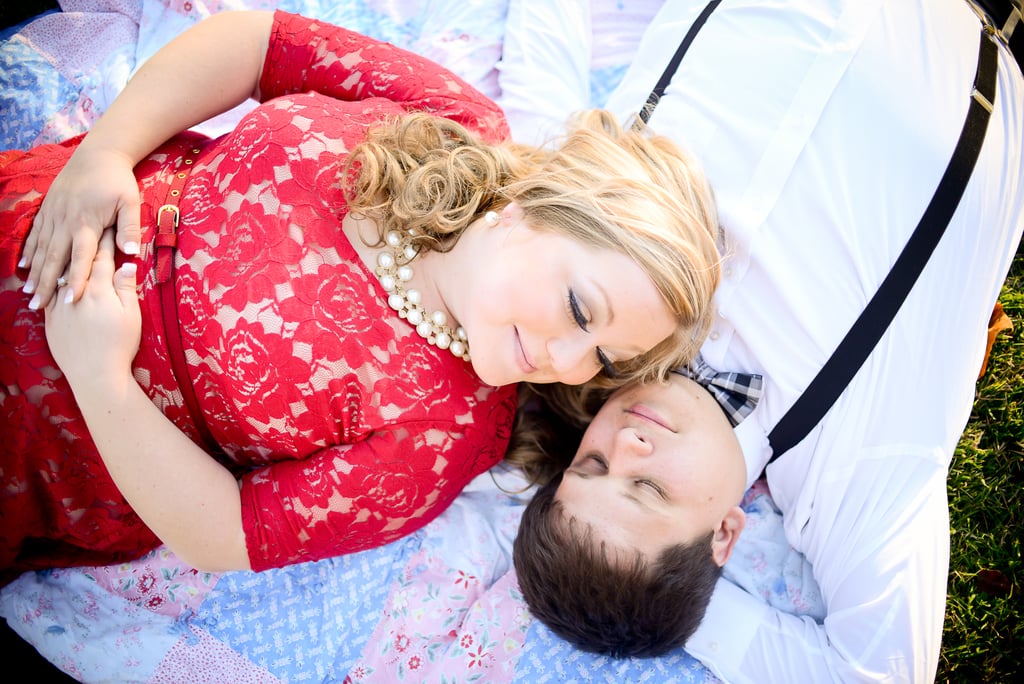 A delicate lace dress, fringe that moves, a tulle skirt — it's all going to look gorgeous in photos.
Be Practical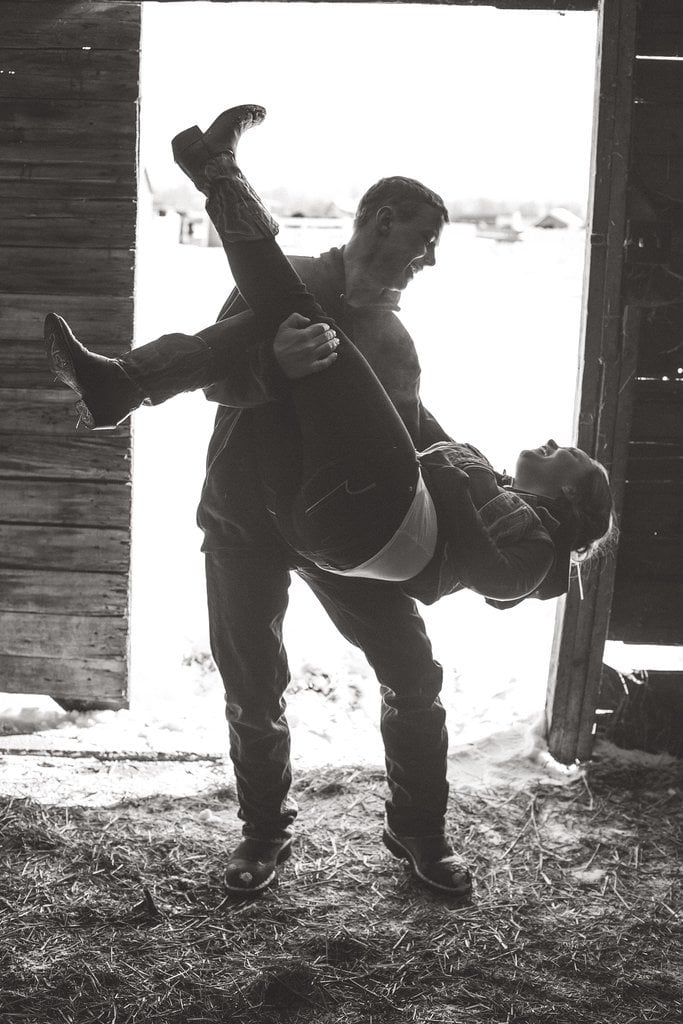 If you're thinking about an active shoot, where you'll be lifted or carried, think about coverage. You don't want to be wearing a minidress when he's scooping you up, and you want to feel like you. If jeans and boots are more your thing, don't be afraid to stick to what works.
Coordinate With Your Partner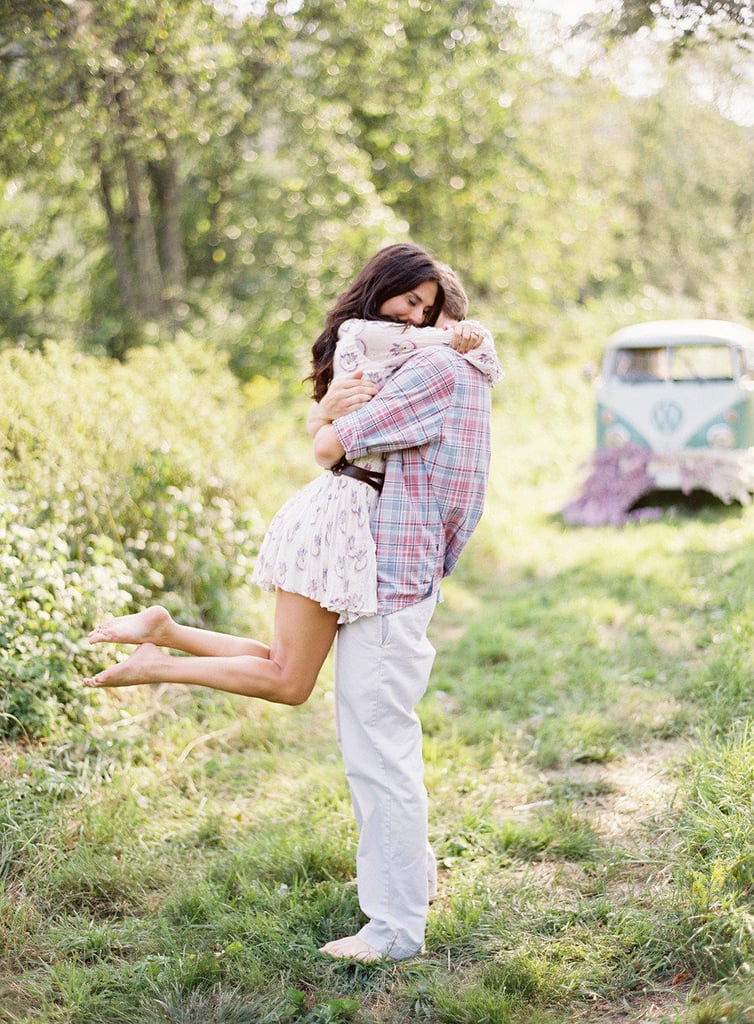 These outfits aren't at all matchy-matchy, but there's a subtle color coordination that feels balanced and easy. While you don't want to look like twins, you do want the photo to feel even, and it will be even easier to find light that flatters you both if you're dressing in the same color family.
Pick Clothes That Move Well
A floaty dress can look gorgeous from the right angles. Play up an asymmetrical hemline with a shot of you and your fiancé walking.
Dress For Style and Comfort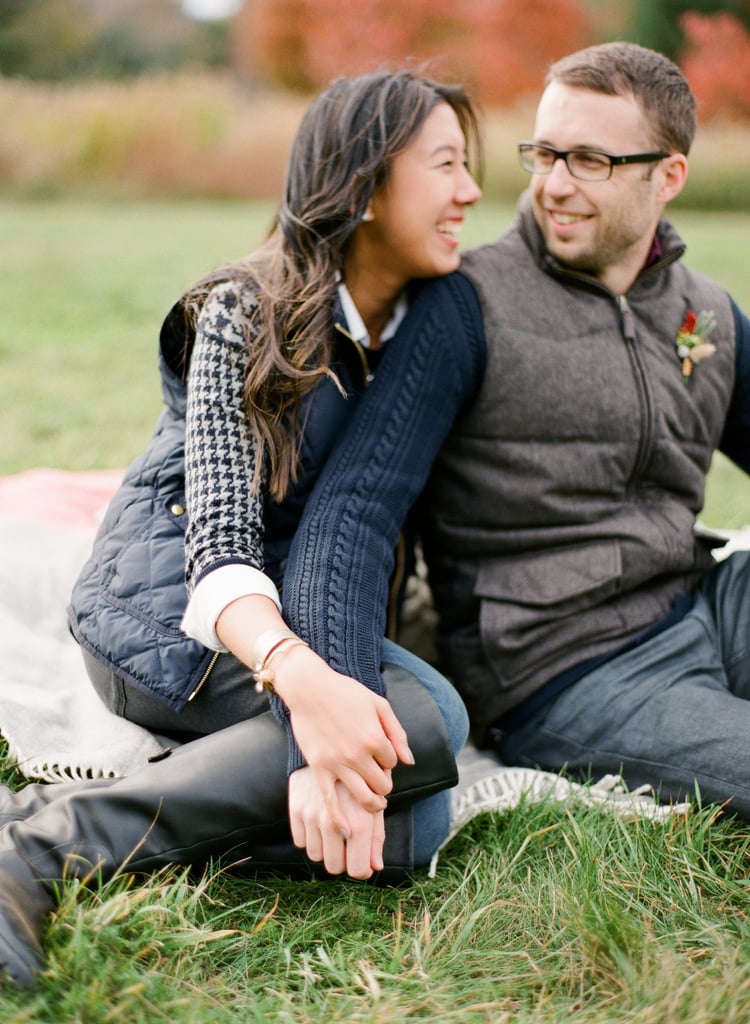 Your engagement shoot should be a reflection of who you are. If you and your fiancé are the outdoorsy type, show that side of yourselves with comfortable clothing that's, again, just slightly coordinated.
Showcase Gorgeous Details
Remember that a shot from the back can be just as stunning as one from the front when you have details like this to show off. It's also another example of how romantic a white dress can be for the shoot.
Don't Be Afraid to Stand Out
It can depend on the setting, but wearing a bright patterned dress in a more stark location can really be the perfect way to stand out in your pictures. Choose a silhouette and a print that flatters you, but don't be afraid to bring the brights. It can look particularly striking if your man dons a classic suit.
Play Up Your Girlie Side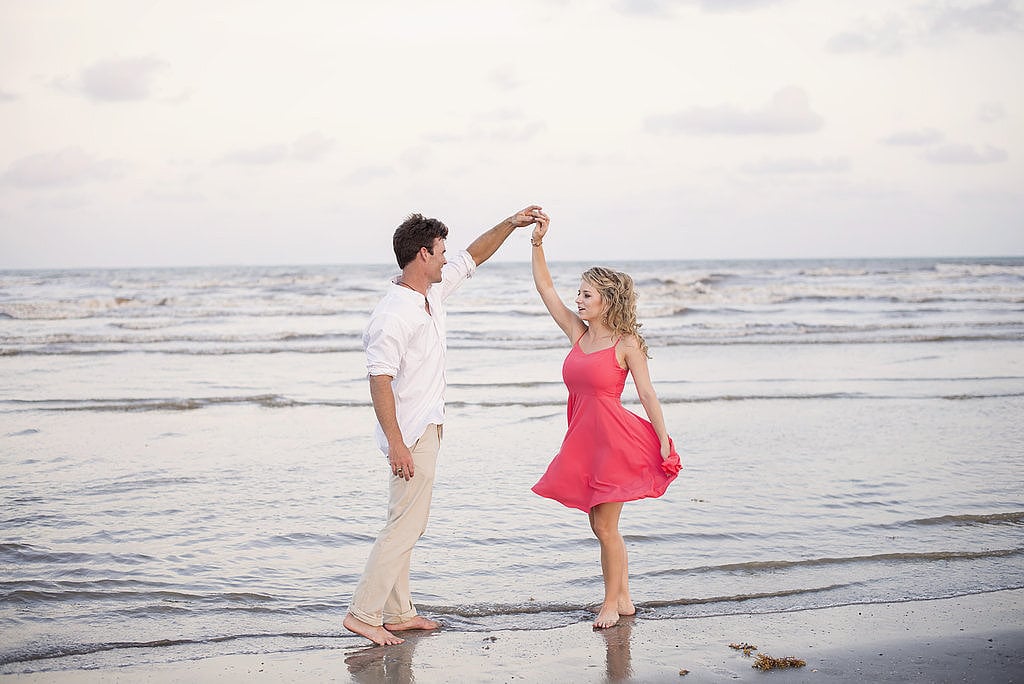 Play up the classic romance of a shot like this with girlie, ladylike silhouettes, like a full skirt or a fit-and-flare dress. They'll look even better when they move.
Get All Dressed Up, If You Want To!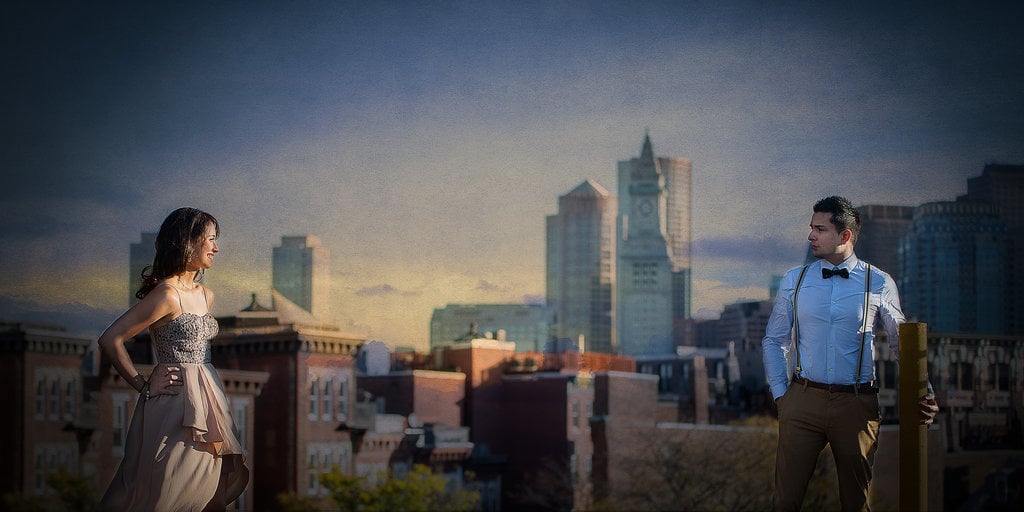 If you're feeling more glamorous, show off your best looks with a fancy cocktail dress. A richly hued party dress is going to look even better next to his black-and-white suit.
Think About What's in Focus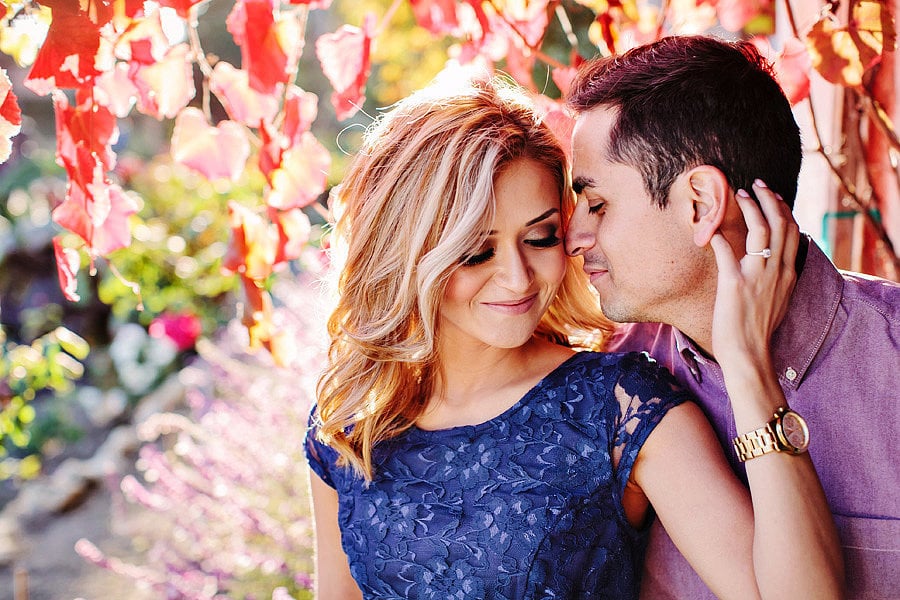 If you're taking those close-up shots, remember what's in focus. Sometimes, it's all about the small details, like a necklace that picks up the colors in his shirt, that makes all the difference. Here, too, it's about the fit of the blouse. You don't want anything that's going to reveal too much, but you don't want to get lost in an oversize blouse, either. Remember, fit counts too!
Love What You're Wearing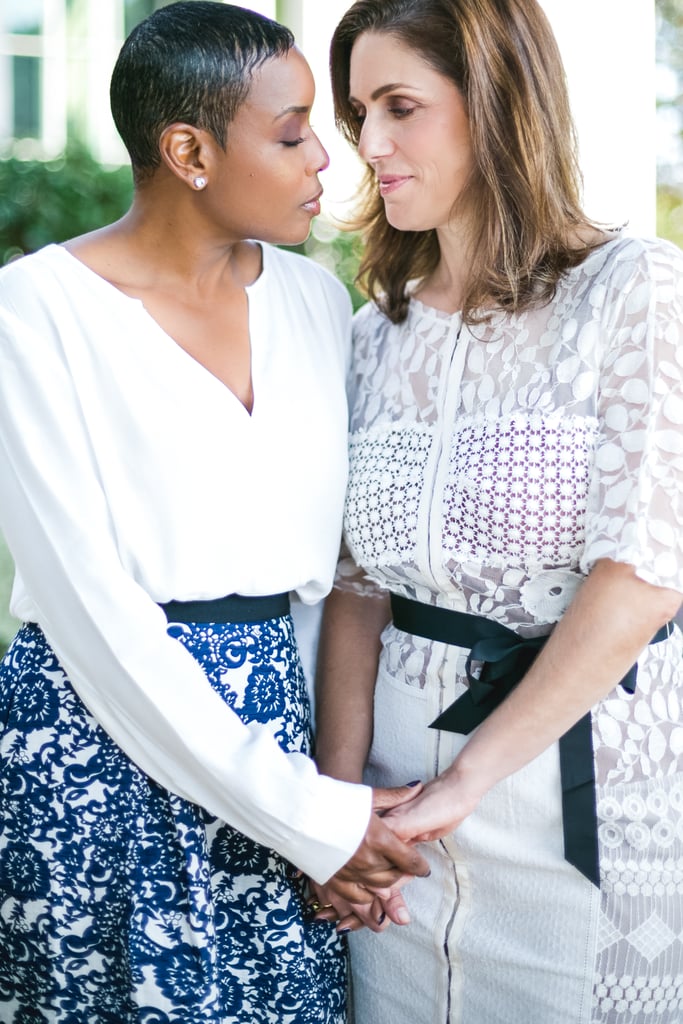 No matter what it is or why you love it, make sure you're comfortable and happy in your outfit. It'll show when you do, and it'll show when you don't — and you want to make your partner and your love the focus of the shoot, not any insecurities you may have.