Valentine's Day dressing can vary vastly based on the situation: something sultry for a date with a relatively new fling or casual and classic with a longtime love [1]. And if you're single and planning on a fun night out with your ladies? We're all about an outfit that's guy-friendly, but stylish enough to win a tougher stamp of approval: that of your girls.
We've pulled together an outfit we'd love to wear for a night out on the town, including a top that'll double as perfect slumber party wear should you all end up at the same apartment for a nightcap and some gossip.
Valentine's Day Date Outfit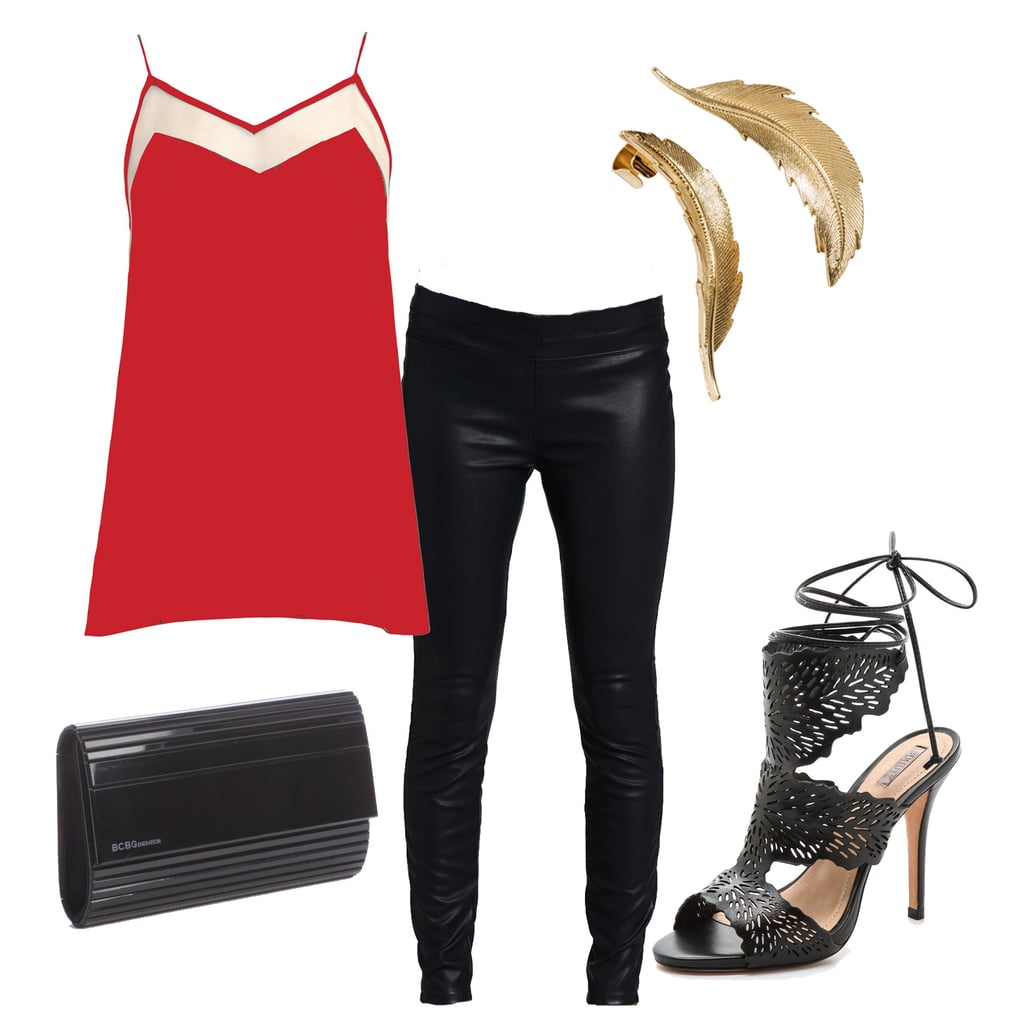 The sheer neckline of this silky cami makes it feel fancier than a simple underpinning; pair it with faux leather leggings, not denim, to elevate it even higher. Laser-cut, lace-up stilettos are sexy, but also sure to win major points with your shoe-loving friend, and a hard black clutch adds a nice edge to everything. For earrings, we love the look of gold ear cuffs — they're trending right now [2] and are a guaranteed conversation-starter with the cute guy at the end of the bar.
Shop the look:
Cami NYC Classic Red Cami [3] ($128)
H&M Earrings with Ear Cuff [4] ($5)
Blank Faux Leather Leggings [5] ($98)
Schutz Garoa Laser-Cut Sandals [6] ($200)
BCBGeneration Black Ridge Lucite Clutch [7] ($37, originally $53)
Valentine's Day Night Outfit
The best part of a thin, silky cami is that it can easily double as sleepwear — it's what it was intended as, after all! Keep yours on after the club and swap out pants for a pair of frilly tap shorts. Clunky, chunky slippers can feel juvenile, so skip the fuzzy pair in favor of velvety smoking slippers. The final touch? A cheeky cat-ear sleep mask to pull on when it's finally time for some shuteye.
Shop the look:
Cami NYC Classic Red Cami [8] ($128)
Nasty Gal Reversible Eye Mask [9] ($22)
Anthropologie Dione Tap Shorts [10] ($58)
Splendid Cannes Smoking Slippers [11] ($55, originally $78)