Dressing for the job you want starts now. You might never think that the 31 street-styled looks [1] inside would look perfect at the office, but that's exactly where we want to wear them.
With 31 days of real-life inspiration, we're all about making dressing for work [2] fun again. Forget the corporate suit sets and nondescript heels, because dressing for the office should never feel like a job. Look to creative layers, bold heels, bright blouses, and sleek outerwear to rethink the office dress code — and give your workwear a raise. Click through for a month's worth of inspiration right here.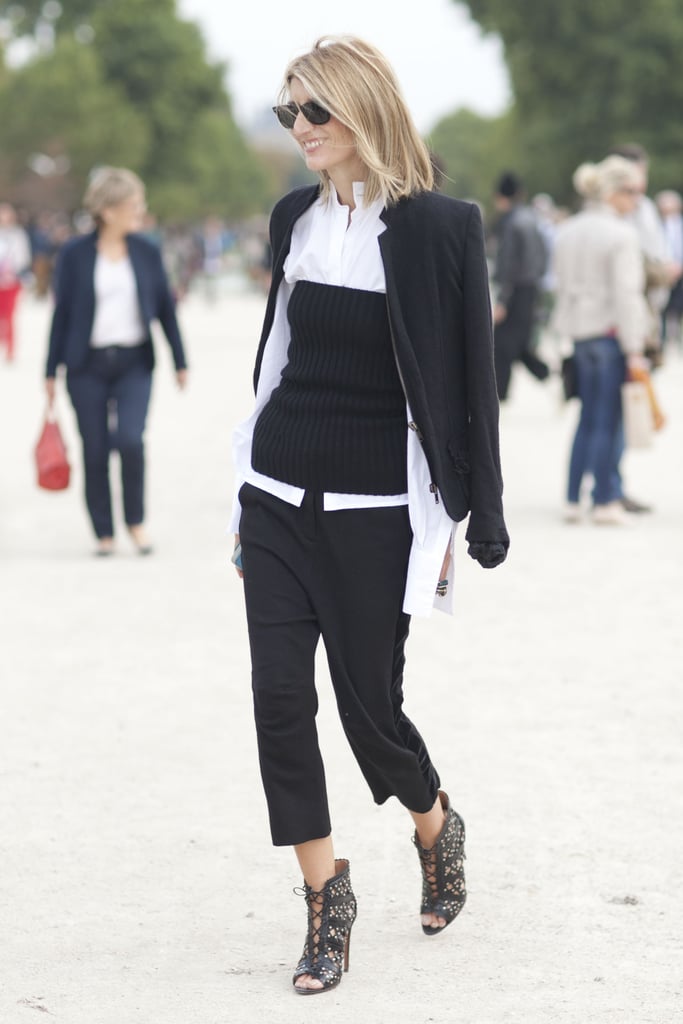 There's more than one way to wear a suit as Sarah Ruston proved, adding a knit tube top to layer over her button-down. The results screamed fashion-forward but still boardroom-appropriate.
Easy layers and a colorblock trench made this pencil skirt style anything but typical.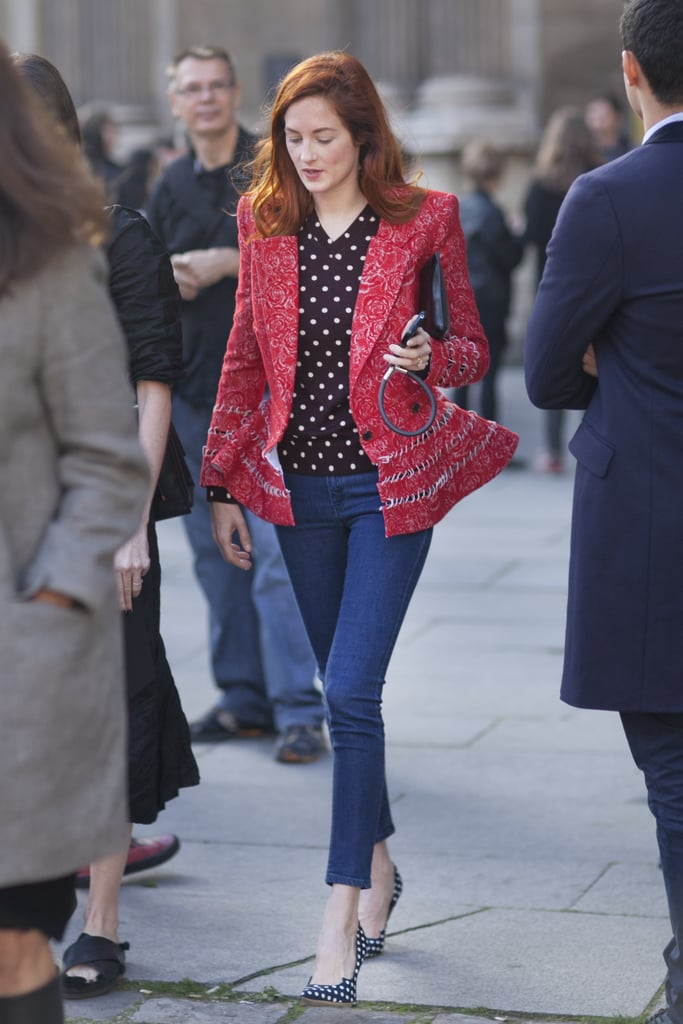 Rework your go-to trousers when you layer up mixed prints on top à la Taylor Tomasi Hill.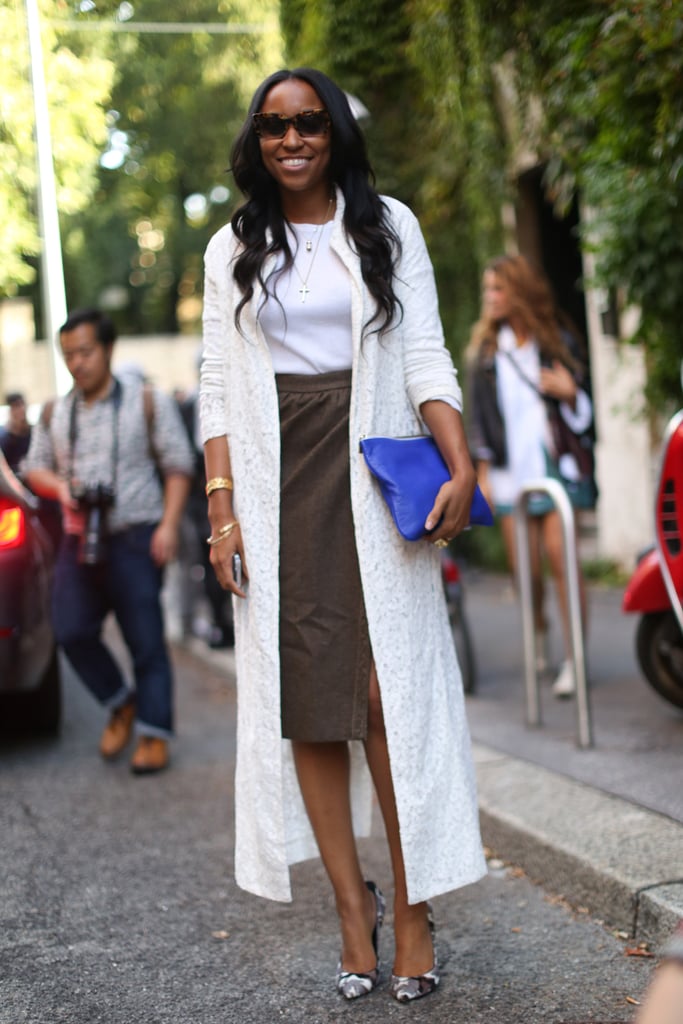 Keep it simple and chic like Shiona Turini and simply add a sleek, lightweight coat to a tee and a slim pencil skirt.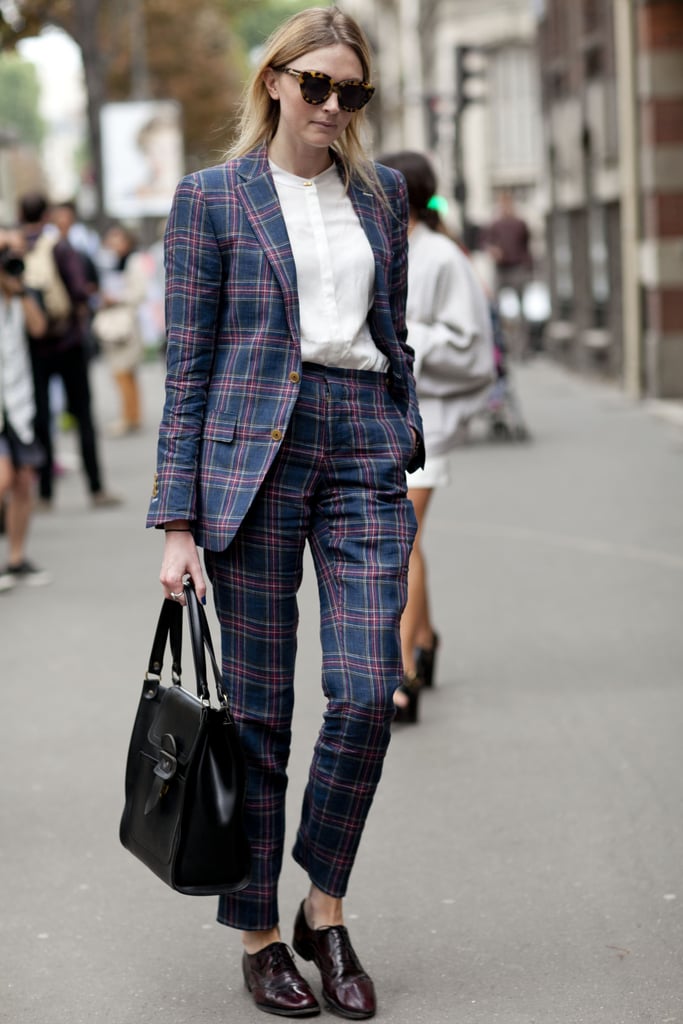 Go for a suit with more personality.
Embrace the classic Working Girl vibe with a tie neck up top. Only catch: this one brings a whole lot of color to liven up the room.
Source: Le 21ème | Adam Katz Sinding [3]
Caroline Issa reminds us that there's nothing wrong with keeping it classic — just add fierce heels to spice things up subtly.
Source: Le 21ème | Adam Katz Sinding [4]
Mixed prints present a whole new way to tackle the pencil skirt and sweater combo.
Source: Le 21ème | Adam Katz Sinding [5]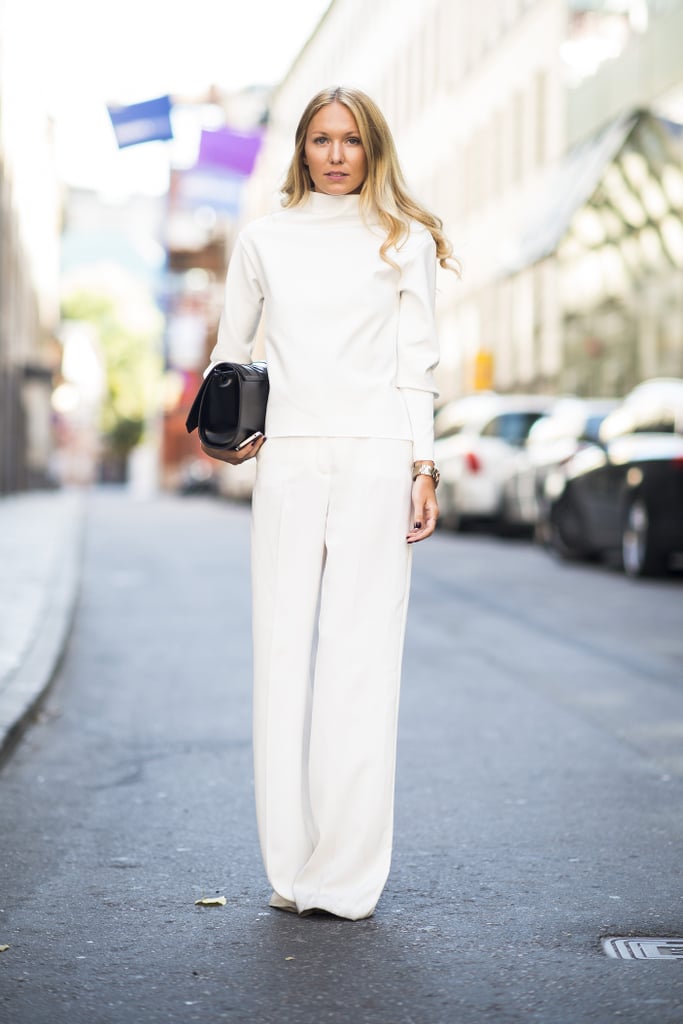 Dare to try a chic all-white look — and get noticed for all the right reasons.
Source: Le 21ème | Adam Katz Sinding [6]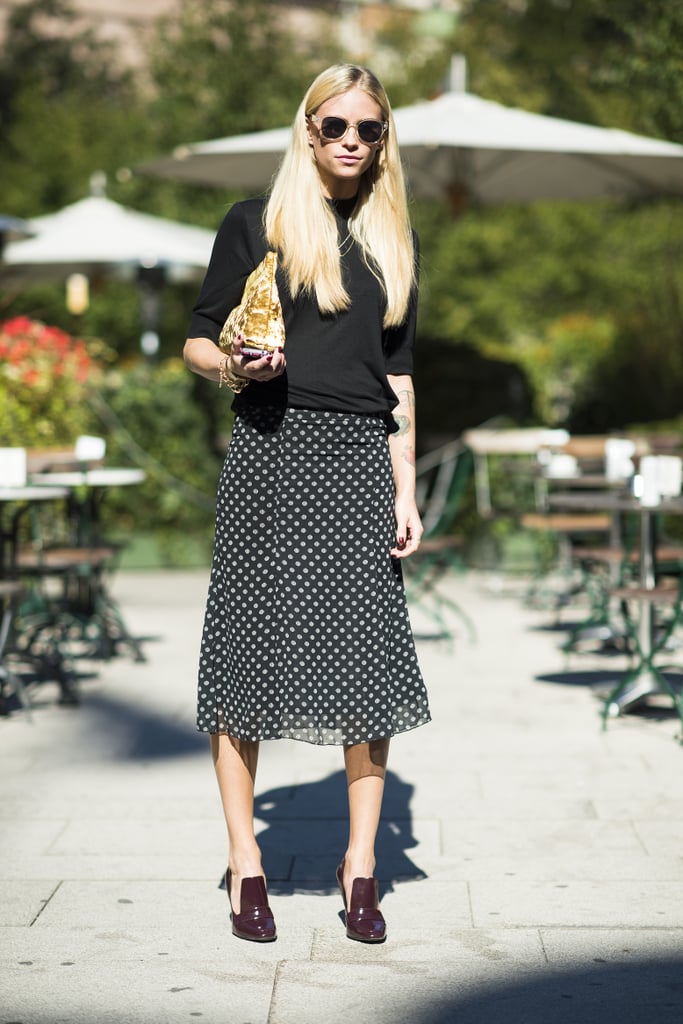 Play it one part casual, one part sophisticated with a relaxed tee up top and a ladylike skirt on bottom, then tie it all together with a pair of heeled loafers.
Source: Le 21ème | Adam Katz Sinding [7]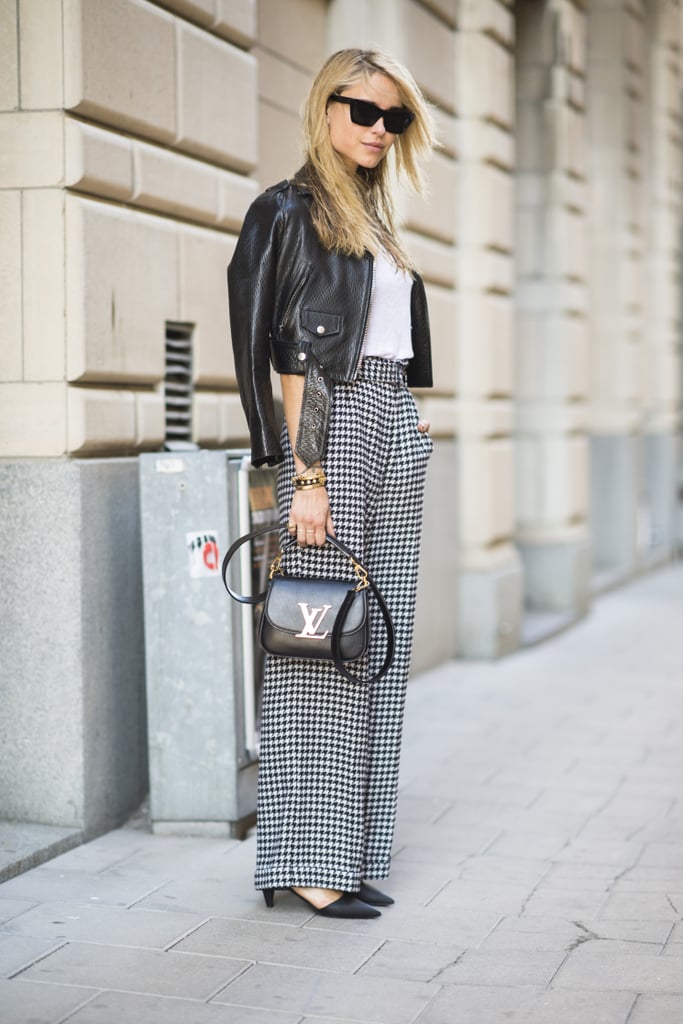 Have a little more fun with your work pants by incorporating an edgier leather jacket instead of a blazer.
Source: Le 21ème | Adam Katz Sinding [8]
For your casual Fridays, do still keep it sophisticated with skinnies, classic heels, and a classic trench.
Source: Le 21ème | Adam Katz Sinding [9]
Sarah Ruston strikes again, this time with a high-impact print tempered with a staple blazer.
Source: Le 21ème | Adam Katz Sinding [10]
Sometimes reinventing your work outfit is as easy as throwing on a statement necklace.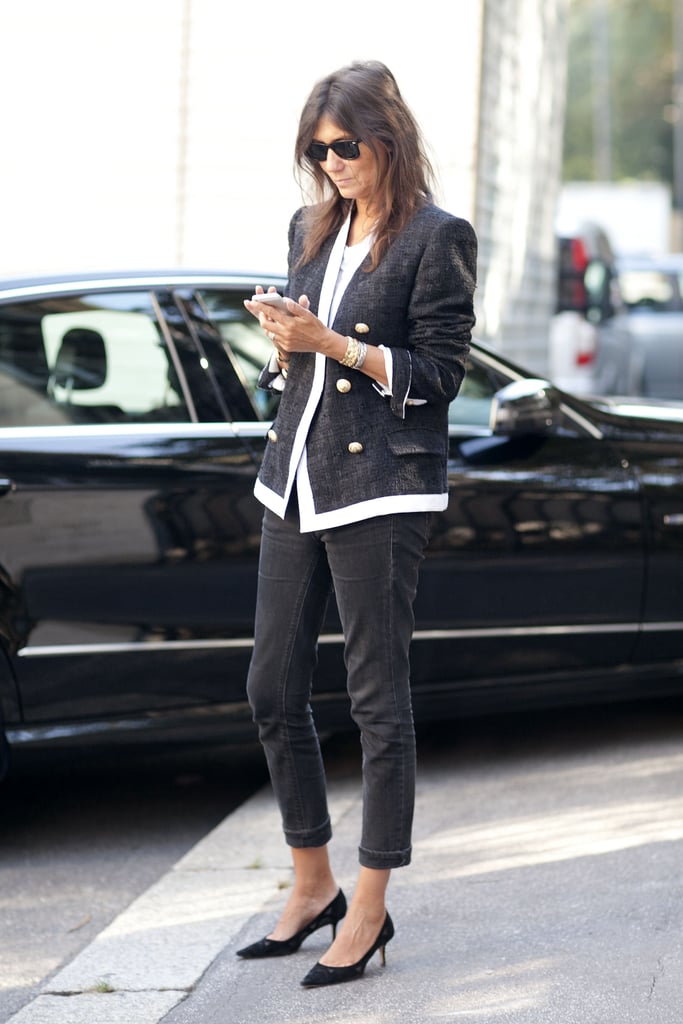 Emmanuelle Alt knows that looking chic doesn't have to be complicated; simply add a polished jacket and walkable low heels to your trousers and tee.
Sweeten up your work style à la Chiara Ferragni with a printed blouse.
Nothing says "I came to work today!" like a pair of fresh printed pants.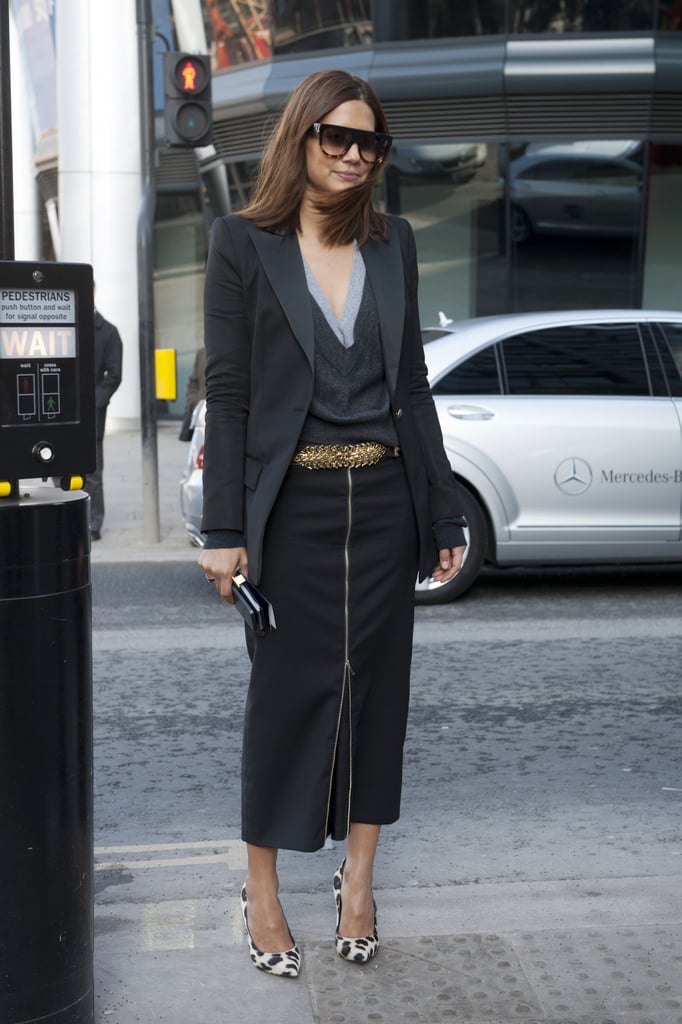 Layer up a slouchy sweater with a sharp blazer and a sleek pencil for a totally corporate-cum-cool vibe — note how slick it looked on Christine Centenera.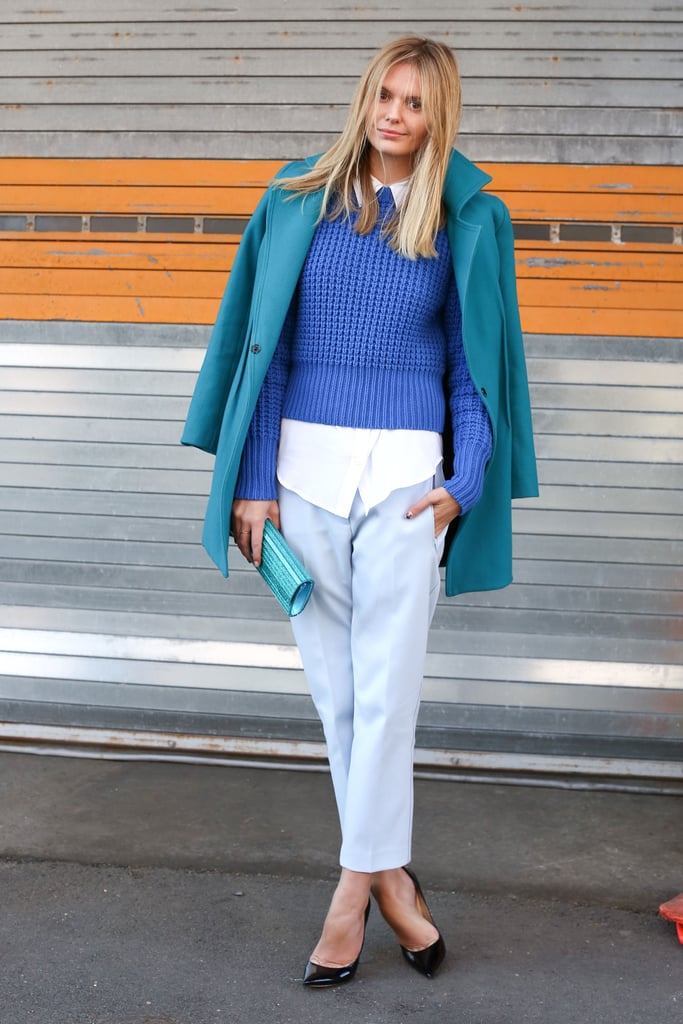 Experiment with color and layering to pep up the basic button-down and pants combo.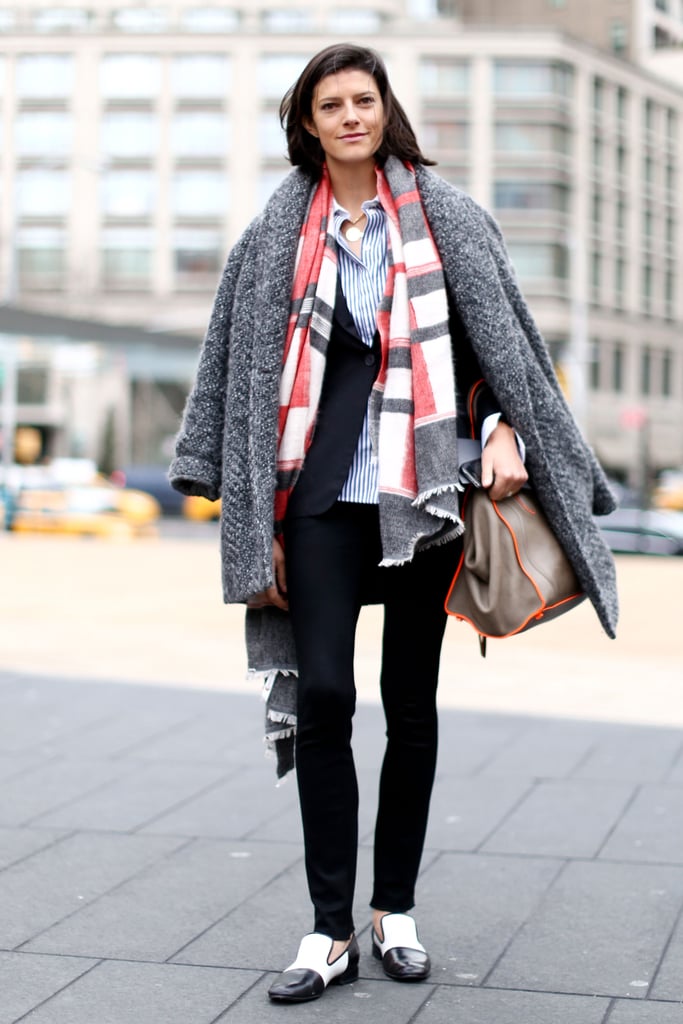 Nothing wrong with borrowing from the boys — pare down a suit with a pair of brogues or loafers, not heels.
Nicole Warne knows how to rethink the trouser look with an embellished top and chic white heels on bottom.
Keep it preppy and polished with a collared blouse and classic topper.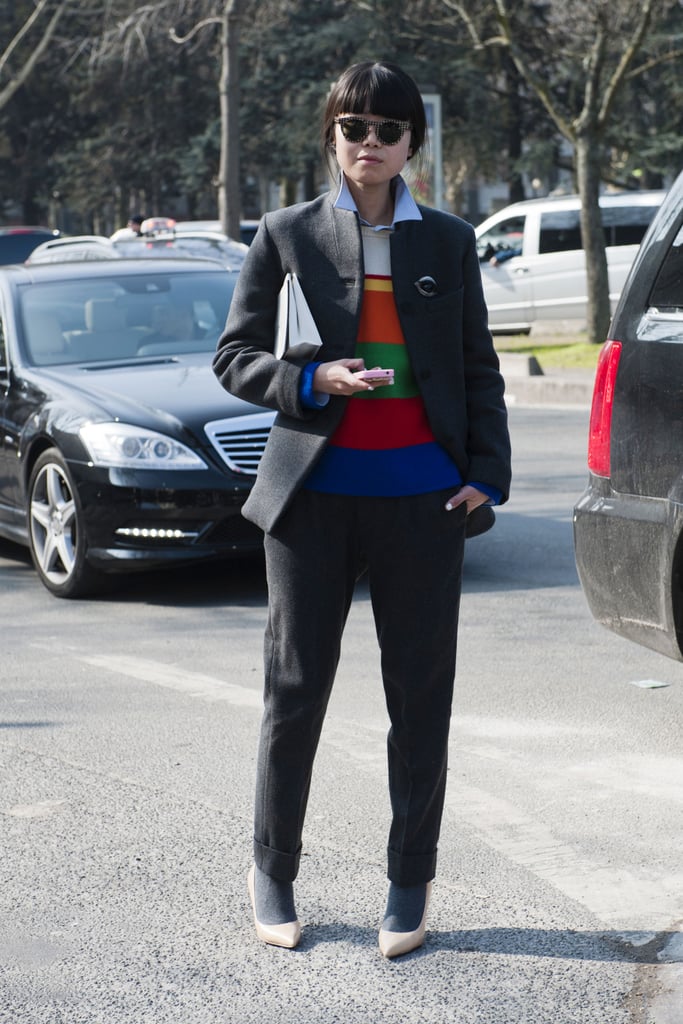 Reinvent the suit with a bright top under your blazer.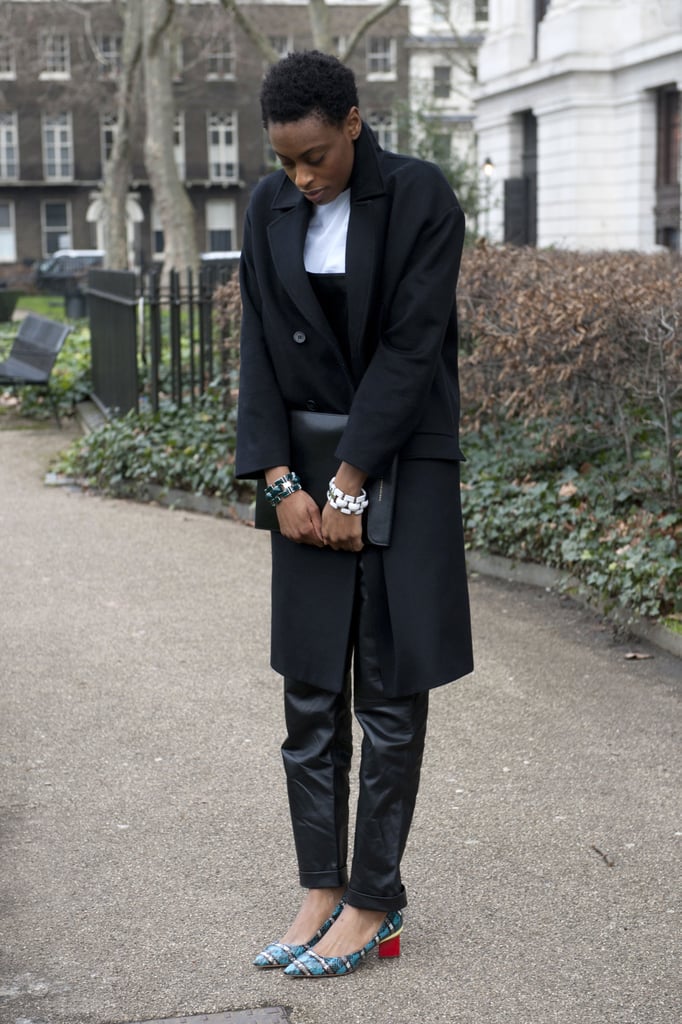 Leather pants are totally office-appropriate with chic low heels and a smart overcoat.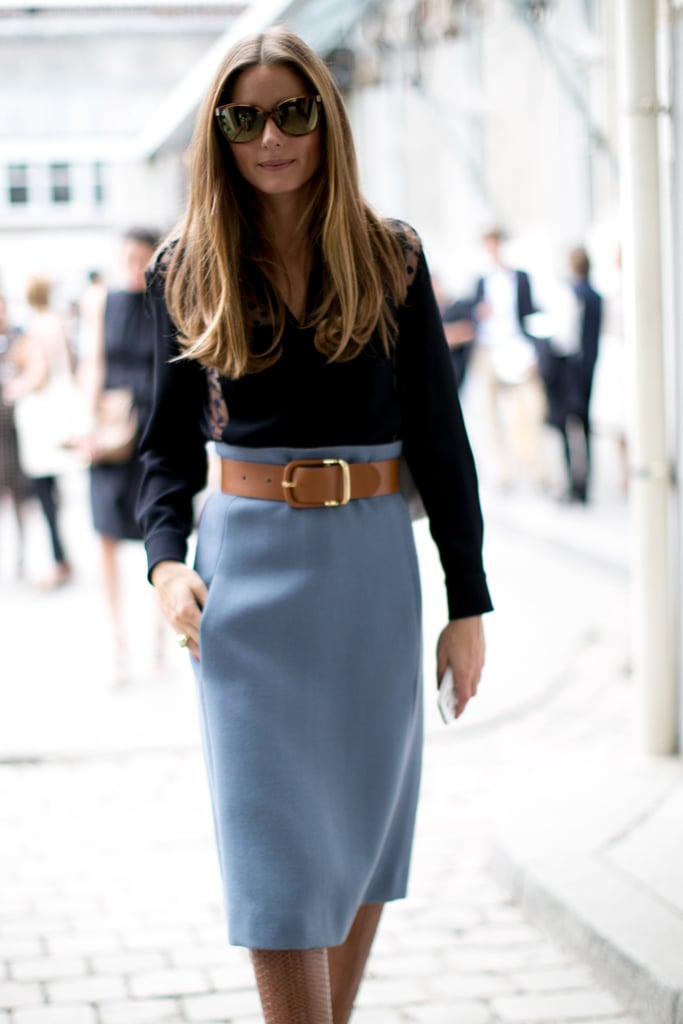 Olivia Palermo's trick to amping up her pencil skirt? Cinch the waist with a statement belt.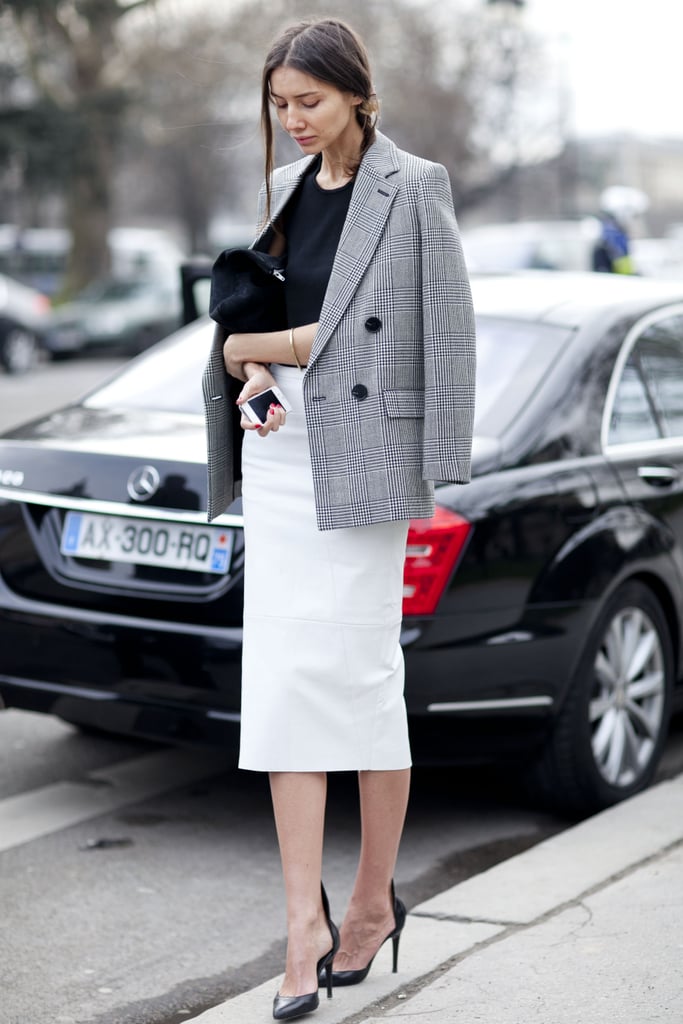 Simple and impeccably polished, this black and white look could be the star of any boardroom.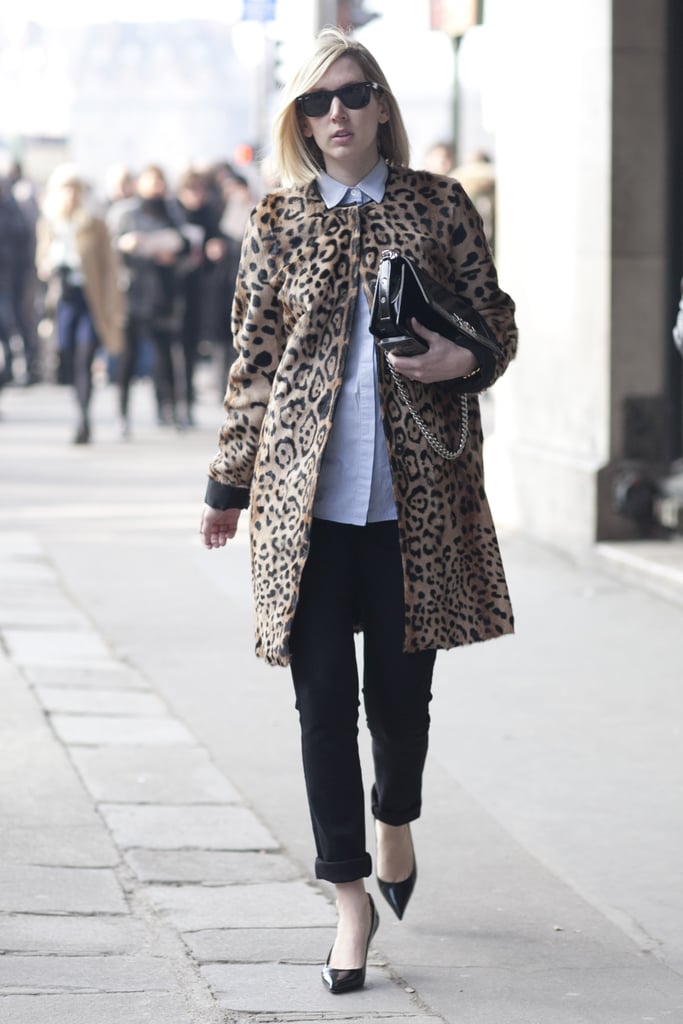 If you're keeping it basic with a button-down and black pants, then opt for a bold bit of outerwear to set your look apart and show a little more of your personality at the office.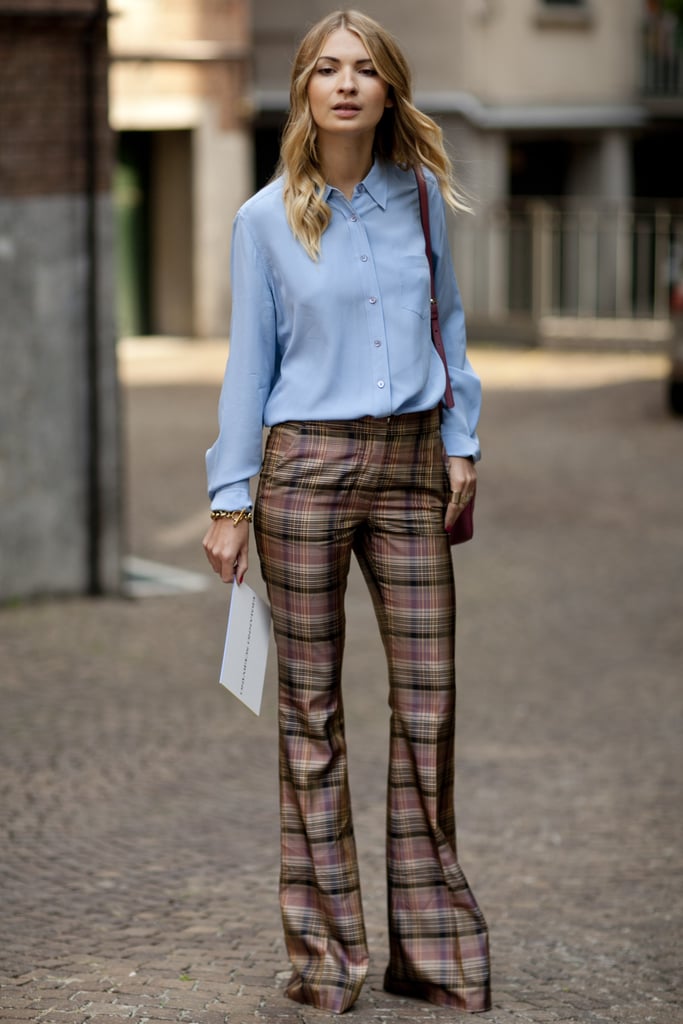 No jacket required — grab attention with a solid button-down and a pair of tailored, printed pants.
Especially as we approach the holidays, look for opportunity to incorporate bits of sheen and texture into your working wardrobe — just remember to keep your silhouettes on the simpler side, like this.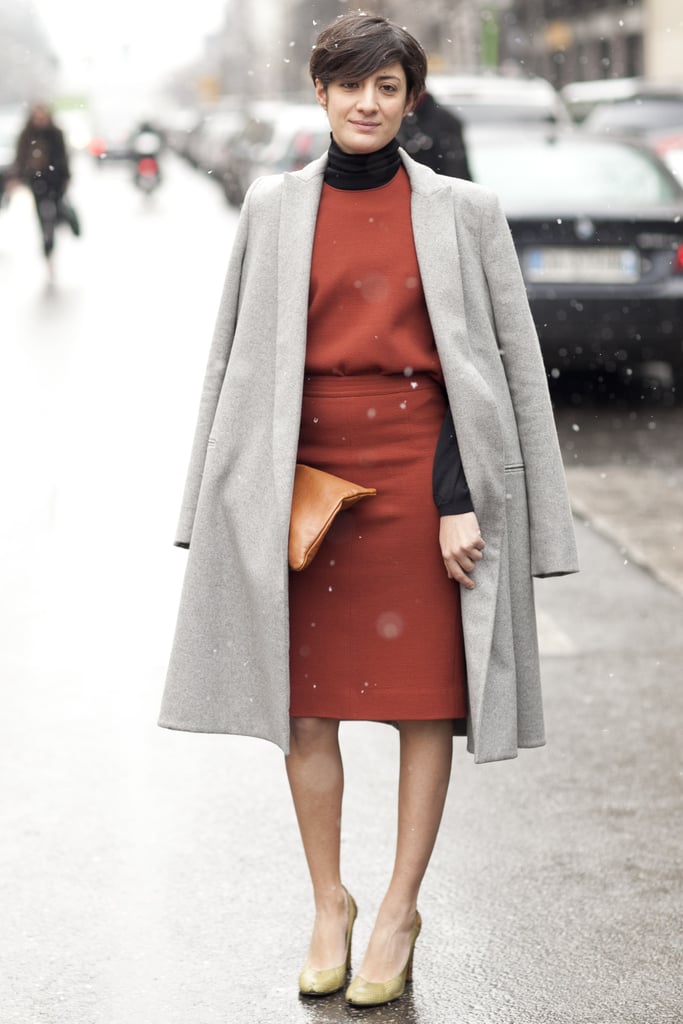 Perfect the minimalist vibe, then add warmth with a turtleneck underneath.
There's nothing boring about neutrals. Layer up a whole look in the same hue — or tones of the same color — for a chic look. Then add intrigue with unexpected silhouettes or a pop of color on your accessories.
---
Links:
[1] http://www.popsugar.com/Street-Style
[2] http://www.popsugar.com/fashion/Easy-Work-Outfit-Ideas-38234141
[3] http://Le-21eme.com/
[4] http://Le-21eme.com/
[5] http://Le-21eme.com/
[6] http://Le-21eme.com/
[7] http://Le-21eme.com/
[8] http://Le-21eme.com/
[9] http://Le-21eme.com/
[10] http://Le-21eme.com/

---