10-Minute Bridal Body Workout to Tone Arms, Legs, and Abs
Heidi Klum's Trainer Shows Us a 10-Minute Bridal Body Workout For Your Big Day!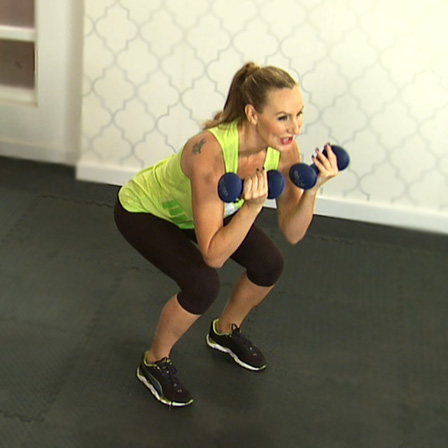 Trainer Andrea Orbeck helps keep Heidi Klum and many other Victoria's Secret models in runway shape, and now she can help you get ready to walk the aisle. Andrea created this 10-minute workout to target all the areas a bride-to-be wants to tone. Even if you're not prepping for your wedding, this workout will work your arms, legs, and abs. Grab a set of dumbbells, and get ready to sweat.
View Transcript »
Transcript
Wedding season is upon us, and we know many of you brides to be are kicking your fitness routing into high gear. So we've asked celebrity trainer Andrea Orbeck to lead us through a 10-minute workout to get you ready to walk down the aisle. Hi, everyone. With me today on this bridal workout is Susie and [xx] we are going to take you through all the necessary moves to get you ready to walk down that aisle to your honeymoon and beyond. Let's get started. The setup is to go ahead and pull your elbows into your ribs and from here stand in a nice strong, first position ballet posture. Lower down, and as you start to come up, you're gonna push over head. We wanna use the lower body muscles as well as upper. We're gonna do 20 total, slow, controlled form, exhaling as you push up. Inhale down. Exhale. Good. Go ahead. This is great, killing two birds with one stone. The lower body, the upper body. It's awesome. Yeah, I love it. You're going to be able to get your quads, your inner thighs, and your delts. Good. Long neck, try not to look up. Keep your eyes up. Put your chin down. Push through five more. Four. Last two. And last one. Nicely done. Good. So, keep your elbows at your sides. Roll to a 19-degree angle. Wide your base of support. We're gonna keep with the upper and lower combination. You're gonna lower into a squat and widen out rotator. Come on up again. 20 on your rep. Here we go. You wanna continue with that inner, outer thigh and all the muscles that make you tall, strong, and confident, which is great for training your posture to stand upright and open. Important for those pictures, too, I'm glad. Yeah. It's a time when you're just nervous. Good. Five more. last three, we're going to keep the legs burning, two, and one. Pull your body. Nice and close together. Narrow your squat. Lift your elbows, pull your shoulders down and back. And again, coordinating upper body posture with lower, elbows to knees as you squat down. Good. And then stand up and Strong squeeze of the bum. Lower down, ten reps as we finish out the leg. Drop down. Very good let's go five more. Change is coming. We're gonna add a little bit to the hips in three and two . . . good . . . and one. From here down at your side. I'm gonna have you continue on with a little bit of squats, but we're gonna add twist and abduct the hips. Looks like this. Drop down raise up a leg. Drop down. Twenty is your rep count. Keep in mind, you don't wanna slouch. You wanna squat that weight of your upper and your dumbbell into your tush. Lift up strong. Breathe and lift. Good. Makes you want to get married. It's good to work the outer thigh and the outer glute, and the hips, this is great. I agree. great on a honeymoon. Let's push four, three, two, and last lift. Nice work. So we're go ahead and take this booty work and pop onto the floor. So now that we're on the floor, go ahead and pop out your hands and your knees to stand to shoulder-width apart nice open fingers. Find your posture and then move it by pulling your shoulders down and then transfer your weight onto your elbow. With one leg and a straight back go ahead and press it out with a flexed toe, find your bum in the movement, keep your back straight and now slowly for twenty push your knee up, and then pull it underneath your ribs. Here we go. So you want to make sure that your form is always strong in the shoulder blades, abs are super tight, and you're using your bum to lift the weight in your leg, good. I can feel it working. Me too, up tall remember to keep a nice flexed toe and squeeze through your bum. Good. Four more, last three till we hold. On this last one stay up find your abdominal movement, point your toe, make sure your shoulders and back are flat, toe in the ground. Push. Lift the heel. Make sure that glute is doing the work, and not your lower back. You'll feel it if your posture isn't perfect. Yeah, it's really good to use the abs here to keep the back straight so the glute is focused, doing the work. Agreed, that's a good point. Good. Squeeze up, find your abdominal movement. Nice, relaxed posture. Hold through. Push up. Four and three two, hold the glute, hold, hold, hold. And pull the knee in. Go ahead and switch legs, make sure you're posture's on, your abs are holding this plank, knee underneath, and then go ahead and stretch out and squeeze the tush at the top toes are pulled in, 20 reps, watch your posture. So you are going to feel a little bit of the tush is gonna feel some of that weight bearing around the opposite side that's normal is holding the posture. Off you go. feel the burn in that little push. There it goes good. Here's five, last three last two here's that famous pull point your toes straighten your back add your shoulders up and down low and lift again make sure the weight of the leg. Now if your shoulders get tired, make sure you know where your elbows are and you're not earring. You already have enough jewelry. Up and down. Working that glute. Five more and four, here's three, here's two and here's one. Pull that knee and go into tom pointers open up Now we're going to continue with some postural work. You're going to lie completely flat on the ground and we're going to do some hyperextensions of superman. Holding an apple underneath your chin hands behind your head squeeze your bum cheeks and slowly lift your chest off the ground and then slowly roll. If you can go ahead and add straight legs and you can lift them off the ground as well. If that's going to be too much for your lumbar spine, go ahead and just lift your upper body. We've got eight more from here, slowly lower, and lift. You should be able to feel your shoulder blades, your lower back and your gluts. Here's four, last three, two more reps, last one, and slowly roll down, hand me down, back in the tub pose, open up your back, give yourself a nice breath and then go ahead and transition right on to your tailbone and we'll do our abs. While you're in this nice upright position curl your chin in again a nice capital P of the spine, hands are down, use your abs slowly and essentially lower your body to the ground. Once you feel your tailbone is there, up you go. Ten reps. Feel the flow. Exhale and now you bend. Good work. Now if you want to make it more challenging put your hands behind your head head, slowly lower, then lift. Good. Let's try five more, slow. I like that we're focusing the work on the, going down as the abs are also lengthening. Kind of an extra challenge. Yes. I love it too. There's a lot of eccentric movement, you get a lot of strengthening when your essentially in the lowering stage of erect. Good a little more time and slowly lower, as slow as you can to the hardest part. Hold . Once you get there, go ahead and to regular crunches. Slide the ribs up, for 20 repetitions. Use your breath as you slide your ribs toward your hips, slow in control. It's not about the height, but the degree of contraction is most important. And where should we be looking, like at our knees or at the ceiling? If you want to keep a neutral neck, that's such a good question. Try to feel like you had like an apple underneath your chin, you're not pulling your neck, which is allowing your upper body to be lifted through your hips. Go five more, four, last three. Now hold on one, hold on one, hold the knees in as well. Curl into a ball, and then open up that ball. Twenty times, pull in, and open. Now, if you have experience with Pilates and your back agrees, you can try to make it a little more challenging by extending your legs, curling into a ball. Then, pull in. And again, if your back is to breathe, just open and close with your knees at a 90 degree angle, in and out. Really focus on keeping that low back connected to the floor as the legs straighten out. Here we go. There's five. And four. Three more. Two more, and one. Stay in a ball, hug your knees in, rest your head. Get a nice big roll to the seated position. Good job! So good job with all of that quad work we did. Lets go ahead and do a little bit of a quad stretch. Laying on your side, stacking your hips and your shoulders. Go ahead and take the top leg, grab the front of the ankle, and push backwards. Roll your shoulders down so that you're not shrugging. You can take the bottom leg and push that heel up againstthe toe to give you a hand to really push into the quad. That's a great modification, I've never seen that before, I like it. Yeah, you're kind of able to really get into the depth of the quad. Yeah. So, hold for another on, two and three release the legs feet to the other side. It's kind of like an assisted stretch. Yeah. Here we go. Like hold 10 more seconds up and through. Push for four, three, two and one. Good job! Great. These moves will have you ready to walk down the aisle in no time. Thanks so much Andrea. You're welcome. See you next time on FitSugar TV.