An hour-long gym session isn't always in the cards, but fitting in a five-minute workout? A breeze. Take your pick from any of these short and sweet five-minute workouts to make your day a little healthier in no time at all. Summer, here we come!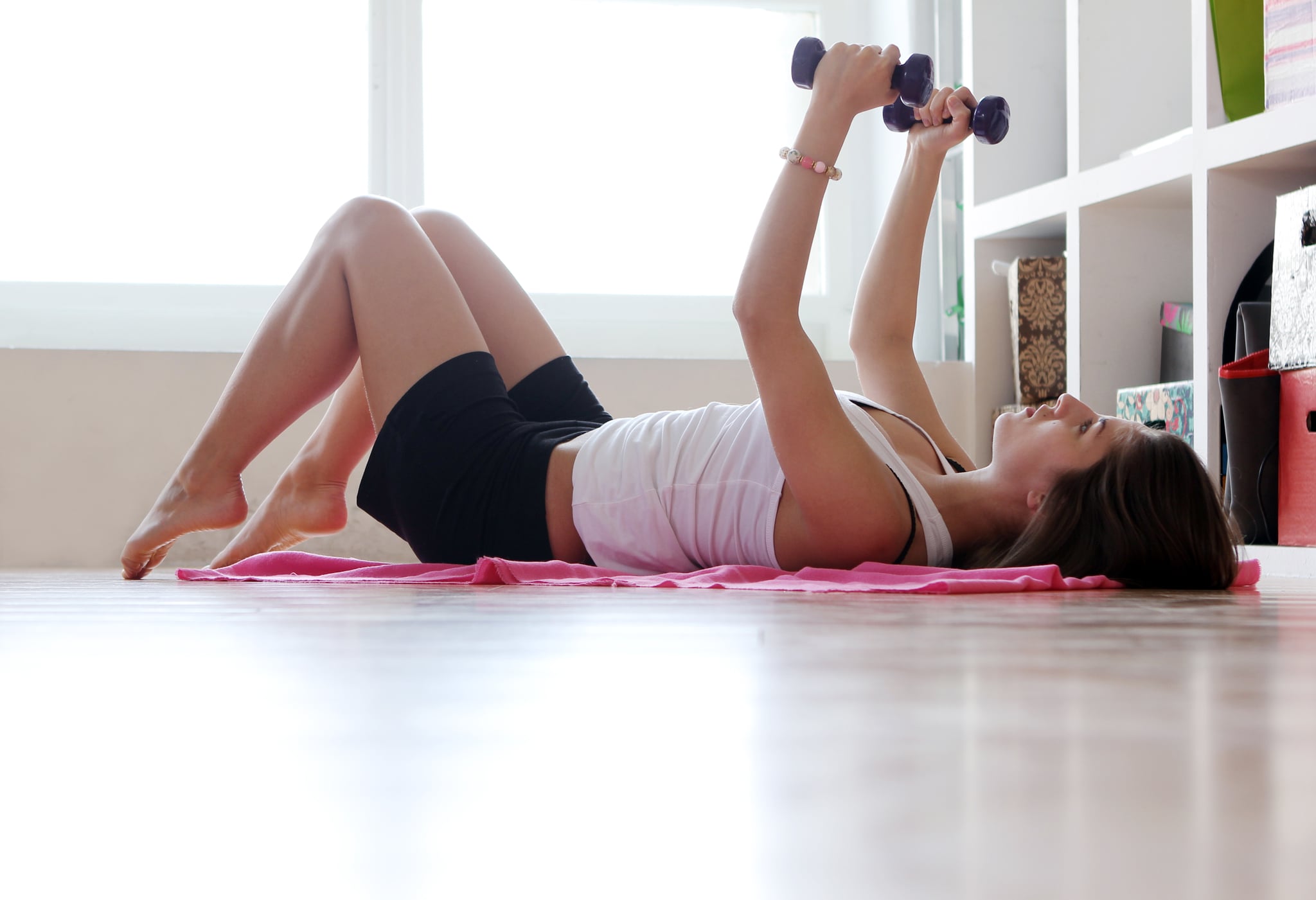 Morning yoga: No matter how hectic your morning, your day will benefit from a few minutes on the mat. Try this five-minute yoga sequence [1] to start your day centered.
Sexy-arm sculpt: Want to show off sculpted arms this season? Follow along to our five-minute sexy-arm video workout [2] with celebrity trainer Astrid McGuire.
Pilates ab workout: This Pilates ab workout — called the Series of Five [3] — actually only takes a couple of minutes to complete, but you can repeat or add other moves (like burpees or push-ups) in between for a five-minute workout that'll make you sweat.
Inner-thigh workout: This five-minute inner-thigh workout [4] targets your lower body while also adding a bit of heart-pumping cardio to your day. Watch how it's done with our convenient workout GIFs.
Total-body bed workout: It's true — you don't even have to get out of bed in order to work your entire body. This five-minute total-body bed workout [5] uses three moves that will tone from head to toe.
Julianne Hough's leg workout: How to get strong, toned gams like dancer and actress Julianne Hough? Check out this five-minute thigh-blasting workout [6], courtesy of Barry's Bootcamp trainer Alycia Stevenin.
Busy-girl workout: Do this five-minute basic workout [7] three times a day to see results in no time. It's a great way to break up your workout into manageable chunks of time.
"Wake up and warm up" workout: Print out this five-minute wake-up workout poster [8], and keep it by your bed. Then add the moves to your morning routine to feel energized, no coffee required.
Slimmer, stronger leg workout: Toned legs look great in shorts, but that's not the only reason to build those lower-body muscles. Boosted metabolism and impressive strength are just two more reasons to learn this five-minute leg workout [9] and add it to your routine.
Full-body chair workout: Stuck at your desk? You can still get a full-body tone-up. Follow along to this five-minute total-body chair video workout [10] to get fit at your desk.
Mat ab workout: Get on the floor the next time you're watching TV, and do this no-equipment five-minute ab workout [11]. You'll work on a stronger core without having to step in a gym.
200-calorie workout: Yes, it's a little intense, but if you do this workout right, you could burn 200 calories in just a few minutes! Get the calorie-blasting, five-minute workout here [12].
Power workout: Improve your strength and feel more powerful with this five-minute plyometric workout [13]. If you like to jump, this workout is for you.
Couch workout: When you just don't have time to get to the gym, sneak a few minutes of calorie-burning moves into your day by throwing on sweats, turning on your favorite TV show, and doing this five-minute couch workout [14].
Core challenge: Think you've got what it takes to crush this five-minute core challenge [15]? Print out the poster and strengthen those abs a few minutes at a time.
Posture-perfecting workout: If you're sick of always hunching over, this five-minute back workout [16] is for you. It helps strengthen back muscles so you stand taller, look slimmer, and run better in no time.
Muffin-top workout: Say goodbye to love handles just in time for Summer. This five-minute muffin top [17] workout will strengthen your back, glutes, and abs to help diminish the appearance of a muffin top.
Leg-shaping workout: This quick lower-body workout [18] will help shape those legs and burn calories. It may look simple, but you'll definitely feel it.
Cardio ab workout: This five-minute ab workout [19] has a bonus: the moves will elevate your heart rate for a quick cardio session too.
Butt workout: If you've got a few minutes to spare, you can tighten up that derriere! Get our five-minute butt workout here [20].
Five-move arm workout: It doesn't get much simpler than this for toning those arms. Grab a pair of dumbbells and perform each of these five arm moves [21] for a minute each for an effective and short upper-body workout.