When it comes to breakfast, fast and healthy often don't go hand in hand. You can grab something at a café, but even if you opt for granola or oatmeal, it's usually unhealthier than if you made the same meal at home. If you're looking for a quick and healthy breakfast, try this apple cinnamon smoothie from registered dietitian
Erin Palinski
.
"Not everyone has a lot of time in the morning. That's why I love [this] cinnamon apple smoothie, which has good, natural fats, a punch of protein, and a wallop of fiber to keep you full longer, as well as natural sugars and electrolytes," Erin says. "What makes this great for people on the go is you can even make this the night before and have it ready to grab in the fridge in the morning." Adding ground flaxseed helps makes the smoothie a substantial drink that gets thicker as it cools in the fridge overnight, meaning it will definitely keep you full for hours.
Read on for the recipe.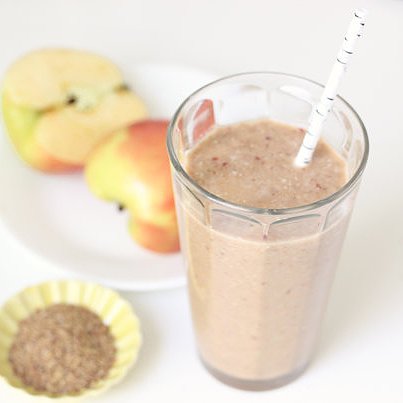 From Erin Palinski
Cinnamon Apple Smoothie
Notes
Erin recommends you make this smoothie with alcohol-free vanilla extract, but feel free to use regular vanilla extract if that's what you have on hand. She also recommends you use a firm apple like Granny Smith or Empire.
Ingredients
8 ounces coconut water
4 raw almonds
1 teaspoon vanilla extract
1 teaspoon ground cinnamon
1 cup chopped apple (about 1 medium apple)
1/2 scoop unsweetened protein powder
1 tablespoon flaxseed meal (ground flaxseed)
Directions
Combine all ingredients into a blender, and pulse for approximately 10-15 seconds.
If you're going to drink it immediately, add three ice cubes to chill it. If you're preparing ahead of time, chill in the fridge overnight.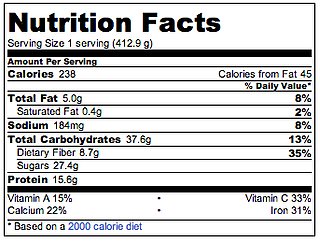 Information
Category

Smoothies, Drinks