Avocado and Sunflower Seed Snack
Snack Attack: Salty Sunflower Avocado
Like us on Facebook
Hands-down, avocados are my favorite foods. Not only do I love their creamy deliciousness, but they're also full of vitamin K, potassium, and dietary fiber. Who knew something so smooth and creamy could contain a decent amount of fiber. Plus, they're a great source of healthy fats that help lower cholesterol and reduce your risk for cancer.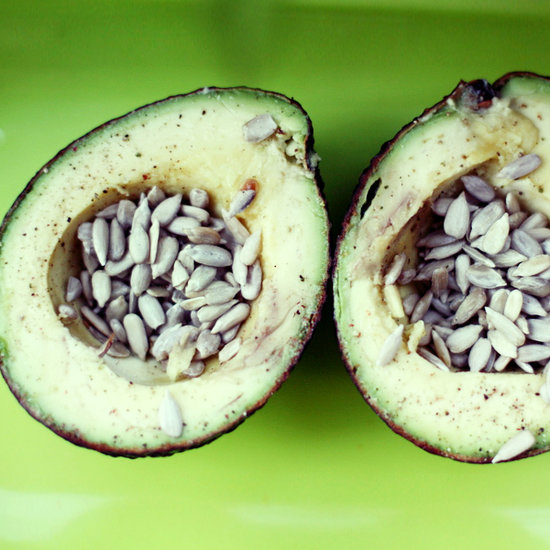 Avocados are not just for guacamole. There are many ways to enjoy this fruit so keep reading to see one of my favorite ways to snack on avocados.
Cut an avocado in half. Use the side without the pit, and save the other half for later since the pit can help keep the green flesh from browning.
Sprinkle one tablespoon of salted sunflower seeds in the middle.
Use a spoon to scoop out bites right out of the avocado peel. You don't even need to bother with dirtying a dish.
This easy snack contains:
| | |
| --- | --- |
| Serving Size | 1/2 avocado + 1 tbsp sunflower seeds |
| Calories | 208 |
| Total Fat | 18.7 g |
| Saturated Fat | 2.5 g |
| Cholesterol | 0 mg |
| Sodium | 41 mg |
| Carbs | 10.4 g |
| Fiber | 7.4 g |
| Protein | 3.5 g |
| Potassium | 556 mg |
I know it seems like a lot of fat, but remember, it's the healthy fat your body needs. It's very low in saturated fat, which is the unhealthy fat. So snack away!