My first experience with kale chips was at Blue Hill New York — the highly respected farm-to-table restaurant owned by James Beard winner, executive chef Dan Barber. I was in heaven when I tried the first bite: light, crispy, and nutty, with the perfect amount of salt to complement the subtle taste of kale
Last night I was going through Bon Appetit and got super stoked when I saw Dan Barber's recipe for the chips. Try making them for yourself and you'll see what I mean. Besides being a great alternative to potato chips, kale chips make a great party snack or mid-afternoon treat.
Do you have a healthy snack to share? Post it in our Snack Attack community group.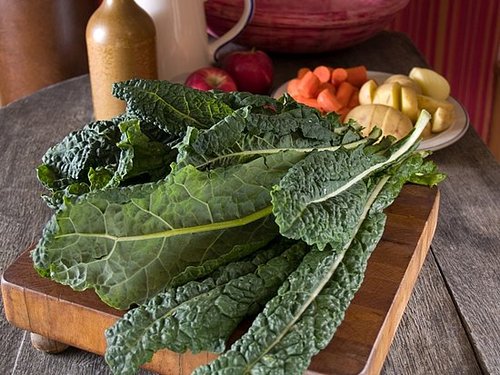 Inspired by a dish from Blue Hill New York
Kale Chips
Ingredients
1 large bunch Tuscan kale (10 to 12 leaves)
1 tablespoon oilve oil
Sea salt to taste
Fresh ground pepper to taste
Directions
If you cannot find Tuscan kale (aka dinosaur or dino kale) at your grocer, it's OK to substitute the recipe with another type of kale. Just make sure you remove the leaves from the tough parts of the kale. Don't discard the stem and ribs though — use them to make a veggie broth!
Preheat oven to 275°F.
Remove stalks and ribs from kale. Rinse and dry leaves.
Toss leaves in a large bowl with olive oil. Sprinkle leaves with sea salt and ground pepper.
Arrange leaves in a single layer onto a baking sheet.
Bake for approximately 30 minutes or until crisp.
Transfer and let cool onto a wire rack or paper towels.
Serves 2.
Information
Category

Snacks
Source: Flickr User ilovemypit