Berry Cinnamon Oatmeal Recipe
A Reader Recipe: Berry Cinnamon Oatmeal
Like us on Facebook
This recipe for berry cinnamon oatmeal was shared by FitSugar reader prepel in our Healthy Recipe community group.
See the recipe when you
.
original recipe
Holiday Oatmeal
Ingredients
1/4 cup oats
1/4 cup frozen berries
6 almonds
cinnamon
3/4 cup water
Directions
I looove eating oatmeal for breakfast. It is such a simple and fast thing to make, and you can mix it with just about anything. I have a ton of frozen berries, but I didn't want a cold smoothie on this cold Winter morning, so I thought — "Why not cook it on the stove with my oatmeal?" The result — amaaaaaazing!
In a small saucepan, add oats and water. Bring to a boil, reduce heat, and add the frozen berries. Cook for another two minutes until the berries are soft. Pour into a bowl, top with almonds and cinnamon.
Stir so the delicious colors blend together and enjoy . . .
*I would add more oats (1/2 cup serving is how I usually eat) but I ran out . . . you can also top with pecans, walnuts, hazelnuts, raisins . . .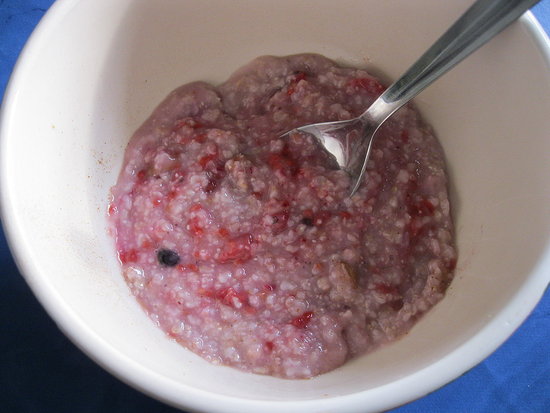 Information
Category

Breakfast/Brunch
Got a similarly delicious recipe? Head on over to the Healthy Recipe community group and share one of your own.