Spring is in full bloom, and it's putting a little bounce in our steps. This month, we're celebrating April with sunny hikes and shower-drenched runs, along with just the right gear to keeps our spirits high and our bodies dry. From bright, colorful kicks to eco-friendly totes and clean snacks that will fuel us through any workout, check out what we're excited about this month.
Natural Fitness Yoga Tote
The month that hosts Earth Day is a fitting time to carry around this eco-friendly Natural Fitness rECOnstructed yoga tote [1] ($30). The tote is spacious enough to hold my yoga mat and other gear, but what makes me a fan is that each is made from old outdoor advertising banners — the perfect way to reduce and reuse. Since the bags are made from upcycled material, each is unique; from muted neutral tones to bright neons, no two bags are alike. My tote is a blend of multiple colors and patterns and is cut so you can't see what type of advertising it used to be. The rECOnstructed tote is as durable as you'd expect a bag made of water-resistant banner material to be, so I can load it up and carry it confidently all day.
— Leta Shy, associate editor
Nike+ FuelBand SE Rose Gold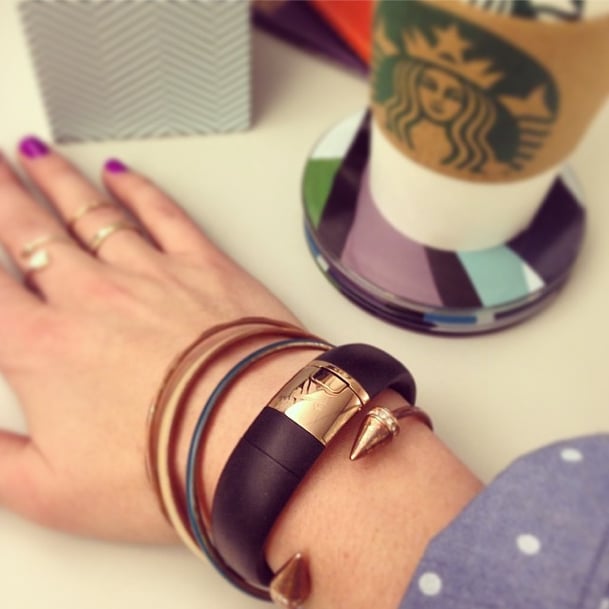 While I love the idea of a fitness tracker, I've never been able to keep one on for more than a week or two. As shallow as it might be, I am not a fan of how many of them look and fit. That was until Nike released a limited edition rose gold FuelBand [2] ($169) this past November. Problem was, way back then, I was too slow on picking up one of these, and before I knew it, the FuelBand was sold out.
Lucky for me, it's back! Besides being a great accessory that seamlessly goes with anything I'm wearing, it's helping keep me accountable of how much — or little — I move during the day, something I wasn't getting from my HRM that I only put on for workouts. In total, the FuelBand SE tracks calories, steps, Nike Fuel points, and sleep. It's been eye-opening to see my daily activity log, and it has definitely encouraged me to up my goal each week.
— Michele Foley, editor
Source: Instagram user jaclynemerick [3]
Ahnu Sugarpine Air Mesh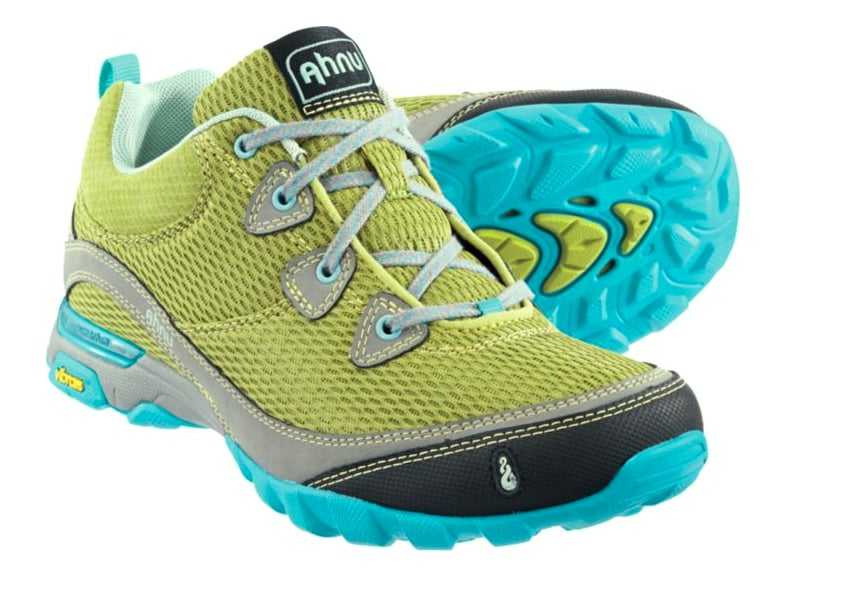 When hitting the trail for Spring hiking, I have learned that a regular running shoe just won't do. That's why I have been sporting the Sugarpine Air Mesh [4] ($86-$110) by Ahnu; it's a sneaker designed for the trail. I love the bounce of the thicker Vibram sole and all the traction the tread provides, since April showers make for slippery rocks. The sole of the shoe is especially thick at the ball of the foot, protecting my delicate feet from stone bruises. Even with the more aggressive sole, the shoe feels lightweight and doesn't bog me down when hiking. I love the fun colors too.
— Susi May, fitness director
Ibex Shak Hoody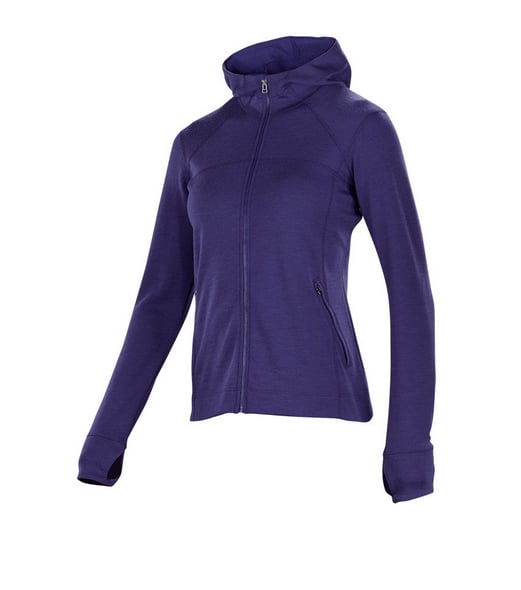 Sleek, soft, and oh so warm, I'm in love with the Ibex Shak Hoody [5] ($110-$160). Made of 100 percent merino wool, it feels silky against the skin and is the perfect thickness for layering over a tank when there's still a bit of a chill in the air.
The two-zippered pockets on either side are great for stashing tissues and my house key, and the thumbholes keep the sleeves in place to prevent wind from blowing up my arms. It's semifitted and has a full zipper, so it's comfortable, easy to throw on and off, and I must say I'm a huge fan or the Astro Blue. This piece is totally versatile, and I see it being used in the Winter under my down coat. If the price seems too steep, there are two colors on sale for $110.
— Jenny Sugar, contributing editor
Athleta Blossoms Be Free Knicker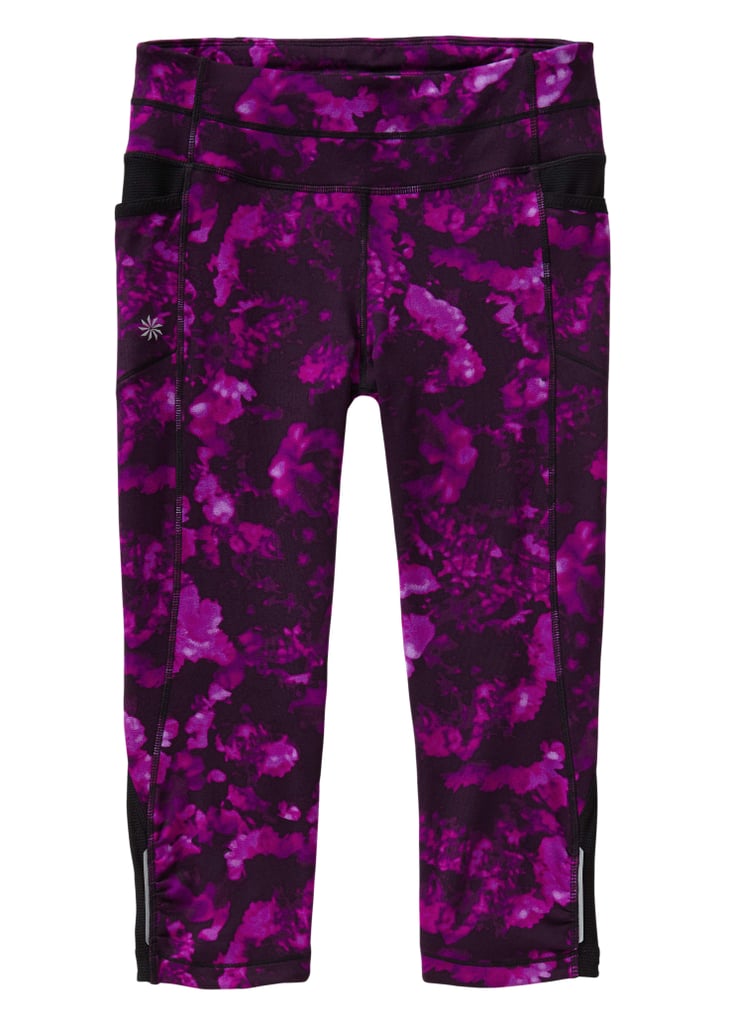 I'm always on the hunt for a new pair wild-printed pants that support my workout needs, and this pair of bright and fun Athleta Blossoms Be Free Knickers [6] ($64) make a big statement for Spring. Functional, flattering, and incredibly lightweight, these breathable knickers will keep you dry during (and after) a sweaty workout.
I've been rocking them at SoulCycle for the last few weeks, but they're also great for outdoor runs since they have a reflective strip, internal key pocket, and a larger rear pocket that can hold most smartphones.
—Lizzie Fuhr, assistant editor
New Balance Mid-Cut Cross-Trainers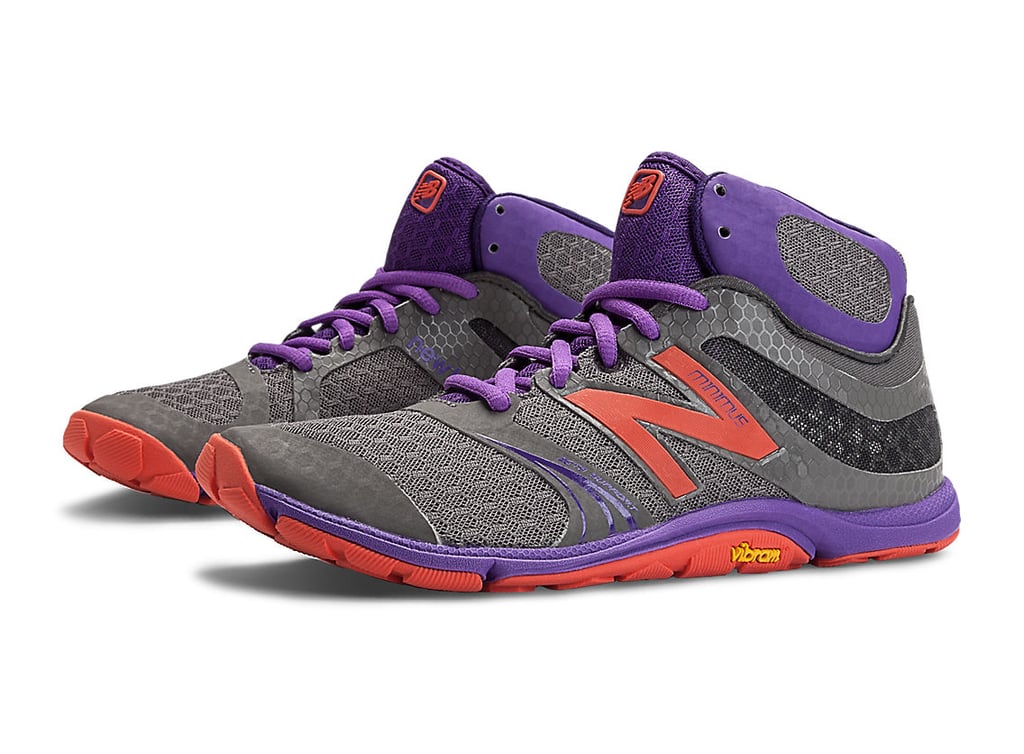 If your training program requires a lot of versatility like mine, the New Balance Minimus 20 [7] ($110) is the shoe for you. This shoe is perfect for strength-training workouts in the gym because it provides a stable platform for resistance training, plus a ton of lateral ankle stability for those balance-training moves.
They're comfortable, lightweight, and perfect for warm-ups, interval runs, stair-climbing workouts, or even outdoor beach cruising on my bike. Plus, if you like a shoe that makes a statement and gets heads to turn, this is a perfect fit! I can wear them on a weekend with cute shorts and be comfortable, functional, and stylish.
—Anna Renderer, fitness host
Clif Mojo Bars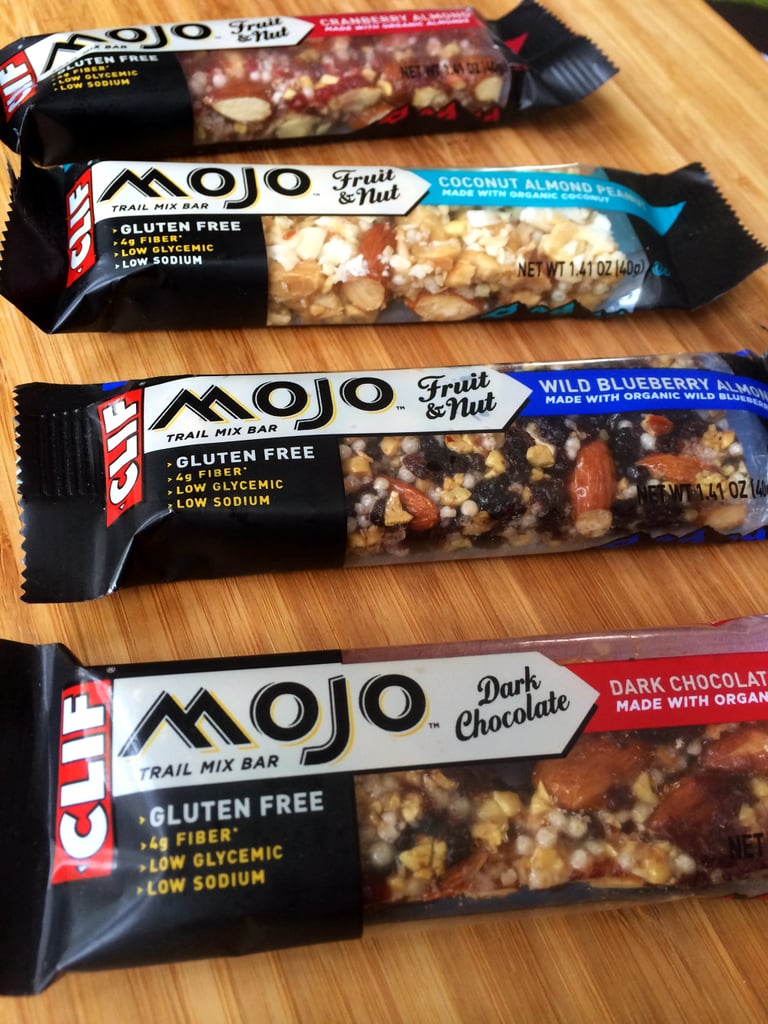 Maybe it's the mom in me, but I always have snacks. Bars are the best because they're nonperishable, lightweight, and can offer a big amount of nutrition in just a few bites. I'm loving the new flavors of these Clif Mojo bars. The Dark Chocolate Almond Sea Salt [8] is my fave (which is why there's no photo of it), but when I'm not in a chocolaty mood, I reach for the Coconut Almond Peanut [9]. Each bar is around 160 calories and offers about four grams each of fiber and protein. They're organic, non-GMO, gluten-free, and the best part — superflavorful and slightly chewy with a satisfying crunch.
— JS
Photo: Jenny Sugar
Dermalogica Skin Purifying Wipes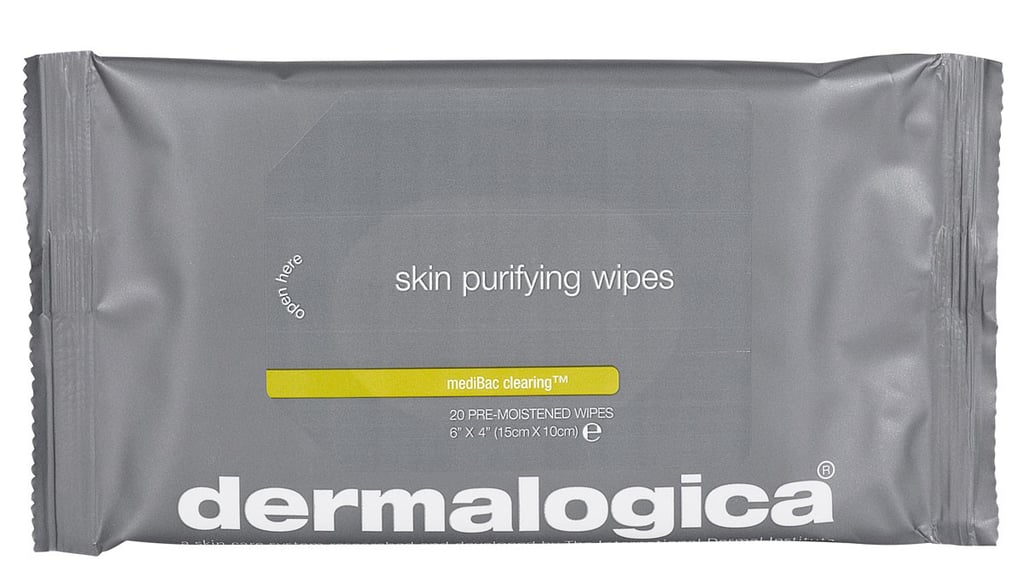 When I am rushing to make a SoulCycle class and don't have time to give my face a proper scrub, Dermalogica Skin Purifying Wipes [10] ($19) have saved my acne-prone skin from total disaster. Besides not containing any artificial fragrances and colors, they are made with salicylic acid, which keeps my skin fresh and keeps those pesky breakouts at bay. Over the last month, these wipes have become a mainstay in my gym bag!
— MF
Lucy Track Goddess Half Zip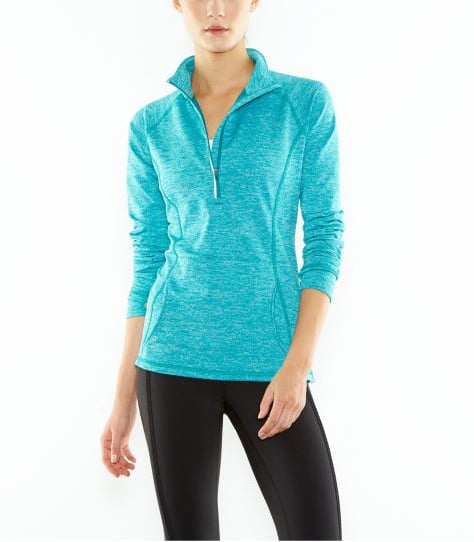 Spring may have sprung, but I'm always in favor of having a comfy, long-sleeved top around. These days, I am cozying up with the
Track Goddess Half Zip [11] ($65-$75, originally $89) from Lucy. Made of wicking fabric, it's perfect for early morning bike commutes to the gym and afternoon walks on windy beaches. Plus it is so soft; I never want to take it off. This top provides great coverage without feeling too heavy, making it the perfect top for the transitional and unpredictable weather of April.
— SM
Kettleworx 8-Week Rapid Revolution DVD Set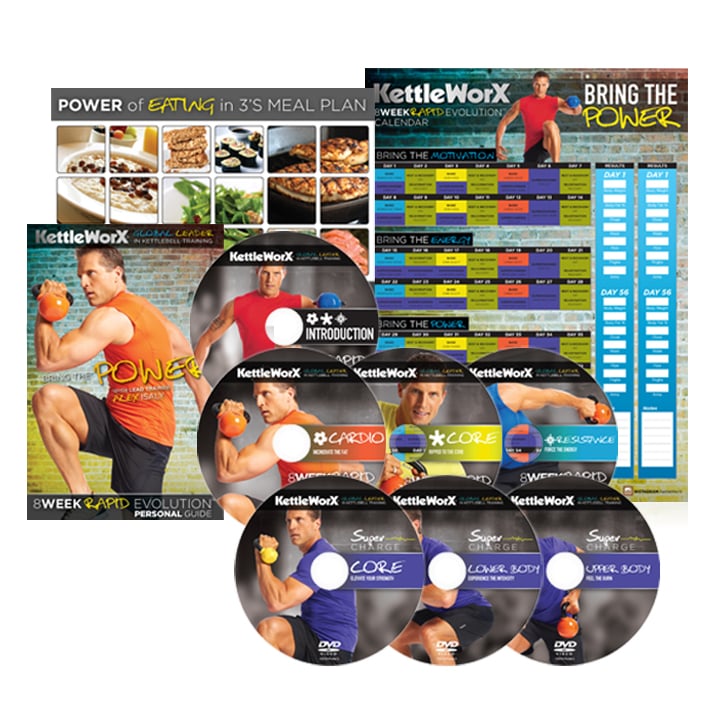 I'm a big fan of kettlebells; the calorie burn, the total-body moves, the mix of cardio and strength training make kettlebell workouts a great, efficient option when I'm pressed for time. Even easier? Doing a kettlebell workout in my living room. The KettleWorx 8 Week Rapid Revolution DVD set [12] ($80) features 10- and 20-minute workouts that only require a kettlebell or two to do. Each main workout is divided into cardio, core, or resistance, along with even more directed workouts for your upper or lower body. There's an eight-week calendar and nutrition plan for jump-starting your fitness goals in time for Summer, but I especially like the set because I know I can pop in a DVD depending on what I need to focus on and be done with my workout in the time it would take me to get to my gym.
— LS
Steve's Paleostix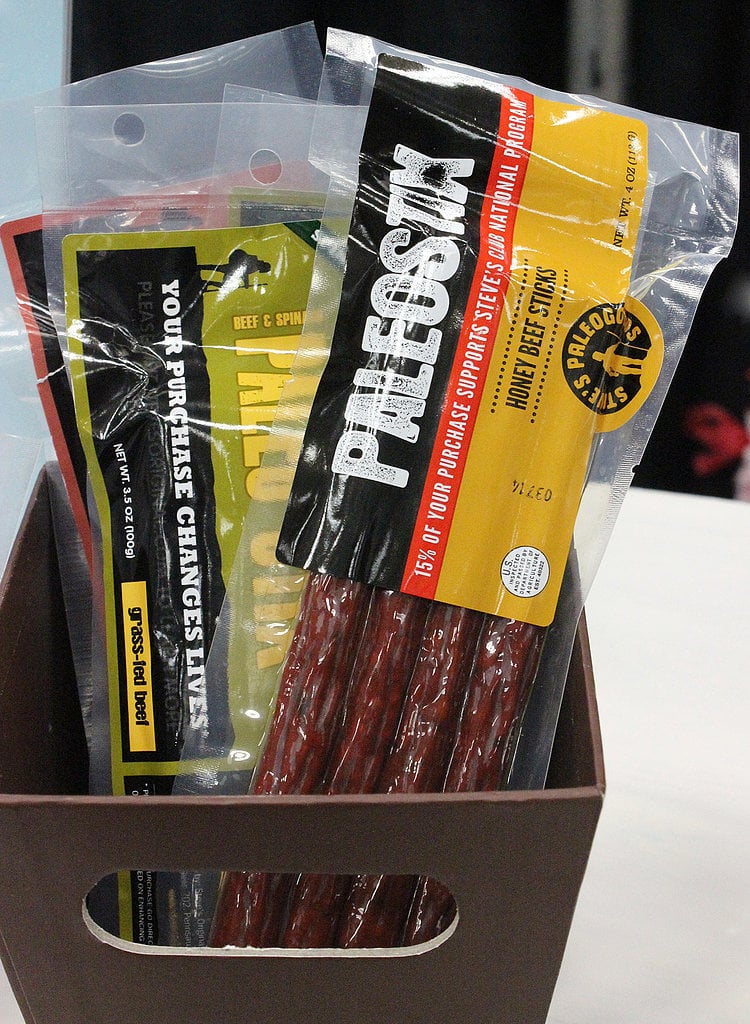 As someone who's dabbled in the Paleo lifestyle for the last few months, I know how hard it can be to find quality Paleo-approved snacks that satisfy. Steve's Paleo Goods offer a number of unique and convenient products perfect for Paleo eaters on the go, but I'm partial to Steve's Paleostix [13] ($6 per pack) that offer the perfect punch of protein you need after a workout. It doesn't hurt that a portion of all sales goes to support gyms that train at-risk kids all over the country.
—LF
Photo: Lizzie Fuhr
Chill by Will Life Leggings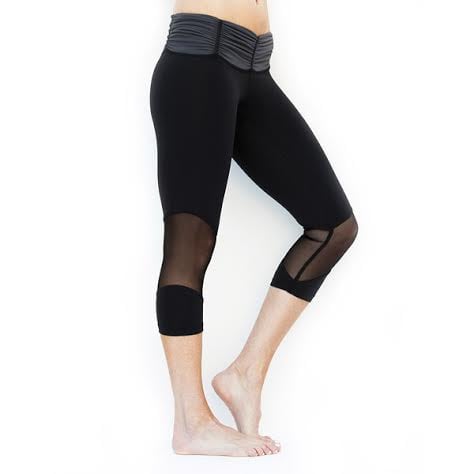 I wear fitness clothes about 75 percent of the time, and it's hard for me to find workout pants that will give me a unique style and still be comfortable. Well, I found it in the Chill by Will Life Leggings [14] ($92).
These breathable leggings have a gathered waistband that hits my hips at just the right place, and the mesh insert gives them a unique style. On those days when I feel the muffin top is slightly bigger than usual, I choose to slip into these leggings over all others. I will say that they run a little small, so I would get a size just above what you normally wear.
—AR