After an exciting start to 2014, we're still going strong with our healthy resolutions — and committed to stay on course into February! We're gearing up with fresh things to keep us warm and comfortable, dreaming of an active, romantic getaway in beautiful Big Sur, and so much more. If you're in need of a little Winter workout motivation, check out everything we're loving this month.
Glen Oaks Big Sur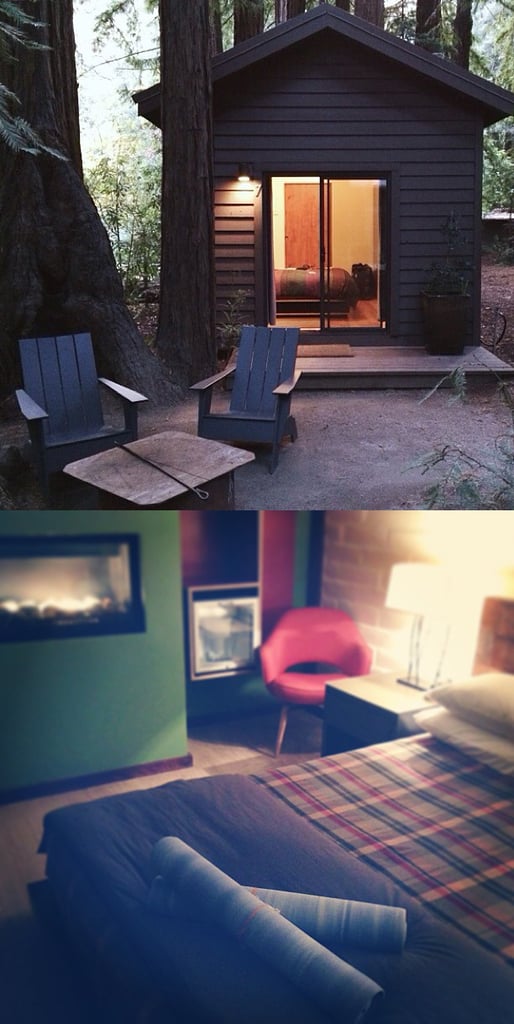 Living in Northern California, I'm spoiled with the sheer amount of nearby escapes, but Big Sur is perhaps one of the most magical. It's a place I visit again and again for its abundance of breathtaking hikes and quirky characters. For years, the only options for nightly lodging were high-end hotels that came close to the rent on my apartment and campgrounds that had seen much better days. That was until Glen Oaks Big Sur [1] quietly opened a few years ago.
As part of a refurbished '50s motor lodge, the rooms have a midcentury-meets-rustic appeal. Besides the lodge, there are also a mix of secluded cabins where you can explore the forest that is right outside your door. All the rooms are stocked with healthy essentials like gluten-free oatmeal, yoga mats, and locally roasted coffee. In short, it's the perfect way to end a day getting lost in Big Sur's wilderness.
— Michele Foley, editor
Source: Instagram users purofoto [2] and POPSUGAR Fitness [3]
Vim and Vigr Compression Socks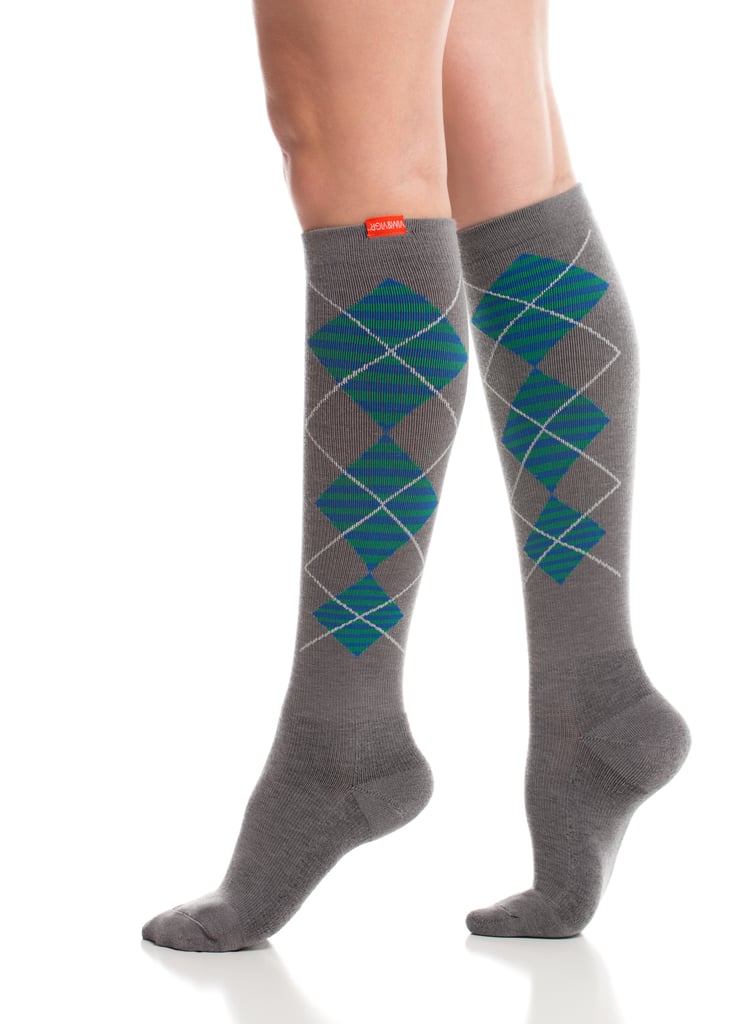 After adding plyometrics to my workouts, I found my calves were taking a beating from all the jumping and were sore for days. To speed my recovery, I have started sporting compression socks and cute ones at that! The Artemis collection of argyle socks, from Vim & Vigr [4] ($35), are made of a wool blend so they keep my feet warm while gently supporting the calves and encouraging blood flow. After hard morning workouts or runs, I slip on my socks and wear them for the day to keep a spring in my step.
— Susi May, fitness director
Lucy Perfect Core Capris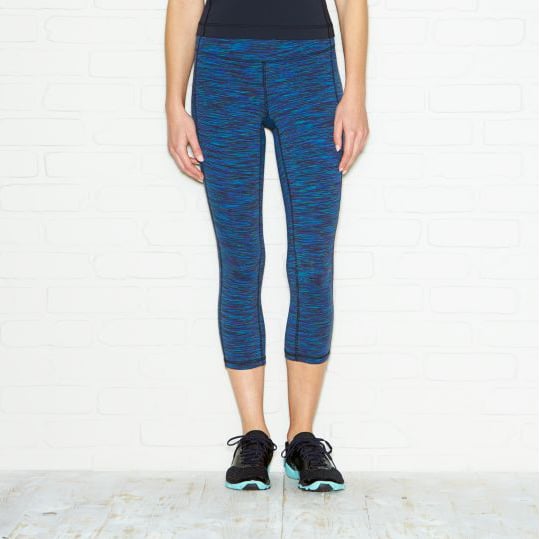 The Lucy Perfect Core Capris [5] ($98) really do live up to their name. They've got just the right amount of compression for your workout, without feeling like you're trying to Down Dog in Spanx. What I love about these pants is that the higher rise and compression fabric make these a tummy-flattering design. I love the exposed chafeless seam detail (for an extra contouring touch) as well as the midcalf length. In short, these are my new go-to capris for the gym and the studio.
— Leta Shy, associate editor
Goodbyn Bynto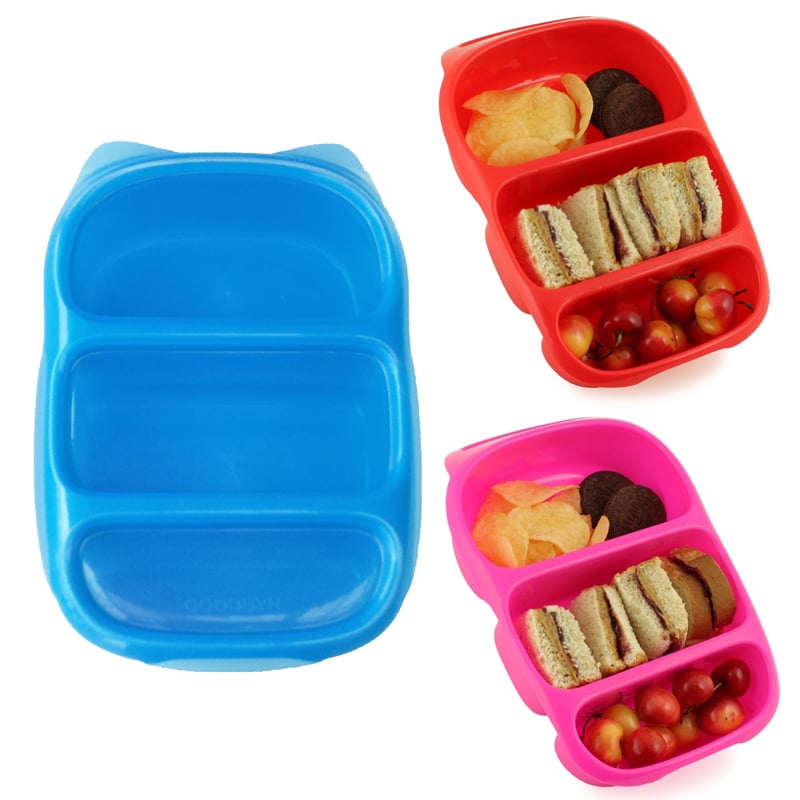 This simple three-compartment container has become my new favorite lunch-from-home item. The Goodbyn Bynto [6] ($9) is totally affordable; easy to clean; BPA-, lead-, and phthalate-free; dishwasher-safe; and so fun to fill up. The locking lid keeps all three sections completely separated, so you don't have to worry about your yogurt dripping into your hummus sandwich or carrot sticks. These silicone baking cups [7] fit perfectly inside to keep smaller items like nuts or raisins safe and sound. It comes in four fun colors, and I can't say enough good things about it!
— Jenny Sugar, contributing editor
Helly Hansen Half-Zip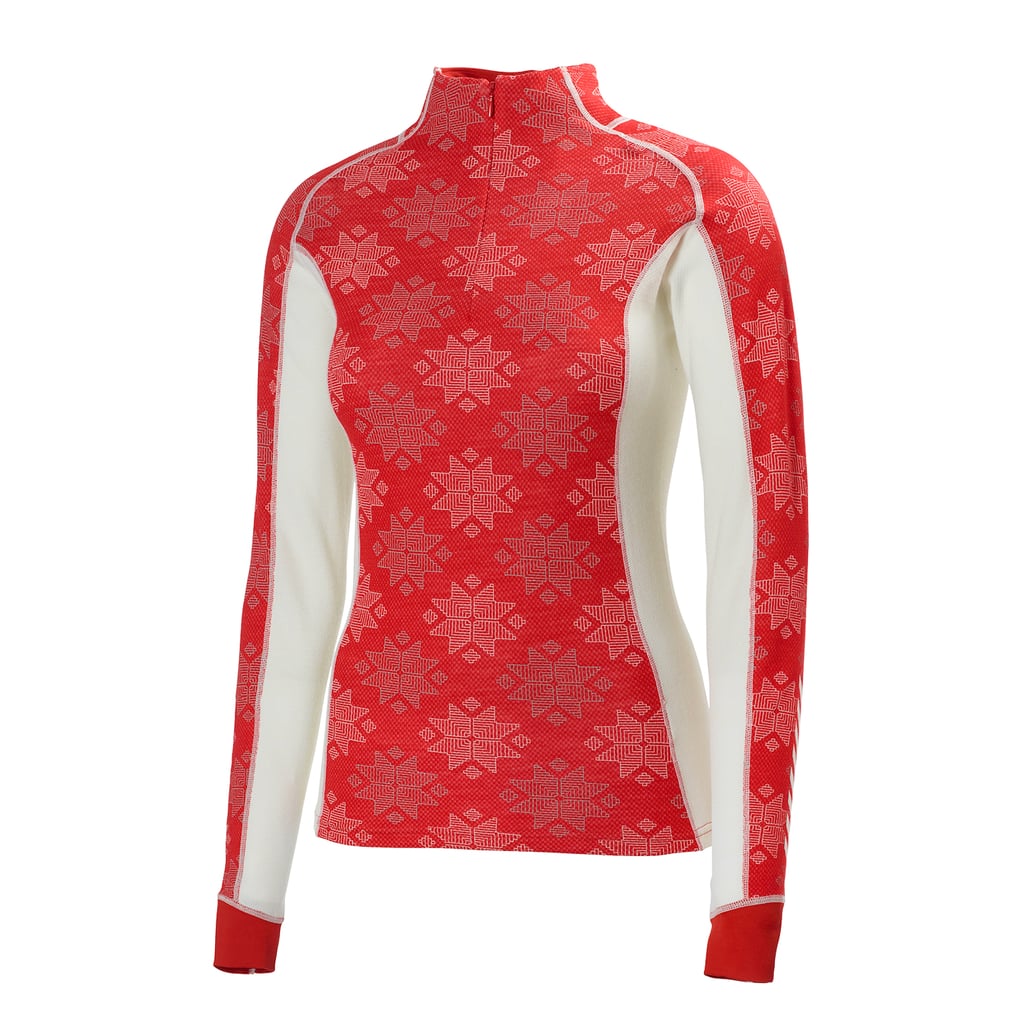 Living in California means not having a extensive Winter wardrobe, but a few times on the mountain in regular streetwear has made me realize that technical snow gear is a must. After wearing this Helly Hansen Warm Freeze Half-Zip [8] ($90) on a recent sunny ski trip, I'm totally sold. The baselayer kept me dry and comfortable on its own on, and the fun pattern got many compliments on the mountain top. The half zip makes cooling off easy after a few runs.
— Leta Shy, associate editor
Brooks Transcend Running Shoes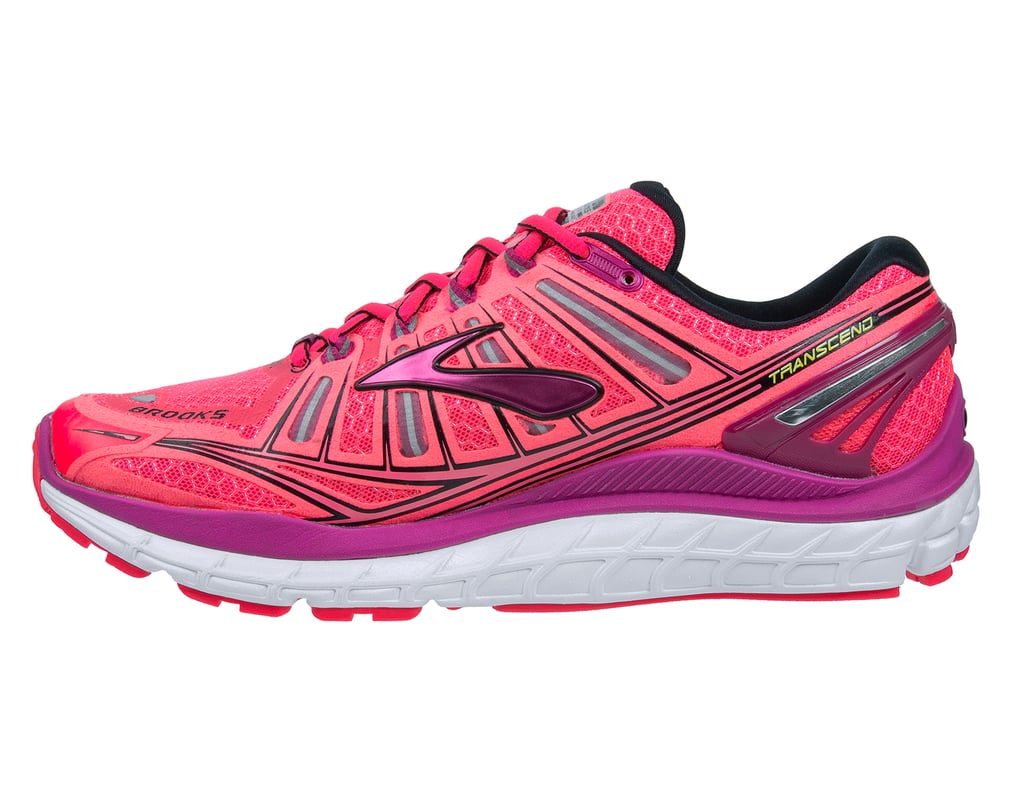 I'm always on the hunt for a cozy running shoe that won't make my toes cringe. From the first time I slipped on my pair of Brooks Transcend [9] ($160) running shoes, I felt like I was walking on air. Between the extra cushioning, ample ankle support, and the lines of the shoe, my weight is equally distributed — without squeezing my foot! Anyone who is working with a wider foot on the hunt for some new running shoes that are stylish and well designed should test out the Transcends for herself.
— Lizzie Fuhr, assistant editor
Lululemon Calm & Cozy Jacket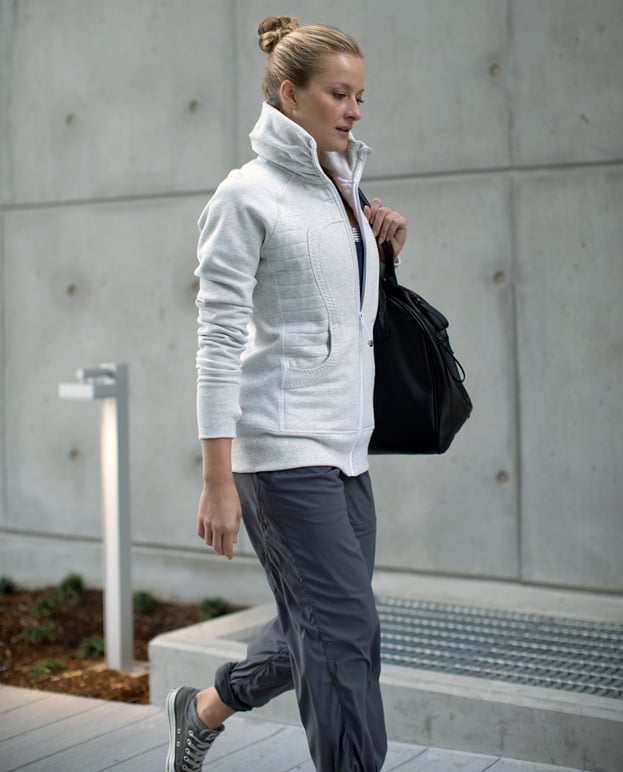 I thought had sworn off Lululemon in favor of smaller activewear brands [10], but over the holidays I received their Calm & Cozy Jacket [11] ($108), and I cannot seem to take it off.
It's hard to tell from the picture, but wearing this jacket is like wrapping yourself up in a warm blanket, thanks to its quilted front panels and high collar. It's become my go-to for running errands and is the perfect way to stay toasty from a workout when I'm leaving the gym.
— Michele Foley, editor
Cacao Nibs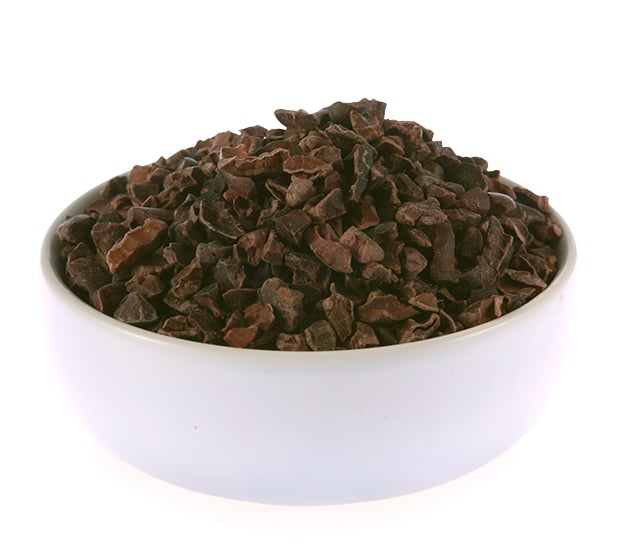 In the month that celebrates love and romance, skip the chocolate and go straight to the source with cacao nibs; these crunchy bits are essentially unprocessed chocolate chips. Rich in antioxidants and full of flavor, cacao nibs are not sweet, since no sugar is added after the roasting process so they are slightly bitter. If you're a fan of dark chocolate, sprinkle this tasty bits on your oatmeal in the morning, add to yogurt for a flavorful treat, or toss into your greens. Cocao nibs add crunch and flavor to a simple salad of butter lettuce, mandarin orange slices, and goat cheese. My go-to brand is Navitas Naturals [12] ($5 for 4 ounces), which you can find at Whole Foods or specialty baking stores.
— Susi May, fitness director

Source: Navitas Naturals [13]
Patagonia Glorya Wrap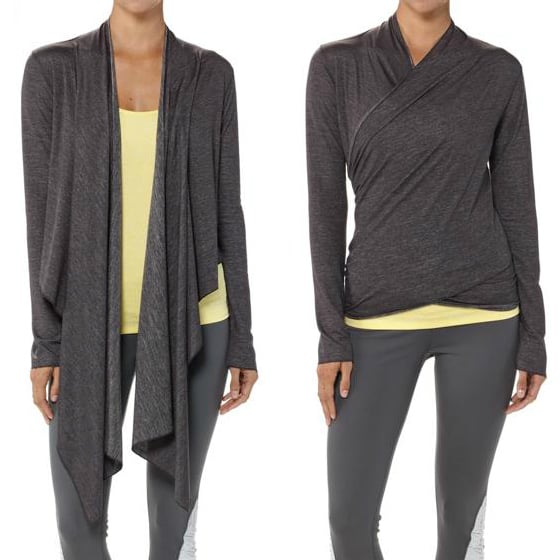 For an extra layer to and from yoga class or something to slip on to stay warm in Savasana, try this silky Patagonia Glorya Wrap [14] ($79). The fabric is addictively soft and smooth and is longer in the front than the back so you can wrap or tie it around your torso for added comfort. It comes in the black heather shown, whiskey plum, tobago blue, or feather grey.
— Jenny Sugar, contributing editor
Harmless Harvest Coconut Water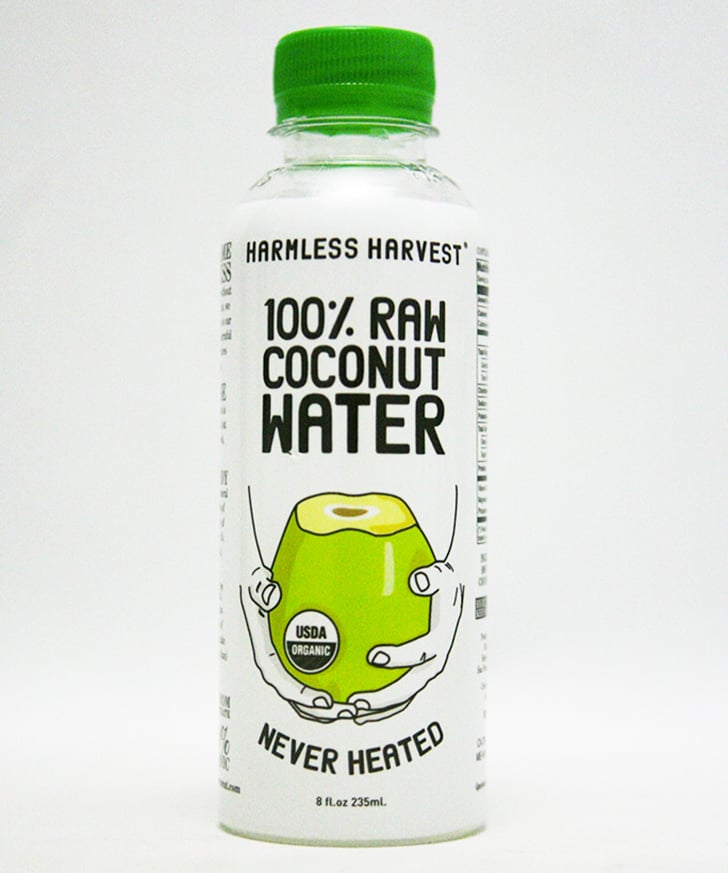 I've never been a diehard fan of one particular coconut water until I tasted Harmless Harvest's 100% Raw Coconut Water [15] ($3-$6). The texture and flavor is unlike any other bottled coconut water I've ever tasted — it's the closest thing to drinking it straight from the source! Harmless Harvest coconut water is available at Whole Foods Markets and health food stores all over the country [16], so if you love to sip on this potassium-rich drink after a workout, do yourself a favor and find a bottle near you. Now.
— Lizzie Fuhr, assistant editor