Freezing temperatures just won't go away, but we have high hopes that March will bring some better weather to the rest of the country! However, if you're still stuck inside, why not freshen up your healthy lifestyle with a little online shopping? This month, we're coveting clean foods, extra organization, and plenty of fresh fitness gear.
Nike Free TR 4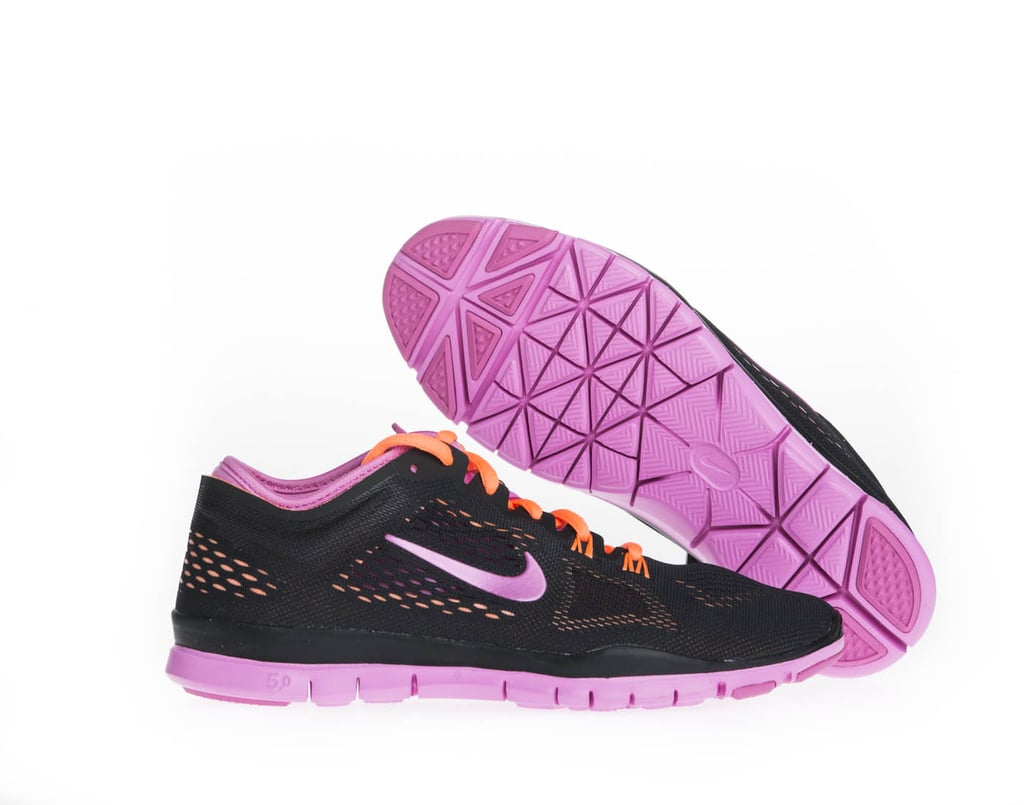 A few months ago I was sidelined with a pretty bad knee injury, and it's been a slow road to recovery ever since. As I've progressed from just learning how to walk again to the basic strength training I'm doing today, the Nike Free TR 4 women's training shoe [1] ($100) has been with me all the way.
Its lightweight and flexible design has made it easier to tackle lateral movements while still providing enough support to keep me stable on my unsteady knee. Once I am fully recovered, I can't wait to use these during some explosive plyometric moves in a circuit-training class.
— Michele Foley, editor
Cuppow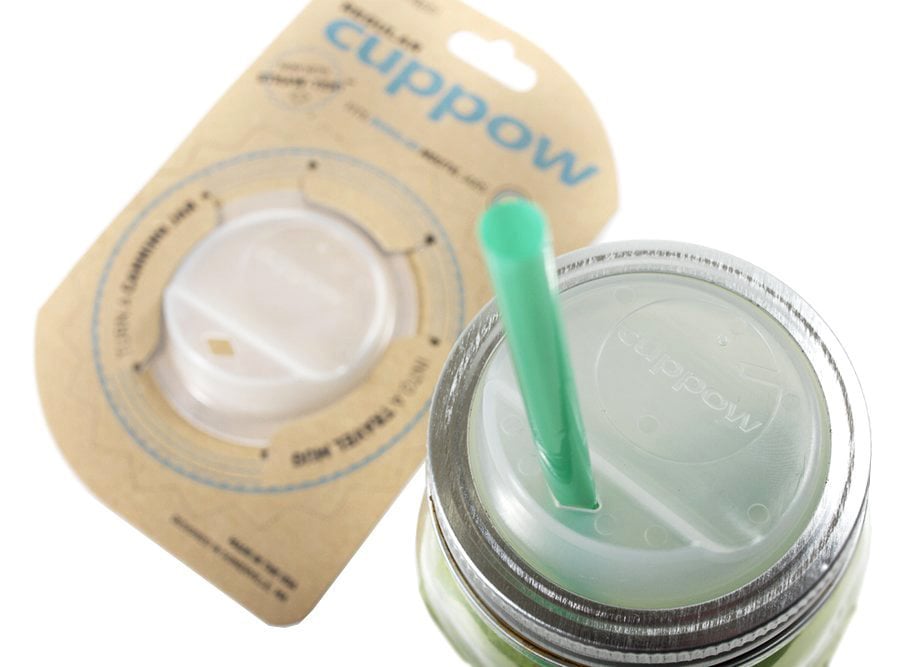 There's nothing like drinking a smoothie out of a big glass mason jar, and if you like to take your drinkable breakfast to go, like me, you can avoid spilling your precious kale-pineapple-blueberry smoothie [2] by using one of these Cuppow lids [3] ($12). Slip one underneath the metal ring, and you have an instant to-go container. Made of BPA-free plastic, choose one that fits a regular or wide-mouth mason jar, and the small hole is perfect for slipping in a straw. They come in a few different colors such as blue, mint, or pink if clear isn't your fave.
— Jenny Sugar, contributing editor
Mountain Hardwear Thermostatic Jacket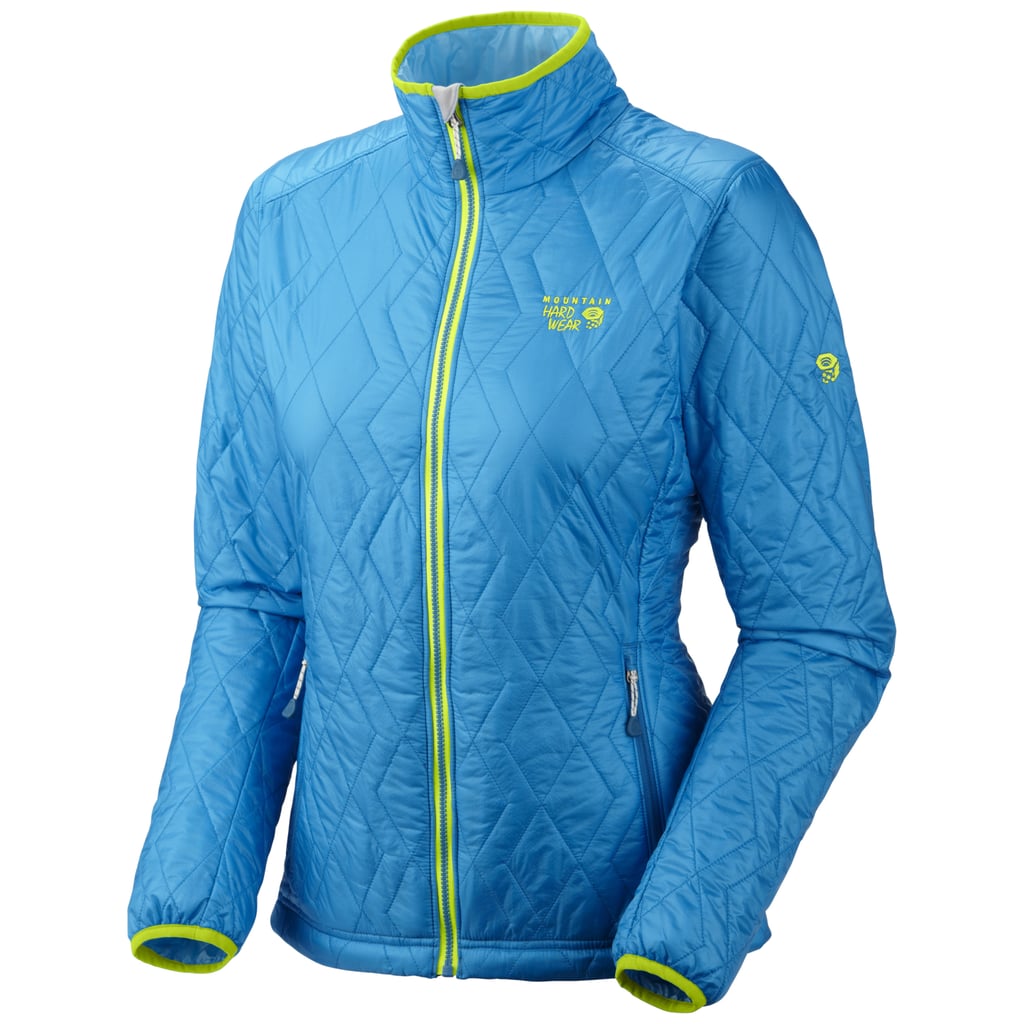 It's easy to forget that I'm even wearing a coat when sporting my Thermostatic Jacket [4] ($200) by Mountain Hardwear; it's that lightweight. The synthetic insulation keeps me toasty without weighing me down. You can wear it alone, or under a shell on rainy days. I wore mine all over Yosemite in temperatures in the 30s and 40s and love this jacket for hiking. The jacket can be stuffed into one of its own pockets for stowing in a backpack, which also makes it perfect for travel. The Thermostatic Jacket is also great for short runs for blustery days as Winter blends into Spring.
— Susi May, fitness director
The Oh She Glows Cookbook
It's no secret that we love the beautiful blog Oh She Glows over here — Angela Liddon's creamy avocado pasta [5] is a go-to dish for a few of the POPSUGAR Fitness editors! I was so excited to learn that Angela had compiled more than 100 of her delicious, wholesome recipes into the very first Oh She Glows Cookbook [6] ($20, originally $25); released on March 4. Anyone who loves learning new ways to clean up their diet needs this healthy canon in their cookbook collection.
— Lizzie Fuhr, assistant editor
Aqua Sphere Ursula Swimsuit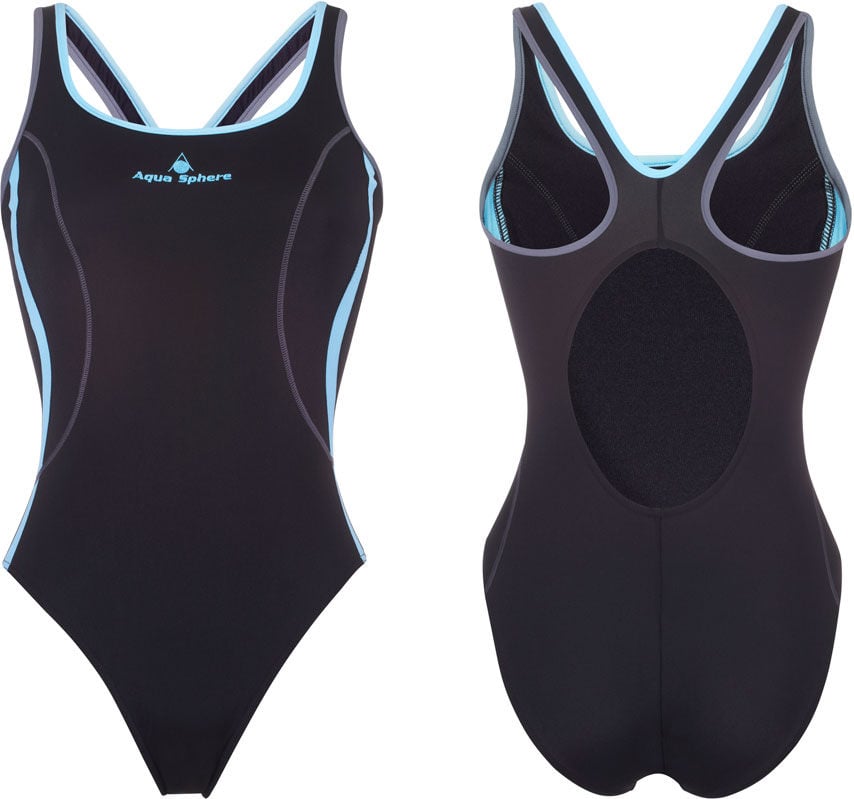 Color me a pool convert. Whether it's because I'm too sore to hit up Spin, or it's just too cold for an outdoor workout, I've been using my gym's pool for a heart-pounding cardio session. After swimming in several ill-fitting suits, I feel like I've struck gold with my Aqua Sphere Ursula Swimsuit [7] ($65). It has a flattering cut for active workouts, dries quickly, and stays in place — a must for a workout!
When I wore it to an aqua cycling class [8] at AQUAStudio NY [9], everyone — including the teacher — wanted to know where they could buy one for themselves. A pretty good testament to what's (not) out there when you need a swimsuit that translates to the fitness world.
— Michele Foley, editor
The Venus Snap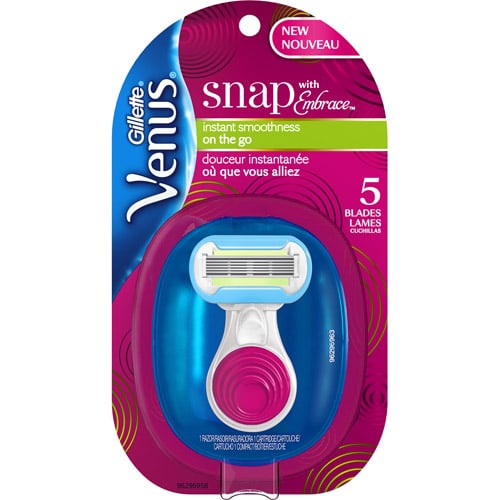 While I've tried plenty of other razors on the market, I always find myself coming back to the Gillette Venus. However, tossing a big razor into my gym bag isn't exactly the safest idea — I've learned the hard way. I was thrilled this cute little Venus Snap [10] ($10) popped up in stores. The travel-friendly size offers all the same benefits of the regular razor, and it also comes with it's own bright blue carrying case to keep it safe and for easy access when you need to find it.
— Lizzie Fuhr, assistant editor
New Flavors For Uber Bar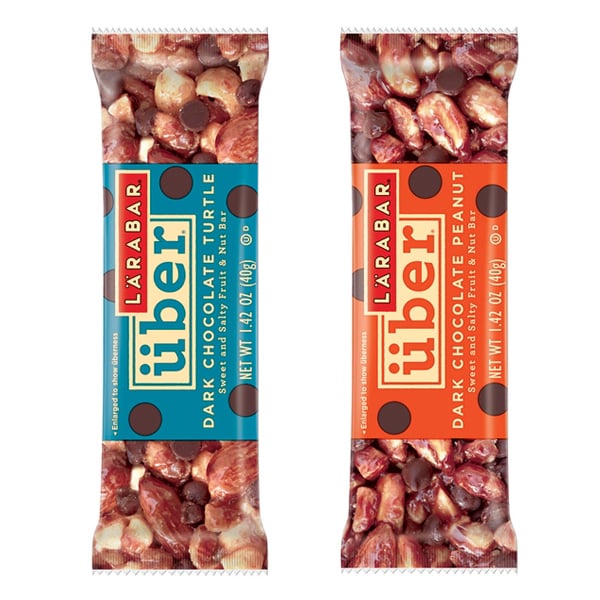 I've been a fan of Larabars for a while and appreciate that the bars contain recognizable ingredients that I stock in my own kitchen. The company has introduced two new flavors to its Uber Bar line [11] ($3), and I can't pick a favorite between Dark Chocolate Turtle [12] and Dark Chocolate Peanut [13]. These are healthier sweet treats reminiscent of a PayDay, but they contain considerably less sugar than the candy bar. With calorie counts just above 200 calories, these bars satisfy my sweet tooth and make for a perfect afternoon snack.
— SM
Adidas Energy Bra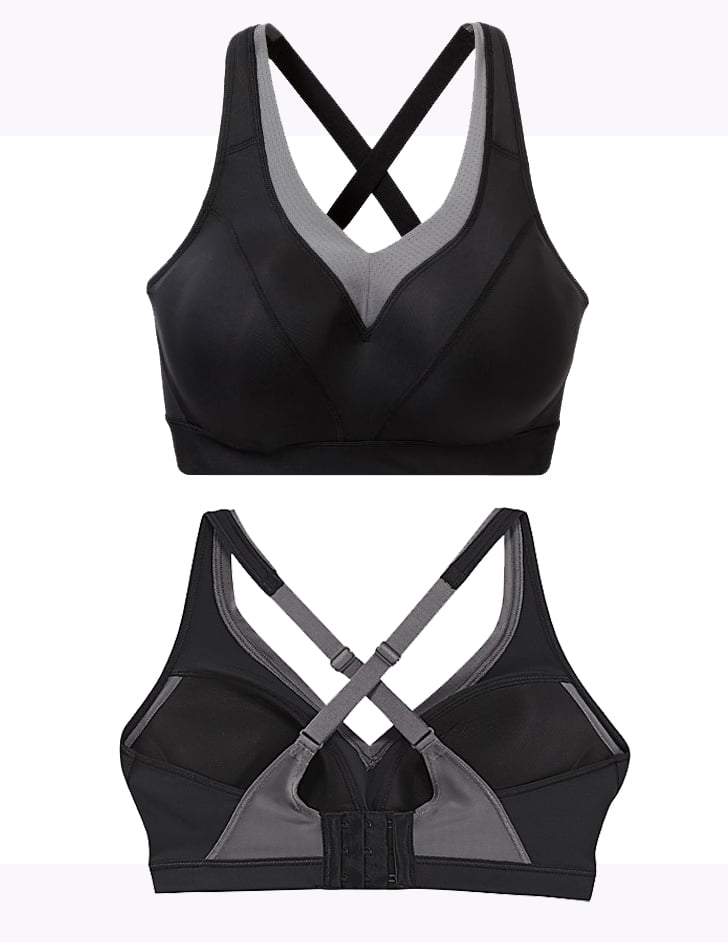 Anything that combines fashion and functionality is a winner in my workout book, which is why I've been reaching for the Adidas Energy Bra [14] ($55) a lot lately. It fits based on your normal bra size (up to 40D) and features a flattering V-neck, molded cups that don't feel gross when you sweat, and adjustable straps with a three-clasp closure to ensure a perfect fit. And since this is made for high-impact workouts, I know everything will stay in place no matter how intensely I exercise. I wear the Energy Bra under a loose racerback tank and feel confident throughout my whole workout.
— Leta Shy, associate editor
Bistro Bento Box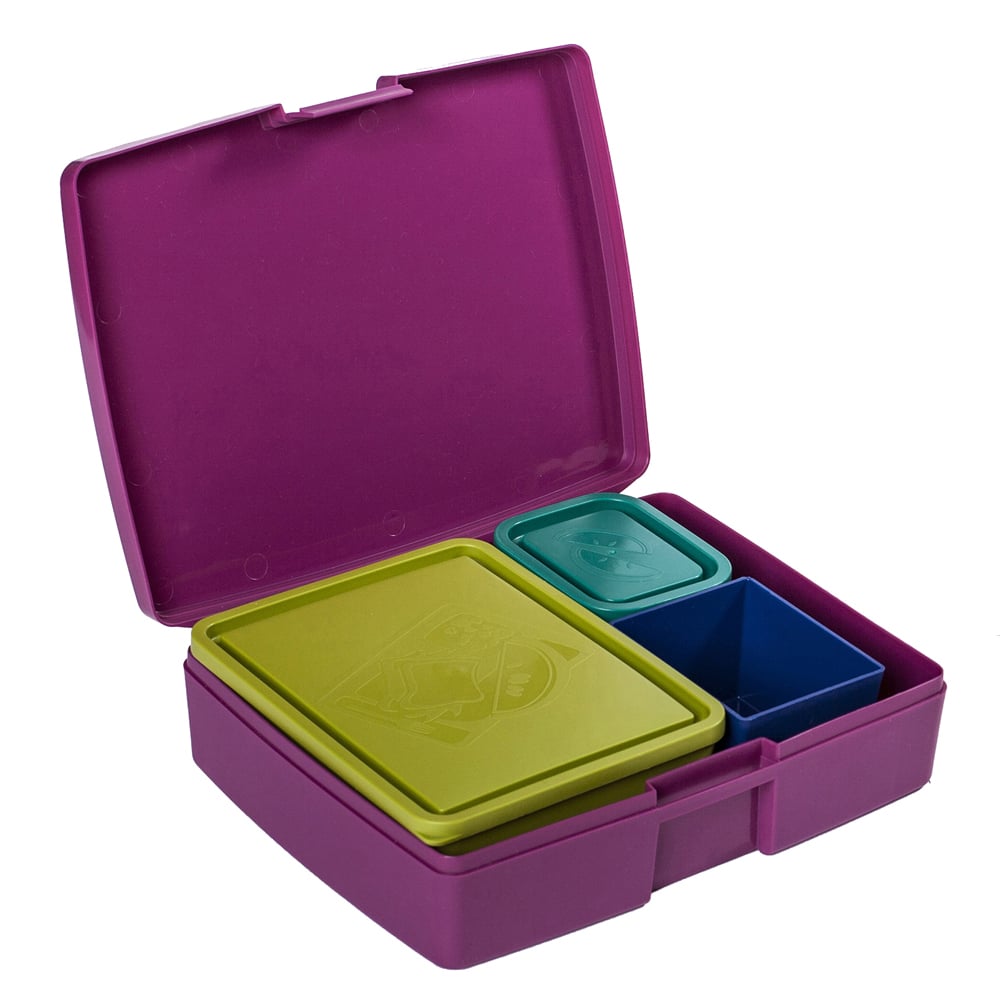 If you're a fan of packing lunch from home to save money and keep track of calories, you'll love this new model from Bento-ware called the Bistro Bento [15] ($24). The original has four smaller compartments, but this one has three, with one being large enough for a big salad, full-size sandwich, or for last night's leftovers. I love that the lids snap on tightly to keep food separated without worrying about leaking, and of course this BPA-free container is safe for the microwave and dishwasher. It's lightweight, compact, and comes in the color combo shown called Jazz (this is the one I have) or Americana (blue and red).
— Jenny Sugar, contributing editor
Live Kombucha Soda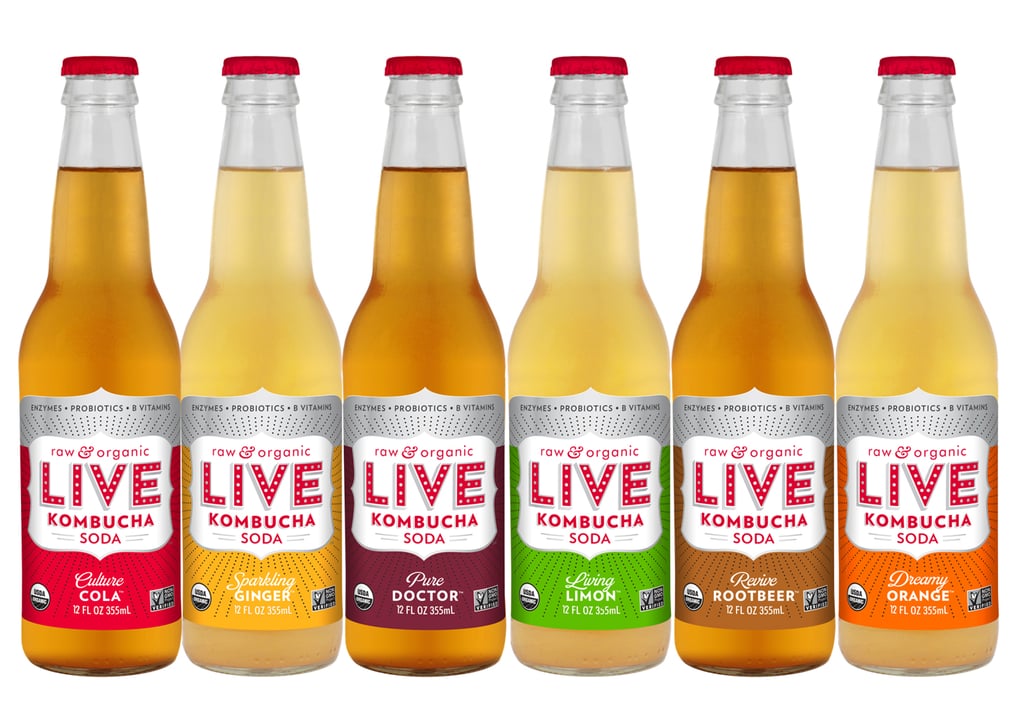 I've no doubt that many of the claims of healthy benefits of probiotic-rich kombucha tea [16] are true, but the drink can be an acquired taste, to put it mildly. So I was pleasantly surprised when I first tasted Live Soda [17] ($3 per bottle), a kombucha-based drink made with natural ingredients. The kombucha imparts a barely perceptible aftertaste; other than that, it's like drinking any high-quality, organic soda made with just a few fair-trade ingredients. While I'm not a huge soda drinker, it's nice to feel like I am doing something good for myself whenever I feel like having a treat, especially since each bottle is only 40 calories. Live Soda is available in six flavors; find it at a store near you [18].
— Leta Shy, associate editor