That excuse of not having time for breakfast? Well, we don't buy it — especially when overnight oats [1] exist in the world. The basic recipe is simple: half a cup of oats plus half a cup of milk mixed together, then left covered in the refrigerator to sit overnight. By morning, there's no excuse to skip breakfast, because a fiber- and protein-rich meal is already waiting for you. And because plain oats are just so boring, we suggest mixing in or topping with your favorite healthy additions.
Not sure where to start? Let the Instagram inspiration unfold!
Source: Instagram user red_raspberries [2]
This bowl is a superfood topping explosion of muesli, figs, coconut, goji berries, hemp hearts, banana, and almond butter. A perfect way to break from the Internet.
Source: Instagram user _lemonpie [3]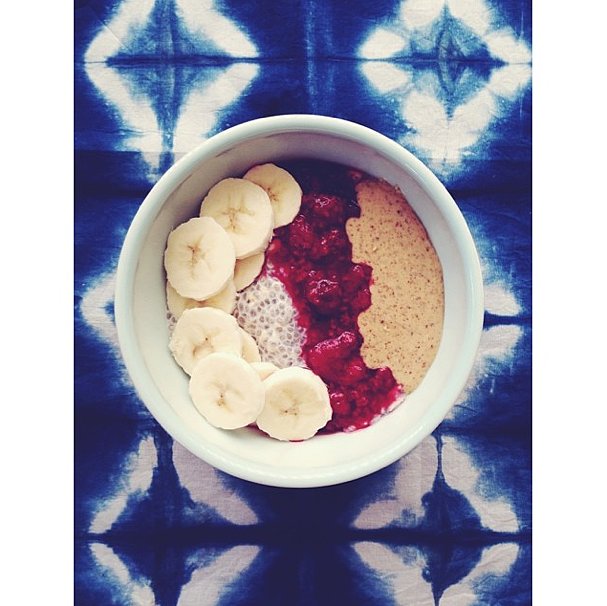 Two food trends might be better than one! This bowl contains the fiber-rich goodness of both chia pudding [4] and overnight oats.
Source: Instagram user erinlee_thompson [5]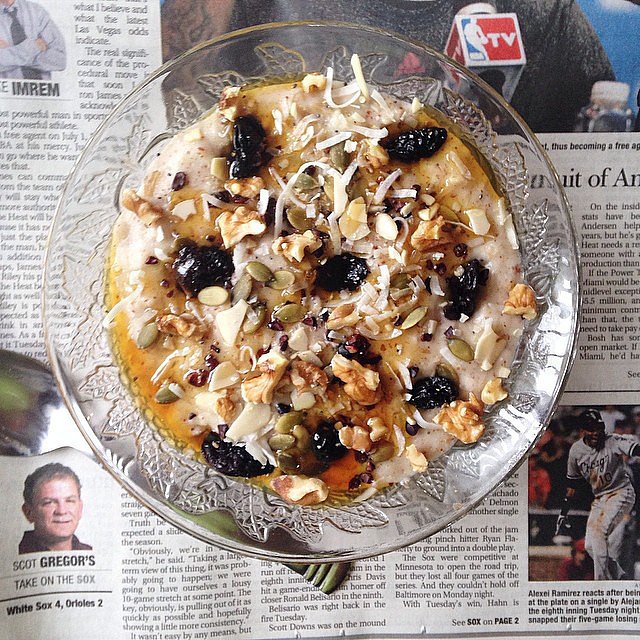 Overnight oats mean less time cooking breakfast and more time reading the news. After pulling these oats from the fridge, the bowl was topped off with agave nectar, raw coconut, and trail mix.
Source: Instagram user unefruitgirl [6]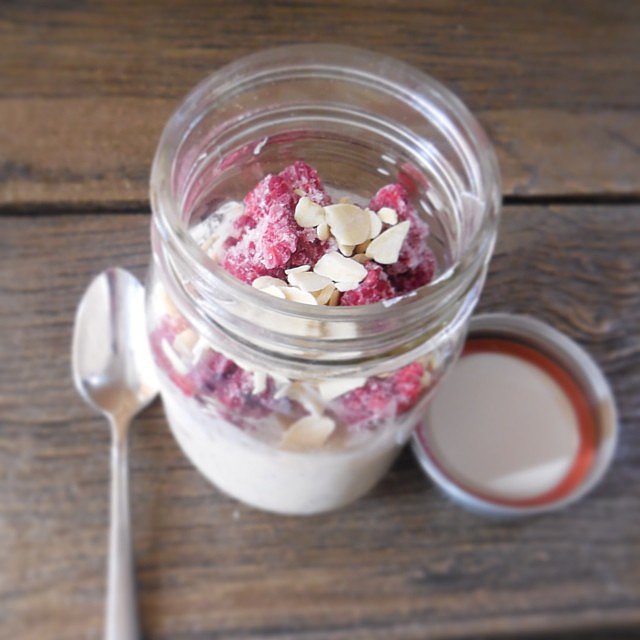 Mason jars + overnight oats = a busy girl's best friend!
To make this antioxidant-rich concoction, combine half a cup oats with half a cup of milk; add one cup of frozen raspberries and a handful of almonds to the mix. Before going to bed, stick the jar in the fridge, and then grab it when you're leaving for work the next day.
Source: Instagram user red_raspberries [7]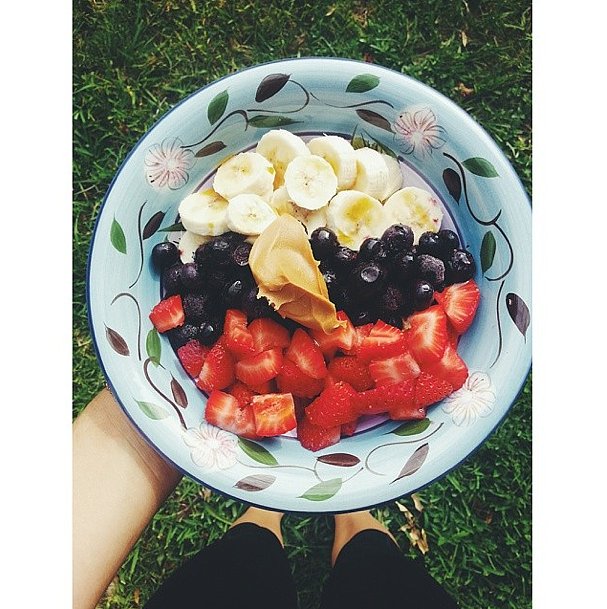 Why not take your oats outside on a Summer day? Here's the classic red, white, and blue combo of berries and banana.
Source: Instagram user ely_vigistain [8]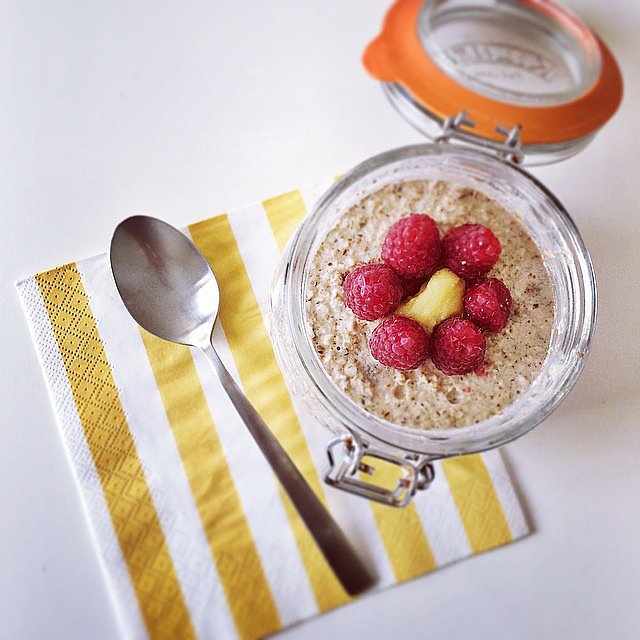 Overnight oats in a jar — oh my! Aside from the oats, this jar is filled with the goodness of chia, banana, raspberries, and pumpkin seeds.
Source: Instagram user bitesonstripes [9]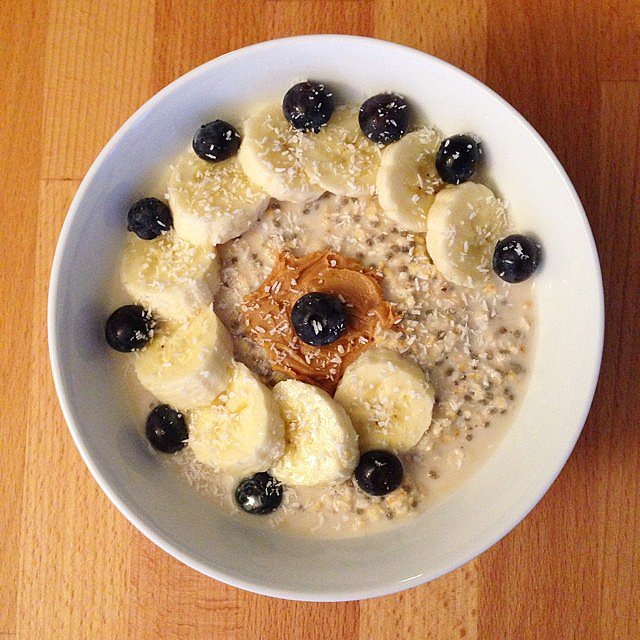 There's no need to add sugar to your oats when you have the natural sweetness of bananas and blueberries. The added flaxseed also gives the dish a healthy dose of omega-3s.
Source: Instagram user healthy_elylirose [10]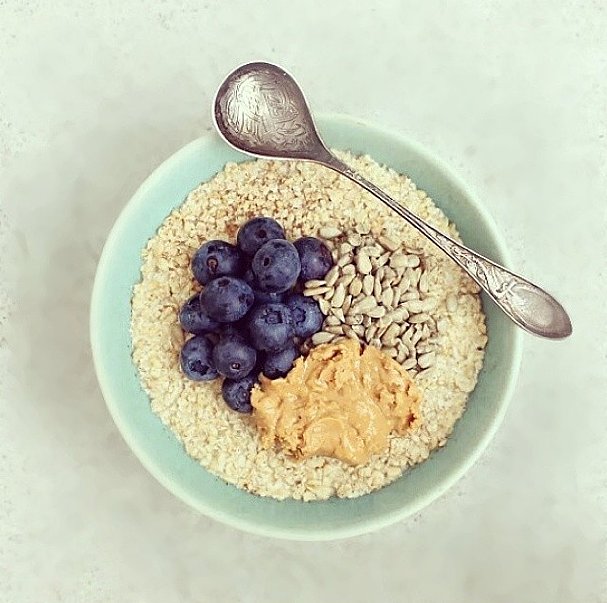 This bowl looks like a study in pastels: blueberries, sunflower seeds, and peanut butter round out the breakfast.
Source: Instagram user birgitteaarland [11]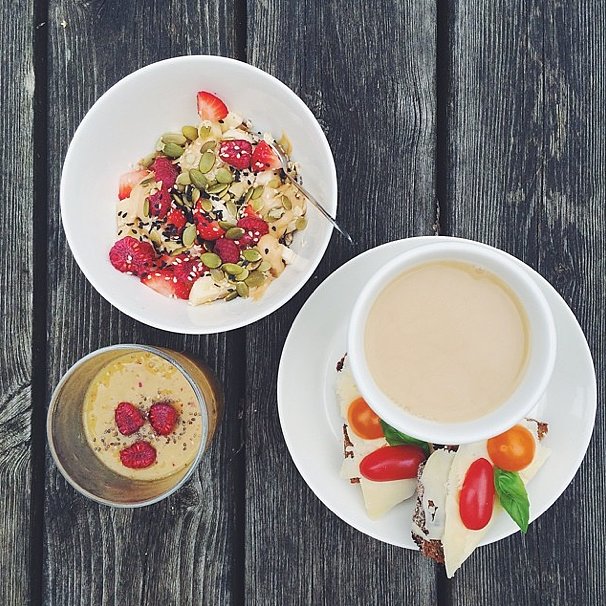 A breakfast that has us envious: mango and nectarine smoothie, oats with peanut butter and berries, and danish rye bread with cheese and tomato. Let's not forget the caffeine boost, either!
Source: Instagram user iclfood [12]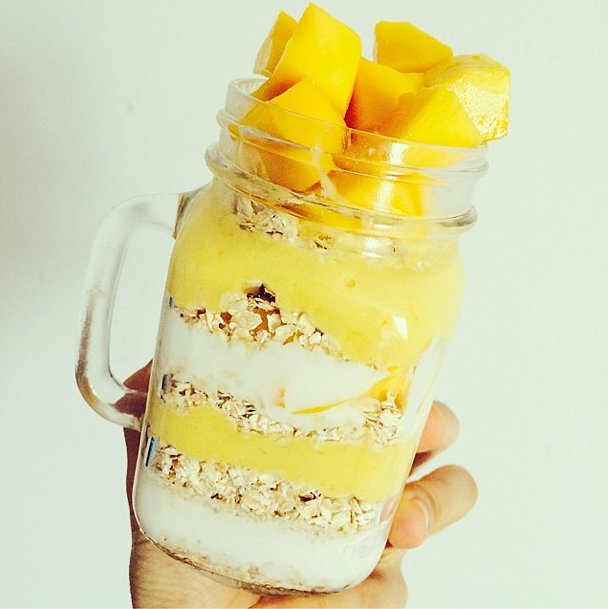 Overnight oats get a parfait makeover with layers of mango and yogurt for a seasonal Summer treat.
Source: Instagram user yookira [13]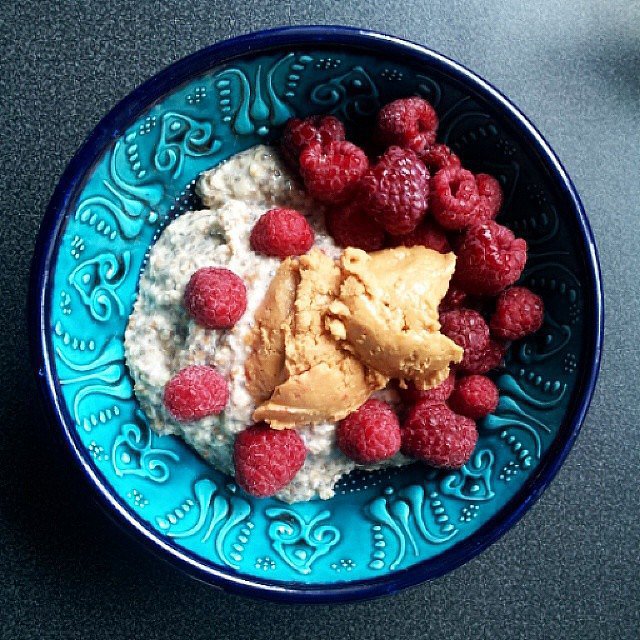 This bowl gets a major protein boost from a dollop of peanut butter.
Source: Instagram user karlssonssa [14]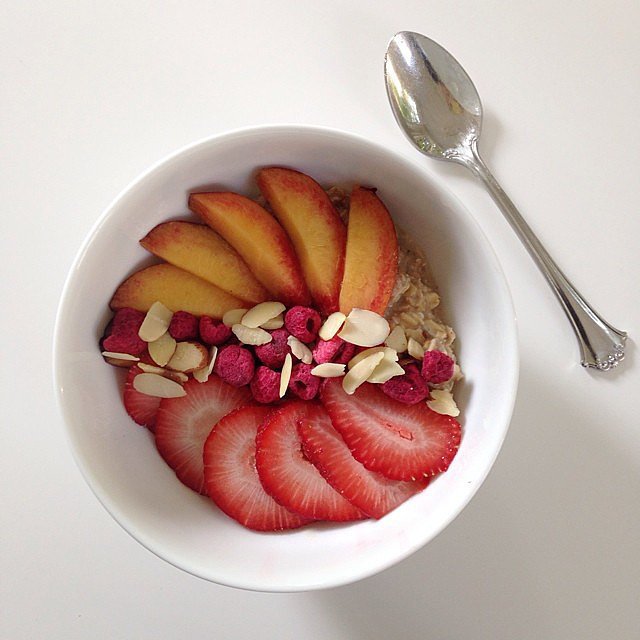 Well isn't this just Summer in a bowl — strawberries, almonds, dried raspberries, and a peach.
Source: Instagram user planthappy [15]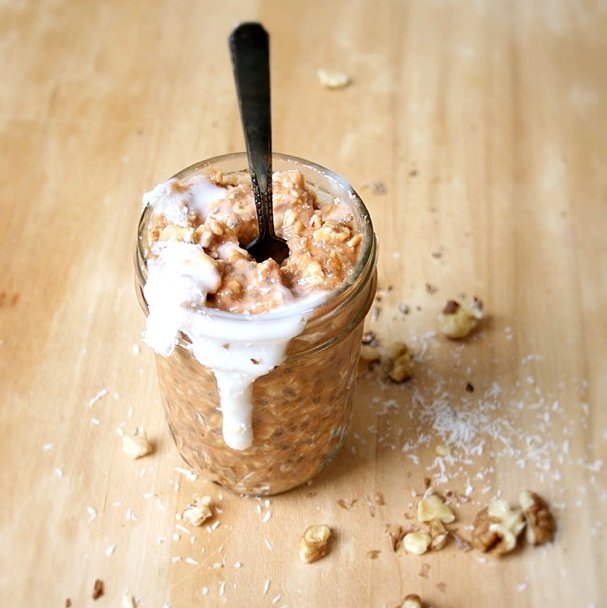 This cup runneth over with the amazing delights of carrot cake overnight oats topped with coconut yogurt and walnuts.
Source: Instagram user vega.kate [16]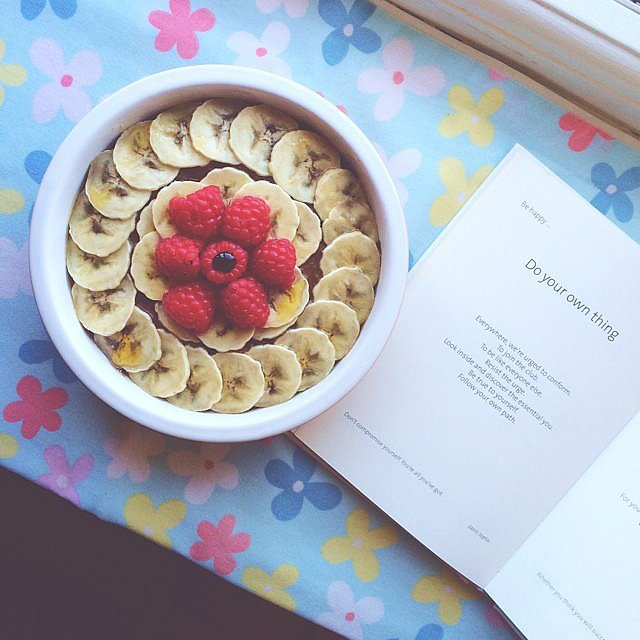 Who needs a latte when you have a bowl of coffee-charged overnight oats? Not this reader.
Source: Instagram user eatnourishlove [17]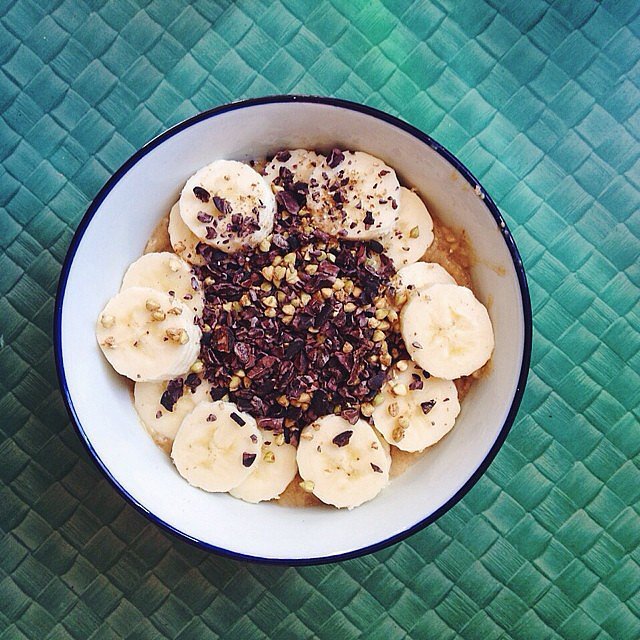 We love this inventive spin on overnight oats that incorporates tahini, caramel, and dates.
Source: Instagram user r_hubarb [18]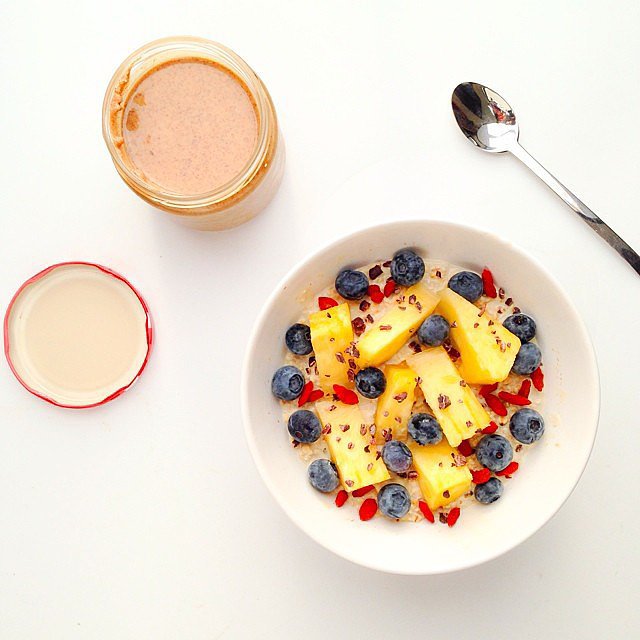 Take a trip to the tropics by adding pineapple and papaya to overnight oats.
Source: Instagram user __lemonpie [19]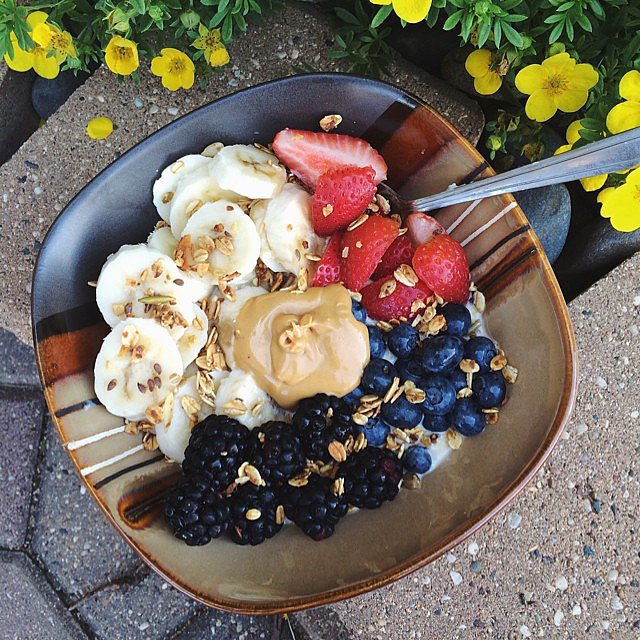 The kitchen sink of overnight oats: cinnamon, banana, berries, coconut peanut butter, and homemade granola.
Source: Instagram user goodhealthgoodvibes [20]